For years Unison has brought you professional-quality products from the world's leading producers and sound designers, quickly becoming a leader in inspiration and innovation for both amateur, and multi-platinum award-winning producers alike.
With a quarter of a million satisfied customers, we've decided to take it to the next level…
INTRODUCING: DRUM MONKEY
We've created a new modern path for algorithmic composition. This includes high-quality, genre-specific samples that are guaranteed to make your tracks stand out and get the attention they deserve.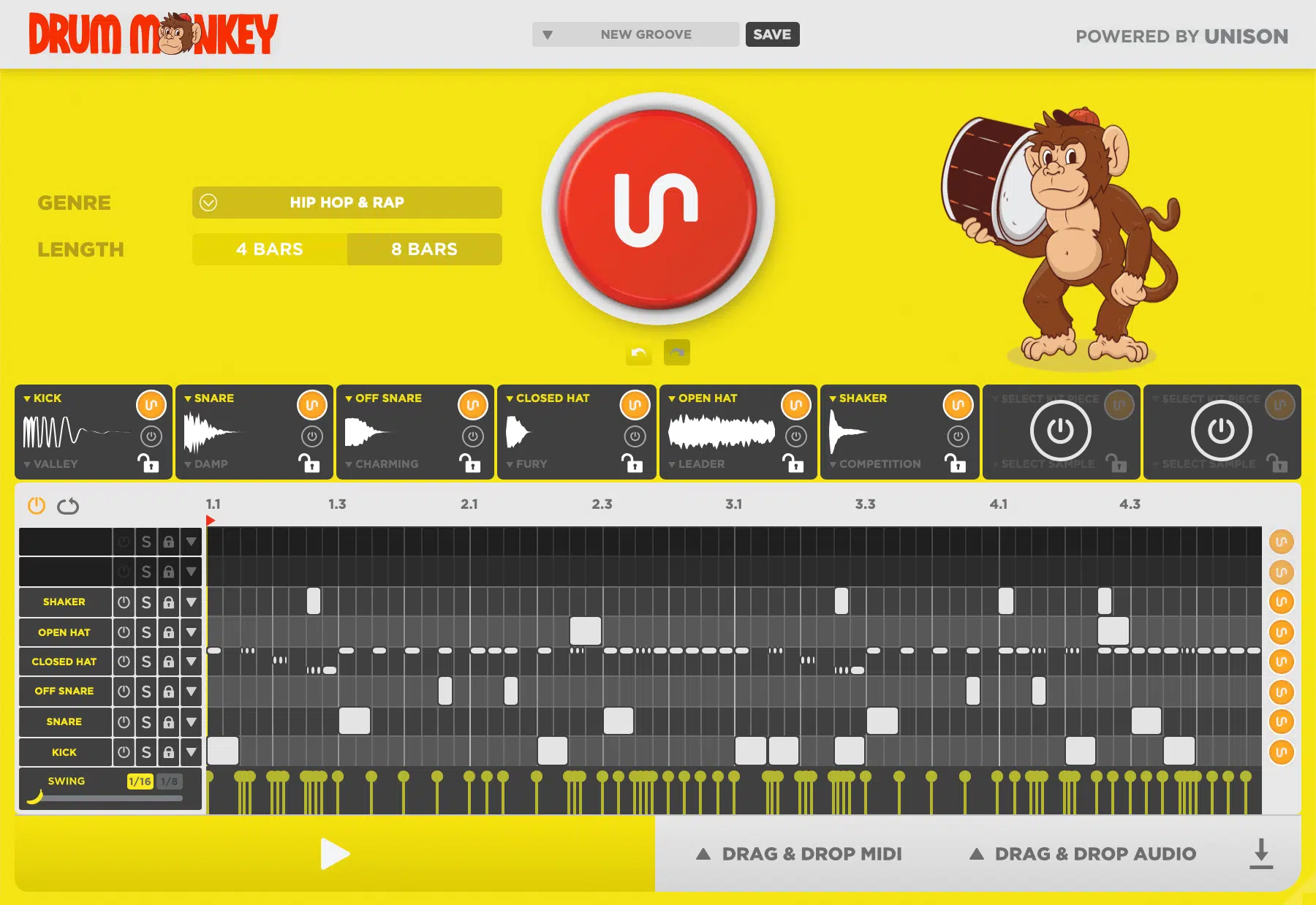 Drum Monkey is not your average drum plugin, it's a cross between a:
Drum-machine/Sampler

Algorithmic Rhythm Composer

Sequencer

MIDI-file

Audio-loop generator
With drag & drop and file-export.
It allows you to use any of its pro-level resources and features (listed below) either in isolation or as a piano roll to trigger any sample you'd like.
Our hardworking team spent 5,500+ hours and over 1 million dollars creating Drum Monkey and came up with a completely original concept totally free of any restrictions.
You'll not only take your music composition to the next level, but you'll have the tools to program your very own drum patterns as well.
With Drum Monkey, making perfect drum loops is as simple as 1, 2, 3:
Select your preferred genre and length.

Press the button to instantly generate a drum loop.

Drag & drop your new drum loop straight into your project in either Audio or MIDI format, or export it for later.

We have incorporated brand new, cutting-edge Machine Learning technology and super-advanced, proprietary Unison-exclusive 'Drum-Pattern Recognition' and (genre-specific) 'Auto-Generate' algorithms.
So, whether you're a professional or an absolute beginner, Drum Monkey will be a piece of cake to use!
The following highlights are only SOME of what you get when purchasing Drum Monkey:
FUNCTIONS AS BOTH A DRUM/STEP-SEQUENCER & PIANO ROLL
Change and alter the generated sequence in whatever way you see fit, or complete your own from scratch. No restrictions.

Use it as a step-sequencer to affect all the drum elements globally, or open up the piano-roll view to edit each element on an individual basis. 
Trigger the samples at different pitches

Set the velocity with laser precision,

Determine the length of each note with ease.
Being able to function as a piano roll gives Drum Monkey a very hands-on dynamic that other drum plugins don't possess. 
This includes harmonic-sequencing (when the same sample is played at multiple pitches) to create chords or polyphonic-layered percussion samples of any kind.
OFFERS VELOCITY-ADJUSTMENT, SWING/GROOVE, AND HUMANIZATION PARAMETERS
Drum Monkey has all the tools you need to make a digitally-generated drum part sound completely lifelike! 
You're able to adjust the velocity on a very fine level, and apply swing in two different modes (1/16 and ⅛) to prevent that 'robotic' sound.
What swing does is change the timing between notes, giving a 'shuffled' characteristic ('Groove'). This is used heavily in genres such as hip-hop and jazz but has a wide range of creative possibilities across all genres.
Depending on the length of your sample, offsetting the note length even slightly can add a great deal of humanization and variation as well.
For example, to humanize part of a hi-hat, click on the downward arrow (found next to each element's name) which will open up Drum Monkey's piano-roll editor.
This gives you full control over the MIDI that can't be found when using a traditional step-sequencer and makes it much easier to determine which velocity value belongs to each note.
Once your piano roll is opened, simply adjust the velocity bars (located at the bottom of the view) either randomly, or manually based on the specific part you're editing and the role it's meant to play.
To add a little more humanization, just apply some swing; start at a low value and increase as desired. If you want the Timing to be directly on the grid, then this is not the time for swing, as its job is the complete opposite.
PRO TIP: When programming hi-hats for electronic and hip-hop genres, you'll either want the velocity to remain constant or use it to create 'roll' accents. Increase the velocity of each note within the roll. This will make them sound more dramatic and exciting.
3,000+ FACTORY SAMPLES
Drum Monkey is loaded with unique, professional, radio-quality samples, and over 30 genre-specific drum kits created by top Unison designers.

Instantly generate perfect drum loops with our proven, genre-specific samples, use ones you already love, or combine them together for infinite possibilities.
Each genre has its associated drum kits, and when switching between them Drum Monkey will change the samples accordingly. 
If there are samples that you would like to keep, simply lock them so they will not change when switching between kits/genres.
Besides the more popular genres, there is also a mysterious '???' genre included for creating insane, 'Experimental' patterns. 
This genre draws inspiration from all of the included genres and is designed to have a musicality that is untouchable. You won't believe it until you hear it for yourself!
IMPORT YOUR OWN SAMPLES
This includes one-shots but is not limited to just drum and percussion samples.
The User Sample Import function supports drag & drop 一 even if you want to replace only 1 sample from an existing kit, you can.
Simply locate the replacement sample, and drag it into your DAW directly onto the desired pad… it really couldn't be easier.
Custom kits can be created from custom samples and saved as presets/templates as well!
LOCK PATTERNS IN PLACE WITH THE 'LOCK' FEATURE 
If you like certain patterns within an individual lane, simply lock them in place. 
That way, when you generate a new pattern, locked tracks stay the same and unlocked tracks are replaced with new patterns. 
Regenerate individual drum parts (or a group of notes) by either locking the elements you don't want changed or selecting the section of notes that you do want to be changed; yes, even across different genres.
Then, simply click the 'Regenerate' button until you're satisfied.
The 'Solo' Regenerate button is the orange 'U'  located at the right of each element in the sequencer view. With it, you can generate 1 element's pattern at a time. 
The Pattern-Generator also has its very own Undo/Redo function. Pressing undo will either bring you to the previous pattern or, if the one you're using has been edited, back to the original generation (pre-edits).
EXPORT (DRAG & DROP) BOTH MIDI AND AUDIO FILES
As individual stems or as one combined file.
When it comes to drums, each element deserves its own unique care and attention. With Drum Monkey, you're able to manually export each element's generation (independently) to make sure that's taken care of.
You can export both Audio and MIDI files, regardless of whether or not your DAW supports multi-out plugins.
Don't feel limited to the stock library and the samples provided, 一 Drum Monkey lets you import any sample you want.
It can also export the generated MIDI data to be used on any drum plugin you'd like as well… scratch that, any plugin at all! 
The results you generate can be used to get you started, or take you all the way from start to finish: there are no limits.
FULLY-LOADED SAMPLER AND SAMPLE-EDITOR
With essential Effect Processors including 'Tone-Shift' and our proprietary 'Fatten' algorithms.
We've excluded all the parameters you would never think to use. This makes sample edits possible with just a few simple clicks. You can adjust the ADSR (amongst other essential parameters) however you see fit.
To access the Sampler, you can double-click the pad containing the desired sample. It is always displayed and accessible, regardless of view.
Or, simply click the element's name on the far left-hand side (when using the step/drum-sequencer view).
When it comes to 'tone shifting' and 'fattening,' it's just a matter of enabling the effect. This is located in the top left-hand corner of the 'Sampler Editor' view.

To use the Fatten processor, simply set (or, 'slide') the amount of fatness you'd like to apply. This is a set-it-and-forget-it type feature, but can also be modified at any point during your session using just 1 parameter.
SAVE ALL DATA, PARAMETERS, AND EDITS AS PRESETS
For quick recall and template creation.
Drum Monkey already comes with more than enough presets to keep you busy for two lifetimes… but, by creating your own presets, you can use, edit, and save your own drum kits without having to reload them every single time!
You're also able to set up a basic 'default' pattern to really hit the ground running.
Don't forget that presets could (and should) be used to create your own templates:
Open up Drum Monkey

Select your preferred genre

Listen to the samples

Swap any out that doesn't match the vibe you're aiming for
Now you can either generate a basic pattern or input one yourself to build upon. Do this for all types and styles to conquer Beat Block and eliminate the phrase "I don't know where to start" from your vocabulary.
ALL IMPORTANT FUNCTIONS CAN BE RANDOMIZED
Drum Monkey allows for 'randomization' on all levels, including sample selection.
This allows you to completely switch everything up all at once, or selectively randomize certain samples and parameters for more subtle changes.
MULTI-CHANNEL OUTPUT CAPABILITIES
By being able to route each pad containing drum samples/elements to its own corresponding track (for multi-output instances), you can mix each sample individually!
Simply route each sample to its designated track on the 'Sample Edit' screen (located below the ADSR Envelope) and start building to your heart's content. 
The control and freedom you will have over each individual element is second to none!
Note that you should only create, bounce, export, or mix a drum-loop as a whole when you absolutely have to. It gives you very little control over each element and allows room for almost zero manipulation.
EASY INSTALLATION AND INTEGRATION
Complete with a video guide and in-depth manual.
COMPATIBLE WITH ANY DAW OR PROGRAM THAT RUNS:

 
Both Windows and Mac friendly. This includes a multi-channel output version for all supported formats, using any multi-output-supported DAW.
NO PHYSICAL iLOK (or DONGLE) NEEDED
Installation of iLok software license manager and iLok user account, however, is required and can be downloaded and registered for free.
If you haven't already, go here to create your free account now.
March to the beat of your own drum with Drum Monkey!
WITH DRUM MONKEY YOU CAN:
Instantly generate perfect drum loops.

Make your tracks super addictive.

Get unlimited inspiration at your fingertips.

Enhance your workflow.

Get your music the attention it deserves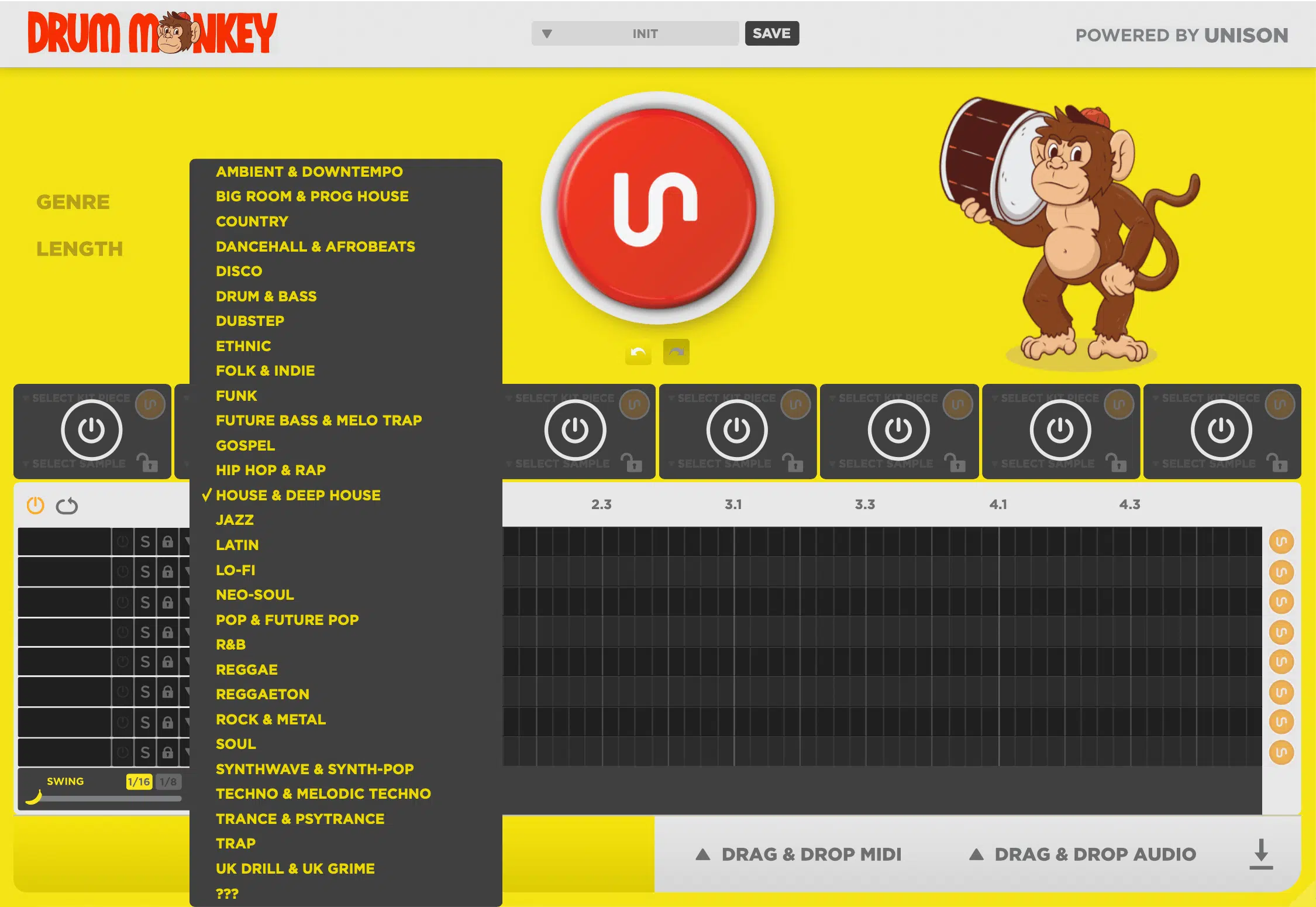 Instantly generate drum loops in 30 different genres of music that are proven to sound good with consistency.
DESIGN YOUR OWN DRUM PATTERNS
Either stick to proven frameworks in each genre or go wild and invent your own.
Reliably exploits the common characteristics of hit drum loops in 30 genres.
3,000+ SAMPLE FACTORY LIBRARY
3,000+ unique, professional, radio-quality samples at the ready; use as-is, or combine them together to create infinite possibilities.
Plus velocity adjustment, Swing, and Humanization parameters; allowing for complete flexibility.
BUILT-IN, INDUSTRY-GRADE SATURATOR
Fatten your sound and make your drums hit super hard.
 Store your favorite loops into your own user bank as presets with a single click.
 Easily drag & drop your generated drum-loop straight into your project to use right away, or export it for later.
ADSR ENVELOPE SHAPER/PANNING
Individually customize each sample to your desired punchiness, tightness, or placement in the stereo field.
Drag & drop all your own favorite samples onto the drum pads and use them for generations.
All the money you earn from music you make with Drum Monkey is yours to keep.
You won't get overwhelmed with tons of unnecessary functions.
No experience is needed to use Drum Monkey.
With the entertaining, randomized animations & engaging UI, you will never get bored of Drum Monkey.