As a producer, your DAW (Digital Audio Workstation) is your home, and comfort is key…
But you also want them to come equipped with all the functionality needed to complete a track from start to finish.
Other similar articles list free DAWs that require the upgraded version to give you access to everything you'll need. 
Our list of free DAWs, on the other hand, gives you the best free options, that offer functionality on par with (and even exceeding) the most expensive options available. 
We're breaking down expectations and hype to provide you with the top 5 free DAWs on the market today.
Plus 3 bonus options that almost made the cut.
They are the real deal, must have choices. You will never have to compromise or go without any features you'd need to create professional music.
Let's dive in…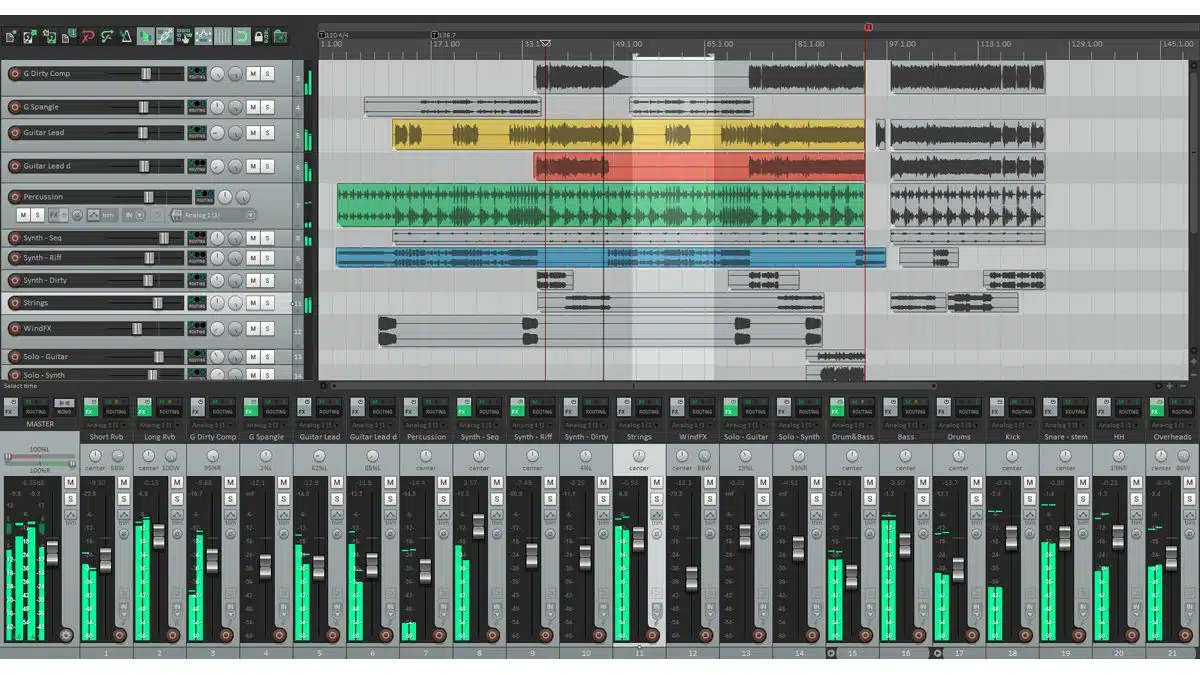 Reaper is undoubtedly the most powerful, feature-packed, most updated free DAW in existence.
As well as the most customizable. 
This is not only because of the features/functionality (known as Actions) it offers but also what you're able to do with them that makes it #1 on our list. 
You can alter them, combine them, or even create your very own set of 'processes' (a string of combined Actions) that fit your unique workflow.
You'll be able to perform complex strings of tasks with the click of a button (or key command). 
Customize your own set of functions that are built around your specific needs.
Another amazing advantage of Reaper is the ability to handle, and help you optimize any stage of your musical process, including:
Mastering
Recording/tracking
Producing
Post-production (like video)
Reaper also stays very current when it comes to updating its functionality as well.
If there's a brand new function on another DAW, guaranteed it won't be long until Reaper will have an equivalent that you love just as much.
Multiple licenses are available (personal and commercial) but they're totally optional.
You won't get any additional features or bonuses for purchase, it's more of a personal preference.
"If you make a fortune using our product and still don't want to buy a license, that's okay" 一 Reaper.
Due to its massive feature set, this free DAW might be a little daunting at first.
But remember, there's nothing in Reaper that you can't fully customize. 
Once you figure out the processes and tools you'll need to create, you can simply hide everything from view as if it wasn't even there. 
FX Plug-in Embedding
Auto-stretch Timebase
Routing Diagram
Retina/HiDPI
Vastly optimized behavior
New theme with extensive customizability
At first, it may not seem super appealing, visually, but try downloading some different themes.
Swap them out whenever the mood strikes, or create your own, using any colors or source photos you'd like.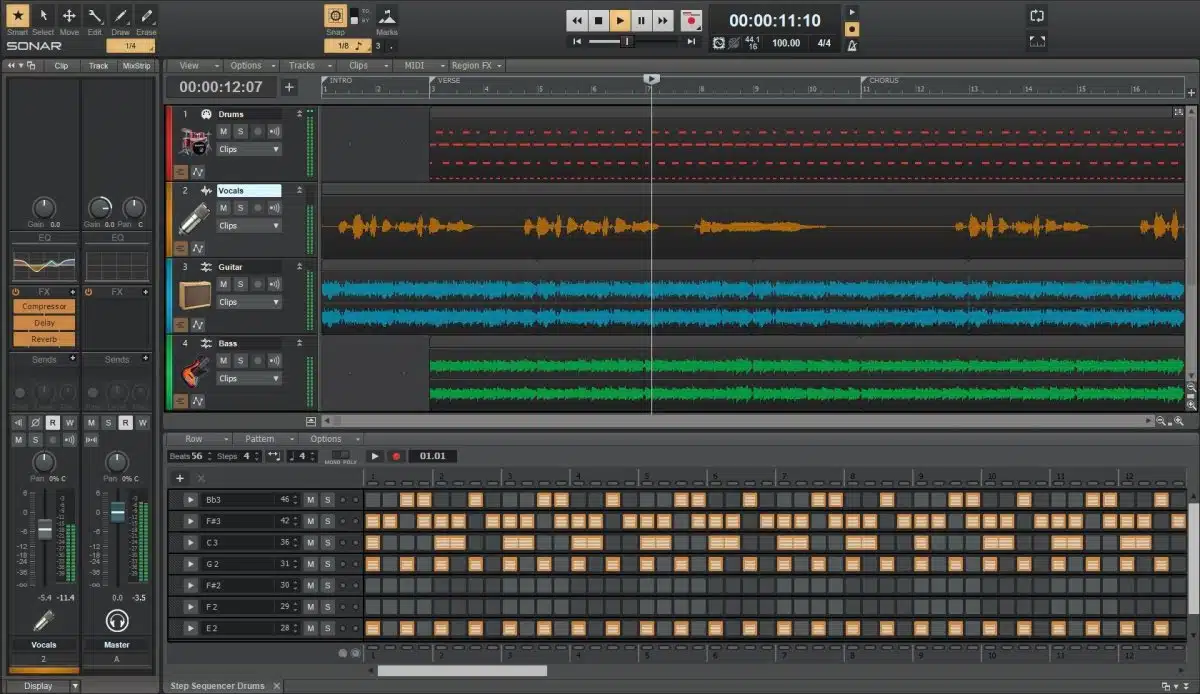 Before it was called Cakewalk by BandLab, it was known as Cakewalk Sonar and was not a free DAW.
It was rather quite expensive.
However, since Bandlab swooped in, all the instruments and effect processors are now 100% free, and users were promised continuous updates…
They have certainly kept their word.
They even incorporated ARA, so programs that support it, like Melodyne, can operate as they would, using the highest tier of your favorite DAW.
ARA is fairly new, so having a free DAW come equipped with it is mind-blowing.
With its original functionality, plus the continuous, expanding feature-set, Cakewalk isn't just one of the best free DAWs, it's one of the best DAWs, period.
If you think Reaper is too advanced, confusing, or visually unappealing, Cakewalk will be a welcomed replacement.
They also have an incredible variety of stock plugins, processors, and instruments.
When mixing, its built-in FX rack is unmatched by any other digital mixer; it gives you the feel of an analog setup.
Award-winning UI
Unlimited tracking
Industry-best engine
A wide variety of instruments
Studio-quality effects
VST3 support, touch-enabled, ARA support
Composing, recording, editing, mixing, mastering, and sharing with Cakewalk is a cinch.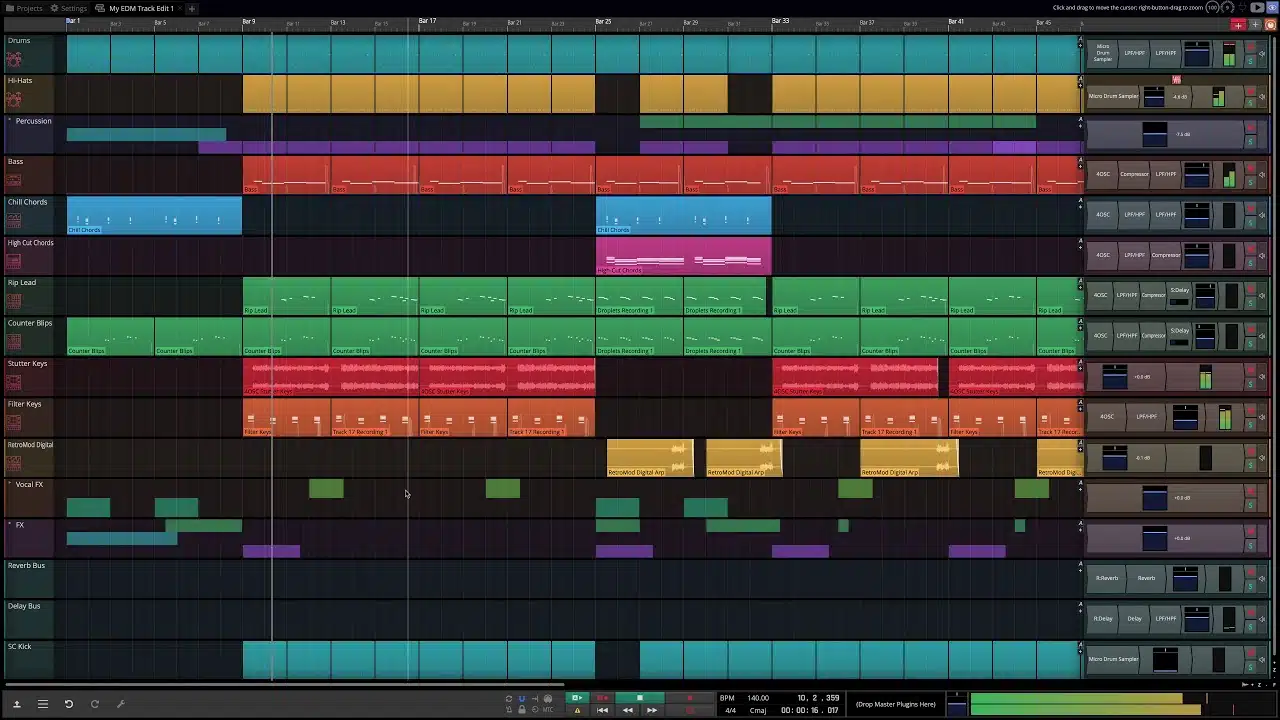 Waveform Free is the only free DAW on our list that has extended functionality you can purchase, exclusive to Tracktion 一 called Waveform Pro.
However, it's all features you can live without 一 such as quick actions, and layout customization 一 as you'll still have everything you need to produce music
Just keep in mind, the update is available if you'd like it. A $69 in-app option is available, which allows you to unlock more functionalities. 
It has a lot of features you'd expect from a paid model, but not so much a free DAW, and that's what makes Waveform Free stand out. Including:
40SC (powerful subtractive synth with a clean UI)
Flexible modulation, a selection of filters & effects onboard
MPE compatibility
Micro drum sampler
No track limits on track counts 
With this free DAW, there are no restrictions whatsoever when it comes to unlimited track counts, adding popular plugins, and its (capable) feature-set.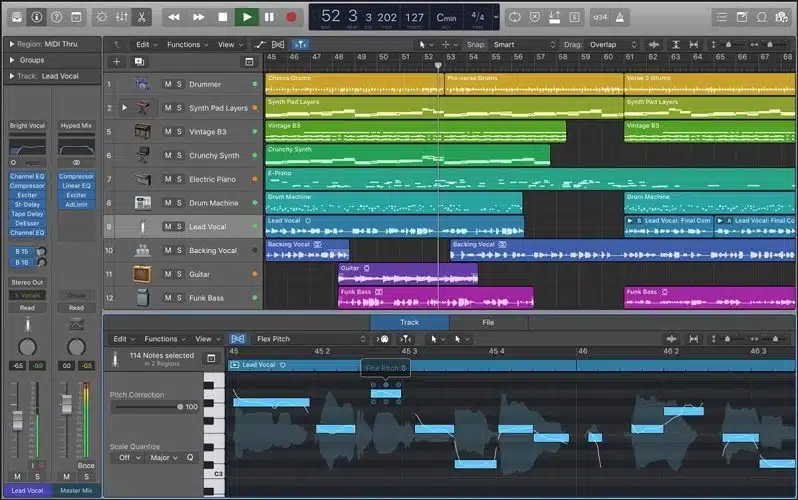 You've probably heard of, used, and most likely love Logic's little brother: Garageband.
It is most certainly one of the most recognizable names when it comes to free DAWs.
It includes a complete sound library (instruments included), presets for guitar and voice, and an awesome selection of session drummers and percussionists. 
As well as a Touch Bar for MacBook Pro and an intuitive, modern design.
It's super easy to learn, play, record, create, and share your musical masterpieces.
It might only possess a fraction of what Logic can do, but its workflow can be considered parallel.
So, this free DAW is especially beneficial if you'd like a free preview of what working in Logic is like.
Drummer track (28 beat-making drummers, 3 percussionists)
Drummer Loops (prerecorded acoustic and electronic loops)
Streamlined, professional interface
Free artist lessons
Powerful synths with shape-shifting controls
Free Stock Audio Effect plugins
Keep in mind there is no mixing console view.
Plus, when Garageband is paired with its IOS counterpart, it's safe to say you'll never leave home without it.
The transfer from IOS to Mac is seamless, and there are ways to use Garageband on PC as well.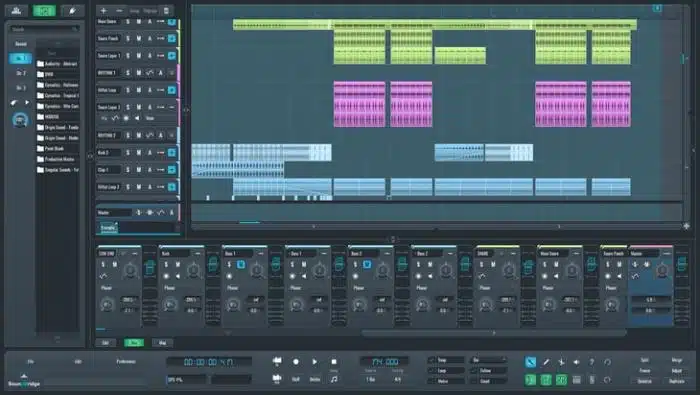 The stock plugins that SoundBridge offers are what makes it truly shine.
Packed with essentially any feature you could imagine.
It was also designed and optimized to be fully touchscreen compatible and is supported by the Microsoft Surface.
This free DAW not only has beautiful aesthetics but intricate side-chain support as well.
Along with a sequencer, dedicated Insert FX chain parameters, and detailed automation control option.
Its interface might captivate you instantly.
Complete third-party VST
Low-latency/high-fidelity audio driver support
Advanced mixer
Insert FX rack
RitMix: Drum Machine
MIDI-mapping & MIDI Editor 
Audio and Automation Editors
Detachable GUI elements [and GUI scaling]
Automatic plugin-delay compensation
You will have easy access to all essential tracking, sequencing, editing, and mixing features.
On top of that, they have met all the professional industry standards, which is always a plus.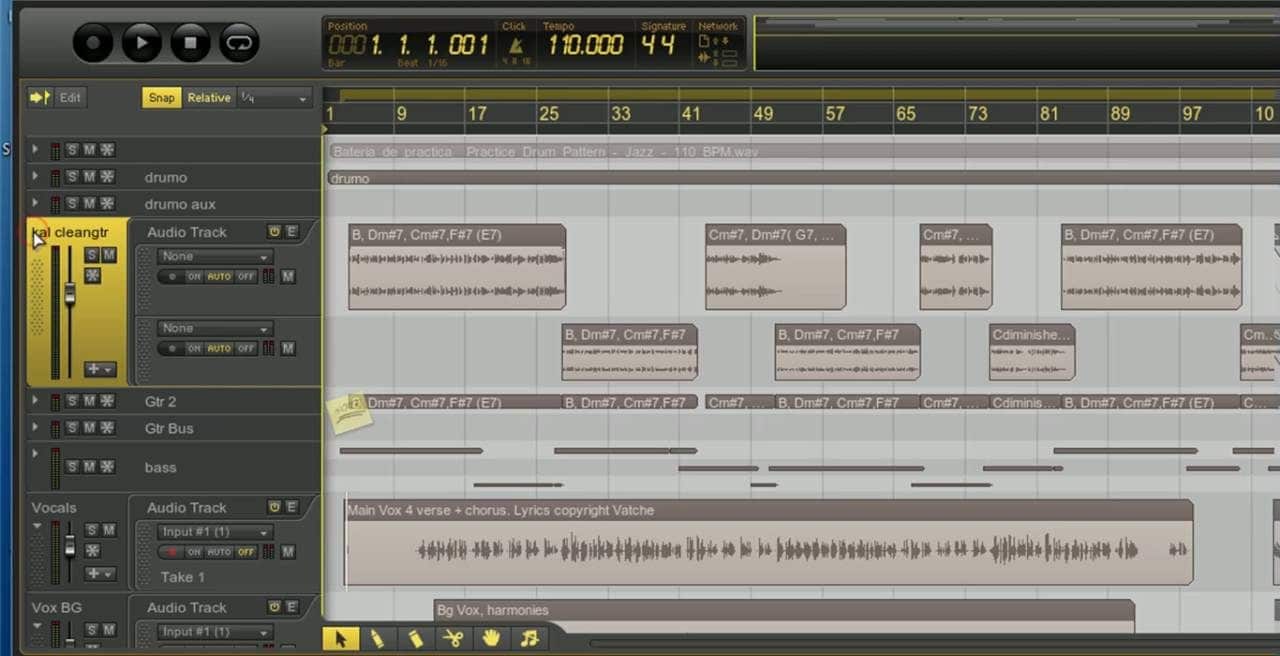 We are considering this DAW a bonus because, while it's a capable free DAW, it's highly specialized for remote collaboration.
It is hands-down the best free DAW in terms of collaborating with anyone, for any task no matter the distance.
This is especially beneficial in today's world.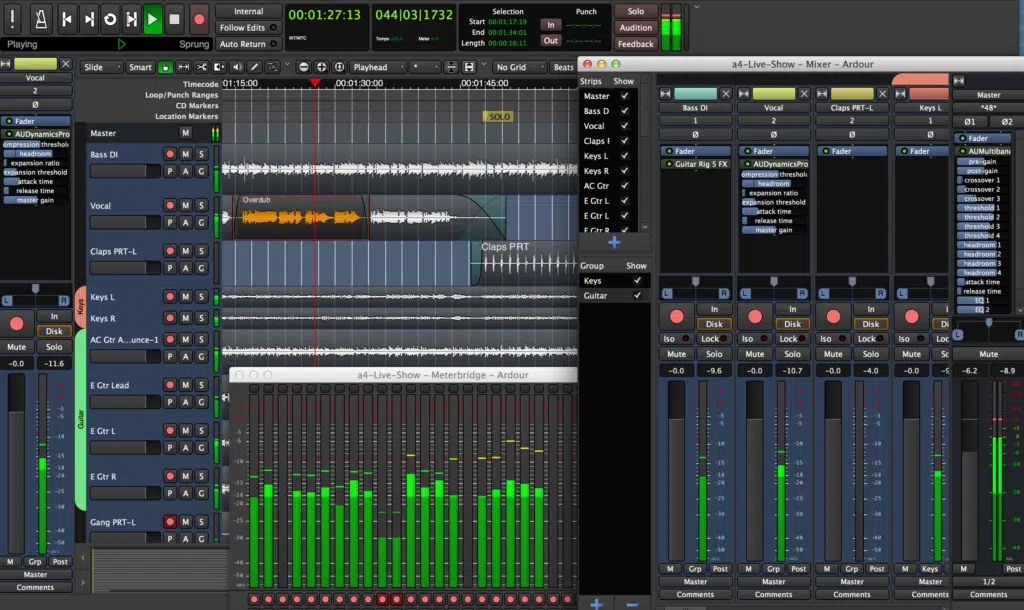 This free DAW is not optimized for actual production, it's once you've finished your project and are ready to mix that it comes in handy.
It has excellent features that make it an ideal Mixing and Tracking DAW.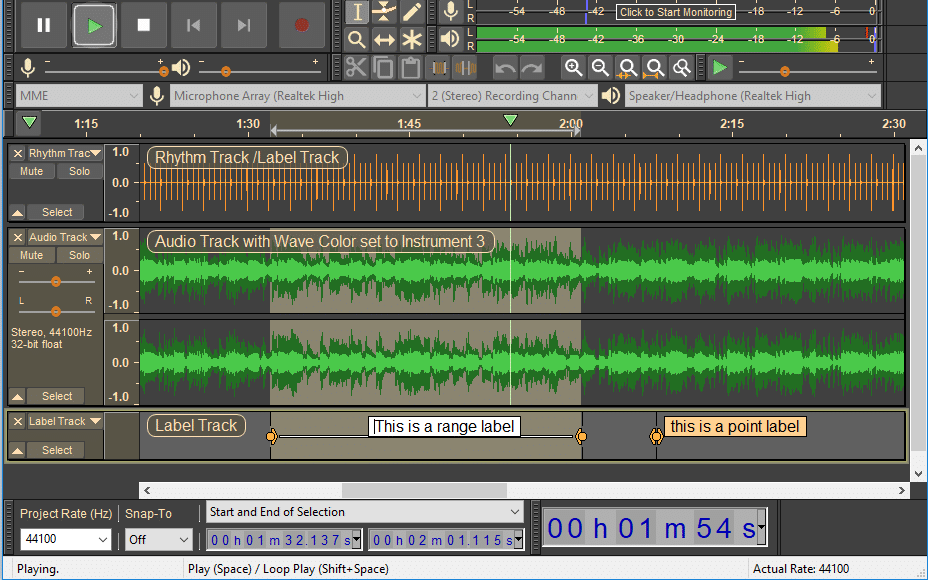 Regardless of what you may hear, this free DAW is not a full-fledged DAW, but rather a very capable, fully functional (no-frills) Audio Editor.
It is comparable to other (paid) commercial audio editors, such as Adobe Audition and Sound Forge Pro. 
FINAL THOUGHTS
Like everything else in music, you will have a preference, but all the free DAWs featured in this article are worthy contenders.
Each one of the free DAWs mentioned can accommodate even the most experienced producers, artists, and musicians. 
Try them all out, and see which one you work the best with because, as we mentioned earlier, comfort is key. And what's the harm… they're all free!
Do you want more amazing free offers? 
Check out any of our FREE Unison Essential packs.
They are guaranteed to make your music stand out, and are always professionally made, so you'll never have to worry about quality (or quantity, for that matter).
Whether it's melodies, bass loops, one-shots, or even our Unison Essential Famous MIDI Chord Progressions, we've got you covered. 
Not to mention, they are designed to get you better results than most paid products out there.
Simply throw them into one of the free DAWs mentioned above, and watch the musical miracles happen.
Until next time…