In the world of the modern producer, making music on your iPad and phone is getting more and more popular.
Some may say that producing an entire (polished) track on a mobile device is impossible, even ridiculous.
However, mobile music-making apps have seriously stepped their game up, making it very possible, even preferred.
In terms of pure performance and processing capabilities, mobile devices can certainly hold a candle to desktop DAWs nowadays. In some situations, even outperform them, due to a lack of tactile control.
You can accomplish everything you normally would, and produce the same professional-quality tracks 一 from start to finish 一  even on the go.
That is if you know the right apps to use, of course…
Today, we're covering the best, most efficient mobile DAWs on the market that are actually worth it.
THEY CAN:
Enhance & simplify your workflow

Give you unique opportunities and inspiration (exclusive to mobile)

Make it possible to create tracks from start to finish

Seriously up your production game, skills, and efficiency 
Through the touchscreen interface, it adds a dimension of polyphonic expression that even the best MPE controller couldn't offer.
Now, thanks to Apple, you can even do away with inter-app audio (for the most part).
Plus, with the integration of AUv3's, almost every music app you can think of also includes an optimized plugin that can be used in conjunction with every major mobile DAW mentioned today.
The days of looking down on those who create music from their phone are over, especially with the use of one of the following apps:
#1: CUBASIS 3 – Steinberg ($49.99)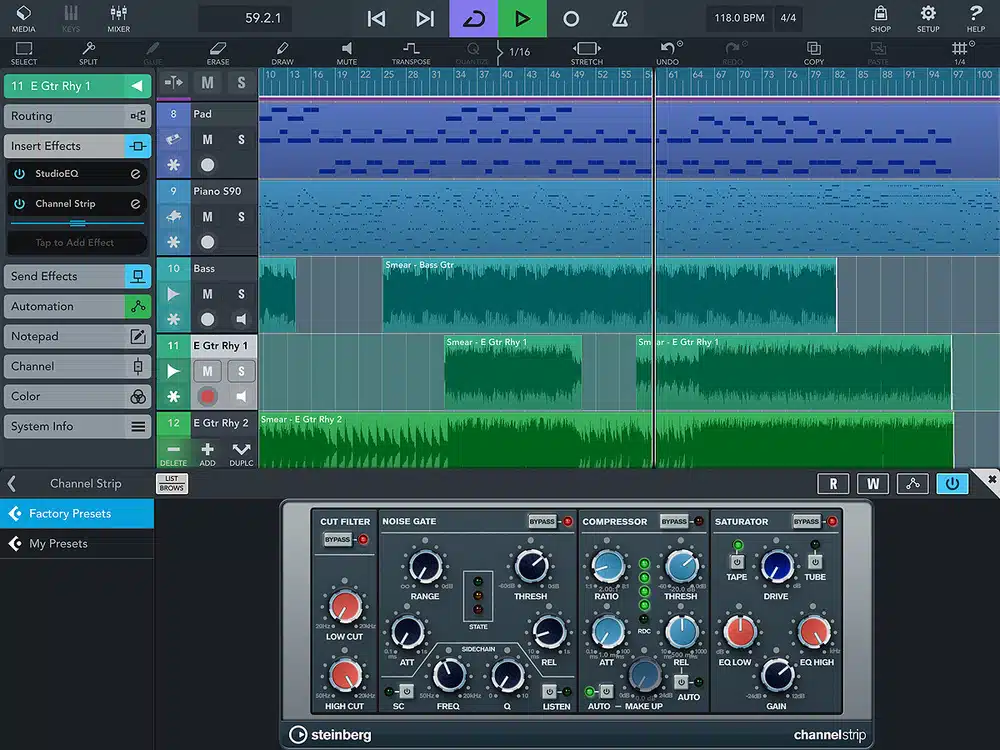 When it comes to mobile DAWs, the multi-award-winning Cubasis 3 by Steinberg (similar to its reputation in the MAC/PC world) is the cream of the crop. 
It is easily considered 一 by both amateurs and professionals alike 一 to be the 'top mobile DAW' on both IOS and Android platforms. It is also one of the fastest and most intuitive Audio and MIDI Daws available on IOS today.
» Cubasis 3 has an amazing range of professional features, with unmatched stability. This makes it the most noteworthy, as we all know how frustrating it is when a session freezes or crashes.
Plus, of course, the name behind it doesn't hurt either.
» It caters to not only producers but artists as well. You can do everything from lay down an entire beat, to record an entire song, mix, and even master a session that was recorded in your main DAW, and everything in between. 
Cubasis 3 comes with professional effects and instruments from Steinberg, so IAPs are far from essential to get up and running.
In-app purchasing options are available. You'll receive not only Steinberg effects and instrument plugins (adaptations from Cubase) but also from Waves; including pitch-correction tools. 
It is super easy to set up (even easier than most desktop DAWs) and has certainly made it smooth as butter when transferring from MAC/PC to your mobile DAW, or vice versa. 
» The one true downside to this product is its price compared to other similar apps. However, it's well worth the investment… this is Steinberg we're talking about here.
If you're a Cubase desktop user, getting Cubasis 3 is kind of a no-brainer, but even if you use another desktop DAW, v3 should still be seriously considered.
It's as close to a proper desktop/touch combination as you can (currently) get.
FEATURE HIGHLIGHTS:
» Unlimited number of audio & MIDI tracks

» 32-bit floating-point audio engine

» Audio I/O resolution of up to 24-bit/96kHz

» Real-time time-stretching & pitch-shifting (including Zplane's Elastique)

» Micrologue virtual analog synth 一 based on the Retrologue Synth 一 with 126 ready-to-go presets

» MicroSonic 一 with over 120 virtual instrument sounds

» MiniSampler to create your own instruments 一 includes 20 factory instruments 一 import your own samples

» Mixer with studio-grade channel strip per track & 17 effects processors

» Fully automatable DJ-like Spin FX effects plugin

» Over 550 MIDI & time-stretch-capable audio loops

» Virtual keyboard 一 chord & drum pads with intuitive note repeat

» Automation, MIDI CC, program-change & aftertouch support

» Ability to load third-party instruments, FX, and MIDI plugins via Audio Unit, Audio Unit MIDI, Inter-App Audio and Audiobus 3

» Ability to import audio via Itunes, iCloud Drive, Files app, AirDrop (or with the use of AudioPaste)

» Ability to export directly to Cubas, iCloud Drive, external hard drives, wireless flash drives, Dropbox, AudioCopy & email
Cubasis 3 won the Computer Music Editor's Choice Award 2020, MusicTech Choice Award 2020, and was a NAMM TEC Award Nominee 2021.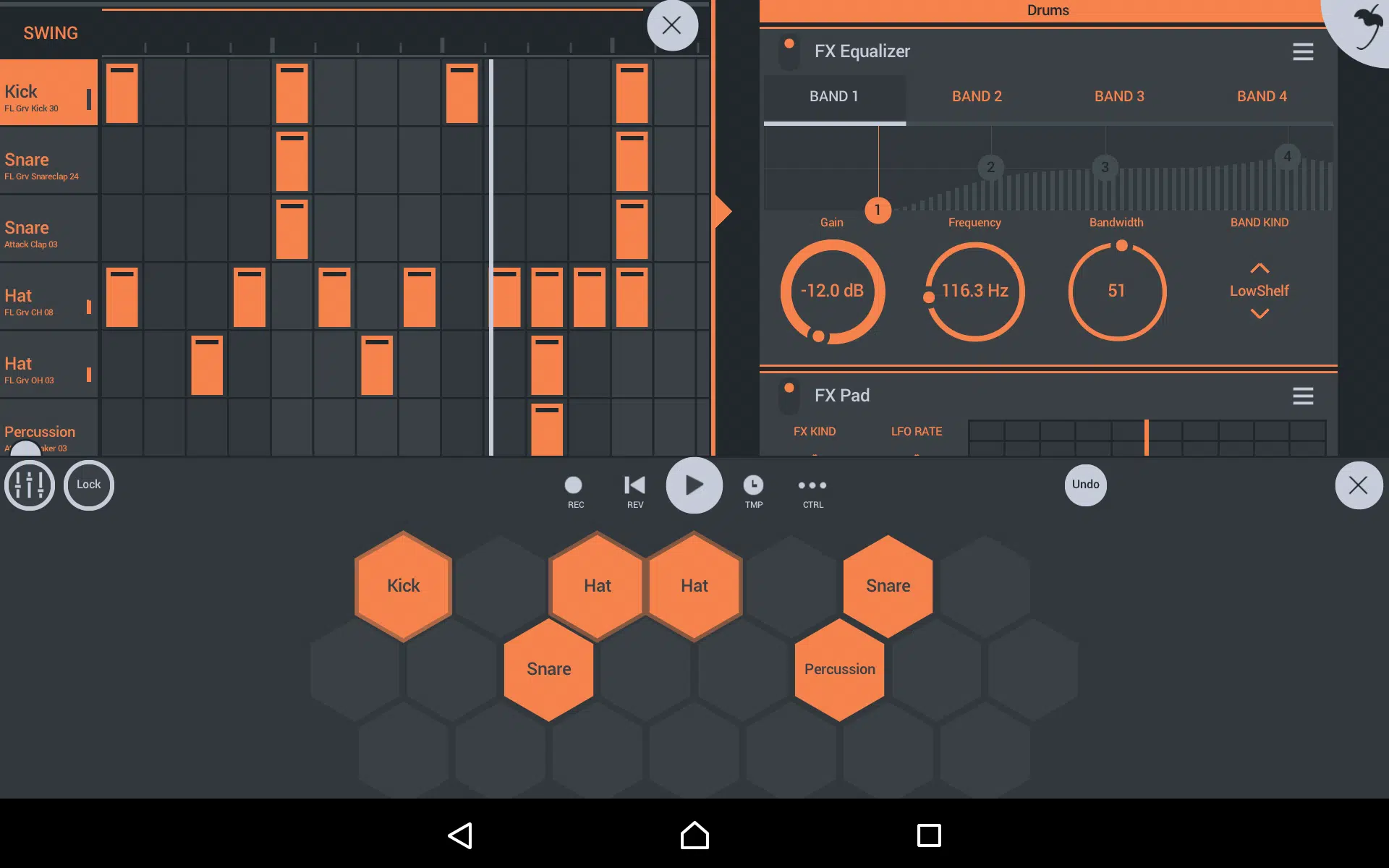 True to its roots, the mobile version of FL Studio is geared (almost) exclusively towards producers. 
Over the years, Image-Line has done an amazing job at keeping things fresh and constantly upgrading its features. Particularly porting versions of their own plugins for mobile form.
It has stayed true to form with the release of FL Studio Mobile as well.
It interfaces directly with FL Studio (like Cubasis), however, they upped the game by incorporating an actual port of FL Studio Mobile, available for free for MAC/PC. 
» Even if you don't own the full version of FL Studio, you can still access your session on the computer with ease.
FEATURE HIGHLIGHTS:
» Audio recording, track-length stem/wav import

» High-quality synths, samplers, drum kits, and sliced-loop beats

» Effects modules

» Full-screen MacBook & iMac Trackpad and Mouse support

» MIDI-controller & Automation support

» Mixer 一 per-track mute, solo, effect bus, pan & volume adjustments

» The Piano Roll 一 edit notes or capture recorded performances

» Step Sequencer

» User interface configurable with all screen resolutions and sizes

» Virtual Piano-Keyboard & Drum Pads

» Audio recording 一 external & internal sources

» Ability to browse samples & presets with preview

» Ability to load projects in the FL Studio (free) plugin version

» MIDI file import & export 一 both single track or multi-track

» Save & load WAV, MP3, AAC, FLAC, MIDI

» Share songs via Wi-Fi or iCloud to other Mobile 3 installations

» IAA App support (In/Out) & Audiobus support (In/Out)

» Share your songs via Sync to other Mobile 3 devices/installations
FL Studio Mobile includes in-app purchasing options for the DirectWave sampler player (among other ports of IL instruments/effects), so you can upload and create your own sampled instruments if desired.
Instrument & effect modules are included, as well as Drum Samples, DirectWave Instruments, MiniSynth presets and SuperSaw presets, and additional IAPs.
» One major drawback: The fact that its IOS version does not include the ability to use AUv3's. Image-Line ensures this is in the works.
AUv3's are Apple's (fairly new) solution and proprietary form of an Audio Unit (AU) Plugin; designed specifically for IOS. It is equivalent to a VST.
So, if you're planning on using any IOS synths, effects, or utilities, it must be accomplished through IAA (inter-app audio). 
To some, this is a major turnoff, since IAA is phasing out (in terms of Apple supporting it).
However, if your goal is to simply lay down some tracks on the go through Image-Line's instrument set 一 with the exception of a few intermittent IAA or Audio Bus Routes 一 to bring over to your Desktop Daw, FL Studio Mobile is indeed ideal.
Particularly if you're familiar with FL already, as there are infinite similarities in the way they both function. 
Plus… who wouldn't want the FL Sequencer within arms reach at any given moment?
» If you want to try the FL Studio Mobile app before you buy it: download the FL Studio Mobile Plugin for macOS/Windows. 
It is identical to the app, just as a plugin inside of Fl Studio.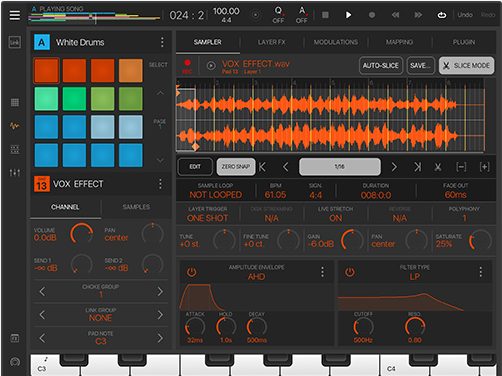 INTUA has been a major player in the humble IOS music scene (most likely) before most of you even started making music.
For a while, BeatMaker was all there was, and it will always be considered groundbreaking, regardless of how long the hype took to generate.
They singlehandedly paved the way for those after them and showed developers that it's possible to make good, professional-quality music right from one's phone or iPad.
Today, we have not only the OG BeatMaker, but BeatMaker 2, and now BeatMaker 3 as well. It is geared specifically towards beatmakers (enter 'obvious' here).
Although they include a high-quality synth, sampler, and drum machine, its overall intent is to allow producers to create tracks with every tool at their (mobile) disposal. It serves as more of a musical canvas, similar to Ableton.
Unlike Cubasis and most other DAWs included on our list 一 even though it has a timeline 一 BM3 should not be considered a traditional 'Timeline DAW.'
» It shines when it comes to the production workflow above most.
You have the ability to build your own instruments and drum patches using your own samples or the massive library that's included.
BM3 is a great mobile DAW option for sparking endless inspiration, just know, it's all in the workflow! 
FEATURE HIGHLIGHTS:
» Inspirational performance tools such as repeat, roll, swing, key scales & chords, and macro controls (boosts creativity)

» 128 banks of 128 pads

» State of the art sampling engine 一 Record and chop live, assemble, mangle and resample

» Includes ZPlane's Elastique live stretch and pitch shift

» Full AUv3 and IAA support

» The classic timeline based pattern & song editor

» New flexible Scene Mode 一 opens up opportunities for remixing and live performances, looping and arranging clips in new ways

» Play in sync with other software using Ableton Link.

» Multi-channel recording & input/output routing, with the support of USB audio interfaces

» Modern mixing board 一 every track, every pad has its own channel with unlimited effects and up to 8 sends.

» You can export your compositions and separate elements into single stems

» Works with 32-bits and 64-bits iPads.

» Native iPad Pro support
4. NANOSTUDIO 2 – Blip Interactive Ltd. ($19.99)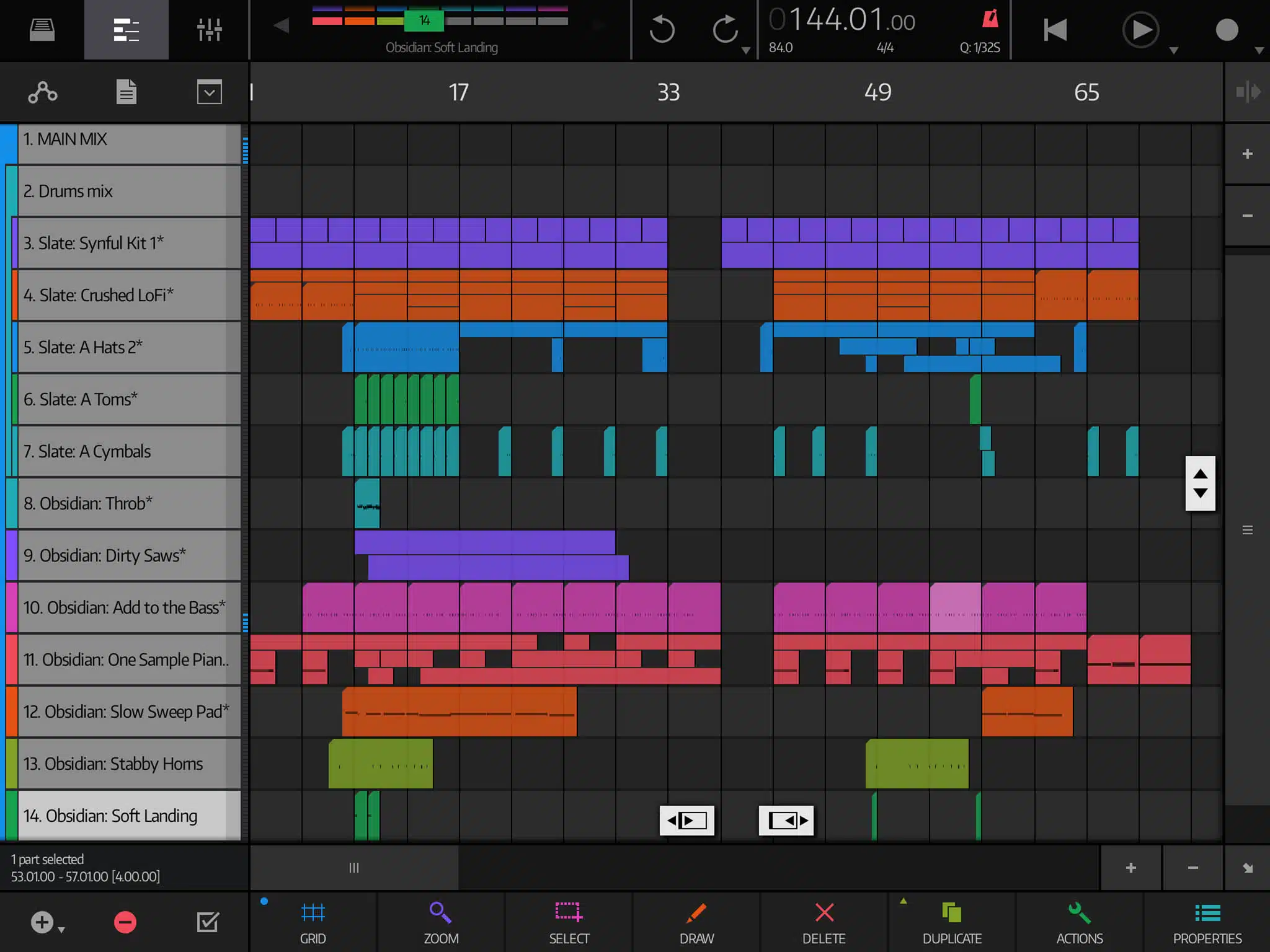 Even though NanoStudio 2 is primarily for producers, it encompasses the best of both worlds:
A timeline-style workflow
Along with the (Ableton style) clip-building workflow.
NanoStudio 2 builds upon the same design principles as its predecessor (NanoStudio) and introduces a wide range of extra features.
An all-new audio engine delivers professional sound quality, highly optimized to handle complex projects with large numbers of instruments and effects.
The most notable inclusion is Obsidian: NanoStudio's built-in all-in-one Synth, Sampler, and everything in between. It is one of the finest synths/samplers on the mobile market, as it includes:
3 oscillators with 32 note polyphony and 7 different synthesis methods

一

including analog, wavetable, FM, multi-saw, and phase distortion. 

18 different filter types

一

including resonant analog, super clean digital, formant, comb, and waveshaping. 

300 factory patches are supplied with macros set up and ready to go

一

with much more available as IAP.
Looking at its lack of included instruments may sway you towards BM3, but don't let it fool you… NS2 can do everything BM3 can do and more; with an overall easier navigation system.
There's less to get used to, as it functions in the more traditional way.
It's not just designed solely for producers, but artists as well, although (unlike CB3, which is a 50/50 split), it caters primarily to producers.
Plus, if you're a songwriter looking to either lay down a composition or record a few tracks, NanoStudio has you covered. 
» It's the ultimate DAW for switching between songwriting, production, recording, and even mixing.
Just take a look at NS2's Mixer and you'll see there's very little you can't do.
FEATURE HIGHLIGHTS:
» Slate is NanoStudio's second built-in instrument, a sample/synthesis-based performance pad that makes it easy to tap out drum beats.

» Hosts external Audio Unit (AUv3) instruments and audio/MIDI effects. 

» A library of all your AU instruments & presets is maintained so they're tagged, searchable, and just as accessible as NanoStudio's own internal instruments.

» Powerful editors for song arrangement, MIDI, automation, and samples

» A fully-featured sequencer, which supports tempo and time signature tracks (including tempo ramps) and Ableton Link.

» A mixer with unlimited tracks, track grouping, and audio/MIDI sends

» Tracks may have an unlimited number of insert effects

» 11 built-in effects to choose from including reverb, sidechain compressor/expander, EQ with spectrum analysis, look-ahead limiter, delay, exciter, chorus, flanger, and phaser

» Ability to add AU audio/MIDI effects to the chain and use them just like an internal effect

» Mixdown options available with quality settings up to 32 bit/96kHz

» Support for file-formats including wav, aiff, ogg and M4A

» Supports Audiobus

» Has many options for file sharing via the iOS Files app, Dropbox, AudioShare, iTunes File Sharing, AirDrop, email, WebDAV, and importing music from your iTunes library
5. iMPC PRO 2 – AKAI PRO ($24.99)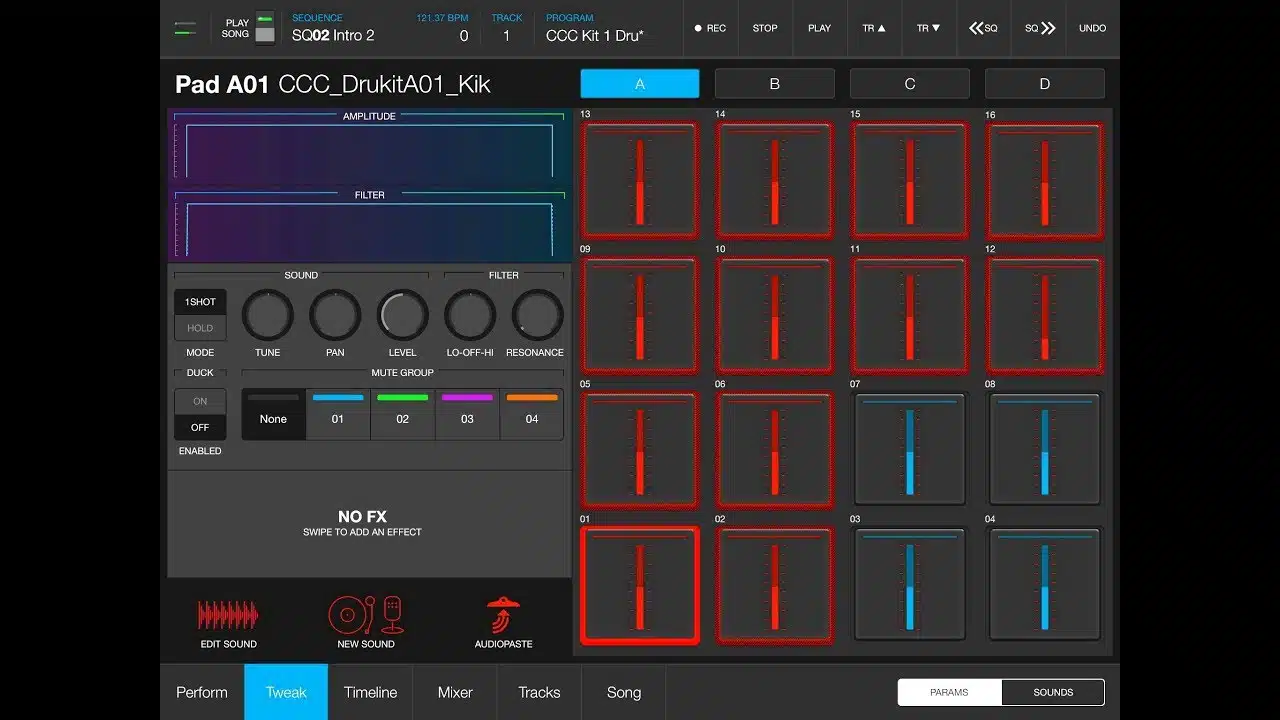 Taking the big-name brand out of the equation, Akai's iMPC Pro 2 is probably the weak link of the bunch.
However, if your plans are not to use it exclusively as your DAW of choice, it's designed to be more on par with BM3.
I say this because they are very alike in structure, with a similar feature set. Similarly, it has the same target user; the producer.
The top 2 reasons iMPC Pro 2 stands out is:
Its expansive collection of sample packs by reputable names

Its performance features, which allow you to apply some of the classic MPC tricks (especially those pertaining to drums).
Including auto-triggering a sample on the pad. This creates instant triplets and variations without the need for extra programming. 
It's superb and stable when on the go, but unlike BM3, it's doubtful that you'll choose it when you're in front of your computer.
If you don't require a humongous feature set and would like to just make beats on the go, iMPC Pro is one mobile DAW that you should consider.
If you're willing to pay for Akai Premium Samples, that is.
That does not mean they're the kings at creating and releasing the best sample packs, however, regardless of the premium.
On the bright side, we always have you covered when it comes to the dopest, most professional samples in the game, which can be found here. 
Simply load them on your mobile device, and bring Unison's unmatched inspiration wherever you go! The best part: they're free!
FEATURE HIGHLIGHTS:
» Warp Tracks and Clips to match the tempo

» Access several quick editing features on Audio Clips (Pitch shift, Time Stretch, Amplify, Crop, Split, Duplicate)

» Drag to arrange Audio Clips, snap them to an adjustable grid setting

» Advanced waveform editing

» AudioUnit integration:

» Sample sounds from Spotify

» 64 Track Mixer with EQ and 4 FX sends (Reverb, Delay, Chorus/Flange, and one Inter-App Audio Effect)

» Chop-shop provides intuitive multi-touch editing, trimming, auditioning, splicing, splicing, and processing samples

» Live Sequence queuing for real-time performance and playback

» MPC Note Repeat featuring 1/8 note – 1/32T timing with latch

» IAA and Ableton Link support

» Share beats and songs seamlessly to YouTube

» Expert MIDI support including expanded options, multiple maps, and more

» New Song Arrangement workflow and integrated Song Mode makes song creation easier than ever

» Drag entire Folders and Sound Packs directly to pads to load many sounds at once
BONUS (FREE): GARAGEBAND – APPLE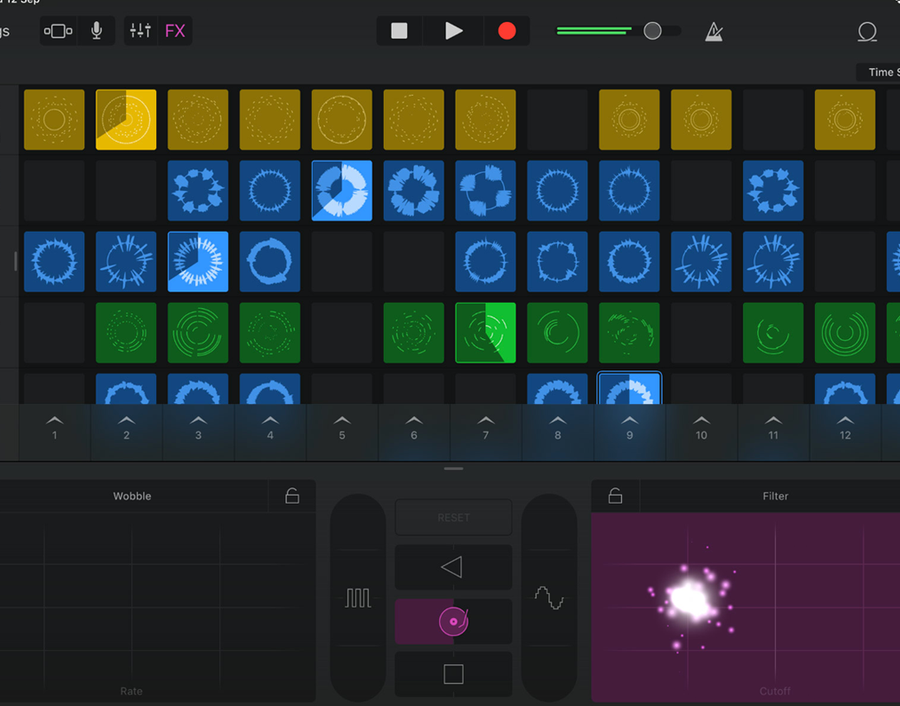 The GarageBand app is to logic, as Cubasis is to Cubase. And, aside from its interfacing capabilities, the mobile GarageBand is arguably superior compared to the real thing.
While it isn't composed of the same abundant feature set as Cubasis 3, they are still broad and cater to artists, songwriters, and producers alike.
» It includes an element of playability neither Logic nor the original GarageBand can touch.
GarageBand has even spawned the Real-Time Performance DJ Effect pad, now included in Logic and Mainstage. 
Additionally, any Alchemy preset you have on your computer (or that you create) will be fully playable with the modulation pad (on the bottom) included.
Calling it 'Logic in your pocket' is an understatement because it draws from the best of both programs. 
» One of the main reasons it doesn't get the recognition it deserves is the fact that it's free. However, it is one of those rare occasions where price doesn't match quality.
You can actually make real bangers. Plus, you never even need IAPs, which is a huge plus.
With packs available for free download (by some of the biggest names in the game) I guarantee GarageBand will help you break right out of beat-block.
Even if you prefer another mobile DAW for everyday use, GarageBand seems to steal the hearts of its users, whether it's to create a whole song or simply get a loop going… that's right, live loops!
Shows how capable this app truly is.
FEATURE HIGHLIGHTS:
» Multi-Touch 一 tap and trigger a Live Loop cell or group of cells

» Create custom loops by recording directly into a cell using any Touch Instrument

» Remix FX to perform DJ-style effects

» Multi-Touch keyboard

» The Alchemy Touch Instrument

» Download free instruments, loops, and sound packs with the Sound Library

» Capture any sound and apply studio-class effects

» Virtual amps & stompboxes

» Audio Unit Extensions 一 record performances from third-party music apps directly into GarageBand

» Add virtual session drummers to your song, who take direction and play realistic grooves (acoustic, electronic drummers, and percussionists)

» Smart Strings & Basses

» Perform with Chord Strips and autoplay using any keyboard instrument

» Strum chords or trigger autoplay patterns on an acoustic and electric Smart Guitar

» Record, arrange and mix your song with up to 32 tracks using Touch Instruments, audio recordings, and loops

» Record multiple times over any song section and choose your favorite using Multi-Take Recording

» Uses professional mixing effects 一 including Visual EQ, Bitcrusher, and Overdrive

» 24-bit audio resolution

» Trim and place musical regions exactly where you want them to play

» Automate the volume and record the movement of controls on Touch Instruments

» Integrated notepad
REQUIREMENTS:
Compatible third-party Audio Unit Extensions apps from the App Store.
Free download from GarageBand Sound Library.
Multitrack recording requires a compatible third-party audio interface.
Sharing to Facebook and YouTube requires iMovie.
FINAL THOUGHTS
If you've used more than one DAW, you're well aware that each one has its own unique workflow, and has spots where they both shine and lack. The same goes for mobile DAWs.
You're going to have a personal favorite, of course, but don't be surprised if you find yourself opening up each one for different occasions.
Some for long sessions, some to help inspire you and break you out of beat block…
The best part is, the prices are just a fraction of the price, so you have the flexibility to use them all and exploit each one's unique features.
However, I recommend staying away from in-app purchases when it comes to loops of all kinds, as they're all super generic.
Instead, get a step above the industry standard, with the professional melodies and drums found in the Unison Essential Melody Loops and Unison Essential Drum Loops.
They are far superior in quality and have that cutting-edge sound that will make your tracks super addictive.
Until next time…