As a music producer, a good studio desk is not just a piece of furniture; it's the epicenter of your creative universe.
The right desk can help you organize your gear, enhance your workflow, and create an environment that's conducive to creativity.
However, with so many options available, it's hard to choose the ideal studio desk.
But don't worry, we've got you covered!
In this comprehensive guide, we're providing you with the absolute best 7 studio desks for 2023 一 tailored to suit every budget, space constraint, and feature requirement.
Each studio desk rundown will contain:
An detailed overview ✓
Standout features ✓
Key functions ✓
Ergonomic design ✓
Price range ✓
Armed with this information, you'll be able to make an informed decision that can genuinely transform your music production experience.
Whether you're working from a home studio or a professional setting, our curated list offers a range of choices that can drastically improve your workflow and creative output.
So dive in and find the studio desk that's not just a fit, but a game-changer for you.
What To Look For In a Studio Desk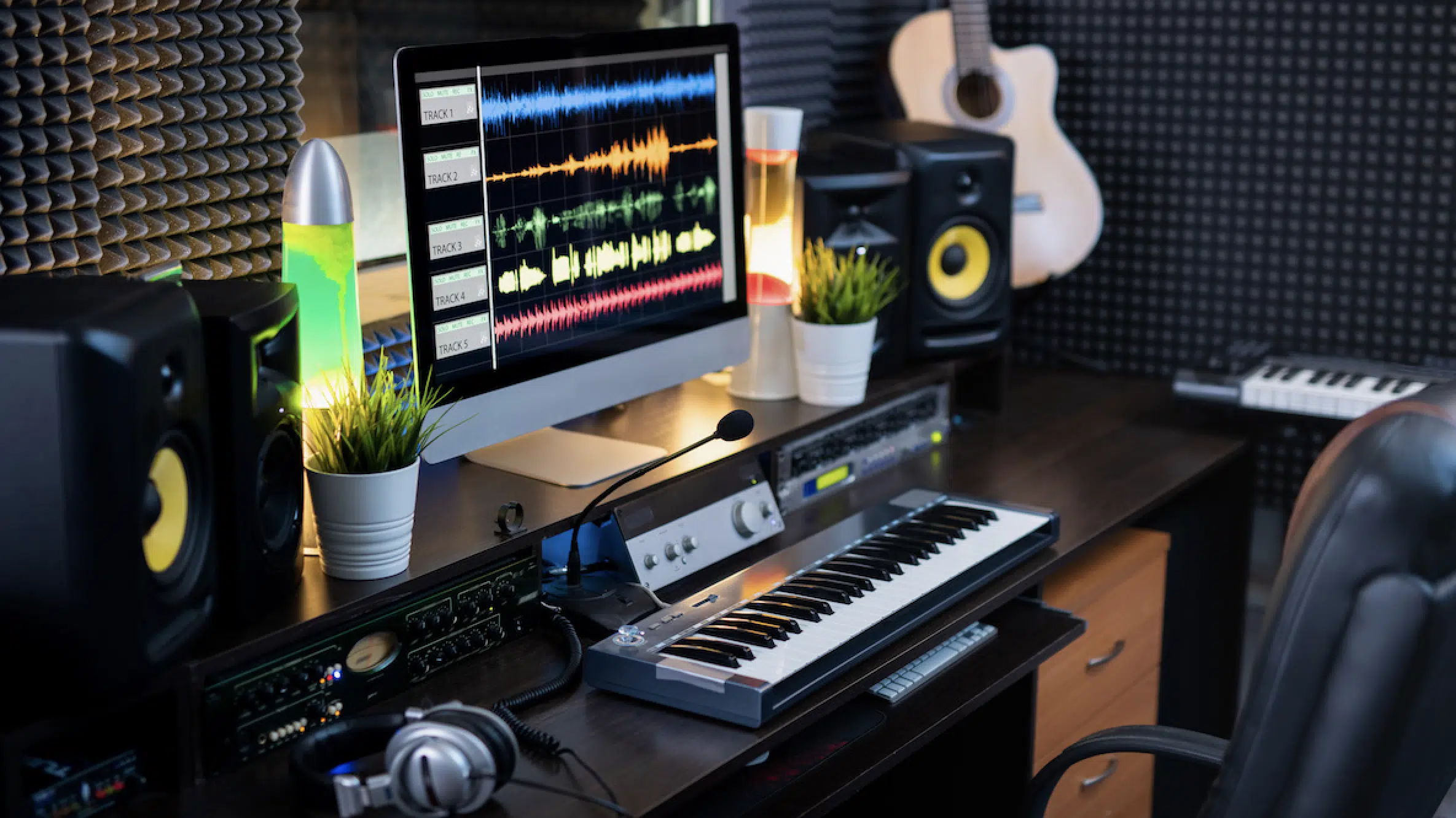 Selecting the right studio desk is about more than just aesthetics 一 it's a choice that can significantly influence your productivity and the overall workflow.
When choosing a desk, consider the following essential factors:
#1. Ergonomics
Ergonomically designed products will help you work for longer periods without physical strain.
Look for features like adjustable height and well-placed tiers to suit your individual needs.
Little details matter, they shouldn't be optional.
#2. Storage Capacity
Your studio desk should offer sufficient storage options to accommodate your equipment.
Everything from synthesizers and drum machines to multiple monitors and audio interfaces should have its place.
#3. Build Quality
A studio desk needs to be sturdy and durable to withstand the weight of your equipment.
Materials like solid wood and high-quality steel are preferable for longevity.
#4. Cable Management
Poorly managed cables can be more than just an eyesore 一 they can also affect functionality.
A studio desk with built-in cable management can help keep things organized.
#5. Size and Fit
Make sure your studio desk fits comfortably in your studio space.
A studio desk that is too large 一 Can make a small room feel cramped.
A studio desk that is too small 一 May not provide enough work surface.
So, scope out your room and what seems comfortable, because you certainly don't want to be too cramped or not utilize enough space.
#6. Modularity
A modular desk offers flexibility, allowing you to add or remove components as your setup evolves over time.
NOTE: Of course, make sure to consider your budget as well.
By keeping these factors in mind, you'll be better equipped to make an informed decision that caters to both your needs and preferences.
The 7 Best Studio Desks of 2023
Choosing the perfect studio desk is a critical decision that influences not just your workspace, but also your creativity and productivity.
Whether you're new to the production scene or an experienced veteran, the right desk can take your recording sessions and mixes to the next level.
Below, we've compiled a list of the top 7 studio desks available this year 一 each offering a unique blend of design, functionality, and value.
We've included some popular brands as well as the exact price.
So, let's just in so you can discover your next studio desk.
#1. Studio RTA Producer Station ($729)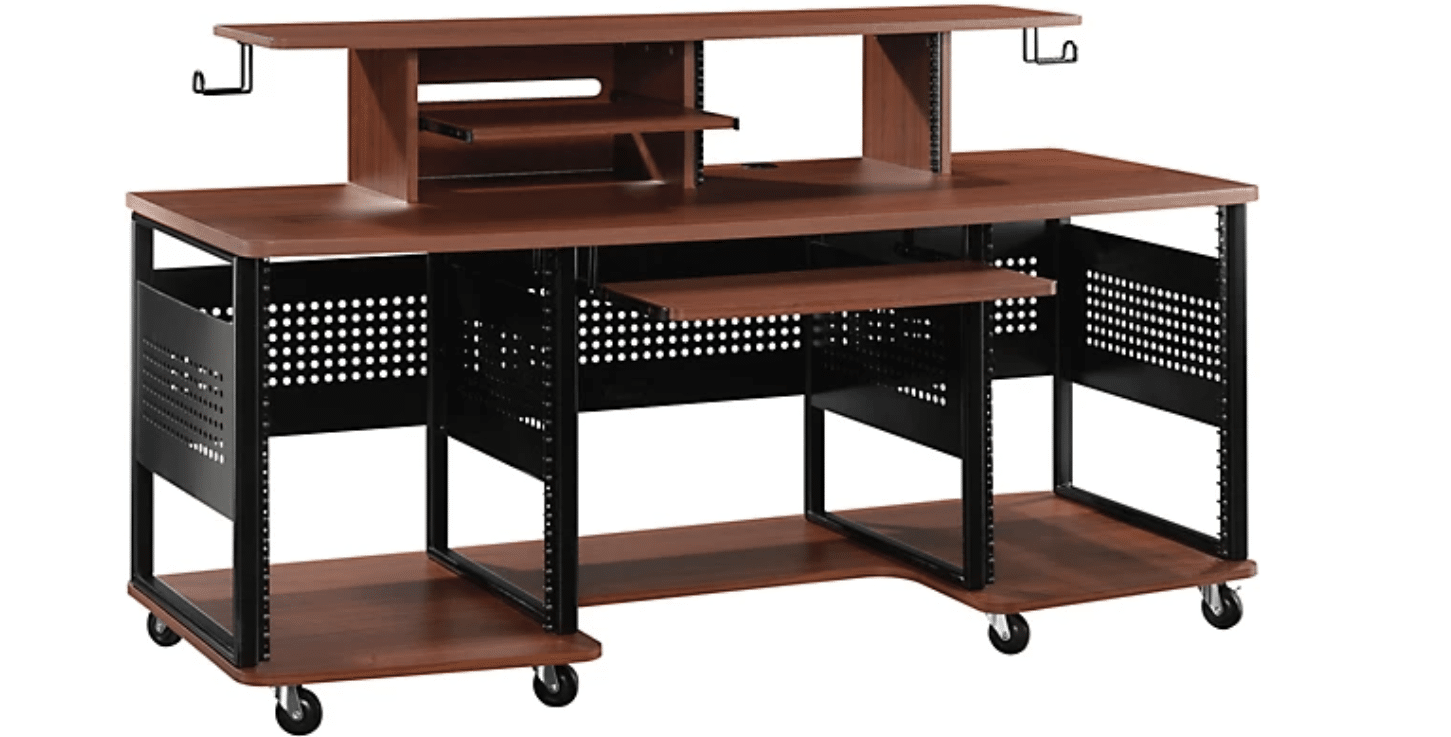 The Studio RTA Producer Station is a beast of a desk designed to meet all your home studio needs.
We're talking about an ergonomic workspace that organizes your gear in a way that feels intuitive.
This desk was made with the modern music producer in mind.
Your 88-key keyboard?… It will fit right on the main tier, comfortably.
But what really sets this desk apart is its dual 13-space lower racks on each side 一 giving you 26 spaces in total.
If you're looking for more rack space, this desk is perfect for you.
It's essential for your rack gear, whether that's signal processors, amps, or whatever else you use to get that signature sound.
When it comes to dimensions, this desk doesn't skimp out.
It provides ample space for all your gear without taking over your control room, as it's specs are:
88″ width
24″ depth
62″ height
And, let's not forget about the sliding tiers for your computer/MIDI keyboards.
Measuring 20.5″ wide and 16.5″ deep, these pull out when you need them and tuck away when you don't.
Plus, you can easily discover an organized workflow (thanks to cable organizers that keep your wires neat and tidy).
The Producer Station is constructed from welded steel, which provides a stable base that's not gonna wobble on you.
The whole unit even sits on four heavy-duty locking casters.
If you need to rearrange your studio space or do some cleaning, simply nlock the casters and roll this bad boy to where it needs to be.
Once you find the perfect spot, lock the casters, and your station is solid.
NOTE: It's also powder-coated in black to resist scratches/corrosion.
Overall, this is an amazing choice whether you're just starting out or you've got a bunch of equipment.
It's a great purchase right out of the box.
Standout Features of This Studio Desk: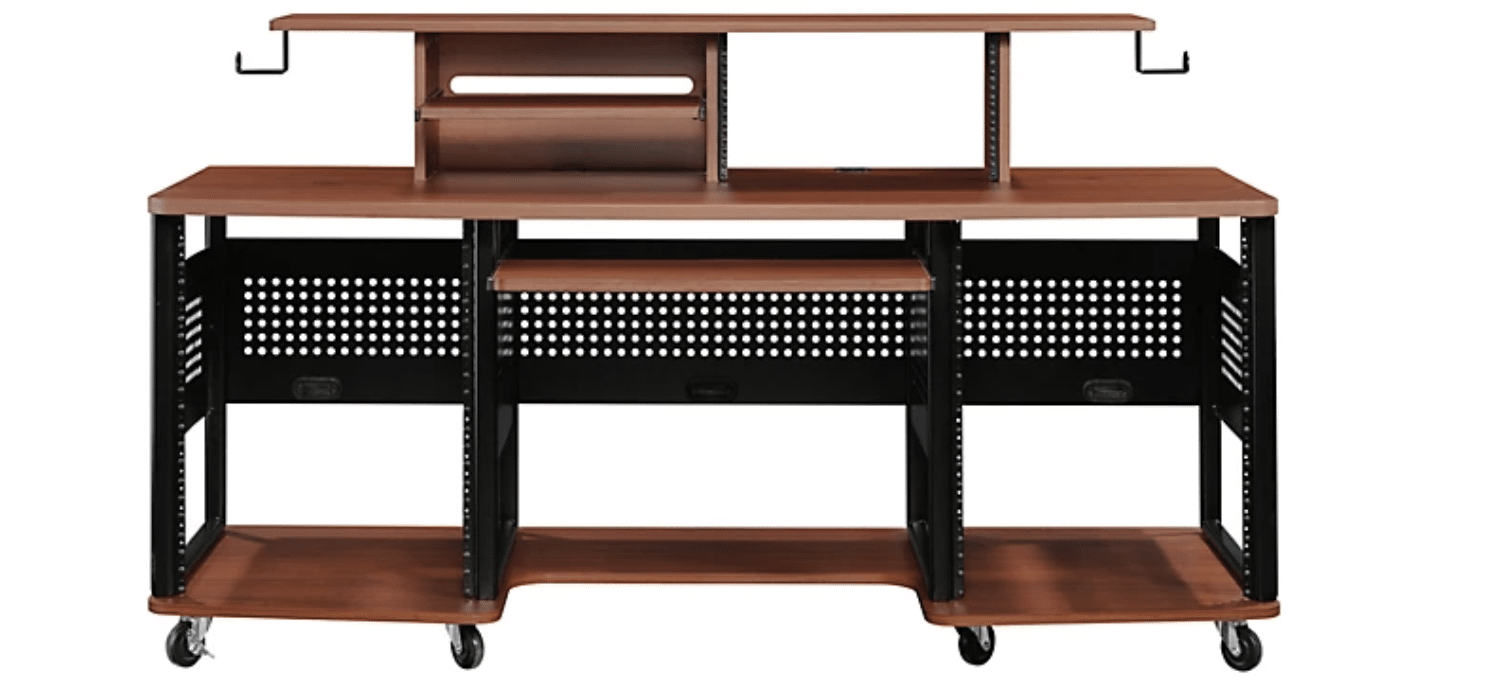 26-1/4″ wide slide-out keyboard shelf; always in stock
Ergonomic workspace
Dual 13-space lower racks
Incredible rack space
Pull-out upper shelf
Headphone hooks/holders on the top surface
Better than most studio workstations
One of the best studio desks for 2023
#2. BK Media Height-Adjustable Work Station ($199.99)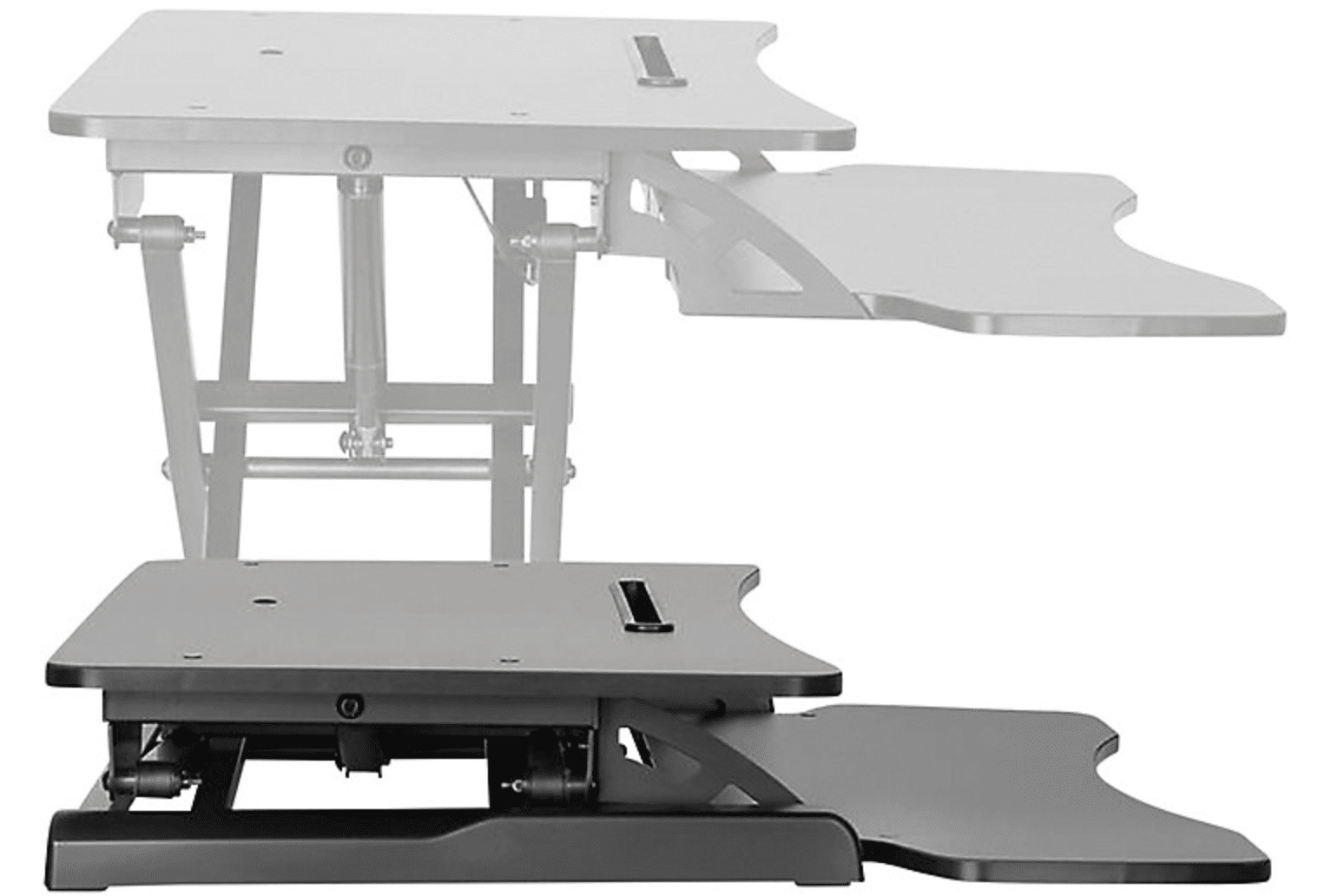 The BK Media Height-Adjustable Work Station is all about flexibility.
This studio desk is perfect if you're looking to transform your studio into an active workspace.
Height adjustments are smooth and effortless, thanks to a gas-spring assisted lifting mechanism.
Plus, it comes at a price point that won't break the bank 一 making it a great fit for music producers on a budget (or have interest in value for a low price).
Don't let the simplicity fool you…
This studio desk packs a punch in terms of durability.
It can hold up to 33 lbs of weight, and is constructed from:
So, go ahead and stack that outboard gear and monitors; this desk can handle it.
Its desktop size of 28.4″ x 16.3″ and keyboard tray size of 28.4 x 12.1″ are perfectly adequate for a streamlined setup.
One of the standout features of this workstation is the manual height adjustment range.
If you order this studio desk, you won't be disappointed.
You can go from 4.7″–19.7" in seconds, giving you the freedom to find the perfect ergonomic position.
Given its affordability, this is one of the most cost-effective options for a height-adjustable studio desk.
Standout Features of This Studio Desk: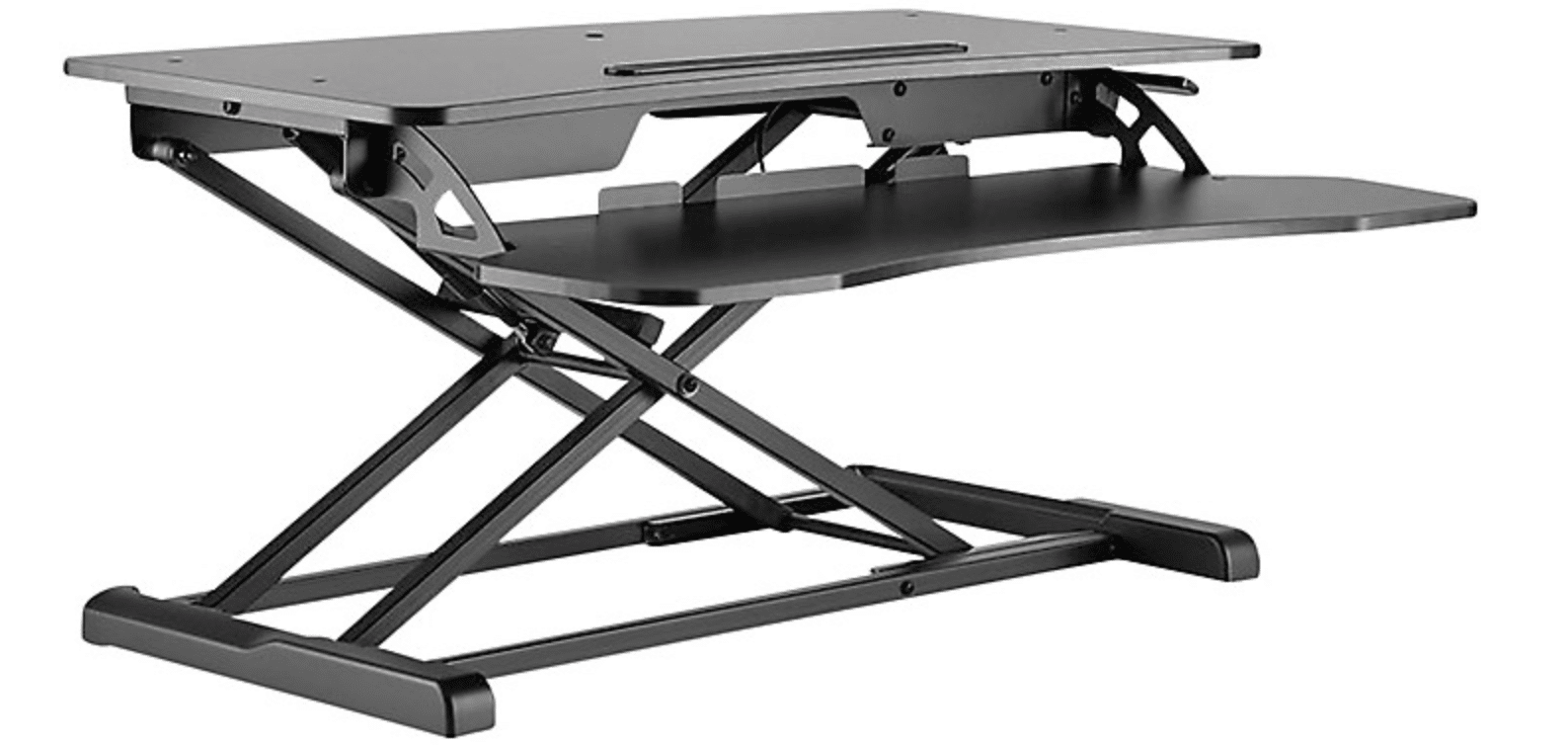 Chipboard, steel, plastic construction
Desktop Size: 28.4″ x 16.3″
Keyboard Tray Size: 28.4 x 12.1″
Adjustable Height Range: 4.7″–19.7″
One of the best studio desks for 2023
#3. Zaor Miza Z Studio Desk ($1,349)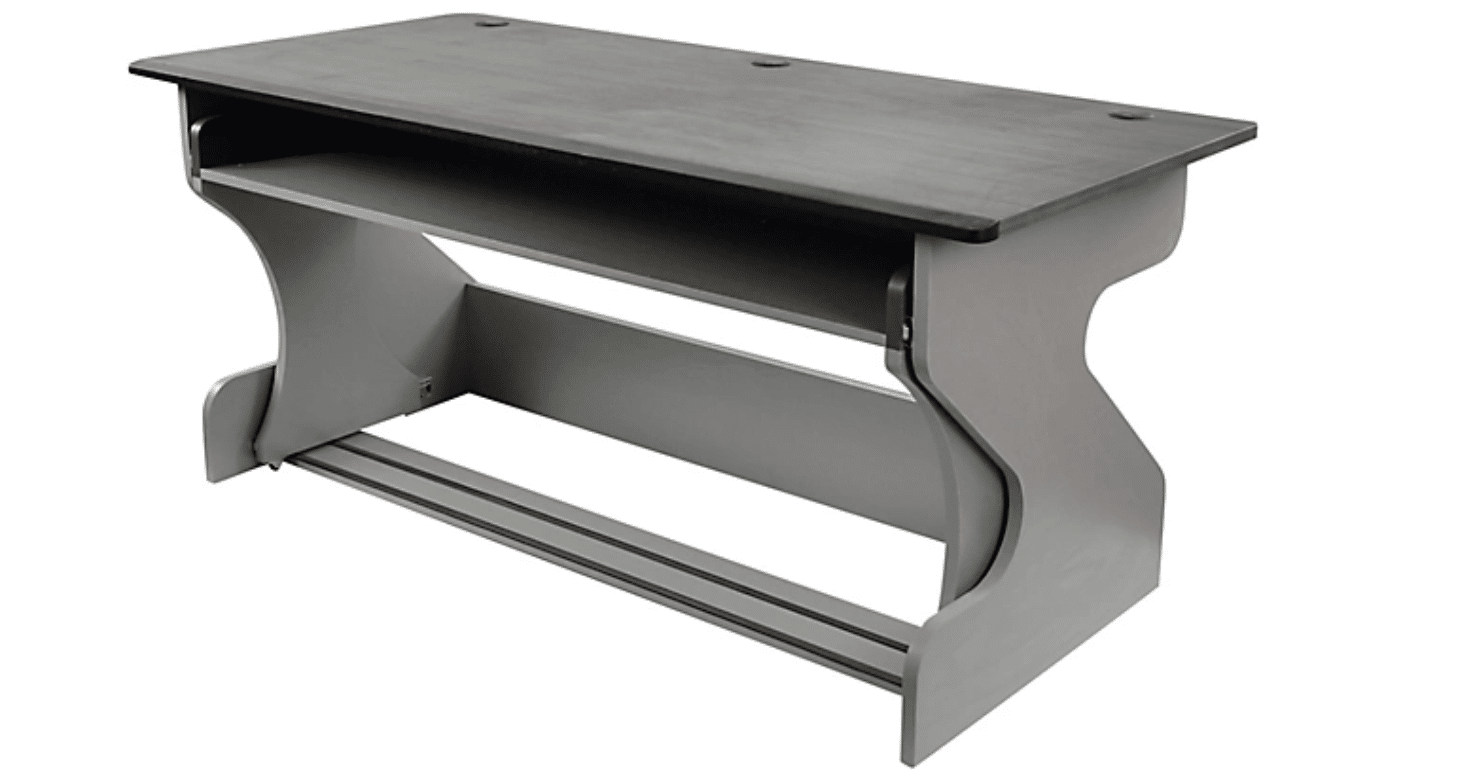 The Zaor Miza Z Studio Desk is a head-turner with its unique Z-shaped design.
Zaor has thoughtfully considered the needs of modern musicians, songwriters, artists, and producers, offering a desk that's both stylish and functional.
The melamine-faced chipboard panels and solid wood applications give it a sophisticated look while maintaining durability.
The Miza Z is a wide desk, with dimensions of:
33.6″ in height
33.5″ in depth
A whopping 72.3″ in width 
But it's not just about the space… The massive roll-out drawer is super versatile.
Whether you're using keyboards, mixers, or DJ controllers, it can accommodate them all.
Tangled cables are a buzzkill, I think we can all agree on that.
That's why the Miza Z includes a cable tray in the back 一 ensuring your setup remains neat and your workflow smooth.
The design allows you to focus on your mixing rather than worrying about clutter.
Plus, this desk makes rearranging your gear and discovering new setups a breeze.
Standout Features of This Studio Desk: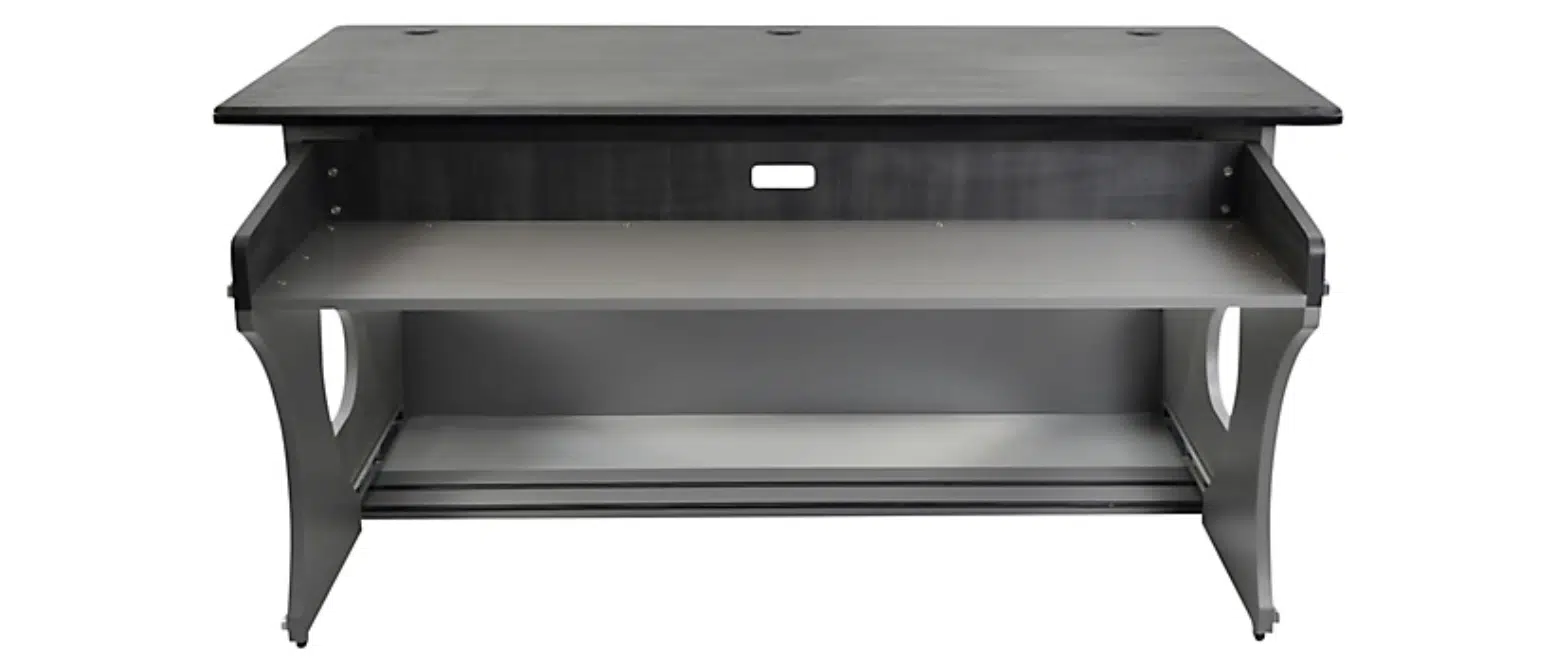 The perfect number of melamine-faced chipboard panels
Solid wood applications, definitely worth the money
Cable tray in the back
Height: 33.6 in.
Depth: 33.5 in.
Width: 72.3 in.
One of the best studio desks for 2023
#4. Armocity Music Studio Desk ($189)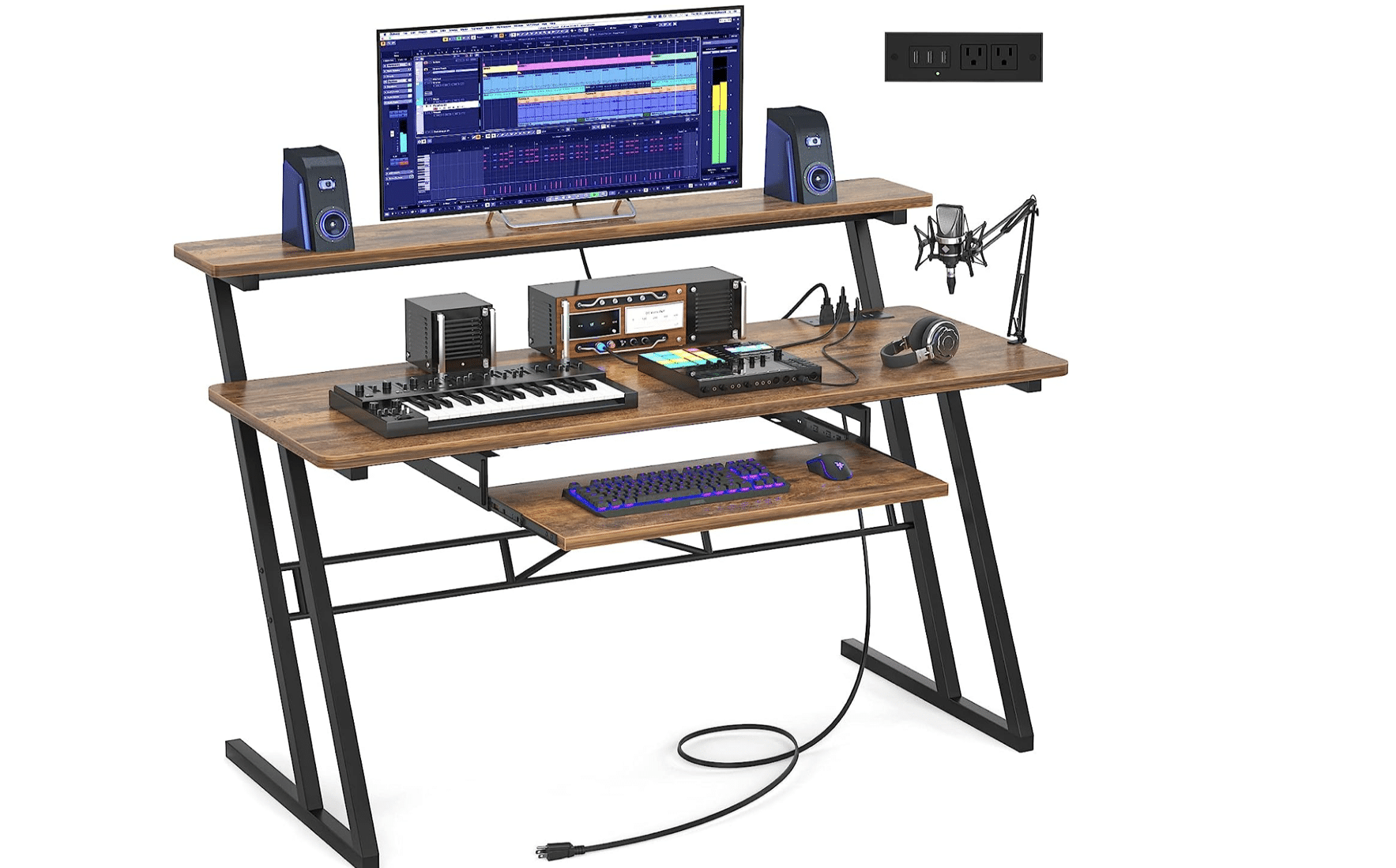 The Armocity Music Studio Desk is a multi-functional and robust studio desk built to accommodate a wide range of needs for the modern music producer.
With built-in power outlets that include 2 outlet plugs and 3 USB ports, this desk ensures that your essential gear is powered and ready to go.
NOTE: The Velcro tape that comes along with the desk allows for excellent cable management.
It ensures that your workspace remains organized and clutter-free.
This studio desk features a raised monitor shelf that can comfortably support two monitors.
Meaning, it offers an ergonomic solution for screen placement and potentially reducing neck strain.
This elevated shelf measures 47" in width and provides ample space to make the most of your dual-screen setup.
The pull-out keyboard tray (below the desktop) provides additional space 一 making it easier to switch between multiple pieces of equipment.
The Armocity Music Studio Desk also offers sufficient legroom, ensuring that you don't feel cramped during those long hours of creative work with your plugins.
An extra metal frame has been added to bolster the desk's durability and stability.
The unique shape of the desk legs provides both aesthetic appeal and functional benefits for your control room.
They offer a broad base for stability and give you plenty of legroom for comfortable sitting.
The Armocity desk ensures that you not only have an efficient workspace but also a stylish one that complements the rest of your studio setup.
Plus, they stated you can email them if there's any problems (as many emails as you'd like).
Standout Features of this Studio Desk: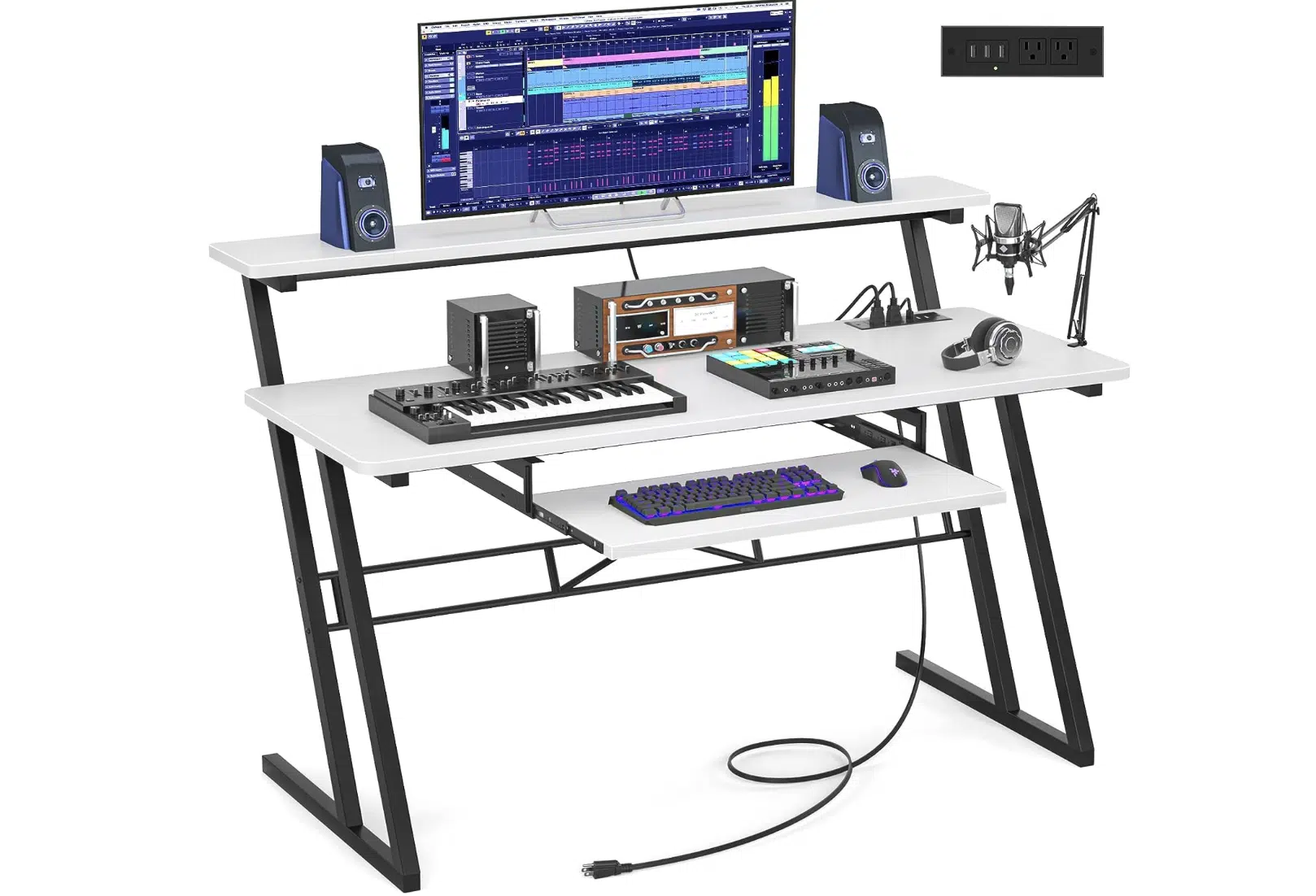 Built-in 2 outlet plugs and 3 USB ports
Velcro tape for organized cable management; great style
Raised 47" monitor shelf capable of supporting two monitors
Pull-out keyboard tray and ample legroom
Extra metal frame for enhanced stability )
One of the best studio desks for 2023
#5. UltimateSupport Nucleus 5 ($1,899.99)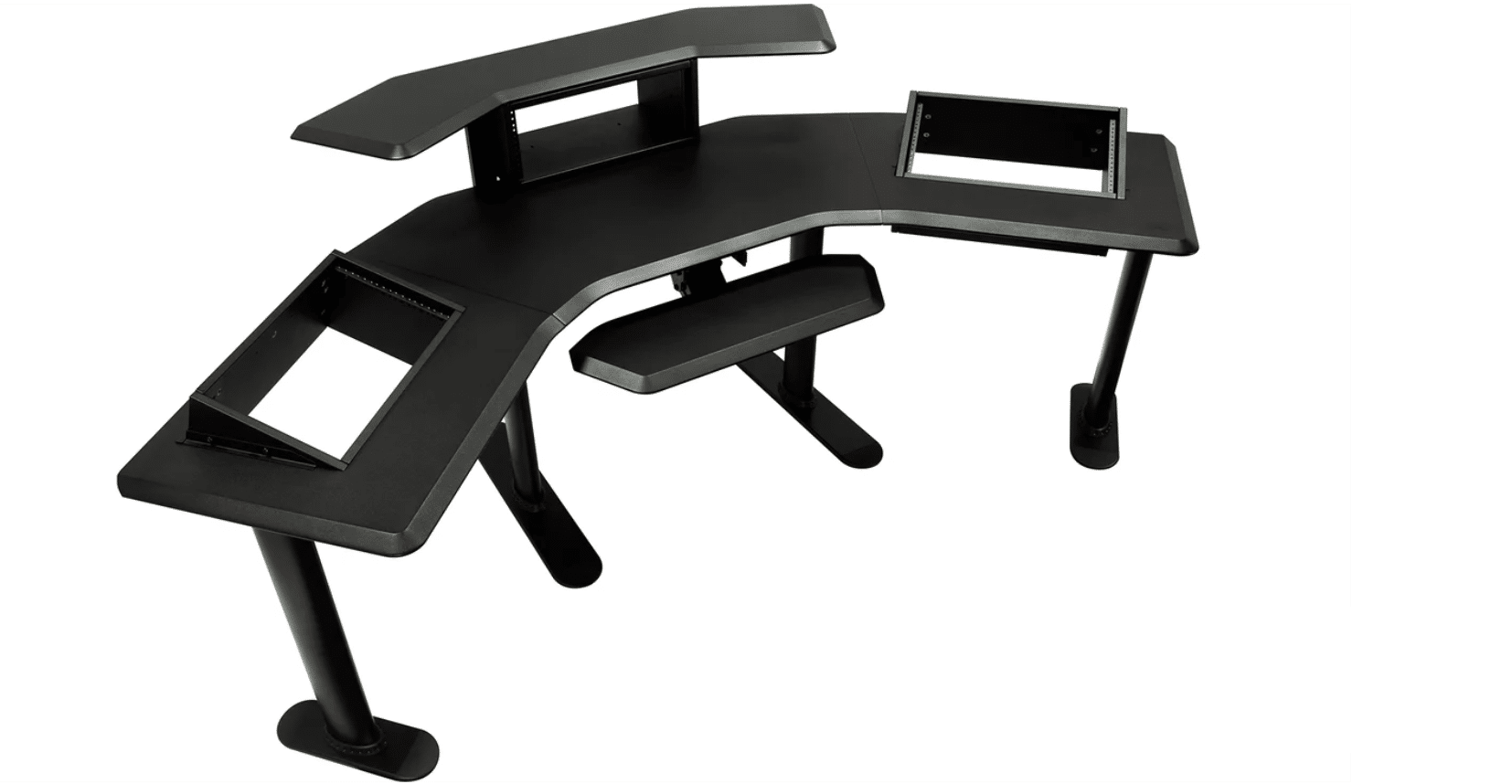 The UltimateSupport Nucleus 5 is a desk that combines utility with the elegance, offering top-of-the-line features at a reasonable price.
Designed to cater to the requirements of mastering engineers, sound designers, and post-production professionals, the Nucleus 5 comes with:
Two sunken 6-space racks
A 4-space rack
A2nd tier that's perfectly positioned for optimal equipment access
This studio desk is part of the Nucleus Series, which allows for modular expansion as your studio grows.
Crafted from high-quality Medium Density Fiberboard (MDF), the desktop is both stylish and sturdy.
It is also equipped with 6-space right and left-side racks and a 3-space desktop rack, totaling to 15 spaces for your gear.
These features make the desk highly versatile and adaptable to various types of studio setups.
Special attention has been paid to decoupling, which is built into the desk legs 一 offering sonic isolation and improved audio quality.
Powder-coated for added durability, the Nucleus 5 comes with channels in its legs for weight management and decoupling.
This functional yet stylish desk proves that you don't have to compromise quality for affordability.
With the ability to expand as your needs grow, it provides an enduring foundation for your evolving home studio.
Standout Features of this Studio Desk: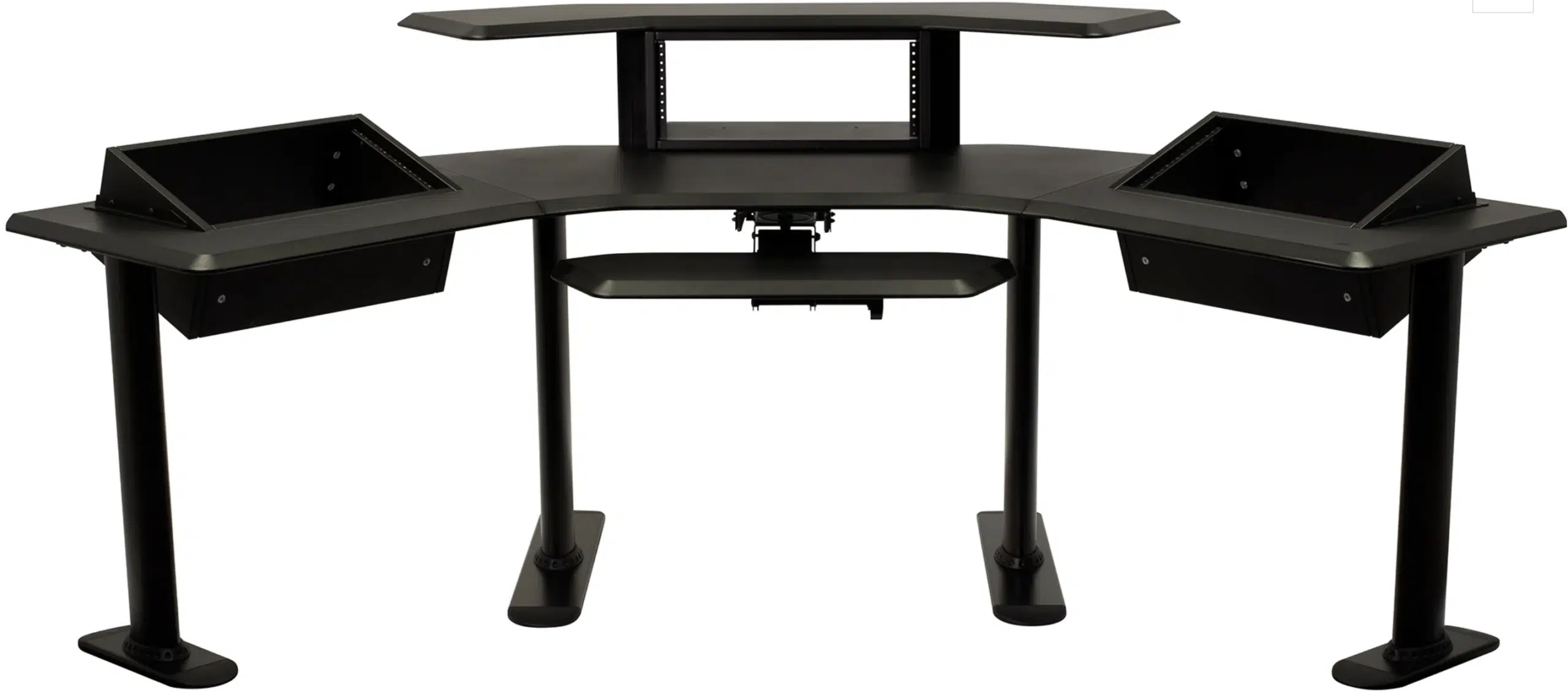 Sunken 6-space racks; great rack space
Modular design allows for expansion
Made from high-quality MDF with a powder-coated finish
Decoupling features for sonic isolation
Total of 15 rack spaces for versatile gear placement
One of the best studio desks for 2023
#6. Slate Media Technology Raven MTi Core Station ($2,999)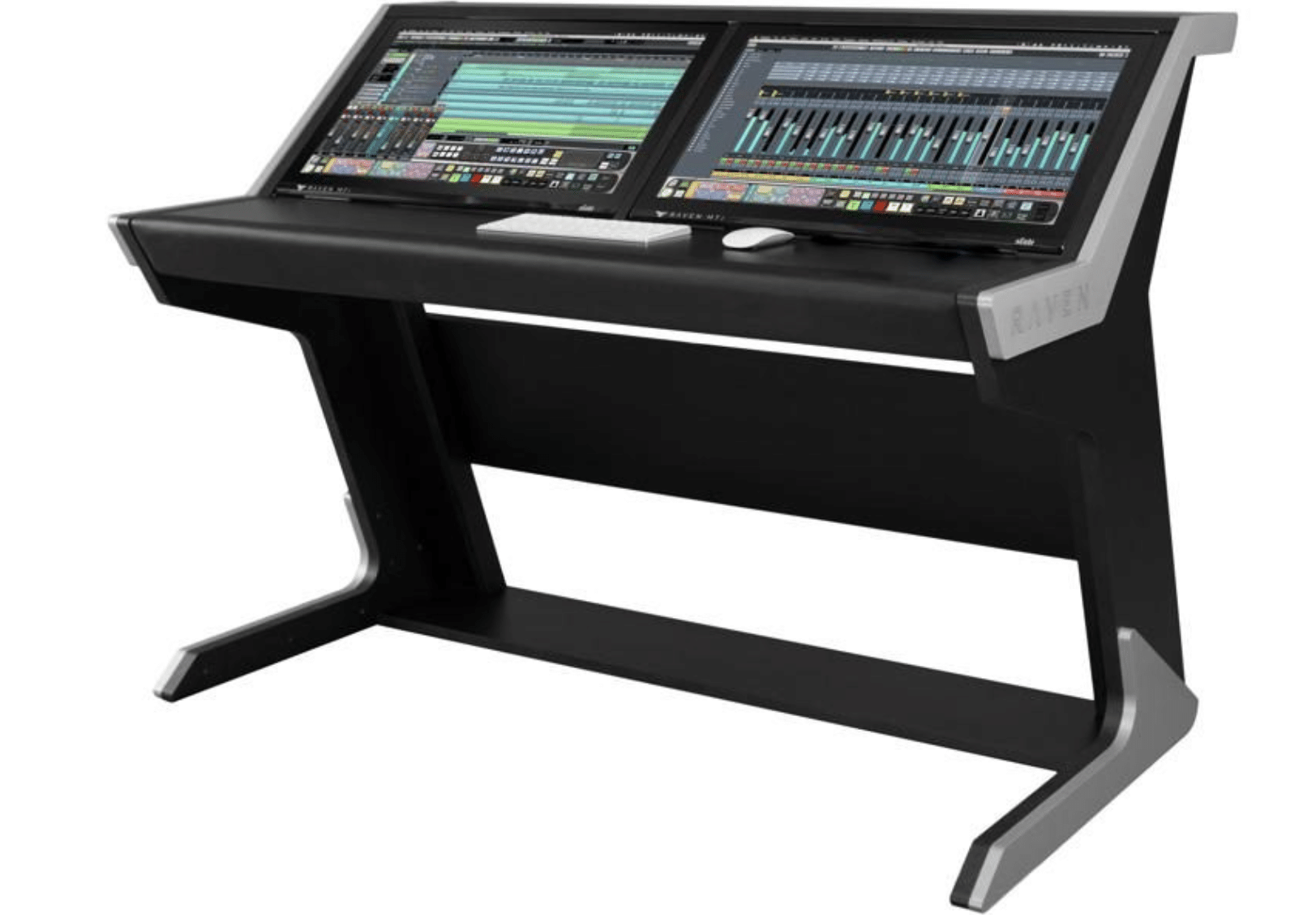 The Slate Media Technology Raven MTi Core Station redefines how producers and engineers interact with their digital audio workstations (DAWs).
This cutting-edge desk comes with two 27″ multi-touch displays that are integrated into the station 一 delivering unparalleled control over your music production software.
Its ergonomic design is tailored to make marathon sessions as comfortable as possible.
Meaning, you can work for longer periods without physical strain (bonus!).
The Core Station comes with a 27″ touchscreen that allows for fine-tuning of various parameters within your DAW.
NOTE: It includes FADERS 3.0 software that gives you eight times the resolution of a standard 100mm fader, offering precise control over your mixes.
The desk's batch command system is particularly noteworthy.
It lets you execute complex commands with a single button press, which can significantly improve your workflow.
Constructed to be both sleek and functional, the Core Station modernizes the look of your workspace while providing practical benefits.
This studio desk is compatible with a wide range of DAWs across both Mac and PC platforms, making it a versatile addition to any studio.
With its stunning design and high-end features, this desk isn't just a workstation; it's the centerpiece of your studio.
Standout Features of this Studio Desk: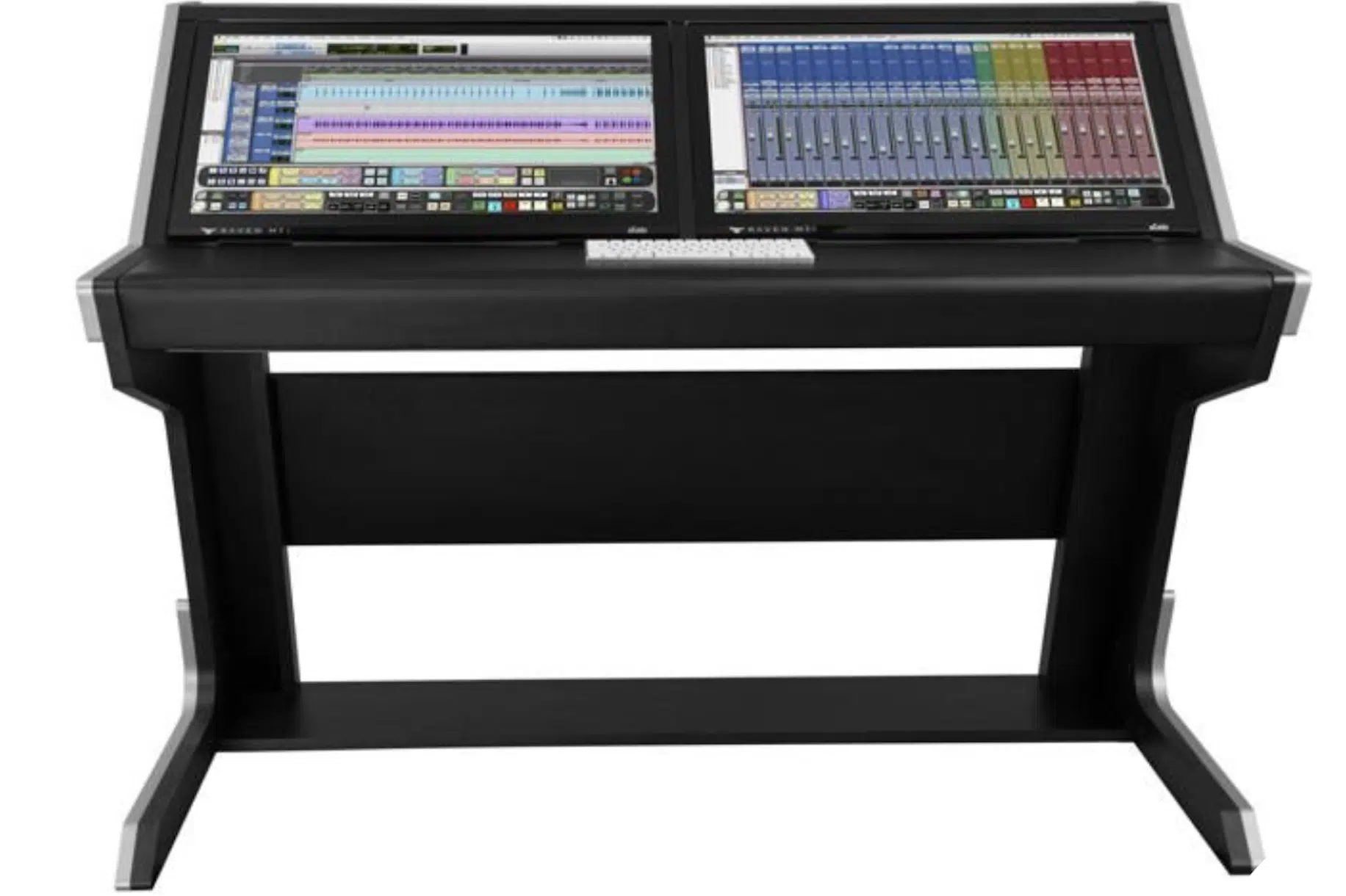 Two integrated 27″ multi-touch displays for hands-on DAW control
Ergonomic design tailored for extended work sessions
Batch Command System for efficient workflow
Compatibility with a wide range of DAWs across Mac and PC
FADERS 3.0 software for ultra-fine control over mixes
One of the best studio desks for 2023
#7. Quick-Lok Z-250 Workstation ($499.99)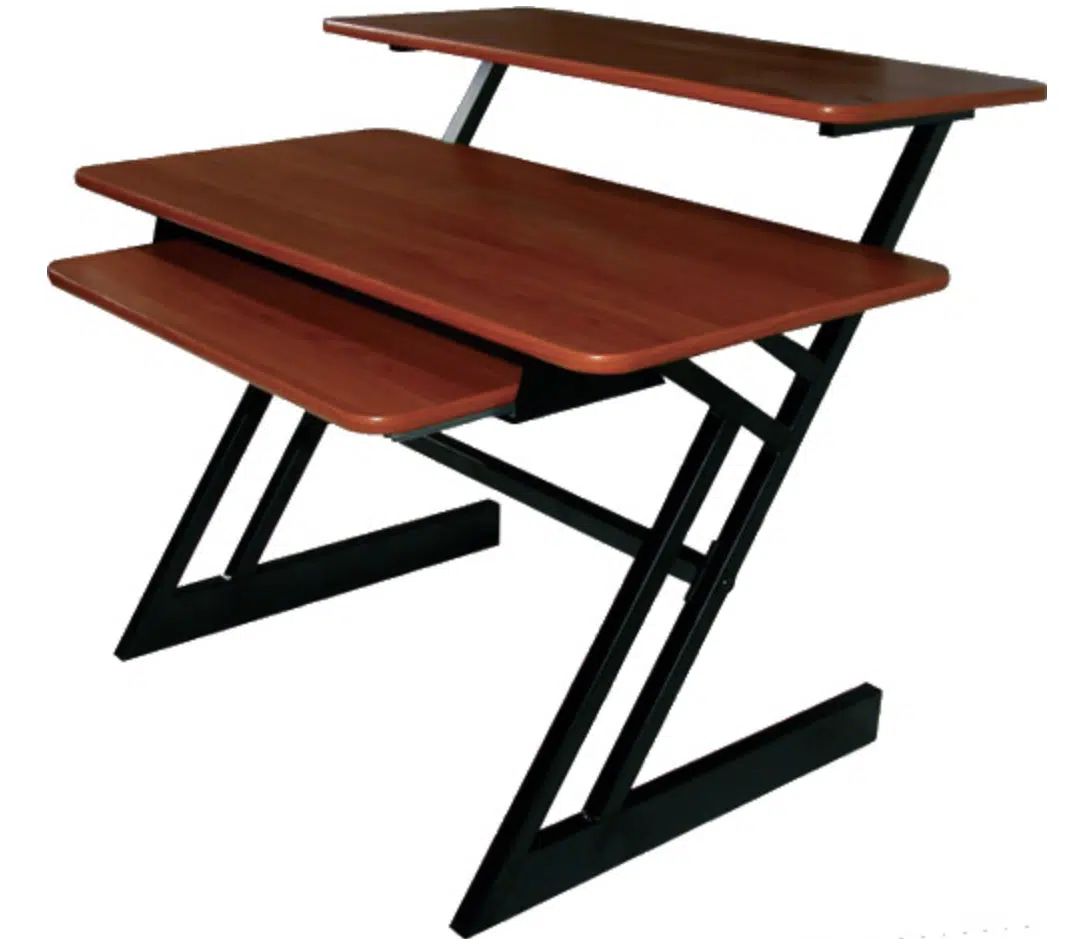 The Quick-Lok Z-250 Workstation is a multi-level, ergonomically designed desk that aims to combine functionality with style.
Its modern Z-styling is not just eye-catching but also contributes to the desk's overall stability.
This is a triple-shelf workstation that boasts:
High-quality
Scratch-resistant
Laminated cherry wood tops 
It really adds an elegant touch to any work environment.
The desk offers a spacious 44″ x 22″ main shelf complemented by a 27.4″ x 14″ pull-out shelf underneath.
This makes it ideal for keyboards or other equipment that you may need to access frequently.
Additionally, the 38.6″ x 17.1″ top shelf provides ample space for monitors or other essential gear.
The whole structure is held together by a computer-welded, heavy-duty steel Z-frame, which ensures the workstation can handle the weight and stress of a full-on studio setup.
Whether you're a professional producer or an enthusiastic hobbyist, the Quick-Lok Z-250 offers a balanced combination of:
Durability
Style
Functional design
It is particularly well-suited for those who are looking for a desk that can fit comfortably in both home studios and professional environments, while still maintaining a modern aesthetic.
It's better than most workstations around.
Standout Features of this Studio Desk: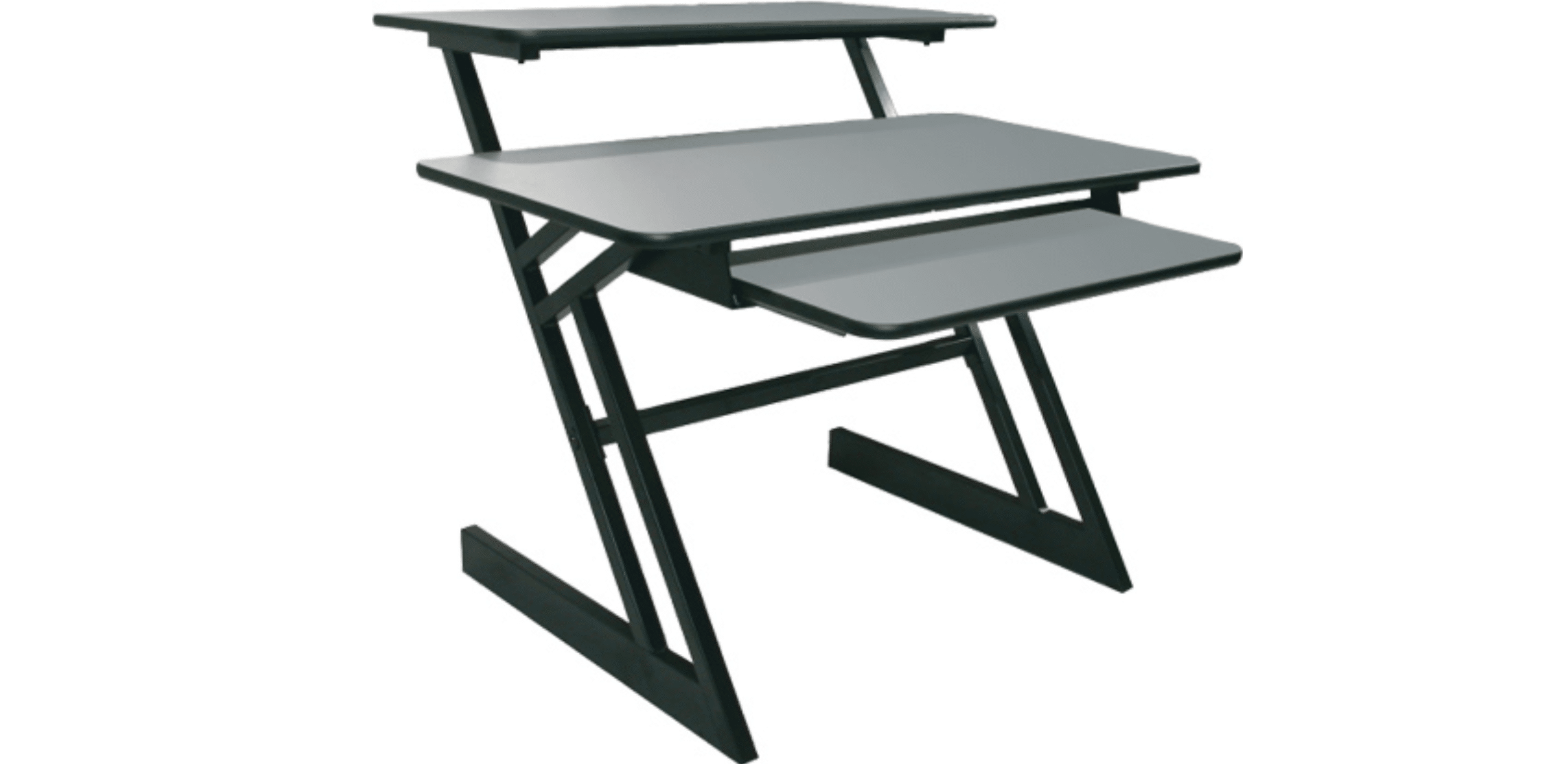 Triple-shelf design, featuring scratch-resistant, laminated cherry wood tops
Pull-out shelf for added convenience and functionality
Heavy-duty, computer-welded steel Z-frame for added stability and durability
Ergonomically designed for maximum comfort and efficiency
Modern Z-styling that adds an elegant touch to any workspace
One of the best studio desks (workstations) for 2023
Studio Desk: Final Thoughts
Finding the right studio desk is a transformative experience for any music producer.
Your workspace is more than just a collection of equipment; it's a creative sanctuary where inspiration comes to life.
A well-designed, functional desk isn't merely a piece of furniture.
It's an integral part of your creative process that can significantly affect your productivity, workflow, and ultimately, the quality of your music.
An ideal studio desk will offer a harmonious blend of ergonomics, storage, and aesthetic appeal 一 enabling you to focus solely on your art.
It should complement your needs, whether you're into music production, sound engineering, or DJing.
With the right desk, you can elevate your workspace to a professional standard and pave the way for a more streamlined and efficient music-making process.
And speaking of taking your production to the next level, after setting up your dream studio space with your new desk, you'll want the absolute hottest sounds to work with.
This is where these mind-blowing, free 808 Samples come into play.
These aren't your basic, boring samples; they are meticulously crafted, powerful, perfectly processed 808s with analog distortion.
Modeled off the styles of modern hits in genres like hip-hop, Travis Scott type beats, R&B, trap, future bass, and UK drill, these samples are designed to give your music that 'it factor' it needs to stand out.
Created by expert sound designers and producers, these free 808 samples are more than suitable for any production genre you are exploring.
The right desk coupled with top-notch samples like these can dramatically enhance your music production environment.
With these tools, you're well on your way to producing tracks that not only sound professional but also resonate with your unique artistic vision.
Until next time…