With an overwhelming array of MIDI keyboard controllers flooding the market, finding the right one for your specific needs can feel like searching for a needle in a haystack.
It's a world full of complicated terminology, exaggerated tech specs, and empty promises.
Everyone claims to have the "best MIDI keyboard around."
So, how do you cut through the noise to discover that elusive perfect fit?… Luckily, we've got you covered!
Where other articles merely scratch the surface, providing only basic details about each controller, we delve much, much deeper.
We recognize that every artist's needs are unique and understanding the intricate features of each keyboard controller is crucial in making an informed decision.
Our comprehensive guide offers meticulous detail about each MIDI keyboard controller, putting the power back in your hands.
In today's article, you will learn about:
The 13 best MIDI keyboard controllers of 2023 ✓
The unique features, functions, and bonuses of each one ✓
Detailed functionality of keys, pads, faders & other controller components ✓
The significance of software integration in these devices ✓
Various customizable aspects that can be tailored to fit your personal style ✓
It's time to turn confusion into clarity and help you find the perfect MIDI companion for your musical journey
So, let's dive in…
What is MIDI?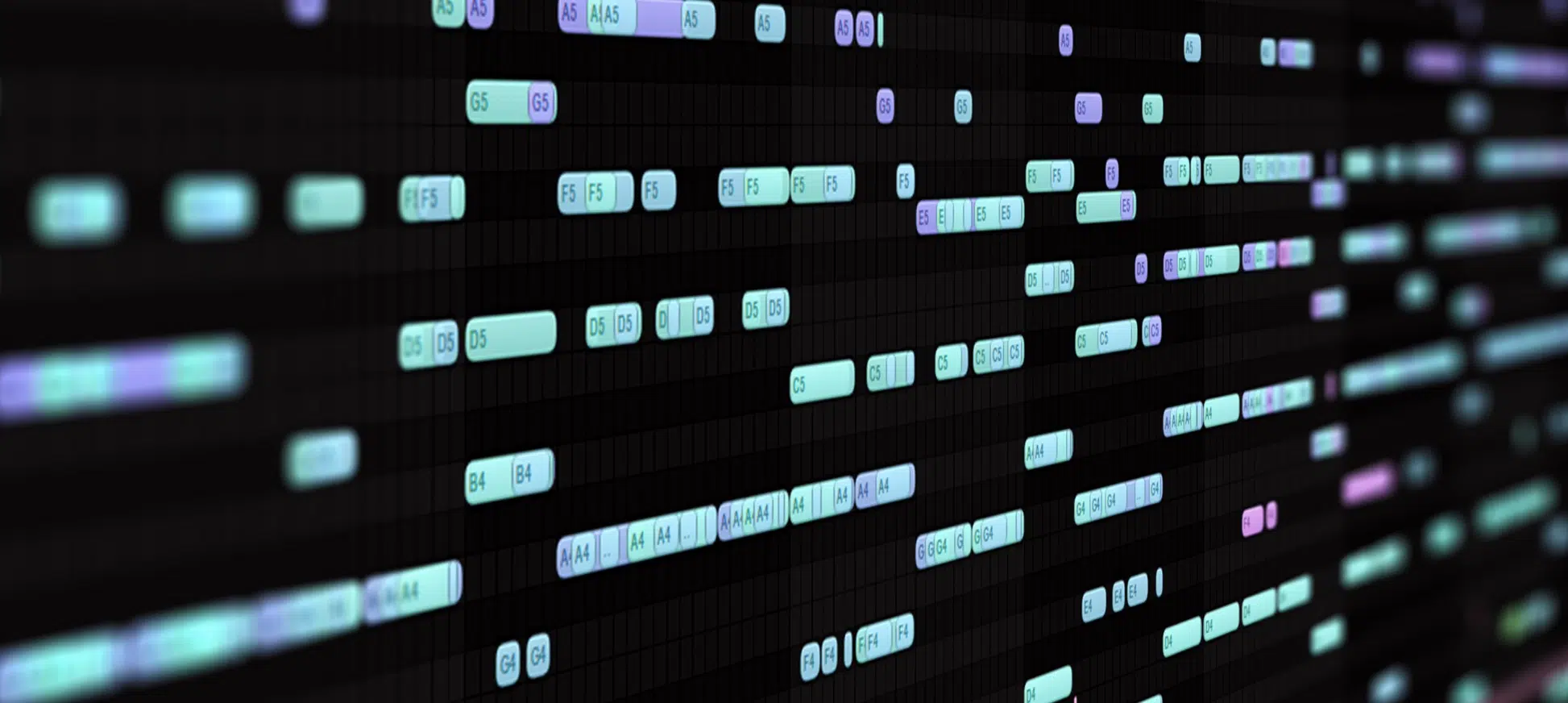 MIDI stands for Musical Instrument Digital Interface, and it's a technical standard that describes a protocol, digital interface, and/or connectors.
It allows a wide variety of electronic musical instruments, computers, and other related devices to connect and communicate with each other.
MIDI does not transmit an audio signal 一 it sends event messages such as the pitch and intensity of musical notes to play.
As well as control signals for parameters such as:
Volume
Vibrato
Audio Panning
Cues
Clock signals (which set tempo)
In other words, MIDI is a language that musical equipment uses to talk to each other.
Fun fact, it's been around since the early 1980s and is a vital part of modern music production.
One of the best things about MIDI is its unmatched flexibility.
You can compose and arrange tracks that could be performed with the sounds of any instruments or sounds you can think of.
Whether you're creating orchestral scores or the latest electronic music hit, MIDI is the glue that holds the production process together.
However, MIDI isn't just for the studio… It's also used in live performance settings.
It allows musicians to use their preferred MIDI controller (like a keyboard, wind controller, or drum pads) to play a vast range of sounds.
It's a game-changer for music makers, and understanding how it works is key to getting the most out of your music production endeavors.
What Are MIDI Keyboards & MIDI Controllers?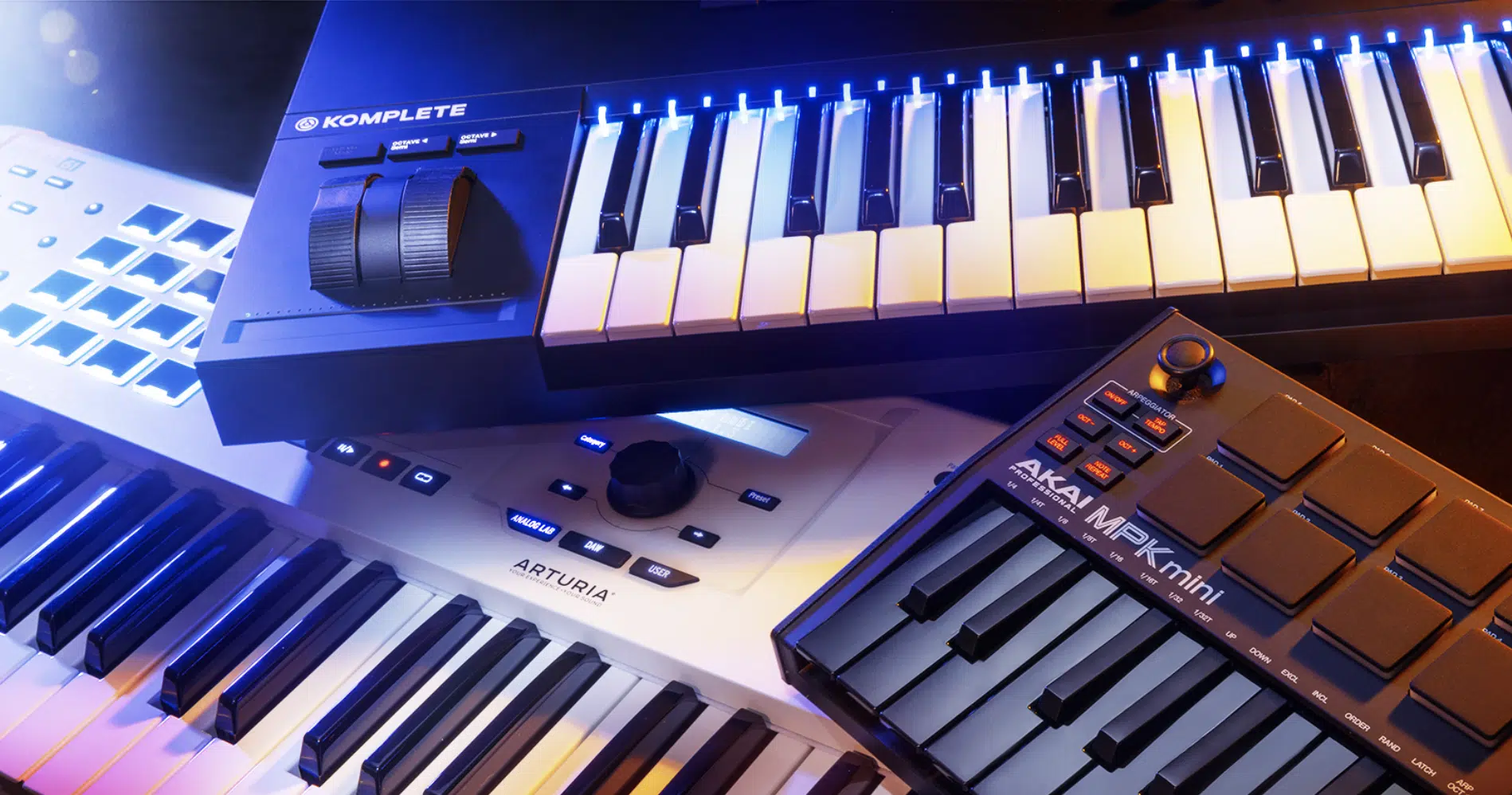 Now that you understand MIDI a little better, let's dig deeper and discuss MIDI keyboards and controllers.
A MIDI keyboard or controller is a physical interface that allows you to send MIDI commands to your computer or other MIDI-capable devices.
These commands can control a variety of functions, from playing and sequencing notes to tweaking virtual knobs in your digital audio workstation (DAW).
MIDI Keyboard Controllers are typically equipped with piano-style keys. However, they also come in other forms.
This includes:
Drum pads
Fully assignable knobs, faders, and buttons for manipulating audio
This wide range of options makes MIDI controllers a versatile tool in music production.
PRO TIP
They are especially handy when it comes to recording parts for your tracks, controlling software instruments, or even mixing your final product.
The number of keys on a MIDI keyboard can range from 25 to 88 一 mirroring the layout of a traditional piano.
The keys can be:
Weighted
Semi-weighted
Synth-action
Mini keys
Depending on your style and preference, you can choose a MIDI keyboard controller that best fits your needs.
Basically, MIDI keyboard controllers are a physical extension of your music production software.
They can bring your digital instruments to life, providing tactile control over your music (which is something a mouse and keyboard can't replicate).
The Best MIDI Keyboards & Controllers of 2023
Now that you have a firm grasp on MIDI & MIDI Keyboards/Controllers, let's jump into the fun part: the most mind-blowing MIDI Keyboard Controllers around.
Including the all-time best MIDI keyboard/best MIDI controller of 2023.
#1. Native Instruments Komplete Kontrol M32: The All-Around Best MIDI Keyboard Controller

A compact titan of music production, the Native Instruments Komplete Kontrol M32 is a MIDI keyboard designed to help you fully express your musical creativity.
With 32 tactile, responsive keys, this slimline (yet robust) device provides seamless integration with your studio setup and opens up a world of sound possibilities.
The Komplete Kontrol M32 is not just a keyboard, it's a controller that provides an intimate connection with your:
Whether you're crafting a complex composition or improvising an explosive solo, its innovative Smart Play features make the creative process feel effortless and intuitive.
It's definitely designed for portability, as it's super lightweight and travel-ready 一 ideal for both home studios & on-the-go use.
Its user-friendly design and easy setup mean that it fits not only your workflow but also your lifestyle.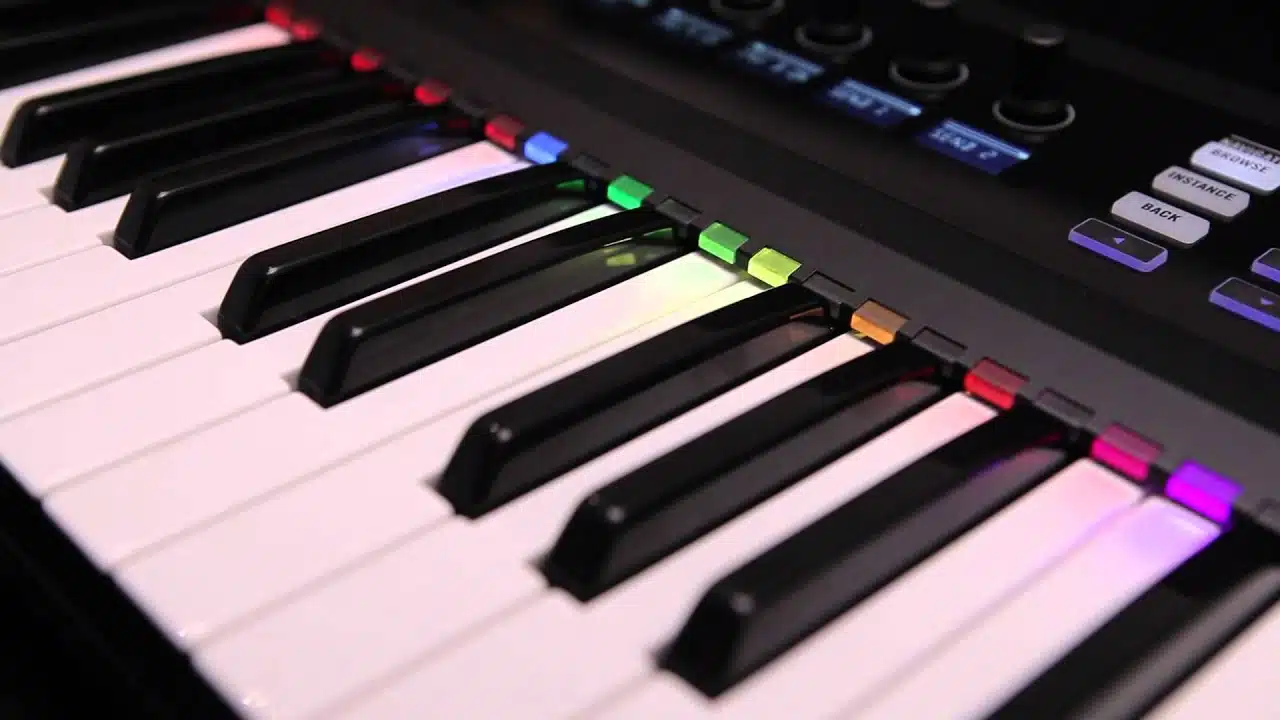 One of my favorite features of the M32 is the OLED display which, together with touch-sensitive knobs, allows you to tweak your sound's essential parameters in real-time.
NOTE: All KOMPLETE and NKS instruments/effects are pre-mapped by their respective developers, allowing for smooth, hands-on control.
The M32 also includes Ableton Live 11 Lite, which provides a robust platform for music production right out of the box.
Whether you're creating tracks on the move or setting up a compact studio, this keyboard provides the perfect balance of performance and convenience.
For a limited time, it also comes with KOMPLETE 14 SELECT, a comprehensive collection of Native Instruments' essential: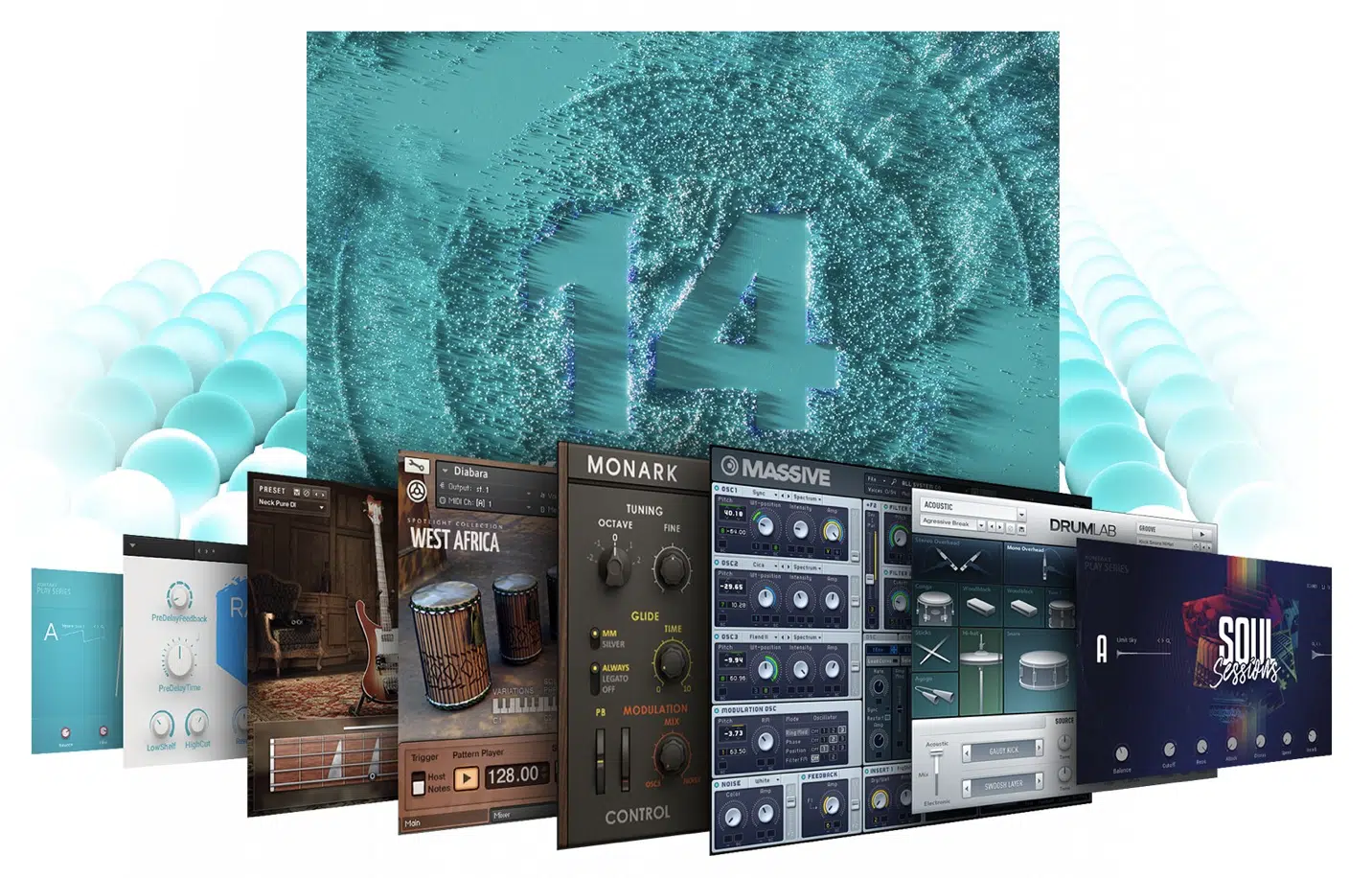 Sounds
Studio Effects
Expansions
Overall, the M32 is a full-featured, compact MIDI keyboard that can truly elevate your music production journey. I definitely give it a 10/10 for its sheer convenience alone.
Standout Features: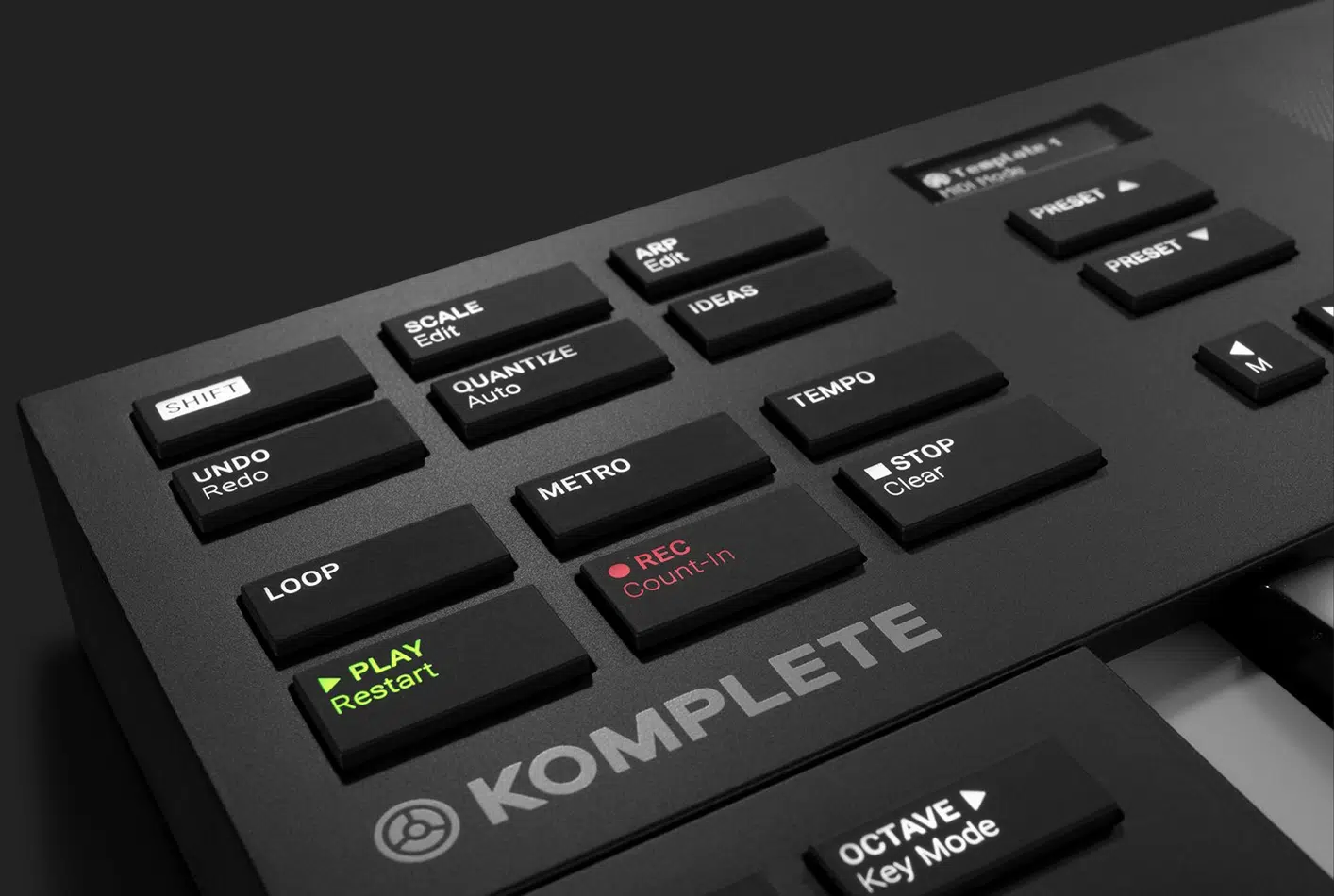 Compact & sleek design with 32 high-quality keys for a portable yet expressive MIDI keyboard.
Comes bundled with a powerful software package, including Ableton Live 11 Lite and KOMPLETE 14 SELECT.
Seamless integration with a wide range of DAWs, including Logic Pro X, GarageBand, Ableton Live, Cubase, and Nuendo.
Features an OLED display and touch-sensitive knobs for real-time sound tweaking.
Smart Play technology enables the creation of complex chords, scales, and arpeggios with single keys.
Immediate access to play, pause, record, quantize, loop, and more in a number of leading DAWs.
#2. The Akai MPK Mini MK3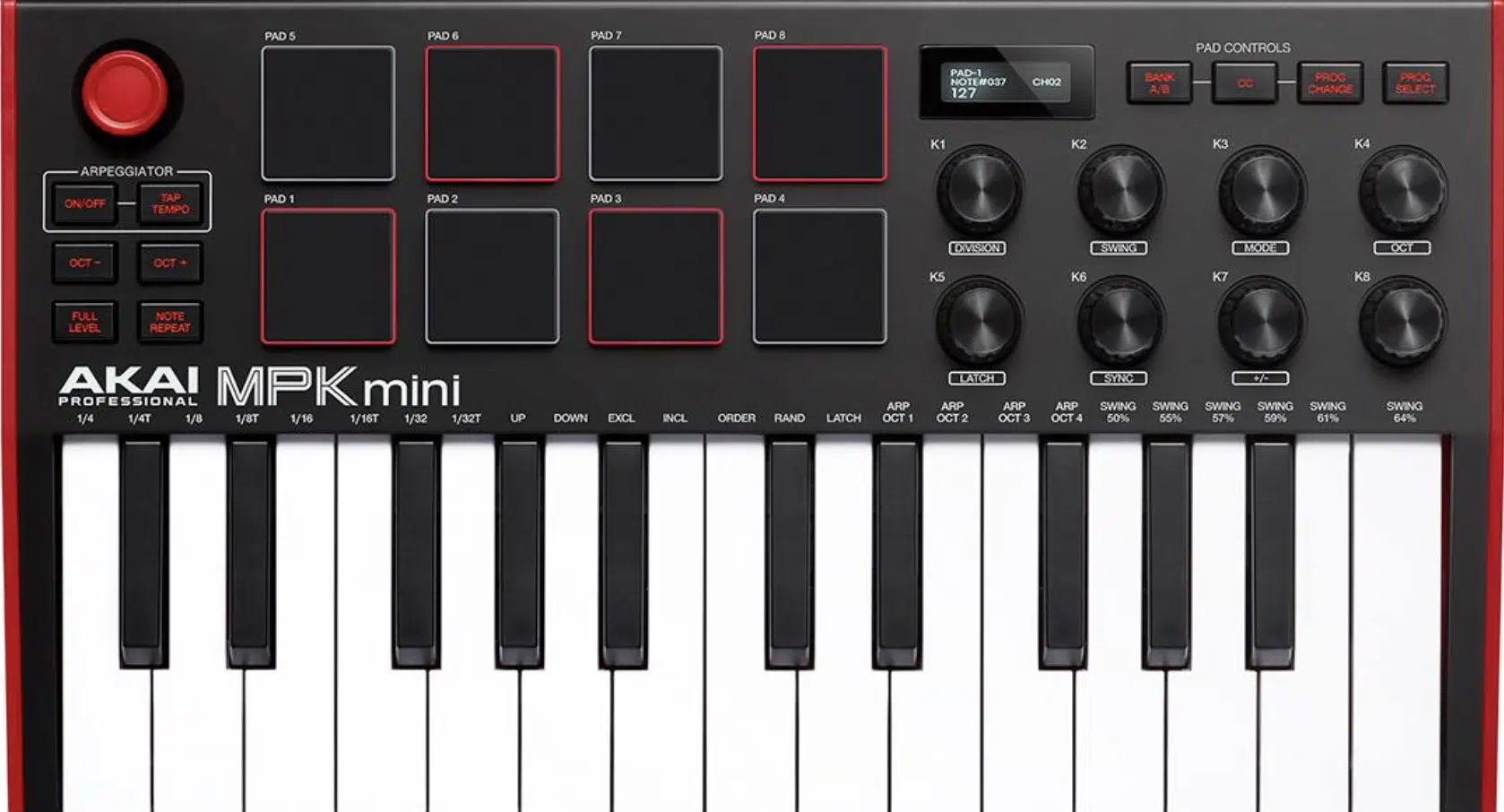 The Akai MPK Mini MK3 is the latest iteration of the world's best-selling mini keyboard controller.
It's a power-packed device that delivers unparalleled performance and definitely stands out in the world of MIDI keyboards.
Sporting a reimagined Gen 2 dynamic keybed, the MPK Mini MK3 caters to a wide range of playing styles and genres.
It delivers an expressive performance worthy of the world's finest keyboard players.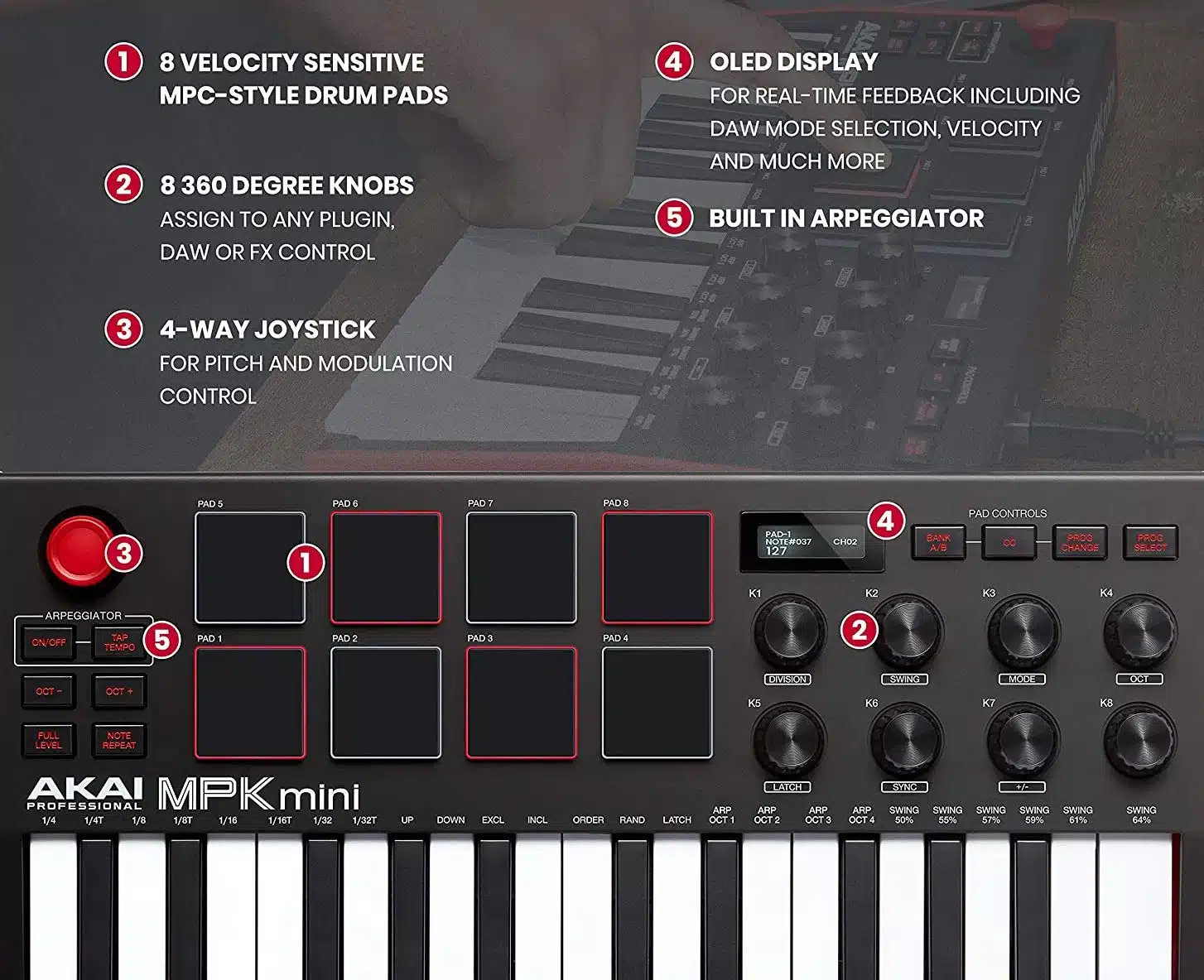 With 8 velocity-sensitive backlit MPC pads that offer precise drumming and melodic sample playback, the MPK Mini MK3 creates a tactile connection between you and your music.
The 25 mini keys, along with the brilliant OLED display, provide immediate parameter feedback and allow you to tweak your sounds to absolute perfection.
The MPK Mini MK3 sets itself apart with its versatility and portability.
Its compact size, along with the arsenal of pads and assignable controls 一 making it an ideal travel companion for creators who want to take their music production on the go.
It also features a 4-way joystick for pitch and modulation control, which further enhances the expressive potential of this unique device.
This dynamic MIDI controller comes with an extensive software suite, including: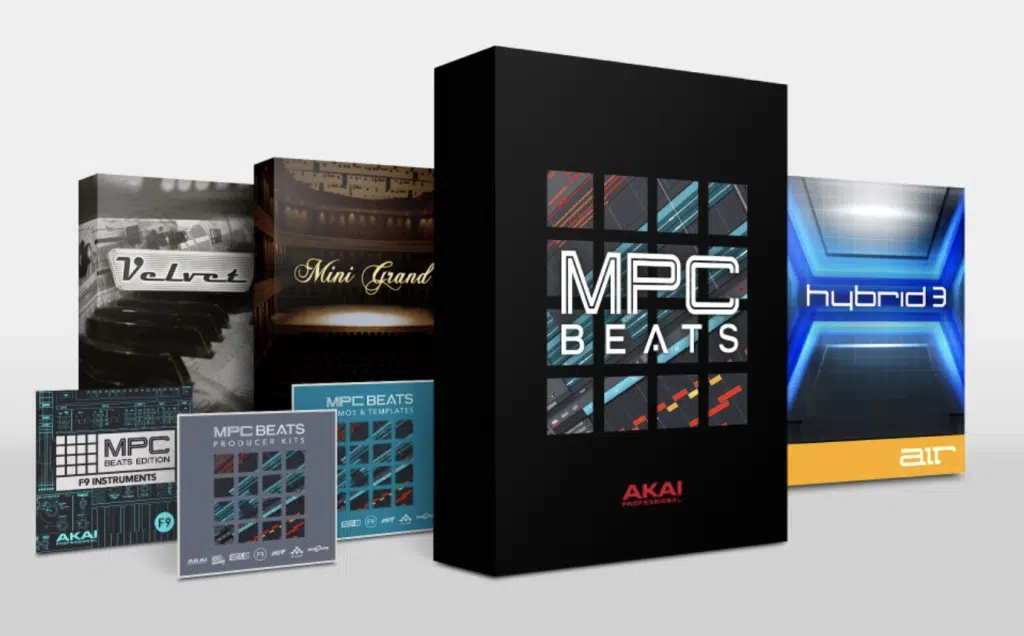 MPC Beats
AIR Hybrid
Mini Grand
Velvet
Other numerous MPC expansion packs
Plus, as a registered customer, you'll get exclusive access to a 6-month FREE subscription to Reason+.
With the MPK Mini MK3, you have all the tools you need to bring your musical visions to life, no matter where you are.
Standout Features: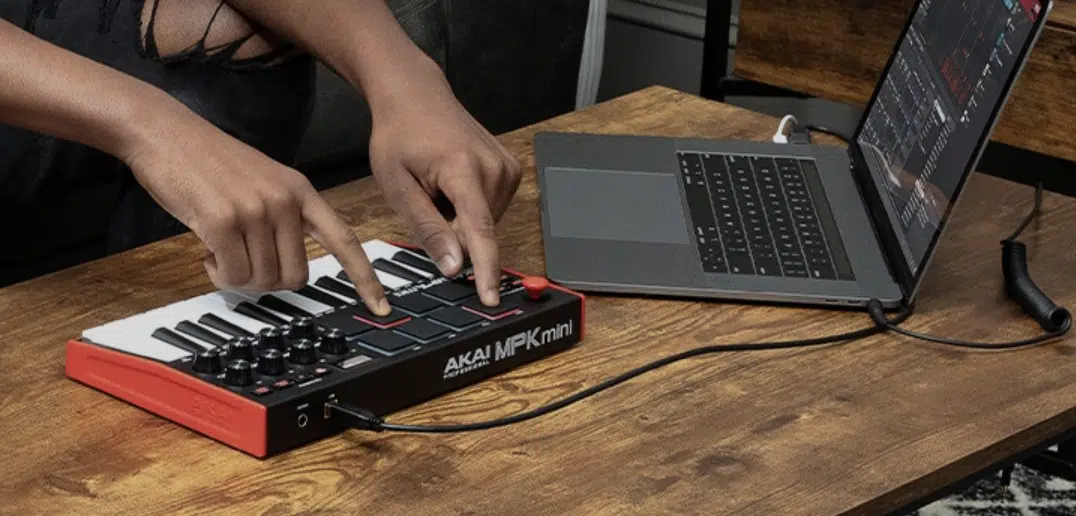 Gen 2 enhanced dynamic keybed, offering superior playability for a variety of playing styles and virtual instruments.
8 velocity-sensitive, backlit MPC pads from Akai's flagship series, providing unmatched precision for drumming and melodic sample playback.
Comprehensive software package including MPC Beats, AIR Hybrid, Mini Grand, Velvet, and various MPC expansion packs.
Brilliant OLED display for immediate parameter feedback.
4-way joystick for intuitive pitch and modulation control.
Class-compliant USB connectivity for easy setup and integration.
#3. Arturia's MiniLab 3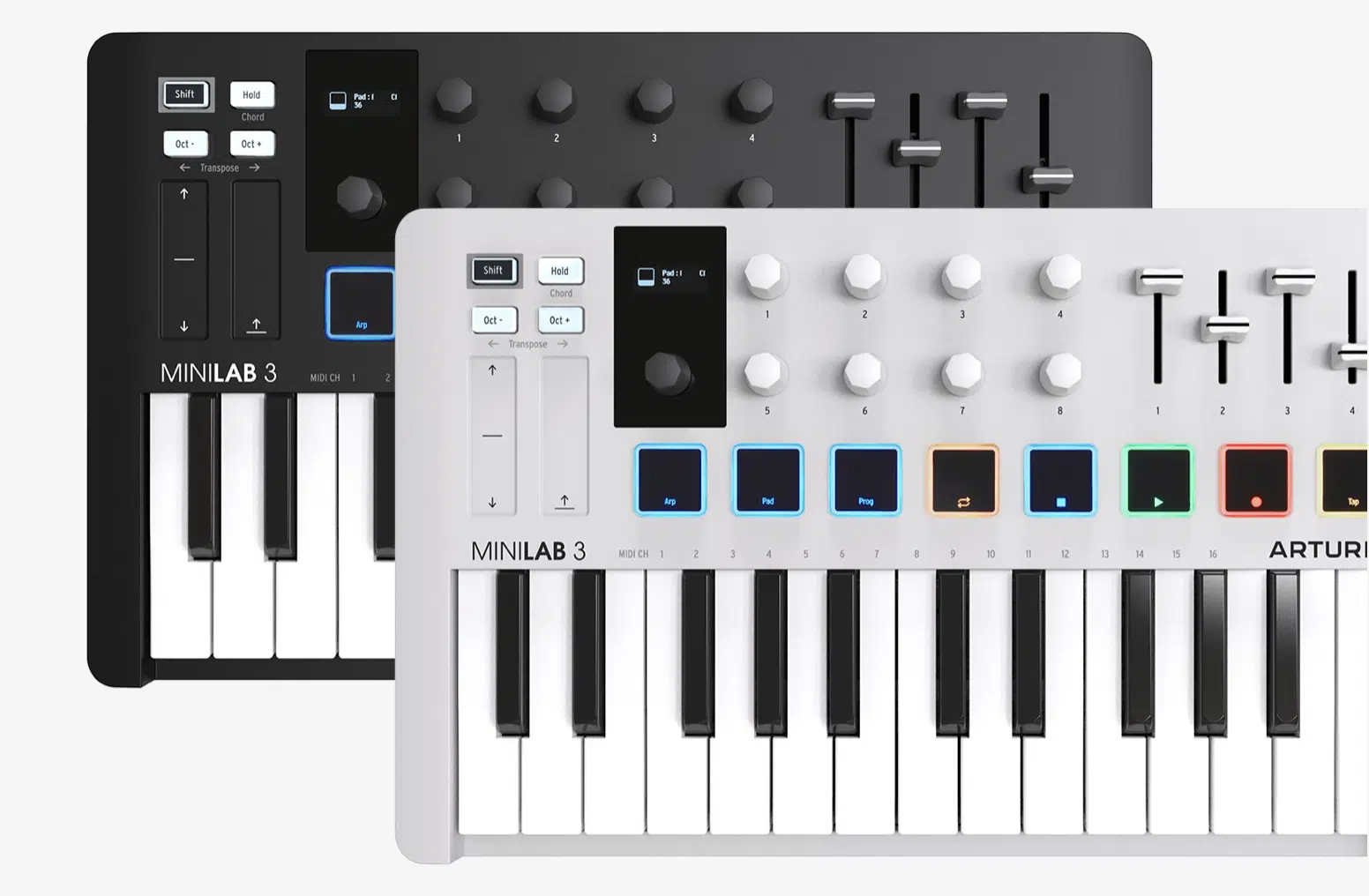 Redefining plug-and-play functionality, the Arturia MiniLab 3 MIDI keyboard controller is a compact powerhouse that delivers an all-in-one software package ready for immediate creativity.
Designed to enhance your DAW beat production, the MiniLab 3 bridges the gap between inspiration and realization.
It offers an intuitive and versatile music-making/beat-making experience.
The MiniLab 3's premium velocity-sensitive keys, drum loops, and seamless connection to MIDI gear provide you with an immersive, hands-on experience like no other.
Whether you're composing melodic symphonies, punching out electrifying beats, or exploring an endless library of synth sounds, this compact keyboard is ready to assist.
Beyond the keyboard's hardware, the MiniLab 3 package includes a range of software and learning resources.
These include recording software complete with a vast range of instrument presets, drums, and FX.
As well as MiniLab 3's learning resources which include 40 tailored lessons, tips, and musical hacks (super beneficial).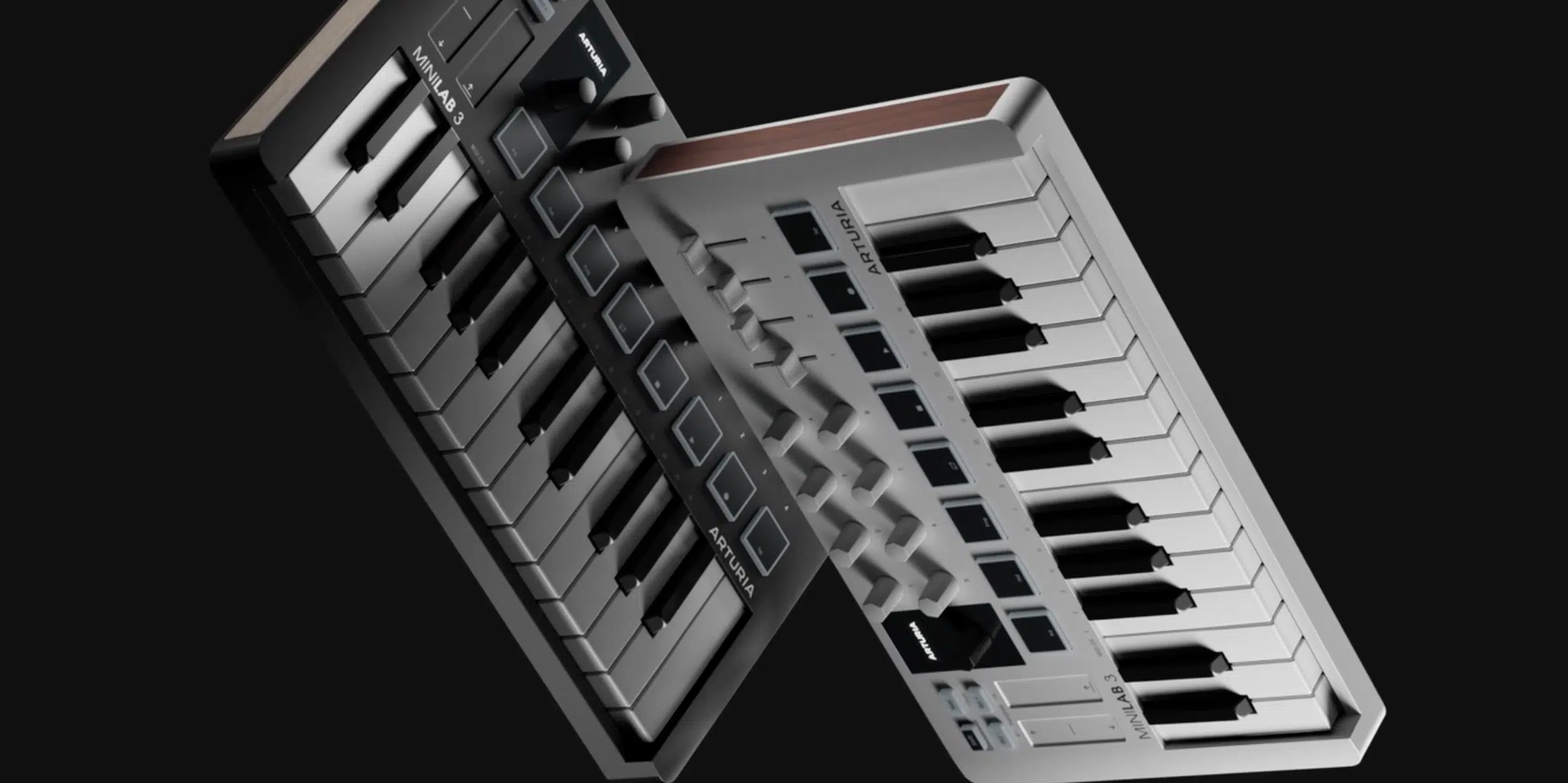 One of the MiniLab 3's most prominent features is its out-of-the-box compatibility with most DAWs.
Every tactile control is pre-mapped 一 reducing setup time and increasing workflow efficiency.
The keyboard also comes with a vast selection of synth and key presets, further enhancing the device's versatility and usability.
My favorite part is that the MiniLab 3 includes a library of over 4 million samples… yep, you read that correctly; 4 MILLION samples.
This expansive sonic library, coupled with a timeless grand piano sound and an intimate upright piano, offers an impressive array of sonic possibilities.
So, along with it's comprehensive features, functions, and pristine versatility, it also offers educational value.
Overall, amazing keyboard, amazing features, and amazing abilities.
Standout Features: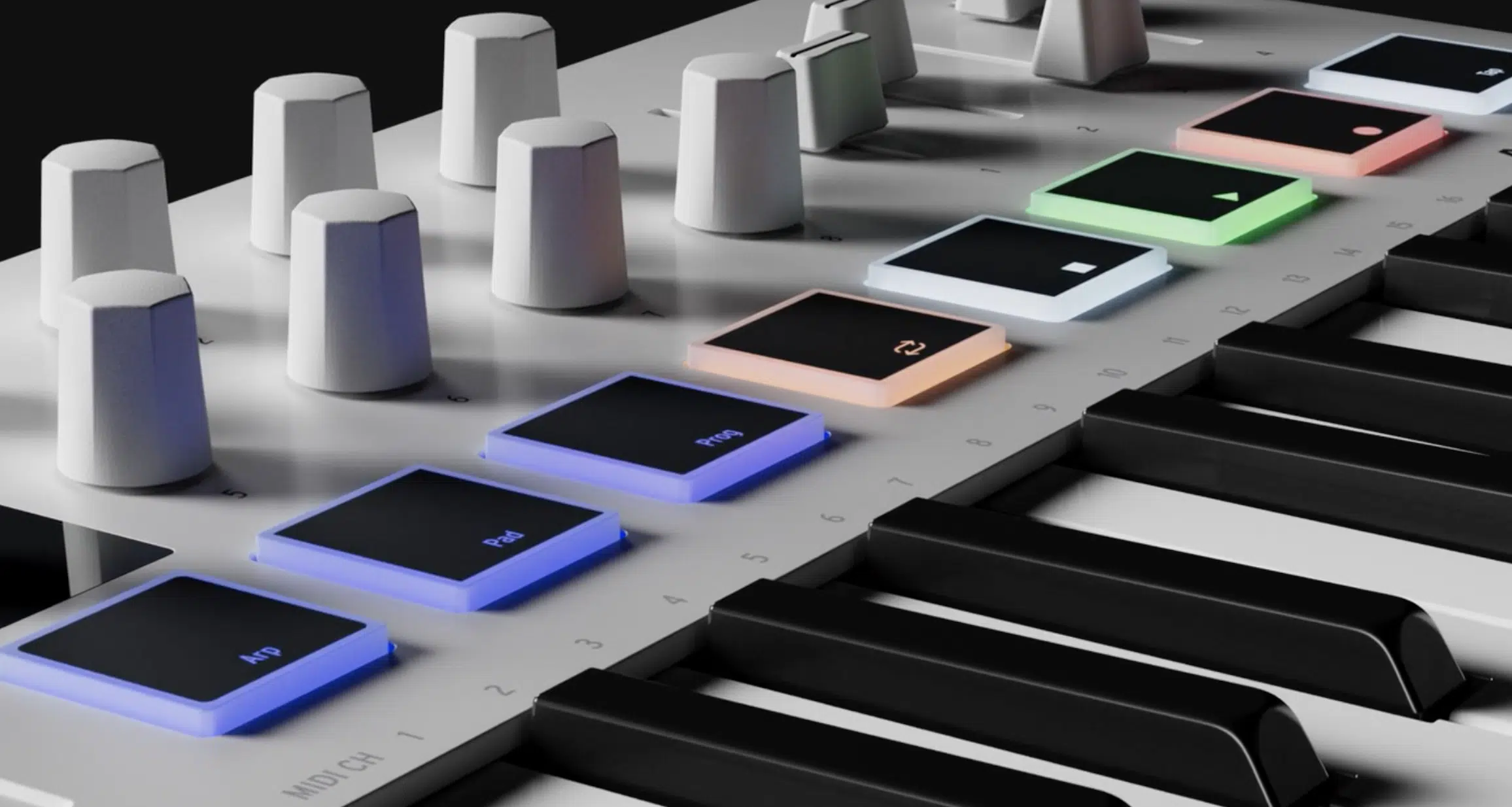 Full production-ready suite of software & sounds with easy controls and premium velocity-sensitive keys.
Out-of-the-box compatibility with most DAWs with every tactile control pre-mapped.
Extensive selection of synth and key presets included in the package.
Comprehensive educational resources with 40 lessons, tips, and musical hacks tailored for a range of styles.
Included library of over 4 million samples, an intimate upright piano, and a timeless grand piano.
#4. Novation SL MkIII (Available in 49 & 61 key versions)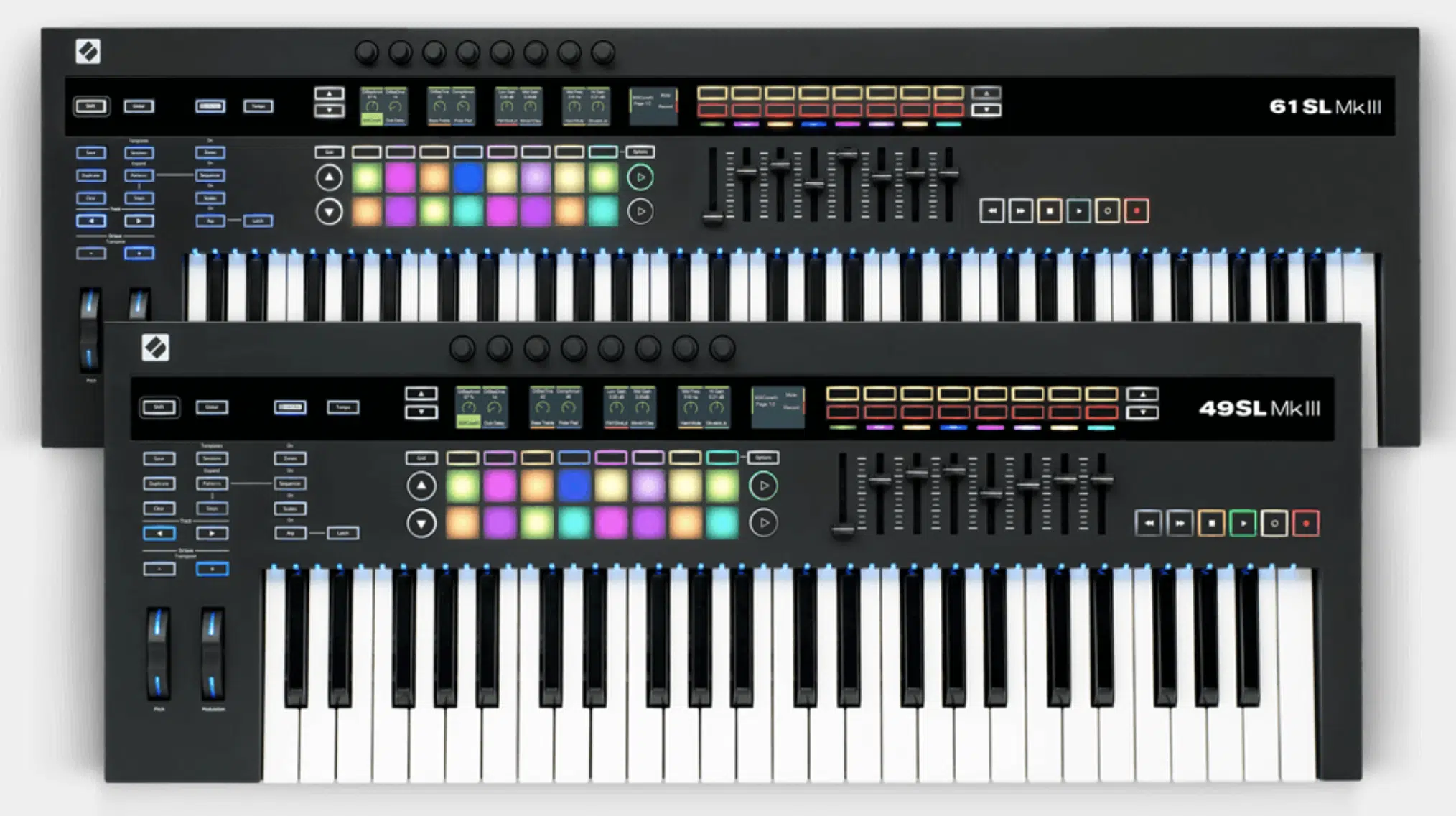 Stepping into the world of music creation and performance can be daunting, but the Novation SL MkIII makes the journey inspiring and intuitive.
It's far more than your typical keyboard controller 一 it's an all-sequencing, all-dancing hub for all of your music-making tools.
Whether your setup involves a computer or not, the SL MkIII is designed to be the centerpiece that connects, controls, and orchestrates everything.
One of the key strengths of the SL MkIII is its ability to let you create quickly and easily with your hardware.
Imagine building your tracks in an eight-track polyphonic sequencer where everything falls into time and key with every control at your fingertips…
Well, with the SL MkIII, that's a reality.
It's an experience that elevates music creation from a mere task to an immersive artistic journey.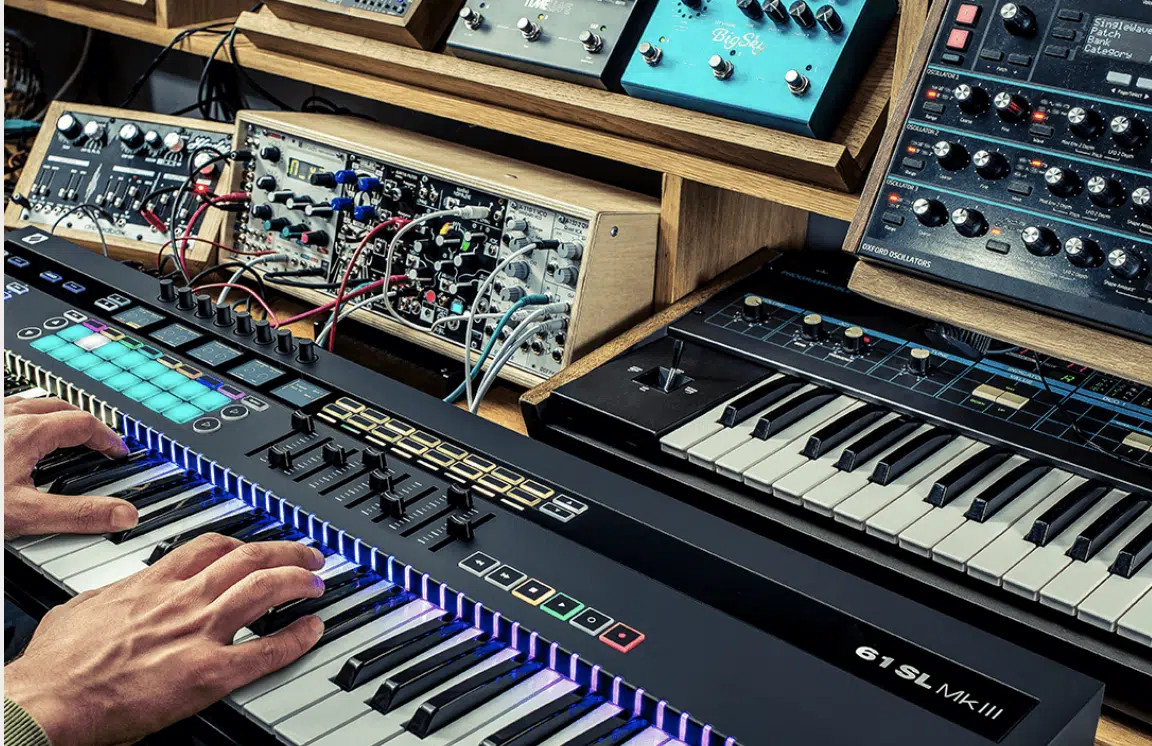 Customizability is a strong suit of the SL MkIII.
With highly customizable mappings, it can easily adapt to your hardware and software.
Plus, you can create your own mappings in the software editor.
This means the SL MkIII is not just another piece of equipment in your setup; it's a tool tailored to suit your unique music creation process.
As for playability, the SL MkIII boasts the finest synth-style semi-weighted keybed around.
It's got aftertouch too (assignable to anything).
Its exceptionally high scan rate of 10 kHz gives the keys a super dynamic feel for expressive performances.
Plus, with vibrant on-key RGB LED feedback, you can instantly see:
The SL MkIII doesn't stop at being just a keyboard, it includes velocity-sensitive RGB pads that serve multiple functions, such as: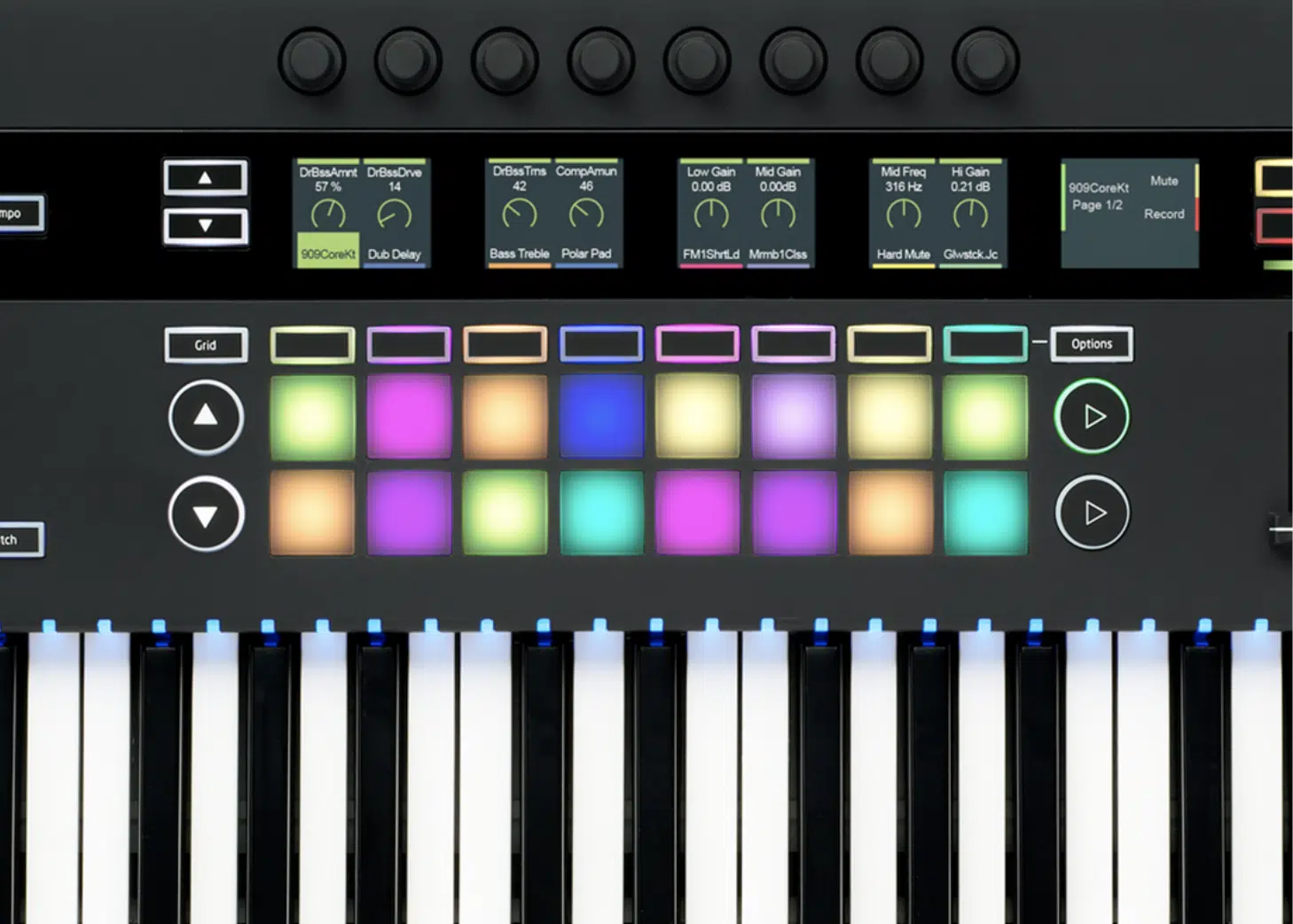 Launching clips
Steps in the sequencer
Finger drumming
Polyphonic aftertouch
The full-color LCD screens give you full visibility of your parameters while the pads, buttons, eight faders, and eight knobs get you hands-on with your music.
The SL MkIII also offers unprecedented integration with Ableton Live, and it can seamlessly open up any DAW 一 making it an essential part of any music production setup.
Regardless of the software you use, the SL MkIII is designed to give you intuitive control.
Standout Features: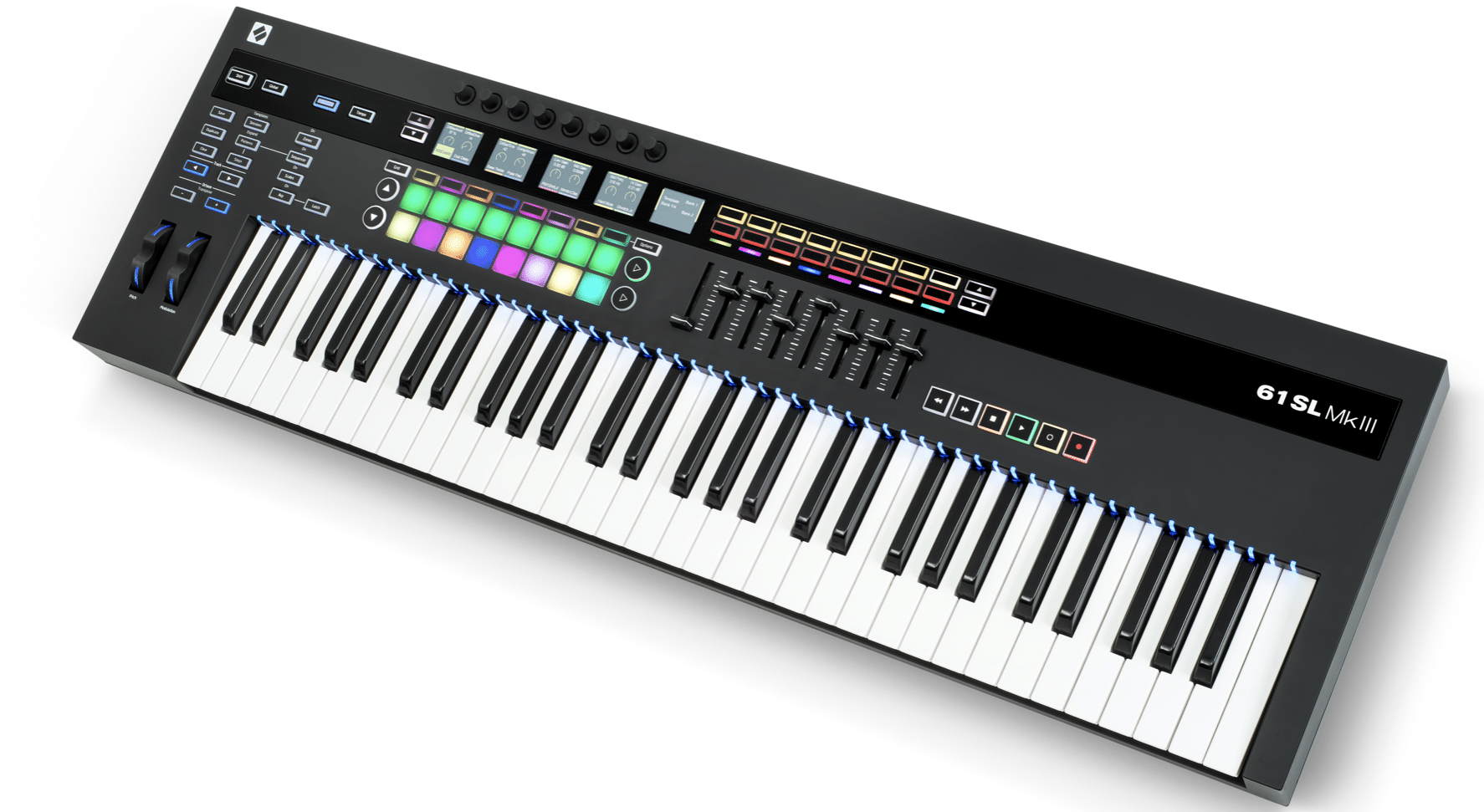 All-sequencing, all-dancing hub for comprehensive music-making
Customizable mappings for hardware and software
Synth-style semi-weighted keybed with aftertouch
Velocity-sensitive RGB pads with multiple functions
Full-color LCD screens for parameter visibility
Unprecedented integration with Ableton Live
#5. Lumi Keys Studio Edition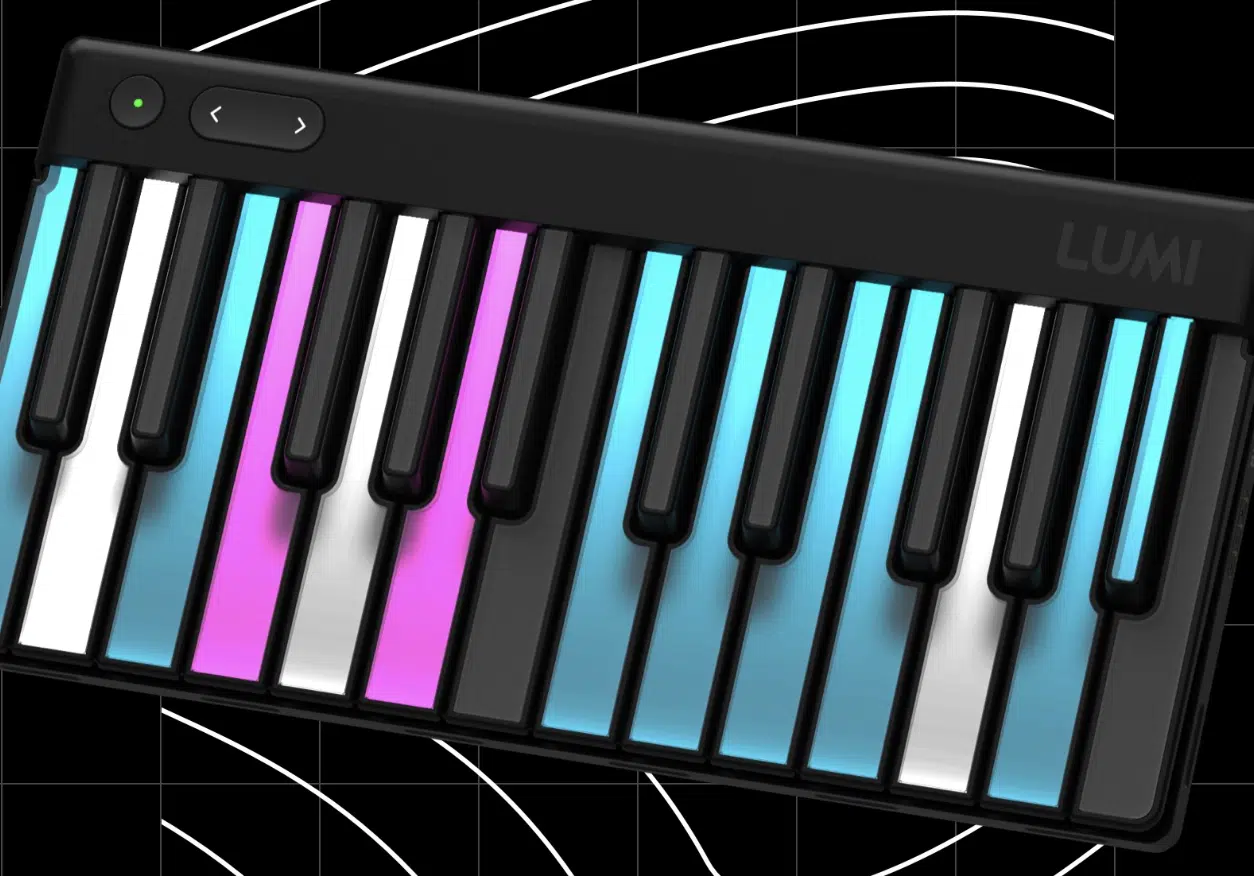 The Lumi Keys Studio Edition can open you up to a whole new world of illuminated composition and acoustically natural expression.
It's the world's first keyboard controller offering per-key pitch bend and polyphonic aftertouch (awesome, right?).
But what really sets it apart is the whole-key illumination that sparks new ideas for playing and composing.
Per-key pitch bend

一

You can introduce vibrato-like movements on each key to bend the pitch.
Polyphonic aftertouch

一

You can deepen sounds through continuous pressure.
These features make LUMI Keys the first MPE controller with a traditional keyboard form factor to deliver a dynamic and expressive playing experience.
One of the most outstanding features of the Lumi Keys is its light-assisted composition, allowing you to illuminate scales, chords, and arpeggios in any key through the ROLI Studio.
Allows you to see all the notes in any scale.
You're able to play complex chord harmonies with just 1 root note.

The ability to see all the notes in any arpeggio.
These features make it easier to explore an unfamiliar key, step out of your comfort zone, and find inspiration.
This makes the Lumi Keys the brightest keyboard ever made and secured itself a spot on our list.
The Lumi Keys Studio Edition also includes the ROLI Studio suite of plugins (featuring hundreds of MPE and standard MIDI sounds for you to explore).
Coupled with an array of production features custom-made for an illuminated MPE keyboard, the ROLI Studio suite takes your music production to a whole new level.
Customization is another aspect where Lumi Keys shines.
You can tailor Lumi Keys to fit your project and your style through custom modes in ROLI Dashboard, including: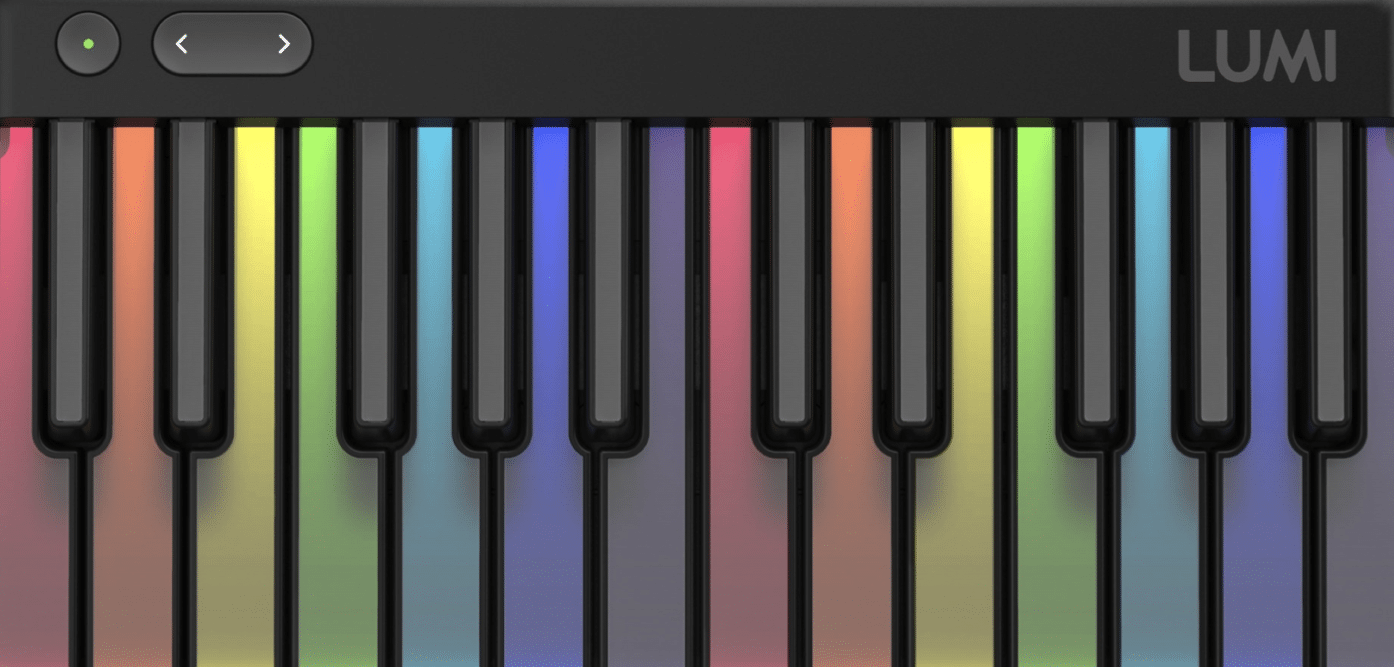 This level of customization means you can always find a setup that perfectly suits your creative needs.
Also, Lumi Keys' modular design allows you to expand its capabilities easily.
The keyboard's magnetic DNA connectors let you snap two, three, or four keyboards together to create a 48, 72, or even 96-key playing surface.
Additionally, Lumi Keys is part of the BLOCKS family, which lets you connect it with Lightpad Block for a high-powered setup.
Overall, it's super intuitive and helps you learn different scales, chords, etc. with ease.
Standout Features: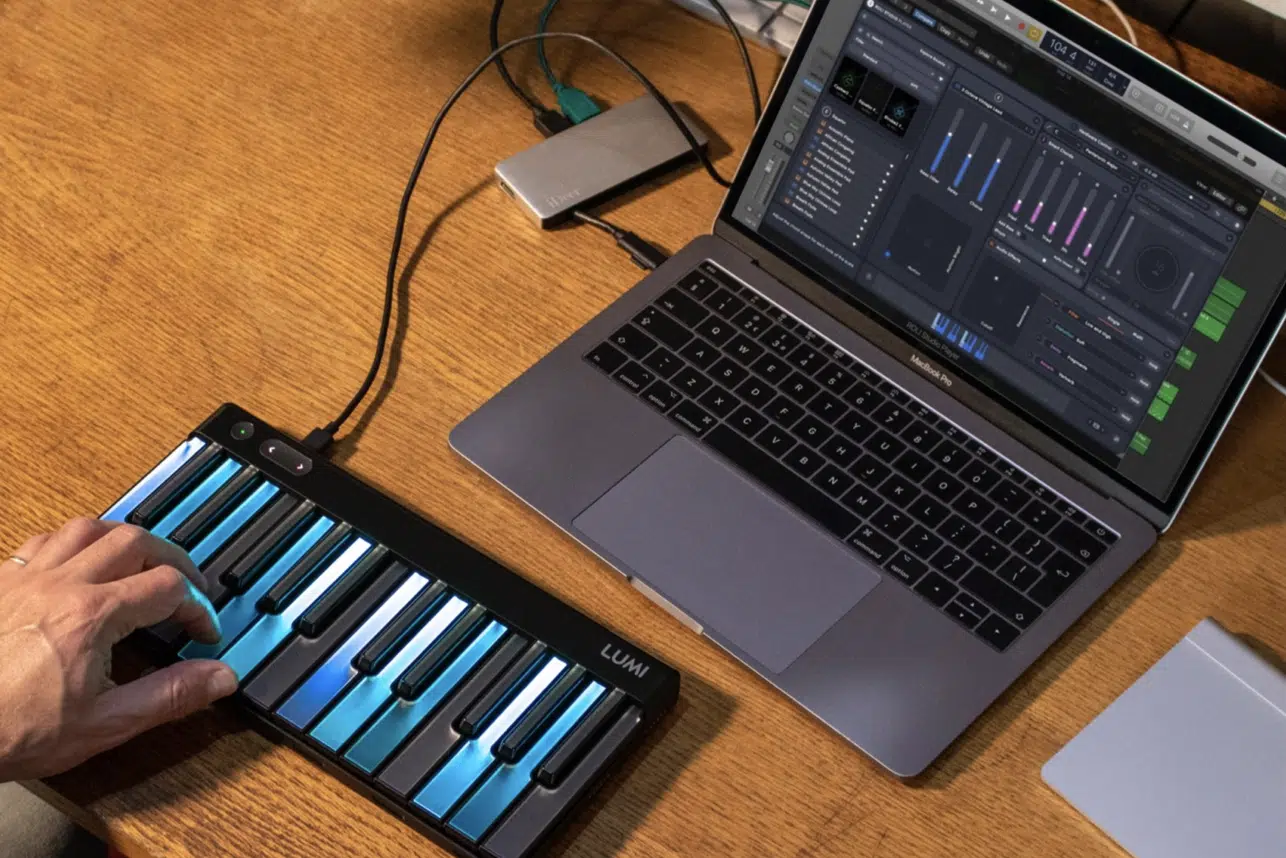 World's first keyboard controller offering per-key pitchbend and polyphonic aftertouch
Whole-key illumination for light-assisted composition
ROLI Studio software suite for exploring hundreds of MPE and standard MIDI sounds
Customizable modes in ROLI Dashboard for tailored playing experience
Magnetic DNA connectors for expandability
Part of the BLOCKS family for seamless integration with other devices
#6. Arturia MicroLab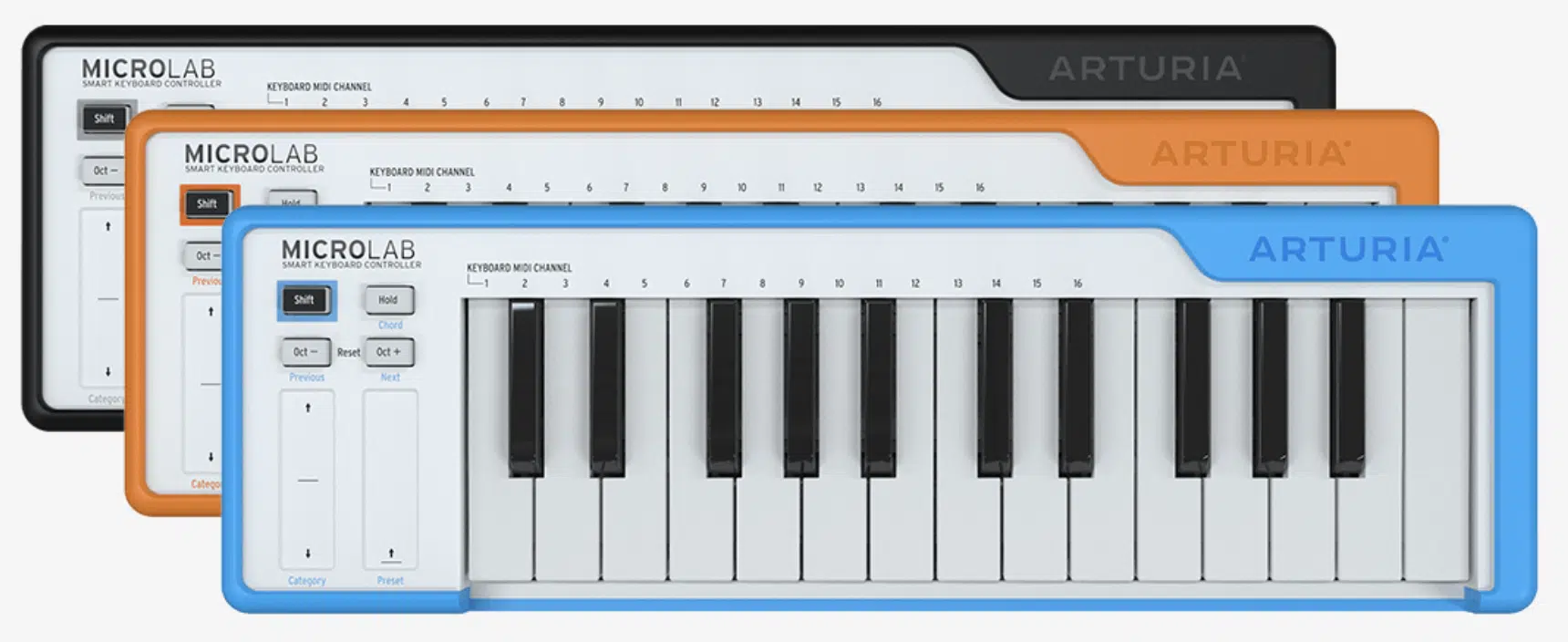 Small but mighty, the Arturia MicroLab is a 'go anywhere' keyboard that blends physical practicality with inspiring software to help you create the music you always dreamed of.
Its compact design makes it a perfect companion if you want to take your beats on the road, and it also provides effective control over your soft synths and virtual instruments.
The MicroLab is a great MIDI keyboard controller that's thoughtfully designed to give you an awesome level of control with just four buttons and two touch strips.
You're able to:
Sustain notes with a button
Play chords with one note
Swipe through presets
Tap to select
Plus, it's a minimalist approach to design that leaves more room for creativity.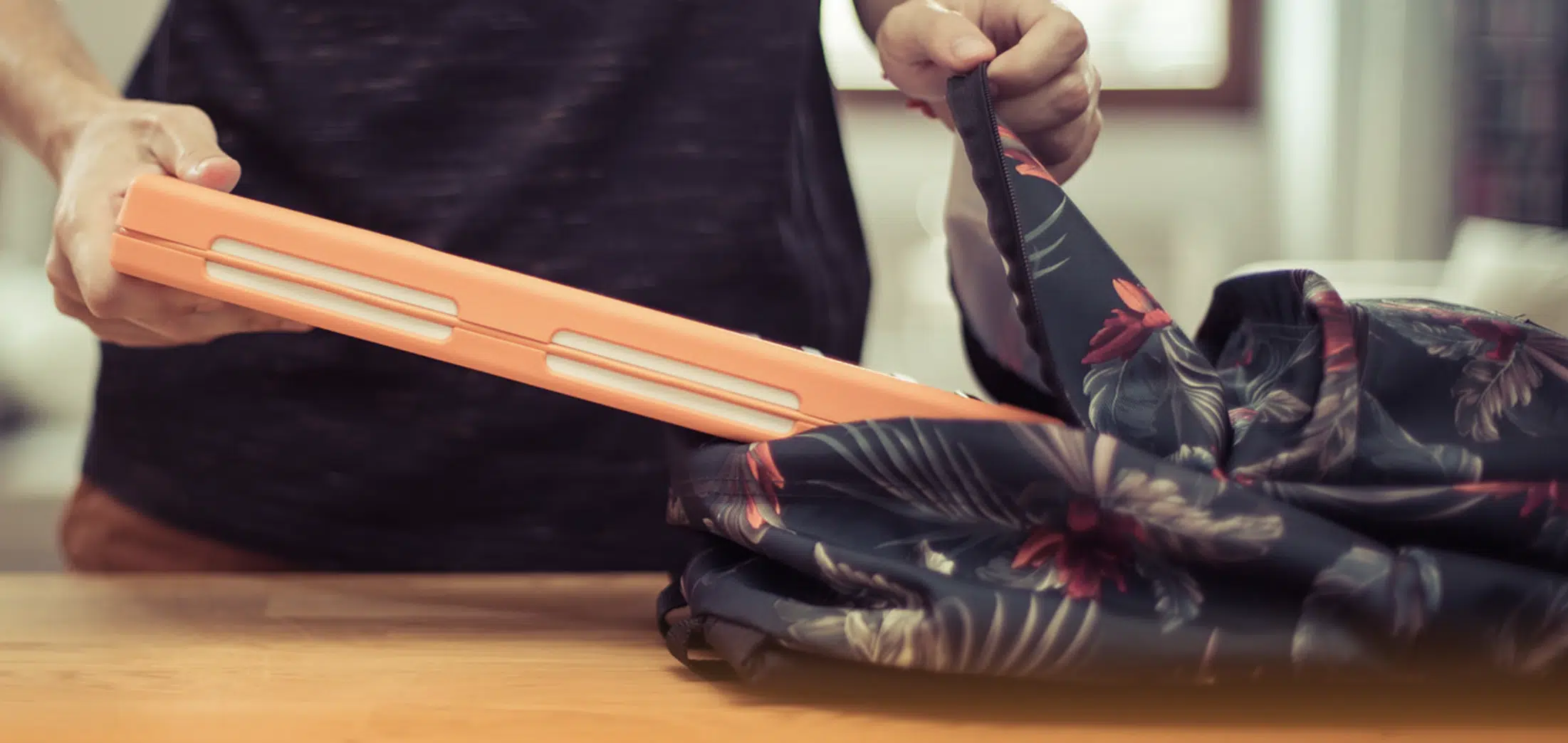 The keyboard features a 25-note velocity-sensitive slim keyboard, perfect for expressive performances.
The addition of this feature in such a compact device is a testament to Arturia's commitment to delivering professional-quality tools in a portable form factor.
Thoughtful physical features like a recessed cable and a protective, low-profile shell enhance the MicroLab's portability.
The USB port is recessed, so no cables stick out 一 and the integrated cable-tidy recess keeps your setup neat, making storage and traveling quick and easy.
Beyond the hardware, the MicroLab comes with its own software suite, which includes:

Analog Lab Lite with over 500 classic keyboard sounds
Bitwig 8-Track
UVI Grand Piano Model D
This combination of software provides a wide range of sounds and capabilities, which makes this portable MIDI controller a comprehensive solution for mobile music production.
The MicroLab is USB/MIDI class compliant, meaning you don't need drivers to get started.
NOTE: It's also low power, and can be powered by Android devices or Apple iPads, allowing you to create music wherever you go.
Standout Features:

Compact and portable design, ideal for on-the-go music production
Minimalist control layout with four buttons and two touch strips
25-note velocity-sensitive slim keyboard
Recessed USB port and integrated cable-tidy recess for enhanced portability
Included software suite featuring Analog Lab Lite, Bitwig 8-Track, and UVI Grand Piano Model D
USB/MIDI class compliant and low power consumption, compatible with Android devices or Apple iPads
#7. Korg microKEY Air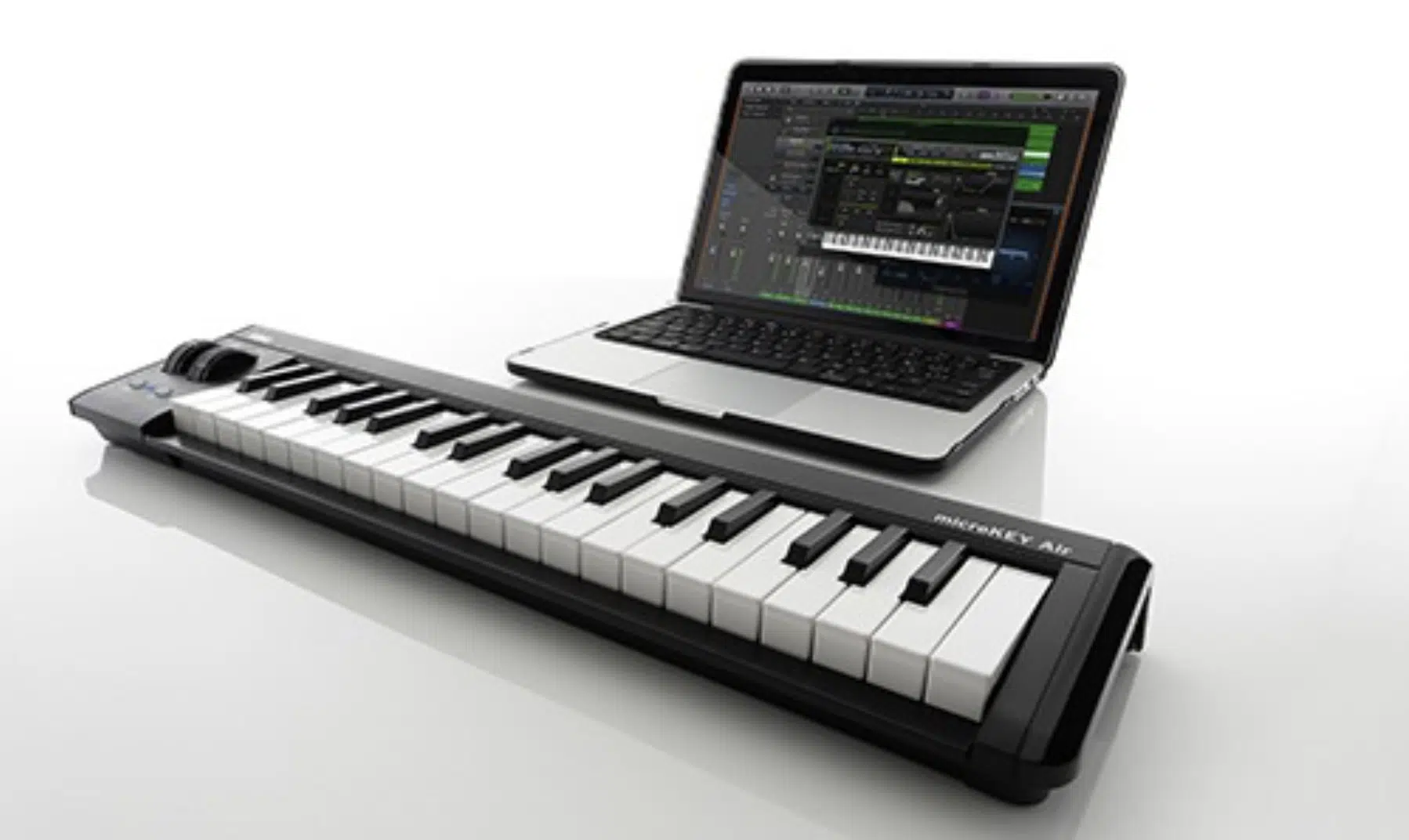 The Korg microKEY Air brings wireless freedom to your music production setup.
It supports Bluetooth Smart "Apple Bluetooth Low Energy MIDI", enabling wireless connection to music apps on iPad/iPhone like:
KORG Gadget
KORG Module
GarageBand
And MIDI-capable music production software on your Mac or Windows.
An essential feature of the microKEY Air is its battery operation 一 running on just two AA batteries, this keyboard provides you with mobility and ultimate flexibility.
It also supports traditional USB connection, with USB bus-powered operation eliminating the need for a separate power source.
The microKEY Air includes KORG's Natural Touch mini keyboard, designed for playability while maintaining a compact size.
It makes it easy to play chords or rapid phrases, suiting a variety of playing styles.
You can choose between different key configurations, such as:
You can choose based on your unique needs and specific space requirements.
Added functionalities are present in different models of the microKEY Air.
The 37, 49, and 61-key models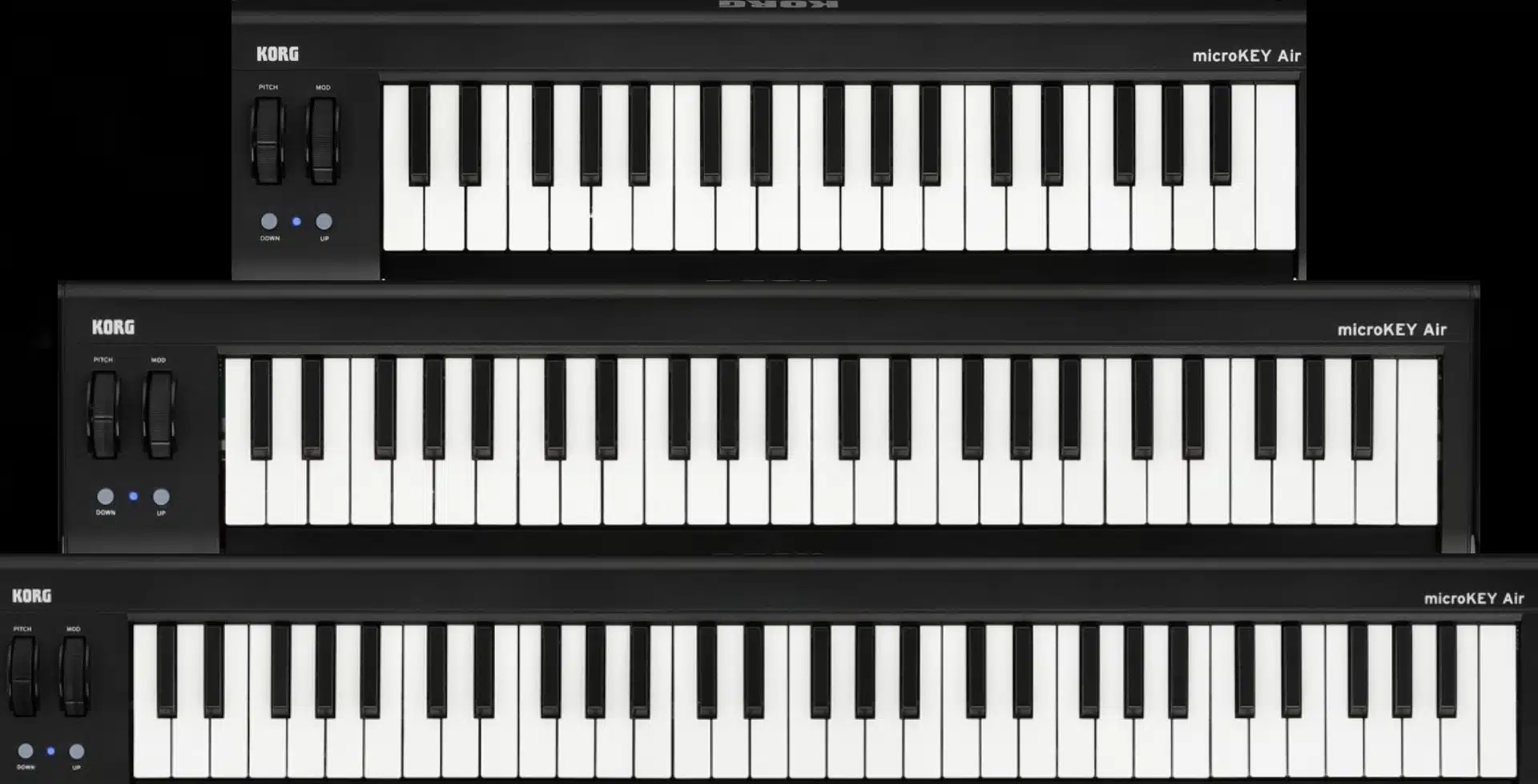 Offer an assignable switch jack for a damper pedal, pitch bend, and modulation wheels.

Includes a sustain button and a joystick for pitch bend, modulation, and arpeggiator functions.
Ease of use is at the forefront of microKEY Air's design.
So, connecting it to your computer and starting to play is as simple as it gets.
Meaning, there's no need to install a driver.
For iPad and iPhone users, the second-generation model supports connection via an Apple Lightning – USB camera adaptor.
Lastly, the microKEY Air's octave buttons combined with the key transpose function allow you to play MIDI's entire range of notes.
This functionality gives you versatility and broadens your creative possibilities.
Standout Features: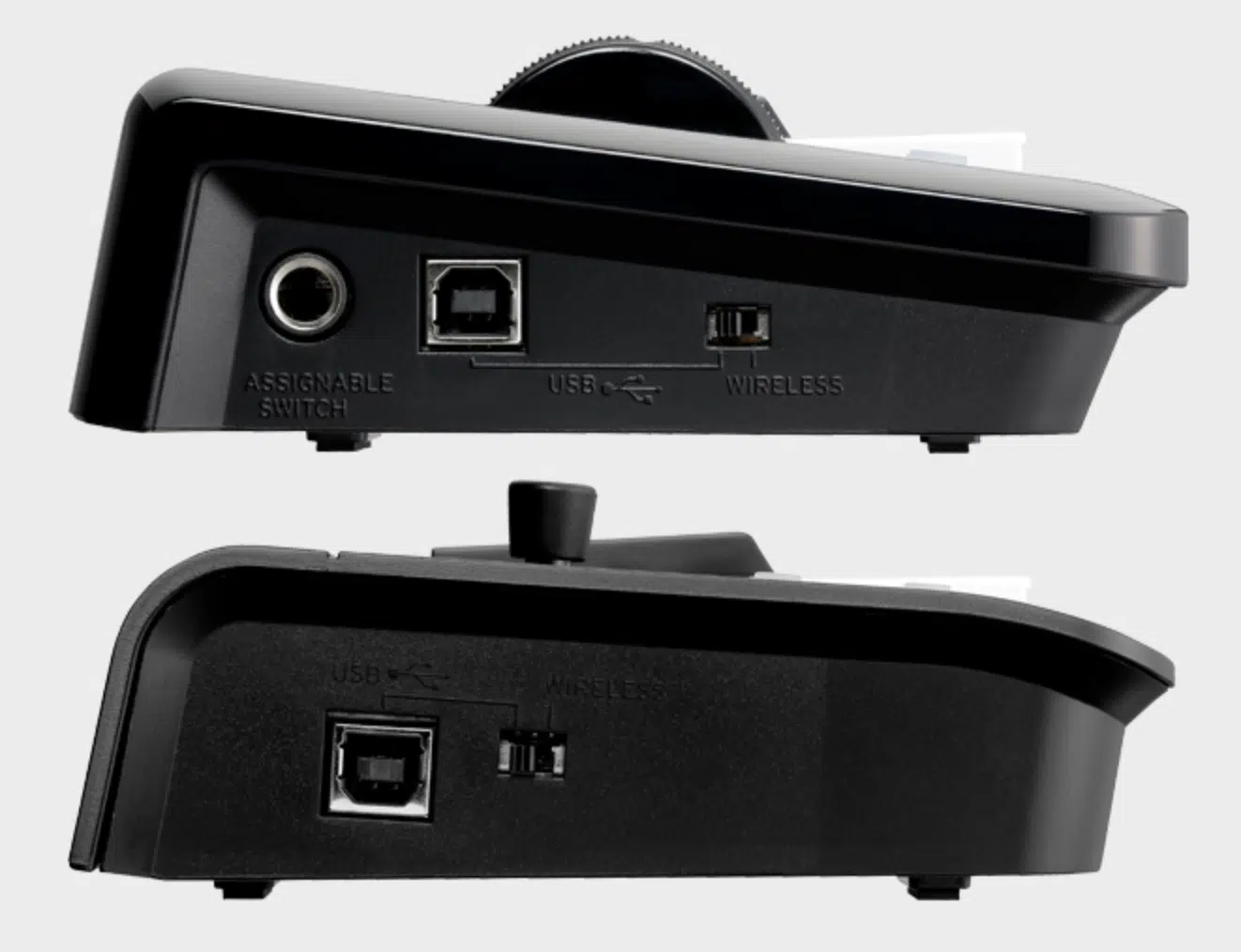 Bluetooth Smart "Apple Bluetooth Low Energy MIDI" for wireless connection
Battery operation for maximum portability
KORG's Natural Touch mini keyboard for superior playability
Different functionalities depending on model (assignable switch jack, pitch bend, modulation wheels, sustain button, joystick)
Easy setup with no need for driver installation
Octave buttons and key transpose function for playing MIDI's entire range of notes
#8. Roli Seaboard RISE 2

The Roli Seaboard RISE 2 breaks the mold of traditional keyboards with its innovative design 一 enabling a whole new level of musical expression.
This re-engineered version of the award-winning original is designed for limitless exploration of sound and offers a fresh approach to playing and controlling music.
RISE 2's playing surface is a soft, silicone keywave that allows for 5 Dimensions of Touch, including:
Strike
Press
Glide
Slide
Lift
Each offers different ways to shape the sound and create music, simulating the effects of various instruments and opening up a new realm of performance possibilities.

One of my favorite Seaboard RISE 2's features is its Touch Faders.
These adjustable controls allow you to customize the responsiveness of the Press, Glide, and Slide dimensions of touch on the fly.
It also includes an XY Touchpad for adjusting macros for each preset as you play, which I personally appreciate.
RISE 2 features a tactile, continuous 49-key surface, the Keywave2 design.
This revolutionary shape refines the original Seaboard surface with wider keys and honed edges 一 providing a more accurate touch response and a satisfying playing experience.
Also, it comes with the limitless hybrid synthesizer Equator 2.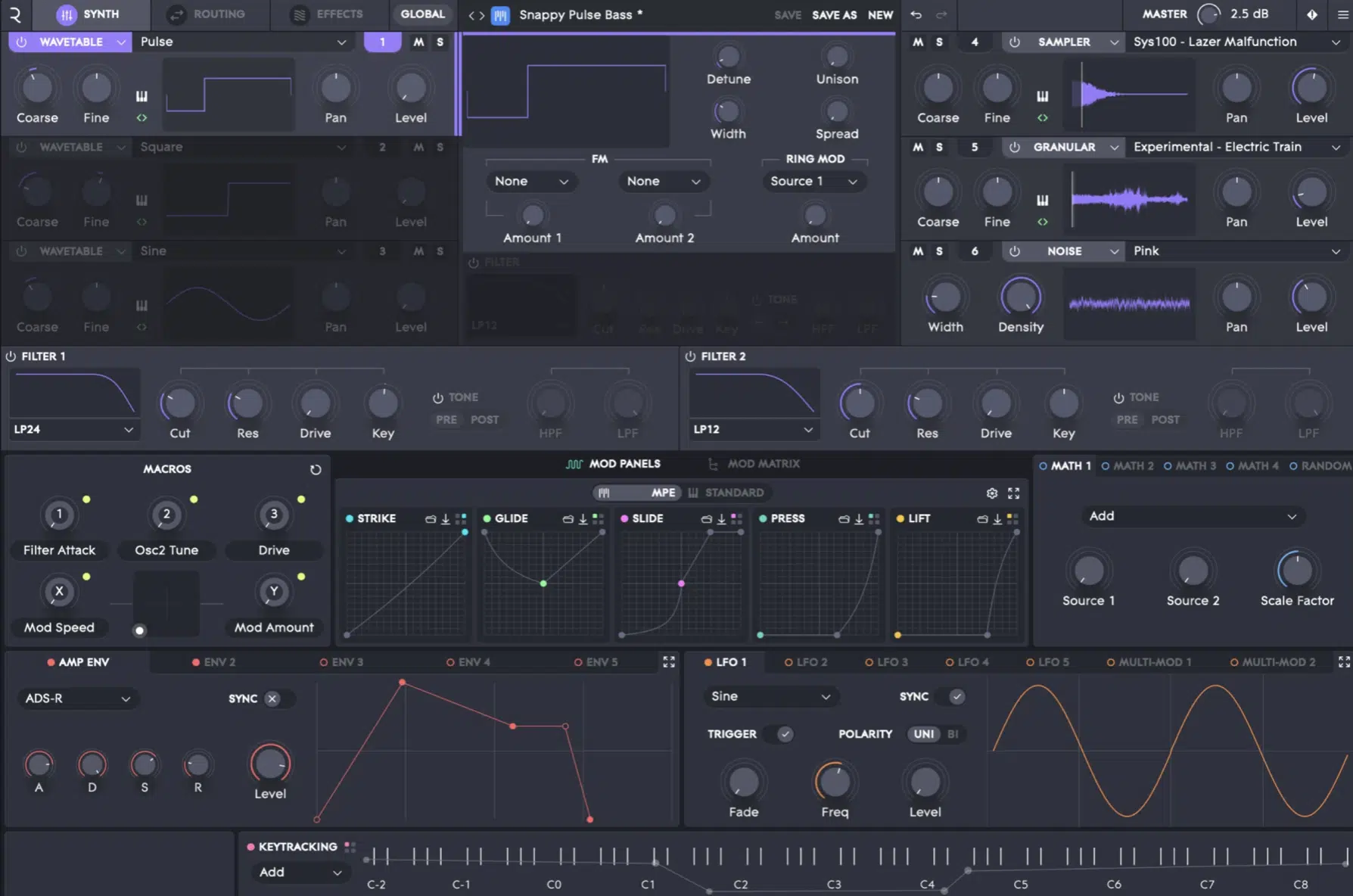 This leading MPE synth has the power to generate any sound you can imagine.
It also simplifies your workflow by allowing you to record all the modulation you need directly into your track (even a whole orchestra at once).
With your included ROLI Dashboard software, you can easily adjust expressive parameters and MIDI settings.
As well as tweak your expressivity to perfection with enhanced 5D visualizers.
Standout Features: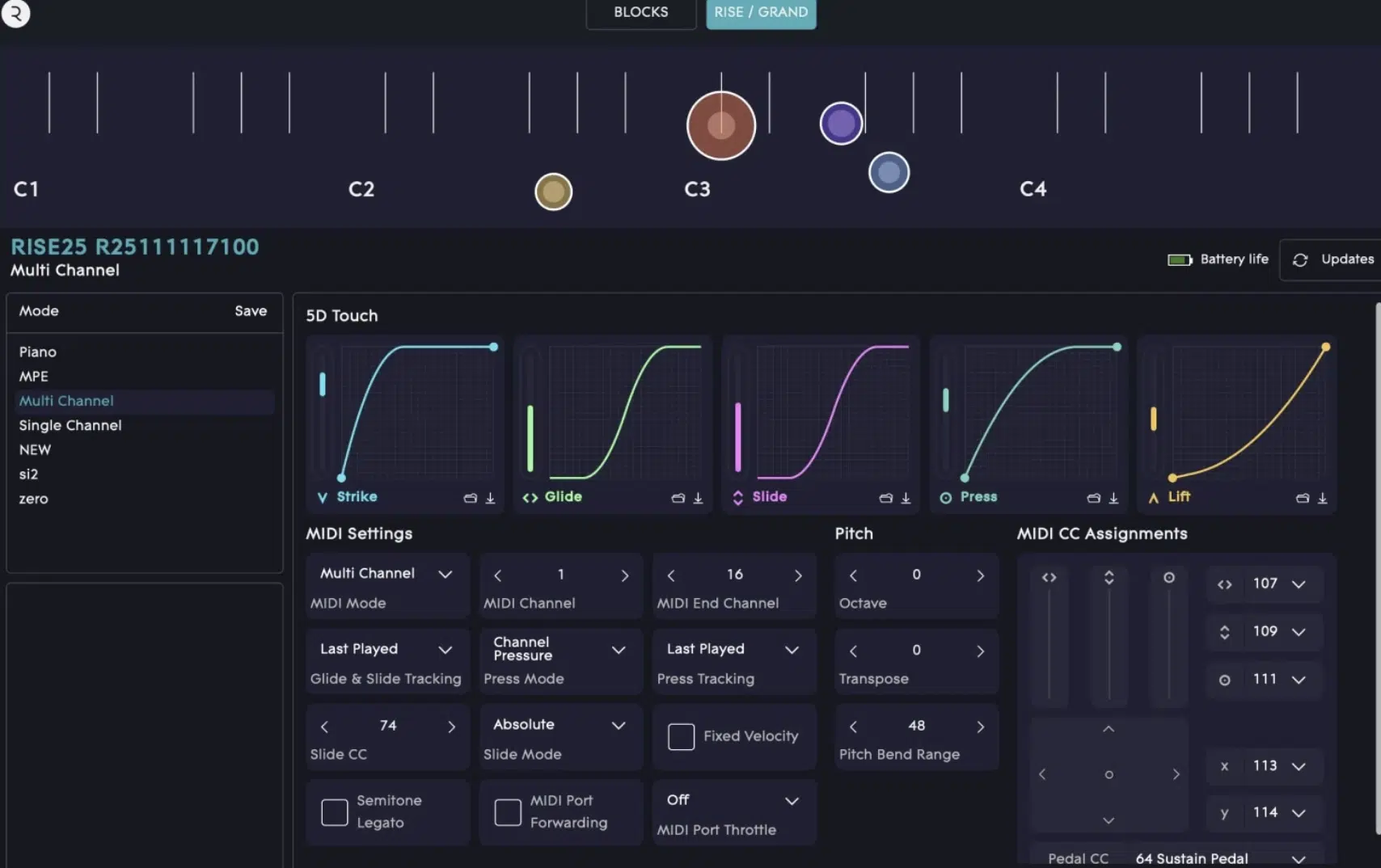 Innovative design enabling 5 Dimensions of Touch
Adjustable Touch Faders for customizing touch responsiveness
XY Touchpad for adjusting preset macros
Keywave2 design offering a tactile, continuous 49-key surface
Integration with Equator 2, a limitless hybrid synthesizer
ROLI Dashboard software for adjusting expressive parameters and MIDI settings
#9. Alesis VI49

The Alesis VI49 is an advanced USB/MIDI keyboard MIDI controller that offers comprehensive control over your music software.
Designed for versatility, it's a valuable tool for manipulating plugins and virtual instruments with a series of pads, knobs, and buttons.
With 49 velocity-sensitive semi-weighted keys with aftertouch and Octave Up/Down buttons, the VI49 offers a wide musical range.
You can play basslines, chords, and melodies, expanding the keyboard to the full melodic range.
So, needless to say, the musical possibilities are truly endless.
One key feature of the VI49 is its assignable controls, which includes:
12 assignable knobs
36 assignable buttons 
With them, you can manipulate various aspects of effect plugins and virtual instruments, like:
Open & close filters
Adjust volume levels
Activate effects
Tweak parameters
The VI49 also comes equipped with 16 velocity-sensitive RGB trigger pads 一 allowing you to launch clips or finger drum with exceptional response and colorful visual feedback.
Additionally, it has pitch and modulation wheels for added expression.

Ease of integration is a key design principle of the VI49.
A single USB connection to your Mac or PC provides both power and MIDI functionality.
This allows you to plug right into your computer and start making music.
The 5-pin MIDI Out enables control over external MIDI modules, synthesizers, and more.
The VI49 provides an intuitive workflow with its LED screen and illuminated knobs, buttons, and pads providing real-time visual feedback.
Plus, its compact design makes it easy to take on the road or implement in any sized studio.
The VI49 also comes bundled with Ableton Live Lite and Xpand!2 by AIR Music Tech 一 enabling you to record, produce, and perform with your computer right out of the box.
Overall, it's super convenient, flexible, and versatile.
Standout Features: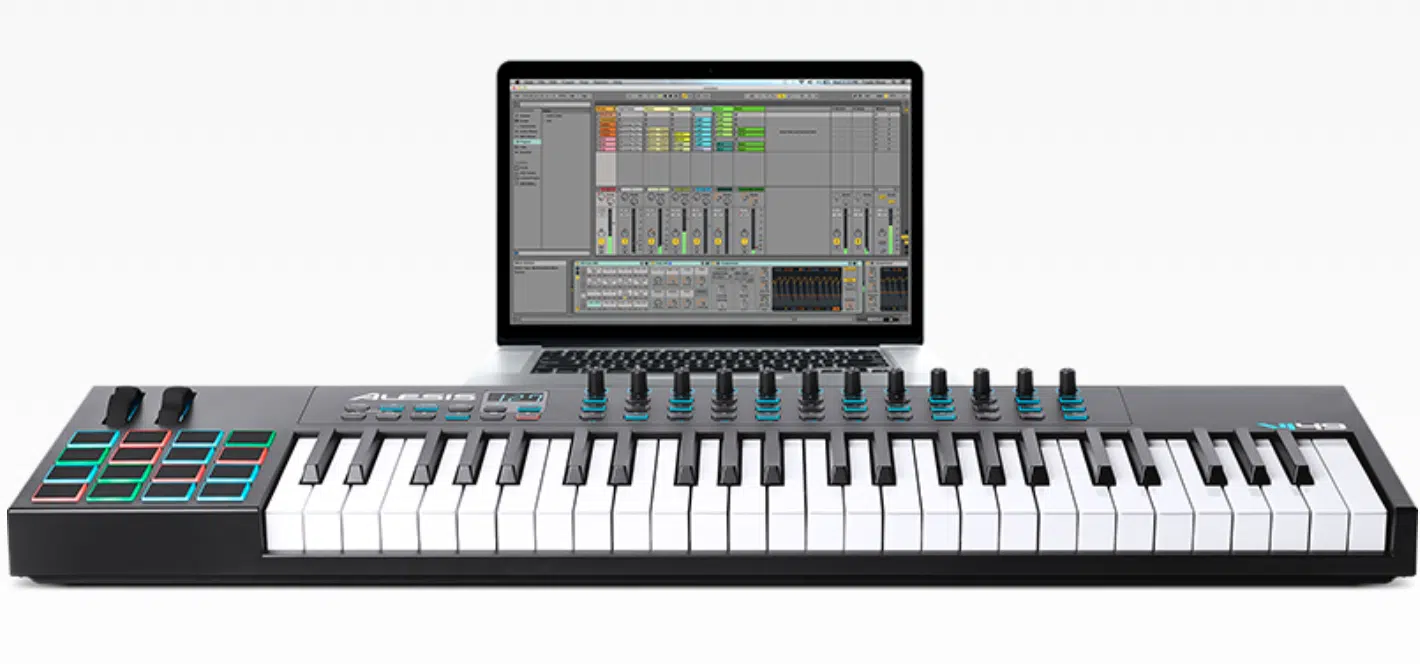 49 velocity-sensitive semi-weighted keys with aftertouch and Octave Up/Down buttons
12 assignable knobs and 36 assignable buttons for effect plugins and virtual instruments manipulation
16 velocity-sensitive RGB trigger pads for launching clips or finger drumming
Single USB connection providing both power and MIDI functionality
LED screen and illuminated controls for real-time visual feedback
Bundled with Ableton Live Lite and Xpand!2 by AIR Music Tech for immediate music production capabilities.
Sustain pedal input
#10. Arturia KeyStep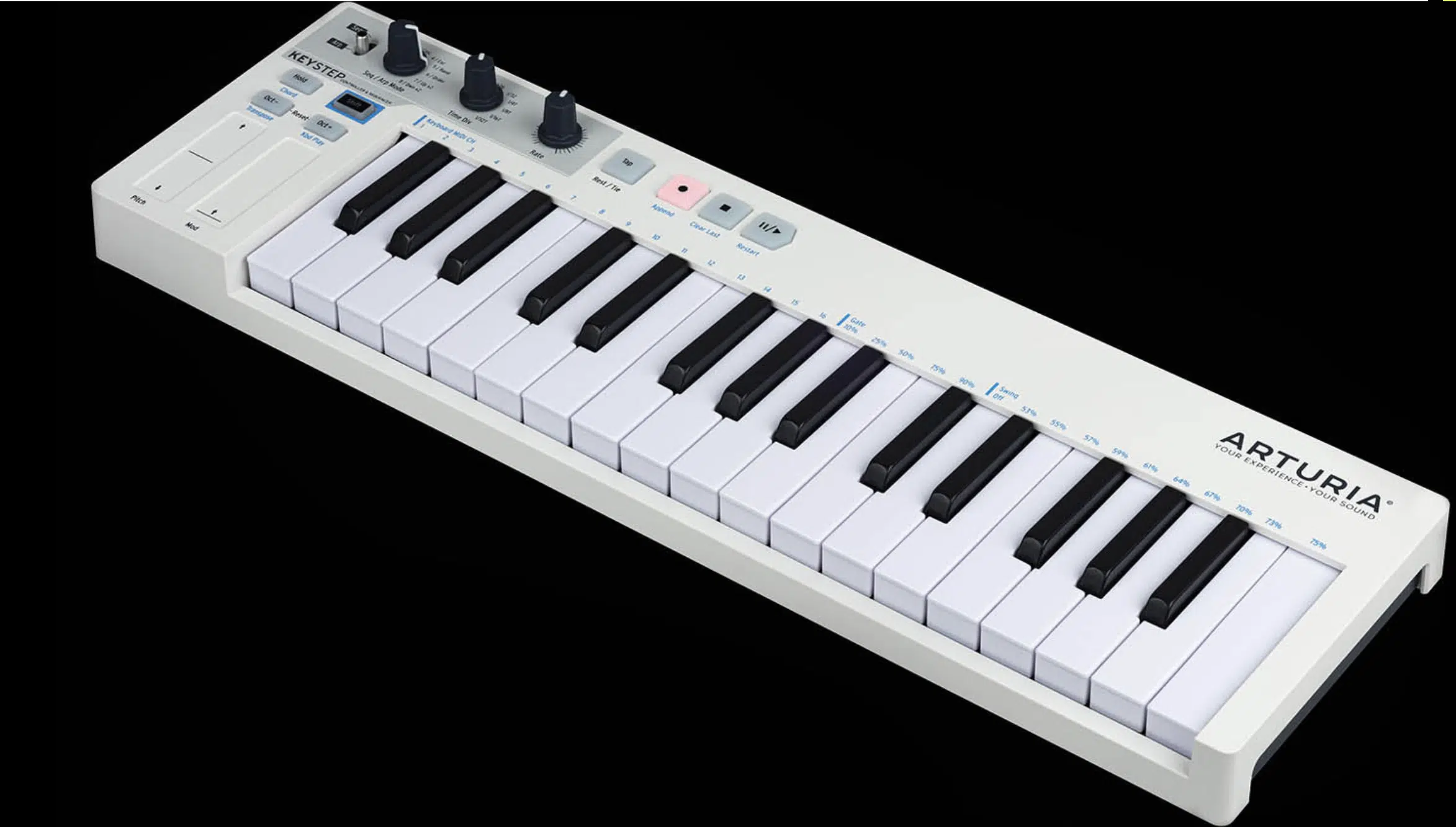 The Arturia KeyStep is an innovative keyboard controller that combines the functionalities of a traditional controller with a polyphonic step sequencer.
Meaning, it can control both analog and digital devices seamlessly.
It's equipped with a unique "slim key" keyboard action, which is super convenient.
The KeyStep's keybed expertly balances the compactness of mini-keys with the musicality of full-sized keys.
This design provides the freedom of portability without sacrificing playability.
Also, the velocity and aftertouch of this new design offer a dynamic playing experience.
New Polyphonic Step-Sequencer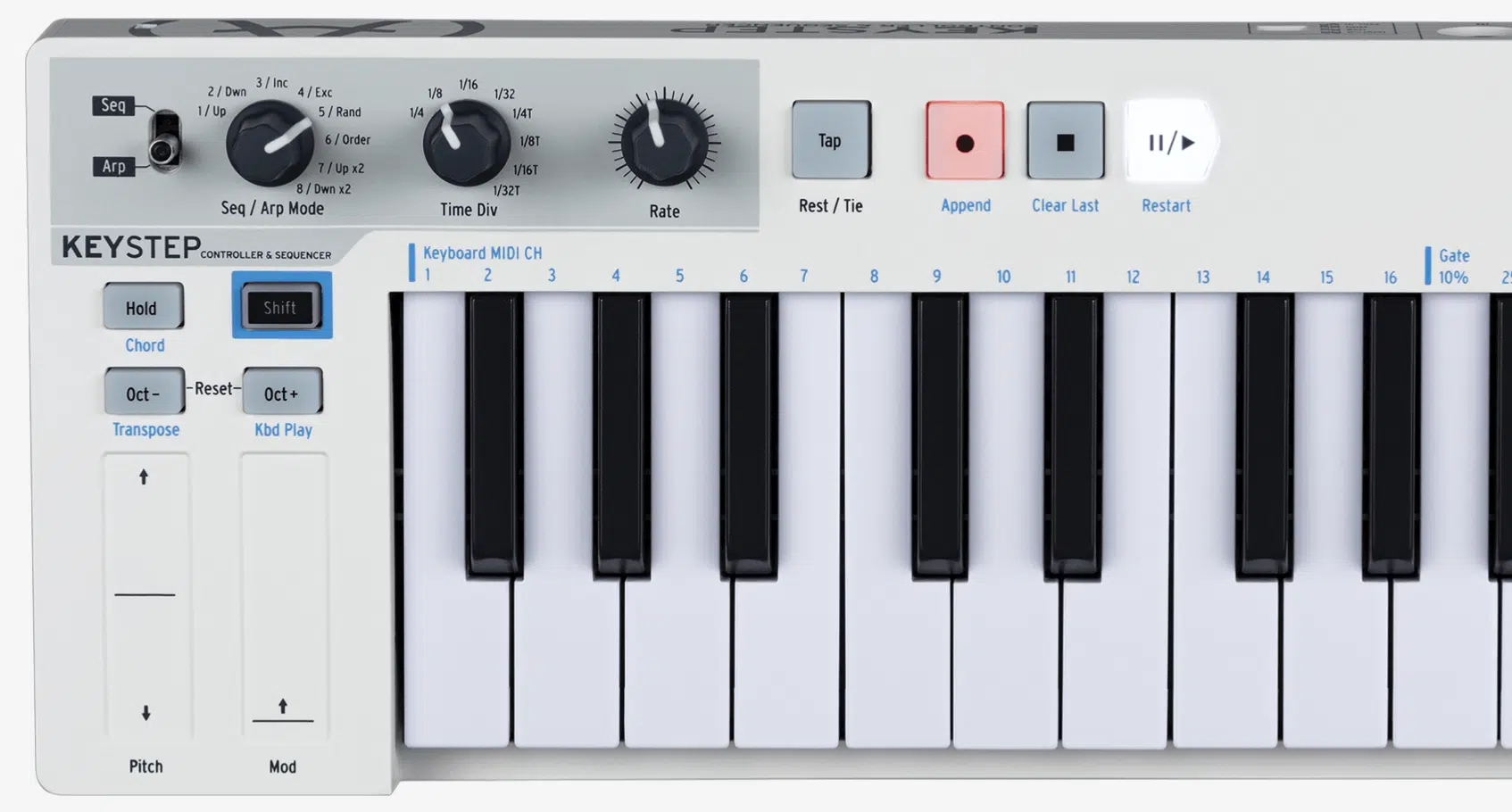 One of my personal favorite (and most used) features of the KeyStep is its new polyphonic step sequencer with 8 programmable memories.
These memories can be easily recalled with a simple turn of a knob.
Gate times and swing settings can be instantly adjusted to change the sequenced performance's feel on the fly.
This is complemented by the ability to:
Record
Overdub
Transpose sequences
Yes, this is all done in real-time while you're still playing the keyboard live.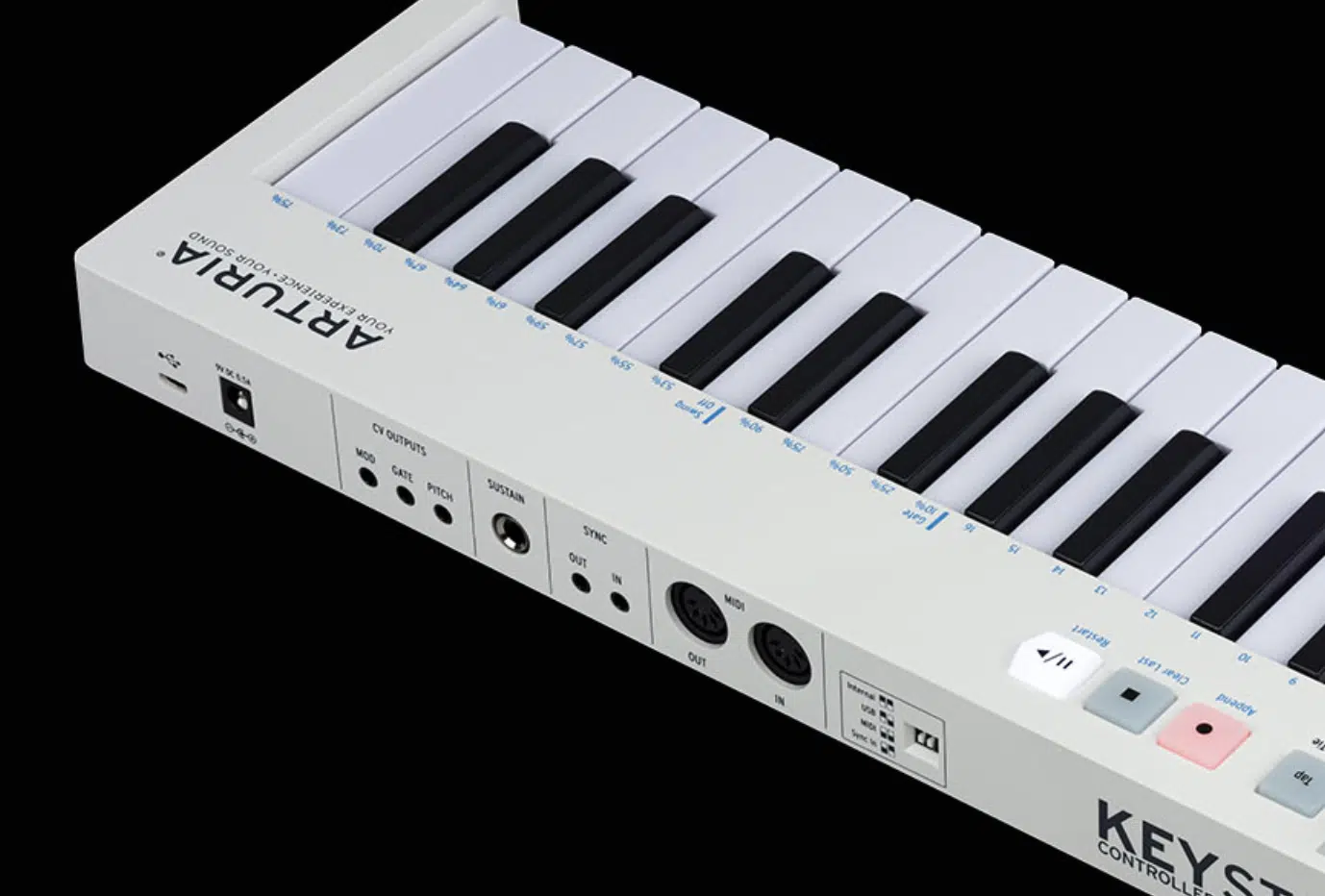 The KeyStep is also highly connective. It offers:
USB MIDI
Standard MIDI in and out
Clock sync and DIN sync jacks
CV/GATE outputs
Additionally, it has a separate assignable modulation CV output that can be used with the mod wheel, velocity, or aftertouch.
This high level of connectivity truly sets the KeyStep apart in my opinion.
It also offers various modes and controls for enhanced musical exploration.
The KeyStep includes:
An arpeggiator mode
Chord play mode
Rate control & tap tempo
Octave controls
Plus, the inclusion of Sustain HOLD button, Sustain pedal jack, and SHIFT button selection further enhances its functionality.
Standout Features: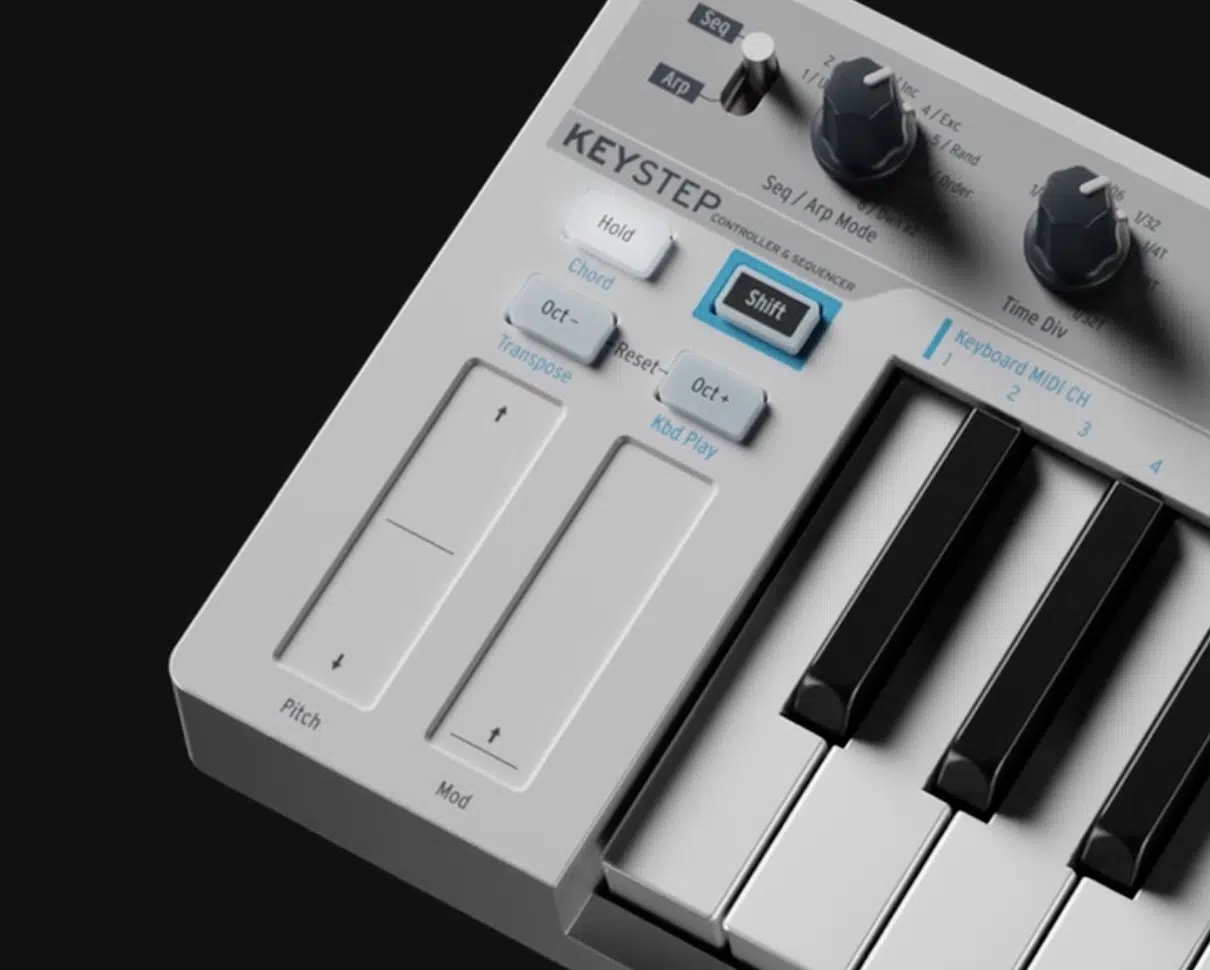 Unique "slim key" keyboard action
Polyphonic step-sequencer with 8 programmable memories
Wide range of connectivity options including CV/GATE outputs
Arpeggiator mode, Sequencer mode, and Chord play mode
Comes with a selection of industry-standard creative software
Great beginner MIDI keyboard
#11. Novation FLkey Mini & FLkey 37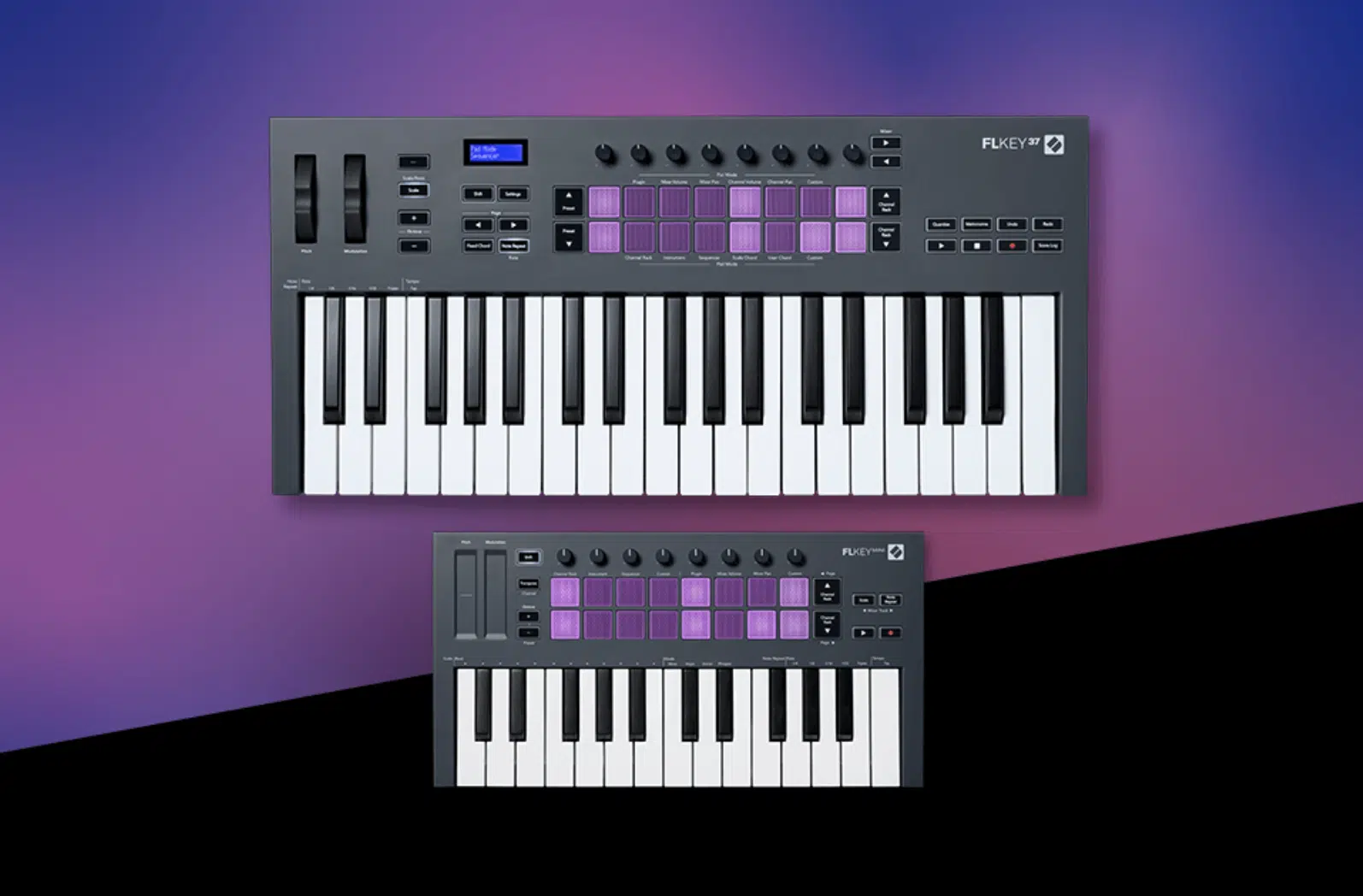 The Novation FLkey Mini and FLkey 37 are MIDI keyboards specifically designed for FL Studio.
Created in collaboration with Image Line, the creators of FL Studio, these keyboards offer controls for FL Studio's Sequencer, Channel Rack, and Mixer.
Both keyboards are equipped with creative Scale and Chord modes.
These features allow for more expressive playing, letting users create more dynamic and engaging music.
They offer a hands-on way to sketch beats fast with Sequencer Mode, and two Pad modes that give rhythms a human feel.
With the FLkey Mini and FLkey 37, tweaking your mix and recording automation on the fly becomes easy.
The 8 pots let you take FL Studio's volume and pan controls off the screen and into your own hands.
These keyboards also have essential 'transport' buttons for instant access to DAW functions.
The FLkey Mini (25 mini keys)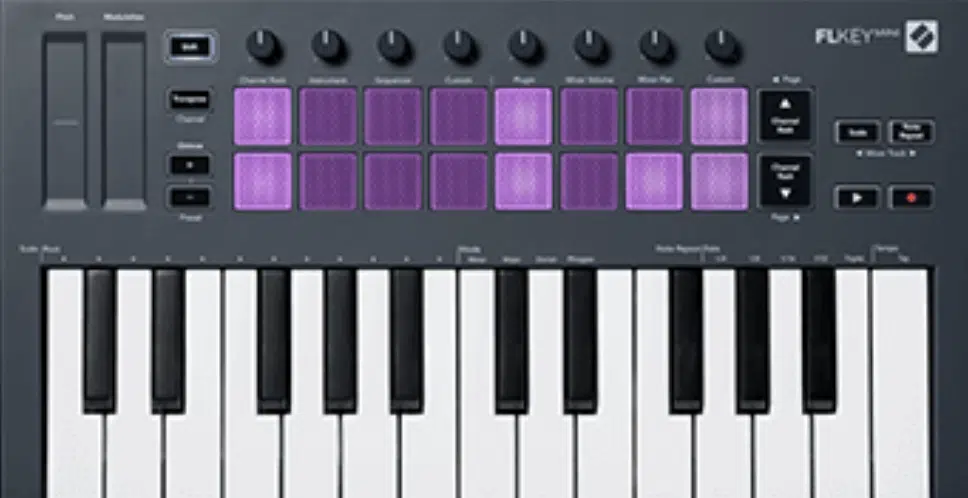 Ideal for on-the-go producers due to its portability.
The FLkey 37 (37 full-size keys)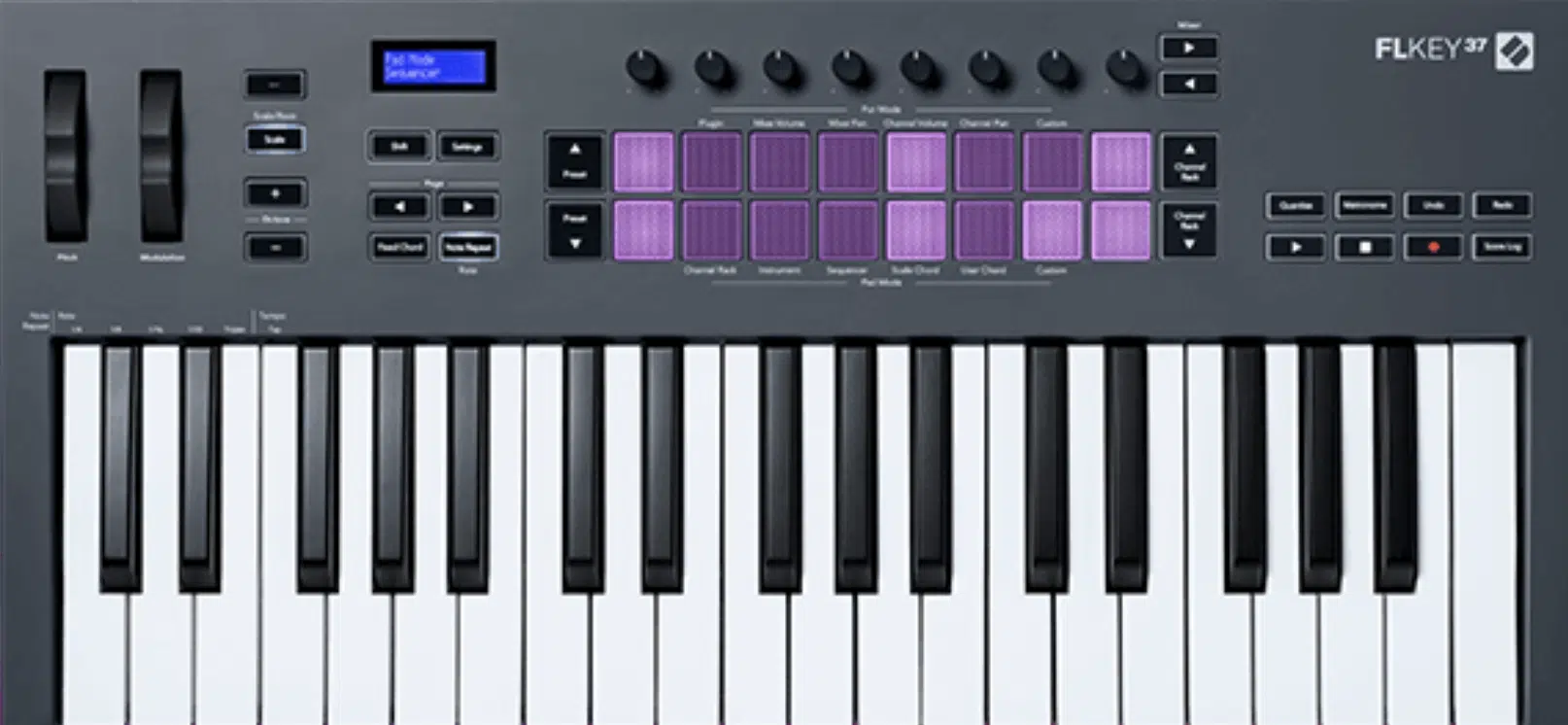 Balances key range and footprint, making it perfect for any bedroom studio.
NOTE: The FLkey 37 also features a screen, Chord Modes, and additional FL Studio transport control.
Both keyboards come with a bundle of instruments and effects from notable audio companies such as:
AAS
Spitfire Audio
XLN Audio
Klevgrand
They also include a 6-month free trial of FL Studio Producer Edition, which makes them perfect for starting new FL Studio projects.
Standout Features: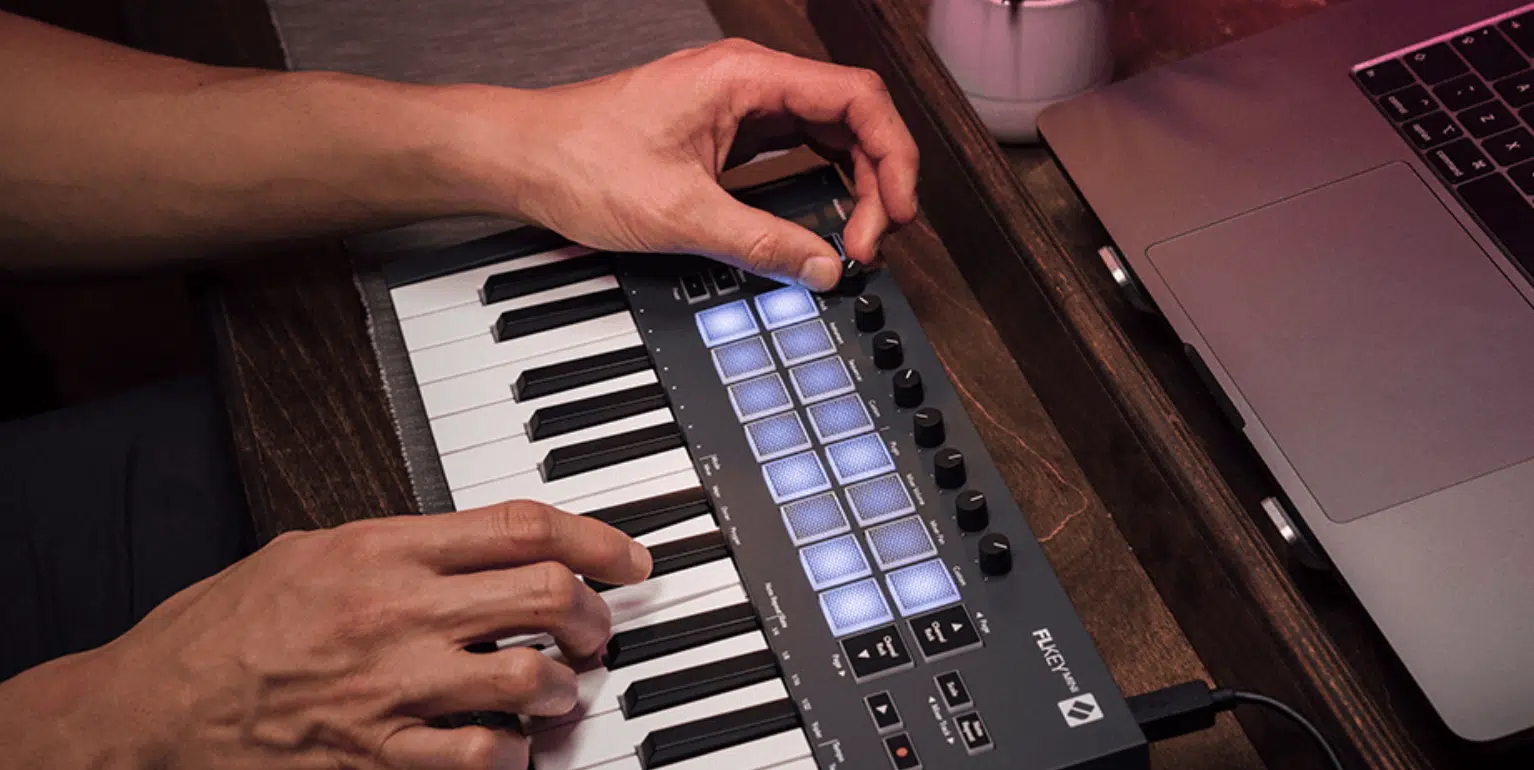 Specifically designed for FL Studio with integrated controls
Creative Scale and Chord modes for expressive playing
Sequencer Mode and two Pad modes for fast beat sketching and human-feel rhythms
On-the-go portability of FLkey Mini and balanced key range of FLkey 37
Bundle of instruments and effects from notable audio companies and 6-month free trial of FL Studio Producer Edition
#12. Korg nanoKEY Studio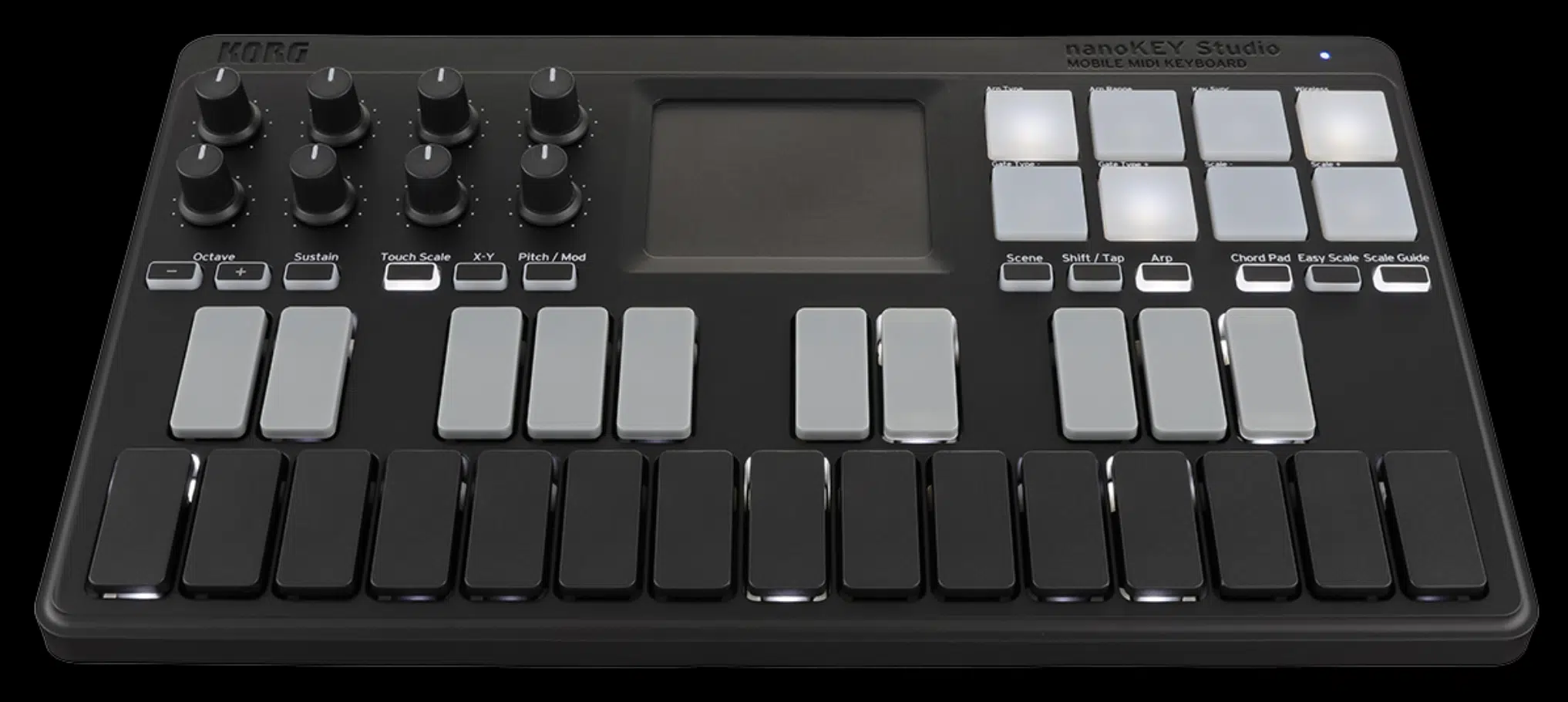 The Korg nanoKEY Studio is a versatile keyboard controller packed with numerous performance modes.
Even if you are not the most skilled keyboardist, the 25 velocity-sensitive keys enable you to step-record with ease.
One of my favorite nanoKEY Studio features is the Scale Guide function 一 which illuminates the keys to show recommended notes in the scale, simplifying the playing process.
The Easy Scale function lets you produce musical phrases using any keys, adding to the keyboard's smart performance modes.
The nanoKEY Studio prides itself on its connectivity options, as it can connect via USB and wirelessly.
Meaning, you can easily connect to an iPad/iPhone music app such as KORG Gadget or Apple GarageBand, or to your Mac/Windows music production software (below).
Its wireless feature frees you from cables and offers low latency and high stability, which is always a plus.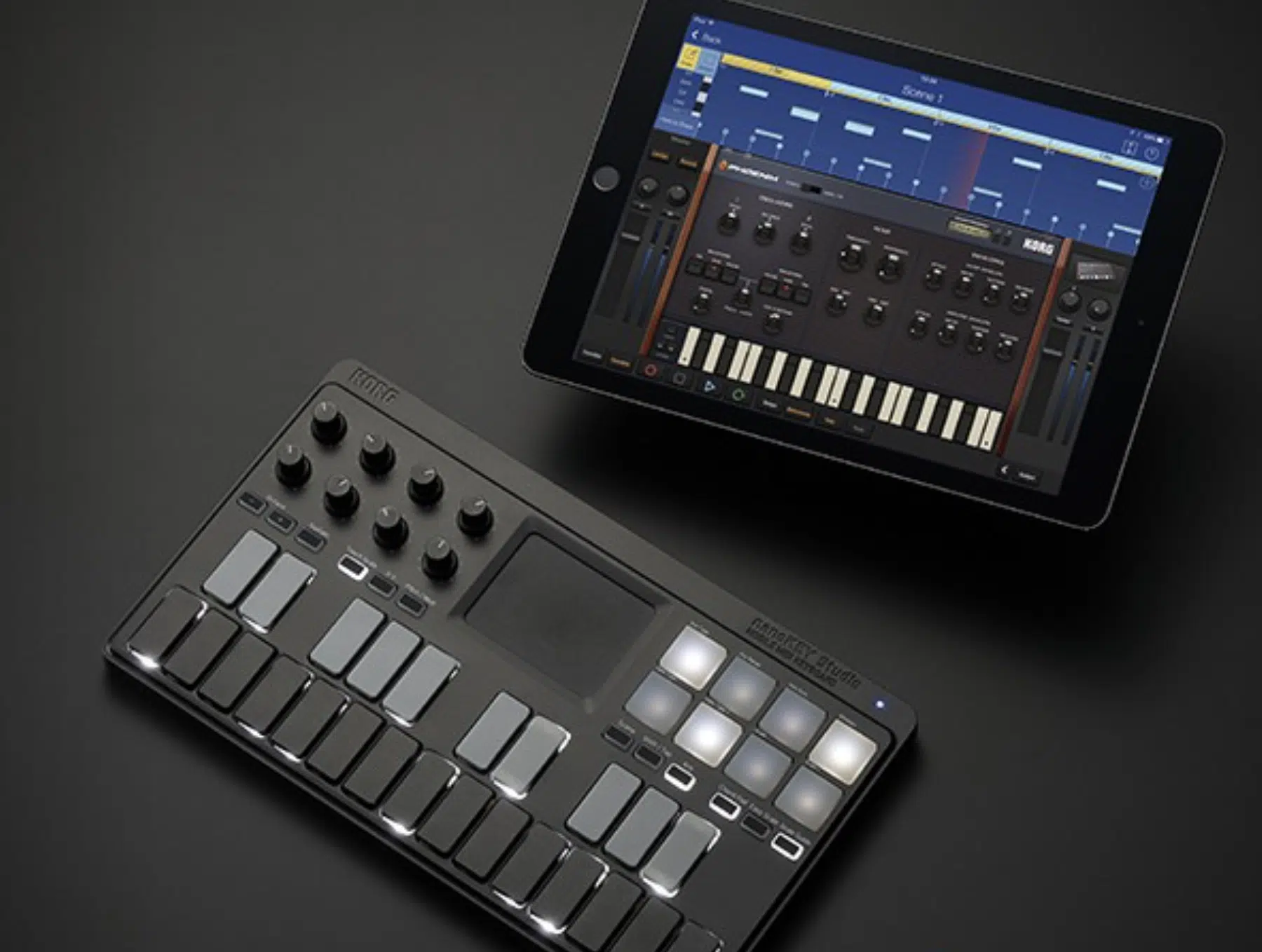 Portability is another strong point of the nanoKEY Studio.
It's smaller than a sheet of letter-sized paper, meaning you can easily put it in your bag and take it anywhere.
The keyboard's design is modern and stylish, complemented by beautiful white LED lighting.
The nanoKEY Studio also pairs ideally with KORG Gadget for optimal mobile performance.
It has a special native mode exclusively for the nanoKEY Studio that auto-completes MIDI assignments.
The 8 velocity-sensitive trigger pads (coupled with the Chord Scale function and various control knobs) contribute to its all-purpose music production power and secured it a spot on our list.
Standout Features: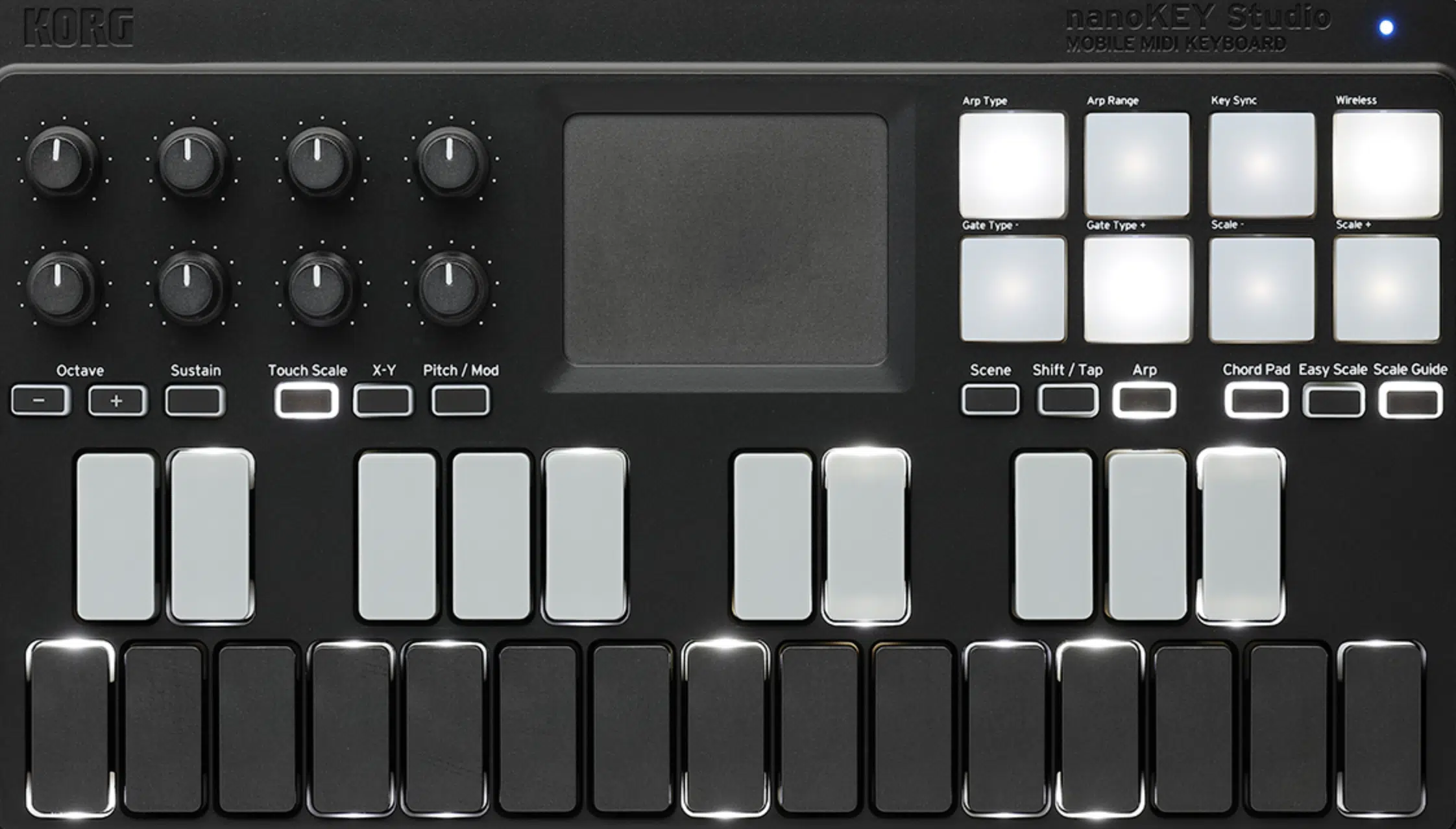 25 velocity-sensitive keys with Scale Guide and Easy Scale functions
Wireless connectivity for easy connections to music apps or production software
Highly portable with a stylish, modern design and beautiful white LED lighting
Seamless integration with KORG Gadget through a special native mode
Eight velocity-sensitive trigger pads and various control knobs for all-purpose music production
#13. The Nektar Impact LX49+ Series

The Nektar Impact LX49+ and LX61+ USB MIDI controller keyboards have been developed with an emphasis on intelligent and expressive performance control.
They offer unique features not typically found in even many premium products.
These controllers automatically connect to your DAW, allowing for seamless integration and ease of use.
Custom-designed Nektar DAW Integration is available for various software including:
Bitwig
Cubase
Digital Performer
FL Studio
GarageBand
Logic Pro
Nuendo
Reaper
Reason
Studio One

Which extends the functionality of these keyboards beyond what is typically offered by a USB MIDI controller keyboard.
The Impact LX49+ and LX61+ come with either a 49- or 61-note velocity-sensitive keyboard that has a synth action with medium tension.
The four selectable velocity curves that they offer cater to different playing styles.
Also, they feature Octave and Transpose buttons along with pitch bend and modulation wheels 一 allowing you to alter the pitch and add articulation quickly.
The 4 Octave & Transpose buttons offer additional functionality, including: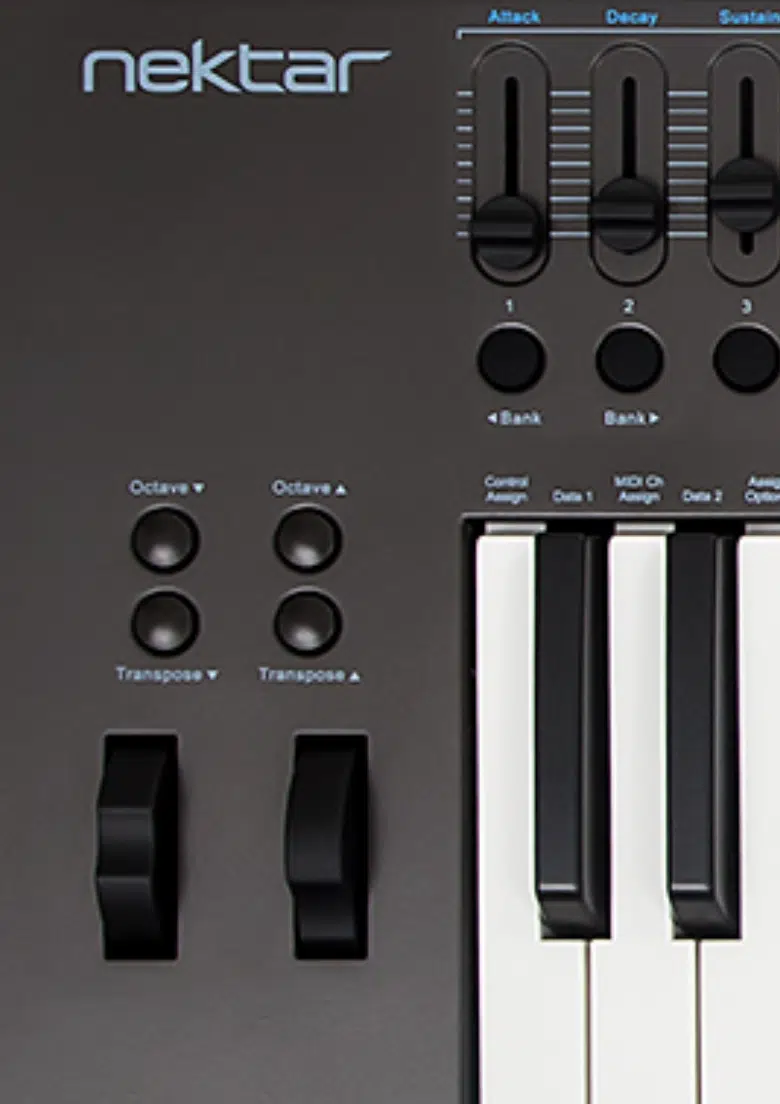 Sending out MIDI Program Messages
Changing the Global MIDI Channel
Selecting any of Impact LX+'s 5 User Presets
Additionally, these MIDI controllers offer:
Nine 30mm faders
Nine MIDI buttons
Eight encoders
All of these are fully programmable to send any MIDI CC message for use with hardware or software MIDI products.
This feature, along with the Nektar DAW integration, provides flexible pre-mapped DAW control.
With this, you can store all MIDI controller settings in any of the 5 Impact LX+ presets (for recall at any time) and avoid parameter jumping when switching presets.
For rhythm creation, the Impact LX+ keyboards come equipped with 8 velocity-sensitive pads that trigger at a light touch 一 allowing for finger drumming with a balanced velocity response.
Each pad can be assigned any MIDI note number or MIDI cc message for use as a MIDI trigger or toggle button.
Moreover, the Pad Learn feature lets you quickly assign notes or drum sounds to the pads, enhancing the ease of use.
These assignments are stored over power cycling and can be recalled from 4 pad map locations.
The 4-color LED illumination indicates which pad map is currently loaded and the type of MIDI message each pad sends.
The Nektar Impact LX49+ and LX61+ stand out with their software DAW integration, offering six dedicated transport buttons for controlling: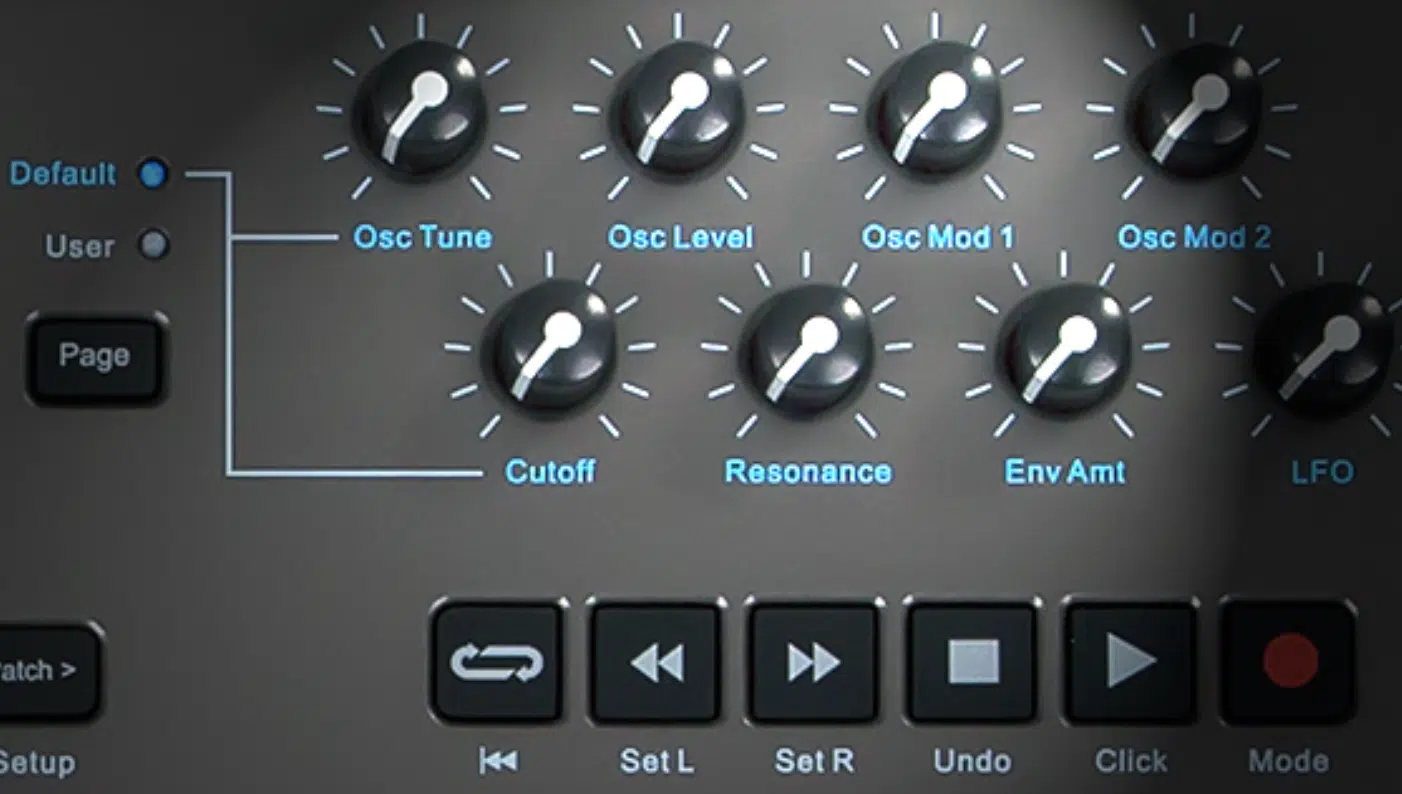 Cycle
Rewind
Forward
Stop
Play
Record
Other features include:

Dedicated Track up/down
Patch up/down buttons
Mixer controls
Bank up/down function
The faders and pots control the channels of your DAW's mixer and the panning, providing a comprehensive control setup for your DAW.
NOTE: Fader 9 can control the volume of the current mixer channel as well as the master volume.
Finally, the Nektar "Grab" mode offers another layer of control by temporarily assigning parameters to controls as you work on your project.
This mode is activated by holding down shift while moving the parameters on the instrument you want to control followed by moving the controls on Impact LX+ you want them assigned to.
Standout Features: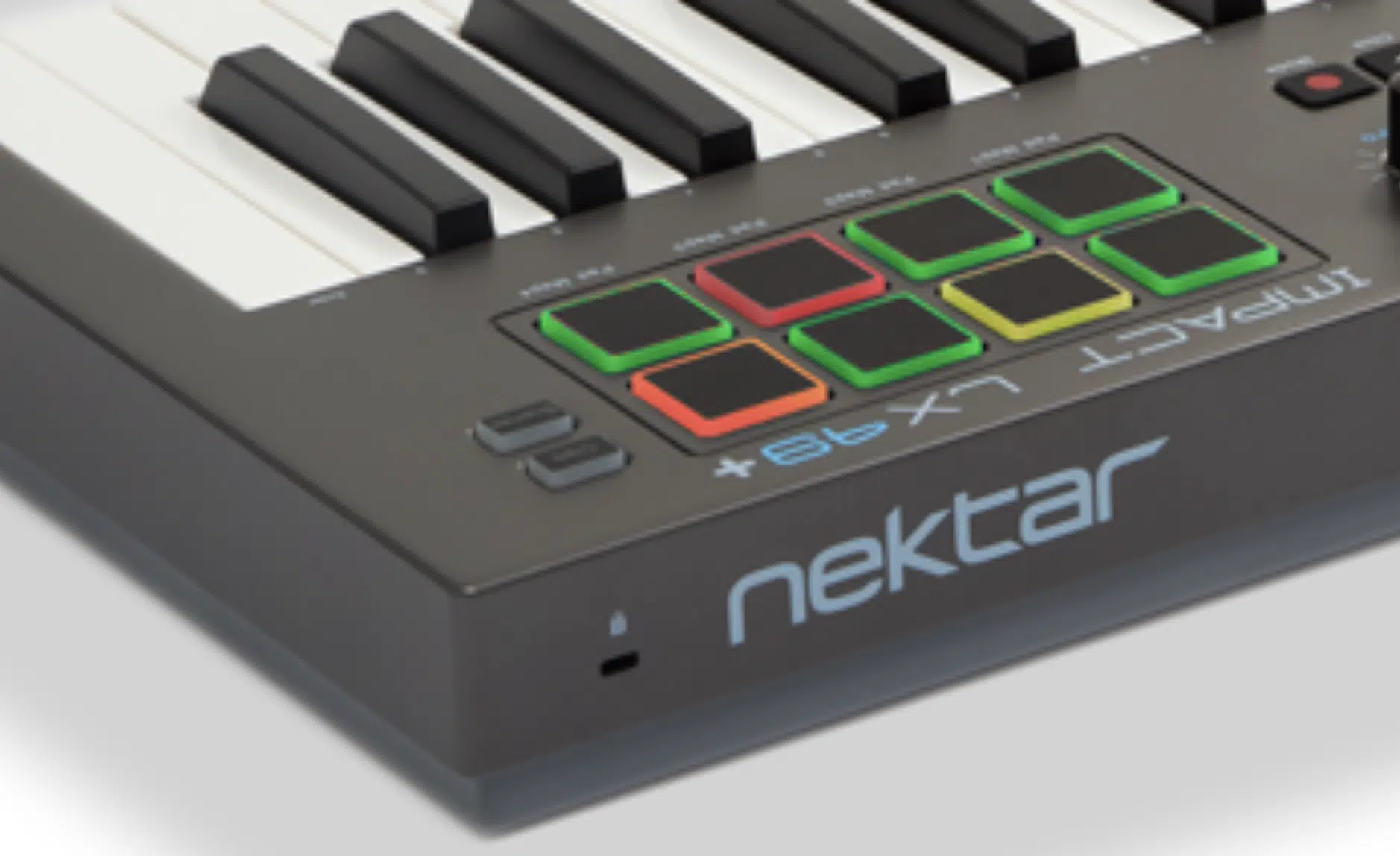 Intelligent and expressive performance control with Nektar DAW Integration
49 or 61 note velocity-sensitive keyboard with four velocity curves and three fixed velocity levels
Nine 30mm faders, nine MIDI buttons, and eight encoders for comprehensive control
Eight velocity-sensitive pads with Pad Learn feature and 4 color LED illumination
Six dedicated transport controls and additional MIDI control for managing your DAW
Page button and "Grab" mode for user-customized control and efficient workflow
Automatic hook-up to your DAW, ensuring seamless integration and usability
Best MIDI Keyboard Controllers: Final Thoughts
As we draw to a close on this in-depth exploration of MIDI keyboard controllers, it's clear just how intricate and diverse these devices can be.
You've learned about the unique features and specifications of each controller 一 from key functionality and pad versatility to seamless DAW integration and customizable settings.
We've also highlighted how these intricate tools can enrich your music creation process, and navigate them like a true boss.
With this newfound knowledge, you are well-equipped to make an informed decision and select the perfect MIDI controller that aligns with your musical style and production needs.
Your MIDI journey is just beginning, and there's so much more to explore and discover.
As you continue on this path, remember that the ultimate goal is to express your unique musical vision and the right tools can help you bring that vision to life.
To further empower your MIDI journey, we have an exciting prospect for you…
These outstanding FREE Advanced MIDI Chord Progressions are a fantastic way to kick off your MIDI journey and experiment with your MIDI controller.
This pack provides an invaluable variety of chord progressions and structures that you can integrate into your compositions, and help you to create complex pieces of music.
Plus, when you use them, you'll set yourself apart from 99% of producers who just have access to basic chords & progressions!
Just like your MIDI controller, this Chord Pack is another tool to inspire creativity and refine your craft.
Remember, the world of MIDI is as extensive as it is exciting.
So keep exploring, keep creating, and most importantly, keep enjoying the beautiful journey of making music.
Until next time…