Ableton is a powerhouse in the world of digital audio workstations (DAWs), setting the standard for music production, sound design, and live performance software.
One of Ableton Live's strongest suits is its extensive library of top-notch, built-in plugins that can elevate your sound to professional levels.
However, having unlimited choices doesn't mean much if you don't know which options will best serve your needs.
Unlike other articles that list random VST plugins compatible with any digital audio workstation, this guide focuses exclusively on plugins that are native to Ableton Live.
What we'll cover for each one of Ableton's stock plugins:
A descriptive breakdown ✓
Standout features ✓
Special functions ✓
Exclusive inclusions ✓
Unique parameters ✓
Everything you need to know ✓
By the end of this article, you won't just be aware of the hottest Ableton plugins; you'll understand how to use them like an absolute pro.
Prepare to unlock the full potential of Ableton Live's native plugin arsenal and elevate your music production skills to new heights.
So, let's dive in…
The 10 Best Ableton Plug Ins Ever
After countless hours of studio experimentation and tinkering with various settings, we've compiled a definitive list of the 10 best Ableton plugins that every producer should know about.
Whether you're a seasoned veteran in the music industry or an aspiring artist looking to add some serious firepower to your creative toolkit, this list has something for everyone.
From classic synthesizers that emulate vintage analog circuitry to cutting-edge audio effects designed for sonic manipulation, these plugins cover everything.
Not only do they integrate seamlessly with Ableton Live but also provide a realm of possibilities that can transform your music production process.
So, without further ado, if you're ready to create sounds that top the charts, let's dive in and explore these VST plugins that have set the gold standard for music production in Ableton Live.
#1. Wavetable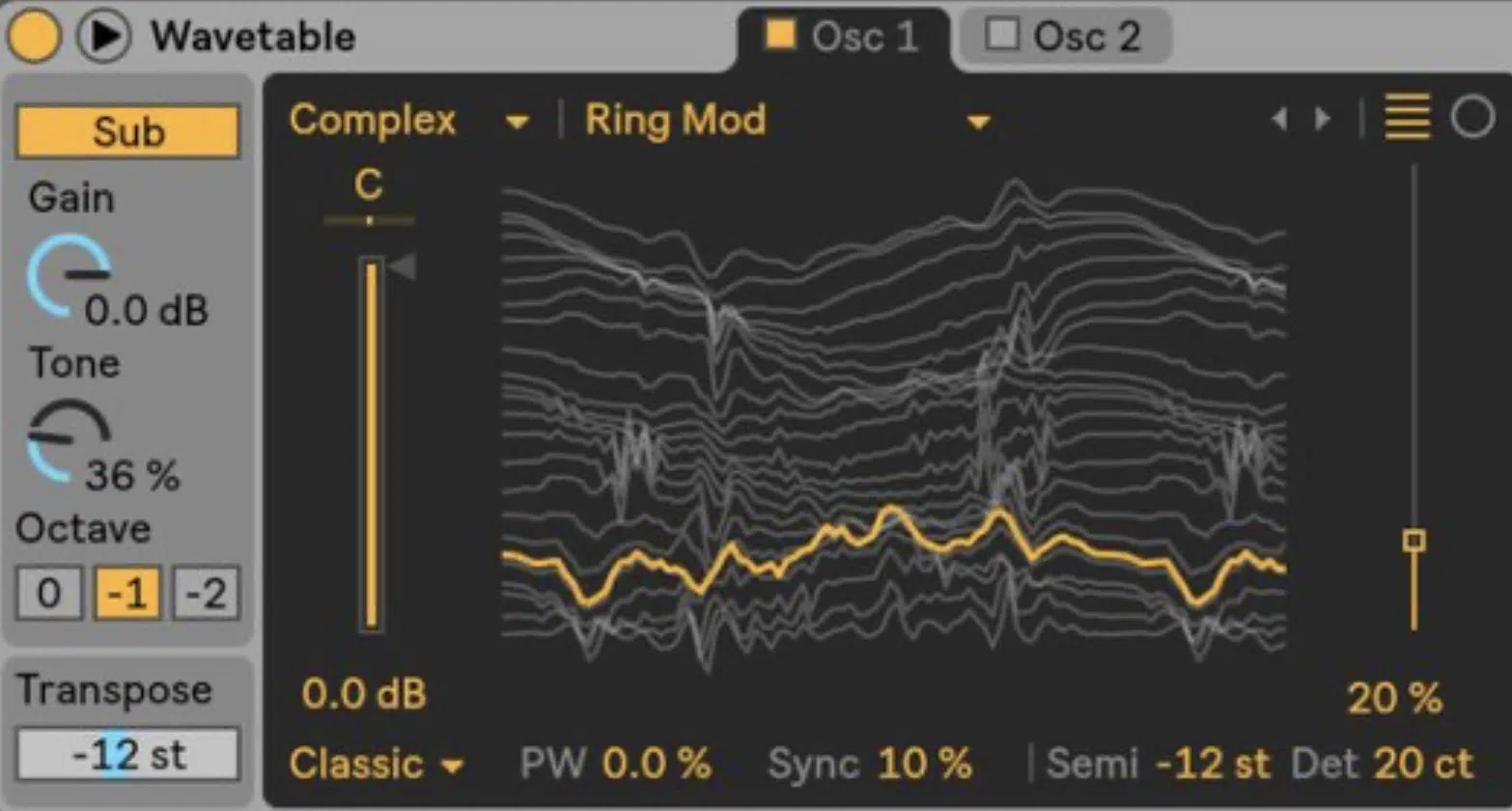 Wavetable synthesis is a technique that has captured the imagination of music producers for its ability to create a wide range of unique sounds, from organic to complex, harmonically rich tones.
Ableton's Wavetable is designed to be a comprehensive yet accessible wavetable synthesizer that brings this powerful form of synthesis to your fingertips.
Dual Main Oscillators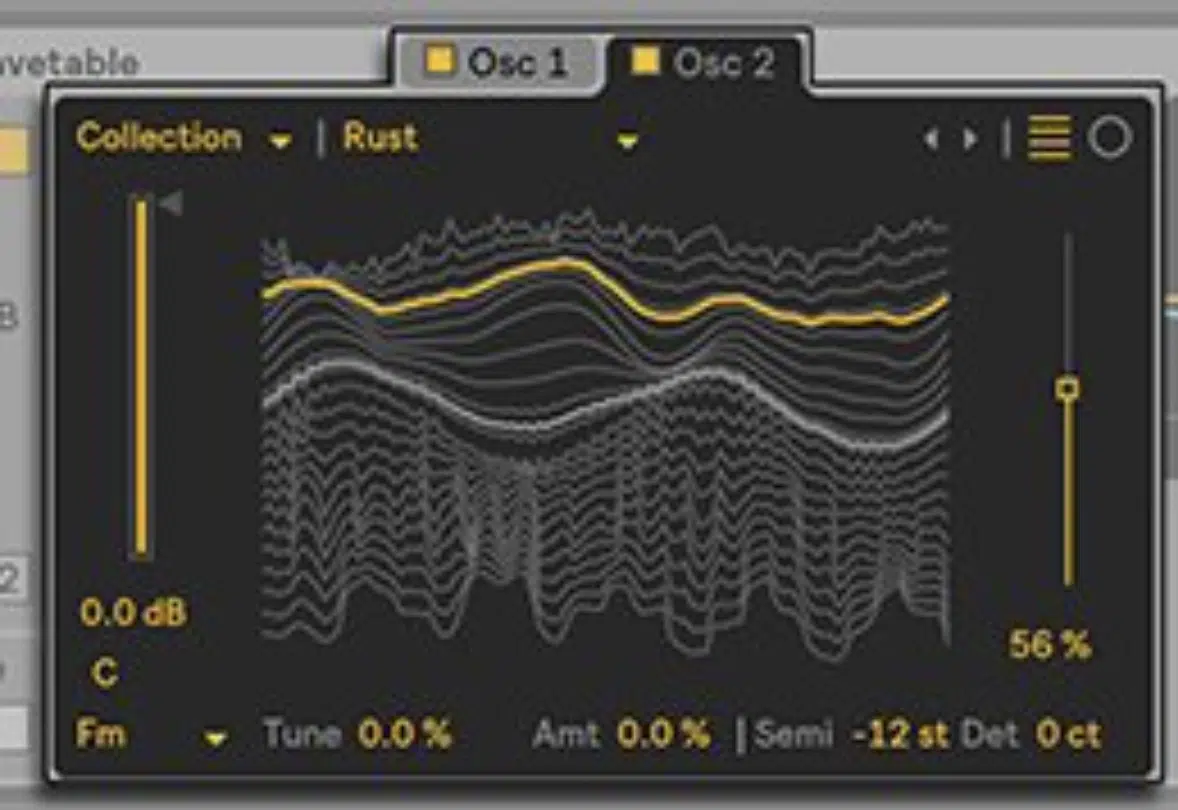 One of Wavetable's standout features is its dual main oscillators, supplemented by a sub-oscillator.
These oscillators allow you to sift through a library of hundreds of wavetables, each extracted from a variety of sources including classic:
Acoustic instruments
Various types of noise
Each oscillator comes equipped with individual controls for pan, volume, and tuning, as well as an additional control for sweeping through the wavetable position.
This level of control makes it easy to sculpt and layer your sound in complex ways.
Effects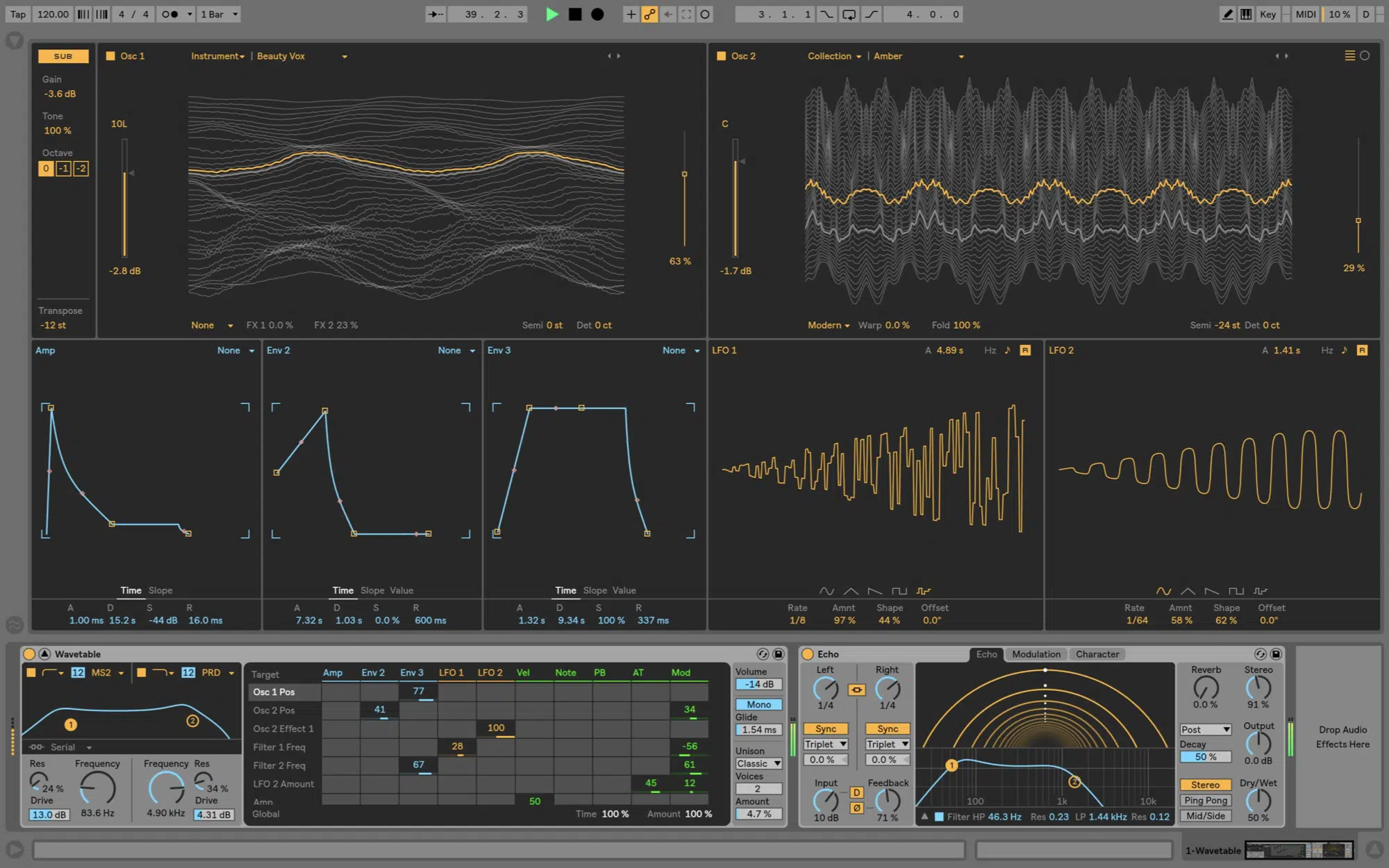 To further enrich your sonic creations, Wavetable provides a variety of oscillator effects like frequency modulation, phase distortion, pulse width, and oscillator sync.
These effects enable you to shape, stretch, and morph each wavetable 一 creating a multitude of variations from a single source.
Additionally, Wavetable incorporates a sub-oscillator that offers a sine wave, complete with selectable octaves and adjustable harmonics.
This allows you to add more depth and weight to your sounds, unlike other VST plugins.
Filtering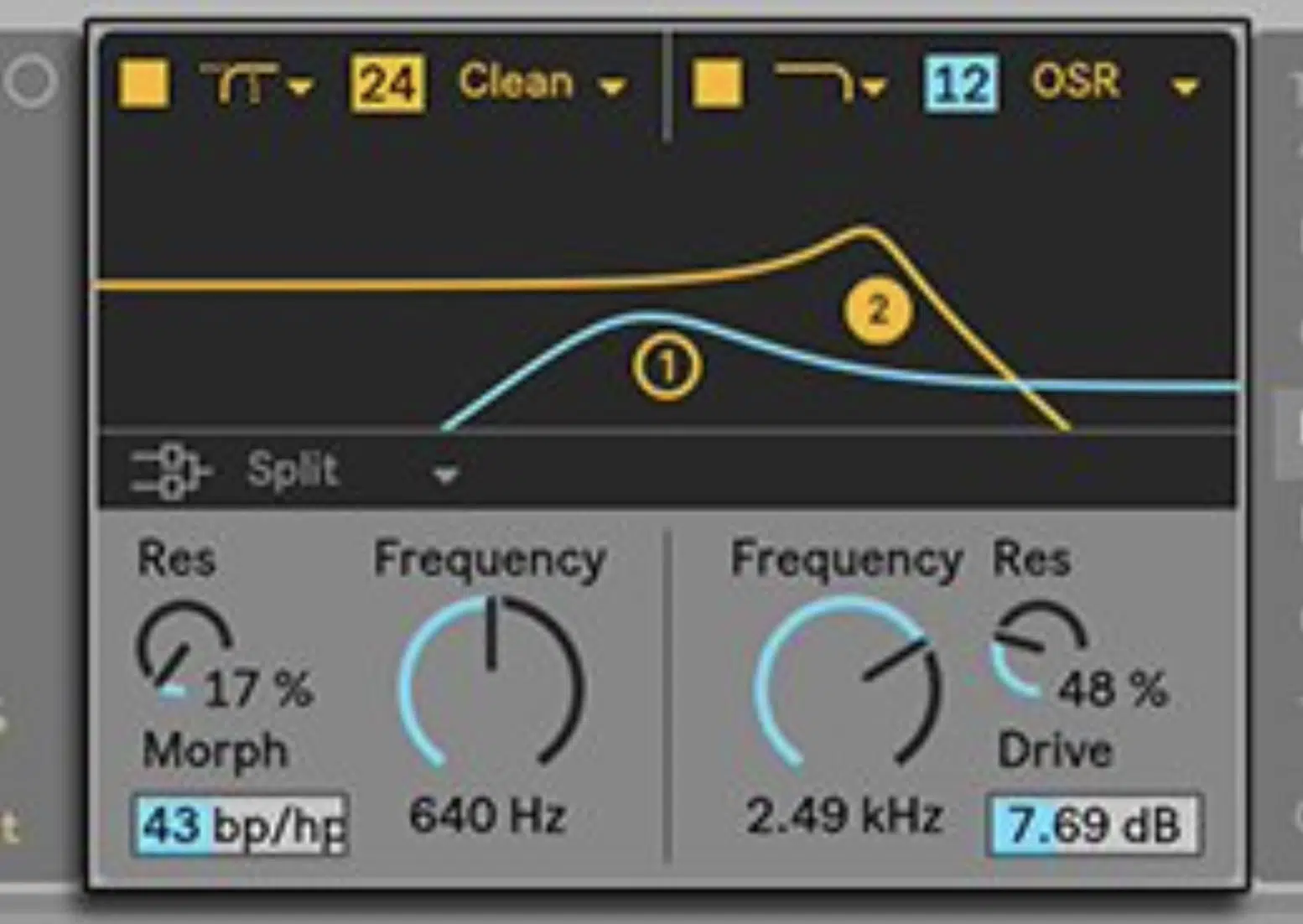 On the filtering side, Wavetable doesn't disappoint.
It comes with two morphable, analog-modeled filters that can be configured in multiple ways:
Series Mode
Parallel Mode
Split Mode (where each oscillator gets its own dedicated filter)
These filters are highly flexible, allowing you to switch between 12 and 24 dB slopes and a variety of circuit behaviors modeled after classic analog synthesizers.
This makes it possible to recreate some of the most iconic filter sweeps and resonances in the history of electronic music.
MOD Matrix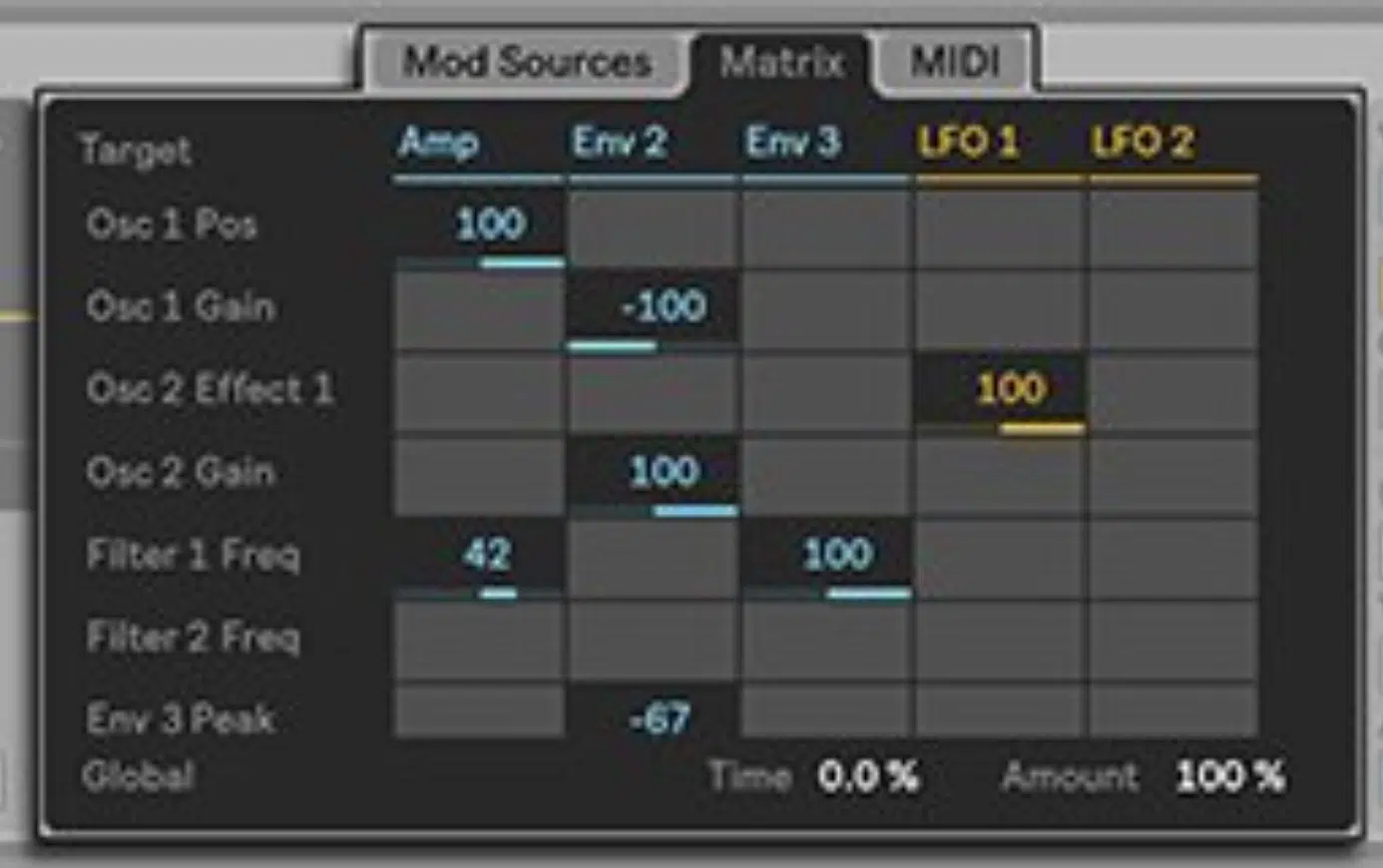 If that weren't enough, Wavetable features a robust modulation matrix that is as intuitive as it is powerful.
Practically any parameter within Wavetable can be set as a modulation target, which can then be modulated by a choice of three envelopes, two LFOs, and various MIDI sources.
This makes the modulation possibilities almost endless 一 from subtle vibratos to wild, evolving textures.
Unison Modes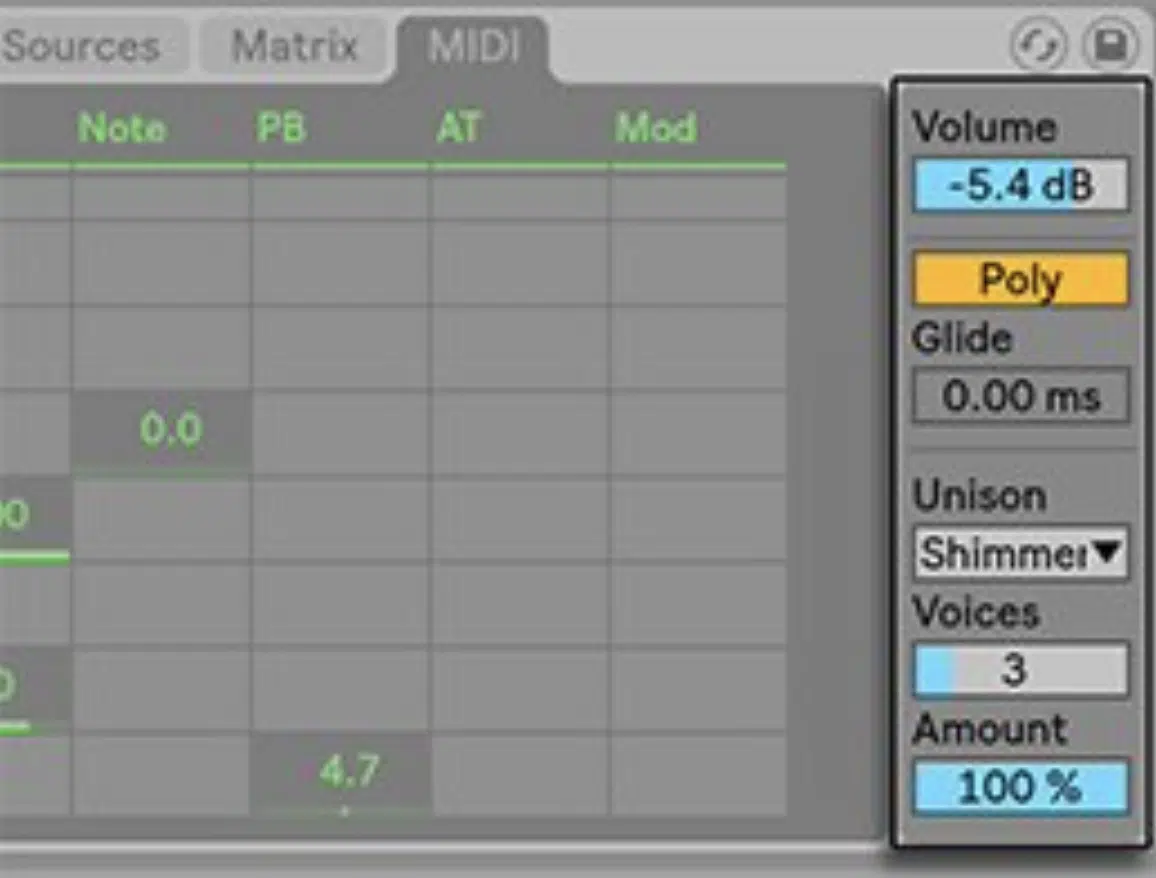 Further, six unique unison modes are included to create stereo widening, phasing, and other chorus-like effects; making your sound larger than life.
Ease of use is also a high priority in Wavetable's design, as it offers a full-screen breakout view that lets you see all its controls at once.
NOTE: This eliminates the need to navigate through sub-menus, making every feature immediately accessible.
Plus, for those who own Ableton's Push controller, Wavetable is fully compatible, allowing even deeper levels of sound design right from the hardware audio interface.
Speaking of sound design, if you're looking for the most exclusive, innovative sound design secrets ever, we've got you covered.
Standout Features Of This Ableton Live VST Plugin:

Dual main oscillators and a sub-oscillator offering more than 100 wavetables.
Rich oscillator effects like frequency modulation, phase distortion, and pulse width.
Highly flexible dual morphable analog-modeled filters.
Intuitive modulation matrix with three envelopes, two LFOs, and multiple MIDI source options.
Six unique unison modes for extensive sound shaping.
Full-screen breakout view for immediate access to all controls.
One of the best Ableton VST plugins out there.
#2. Sampler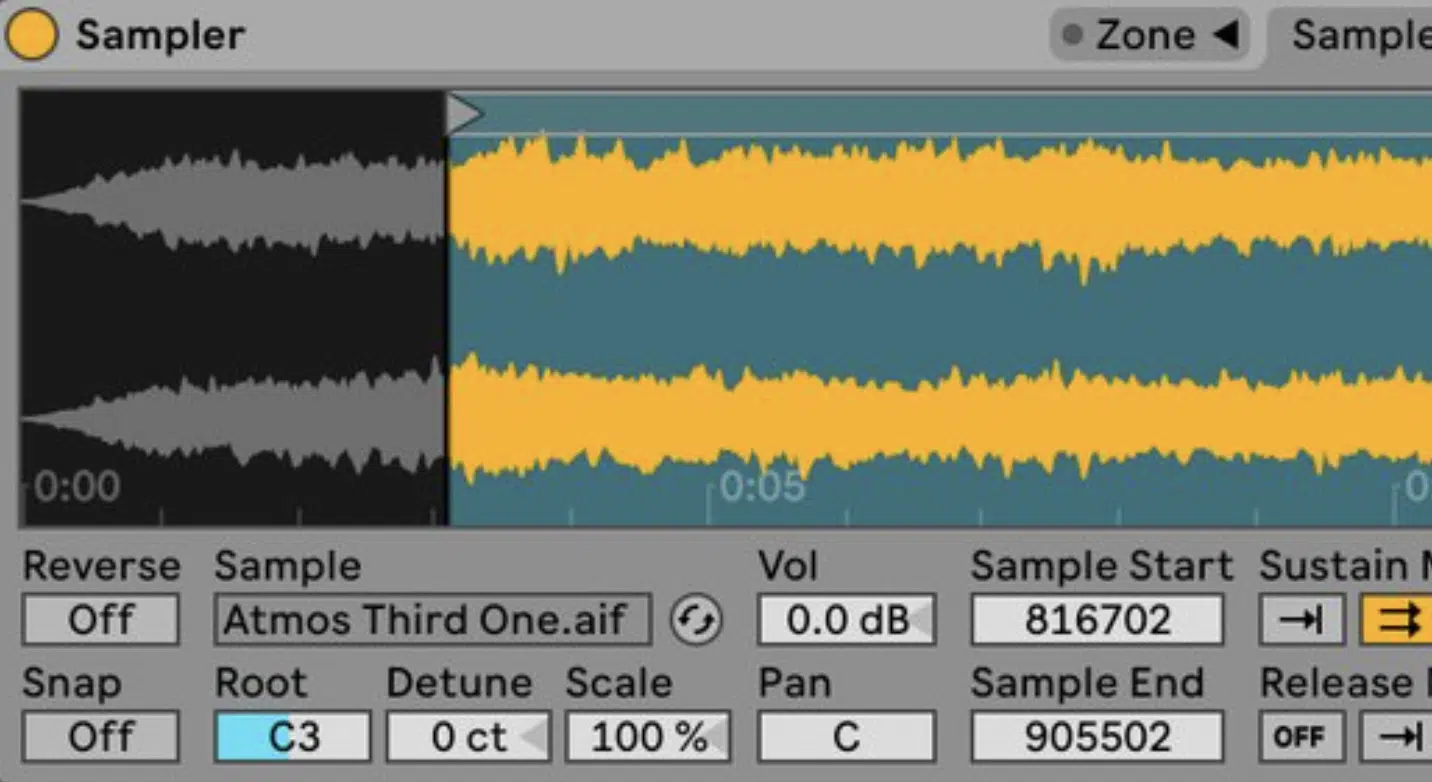 In the realm of digital audio workstations, the ability to sample and manipulate audio is indispensable.
Ableton's Sampler takes this concept and elevates it to a level of profound and innovative sound design capabilities.
Sampler isn't just a typical sampling instrument 一 it's an advanced tool that combines traditional features with deep, synthesis-based manipulations.
It's engineered to provide extreme versatility, capable of delivering everything from simple sample playback to intricate sound sculpting.
Sample Zones
With Sampler, you can manage an unlimited number of sample zones, each with its own key and velocity ranges as well as crossfades.
This flexibility allows for a high degree of expressiveness and detail in your sample-based instruments.
The intuitive graphical editor simplifies the process of setting up these zones and makes it easy to create complex, multi-layered instruments.
Sampler employs a technique known as SmartPriming to mitigate RAM shortages and minimize annoying load times.
Sound shaping in Sampler is an adventure in itself, thanks to its unique processing and modulation capabilities.
Filters
Every voice within the sampler can be processed through a multimode filter, with filter types that include morphing capabilities, letting you transition smoothly between different filter types like:
Additionally, Sampler features a polyphonic saturation stage to add harmonic richness and warmth to your sound.
Modulation Options

Another highlight is Sampler's modulation options, which go beyond traditional LFO and envelope-based modulations.
It can apply polyphonic modulation to sample start, loop position, and loop length parameters.
This creates a level of sonic flexibility comparable to wavetable and granular synthesis.
This VST plug ins dedicated modulation oscillator can apply frequency or amplitude modulation to samples, allowing for creative timbral alterations.
The modulation possibilities are virtually endless, especially with its:
Three LFOs
Five multimode envelopes
Various MIDI inputs as modulation sources
Despite its immense capabilities, Sampler remains user-friendly.
Intuitive Interface

Its interface is intuitive, making it easy to achieve quick results while still offering deep customization options for more advanced users.
Furthermore, Sampler is seamlessly integrated with Ableton Live 一 allowing it to be modulated using Live's audio clip envelopes and Arrangement automation.
NOTE: Multiple Samplers can be stacked to create complex layers and splits.
You can save these configurations as Racks for future use or easy collaboration with other Live users.
Standout Features of This Ableton Live VST Plugin:

Advanced zone management for intricate multi-sample arrangements.
Morphing filters and polyphonic saturation for nuanced sound shaping.
Extensive modulation options, including a modulation oscillator for frequency and amplitude modulation.
Seamless integration with Ableton Live for real-time (powerful) control and automation.
SmartPriming for optimized RAM management and quicker loading times.
One of the best Ableton VST plugins out there.
#3. Operator
Operator stands as a testament to Ableton Live's vision of integrating complexity and ease-of-use into one synergistic instrument.
With its roots stemming from the groundbreaking Yamaha DX series, Operator embraces both analog-style subtractive synthesis and the mathematical beauty of frequency modulation (FM) synthesis.
It's like a Swiss Army knife for sound designers.
Meaning, it offers a broad spectrum of sonic textures within the familiar environment of Ableton Live.
Operator is not just a tool, but a playground for auditory exploration.
Hybrid Approach to Synthesis

This VST plug ins hybrid approach to synthesis (which combines traditional analog-style sounds and intricate FM capabilities) makes it a chameleon in the world of virtual instruments.
Whether you're an ambient composer seeking evolving, ethereal textures or a beat-maker looking for gritty, rhythmic elements, Operator effortlessly morphs into the instrument you need.
Range & Flexibility

What sets Operator apart is its extraordinary range and flexibility.
The interface, consistent with Ableton Live's design philosophy, is clean, uncluttered, and intuitive.
It encourages even newcomers to jump in and start sculpting sounds.
Unique Algorithms

Unlike conventional synthesizers, Operator employs algorithms, configurations of its FM "operators," to create unique synthesis structures.
This feature allows users to concoct new sounds through an endless combination of operator setups and pushes the boundaries of what's sonically possible.
One striking feature of Operator is its capability to finely tune its oscillators.
Coarse Knob & Fine-Tuning Knob

Its "coarse" knob (above), unlike that of traditional analog synthesizers, aligns the oscillators to specific harmonics rather than semitones or octaves.
This precise control gives the user the ability to manipulate the tonal quality of the sound in innovative ways.
In conjunction, Operator's fine-tuning knob enables advanced pitch modulation techniques, such as classic analog detuning across its oscillators, further expanding its sonic arsenal.
Additive Wavetable 

Moreover, Operator goes beyond FM and subtractive synthesis to embrace additive and wavetable approaches.
Its additive editor offers up to 64 partials for each waveform 一 offering yet another layer of depth for sound manipulation.
Each oscillator also comes with its own envelope, which allows detailed control over the frequency modulation over time.
In essence, the instrument can produce sounds that range from quick, percussive hits to slowly evolving, complex timbres.
New Filters

Recently upgraded in Live 9.5, Operator now boasts a suite of new filters modeled after iconic analog synthesizers like the:
Oxford OSCar
Korg MS20
Moog Prodigy
These legendary filter models add a touch of analog warmth and character, enhancing Operator's already expansive palette of sound colors.
Now, more than ever, Operator serves as a versatile workhorse synthesizer, an indispensable tool for artists across different genres.
Standout Features of This Ableton Live VST Plugin: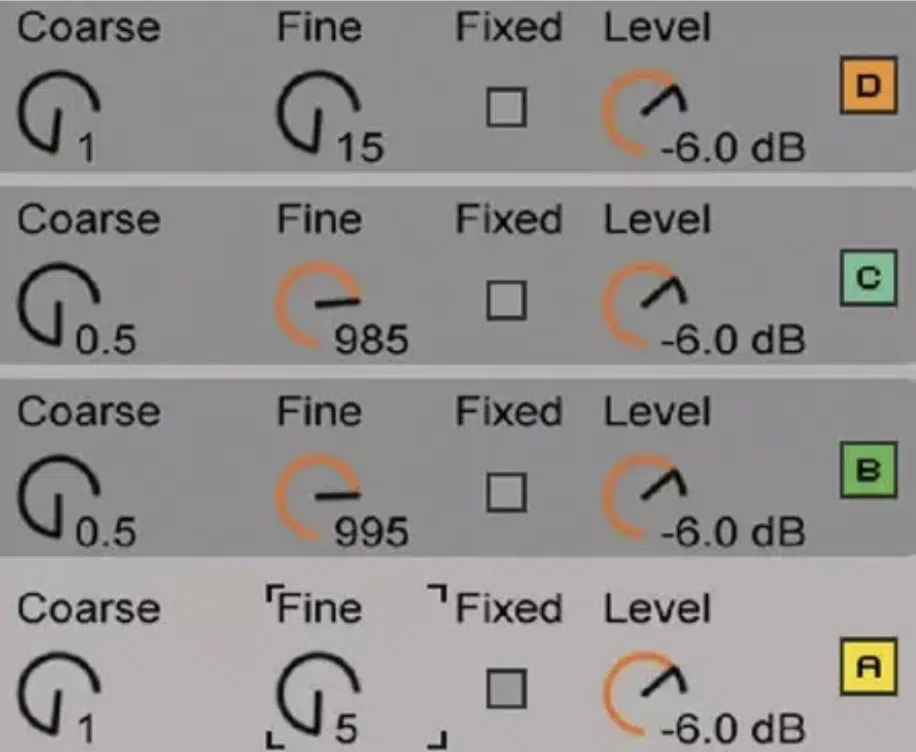 Hybrid approach combining subtractive and FM synthesis.
Intuitive algorithms for unique synthesis structures.
Precise control over oscillator tuning for both coarse and fine adjustments.
Additive editor with up to 64 partials for each waveform.
Individual envelope for each oscillator.
Newly modeled filters from iconic analog synthesizers.
Deep integration with Ableton Live's interface, making it an ideal tool for both live performances and studio work.
One of the best Ableton VST plugins of 2023.
#4. Amp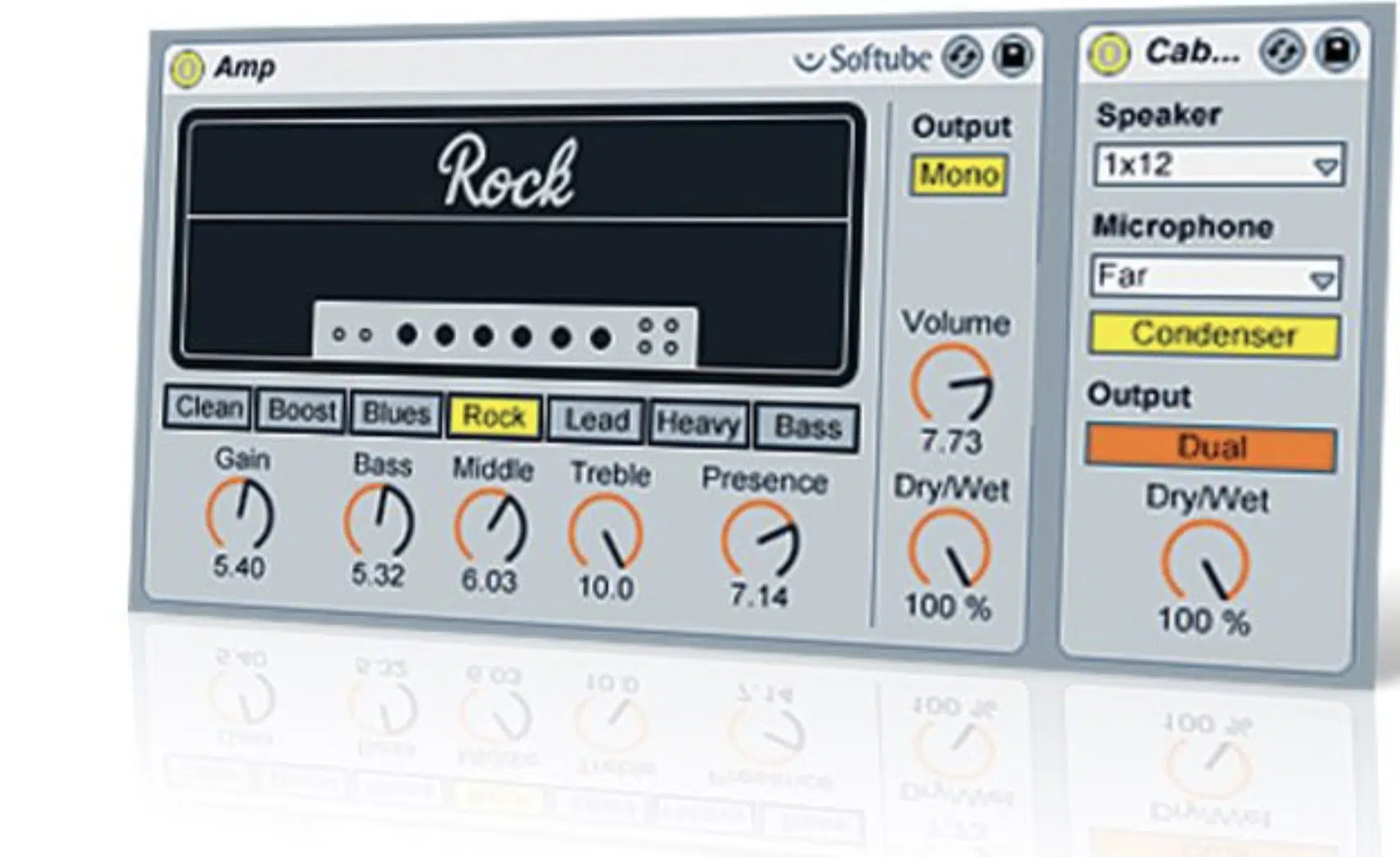 The Amp plugin in Ableton Live is more than just an audio effect.
Co-developed with Softube, Amp replicates the tones of seven classic guitar amps.
Including everything from the clean and brilliant channels reminiscent of the 1960s British Invasion, to the gritty and raw vibes of grunge and metal.
Designed to bring a spectrum of beloved amp sounds to the digital realm, Amp is a powerful tool that can deliver everything from warm overdrive to face-melting distortion.
Flexbility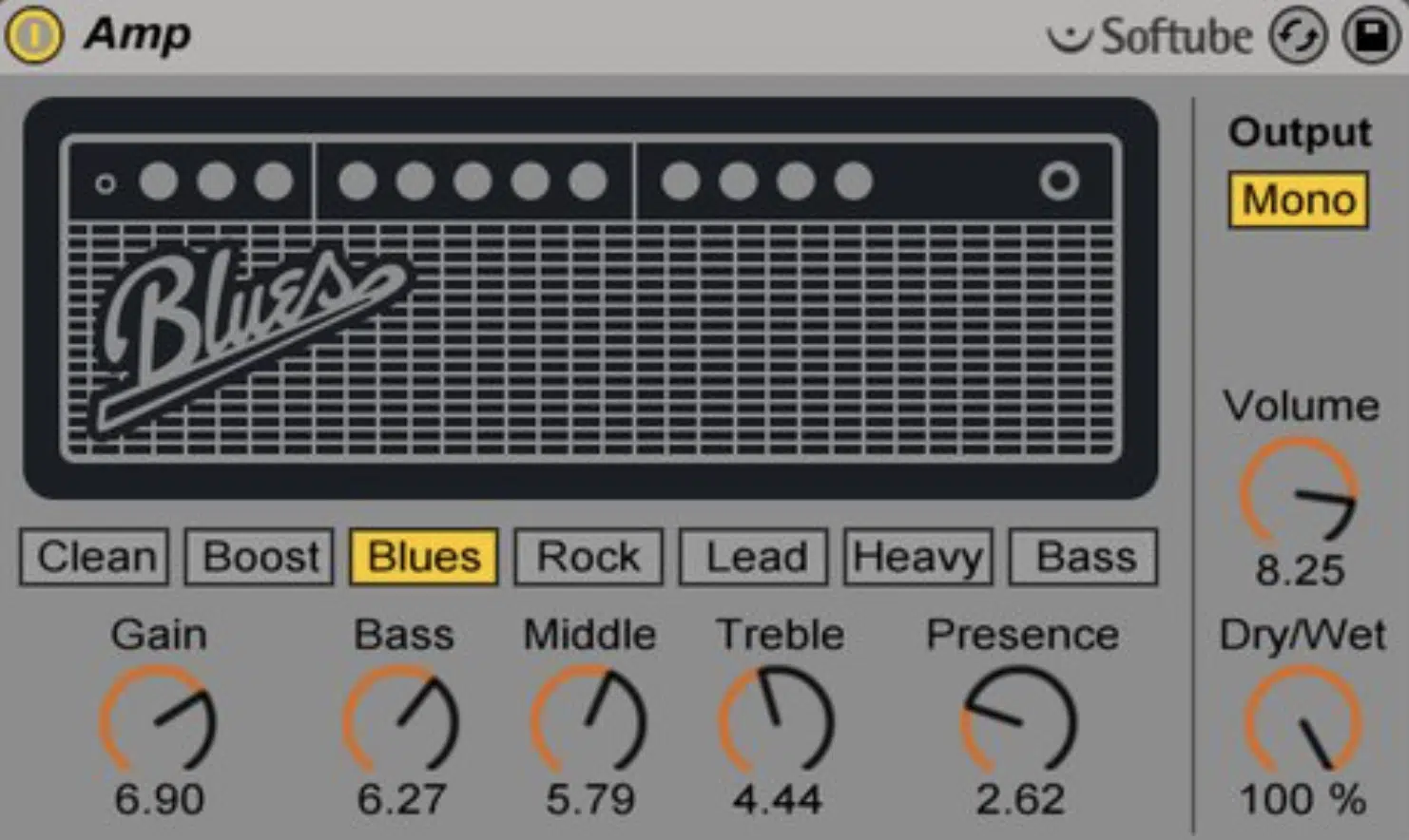 And, it's not just limited to guitars.
In order to add warmth and saturation, you can use it to process:
Synths
Drum Sounds
Vocals
Amp's streamlined interface makes it easier to focus on your music, rather than getting lost in a sea of knobs and switches.
This is not to be said about other competing VST plugins, whether they're for hip-hop or electronic music production.
Minimal Controls, Big Impact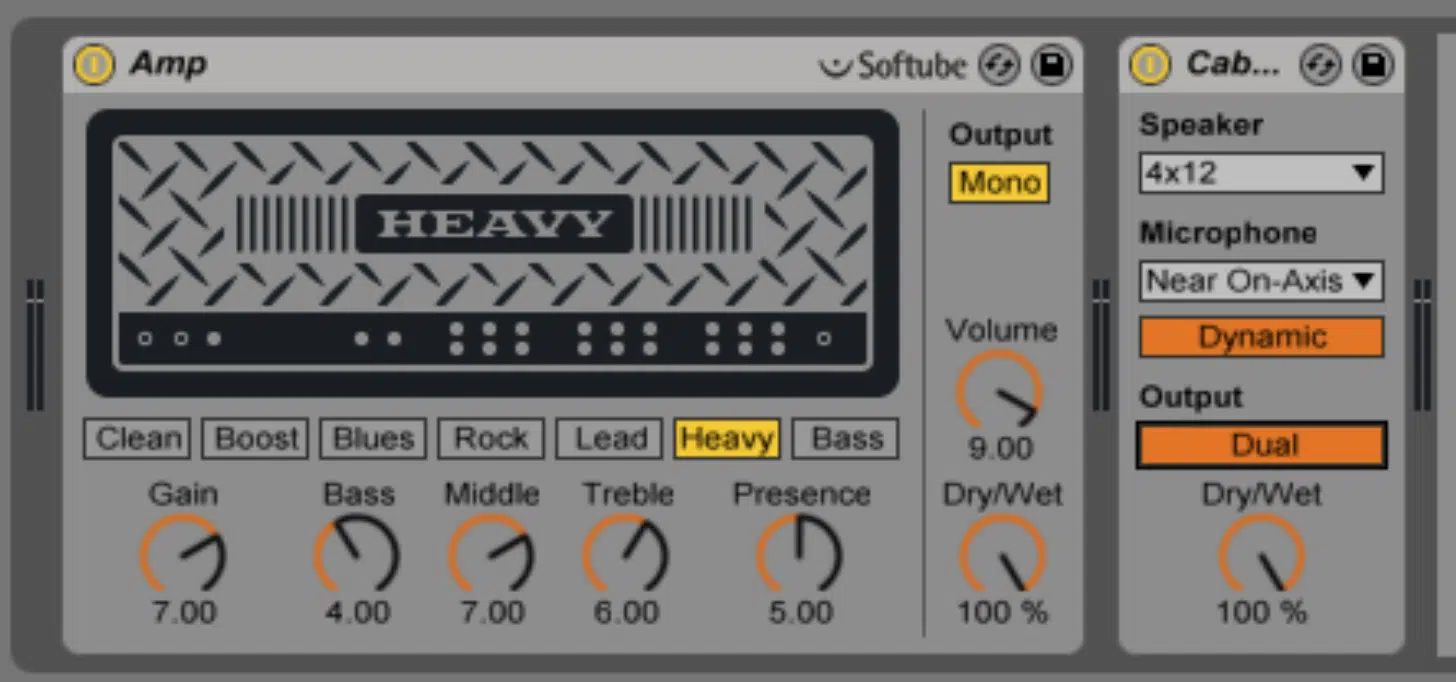 However, don't let its simplicity deceive you.
Its minimal controls (Gain, Bass, Middle, Treble, Presence, and Volume) are enough to shape your sound dramatically.
There's also a Dry/Wet mix control 一 valuable for parallel processing applications like bringing life to sterile loops or enhancing the punch in drum tracks.
Separate Cabinet Plug in
What makes Amp unique is the separate Cabinet plugin that accompanies it.
Cabinet allows you to emulate different classic guitar cabinets with fine-tuned microphone placements over their characteristic sound.
It offers control over:
Speaker type
Microphone positioning
The type of microphone (Dynamic or Condenser)
This is vital for achieving a realistic guitar sound as it replicates how different cabs and mic setups color the tone.
Presets & Sound Packages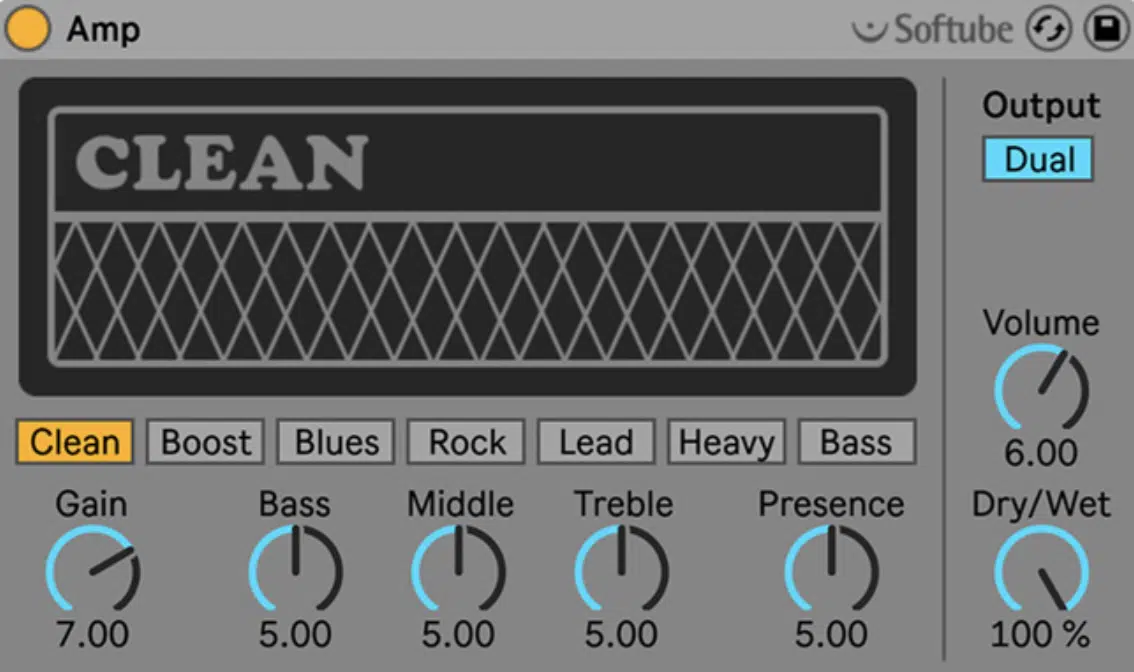 The Amp plugin comes packed with a wide range of presets and sound packages.
This can be extremely helpful for both beginners looking for the perfect tone or professionals in need of inspiration.
Over 400 presets and various Instrument and Effect Racks ensure you have a versatile palette to shape your unique sounds.
While Amp is designed to work in a chain with Cabinet for the most authentic guitar amp emulation, this doesn't mean you're limited to this use case.
Tonal Shaping Capabilities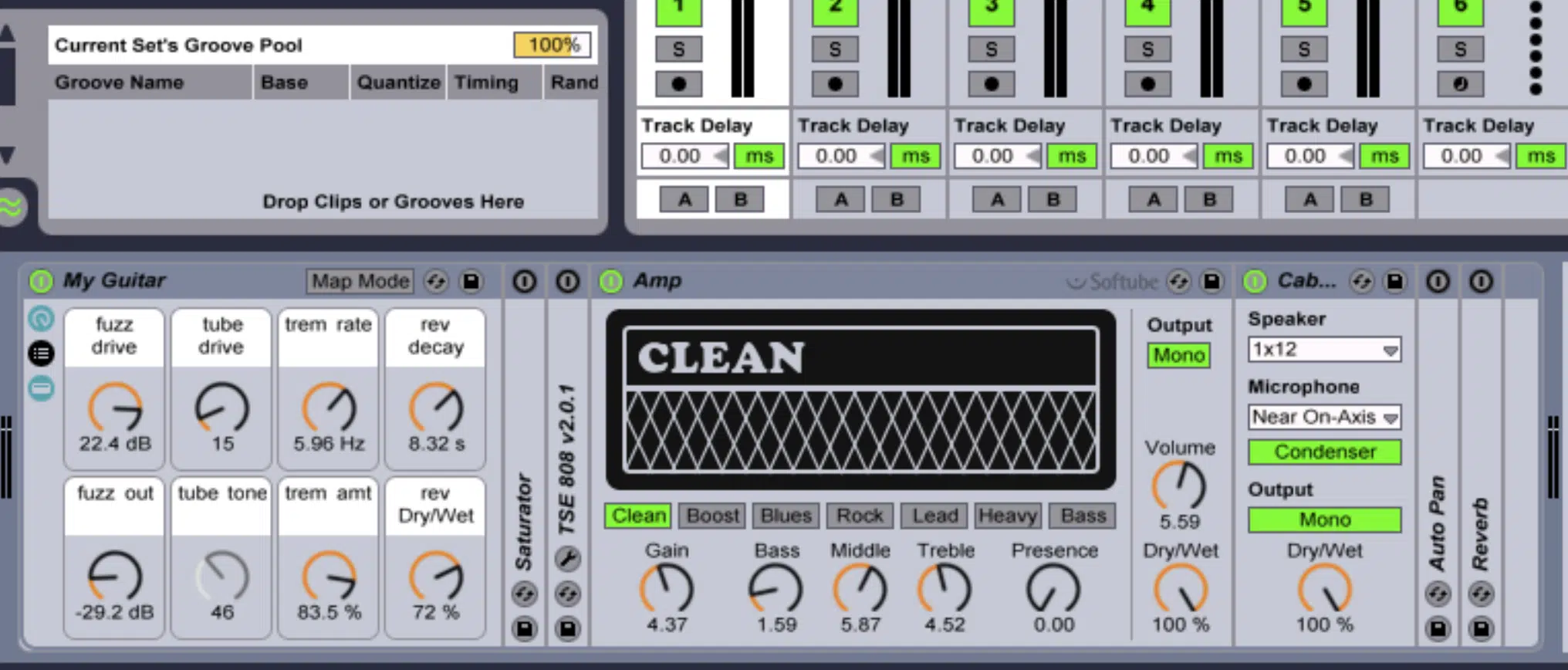 When used creatively, this VST plugin can serve as a tonal shaper for a wide variety of instruments.
NOTE: For example, applying it to a simple sine wave synthesizer track can turn that clear tone into a roaring lead or a gritty bass, proving Amp's versatility.
With Ableton's seamless workflow, inserting the Amp and Cabinet into your audio chain is as simple as drag and drop.
This ease of use, coupled with high-quality emulations, makes Amp a must-have for anyone looking to introduce realistic amp tones and sophisticated coloration to their projects.
Standout Features of This Ableton Plugin:

Seven classic amp models offering a wide range of tonal characteristics.
Minimal but powerful controls for Gain, Bass, Middle, Treble, Presence, and Volume.
A separate Cabinet plugin featuring different speaker types and microphone setups.
Over 400 presets & diverse Instrument/Effect Racks.
A Dry/Wet mix control for flexible processing options (supreme sound quality).
Easily integrates with Ableton Live's intuitive workflow.
One of the best VST plugins of 2023 (better than most external plugins).
#5. Tension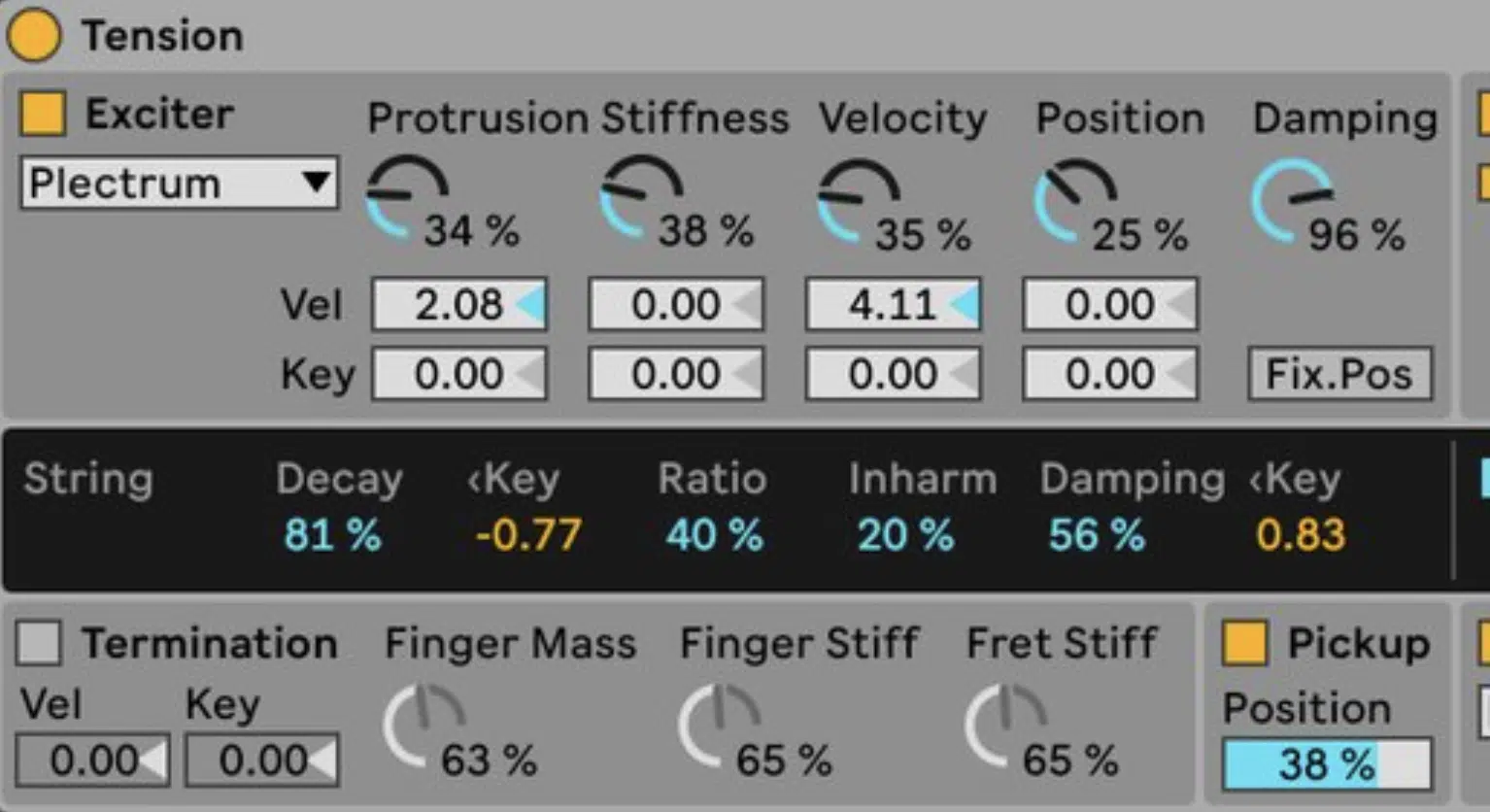 Tension isn't just another synthesizer; it's a meticulously modeled string instrument within Ableton Live.
Developed in collaboration with Applied Acoustics Systems (AAS), Tension uses advanced physical modeling synthesis technology to simulate every element of a string instrument.
This ranges from the bow and plectrum down to the body and the strings themselves.
You can control various parameters like damping, decay, and inharmonicity to create a plethora of sounds; be it realistic violins or otherworldly textures.
Physical Modeling Synthesis

Understanding Tension starts with grasping the concept of physical modeling synthesis, which is essentially a set of complex algorithms that model the physics of real-world instruments.
This provides a highly dynamic and interactive experience for the music producer.
For instance, you can model how a string is activated; struck with a hammer like a piano, plucked like a guitar, or bowed like a violin.
This opens up a universe of creative possibilities, and makes it one of the best plugins for Ableton live.
Many producers actually rave about this particular VST plugin, and for good reason.
Tweaking the Parameters

Tension comes loaded with presets, but the real joy is in tweaking its parameters.
The String module 一 Allows you to adjust the damping and decay to simulate different types of string materials.
The Excitator section 一 Lets you choose how the string is activated, be it via plectrum, bow, or hammer.
The Position parameter 一 Gives you control over the exact point where the string is played, affecting the tonal quality.
The Body section of this VST plugin offers an array of options that allow you to control the size and the material of the instrument body, thereby affecting the resonance and tone.
From mimicking the wooden body of a cello to emulating the metallic frame of a sitar, Tension lets you do it all.
The Damper Section

The Damper section provides parameters to emulate how the vibration of the string is attenuated.
It simulates real-world scenarios like the felts in a piano or the palm-muting technique in a guitar.
Being deeply integrated into Ableton Live's ecosystem, Tension is incredibly easy to use.
Its interface is laid out in an intuitive manner that encourages experimentation.
With support for MPE (MIDI Polyphonic Expression) in Live 11.3, the expressiveness of your performance can be pushed even further.
This means individual articulation of notes in chords; something that acoustic string instruments naturally excel at.
Overall, Tension is a playground for sonic inventors, sound designers, and musicians.
Whether you're looking to emulate real-world string instruments with astonishing accuracy or develop entirely new sounds, this VST plugin offers a comprehensive set of tools to get you there.
Standout Features of this Ableton VST Plugin:

Advanced physical modeling synthesis that emulates the entire anatomy of a string instrument.
Highly customizable parameters like damping, decay, excitator types, and more.
A vast array of expertly programmed presets, from realistic instruments to experimental sounds.
Integrated seamlessly within Ableton Live, encouraging a smooth workflow.
MPE support in Live 11.3, adding another layer of expressiveness.
Detailed control over the body, damper, and resonator settings for intricate sound shaping.
One of the best Ableton VST plugins of 2023.
#6. Collision

Collision stands as a landmark within the realm of digital audio workstations, a stunning exemplification of how far physical modeling synthesis has evolved.
Co-developed with AAS, this VST plugin not only authentically replicates real-world mallet instruments like:
Xylophones
Marimbas
Glockenspiels
However, it also offers endless possibilities for creative percussion and sound design.
Where most sampled instruments play back a recording, Collision's sounds are algorithmically generated in real-time.
This provides a dynamic, organic feel to your music that's almost palpable.
The Exciter & Resonator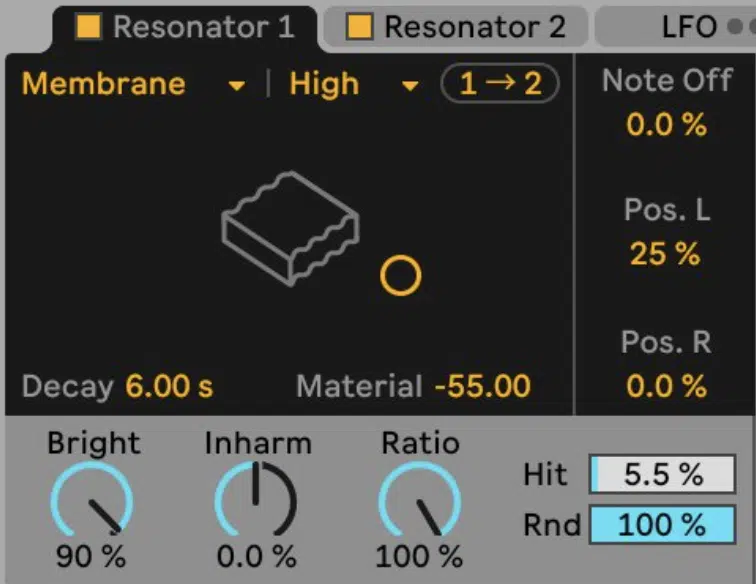 Collision is engineered around two core elements: the "Exciter" and the "Resonator" (which many electronic music producers rave about).
The Exciter module simulates what you hit the surface with; be it a mallet, a stick, or even a brush.
This is achieved through two oscillators, the first one mimicking the material of the beater.
By tweaking parameters like stiffness and noise settings, you can replicate anything from a felt mallet to a metal rod.
The second oscillator is essentially a noise generator with an envelope and multimode filter controls, designed to add textural nuances to your sound.
The Resonator is the soul of Collision, modeling the surface that you hit.
It includes 7 different resonant types:
Beam
Marimba
String
Membrane
Plate
Pipe
Tube
Each type can be fine-tuned to achieve the exact timbral character you're seeking.
For instance, the "beam" resonator could simulate a wooden plank or a metal bar, while the "marimba" resonator recreates the specific geometry and material of a marimba bar.
This offers you precise control over its overtones.
When you dig deeper into the Resonator, you discover additional parameters that control the virtual shape and size of the resonating body.
These include:
Ratio 一 Which adjusts the geometry of the membrane and plate resonators
Opening 一 Which modifies the geometry of the pipe
Radius 一 Which lets you alter the size of both the tube and pipe resonator types
Its complex architecture gives Collision its expressive capabilities.
This allows the Resonator section to go beyond mere mimicry, into realms of sound unattainable in the physical world.
There's a lot to be said about this digital audio workstation (Ableton) and its included plugins, but 'basic' isn't one of them.
Parallel & Serial

Collision offers two configuration modes: parallel and serial 一 mirroring how these instruments are constructed in real life.
For example, a xylophone consists of a beater, a resonating bar, and a tube underneath (in a serial configuration).
The parallel setup is an abstract concept, virtually impossible to recreate physically, but intriguingly attainable in Collision.
Imagine hitting two resonators or playing surfaces simultaneously; the sonic possibilities are limitless.
MPE (MIDI Polyphonic Expression) support in Live 11.3 takes Collision's expressive capabilities to a whole new level.
You can individually articulate notes, providing a more realistic and dynamic performance.
Pitch Envelopes & LFOs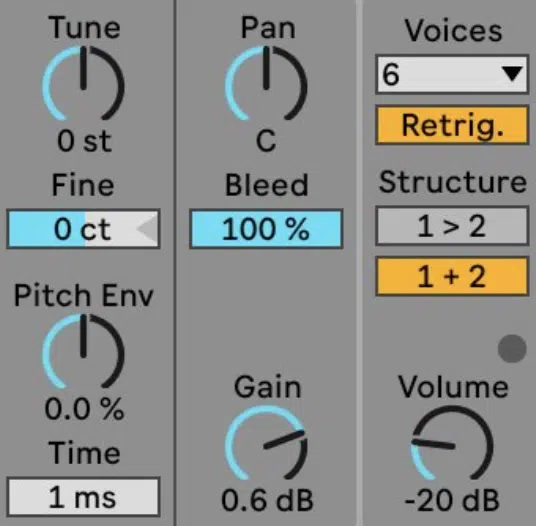 This is complemented by Collision's pitch envelopes and two LFOs, offering multiple modulation types that can be controlled via:
This makes this VST plugin an incredibly dynamic tool for sound designers, artists and musicians alike.
The intuitive user interface, an emblematic trait of Ableton Live's workflow, renders Collision an immensely approachable yet deep instrument.
Its one of the most flexible instruments for sound creation (of all musical styles) that I've ever ran across.
NOTE: The rich preset collection also extends to unconventional and experimental realms of sound processing.
Therefore, you'll have a creative playground if you dare to step off the beaten path.
Standout Features of This Ableton VST Plugin: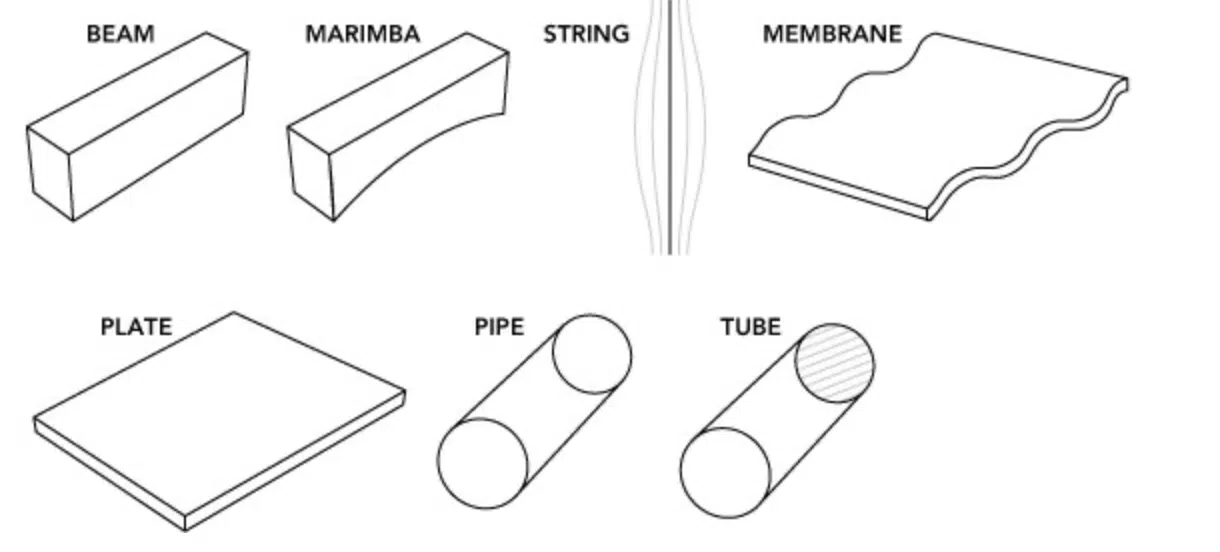 A high level of physical modeling synthesis.
Exciter and Resonator sections provide exhaustive control over your sound, from what you hit to what it resonates through.
Seven resonator types, each offering deep customization options for unparalleled sound shaping.
Parallel & Serial configurations, each opening up unique tonal possibilities.
MPE support in Live 11.3, allowing for nuanced, expressive playing.
A user-friendly interface seamlessly integrated into Ableton Live, backed by a comprehensive preset library.
One of the best free plugins of 2023.
#7. Beat Repeat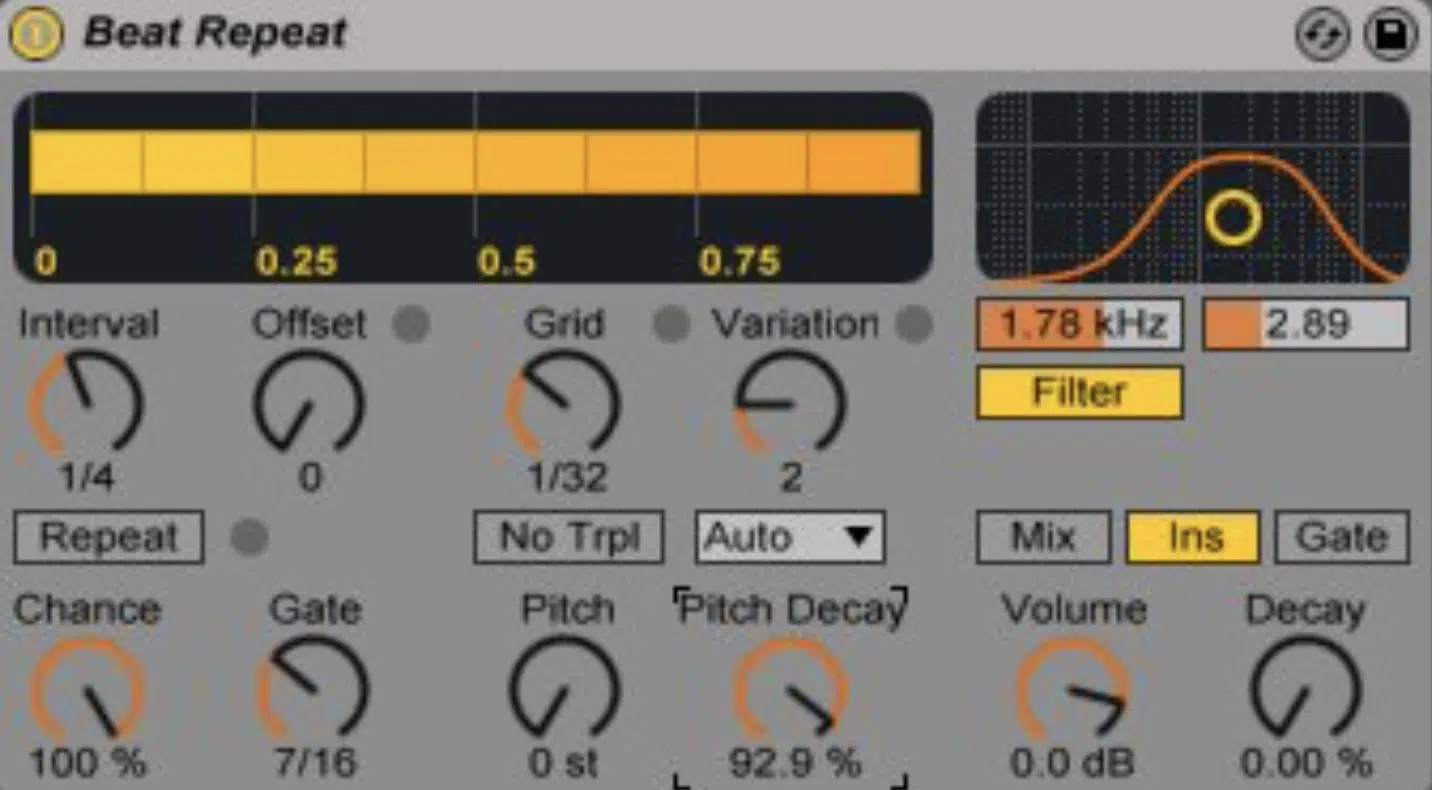 Beat Repeat is a transformative audio effect within Ableton Live that functions as a complex time manipulator.
Don't let the name fool you…
While it excels in glitching and repeating drum patterns, its versatility allows for a wide range of applications, with an authentic sound.
This powerful effect can be used for
Creating longer loops
Introducing shorter stutters
As well as accentuating other instruments (like keyboards, pads, or ambient sounds).
The essence of Beat Repeat lies in its central controls: Interval, Offset, Grid, and Gate.
Central Controls

These four knobs dictate the timing and duration of your repeated sounds.
Interval 一 Defines the regularity of the repetition.
Offset 一 Sets the starting point.
Grid 一 Determines the quantity of audio that's 'grabbed' for repetition.
Gate 一 Sets the active period for the effect.
Just remember that, If the 'Gate' setting is not larger than the 'Grid', Beat Repeat will remain inactive.
This ensures precise control over your sound manipulations.
Volume & Decay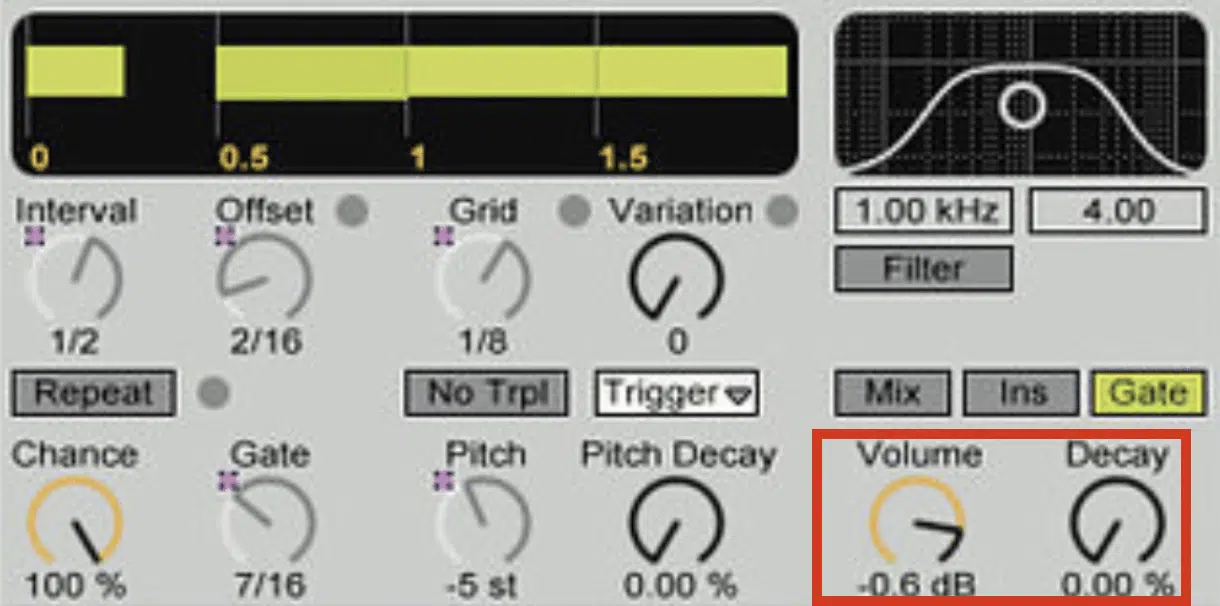 This VST plugin also features Volume and Decay controls at the bottom right.
Volume affects only the repeated sound 一 allowing for the original sequence to remain untouched, while Decay sets how much each successive repeat drops in volume.
To add more complexity, there are Pitch and Pitch Decay knobs that adjust the pitch of your repeats, which adds an additional layer of depth to your sound.
The Filter Section
The filter section at the top right of the interface provides a band-pass filter exclusive to the repeated sound.
This gives you the ability to color your repeats differently from the source.
The 'Mix,' 'Ins,' and 'Gate' buttons offer further options on how the original and repeated sounds interact, from coexisting to replacing each other entirely.
Chance and Variation knobs introduce an element of unpredictability.
'Chance' sets the probability of the effect kicking in, and 'Variation' modifies the grid randomly according to a drop-down 'Trigger' menu.
This allows for dynamic alterations in the repetition pattern.
This, plus so much more, makes it one of the best plugins for ableton live.
Standout Features of This Ableton Free VST Plugin:

Precise Control: Interval, Offset, Grid, and Gate knobs for detailed time manipulation.
Volume and Decay: Customize the relative volume and fade-out of repeated sounds.
Filter Section: Band-pass filter for coloration of the repeated audio.
Unpredictability: Chance and Variation knobs for randomized, dynamic effects.
One of the best VST plugins of 2023.
#8. Analog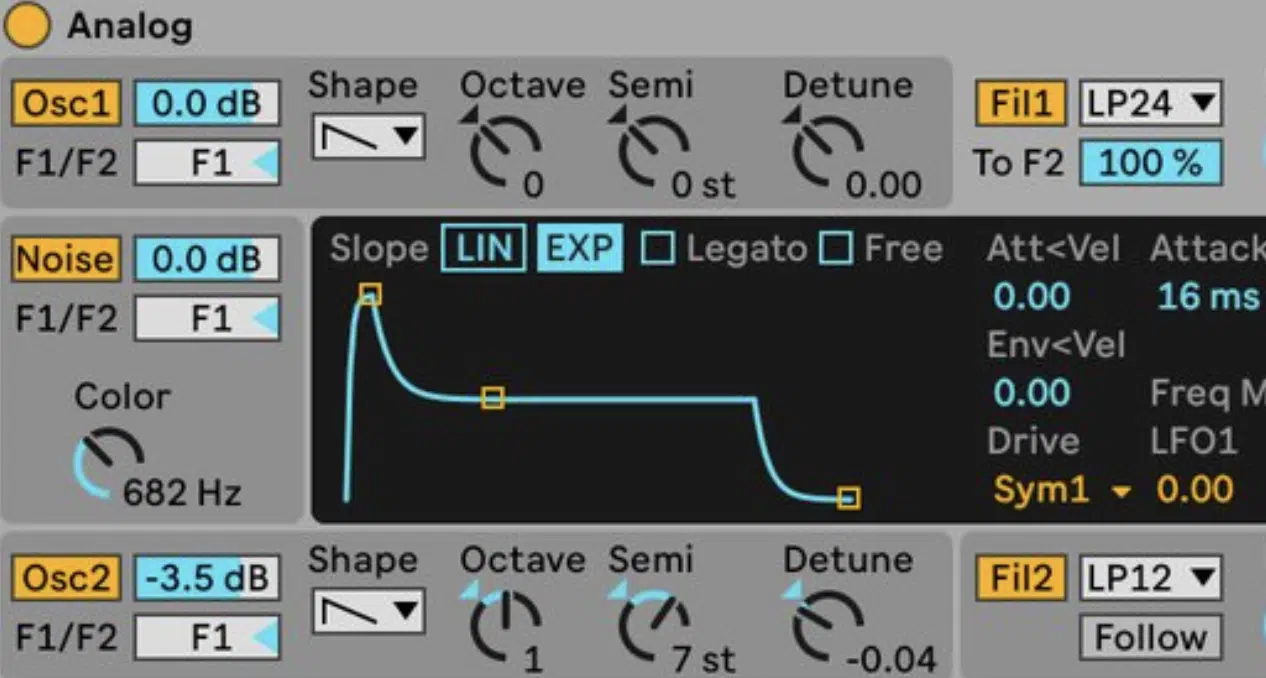 Analog is Ableton Live's attempt to bridge the gap between the digital world and analog world.
Analog utilizes physical modeling synthesis to emulate the circuitry of classic analog synthesizers.
This technique allows it to accurately reproduce the nuances of:
All of which are found in classic synths and offer everything from sweeping pads to ground-shaking bass.
The power of Analog comes from its incredibly flexible architecture.
Oscillators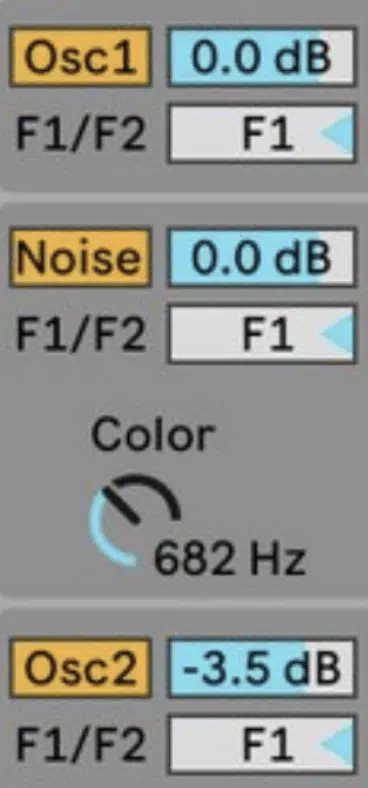 It boasts two alias-free oscillators, each with a variety of waveforms and integrated pitch envelopes.
These can be fine-tuned using two multimode filters that offer various types of saturation and can operate either in series or parallel.
Driving its oscillators and filters are dedicated Amp modules that provide control over the level and panning of your sound.
Noise Module, LFO Module, and Envelope Modules

Additionally, there's a Noise module which generates white noise, adjustable via a Color knob.
The LFO module is highly configurable 一 capable of modulating a broad range of parameters, from oscillators and filters to amplifier levels.
Further customization is made possible through the envelope modules for each Filter and Amp.
They feature traditional ADSR controls with various shapes and modes, which is a great starting point.
Key-Tracking & Velocity

Analog's sensitivity to key tracking and velocity allows for dynamic and expressive playing, which adds another layer of realism to your virtual analog experience.
This is more than a mere nostalgic trip to the heydays of analog synths.
It's a modern tool with a user-friendly interface, expertly programmed presets, and the flexibility to either emulate classic sounds or forge entirely new aural landscapes.
Standout Features of This Ableton VST Plugin: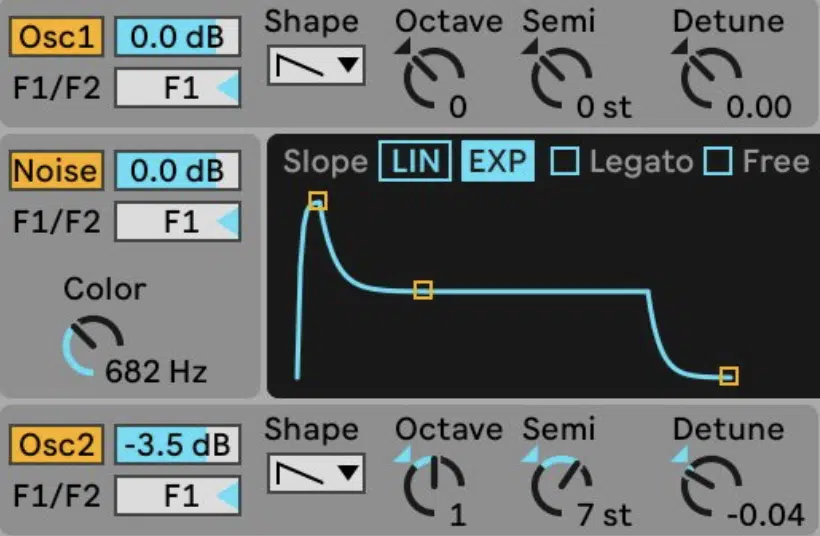 Physical Modeling: Advanced technology for authentic analog emulation.
Two Alias-free Oscillators: Variety of waveforms and integrated pitch envelopes.
Multimode Filters: Flexible routing and various types of saturation.
Dedicated Amp and Noise Modules: Full control over level, pan, and color.
Highly Configurable LFO: Broad modulation capabilities.
One of the best VST plugins of 2023.
#9. Electric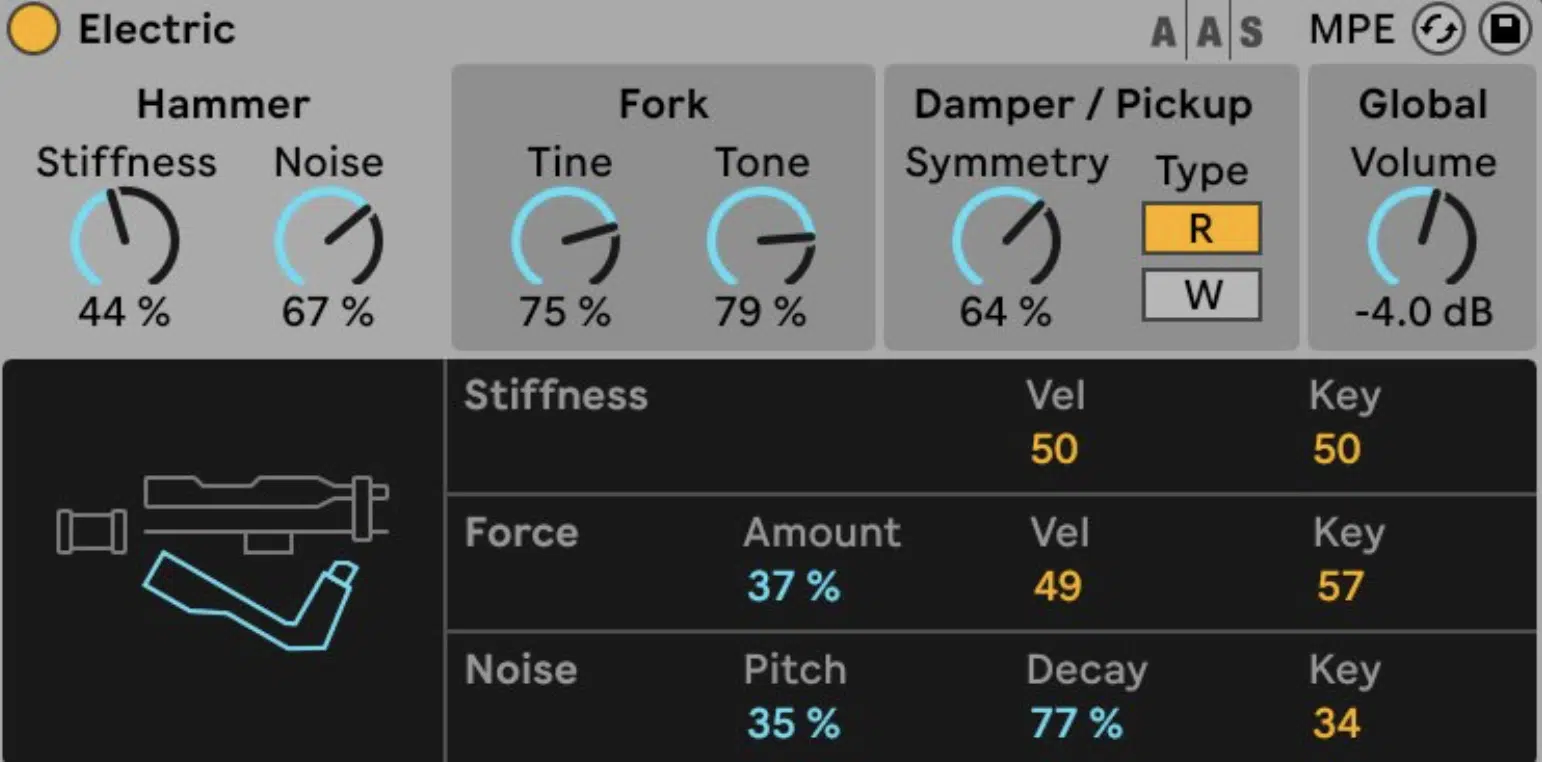 Electric aims to capture the soul and warmth of classic electric pianos like the Rhodes and Wurlitzer.
If you're into electronic music and high sound quality, this VST plugin is for you.
Also developed in collaboration with Applied Acoustics Systems, this VST plugin relies on physical modeling synthesis.
This enables it to reproduce the complex interactions between:
Mallets
Tines
Pickups
Dampers
They define the unique tones of these instruments.
Electric's detailed architecture is broken down into several modules.
Modules

The Pickup models, available in both electromagnetic (Rhodes) and electrostatic (Wurlitzer) variants, are adjustable via Symmetry and Distance controls.
This allows you to fine-tune the position of the pickups and drastically affects the character of your sound.
The Mallet section provides controls like Stiffness and Strength 一 allowing you to simulate the hardness and force of the mallets striking the tines.
This offers a spectrum from bright and sharp to soft and mellow sounds.
It can provide instant inspiration if you're an Ableton user in a jam, as it's one of the best plugins around for that kind of issue.
NOTE: There's even a Noise control that mimics the percussive noise generated upon impact, which is super rare in VST plugins and free plugins.
The Fork Section

In the Fork section, you can manipulate the Decay and Level parameters of both the Tine and Tone Bar components, providing even more depth and dimension to your sound.
Additionally, the Damper section provides further customization options, like adjusting the hardness and the noise when the dampers are applied.
The result is an instrument that not only faithfully recreates the sound of iconic electric pianos but allows for an incredible degree of customization (pristine sound quality).
This enables you to delve deep into the intricacies of these instruments or even venture beyond into uncharted sonic territories.
Standout Features of This Ableton VST Plugin:

Physical modeling.
Customizable pickup models.
Mallet and fork sections.
Damper customization.
Dynamic response over your audio signal.
One of the best VST plugins of 2023 (virtual studio technology).
#10. Convolution Reverb

Convolution Reverb isn't just another reverb plugin; it's a deep dive into the physics and acoustics of real-world spaces.
Developed collaboratively with Alex Harker at Huddersfield University, it employs sample-based reverb technology.
One that beautifully captures and recreates the ambient nuances of various environments.
If you're looking for Ableton plugins that truly exceed your expectations, look no further.
Impulse Responses (IR)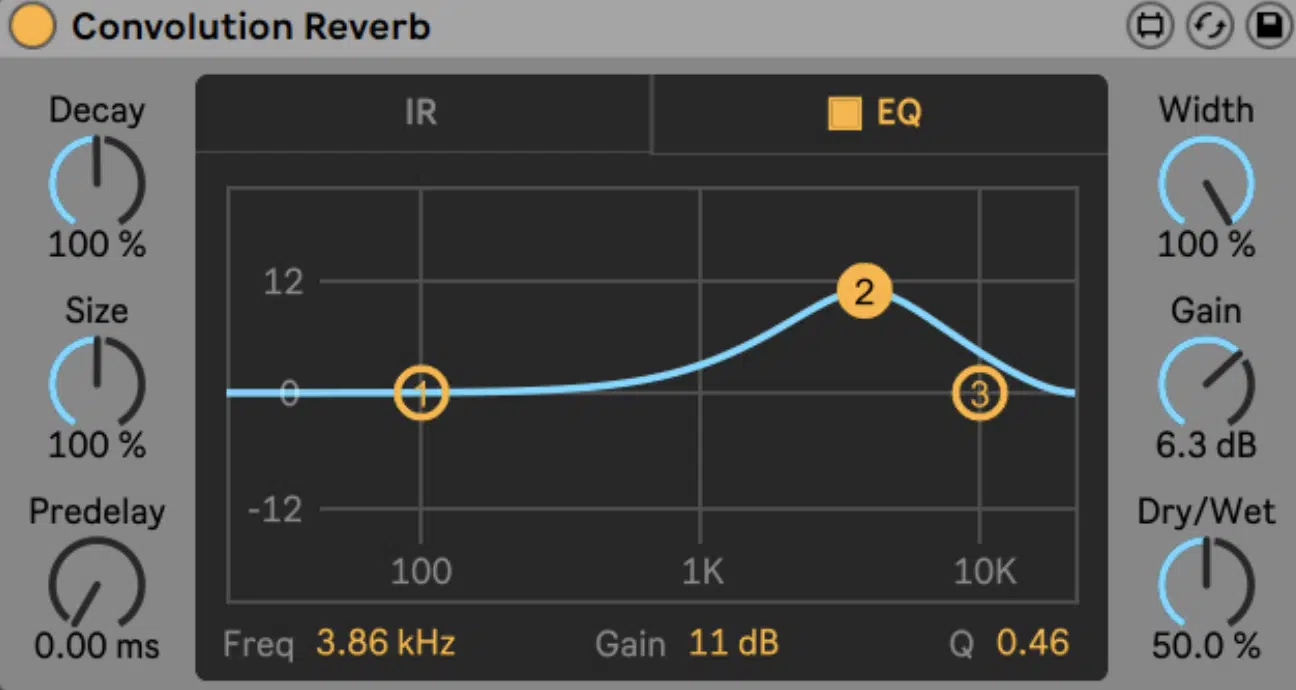 A treasure trove of impulse responses (IRs), harvested from locations around the globe to vintage hardware units, serves as the foundation upon which your reverb settings are built.
This free plugin extends its functionality into the professional domain with its Pro version, which offers an expansive set of features such as:
This allows for extensive tonal shaping.
A unique feature that sets it apart is the Reverse function 一 which enables you to transform the original impulse response into something entirely new.
Even more, you can save these configurations as new presets, meaning your personal sound library can continue to grow and evolve.
If you're a music producer, whether it's hip-hop or electronic music, this reverse function is perfect for making music that makes a true impact.
Combining 2 Separate IRs

Another advanced capability is its ability to combine two separate IRs:
One 一 For early reflections.
Another 一 For late reflections.
This can create a hybrid sound and open up avenues for extremely nuanced and rich reverb textures.
Besides a powerful set of features, the user experience is thoughtfully designed, unlike some other VST plugins or free plugins.
A utility called the IR Measurement Tool allows for the creation of personal IRs (great for sound design).
This offers sound designers and musicians an opportunity to capture the essence of their own hardware or unique spaces, thereby creating highly personalized reverb settings.
Flexibility & Versatility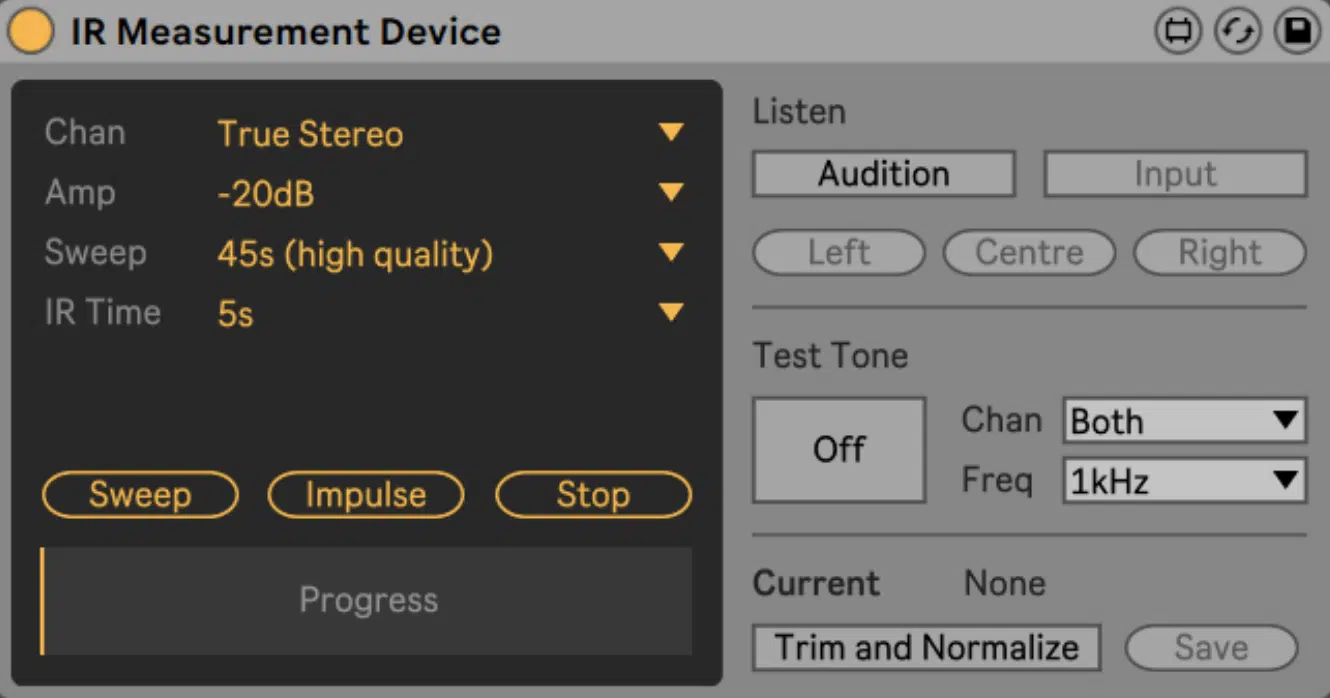 Moreover, this VST plugin isn't confined to traditionally reverberant spaces.
You can experiment with a range of audio files, which give you the freedom to explore unconventional reverb applications.
This can involve everything from mimicking the resonance of a cave to the clangor of industrial machinery.
With zero latency and over 200 IRs from professional acousticians and a collection from Christian Kleine's personal stash of rare instruments and effects, it's an all-encompassing solution for anyone serious about reverb.
Plus, it provides a true high-quality sound for any occasion, making it one of the top plugins for Ableton Live.
Standout Features of This Ableton VST Plugin:
Impulse response-based.
Extended tweaking options.
Reverse function.
Hybrid IR capability.
IR measurement tool.
Zero latency.
One of the best reverb plugins/VST plugins of 2023.
Ableton Plug Ins: Final Thoughts
Ableton plugins can serve as the backbone of your production setup.
They provide a vast array of sonic possibilities that range from sound manipulation to intricate synthesis.
After reading this article, you're not just aware of some of the best exclusive Ableton plugins, you're equipped to use them like a seasoned pro.
Whether you're crafting atmospheric pads, laying down hard-hitting drums, or producing those elusive 'earworm' melodies, the right plugin can make all the difference.
However, even with the best Ableton plugins, structure is crucial for turning good tracks into hits.
That's where these Free Famous Beatmaker Template Essentials come into play.
Compatible with FL Studio, Logic Pro, and, of course, Ableton Live, these templates provide you with the most accurate and organized structures of hit tracks.
Consider these templates as your roadmap to success 一 offering you the layout of proven hits which you can infuse with your own unique sounds.
Each template allows you the freedom to tweak, customize, and truly make each track your own, all while benefiting from structures that have been proven to captivate audiences.
So, armed with the insights about the best Ableton plugins from this article and resources like the free templates, you're more than ready to elevate your music production game.
So, go ahead and make some unforgettable, jaw-dropping beats; the world always needs more music.
Until next time…