For years, Unison Audio has brought you revolutionary FX plugins and AI-assisted music generators, but this time, we've really outdone ourselves…
Introducing: Bass Dragon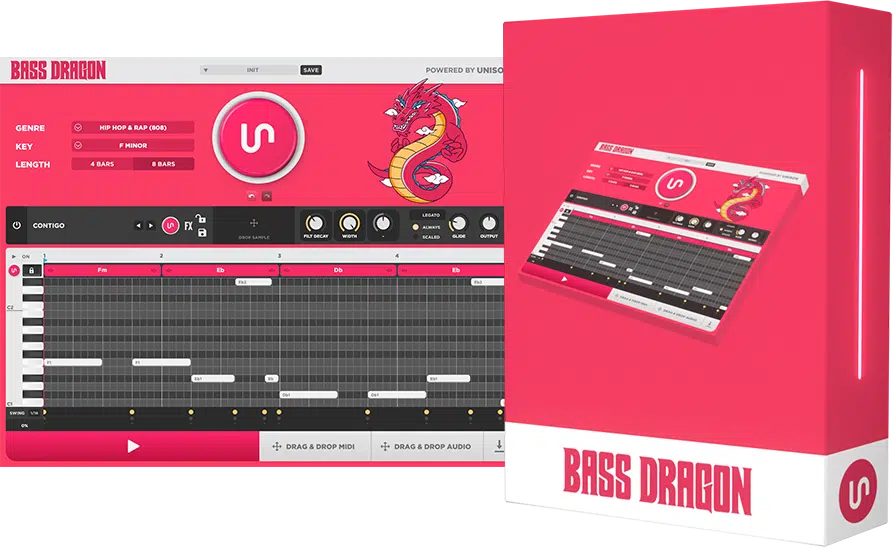 Bass Dragon is the first (and only) genre-specific AI bassline generator in the world.
Instantly generate 'fire' basslines in 30 genres and create dancefloor-destroying hits in minutes.
From basic, to complex to insanely advanced variations — you'll have unlimited possibilities and endless inspiration at your fingertips.
However, don't let the name fool you, this is a multi-purpose plugin, as you can generate brilliant ideas for chord progressions based on the generated bassline as well.
With the professionally-crafted basslines that this bassline generator provides, you'll be miles ahead of the competition and have a massive competitive edge.
Meaning, success is all but guaranteed.
Generating these legendary basslines are as easy as 1, 2, 3:
Select 一 Select your preferred genre & length. Additionally, drag in a chord progression to base the generation off of.
Generate 一 Press the button to instantly generate a fire bassline or 808 pattern.
Drag & Drop 一  Drag & drop your new bassline straight into your project in either audio or MIDI format.
Alternatively, you could export it later in its very own dedicated folder (containing both MIDI & audio).
You can also leave it playing in the plugin, giving you the ability to manipulate throughout your session as always.
We've spent over 15 months perfecting our new algorithm with brand new, cutting-edge AI and Machine Learning that combines over 19,500+ custom-designed bassline fragments.
So whether you're a beginner or professional, you'll be able to make mind-blowing basslines/808s that stand up against the best of them.
With Bass Dragon, you'll have access to the world's most advanced bassline generator and finally get your music the recognition it deserves!
The following highlights are just a fraction of what you'll get with Bass Dragon, and we've added additional Pro Tips so you can push the boundaries even further.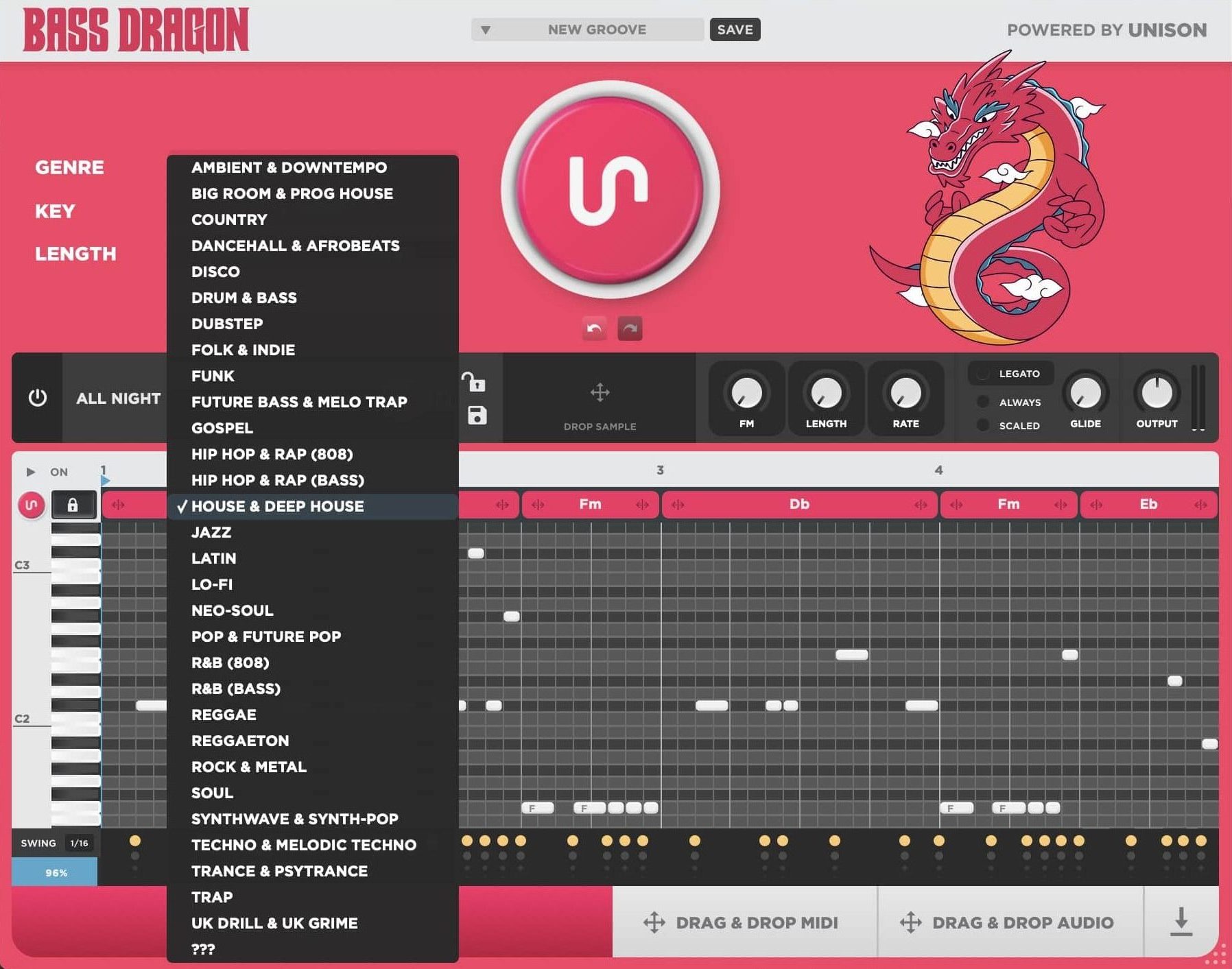 NOTE: Don't let the "genre-specific" phrase faze you.
With our broad list of genres, such as our highly sophisticated funk presets, you'll be able to create hybrids in a flash, even with zero experience working with that genre.
Mind-blowing, right?
Built-In Synth & Sampler + 200 Factory Presets

Our immensely talented in-house sound designers have created presets that are divided into 3 categories:
808s
Acoustics
Electronic
They are fully customizable, and you'll have the ability to save your very own presets (in a custom user-bank) and tweak them however you'd like.
We've also included a whopping 23 filter-types, including 6 Moog-style analog modeled filters and a comb filter.
Along with the classics, including:
Low-Pass
High-Pass
Band-Pass
Notch
Peak
Bell
Low-Shelf
High-Shelf
Each one offers 12dB and 24dB per octave cutoff values, so the sky is the limit.
Plus, you'll have full access to the Cutoff and Resonance values, along with an exclusive "Drive" parameter for each unique filter type.
NOTE: The "drive" feature adds killer distortion (harmonic saturation).
Bassline Generator: Pro Tip
Use the Comb filter with high resonance values to incorporate some insane sound design.
Try automating the cutoff parameter as well.
This will produce a "screaming" bassline, as virtually every parameter within Bass Dragon can be fully automated within your DAW.
With this bassline generator, you'll have no limits, so let your creativity soar.
Try Out Bass Dragon For Yourself
9 Built-In FX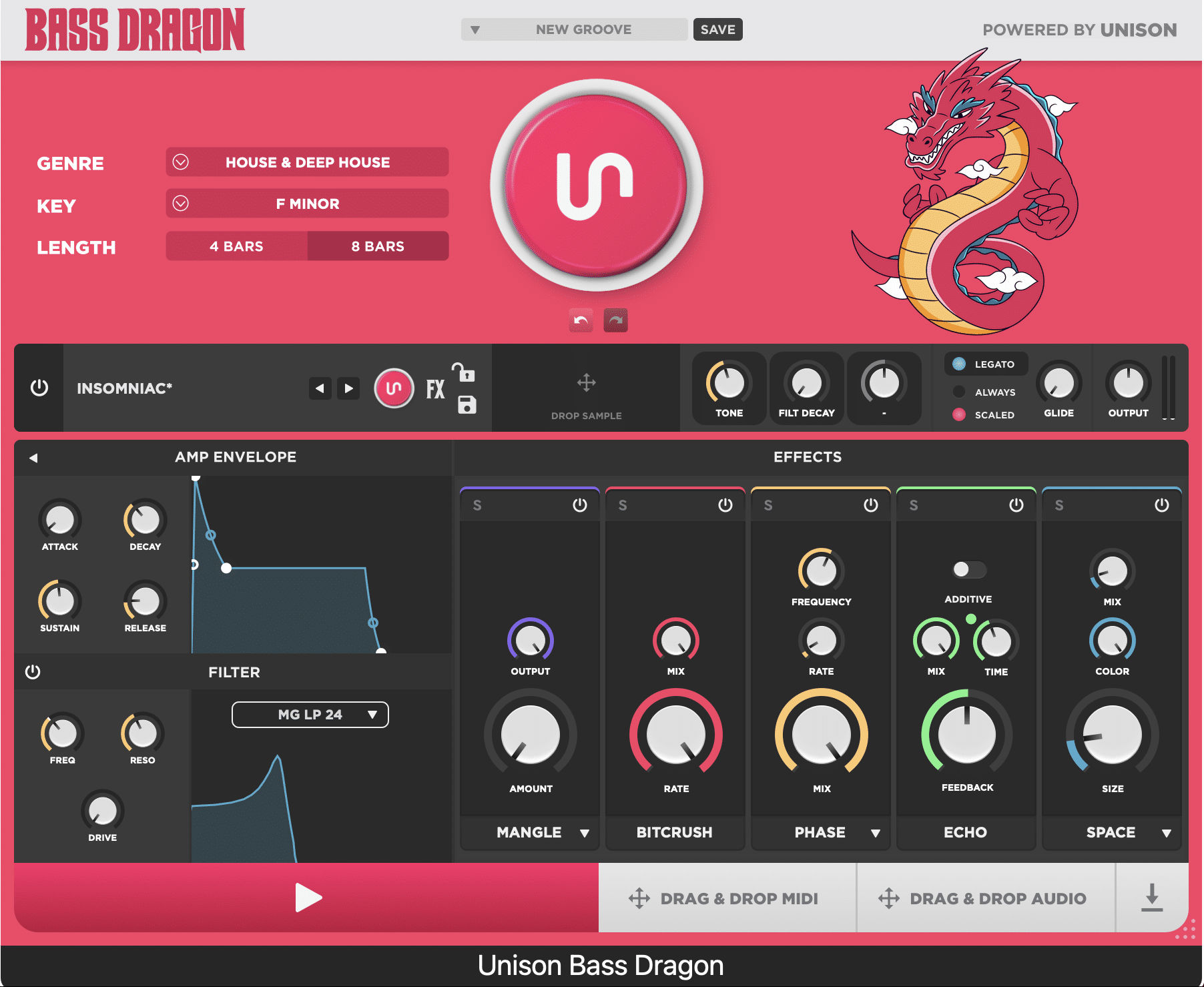 You'll also be able to mess around with the internal parameters within each effect.
These include:
Mangle 一 Unison's exclusive hybrid distortion and dynamic compression effect that took us months of testing to dial in
Destory 一 Our most aggressive analog distortion, to make your sounds melt the faces of your listeners
Bitcrush 一 Reduces the bit-rate
Phase 一 Classic phaser modulation effect
Flange 一 Classic flanger modulation effect
Chorus 一 Classic chorus modulation effect
Echo 一 Classic delay
Space 一 A unique take on a far out reverb that you'll have to hear to believe (another Unison exclusive)
Reverb 一 Classic Reverb
These fully customizable FX give you the power to saturate, distort, spatialize or add unique character to your basslines.
The FX chain can be manipulated at any time, so the Effect order is not locked in place.
This bassline generator provides you with ultimate customization over not just the settings within each module, but the order of the FX chain as well.
Also, we've included specialized macros geared to each specific preset, which can alter the sound significantly.
You also have full access to the AMP Envelope (ADSR) so you can shape the bass however you'd like.
Bassline Generator: Pro Hack
Try bringing in one of our insane one-shots found within the FREE Unison One-Shot Essentials to turn Bass Dragon into a generative synth lead monster.
This way, you can create dope synth lines based on your unique progression.
Use a more complex mode for this, in order to differentiate it from your bassline, giving the ultimate diversity and appeal it deserves.
Create Legendary Basslines in Seconds
With our first and only bassline generator, you can randomly regenerate any given section of your bassline by highlighting that section and pressing "regenerate."
Let's say you have an exquisite bassline looping throughout your track, but you'd like to switch it up for the last 4 bars…
Simply highlight that section and regenerate that part, and now you have a completely different (yet fitting) bass pattern.
Don't think you need to start off with a progression, because that couldn't be further from the truth.
We know a lot of producers like to start with the bassline, so simply input:
Your genre of choice
The key in which you'd like the track/bassline to be in
The desired length
Then, hit that pink button and you'll instantly have an incredible layout that matches your intended vibe.
If not, simply regenerate… this bassline generator is intuitive and intriguing in every way.
But wait, there's more…
If you're not already working with a progression, you can keep generating until you have a basic rhythm you love.
Once you've done so, click that little Unison icon in the piano roll.
This will instantly enable Bass Dragon to create a randomized chord progression in the key you've selected.
The bassline will follow it with ease and expertise, while keeping the overall rhythm you've chosen.
It comes out mind-blowing, complex, and especially impressive every single time.
Random Preset Generator

With Bass Dragon's random preset generation, you can adjust the tonality of your bassline even if it's locked in already.
Conversely, you can lock in various aspects and controls within our Bass Generator to keep certain areas untouched upon regeneration.
Simply click the small pink "U" button next to the FX and let Bass Dragon choose the sound selection and apply the sound design for you.
Irresistible Chord Progressions

Drag any chord progression into Bass Dragon and watch our exclusive AI engine detect it and match the root notes.
From there, you can direct our bassline generator to regenerate another option, or generate even more complex progressions.
And yes, they will still be adapted from your original chord progressions bass notes, so you'll always be in-key.
Remember, your unique generations will be based on, and adapted from the genre you've specifically selected.
Bassline Generator: Pro Tip
If you're unaware of the chords your progression consists of, simply reference the chord names found across the top of the piano roll.
This way, even if you don't need a bassline, Bass Dragon can act as a learning tool, assisting you in recognizing and memorizing different chords.
To say it's a multi-purpose plugin is a huge understatement.
Chord Selector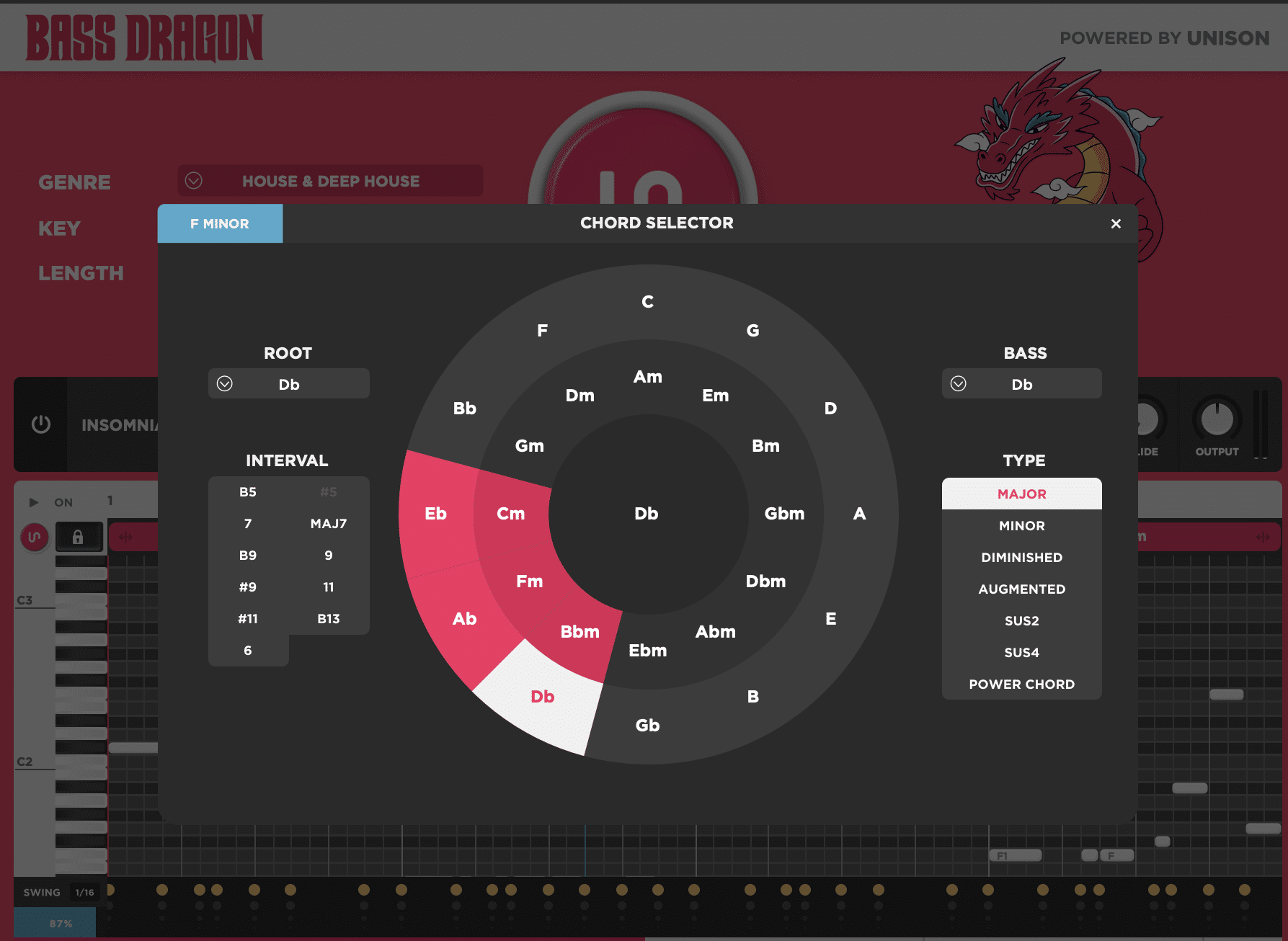 By clicking on any desired chord name (across the top) you can bring up our "Chord Selector" that operates essentially as the circle of fifths would.
It also highlights the chords that correctly and perfectly compliment the given chord progression.
This lets you change and swap out any chord generated or selected.
In addition, you can alter the chord type and/or interval with our bassline generator.
If you're well-versed in Music Theory, or you'd like to experiment and challenge yourself, you can even change the root note and modulate the chord progression.
This allows you to modulate between keys, for advanced key changes throughout your track.
Piano Roll

Inside the piano roll, you'll have the ability to extend and shorten the length of any given chord in the progression.
Giving you the opportunity to modify the progression itself right inside the piano roll, awesome, right?
It also works as a standard piano role 一 enabling you to add notes, adjust the length of your notes, and alter the velocity.
One super cool feature of the built-in piano roll is the fact it follows all the keyboard shortcuts for Ableton Live's piano roll.
Also, you can simply right-click on the piano roll and it will bring up a list of all your options.
You can enable Scale Highlighting as well, which will show you the notes (in gray) of the selected scale.
Experience The Magic of Bass Dragon
Remember, anything you create within Bass Dragon doesn't have to be stuck there, you can simply drag & drop the MIDI that was generated.
You can even do the same with the audio.
Clicking the Download button will help you to create a folder directly on your computer; including both audio and MIDI in one folder.
Not only is this bassline generator intuitive, but super convenient in every fashion.
Exclusive Look at What Bass Dragon Can Do
Here's just a tiny glimpse of what Bass Dragon is capable of (in seconds!).
Check out some examples of some of the hottest basslines across the most popular genres of today and see why the pros are already crowning it the best bassline generator of 2023:
Rap & Hip-Hop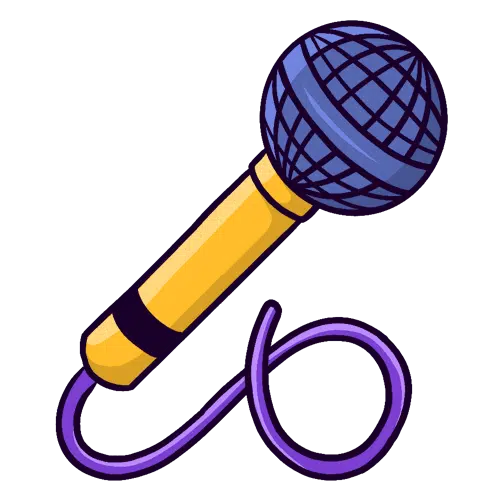 Trap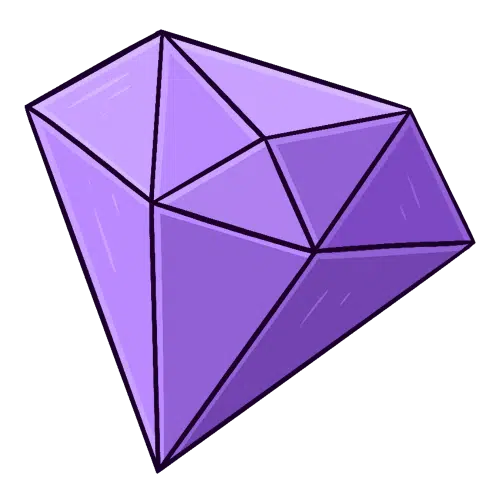 Uk Drill & UK Grime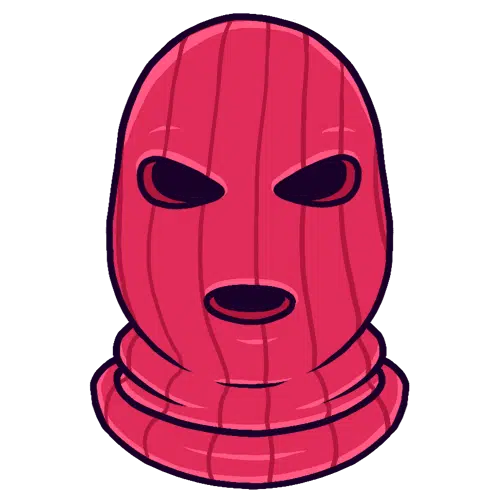 Ambient & Downtempo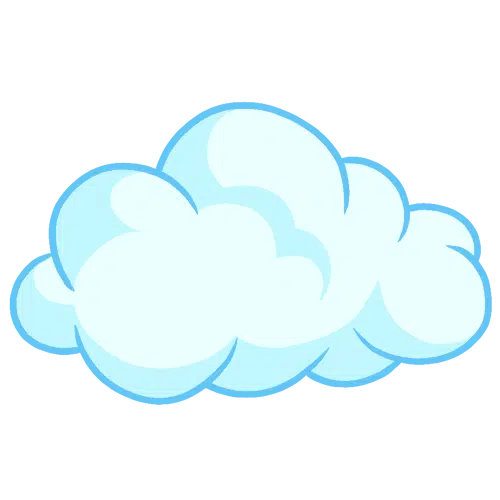 Pop & Future Pop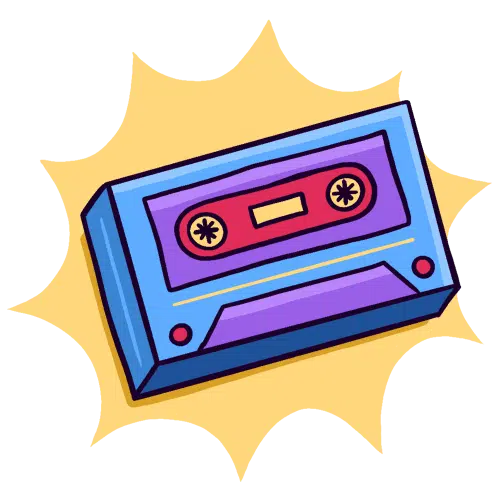 Drum & Bass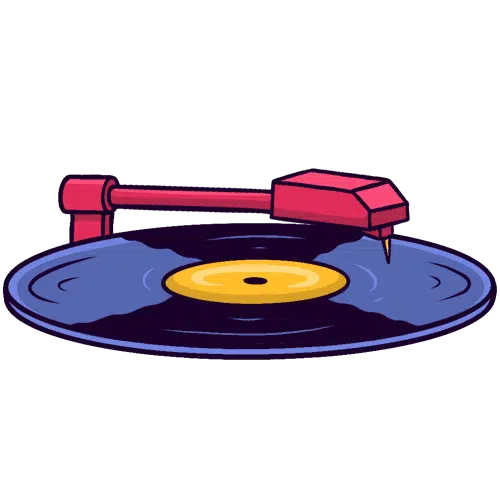 House & Deep House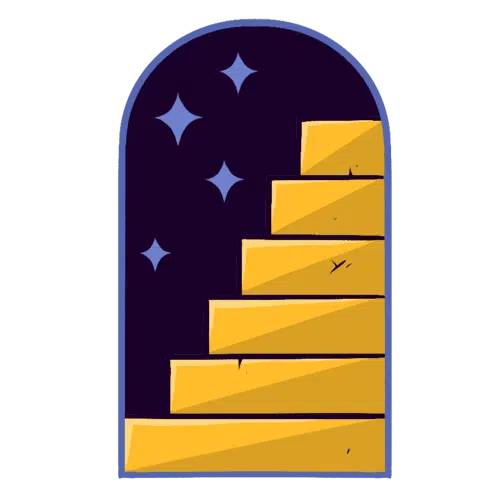 Neo Soul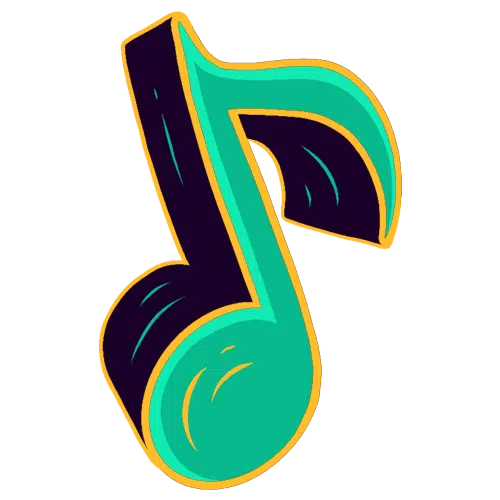 Dancehall & Afro Beats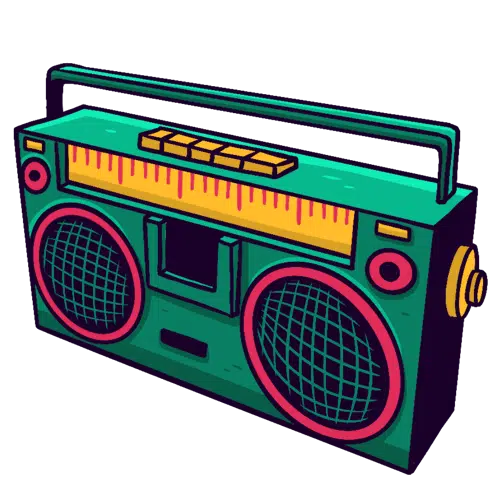 Rock & Metal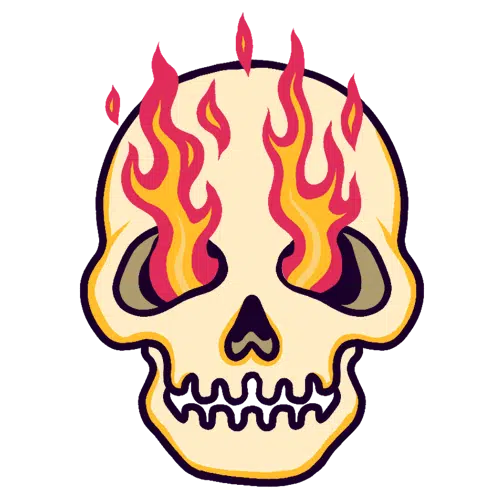 Reggaeton
Funk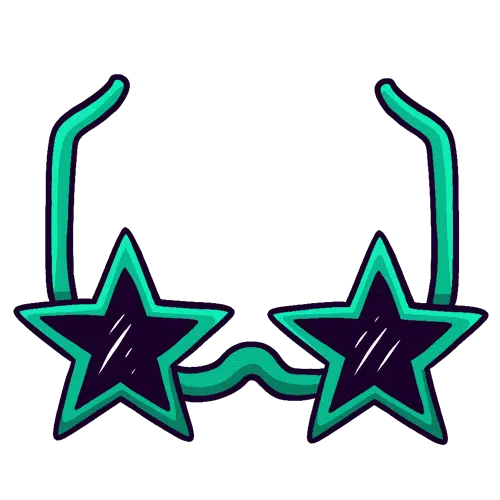 R&B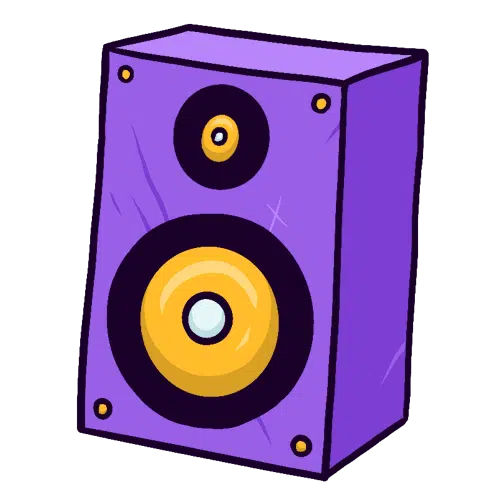 What The Pros Are Saying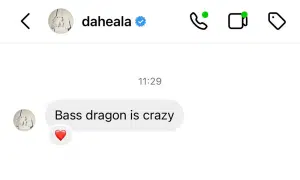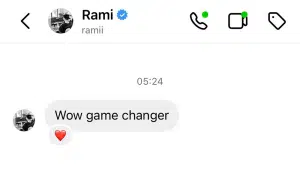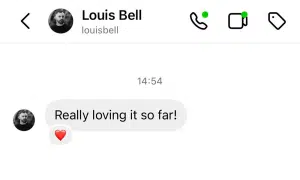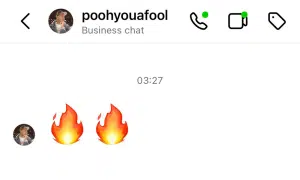 Make sure to check all the other Bass Dragon reviews from producers all around the world.
The number of people loving Bass Dragon was so insane, we had to make an entire page displaying what they were saying… crazy, right?
And let us know what you're thinking about Bass Dragon as well! We'd love to hear from you.
Bonus #1: Unison Bass Dragon Treasure Chest
($127 Value)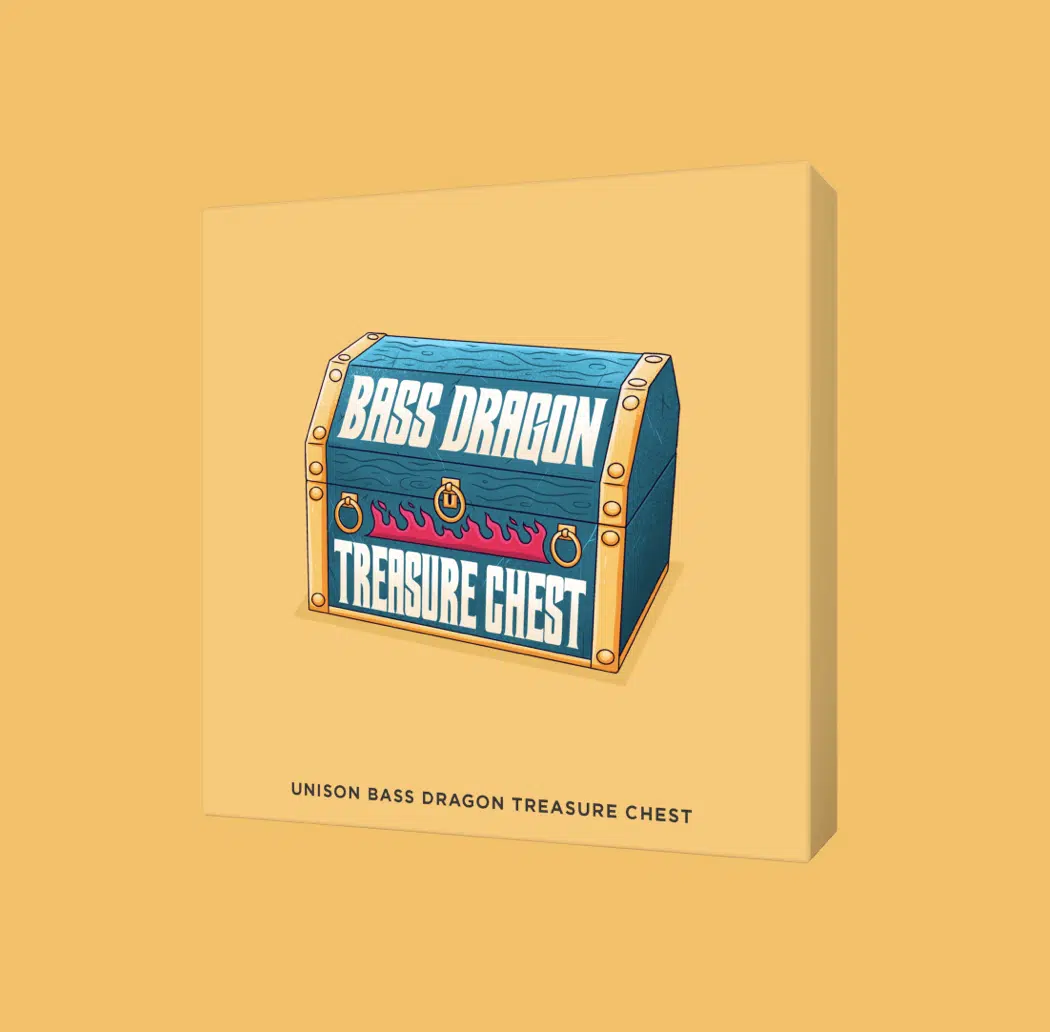 When you get Bass Dragon today, you're going to want high-quality, genre-specific MIDI files and loops to complete the arrangement of your tracks.
That's why we scoured the earth and created the Unison Bass Dragon Treasure Chest.
It contains:
75 Famous MIDI Chord Progressions ✓
75 MIDI Chord Progressions ✓
75 Drum Loops ✓
All of which, you can drag & drop directly into your project, and instantly take your generated basslines to the next level.
Bonus #2: Bass Dragon Advanced Implementation Training
($147 value)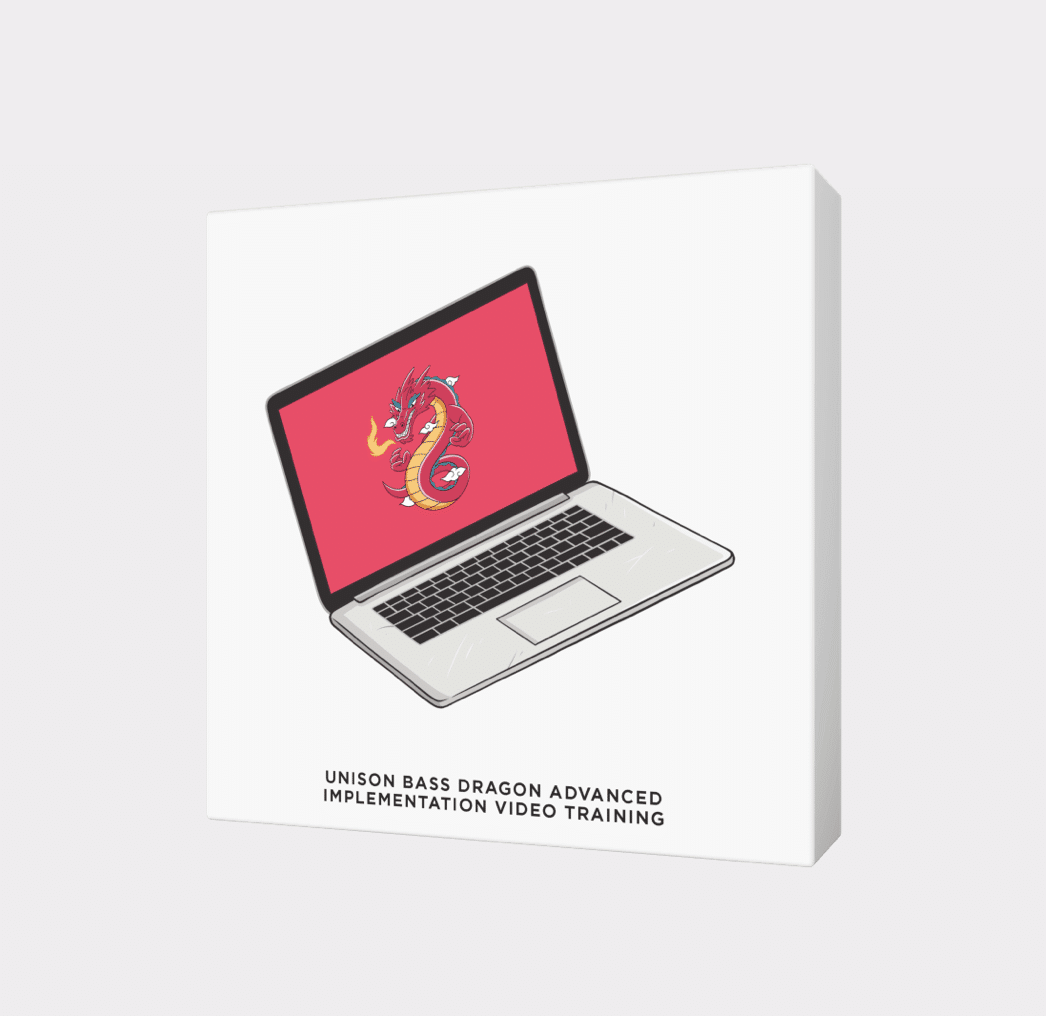 Beyond what you now know about Bass Dragon, there's some advanced techniques that would simply be too powerful to reveal to everyone.
In the Bass Dragon Advanced Implementation Training, Unison co-founder and producer with 30+ million plays (Sep) will be demonstrating in real time how to use Bass Dragon.
You'll be able to easily make pro-sounding tracks across several genres.
He'll also show you 3 special ways you can use Bass Dragon, one of which can make you a LOT of money.
Bonus 3: Bass Dragon Private Facebook Group Access
($97 value)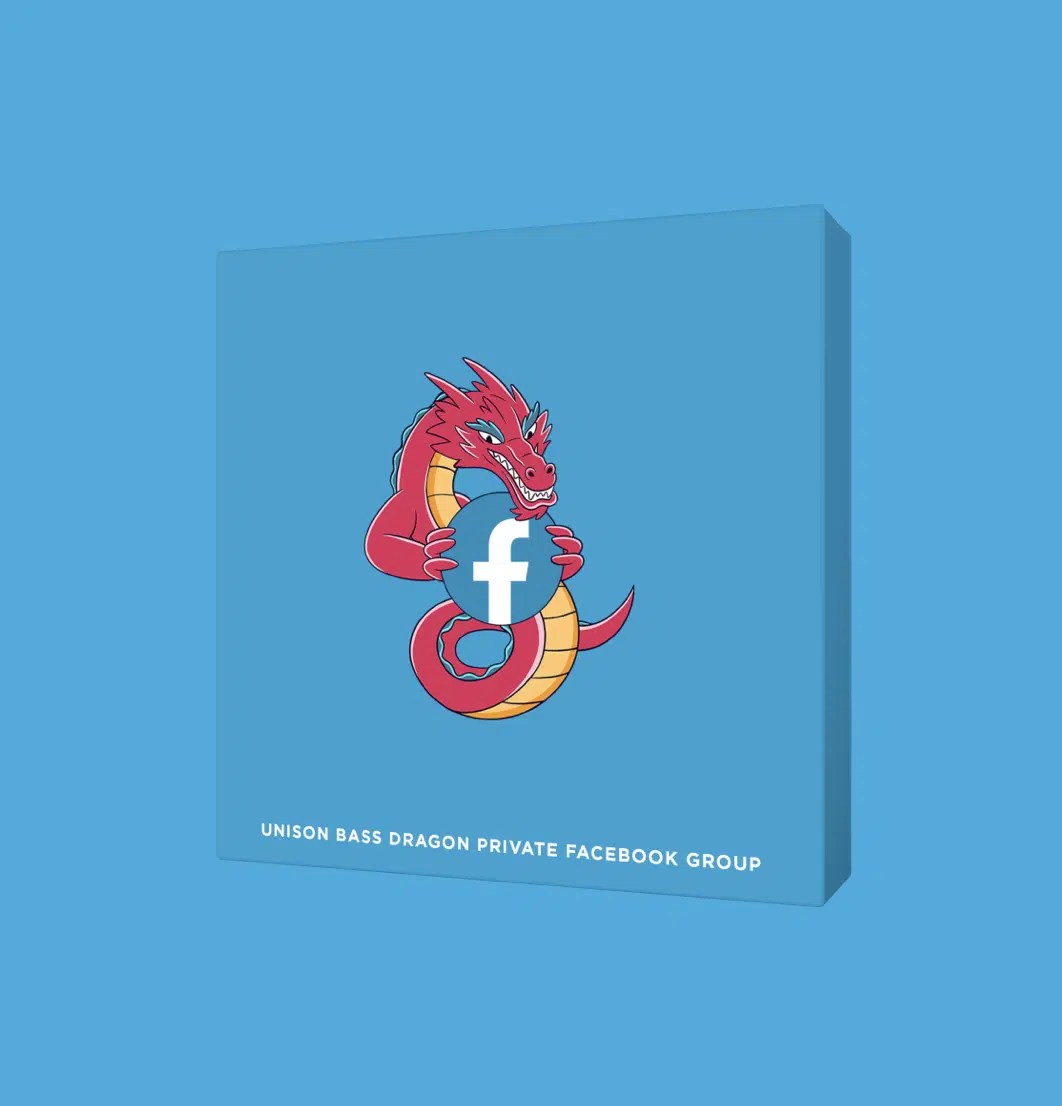 When you get Bass Dragon today, you'll be joining a private bassline generator Facebook community of motivated and ambitious producers just like you.
In this group, you'll be able to:
Ask production related questions & share ideas with each other ✓
Get specific feedback on songs you're working on ✓
Find potential collaborations ✓
Share contacts / build your network ✓
Have a supportive community who truly wants to see you succeed ✓
This group brings everything together to create a complete package of everything you could possibly need to succeed as a producer.
Additional Features
Advanced Swing functionality.
Glide functionality.
Macros included for every effect for easy customization of the most important parts of the sound/effects.
Anything can be automated.
Any pattern you customize can additionally be saved as a custom preset with all modifications included.
Functionality for each major feature so you can, for example, lock the chord progression, while regenerating the bassline.
Fully animated and visually appealing to add a little inspiration upon generating a new bassline.
Completely resizable GUI.
Compatible With Any DAW or Program That Runs:
VST2
VST3
AU
AAX
Both Windows and Mac friendly.

Create Fire Basslines With Bass Dragon
No physical iLok (or Dongle) Required
Installation of iLok software license manager and iLok user account is required.
However, it can be downloaded and registered for free.
Easy Installation & Integration
Complete with a bassline generator video guide and in-depth manual.
Save All Data, Parameters, and Edits as Presets
For quick recall and template creation.
Bass Dragon already comes with more than enough presets to keep you busy for two lifetimes.
However, by creating your own presets, you can use, edit, and save without having to reload them every single time.
Don't forget that presets could (and should) be used to create your own templates:
Open up Bass Dragon
Select your preferred genre
Listen to the bass presets
Swap any out that doesn't match the vibe you're aiming for
Now you can either generate an enticing pattern or input one yourself to build upon.
Do this for all types and styles to conquer Beat Block and get endless inspiration.
All Important Functions Can Be Fully Randomized
Bass Dragon allows for 'randomization' on all levels.
This allows you to completely switch everything up all at once.
Or, selectively randomize certain samples and parameters for more subtle changes.