In the world of music production, the quest for the perfect sound can be a journey filled with endless possibilities and broken promises.
Delay plugins are an integral part of that journey, offering a crucial element to craft your own unique soundscapes.
However, with countless plugins to choose from, it can be overwhelming to decipher which ones truly stand out…
That's where we come in.
We're not just another article hastily listing the best delay plugins.
No, we delve deep, providing you with a super detailed review of each delay plugin we deem to be the best in 2023.
Each plugin has been meticulously tested and analyzed in order to give you an accurate perspective into their functions, features, and fascinating inclusions.
We've sifted through the best delay plugins on the market and made a list that includes both premium and free options.
Whether you're an established producer or a budding sound engineer, this list provides the best fit for you.
In this review, we provide detailed information about each delay plugin, including:
An in-depth description ✓
Unique & creative functions ✓
Ease of use and standout features ✓
Versatility and flexibility ✓
Value for your money ✓
By including all these details, we ensure that our list is more than just a rundown of popular plugins 一 it's a comprehensive guide designed to help you navigate the vast world of delay plugins.
So, whether you're looking for an echo that can take your vocals to new heights, or a plugin that can introduce a rich, ambient texture to your tracks, we've got you covered.
Let's dive in to the best delay plugins of 2023…
What is a Delay Plugin & What Does it Typically Include?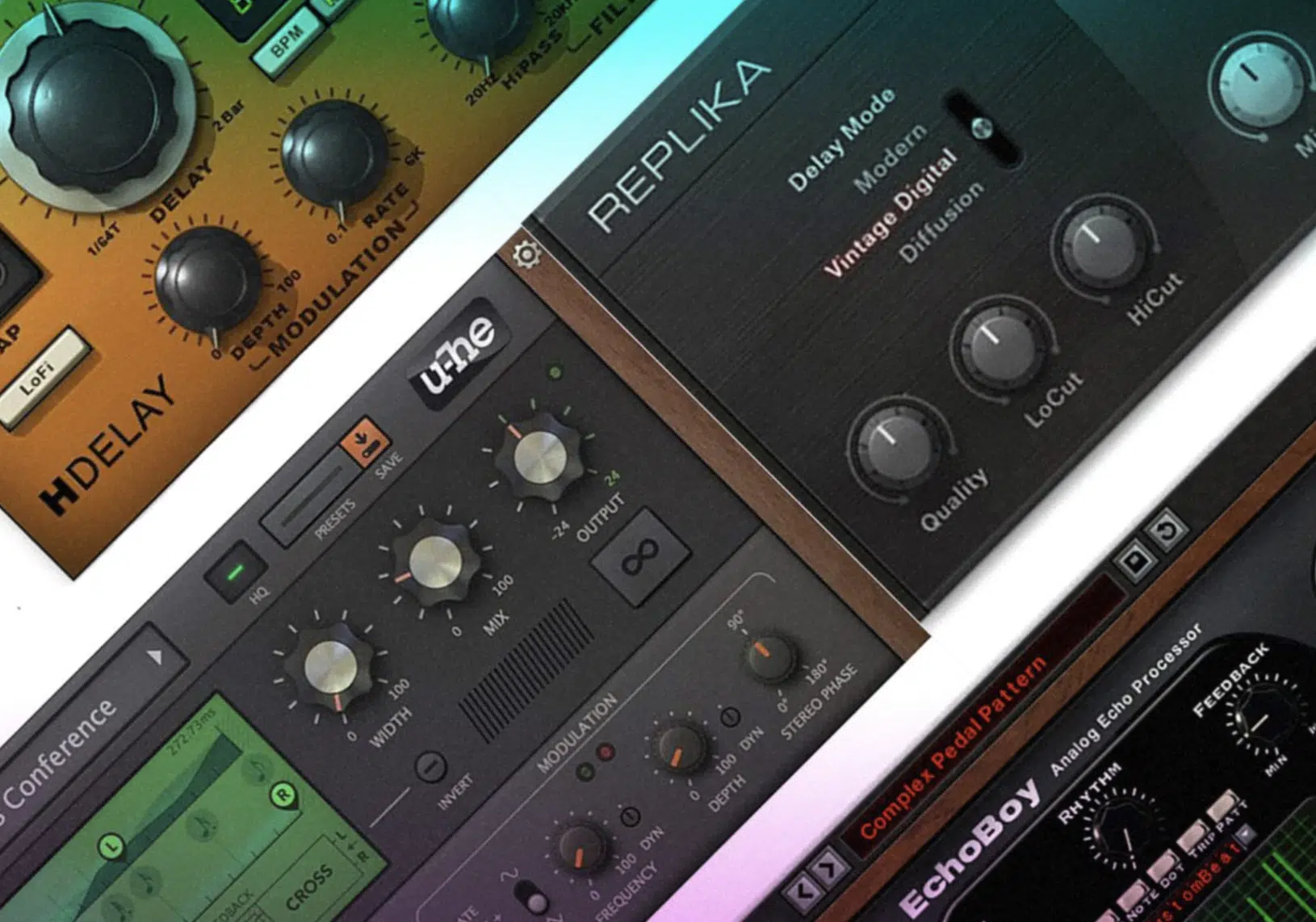 A delay plugin is a powerful tool in the arsenal of any music producer, especially for those in the hip-hop genre.
It enables you to:
Create echo effects
Enhance the depth and spatial orientation of your sounds
Add a whole new character to your mix
The best delay plugins can be your secret sauce in achieving that unique, captivating sound.
So, what does a typical delay plugin include?…
Well, at its core, a delay plugin creates a delayed signal of the original input signal.
This delayed signal can then be manipulated using various controls and features within the best delay plugins.
Key features often include:
Delay time 一 Which determines how long the sound takes to repeat
Feedback control 一 Which regulates how many repetitions or 'echoes' are produced
You might also find a mix or output knob, which allows you to balance the dry (original) and wet (affected) signals.
Delay Modes & Modulation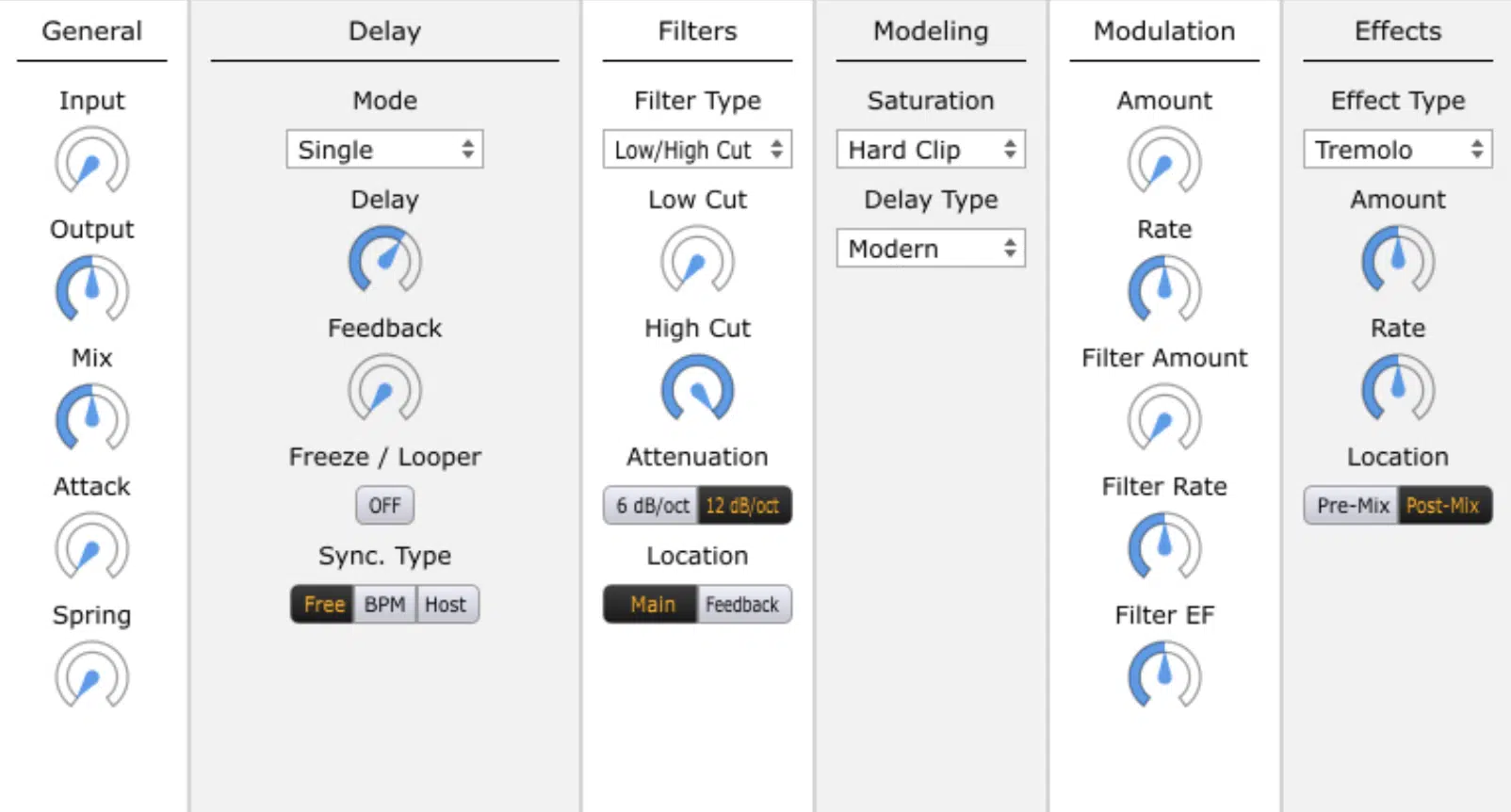 Now let's take a second to further explain what many delay plugins include, such as different modes & modulation options.
Delay modes can range from:
Straightforward delay plugin options 一 MONO & stereo delays.
More complex ones (like ping pong delay) 一 Where the delayed sound bounces between left and right channels.
Tape delay 一 Which emulates the warm, rich, and slightly unpredictable echoes of old-school tape delay units.
Furthermore, the best delay plugins come with added features like modulation controls for creating movement in the delayed sound and adding unique textures.
Modulation controls typically include rate and depth parameters for tweaking the speed and intensity of the modulation 一 creating everything from subtle movement to wild, sci-fi effects.
Some plugins might even offer more advanced modulation options such as envelope followers or LFOs.
The Filter Section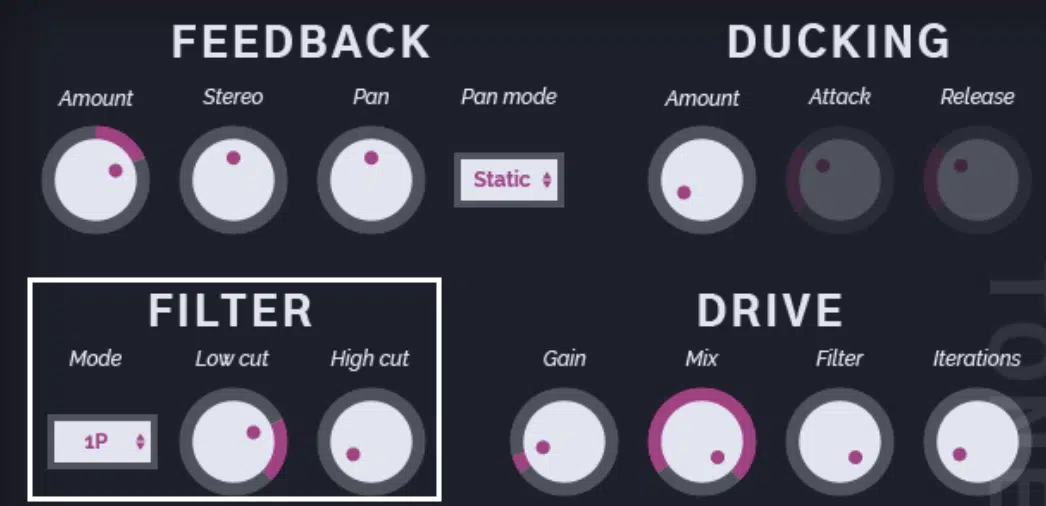 Another essential aspect of a delay plugin is the filter section.
When it comes to digital delays, this typically includes:
High pass filters & low pass filters: Allowing you to shape the tone of the delayed signal, and in some cases.
An EQ section:  For even finer control.
For instance, you might want the echoes to be darker and less prominent in the mix, so you'd use a low pass filter to remove some of the high frequencies.
Lastly, many of the best delay plugins offer features to help you precisely sync your delay times with the tempo of your track.
This might include:
Straightforward tempo sync options
Options for dotted or triplet notes
Even more exotic rhythmic options in some of the more advanced plugins
In essence, a delay plugin is a creative toolbox.
Its primary function is to create delayed signals, but the best delay plugins offer a host of additional features to shape, control, and get creative with those delays.
This makes them a critical component of any hip-hop music production setup.
Meaning, unique delay sounds and textures can be the difference between a good track and a great one.
#1. Echoboy by Soundtoys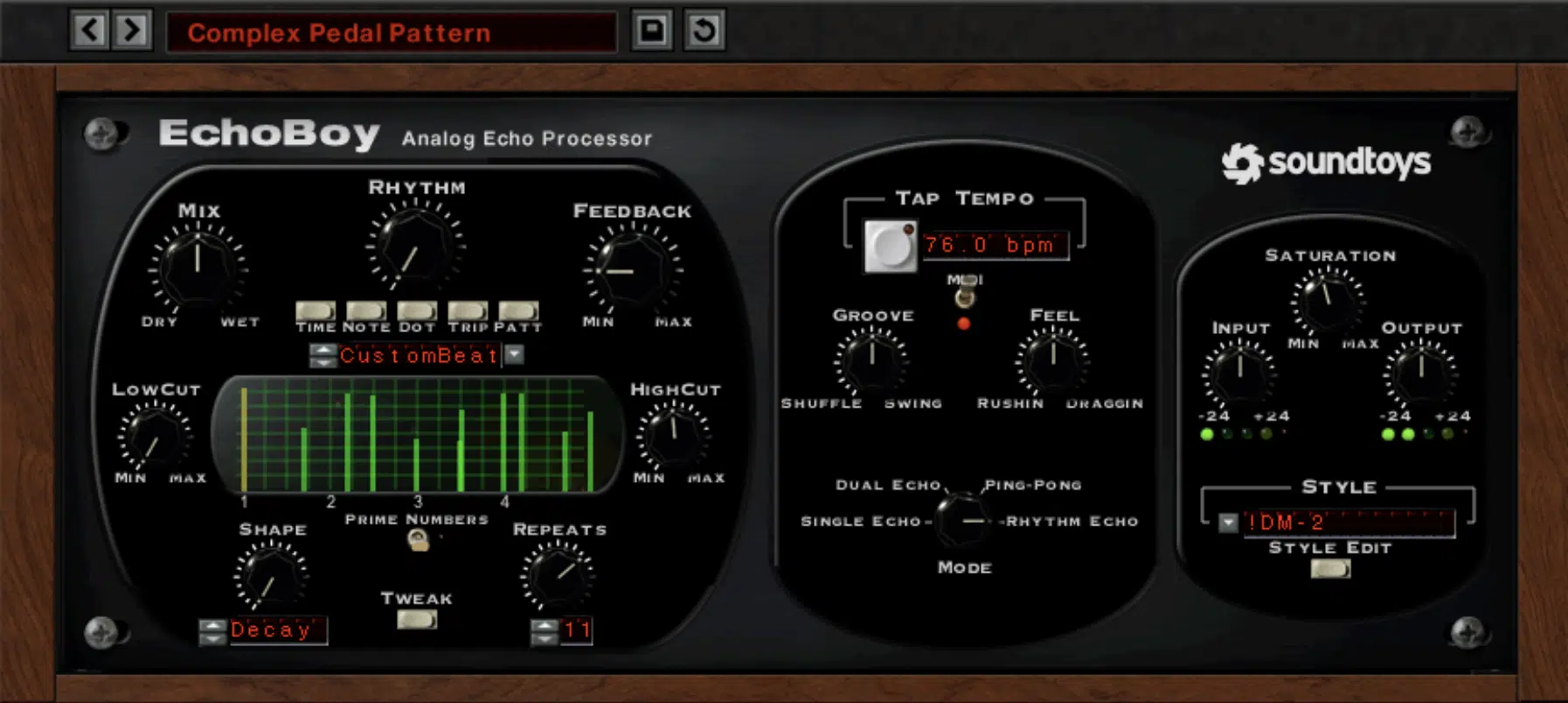 EchoBoy by Soundtoys is the culmination of a long-standing fascination with delay effects.
It is the perfect amalgamation of history and progressive features into a versatile effect that can seamlessly blend into your mixes.
Inspired by an impressive array of vintage gear, EchoBoy encapsulates the essence of some of the most loved echo boxes.
This gives you the feeling of classic analog equipment in the convenience of a digital format.
With its 30 inbuilt styles modeled after vintage gear, you can swiftly navigate through various tones and find an echo that suits your mix perfectly.
Whether it's the tones from the legendary EchoPlex, Space Echo, Memory Man, DM-2, or the unique TelRay oil can delay, EchoBoy has got you covered.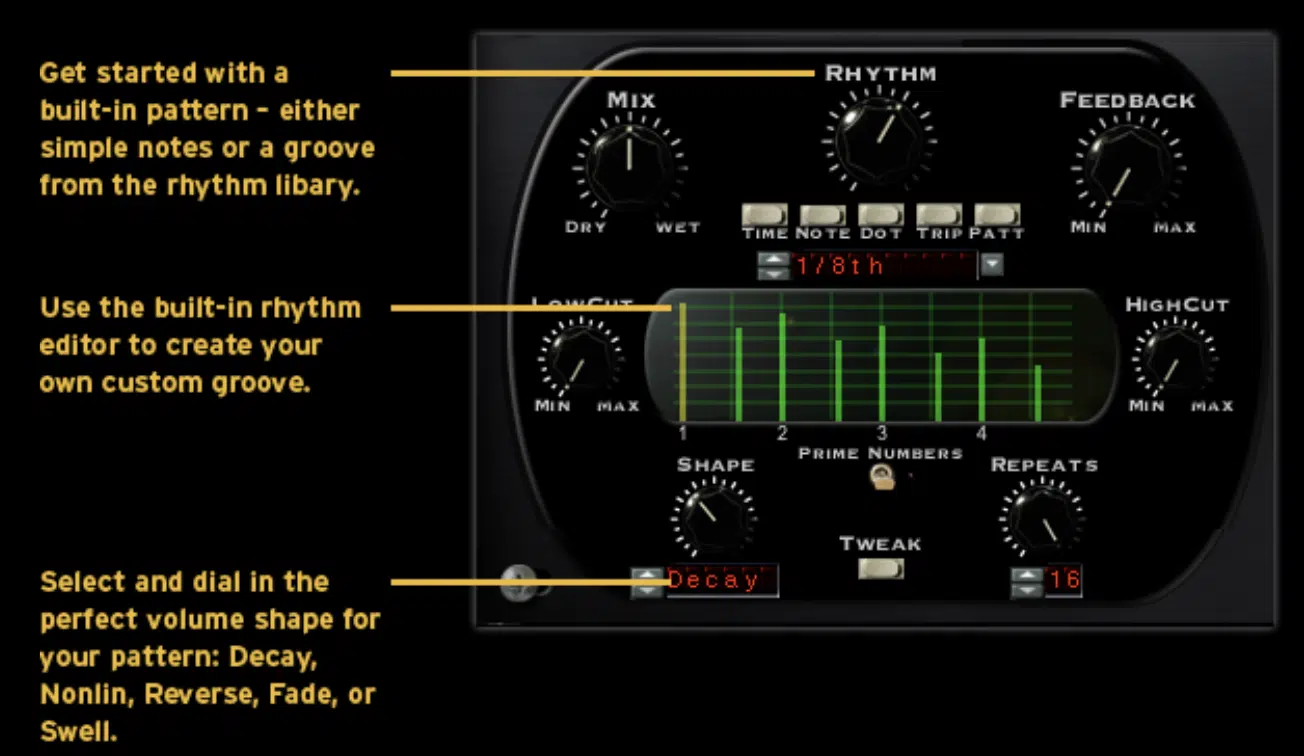 Adding to this, the chorus emulates the much-revered CE-1 chorus (known as the holy grail of guitar chorus pedals).
This delay plugin is design offers a rich tapestry of sounds that extend beyond the standard delay stompboxes.
If you desire a warm, smooth saturation, the "Studio Tape" style, inspired by the Ampex ATR-102 half-inch two-track machine, is the way to go.
And when you want to turn up the heat, EchoBoy delivers that just as effectively.

Timed delays have never been more simple to achieve than with EchoBoy, truly.
Choose your musical note value and lock it to your song's tempo with the flip of a switch.
The real magic unfolds when you start playing with the controls that allow you to create delays that either rush or drag against the beat like:
This parameters provide you a level of musical groove control that's unparalleled.
Standout Features: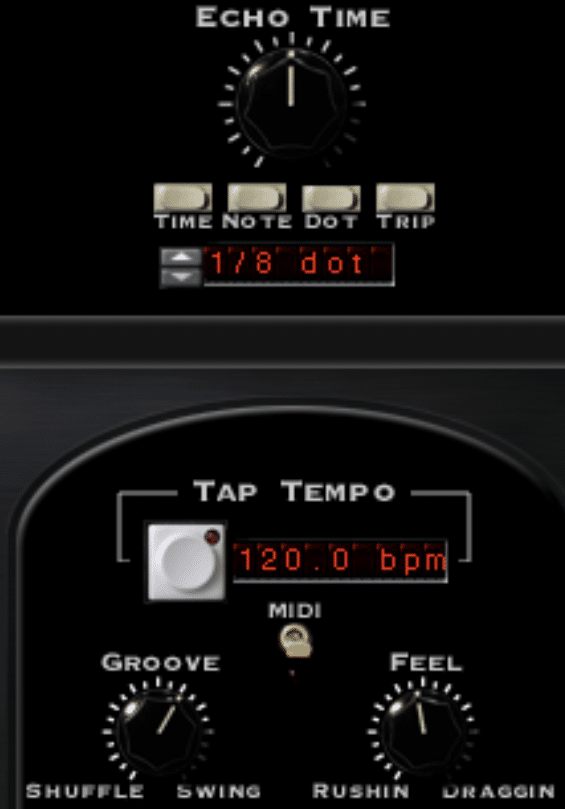 Choose from 30 different echo styles: Echoplex, Space Echo, Memory Man, DM-2, and many more
High-end tape sound modeled on the Ampex ATR-102
Control saturation, tape flutter, and diffusion for analog-sounding effects
Dual and Ping-Pong modes for rich stereo delays
Rhythm Echo mode for unique rhythmic delay effects
The best delay plugin of 2023
#2. H-Delay by Waves

H-Delay by Waves is a feature-rich hybrid delay plugin that spans the entire sonic range of delay-based effects.
Drom the funkiness of old-school delays to the pristine sound quality of today's digital delay units, this delay plugin has it all.
Its straightforward controls and accessible interface, along with a generous variety of presets, make H-Delay a swift tool for kick-starting your creativity.
Waves H-Delay provides a smooth, rich sound quality but also gives you the option to dive into lo-fi territory if desired.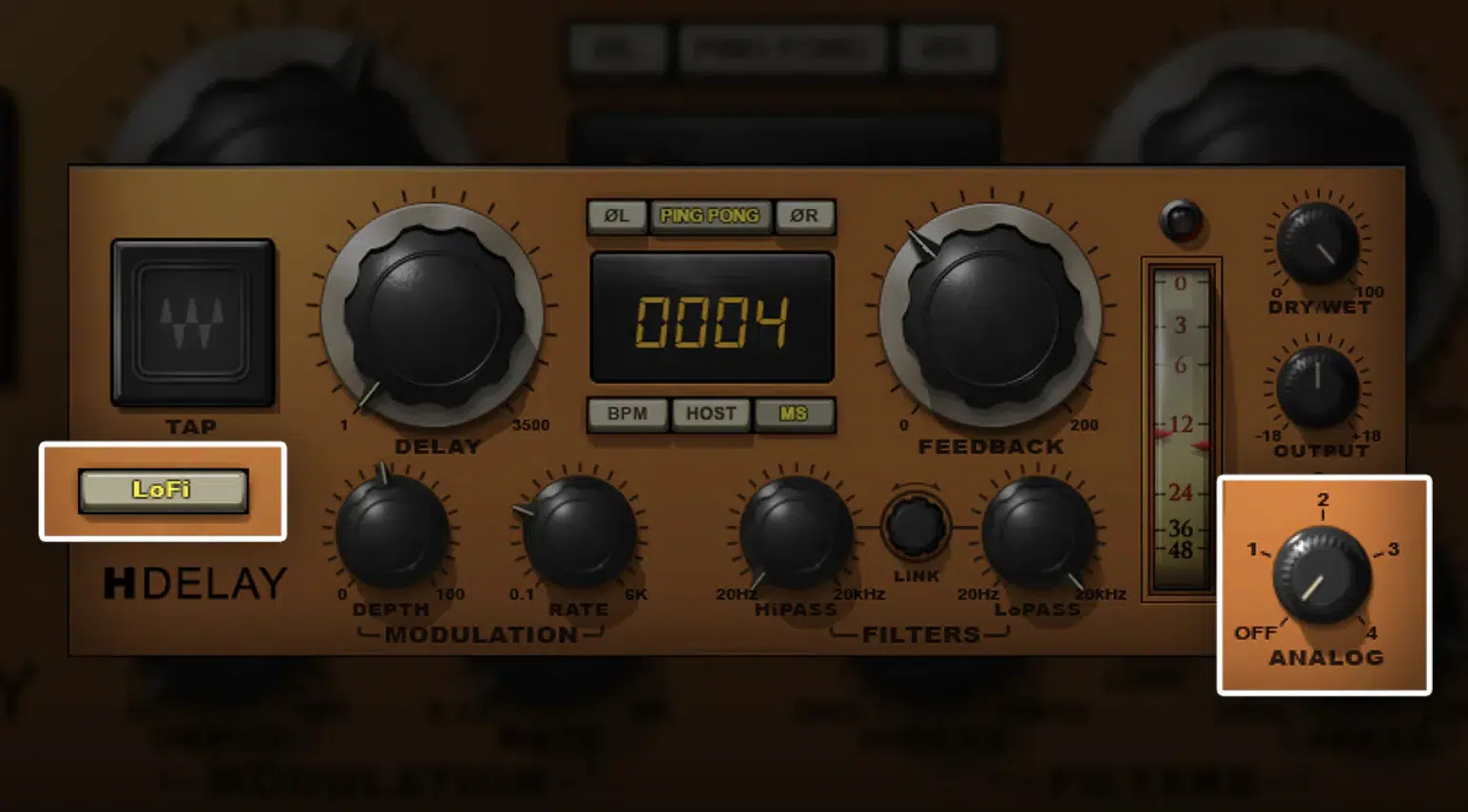 It delivers delays from 1 to 3500 ms (all of which can be synchronized with your track's tempo).
H-Delay by Waves boasts four distinct analog character modes which emulate various types of real-world hardware delays.
These modes (below) add depth, warmth, and character to your delay effects.
Analog: This mode emulates the darker and warmer sound of classic analog delays. It is perfect for achieving vintage tones.
Tape: This character simulates the sound of old-school tape echo machines. It introduces a natural sounding warmth and subtle saturation to the delayed signal.
LoFi: This mode applies a distinctive, bit-crushed sound to the delay, reminiscent of old digital hardware, giving it a grainy and gritty texture.
Ping Pong: While not exactly an 'analog' mode, Ping Pong is another interesting character that H-Delay offers. It creates a stereo delay effect that bounces the signal from left to right in the stereo field.

Each of these modes can drastically change the tone and feel of the delay effect, allowing you to easily adapt the sound to fit your mix.
H-Delay can also emulate all popular delay-based effects.
Whether it's the nostalgic character of vintage digital delays or the ultra-clean sound of high-resolution technology of today, H-Delay got you covered.
HiPass and LoPass controls help you recreate the tone qualities of early delay technologies or tailor the delay's tone to your liking.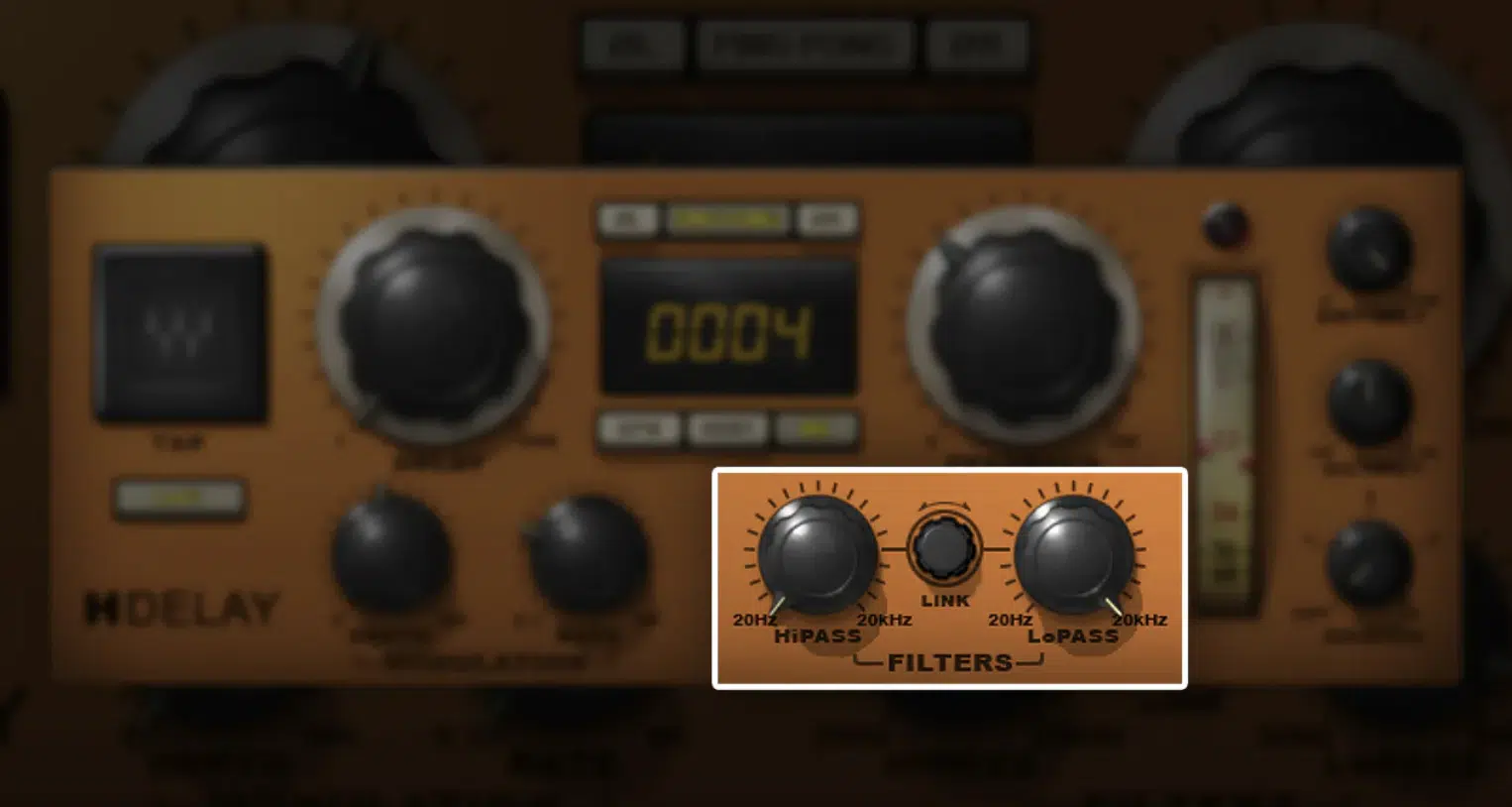 From a timing perspective, H-Delay provides a variety of options.
You can choose a delay time in:
Milliseconds
Beats per minute (BPM)
Sync to the host DAW's tempo
Tap tempo
Control tempo with MIDI
Furthermore, the separate BPM setting allows for creating engaging polyrhythms when played against the host tempo.
Standout Features: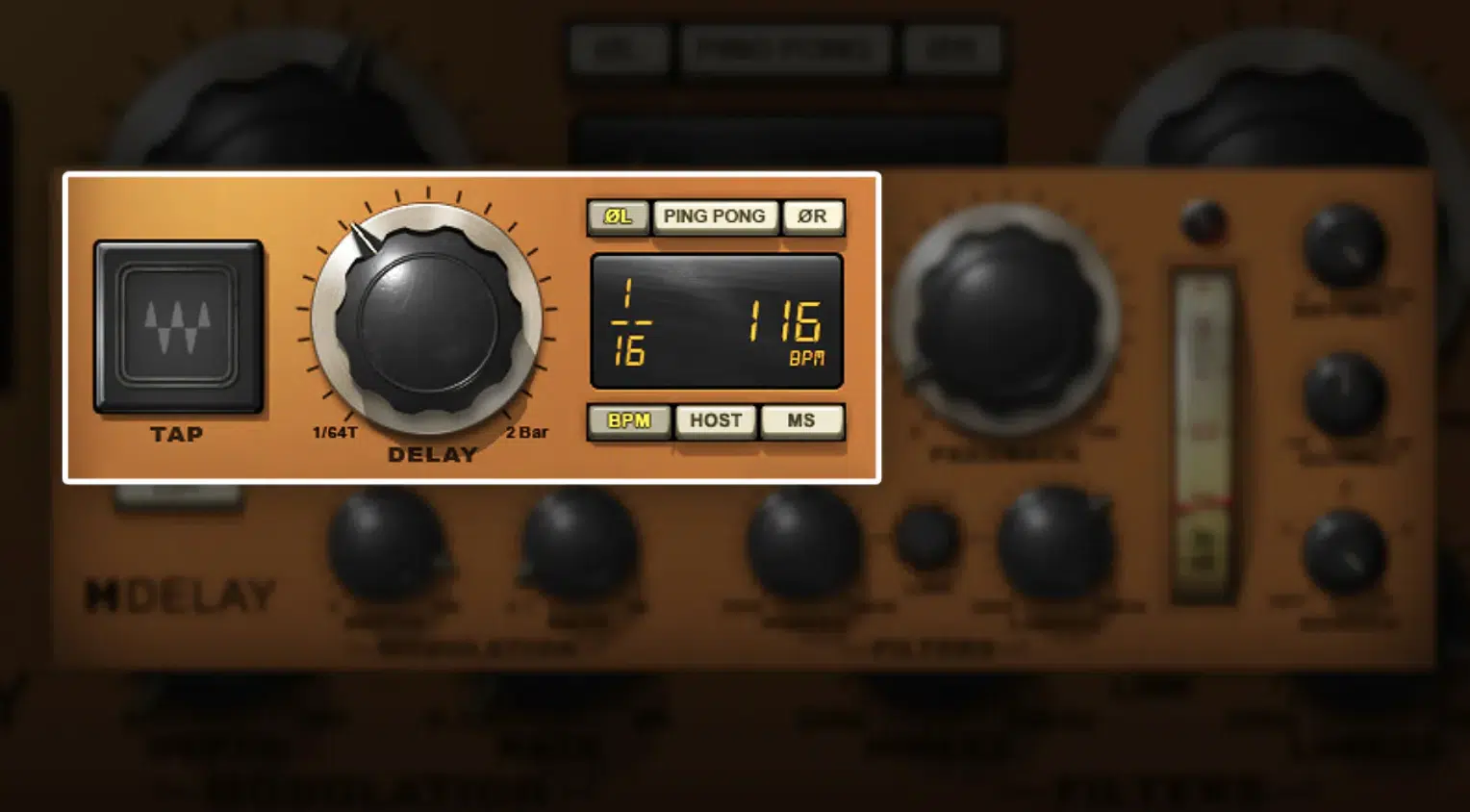 Rich, smooth sound quality with lo-fi options
Delays from 1 to 3500 ms, with sync-to-tempo
Four distinct analog characters and digital fidelity
Sophisticated filtering for tailoring the delay's tone
One of the best delay plugins of 2023
#3. Repeater Delay by Slate Digital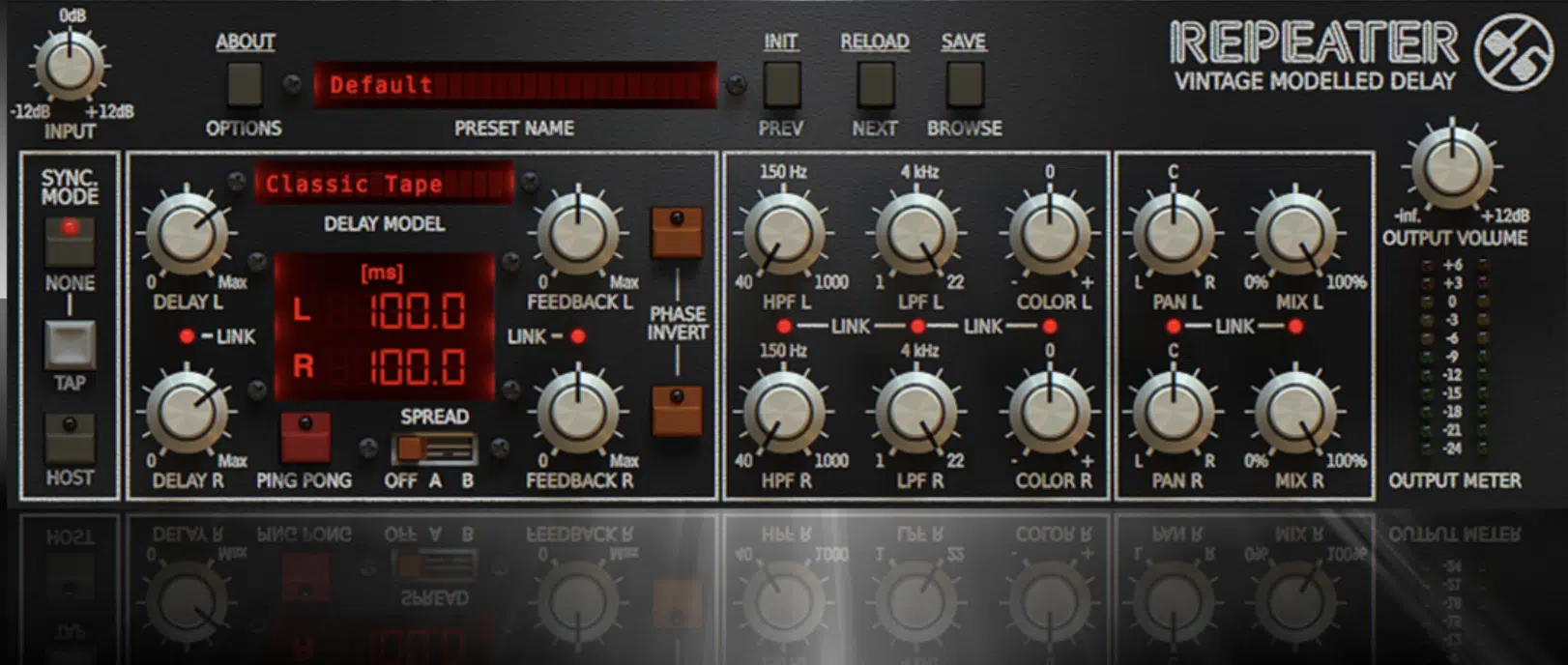 The Repeater Delay by Slate Digital is a product of the fundamental understanding that the delay effect and delay sounds are vital in audio production.
The concept of creating this delay plugin was not to model it on one specific delay unit but to encapsulate the unique character and sound of all types of delays from the past 50 years.
The result is a delay plugin featuring 23 authentic emulations of classic delay machines, from oil cans and tape machines to vintage digital designs.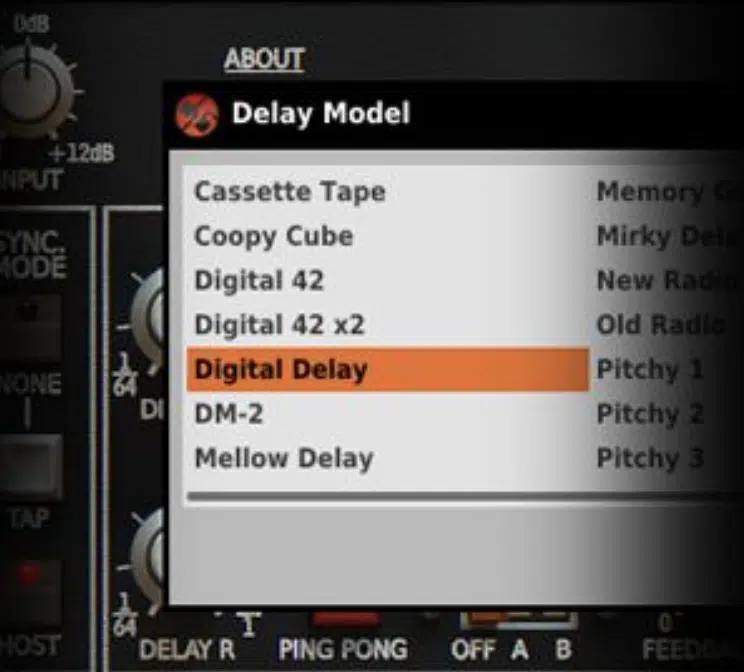 Repeater Delay's unique feature is its offering of 23 delay models 一 giving you access to a versatile delay palette as well as some incredible special effects.
With the authentic pitch, telephone, and vintage tape tones available, Repeater Delay can be the perfect tool to add:
A bold echo
Subtle wide space
Classic tape slapback to your mixes
This plugin also introduces a SPREAD option, designed to create wide stereo delays with just one click.
You choose your delay note or ms value, and SPREAD will automatically deviate the delay lines and pan the delays left and right.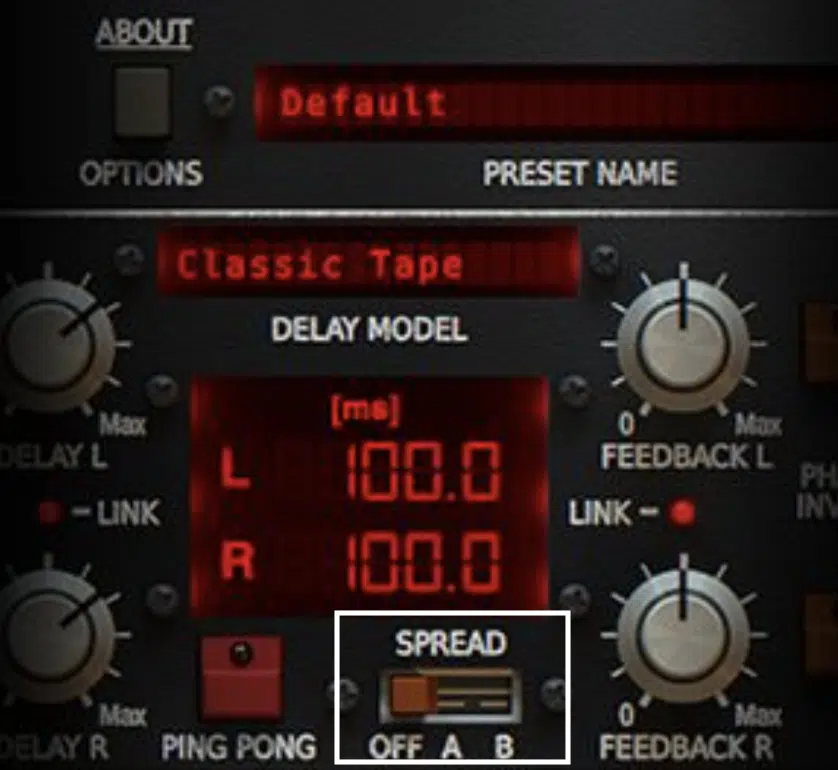 This innovative feature will allow you to make complex soundscapes and utilize Repeater's delay tones in new ways.
Repeater Delay provides a unique Color control, allowing you to customize your delay and control the placement of your delay repeats in the mix.
This delay plugin also features an input saturation section preceding the delay engine, providing a wide range of warm saturations.
Further enhancing the plugin's capabilities, engaging the Analog button sends all the repeats back through analog-modeled circuitry.
This will enhance the delay tones and help them to melt into your overall mix.
Standout Features:

23 authentic emulations of classic delay machines
SPREAD option for creating wide stereo delays
Color control to adjust the delay tone in the mix
Input saturation section for a variety of warm saturations
Analog button to send repeats through analog-modeled circuitry
One of the best delay plugins of 2023
#4. Timeless 3 by FabFilter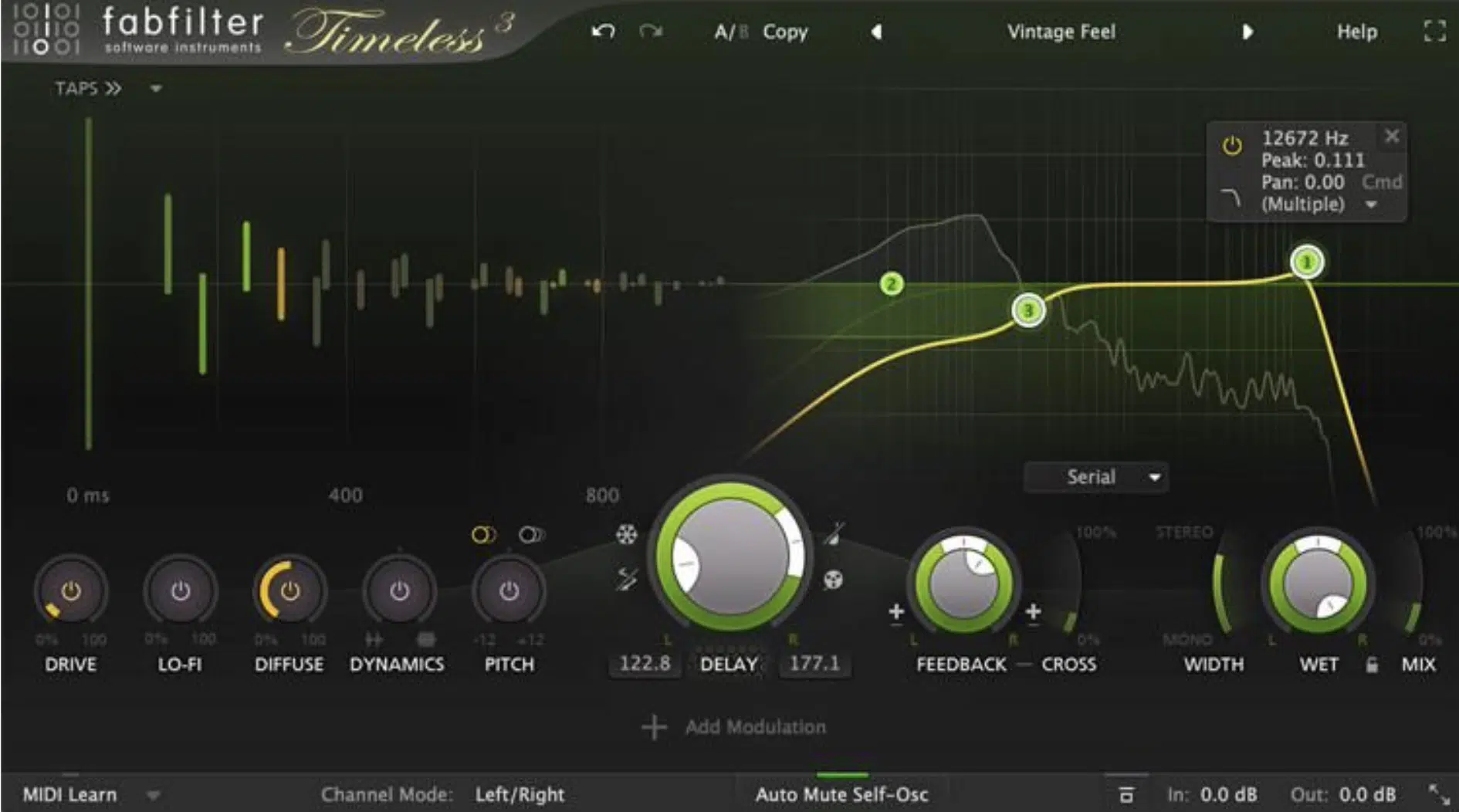 Timeless 3 by FabFilter is far more than just a carefully modeled classic tape delay.
It's a powerhouse of sound-mangling capabilities with hi-fi filters and abundant creative options, which allow you to craft everything from:
Jaw-dropping echoes:
Your delay signal in Timeless 3 is routed through six high-quality multimode filters.
Then, sent back to the delays with adjustable feedback and cross-feedback knobs.
The per-channel phase inversion feature enables the creation of stunning flanger and phasing effects.
With all the XLFOs, EGs, XY controllers, envelope followers, and MIDI sources available, Timeless 3 offers virtually unlimited modulation possibilities.
Adding to its already robust suite of features, this tape delay plugin also includes several new sound manipulators, including:
Drive
Dynamics
Pitch effects

You now have a total of 16 independently tweakable delay taps and ping-pong modes at your disposal for creating exciting rhythmic delays.
Timeless 3 also comes with six filters, curve control on the envelope generators, transient detection for envelope following, and a live modulation visualizer.
The comprehensive modulation options in Timeless 3 offer almost limit possibilities, like:
XLFOs
XY controllers
Envelope generators
Envelope followers
MIDI sources
Adding to the user experience, Timeless 3 supports most common Pro Tools hardware control surfaces.
Extending its flexibility, Timeless 3 facilitates easy drag-and-drop modulation with a modulation visualizer 一 providing an at-a-glance look at modulation sources and destinations.
The modulation source signal visualization gives a clear insight into the modulation process, aiding your understanding and control of the effect.
Interactive MIDI Learn offers more hands-on control for those who prefer a more tactile approach to mixing.
Standout Features: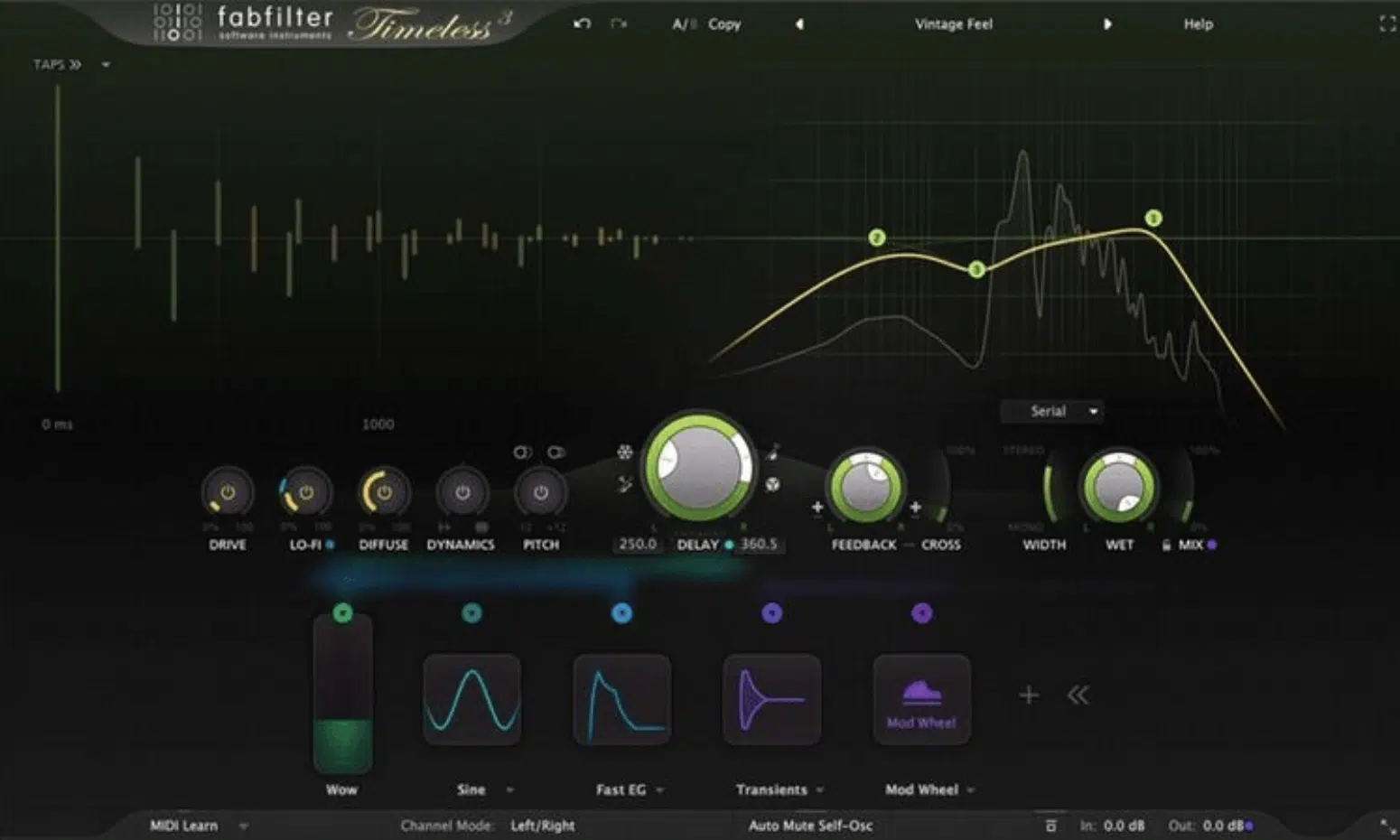 16 delay lines (5ms to 5 sec) with host tempo sync & panning
6 state-of-the-art multimode filters
Drive, lo-fi, dynamics, and pitch effects to color delay tails
Multi-tap delay & ping-pong modes for a wide array of delay styles
One of the best delay plugins of 2023
#5. Replika XT by Native Instruments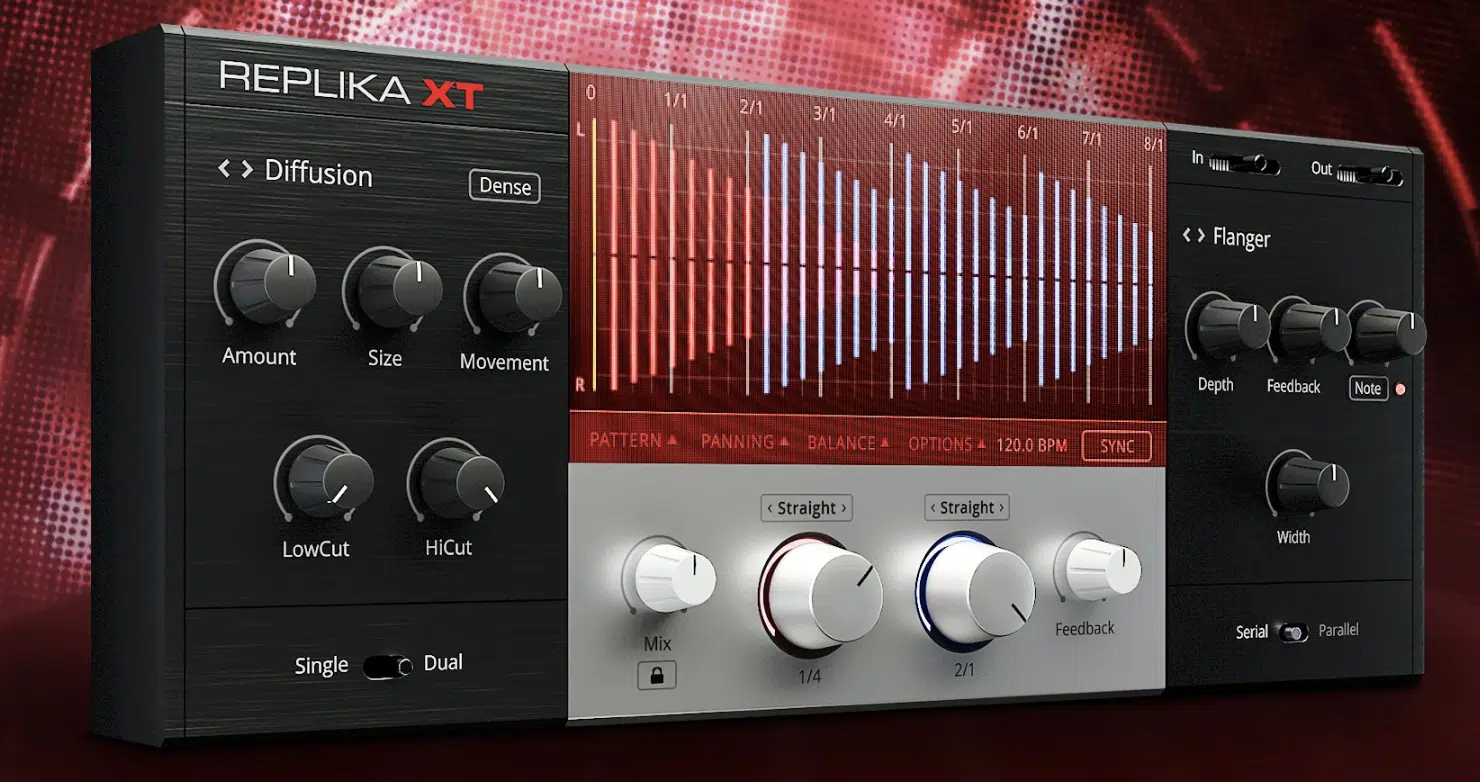 Replika XT by Native Instruments is a top-tier delay plugin designed to offer exceptional sonic flexibility and studio-quality delay.
This all-in-one solution supports a range of intricate rhythms and mixing tricks, with an intuitive and straightforward interface for easy dialing-in of sounds.
Replika XT stands out with its five vivid delay modes, each deeply modeled and inspired by some of the most admired analog delay types in history.
These modes cater to different musical requirements, turning Replika XT into a comprehensive solution for creating unique, high-quality echoes, space, and width:
Modern: This mode produces clean, precise, and controllable repeats ideal for achieving a contemporary delay effect.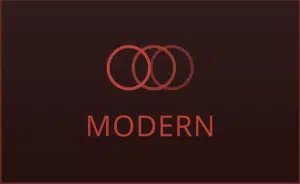 Vintage Digital: Modeled after early samplers and digital delays, this mode gives off warm, crunchy repeats.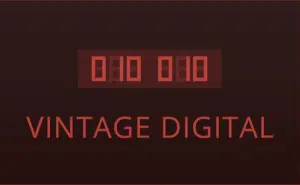 Analogue: Designed to replicate the dark, hazy sound of analog bucket-brigade pedals, it offers a retro, warm analog delay effect.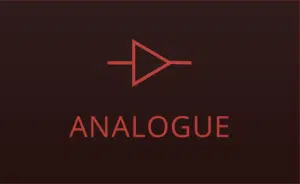 Tape: This mode captures the organic quality of renowned tape delay units, delivering a punchy, smooth sound reminiscent of tape.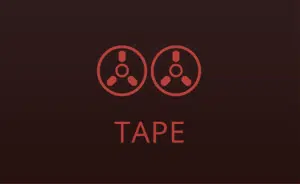 Diffusion: Perfect for creating swirling reverberant echoes that transcend the limitations of physical space.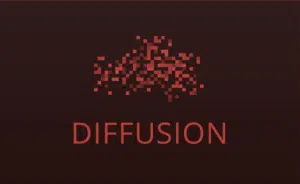 Replika XT features advanced options and an elegant interface, providing creative musicians with fast and easy ways to experiment with their mix.
The pattern controls enable the quick creation of rhythmic repeats that organically shift with the music, while the panning for each delay and dry signal allows for the perfect stereo image.
Moreover, Replika XT includes seven time-based and pitch effects to add to your repeats.
This enables you to produce classic mixing tricks and add shimmer, dimension, and motion to your music in order to ensure it sounds amazing.
This delay plugin proves versatile, being equally effective on single instruments or entire mixes, invariably adding new character to your music.
Standout Features: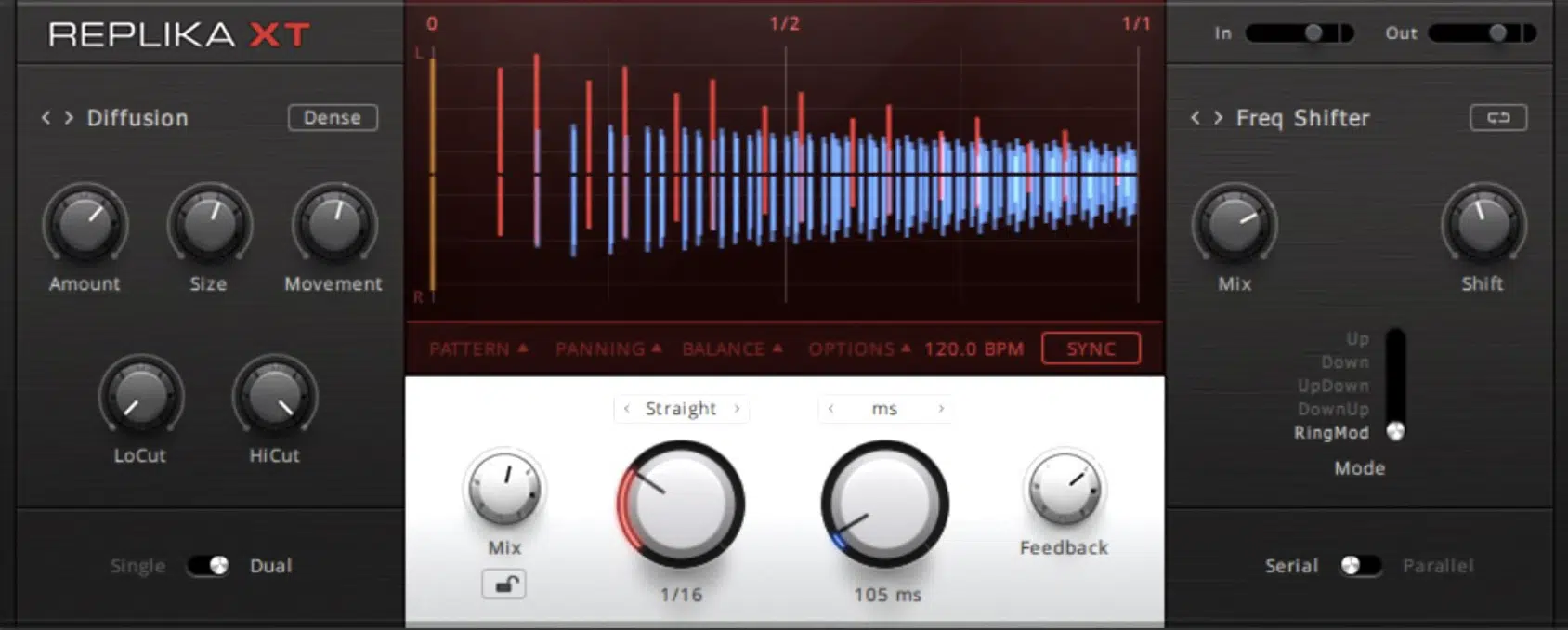 Five unique, deeply modeled delay modes
Advanced options for creative control
Intuitive, elegant user interface
Inclusion of seven time-based and pitch effects
Versatile usage across single instruments and mixes
One of the best delay plugins of 2023
#6. Ultratap by Eventide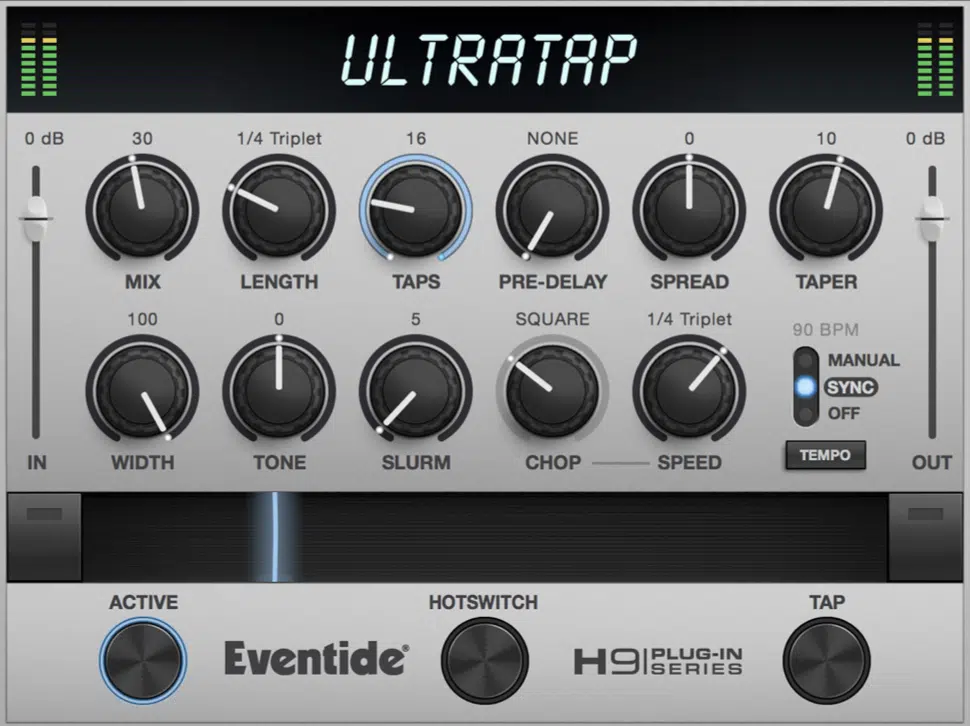 Ultratap by Eventide is a unique multi-tap effects plugin capable of rhythmic delays, glitchy reverbs, huge pad-like volume swells, and extraordinary modulation.
It is designed for creating:
Drum fills
Vocal choruses
Swelling guitar chords
Other evolving effects
It has the capacity to emulate sounds as diverse as reversed reverbs or a massed church choir singing a Gregorian chant in Notre-Dame Cathedral.
All in digital delay form, superseding other digital delays.
Ultratap operates like an advanced version of an Echoplex 一 allowing you to add as many 'tape-heads' as you want while also giving you the power to control their positions and levels.

Real-time manipulation is facilitated by innovative features like:
The Ribbon 一 Which allows you to program two settings for any combination of the controls and seamlessly transition between them.
The programmable HotSwitch (above) 一 Which enables you to instantly jump to an alternate setting at the push of a button.
This combination of controls mimics the experience of tweaking real hardware.
Ported directly from the award-winning H9 Harmonizer, all of the H9 presets have been converted to work with the plugin (along with new factory and artist presets).
Overall, this delay plugin is super versatile, flexible and intuitive.
Standout Features: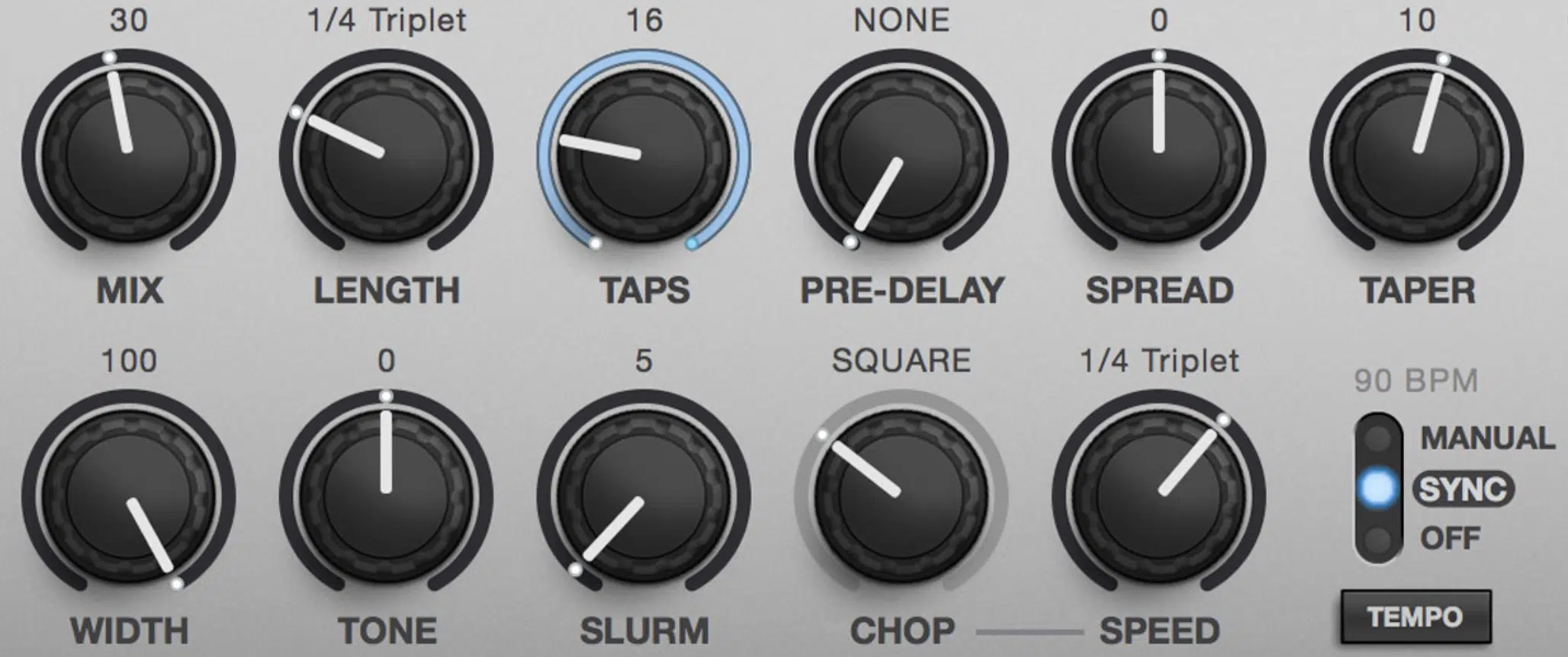 Multi-tap effect capable of rhythmic delays, glitchy reverbs, and more
The Ribbon for seamless transition between settings
HotSwitch for instant changes to an alternate setting
Presets from the award-winning H9 Harmonizer
Over 150 presets designed to inspire
Real-time manipulation for live performances
One of the best delay plugins of 2023
#7. Valhalla Delay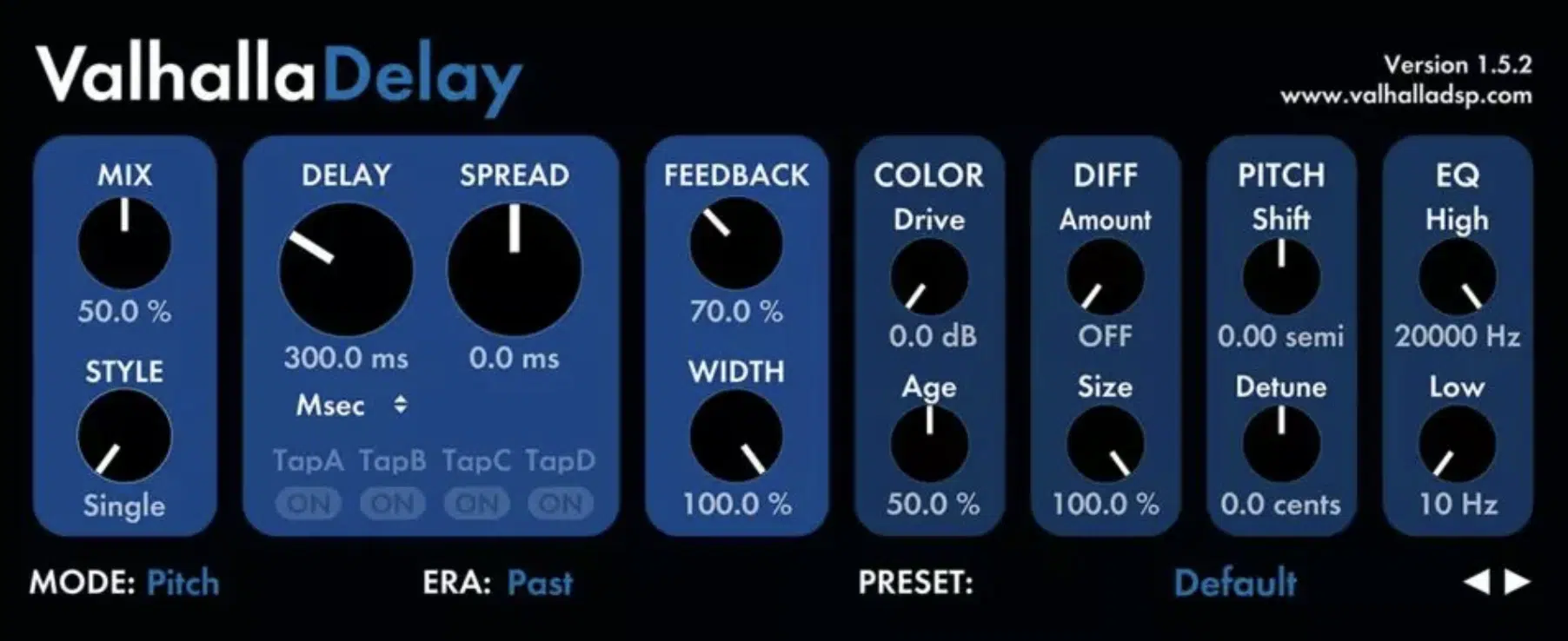 Valhalla Delay is a versatile plugin that offers a wide range of classic and modern delay and echo units.
From tape echo to BBD and pitch-shifting, this unique and versatile plugin has you covered.
This amazing delay plugin offers unique and modern delay features, like:
Ratio and Quad delay styles
The Ghost mode (which adds frequency shifting)
Apowerful diffusion section can create anything from smeared echoes to ethereal reverbs
The plugin's MODE control allows you to switch between different echo and delay algorithms.
Each algorithm, when selected, modifies the GUI to display only the parameters that are relevant to it.
For instance, the Tape mode provides a detailed model of a tape delay with variable motor speed, reminiscent of the RE-201 and RE-301.
This mode presents controls like MOD Wow and Flutter to emulate the effects of "wear" on the tape, and Age to adjust the amount of asperity noise.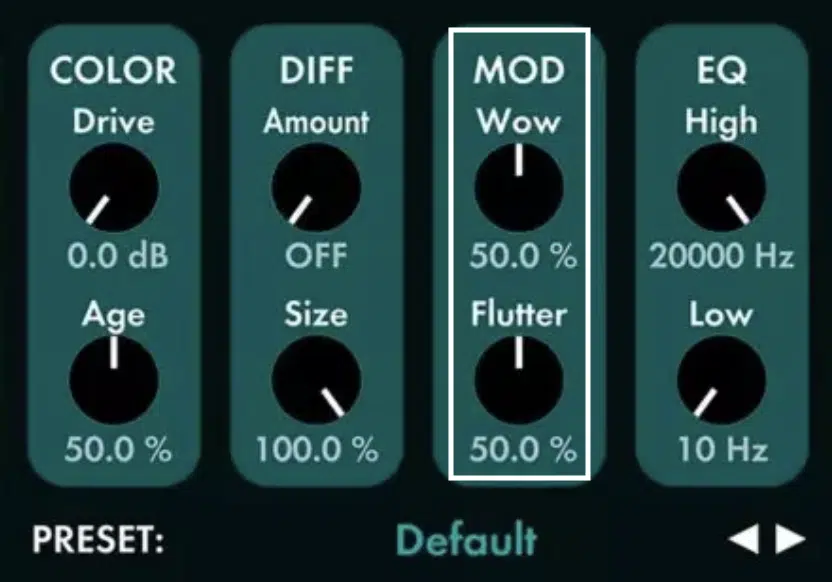 Valhalla Delay also features a STYLE control that significantly influences the relationship between:
The left and right delay channels
The number of delay voices in each channel
This powerful feature affects the visibility of other controls in the GUI 一 ensuring only the relevant controls are displayed for any given style.
One of the standout features of Valhalla Delay is the comprehensive Diffusion section.
This section enables any delay mode to be transformed into a smeared delay or a massive reverb.
Additional features such as the Age and Era controls allow you to dial in the desired amount of 'mojo,' enabling you to create bright, sparkly delays or crusty old noisy echoes.
The delay range can be extended from less than 1 msec all the way to 20 seconds.
This makes it versatile enough for flanging sounds or extensive looping delays.
Standout Features:

A wide range of classic and modern delay and echo units
Unique Ratio and Quad delay styles
Ghost mode for adding frequency shifting
Offering modern delay features
Intuitive interface
Powerful Diffusion section for creating smeared echoes to ethereal reverbs
The detailed control for shaping the sound
One of the best delay plugins of 2023
#8. Softube Tape Echoes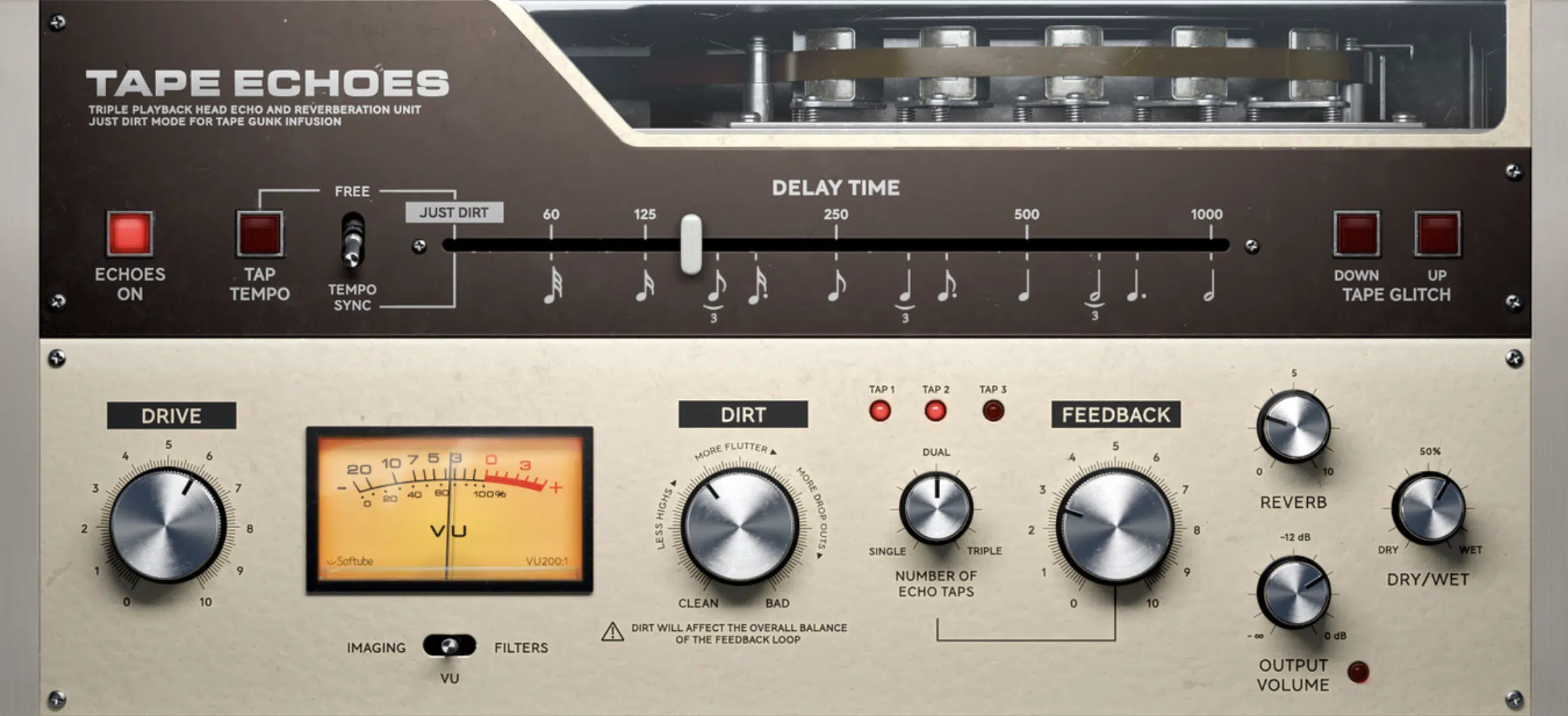 Softube Tape Echoes is a vintage tape echo plugin, modeled meticulously to provide the grungy sound that analog tape echo enthusiasts crave.
Unlike many tape delay plugins that tend to sound too clean, Tape Echoes offers the gritty authenticity of a true tape echo 一 complete with wobbly, glitchy, and distorted delay effects.
Drive & Dirt (2 exclusive features of Tape Echoes) 一 Lets you control the extent of distortion.
Drive 一 Offers preamp and tape distortion.
Dirt 一 modifies tape speed, wobble, flutter, dropouts, and frequency response.
By setting it to 'Just Dirt,' you can create an old-school grit without any repetitions.

One of the highlights of this plugin is the Number of Taps knob, which mimics the sound, behavior, and timing of analog tape delay heads.
It smoothly transitions between one, two, or three taps, with feedback to emphasize the taps for a natural, analog effect.
Tape Echoes also offers hyper-realistic analog delay and spring reverb that perform just like authentic hardware.
You can set the timing of the first tap, and the other two will follow suit.
NOTE: Place the reverb in parallel or before the delay line to move from clean analog to a sound soaked with distortion.
This is one delay plugin that you need to have in your production toolkit.
Standout Features:

Vintage tape echo with authentic grit
Drive & Dirt features for controlling the distortion
Number of Taps knob for mimicking analog tape delay heads
Hyper-realistic analog delay and spring reverb
Versatile controls for a wide range of sound effects
One of the best delay plugins of 2023
#9. SSL X-Delay
SSL X-Delay, the latest premium delay plugin offering from Solid State Logic, is an artistic and intuitive digital delay plugin that exudes creativity and enhances production inspiration.
It is perfect for creating massive soundscapes and achieving that '80s vibe with its superior SSL sound quality.
Inspired by the legendary hardware processors from the 80s era, it's adept at creating:
Enormous vocals
Big delays
Blazing guitar tracks
SSL X-Delay is an all-in-one tool that's fully equipped to generate professional-quality delays on any vocal, instrument, or sound.
Its unique features include a 'MULTIPLIER' control that allows for simultaneous alteration of all delay times, enabling automation like a dream.
With its DIFFUSION control, you can go from a small plate to a rich, thick reverb and beyond.

Plus, SSL X-Delay's high pass filters and low pass filters, de-essing, and mix controls keep your mixes clean and your delays powerful.
This powerful tool can also double as a time machine 一 taking you back to the '80s or shooting you straight to 2080 with its distinctive SSL saturation and modulation.
These tools allow you to add just the right amount of grit or shimmer to your sound.
SSL X-Delay's versatility doesn't stop there; it's compatible with Apple M1 native support and serves as a universal binary.
Standout Features:

Intuitive digital delay plugin that inspires experimentation
4 Configurable delay taps with independent level, ping pong, and panning controls
SSL high and low pass filters, mid/side width, de-essing, and mix controls
Global MULTIPLIER to halve or double all delay times simultaneously
SSL saturation and modulation to add that '80s edge
DIFFUSION control featuring brand-new reverb design
Built on the SSL Plug-in Engine
One of the best delay plugins of 2023
#10. Soundtoys Crystallizer

Soundtoys Crystallizer is a unique creative effect plugin that is steeped in a rich history of musical innovation.
It transforms instruments using a fusion of pitch shifting and reversed echo.
In turn, it delivers an otherworldly sonic palette that has characterized some of the most memorable tracks of the late 20th century.
The magic of the Crystallizer lies in its origin; it's based on the Eventide H3000's ground-breaking "Reverse Shift" algorithm (a signature sound of the late 80s).
Crystallizer brings together granular echo slicing, old-school pitch shifting, and a host of powerful new features, forming a single, inspiring tool.
It faithfully recreates the iconic Crystal Echoes effect from the Eventide H3000 一 an effects processor whose unique sound has been stamped on countless records.
This tool is more than a simple effect…
It's an instrument in its own right that can transform simple chord progressions into epic soundscapes, and minimal guitar lines into shimmering symphonic textures.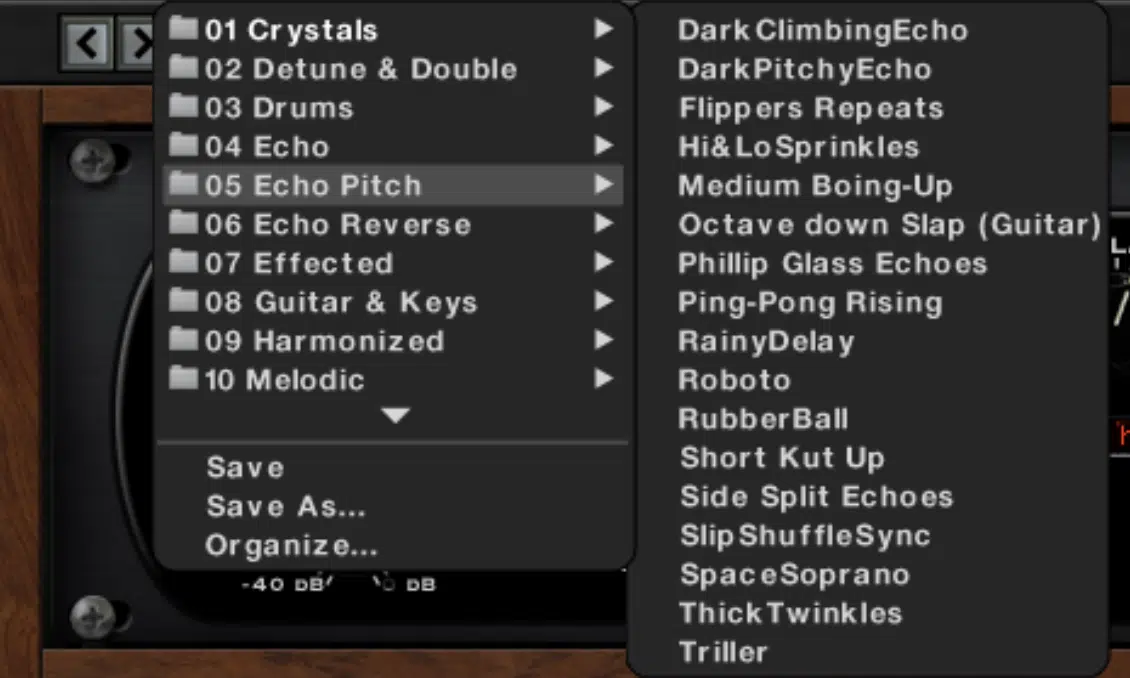 In keeping with Soundtoys' reputation for innovation, the Crystallizer doesn't just recreate the H3000's icy tones.
Its developers have introduced modern features like MIDI sync and automation, providing musicians and music producers with precise creative control.
This delay plugin offers new dynamic control over triggering echos through a built-in Gate and Duck feature.
Moreover, it lets you shape the sound with low- and high-cut filters to create anything from bright shimmery blooms to dark, rich beds of delay sound.
But the Crystallizer is not just a nod to the past.
Soundtoys has reimagined this classic effect for the modern music maker, with the convenience and tweakability of an epic plugin.
Included are over 200 ready-made presets, categorized for easy navigation 一 providing the perfect starting point for your tracks.
Whether you prefer the subtle or the psychedelic, you're encouraged to experiment.
With its extensive control features, you're free to create your own signature presets, bringing a unique touch to your music production.
Standout Features: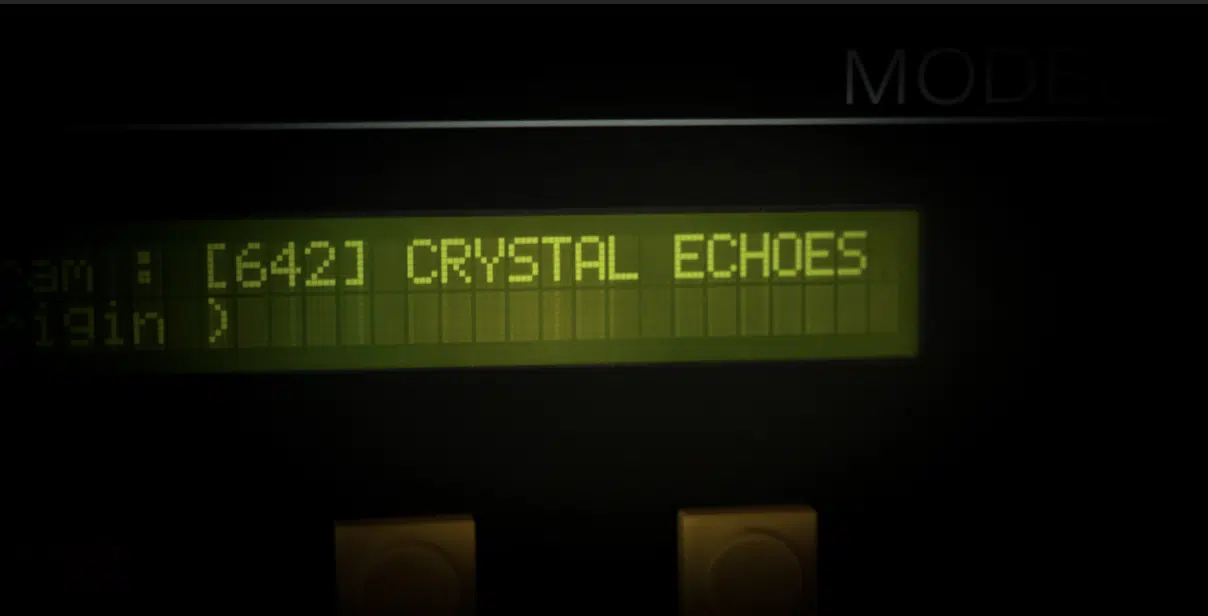 Ability to recreate the classic crystalline sounds of the Eventide H3000
Transformation of simple melodies and chords into shimmering, textured soundscapes
Creation of rich, evolving effects with reverse echoes and pitch shifting
MIDI Sync and automation for precise creative control
Built-in Gate and Duck feature for dynamic echo triggering control
One of the best delay plugins of 2023
#11. Valhalla Freq Echo (Free)
Valhalla Freq Echo is an exquisite delay plugin that's absolutely free.
Ideal for dub, Dr. Who, and all your psychedelic needs, this Bode-Style Frequency Shifter and Analog Echo Emulator create an array of surprising sonic effects.
Its frequency dial adjusts the frequency of every signal repeat, providing unique effects that add interest to any part of a project.
The Freq Echo can create subtle chorusing and double tracking to barberpole phasing and flanging, and even endless glissandos and runaway echoes.
The frequency dial feature allows you to make tiny adjustments that create metallic ringing effects or longer delays with a slight frequency shift.
These changes can produce echoes that spread out around your head without muddying the mix.
Even more, this delay plugin lets you create bigger shifts and infinite loops and automate the controls to achieve unique and dynamic results.
The pitch bending strangeness that results from the analog style modelling as you twist the dials can be manipulated like an instrument.
NOTE: Valhalla Freq Echo is available for both Mac and Windows in VST, Audio Units, and AAX formats, and no iLok account is required to use it.
Standout Features:

Bode-Style Frequency Shifter + Analog Echo Emulation for diverse sonic effects
Unique Shift adjustment
Stereo mode for adding delay panning
Low & High cut settings for detailed sound shaping
One of the best delay plugins of 2023
#12. Stardust 201 by Cherry Audio

The Stardust 201 Tape Echo by Cherry Audio is a modern-day tribute to the vintage charm of the 70s and 80s.
This delay plugin is a reimagining of the classic Roland "Space Echo" tape echo effects 一 which marked a significant leap in reliability and sound quality over their predecessors.
With Stardust 201, you can enjoy the warm, organic sound of these echoes, but with added stability and features for today's digital world.
The magic of Stardust 201 lies in its ability to recreate the limited fidelity and stability of audio tape.
The resulting sound is a natural rolloff of bass and treble frequencies that gives your tracks a super-warm tonality.
Furthermore, minor speed variances lend an organic chorusing quality to repeats.
For the adventurous, cranking the intensity knob can generate the signature other-worldly runaway echoes and feedback that only a tape echo can produce.
Stardust 201 builds on the original RE-201 and RE-301 Space Echo units' features and adds a few of its own to create a compelling, super-flexible tape echo effect.
This intuitive delay plugin offers:
A lush, true-stereo modeled BBD chorus circuit
Extended "wide mode" delay time range
The ability to sync to your DAW's master tempo

Its features extend to include:
A Modeled input overdrive for crunchy tones
Dual independent tape loops for super-wide stereo imaging
A Stereo spring reverb, adding depth and richness to the sound
Additionally, the 1X, 2X, and 4X oversampling ensure high audio quality, and selectable mono/stereo modes provide versatility in mixing scenarios.
What sets Stardust 201 apart is the user-selectable color themes and the addition of Bass and Treble EQ controls 一 which give you the power to shape your sound with precision.
This combination of features makes it a formidable tool for anyone looking to inject their music with a touch of the past, yet keep it firmly rooted in the present.
Stardust 201 Tape Echo never breaks down, never needs demagnetizing, and is available at a fraction of the price of a Space Echo replacement audio tape loop.
This brings the much-loved Space Echo into the digital age.
As well as makes it a must-have plugin for producers seeking the warm, vibrant sounds of yesteryear.
Standout Features: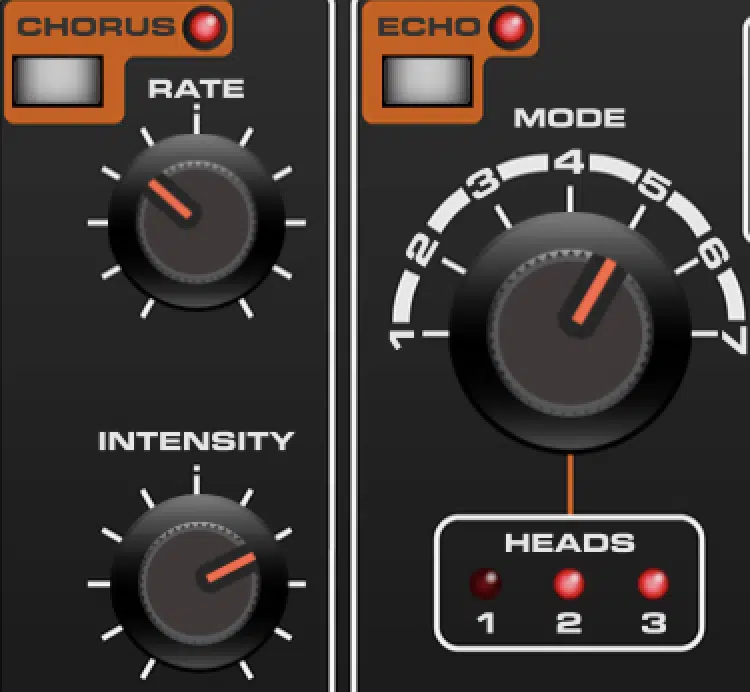 Authentically modeled vintage tape echo, including seven virtual tape head modes
4x-extended "wide mode" delay time range, LFO echo time mod section, Sync to DAW master tempo
Lush, true-stereo modeled BBD chorus circuit, Modeled input overdrive for crunchy tones
Dual independent tape loops for super-wide stereo imaging, Stereo spring reverb
1X, 2X, and 4X oversampling, Selectable mono/stereo modes, Bass and treble EQ controls
User-selectable color themes
One of the best delay plugins of 2023
Best Delay Plugins: Final Thoughts
As we draw this extensive exploration of the best delay plugins of 2023 to a close, it's clear that each one of them have something unique and intriguing to offer.
Whether you're seeking to breathe new life into a lead line, create otherworldly soundscapes, or lend a vintage charm to your production, there's a delay plugin on this list for you.
It's worth noting that the transformative potential of these delay plugins extends far beyond what can be achieved with a stock DAW delay.
They allow you to infuse your mixes with a wide range of sonic textures and time-based effects that can add depth, dimension, and an exceptional level of detail to your music.
To help you begin experimenting with these delay plugins immediately, you have got to check out this unique, beautifully-crafted FREE MIDI melodies.
This pack, containing 12 MIDI melodies, can serve as a valuable tool to stimulate your creativity.
Plus, it pairs perfectly with any of the delay plugins we've discussed here.
Use these MIDI melodies to craft compelling delay lines that add a touch of magic to your leads and melodies.
The combination of these meticulously crafted MIDI files with the best delay plugins can propel your tracks to a whole new level.
Remember, creativity knows no bounds!
With the best delay plugins and the free MIDI Melodies pack at your disposal, there are endless sonic landscapes for you to explore.
Now, go forth and create music that resonates 一 your next unforgettable track is just a few delay-drenched notes away.
Until next time…