Drums are the beating heart of most music genres.
They create rhythm, inject energy, and provide a solid foundation upon which the rest of a song is built.
Consequently, having access to the right drum VST plugins is essential for creating beats that resonate 一 whether you're an aspiring beatmaker or a seasoned music producer.
However, with the massive array of drum VST plugins on the market, it can be overwhelming to choose the right one for your unique needs.
They all seem to promise the world: authentic sounds, vast sample libraries, intuitive interfaces, and intricate customization options.
But, how can you determine which plugins truly deliver?…
That's where we come in!
Unlike other articles that merely list the best plugins, providing only a sentence or two about each, we delve deeper.
We understand that in order to truly evaluate a VST plugin's potential, you need to know more than just its name and the company that created it.
We've thoroughly tested and compiled an in-depth review of 12 of the best drum VST plugins currently available.
Each of our reviews includes:
A detailed description ✓
Unique functions & capabilities ✓
Standout features ✓
Sound quality, flexibility, and versatility ✓
The pros & cons ✓
Everything you need to know ✓
Whether you're looking to create dynamic beats for a hip hop track or simply experiment with unique drum sounds, there's a plugin in this guide to suit your needs.
So, let's dive in…
What is a Drum VST?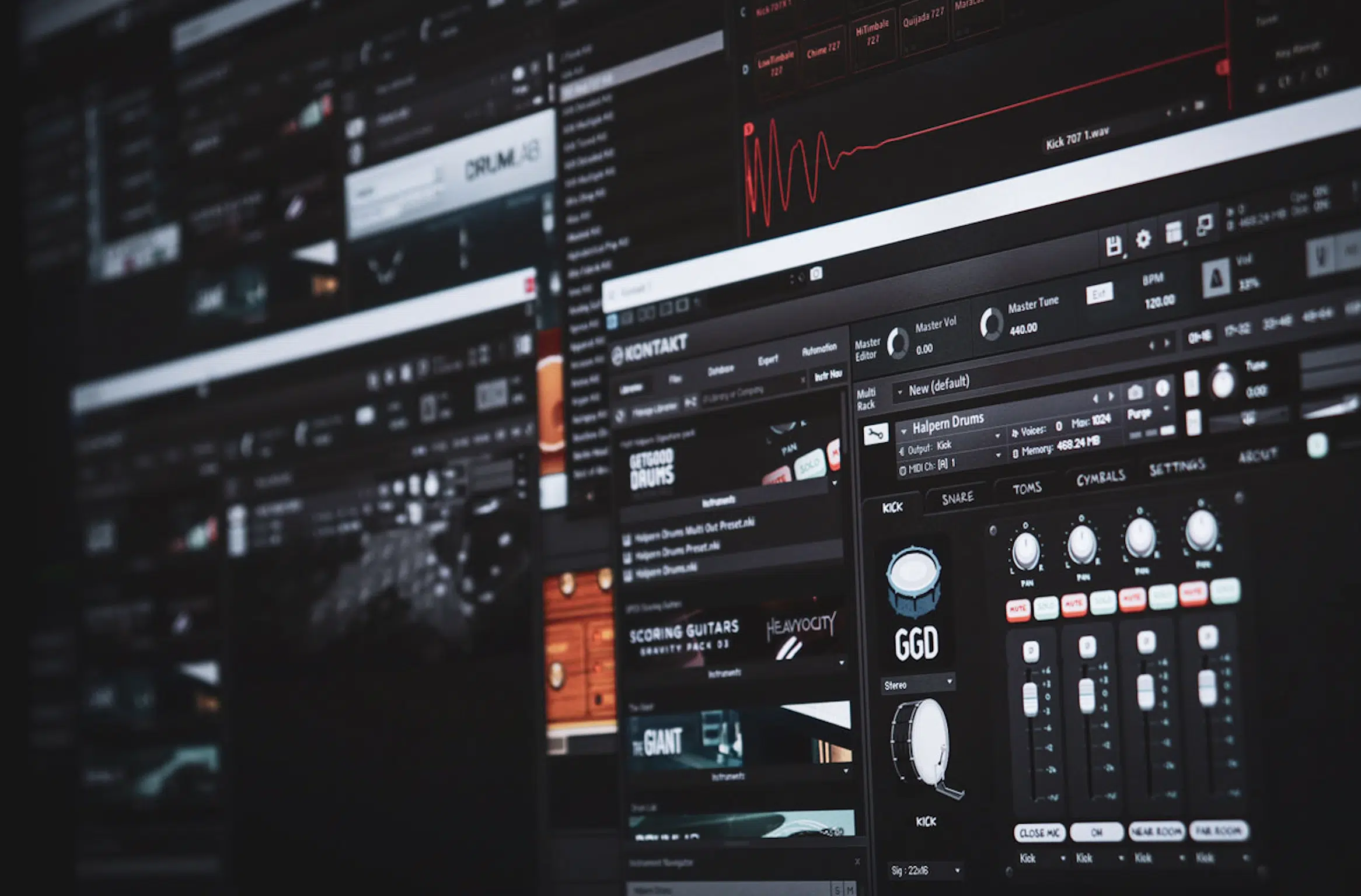 The term VST stands for Virtual Studio Technology, a software interface that integrates software audio synthesizer and effect plugins with audio editors and recording systems.
It's like having an entire drum kit at your fingertips, without needing a real set of drums.
But what does this mean for you, the music producer?
Well, a drum VST can serve as the backbone of your rhythmically unique tracks.
These plugins emulate the sound of a drum kit, and not just any drum kit.
They can mimic everything, such as:
Vintage drum machines
Acoustic drums
Even that electric drum sound you've been dying to incorporate
But what's exciting is that a Drum VST is not limited to just the drum sound.
It includes the whole package of drum parts 一 bass drum, snare, cymbals, and even the less prominent elements like the tambourine or woodblock.
Every one of these drum sounds is customizable, from the drum's timbre to its spatial position in the mix.
What to Look for When Choosing a Drum VST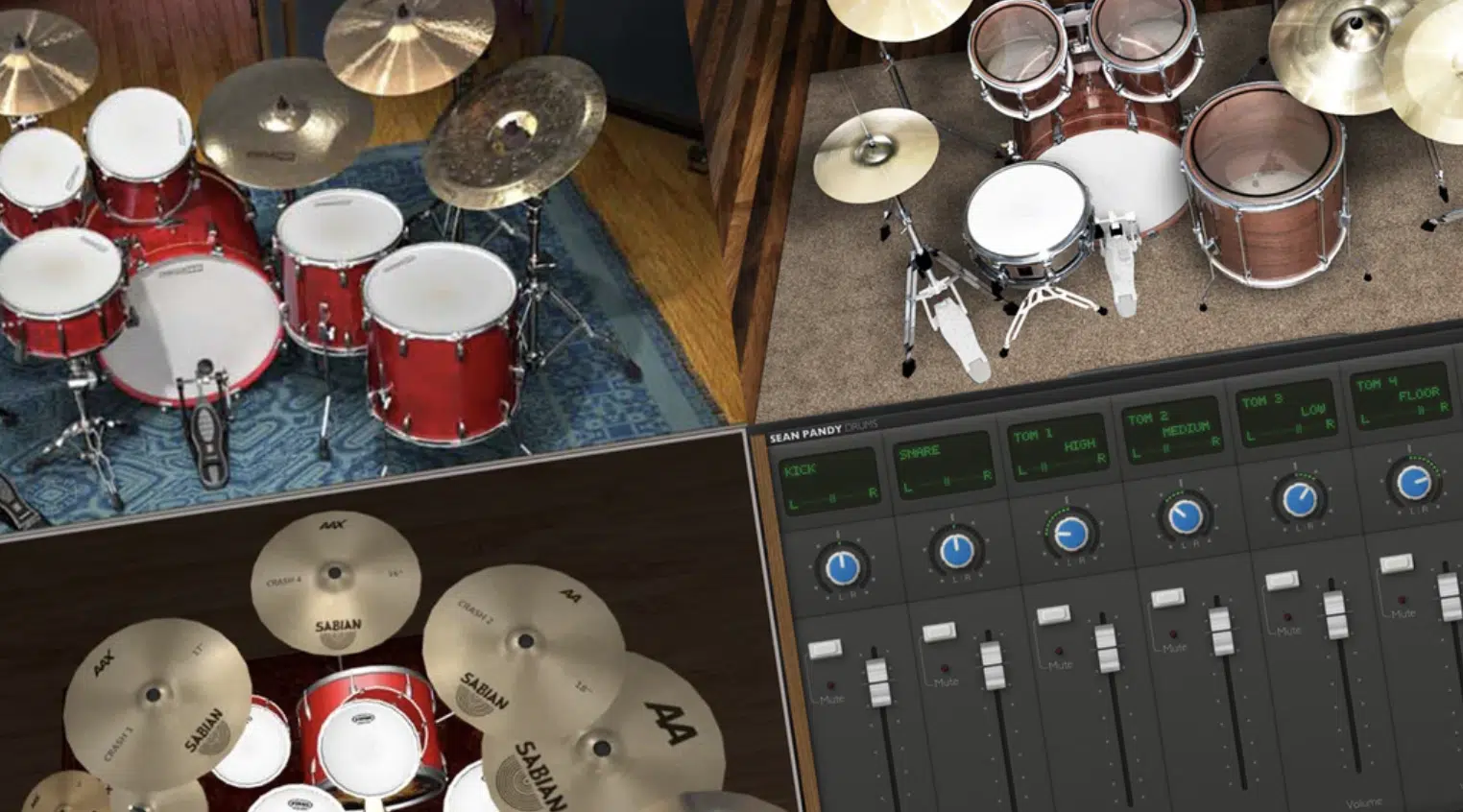 As with any music production tool, choosing the best drum VST for your music production workflow comes down to understanding your needs.
There's no one-size-fits-all solution, but let's discuss some crucial factors that you should consider when picking your best drum VST plugin.
1. Sound Quality
The best drum VSTs produce high-quality drum sounds that are indistinguishable from real drums when used correctly.
But remember, high-quality drum samples alone don't make a plugin great.
How these sounds are processed and manipulated within the software, and how that complements your music production style, also matters a lot.
2. Variety of Drum Sounds & Drum Kits
An excellent drum VST plugin provides a broad selection of drum sounds and premium drum kits.
Whether you're a hip hop music producer or an electronic music producer, you'll need to layer your entire drum track with various drum sounds.
Your VST should allow you to experiment with different musical styles 一 whether it's adding ethnic drums to spice up your track or opting for electronic sounds for a modern twist.
3. Realistic Drum Sounds
While synthetic drum sounds have their place in hip hop music production, nothing beats the resonance and warmth of realistic drum sounds.
Some plugins excel at emulating the acoustic properties of real drums, right down to the room's acoustics where the drums were recorded.
4. Versatility (Music Styles)
A versatile Drum VST allows you to cater to the demands of varying hip-hop sub-genres.
The best drum VST plugins offer a sound library that caters to different musical styles.
Whether you want to create a laid-back old-school beat or a high-energy trap banger, the VST you choose should have your back and match your needs.
5. User Interface
A clean and intuitive user interface is crucial for any software, and drum VST plugins are no exception.
It should allow you to:
Easily navigate through the different drum kits
Customize your drum sounds
Adjust the various parameters without interrupting your creative vision
If you find yourself too overwhelmed, underwhelmed, or just don't like how the flow feels, it's probably not the right drum VST plugin for you.
6. Compatibility & System Requirements
Finally, ensure that the drum VST you choose is compatible with your system and DAW (Digital Audio Workstation).
It should also be within the capabilities of your computer.
Check the system requirements before purchasing to avoid technical issues down the line.
Choosing the best drum VST plugin can be a game-changer for your music production process.
It can enhance your sound, streamline your workflow, and enable you to produce legendary tracks.
In the following sections, we will be exploring some of the best drum VST plugins available in 2023.
Buckle up 一 it's going to be a rhythmic ride!
The 12 Best Drum VSTs of 2023 (Free & Paid)
Now that we've set the stage and covered the basics, let's dive into our comprehensive list.
Remember, all the drum VSTs listed here bring something unique to the table.
It will ensure that, regardless of your musical style or production needs, you'll find the perfect fit for you.
And yes, we've thrown in the best free drum VST plugins as well, for those of you on a budget (or you just love free plugins, like myself).
#1. Drum Monkey by Unison Audio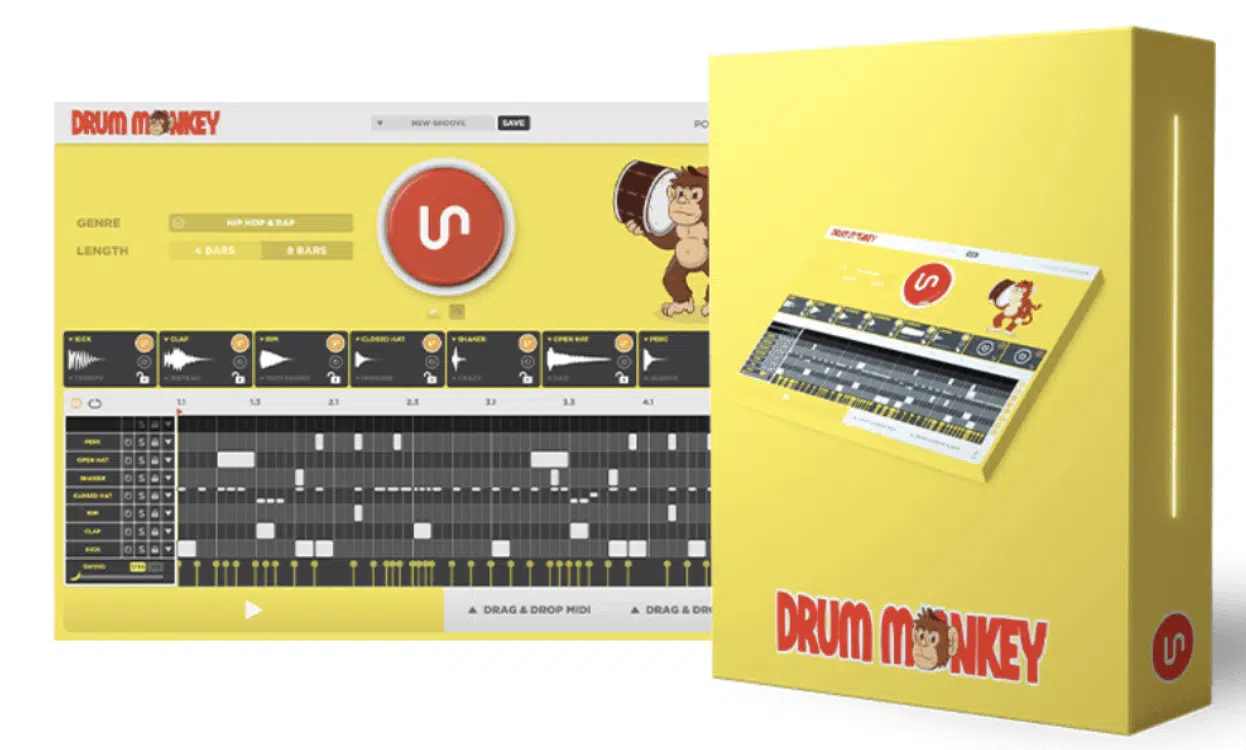 Drum Monkey by Unison Audio is the first and only drum loop generator tailored to specific music genres, a true marvel for music producers.
This revolutionary plugin is capable of generating an unlimited number of impeccable drum loops in 30 different musical styles.
Whether you're an EDM maestro, a rock-n-roll aficionado, or a hip-hop artist, this tool caters to your unique needs 一 providing the ideal rhythm section for your sonic creations.
The main objective behind this software is to make music production more seamless, efficient, and exponentially more creative.
Drum Monkey's smart algorithms help musicians eliminate the dreaded creative block.
With its ability to generate drum loops that align with the most successful patterns in hit songs, this tool provides endless inspiration and pushes musical bounds.
Imagine a tool that can generate professional-quality drum loops, catering to your preferred genre, at the click of a button…
This is what Drum Monkey offers!
It significantly improves your workflow and multiplies your entire creative output.
Plus, it's as easy as 1, 2, 3:
Select 一 Select your preferred genre & length.
Generate 一 Push a button to instantly generate a perfect drum loop.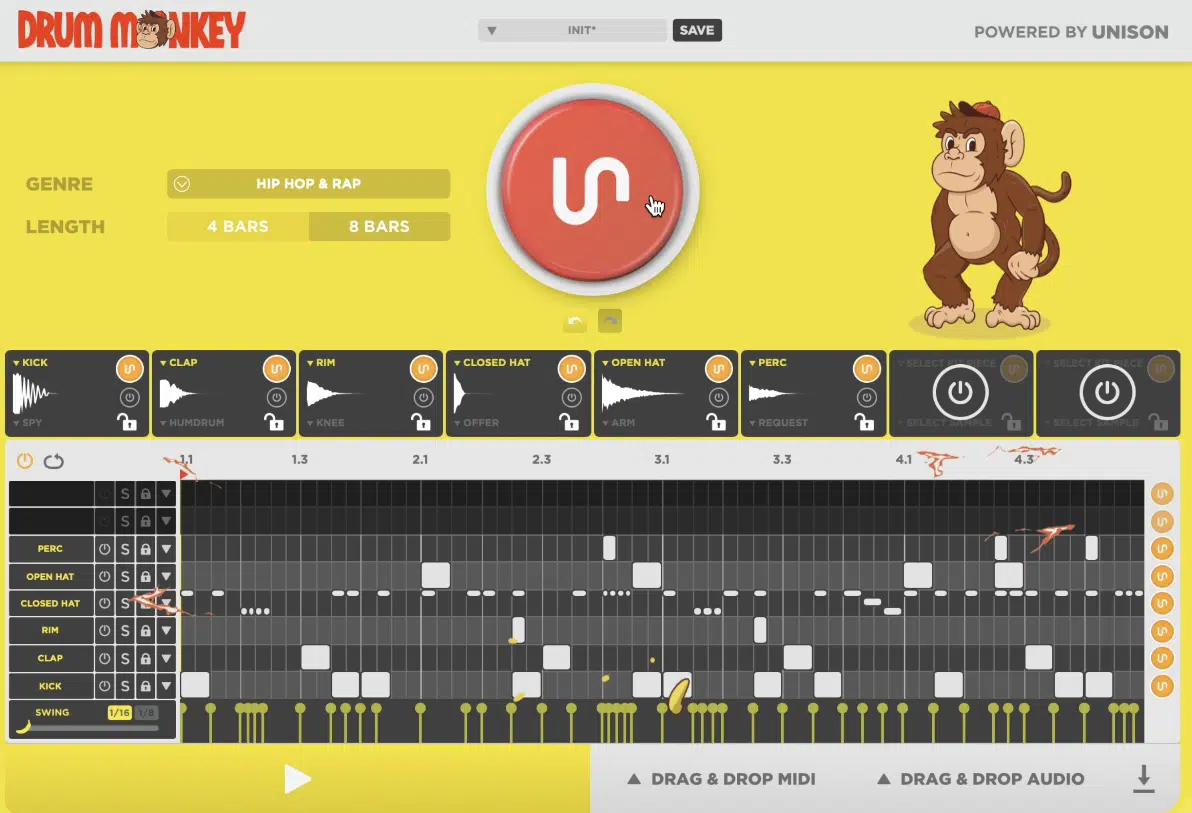 Drag & drop 一 Drag & drop your new drum loop straight into your project in either audio or MIDI format, or export them for future use.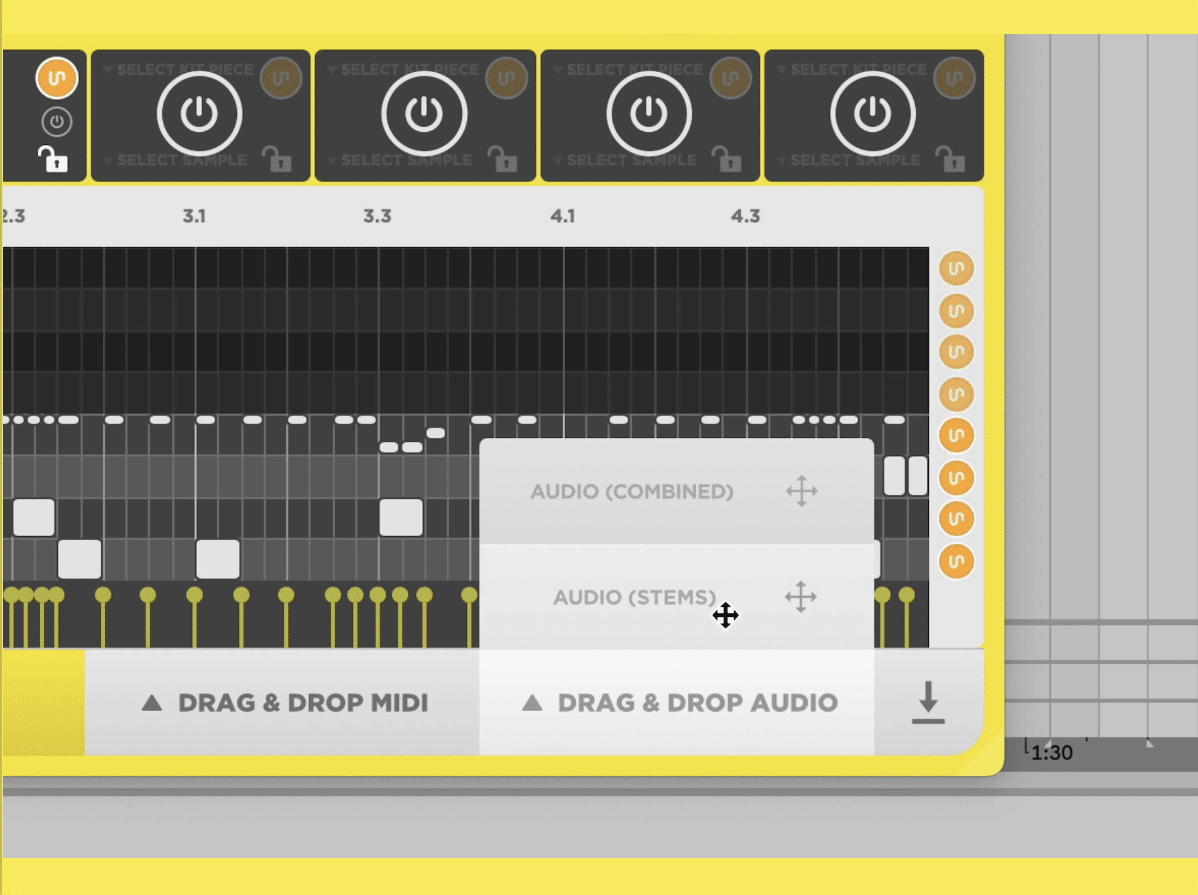 The advanced technology behind Drum Monkey is a culmination of meticulous research and innovative machine-learning techniques.
It employs over:
7,500 genre-specific MIDI drum patterns
More than 3,000 drum samples modeled off successful songs
Thanks to Unison's exclusive "drum-pattern recognition" algorithms, the generated drum loops sound good 93% of the time.
Additionally, this drum VST plugin gives you the flexibility to customize generated drum loops to your exact taste using its fully-loaded, built-in piano roll.
Drum Monkey features an industry-grade saturator designed to enhance your drum sounds, adding more thickness, power, and punch to your drum loops.
The inclusion of the groove saver allows you to store your favorite loops as presets, including all your drum patterns with their MIDI and samples.
NOTE: When you choose the single-pay option, Drum Monkey rewards you with five exclusive bonuses, a delightful perk for music producers.
Standout Features:

The world's first genre-specific drum loop generator
Utilizes drum machine learning and drum-pattern recognition algorithms
Generates drum loops that can be directly added to projects or exported for later use
Offers an industry-grade saturator for enhanced drum sounds
Allows saving of favorite loops in the groove saver
Includes the most realistic drum sounds in the game
Makes programming drums a breeze
Comes with 3,000+ pro-quality sample factory library and five exclusive bonuses for the single pay option
One of the best drum VST plugins of 2023
#2. XLN Audio Addictive Drums 2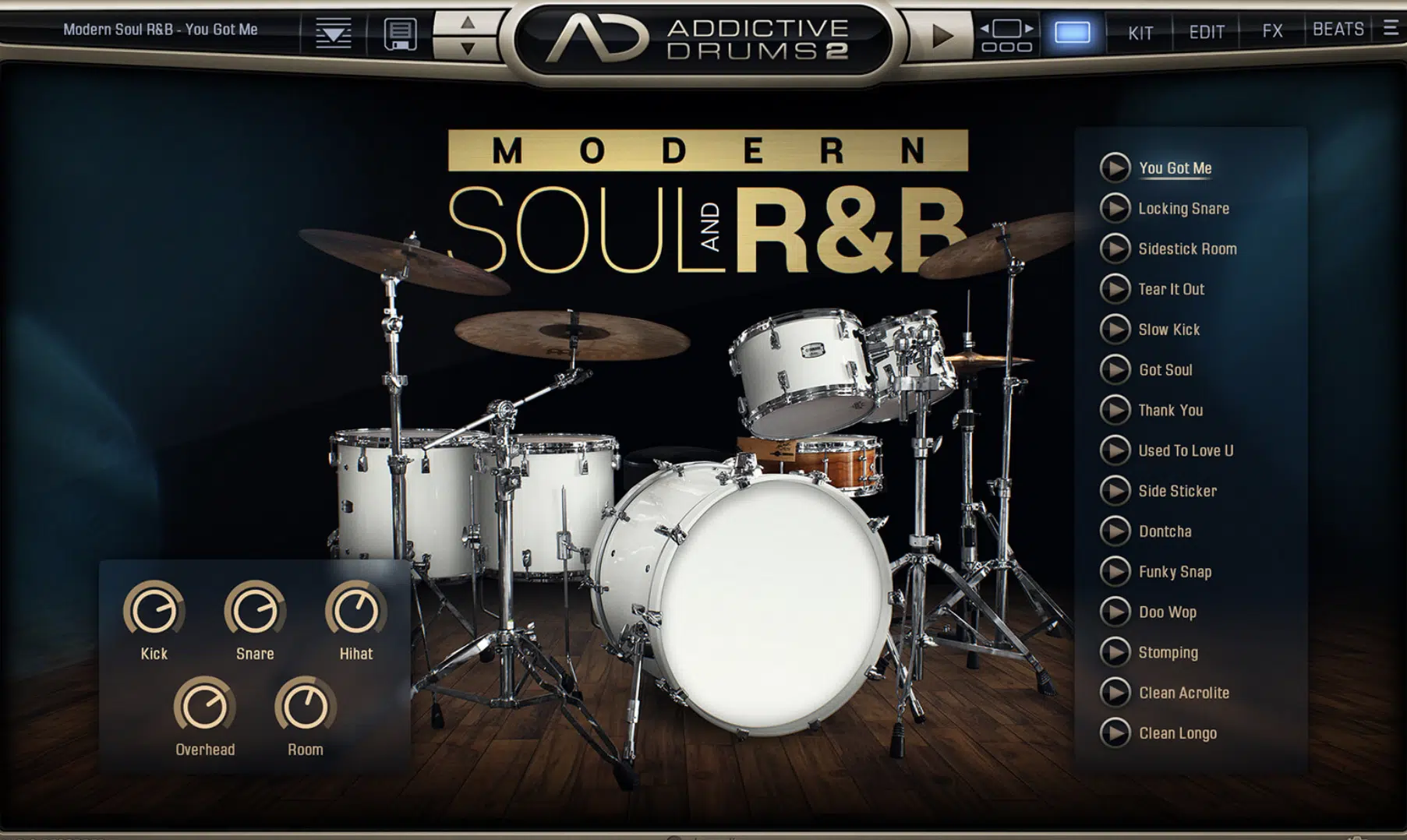 Experience the unparalleled quality of real drums played by real drummers with XLN Audio's Addictive Drums 2.
This comprehensive drum production studio software brings the resonating sounds of professional drumming into your personal workspace.
Addictive Drums 2 offers the luxury of high-quality built-in audio effects and live rhythm performances.
Recorded in world-class studios by industry professionals, this drum VST plugin is a goldmine if you're seeking to incorporate realistic drum sounds in your projects.
To make the most of Addictive Drums 2, you'd need to explore its Collections.
These are bundles of:
ADpaks (drum kits)
MIDIpaks (beats)
Kitpiece Paks (single drums) 
Combined, they provide an all-encompassing drum production experience (truly epic).
The software allows you to mix and match drums and cymbals from any ADpak to build your own custom kit.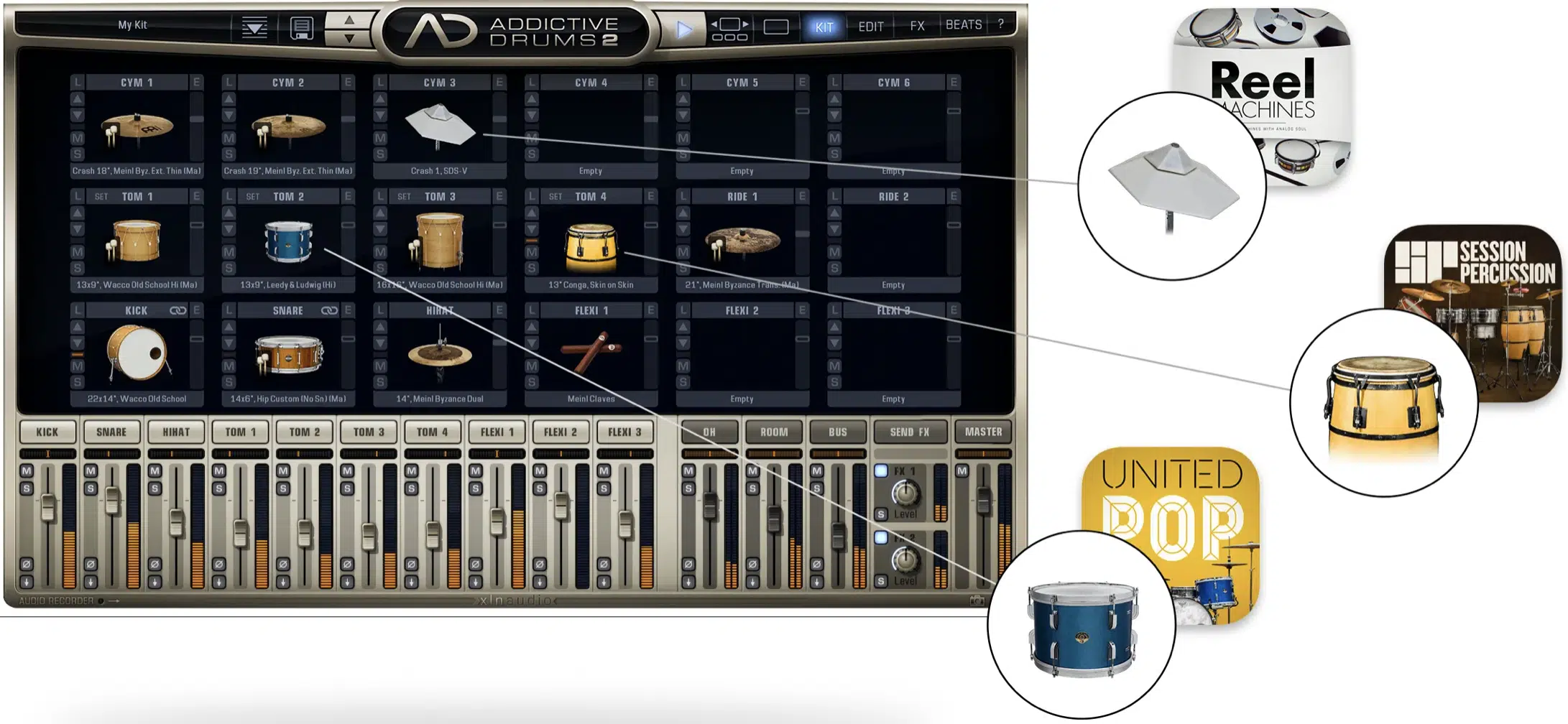 With a wide array of ADpaks, each containing complete drum kits and production-ready presets, the possibilities are limitless.
The real beauty of Addictive Drums 2 lies in its robust editing menu.
It allows you to control various parameters such as:
Equalization
Compression
Pitch adjustment
Tape saturation
Even microphone placement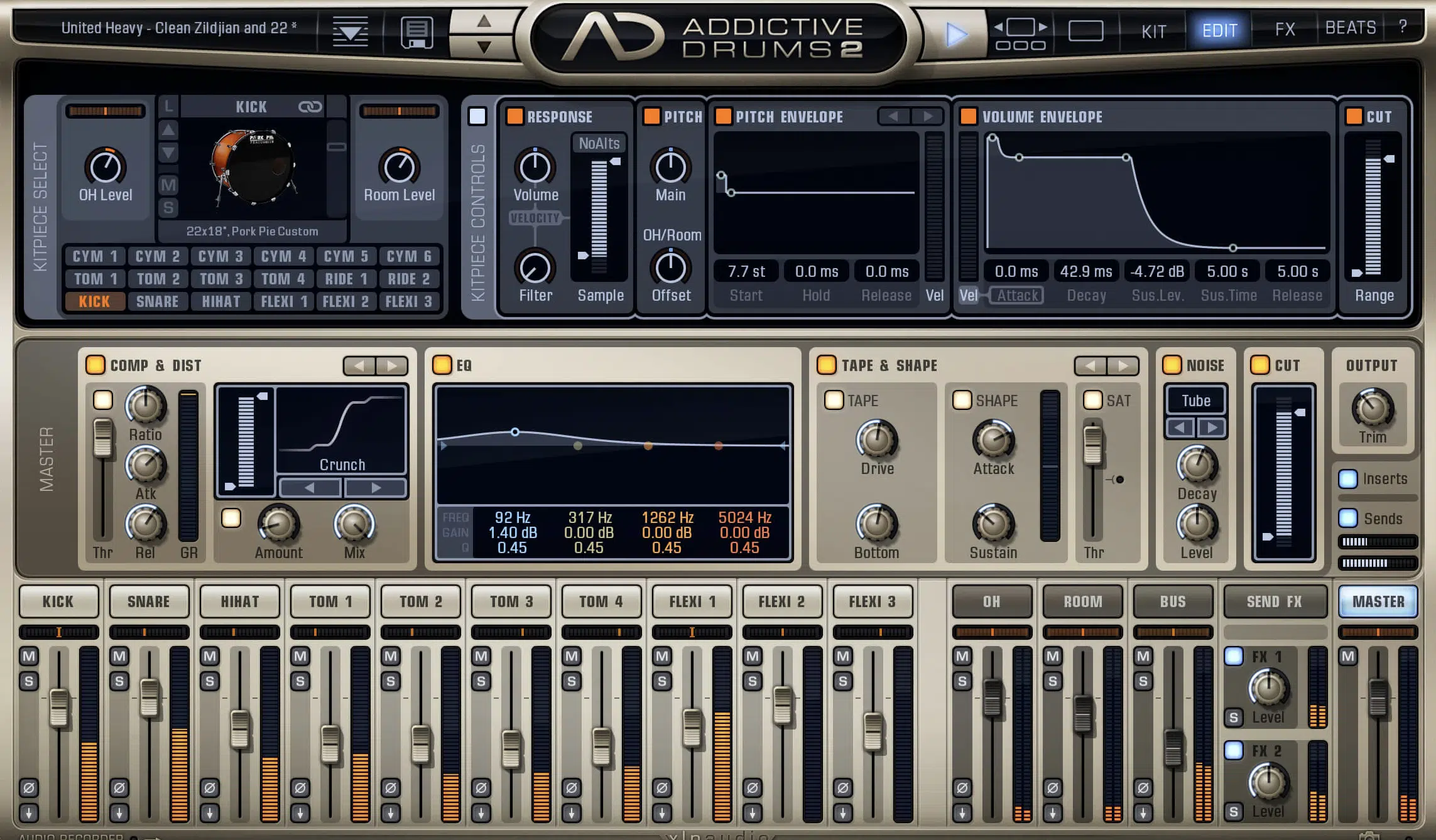 All these factors enable you to tailor each drum sound to your specific needs and make sure they match your unique style.
Addictive Drums 2 doesn't exclude any genre and includes everything from electronic drum sounds to organic drum sounds and everything in between.
The Beats menu offers a wide variety of grooves that can significantly influence your songwriting process.
Addictive Drums 2 also features a Transform tab that lets you manipulate the rhythm of your grooves, ensuring they match the mood and tempo of your song.
Standout Features:

Features professionally recorded acoustic drums and high-quality built-in effects
Offers ADpaks, MIDIpaks, and Kitpiece Paks for a comprehensive drum production experience
Allows mix and match of drums and cymbals for custom drum kit creation
Provides a robust editing menu for detailed sound customization
Includes a Beats menu with various grooves to boost the songwriting process
Has a Transform tab to adjust the rhythm of grooves
One of the best drum VST plugins of 2023
#3. Toontrack EZDrummer 3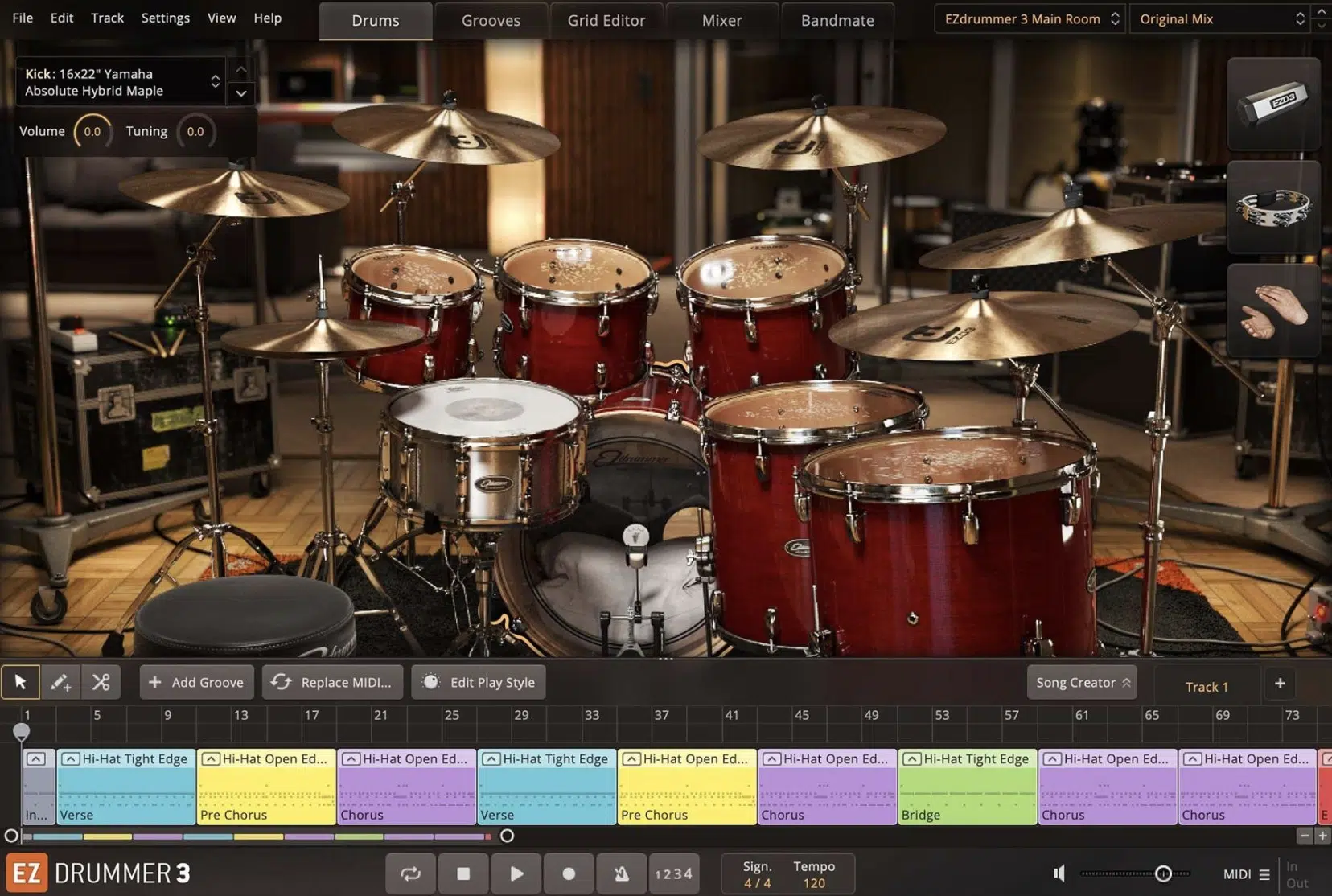 Toontrack's EZDrummer 3 is a tried & true favorite in many music production circles.
It comes equipped with:
Seven drum kits
An assortment of percussion instruments
Mix-ready presets
Drum grooves
A host of songwriter-focused features
The main selling point of this plugin is its fully resizable and scalable interface, making it adaptable to any production setting, like a home studio.
Whether you're a professional producer or a bedroom musician, EZDrummer 3 provides a user-friendly experience, aiding your creative process.
EZDrummer 3 takes the complexity out of drum sequencing with its onboard grid editor, step sequencer, and more.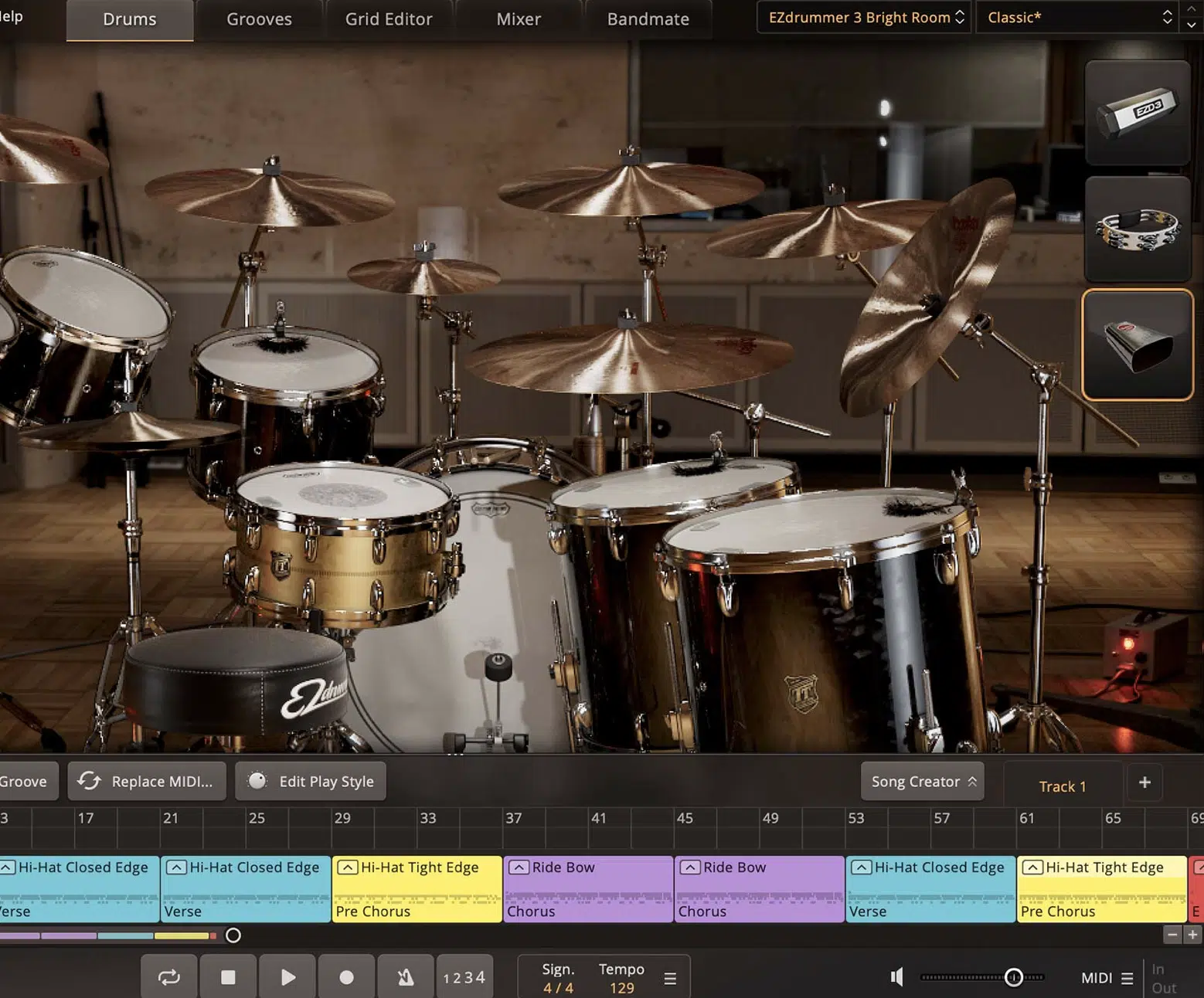 The Bandmate or Tap2Find features enable you to find grooves that complement your song structure seamlessly.
The seven kits in EZDrummer 3 (accompanied by additional snares, kicks, and cymbals) contribute to an approximately 15GB trove of drums, cymbals, and percussion.
Therefore, you'll have a super vast sonic landscape to explore, which is always a favorite amongst us music producers.
This drum VST plugin comes with a comprehensive MIDI library of grooves and fills, giving you the freedom to experiment with different musical styles.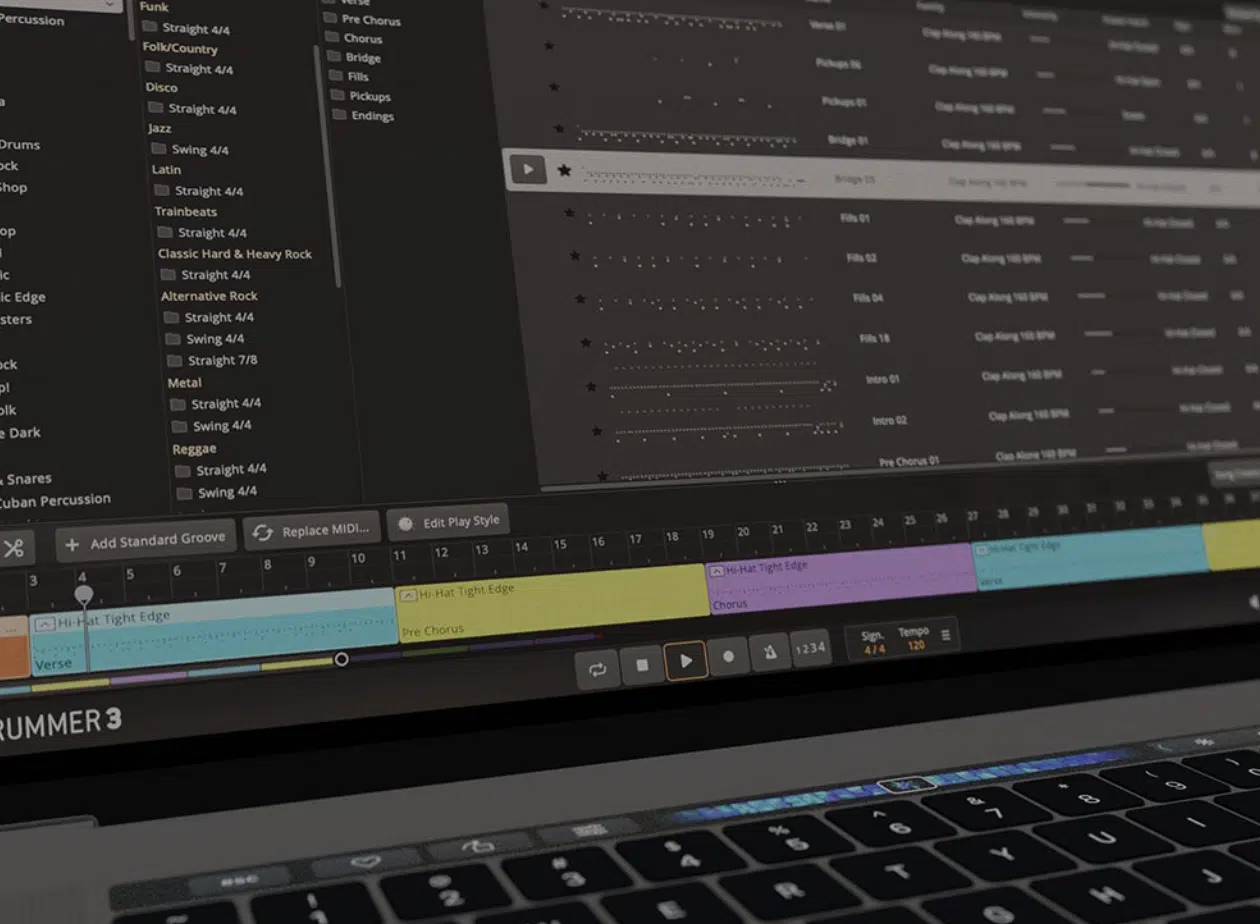 With its song structure format, EZDrummer 3 allows you to arrange and sequence your drum parts in common song sections such as:
Intros
Verses
Pre-choruses
Hooks
So forth
NOTE: The seven drum kits were recorded at the famous Hansa Studios in Berlin by Grammy Award-winning producer/engineer/mixer Michael Ilbert.
This further amplifies the professional appeal of this best drum VST plugin.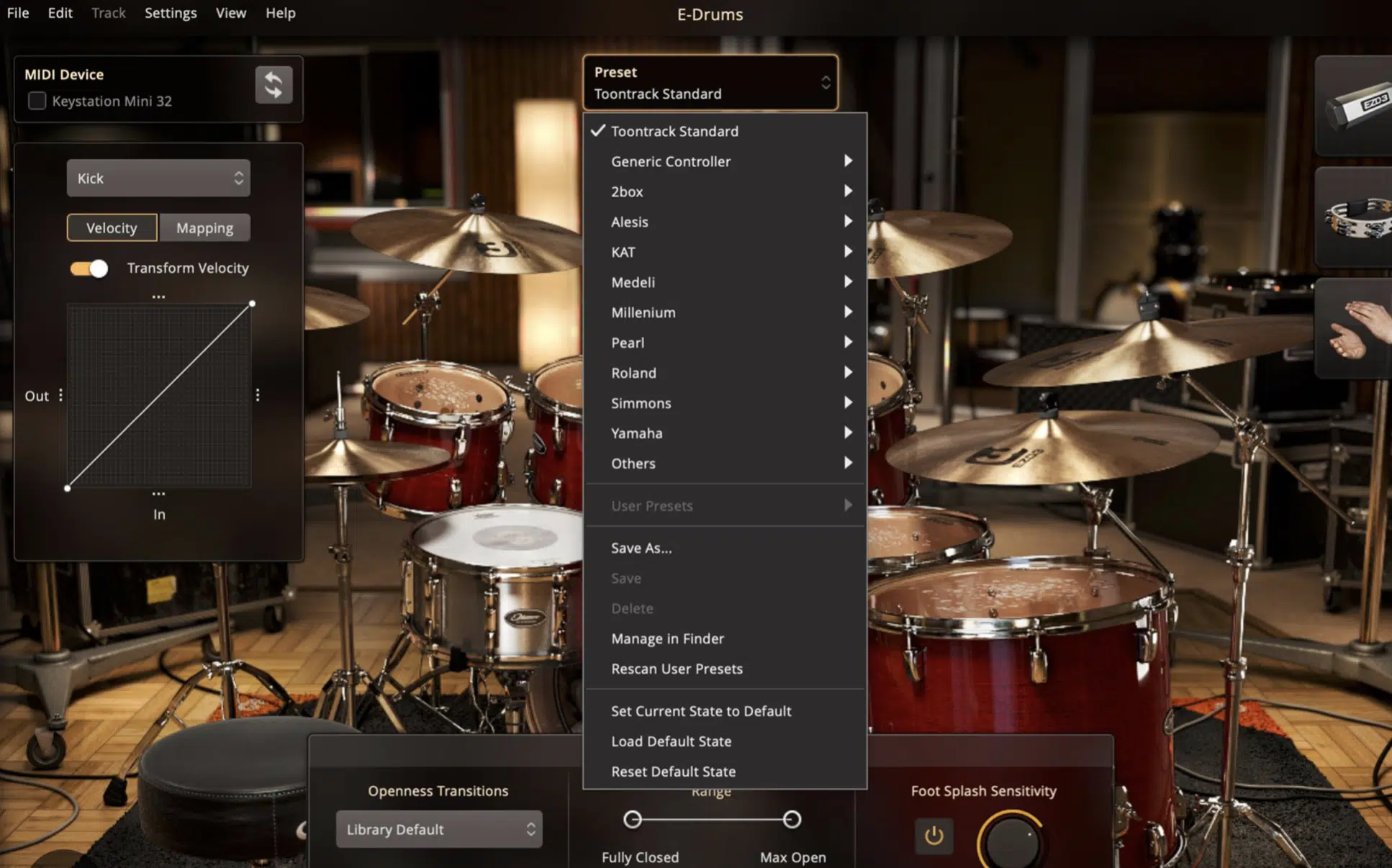 Toontrack's EZDrummer 3 also comes with a powerful mixer that allows you to tweak levels, effects, and more to get the exact sound you desire.
The plugin offers three different room options for recording.
Each contributes a unique character to your drum sound, and provides that extra layer of intrigue and allure.
All these features and more make EZDrummer 3 a reliable companion for music producers seeking high-quality drum sounds and features.
Standout Features: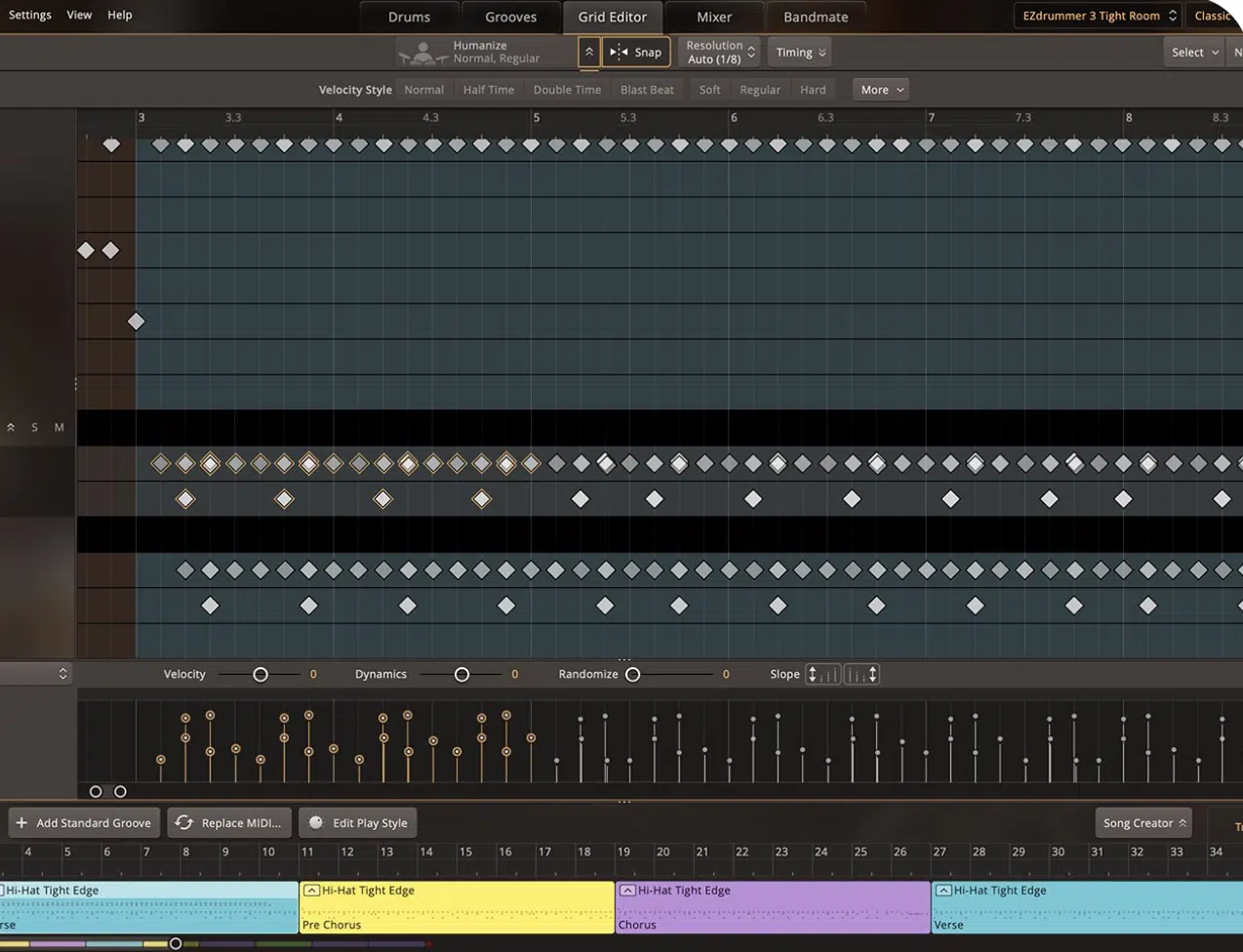 Fully resizable and scalable interface with a grid editor and step sequencer
Comprehensive MIDI library of grooves and fills
Seven drum kits recorded by Grammy Award-winning producer Michael Ilbert at Hansa Studios, Berlin
Song structure format for easy arrangement and sequencing of drum parts
Powerful mixer for level and effects adjustments
Three different room options for recording, each with a unique sound character
One of the best drum VST plugins of 2023
#4. Native Instruments Studio Drummer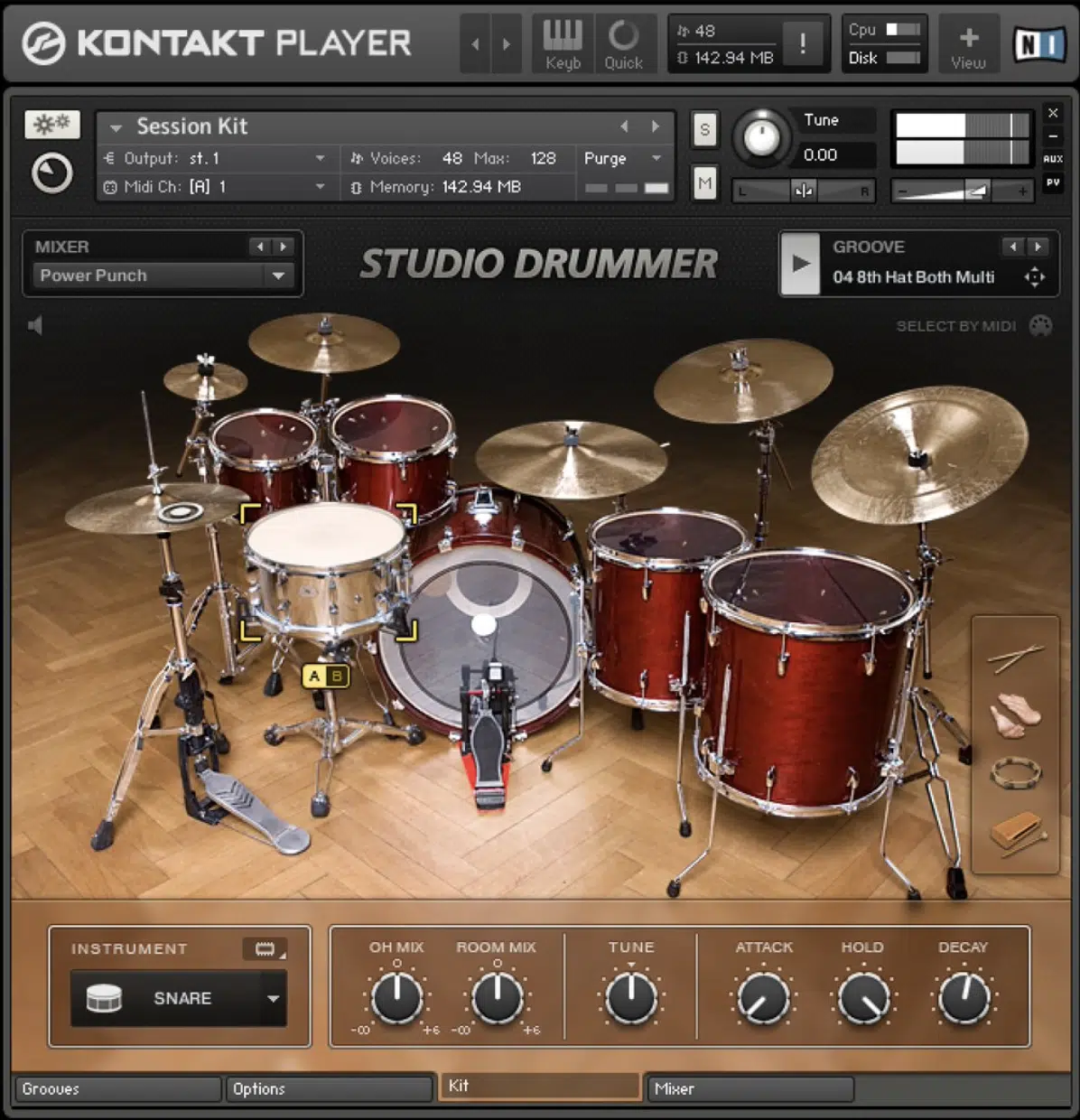 Studio Drummer by Native Instruments raises the bar for virtual drum software.
It provides everything required to create lifelike, dynamic drum tracks.
Top-of-the-line drum kits, detailed mixing options, and an extensive groove library packed with authentic beats of all colors and flavors are among its remarkable features.
More than a mere collection of drum samples, drum sounds, and drum kits, Studio Drummer brings over 3,300 authentic grooves to your fingertips.
This makes it an invaluable tool for any music producer.
Its onboard mixer and potent effects deliver enough versatility and tweakability to cater to the eclectic needs of modern music production.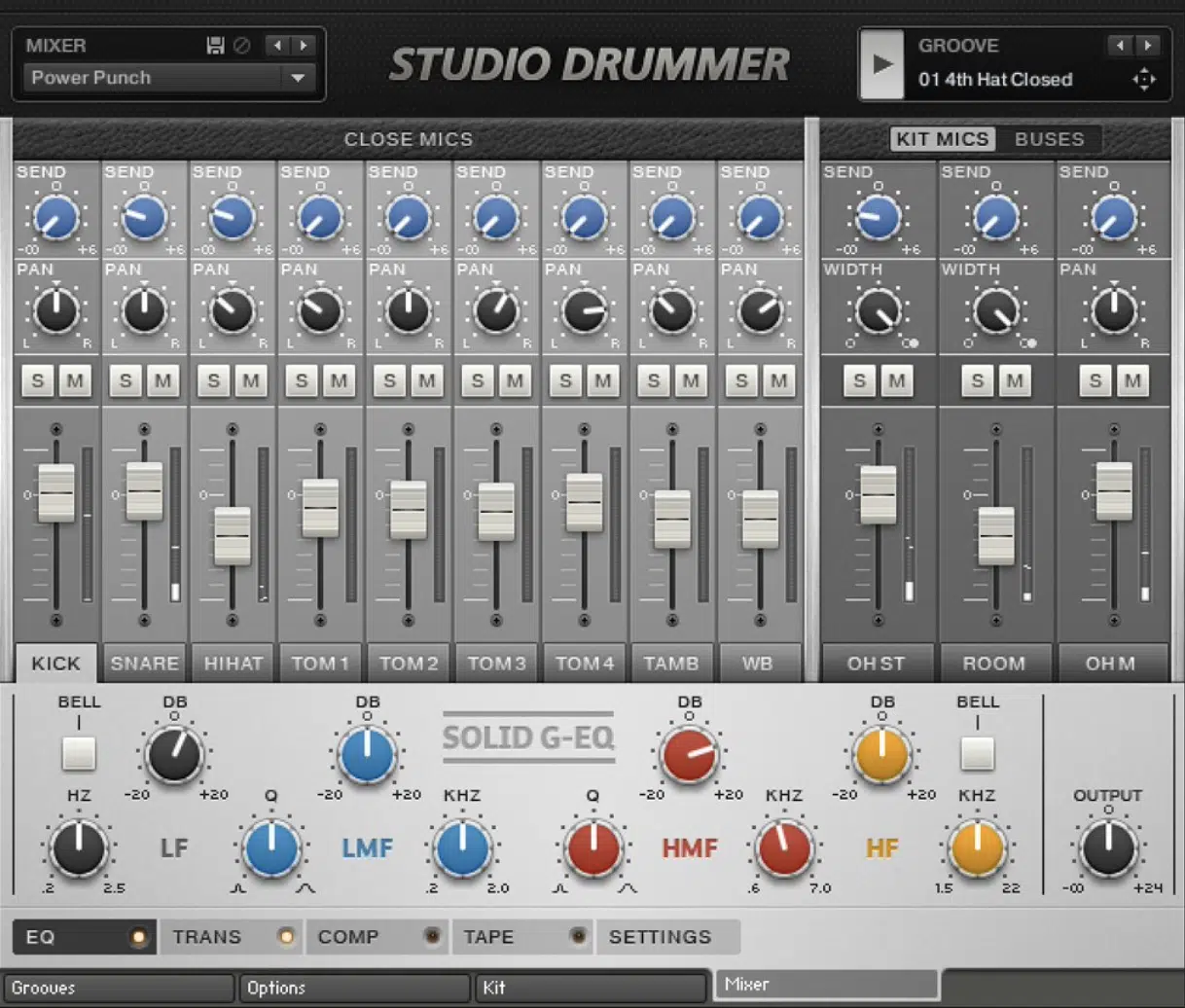 At its core, Studio Drummer provides three premium acoustic drum kits:
A Pearl Masters Premium Maple kit
A Yamaha Maple Custom Absolute kit
A Sonor SQ2 Drum System
These drum kits are adorned with Paiste, Zildjian, Sabian, and Masterworks cymbals, and snares by Sonor, Mapex, Ludwig, and Masshoff.
To top it off, it includes additional percussion instruments, such as a tambourine, sticks, cowbell, and handclaps.
All drum sounds were meticulously recorded using top-notch microphones and outboard gear at Teldex Studios in Berlin 一 resulting in over 17GB of pristine, 24-bit drum samples.
Studio Drummer offers a dedicated mixing environment that provides ultra-precise control over:
The mic levels on each drum
Overheads
Stereo room mics
A mono mic on the entire kit
Mix presets deliver professional sound at a click, providing a perfect starting point for detailed tweaking.
The unique 'bleed' control for the snare wires amplifies the realism.
Plus, the balance between the inside and outside mics on the kick (and a 'sub' fader) allows you to strike the perfect balance between 'click' and 'boom.'
Each drum comes equipped with its own effect chain, with:





The integrated Convolution Reverb includes 30 high-end impulse responses ranging from small rooms to large halls 一 which further enhances the depth and space of your drum tracks.
Moreover, Studio Drummer comes with an extensive groove library that serves as your personal session drummer.
The library includes over 3,300 grooves covering a wide range of genres, and all patterns were performed live by professional drummers.
This ensures you're provided with a natural sound and authentic feel.
NOTE: It also allows for extensive customization of grooves, with controls for adjusting the feel and swing of each groove in real time.
Standout Features: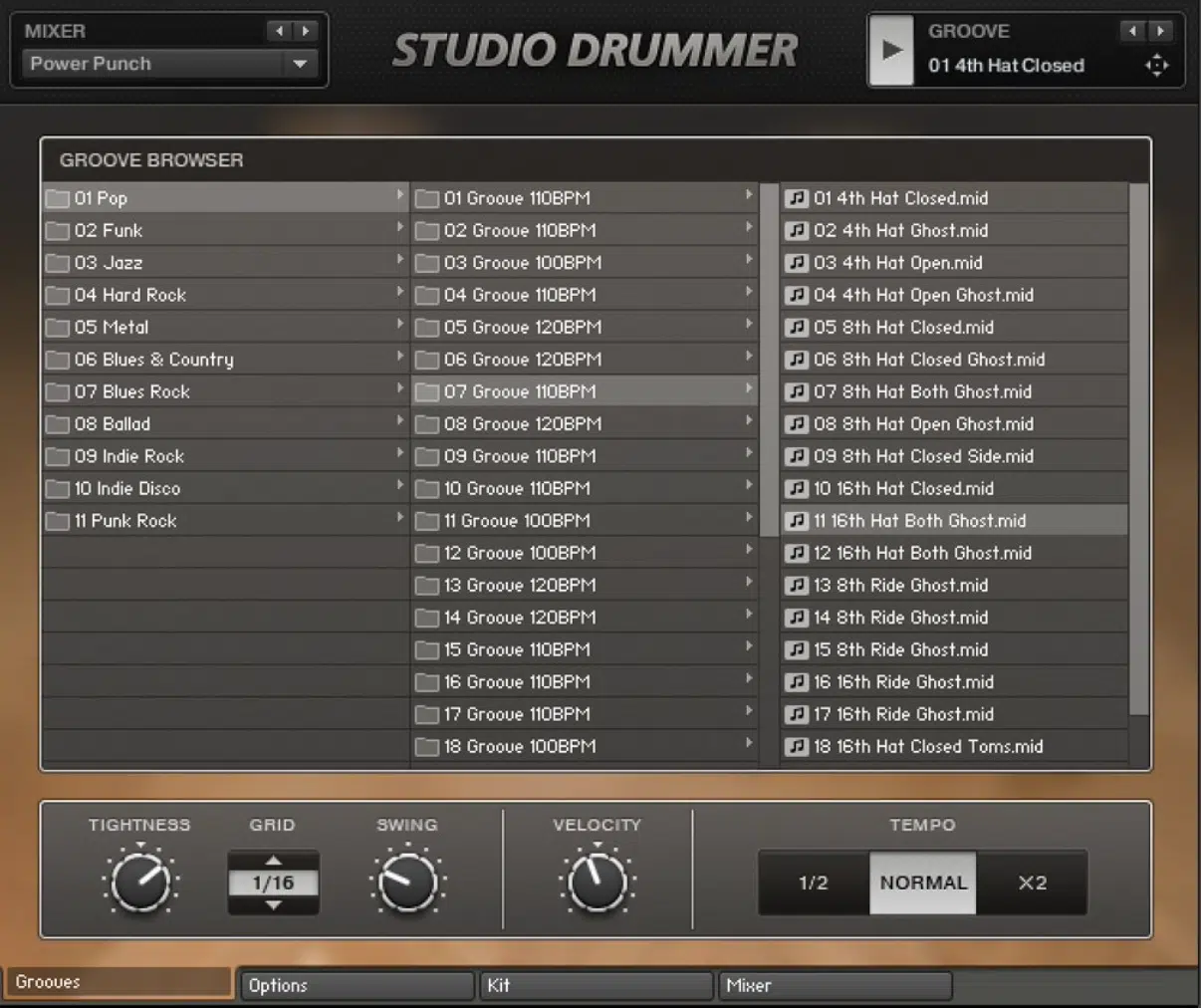 Three premium acoustic kits and extensive percussion, all meticulously recorded
Over 3,300 authentic grooves covering various genres
Dedicated mixing environment with ultra-precise controls
Unique 'bleed' control for snare and balance controls for kick
Comprehensive effect chain for each drum, with top-grade effects from the SOLID MIX SERIES
Integrated Convolution Reverb with 30 high-end impulse responses
Extensive groove customization with real-time controls for adjusting feel and swing
Drag-and-drop feature for easy integration into sequencer software
One of the best drum VST plugins of 2023
#5. BFD3 by BFD Drums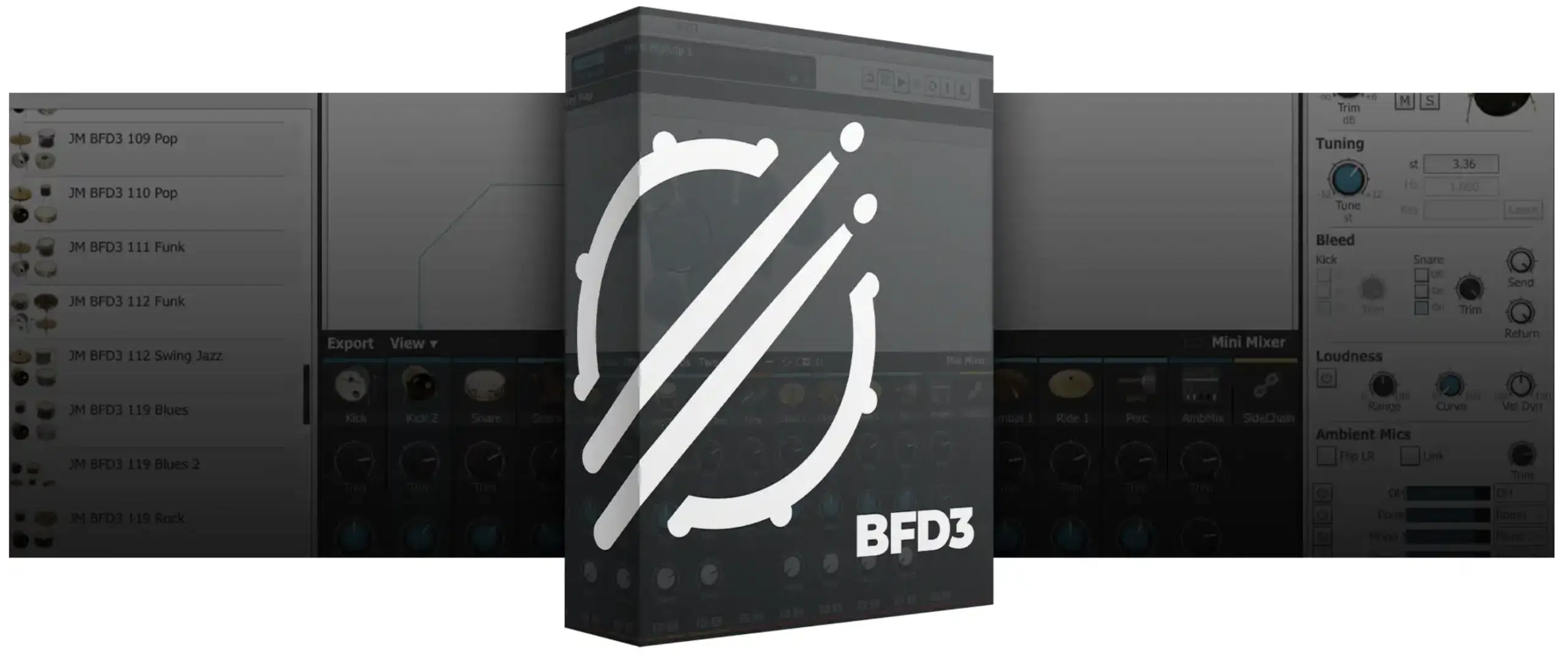 BFD3 by BFD Drums marks a significant evolution in the world of drum VST software.
This evolved acoustic drum software is engineered with a keen focus on depth, detail, and versatility, making it an ideal choice when seeking top-notch sonic variety.
As the third generation of FXpansion's flagship software acoustic drum studio, BFD3 boasts a redesigned engine and interface.
One that delivers remarkable levels of realism and ground-breaking features.
The BFD3 features seven new kits recorded in two dedicated locations 一 resulting in rock, metal, jazz, lo-fi, and brush kits that offer a more immersive musical experience.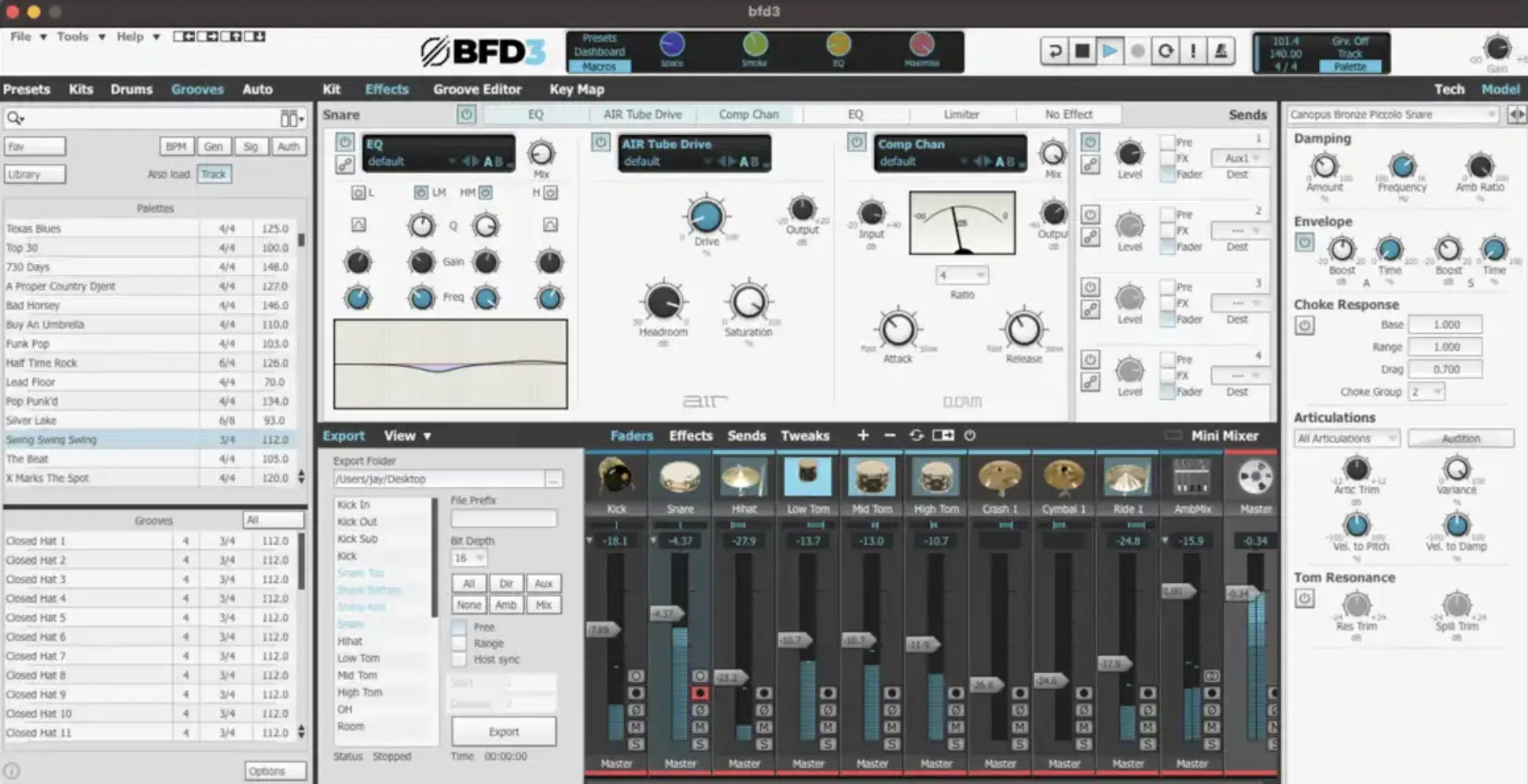 These kits offer more detail and require less disk space, courtesy of an efficient and faster audio engine.
In a testament to its advanced design, BFD3 introduces modeled tom resonance and bleed that blends the sound of the kit together naturally.
The workflow of BFD3 is streamlined for an improved user experience, and its extendable interface adapts perfectly to larger screens.
You can conveniently browse for entire presets, quickly compile custom kits, or mold any drum sound by:
Retuning
Damping
Processing multiple mics with the robust internal mixing engine
What sets this drum VST software apart is its improved dynamics matching across drums and a swell-modeling algorithm that allows for more realistic cymbal washes.
BFD3's built-in Groove section is a unique feature that offers a versatile range of session drummer performances, pattern editing, and creation functions.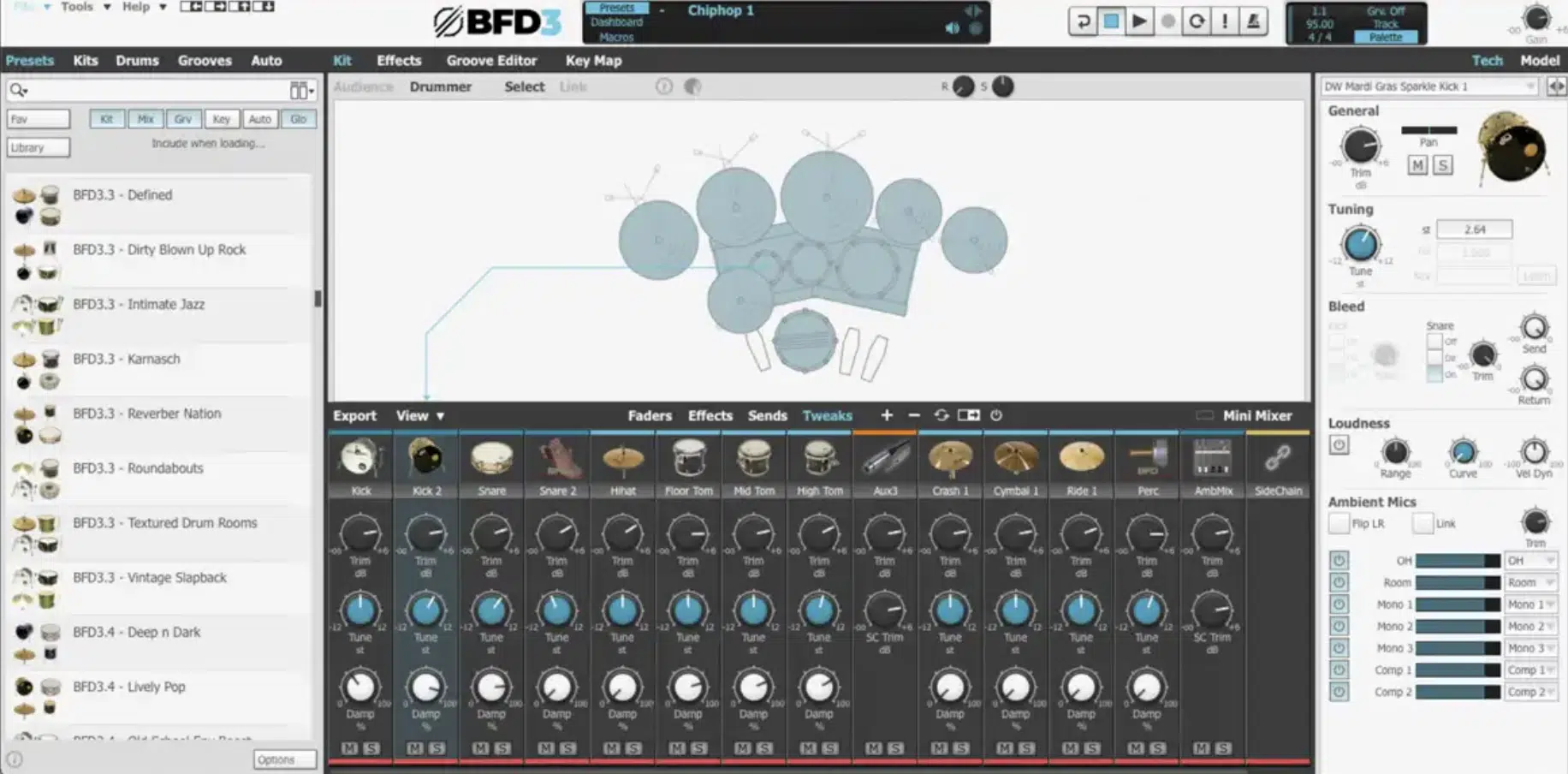 Furthermore, the tool for creating grooves using various musical drum rudiments empowers you to paint your own realistic drum parts.
NOTE: This software also comes with grooves by Steve Ferrone, Brooks Wackerman, Bobby Jarzombek, Peter Erskine & Stanton Moore courtesy of Platinum Samples.
Therefore, it delivers an uncompromising level of detail to your drum sound.
Standout Features: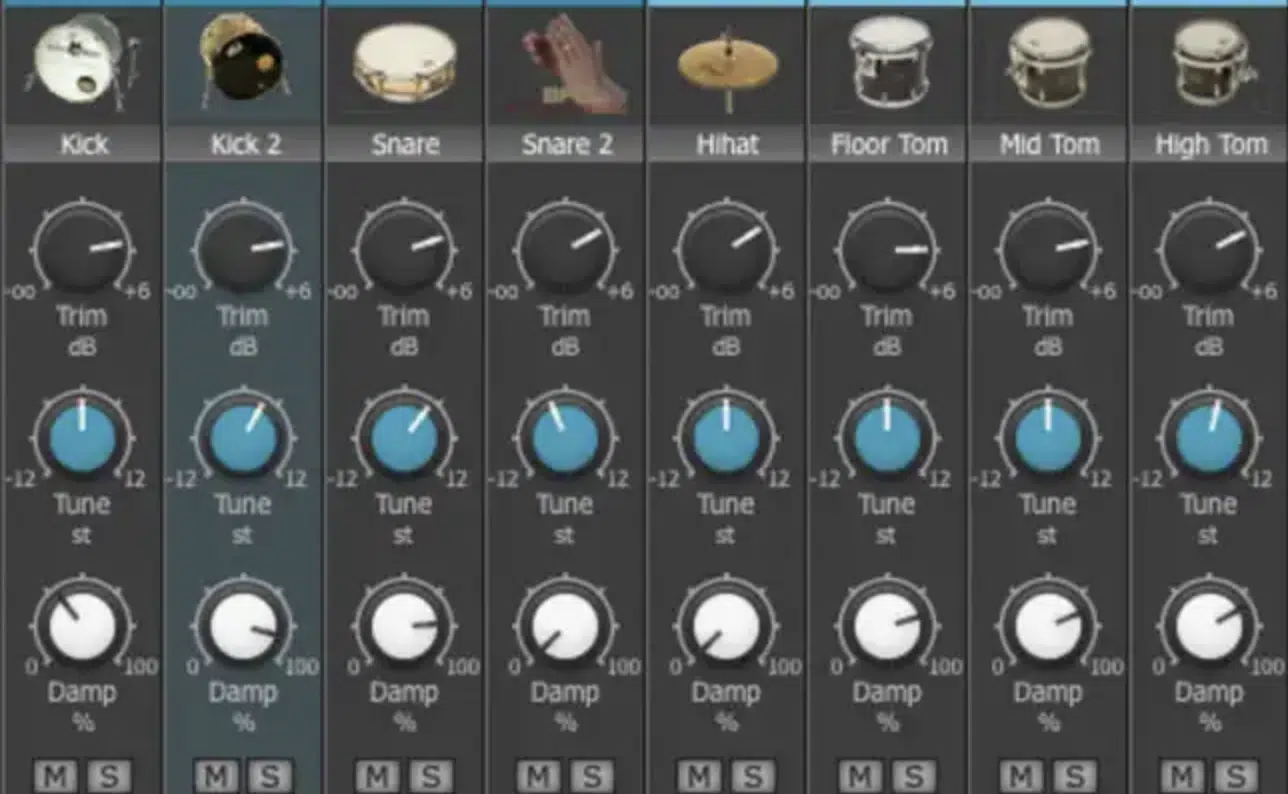 Seven new kits recorded in two locations dedicated to different music genres
Streamlined browser and workflow for enhanced user experience
Modelled tom resonance and cymbal swell for more natural drum sound
Powerful internal mixing engine that allows for in-depth sound customization
Built-in Groove section for versatile drumming performances and pattern creation
One of the best drum VST plugins of 2023
#6. Heavyocity Damage 2

Heavyocity's Damage 2 serves as the sequel to the renowned Damage plugin, a benchmark in the realm of cinematic percussions.
This latest offering promises to retain all the elements that made the first one great, while simultaneously raising the bar.
It boasts a massive collection of ensembles and aggressively damaged hybrid elements.
With 864 gut-punching loops, it aims to deliver a percussive force capable of resonating with any composition 一 enhancing it with a sublime touch of epicness.
Damage 2's Kit Designer sets itself apart as an innovative producer's playground.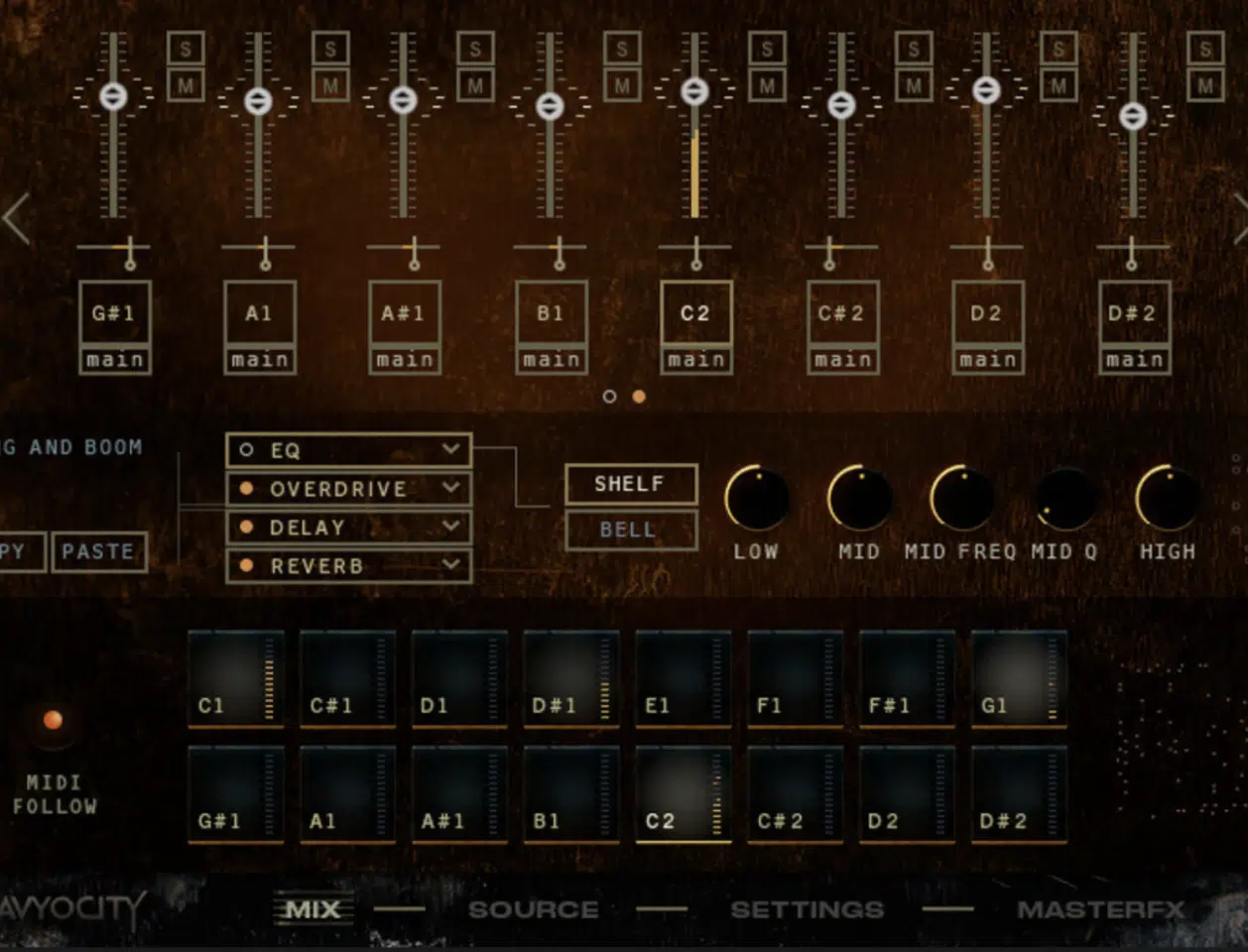 It features a 16-voice kit layout engineered to display its signature cinematic drums and library of absolutely destroyed hybrid elements.
The freedom it offers in kit customization allows for the creation of unique, power-packed sounds and ensures that every beat hits with impact/distinction.
A significant aspect of Damage 2 is its remarkable loop section.
Damage loops have earned a legendary status over the years and this plugin continues that legacy (with its 864 tempo-synced loops).
They offer an instant injection of epicness into your tracks, making it an orchestral drums pack of choice for many composers.
The innovative STAGE feature further elevates Damage 2's appeal.
The redesigned STAGE gives you ample space to orchestrate even the most massive ensembles on a virtual world-class soundstage 一 presenting the opportunity to experience astoundingly realistic spatial possibilities.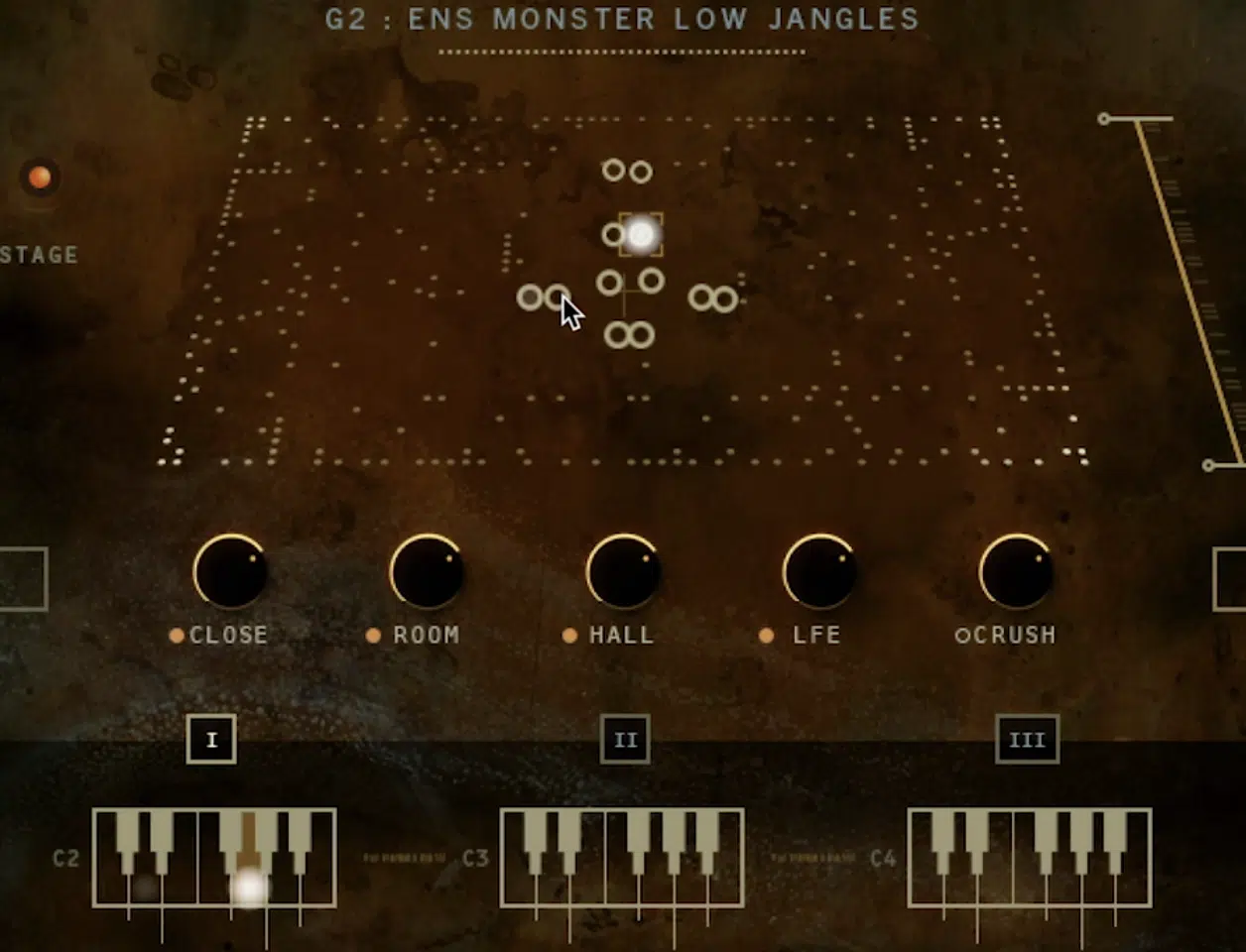 This unique feature enhances the depth and breadth of your compositions, leading to more immersive and spatially aware productions.
Recording in an epic room like Skywalker Sound adds a touch of majesty and grandeur to the instrument.
The scale achieved in this recording room is unparalleled, ensuring that the drums captured for Damage 2 sound nothing short of cinematic.
The blend of hard-hitting, punchy cinematic drums with aggressive, visceral, and damaged hybrid-percussive elements is something unique to Heavyocity's sound engineering prowess.
Damage 2 comes with:
A whopping 60 GB's of percussive inspiration
Over 40,000 samples
The library ranges from 72″ gran casas and massive bass drums, to toms and an array of struck found sounds.
As part of the production, they even rolled and recorded a dumpster onto the world-class scoring stage at Skywalker Sound.
One that underscores Heavyocity's commitment to unique and unconventional sound sources.
Standout Features: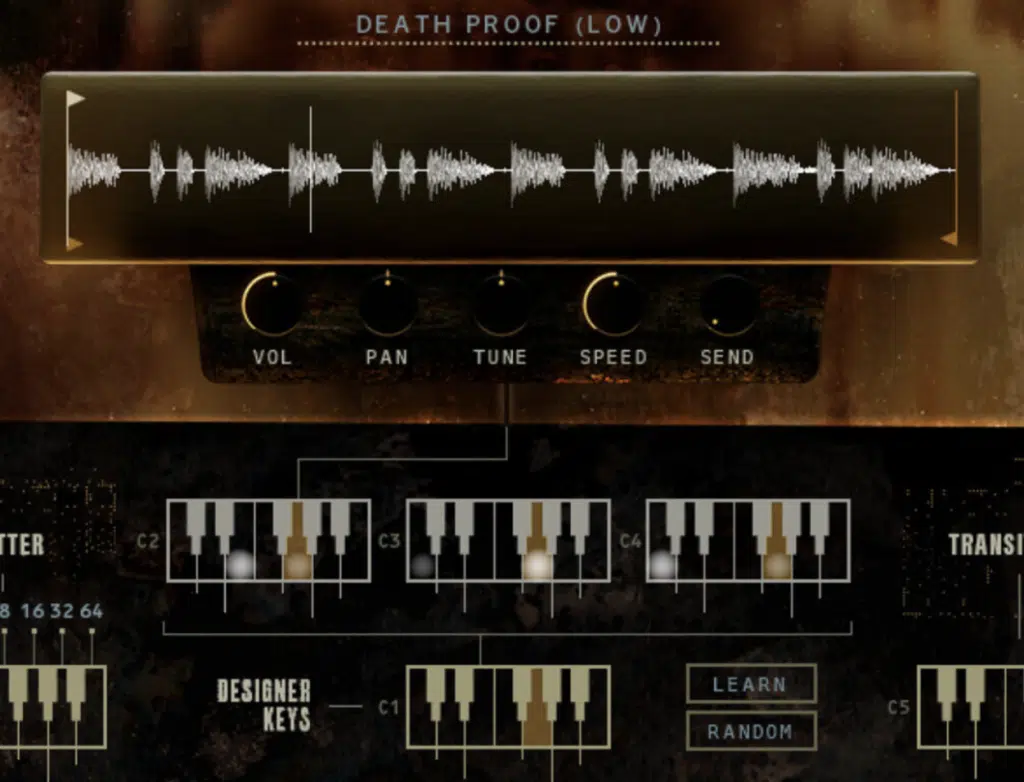 41,395 Samples and 1,596 Sources
208 Custom-Designed Presets
3 Unique Engines: Ensemble Designer, Kit Designer, Loop Designer
Instant 3D positioning with updated Stage
Five discrete mic positions (Close, Room, Hall, LFE, and analog CRUSH)
Customizable Master FX chain
One of the best drum VST plugins of 2023
#7. Getgood Drums Modern & Massive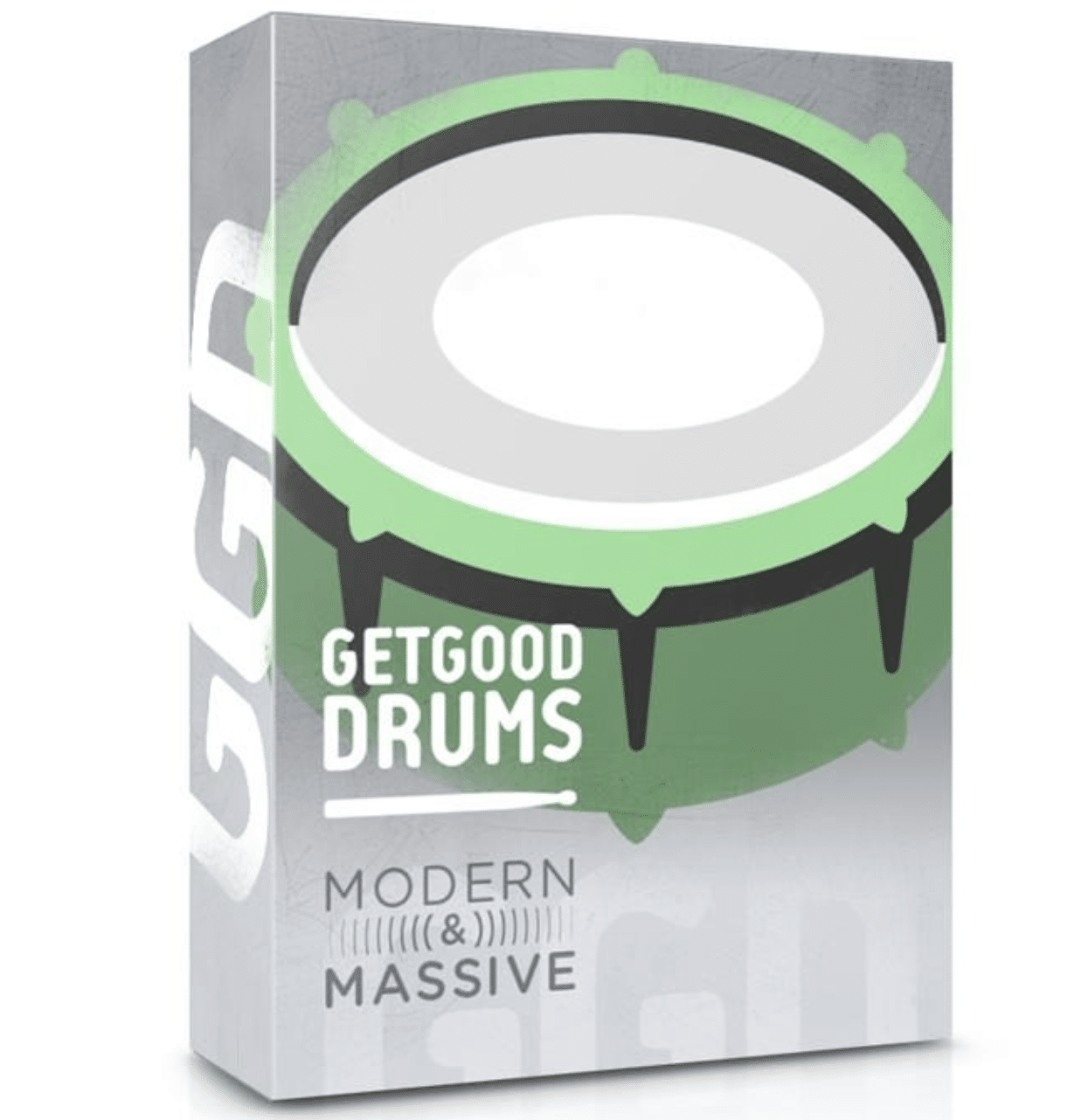 GetGood Drums returns with Modern & Massive, a sound library specifically designed for modern rock and metal producers.
Built on the legacy of the popular Matt Halpern packs, Modern & Massive is a culmination of years of diligent work.
It offers a library that not only meets but exceeds expectations.
This drum VST plugin features an array of:
Unique drum sounds
Kicks
Toms
Snares
All of these are expertly recorded with minimal processing at the renowned Middle Farm Studios in the UK.
Modern & Massive is characterized by its massive drum tones 一 with each sample precision-tuned and recorded for real-world production results.
From the nine snares, six kick drums, 14 toms, to the two sets of cymbals, every sound in this library is ready to make a significant impact on your music.
This variety ensures that you have the flexibility and freedom to craft your unique sound, whether you're producing rock, metal, r&b, pop, electronic sounds, or any other genre.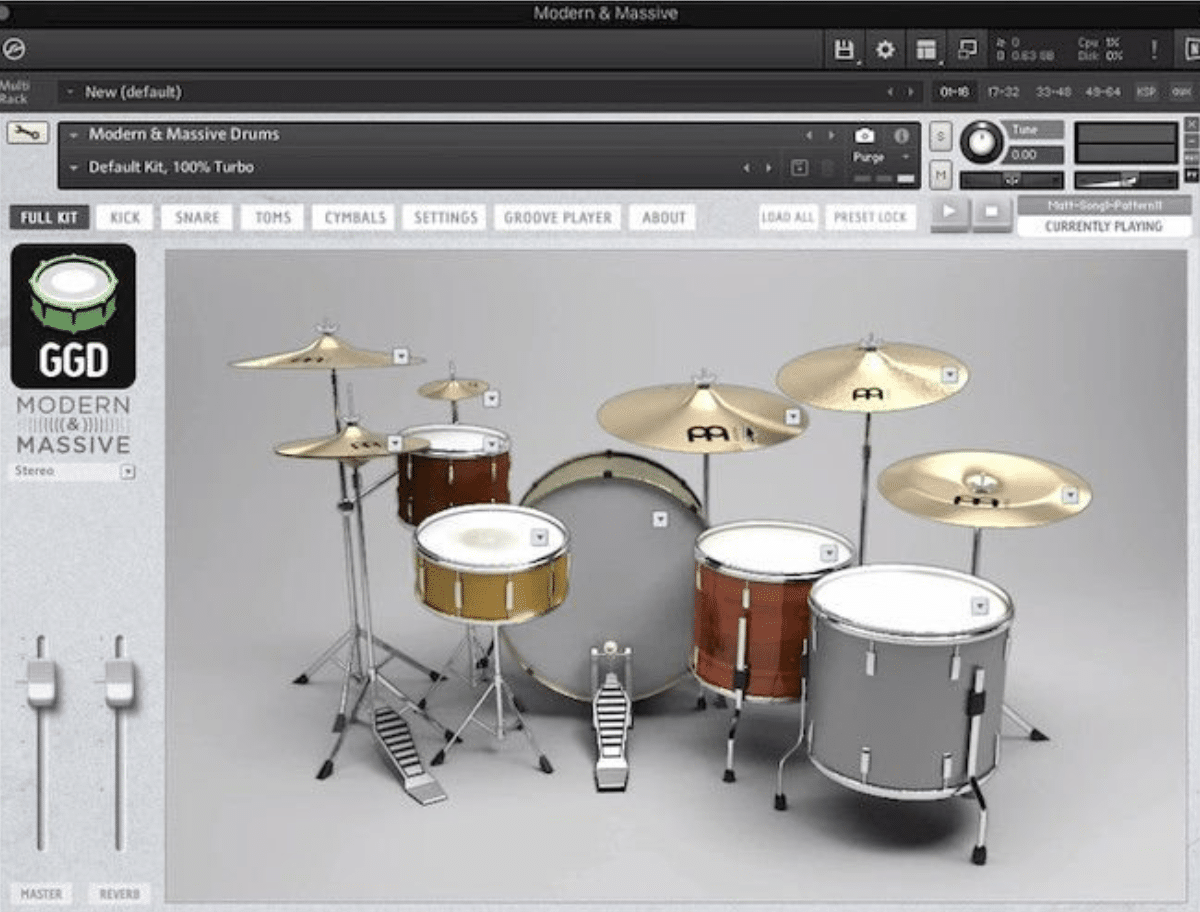 Room tone is paramount when it comes to drum sounds, and Modern & Massive doesn't disappoint.
It was recorded at Middle Farm Studios in the UK, famous for its explosive ambience.
By adjusting the room and overhead mics, you can achieve Zeppelin-scale chunk and resonance; giving Modern & Massive's kits an authentic, concert-like vibe.
Plus, the aesthetics and functionality merge seamlessly in the improved GUI.
The Full Kit view allows users to visualize what's being played and makes it easy to audition drums from a single tab.
Each tab, which is categorized into Kick, Snare, Toms, and Cymbals, lets you adjust the balance and shape of each instrument.
You have access to:
Individual faders for close mics
Near and far room mics
Large- and small-diaphragm condenser overheads
Modern & Massive stands out with its Turbo control feature.
With one knob, users can dial in just how "final" they want their drums to sound.
This 0–100 continuous control makes it possible to get radio-ready drum sounds with just the click of a mouse.
This drum VST plugin offers both processed and raw drum sounds, giving users complete creative control over their sound.
Standout Features: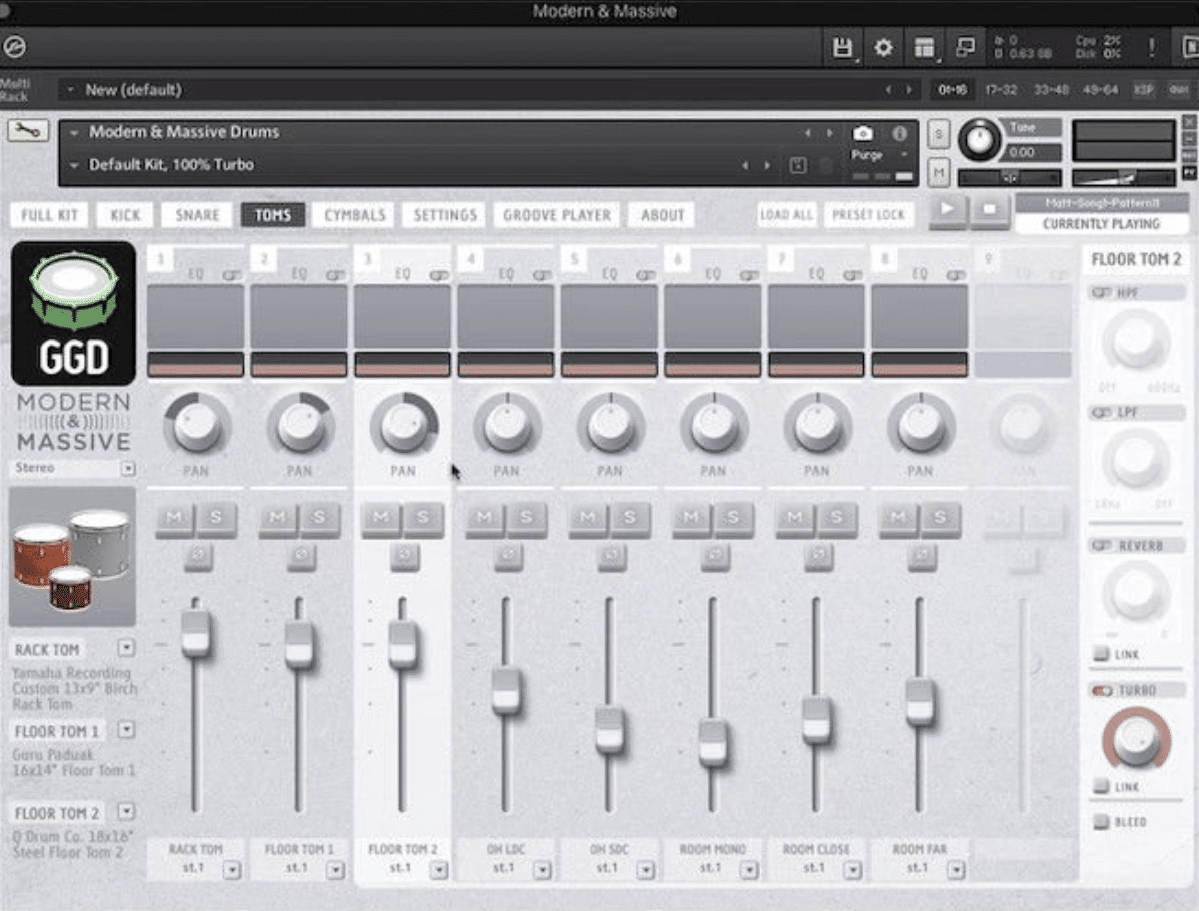 Contains 9 snares, 6 kick drums, 14 toms choices, and 2 sets of cymbals
Recorded at Middle Farm Studios in the UK
Drums are minimally processed to give full creative control
One-knob Turbo control for achieving a radio-ready drum sound
Streamlined GUI separating kick, snare, toms, and cymbals by tab
Blend close and far mics for each drum to discover the right vibe for your tracks
One of the best drum VST plugins of 2023
#8. Toontrack Superior Drummer 3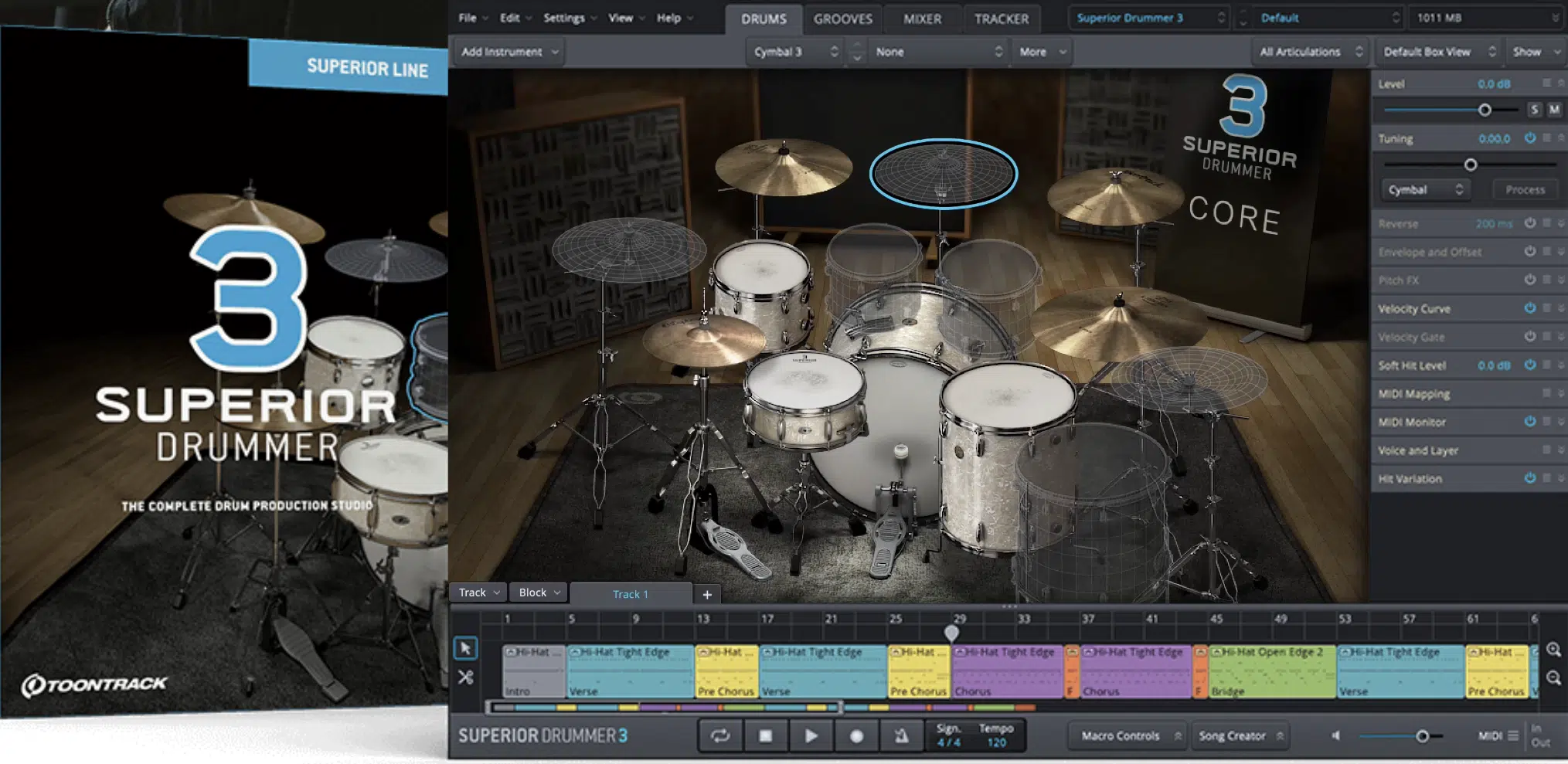 Toontrack Superior Drummer 3 is the definitive tool for percussive sound design.
More than a simple drum sampler, Superior Drummer 3 is a virtual studio providing the best possible raw material for creating detailed and diverse drum sounds.
The core sound library (clocking in at over 230 GB) was carefully recorded by the legendary George Massenburg at Galaxy Studios in Belgium.
The extensive sound library includes:
7 kits
25 snares
16 kicks
350+ electronic sounds
This gives you an almost infinite number of options to craft your perfect drum tones.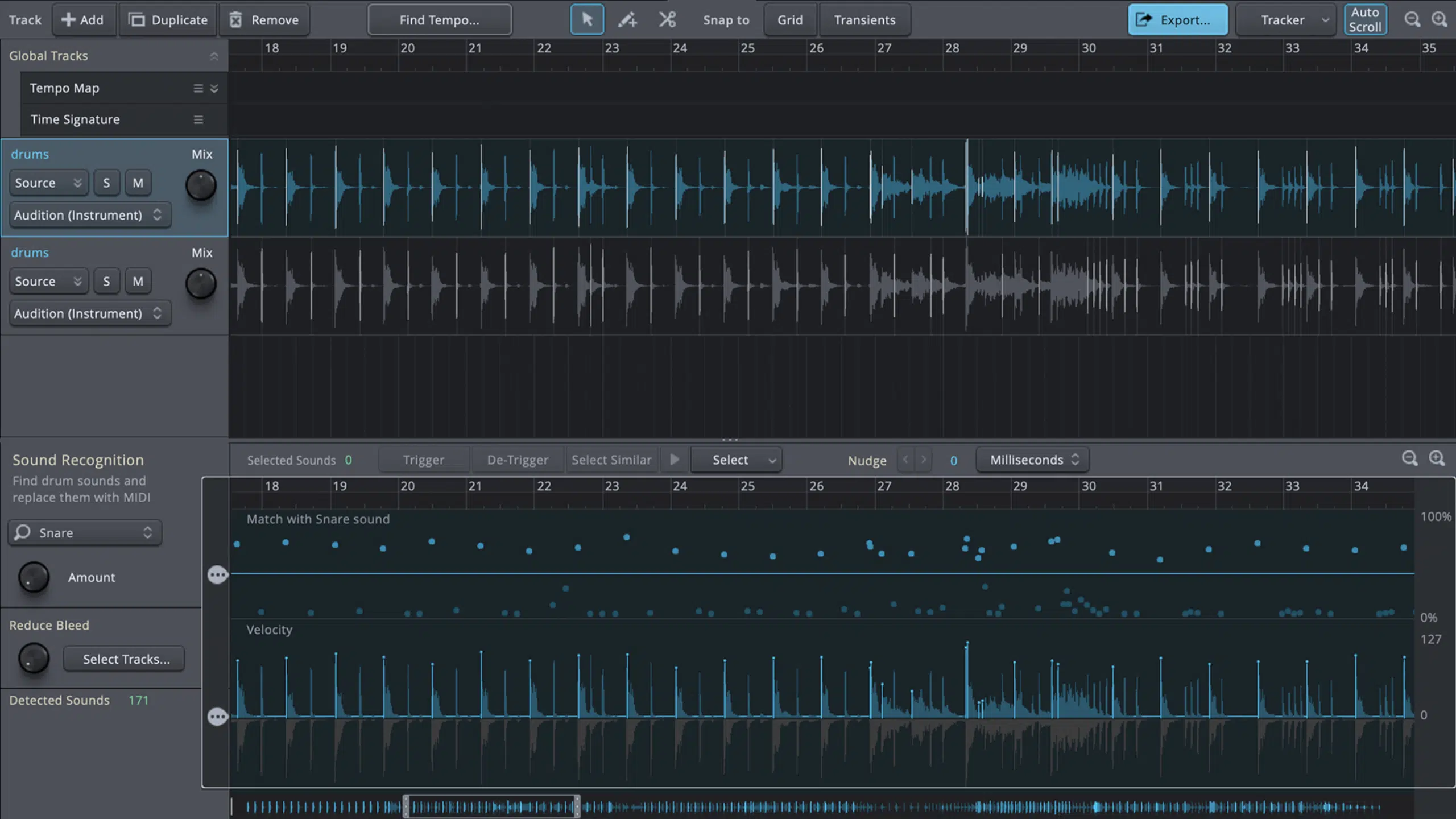 Superior Drummer 3 stands apart with its unique blend of acoustic and electronic drums 一 offering you the ability to create entirely new sonic landscapes.
The 35 onboard sound processing effects, comprehensive MIDI library, and an integrated system for audio-to-MIDI conversion allow for exceptional customization.
Whether you want to build beats quickly, layout complex drum sequences, or fine-tune the velocity and timing details, Superior Drummer 3 has you covered.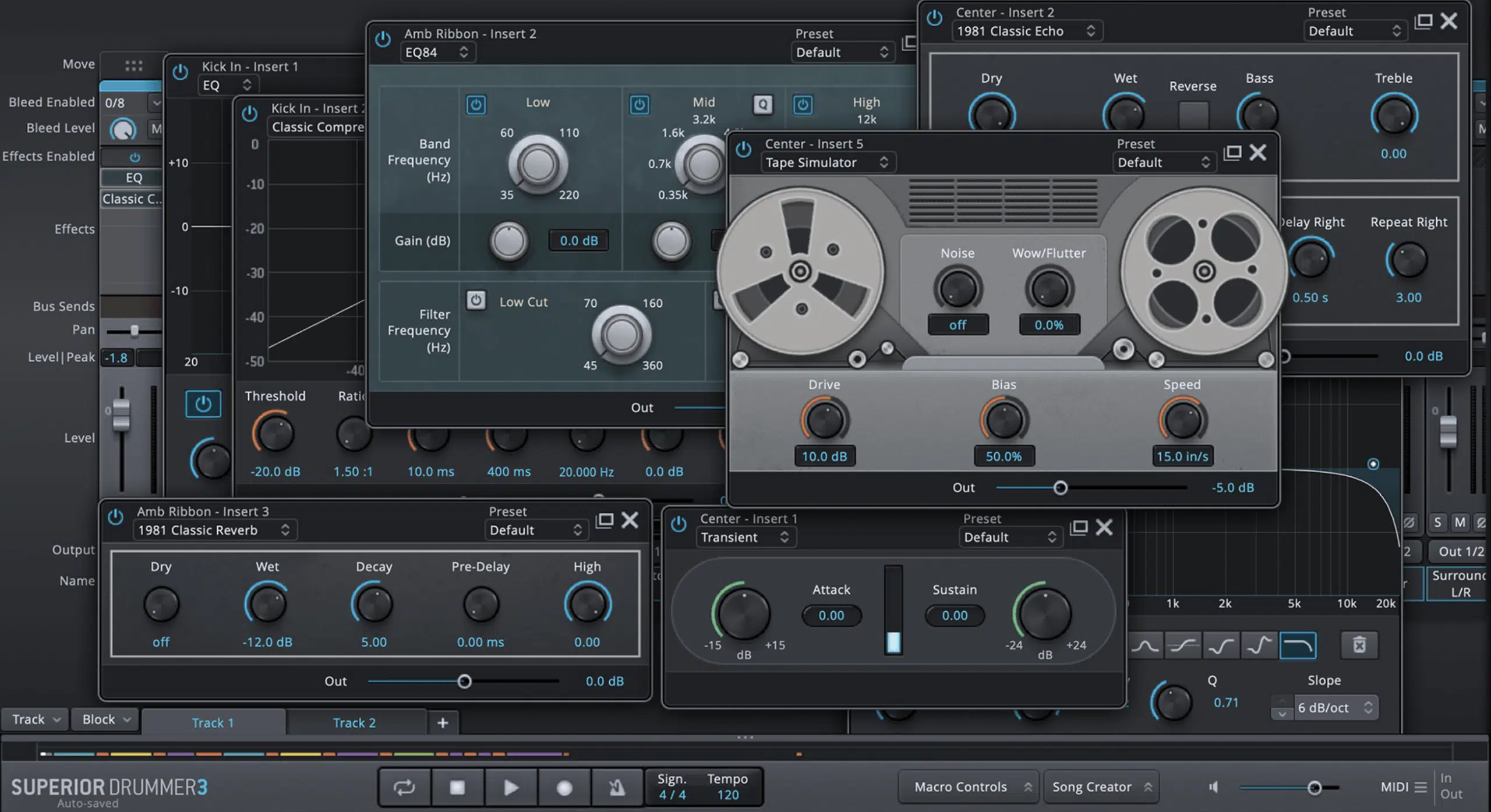 Additionally, Superior Drummer 3 is engineered for immersive sound playback.
Recorded using eleven additional room microphones set up in a surround configuration, you can produce drum mixes for anything from stereo to 5.1, 9.1, and all the way up to 11.1 systems.
With only 14 dBA of environmental noise, the recording studio offers unparalleled quietness for pristine audio quality.
For e-drummers, Superior Drummer 3 offers a dedicated e-drum settings tab with a range of e-drum presets 一 allowing for an easy setup for positional sensing pads and multiple articulations.
With up to 25 velocity layers per instrument and quick access to controls for snare and hi-hat CC, this best drum VST transforms the response/expressiveness of your e-kit into an immersive experience.
One that's akin to playing an acoustic drum set.
Standout Features: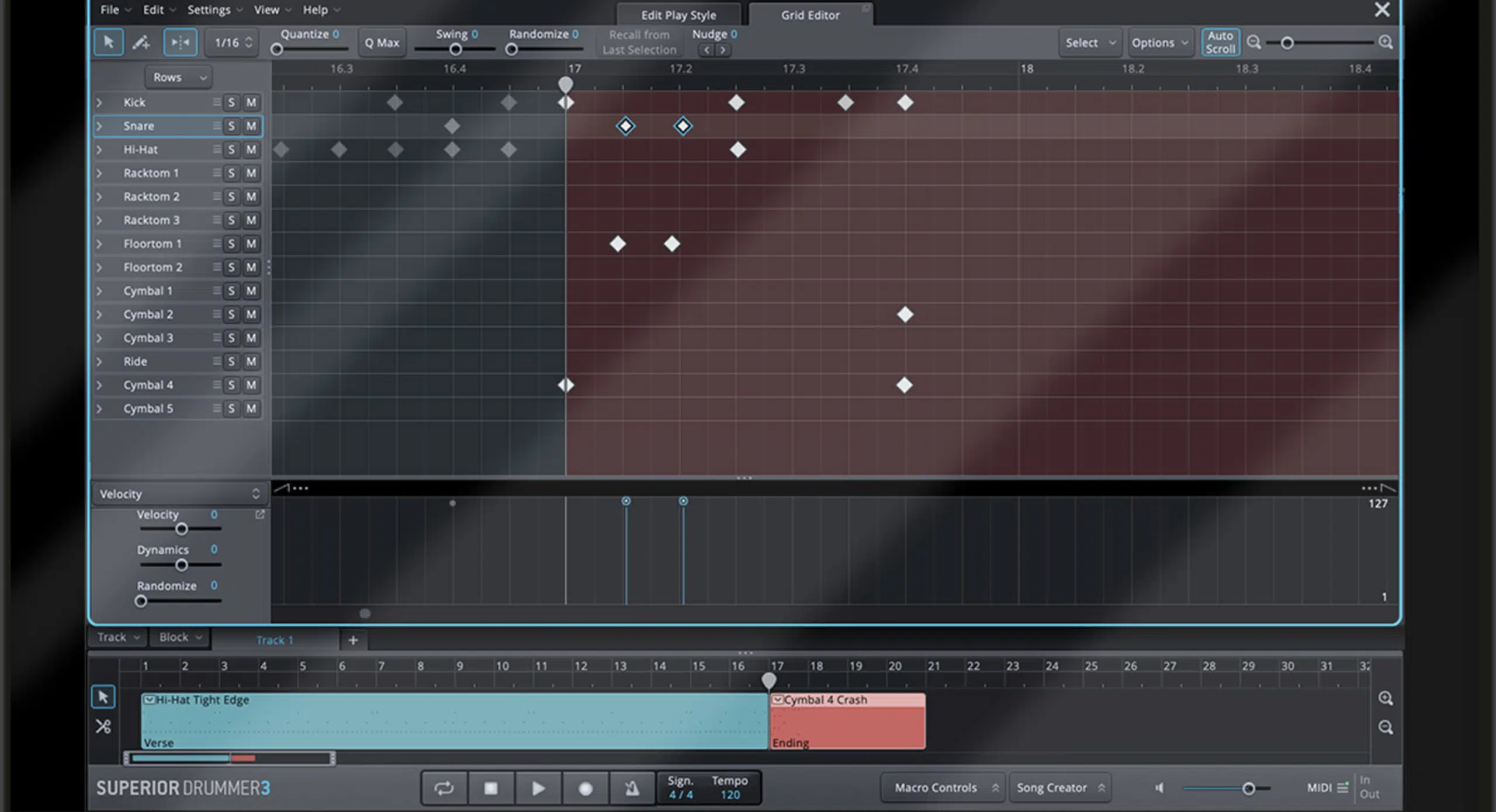 More than 230 GB of raw material for drum sounds
Electronic drum kit
Comprehensive MIDI library and audio-to-MIDI conversion
Surround sound recording setup for immersive sound playback
Dedicated e-drum settings for an enhanced e-drumming experience
One of the best drum VST plugins of 2023
#9. MDrummer by MeldaProduction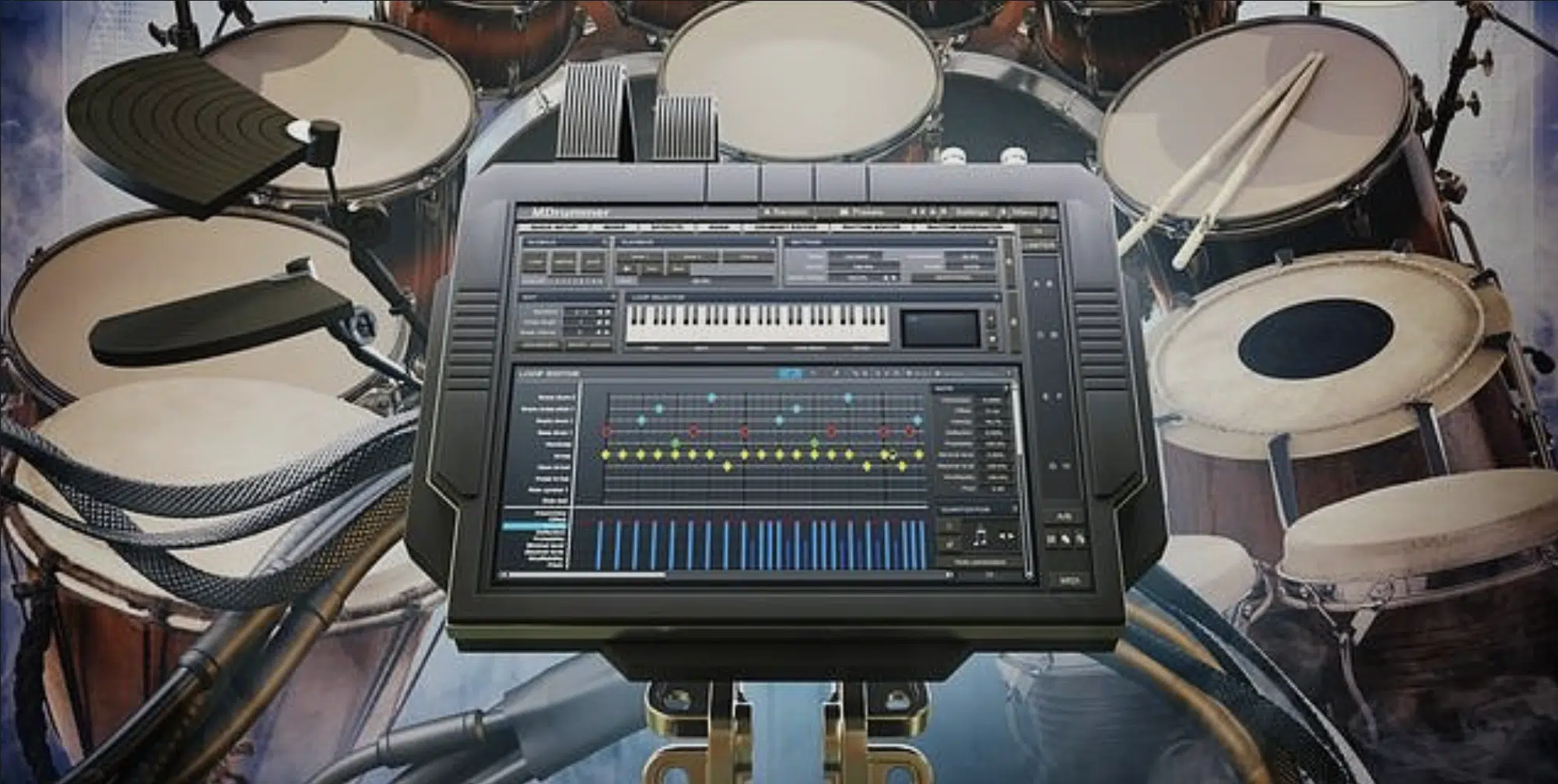 MDrummer by MeldaProduction is a powerful drum machine and virtual drummer that simplifies the process of arranging drum tracks and performing in real time.
With its sound engine capable of covering the entire range of percussion instruments, MDrummer provides a wide selection of drum sets and effects, including:
Drums
Scratches
Sampling
Unique sound generators
Whether you're interested in acoustic drums, electric drums, percussion, or effects, MDrummer can fulfill your needs.
The software is capable of generating an infinite number of new drum sets and can import your sample libraries.
If you're looking for a traditional sound or a unique one, MDrummer offers all the tools you need to explore, mix, and create.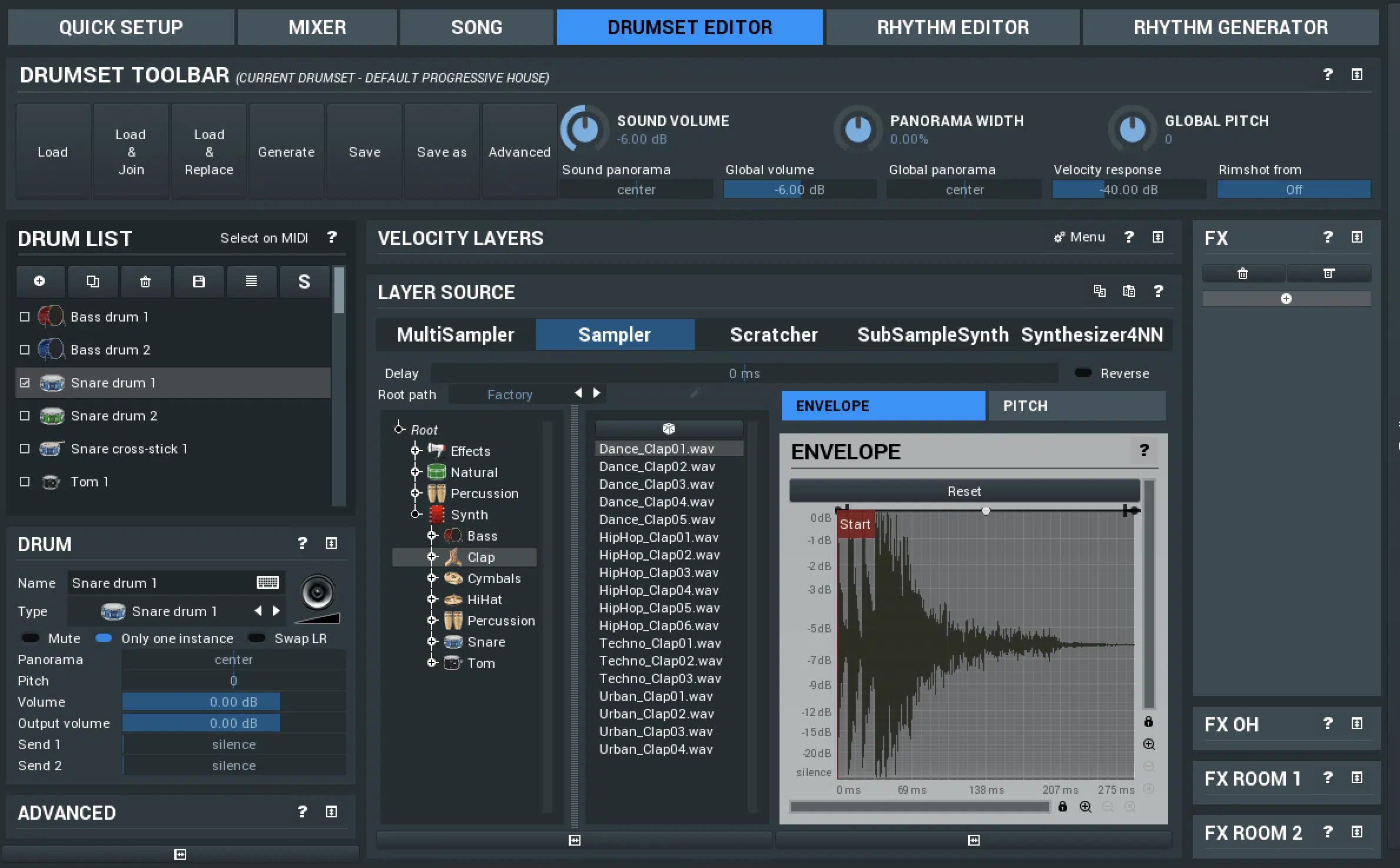 MDrummer's advanced rhythm understanding allows it to cover any style and any percussive instrument.
It can:
Generate new rhythms
Merge multiple rhythms
Add shakers
Incorporate other background percussion
Advanced features like humanization, shuffling, and half/double tempo help you bring your ideas to life.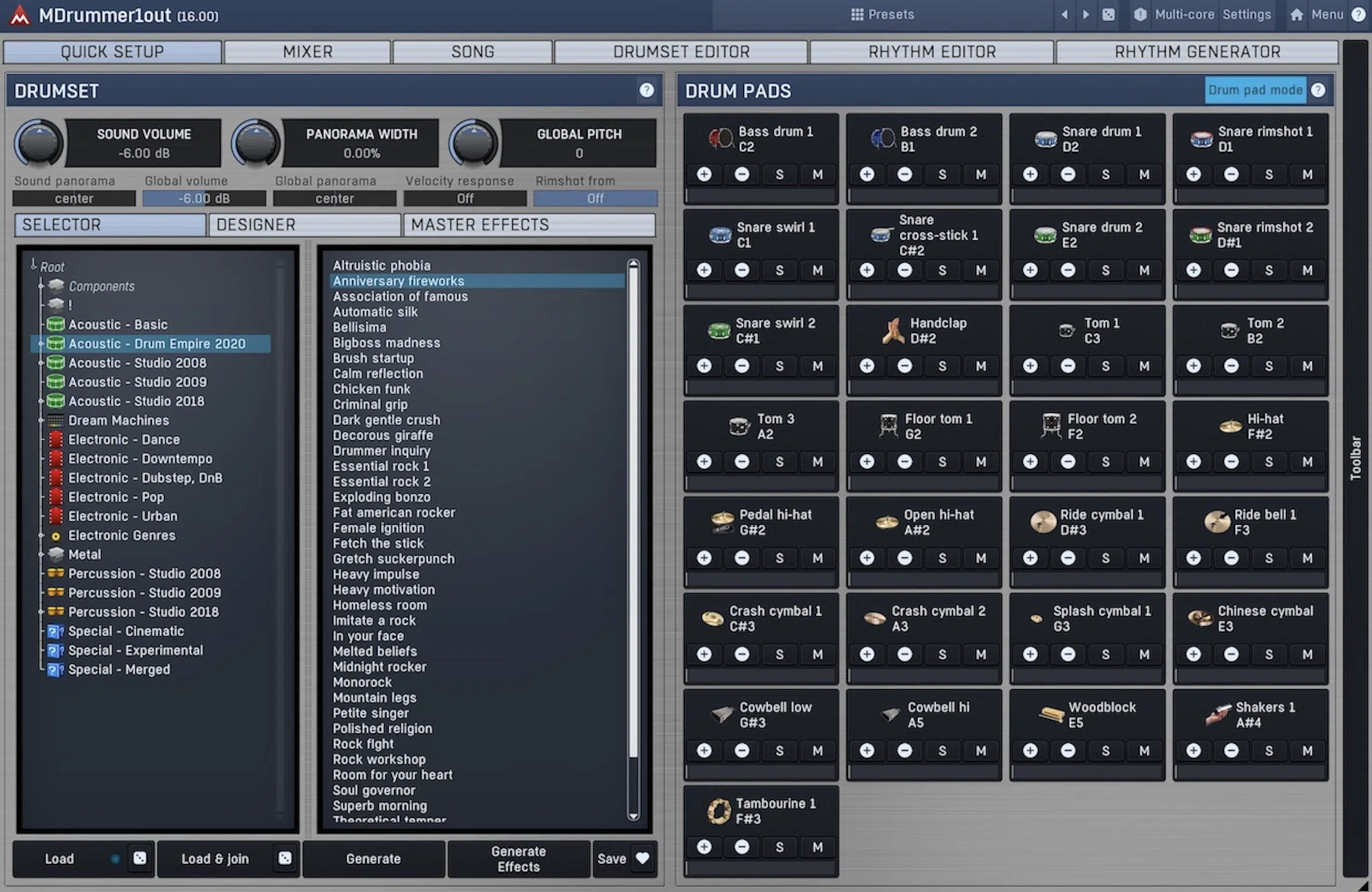 Additionally, MDrummer's interactive MIDI command method, the integrated sequencer, and its jamming capability make drum track creation an easy and enjoyable process.
The resizable and restyle-able user interface (complete with context help) is optimized for maximum speed and offers an intuitive and inspiring workflow.
The goal of this drum plugin is to provide the ultimate user experience and the tools necessary for unlimited creative exploration in drum programming.
Standout Features: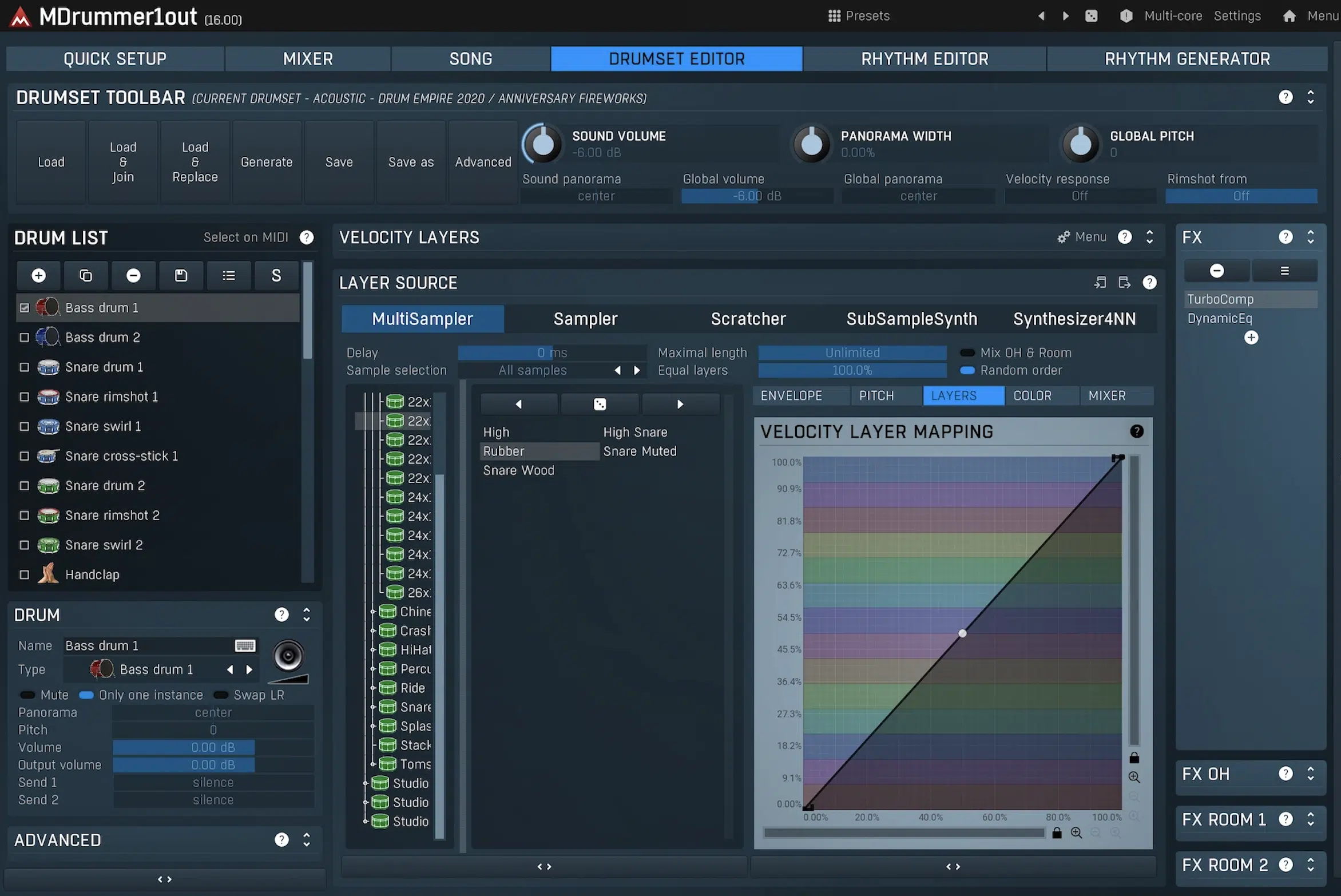 A comprehensive range of percussion instruments and effects
An infinite number of new drum set generation
Ability to cover any style and any percussive instrument
Advanced features like humanization, shuffling, and half/double tempo
Intuitive and flexible drum machine
Resizable and restyle-able user interface for maximum speed and creative exploration
One of the best drum VST plugins of 2023
#10. Steven Slate Drums 5.5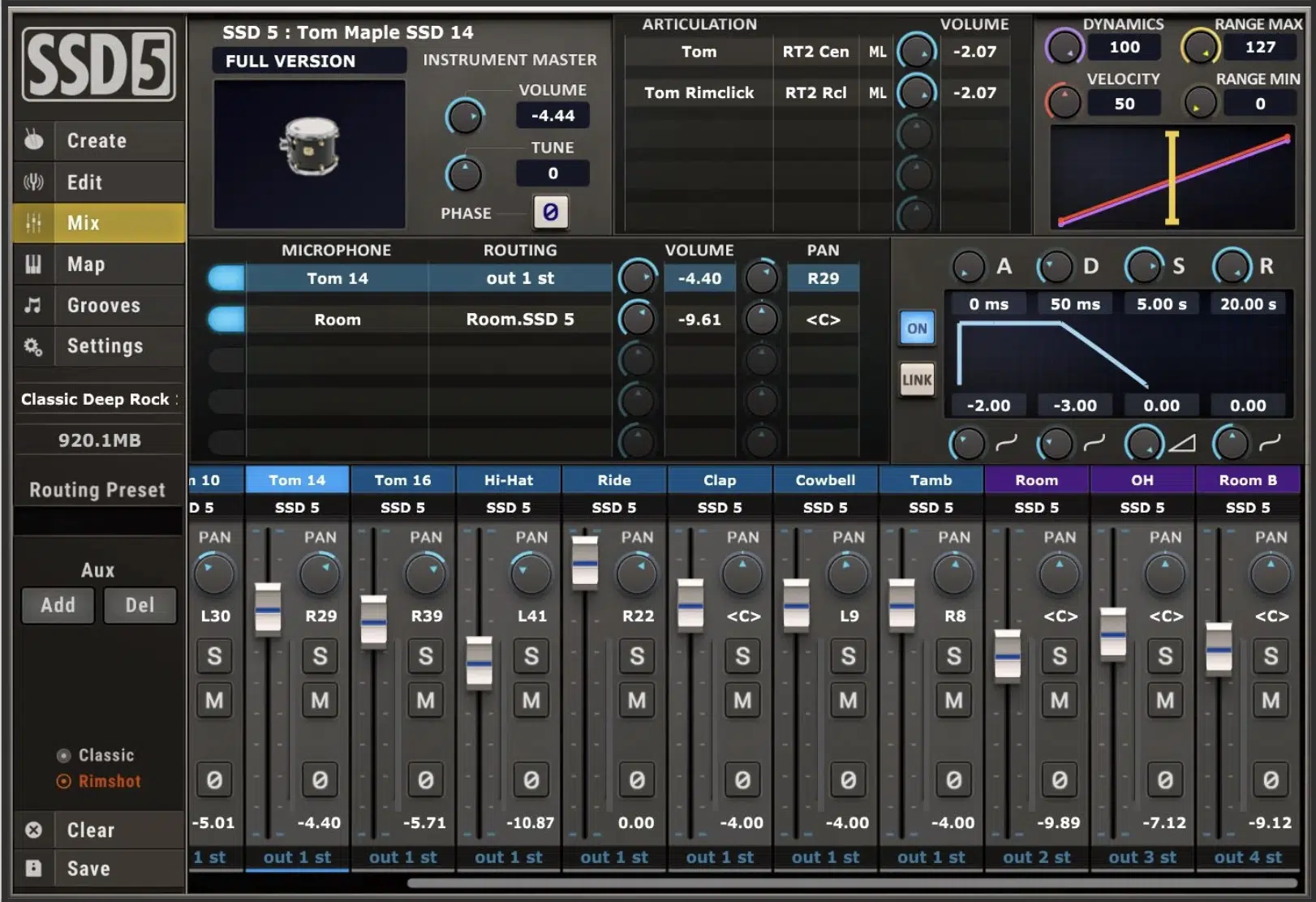 Steven Slate Drums 5.5 (SSD 5.5) is a highly versatile drum VST plugin that offers a wide range of artist and legendary modeled drum kit presets.
The software includes:
More than 2,400 MIDI grooves
400 instruments
Steven's previously unreleased OG one-shot snare samples
Plus, the new Smart-Velocity Triggering algorithm ensures any one-shot sample blends perfectly with the rest of your kit.
This makes SSD 5.5 a great choice for all styles of music, from rock, metal, jazz, funk, indie, reggae, hip hop and more.
SSD 5.5 has undergone significant upgrades with the addition of new kits and samples, an updated GUI, and faster MIDI mapping & learning.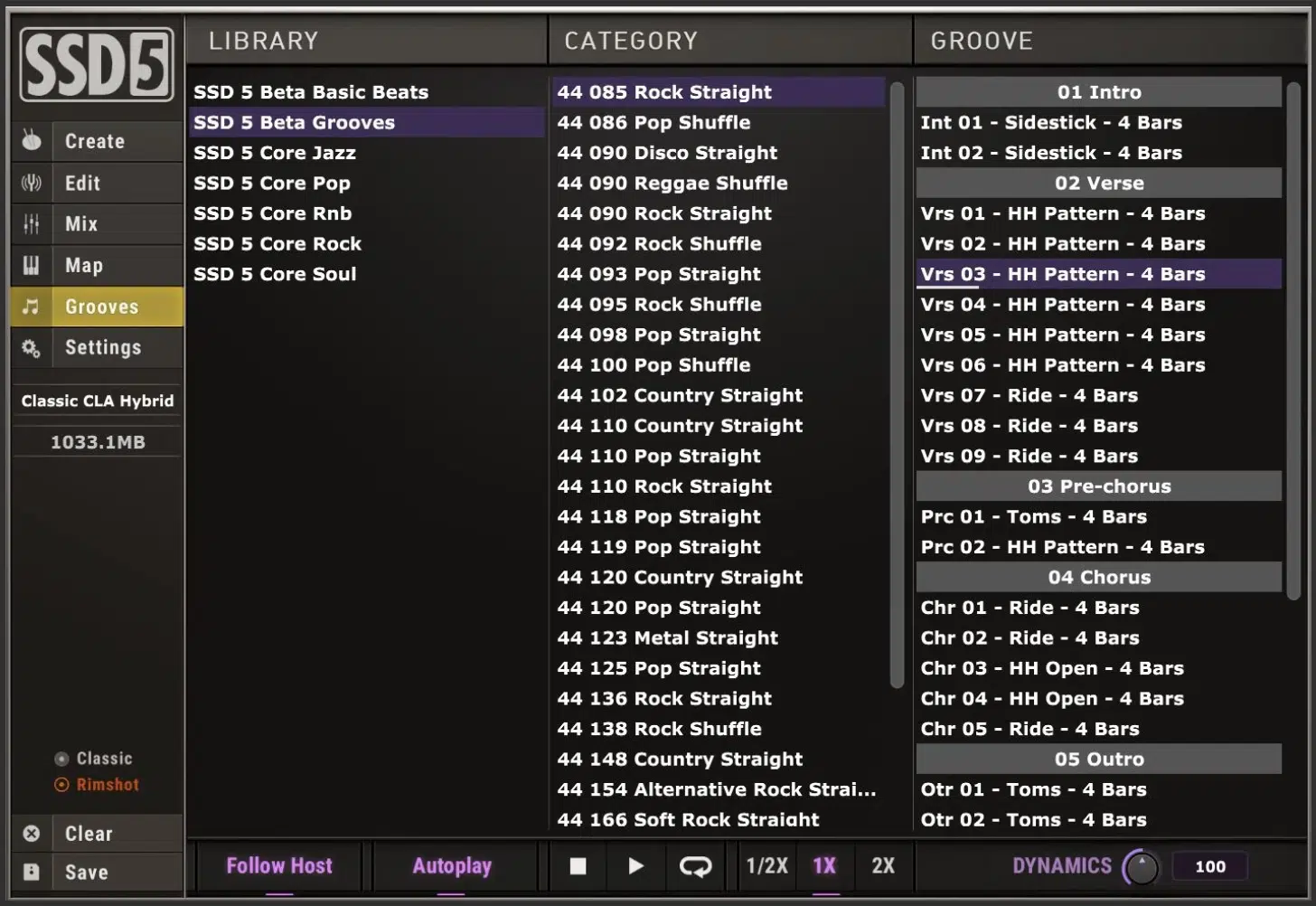 This improved interface makes it easy to customize drums, offering total control over the dynamics, panning options, and ADSR settings of each instrument.
The software also allows you to mix ambient room mics and close mics with custom routing options, and even resize the plugin window for a tailored workflow.
Furthermore, the completely redesigned Map section in SSD 5.5 simplifies the process of MIDI mapping 一 allowing you to customize your drum MIDI mappings on the fly.
This is an inclusion I find very beneficial.
SSD 5.5 also allows for the import and use of third-party samples and grooves, giving you even more flexibility in shaping your drum sounds.
Standout Features: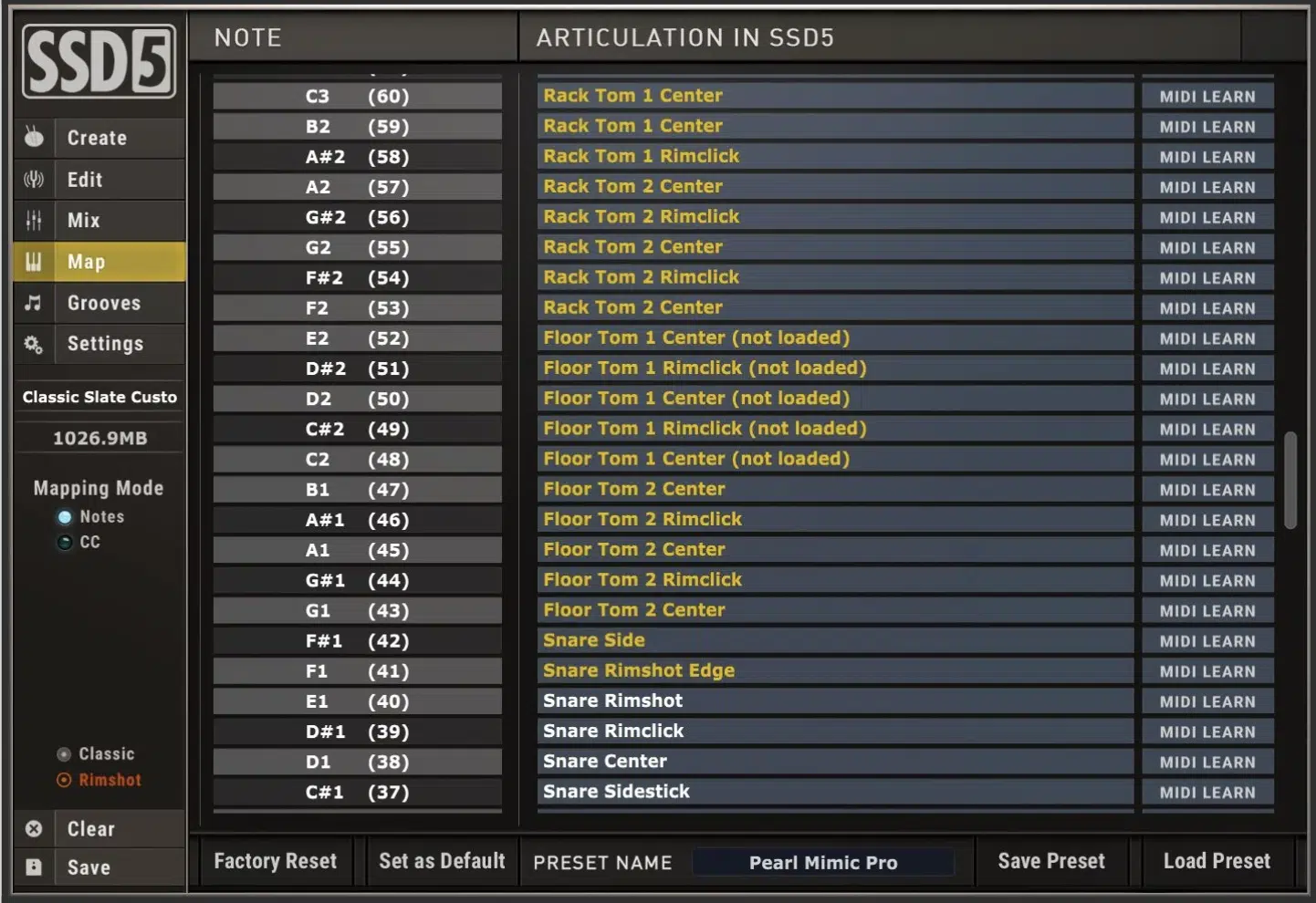 Wide range of artist and legendary modeled drum kit presets
Over 2,400 MIDI grooves and 400 instruments
New Smart-Velocity Triggering algorithm for perfect blending of one-shot samples
Redesigned interface for easy drum customization
Quick MIDI mapping and learning drum machines, with import and use of third-party samples
One of the best drum VST plugins of 2023
#11: MiniSpillage by AudioSpillage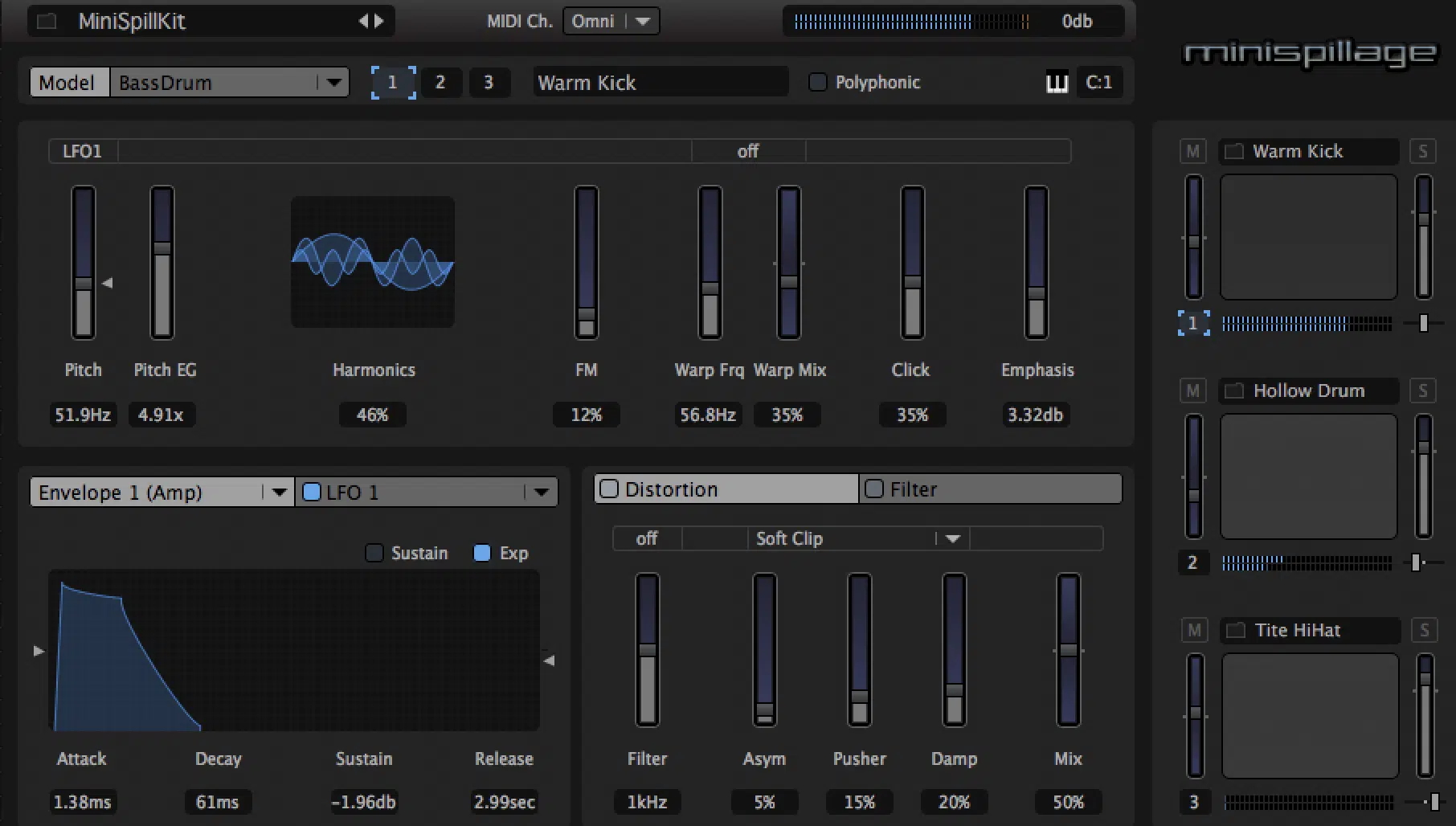 MiniSpillage by AudioSpillage is a free drum VST plugin that offers high-resolution 64-bit DSP processing.
Despite being free, MiniSpillage doesn't skimp on features, offering three exclusive drum synthesis algorithms (below), distortion effects, and resonant filters.
This gives you the ability to create a wide variety of original drum and percussion sounds.
The Bass Drum algorithm 一 A single oscillator bass drum synth with pitch sweep, internal FM & harmonic controls.
The Wood Drum 一 A flexible wooden drum model that synthesizes natural & synthetic timbres.
The Hi-Hat 一 A six-oscillator closed and open hi-hat generator with a noise source and dual resonant filters.
MiniSpillage offers three fully editable drum pads, each capable of crafting diverse and high-quality percussion sounds.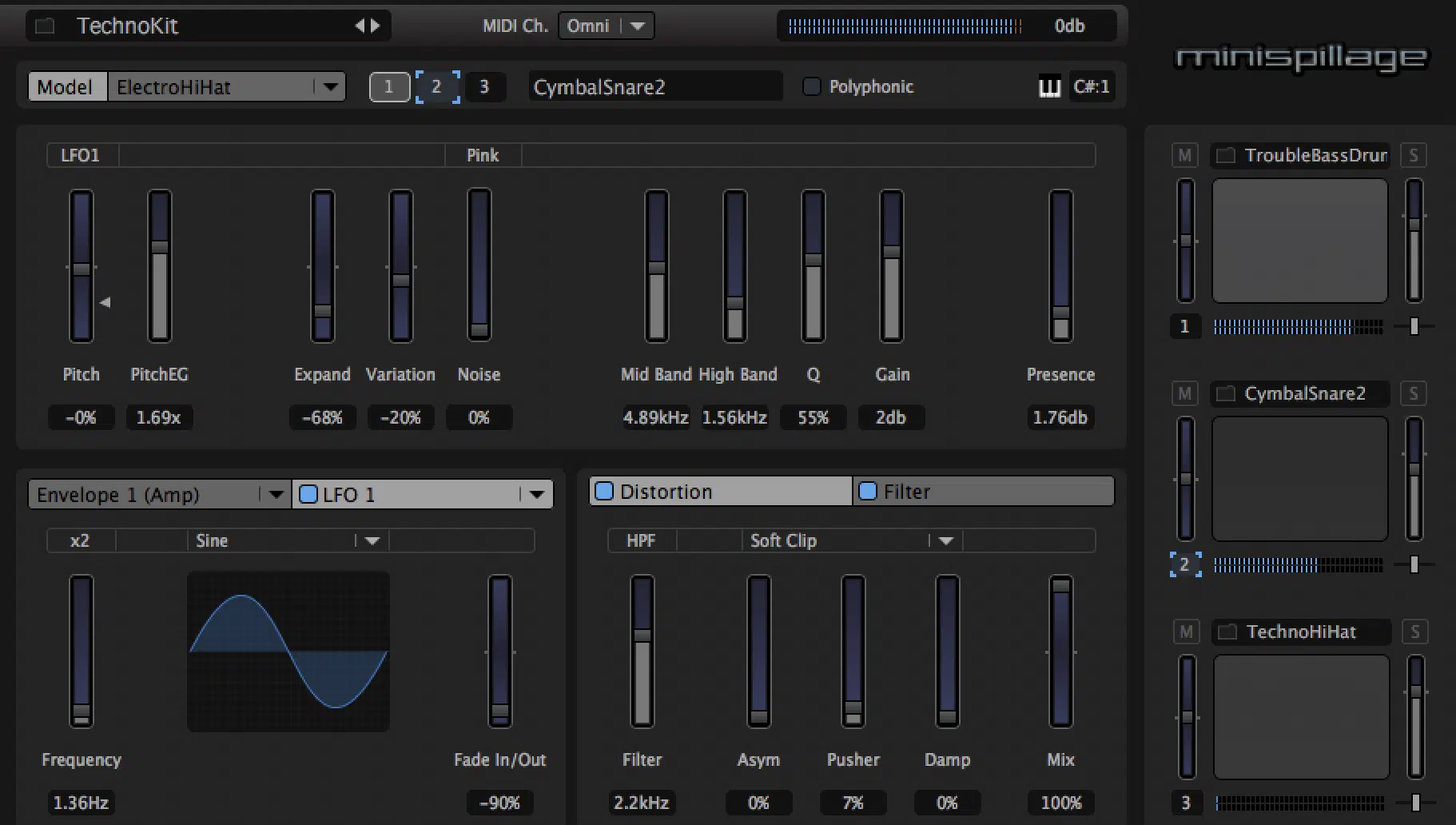 Despite its minimalist design, this free VST plugin leverages the same high-definition 64-bit DSP engine found in its bigger sibling, DrumSpillage.
This ensures that MiniSpillage delivers a rich, detailed sound that makes it a powerful tool for drum synthesis, unlike other free drum VST plugins.
When I compare it to other free VST plugins, MiniSpillage is superior in most ways.
NOTE: If you're looking for other free VST plugins that are immaculate, we've got you covered.
Standout Features: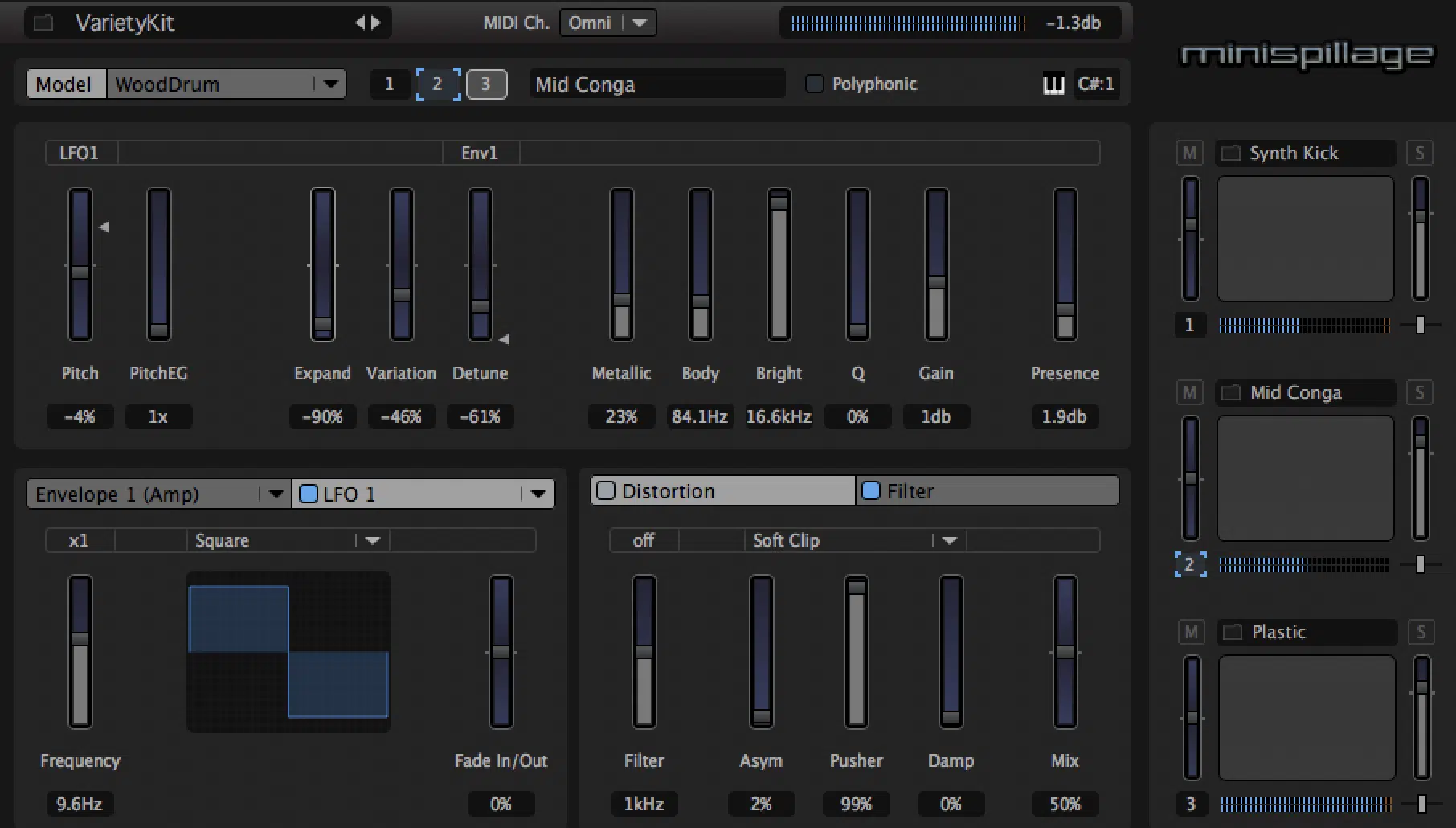 High-resolution 64-bit DSP processing
Three exclusive drum synthesis algorithms
Three fully editable drum pads
Ability to create a wide variety of original drum and percussion sounds
Free yet powerful drum synthesizer tool
One of the best free drum VSTs of 2023
#12. MT Power Drum Kit 2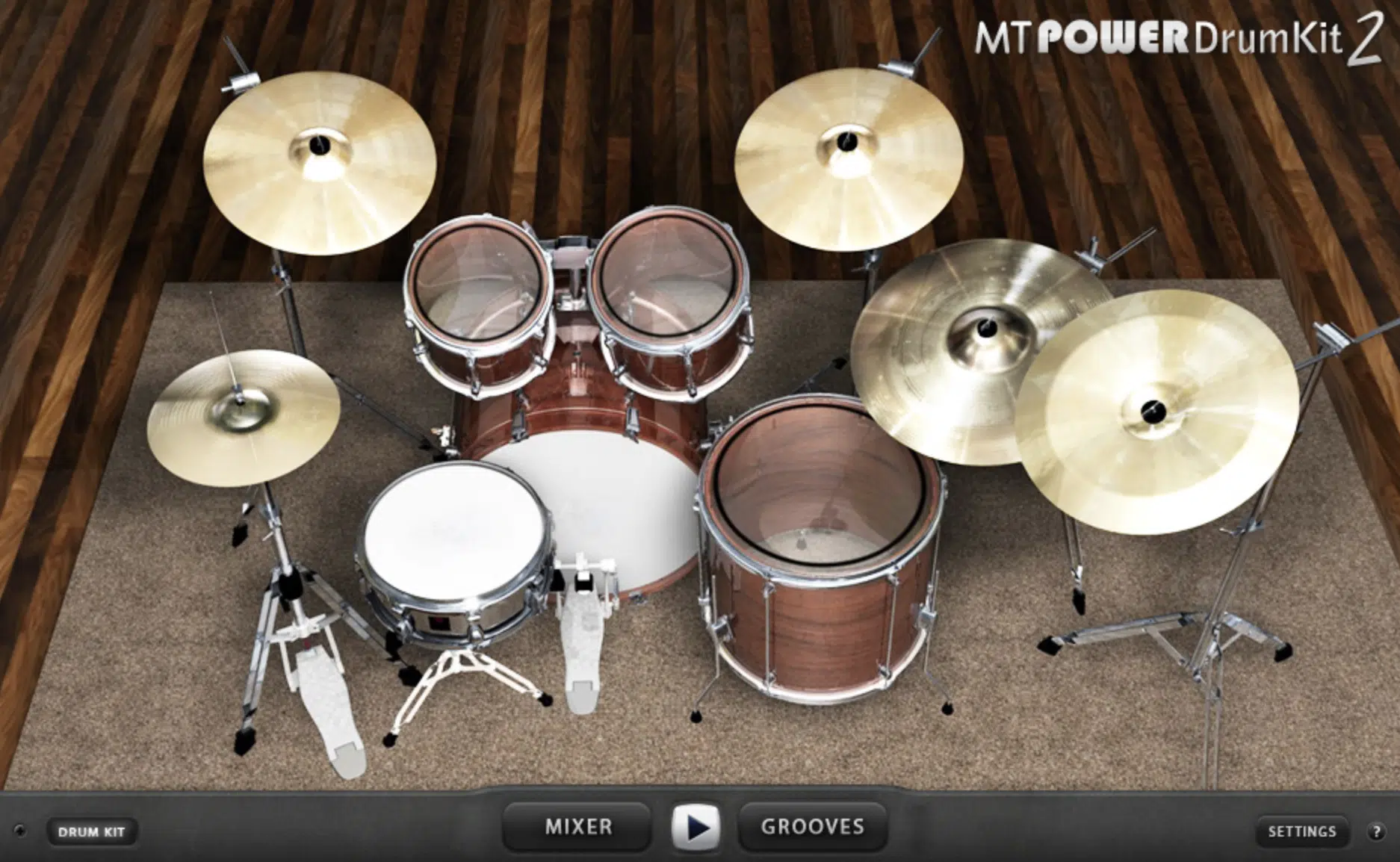 MT Power Drum Kit 2, developed by Manda Audio, is a free drum sampler providing the rich, dynamic sounds of an acoustic drum kit designed specifically for pop, rock, and metal productions.
It offers meticulously recorded and processed samples, ensuring they perfectly fit any mix.
The superior acoustic feel sets the MT Power Drum Kit 2 apart, bridging the gap between electronic production and live sound dynamics.
The emphasis is on the provision of drum sounds that are naturally dynamic but also powerful and distinct enough to stand their ground in a full mix.
This makes it a true drummer's delight.
A common challenge with some expensive drum samplers is their inability to deliver a natural, dynamic drum kit sound when used in a powerful pop or rock production mix.
MT Power Drum Kit 2 addresses this 一 offering kick and snare drums that retain their clarity and natural tone even in complex mixing situations.
These are not overly compressed but rather deliver a robust and authentic acoustic punch.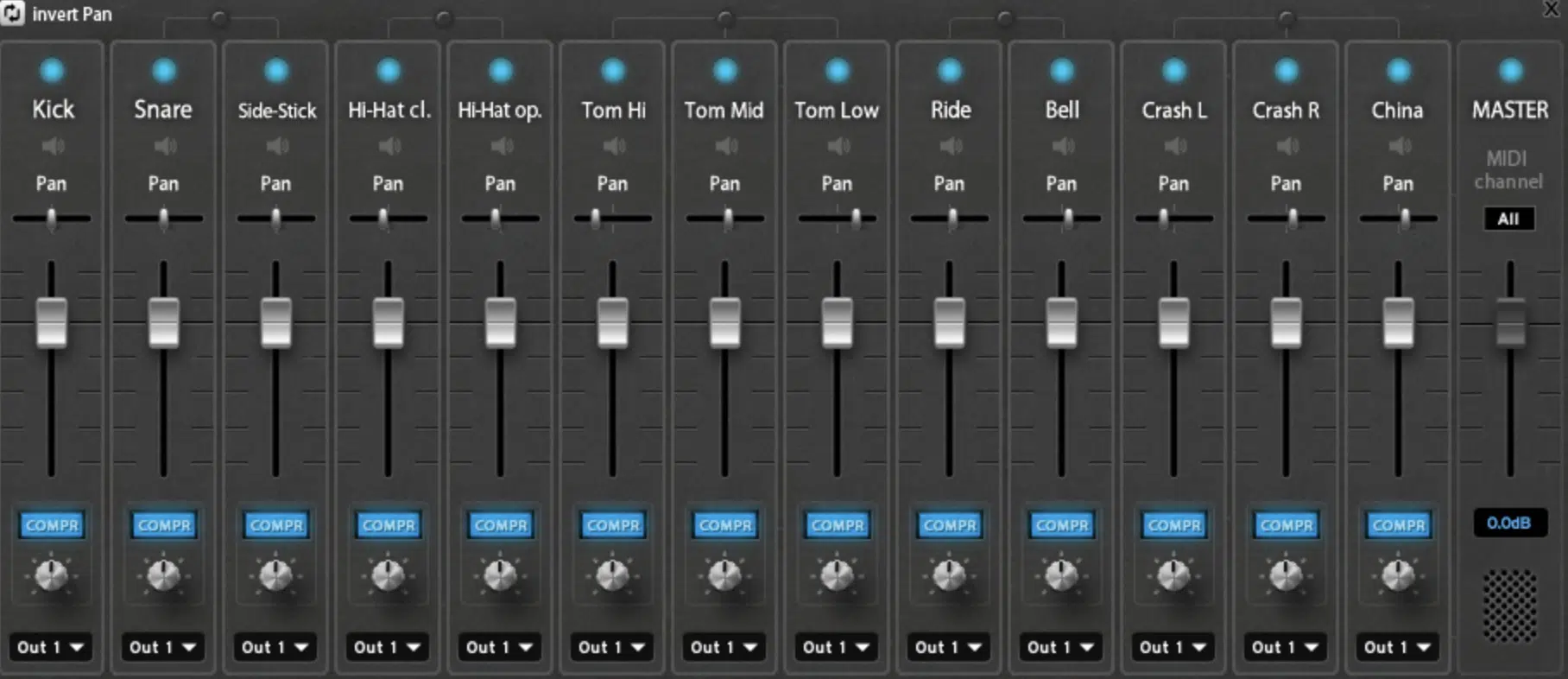 This sampler promises to provide sounds that not only hold up magnificently but stand out in the final mix.
The power of the MT Power Drum Kit 2 also lies in its embedded compressors for each channel, granting the user enhanced control over the degree of compression.
This drum VST plugin takes away the guesswork that usually comes with adjusting EQs and compressors to suit a mix.
Therefore, ensuring that the drum sounds are always a perfect fit for any composition or production.
Beyond its sound capabilities, MT Power Drum Kit 2 offers an extensive Groove Library, holding thousands of diverse rhythms to choose from and compose your drum accompaniment.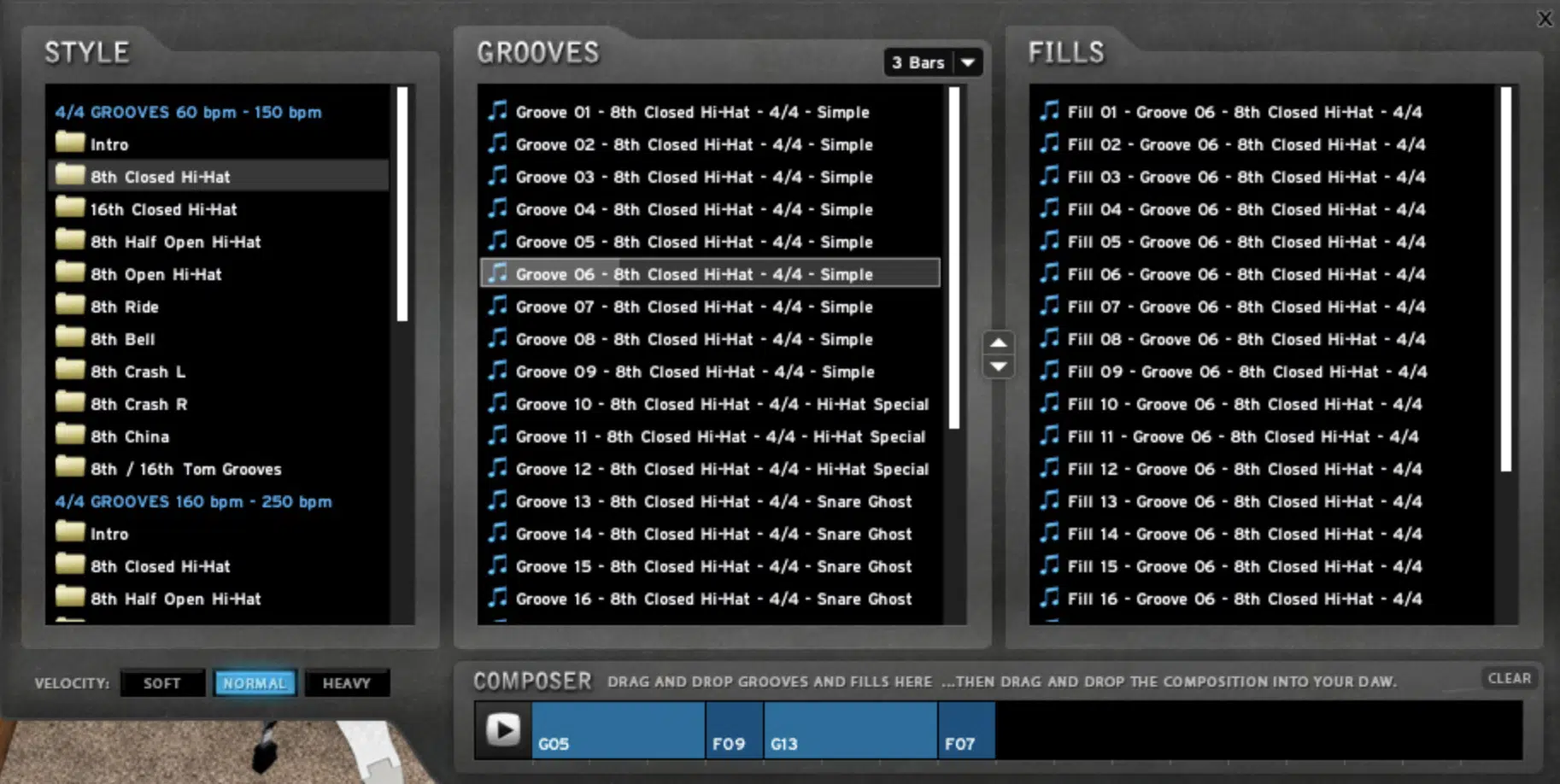 Notably, the innovative fill creation functions facilitate the production of very smooth and realistic drum tracks.
This creates a much more organic and realistic drum sound than you'd get from programming the beats manually.
This drum kit plugin stands out due to its refined cymbal sounds, recorded using high-quality cymbals and microphones.
The hi-hat, ride, and crash cymbals all deliver a polished and pleasant sound at various velocities.
The realism of the samples is amplified by the unique recording approach, where the studio drummer played entire grooves.
Which were then segmented into individual samples at various velocities, mind you.
Standout Features: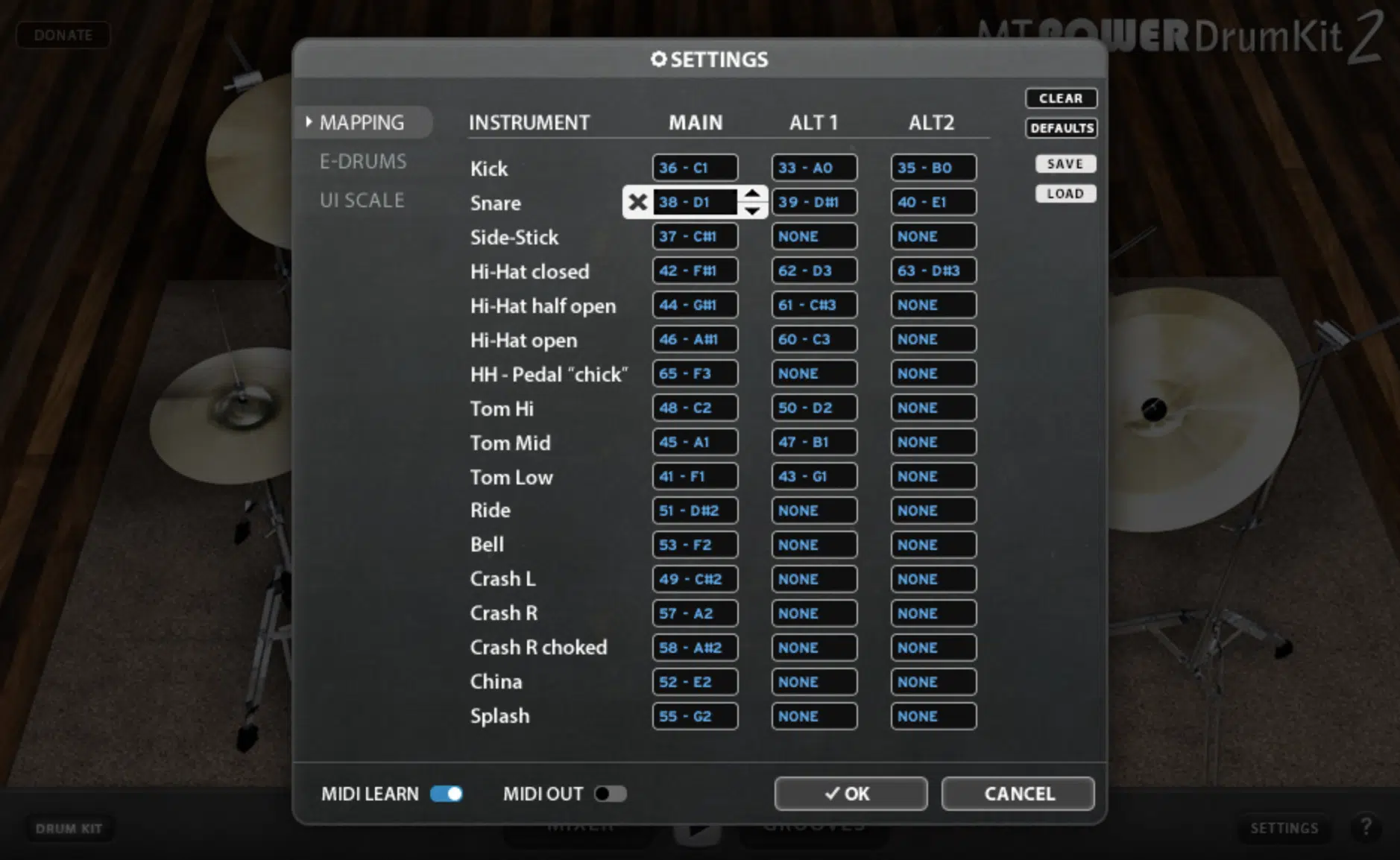 High-quality, realistic acoustic drum kit sounds, specifically processed for pop, rock, and metal productions
Built-in compressors for each channel provide enhanced control over the degree of compression
An extensive Groove Library with thousands of assorted rhythms for creating drum accompaniments
Innovative fill creation functions to produce smooth and realistic drum tracks
High-quality cymbal sounds recorded using top-notch cymbals and microphones
Unique recording approach to producing very realistic samples
One of the best drum VST plugins of 2023
Best Drum VST Plugins: Final Thoughts
And there you have it: the most comprehensive breakdown of the top 12 drum VST plugins of 2023.
Each one of the best drum VST plugins offers a unique combination of features, sounds, and adaptability to different production styles.
From the genre-specific abilities of Drum Monkey to the meticulously sampled real-world drum kits, the best drum VST plugins we've covered are designed to breathe new life into your tracks.
As you've seen, the right drum VST can revolutionize your music production process.
However, even with these exceptional plugins, you may sometimes need a helping hand to achieve that professional mix…
This is where these mind-blowing, show-stopping FREE drum loops come into play.
They provide you with an additional resource alongside these remarkable plugins.
These are 12 top-notch, expertly mixed drum loops that you can easily integrate into your music production process.
Whether you're looking to quickly sketch out an idea or add a final layer of polish to your track, these drum loops deliver a quality that's impossible to beat.
Plug and play straight into your tracks, these drum loops take away the worry of mixing and mastering 一 leaving you more time for creative exploration.
Combined with the powerhouse drum VST plugins we've explored in this article, you'll have all the tools you need to create dynamic, compelling drum tracks.
Remember, the choice of plugin depends on your personal needs and the specific requirements of your project.
Don't be afraid to experiment with different options to find what works best for you.
With these tools at your disposal, you're well on your way to creating incredible drum tracks.
Until next time…