Finding professional-quality free MIDI packs of any kind is a rather difficult task, especially if you want them to sound good regardless of the source instrument… 
Luckily, here at Unison, we specialize in creating them for you.
We'll be breaking down the absolute best, game-changing free MIDI packs that are a MUST-HAVE for 2023.
All the guesswork is eliminated
Your workflow will be enhanced
You will be able to make unique, radio-ready songs with ease
You'll have access to professionally-crafted sounds
All samples, loops, and chords are royalty-free
Drag & drop ready
The following free MIDI packs all have zero restrictions when it comes to manipulation.
You can express yourself freely, incorporate any genre, and absolutely blow the minds of your listeners within seconds.
WITH MIDI, YOU CAN:
Change the scale

Change the notes within the scale

Alter the tempo

Manipulate the rhythm/cadence

Create a new playing-style entirely 

Change the velocity

Add accents and ghost notes 

Input MIDI CC data
These free MIDI packs are invaluable building blocks, guaranteed to give you the professional, unique edge you've been looking for.
They are fully customizable and give you the freedom to transform an original file into something new and exciting.
Plus, we've included creative techniques (Pro-Tips) to help make these sounds even more unique to you!
Let's dive in…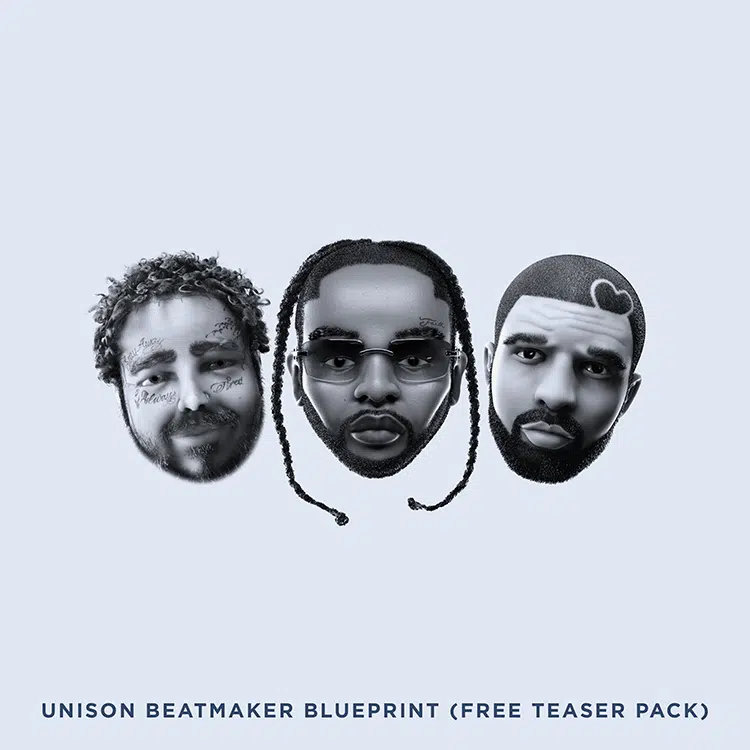 At the top of our is the latest, most expansive free MIDI pack out there: The Unison Beatmaker Blueprint (Free Teaser Pack).
It is a completely free teaser of the upcoming Unison Beatmaker Blueprint, with 449 FREE samples, loops & MIDI.
And that's only 5% of what you'll have access to.
The unique sounds found within this free MIDI pack are guaranteed to take your beats to the next level.
Not to mention, instantly take your breath away.
When using audio samples that contain melodies, chords, and beyond, you're stuck with whatever the creator's vibe is…
Not with this pack!
All samples included come with accompanying MIDI files. 
You can manipulate, bend, warp, and apply your very own form of sound design to them.
Even if you don't plan on changing the composition at all.
If you're using MIDI, these samples will be your ultimate inspiration.

If you're using samples, the included MIDI is a great study guide.
You'll be able to compare and contrast and gain an understanding of what you're hearing when you throw it in the piano roll.
It's an indispensable technique that is sure to excel your skills and workflow.
Especially if you're a self-taught producer/composer.
You'll instantly hear the professional quality of these samples and loops, as this free MIDI pack is created by the world's top producers.
They're even modeled off of the biggest, most popular songs in all beat-making genres.
Your listeners will be hypnotized right away, and they won't even know why. 
THIS PACK INCLUDES:
12x 808s

6x Atmos

6x Bass Loops (+6x Matching MIDI)

6x Bass Shots

9x Claps

11x Closed Hats

6x Cymbals

12x Drum Loops (+73x Matching MIDI Stems & 44x Matching Audio Stems)

6x Foley

9x FX & Misc

11x Kicks

24x Melody Loops (+76x Matching MIDI Stems & 85x Matching Audio Stems)

18x Melodic Shots

6x Open Hats

9x Percs

6x Rim Shots

3x Snaps

11x Snares
All files are cleared for both personal and commercial use.
You can use them within your music however you want.
With our free MIDI packs, there are no hidden restrictions, no complications, and no copyright issues. 
PRO TIP:
The real advantage of the Unison Beatmaker Blueprint (Free Teaser Pack) is the fact that you have audio loops made up of the included MIDI File.
That means it's Sound Design time…
STEP 1 一 Take the MIDI file and open up your favorite synth (Serum or Omnisphere are great options).
STEP 2 一 Grab your favorite presets.
STEP 3 一 Start tweaking the presets until you hear something more intriguing (to you) than the original loop.
There you have it, an easy way to stand out even more from the crowd.
DOWNLOAD UNISON BEATMAKER BLUEPRINT (FREE TEASER PACK)
And remember, the contents of this free MIDI pack contain only FIVE PERCENT of what you'll have access to when the full version drops.
#2: Unison Advanced Scales MIDI Essentials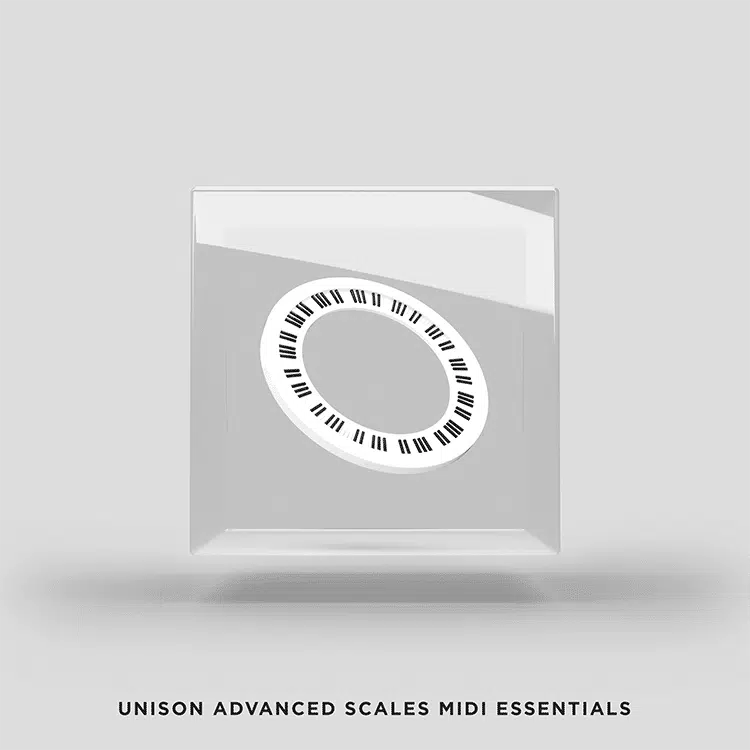 Want your music to stand out?
Well, with the Unison Advanced Scales MIDI Essentials pack, you'll achieve that goal and some.
These advanced MIDI files require the absolute highest level of music theory experience to create, and our team of professionals absolutely nailed it.
With this free MIDI pack, you'll have access to 24 unique (top-quality) MIDI scales, chord progressions, and melodies right at your fingertips.
Each scale contains its very own (accompanying) chord progression and melody.
You can use, alter, and learn from each advanced scale type within this free MIDI pack in order to enhance your skills and increase your workflow.
These MIDI scales, chord progressions, and melodies will instantly captivate your listeners within seconds.
Plus, they're 100% royalty-free!
You can instantly find your unique sound with this all-inclusive, professionally created free MIDI pack with ease.
Simply drag & them into your session, or manipulate them however you like.
There are never any restrictions when it comes to our samples; we always encourage creativity.
PRO TIP:
You're going to transform the melody into something extremely unique.
STEP 1 一 Open up the Unison Advanced Scales MIDI Essentials and choose one of the lesser-known scale types.
STEP 2 一  Shift the melody to fit within that scale; moving any notes outside of the scale to the closest note within this new scale.
You now have a brand new melody you can call your own, without the need for any creative inspiration.
STEP 3 一 Tweak the new melody even more, for additional uniqueness.
Believe it or not, this is probably your favorite producer's go-to method to beat Melody Block.
DOWNLOAD UNISON ADVANCED SCALES MIDI ESSENTIALS
With this free MIDI pack, your music will instantly stand out from the crowd.
#3: Unison Essential MIDI Drum Kits

Drums are the rhythmic element of your track, but sometimes you can't find intriguing patterns that inspire you…
Well, that's where The Unison Essential MIDI Drum Kits comes in!
Unison MIDI Drum Packs are the best way for you to instantly create perfect drum patterns and make your tracks addictive!
It's not only helpful for building foundations, but for discovering associated chord progressions as well.
With this free MIDI pack, finding a jump-off point has truly never been easier.
THIS PACK INCLUDES:
Kick MIDI Lines (5x)
Closed Hat MIDI Lines (5x)
Open Hat MIDI Lines (5x)
Snare/Clap MIDI Lines (5x)
Perc MIDI Lines (6x)
Off-Snare MIDI Lines (2x)
Drum and percussive elements are key when it comes to spicing up an existing drum part, adding variation, or making it your very own.
And the drum kits featured in this free MIDI pack are top of the line and professionally crafted to impress even the pickiest of producers.
REMEMBER:
Drums determine the genre of your track.
Chords and melodies

are just along for the ride.
Rolls do not need to remain exclusive to hi-hats and claps/snares.
Creating them from a low-end kick or super-short 808 is where they truly shine.
When re-triggering a bass element repeatedly at a high speed, it gets triggered faster than the Speaker Cone can return to its resting position.
This creates an intriguing 'thump' like no other.
I refer to them as 'gunshots' that hit you right in the chest.
They are enhanced only when playing back through a system with a subwoofer, or on a car stereo.
PRO TIP:
STEP 1 一 Create a roll for your bass elements right before a major transition.
STEP 2 一 Make sure the roll does not last for more than just a beat or two (otherwise it's overkill).
STEP 3 一 Be selective with placement. To ensure the rolls are on the faster side, program them with a much higher SNAP/GRID value than the rest of your drums. 
For instance, by taking a kick that's programmed to be the length of 1 beat (in ¼ Timing) and setting the grid 1/16th, you can get an almost 'stuttering' sound.
Try it for yourself, using the dope options within this pack.
The key to nailing this technique is Timing and Grid values.
Remember, your rolls don't have to be uniform.
If you were to take a whole note, select the MIDI, and slice it to a 1/4th Value.
There's nothing wrong with turning it into a 1/16th roll towards the end.
Don't forget to add some extra rhythm by removing certain retriggers within your roll.
As a producer or artist, it's important to remember that the silence in between the notes is just as important as the notes themselves.
DOWNLOAD UNISON ESSENTIAL MIDI DRUM KITS
With this free MIDI pack, you have access to perfectly crafted, instantly addictive drum patterns that will blow people's minds.
#4: Unison Essential MIDI Hi-Hats Rolls

The beloved Unison MIDI Hi-Hat Rolls will instantly stop your listeners in their tracks.
The 'real secret' to creating insanely addictive drum patterns is having dope, unique drum patterns.
Think about it… a mediocre, or basic drum pattern isn't going to get your tracks on the charts.
Luckily, the Unison MIDI Drum Packs are the proven, field-tested standard when it comes to (consistently) creating radio-worthy drum patterns.
They will skyrocket to #1 every time.
THIS PACK INCLUDES:
10 perfect MIDI hi-hat rolls, that you can instantly plug & play into your own beats.
PRO TIP:
The 2 easiest methods to manipulate existing hi-hats rolls are:
Time Divisions
Generate rhythmic variations by simply selecting a group of rolls, and quantizing them.
You won't be able to hear anything by bringing the Time Division value up.
But, as you bring it down, you'll be able to hear the sequence changing each time.
It will still remain in line with the grid, and work in unison with any other drum/melodic elements present.
This technique truly shines when you take something with standard timing (4/4) and quantize it to triplets (1/3rd, sometimes referred to as ¾).
It will instantly change the entire feel of your track.
If you like the results, but find that some of the 're-triggers' were removed, simply change the time division to a higher value.
Simply take your slicing tool, and 'slice' the notes where you'd like them to retrigger, and voila!
This can be done at any time to create dope rolls from just 1 note. 
Remember, when dealing with hats and rolls Timing is not the only tool at your disposal.
You also have Velocity, which makes the rolls way more dramatic, intense, and intriguing to the ear.
STEP 1 一 Simply take the velocity level of each note (within the roll) and create a progressive 'ramp up.'
STEP 2 一 Set the first note in the roll to a relatively low-velocity level (10-30), and have it increase for each following note until the MAX level is reached (127).
STEP 3 一 Apply the same process for pitch; just pitch the last few note's triggers' down 1-2 semitones each.
You can also choose to pitch them up as well towards the beginning, in the end, or anywhere in between.
Experimentation is always key, never forget that.
BONUS TRICK: 
Take the notes that have been pitched down, and space each note even further away from one another (a step or two).
The lower the pitch, the farther the distance.
What this does is give the appearance that the hi-hat loop is slowing down; similar to that of a DJ tape-stop effect.
2 IMPORTANT THINGS TO REMEMBER:
When pitching any sample (especially of the hi-hat variety), don't veer

too

far away from the original pitch. Unwanted artifacts are bound to occur. 
As you pitch the hat up, the duration of your sample becomes shorter. As you pitch the hat down, it will be longer.
That is unless you're using a 'Stretch' Algorithm, which compensates for alterations in sample length/time when the pitch changes.
I recommend pitching hat samples up/down a MAX of 6-7 semitones.
DOWNLOAD UNISON ESSENTIAL MIDI HI-HAT ROLLS
With this free MIDI pack, you'll have perfect drum patterns every single time, no matter the genre.
#5: Unison Essential MIDI Melodies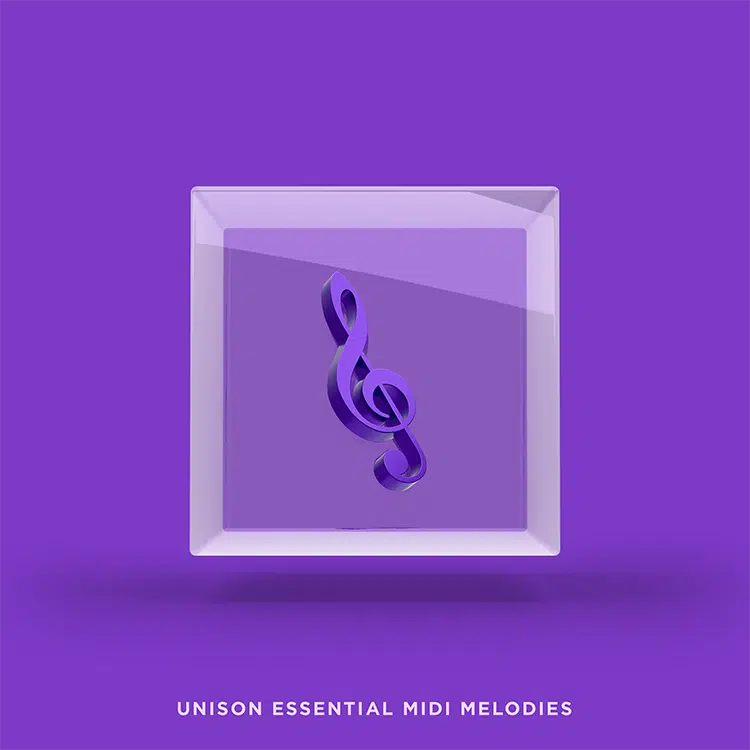 The Unison Essential MIDI Melodies contain 12 unique, hit-worthy MIDI melodies that you can instantly plug & play into your own music.
With any of the existing MIDI melody files, you can:
Swap notes

Transpose

Shift

Manipulate

Randomize parameters
You can make any melody unique and unrecognizable from its original sound.
This free MIDI pack has some of the most addicting melodies out there, and there are no limits to what you can do with them.
You will proudly be able to say, 'this is 100% my melody' and have complete confidence about it.
Remember, all melodies within this free MIDI pack are completely royalty-free as well.
PRO TIP:
When analyzing the melodies within this free MIDI pack, you will more than likely need to shift certain notes up/down a few semitones to fit the scale…
If you already know what type of scale you're working in (Major or Minor), keeping it in that general realm is advised.
It will reduce the chances of needing to shift notes. 
These note-changes don't need to be dramatic.
It's not what this particular step is all about.
It's just to ensure nothing is out of key.
STEP 1 一 Change the key of the melody by transposing the melody (as a whole) anywhere it sounds best; retaining the same relationship between notes, for now. 
STEP 2 一 Slide all the notes over 1 beat or bar. 
STEP 3 一 Place a note within that 1st empty bar for every note contained in your melody. These notes should be stacked on top of each other.
They serve purely as a visual aid, to help you complete your scale and determine which notes work; making sure to stay in the current key. 
STEP 4 一 Experiment with different notes that may fit, so you have them in your arsenal to be subbed at any point.
STEP 5 一 Start swapping out certain notes within the melody for other notes contained in that same melody. This shouldn't be done randomly, but rather methodically.
Melodies usually follow the 'roller coaster' pattern (visually speaking); up, down, up, down, and back up again, or some variation of that.
Make sure to stay along those lines. 
STEP 6 一 Once you're satisfied, remove the notes you previously selected (on the first bar). 
STEP 7 一 Slide the melody over.
Now you have an amazing, unique new melody that's totally different from the original.
Plus, people won't even be able to decipher how it was made.
This is another added bonus… as if this free MIDI pack really needed one.
DOWNLOAD UNISON ESSENTIAL MIDI MELODIES
With this free MIDI pack, your melodies will be stuck in your listener's heads for days.
#6: Unison Essential Famous MIDI Chord Progressions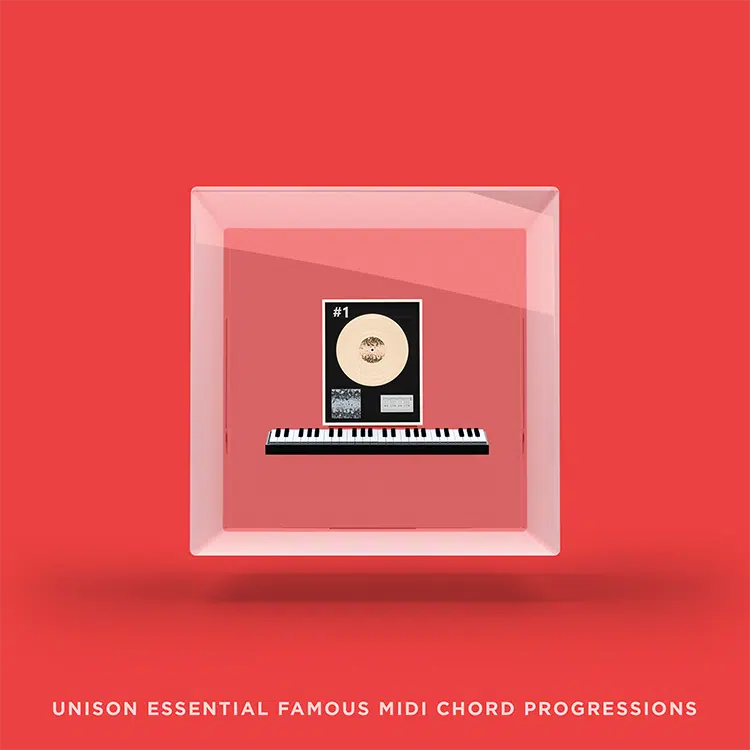 The Unison Essential Famous MIDI Chord Progressions pack contains 24 unique, addictive MIDI chord progressions.
But not just any MIDI chord progressions, these are crafted from songs by hit-makers like:
Led Zeppelin

Post Malon

Billie Eilish

Ariana Grande

Disclosure

Daft Punk

Porter Robinson

YNW Melly

ODESZA

ZHU

Tiesto

David Bowie

The Weeknd

The Chainsmokers

Lil Tecca

Dababy

Duke Dumont & More.
Using MIDI clips (in the form of pre-made chords) to build chord progressions is the inspiration behind our top, highly-acclaimed free MIDI Chord Pack. 
You will be able to build infinite songs and increase your workflow as well.
PRO TIP:
STEP 1 一 Identify/choose a scale you want to work with and create a 'clip' as a placeholder. This will show you all the notes you can use and have already been used within the MIDI file at hand.
STEP 2 一 Take the MIDI clips that contain chords based on notes within your scale and separate them so you only have the chords compatible with that specific scale.
FOR EXAMPLE: If you're working within the C Major scale it's safe to say any chord, based on any white key will be compatible with the track/scale. 
This is not to say it will automatically sound pleasing to the ear, because placement has a lot to do with it, but it's a good start and will prevent you from getting overwhelmed.
Just because your scale is either A Major or Minor, it doesn't mean only major/minor chords are compatible.
Make sure to always have a healthy blend of both, or else things will sound very basic and one-sided.
STEP 3 一 Start dragging in the clips and configuring them how you see fit (almost like a puzzle). Let your ears guide you; think about what you would want, or expect to come next.
STEP 4 一 Take those individual clips, each containing a chord within the progression, select them all, and use the 'Merge MIDI' clips (or, 'Glue MIDI' clips) to turn this progression into one, unified clip.
REMEMBER: It's not always good to be predictable. Similar to relationships, it's all about tension and release; the game of cat and mouse, essentially. 
It's best to start by introducing a chord that your listeners are not expecting to hear at bar 4 (tension)
What they are expecting to hear, should be at bar 8 (release).
As long as you're working within the scale, there's technically no wrong technique, so get creative.
Unison Famous MIDI Chord Packs are the best way for you to set your tracks up to get millions of plays!
DOWNLOAD UNISON ESSENTIAL FAMOUS MIDI CHORD PROGRESSIONS
With this free MIDI pack, you'll have the same chord progressions as your favorite artists.
#7: Unison Essential Advanced MIDI Chord Progressions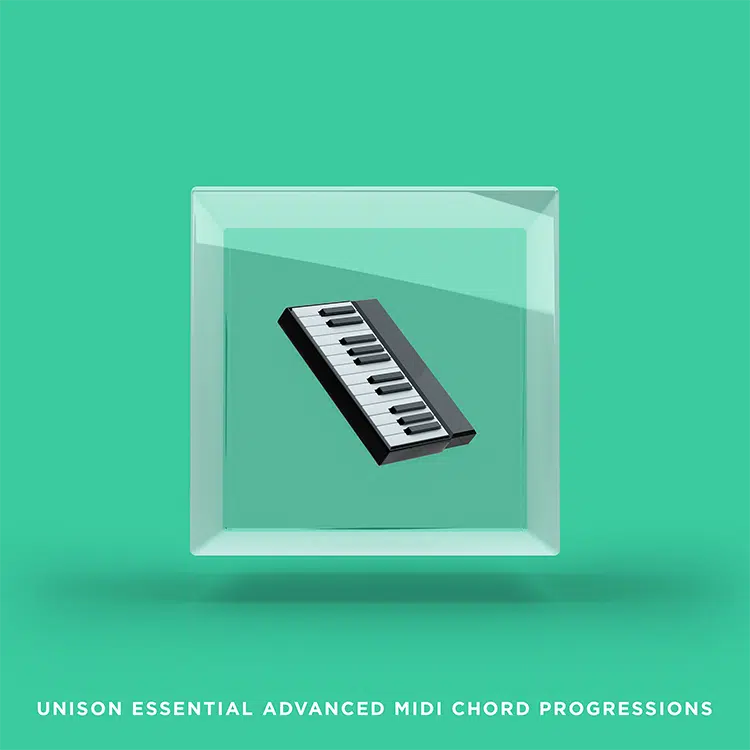 The Unison Essential Advanced MIDI Chord Progressions pack contains 24 unique, impressive MIDI chord progressions, that you can instantly plug & play into your own music.
Finding the 'key' of your new song can be daunting, there's no question about it.
Generating a melody from a standard 3-4 voice-chord progression helps you avoid all that frustration, but is also very predictable… 
Creating a melody with extended chords from this free MIDI pack as a guide, however, is a different story.
It's super easy and can help you produce original melodies in minutes.
As well as set you apart from 99% of producers who only have access to basic chords and progressions as well.
Don't be too predictable, but don't go too crazy either. Balance is key here.
Also, remember that all 'complex' songs are built on basic foundations.
Next time that you're listening to an 'iconic' song, take notice of how only a few notes are used in the melody.
PRO TIP:
When you're having trouble creating your track's melodic elements, start with a chord progression.
It will lay down the foundation and determine the scale in use, along with its contributing notes.
You're essentially creating your melody as an extension of said chord progression.
You can also play the 3-4 note variation of any given advanced chord.
All the extended notes can be introduced in a 'delayed' fashion (slowly).
Essentially sounding like, and taking the place of a melody.
If done right, it actually can replace it altogether.
BONUS TIP: Use all of these MIDI packs to create a reference instrumental that you can use for later study.
Manipulate it and make it your own.
DOWNLOAD UNISON ESSENTIAL ADVANCED MIDI CHORD PROGRESSIONS
With this free MIDI pack, you are sure to outshine the competition.
BONUS: Unison Mini MIDI Pack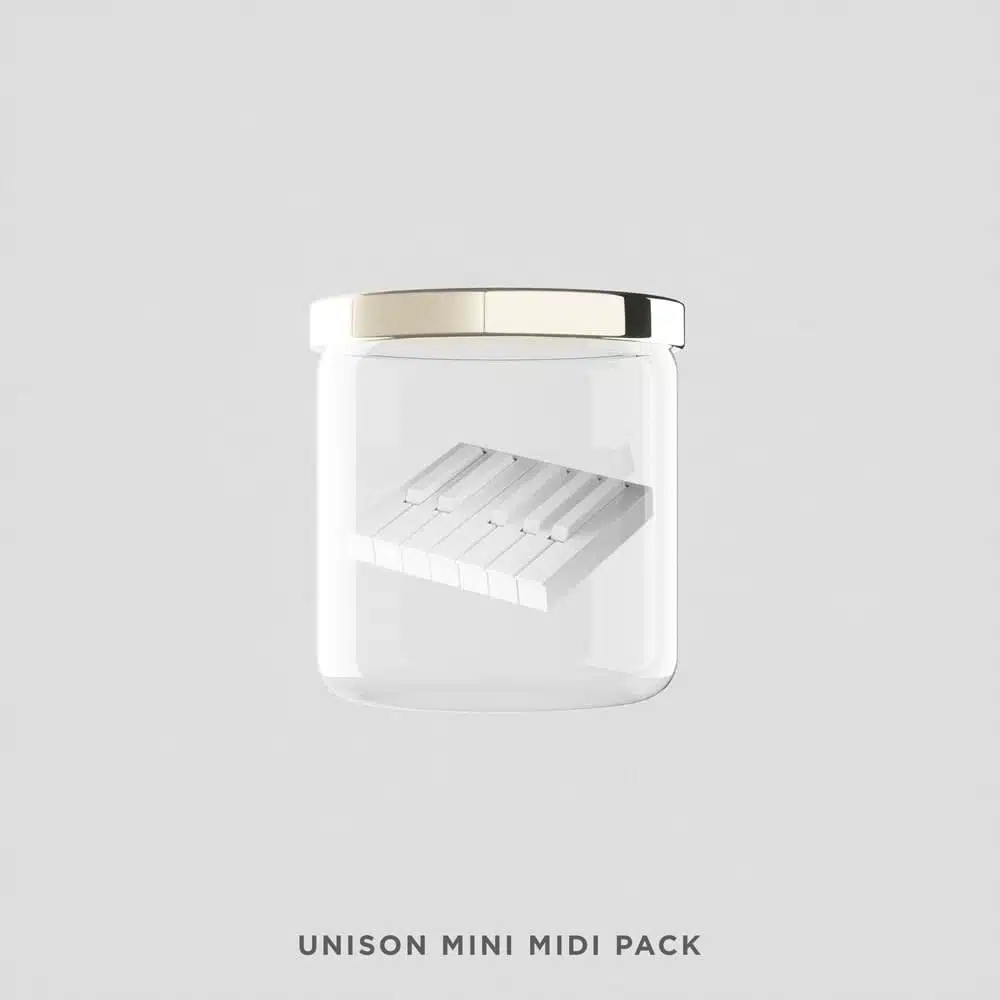 Chord progressions are the melodic foundation of your beat, and essential building blocks when it comes to the compositional stage.
The Unison Mini MIDI Pack, which contains over 300+ chords & progressions, allows you to:
String the chord progressions together
Tweak, and manipulate them however you like
Most importantly, place the chords in the order you see fit
You'll also have a chance to see what any given chord looks like in the piano roll.
As well as hear a glimpse of what you can find in the top-selling Unison MIDI Chord Pack; with over 150k sold so far.
With this amazing free MIDI pack, you'll instantly improve your chord progressions, regardless of what genre you fall under.
Even with no Music Theory knowledge or experience!
Immediately spark your creativity, easily drag & drop into your session, and use any DAW you can imagine.
This pack caters to all producers, from amateurs to professionals, and everyone in between.
It may have mini in the title, but it is guaranteed to make a HUGE impact.
PRO TIP:
Look at the files within this free MIDI pack as legos.
STEP 1 一 Start with a basic chord (one lego piece).
STEP 2 一 From there, experiment and swap out chords until you hear something that sounds good to you (you'll know it instantly when you hear it).
STEP 3 一 Now, you're going to create an 8-bar progression; each chord will occupy 1 bar each.
As discussed in our Music Theory article, music is all about tension and release…
That push and pull should be displayed with chord progressions if nothing else.
Bar 4 & 8 will be the distinguishing factors of your progression. Proceed with strategy.
Once you get the chord at bar 4, pick a chord that wouldn't leave you hanging if the progression ended there.
Maybe even something that doesn't sound 100% right.
For bars 4-7, take the chords from bars 1-3 and alter them slightly.
Or, continue the method by sounding the next chord out.
Once you get to bar 8, you've hit the resolve. 
Be sure to pick a chord that seems to wrap things up nicely, so it sounds complete.
A go-to is using the chord associated with the root note's fifth (7 semitones away) or another harmonic interval.
When in doubt, simply end it how you started it; using the same chord.
If it was, let's say, a C Major Triad, you'll end it in a C Minor. You can't go wrong.
DOWNLOAD UNISON MINI MIDI PACK
FINAL THOUGHTS: BEST FREE MIDI PACKS FOR 2023
MIDI can give life to any session, even the ones that need true revival.
The old way of creating or spicing up a song is to find a nice sample…
Fast forward to 2023, and you are the ultimate sample.
With all the advances in Tech and the flexibility of modern DAWs, you're doing yourself an injustice by not sampling yourself.
MIDI allows you to alter, transform, and manipulate every aspect of it, from top to bottom.
And the contents of each free MIDI pack featured on our list, contain some of the most professional, mind-blowing sounds around.
You can simply drag & drop, and with a few simple clicks, you can create something completely original and unique.
Plus, you can make sample clearance a thing of the past.
You don't have to know Theory, you don't have to be super experienced: MIDI never discriminates.
As long as you know what sounds good, and are willing to experiment (which is key), you're good to go.
These professional, unique free MIDI packs are guaranteed to improve your skills and enhance your workflow.
As well as make you stand out from the crowd and get your music on the top charts.
They are the ultimate tool to help you get your music heard and become insanely addictive!
Until next time…