If you've been on the hunt for top-tier drum loops to ignite your creativity and set your tracks on fire, well, you're in for a treat.
We're going to be breaking down the most mind-blowing free hip hop drum loops of 2023 that are proven to skyrocket your track's appeal.
These aren't basic or boring hip-hop drum loops, they're game-changers 一 crafted to bring that touch of magic to your music.
With these loops at your fingertips, you'll find yourself creating beats that resonate deeply with your listeners, and stays in their minds long after the music fades.
And the best part?…
You'll never need to search for other free hip hop drum loops again.
These are the definition of hard-hitting, addicting drum loops for all styles, vibes, genres, and purposes.
So, prepare to revolutionize your beats, elevate your tracks, and redefine your musical journey with the best free hip hop drum loops of 2023.
Let's dive in…
The Importance of High-Quality Free Hip Hop Drum Loops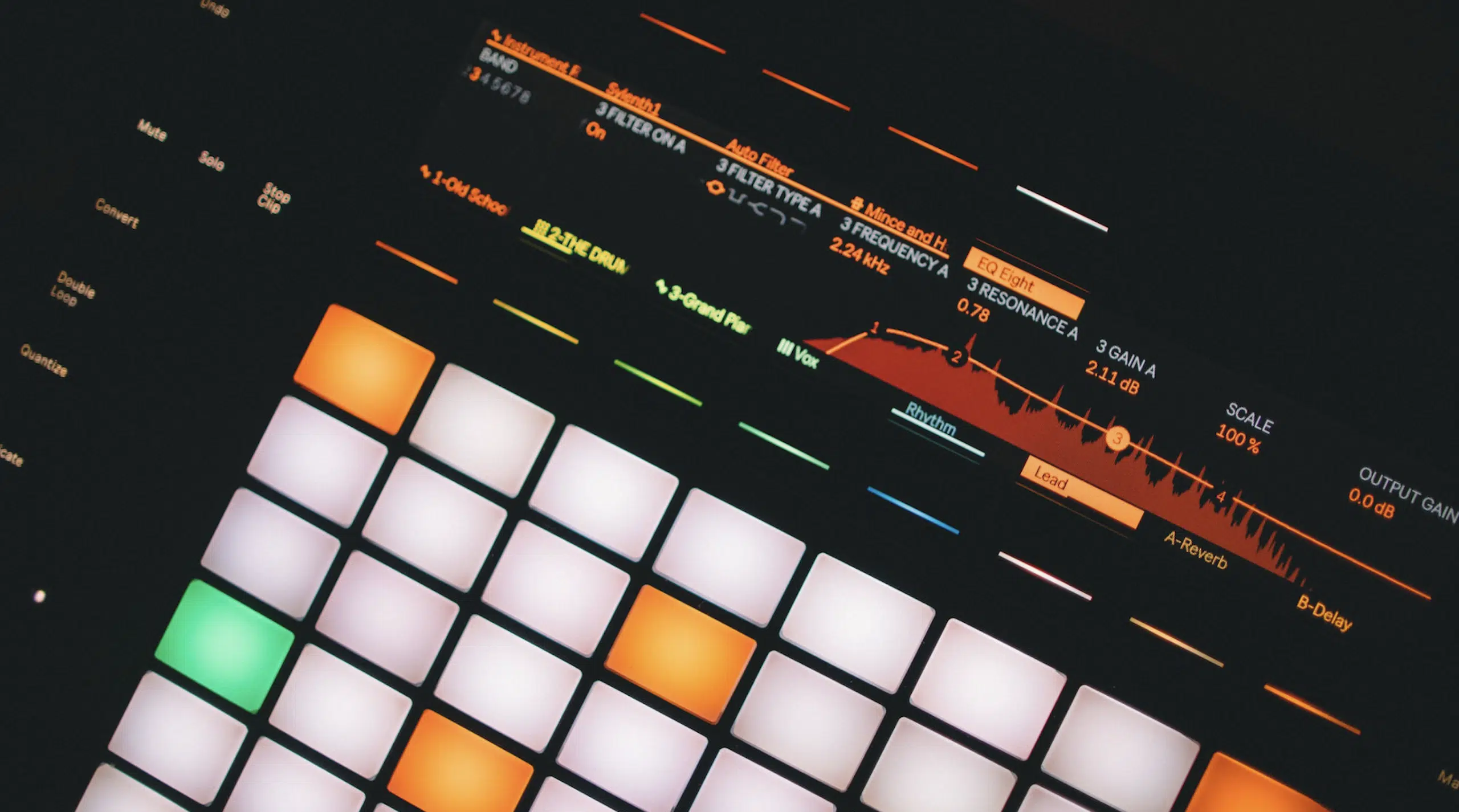 As a fellow music producer, I know you're constantly hunting for fresh, quality sounds to incorporate into your tracks.
Epic sounds that will make your music stand out in the crowded sea of today's digital music production landscape.
That's where the significance of the following free hip-hop drum loops comes in.
Let's face it, in hip-hop, drums are more than just an instrument; they are the heartbeat of a track.
A powerful drum loop can:
Create an atmosphere ✓
Set the mood ✓
Add appeal and allure ✓
Generate new fans ✓
Even define an entire song ✓
And in a genre as diverse as hip-hop, having a wide range of these drum loops at your disposal is not only beneficial but a necessity.
The beauty of these free hip hop drum loops is that they provide a steady stream of new, high-quality sounds 一 while also giving you the freedom to experiment without breaking the bank.
They're a cost-effective resource for every hip-hop producer and can provide you with endless inspiration.
Each drum loop tells a story, a rhythm to build upon, and a spark to ignite your creativity.
And the best part?…
They're 100% free, royalty-free, and copyright free!
Meaning, you can explore different styles, experiment with new rhythms, and create diverse tracks without spending a dime.
With these free hip hop drum loops, you'll have the tools you need to create powerful, engaging, and unique hip-hop tracks that resonate with listeners.
#1. Unison Essential Drum Loops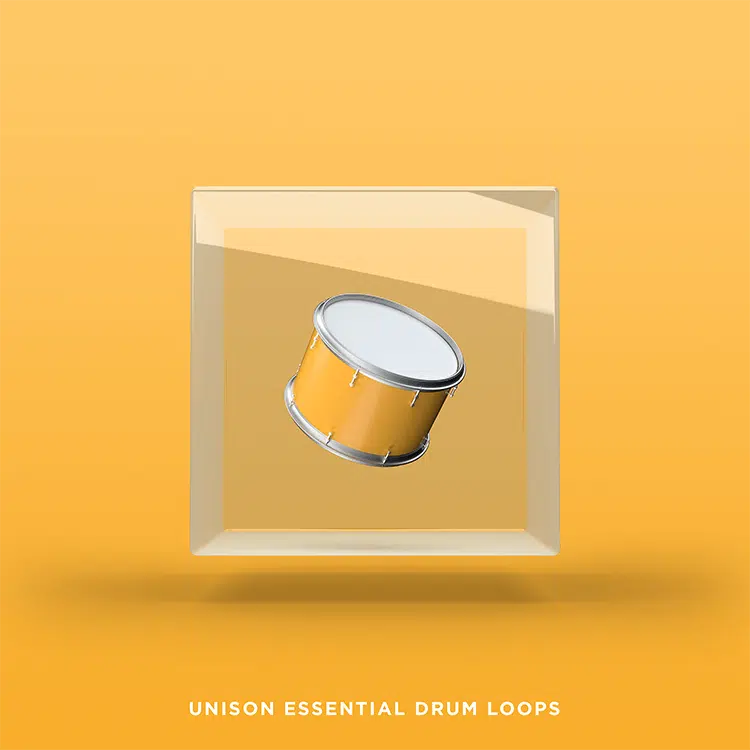 In the music production world, finding that perfect drum loop can feel like winning the lottery.
It can inject a dose of freshness into your music and set your beats apart from the rest.
And when it comes to creating top-notch hip-hop tracks 一 the Unison Essential Drum Loops pack is a treasure trove you don't want to miss.
It contains a legendary collection of professionally mixed drum loops that are a great way to get your track on the Billboard charts.
Each loop in this pack is an adventure in sound, providing you with diverse rhythms that can elevate your music in a major way.
The quality of these free loops is unmistakable.
Crafted by expert sound designers, each loop strikes the perfect balance between punchiness and clarity.
Which results in a sound that can cut through a mix while still preserving its warm, organic feel.
But what makes this pack truly stand out?
It's how these loops capture the essence of hip-hop in their rhythms.
Each loop in this pack carries a distinct vibe, reflecting the notorious diversity of hip-hop.
Whether you're looking for a laid-back groove to set a chill mood or an intense rhythm to create a high-energy track, you'll find it here.
These free drum loops aren't just a collection of sounds 一 they're a gateway to creativity and an endless supply of inspiration at your fingertips.
They can serve as the foundation for your tracks, inspiring melodies and harmonies to bring your music to life.
They're a canvas upon which you can paint your musical ideas, enabling you to create tracks that resonate with your listeners.
With the Unison Essential Drum Loops pack, you're not just getting access to quality free hip hop drum loops, you're opening up a world of possibilities.
This Pack Contains:

Immerse yourself in these sounds, let them inspire you, and watch as your tracks come to life.
Remember, these aren't just drum loops, they're the heart and soul of your next hit track.
Download the Unison Essential Drum Loops Now
#2. The Unison Free Black Friday Pack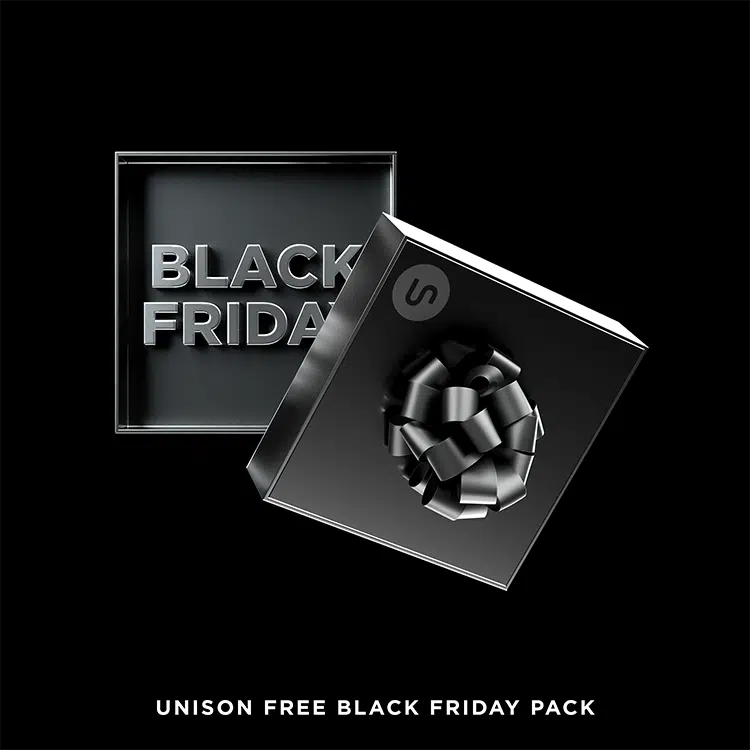 Stepping into the spotlight next is the Unison Free Black Friday Pack.
This sample pack is the music production equivalent of a one-stop shop 一 it's got everything you need, and then some.
With a super impressive list of goodies from MIDI files to unique one-shots, this pack has something for everyone.
What makes this pack particularly appealing is its diversity.
Yes, it certainly has the hottest drum loops around, but you'll also be getting access to:
MIDI chord progressions
Melody loops
Basslines
Vocals
So much more
It's a comprehensive toolkit that caters to every aspect of your production process.
The free drum loops in this pack are top-notch and offer the kind of rhythmic patterns that hip-hop is known for.
Whether it's the boom-bap style of classic hip-hop or the fast-paced rhythm of trap, you're covered.
Plus, with the matching MIDI files, you can tweak these free loops to suit your unique tracks.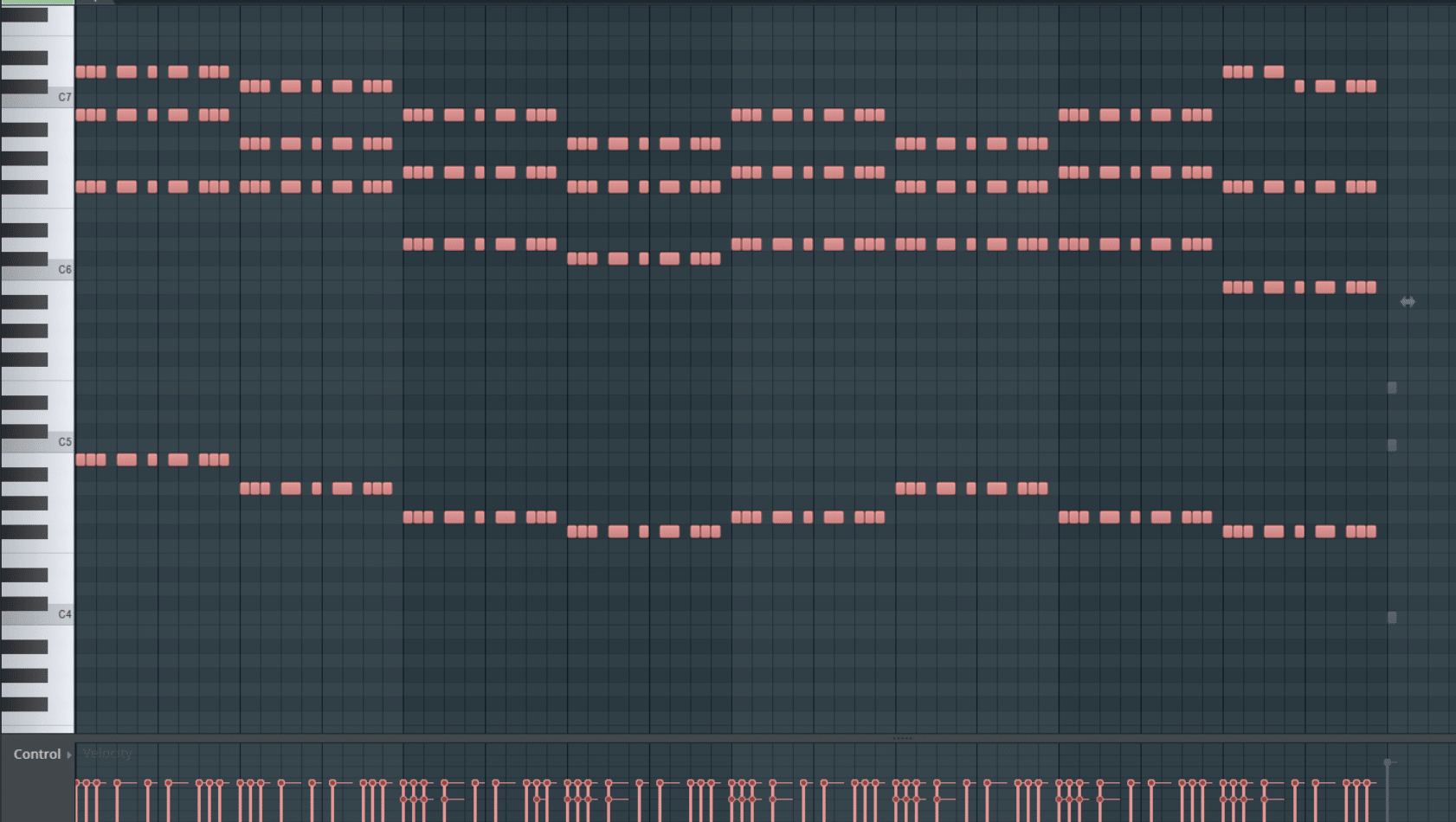 But the crown jewel of this pack is undoubtedly the Famous Beatmaker Drums.
These drums are crafted to perfection, with the kind of punch and depth that your tracks need to stand out.
Whether you're into lo-fi drum loops, free samples, or just royalty-free drum loops this pack will satisfy your every musical need.
Side note, if you're uneasy about the process of music licensing or sample clearance, we've got you covered.
It's almost unbelievable that this pack is free because the results are priceless.
This Pack Contains: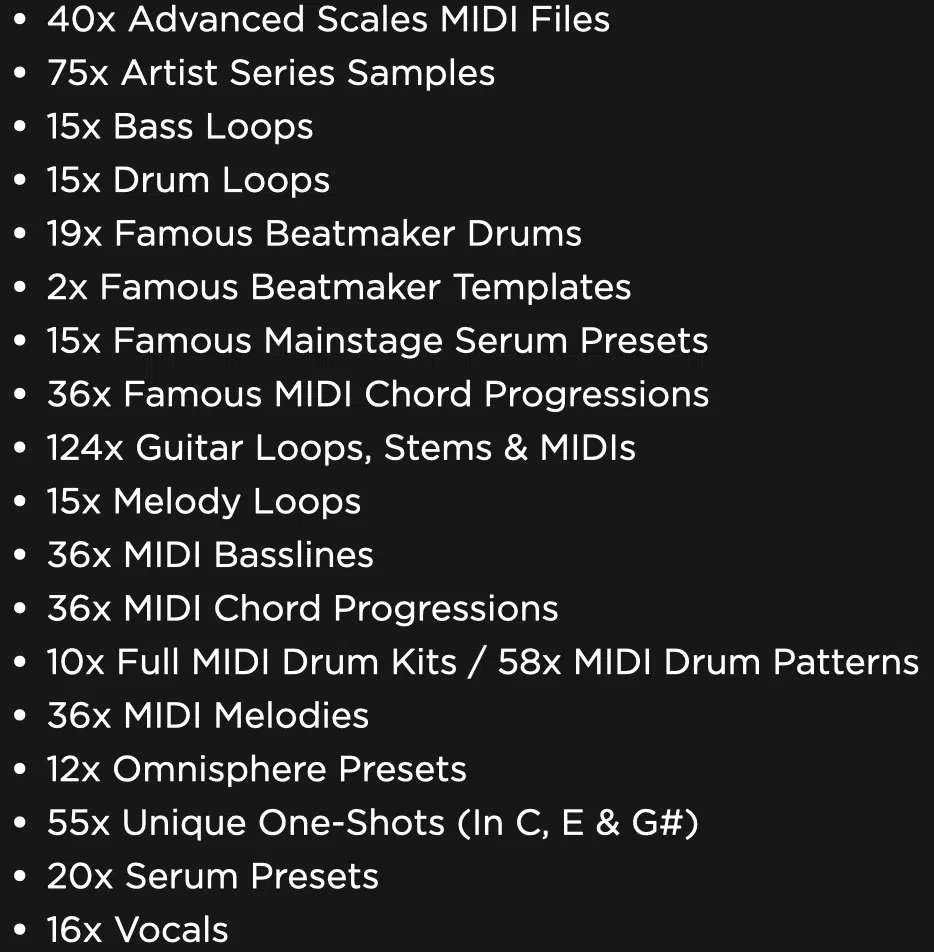 From free drum loops to hi-hats to serum presets, the Unison Free Black Friday Pack offers an expansive range of sounds that make it an invaluable addition to your music production toolkit.
Download the Unison Free Black Friday Pack Now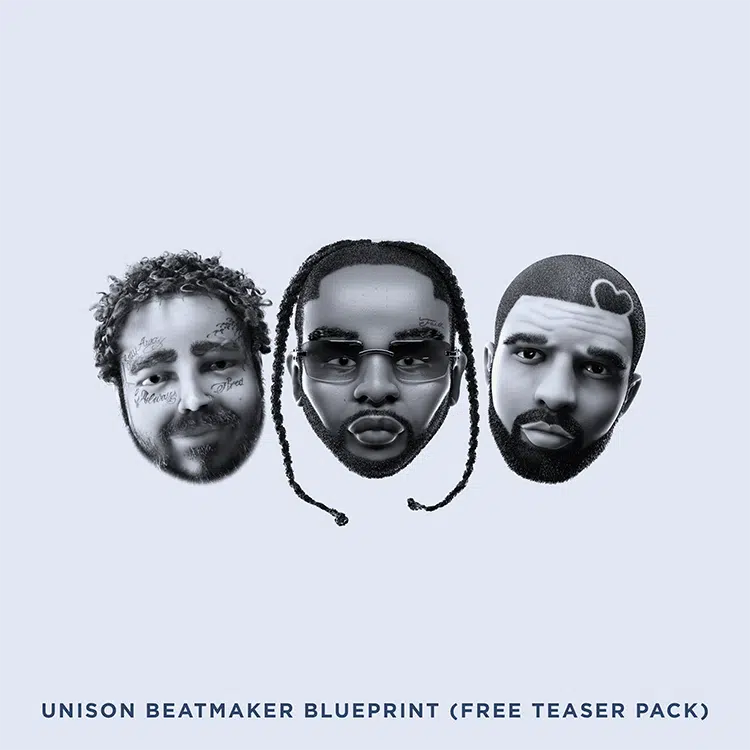 The Unison Beatmaker Blueprint (Free Teaser Pack) takes the concept of free hip hop drum loops and raises the bar to a whole new level.
It's not just about providing loops, it's about offering an entire framework to craft your beats.
This pack contains a jaw-dropping variety of drum loops that will make your tracks sound professional, creative, and super dope.
These free hip hop drum loops are designed to inspire 一 from the snares that snap to the kicks that pound, every element of these loops resonates with hip-hop's heart.
What sets this pack apart from others is the sheer range of sounds it offers.
808s, atmos, bass shots, claps, hi-hats, drum loops, FX, and more, it's like stepping into a sonic candy store.
Just drag & drop them in your DAW (whether it's FL Studio, Ableton, or Logic Pro) and watch the magic unfold before your eyes.
Every sound in this pack is crafted to perfection by top sound designers and producers, giving your tracks the expert edge they need to stand out on the dance floor.
But the Beatmaker Blueprint pack's real MVP must be the melodic shots and loops.
These are not just add-ons 一 they are essential components that can give your tracks a unique personality.
And with matching MIDI stems, you can shape these loops to fit your vision perfectly.
This Pack Contains: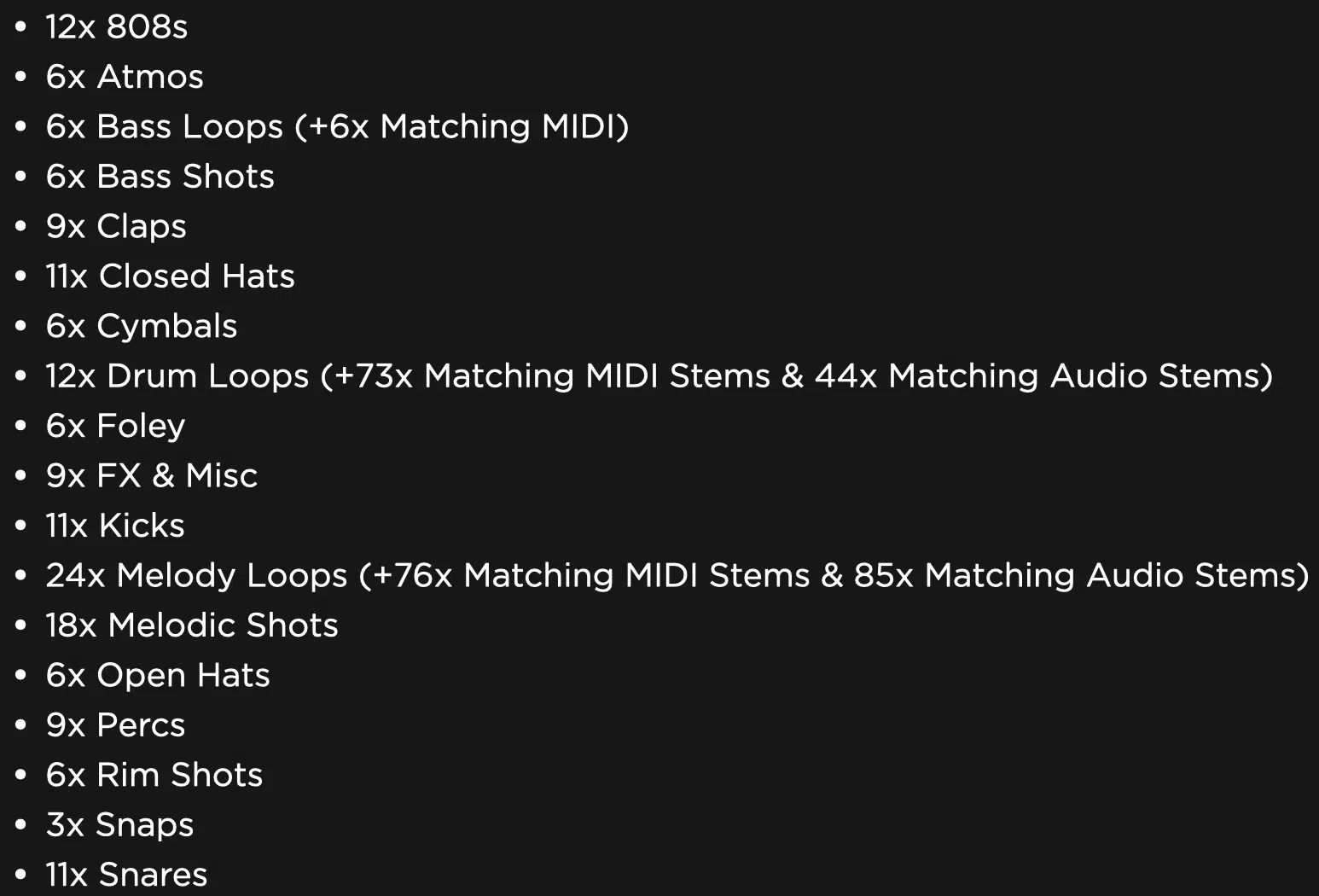 So, it's a free download, extremely diverse, and is created with more professionalism than all the other sample packs… can't get much better than that!
With the Unison Beatmaker Blueprint pack, you're not just getting free hip-hop drum loops.
You're getting a roadmap to creating beats that truly resonate.
Download the Unison Beatmaker Blueprint (Free Teaser Pack) Now
#4. Unison Artist Series Essentials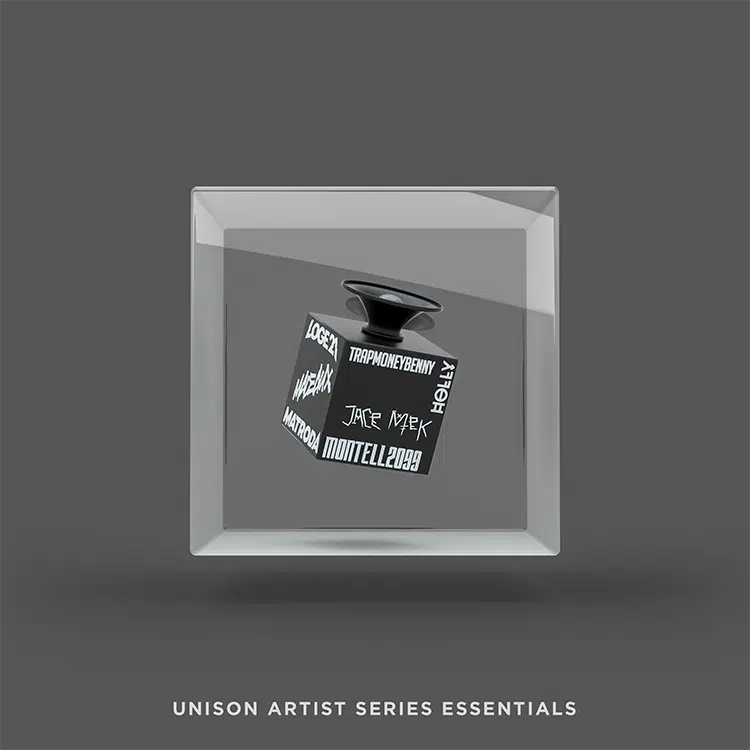 Opening the list, we have the Unison Artist Series Essentials: the golden ticket to your hip-hop drum loop dreams.
This pack is like your favorite food truck 一 small but packs a powerful punch.
Its comprehensive selection of high-quality sounds caters to the creative minds of all hip-hop producers, regardless of style or genre.
Right from the get-go, you'll notice the time and precision that's been put into crafting these professional loops.
The kicks hit just right, addicting and catchy, setting the foundation for your track.
The snares are crisp, adding that punch to your beat that makes hip-hop what it is.
The bass loops are thoughtfully curated to bring that low-end appeal that resonates with listeners.
And creates that unforgettable, head-nodding experience.
What I personally love about the Artist Series Essentials is the atmospheric sounds it offers.
These atmos can add unparalleled depth to your tracks.
It creates a sonic landscape that draws listeners in and makes your track stand out in the competitive world of hip-hop.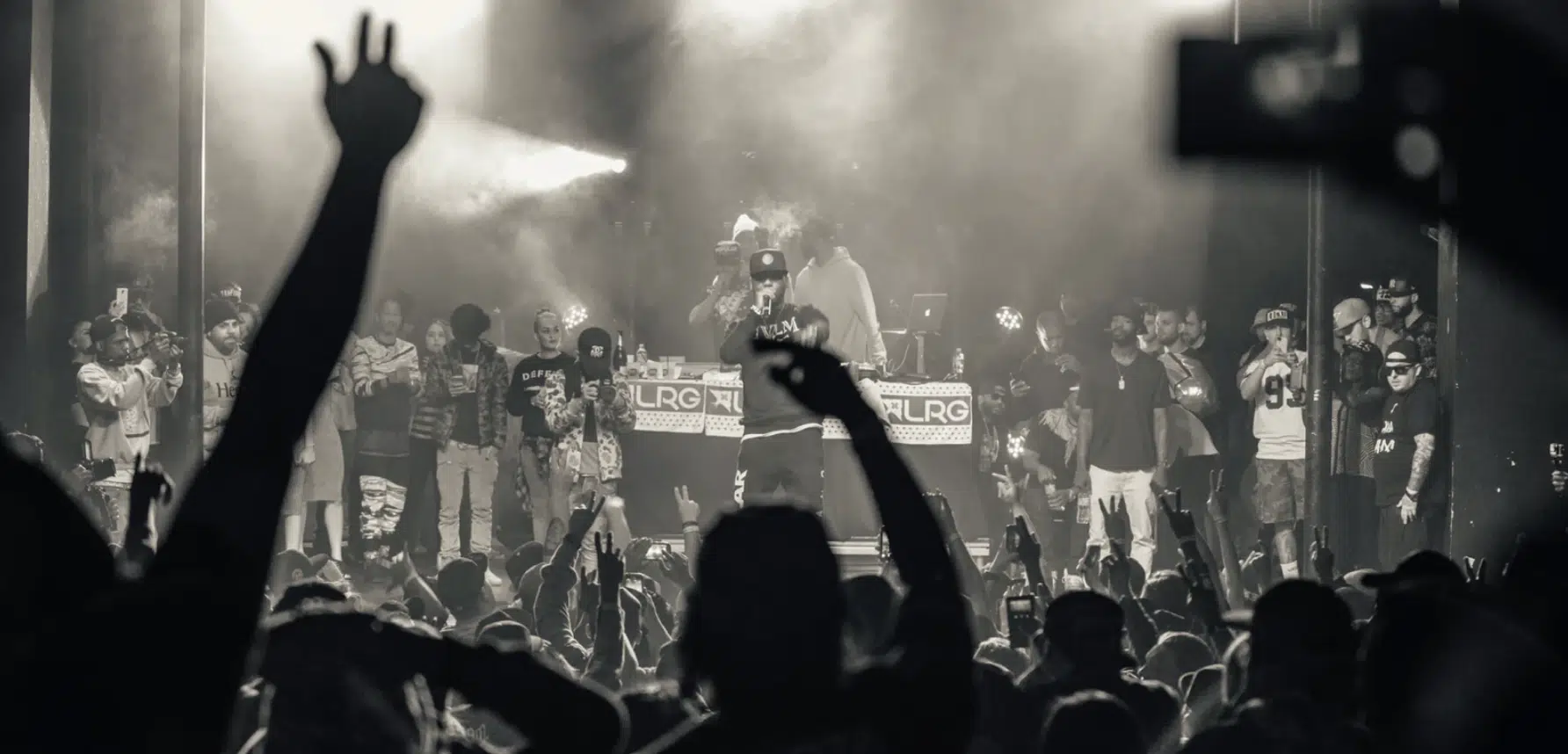 And it's not just about the drum loops.
This pack includes Lead Shots and Melodic Loops that will elevate your beats and inspire new ideas.
If you're struggling with a creative block, just dig into these melodic elements, and you'll be out of that rut in no time.
Overall, this pack is truly epic and can revolutionize your tracks in a major way.
Now, this list may look short, but the key here is quality over quantity.
Each sound in the pack is crafted with attention to detail which makes it a fantastic addition to your sample library.
This Pack Contains: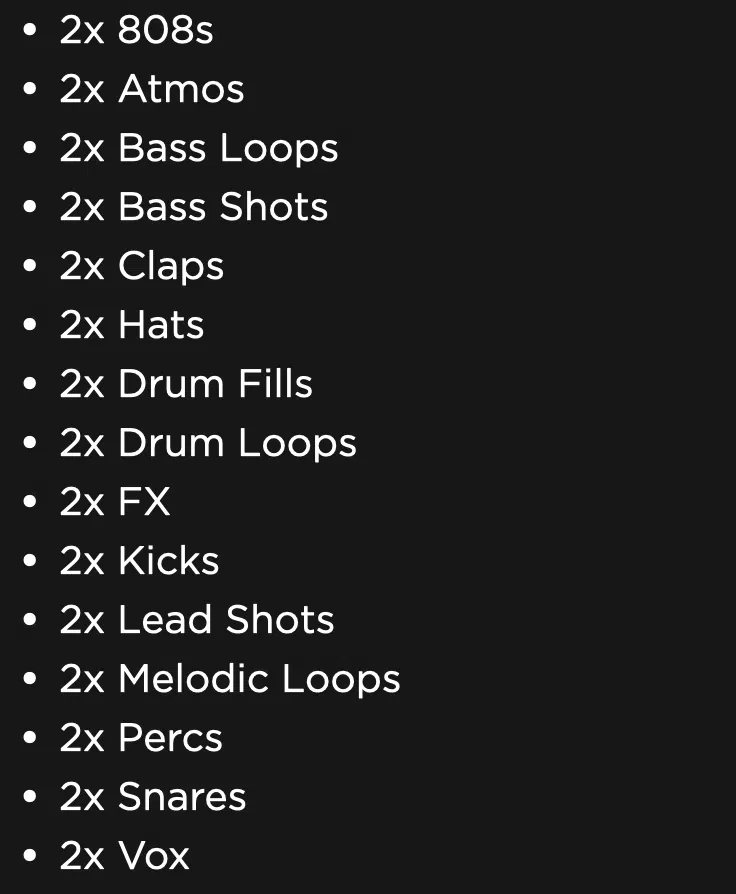 With the Unison Artist Series Essentials, you're not just getting free hip-hop drum loops; you're getting a goldmine of inspiration for your music production.
But it's not just for hip-hop, you can create pop music, drum breaks, and so much more with these diverse and inspiring free drum loops.
Download the Unison Artist Series Essentials Now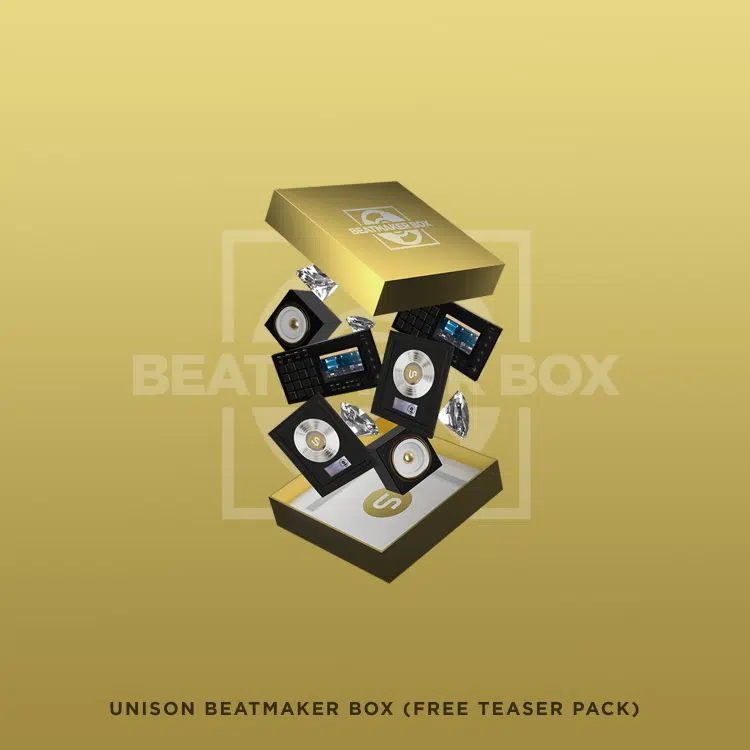 Rounding off our list is the Unison Beatmaker Box (Free Teaser).
This pack might be last on our list, but it's definitely not the least by any means.
Packed with a solid range of loops (from bass to guitar) this teaser sample pack is a testament to Unison's commitment to quality and professionalism.
At the heart of this pack are the free hip hop drum loops that are designed to hit the sweet spot between old-school hip-hop and modern trap.
These loops are your ticket to creating tracks that can make listeners nod their heads the entire way through.
And with the matching audio stems and MIDI, you have full control over how these loops integrate with your tracks.
So, you'll be able to create not just hip-hop songs, but legendary show-stoppers.
But the drum loops are just the beginning…
The melody loops in this pack are a melodic delight 一 capable of adding that extra layer of intrigue to your tracks.
Plus, the fire bass loops and enchanting guitar loops are just what you need to create tracks that have a strong, memorable groove.
As a music producer, the Unison Beatmaker Box is like a secret weapon in your arsenal.
It gives you the raw materials you need to craft tracks that leave a lasting impression and enable you to gain new fans and followers.
This Pack Contains:

The Unison Beatmaker Box (Free Teaser) is a testament to the power of having the right sounds at your disposal.
It's not just about creating music, it's about making a statement.
And with these packs, you have all you need to make that statement loud and clear.
Download the Unison Beatmaker Box (Free Teaser) Pack Now
Free Hip Hop Drum Loops: Final Thoughts
There you have it 一 an in-depth look at the most mind-blowing free hip hop drum loops 2023 has to offer.
These aren't just sound packs, they're keys to unlocking your creative potential and a source of endless inspiration.
Remember, it's not about having the most expensive equipment or the largest library.
It's about how you utilize what you have at your disposal.
With these free hip hop drum loops, you have everything you need to start creating unforgettable tracks.
So, don't hesitate, go grab those free downloads and get started on your journey!
Use these loops as a foundation, add your unique touch, and let your creativity run wild.
From beats that get your heart pounding to rhythms that set the mood, every loop is a step on your path to becoming a better music producer.
Until next time…