Are you ready to elevate your vocal music production game to new heights?
In this comprehensive guide, we'll dive deep into the world of vocal effects 一 exploring some of the best vocal VST plugins that can transform your vocal tracks from basic to show-stopping.
Whether you're an aspiring producer or an experienced audio engineer, you'll discover:
The Top 11 Vocal Plugins around ✓
The #1 Vocal Effects VST of 2023 ✓
How to choose the right one for your unique needs ✓
Advanced vocal effects techniques ✓
Plus a bonus (free) vocal plugin ✓
Get ready to uncover the secrets of professional vocal production and unleash your creativity with these powerful tools.
#1. Best "Set & Forget" Vocal Processing Suite: Sound Doctor by Unison Audio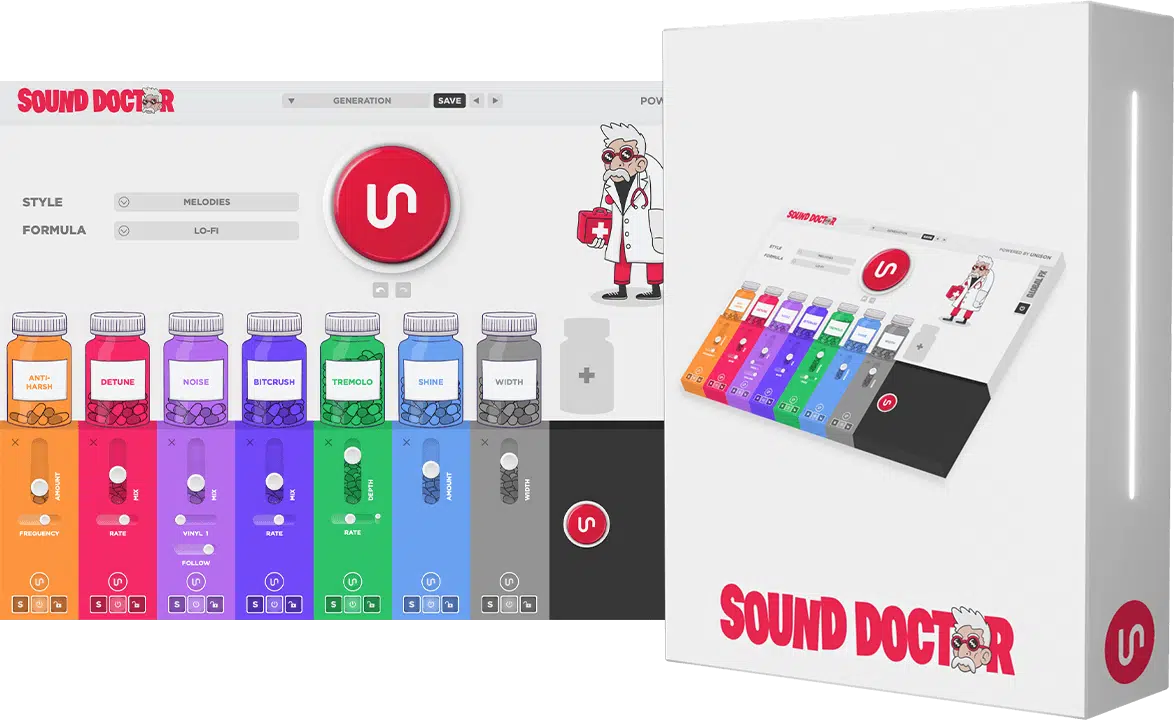 Sound Doctor by Unison Audio is a versatile plugin suite that offers a wide range of powerful effects, perfect for sculpting and enhancing vocals.
With its innovative tools and features, Sound Doctor is the go-to choice for producers and engineers looking to craft exceptional vocals.
Sound Doctor's pitch shifting and harmonization features allow you to create unique vocal effects, from subtle adjustments to extreme transformations.
Experiment with pitch correction, create harmonies or produce otherworldly vocal textures with ease.
Modulation Effects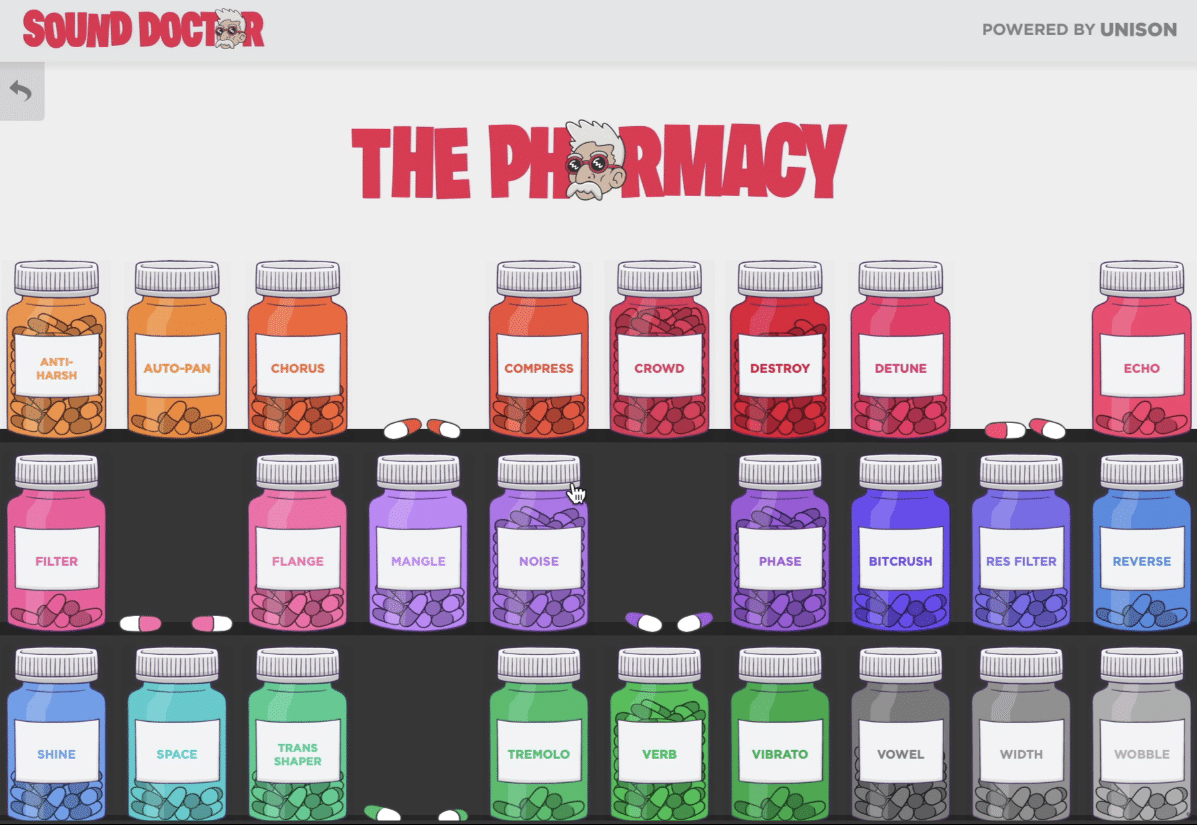 Expand your creative palette with Sound Doctor's modulation effects, designed specifically for vocal processing.
These effects include:
Chorus 一 Add depth and richness to your vocals by applying the chorus effect. This effect duplicates the original vocal signal and slightly detunes it, creating that signature vocal sound.
Flanger 一 The flanger effect creates a sweeping, spacey sound by mixing the original vocal signal with a time-delayed version of itself. This effect can add movement and interest to your vocals, making them stand out in the mix.
Phaser 一 A phaser effect adds a swirling, psychedelic quality to your vocals by applying a series of notches to the frequency spectrum. This can result in a more dynamic and engaging vocal chain.
Tremolo 一 The tremolo effect modulates the amplitude of your vocal signal, creating a pulsating effect that can add rhythm and excitement to your vocals. This effect can be synchronized with the tempo of your track for rhythmic precision.
Vibrato 一 Add natural-sounding pitch modulation to your vocals with the vibrato effect. This effect can help you achieve a more expressive and emotive vocal performance by simulating the subtle pitch variations that occur naturally in the human voice.
High-Quality Algorithms
Sound Doctor's high-quality algorithms ensure optimal vocal enhancement without compromising the natural character of your vocal recordings.
This results in professional-sounding vocal tracks that stand out in any mix.
Standout Features: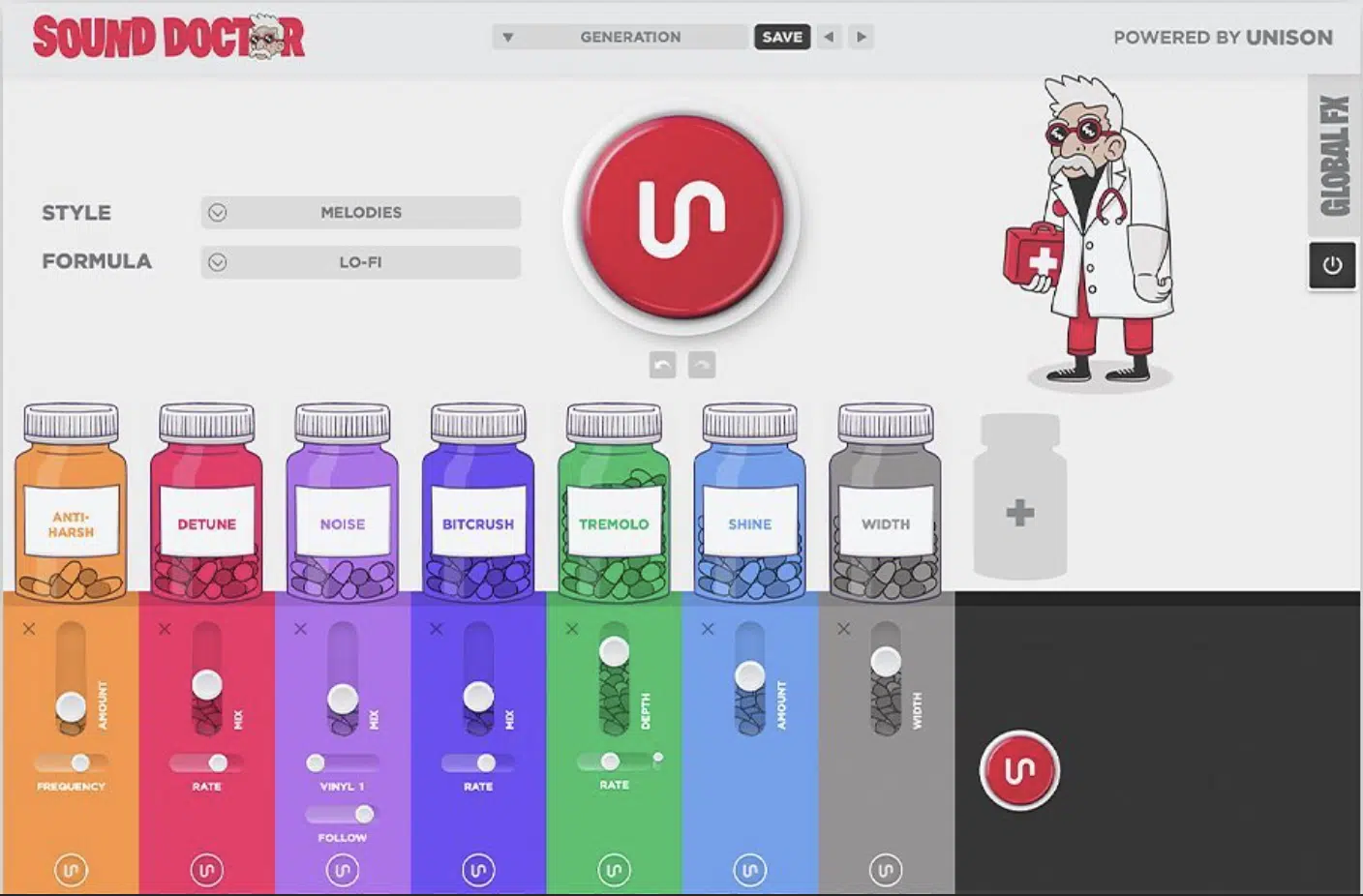 A comprehensive set of vocal processing tools
Innovative pitch-shifting and harmonization capabilities
Unique modulation effects for creative sound design
Intuitive interface for quick and easy workflow
High-quality algorithms for optimal vocal enhancement
#2. Best All-Around Vocal Mixing Suite: iZotope Nectar 3 Plus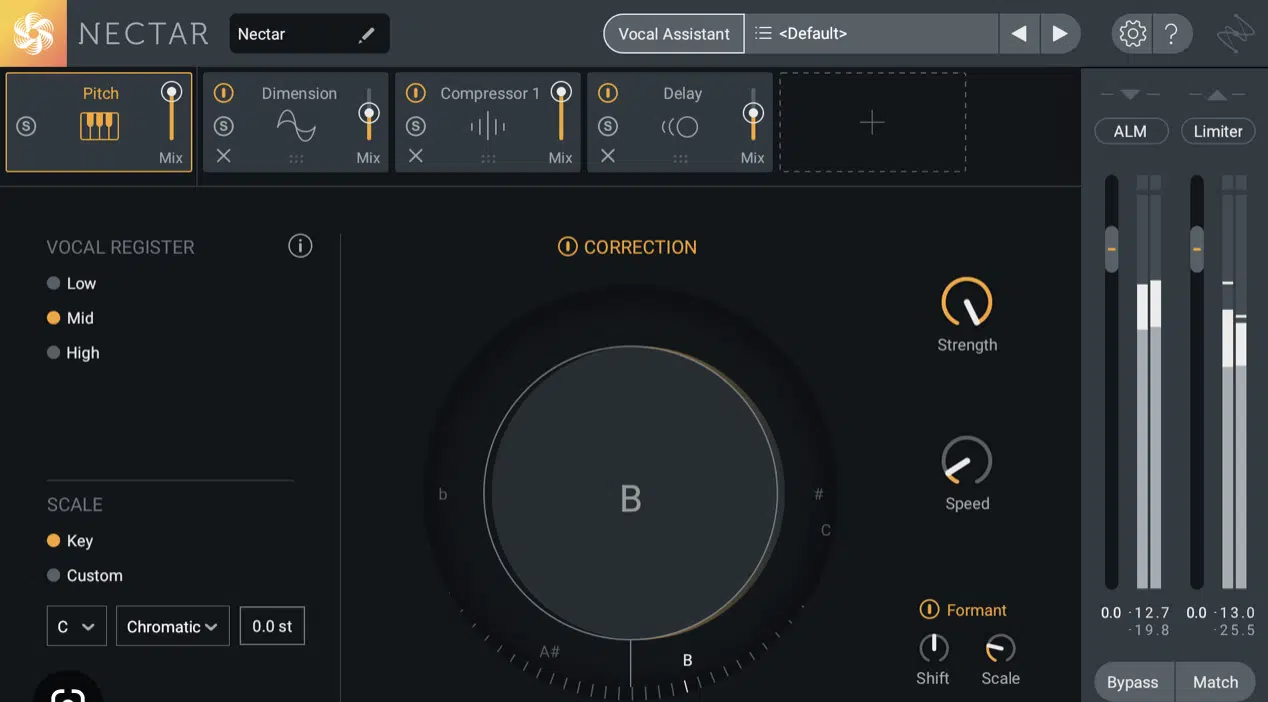 iZotope Nectar 3 Plus is an amazing choice for mixing vocals.
It comes with 12 vocal-focused processing modules that offer a wide range of treatment options for any type of vocal.
Experience the power of DSP for harmonies, doubling, saturation, and much more.
Nectar 3 Plus is a complete vocal production environment in one plugin, making it an essential tool for your vocal processing needs.
Fluid EQs and Dynamic Interface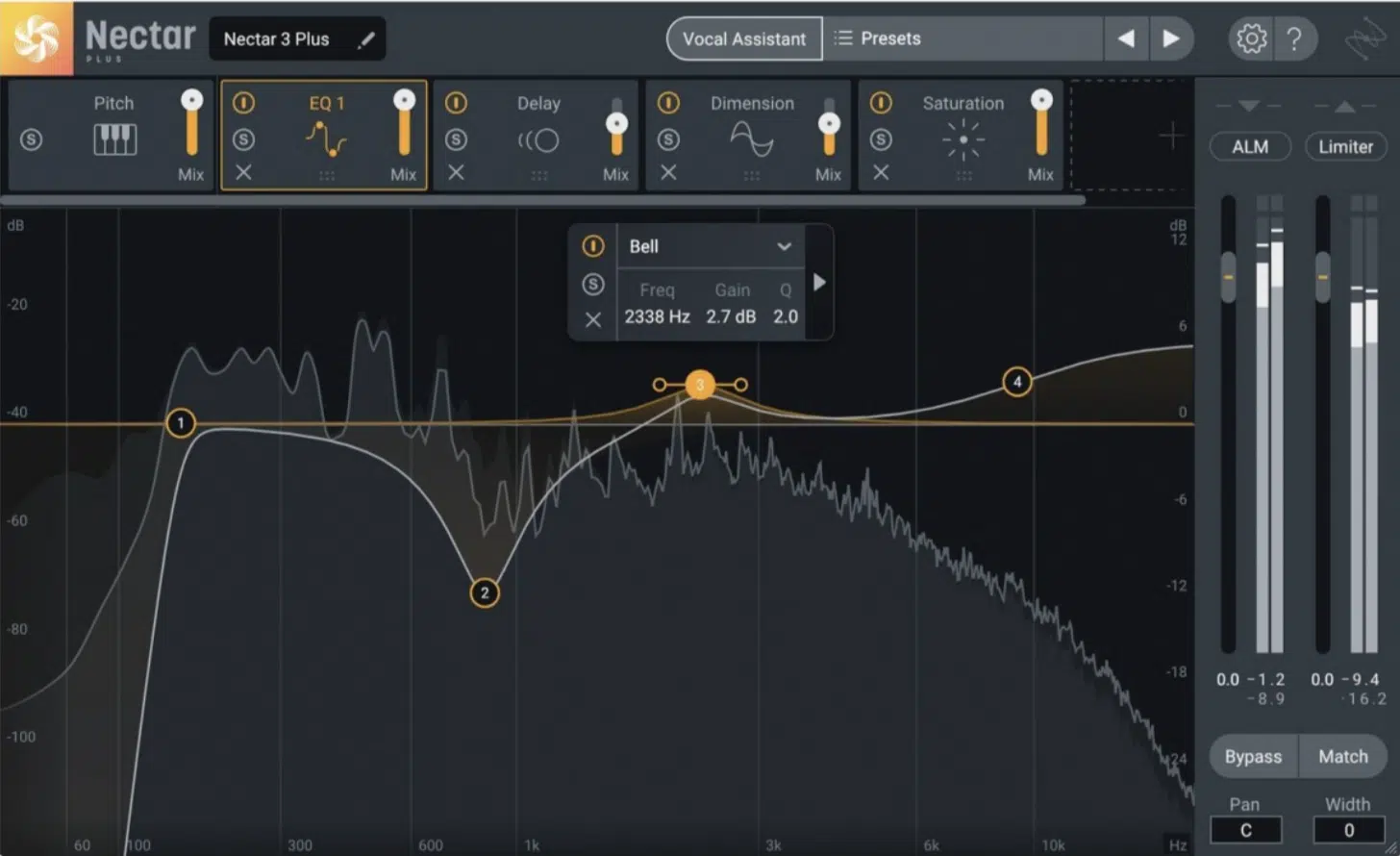 The powerful fluid EQs in Nectar 3 Plus can track the harmonics of your vocal signal, allowing you to make cuts or boosts that follow your pitch.
The compress, de-ess, mix harmonies, and more within a fluid, resizable user audio interface; ensures a smooth and efficient workflow.
Unmask Your Vocals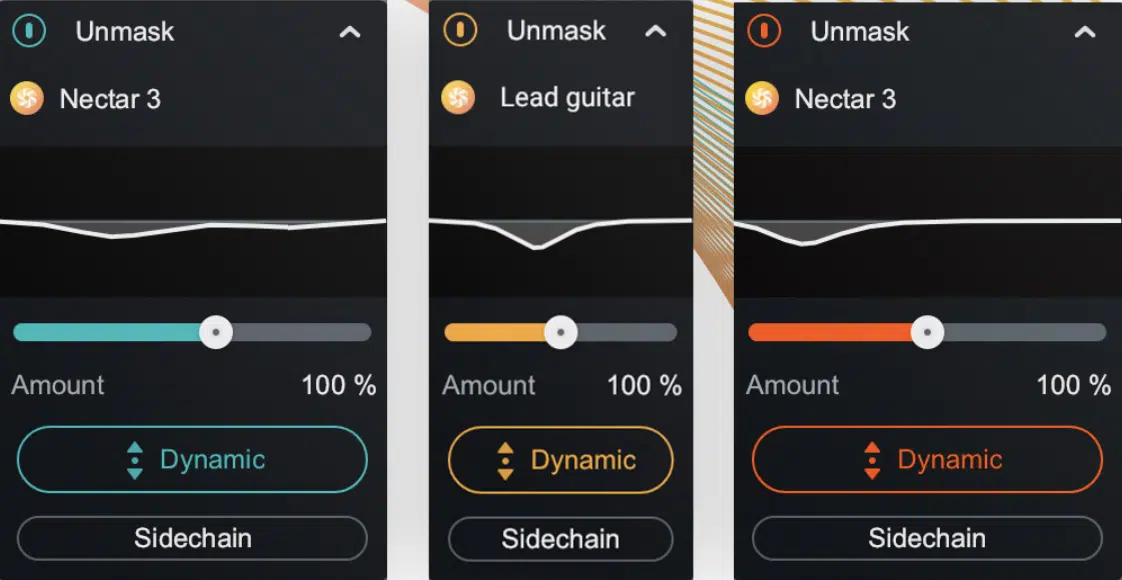 Through inter-plugin communication, Vocal Assistant Unmask in Nectar 3 Plus helps place your vocal at the forefront of the mix.
It does so by automatically moving other competing mix elements out of the way.
Unmask communicates with other iZotope plugins to clean up the audio material in your mix that's clashing with your vocal, providing a clearer and more polished sound.
Nectar 3 Plus also offers powerful features like Celemony's industry-standard pitch correction and RX's world-class breath removal to help you achieve the cleanest vocal recordings possible.
With the ability to adjust the gain, pan, and width of any track in your session, you have complete control over your vocal production.
Standout Features: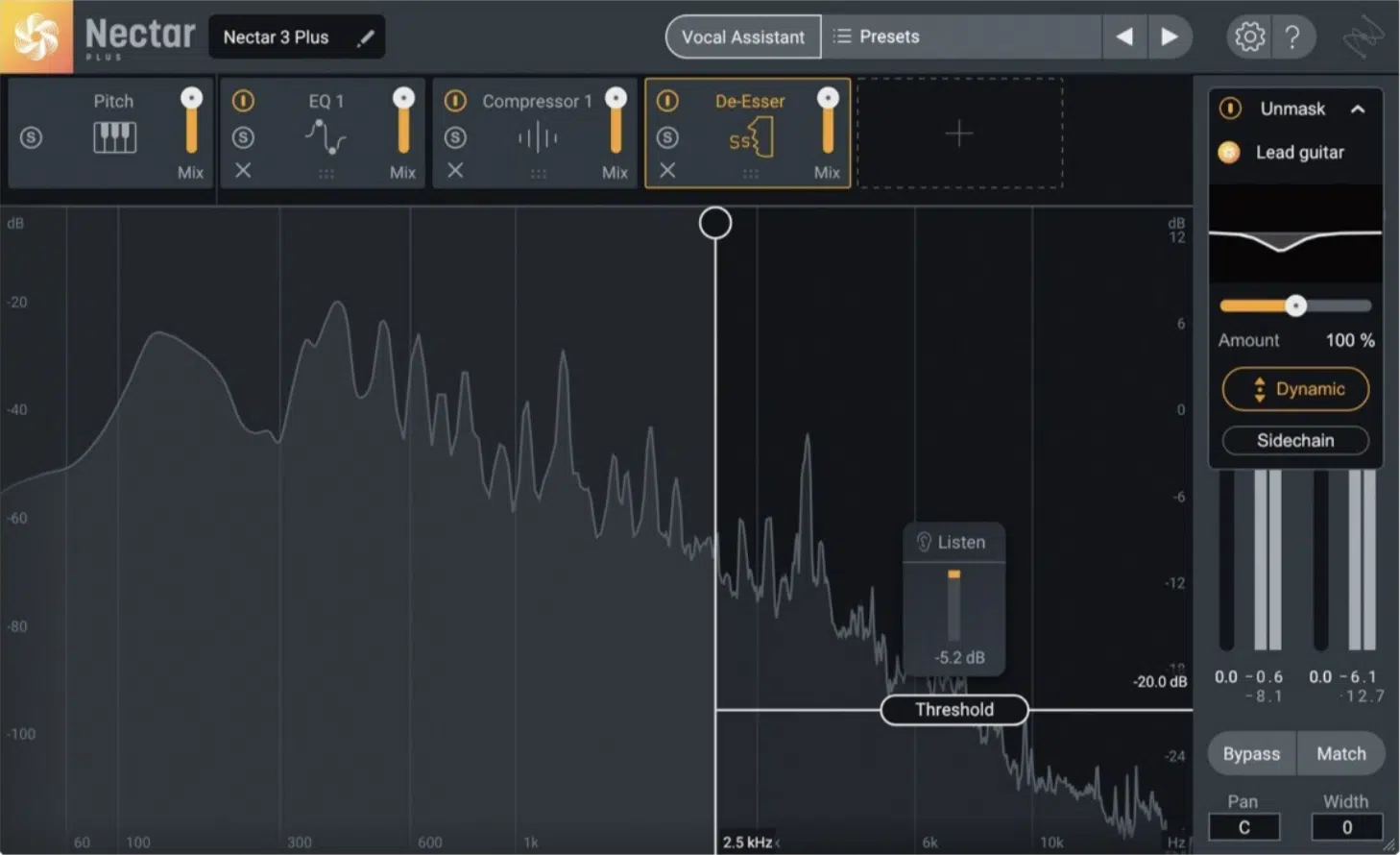 12 vocal-focused processing modules
Fluid EQs and resizable user interface
Vocal Assistant Unmask for clearer vocals
Celemony's pitch correction and RX's breath removal
Complete control over gain, pan, and width
#3. Best Pitch Correction & Vocal FX Plugin: Antares Auto-Tune Unlimited

Antares Auto-Tune Unlimited is a comprehensive vocal production suite that provides all the tools you need to make any vocal performance perfect.
Elevate your music to new heights and produce vocals without limits with this powerful plugin suite.
Includes Every Edition of Auto-Tune

A subscription to Auto-Tune Unlimited includes every edition of Auto-Tune, giving you the full force and functionality of the Auto-Tune experience.
The included editions are:
Auto-Tune Pro X
Auto-Tune Vocal Compressor
Auto-Tune Artist
Articulator
Aspire
Choir
All these inclusions make this suite super versatile and adaptable to your vocal production needs.
Industry-Standard Pitch Correction and Classic Auto-Tune Effect
Experience the power of industry-standard pitch correction and the classic Auto-Tune effect that has shaped countless hits.
Auto-Tune Unlimited works with all major DAWs and provides step-by-step tutorials to help you get the most out of its features.
Complete Vocal Plugin Suite and Free Tech Support
Auto-Tune Unlimited offers every vocal plugin you could want, ensuring you have all the tools you need for top-notch vocal production.
Plus, you'll have access to free tech support to help you troubleshoot and resolve any issues.
Standout Features: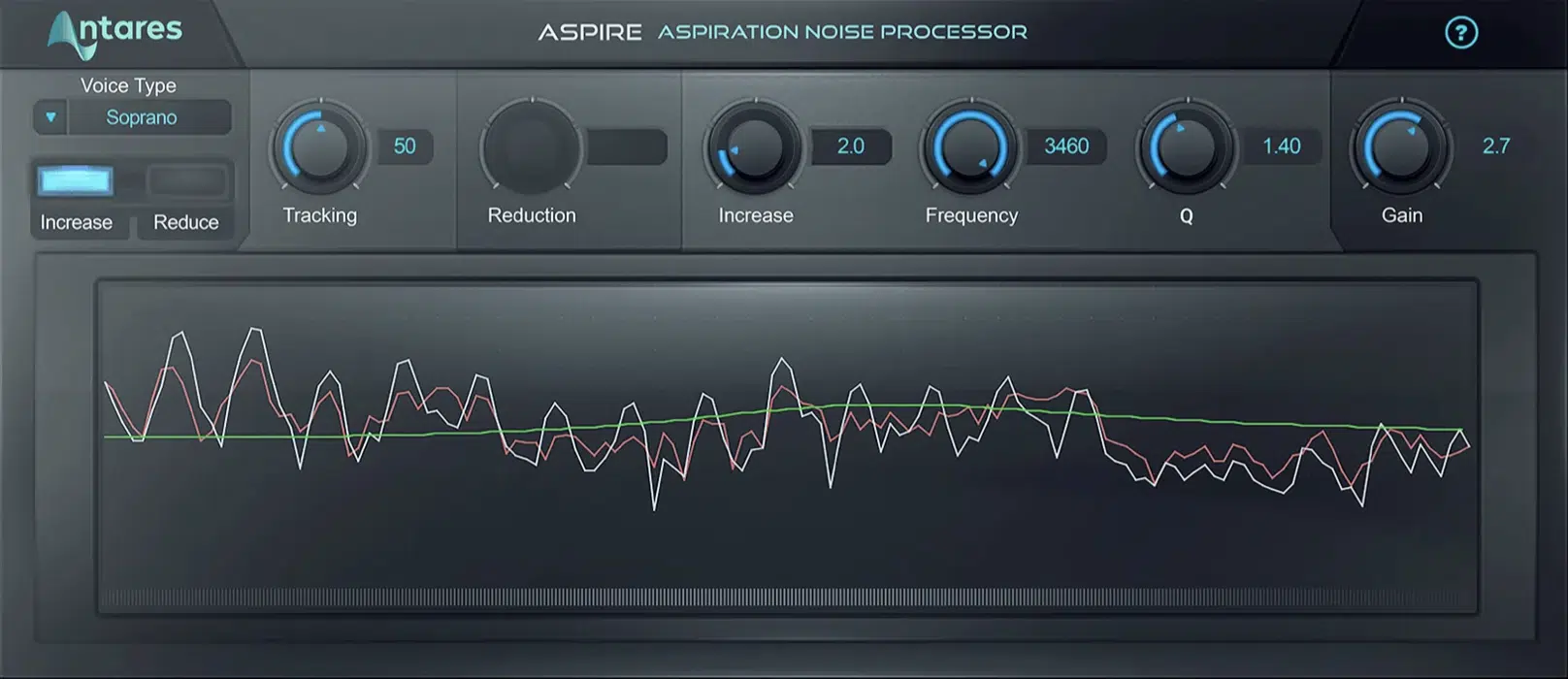 Complete set of vocal production tools
Every edition of Auto-Tune included
Industry-standard pitch correction
Classic Auto-Tune effect
Free tech support
#4. Best Vocal Synthesis and Transformation Plugin: Waves OVox Vocal ReSynthesis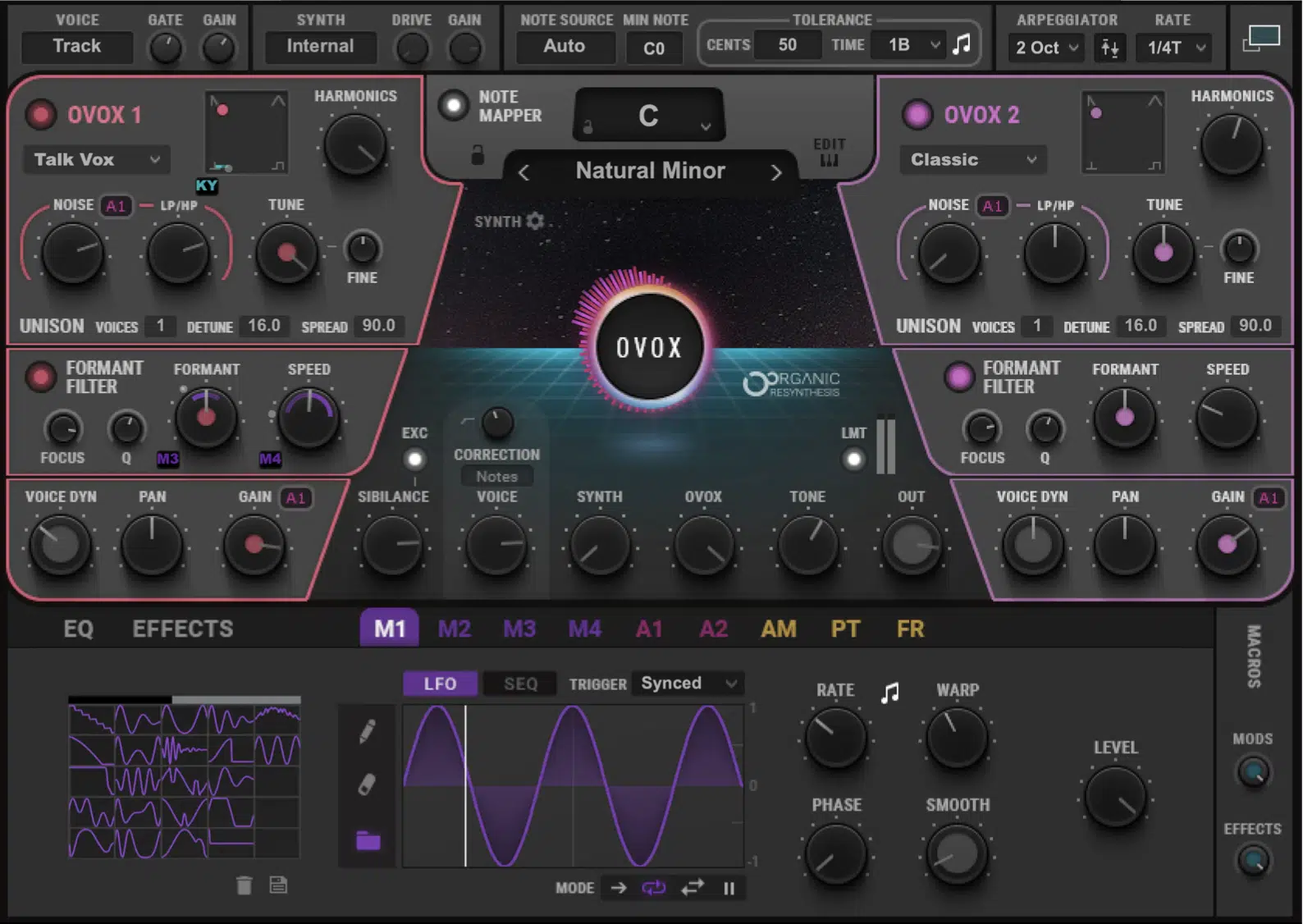 With Waves OVox Vocal ReSynthesis, you can experience chord generation, vocoding, talkbox, pitch/tune effects, arpeggiation, and countless vocal synthesis effects.
You'll be able to transform your voice in real time, send MIDI to any instrument, and choose from 500 presets for an incredible array of cutting-edge vocal effects.
Voice-Controlled Synth & MIDI Conversion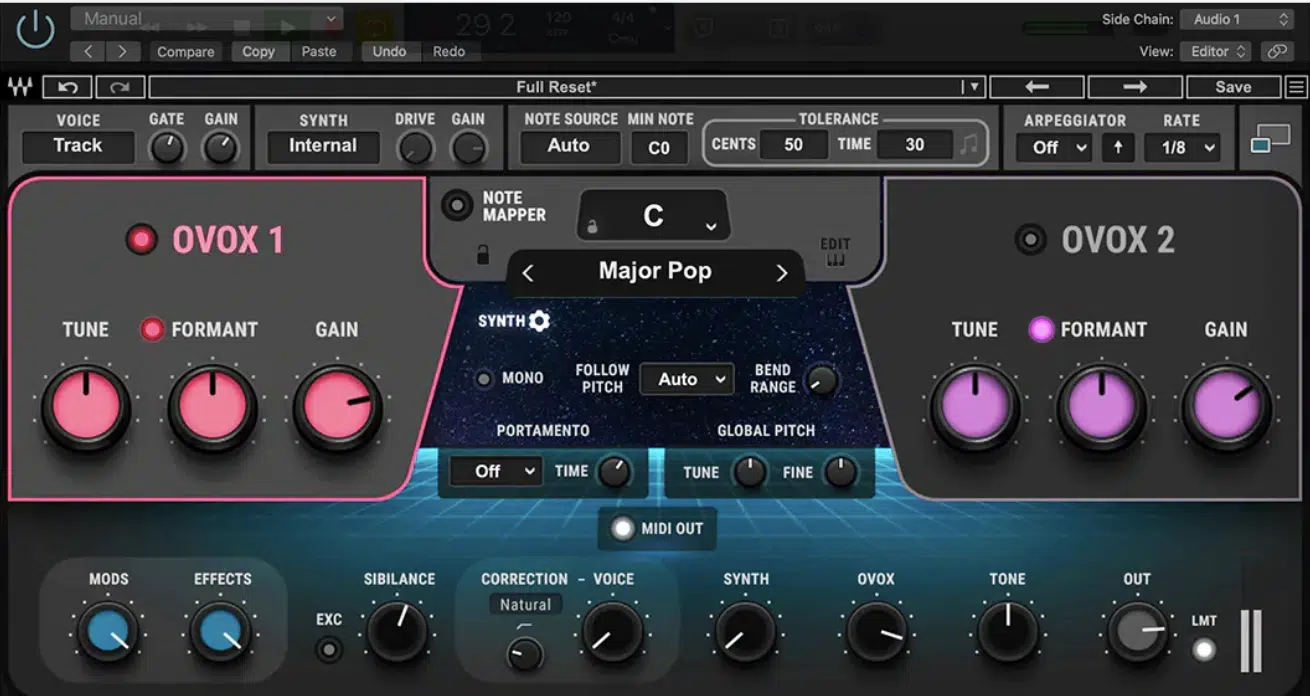 OVox features a voice-controlled synth with 8 voices and two high-resolution engines.
Morph your vocals with full expressiveness using Waves Organic ReSynthesis technology (MIDI Out).
This allows you to transform pitch, amplitude, and formant independently.
Plus, you can convert your voice to MIDI in real time, sending it to any instrument for further manipulation.
Note Mapper and Trigger Chords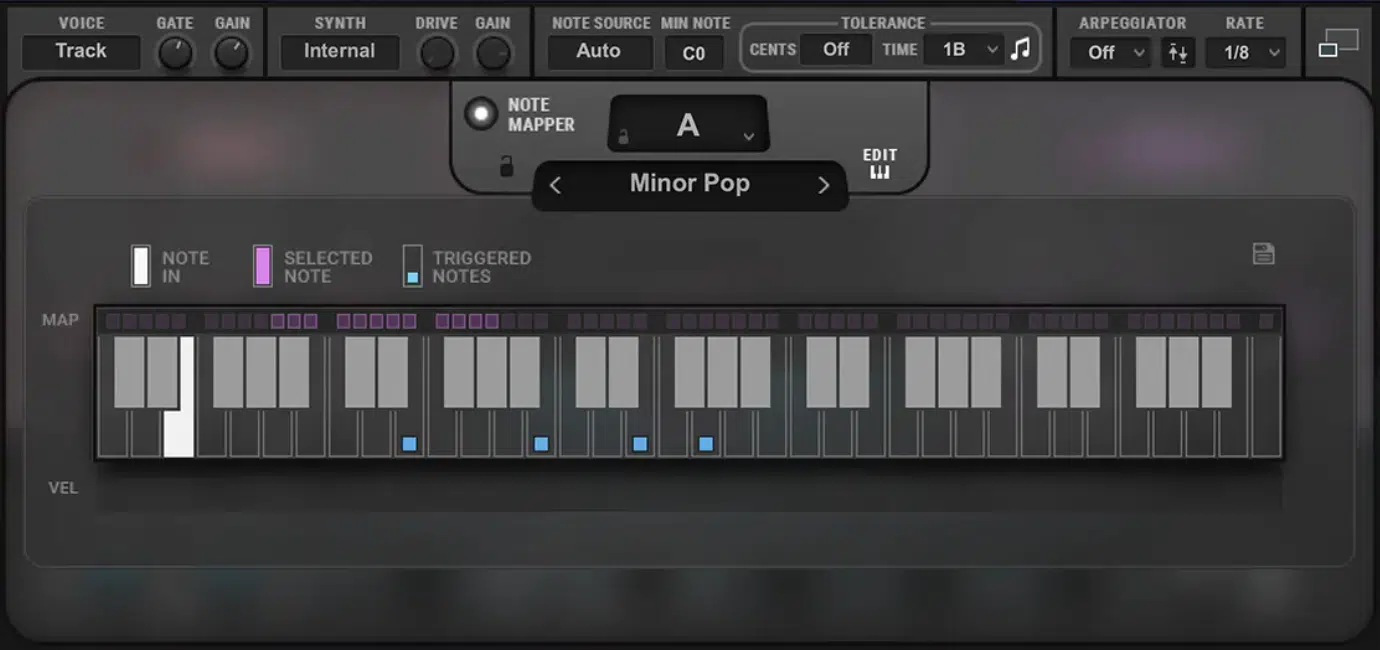 Use your voice or a recorded vocal track to trigger automatic chords, harmonies, or scales with OVox's Note Mapper.
Edit the mapper to exclude unwanted notes, constrain notes to a single octave, or play over the full note range for ultimate control.
OVox comes with 500 powerful presets created by top producers, ensuring you have access to an extensive range of vocal effects.
The expanded interface provides unlimited options for sound editing, synthesis, formant and harmonic modification, filtering, modulation, and effects.
Built-in Effects and Modulation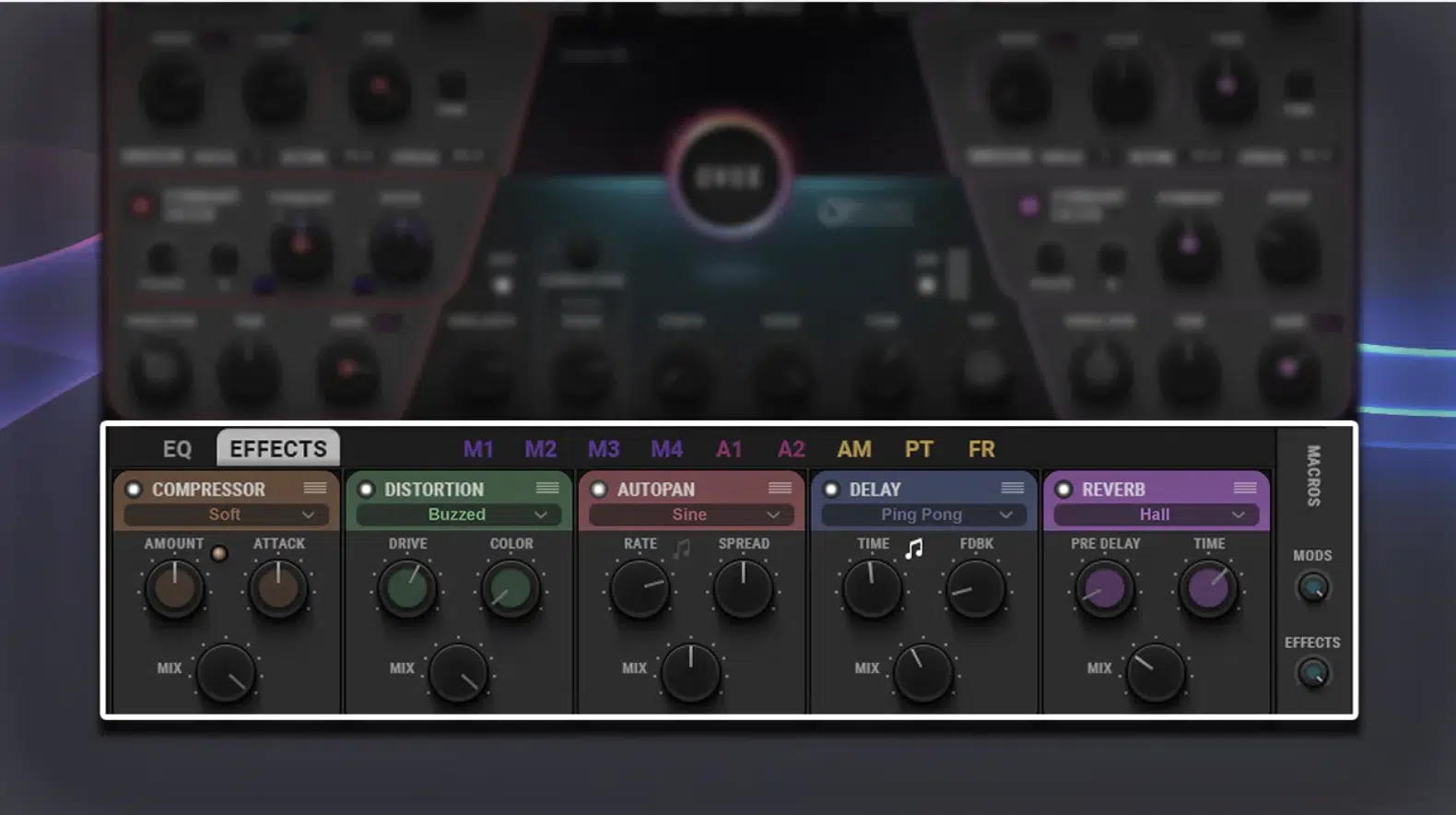 Add high-quality built-in effects like Autopan, Chorus, Compression, Delay, Distortion, and Reverb to any sound.
OVox also features a fully modulatable 4-band EQ, 4 LFOs, and 2 ADSR envelopes.
As well as additional envelopes for Amplitude, Pitch, or Formant, allowing for endless creative possibilities.
Standout Features: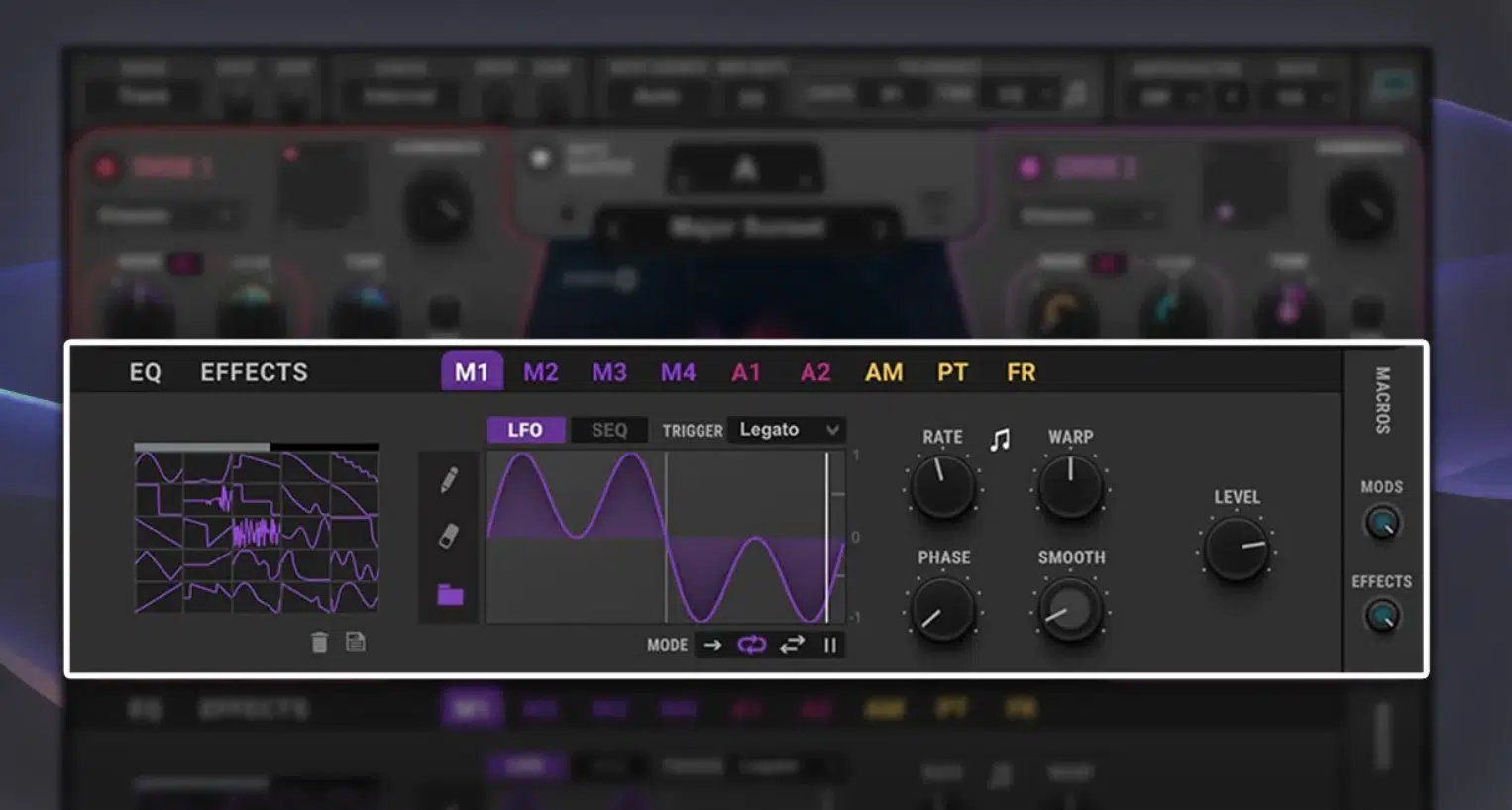 Chord generation, vocoding, talkbox, pitch/tune effects, and arpeggiation
Voice-controlled synth with 8 voices and 2 high-resolution engines
MIDI conversion and Note Mapper for triggering chords, harmonies, and scales
500 presets by top producers
Built-in effects and extensive modulation options
#5. Best De-Essing Plugin: FabFilter Pro-DS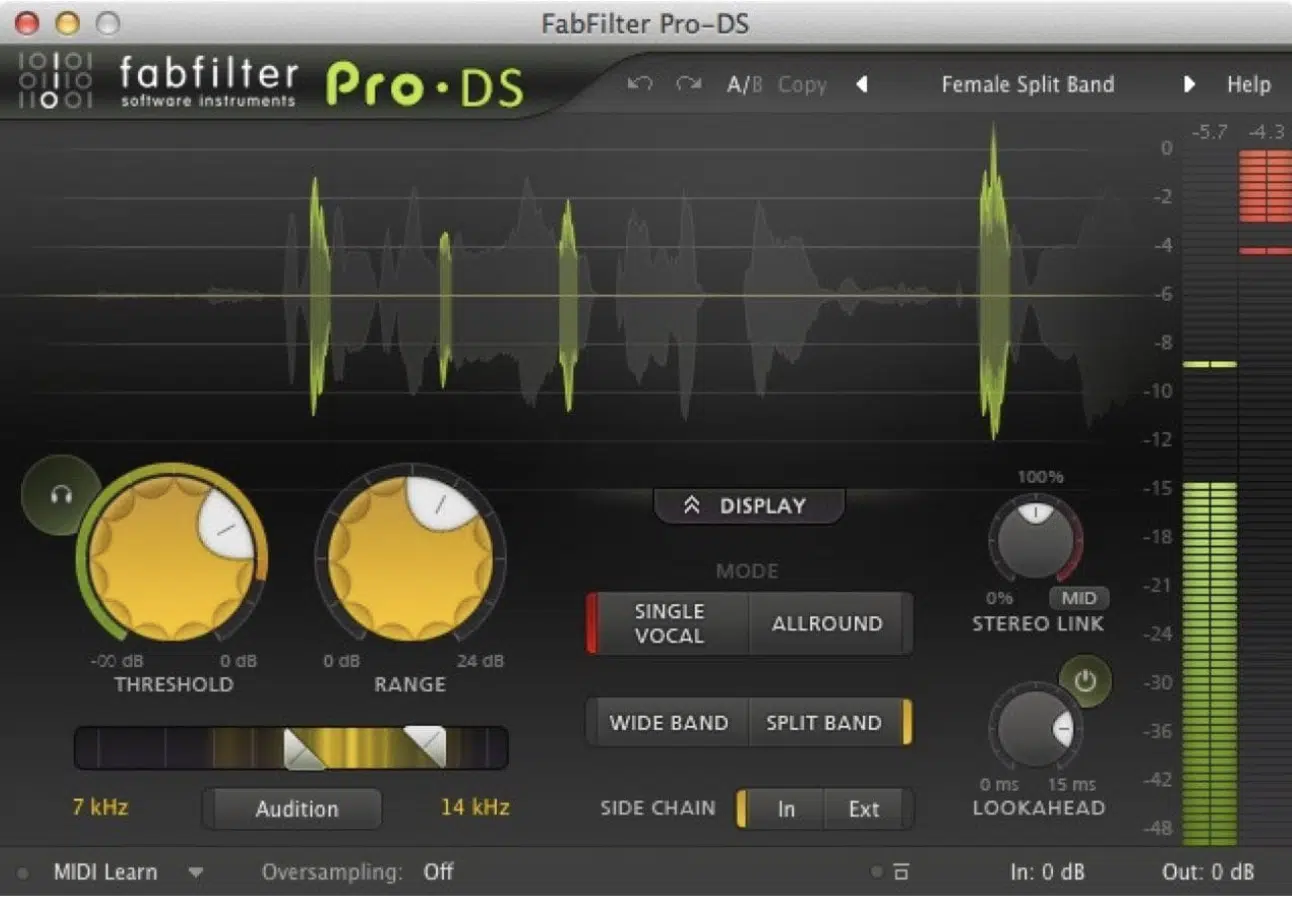 FabFilter Pro-DS is an essential plugin for any producer or engineer looking to create a polished and professional-sounding vocal track.
With its highly intelligent algorithms and extensive feature set, Pro-DS offers precise de-essing capabilities that preserve the natural character of your vocals.
Intelligent Sibilance Detection
Pro-DS accurately identifies sibilance in vocal recordings and attenuates it transparently, ensuring your vocals remain clear and smooth.
Its 'Single Vocal' detection algorithm and 'Allround' mode offer versatile de-essing options, making Pro-DS suitable for any type of vocal processing.
Single Vocal Mode is specifically designed for processing solo vocal tracks.
It utilizes an intelligent algorithm that accurately detects sibilance in the vocal recording and attenuates it transparently.
This results in a smooth, polished vocal sound without introducing unwanted artifacts or altering the natural character of the performance.

A more versatile option that can be used on a variety of audio sources, not just vocals.
This mode is ideal for high-frequency limiting of any material, such as drums or full mixes.
Pro-DS still offers precise de-essing capabilities, but it is designed to handle a broader range of audio content.
This flexibility makes it a valuable tool for addressing sibilance and other high-frequency issues across your entire mix.
Flexible Processing Modes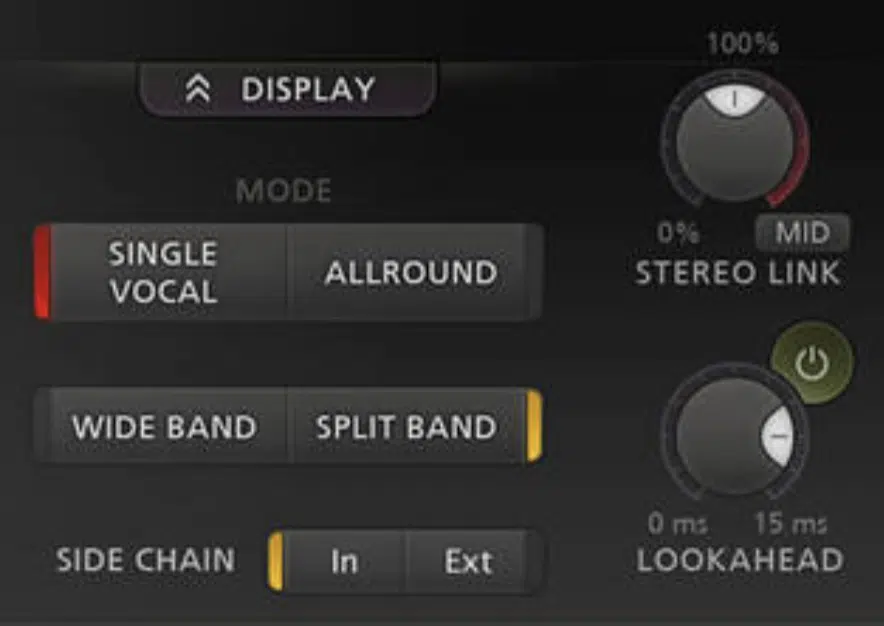 Choose between wide band or linear-phase split band processing to tailor the de-essing effect to your specific needs.
Pro-DS also offers optional lookahead time and adjustable stereo linking for even more control over your vocal tracks.
Additionally, it features a real-time de-essing display, clearly showing the affected parts of processed audio.
This visual feedback helps you fine-tune the plugin's settings for the best possible results.
Preserving Vocal Clarity
In addition to its advanced de-essing capabilities, Pro-DS ensures that your vocals maintain their natural sound and clarity.
This is achieved through transparent program-dependent compression and limiting.
Standout Features: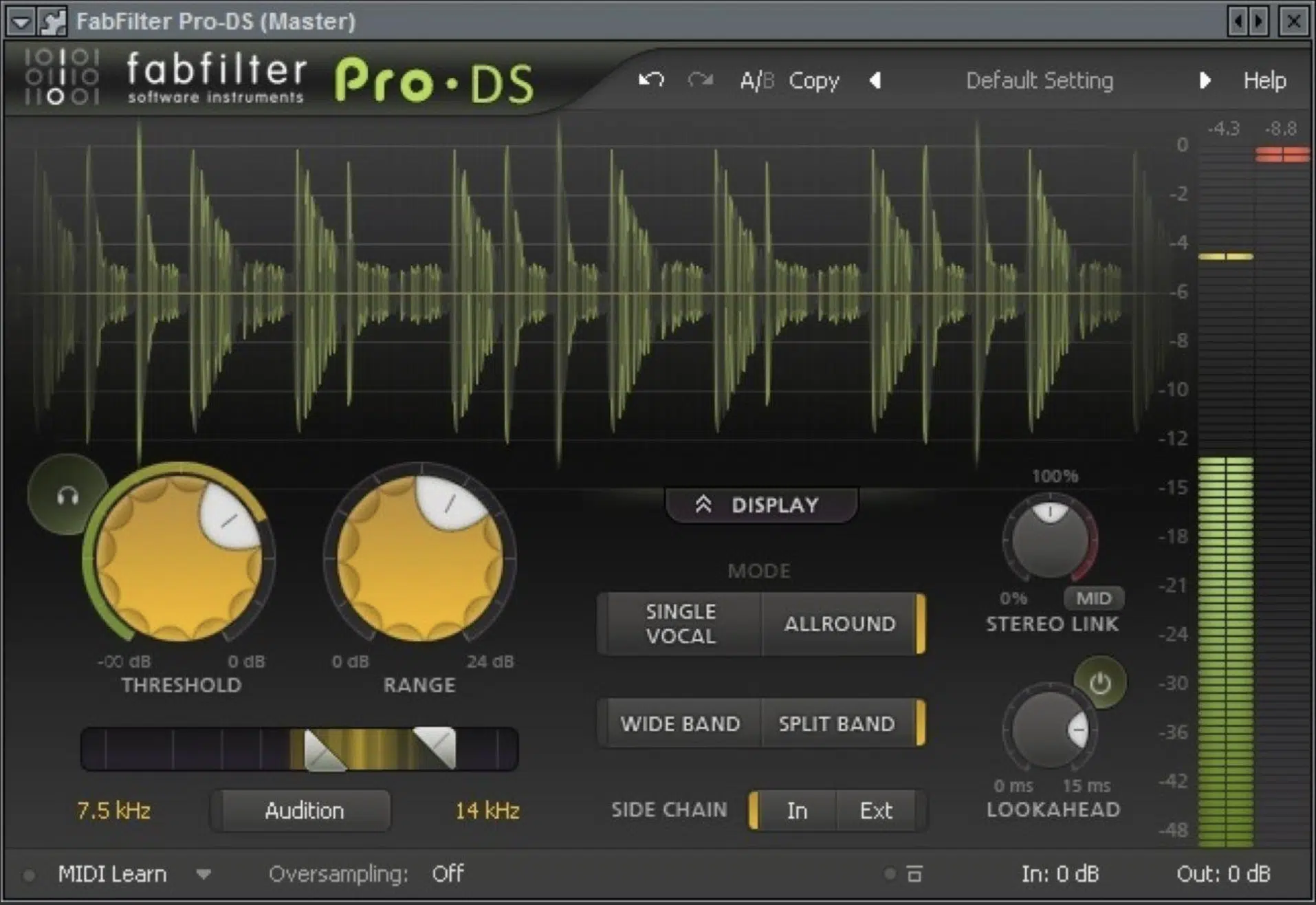 Highly intelligent 'Single Vocal' detection and classic 'Allround' detection
Real-time de-essing display, clearly showing the affected parts of processed audio
Wide-band or linear-phase split-band processing options
Optional lookahead time and adjustable stereo linking
Transparent program-dependent compression and limiting for preserving vocal clarity
#6. Best Vintage-Style Delay Plugin: EchoBoy by Soundtoys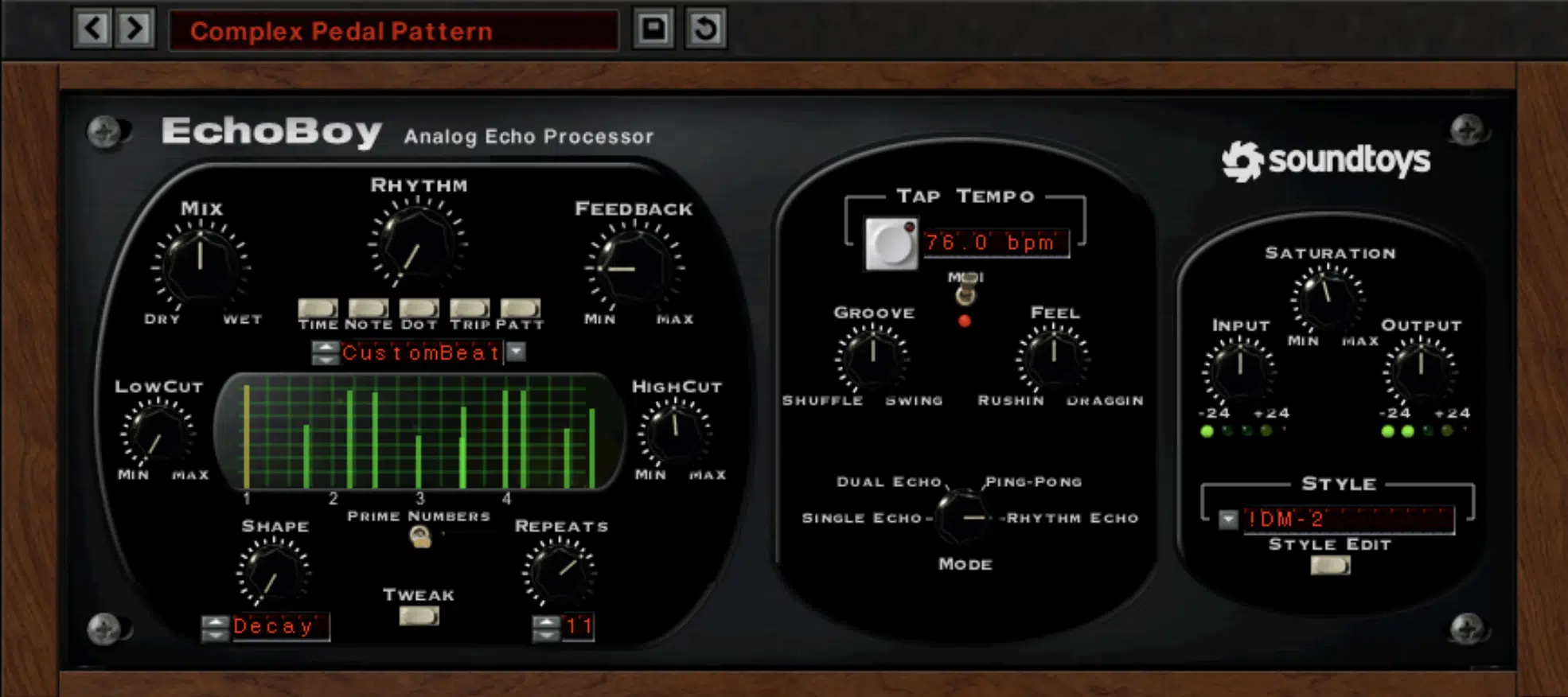 EchoBoy by Soundtoys wraps decades of echo device history and new forward-thinking features into one versatile effect.
Choose from 30 built-in styles modeled on vintage gear, including:
EchoPlex
Space Echo
Memory Man
DM-2
The TelRay oil can delay
EchoBoy's chorus even emulates the highly sought-after CE-1 chorus pedal.
Groove Control and Rhythm Echo Mode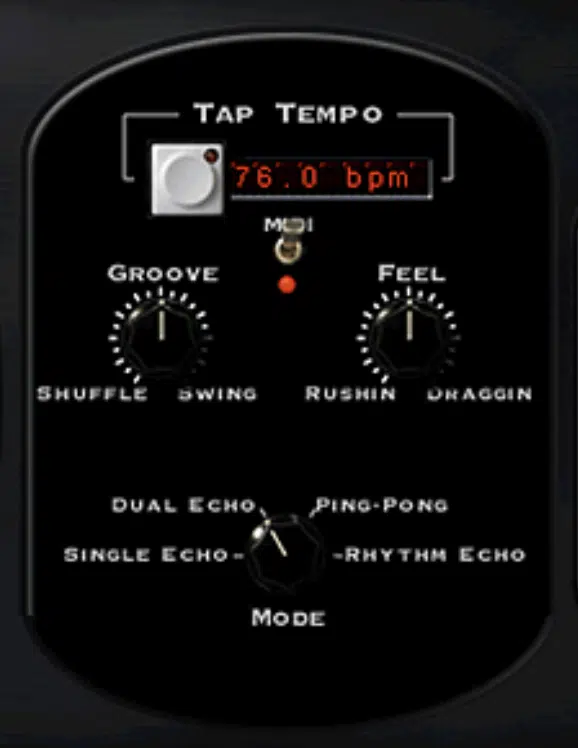 Fine-tune your echo's rhythm with the Groove, Feel, and Accent controls for echoes that rush or drag against the beat.
EchoBoy is a great plugin and the only delay effect with this level of musical groove control.
Rhythm Echo mode allows you to select the rhythmic timing of up to 16 repeats, enabling unique rhythmic delay effects.
Multiple Echo Modes and High-End Tape Sound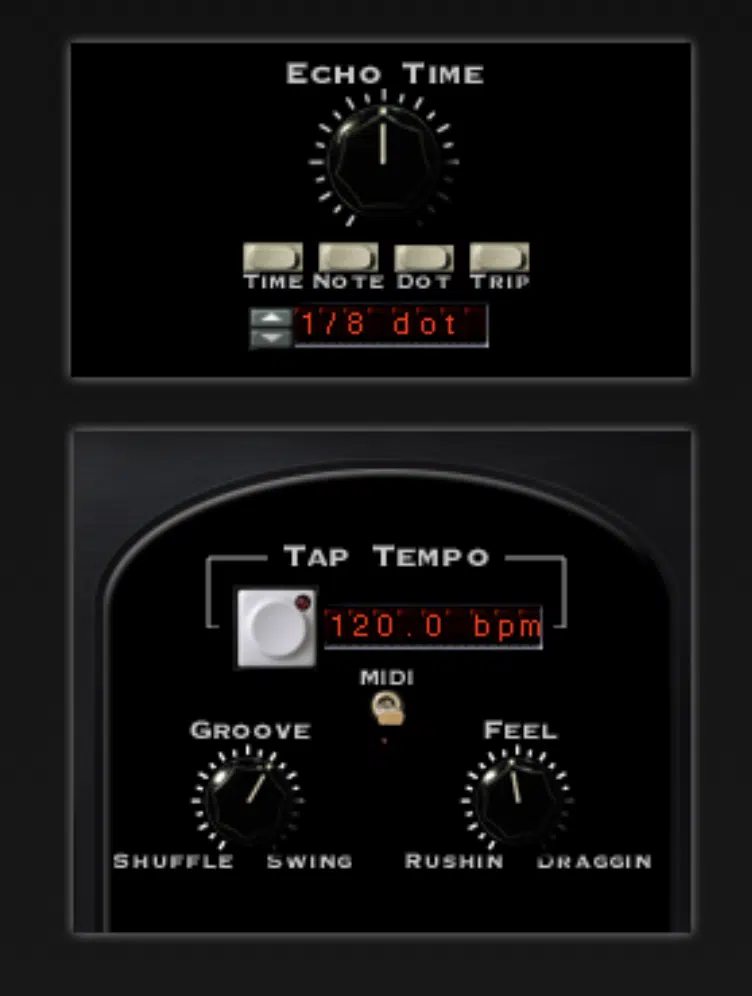 Switch between Single Echo, Dual Echo, or Ping-Pong modes for powerful stereo echo effects.
Or, dive deep with EchoBoy's Rhythm mode and the Echo Style editor.
Warm up your vocals with high-end tape sound modeled on the Ampex ATR-102.
Standout Features: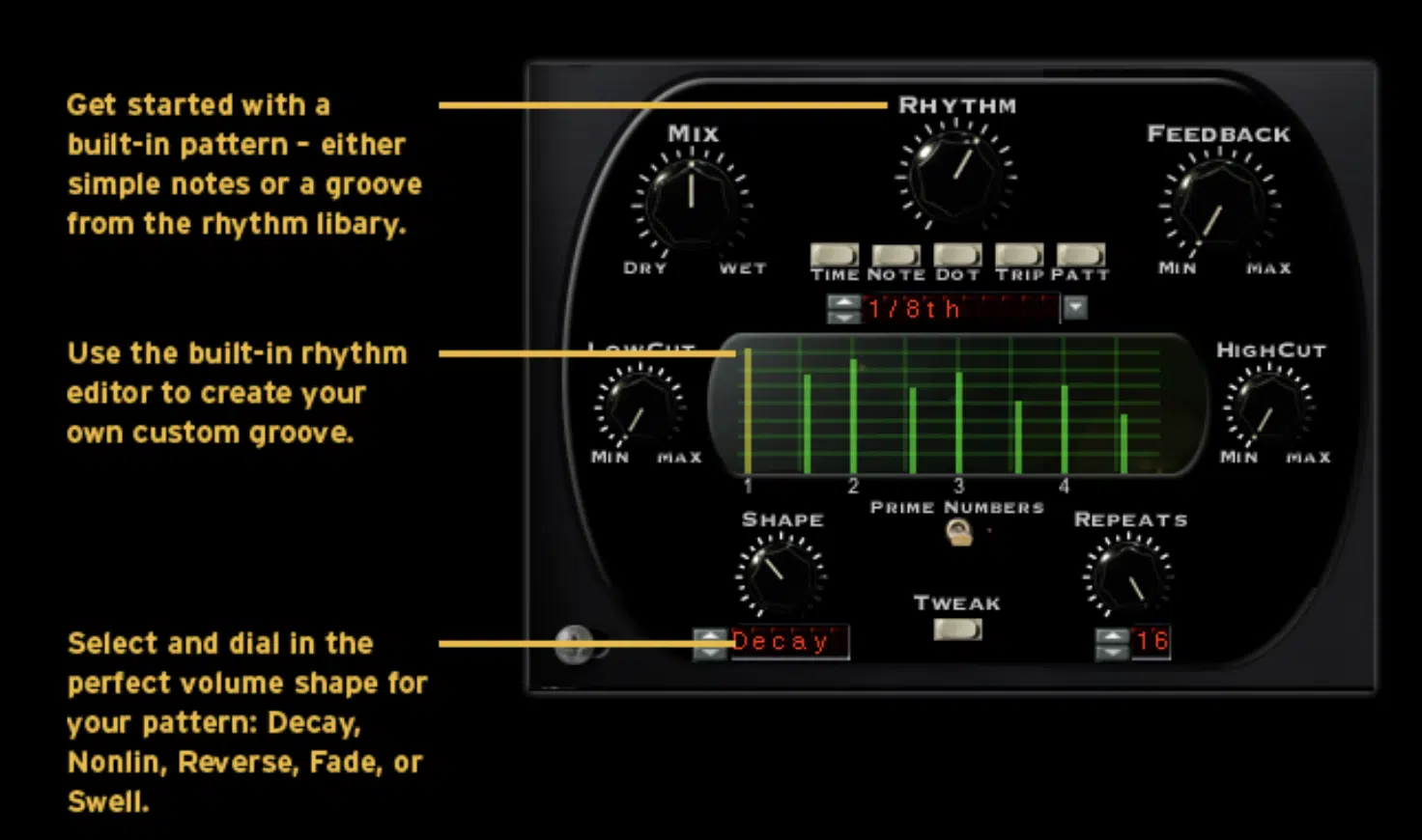 30 built-in styles modeled on vintage gear
Unique rhythm controls: Groove, Feel, and Accent
Rhythm Echo mode for rhythmic delay effects
High-end tape sound for warming up vocals
#7. Best Creative FX Plugin: Soundtoys Little AlterBoy

Little AlterBoy by SoundToys provides a range of vocal transformations, including pitch shifting, formant shifting, and hard-tuning effects.
You can create robotic or vocoder-like sounds or alter the singer's gender with formant shifting.
You can use MIDI in your DAW to control the pitch of vocals, creating harmony or vocoder effects.
This powerful feature opens up new creative possibilities for your productions.
Tube Saturation & Real-Time Processing
Little AlterBoy includes a tube saturation model from Soundtoys' Decapitator.
This adds warmth and edge to your vocal creations, enhancing the overall sound quality.
Little AlterBoy's real-time processing capabilities enable you to experiment with various effects and transformations.
This is what makes it an essential tool for both home studios and live vocal performances.
Dramatic Voice Alteration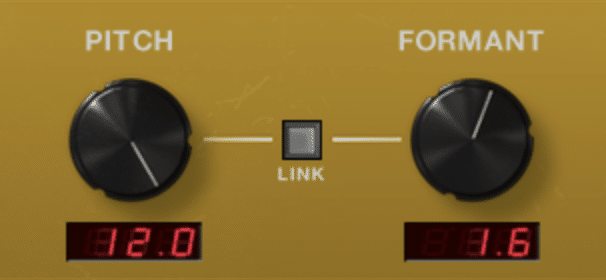 Little AlterBoy offers a wide range of vocal transformations, allowing you to change the pitch, formant, or singer's gender.
It also includes a pitch-quantized hard-tune effect and a classic tube saturation model from Decapitator for warmth and edge.
Robot/Vocoder Mode and MIDI Control
Lock onto a single pitch for robotic sounds or use MIDI in your DAW to control pitch for vocoder-like effects and harmony creation.
This intuitive feature enables new creative directions and ideas that some other plugins don't provide.
Standout Features: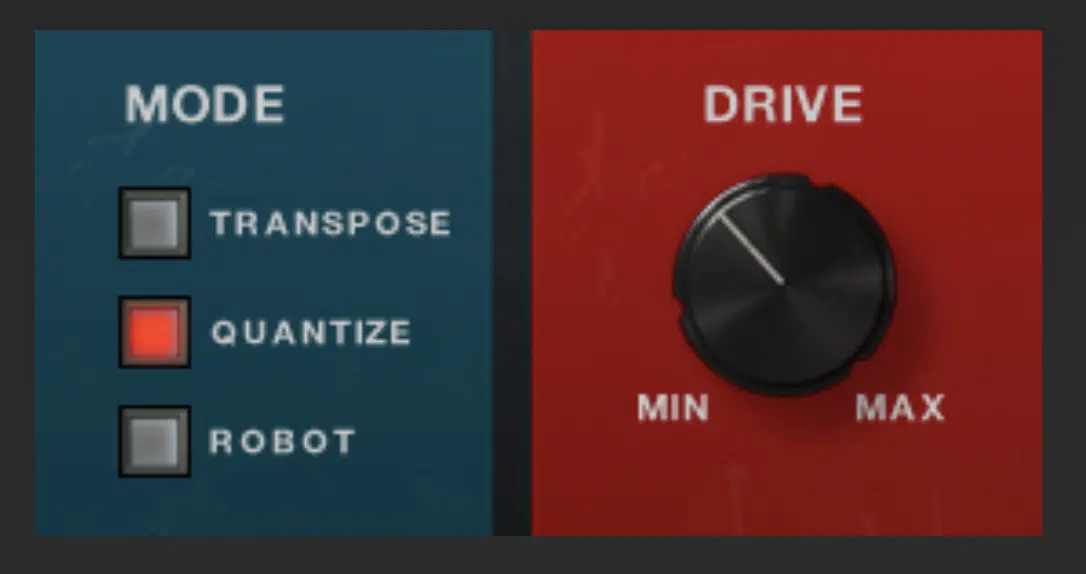 Transform vocals with pitch and formant shifting
Create instant vocal harmony using the Mix control
Lock vocals to a pitch for robotic effects
Vocoder-like effects with MIDI control
Hard-tune effect for hip-hop and pop hits
#8. Best Cutting-Edge Vocal Processor: Manipulator by Polyverse Music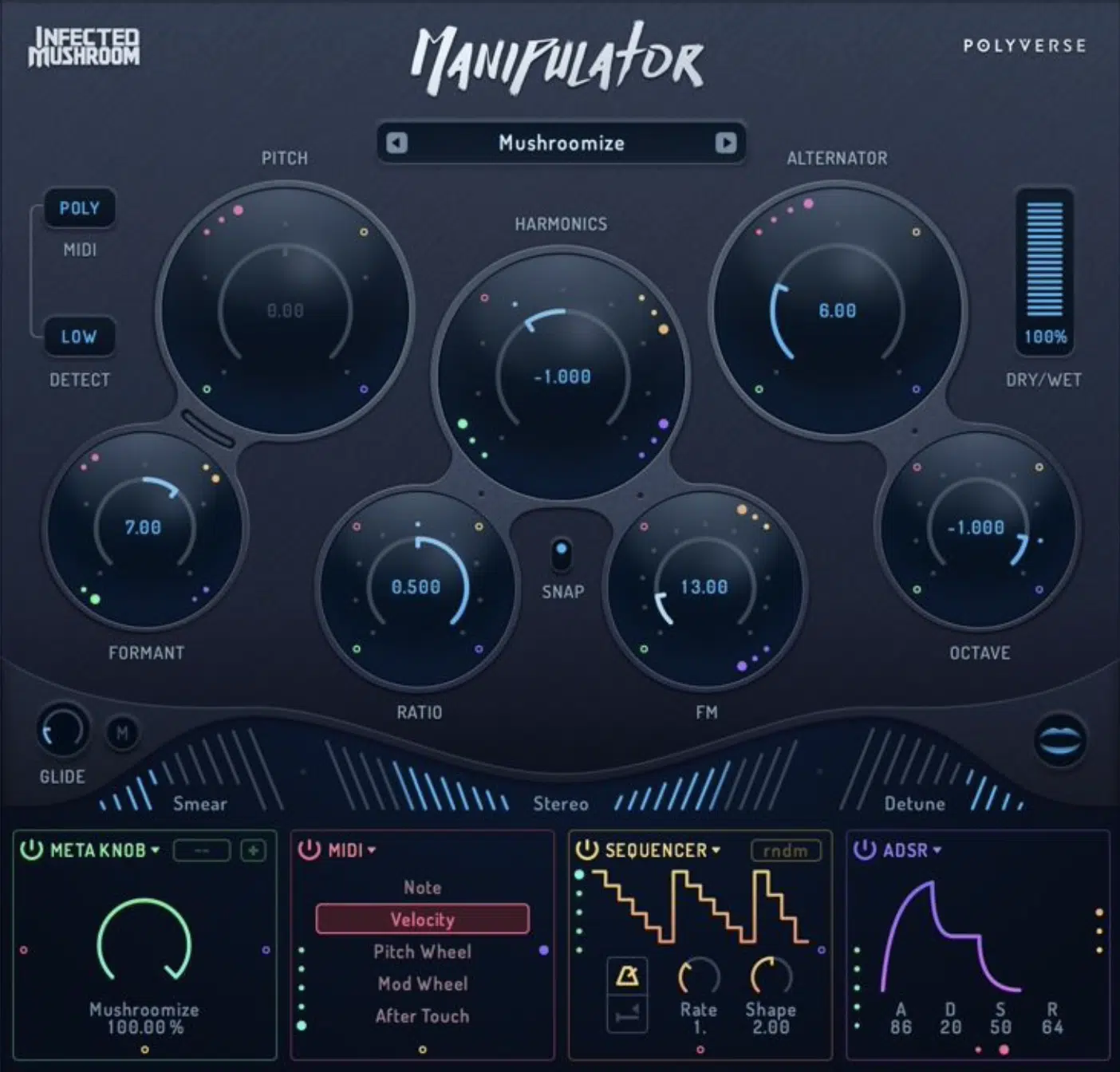 Manipulator by Polyverse Music dramatically alters the timbre and pitch of mono vocal tracks through unique granular algorithms.
From subtle pitch and harmonization changes to full-on sonic mangling, Manipulator offers versatility and creativity.
Warp and Bend Your Voice with 10 Different Effects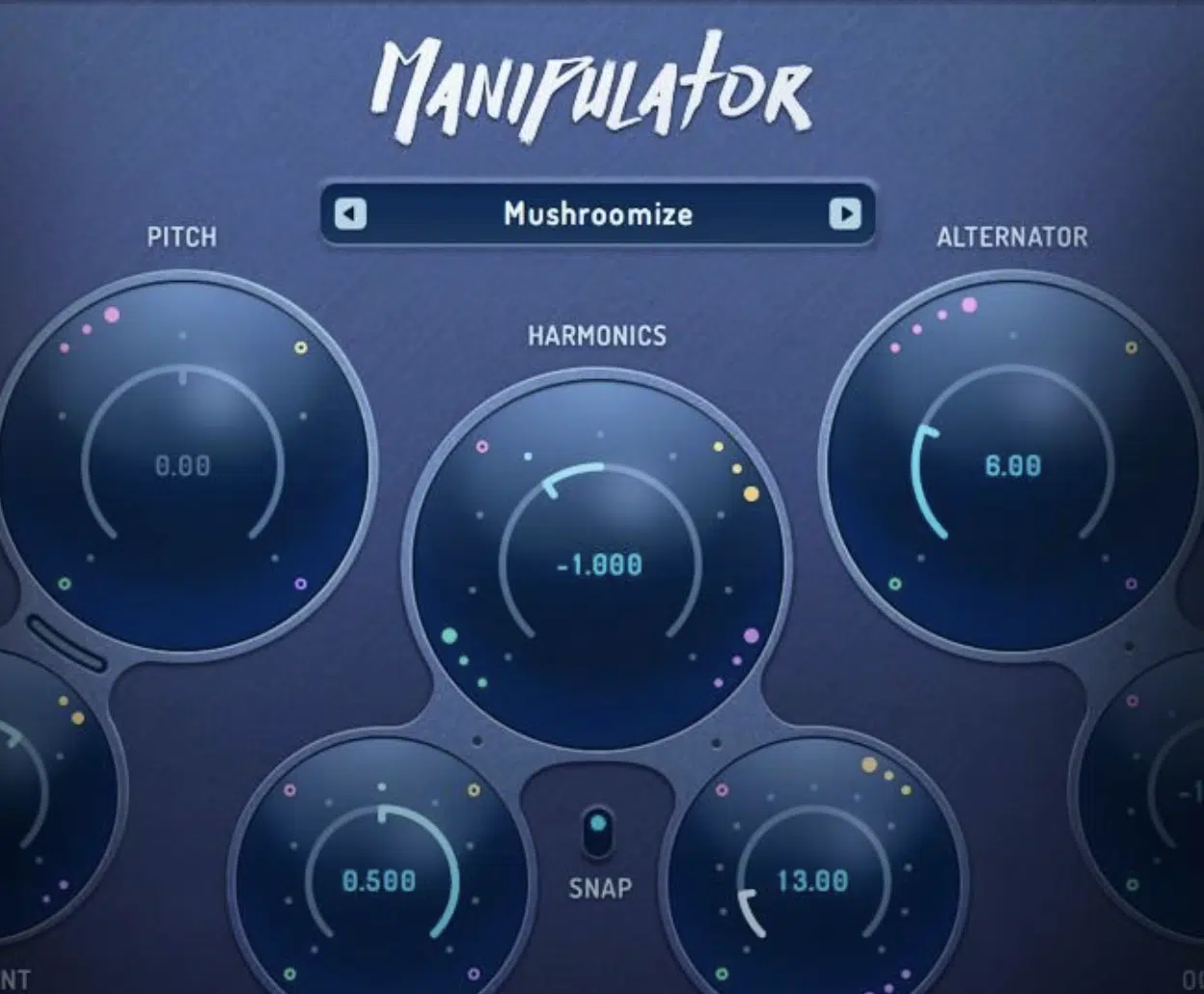 Pitch shifter
Formant shifter
Harmonics shifter
Sound smearing
Granular alternator
Pseudo stereo
& More
With these endless possibilities, Manipulator can transform vocals and instruments into new, complex sounds.
Polyphonic Voices and Real-time Processing
Manipulator supports up to 4 polyphonic voices when used with a MIDI input, allowing you to create instant harmonies.
It also offers real-time, zero-latency processing for live performance.
Created in collaboration with electronic music duo Infected Mushroom, Manipulator brings their signature vocal production techniques to your fingertips.
Standout Features:

Bend and sculpt sounds with 10 different effects
Alter the timbre and pitch of vocals and instruments
Change melodies of existing performances
Up to 4 polyphonic voices with MIDI input
Real-time, zero-latency processing for live performance
#9. Best Vocal-Leveling Plugin: Waves Vocal Rider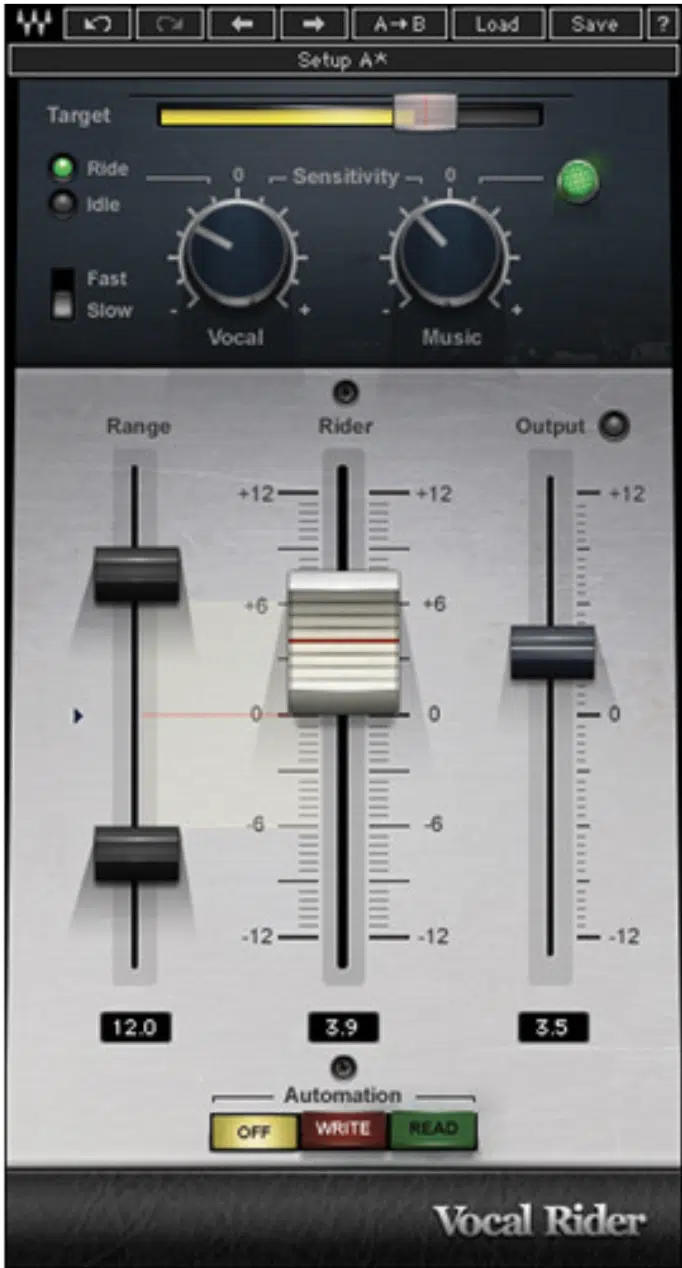 Waves Vocal Rider automatically rides gain to maintain a consistent vocal level, saving you time and eliminating the need for tedious manual automation.
Set a target level for the vocal, and Vocal Rider will take care of the rest, raising or lowering the vocal's gain unobtrusively.
Preserve Vocal Fidelity and React to Music Dynamics
Vocal Rider not only provides consistent vocal levels but also preserves the vocal's full fidelity.
Feed a sub-mix of the song's instruments into Vocal Rider's sidechain, and the vocal's target level shifts according to the music's level.
Automation Track and No Latency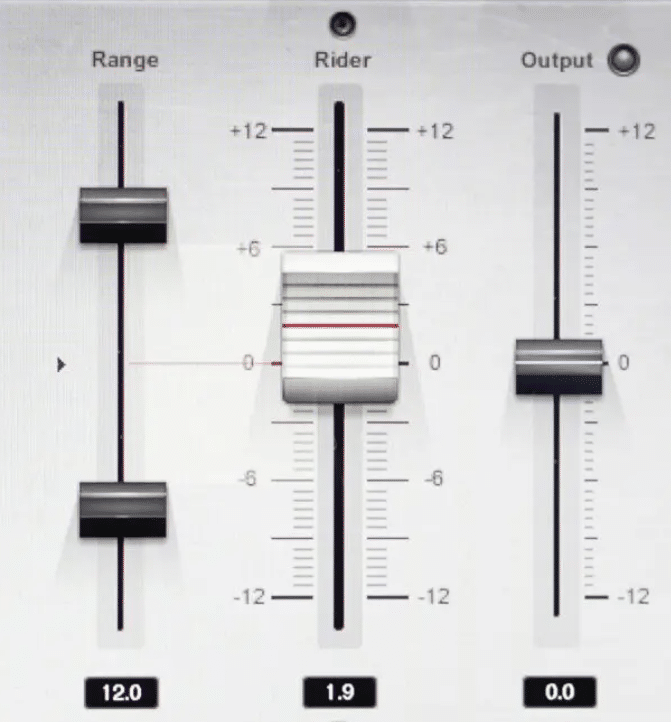 Vocal Rider can write an automation track incorporating the automatic gain changes, allowing for further edits if desired.
With up to 12 dB of attenuation and 12 dB of gain, Vocal Rider ensures consistent vocals.
It's also ideal for stage use as it adds no latency and can prevent other instruments' spillover from interfering with the leveling process.
Standout Features: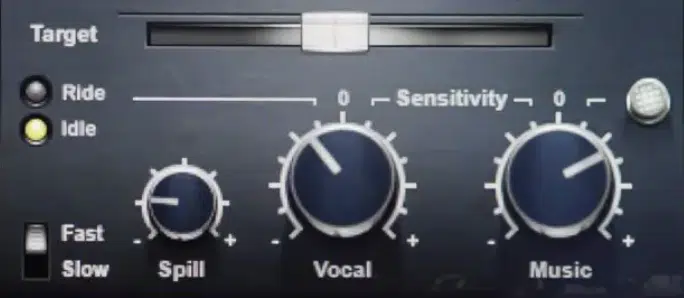 Automatic gain riding for consistent vocal levels
Preserves vocal fidelity
Reacts to music dynamics with sidechain input
Writes automation track for further edits
No latency, ideal for stage use
#10. Best Advanced Vocal Manipulation Plugin: Celemony Melodyne 5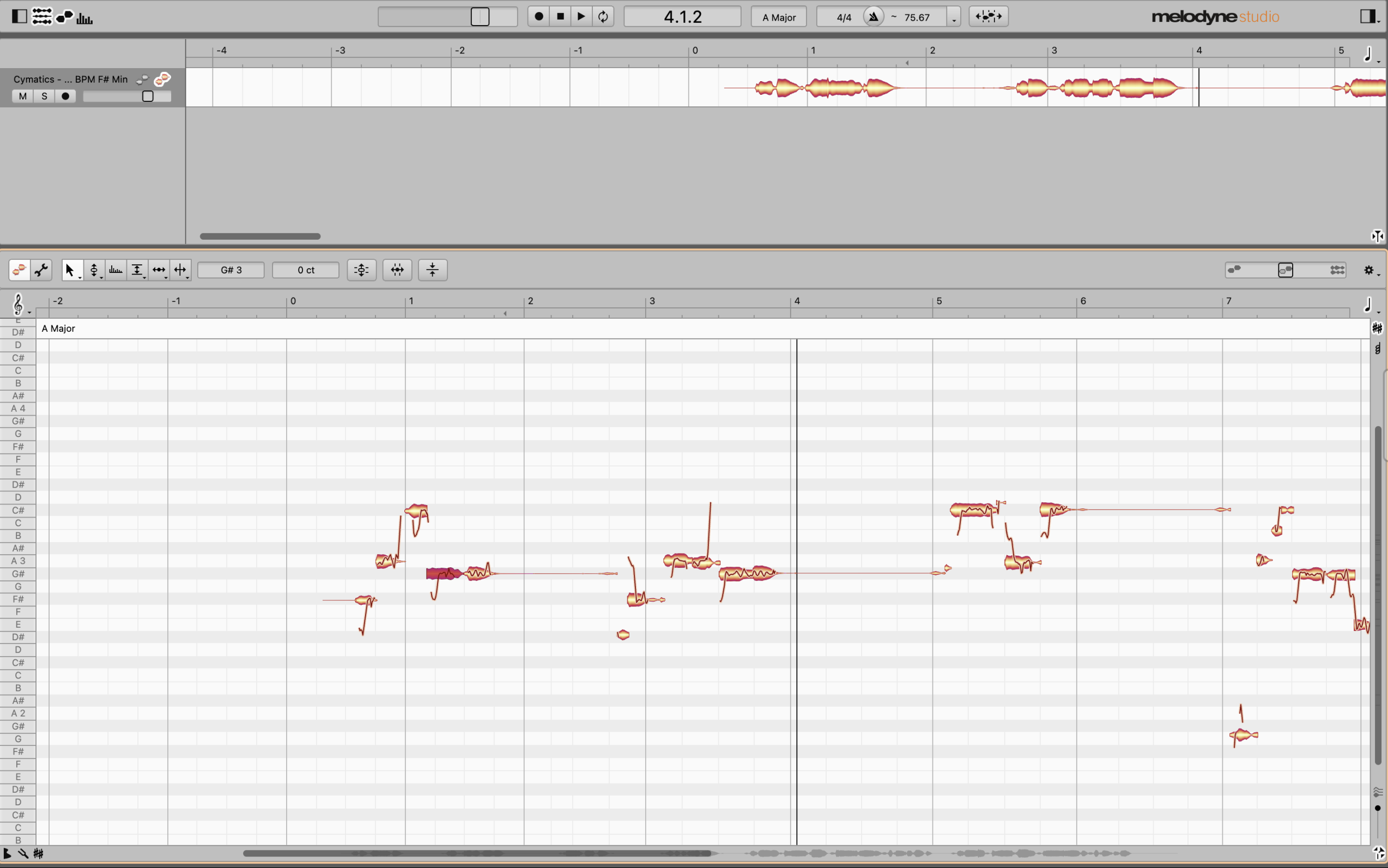 Melodyne 5 offers a Main Tool for editing pitch, timing, duration, and note separations.
Combined with macros for pitch, timing, and dynamics, you can make fast improvements without diving into advanced functions.
Formant-Shifting and Manipulation for Vocals
Melodyne 5 allows you to edit monophonic vocal and instrumental tracks.
This includes formant shifting and manipulation.
It also supports converting synth lines to MIDI and vice versa.
Melodyne Assistant provides high-level vocal editing.
Melodyne Editor lets you edit individual notes played by polyphonic instruments like pianos or guitars, as well as vocals.
The Entire Melodyne Toolkit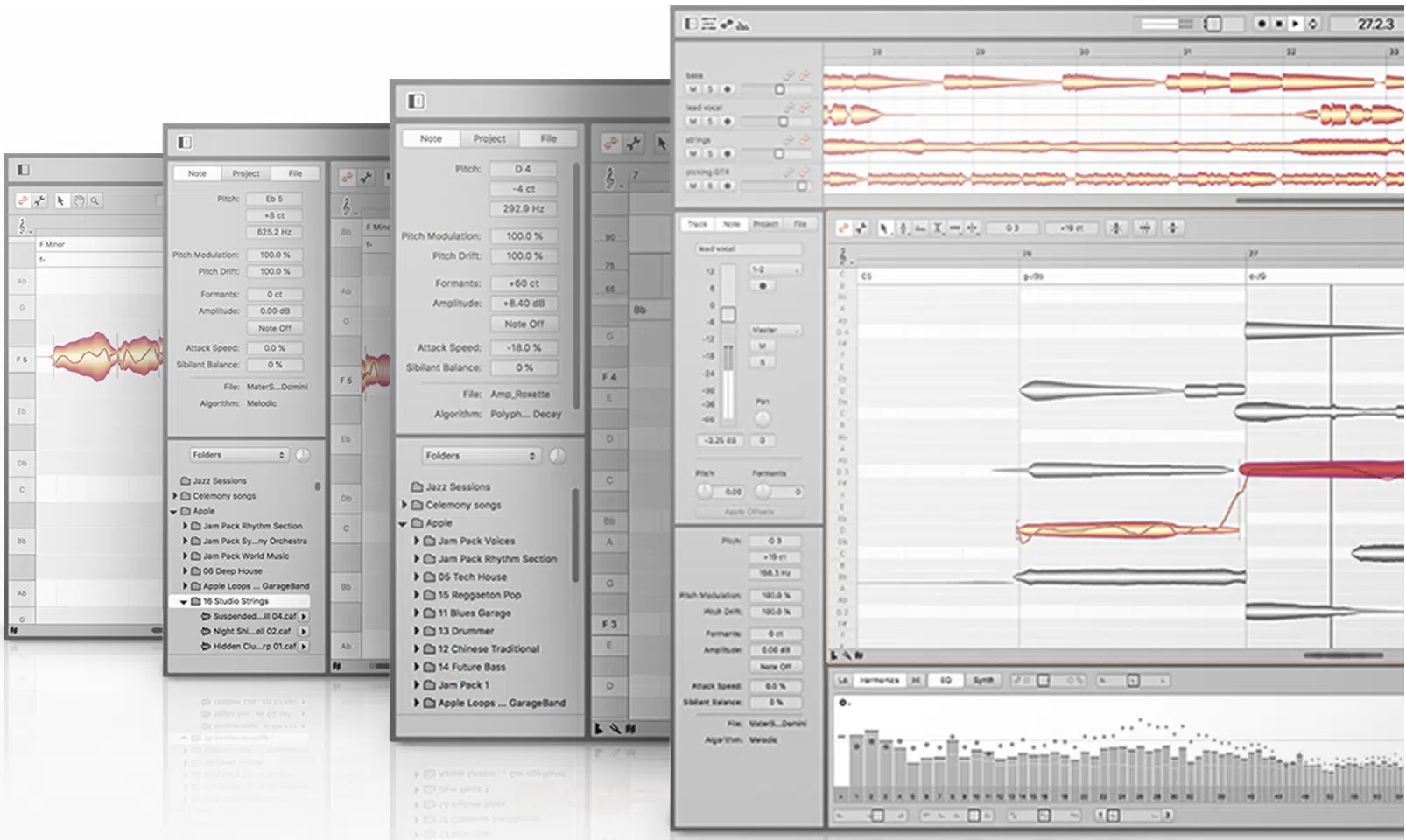 Melodyne 5 offers a diverse toolkit for fine-tuning every note parameter, including:
Intonation
Vibrato
Pitch drift
Timing
Duration
Amplitude
Fades
Sibilants
Formants
Transients
You can adjust these parameters in the Inspectors in order to achieve the ideal sound that matches your vibe.
Melodyne Editor can also transform ordinary library samples into unique creations, perfectly tailored to the rhythm, tempos, and harmonies of your entire song.
This feature is ideal for both vocals and polyphonic instruments.
Standout Features: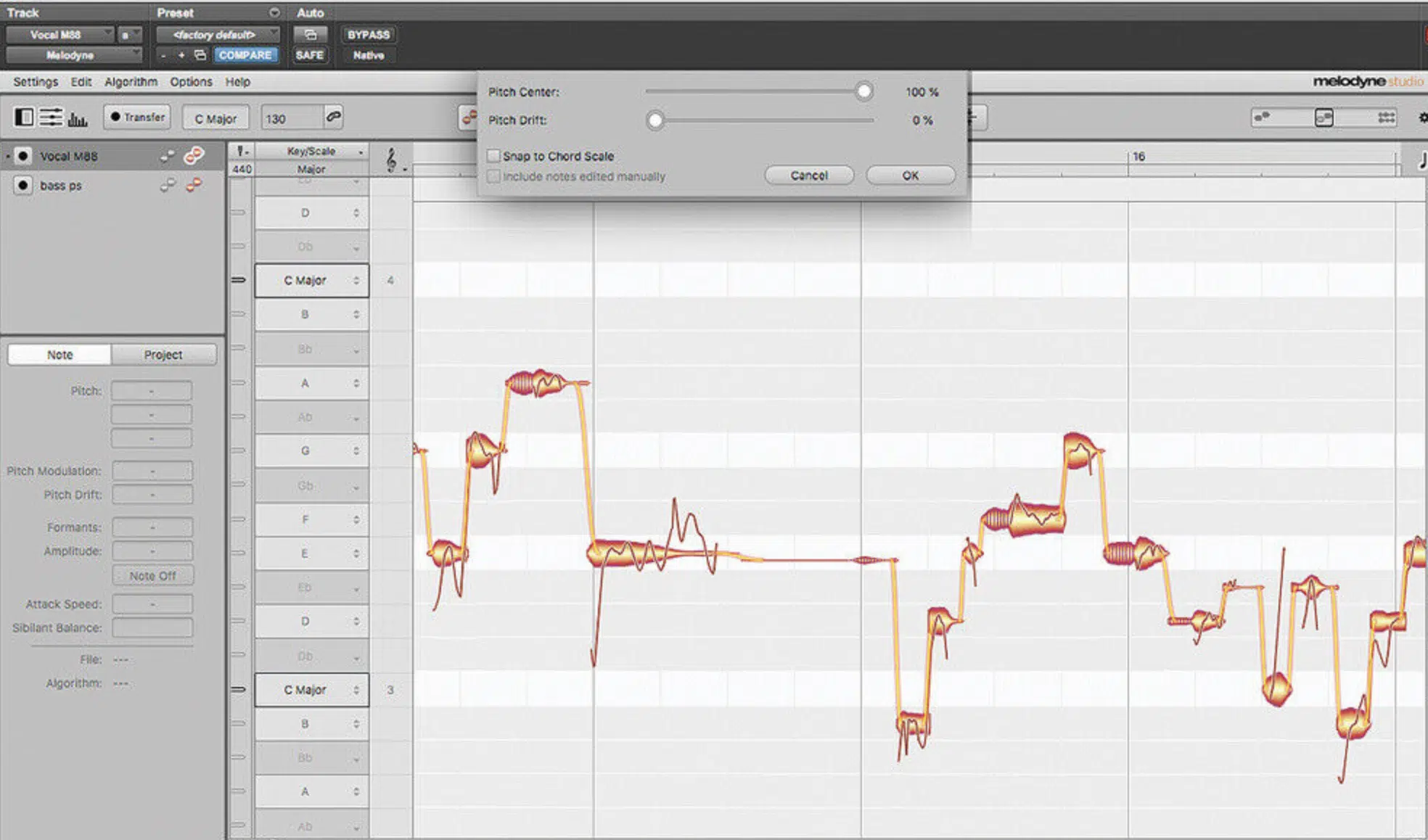 Polyphonic Note Editing
Advanced Formant-Shifting
Convert Synth Lines to MIDI
Extensive Parameter Control
#11. (Bonus) The Best Free Vocal Plugin: Graillon 2 by Auburn Sounds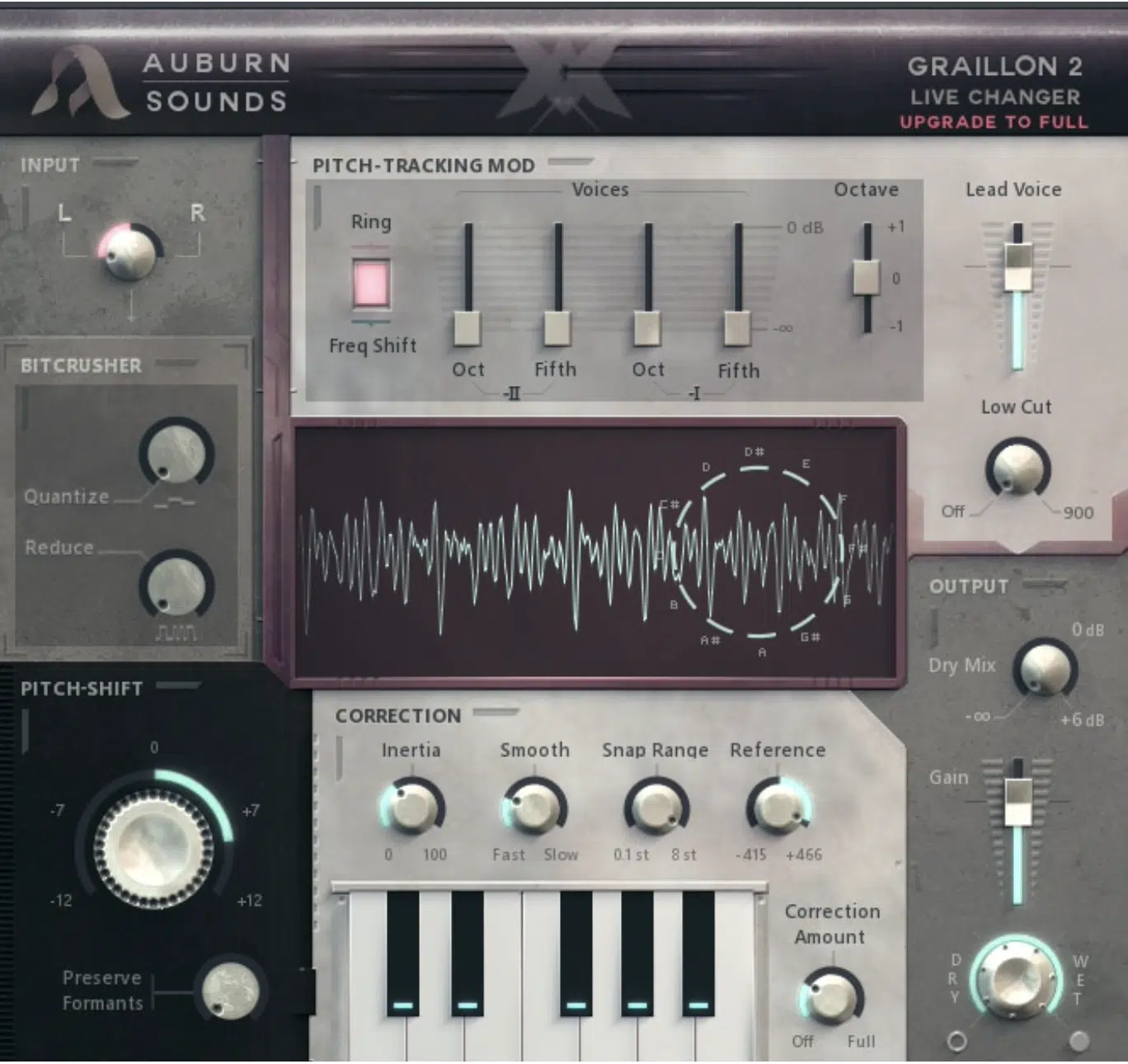 Graillon 2 by Auburn Sounds is a highly versatile and powerful free vocal plugin that brings a wide array of possibilities to your DAW.
With its carefully designed features, Graillon 2 stands out as an excellent choice for those seeking free vocal plugins.
Standout Features: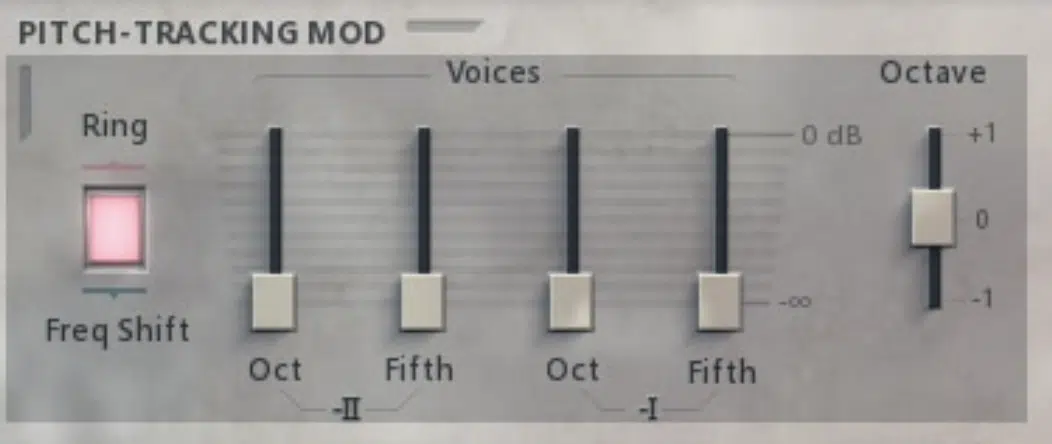 Pitch-Tracking Modulation 一 Unique to Graillon, this feature allows you to change speaker types, generate throat sounds, create choruses, produce Octaver effects, and enrich a voice for a more masculine sound.
Pitch Shifter 一 Optimized specifically for voice, the Pitch Shifter can cleanly transpose vocals up and down, giving you more control over the vocal pitch in your mix.
Pitch Correction 一 Graillon's Pitch Correction module delivers an immediate robotic sound, perfect for creating distinctive vocal effects.
Bitcrusher 一 This additional feature gently adds sparkle to your mix, enhancing the overall quality of your vocal track.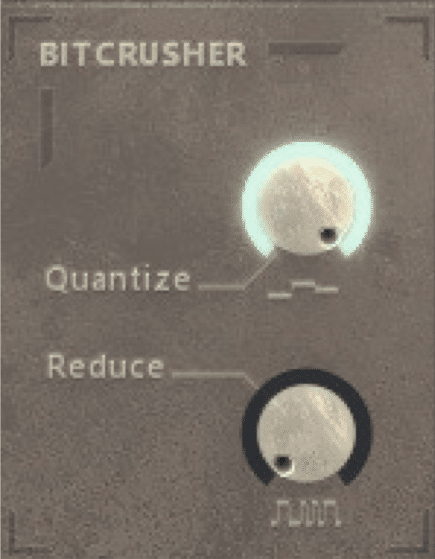 Graillon 2 is the result of Auburn Sounds' extensive research into developing new vocal effects, and it delivers impressive results.
Other vocal effects plugins, let alone free plugins just can't compare.
Although it adds 23ms of latency, it remains competitive when compared to other pitch-shifting plugins on the market.
If you're looking for a free vocal plugin that offers a range of creative options, Graillon 2 is definitely worth considering.
How To Choose the Right Vocal Effects VST for You
Assess Your Needs
Before selecting one of the best vocal plugins, determine your specific requirements.
Are you looking for pitch correction, formant shifting, vocal harmonization, or creative vocal effects?
Determining your needs before you take the plunge can save you some real frustration.
Budget
Vocal effects VSTs come at various price points.
Some are free, while others require significant investment.
Establish a budget that suits your needs and prioritize plug-ins that fit within that range.
Compatibility
Ensure that the VST you choose is compatible with your DAW and your operating system before purchasing.
Ease of Use
Consider plugins with intuitive and user-friendly interfaces, especially if you've never used a vocal VST plugin.
Advanced Vocal Effects Techniques
Once you get acclimated with these Vocal Effects VSTs, it's time to get extra creative!
Try out these advanced techniques to blow the competition away.
Combining multiple effects, such as reverb, delay, and chorus, can create unique and rich vocal textures.
Experiment with different combinations and settings to achieve the desired sound.
Instead of applying an effect directly to the vocals, create a separate auxiliary track with the effect and blend the dry and wet signals.
This technique allows for more control over the balance between the processed and unprocessed vocals.
Use automation to vary the intensity of an effect over time, adding dynamic changes to the vocals.
For example, automate reverb levels to create a sense of depth and space in specific sections of a song.
Employ modulation effects, such as chorus, flanger, or phaser, to add movement to the vocals.
Experiment with different modulation settings and speeds to achieve the desired effect.
Alter the vocal's formants to change the character of the voice.
This can create gender-swapping effects, robotic sounds, or subtly change the vocal's timbre.
Final Thoughts
Remember that the key to achieving the best vocal effects is experimentation… and, of course, finding the perfect vocal effects plugin for you.
Try different techniques, settings, and combinations to find the sound that best complements your project.
If you're wondering what the top 10 VST Effects Plugins in all categories are, make sure to check out our Top 10 Mind-Blowing VST Effects Plugins Every Producer Needs article.
We've included everything from reverb, delay, saturation, and distortion, to modulation-based and all-around creative options.
You definitely don't want to miss out!
Until next time…