Reverb plugins are essential tools for creating depth, space, and atmosphere in your mix.
However, with so many options available, it can be super overwhelming to find the perfect reverb for your needs.
Luckily, you've come to the right place to help guide you through the process.
We've handpicked and reviewed 12 of the best free reverb VST plugins of 2023, from personal experience.
They will cater to all styles, preferences, and uses.
In this article, you'll discover:
Reverb plugins that create epic, lush soundscapes ✓
Tools that offer automation & versatility for unique sonic experiences ✓
Vintage-inspired reverbs that transport you back in time ✓
High-quality reverbs for any genre or application ✓
Dense, clean, and crisp simulations that bring life to your mix ✓
Easy-to-use options that deliver warm & immersive audio ✓
Get ready to explore the absolute best free reverb plugins around.
Plus, we've provided all the details that you'll ever need about each unique plugin.
So, unlike other free reverb lists, you don't have to wonder about any excluded features or functions, because there are none!
Let's dive in…
#1. Convology XT by Impulse Record: Best Convolution Reverb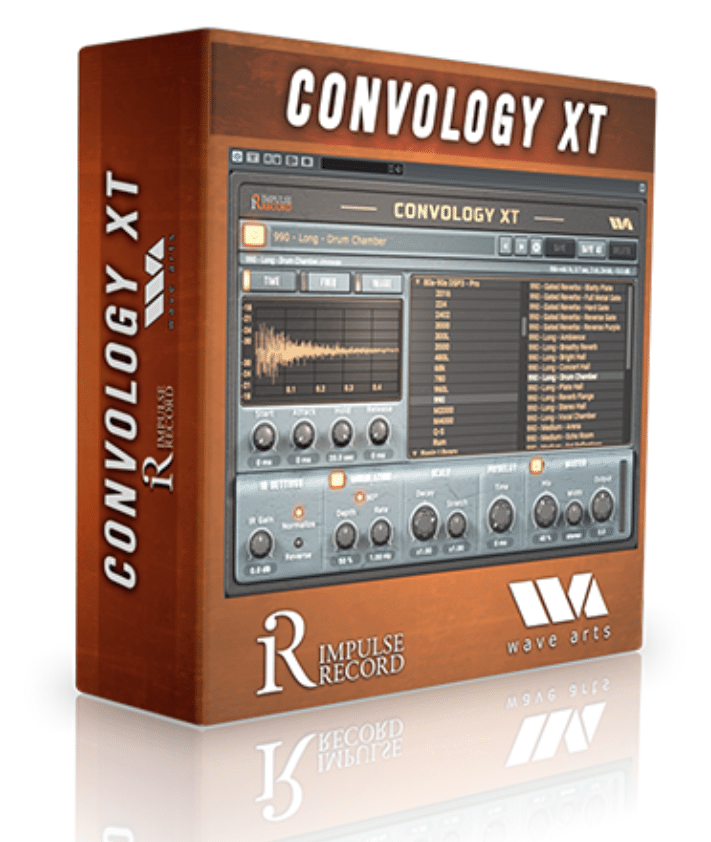 Convology XT is a zero-latency convolution reverb plugin that offers incredible flexibility and a vast library of impulse responses.
It comes with 70 impulse response files, giving you access to a wide range of vintage reverb sounds.
In addition, Convology XT's extensive preset library of 2,965 presets, which is super rare to find in free reverb plugins, ensures that you'll find the perfect reverb for any situation.
Unlike some other free reverb VST plugins, it also supports loading third-party WAV or AIFF files, providing even more flexibility and customization options.
Designed to recreate the vintage sound of classic hardware reverbs, Convology XT combines the ease of use of modern plugins with the character and depth of vintage gear.
With its unique "Scale" functions of Stretch and Decay, EQ, Pre Delay, Stereo, and 3D Chorusing, Convology XT allows you to achieve an authentic, vintage sound on a wide variety of audio materials.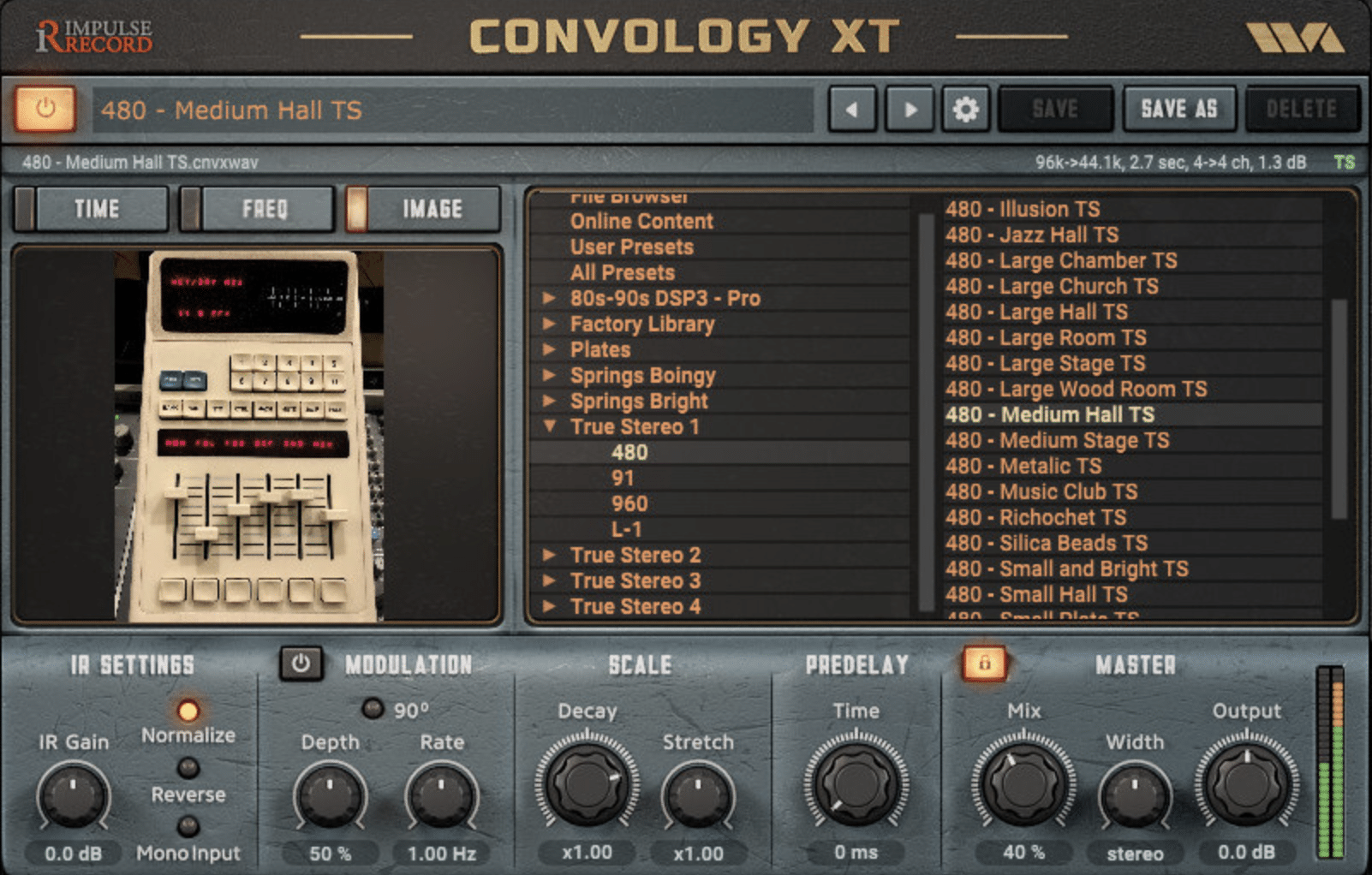 The intuitive user interface features a Stereo Width control that ranges from mono to "outside your speakers," allowing you to adjust the spatial positioning of your reverb.
Convology XT is also capable of emulating early DSP gear or applying 3D Chorusing to vocals and instruments, giving you endless creative possibilities.
This best free reverb VST plugin is perfect for any music producer, even if you're just learning how to become a music producer.
Especially if you want access to a wide variety of high-quality vintage reverb sounds without the hassle of using actual vintage hardware.
Its ease of use, flexibility, and an extensive library make it an essential addition to any audio production toolkit.
Standout Features:

Zero-latency convolution reverb
Vintage sound with modern flexibility
70 impulse response files and 2,965 presets included
Supports third-party WAV or AIFF files
Scale functions (Stretch, Decay), EQ, Pre Delay, Stereo, and 3D Chorusing
Adjustable Stereo Width control
#2. Ambience by Smartelectronix: Best Ambient Reverb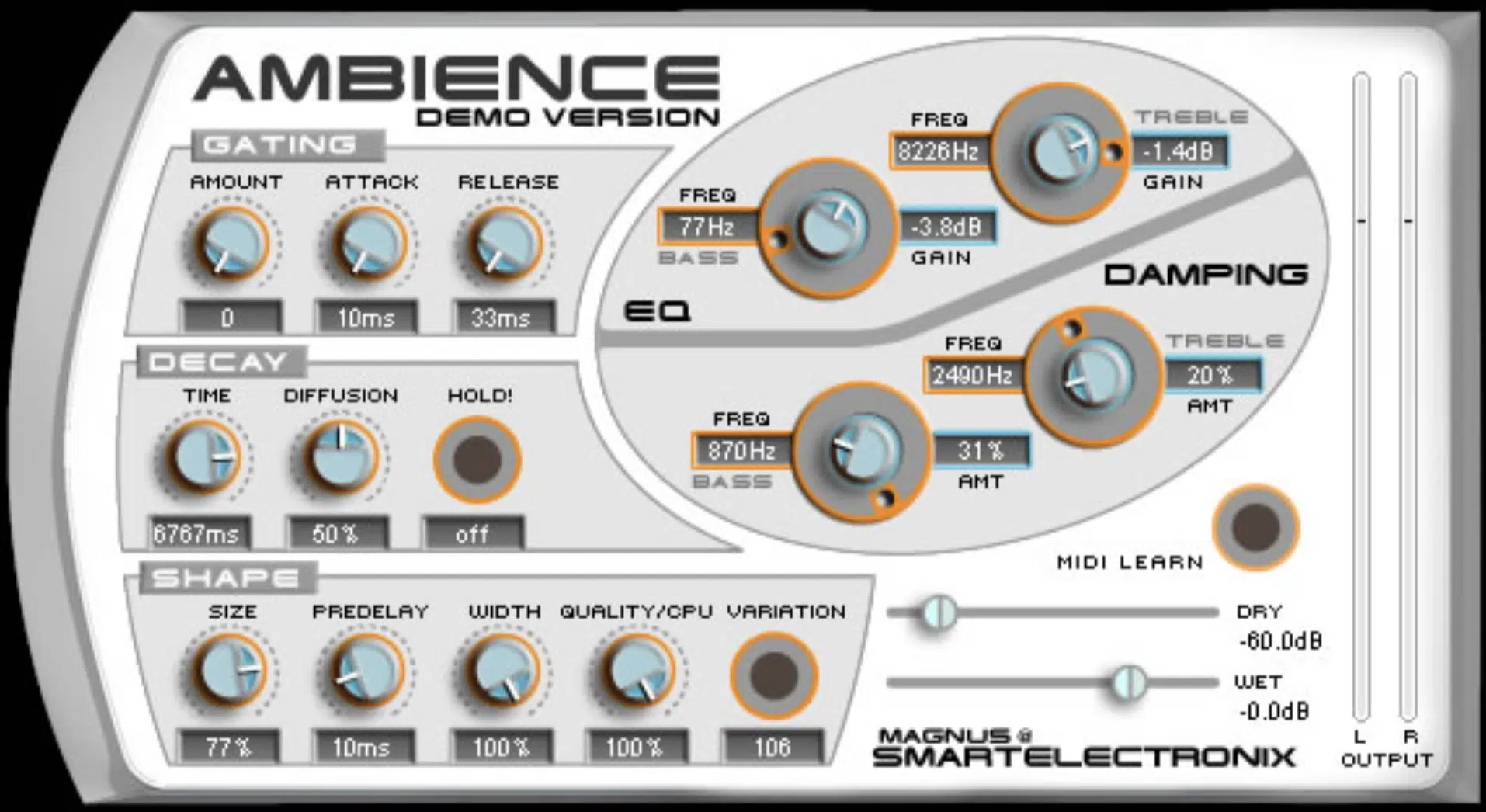 Ambience is a user-friendly plugin that offers a straightforward interface and a great sound, making it an excellent choice for those looking for an easy-to-use reverb solution.
Its design focuses on providing essential features without overwhelming users with too many options.
One of its key features is the Quality/CPU parameter, which helps manage CPU usage when you're mixing music.
This is particularly useful when working with multiple instances of the plugin or when running other resource-intensive plugins simultaneously.
By adjusting the Quality/CPU parameter, you can find the right balance between processing power and sound quality; it's truly impressive.

Another unique feature of Ambience is the 'Hold' parameter, which allows you to freeze the reverb tail until the button is released.
This can create unique soundscapes and automated effects, adding depth and character to your mix.
The freeze function can be especially useful for creating ambient textures and experimental sound designs.
Despite its simplicity, Ambience offers enough features to meet a wide range of reverb requirements.
It comes with (approx.) 60 to 70 presets, covering various spaces and styles.
This makes it easy to find the perfect reverb setting for your track without spending too much time tweaking parameters.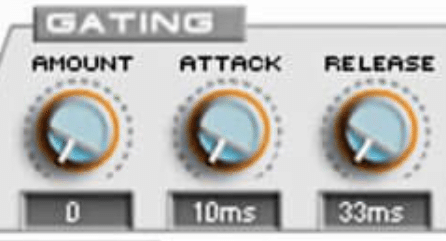 In addition to the presets, this reverb plugin includes a "Gate" option, which can be used to control the reverb tail and add rhythmic elements to your mix.
This feature can be particularly useful for electronic and dance music production, where tight control over reverb tails is essential.
Standout Features: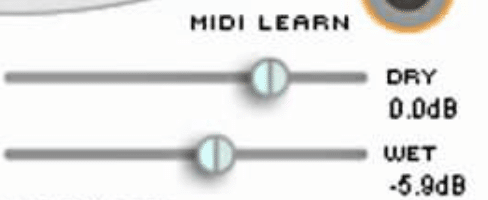 Quality/CPU parameter for CPU management
Hold parameter for freezing reverb tails
60 to 70 presets for various spaces and styles
Gate option for Tail control
Simple, user-friendly interface
#3. TAL-Reverb-4 by Togu Audio Line: Best Vintage Reverb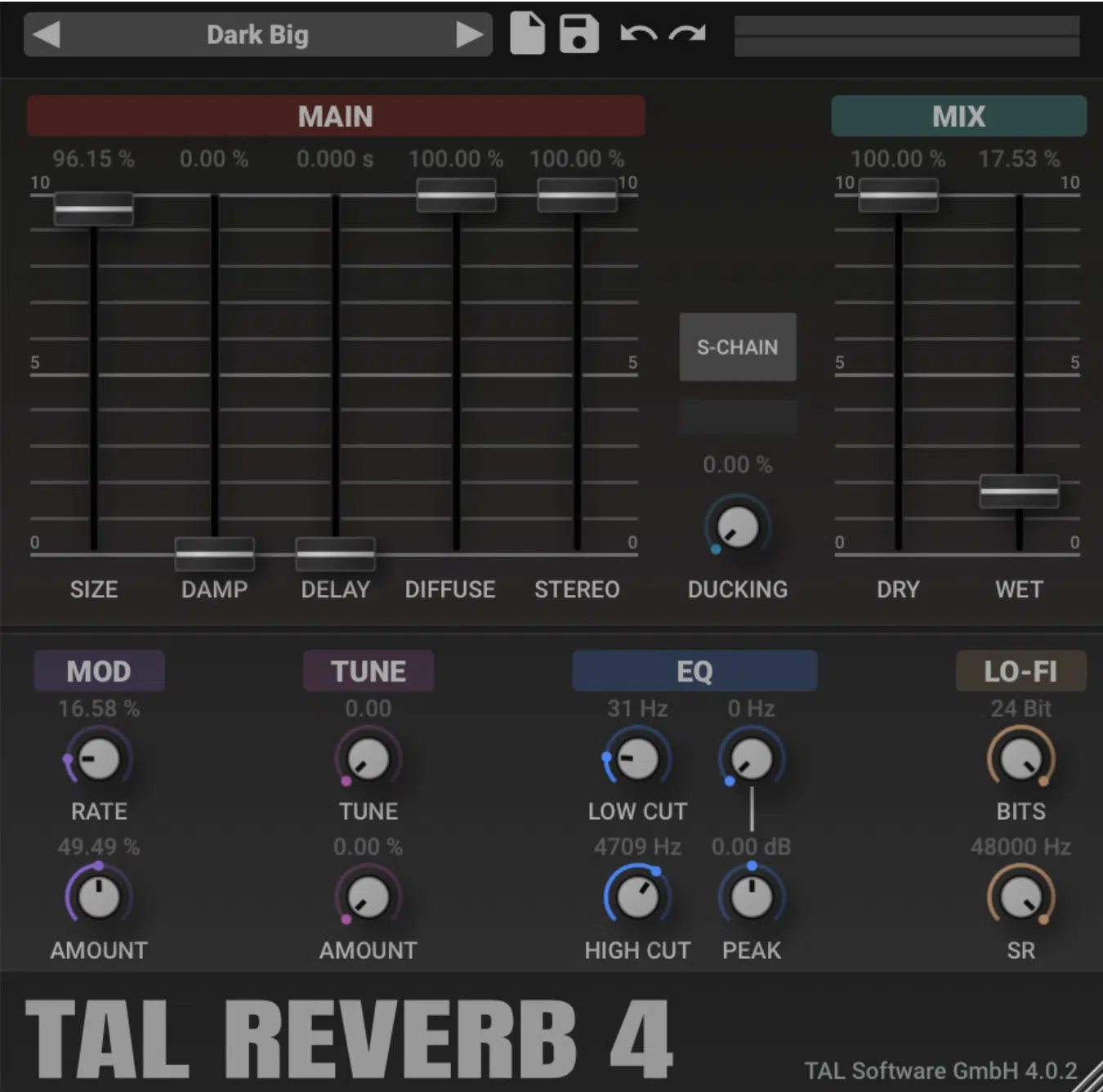 TAL-Reverb-4 is a high-quality plate reverb plugin with a vintage 80s character.
Its modulated vintage reverb sound is perfect for those seeking the warmth and character of classic reverb units.
​​It can work well on a variety of material, but I've found that it's especially effective on vocals or EDM-type leads.
This unique plugin delivers a very diffuse sound, with a fast build-up time that also works well with long reverb sounds.
Designed to work on almost any audio material, TAL-Reverb-4 is versatile and easy to use.
Its intuitive interface allows you to quickly dial in the perfect reverb sound for your project, with minimal fuss and effort.

There are level controls for wet/dry signals, and only four controls to dictate the reverb sound itself.
Rotary controls are provided for:
The included vintage reverb effects set it apart from other free reverb VSTs.
Its 80's-inspired plate reverb sound is perfect for adding warmth and depth to synth sounds, drums, and vocals.
TAL Reverb 4 excels at providing a sense of space without overpowering your mix, making it a fantastic choice for a wide range of music genres (and styles).
NOTE: Unlike other free plugins, it only supports stereo channels, so keep that in mind when incorporating it into your mixes.
Speaking of other free plugins, if you'd like to check out 15 other free VST effects plugins, we've got the ultimate list for you.
Standout Features: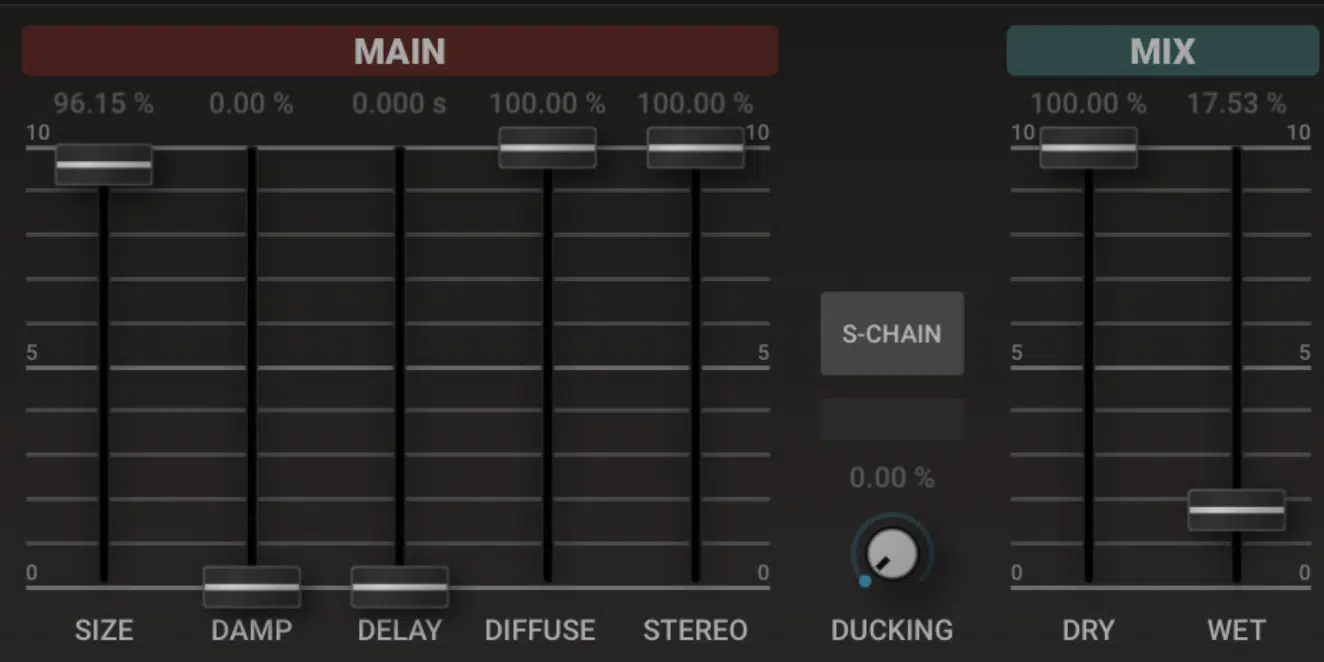 Vintage 80's plate reverb character
Modulated reverb sound
Fast build-up time
Works well with long reverb sounds
#4. KR Reverb FS by KResearch: Best Easy-To-Use Reverb
KR-Reverb FS is an easy-to-use reverb processor that offers a warm reverb sound suitable for various applications.
Based on the features found in KResearch's commercial product, KR_Space, this free reverb plugin is designed to optimize equalization and damping controls internally to create a rich and warm reverb effect.
Its simplicity and ease of use make it perfect for users who want to achieve high-quality reverb without getting overwhelmed by complicated controls.
The Output Gain control ranges from -12 dB to +12 dB, allowing you to adjust the reverb level to your liking.
This free plugin also provides adjustable Early Reflections Size and Late Reflections Size, which enable you to shape the reverb's spatial characteristics.
The Diffusion control 一 Allows you to control the density & smoothness of the reverb.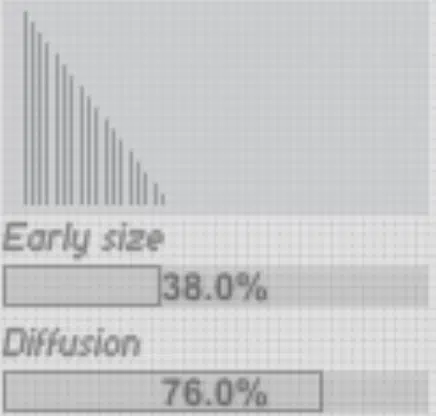 The Decay control 一 Helps you determine the length of the reverb tail.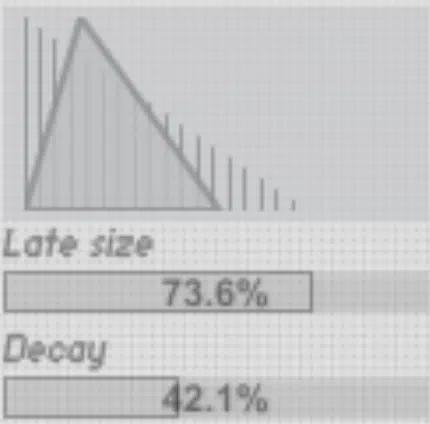 The adjustable Listener Position control lets you customize the listener's position relative to the sound source, further enhancing the spatial effect.
The Dry/Wet Mix adjustment helps you find the perfect balance between the dry and processed signals.
It also supports user-defined presets through the host interface, allowing you to save and load your favorite settings.
This level of customization ensures that you can achieve the exact reverb sound you're looking for in your mix.
KR-Reverb FS is ideal for users who want a high-quality, warm reverb sound without spending time navigating through complex controls.
It's a versatile reverb plugin that can be used in a variety of applications, from adding depth to vocals to creating immersive soundscapes for film and video games.
Standout Features: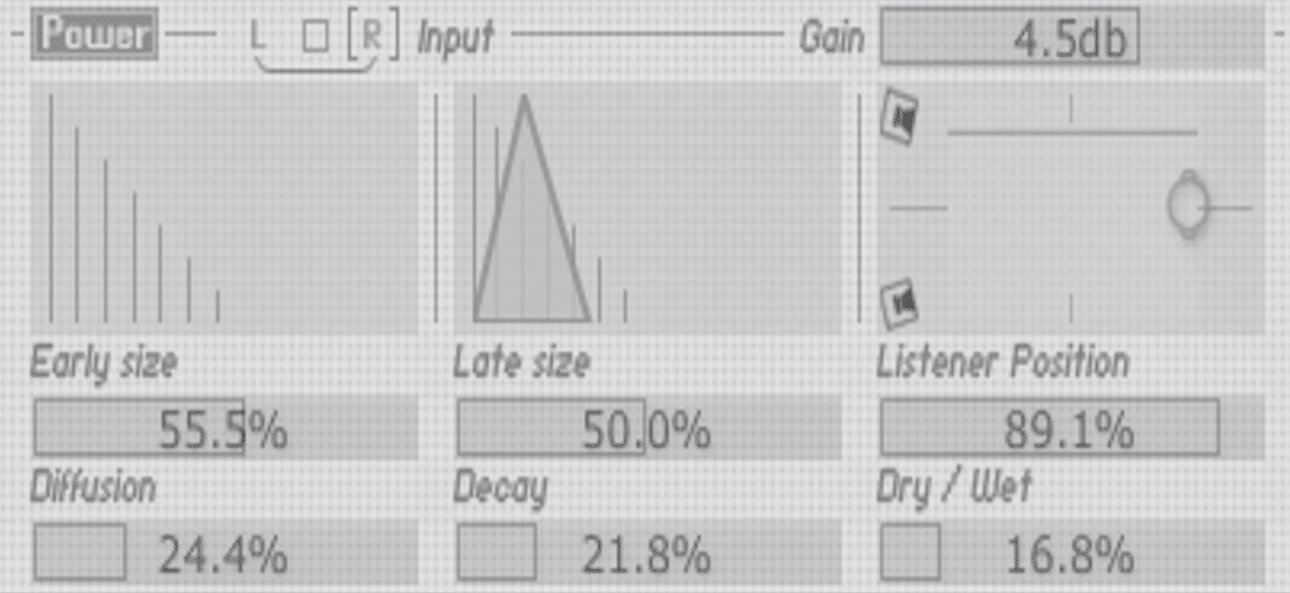 Warm reverb sound suitable for various applications
Adjustable early and late reflections, diffusion, decay, and listener position
Output gain control with a range of -12 dB to +12 dB
Dry/Wet mix adjustment
Support for user-definable presets (Save & Load) via host interface
#5. Verberate Basic 2 by Acon Digital: Best Realistic Reverb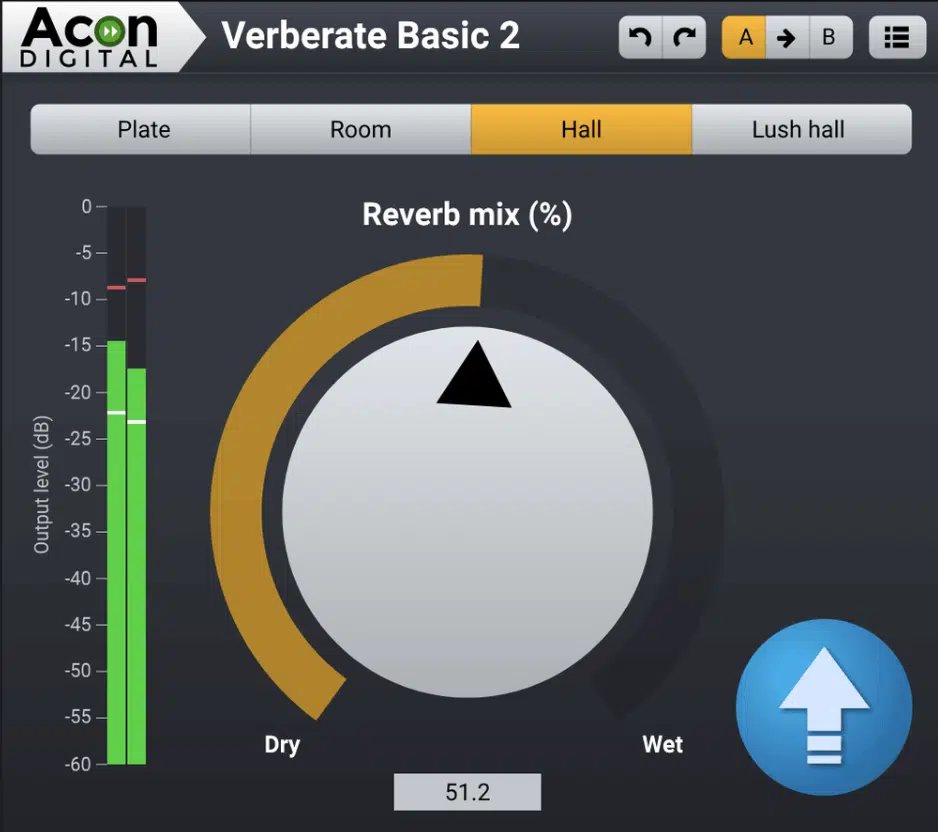 Verberate Basic 2 is a free reverb plugin based on Verberate 2 一 offering the same highly praised audio quality.
This best free reverb VST plugin comes with four high-quality presets from Verberate 2, showcasing the quality and versatility of the algorithmic reverbs:
Plate
Room
Hall
Lush Hall
These presets cover a wide range of reverb styles, from realistic simulations of plate reverbs and wooden rooms to more colorful and epic halls.
Verberate Basic 2 by Acon Digital is perfect for those seeking realistic and versatile reverb options for their mixes.
The intuitive user interface features buttons for each of the four reverb programs.
Along with a mix knob that allows you to adjust the balance between the dry and reverb signal levels.
This makes it easy to find the right reverb sound for your mix without getting lost in complex settings, which we're all guilty of doing at one point or another.
Verberate Basic 2 by Acon Digital is based on the Vivid Hall algorithm (which is time-variant and resonance-free) and includes independent early reflections & reverberation tail processors.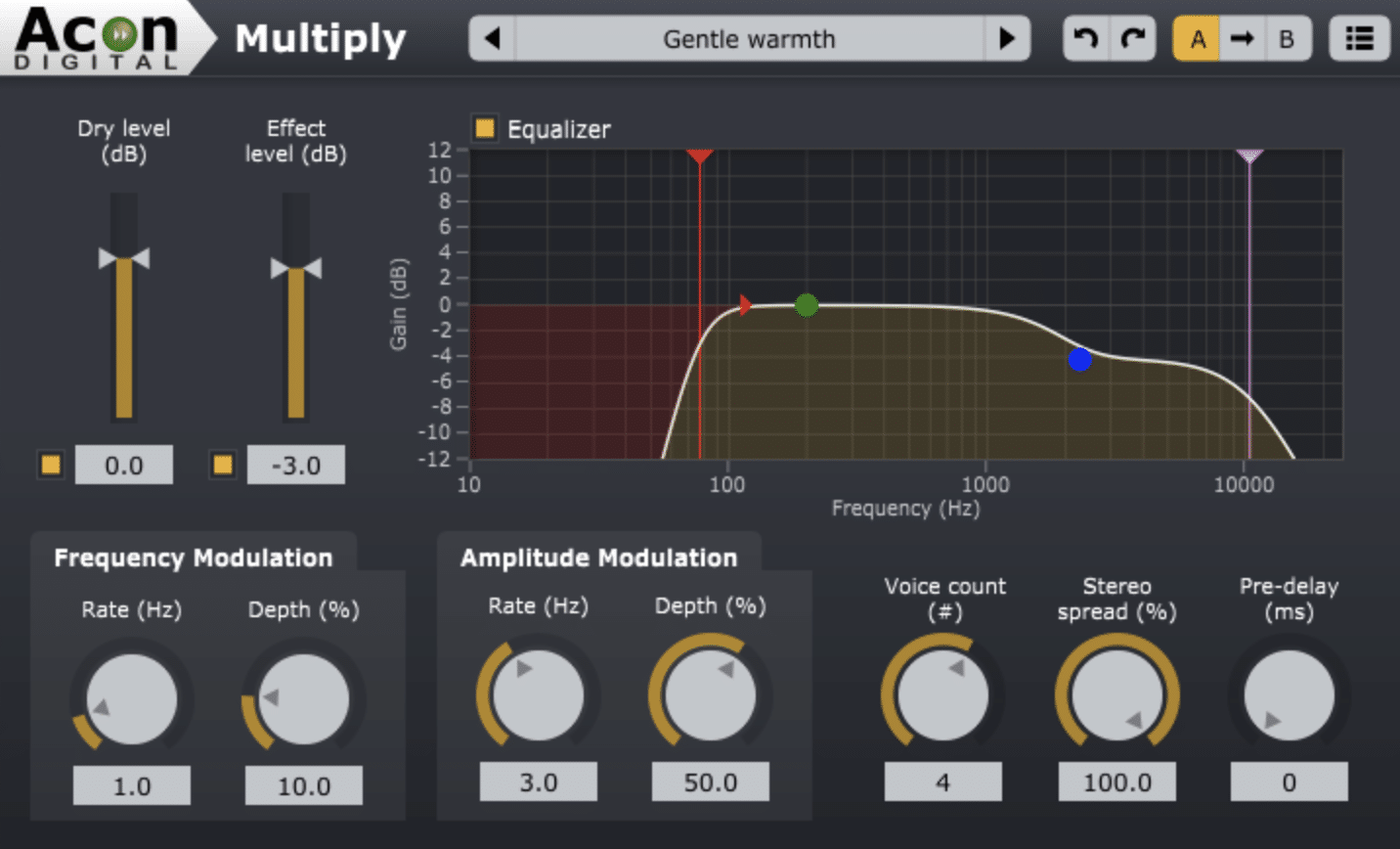 As well as true stereo processing, unlike most reverb plugins.
The realistic early reflections 一 Blend seamlessly into the mix, avoiding unpleasant comb filter effects.
The dense late reverberation tails 一 Provide a lush sense of space.
Plus, the optional Swirl Effect models the frequency-modulated, cloud-like reverb tails of vintage digital reverb units, adding another layer of sonic possibilities.
Verberate Basic 2's uncluttered user interface makes it an accessible and powerful tool for achieving high-quality reverb sounds.
Standout Features:

Four high-quality presets from Verberate 2
Intuitive interface with mix knob & program buttons
Time-variant, resonance-free Vivid Hall algorithm
True stereo processing
Optional swirl effect for vintage reverb tails
#6. Valhalla Super Massive by Valhalla DSP: Best All-Around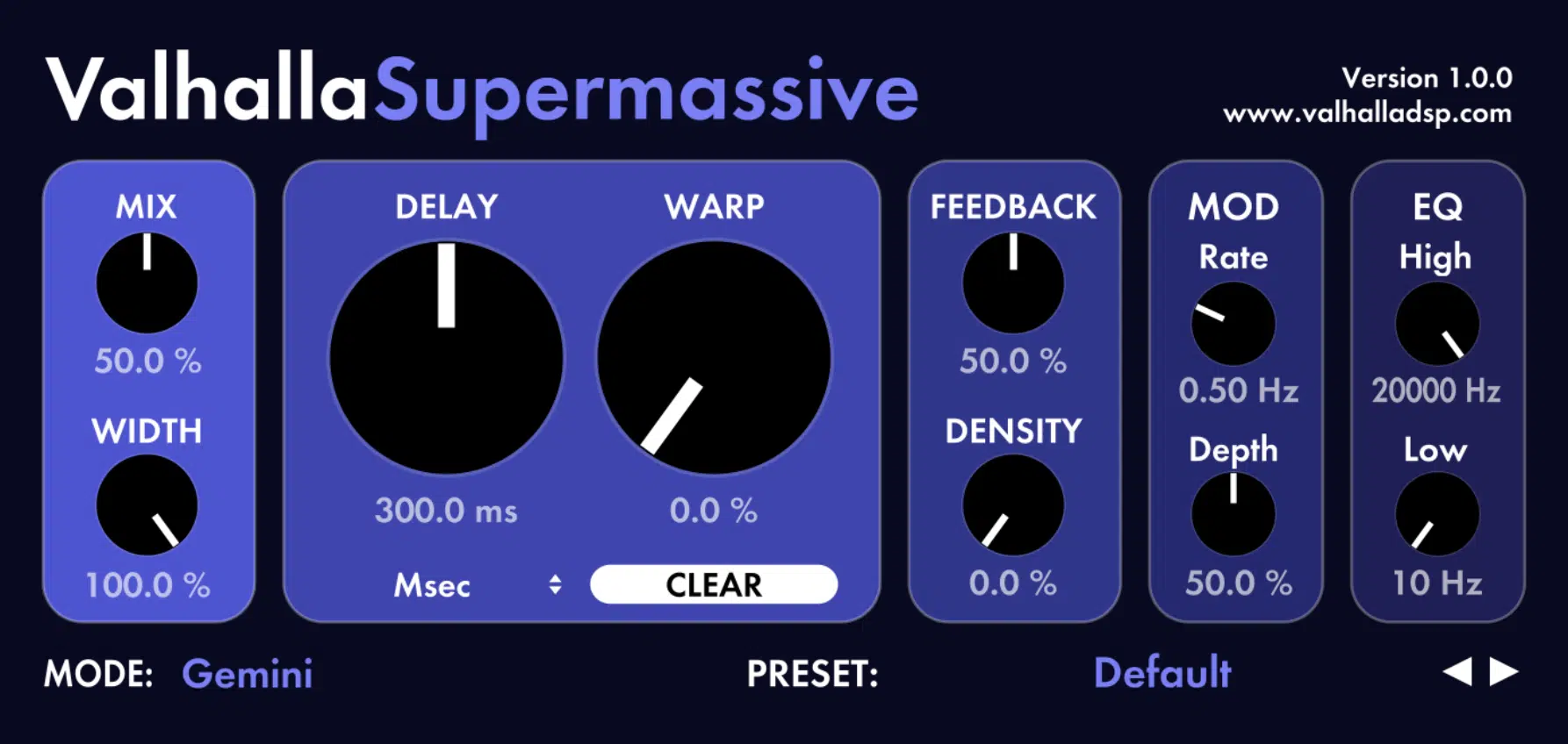 Valhalla Super Massive is a free reverb VST plugin that offers an out-of-this-world reverb sound.
With 18 reverb/delay modes (below), it provides a wide variety of options for shaping your sound.
Each mode has its unique characteristics, ranging from fast attack and short decay to slow attack and very long decay.
This versatile plugin is structured around feedback delay networks, allowing for up to 2 seconds of individual delays.
You have complete control over delay length, overlap, modulation rate and depth, and feedback.
Gemini 一 Fast attack, shorter decay, high echo density.
Hydra 一 Fast-ish attack, shorter decay, low to high echo density.
Centaurus 一 Medium attack, longer decay, medium to high echo density.
Sagittarius 一 Slow attack, longer decay, high echo density.
Great Annihilator 一 Medium attack, very long decay, medium to high echo density.
Andromeda 一 Slowest attack, very long decay, very high echo density.
Lyra 一 Fast attack, shorter decay, low echo density.
Capricorn 一 Fast attack, shorter decay, medium echo density.
Large Magellanic Cloud 一 Long reverb, long repeating echoes, long decay, medium attack.
Triangulum 一 Long reverb, very long repeating echoes, long decay, slow attack.
Cirrus Major 一 Low/medium echo density, strange repeating patterns, fast attack.
Cirrus Minor 一 Low echo density, strange repeating patterns, fast attack, smaller than Cirrus Major.
 Cassiopeia 一 Initially low echo density that quickly builds to long and lush reverbs, mysterious repeating patterns, fast attack.
 Orion 一 The much bigger version of Cassiopeia. Low echo density can build to enormous reverbs, fast attack, strange resonances, and repeating patterns.
 Aquarius 一 A dedicated EchoVerb algorithm with a strong audible echo/de;au that can morph into a lush reverb with higher density settings.
 Pisces 一 The bigger sibling of Aquarius. EchoVerb, with even denser and lusher, reverbs on tap than Aquarius.
 Scorpio (new in 2.5.0) 一 Fast attack, shorter decay, high echo density, cross-channel feedback, and filtering in the feedback loop for more natural reverb decay.
 Libra (new in 2.5.0) 一 Medium attack, long decay, high echo density, lush balanced modulation, and filtering in the feedback loop for more natural reverb decay.
These extensive delay options allow you to create soothing echoes, remarkable WARP control, and even reverbs that take minutes to decay.
Not only is Valhalla Super Massive capable of creating massive, epic reverbs, but it's also a versatile tool for a variety of genres, including hip-hop subgenres, and sound design applications.
The diverse range of modes ensures that you'll find perfect reverb types for any situation.
Whether you're working on a cinematic score, an ambient soundscape, or a rock song, Super Massive has you covered.
Standout Features: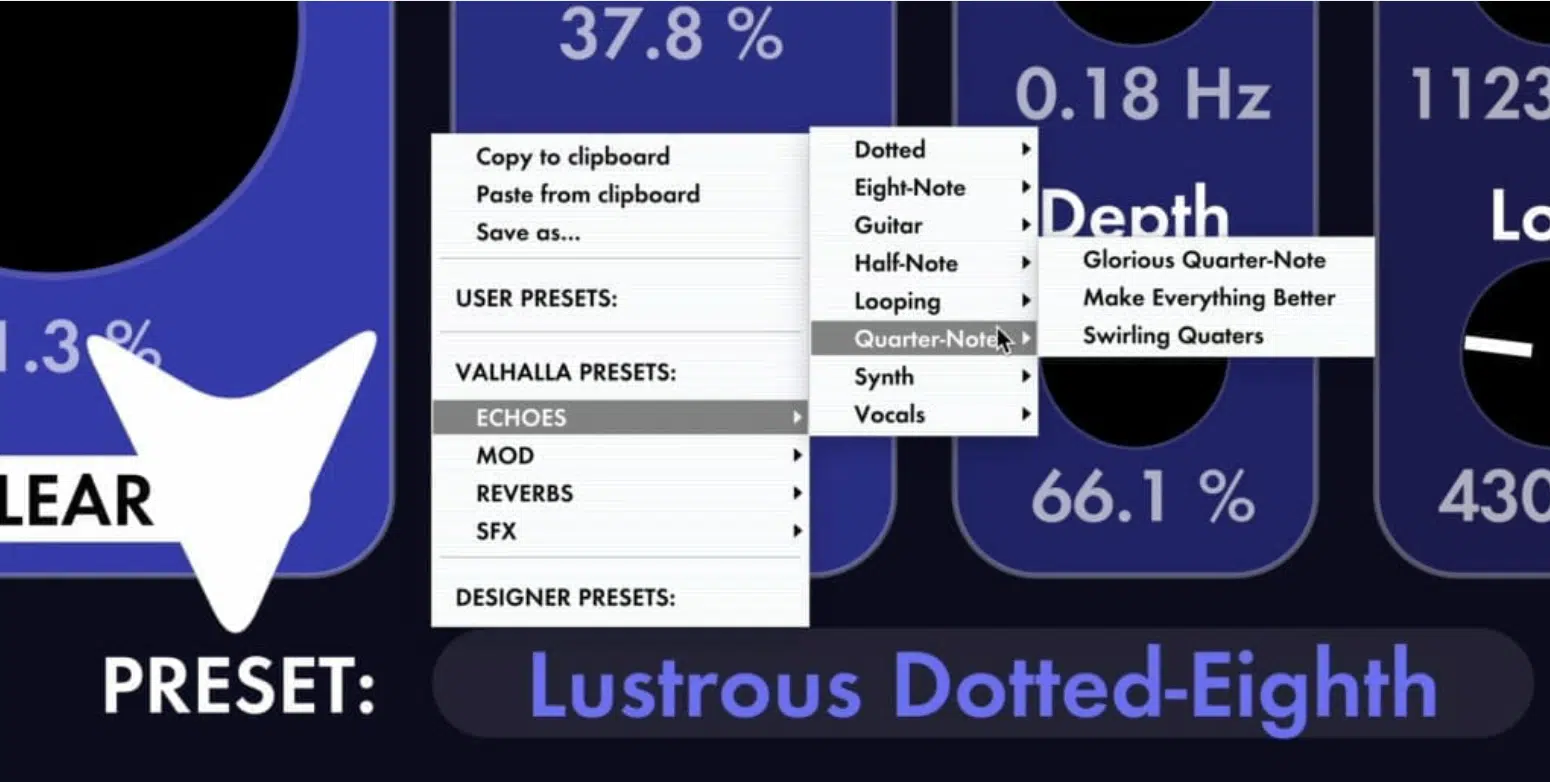 18 reverb/delay modes
Feedback delay networks
Up to 2 seconds of individual delays
Extensive control over delay parameters
Versatile for various genres and applications
#7. OrilRiver by Denis Tihanov: Best Algorithmic Reverb

OrilRiver is a free algorithmic reverb plugin that delivers a high-quality, realistic sound.
It provides 12 variations of early reflections and 5 variations of the reverb tail, allowing you to craft the perfect reverb for your mix.
With an intuitive interface, OrilRiver is a great option for both beginners and experienced producers.
Side note, if you're a music producer and looking for ways to make money as a music producer, we dropped all the secrets.
This freeware reverb VST plugin also features a 3-band equalizer for the wet signal, enabling you to create various shades of the virtual space.
One cool feature that I find fascinating is the independent level control for early reflections.
It allows you to control the early reflections level separately from the rest of the reverb signals (e.g., late reflections, etc.).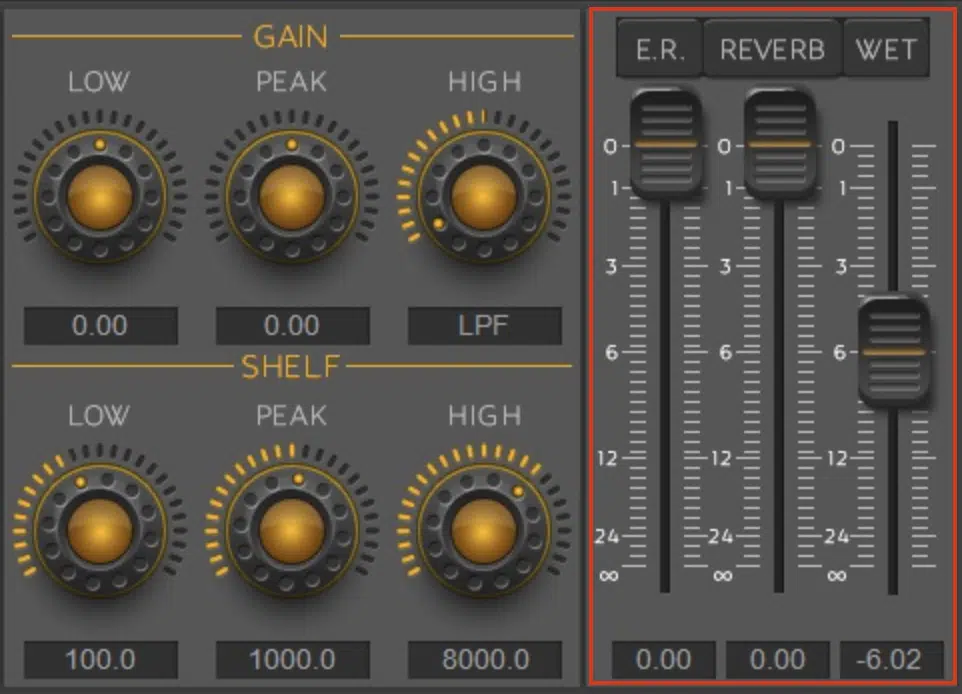 The internal signal processing boasts 64-bit floating point precision, and it supports sample rates ranging from 44,100 to 192,000 Hz.
OrilRiver also offers two graphical interfaces for a customizable user experience.
The combination of the diverse early reflections, reverb tail variations, and equalization options make OrilRiver an excellent choice if you're seeking a versatile, realistic reverb sound quality.
Its high-quality internal processing can help ensure that your mix will maintain its fidelity, regardless of the complexity of the reverb settings.
Standout Features:

12 variations of early reflections
5 variations of the reverb tail
3-band equalizer for the wet signal
High-quality internal signal processing
Supports a wide range of sample rates
#8. Sanford Reverb by Leslie Sanford: Best Room Reverb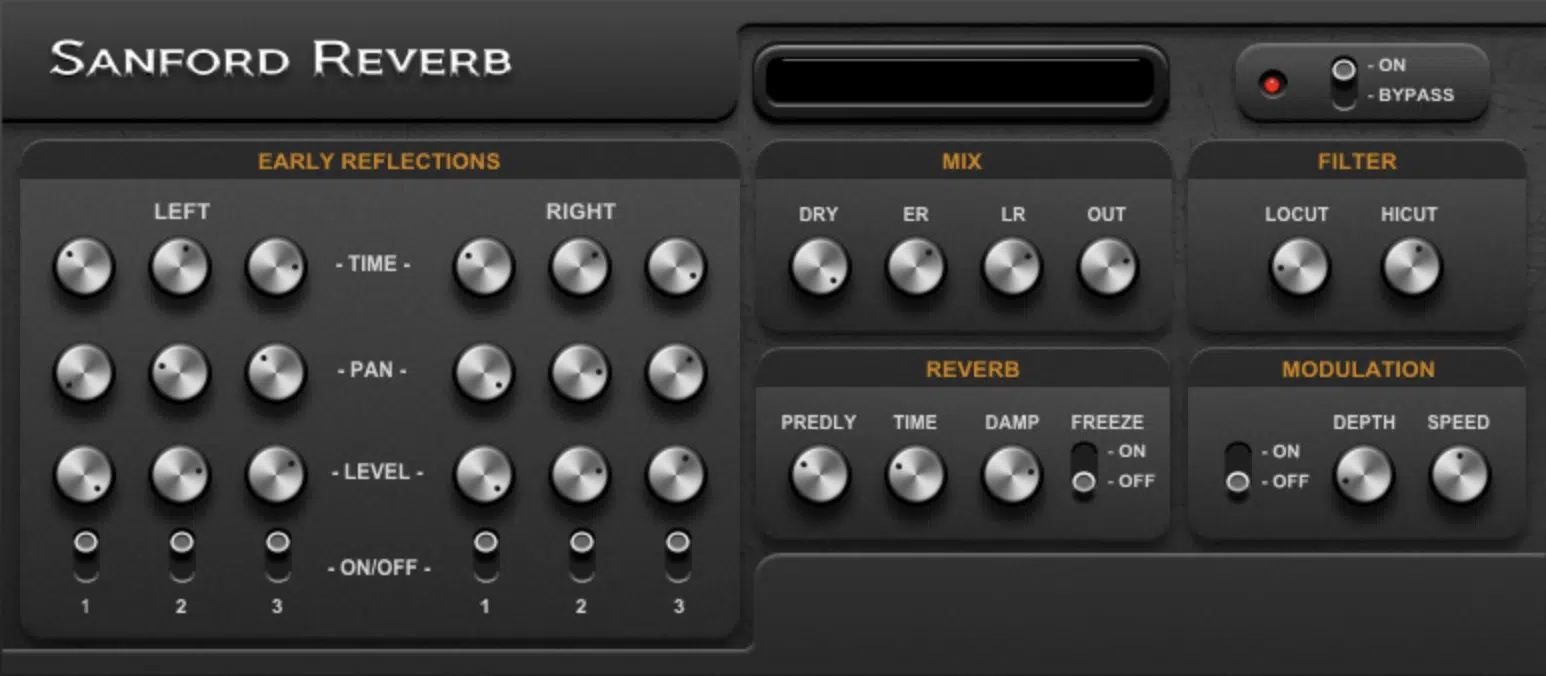 Sanford Reverb is a free reverb plugin capable of simulating everything from small rooms to giant cavernous spaces.
Its sound is dense, clean, and crisp, making it perfect for a wide range of applications.
One of its standout features, and my personal favorites, is the "Freeze" switch.
This function allows you to create interesting soundscapes by freezing the reverb tail, something you'll rarely find in other free reverb plugins.
The early reflections control in Sanford Reverb is powerful and incredibly useful for adding subtle breathing space to individual elements in your mix.
It features left and right input channels 一 each with a set of three early reflections that can be independently adjusted.
The filter section allows you to shape the tone of the reverb's output, while damping simulates wall absorption.
These features, combined, allow you to accurately model a wide variety of room environments in a super realistic way.
Sanford Reverb also offers tail modulation, adding an animated and lively character to the reverb effect.
This modulation is perfect for creating unique music and engaging reverb sounds that stand out in a mix.
Plus, this free reverb plugins low CPU usage & MIDI Learn functionality make it a practical choice for any producer, regardless of their system's processing power (score!).
Standout Features: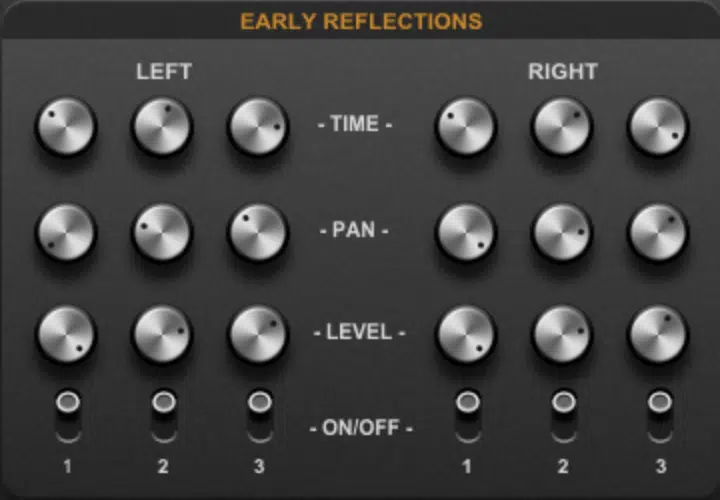 Versatile reverb capable of simulating various spaces
"Freeze on" switch for creative soundscapes
Powerful early reflections control
Filter section & damping for accurate room modeling
Tail modulation for animated reverb effects
Low CPU usage and MIDI Learn functionality
#9. Protoverb by U-He: Best Experimental Reverb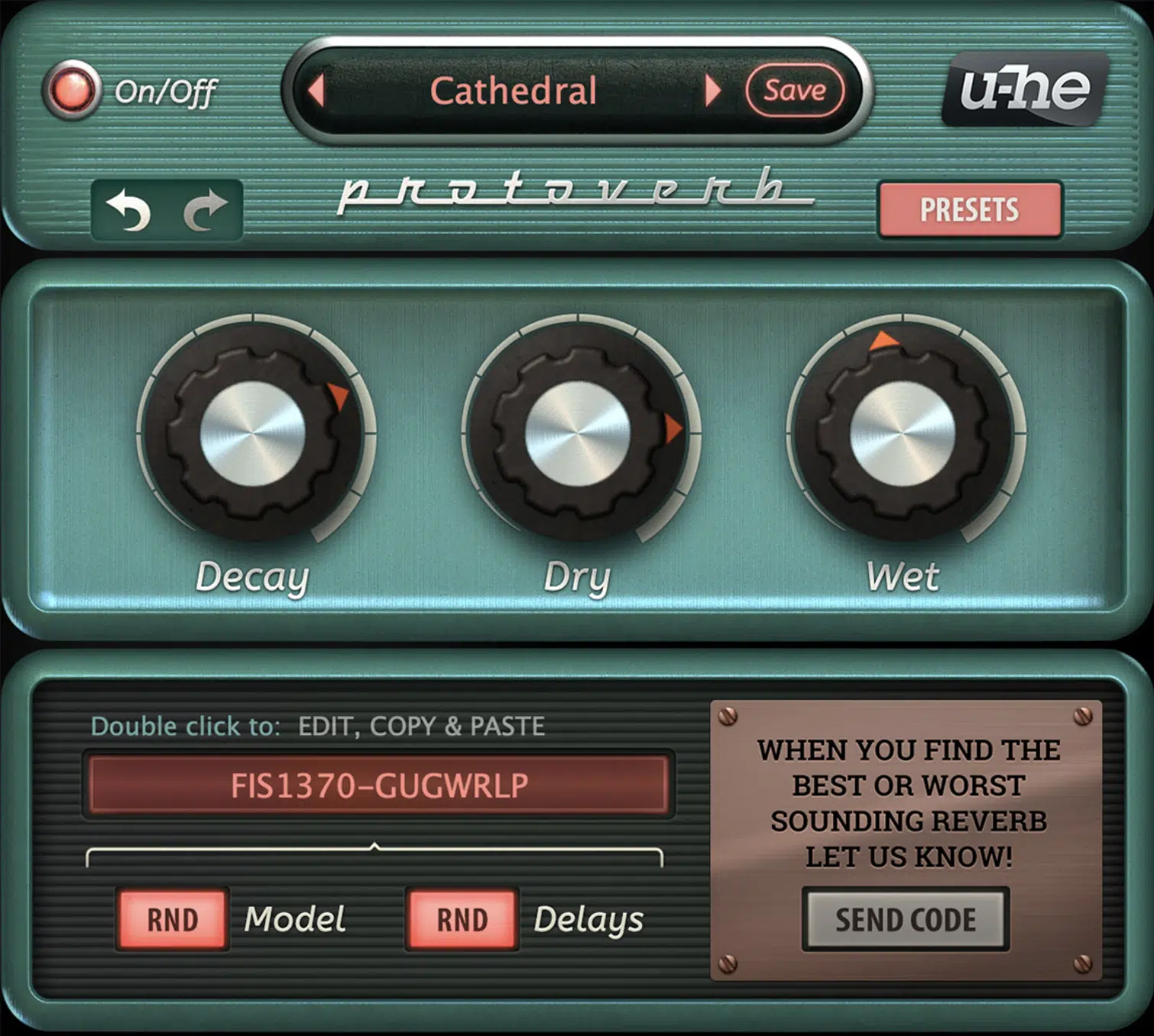 Protoverb is an innovative experimental plugin that uses a unique approach to creating reverb sounds.
Instead of relying on traditional parameters, Protoverb's interface, unlike other free reverb plugins, contains a text box with a string made up of two random parts.
The first half of the string 一 Dictates the network structure, spatial layout strategies, delay tap distribution, and delay length selection.
The second half 一 A seed for a pseudo-random number generator, determining parameters like average delay length and prime number selection.

You can either edit the text string manually or randomize each part independently using the buttons below the text box.
This experimental approach to reverb design results in a natural-sounding reverb that expertly captures the nuances of a real room.
Protoverb builds up as many room resonances as possible by modeling the air within the space.
This unique inclusion creates a reverb effect that has some interesting characteristics.
Notes held for a longer time build up the resonance, and multiple instruments remain distinct without being washed out.
While the short melodies seem to be echoed by ghostly reverberations.
Standout Features: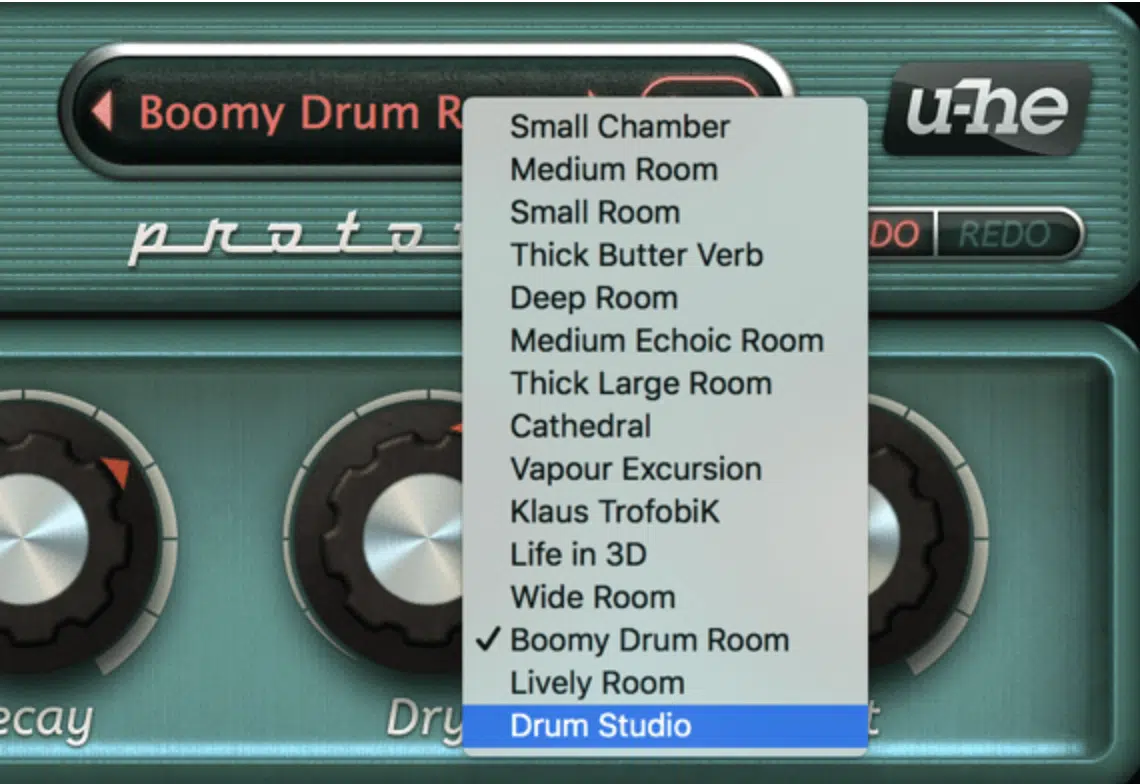 Unique text string-based approach to reverb design
Natural-sounding room resonances
Ghostly reverberations for melodic content
Distinct instruments in complex mixes
Experimental yet natural reverb sound
#10. Dragonfly Reverb Bundle by Michael Willis: Best Reverb Bundle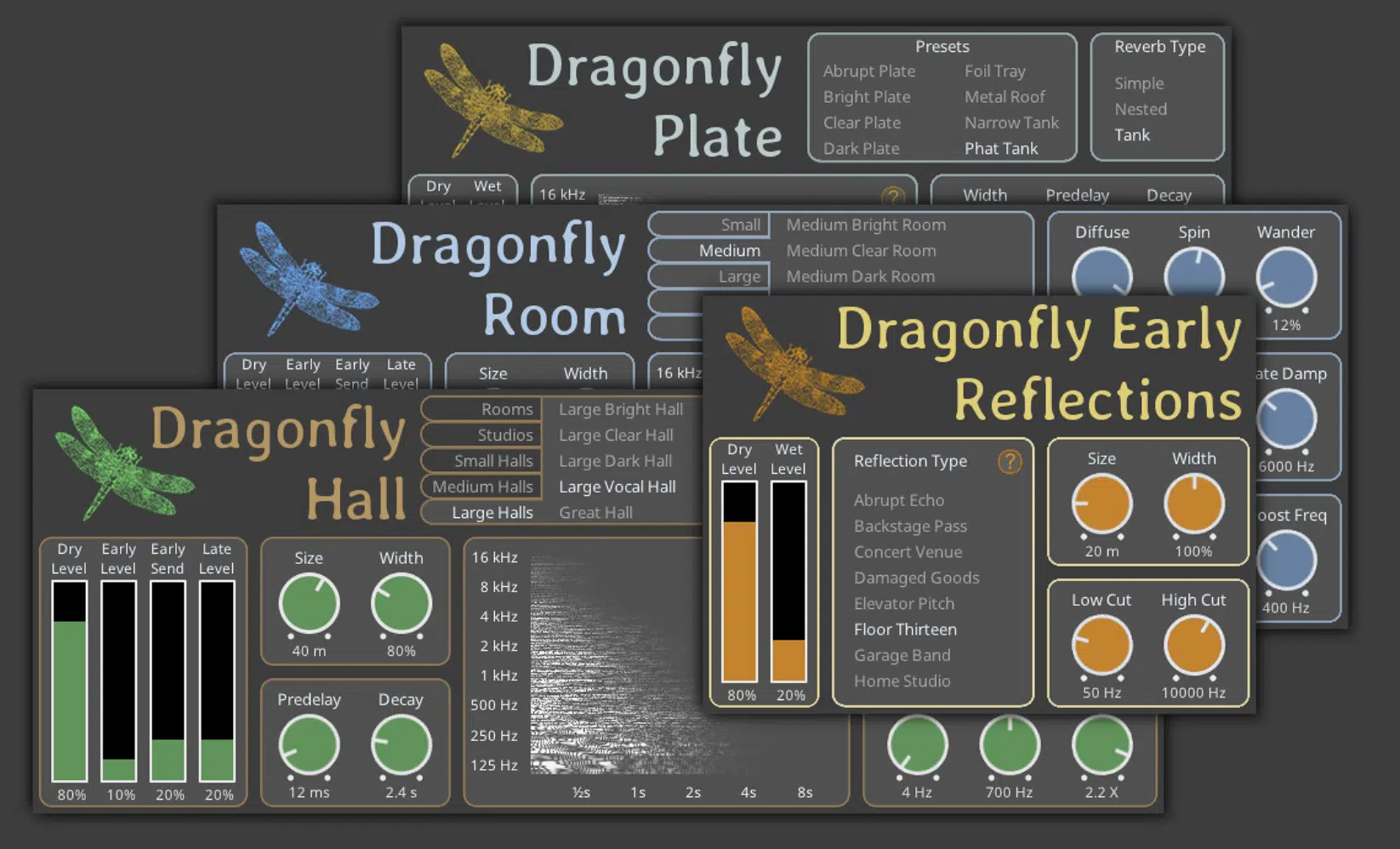 The Michael Willis Dragonfly Reverb Bundle contains four free, open-source reverb effects developed by Michael Willis, based on the Freeverb3 algorithm by Teru Kamogashira.
They've updated these effects with modified presets and a simple, clean GUI.
The four reverb effects included in the bundle are:
Dragonfly Early Reflections
Dragonfly Room
Dragonfly Hall
Dragonfly Plate
The color-coded knobs in the interface are designed to help users understand how each adjustment affects the reverb.
Orange knobs 一 Change the tonality.
Dark blue knobs 一 Alter the volume.
This intuitive design choice emphasizes functionality over aesthetics, ensuring that you can quickly and easily achieve the desired reverb sound.
The Dragonfly Reverb Bundle is perfect for producers and musicians who want a versatile suite of reverb effects without breaking the bank.
Its open-source nature means that the community can continue to improve and expand upon these effects.
This makes these free reverb plugins an excellent choice if you value collaboration and innovation in your free reverb VST plugins.
Speaking of VST plugins, if you're looking for the best VST plugins in different categories, we break down the absolute best compressor plugins, best saturation plugins, best pitch shifter plugins, and best mastering plugins in the game.
Standout Features:

Four free, open-source reverb effects
Based on Freeverb3 algorithm
Simple, clean GUI with color-coded knobs
Versatile suite of reverb effects for various applications
Community-driven development and improvements
#11. OldSkoolVerb by Voxengo: Best Classic Reverb

OldSkoolVerb is a plugin that implements a classic stereo reverb algorithm, which is technically simple yet optimal.
It produces a very clear spatial image that blends well with the mix, which makes it perfect for non-percussive and soft-attack sounds (like vocals, pianos, and pad sounds).
This free reverb VST plugin offers a comprehensive set of parameters that allow you to achieve various reverbs 一 ranging from plate reverb to room reverb to hall reverb sound.
Its narrow "plate" range of settings can also be used on epic percussive sounds with good results.
Unlike some other free reverb plugins, its user interface is designed for ease of use and includes features like:
A preset manager
Undo/redo history
A/B comparisons
Contextual hint messages
OldSkoolVerb supports all sample rates and boasts zero processing latency.
It also offers user interface color schemes, a resizable interface, and Retina and High DPI support for added customization.
OldSkoolVerb is best suited for musicians, producers, and engineers looking for a versatile plugin that can produce a wide range of reverb sounds.
Without sacrificing clarity or spatial imaging like other free reverb plugins, mind you.
Its simple (yet powerful) design ensures that it will be a valuable addition to any audio production toolkit.
Standout Features:

Classic stereo reverb algorithm for clear spatial imaging
Plate, room, and hall reverb modes
Reverb mode editor
Stereo processing and 64-bit floating point processing
Preset manager, undo/redo history, A/B comparisons, and contextual hint messages
Zero processing latency and resizable user interface
#12. Panagement 2 by Auburn Sounds: Best Spaital Reverb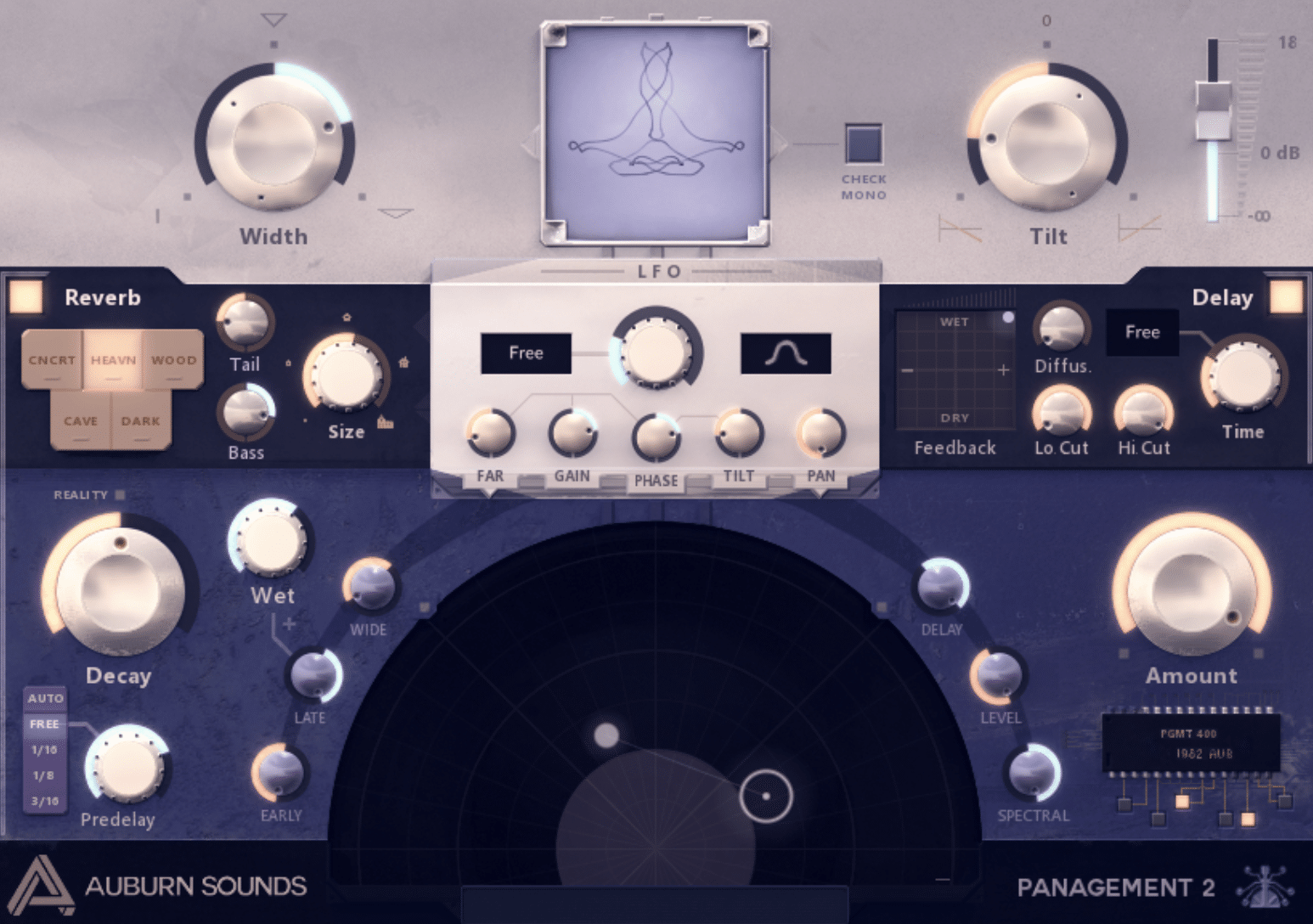 Panagement 2 is an innovative spatial manipulation plugin that offers a wide range of tools to enhance your mix's depth and stereo image.
It offers features like the Binaural Panner, Distance Fader, Mono-to-Stereo, Tilt Filter, Phasescope, and a built-in LFO.
Therefore, Panagement 2 can help you to create precise and dynamic spatial effects with ease and efficiency.
Binaural Panner 一 Allows you to position a track from left to right in the sound stage
Distance Fader 一 Brings that track near/far
Mono-to-Stereo feature 一 Enlarges thin tracks or simulates early reflections
Tilt Filter 一 Adjusts the spectral balance between lows and highs
Phasescope control 一 Visually displays mono compatibility
LFO 一 Enables you to create periodic or random spatial movements
It can also be used for efficient, high-quality mono reduction, which is super unique and interesting when it comes to free reverb plugins.
Panagement 2 is ideal if you're looking for a super powerful tool to seriously enhance your mixes.
Or, when you want to create immersive, memorable soundscapes, naturally.
Standout Features: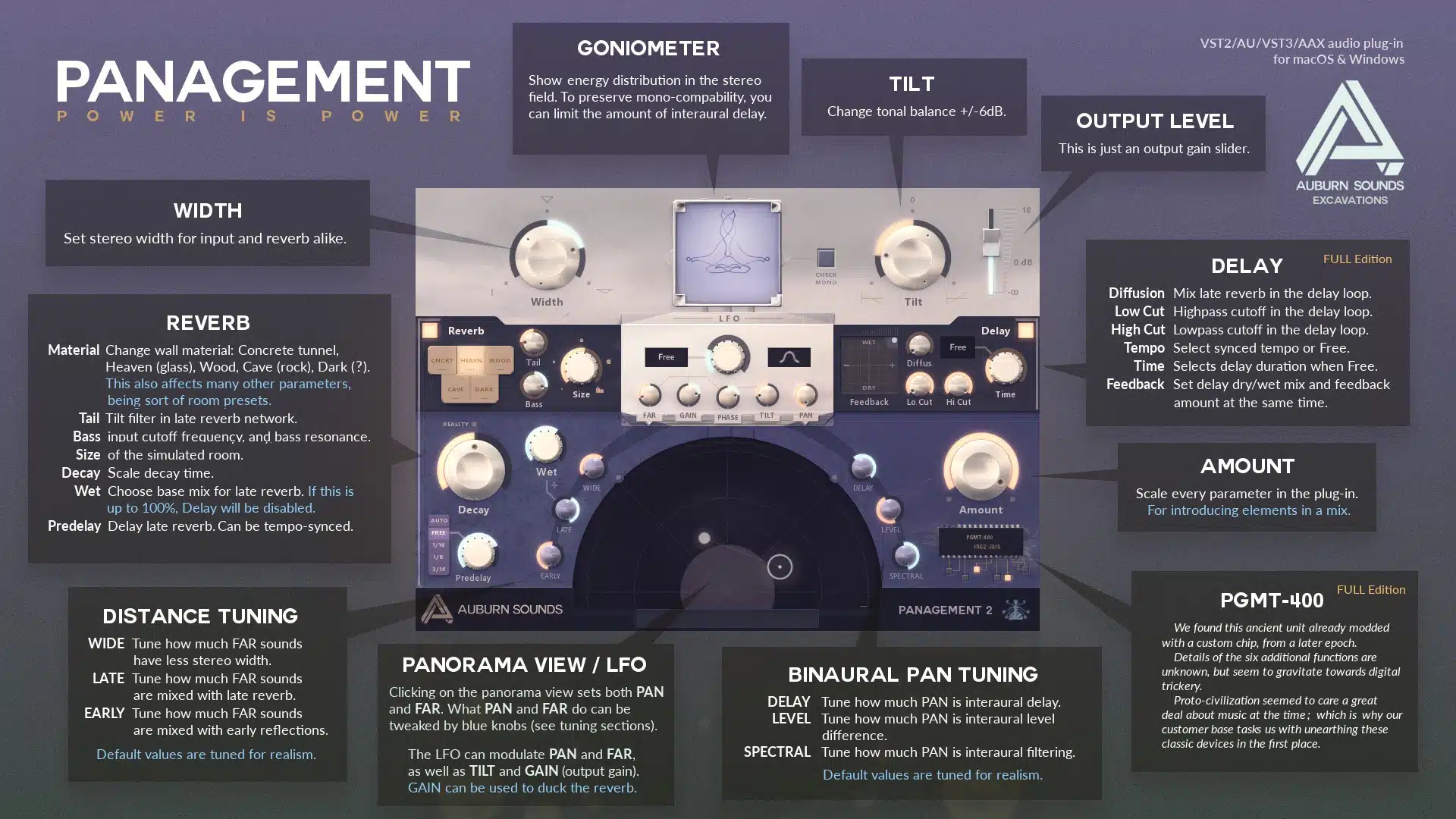 Binaural Panner for left-to-right positioning
Distance Fader for near-to-far positioning
Mono-to-Stereo for track enlargement & early reflections simulation
Tilt Filter for spectral balance adjustment
Phasescope control for visualizing mono compatibility
Built-in LFO for periodic/random spatial movements
Free Reverb VST Plugins: Final Thoughts
After this rundown of these 12 outstanding free VST reverb plugins, it's evident that there are epic free options available, that can stand against the paid reverb plugins.
Whether you're seeking epic, lush soundscapes, vintage-inspired reverbs, or versatile options for any genre or application, this list has you covered.
Remember that experimentation is the key to discovering your unique sound and crafting a compelling mix.
Don't be afraid to push the boundaries and explore new sonic territories with these freeware plugins.
To further elevate your productions, we highly recommend you download these insanely epic free drum kits.
They'll provide a versatile and comprehensive collection of radio-worthy drum patterns that can be easily incorporated into your projects.
By combining the power of these MIDI drum kits with the free reverb plugins we've discussed, you'll have the ability to infuse your tracks with your own distinctive sonic flare.
The world of music production is vast and ever-evolving, and it's essential to stay curious and keep learning.
So go ahead, dive into these fantastic free reverb plugins, and enhance your creative toolkit.
Let your imagination run wild and create your most captivating and immersive music yet.
Until next time…