Free VST plugins are a dime a dozen in the digital audio world.
However, pinpointing the absolute best among them often feels like searching for a needle in a haystack.
You'll find free plugins advertised at every corner of the internet, but when it comes to quality, many fall short of expectations.
The challenge lies not in finding free plugins, but in identifying those few that truly elevate your music production to the next level, without causing a dent in your wallet.
Luckily, we've scoured the internet and handpicked 13 of the absolute best free VST plugins that 2023 has to offer.
Plus, unlike other articles, we're not just tossing you a list with a sentence or two about each plugin.
Instead, we'll be providing an in-depth breakdown, dissecting the unique attributes, standout features, and ideal applications of each one.
We'll be covering:
What a free VST plugin is ✓
The best free VST plugins of 2023 ✓
12 of the most supreme runner-ups ✓
The most impressive free VST instruments ✓
A range of different audio plugins and synthesizers ✓
The most versatile audio effect plugin ✓
Unconventional sound design tools and free VSTs for enhanced production ✓
A collection of processors & analyzers that will blow your mind ✓
After this article, you'll wonder why you ever entertained paid plugins in the first place, as these free options are bound to shock and impress you.
So, let's jump right in and discover these must-have tools of 2023…
What are Free VST Plugins?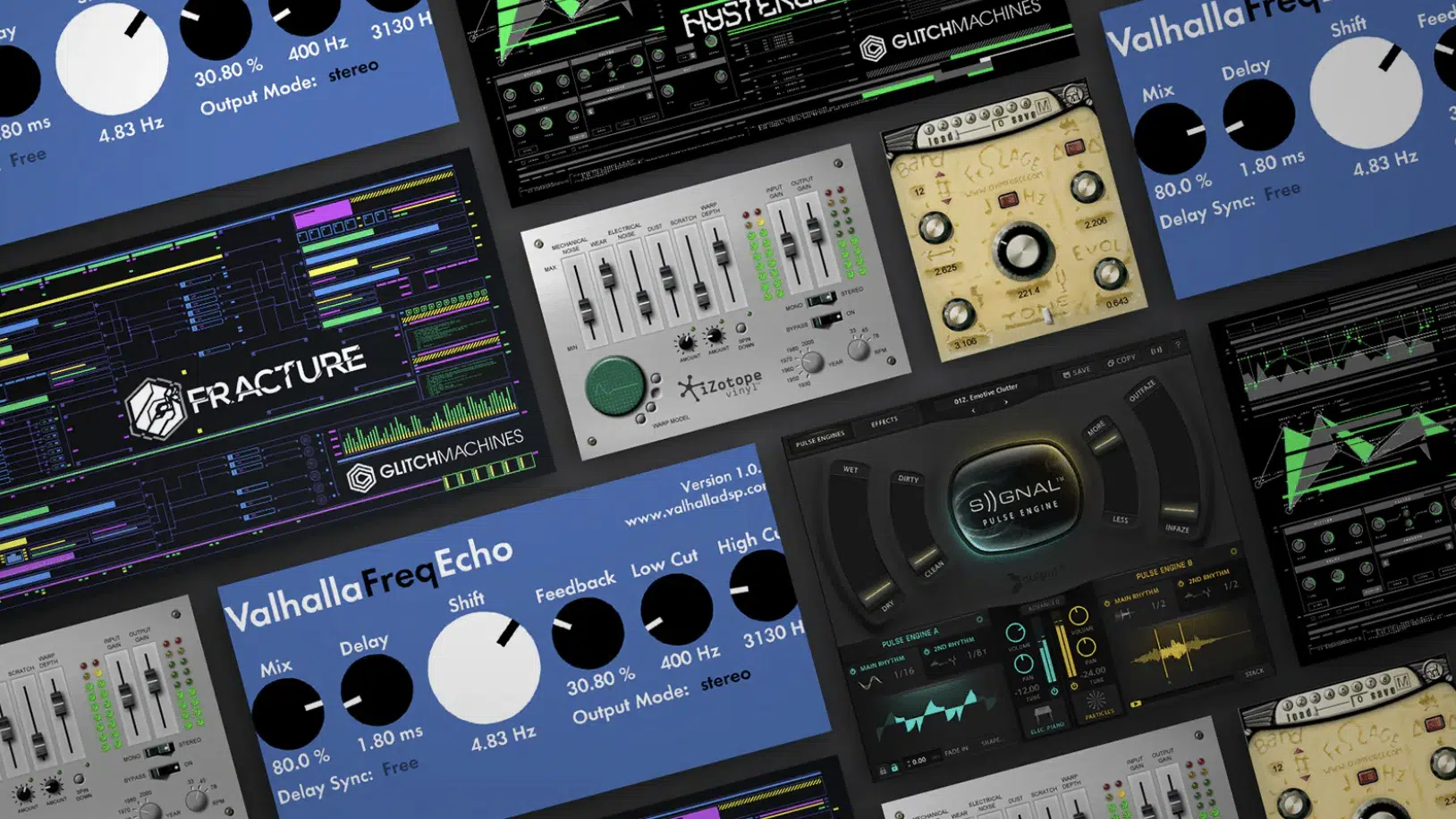 Let's take a moment to unpack this vital piece of the music production puzzle: free VST plugins.
VST stands for Virtual Studio Technology, a standard developed by Steinberg Media Technologies in 1996.
Think of free VST plugins as the magic spices in the audio world.
They add depth, flavor, and character to your unique music.
In essence, they're software that works within your digital audio workstations (DAWs), allowing you to:
Recreate the sound of physical instruments
Tweak audio signals
Produce a diverse range of audio effects
Free VST plugins come in all shapes and sizes 一 from realistic virtual instruments like guitars and drums to audio effects like reverb, delay, and distortion.
And for the cash-strapped music producer, the vast array of free VST plugins is an absolute goldmine (if they're not wack, of course).
Now, with this understanding, let's dig into the best free VST plugins 2023 has to offer for you, the beatmaker.
#1. Zen Master by Unison Audio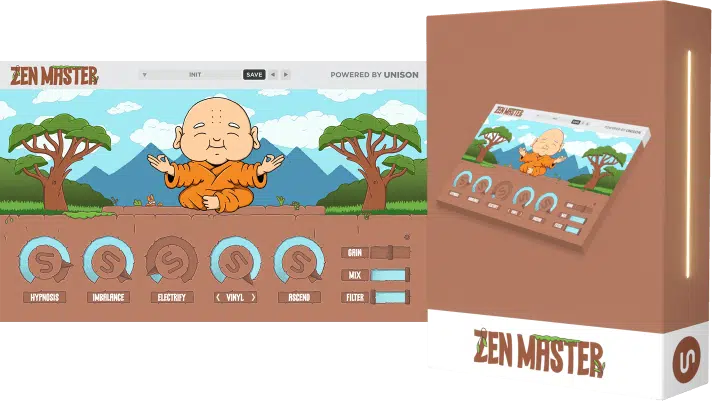 Every beat maker in the world knows the crucial role of free VST plugins in achieving that perfect sound and unique vibe.
Zen Master by Unison Audio is one such game-changing free plugin that's got every music producer talking.
Zen Master is an exceptional tool designed to infuse a warm, vintage and Lo-Fi feel into your music 一 effortlessly transforming any sound into a nostalgic, retro masterpiece in just under 3 seconds.
It has a simple and easy-to-use interface, equipped with only five knobs, but don't let that fool you.
Each knob is a world of sound transformation unto itself.
#1. The Hypnosis knob 一 Your ticket to a world of mesmerizing sound alteration.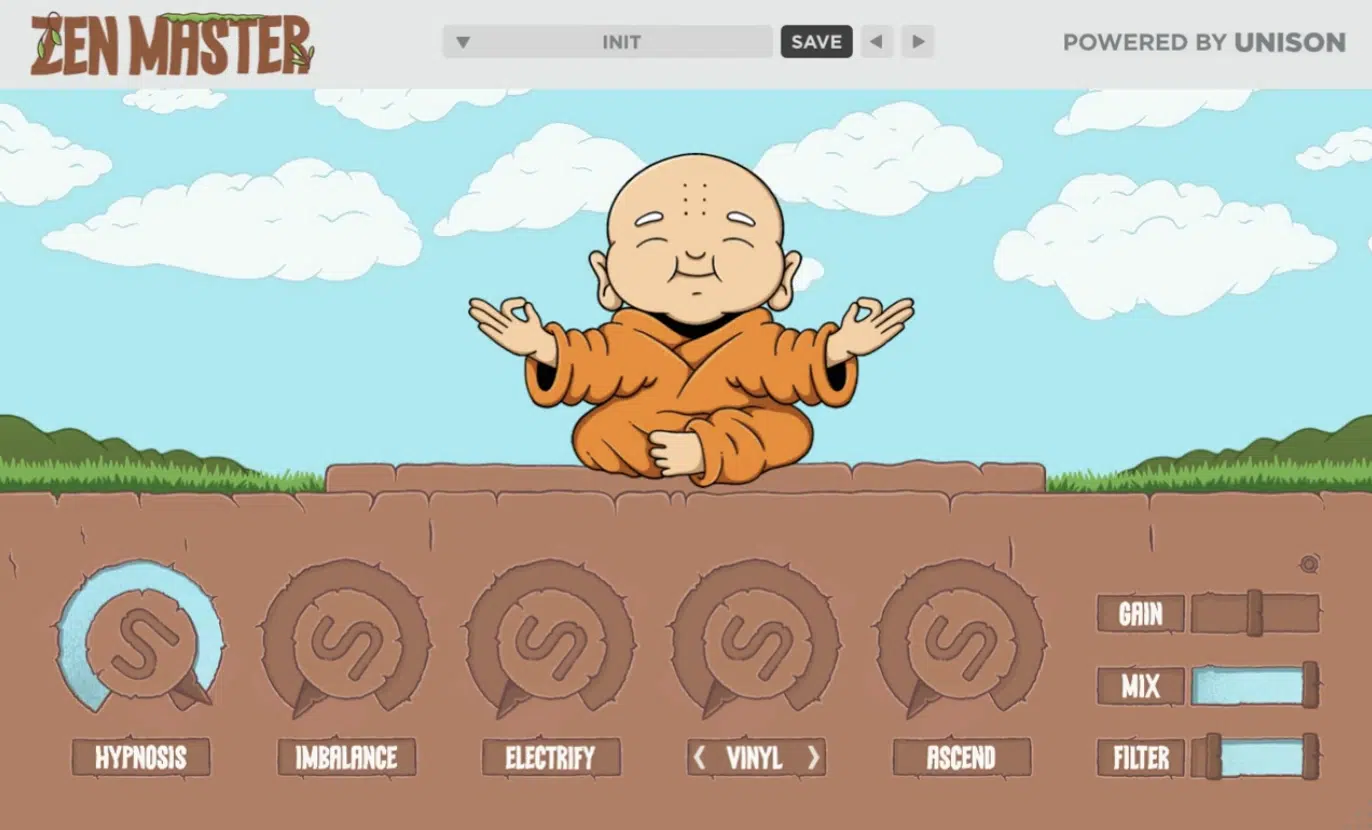 This knob applies a one-of-a-kind detune and width effect, a product of meticulous testing and refining.
Turning this knob feels like twisting your reality, as you hear your beats morph into something entirely new.
This is how Zen Master reels you into its magic, turning an ordinary sound into a transcendent experience.
#2. The Imbalance knob 一 Designed to add a human touch to your beats.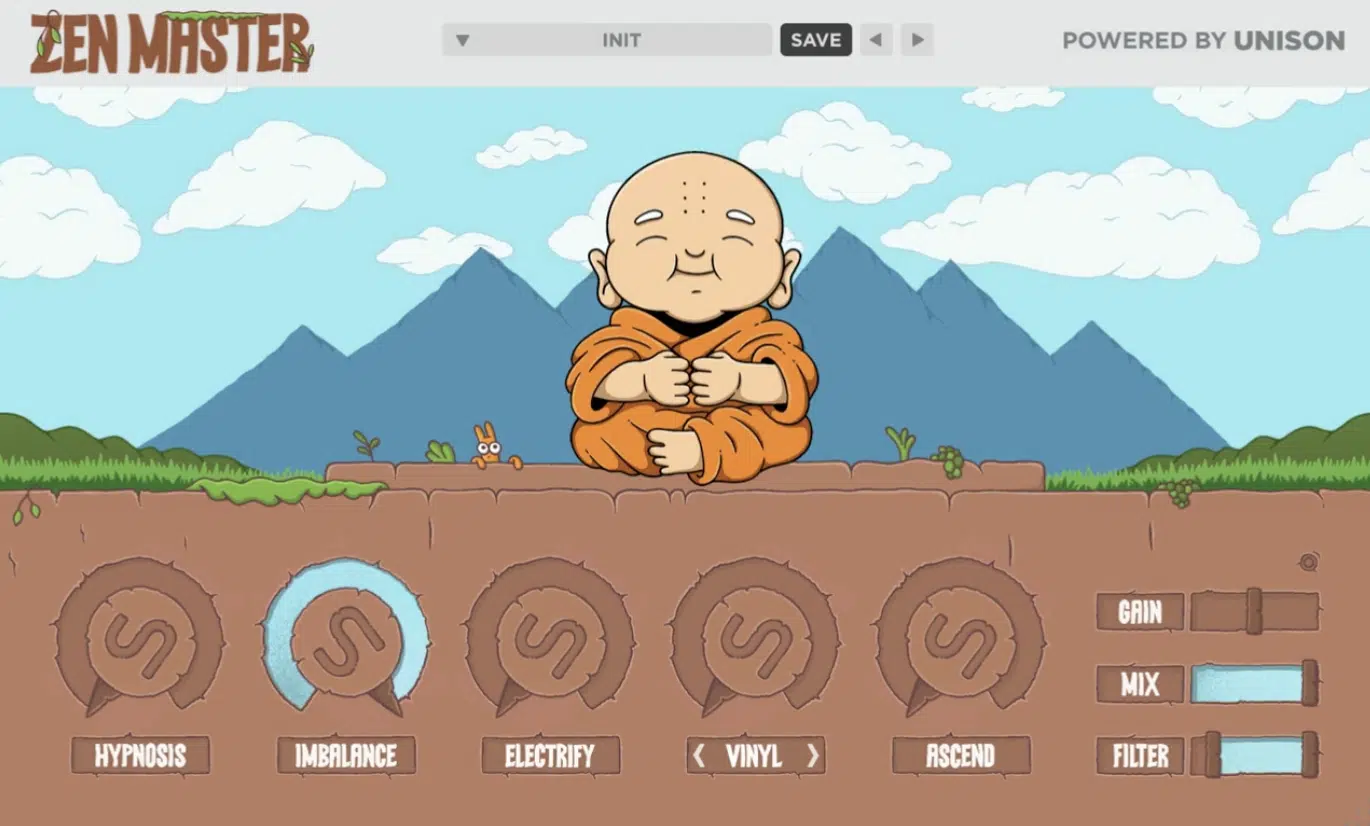 This knob applies tape-modeled pitch wobbling, transporting your sound back in time.
It makes your beats dance with a retro feel, so every note you play sounds like an old vinyl record spinning on a classic turntable.
#3. The Electrify knob 一 A ticket to the classic Lo-Fi style.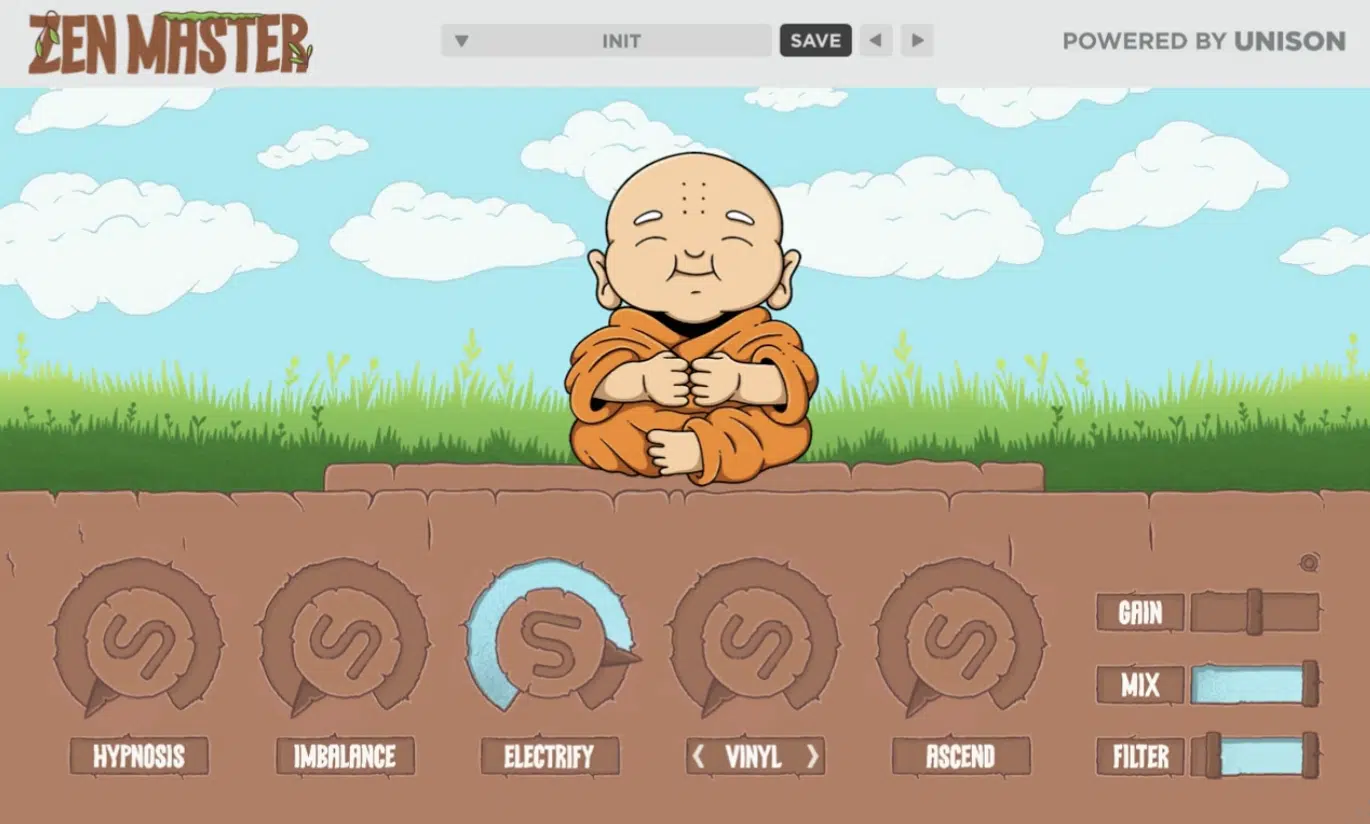 This knob applies calculated bit-crushing, degrading your sounds to perfection.
It brings an element of rawness to your music, making your beats feel gritty and edgy.
#4. The Vinyl knob 一 Offers three distinct signature noises: vinyl, crackle, or white.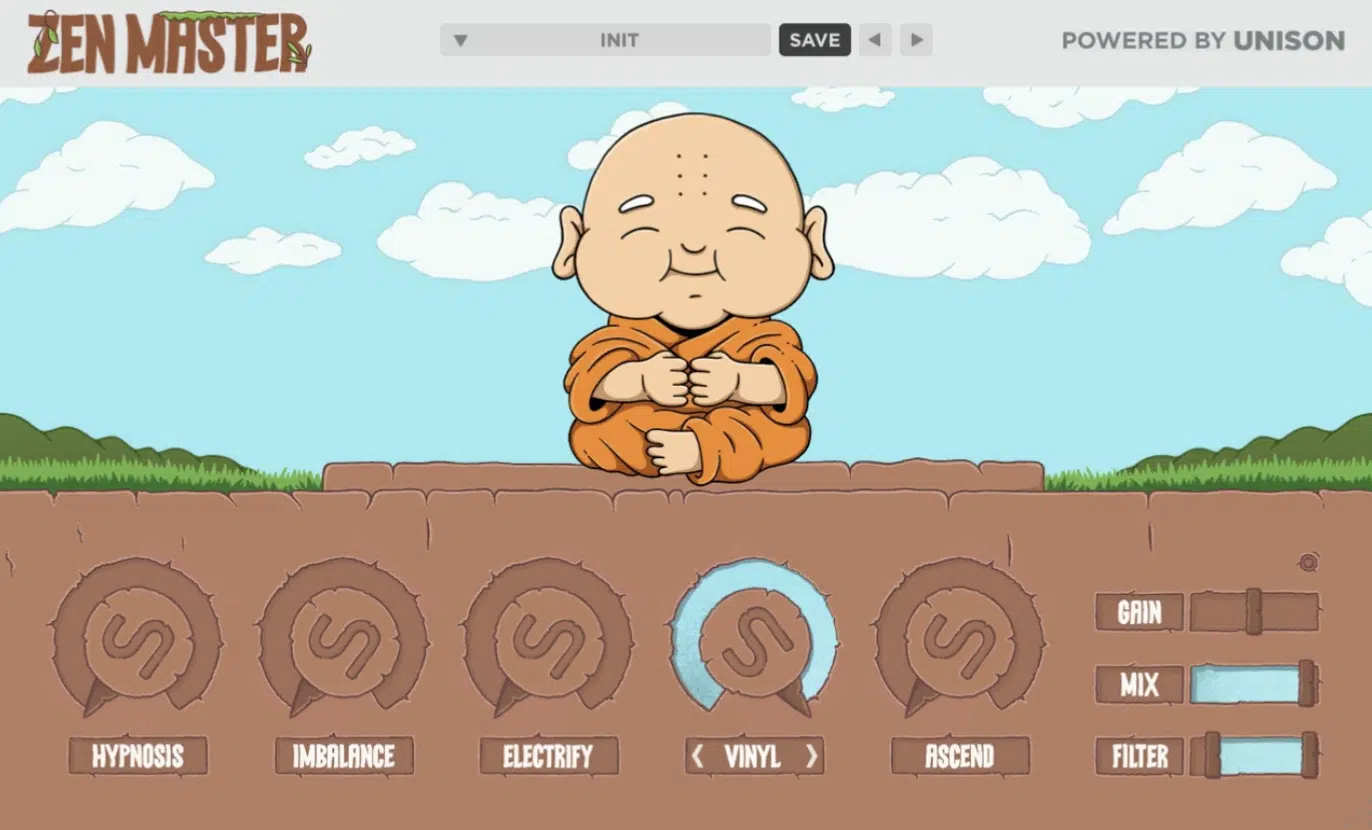 Each noise has a unique personality and adds a vintage vibe to your sound.
It's like pouring old-school magic into your music, instantly transporting your listeners back to another era.
#5. The Ascend knob 一 Applies majestic reverb, the perfect blend of spacious, warm, and clean-sounding.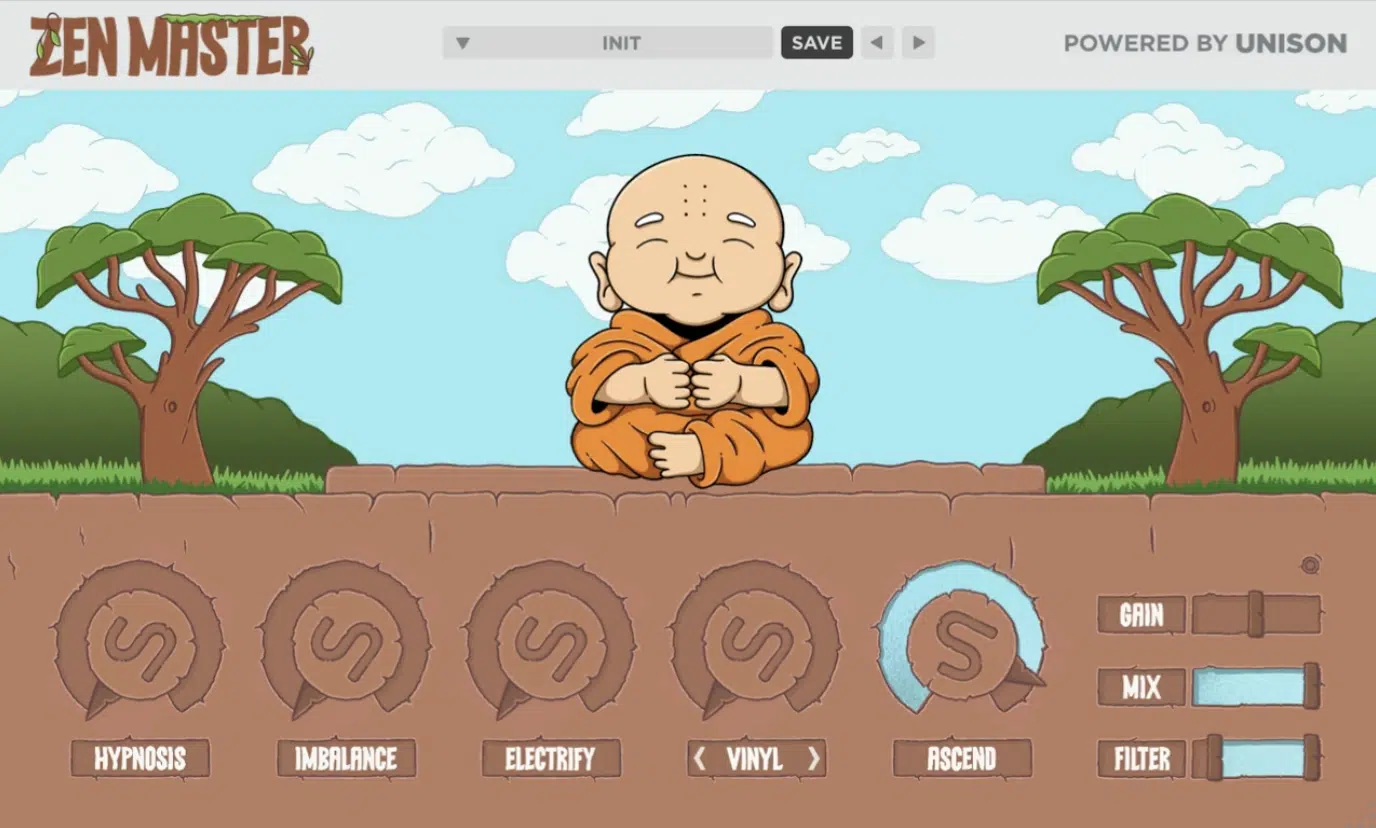 This is the finishing touch to your Lo-Fi sound, adding an ethereal feel that makes your music resonate on a deeper level.
All around, this plugin is revolutionizing the game when it comes to Lofi plugins, and for good reason.
Even the former best VST plugins would be impressed.
Standout Features: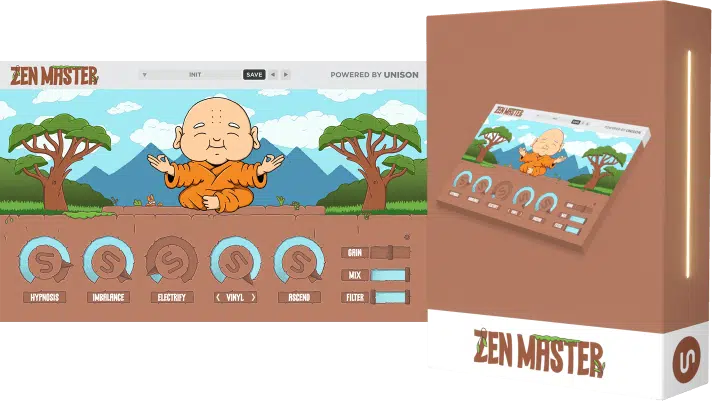 Unique Lo-Fi, Warm, and Vintage sound character
Instant Inspiration with real-time sound transformation
Simple & Easy to use with only five knobs
Hybrid of Analog/Digital Modelled Effects
Compatible with all DAWs, both Mac & PC
The best of the free VST plugins
#2. TDR Nova by Tokyo Dawn Records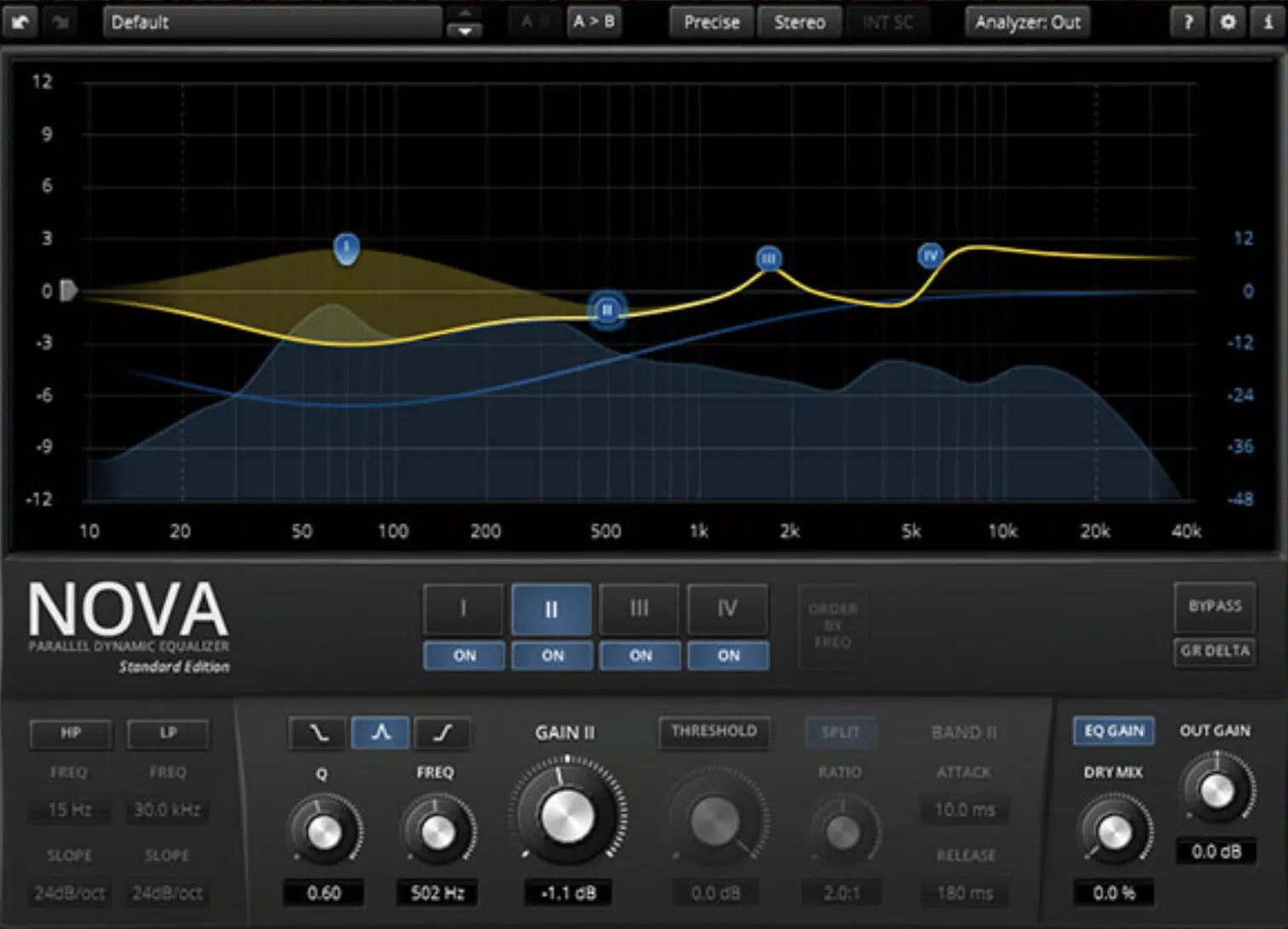 TDR Nova by Tokyo Dawn Records is not just another free VST plugin…
It's a comprehensive tool that transcends the boundaries of parametric EQ 一 offering a full-fledged dynamics section in every band.
It's designed for the detail-oriented music producer who isn't satisfied with a simple one-size-fits-all solution.
Whether you're dealing with a master that lacks density, a drum bus screaming for more crispiness, or a sibilance issue in your otherwise perfect take, TDR Nova has an elegant solution.
It's like having a Swiss Army Knife in your plugin library (a multipurpose tool that meets even the most exotic demands).
The user interface of TDR Nova combines the best of both worlds:
A familiar layout that resembles a parametric equalizer.
A classic "knob" interface that provides quick and smooth access to its powerful processing capabilities. 
This synergy of form and function allows for easy navigation and operation 一 even for novices while the depth of control satisfies even the most experienced professionals.
Despite its complex abilities, TDR Nova presents a user-friendly WYSIWYG (what you see is what you get) drag-and-drop display.
This allows you to manipulate its power with a swift sweep of the mouse.
It's all about giving you control, with parameters that respond immediately to your adjustments.
But where TDR Nova really shines is in its versatile range of applications.
With four dynamic EQ bands and additional high-pass and low-pass filter sections, there's almost no sound-shaping task this plugin can't handle.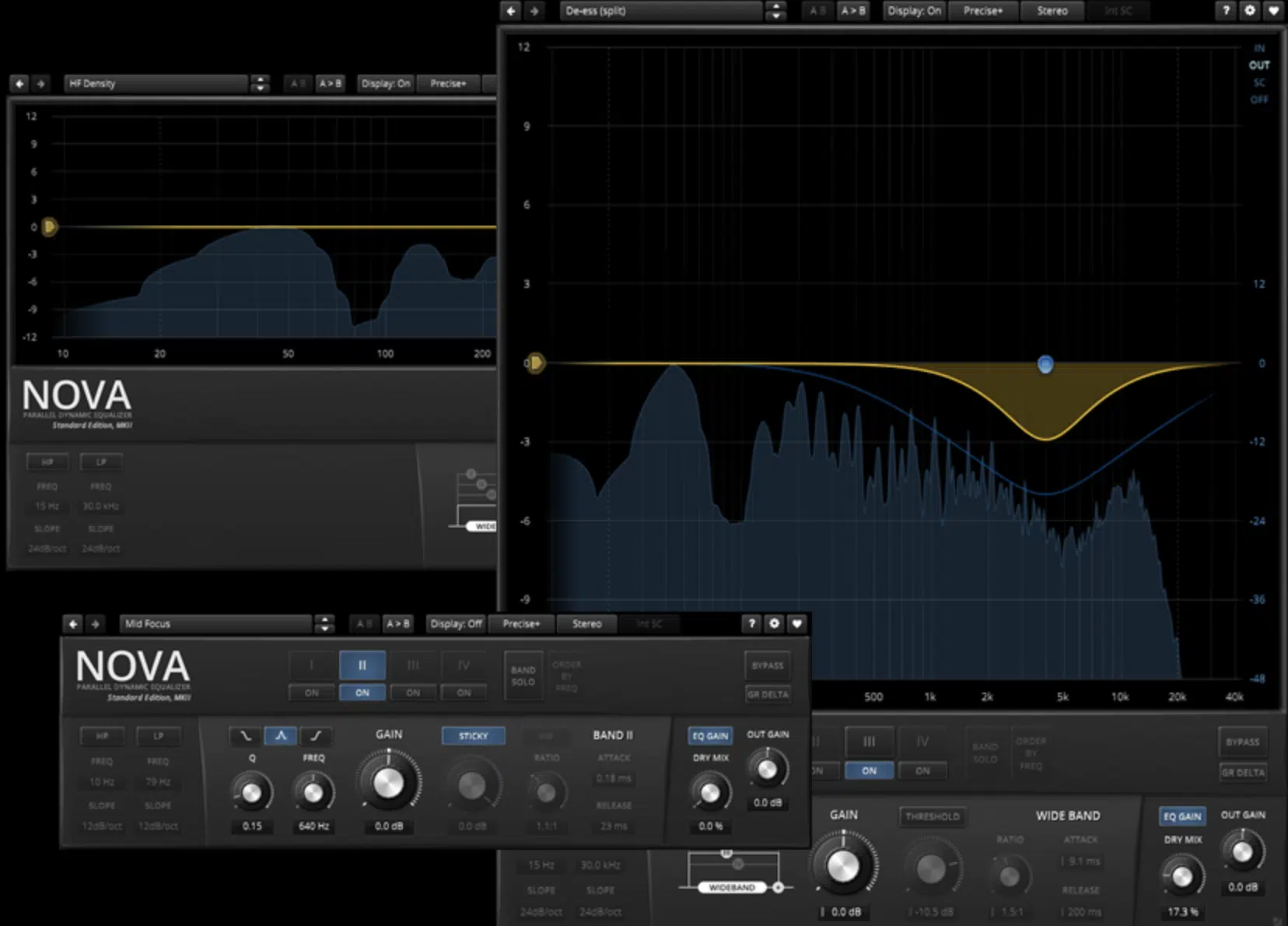 It enables you to perform:
Parametric equalization
Dynamic equalization
Frequency selective compression
Multi-band compression
Wideband compression
I mean, how many free VST plugins can say that?
This versatility makes it a comprehensive sound processing tool that can be employed at any stage of your music production process, from mixing to mastering.
One of the most remarkable features of TDR Nova is its intuitive equal loudness functions.
These are designed to help you find the optimal setting without getting distracted by loudness differences.
It takes the guesswork out of the process, enabling you to focus solely on the quality of the sound.
Furthermore, the TDR Nova plugin comes with all the workflow enhancements you'd expect from a Tokyo Dawn Records plugin.
A preset manager, undo/redo, A/B comparison, detailed documentation, and copy & paste functionality, to name a few.
These features provide a seamless user experience, making the process of sound shaping not just easier, but also enjoyable.
Standout Features:

Parallel dynamic equalizer with full-featured dynamics sections
User-friendly WYSIWYG drag & drop display
Four dynamic EQ bands and additional high-pass and low-pass filter sections
Intuitive equal loudness functions
Workflow enhancements including a preset manager, undo/redo, A/B, and more
#3. Vital by Matt Tytel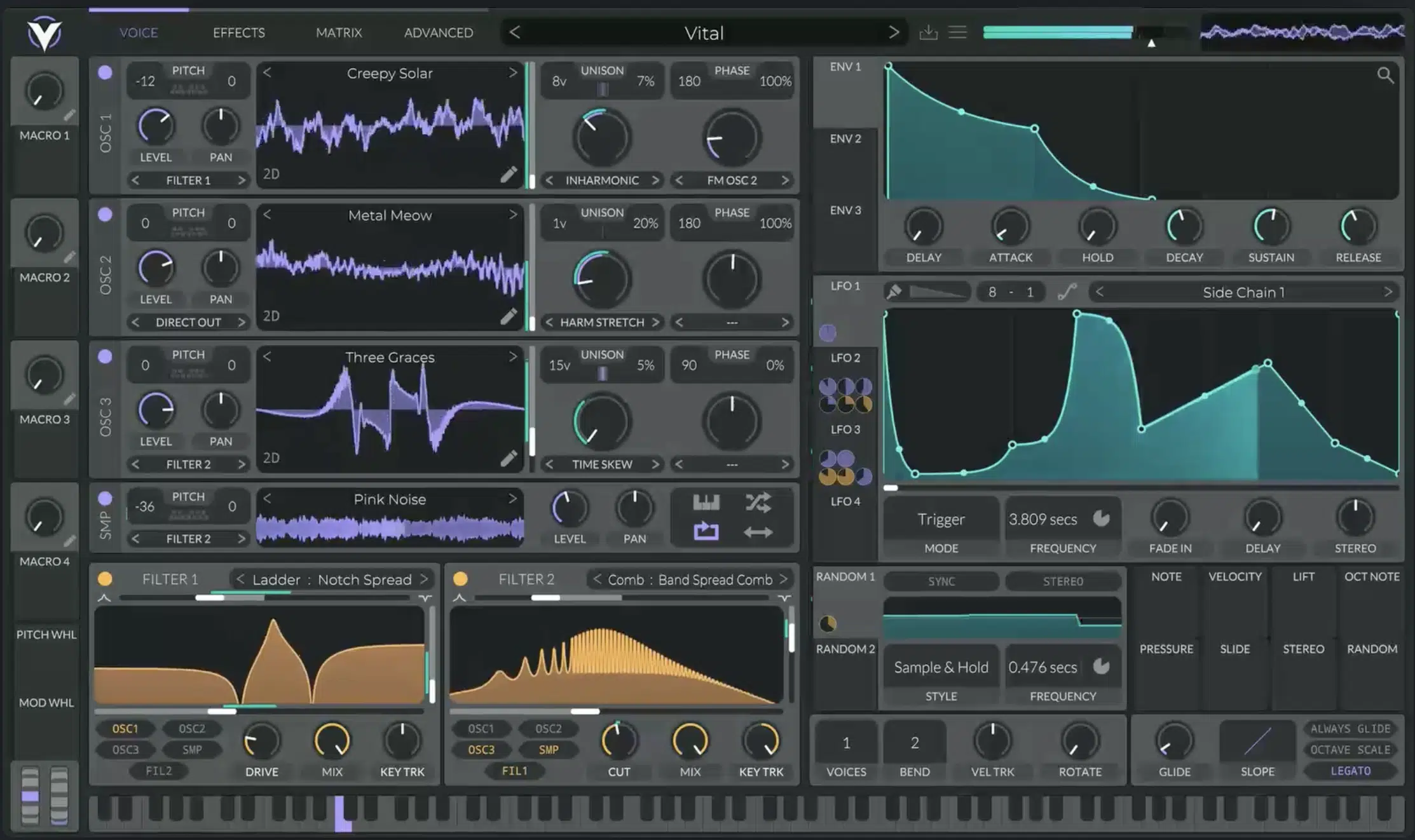 Vital is a gem in the world of free VST plugins crafted by Matt Tytel.
With the free version of Vital, you're stepping into an audioscape where the common meets the unique, where wavetable synthesis gets a new lease on life.
Music producers who crave an innovative edge will find Vital a pivotal addition to their arsenal of audio tools.
Vital breathes new life into wavetables by using its spectral oscillator warping.
NOTE: Spectral warping acts on a waveform's harmonics, creating diverse and striking shapes and timbres from an otherwise basic source.

The end result?…
Your sounds are not only unique but also extraordinarily versatile, opening up an entirely new realm of possibilities for your compositions.
One of the most awe-inspiring features of this free VST plugin is the ability to transform your own audio samples into wavetables.
It does this via its pitch-splice or vocode wavetable converter, an innovative feature that sets Vital apart from many other free VST plugins on the market.
What's more, you can even create wavetables from scratch using the built-in wavetable editor or — and this really blew my mind — generate wavetables from text!
This attribute alone makes Vital a game-changer in the music production landscape.
Now, this isn't just any synthesizer… Vital is a visual synthesizer.
Meaning, you can see what's happening behind the scenes with:
Animated controls
Filter responses
Waveforms
Smooth LFOs
Oscilloscopes
Spectrograms 
All animations run at 60 frames per second and are GPU optimized 一 leaving your CPU free to do its actual job: audio processing.
Vital also scores high when it comes to modulation.
With a fast, drag-and-drop workflow, you get a preview of the modulation before you commit, allowing you to experiment without ruining your sound.
You can modulate your sound with custom LFO shapes, snappy envelopes, and randomized sources like Perlin noise.

The feature extends to include human touch modulations with velocity, aftertouch, and MPE control modulation.
Plus, use stereo modulation to split the left and right channels of every modulation for extra-wide stereo effects.
Finally, Vital comes equipped with 75 presets and 25 wavetables, high-quality oscillators, efficient unison, microtonal and MPE support, audio-rate modulation, and keytracked LFOs.
It's an impressive list of features that affirms Vital's place among the best free VST plugins.
Standout Features: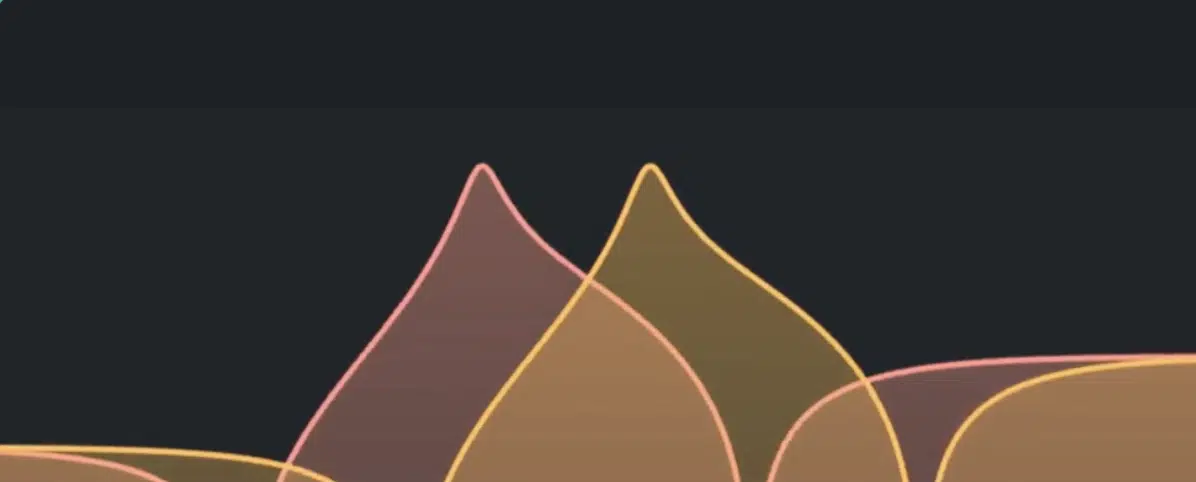 Spectral oscillator warping for unique wavetable creation
Custom sample conversion into wavetables
Visual synthesizer with animated controls and filter responses
Fast, drag-and-drop workflow for modulation
Extensive human touch modulation with velocity, aftertouch, and MPE control modulation
75 presets and 25 wavetables, high-quality oscillators, and efficient unison
#4. Native Instruments Komplete Start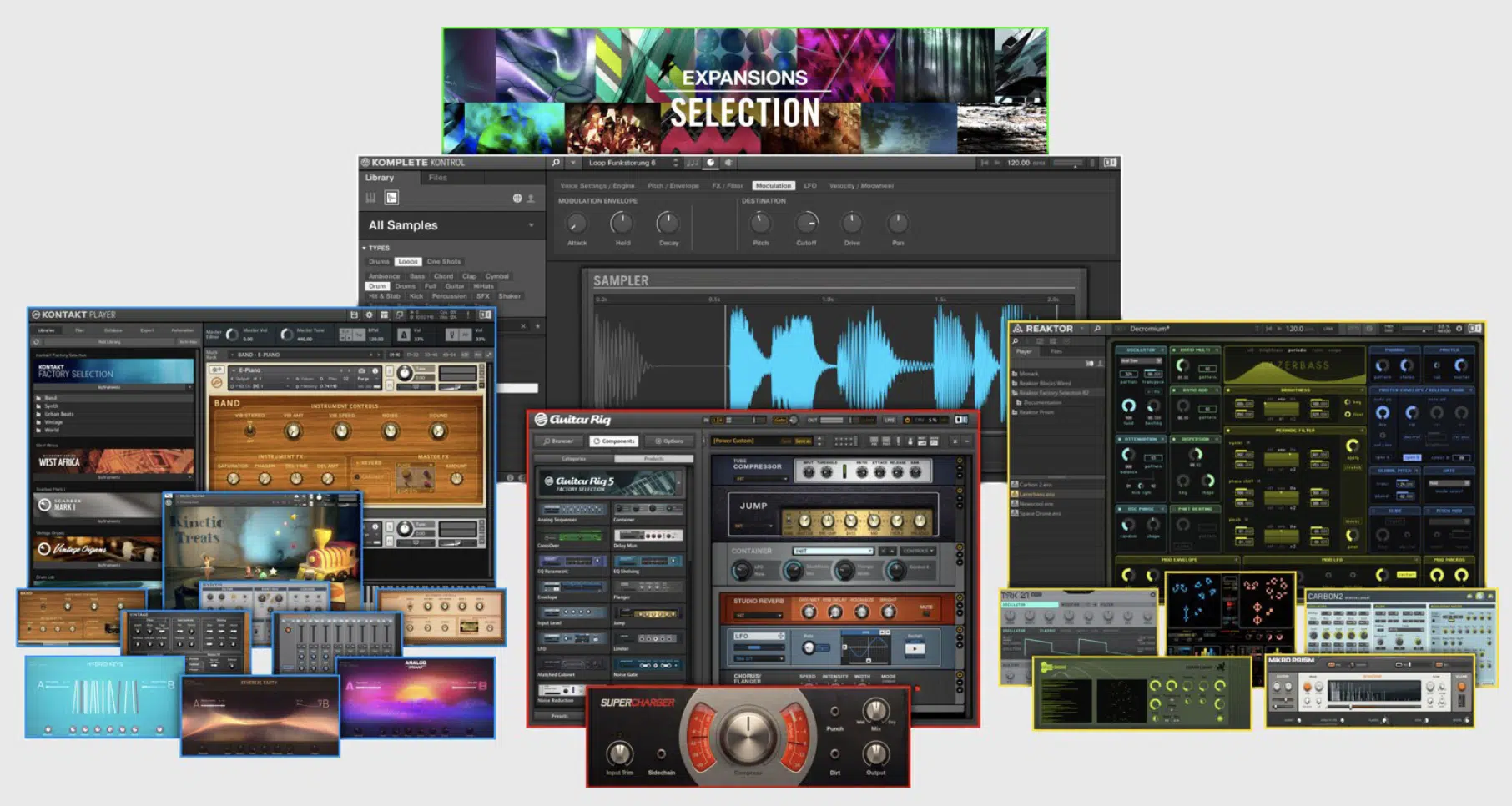 Native Instruments Komplete Start is a free production suite that empowers you to produce and perform with a staggering array of over 2,000 studio-quality sounds.
Here's a pro-grade collection of 16 synthesizers and sampled instruments, a generous selection of effects, loops, and samples.
All of these are curated meticulously to offer you the best music production tools.
Komplete Start allows you to browse, preview, and integrate all these elements in your recording software with KOMPLETE KONTROL.
It's not just a random collection, it's a carefully curated ensemble of studio quality:
Instruments
Effects
Utilities
Loops
Samples
The variety is truly commendable – drums and percussion, bass, acoustic instruments, synths, pads and atmospheres, effects, and much more, all at your disposal.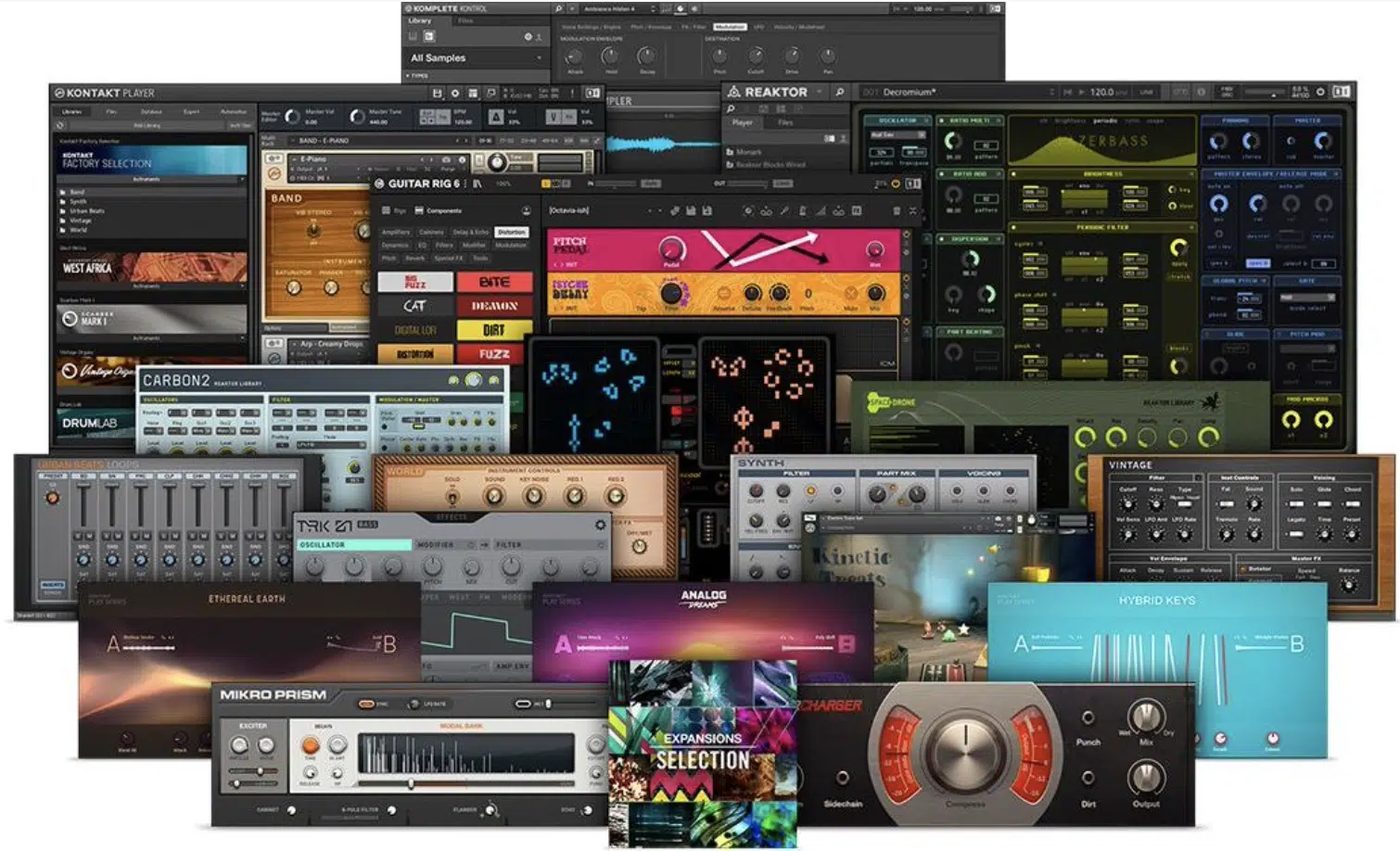 This free plugin comes with a hefty selection of 18 instruments and effects, spanning over 6 GB of instruments, effects, loops, and samples.
Imagine creating any sound you fancy with a range of inspiring synthesizers and more than 500 professionally designed presets catering to any genre.
The included BLOCKS BASE, MIKRO PRISM, and four other REAKTOR PLAYER-based synths, alongside the bass engine of TRK-01, ensure your musical creations are diverse and captivating.
What's particularly impressive about Komplete Start is the revamped Factory Selection 2 一 showcasing fresh GUI designs and new instrument additions across various categories.
The enhanced browsing experience and workflow streamline your creative process, making your music production setup more intuitive and enjoyable.
Additionally, the PLAY SERIES SELECTION instruments and the enigmatic KINETIC TREATS further enrich your soundscapes.
Komplete Start doesn't stop at offering vast instrument libraries, like other free VSTs online.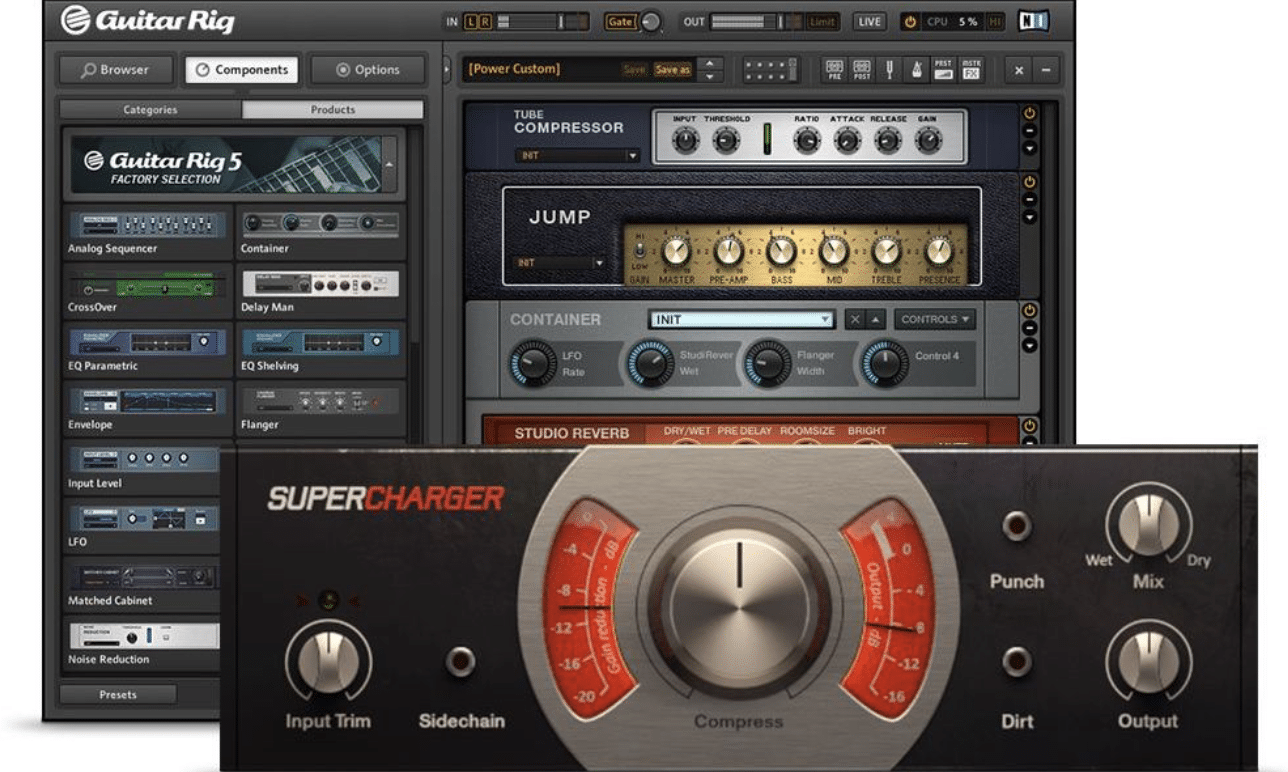 This free VST plugin bundle also features a host of sampled instruments from NI and other companies, including:
Orchestral Tools
Soundiron
Output
This is thanks to the inclusion of KONTAKT 7 PLAYER, a remarkable hosting app.
The plugin's colorful SUPERCHARGER tube compressor and GUITAR RIG 6 PLAYER (a versatile multi-effects unit) add more dimension and character to your mixes.
Lastly, the EXPANSIONS SELECTION, a handpicked collection of almost 1,500 loops and samples from the popular Expansions range, ensures your compositions never lack variety or flavor.
NOTE: If you own a MIDI controller keyboard, use the KOMPLETE KONTROL software to connect it.
It gives you the freedom to tweak and edit your sounds directly.
Standout Features:

A comprehensive collection of over 2,000 studio-quality sounds
An array of 16 pro-grade synths and sampled instruments
Included BLOCKS BASE, MIKRO PRISM, and other REAKTOR PLAYER-based synths
Revamped Factory Selection 2 for an improved user experience
Powerful multi-effects unit – GUITAR RIG 6 PLAYER
EXPANSIONS SELECTION with almost 1,500 loops and samples
KOMPLETE KONTROL audio software for easy MIDI keyboard integration
#5. TAL Reverb 4 by Togu Audio Line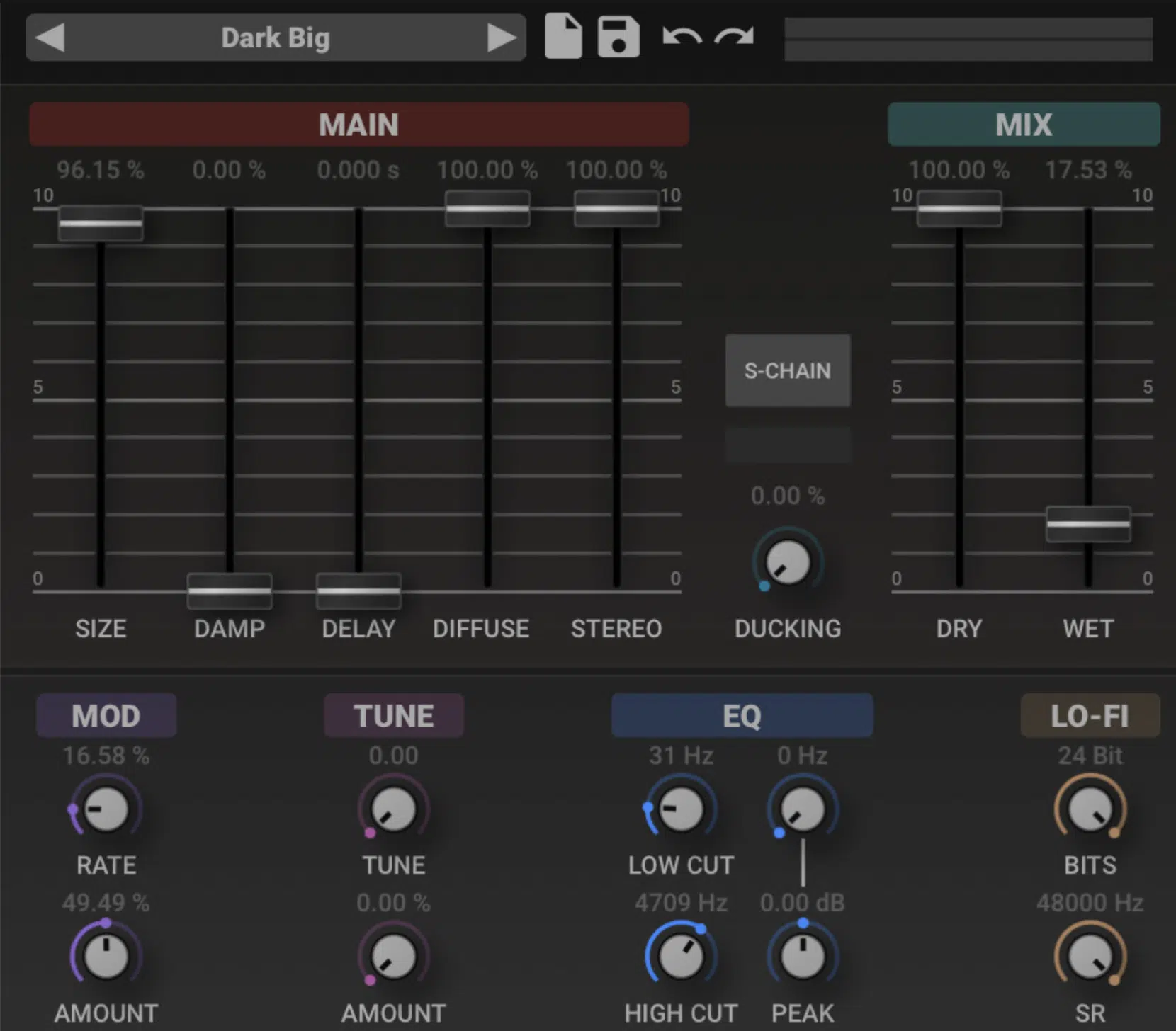 TAL Reverb 4 by Togu Audio Line is an excellent addition to the world of free VST plugins.
This high-quality plate reverb carries a distinctive vintage 80's character 一 evoking an era of iconic music production that continues to influence contemporary soundscapes.
One of the standout aspects of TAL Reverb 4 is its modulated vintage reverb sound.
It not only provides a very diffuse sound but also quickly builds up (even with super long reverb sounds).
The rapid build-up time of TAL Reverb 4 makes it an ideal choice for both subtle spatial enhancement and creating lush, cavernous reverberations.
Despite its vintage character, TAL Reverb 4 is not restricted to only certain types of audio material.
Its unique and versatile design allows it to enhance almost any audio material you feed into it; be it a crispy drum loop, a flowing vocal line, or a complex synth pad.
This makes it an extremely valuable tool in the hands of any music producer.
The user interface of TAL Reverb 4 is streamlined and intuitive.
Meaning, it's simple enough for beginners to understand quickly, yet its sound quality and versatility keep it relevant for professional users of free VST plugins.
NOTE: This free VST effects plugin only supports stereo channels, catering to the need for spacious and immersive sounds in today's music production scenarios.
Perhaps the greatest allure of TAL Reverb 4 is its ability to deliver one of the most natural-sounding reverbs ever.
This makes it not just a tool, but a musical instrument that can bring a touch of nostalgic charm to any mix.
It establishes a mood, creates a sense of space, or adds depth & dimension to a track.
Standout Features:

High-quality plate reverb with a vintage 80's character
Modulated vintage reverb sound offering a very diffuse output
Fast build-up time, even with long reverb sounds
Versatility to work on almost every audio material
Easy-to-use interface, suitable for both beginners and professionals
Superior natural-sounding reverb, enhancing your mix with a nostalgic touch
#6. Spitfire Audio Labs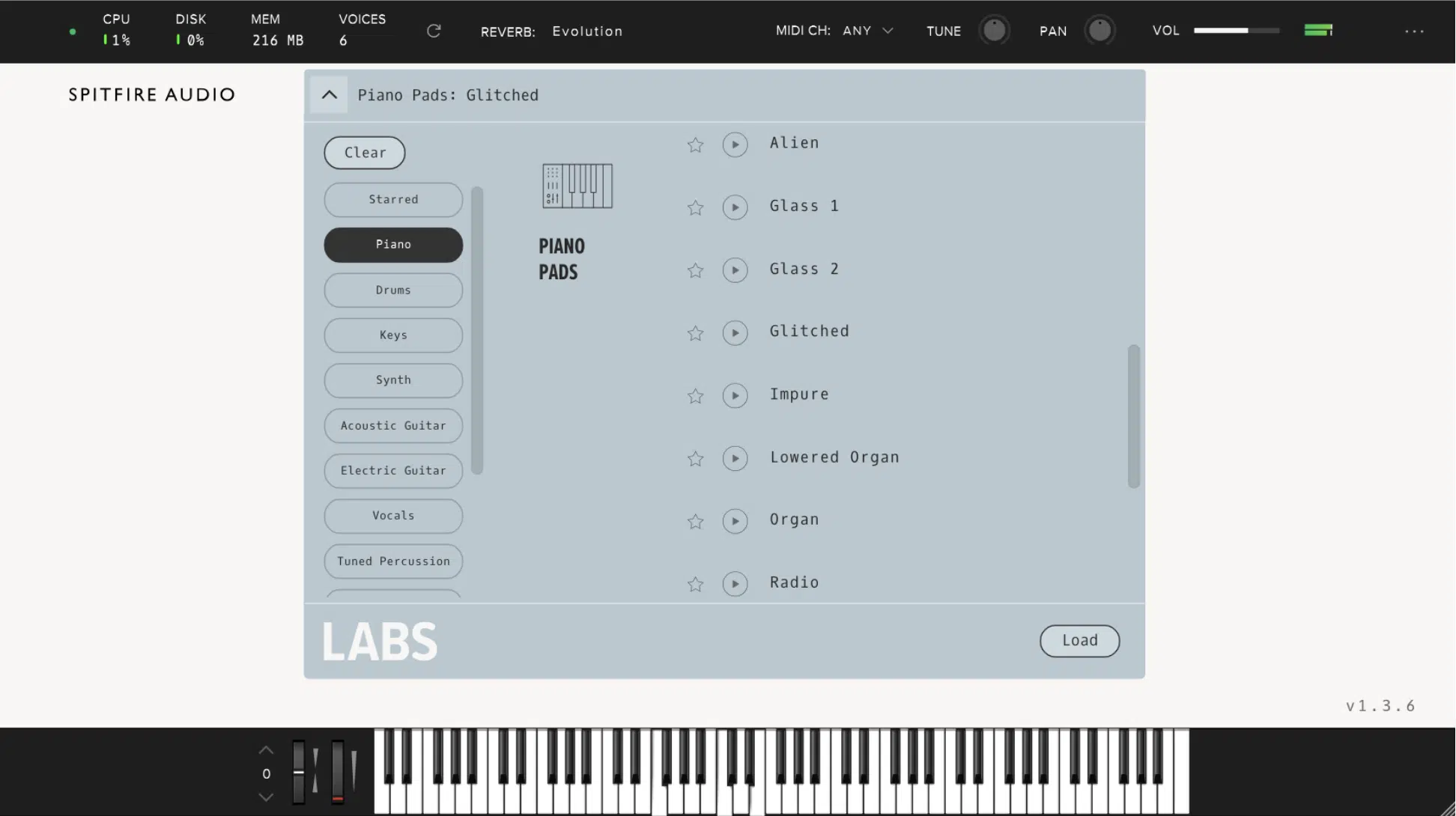 Spitfire Audio Labs offers a stunning free VST effects plugin that brings a curated collection of high-quality cinematic sounds and instruments to your virtual studio.
If you're looking to add an evocative, filmic touch to your tracks, Spitfire Audio Labs is your go-to plugin.
This virtual instrument is a treasure trove of sounds 一 featuring a wide range of instruments, including strings, pianos, percussion, and much more.
Each sound has been meticulously sampled and recorded using Spitfire Audio's renowned techniques, offering a palette of sonics that is both vast and inspiring.
What truly sets Spitfire Audio Labs apart is the exceptional quality of the included sounds.
Every cinematic instrument in the LABS series is crafted with the utmost care and expertise by the team at Spitfire Audio.

These instruments, imbued with unique vibes and advanced processing techniques, stand head and shoulders above your average sample library.
Spitfire Audio Labs is also designed with user-friendliness in mind.
Its simple and intuitive interface lets you easily tweak the sounds to fit your needs, with controls for:
Dynamics
Expression
Reverb
Regardless of whether you're a professional composer or a beginner beatmaker, this plugin offers you a seamless workflow.
Finally, it's worth noting that Spitfire Audio Labs isn't just about providing high-quality sounds…
It's about imparting a touch of cinematic flair, depth, emotion, and atmosphere to your music productions.
Whether you're crafting a film score, creating ambient music, or just experimenting, this plugin is a veritable playground for your creativity.
Standout Features: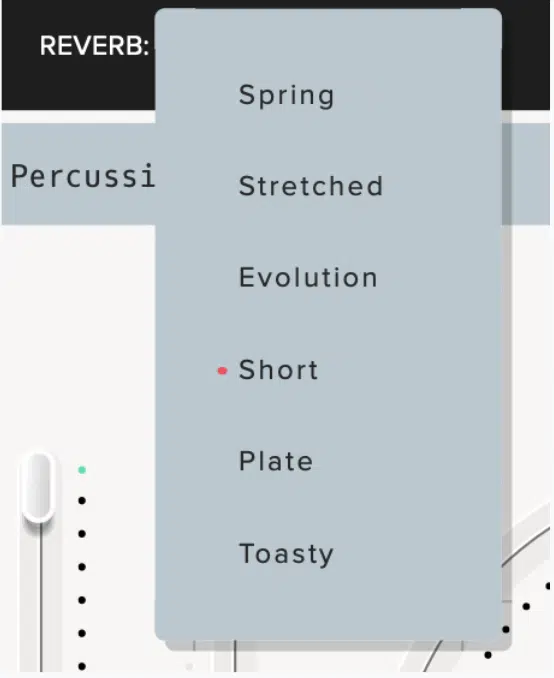 Curated collection of high-quality cinematic sounds and instruments
Wide range of meticulously sampled and recorded instruments
Exceptional sound quality surpassing the average sample library
User-friendly interface with easy 'tweakability'
Ability to infuse depth, emotion, and atmosphere into your productions
#7. Klanghelm MJUC jr.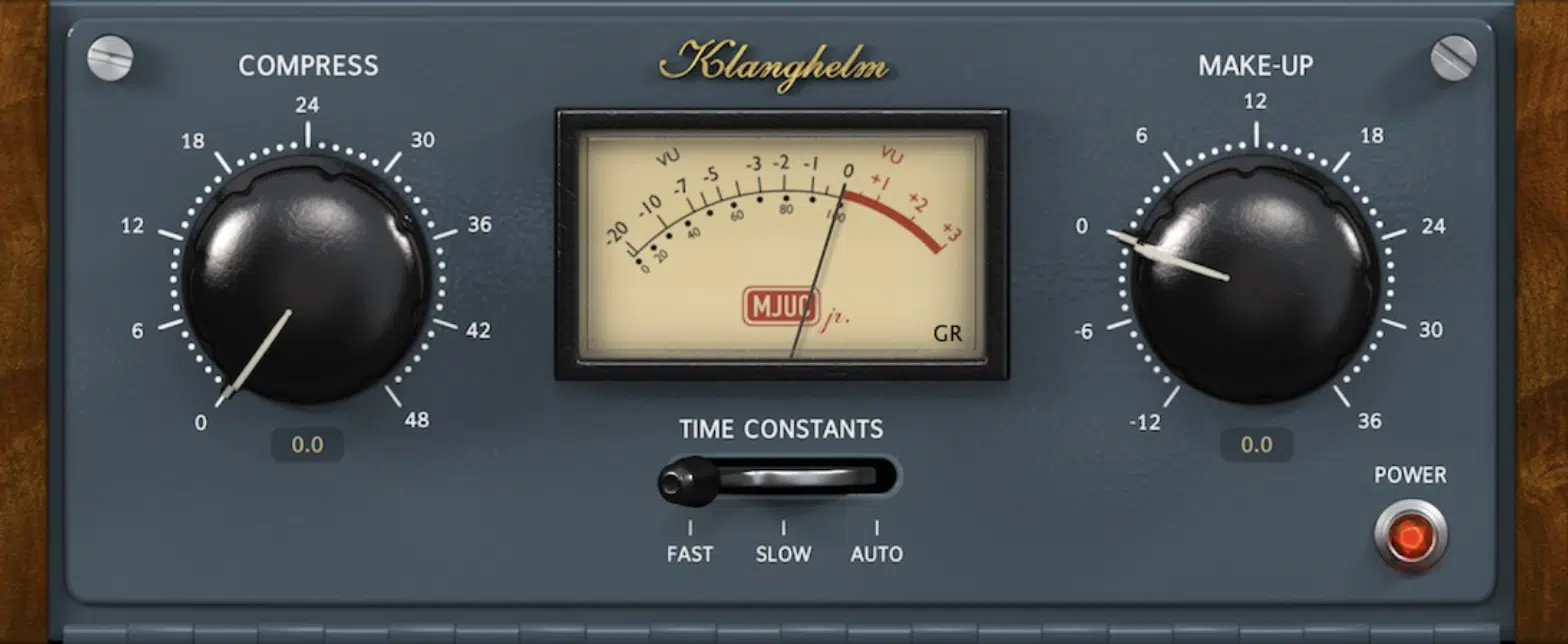 Klanghelm MJUC jr. is an impeccable free VST plugin that draws inspiration from vintage compressors and combines it with the precision of modern technology.
It's a variable-mu design that boasts a lot of vibes, capable of not only smooth leveling but also heavy pumping effects.
This is your ticket to a vibrant and lively soundstage that harks back to the golden age of analog recording while also serving the exacting needs of today's music production.
This plugin features:
Two gain stages
Interstage transformer simulation that is core to its unique sound character
With this setup, MJUC jr. opens up an immersive, deep, and lively soundstage, ensuring your mixes have a depth and richness that is palpably real.
Perhaps the most distinctive feature of the MJUC jr. is its three-position timing switch.
This not only controls the attack and release times of the unit but also adjusts the slew rate of the transformers and the timing of other parts of the circuitry.
The result is a free plugin that influences the generated harmonics 一 creating saturation effects that add warmth and color to your mix.
At its heart, MJUC jr. is a mix of Mk1 and Mk2 of its big brother (MJUC).
It masterfully combines the natural, dense compression characteristics reminiscent of vintage compressors with a more forward-sounding approach.
This balance makes it versatile enough for a wide range of musical styles and production techniques.
What you get with MJUC jr. is not just a simple compressor; it's a plugin that creates harmonics akin to the variable-mu compressors of the early 1960s.
So, whether you're looking to add a gentle touch of compression to a vocal track or seeking to pump up a drum bus for an aggressive feel, MJUC jr. has got you covered.
Standout Features:

Variable-mu design capable of smooth leveling and heavy pumping effects
Two gain stages and interstage transformer simulation
Three-position timing switch that controls various aspects of the plugin
Ability to generate unique harmonics and saturation effects
Combination of vintage and modern compression characteristics
Ideal for a wide range of musical styles and production techniques
#8. Voxengo Span by Voxengo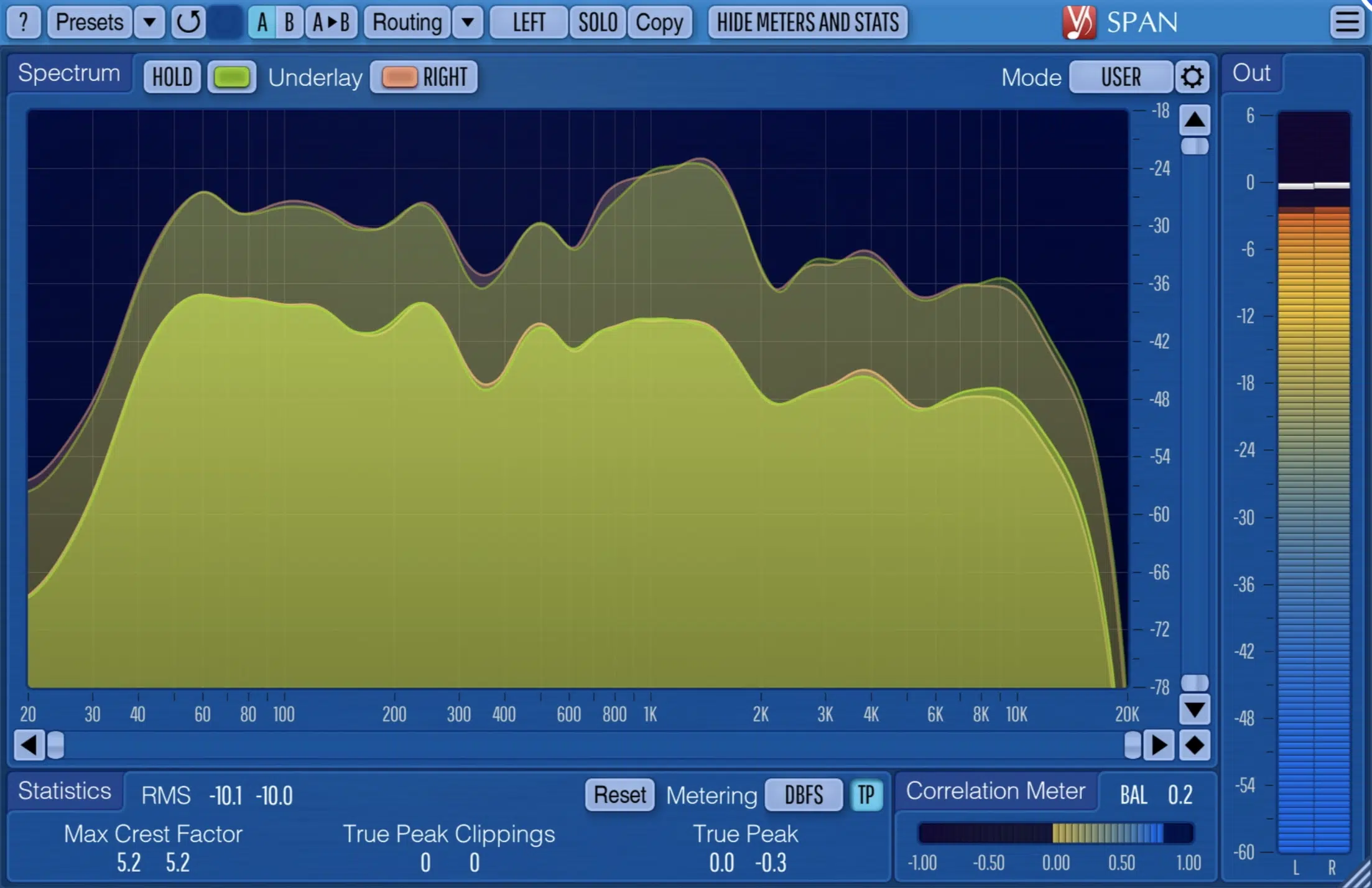 The Voxengo Span is a free real-time FFT (Fast Fourier Transform) audio spectrum analyzer 一 providing a top-notch solution for sound and music production applications.
Span presents a flexible system that allows users to set up their spectrum analyzer preferences.
This powerful VST plugin format gives you the capacity to fine-tune your analysis settings, providing a tool that can be configured to your specific needs.
One of the defining features of Span is its ability to provide secondary spectrum displays.
These can be set to showcase a desired type, such as:
Real-time maximum
All-time maximum
This adds a layer of depth to your analysis, allowing you to examine your audio from different perspectives simultaneously.
Further versatility is enhanced by Span's ability to visually smooth out the spectrum, providing an easier examination experience.
Span supports multi-channel analysis and can display spectrums from two different channels or channel groups at the same time.
Meaning, you can compare and contrast different parts of your mix in real time, making it a powerful tool for both mixing and mastering.
It also includes a customizable color spectrum, which allows you to adjust the visual feedback to your personal preference (dope, right?).
Additional features of Span include output level metering with adjustable ballistics and integration time, EBU R128, K-system metering (including calibration K-system metering).
This free VST plugin also offers a level metering statistics display, headroom estimation, and true peak clipping detection.
NOTE: Correlation metering is also available.
This provides you with a comprehensive suite of tools to analyze and perfect your sound design needs.
Standout Features:

Real-time FFT audio spectrum analyzer
Free download
Highly customizable system for personal preference setup
Secondary spectrum displays for multiple perspectives
Multi-channel analysis for simultaneous channel comparison
Customizable color spectrum
Comprehensive metering and clipping detection
#9. Ample Bass P Lite II by Ample Sound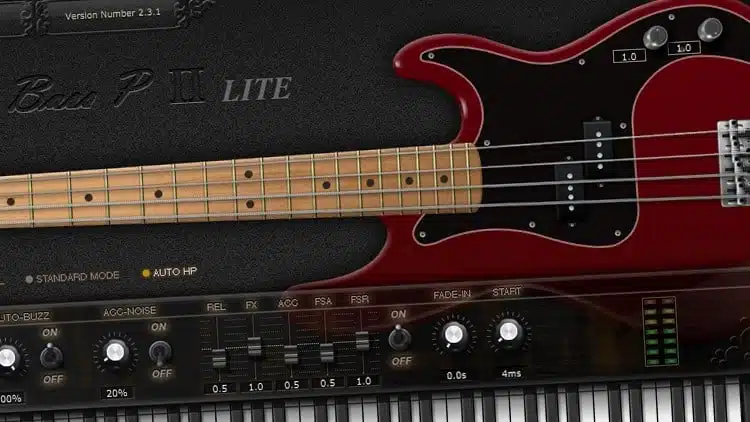 Ample Bass P Lite II by Ample Sound is a free VST plugin aiming to bring the rich sound of the Fender Precision Bass to your home studio.
With a sampling size of 450mb and 443 samples at 16bit 44.1khz 一 it offers a unique blend of depth and realism to any track requiring that unmistakable bass tone.
One of the stand-out features of the Ample Bass P Lite II is its Direct from Disk (DFD) technology.
It works in conjunction with a rich fingering noise system to create a more vivid and realistic sound.
Also, this free VST plugin uses a separate sample cycle for each note and velocity layer, improving sample utilization and providing a wider dynamic range.
Ample Bass P Lite II also boasts an Auto Buzz system and Capo Logic.
These technologies intelligently adjust the performance to match bass playing rules, adding another layer of authenticity to your tracks.
It also has a Customized Parameters Control (CPC) that lets you control any button, knob, etc., via MIDI CC or Automation, giving you a high level of control over your sound.
The Tab Player is another remarkable feature.
It can load, display, and play various guitar and bass tablature file formats, allowing users to load any specific track inside a tablature file.
The Tab Player supports all the fingering, looping, chords, articulations, and other markers in the loaded tablature.
It even has the capability to judge and add refining articulations where it deems appropriate, which most other free VST plugins can't say.
Standout Features: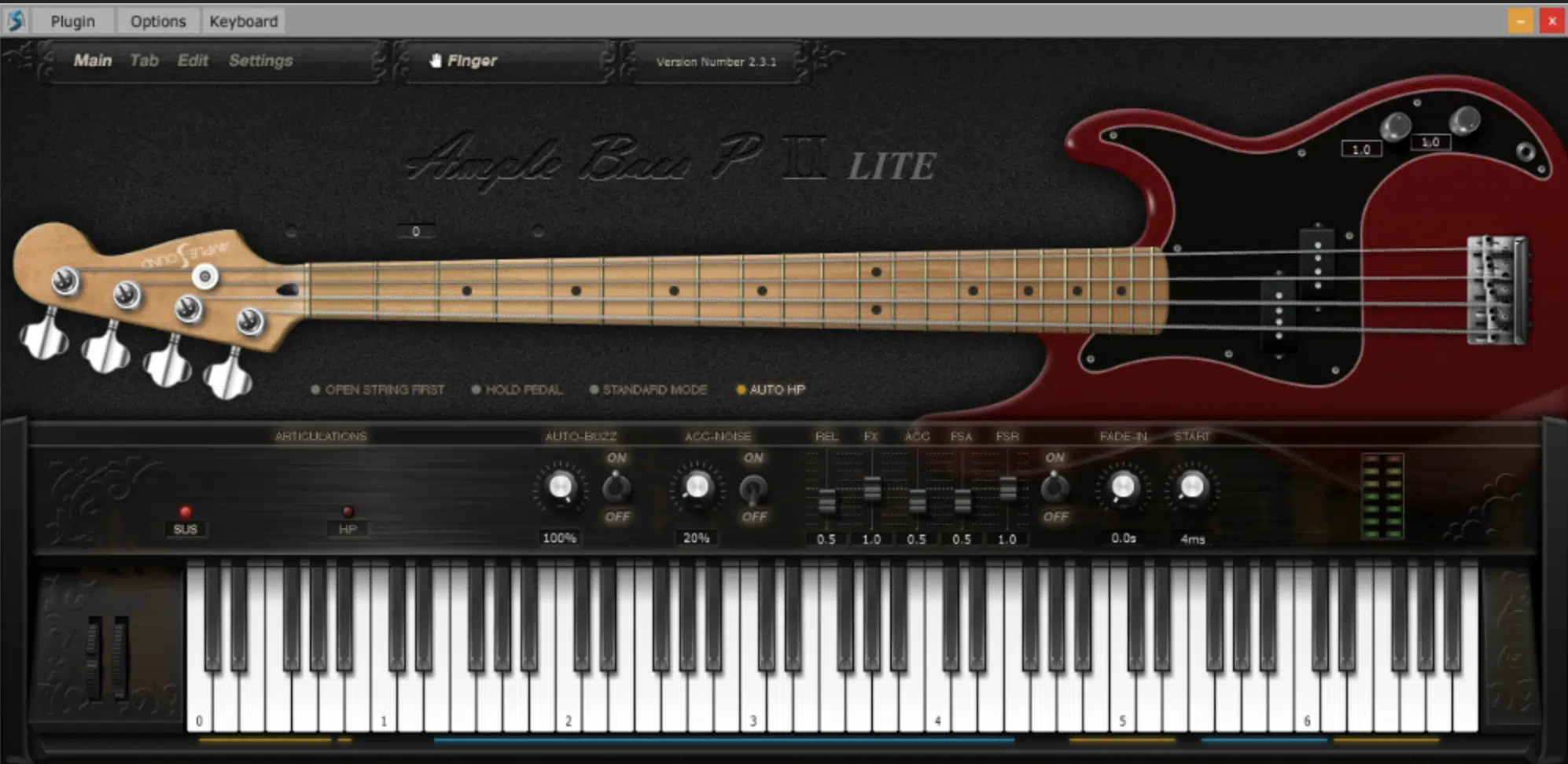 Aims to recreate the Fender Precision Bass sound
Direct from Disk (DFD) technology for realistic sound
Auto Buzz system and Capo Logic for intelligent performance
Customized Parameters Control (CPC) for advanced control
Tab Player for loading and playing guitar/bass tablature
#10. Valhalla Super Massive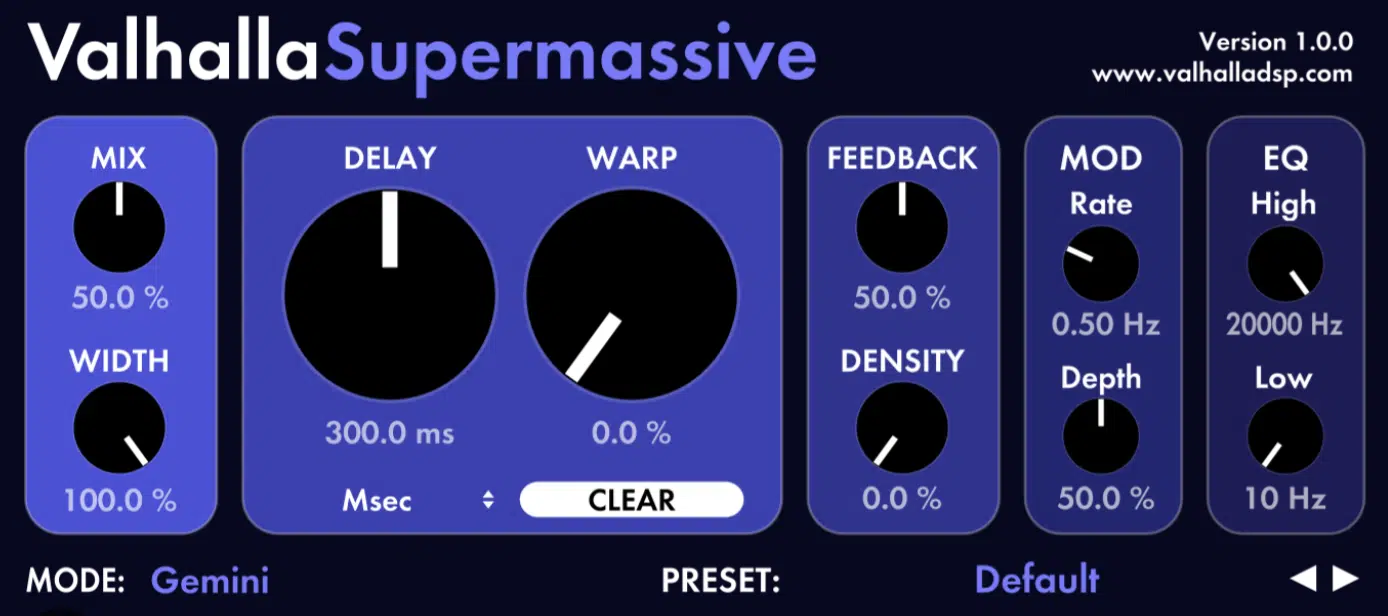 Valhalla Supermassive is a revolutionary VST plugin designed for massive delays and reverbs.
This free tool can create luscious clouds of reverb, otherworldly delays, and swelling waves of feedback that redefine soundscapes.
It is the perfect tool for creating rich, textural layers in your mixes or for adding space and depth to any track.
One of the key features of the Valhalla Supermassive is its 18 reverb/delay modes.
Each mode is uniquely characterized 一 allowing for a broad range of sound and style options.
With modes like Gemini, Hydra, and Centaurus (offering different attack times, decay lengths, and echo densities) you can dial in the perfect sound for your project.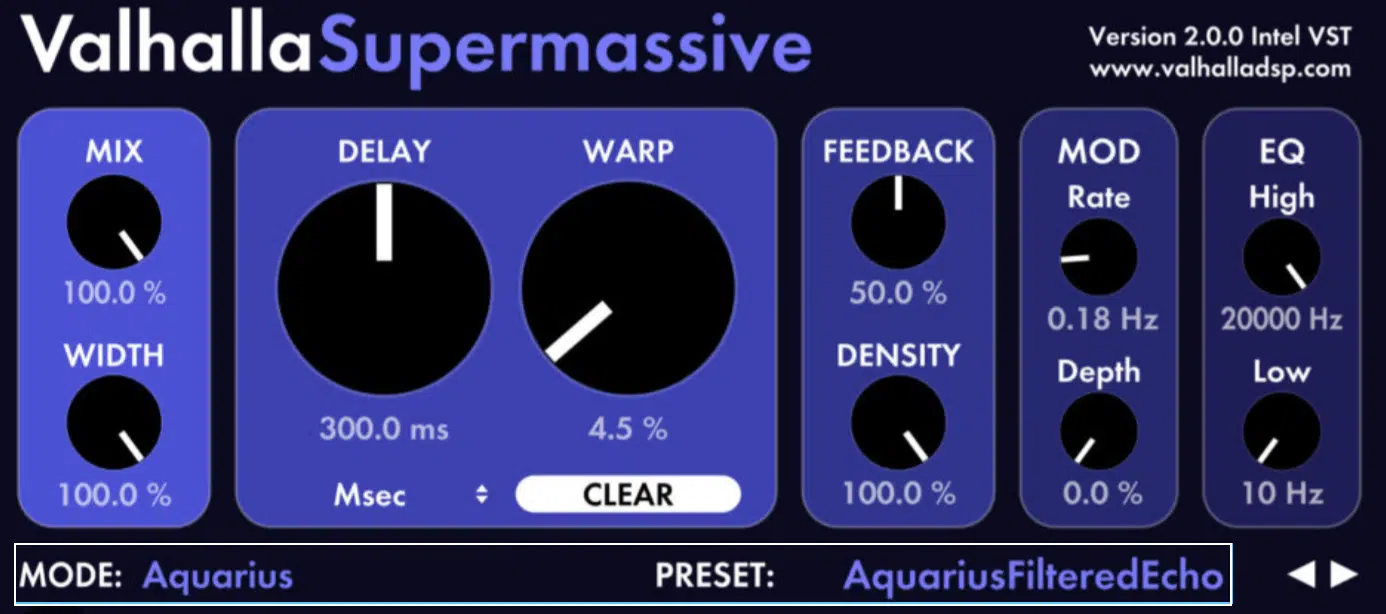 Additionally, Valhalla Supermassive offers more than just a collection of reverbs and delays.
It also comes with a slew of different algorithms, each tailored to create unique sonic characteristics.
From Cassiopeia's low echo density that quickly builds into lush reverbs, to Aquarius's strong, audible echo that morphs into a lush reverb with higher density settings, Supermassive delivers a broad palette of creative options.
NOTE: All the parameters in the Valhalla Supermassive are self-documenting.
Simply roll over the controls for tooltips that provide a helpful explanation of each feature.
This way, both beginners and professionals can fully explore and utilize the capabilities of this powerful plugin.
The Valhalla Supermassive is an exceptional tool for creating intricate, lush, and unique sonic landscapes.
It's not just a free plugin, it's a creative instrument in its own right.
Standout Features:

Offers massive reverbs and delays for a unique sound
Features 18 distinct reverb/delay modes for versatile sound options
Algorithms that create diverse sonic characteristics
Self-documenting parameters for ease of use
Completely free download, offering unparalleled value
A creative instrument capable of creating intricate soundscapes
#11. Saturation Knob by Softube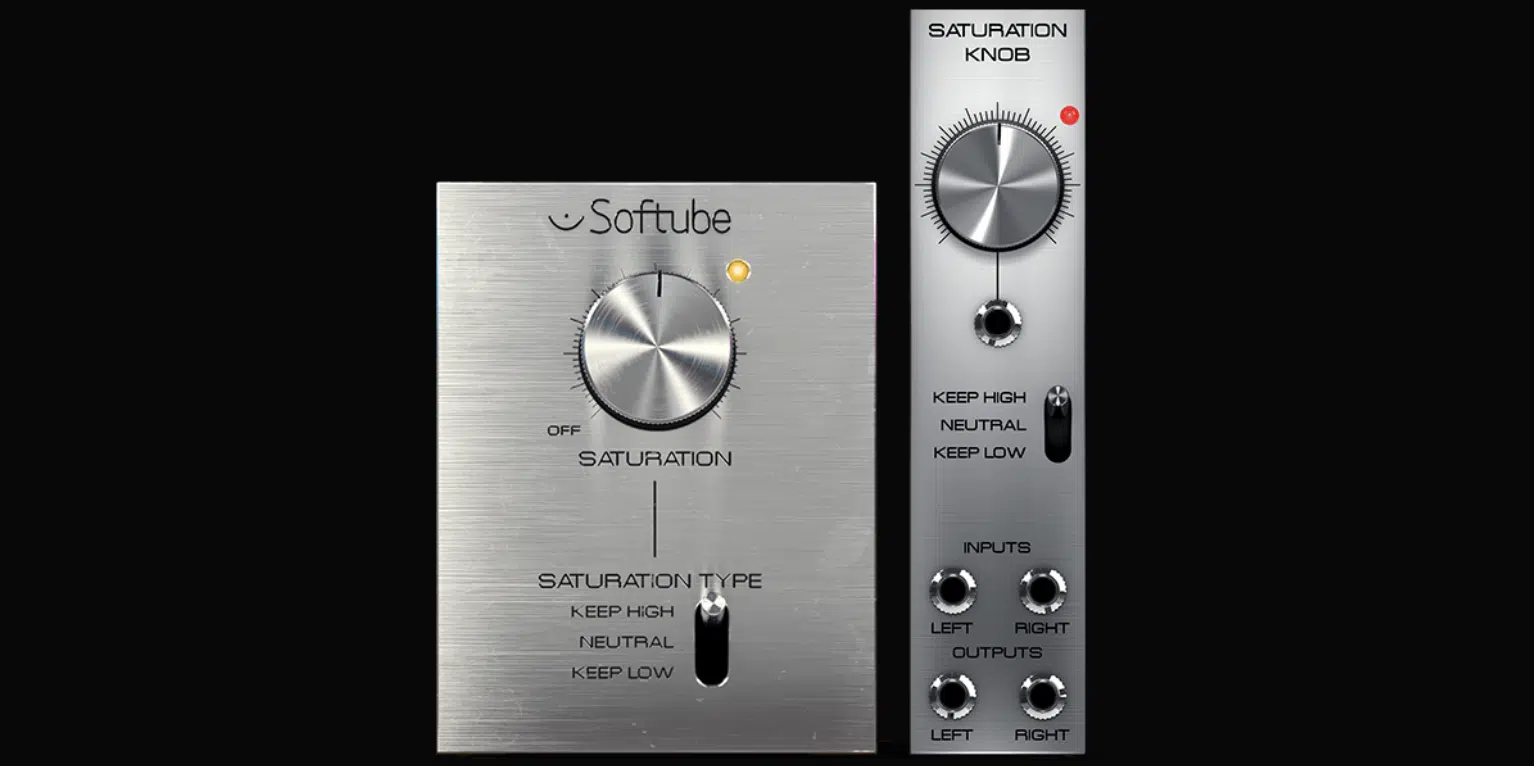 Saturation Knob by Softube is a highly versatile and unique tool that emulates output distortion.
This free VST plugin can be implemented wherever you desire a touch of grit.
From adding depth and richness to bass lines, bestowing harmonics and shimmer to vocals, to transforming your drum loop into a hard-hitting beat 一 Saturation Knob proves to be a useful asset.
This VST comes with 3 versions:
The native plug-in
Saturation Knob for Modular
Saturation Knob for Amp Room
The Saturation Knob also provides three distinct modes of distortion character: Keep High, Neutral, and Keep Low.
Each mode is designed to provide a different aspect of distortion, adding flexibility and variety to your sound engineering arsenal.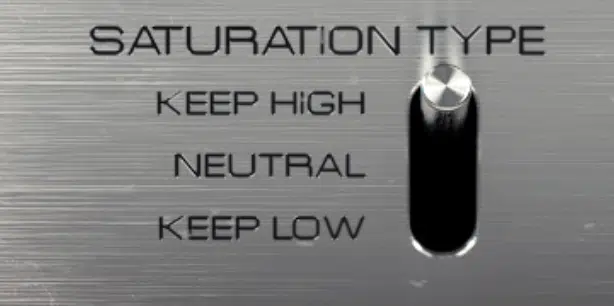 The 'Keep High' mode 一 Designed to offer more distortion at the low end while maintaining the purity of the high frequencies.
This makes it perfect for enhancing the crispness and clarity of your high-end sounds while adding a warm, full-bodied distortion to the lower frequencies.
This mode can add richness and complexity to instruments like guitars and keyboards, which often benefit from preserving the clarity in their higher registers.
The 'Neutral' mode 一 Doesn't favor any particular frequency range. It applies the same amount of distortion across all frequencies.
This mode is ideal for creating a more even, consistent saturation effect across your track, great for adding harmonic complexity and a little 'grit' to an entire mix (or sub-mix).
The 'Keep Low' mode 一 Allows the lower frequencies to remain relatively intact while introducing more distortion to the higher end.
This mode is particularly useful when you want to maintain the solidity and weight of your bass and kick drums, but add a bit of crunch and texture to your higher percussion and instruments.

Furthermore, the Saturation Knob for Modular is an incredible tool for creating sensational synth sounds.
You can virtually patch it to modules from Doepfer, Buchla, Intellijel, and more, allowing you to explore a new realm of sonic possibilities.
On the other hand, the Saturation Knob for Amp Room is fun to use and works perfectly in combination with:
Other studio effects
Classic amps
Cabs
Pedals
It enables you to easily create studio-quality, record-ready tones.
Finally, the Saturation Knob also supports extended features, enhancing its overall usability and flexibility.
Free VST plugins rarely offer as much flexibility or versatility, so make sure to check it out.
Standout Features: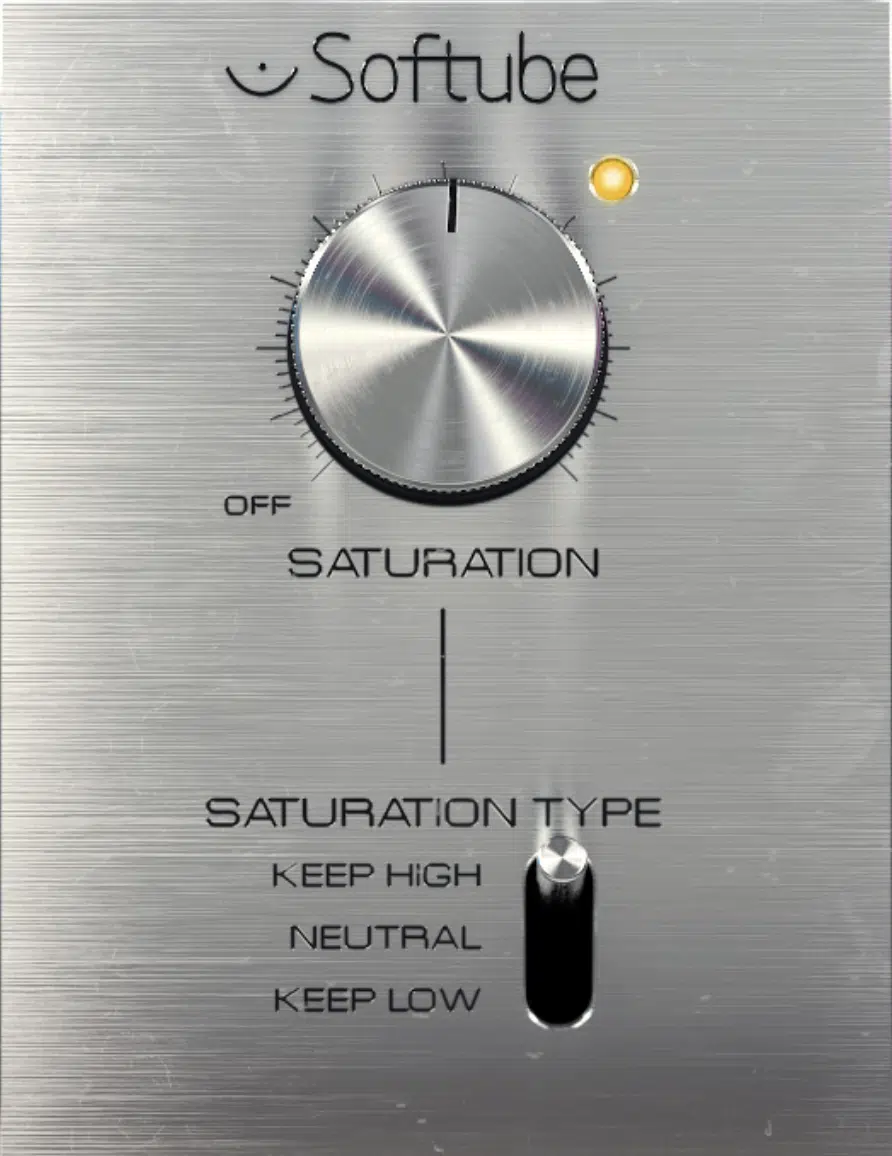 Modeled output distortion VST for grit and harmonic complexity
Three distinct modes of distortion character: Keep High, Neutral, and Keep Low
Three versions included: native plug-in, Saturation Knob for Modular, and Saturation Knob for Amp Room
Virtual patching to modules from Doepfer, Buchla, Intellijel, etc. (Modular version)
Combinations with other studio effects, classic amps, cabs, and pedals (Amp Room version)
Support for extended features for enhanced usability and flexibility.
#12. Dexed by Digital Suburban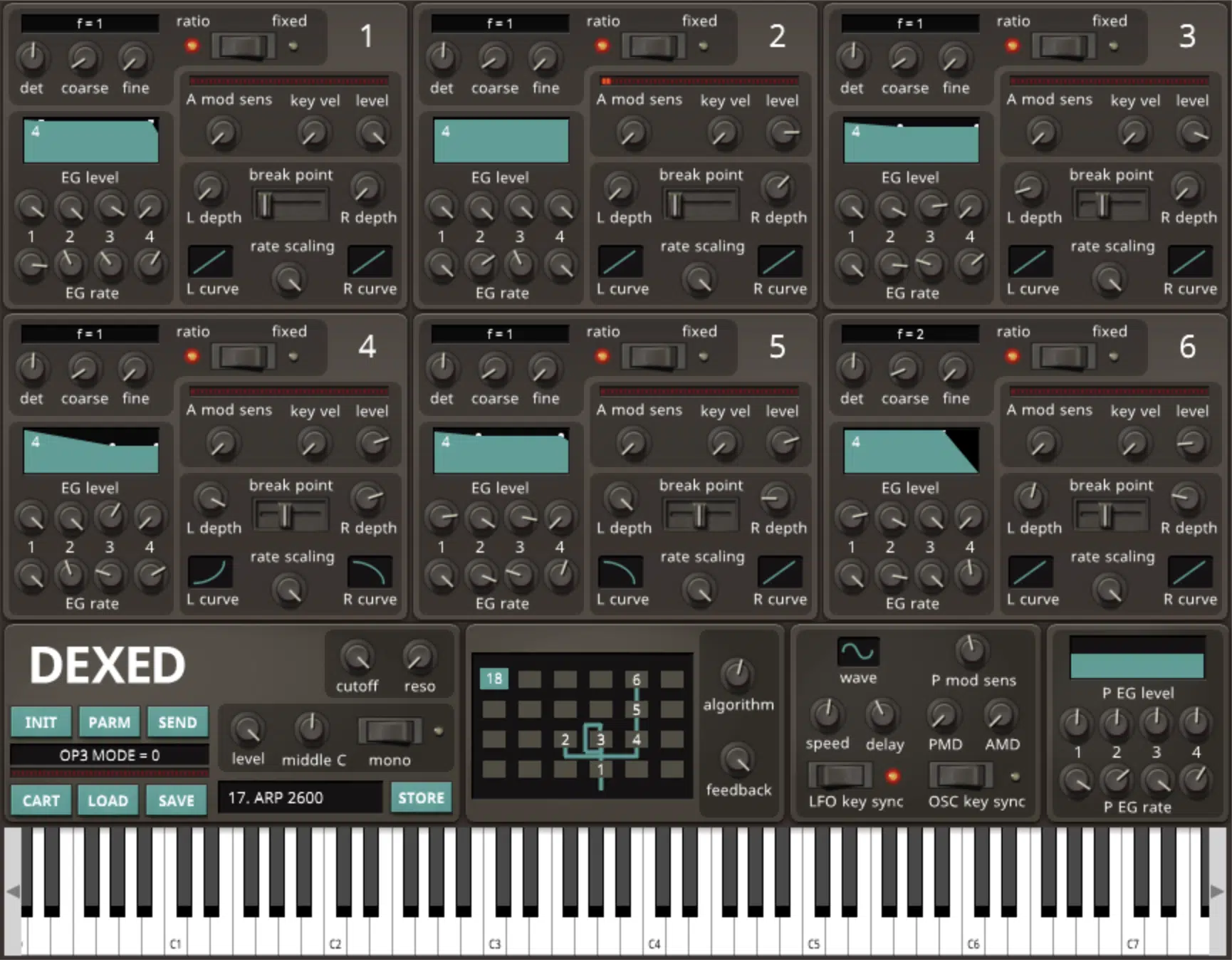 Dexed is an FM synth closely modeled on the legendary Yamaha DX7.
The goal of this project is to serve as a tool and companion for the original DX7.
This software maintains compatibility with the original machine 一 making it an ideal tool for those who want to work with the distinctive DX7 sound.
The multi-platform, multi-format synth comes with a range of features designed to maximize your creative freedom.
Dexed boasts 144 DAW automatable DX7 parameters available from a single panel and supports DX7 input and output Sysex messages.
Therefore, it's a perfect patch editor for native DX7/TX7 users.
The standout feature of Dexed is its sound engine, which meticulously replicates the original DX7 characteristics.
This software provides bass heaven, giving you access to eight hundred bazillion patches for the synth, which can be tweaked to perfection.
Essentially, Dexed is an exact digital replica of the renowned DX7, and other free VST plugins just can't compare in that arena.
It offers unparalleled accuracy and ease of use in creating those iconic mid-80s bass sounds.
Seriously, you won't even believe your ears, especially since it's a free VST plugin.
Standout Features: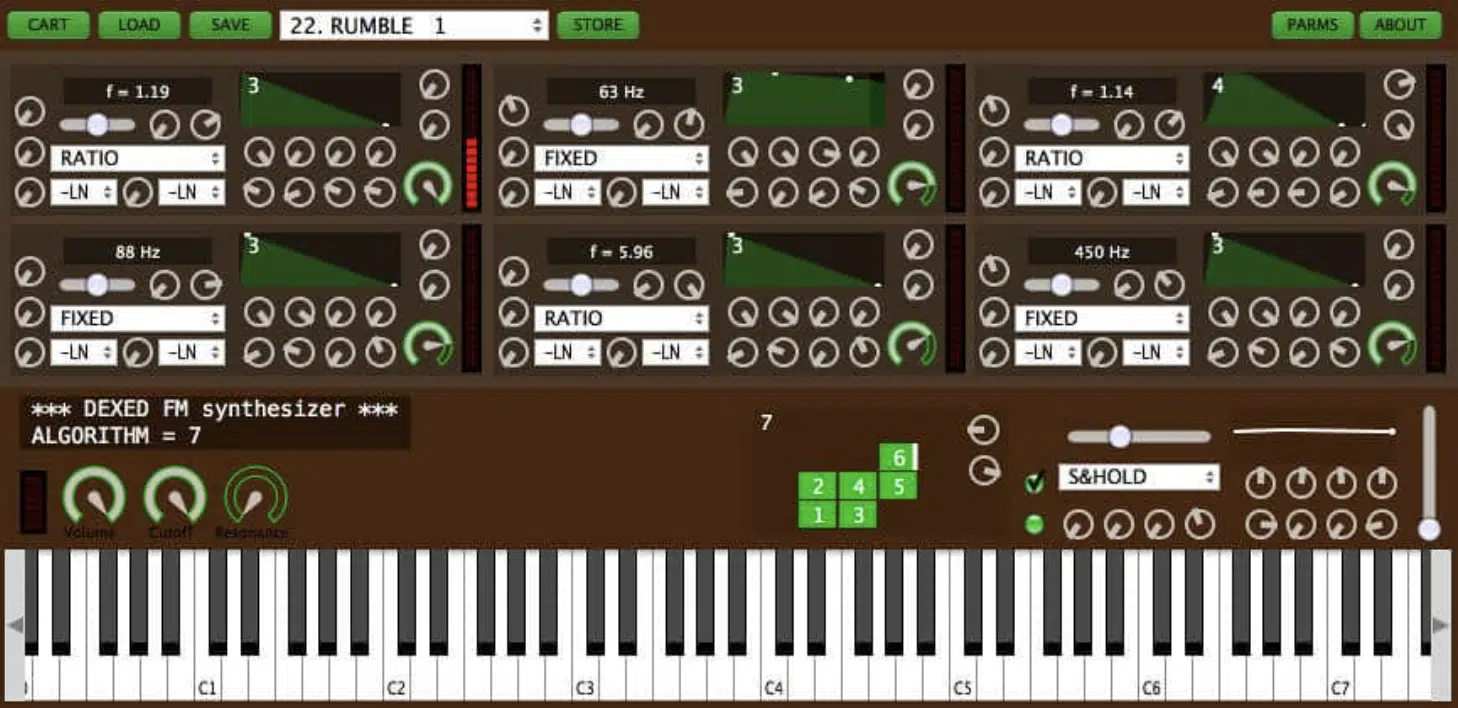 Closely modeled on the Yamaha DX7
Multi-platform and multi-format for wide usability
144 DAW automatable DX7 parameters from a single panel
Fully supports DX7 input and output Sysex messages
Exact digital replica of the DX7 for unparalleled accuracy in creating iconic sounds
#13. Pendulate by Newfangled Audio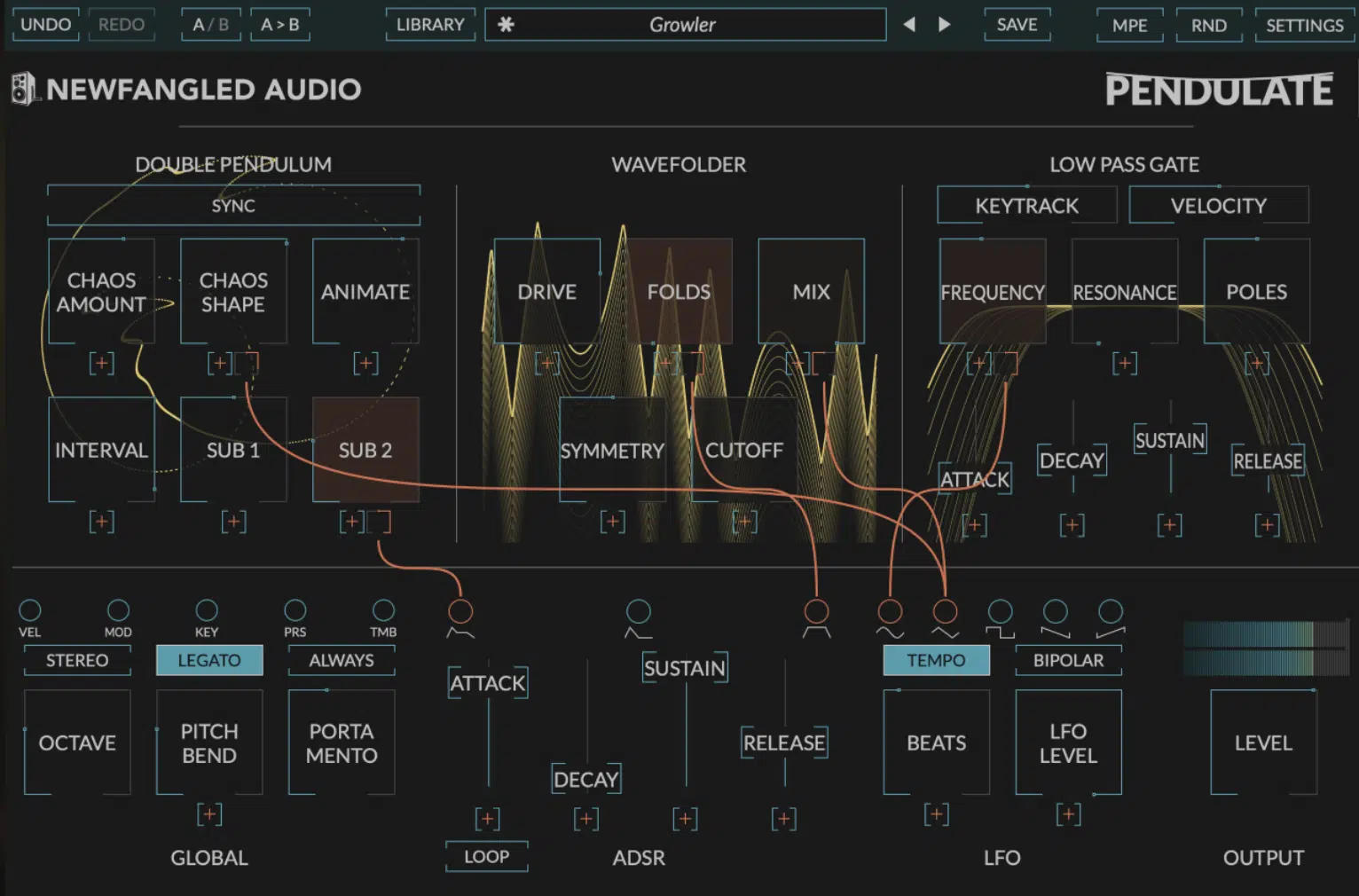 If you're looking to break the monotony of common synth sounds, Newfangled Audio's Pendulate is your go-to VST plugin.
This chaotic mono-synth utilizes a double-pendulum oscillator to craft sounds 一 ranging from biting basses and soaring leads, to gritty textures.
Its standout feature, which most other free VST plugins don't offer, is the ability to smoothly transition from a simple sine wave to absolute chaos, which provides an expanse of sonic territory to explore.
Pendulate is furnished with:

A wavefolder 一 Based on the Buchla 259 Complex Waveform Generator
A low-pass gate 一 Based on the Buchla 292
Double pendulum
It offers an innovative modulation UI that enables modulation over every control from the main page, allowing up to 169 simultaneous modulation routings.
This feature (coupled with MPE support and animations for each module) offers a dynamic, intuitive, and visually engaging workflow.
Moreover, Pendulate features a new preset librarian and a true A/B comparison function for better mixing decisions.
It also allows you to save your settings as default with its 'SET AS DEFAULT' button.
With a collection of 136 presets (including ones from artists Matt Lange & Matthew Wang) and the ability to categorize, tag, describe, add artist links, and search presets, Pendulate is all-encompassing.
Unlike other free VST plugins, or other free plugins in general, you'll get quality sound and your digital audio workstation will thank you.
Standout Features: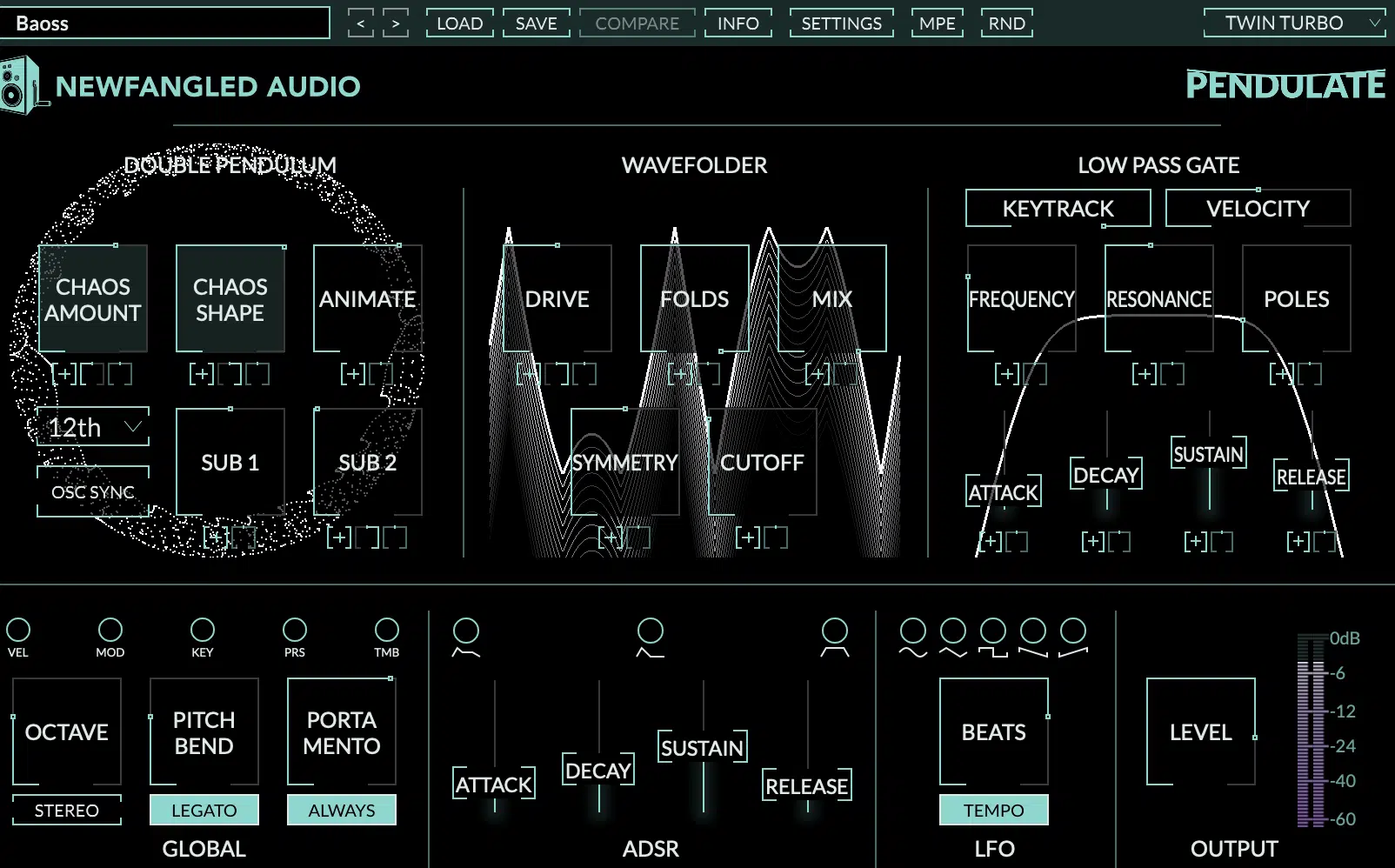 Chaotic mono-synth with a novel double-pendulum oscillator for unique sound creation
Wavefolder based on the Buchla 259 Complex Waveform Generator and Low Pass Gate based on the Buchla 292 for added sonic potential
Advanced modulation UI for granular control over every parameter
MPE support for efficient control with innovative new controllers
Animations for each module for a more engaging workflow
True A/B comparison for informed mixing decisions
'SET AS DEFAULT' feature for easy recall of preferred settings (unlike other top free plugins)
Comprehensive preset librarian with various features including Categories, Tags, Descriptions, Artist links, Favorites, and Search.
Free VST Plugins: Final Thoughts
Whether you're a seasoned music producer or an amateur trying to dip your toes into the vast ocean of sound design, this guide has hopefully given you new tools to explore.
The world of VST plugins is rich and varied, and the ones we've covered here today are the best of the best.
However, these thirteen selections represent some of the best free VST plugins available in 2023.
They showcase a wide array of functionalities 一 from comprehensive bundles and intricate synthesizers to unique sound effects and technical spectrum analyzers.
While the quality and capabilities of these plugins are undoubtedly impressive, what's more important is how you make use of them in your productions.
After all, the artistry is not just in the tool but in the hands of the person using it.
Each plugin has a unique characteristic that can become an essential part of your music production process.
As well as bring your creative ideas to life in ways you might not have imagined before.
Remember, the best way to understand these plugins is to experiment with them.
So go ahead, explore their capabilities, play around with their settings, and most importantly, have FUN with them.
Until next time…