Without amazing VST effects plugins, a great song can be perceived as basic, lackluster, and even unprofessional.
They help to instantly capture the attention of your listeners and can help you stand out from the crowd in a big way.
As well as give you that unique edge you're looking for.
But not just any VST effects plugins, as some can actually be detrimental more than helpful.
That's why, today, we're going over the very best VST effects plugins around.
They are guaranteed to help breathe life into your songs and make them ready to upload anywhere. 
We'll be discussing the best VST effects in the following categories:
REVERB
DELAY
DISTORTION/SATURATION
MODULATION-(TIME) BASED (CHORUS, FLANGERS, PHASERS)
CREATIVE (ALL AROUND)
Similar to our Top VST Synths article, we're including both analog & digital varieties for each category.
Each VST effect plugin mentioned was carefully chosen and has a wide range of sub-types, as opposed to just one specialty.
Meaning, they encompass the entire range of their specific category.
Plus, offer additional algorithms that you may not have ever seen, heard, or thought of before.
All while being fully customizable, and able to transform your initial piece into something completely unrecognizable. 
With the right preset selection and a few, minor parameter adjustments, of course.
In this article, when you see one of the best VST effects plugins referenced as 'digital-based,' that simply means it's a more modern implementation.
As opposed to just an emulation that strictly stays within the bounds of the original hardware gear.
Meaning, you'll have absolutely no limits, and can go as crazy as you'd like… which, we all know, is half the fun.
NOTE: All plugins mentioned also come in the AU/AXX variety.
So, if you're a mac-user, use DAWs that don't support the VST format, or are working exclusively in Protools, you won't be left out in any way.
WHAT IS A VST?
A Virtual Studio Technology (VST) is an audio plug-in software interface that integrates software synthesizers and effects units into digital audio workstations.
It uses digital signal processing, originally meant to simulate traditional recording studio hardware in software form.
Since then, it has evolved into a thriving market comprised of developers determined to create algorithms no hardware unit could ever replicate.
They have certainly succeeded in implementing code that breaks new ground.
Such advancements have been made and combined to create, for example, a wavetable from a JPEG image.
Or, in the case of effects, such as an impulse response reverb unit, samples are used to recreate and possess the ambiance of the space it was recorded in.
Most DAWs come with some built-in capabilities to add effects and fine-tune your mix.
And over the years, DAWs have integrated better, fully-featured stock processors. 

However, the best VST effects plugins allow you to take it to the next level.
Any type of effect imaginable that can be applied to an audio track in the digital domain is always accomplished through the use of Virtual Studio Technology, AU/AXX, or stock effects plugins.
Which are coded in the DAWs native format.
You can add a simple reverb, or even a chorus to your synth in order to replicate the sounds of the 80s in a synthwave track, for instance.
Whatever the goal, one thing is for sure… the best VST effects plugins are the only way to accomplish your goals with professional precision!
NOTE: This article covers VST effects plugins of the Additive variety.
Meaning, anything that's not an instrument, synth, or sound generation source (compressors, limiters, EQs, multiband processors, etc.) is used to assist the mix and master. 
This will help get your music up to commercial standards.
But this article isn't just about making your music professional, it's about making it stand out above the crowd. To truly pop.
So, now that you're familiar with what VST plugins actually are, let's dive in.
1. THE BEST DIGITAL REVERB VST EFFECTS PLUGIN: WAVES H-REVERB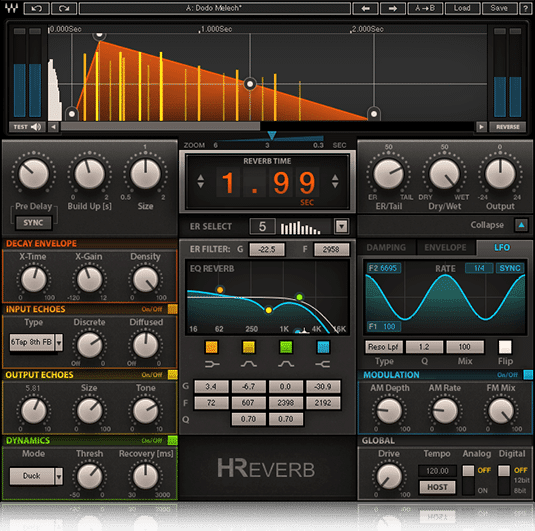 Now, if you're familiar with the Waves catalog, you may be scratching your head at our choice of the best digital reverb VST effects plugin.
The H-Series (as a whole) is a hybrid combination of the best that analog and digital have to offer.
It is modeled after and draws inspiration from many different, elite units of analog hardware.
However, the H-Reverb is a slightly different story.
Developers will usually just add an extra feature here and there, but ultimately stay true to the unit it's modeled after.
Other than minor parameter additions, such as a mix knob, adjustable noise, and control over the (highly-desirable) analog imperfections.
The H-Reverb on the other hand is very rare, in that its signal path is designed to sound uniquely analog while containing a digital foundation (in a good way).
This VST effects plugin is the only 1 in the H-Series that is equipped with functionality traditionally unique to synthesizers.
It's not only equipped with traditional modulation capabilities but has FM/AM modulation onboard as well.
Meaning, you're able to:
Take a source such as an LFO 

and modulate it to a specific destination (pitch, volume) to create a vibrato or tremolo.

Modulate the reverb with its own output/input, which is

super rare

for a reverb to have available.
… and that's barely scratching the surface!
There are some (exclusively) analog-inspired aspects sprinkled throughout its massive feature set too, of course.
Such as Waves' renowned analog modeling technology, and all the functions/features that come with it. 
NOTE: This unique design also enables input drive, which is a professional technique favored by many top engineers. 
Until recently, this kind of technology was only found exclusively in high-end hardware reverb devices. 
However, the form factor, the way it operates, its extensive parameters, and, needless to say, the way it sounds is all super cutting-edge.
Providing you with malleable, unbelievably rich, dense reverb-tails that add incredible dimension to your tracks.
This VST effects plugin offers extensive modulation and manipulation that you'd be hard-pressed to find in any other reverb of its kind (regardless of the price).
All of this is accomplished in true Waves fashion: without muddying up your mix.
If you set your mix up correctly and methodically, of course.
Plus, boundless creative control:
Resonant filter sweeps for creating innovative reverb effects
EQ and dynamics module for compression, ducking, and de-essing
ADA analog modeling and drive control
Artist presets from top mixing engineers
Full control over the buildups' Timing and shape
Pre-delay BPM sync
Support for full 5.1 channel surround setups
Quick reference button
User-friendly GUI (with collapsable version)
A 'long' version for extremely long tails (however, at the expense of additional CPU)
A 'light' version is available if you can't afford to waste any additional CPU.
Aside from its many features, including modulation which borders on synthesis, its visual aspect is superior as well.
It doesn't just show the structure and shape of the reverb you've created, but also allows you to click, drag, and edit in order to visually see how you're molding/shaping it.
Which is extremely beneficial and can help you get more intimate with your reverb.
You aren't forced to fiddle around with any parameters if you find a preset you like; simply tweak to your heart's content.
However, you may be pleasantly surprised to find how well (and universally applicable) these presets were designed.
By fusing classic reverb concepts with forward-thinking features that break new ground in digital reverb processing, this VST effects plugin provides uncompromising sound quality.
2. BEST ANALOG REVERB VST EFFECTS PLUGIN: VALHALLA VINTAGEVERB

Valhalla VintageVerb is a postmodern reverb plugin, inspired by the classic digital reverbs of the 1970's and '80s.
Due to its price, unmatched sound quality, and monster capabilities, we've chosen it to be the top VST effects plugin in this category.
Almost all analog-modeled (or inspired) VST effects plugins specialize in 1 type of reverb.
This is fine for those who can afford to shell out money for every sub-type and flavor…
However, when it comes to VintageVerb, it offers a wide range of algorithms all in one place.
So you're not limited in any way and aren't forced to break the bank in the process.
This includes:
Concert Hall 一

Huge spatial image, adjustable echo density, and lush chorusing modulation.

Bright Hall 一

Similar to the concert hall, but with a brighter (initial) sound, and deeper, more lush modulation.

Plate 一

Highly diffuse, bright initial sound, high echo density, lush chorused modulation.

Room 一

Medium diffusion/early echo density. Somewhat darker sound, and chorused modulation.

Random Space 一

Generates deep and wide reverbs, with a slow attack, and more diffusion than in the late '80s. The modulation uses internal delay randomization in order to reduce metallic artifacts, without the pitch change that can occur in traditional chorused-modulation algorithms.

Chorus Space 一

Similar to random space, but the delay randomization is replaced by lush chorused modulation.

Ambience

一 Combines time varying randomized early reflections with a full-featured reverb tail; controlled by the Attack knob. 
NOTE: The Ambience algorithm is useful for adding 'air' to drums, vocals, and any other place reverb should be felt, not heard.
The package includes advanced features and various power tools, so the characteristics of each algorithm (above) is really just a starting point.
You can adjust them however you see fit, as they are fully malleable and customizable to suit your needs and visions.
Through these, producers, beatmakers, and sound designers can create with ease.
This VST effects plugin also features modeling of 19 classic digital reverb units, as well as 3 different color modes that can be applied to any algorithm.
They were inspired by only the most favored aspects, of the most beloved analog hardware; blending aspects of all different units as if they belong to different eras.
1970s 一

Replicates the reduced bandwidth of the earliest digital reverberators (10 kHz maximum output frequency). Downsampled internally to reproduce artifacts running at a lower sampling rate. The modulation is dark and noisy. It can intentionally produce strange, random sidebands with sustained notes.

1980s 一

 Full bandwidth/sampling rate, for a brighter sound. The modulation is still dark and noisy, but it produces different artifacts than the 70's mode.

NOW 一

Full bandwidth/sampling rate. Modulation is clean and colorless, as opposed to the funky artifacts of the 1970s/1980s modes.
Aside from its breathtaking sound and vast features, the level of user-friendliness is unmatched.
You won't have to sacrifice any complexity/functionality, and it won't make your head spin in the process… which, I'm sure you know, is super difficult to pull off.
I recommend you throw it in your session and set the general settings.
Once you're satisfied, switch through its various algorithms and listen to its sonic range. 
This is superior to flipping through the presets, as you're able to hear each algorithm in the form you plan to apply it.
I guarantee you'll fall in love with this reverb VST effects plugin almost immediately… like the rest of the professional audio community has.
3. BEST DIGITAL DELAY VST EFFECTS PLUGIN: FABFILTER TIMELESS 3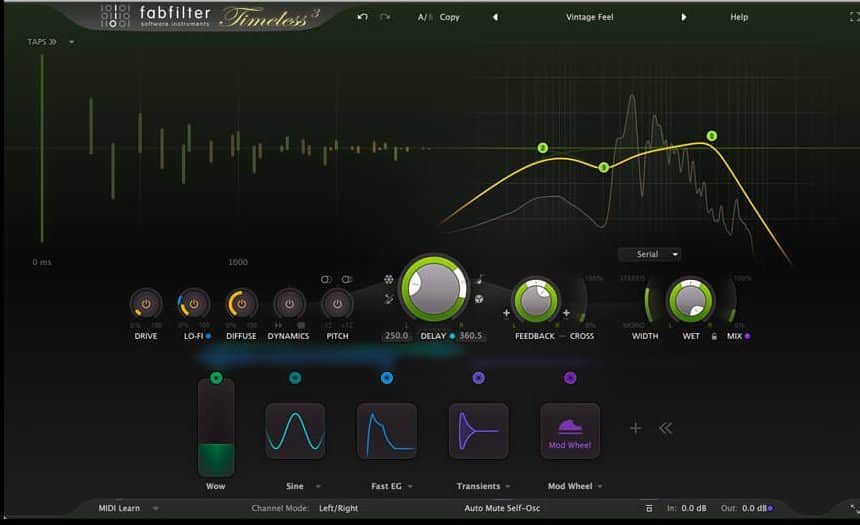 Fabfilter Timeless 3 is one of the most versatile, modern delays available on the market today.
With each update continually upping the ante. 
As the name implies, it draws inspiration from the sound of vintage hardware delays.
This VST effects plugin has super unique effects and filters.
As well as extensive customization options available to create personalized delay tap patterns.
Plus unlimited modulation options, which allow you to easily transform it into the ultimate sound-mangling machine. 
With this VST effects plugin, you can instantly sculpt and create unique sounds (that differ wildly from the original preset) with ease. 
Its interface is clearly laid out, so producing pleasing tape echo sounds is not only simple but super fun as well.
Not to mention, the vast array of delay types (algorithms) will blow you away, regardless of skill level or status.

This is the VST effects plugin that can take the heat, so push the boundaries all you want!
Paired with its MID/SIDE capabilities, the sonic range that can be achieved through this VST effects plugin is staggering, to say the least.
Since its humble beginnings, FabFilter entered the plugin game geared towards audio professionals in the music industry.
However, this specific VST effects plugin doesn't discriminate.
It has quickly risen to 'favorite' status throughout the audiovisual, TV, film, and gaming world as well.
FabFilter is synonymous with excellence in every product they release.
There are also plenty of visual aids to help you see what you're hearing, such as:
Pulsating delay tap lines
The filter section spectrograph
Drag & Drop MOD Matrix
Available destinations for just about every parameter imaginable
Visual feedback for all modulation that's occurring (in real-time)
Part of Timeless 3's appeal is the playability provided by its visual feedback.
This allows an unexpected, overwhelming result/output to be logically broken down, once you know exactly what you're looking at.
So, even if you're a professional, it's smart to always refer to the manual because this VST effects plugin is way too unique to grasp everything (entirely) without it.
Truth be told, even if Timeless 3 were to limit itself to just 1 algorithm, it would still blow the competition out of the water.
Plus, like many of the other VST effects plugins mentioned, it can double as a 'creative' effect in many aspects.
For example, when it comes to delays of the 'tap' variety, there are two display modes:
The default 一

shows the two delay lines (left/right or mid/side) over multiple repeats.

The second 一

allows tap-editing within the time division; whether it's tempo sync or milliseconds.
In default mode, you're able to drag the tap bars horizontally, in order to adjust delay offset (50-200%) and vertically to alter feedback.
You can also place taps, set levels, and pan as much as you'd like.
This may seem like overkill but, let's be honest… 
Even though Tap delays are not only some of the coolest-sounding delay types, they're notoriously difficult to leverage.
So, full customization is super beneficial, as long as you have a general idea of what you want the outcome to sound like.
Even if you don't have an idea, or you find that too 'hands-on,' there is a menu of factory tap patterns available as well.
Giving you the ability to save custom patterns as well, separate from the preset in use.
The overlaid, user-adjustable filter curve(s) and spectrograph provide precise tonal shaping, as well as a source of visual feedback.
Meaning the results can be random but, when desired, premeditated manipulation and further tweaking are simple.
6 filter points are available, which can each make all major EQ shapes with bandwidth, resonance behavior, and pan-position parameters.
With Timeless 3's modulation section, there is really nothing you can't do.
Modulation-sources included:
Custom/user-definable LFO, Slider, and XY controls
Envelope follower (which dynamically changes based on the input signal)
Envelope Generator
MIDI input
Scaling and modulation options (obtaining data from its internal parameters' input & output signals)
Upon first glance of its feature-set, so much range is available that it may seem a tad overwhelming.
However, its clean interface keeps things concise and tidy.
The undo/redo & A/B comparison options don't hurt either!
Even if you've got a ton of modulation and echo plugins, this VST effects plugin should not be overlooked, as it offers premium results that no other delay VST effects plugin can.
4. BEST ANALOG DELAY VST EFFECTS PLUGIN: ECHOBOY BY SOUND TOYS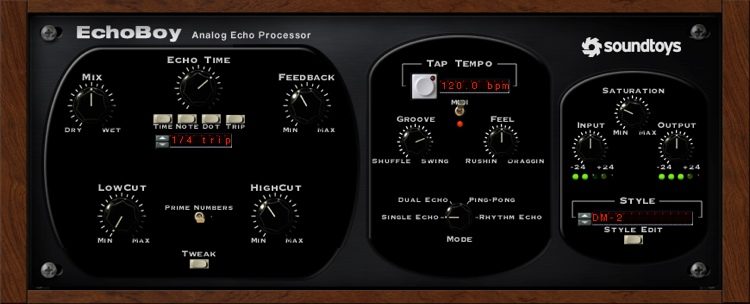 EchoBoy by SoundToys exclusively models hardware delay units 一 analog and digital alike 一 separating it from those that are solely modeled after analog hardware.
This includes rare, and even obscure units you may have never heard of before.
Along with a few modeled off of units with custom modifications implemented personally by the SoundToys crew themselves.
As you probably already know, when it comes to unique, vintage-based (or inspired) plugins, SoundToys is elite; and EchoBoy is another perfect example.
You'll have access to the widest range of classic echo box tones that a VST effects plugin of its kind has to offer.
Just to name a few, you have:
EchoPlex
Space Echo
Memory Man
DM-2
TelRay (oil can delay)
Don't be fooled by the name, however, because even though it's called EchoBoy, this delay plugin also dives into the world of various time-based effects as well.
Including, but not limited to a chorus that emulates the CE-1; which is considered to be the Holy Grail of guitar chorus pedals.
This VST effects plugin offers a range of sounds that far exceed standard delays.
The best part is, it sounds great even when you push it super hard.
With such accuracy that even Dave Pensado might be fooled into thinking you're using the best hardware analog gear around.
However, unlike the limits reminiscent of vintage hardware delay units (and most delay plugins), you're able to swap different models once you have the general outline down.
This will produce a different tonality and emulate the intricacies of each specific model and how it dynamically responds to the input.
Which drastically changes the sound that retains the same exact settings.
All with a flip of a switch!
The true magic happens when you fine-tune your echo's rhythm with the Groove, Feel, and Accent controls.
You can instantly create echoes that rush or drag against the beat, and add shuffle/swing to match the groove of your song.
It is considered to be the only delay effect plugin that gives you this level of groove control. 
Also, it enables you to adjust and modulate the pitch of each individual feedback loop as well, if desired.
Which makes it one of, if not the most musical delays on the market at the time of this writing. Truly one of a kind.
Soundtoys scaled-down version EchoBoy Jr. was even awarded NAMM's 33rd Annual Technical Excellence & Creativity (TEC) Award in the category of Signal Processing Software (Effects).
However, if you're bored with conventional delay effects, switch EchoBoy to Rhythm Echo mode.

This will give you an entirely new experience, and allow you to select the rhythmic timing of up to 16 repeats.
More than 30 different echo styles
High-end tape sound, modeled from multiple units; including the Ampex ATR-102
Ultimate saturation, tape flutter, and diffusion control (produces strikingly analog-sounding effects)
Dual and Ping-Pong modes
True 'Swing' and 'Groove' control/functionality
Rhythm Echo mode
SoundToys also makes one of the most popular and unique-sounding vocal VST effects plugins used across all genres, Alterboy, which we go over in-depth, here. 
EchoBoy is capable of virtually every conceivable type of audio delay effect thanks to its imaginative and musical design.
As well as its super-comprehensive list of parameters and functions, and completely editable Style section.
To put it simply: this VST effects plugin absolutely rocks!
5. BEST DIGITAL DISTORTION/SATURATION VST EFFECTS PLUGIN: TRASH 2 BY iZOTOPE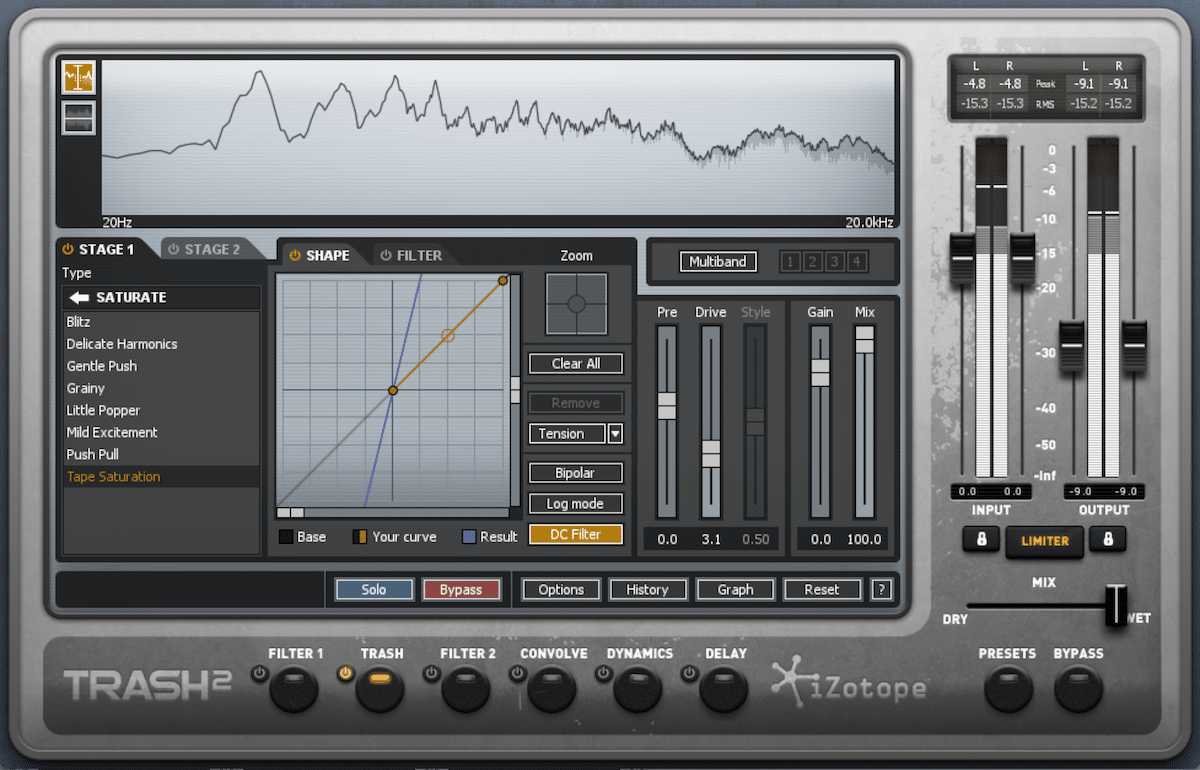 Trash 2 by iZotope is undoubtedly one of the most creative distortion effects plugins ever made.
Its multi-band, dual-stage distortions, advanced (pre and post) filtering, and Effects modules enable immediate sonic transformation.
Extending way beyond the scope of any distortion you've ever encountered; both technically and sonically.
You're able to get as crazy and creative as you'd like, with no limitations.
This is a desert island VST effects plugin that provides the best analog and digital implementations in the business, hands down.
It is also the only one that generates so much 'trash'… Pun definitely intended.
Similar to the original version, the chain and signal flow from module to module are user-adjustable (via the Graph page).
However, Trash 2's two main filters (that function more on the order of an EQ are now identical and include modulation capabilities.
They're both parametric and include 6 bands with over 20 filter-types to choose from (per band); including 2 vowel shapes. 
Mind you, this is in addition to the high/low shelving output filter.
Therefore, seven distortion algorithm categories are now available:
Distort
Drive
Faulty
Fuzz
Heavy
Retro
Saturate
Trash 2's most significant new feature is the waveshaping window, which enables fully-customizable distortion curves.
You can see the current 'base' algorithm (red), and apply your own multi-point modification curve (yellow). 
The resulting waveshaping curve is then displayed in blue.
The original Box Model convolution module has been renamed to 'Convolve.'
Trash 2's cabinet is now handled in the Convolve module. 
You can treat it using the same concept as a traditional convolution reverb, just applied to distortion instead.
In addition to reverb functionality that, aside from the signal, can be exclusively applied to the distortions' output (WET) signal independently.
Also, it now includes 50 new impulse responses and 3 microphone types:
You're even able to load your own IRs into it, thanks to the integration of standard WAV & AIFF files.
When it comes to this VST effects plugin's broad set of distortion presets, Trash 2 is unmatched.
Also, the array of distortion algorithms available is not only vast but gives you complete control over the levels (input gain and drive) and even the wave itself.
The algorithms available in Trash 2's Dynamics section are taken straight from the modules found in iZotope's Ozone.
These include:
The Sidechain Detection Filter 一

With low- and high-pass settings. Use this to tailor the compressor response.

Upward Compression Ratios 一

Less than 1:1. Available to both the gate & compressor. Use this to expand, and compress signals that are passing the threshold.
Additionally, you're able to grab the graph nodes now.
Meaning, you can customize the curve and adjust your compressions' 'knee,' which directly influences the way in which the effect is applied.
This is super beneficial because, with this new feature, you can adjust the gate and compressor thresholds and ratios.
Whether you want to completely destroy a sound, or just rough it up a little, this VST effects plugin has got your back, full force.
6. BEST ANALOG DISTORTION/SATURATION VST EFFECTS PLUGIN: DECAPITATOR BY SOUNDTOYS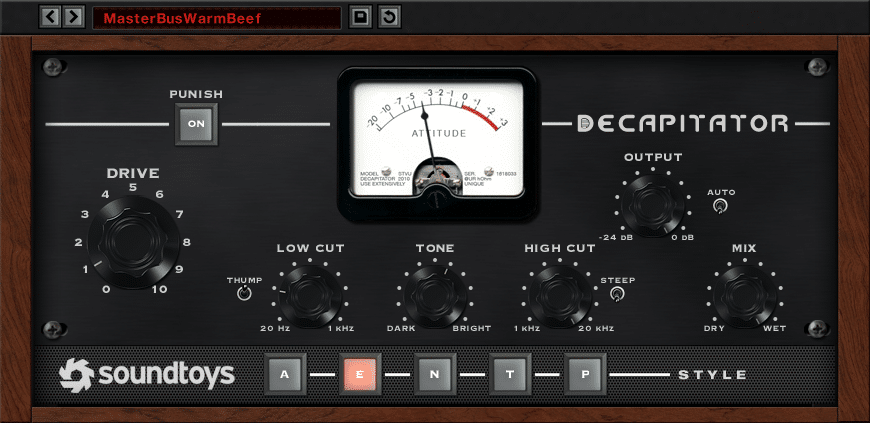 Decapitator by SoundToyz is unarguably the most respected analog-inspired VST effects plugin in the industry.
With five different analog saturation models to choose from, this VST effects plugin is perfect for adding character to any kind of track/instrument in your mixes.
There is also a Tone control that lets you shape the saturated sound.
The name itself validifies how powerful this VST effects plugin can be, as it's synonymous with flexibility and reliability (rightfully so).
Plus, unlike the other VST effects plugins on our list, its complexity on the backend doesn't reflect in its interface, which is super easy, simple, and user-friendly.
Its parameter-set may not seem like the most extensive, but whatever it lacks in quantity, it more than makes up for with quality.
With Decapitator, you're able to produce some beautiful, subtly-saturated sounds… 
But sometimes that's just not good enough.
Enter: the Punish button!
This button kicks in an extra boost of harmonics that simulate an extremely overdriven Input Gain.
Therefore, you're able to make it appear as if you're pushing it to the max, without actually having to (unnecessarily) drive the input too far.
It reacts just like great analog gear, which is to say, it screams in beautiful pain.
Try it out on vocals, drums, synths, or whatever needs to 'be punished.'
Did I mention the filter with its onboard 'thump' parameter, which:
Emulates Analog saturation 
Includes 5 different true-to-life emulations 
Has a dedicated tone control 
Comes equipped with HP/LP filters, with a unique 'Thump' parameter
This VST effect plugins' industry-professional consensus enables it to remain the best analog saturation plugin at this time (arguably of all time).
It will be extremely difficult to beat.
It's superior in warming up basses and producing richer melodic components. 
Plus, it's great on a mix bus to give your mix cohesion, fluidity, and shine. 
It can function as a 'set it and forget it' plugin while remaining absolutely unforgettable.
PRO TIP:
If you don't already know, the low-end and saturation is an unlikely duo. Some call this pair 'the catch 22,' and rightfully so.
When you want or need a low-end element (let's say an 808) to translate properly across playback devices, such as phones, it's usually super challenging.
Unless you have a dedicated subwoofer, of course.
This is because most speakers have difficulty outputting anything lower than 90Hz (on a good day).
Since most people do happen to listen on such playback devices, there is no way to accurately reproduce the low-end.
Meaning, the only true way to enhance an 808 without any bass is: 
Massive amounts of Saturation.
Now here is where the problem lies…
The more distortion you apply to allow the low-end element to shine, the more actual low-end gets lost in translation (catch 22, anyone?).
When you hear a massively dirty 'hum' even without hearing the low-end, you'll be able to pinpoint that the problem lies in the low-end immediately.
This is where Decapitator's Thump feature comes in.
It allows you to saturate the low-end without subtracting or taking anything away from it at all.
All of this information (and concept) is fully explained in our 808 article: found here.
7. BEST MODULATION VST EFFECTS PLUGIN: KALEIDOSCOPES BY WAVES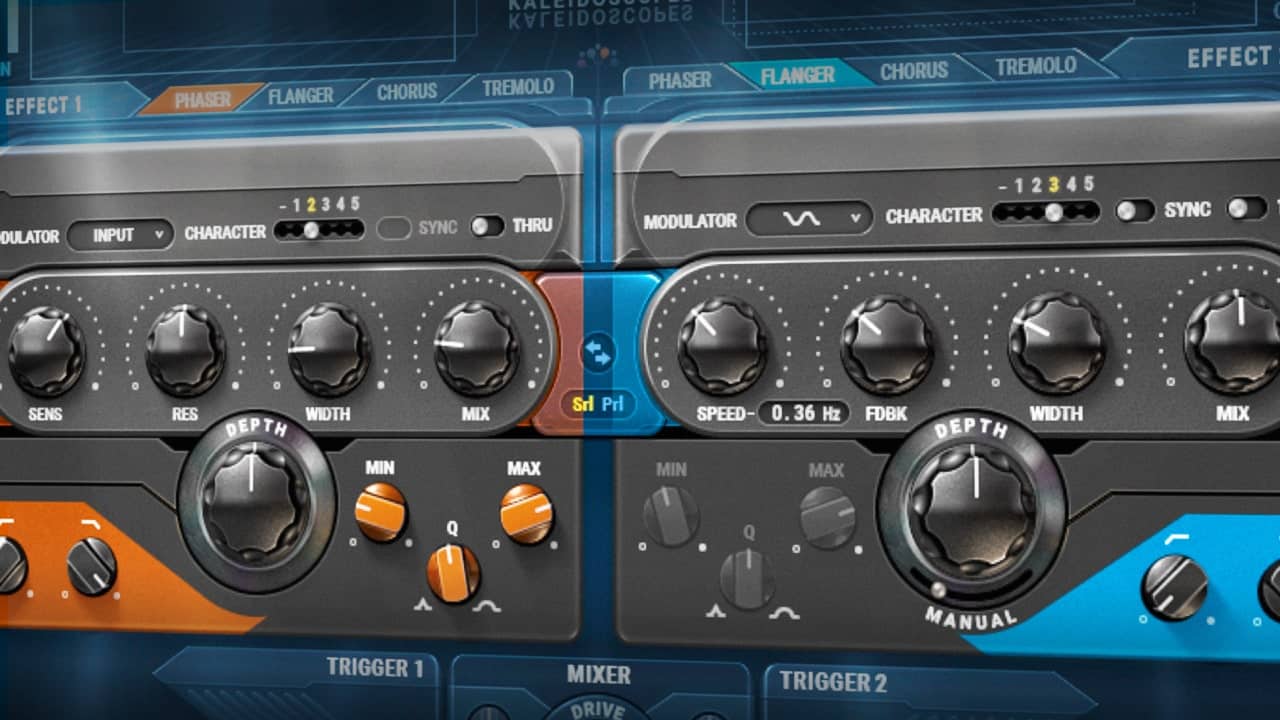 Kaleidoscopes by Waves is a super suite of analog-inspired modulation effects.
This VST effects plugin doesn't just include one type of commonly-used modulation, but all of them:
Phaser (orange)
Flanger (blue)
Chorus (purple)
Tremolo (green)
Since it is based on and inspired by some of the most coveted processing hardware ever developed, without one specific unit in mind, it's super unique.
It doesn't possess any of the traditional analog limitations or repercussions!
The effects are color-coded to make it clear whether you're running two 'matched' effects or different ones side by side.
Each engine also features its own power button (top left and bottom right).
They make it easier to hear the results that just one of your effects is having as you manipulate your source-sound layers.
Phaser, for instance, provides 4 rotary dials.
With them, you can choose/alter the speed, resonance amount, width & mix level.
For the modulation options, you have:
Sine
Triangle
Absolute (Rectified) Sine 
Random
These are all LFO waveforms that provide a 'shape,' which can be assigned to your (chosen) effect type, and their associated parameters.
It's also possible to select a side-chain input, or target source, which leads to a wide variety of possible treatments.
The real 'wow' factor that separates this VST effects plugin from the rest is its Duel cascade engines, which allow you to 'cascade' any two effects for insane textures. 
Either in series, for super-lush sounds, or in parallel to produce ultra-wide soundscapes. 
Intelligent (and assignable) triggers will dynamically respond to your real-time playing and input.
Consider this a threshold parameter that tells the processor when, and how to get to work.
You can choose 'Rhythm' or 'Energy' as a trigger method.
Meaning, you can enable either a repeating pattern or a sudden burst of volume to trigger the effect at a specified level.
The Sensitivity dial will determine the volume threshold point at which this occurs.
When you start comparing and contrasting one effect to another, this VST effects plugin is guaranteed to blow you (and the competition) away.
Kaleidoscope is super intuitive, not to mention fun, and offers unmatched flexibility and route-ability.
As well as generates multiple, new and modernized flavors comprised of all the classic modulation effects you undoubtedly know and love.
Truly a game-changer in its category.
8. (BONUS) BEST CREATIVE MULTI VST FX PLUGIN: PORTAL BY OUTPUT
PORTAL by Output is an extremely unique, creative FX plugin.
Although its specialty is a granular-based effect, we're considering it a Creative (multi-effects) plugin, due to:
Its sheer range of complex abilities
Its sonic range
Its oftentimes indiscernible origins (its unique sounds can even make the most experienced of producers question where it comes from)
Not to mention the amount of on-board modulation and effects processors, which only add to this VST effects plugin's mystifying ways.
Aside from its unique sound engine and mechanism of action, the true beauty of PORTAL lies in the precise customization and manipulation options.
These are offered in the form of an effect, which is not traditionally seen in granular engines.
It's usually reserved for sample-based or granular synthesizers only.
You're able to get as intricate as you'd like with its included modules and associated parameters (including an additional master compressor.)
Its GUI is absolutely stunning; clean, clear, and beautifully animated.
The main page serves as a performance control interface:
The XY pad

一 moves the 2 user-assignable Macro controllers next to it (in sequence). This is what you first see when loading the plugin, which you may never need to leave; unless you're a major tweaker, that is.

The Reverse switch

一 instantly kicks the output into reverse playback

Faders

一 adjust input, output, and global dry/wet mix levels
When it comes to presets, there are over 250 of them, with a large user-base of free presets available. 
The 'Grain Controls' section offers meticulous manipulation of PORTAL's revolutionary granulator engine.
Up to 16 grains are generated at a time, at a sampling rate adjustable from 1/64th to 1 bar. 
Most granular engines make it so the audio is changed largely based on the way in which grains are sliced (size, time, shape, duration, layback/sample position).
The cool thing about this particular VST effects plugin is, in addition to this function, it adds something special: its multiple processing capabilities.
These modulate and manipulate the grains further, in a more unconventional, totally awesome fashion.
My personal favorite is applying pitch modulation to individual grains… try it out for yourself to see its true magic!
PORTAL's Effects section consists of two processor-slots, with multiple options (described below).
They are placed in between the granulator and the Master Bus for application to both the original dry signal and the granulated one.
Each processor has its very own input/output level, as well as wet/dry controls.
This enables detailed mixing at all points within the signal chain (between the input and output).
Plus, it brings creative relevance to the seemingly overused Reverse function as well.
For applying effects to PORTAL without ever leaving the plugin, there are 7 modules that draw from classical effects.
Each containing its very own special spin:
Bit Reducer

一 Offers sample rate & bit depth reduction

Chorus

一 Can be modulated at up to 500Hz

Distortion

一 Features Soft, Hard, and Foldback styles

Filter

一 Gives 12 & 24 high- and low-pass options. As well as overdrive and envelope following

Phaser

一 Runs up to 32 stages. It can be switched to Barberpole mode as well.

Reverb 

一 Offers a Freeze button, for capturing the tail and/or having it sustain indefinitely

Tempo-synced Grain Delay

一 Includes Stereo & Ping Pong modes, as well as HP/LP filters that route PORTAL's output back into the Input; creating a feedback loop. 
Modulate them along with practically any other parameter, with the use of PORTAL's MSEG (Multi-Segment Envelope Generator) Envelopes and Macros for optimal results.
You won't be sorry!
FINAL THOUGHTS 
VST effects plugins are abundant within the audio world, there's no question about it.
They seem to be released faster than you can count.
That's why you need to be aware of which ones are worth it, and which ones aren't.
Granted, you could leverage practically any plugin to sound decent…
However, simply placing one on your track and selecting a preset can oftentimes do more harm than good.
This is why quantity will never beat the quality, especially when it comes to all the VST effects plugins mentioned today, as they are definitely of the highest quality.
They are way better to have in your arsenal than a bunch of dissatisfying (even cheap) options with limited applications.
The best way to gauge what these VST effects plugins have to offer is by running them through the highest quality samples.
Luckily, we have those available right now in our FREE Unison One-Shot Essentials, which are created by professional sound designers and modeled after chart-topping tracks.
By demo-ing these effects using one of the samples found within this free pack, you're able to hear the reverb tails and delay feedback lines without any interference. 
Until next time…