In today's music production landscape, the iconic 808 drum machine sound is more popular than ever.
Originating from Roland's TR-808 Rhythm Composer in the early 1980s, the unmistakable low-frequency punch of the 808 kick has become a staple in the music industry.
Thanks to the wonders of digital technology, this legendary sound is now accessible to all music creators through a plethora of 808 VST plugins.
These plugins can emulate the classic 808 sound or push it into uncharted territories.
They offer endless sonic capabilities to enhance your music production process.
With a seemingly endless variety of options to choose from, we've curated a list of the top 10 best 808 VST plugins that stand out for their sound quality, features, and overall usability.
The plugins in our list offer a diverse array of features, including:
Authentic emulations of the original TR-808 sound ✓
Extensive customization options ✓
Inbuilt sequencers and rhythm programmers ✓
Libraries of ready-to-use 808 samples and presets ✓
Additional bonus features and functions ✓
Whether you're a professional producer or a beginner seeking an easy-to-use plugin with great sounding presets, this list is guaranteed to have something that suits your needs.
So, let's dive in…
What is an 808 VST Plugin?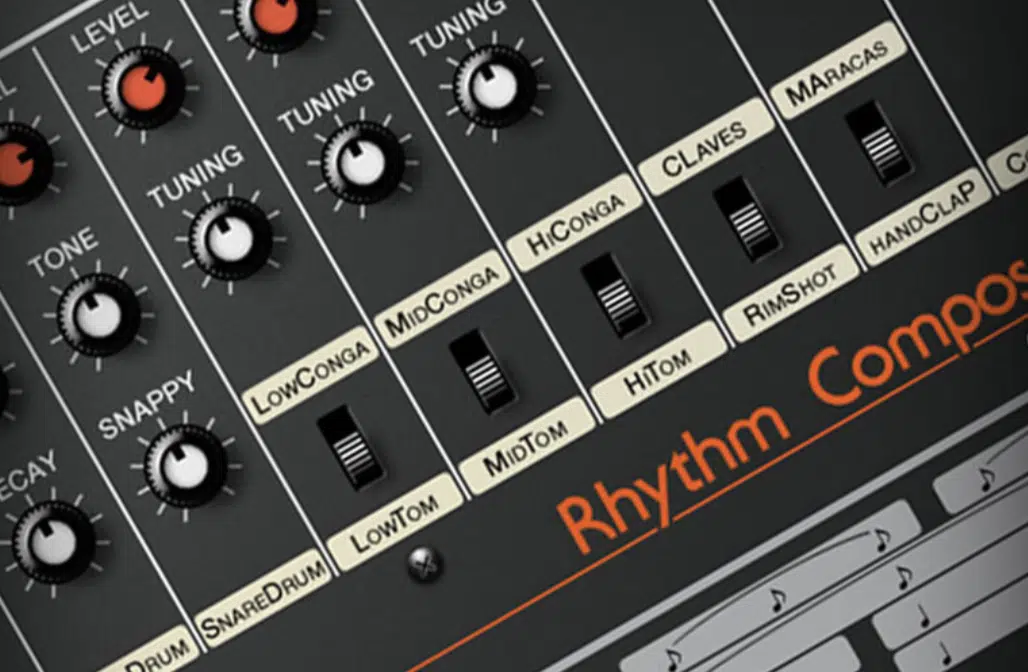 As a music producer, you've probably heard of the term '808' thrown around quite a lot, especially in the realms of electronic music and hip hop.
The term 808 usually refers to a specific bass sound, that iconic low boom you'd often hear in trap music and hip hop, amongst other genres.
This sound was first generated by the classic TR-808 drum machine, an original hardware device from the early 80s.
But what about the 'VST' part?…
Well, VST stands for Virtual Studio Technology.
It's a software interface that integrates software audio synthesizer and effect plugins with recording systems.
It's become a vital tool in the modern music industry 一 allowing music producers to access a wide variety of sounds without the need for physical hardware.
So, when you hear "808 VST," it refers to a specific type of VST plugin that emulates the iconic 808 bass sound.
These 808 VST plugins are instrumental in producing genres such as hip hop, trap, and electronic music.
They help give that notorious, deep, heavy bass that's often felt more than heard.
What do 808 VST Plugins Typically Include?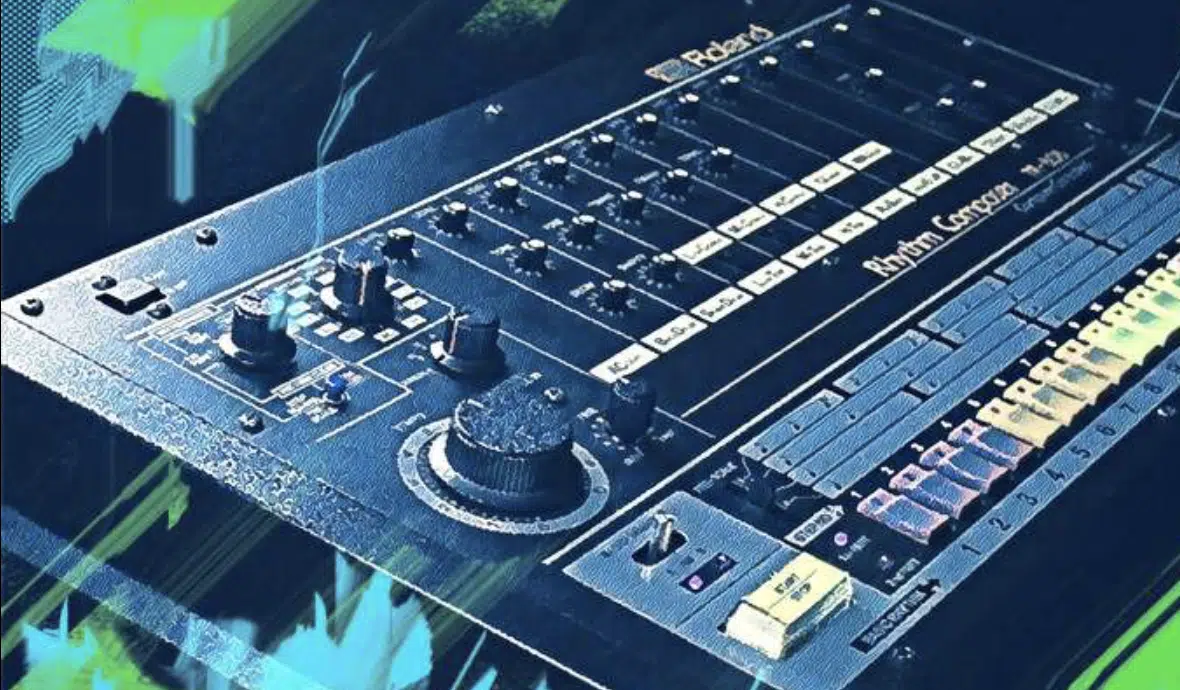 808 VST plugins offer a range of features designed to replicate and expand upon the original 808 sound.
These can typically include:
Bass Drum Sounds: One of the most sought-after elements of an 808 VST plugin is the ability to create those punchy, powerful bass drum sounds, also known as the kick drum.
These sounds form the rhythmic foundation of your tracks.
Built-in Sequencers: Many 808 VST plugins come with built-in sequencers.
This feature allows you to arrange your beats and drum patterns, creating a cohesive drum sound.
Customization: From adjusting the decay and pitch of your bass drum to adding distortion or other audio effects, the 808 VST plugins offer a huge range of options.
These options are ideal for fine-tuning your sound.
Compatibility: These plugins are usually available in both VST and AU plugin formats.
This makes them compatible with most digital audio workstations (DAWs) like FL Studio, Pro Tools, and Logic Pro.
User-Friendly Interfaces: Most of these plugins have an intuitive user interface.
This makes it easier to navigate and adjust the various settings to achieve your desired sound.
The Top 10 808 VST Plugins of 2023
Now, armed with this basic understanding of what an 808 VST plugin is and what it includes, let's dive into the top 10 808 VST plugins of 2023!
#1. Nepheton by D16 Group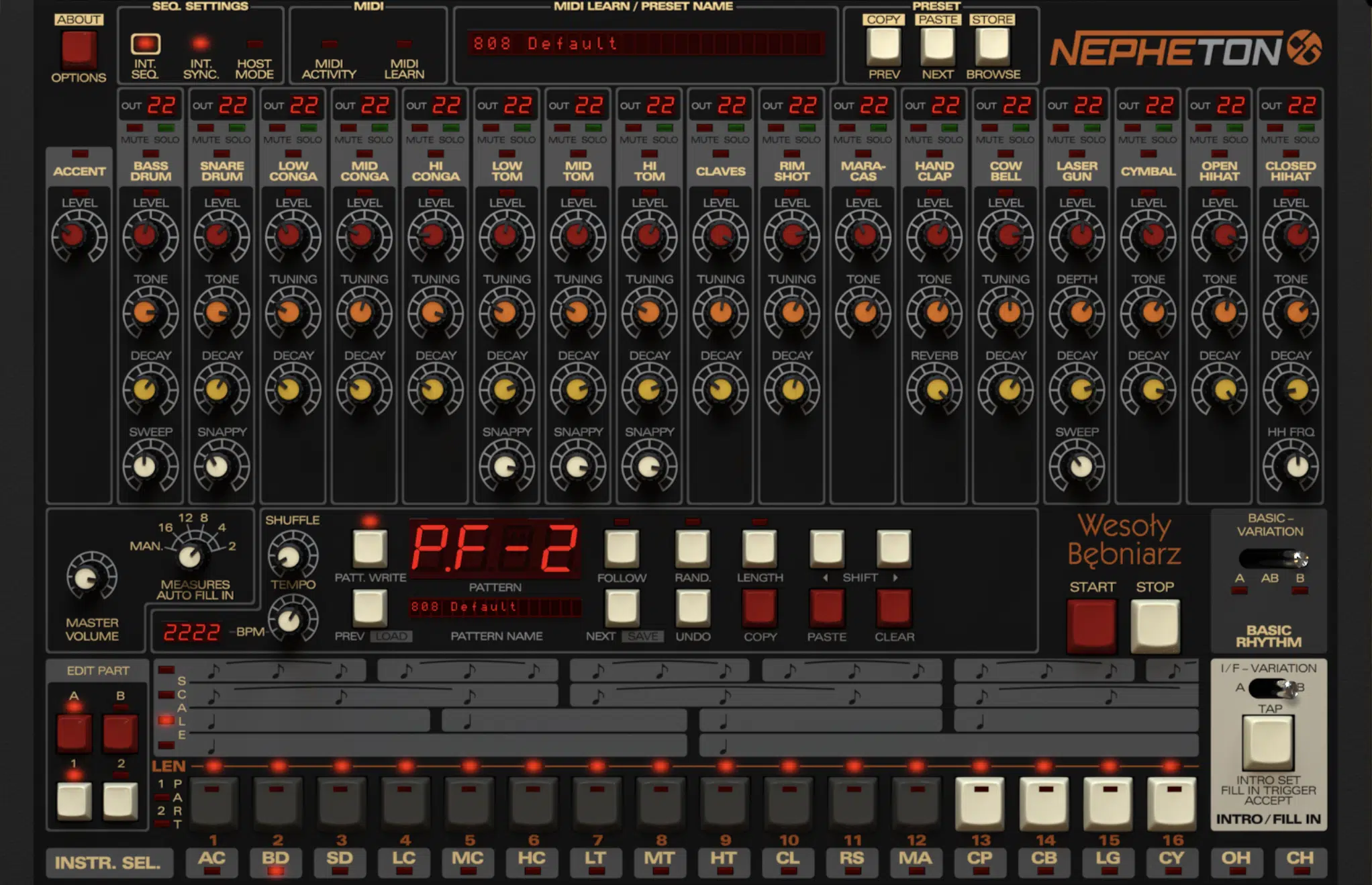 Nepheton by D16 Group is an exceptional 808 VST plugin designed to emulate the legendary 808 drum machine meticulously.
The striking characteristic of Nepheton lies in its 17 fully synthesized modules.
These modules work harmoniously to capture every nuanced sound of the original 808.
As well as showcase how an intricate interplay of digital technology can recreate a vintage drum machine's distinct sounds.
This VST plugin is not just a testament to sound fidelity; it also brags flexibility.

With Nepheton, users can dive deep into tone and envelope tweakability, pushing the boundaries of each module to match their unique sound preferences.
This level of control extends to the outputs.
Each module's audio signal can be routed to any of the 12 outputs 一 granting you the ability to sculpt the sound with your favorite plugins.
You have the option to set each individual output to MONO or stereo and echo the configuration versatility of the original 808.
Nepheton also shines with its comprehensive MIDI control.
Meaning, you can use it as a modern alternative to the internal sequencer, triggering individual modules.
Whether you want it to play using its internal clock or synchronize to the host sequencer, this drum machine VST accommodates.
Its user-friendly "Midi Learn" function allows for instant parameter reassignment, making it a breeze to control it using virtually any external controller.
One of the noteworthy features is Nepheton's internal sequencer, offering both simple and extended drum patterns.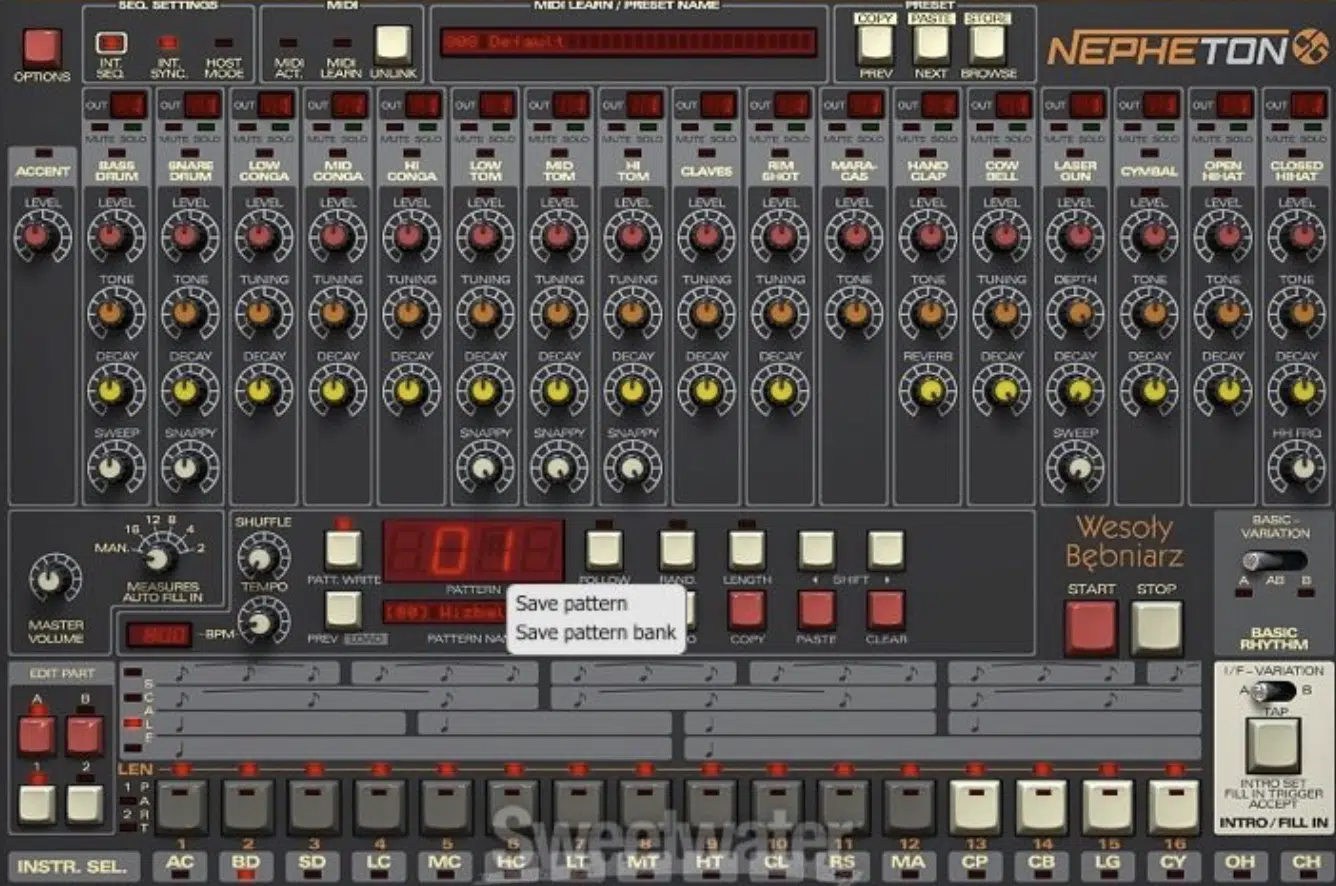 It comes packed with:
16 extended patterns
96 simple patterns
All of which can be edited traditionally or using the Tap function.
This vast array of patterns gives you the flexibility to trigger full drum patterns by drawing in notes in your DAW or even create your unique drum patterns.
But where Nepheton really breaks the mould is with its built-in Randomizer.
This feature can be the creative boost you need when you've been stuck on a particular section of your track for too long.
The Randomizer can be used to make simple changes to a pattern or create whole new ones.
It can be applied to drums independently and with variable frequency, offering a fantastic balance between order and artistic chaos.
Standout Features: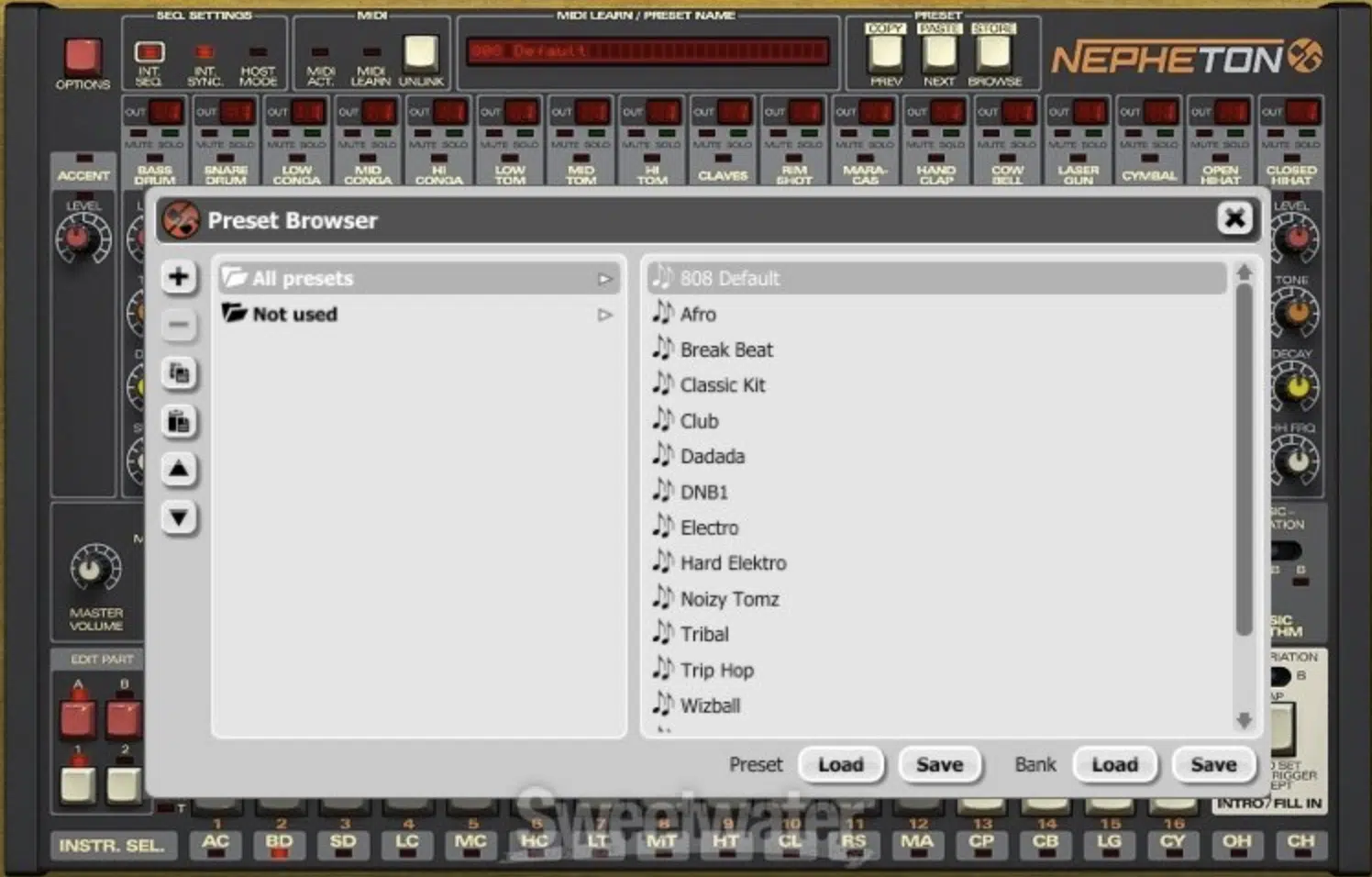 Perfect emulation of the 808 drum machine with 17 fully synthesized modules
Deep control over tone and envelope tweakability
Flexible output configurations for dynamic sound sculpting
Comprehensive midi control with user-friendly Midi Learn function
A powerful internal sequencer with simple and extended patterns
Built-in Randomizer for creative pattern generation
One of the best 808 VST plugins of 2023
#2. SubLab by Future Audio Workshop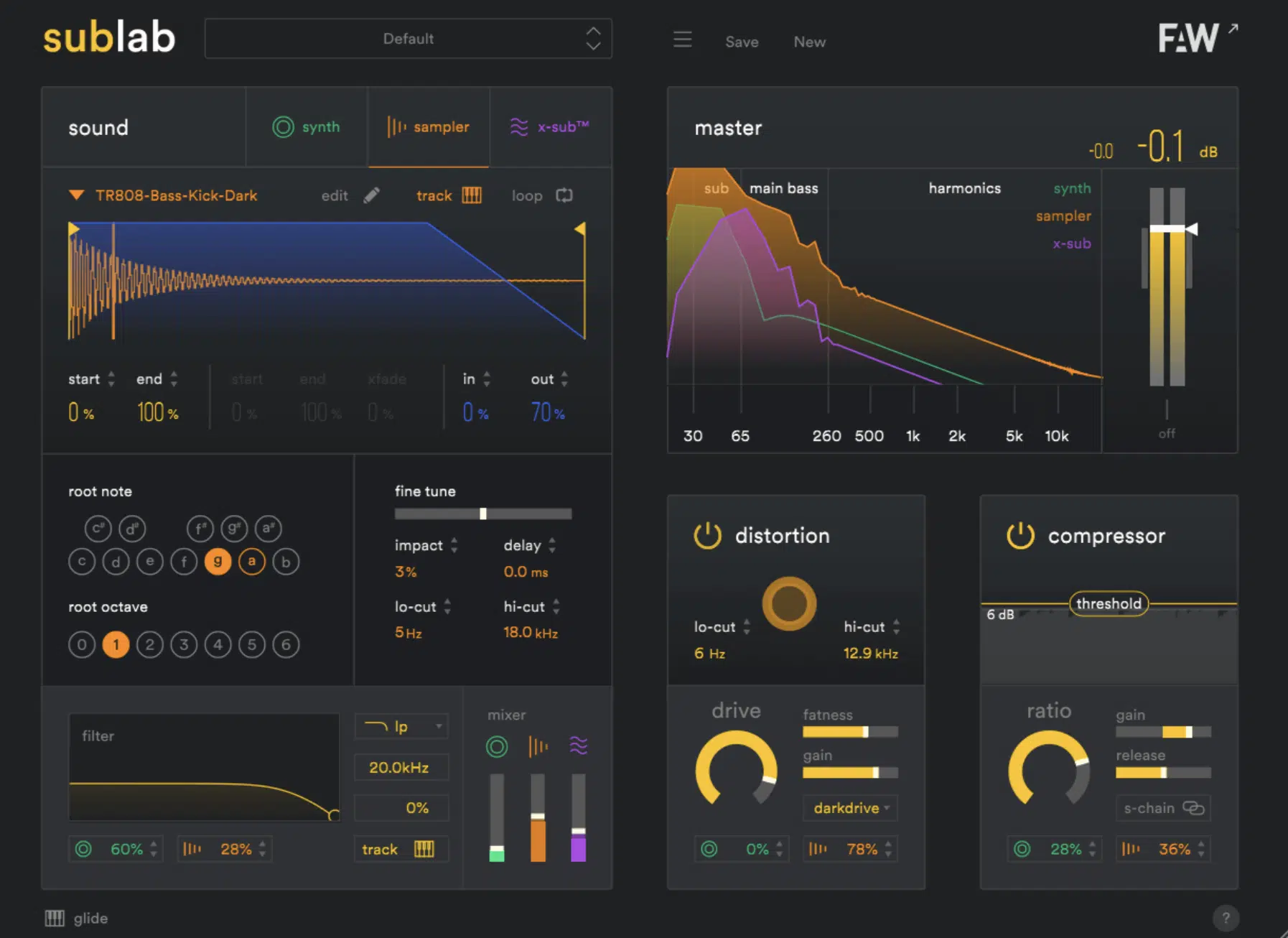 SubLab by Future Audio Workshop is a unique VST plugin designed with the goal of creating the hardest hitting sub-bass every time.
Specially designed for hip-hop, future bass and trap genres, SubLab is a tool for producers who want to create powerful 808 style sub-bass that sounds punchy on every speaker.
This 808 VST plugin provides an intuitive workflow, enabling you to:
Sample
Layer
Widen
Distort any kick into impactful subs within minutes
At the heart of SubLab lies the newly invented X-Sub™ technology, a psychoacoustic sub-bass oscillator.
This innovation ensures you get consistent, accurate, and deep subs while playing any bass note, pushing the limits of traditional drum synths.
This technology is a testament to SubLab's commitment to deliver a superior sound system that offers unmatched depth and precision in its bass output.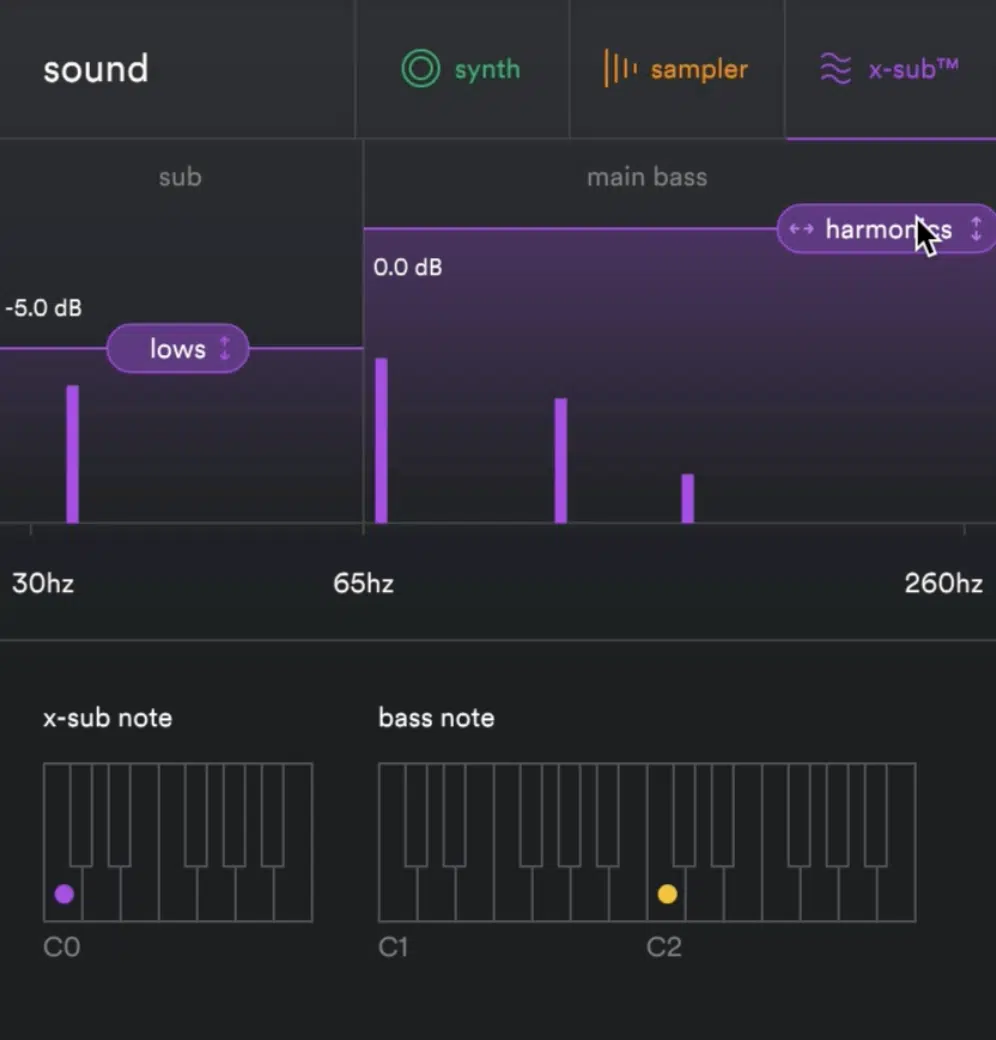 SubLab comes packed with 250 samples from high-end modular and classic analog drums and classic drum machines.
This extensive library gives you a vast range of sounds to choose from and allows you to find the perfect resonance for your sub-bass.
For even more customization, SubLab enables you to drag & drop your samples into the sampler; making it incredibly user-friendly and versatile for individual sound design.
A particularly striking feature of SubLab is its analog style synth engine.
It provides you with sine, triangle, sawtooth, and square wave options, offering you a robust palette of sound options to create your desired sub-bass.
This is coupled with a delayed sample start feature that allows you to create uniquely delayed 808s.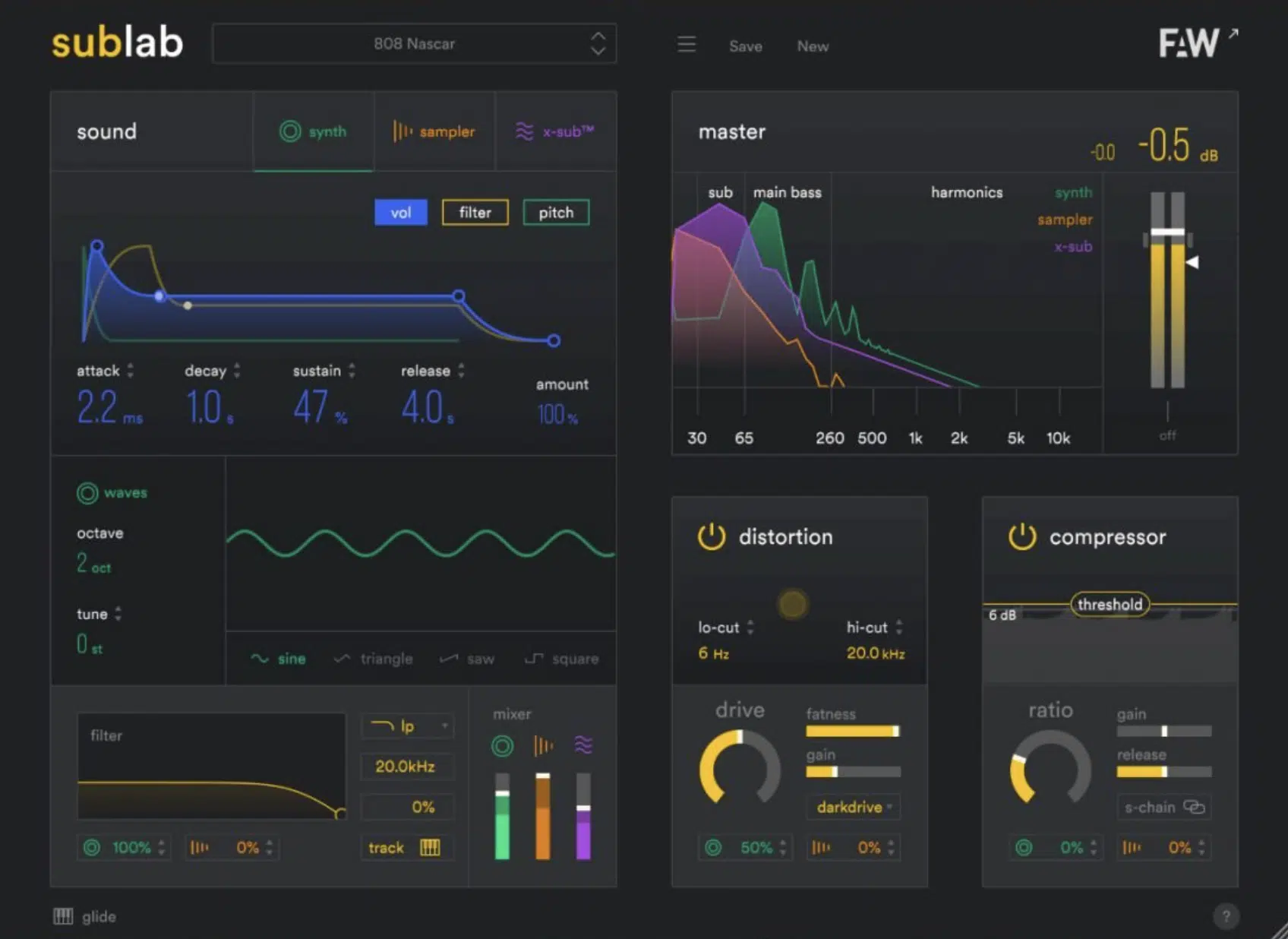 The inclusion of an internal maximizer further lets you expand and distort your bass, pushing it into sonic territories that traditional 808 plugins can't reach.
SubLab isn't just about creating raw sub-bass sounds.
It also boasts a series of powerful filters that gives you control over sculpting your soundsuch as:
These combined with a trio of distortion features – Darkdrive, Overdrive, and Grunge – help you shape your sub-bass, from subtle overtones to gritty, aggressive distortions.
Standout Features: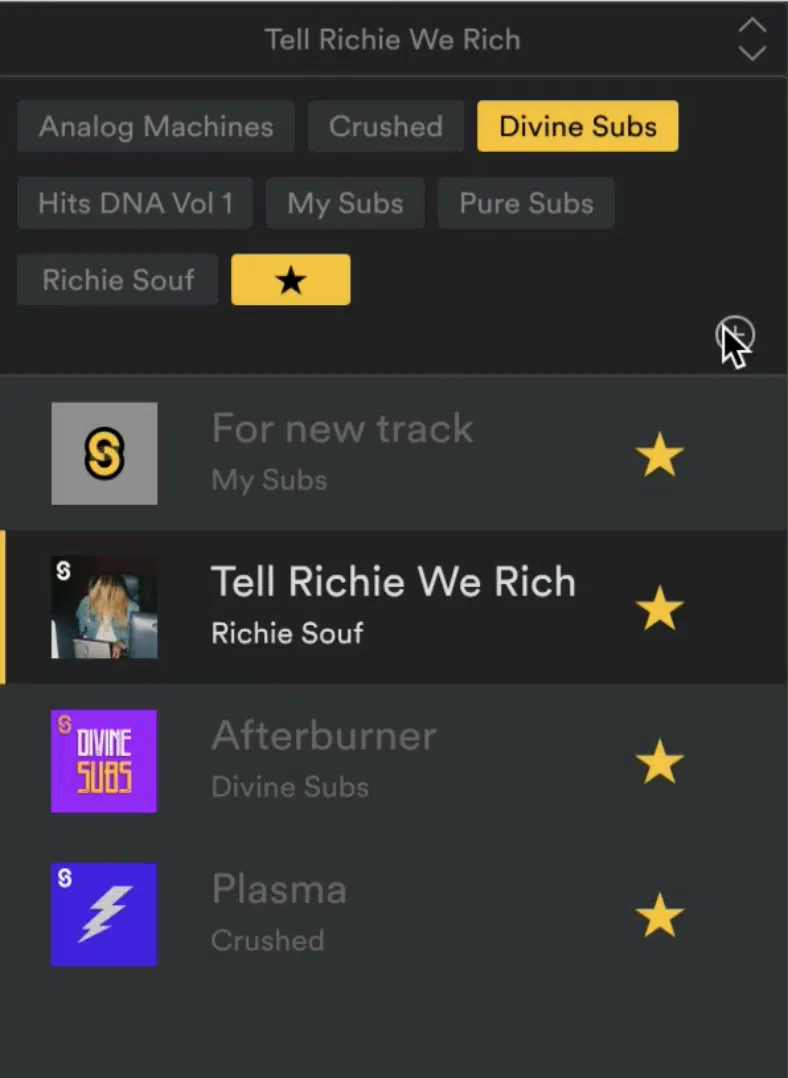 Designed to deliver the hardest hitting sub-bass for hip-hop, future bass, and trap beats
Innovative X-Sub™ technology for consistent and accurate sub-bass
250 samples from high-end modular and classic analog drum machines
User-friendly sampler with drag-and-drop feature
Analog style synth engine with multiple wave options
Advanced filters and distortion features for sound sculpting
One of the best 808 VST plugins of 2023
#3. Revolution by Wave Alchemy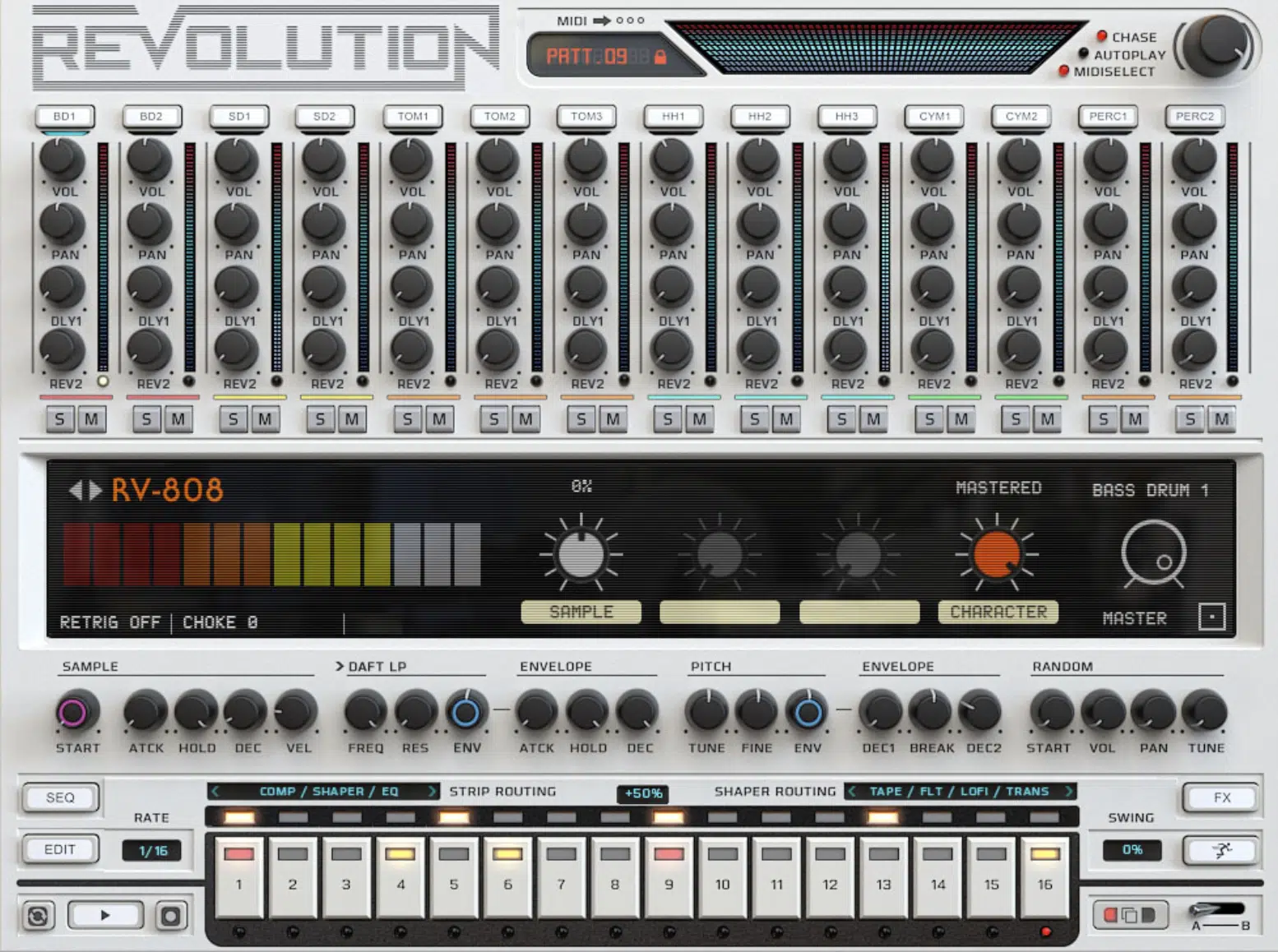 Wave Alchemy's Revolution stands as a testament to the innovation and craftsmanship that goes into creating a high-quality 808 VST plugin.
Revolution brings 14 iconic drum machines under one virtual roof; granting artists unparalleled access to sounds that have shaped various music genres over the years.
One of the winning features of Revolution is the detail that goes into its sampling process.
Revolution meticulously recreates every control of the 14 classic machines, capturing their distinct sounds with:
The warmth of tape
The grit of lofi samplers
The high fidelity of sought-after studio hardware
This careful curation means you can go from pure analog to punchy, mix-ready beats that ooze character in a matter of seconds.
Revolution is not just about replicating the past…
It also incorporates innovative features that take advantage of modern digital technology.
Meaning, it integrates seamlessly with your DAW and offers an expressive step sequencer for easy automation of all 'analogue' parameters.
The classic drum built-in sequencer (below) offers an experience similar to the original machines, reinforcing Revolution's dedication to authenticity.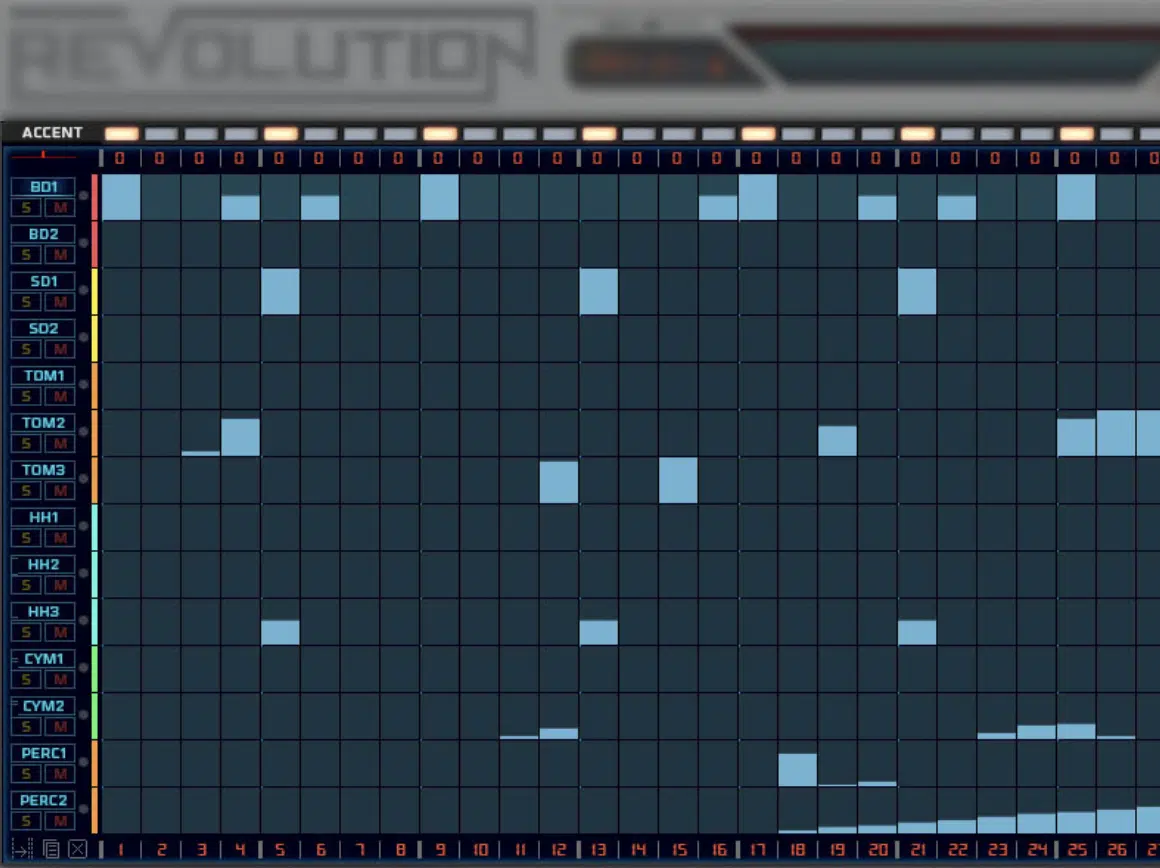 Revolution pushes the envelope further with its drum modules.
You can effortlessly mix and match any of Revolution's 14 drum modules to build your dream drum machine.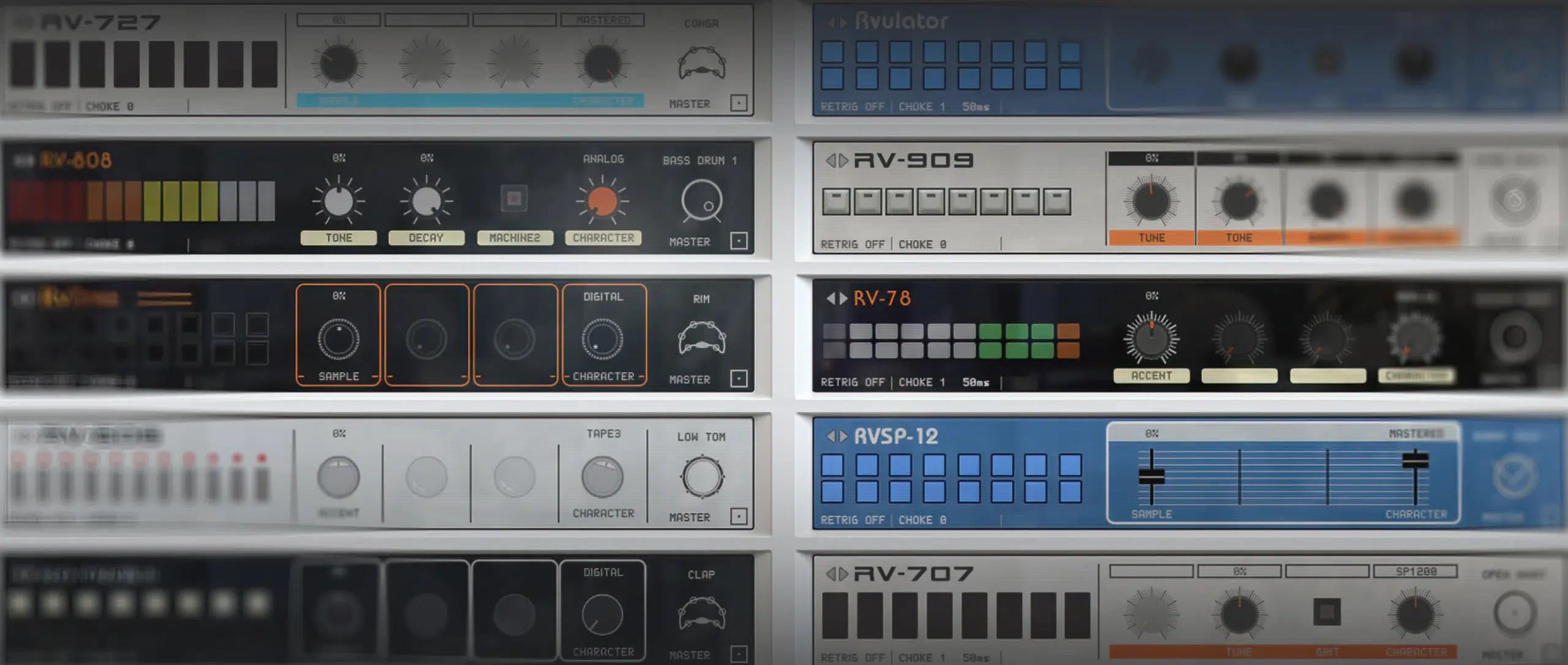 This level of customization is a nod to the plugin's commitment to providing users with the ultimate flexibility in sound design.
Among the many noteworthy features of Revolution is its dual reverb module.
It houses 160 custom impulses from iconic reverb units such as:
The Lexicon 300L
AKG BX20 Spring
AMS RMX16
Much more
This coupled with its multiple distortion and filters, make Revolution an essential tool for producers looking to enhance the character and tone of their drums.
Needless to say, your kick drum, drum sound, and bass sounds will be ions more pristine and intriguing with this drum machine VST.
Standout Features: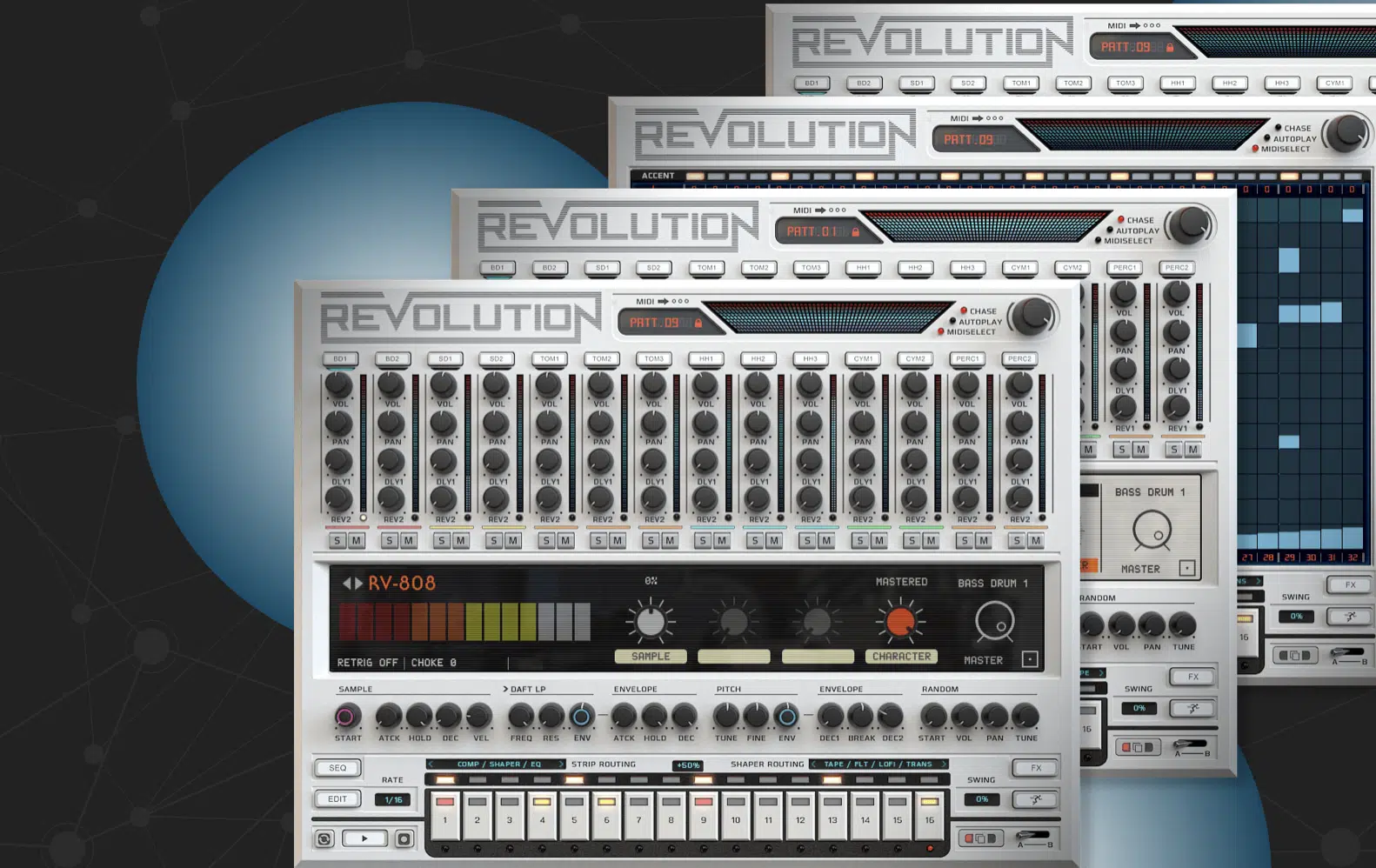 Houses 14 iconic drum machines for diverse sound production
Detailed sampling process that recreates every control of classic machines
Seamless integration with DAW and expressive step sequencer
High customization with 14 mix-and-match drum modules
Dual reverb module with 160 custom impulses from iconic reverb units
Advanced tactile sounds, filters and distortion features for enhanced drum sounds and kick sounds
One of the best 808 VST plugins of 2023
#4. BD-808 by Synsonic Instruments (Free)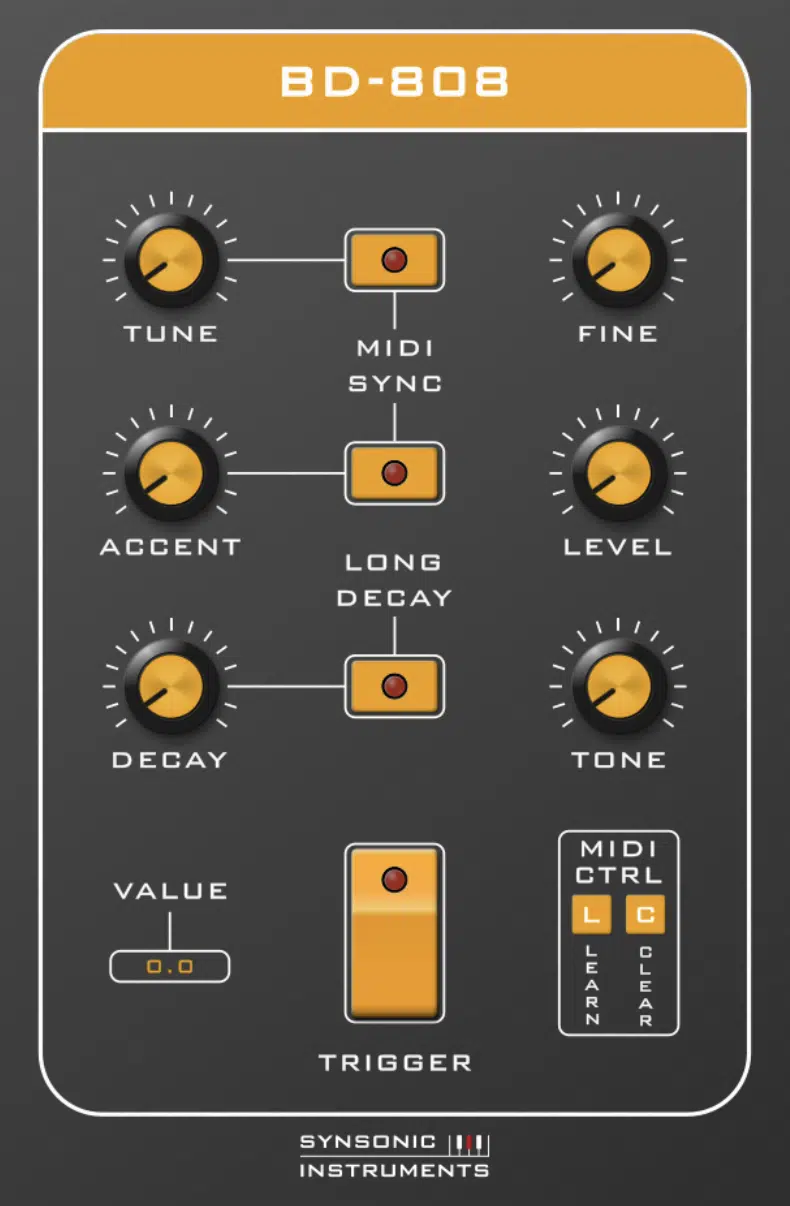 BD-808, offered by Synsonic Instruments, provides a model of the iconic TR-808 Bass Drum.
This free plugin encapsulates a detailed digital analysis of the original 808 Bass Drum circuit.
They present you with a platform to create your very own 808-style Bass Drum sounds.
The parameters for sound-shaping include:
Accent
Level
Decay
Tone
Just like the original 808 Bass Drum, this free VST plugin gives you an authentic and flexible sound design experience.
The BD-808 plugin isn't limited to just replicating the 808 Bass Drum 一 it also offers additional sound-shaping opportunities.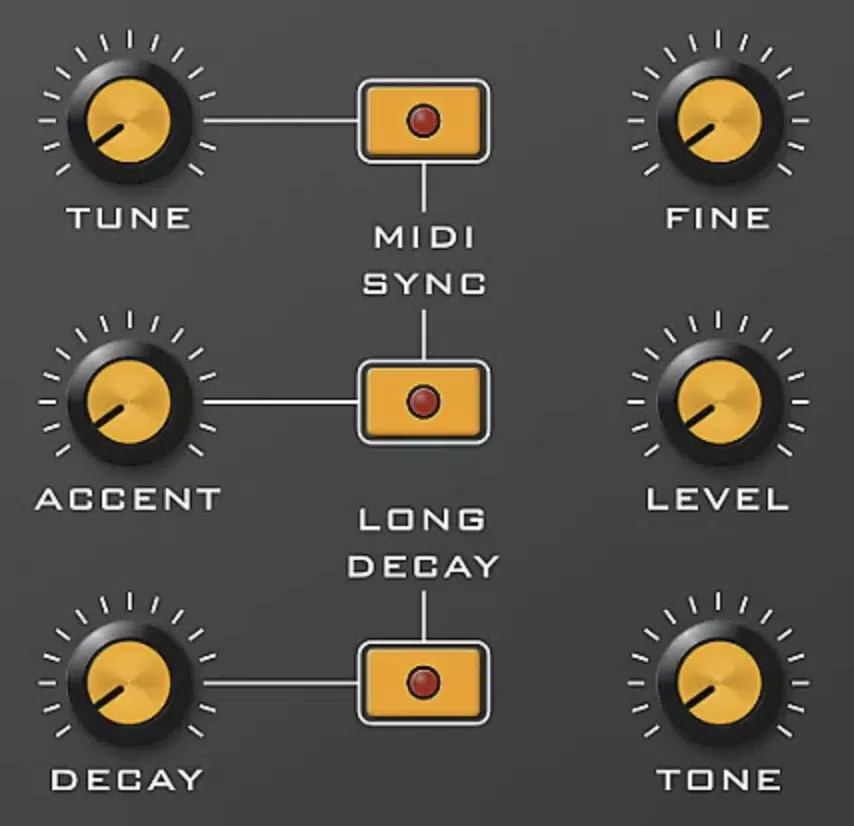 You can:
Adjust the tuning in halftones and cents
Extend the decay range
Control the tune and accent based on the played MIDI note
These features allow you to achieve a more nuanced and personalized sound.
This free plugin also comes with a MIDI Control feature (pictured below) that lets you use it as a Bass Synthesizer.
To enhance control over your sound, you can assign any MIDI Controller to a parameter of the Bass Drum with the MIDI Learn function.
This level of customizability enables you to tailor your sound exactly the way you want it.
As a free plugin, BD-808 is a valuable tool for producers and beatmakers on a budget.
NOTE: Speaking of free plugins, if you'd like to discover the absolute best free plugin of 2023, we've got you covered.
Standout Features: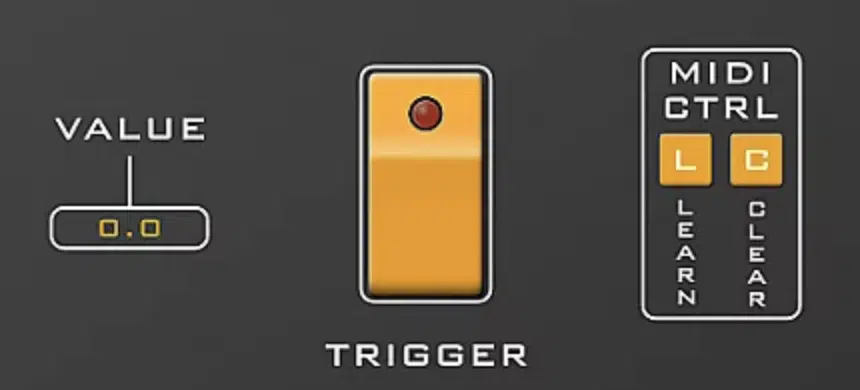 This free 808 VST is an accurate digital model of the original TR-808 Bass Drum
Offers classic sound-shaping parameters: Accent, Level, Decay, and Tone
Additional tuning and decay features for personalized sound
MIDI Control feature allows usage as a Bass Synthesizer
MIDI Learn function for assigning MIDI-Controller to any parameter
Better than most other free plugins for producers and sound designers
One of the best 808 VST plugins of 2023
#5. 808 Studio 2 by Initial Audio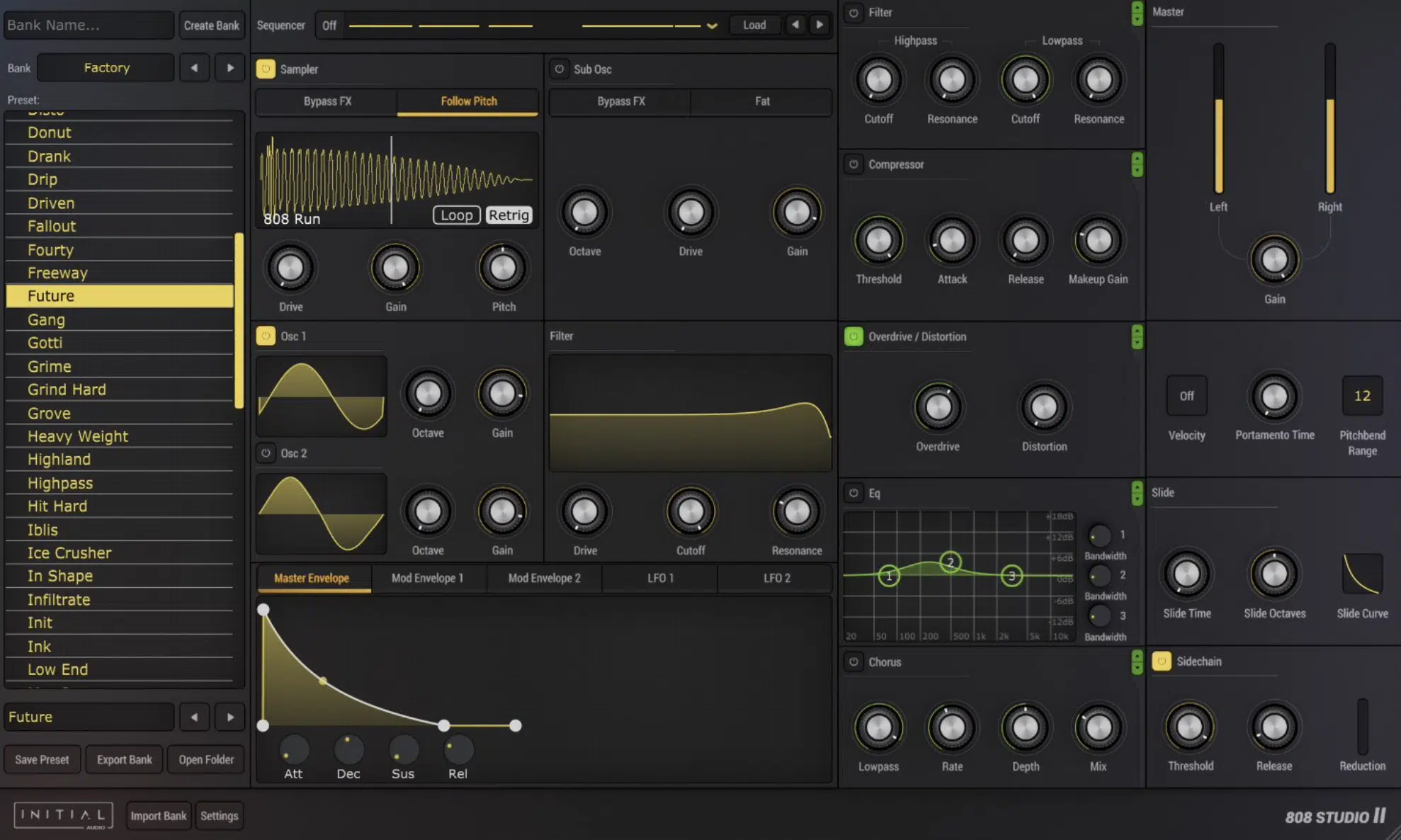 808 Studio 2 by Initial Audio was designed specifically for cutting edge quality 808 sub bass.
This 808 plugin is perfect for hip hop and trap music production or any genre that requires a powerful bass synth.
With an extensive selection of features like drag-and-drop modulation and an advanced sequencer, 808 Studio 2 offers an exceptional platform for advanced synthesis.
One of the key features of 808 Studio 2 is its ability to inspire your next beat with just one key press.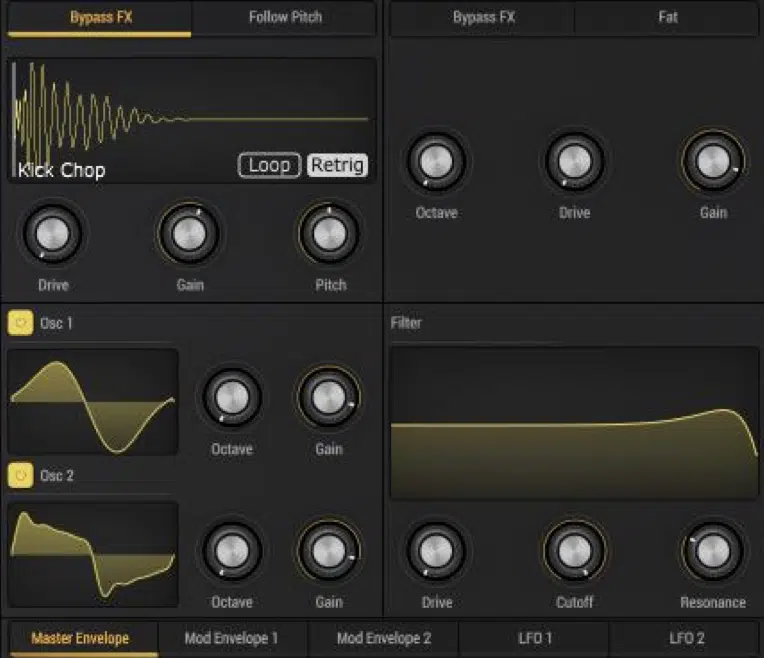 It also includes a sampler that can load your own samples, making it even more versatile and flexible.
808 Studio 2 also includes a selection of kick drum and 808 samples to get you started.
The plugin comes with 80 presets and several high-quality effects, such as:
A 3-band equalizer
An analog modeled filter
An epic sounding chorus
The chorus effect can be applied to the high end while keeping the sub part clean, providing a clear and powerful sound.

With the effect rack, you can arrange five effects, including:
Overdrive/Distortion
Compressor
3 band equalizer
Chorus
Filter (containing both highpass and lowpass)
There's also a side chain feature that uses the sample as its source and ducks the volume of the rest of the oscillators and sub.
This is especially useful when you have a Kick sample, and you want the transient part to cut through for a harder hit.
Standout Features: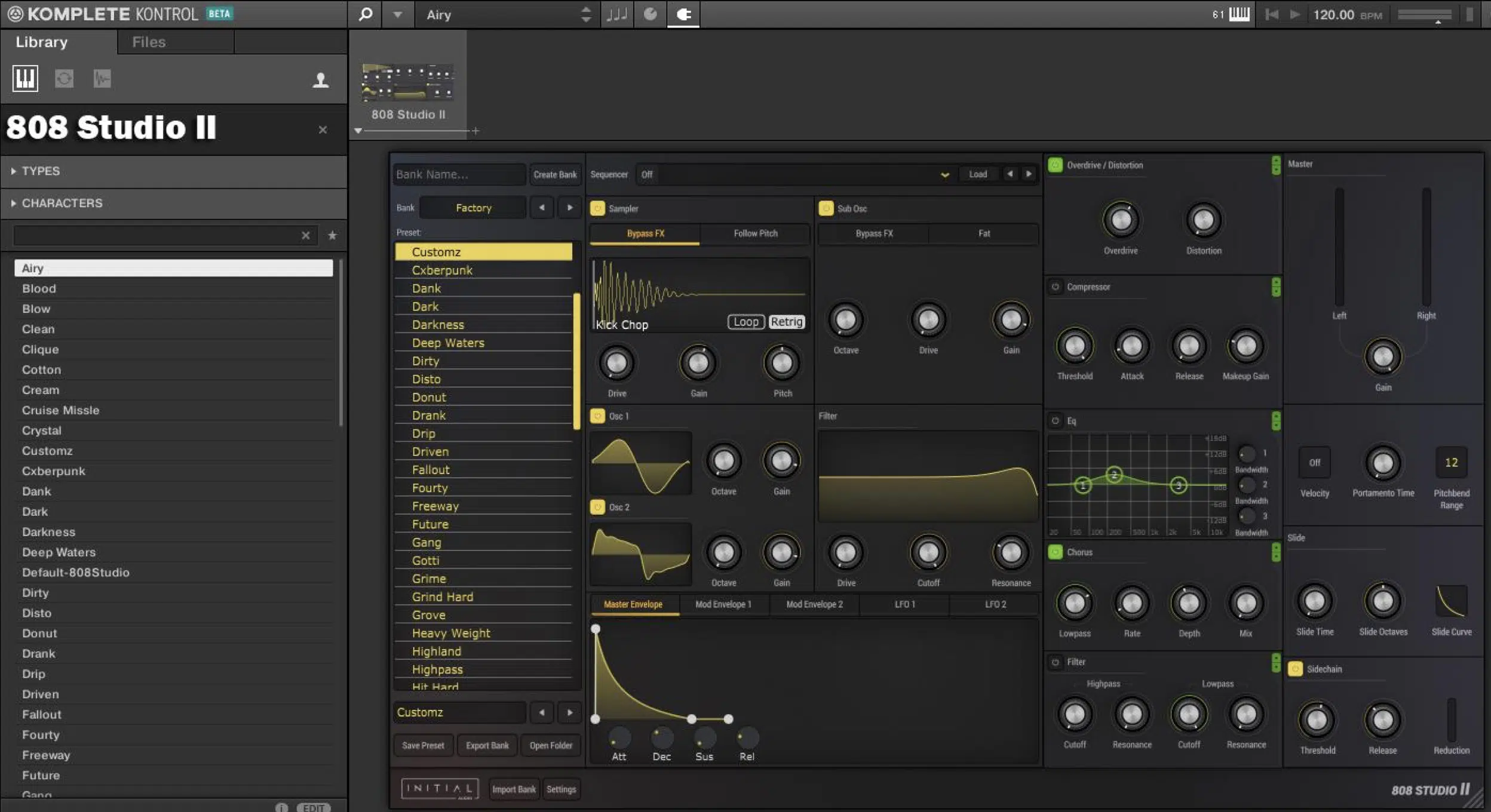 Advanced synthesis features with drag-and-drop modulation
Sampler feature with included kick and 808 samples
Integrated 3-band equalizer, analog modeled filter, and chorus effects
Effect rack that allows for custom arrangements of effects
Side chain feature for a harder hitting sound
One of the best 808 VST plugins of 2023
#6. X-EIGHT 808 VST by Thenatan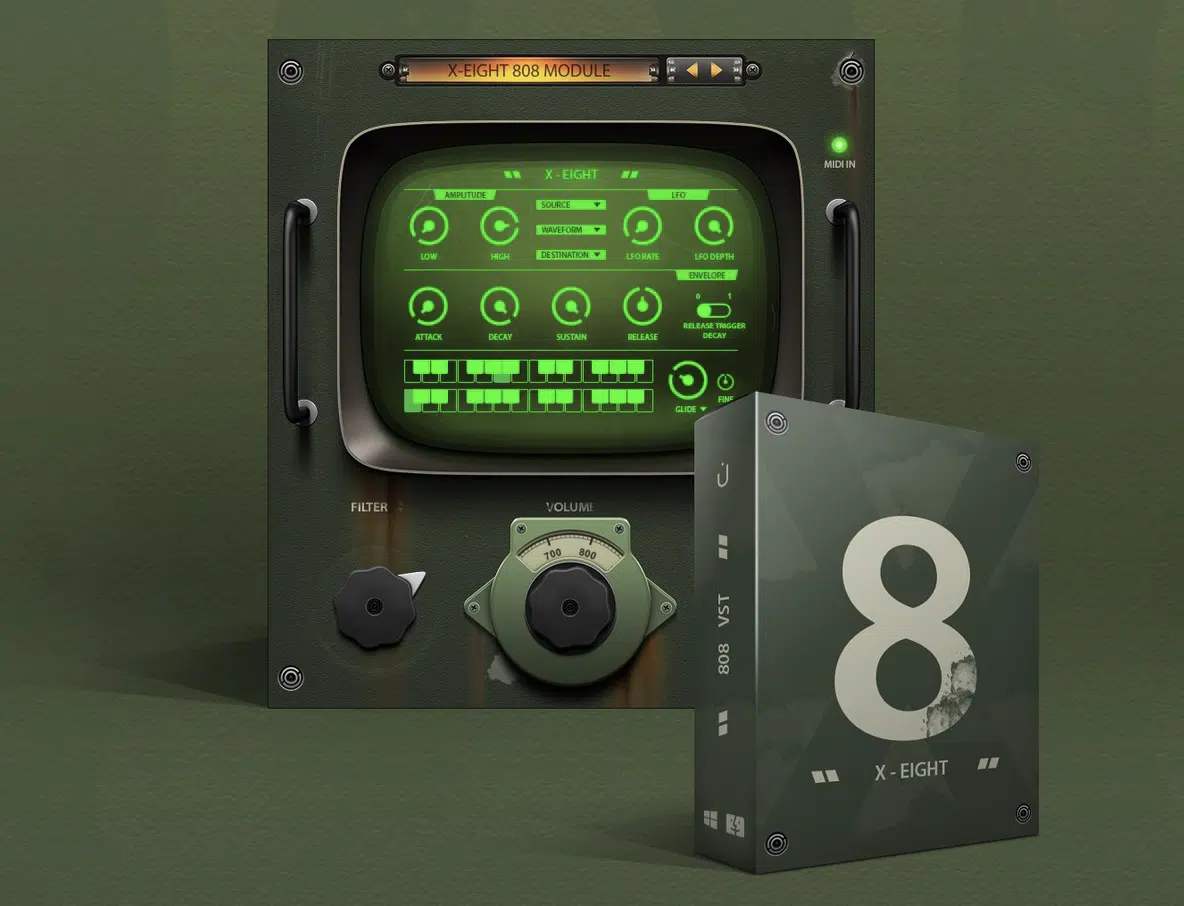 The X-EIGHT 808 VST by Thenatan was designed with Trap and Hip Hop production in mind, but its content can be adapted to suit a range of genres.
With over 1000 presets, the X-EIGHT 808 is packed full of bass and sub bass sounds to inspire and ignite your creativity.
These presets are processed, EQ'd, compressed, and transient-shaped perfectly for your convenience.
Therefore, ensuring you're able to dive straight into creating your masterpiece.
One of the significant highlights of X-EIGHT 808 is its user-friendly design.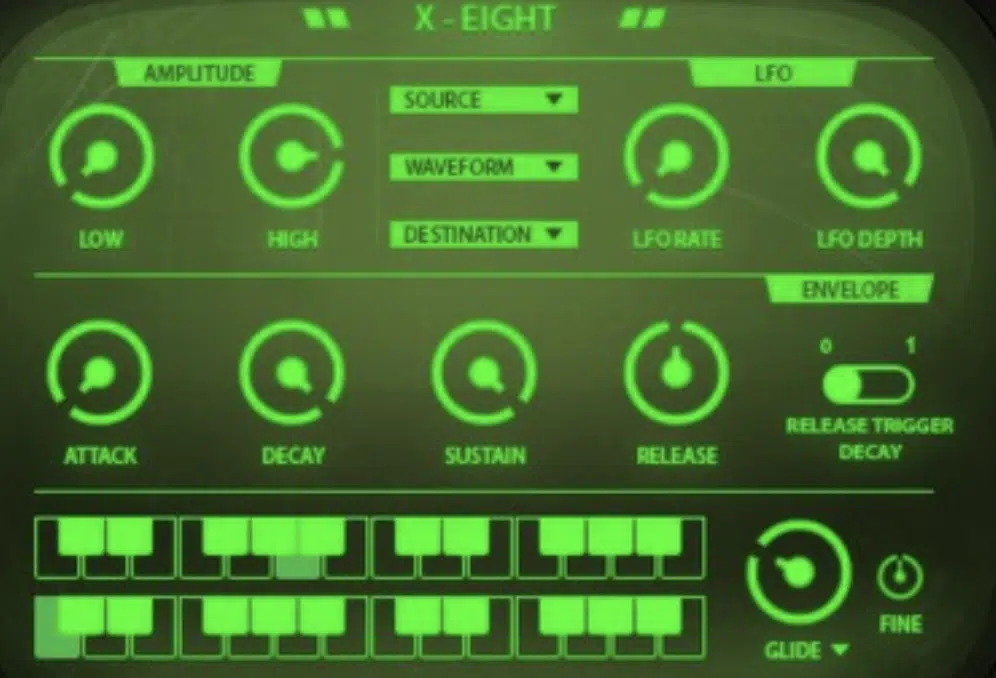 You can play your bassline, then go back and switch through the 808 presets until you find the perfect match for your track.
Each patch is pitched correctly to your keys; so if you hit C1, you'll get an 808 pitched perfectly to C.
This can greatly enhance your workflow and make the creative process much faster and easier.
The onboard effects include:
ADSR Envelopes
Glide
Amps Low & High
Filter
Fine Tune Pitch
Volume
These parameters provide comprehensive control over your sound 一 giving you the ability to mold and shape the 808s to your liking.
From smooth transitions to powerful beats, X-EIGHT 808 ensures your production stands out.
Standout Features:

Over 1000 meticulously processed and EQ'd 808 presets
User-friendly design with correctly pitched patches
Onboard effects including ADSR Envelopes, Reverb, and LFO Parameters
Comprehensive sound control for personalized sound shaping
One of the best 808 VST plugins of 2023 (over both VST plugins and AU plugins)
#7. Subbass Doctor 808 by United Plugins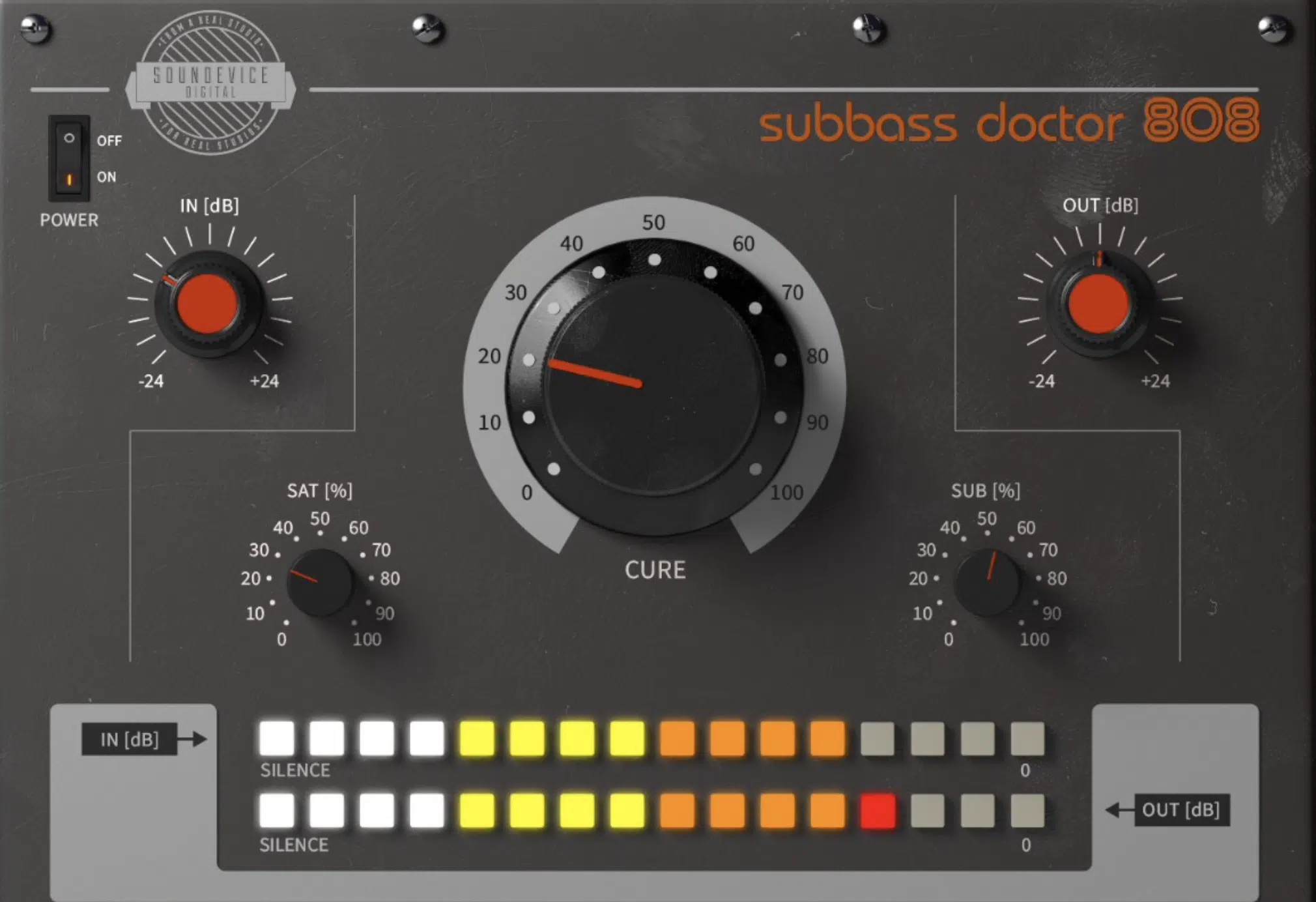 Subbass Doctor 808 by United Plugins is a necessary tool for any music producer working in less than perfect mixing environments.
Its function as a safeguard against harmful low frequencies makes it an essential component of your audio toolkit (especially if you're mixing on the move).
The SubBass Doctor 808 filters harmful frequencies and guards the lowest basses from exceeding a healthy limit.
It ensures that your sub frequencies can pump and shake without getting out of control.
As it compensates for the low-end loss, it bolsters the healthy sub frequencies 一 which guarantees that you don't lose even a bit of the sub-bass power.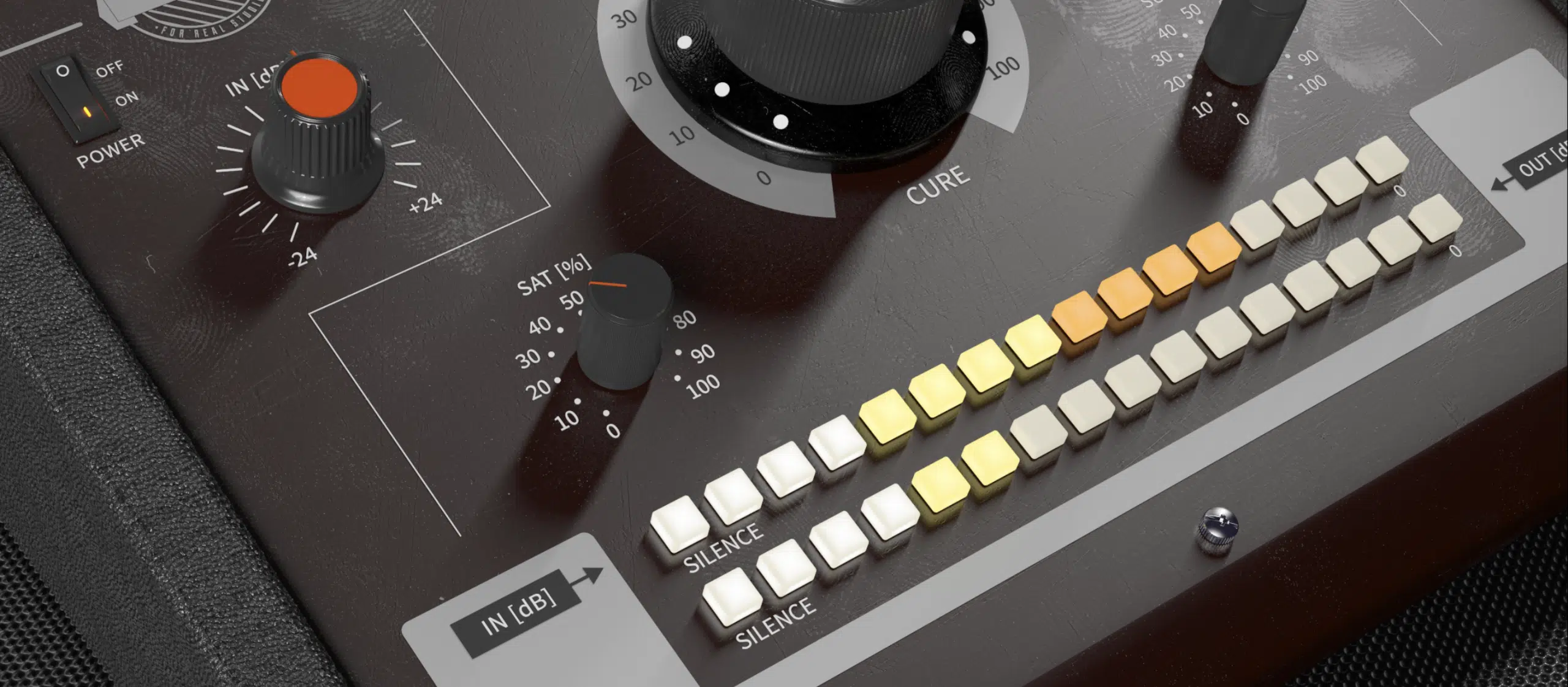 The plugin further enhances the low frequencies by adding pleasant parallel saturation, accentuating the sub-bass and adding extra warmth.
This helps the sub-bass to stand out and impress your audience.
It's particularly useful when working with:
Synth basses
Drums
808s
Instruments that reach very low (such as the low-B five-string bass or double bass)
Subbass Doctor 808 also comes with a realistic yet flexible 3D GUI.
The photorealistic graphic interface gives the feeling of using real (original) hardware, but it easily adapts to your needs.
You can fine-tune it further by changing its size to save valuable screen space or enlarge it for ease of use.
Standout Features: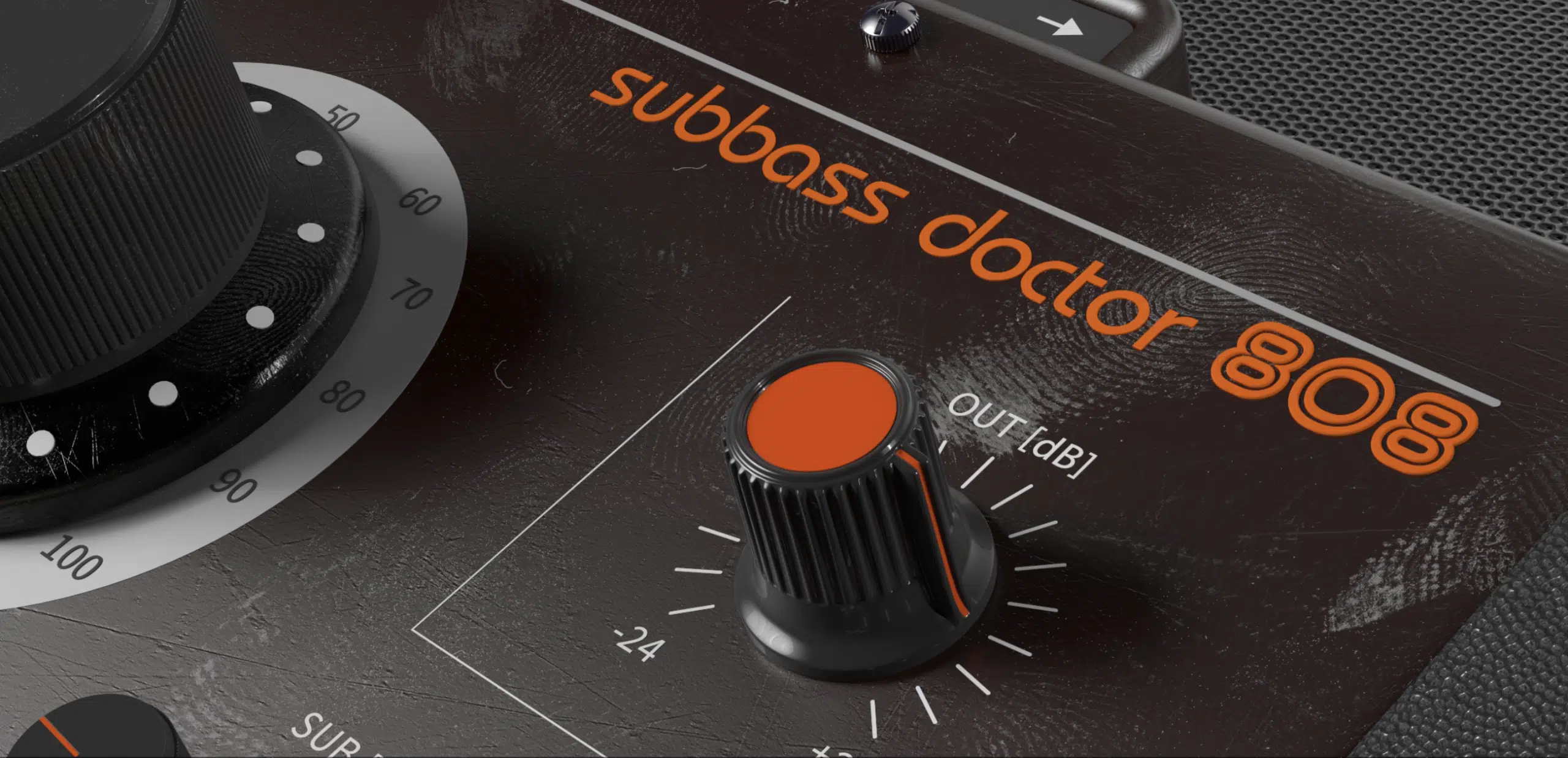 Filters and guards against harmful low frequencies
Compensation for low-end loss, ensuring a powerful sub-bass
Pleasant parallel saturation for accentuating sub-bass and adding warmth
Realistic yet flexible 3D GUI, adaptable to user needs
Designed to handle instruments that reach very low frequencies
One of the best 808 VST plugins of 2023
#8. 808 Bloodline VST by Angelicvibes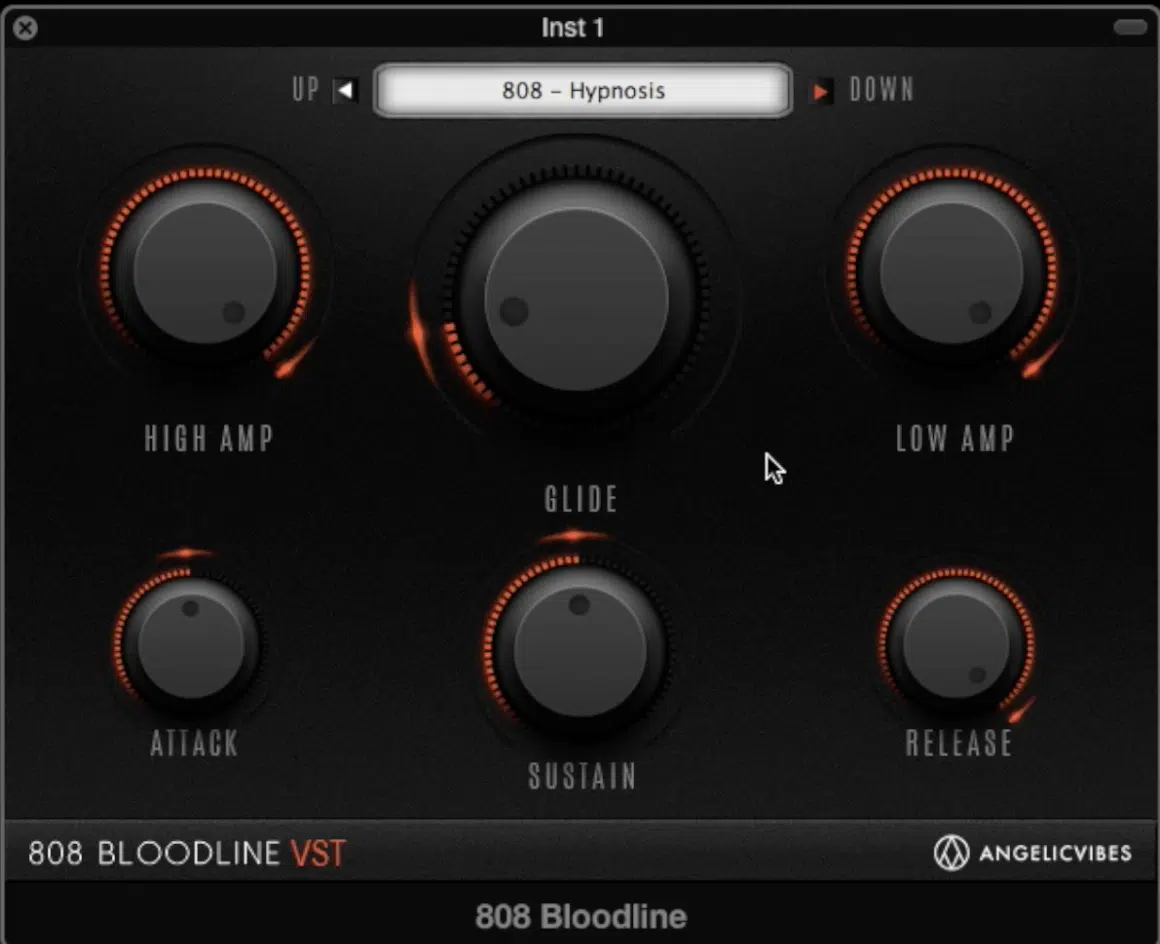 The 808 Bloodline VST by Angelicvibes aims to push the boundaries of 808 sounds.
It offers a wide variety of meticulously crafted sounds 一 ranging from hard-hitting bangers and low filtered sub kicks to drop-defining 808s and saturated monsters.
This VST/AU plugin is a handy tool for producers who want a versatile set of sounds without having to shuffle through numerous 808 samples and sub-analog drums.
The 808 Bloodline VST comes with 75 unique 808 presets and on-board effects knobs.

As a bonus, the plugin includes:
75 exclusive trap vocal chants
75 tuned WAV samples
75 808 loops to boost your production efficiency
These features eliminate the need to retune your samples, as you can simply load Bloodline into your mix and choose from a library of essential and rare 808s.
This 808 VST plugin isn't limited to one genre and can be used with Pop, House, Trap, Drill, and other unique sounds.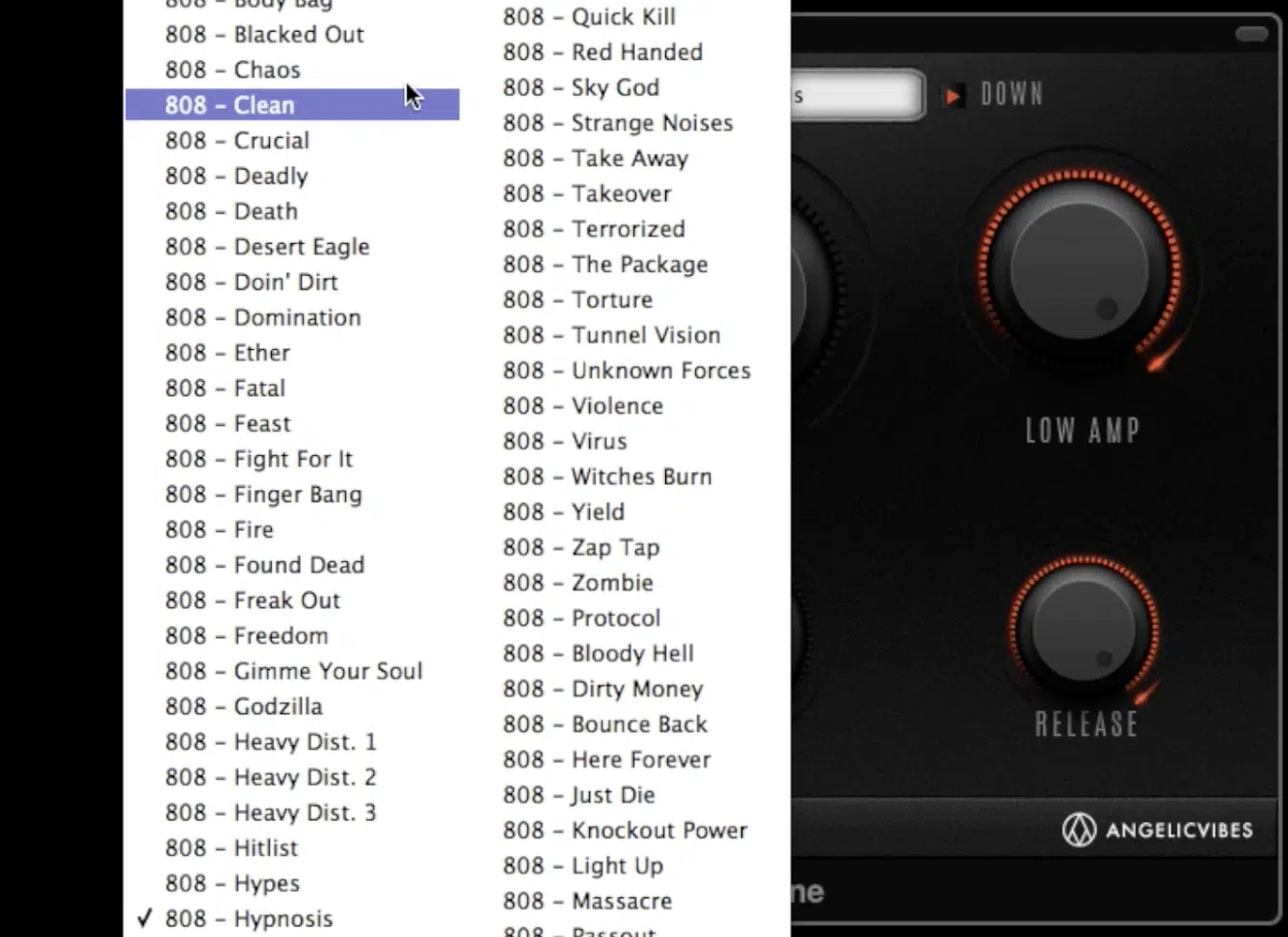 It's user-friendly design allows you to easily load it up in your DAW and start adding some dynamic basslines to your beats.
NOTE: With every purchase, you also get access to special bonuses, including 75 808 Midi Loops, 75 Tuned One-Shots 808s, and 75 Custom Vocal Chants.
Standout Features:

75 unique 808 presets with on-board effects knobs
Multi-genre functionality for diverse sound production
Bonus content including vocal chants, tuned WAV samples, and 808 loops
Easy to use with an efficient workflow
One of the best 808 VST plugins of 2023
#9. TR-808 Roland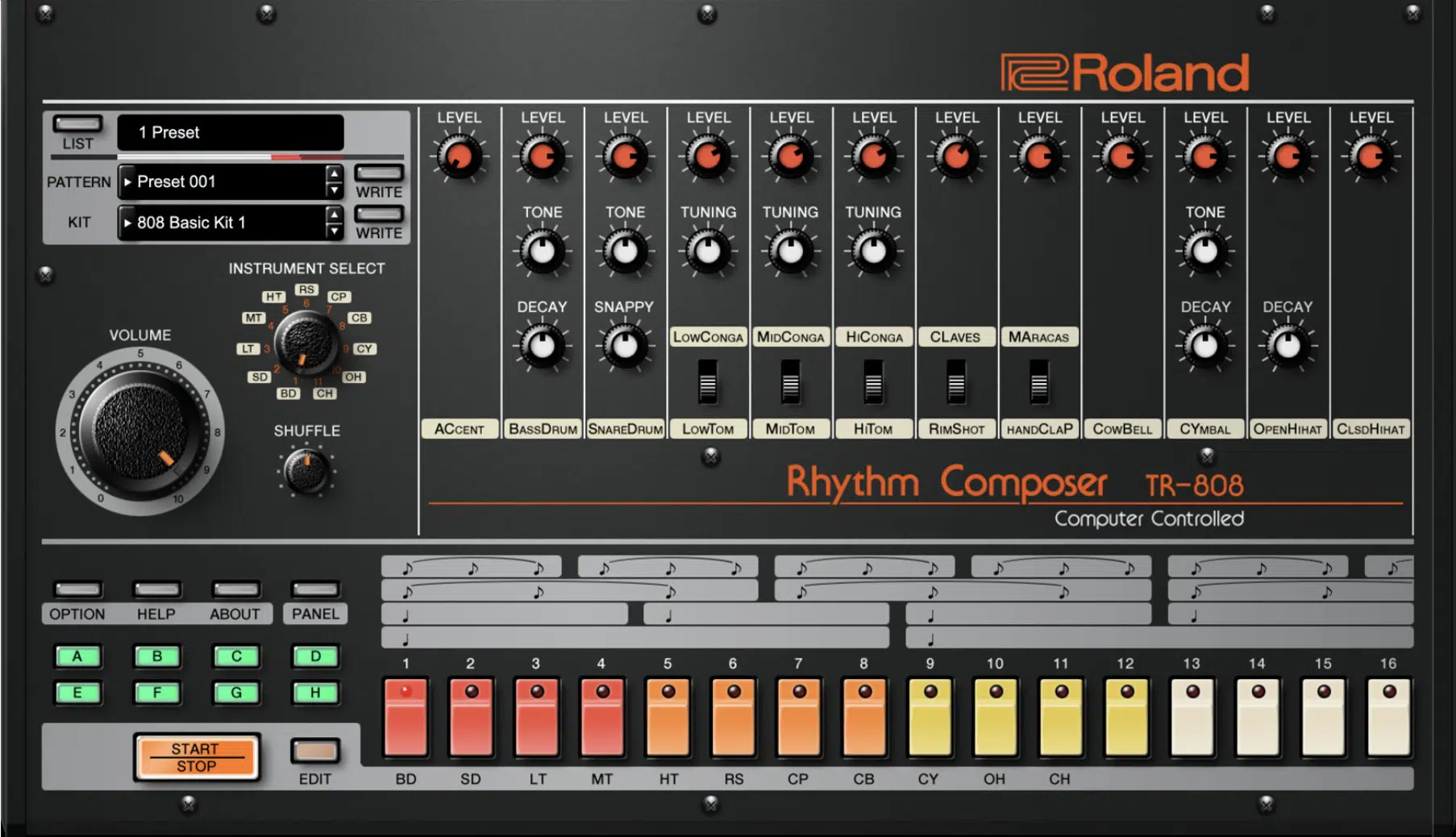 The TR-808 Roland Software Synthesizer is a precise digital replica of the legendary TR-808, an iconic electronic music instrument sought after by musicians and producers globally.
This VST/AU plugin provides the sound and behavior of the original TR-808 while adding new features that enhance sound choices and streamline programming.
With the rise of musical genres heavily reliant on the 808 sound, this epic plugin makes the classic 808 beats accessible to modern producers.
The TR-808 Roland plugin utilizes the proprietary Analog Circuit Behavior technology to recreate the original analog circuits integral to the TR-808's unique sound.

It further updates the classic with:
Tuning and decay options on each instrument
Overdrive options for the internal circuitry
An expanded step sequencer for each sound
This plugin also introduces adjustable flams, sub-steps, and soft hits for detailed fills and ratcheted sequences.
Each instrument can have its own "Last Step" and 'Shuffle' settings, encouraging creative and unique experimentation with:
Timing
Complex meters
Finding the perfect groove
Plus, you can drag and drop audio or MIDI patterns directly from the 808 into your project.
Standout Features:

Detailed digital replica of the iconic TR-808
Proprietary Analog Circuit Behavior technology for authentic sound recreation
Enhanced sound choices and programming features
Customizable settings for each instrument, enabling detailed fills and sequences
One of the best VST plugins of 2023
#10. 808 Bass Module 5 by Electronik Sound Lab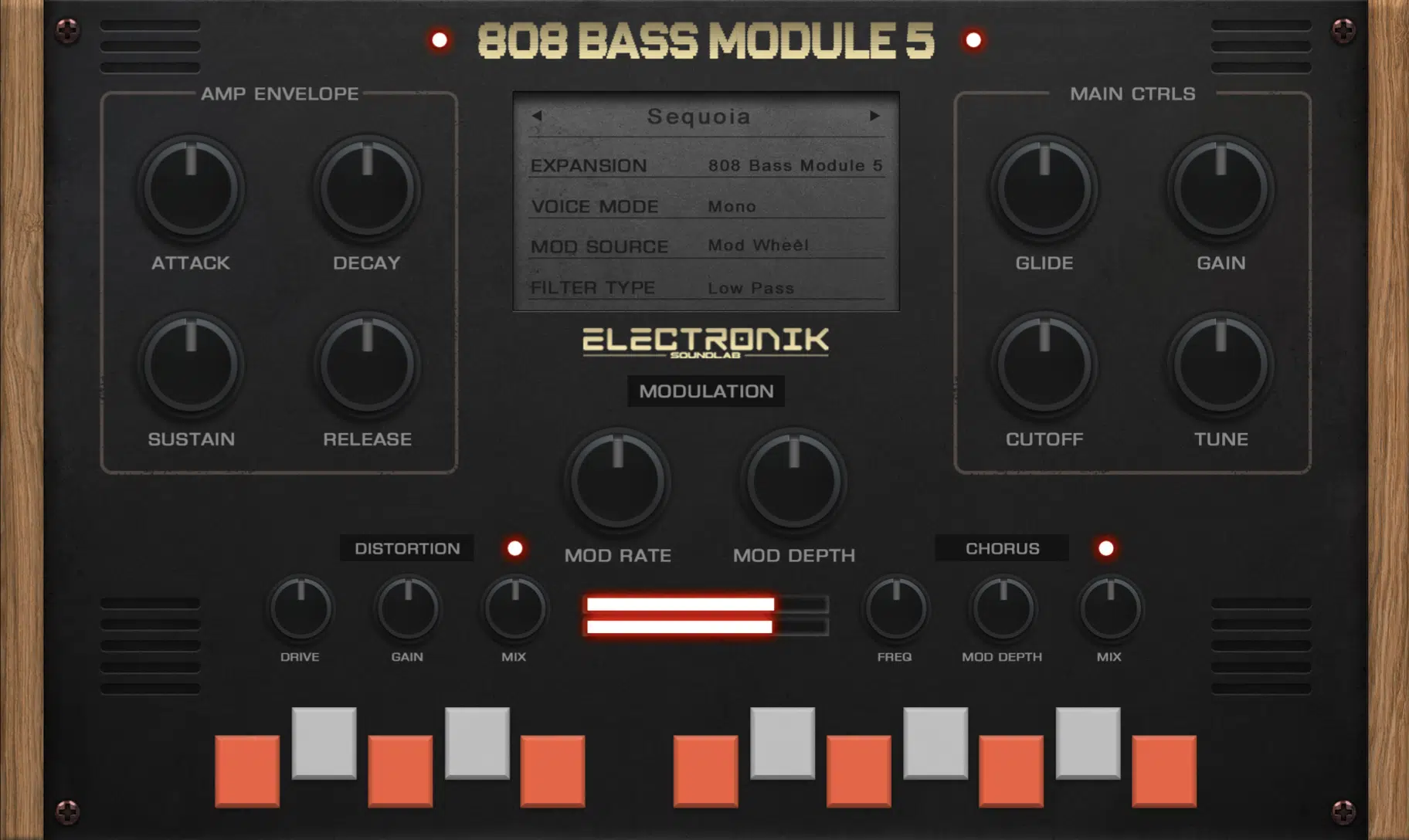 808 Bass Module 5, developed by Electronik Sound Lab, stands out as an influential 808 bass ROMpler for both Windows and Mac (VST/AU).
This powerful audio plugin delivers an impressive collection of 338 meticulously crafted and ready-to-use layered presets 一 designed to introduce an extra layer of grit and rumble to your tracks.
As the latest iteration of the most popular and best-selling plugin from Electronik Sound Lab, the 808 Bass Module 5 offers an array of enhancements.
It houses a collection of new and powerful 808 basses and elevates the experience further by refining and including those from its predecessor as an expansion.
This thoughtful inclusion ensures that you retain access to your favorite 808 basses from previous versions while benefiting from the novel ones.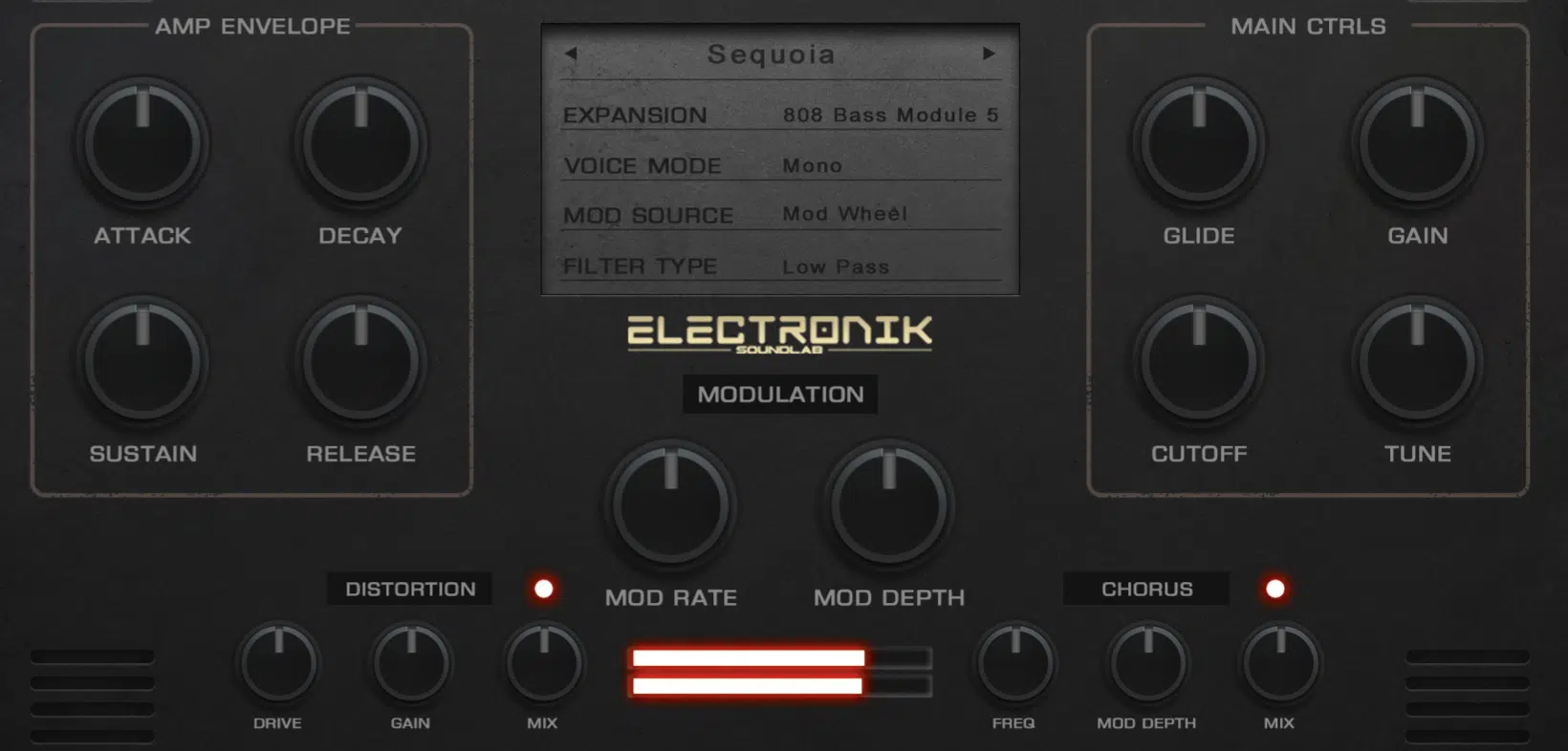 A standout feature is its user-friendly interface, which presents straightforward:
The 808 Bass Module 5 also provides the ability to adjust the global tune of the output easily.
In its commitment to versatility and quality sound design, the plugin introduces new effect modules such as distortion and chorus.
These modules (replete with their specific controls and parameters) enable an expansive soundscape for you to explore and create your unique signature modern sound.
NOTE: The 808 Bass Module 5's structure has undergone significant changes; making it incompatible with projects using the Bass Module 3/4.
However, believe me, the trade-off is an array of additional features and improved sound quality.
Standout Features:

Versatile and robust offering of 338 layered presets, ready-to-use for electronic music.
New and improved 808 basses from previous versions included as an expansion.
Intuitive interface with extensive control features including ADSR envelope, LFO modulation, lowpass/highpass filter cutoff, and global tune.
Introduction of new effect modules: distortion and chorus.
Compatibility with VST/VST3/AU plugin formats for both Windows and Mac OS (64 bit).
One of the best 808 VST plugins of 2023
808 VST Plugins: Final Thoughts
In the dynamic realm of music production, having the right tools at your disposal can greatly enhance the creative process and ultimately, the final product.
This list of the top 10 best 808 VST plugins has provided a comprehensive guide to the most powerful, customizable, and sonically diverse 808 plugins currently on the market.
From the authentic replication of the original TR-808 sound to innovative takes on the iconic 808 kick, these tools can add depth, punch, and a unique character to your tracks.
As a fitting conclusion to this exploration of 808 VST plugins, we have a special bonus for all producers who are eager to experiment with this legendary sound:
These insanely hard-hitting, unique, and show-stopping FREE 808 samples.
It includes 10 fire 808s 一 each with a unique sonic signature that breathes life into your low-end.
Every single included 808 is professionally crafted to provide a robust and deep tone, capable of underpinning any track, regardless of genre.
To aid in the creative process and provide some inspiration, the pack also includes 10 matching 808 audio loops.
These loops offer an array of rhythmic patterns, showcasing the potential of the 808s in a variety of musical contexts.
This free pack is a golden opportunity for you to explore the sonic capabilities of the 808 and integrate this iconic sound into your beats.
Whether you're a seasoned producer or just starting your musical journey, these samples and loops can provide a solid foundation and spark new creative ideas.
In the end, finding the right 808 plugin is about aligning your specific needs with the plugin's features and capabilities.
So, go ahead and play around with each of the included 808 VST synths to find your perfect match.
This way, you can find your perfect 808 sound.
Until next time…