Being a music producer is an exciting journey that blends creativity and technology.
However, you could be facing slowdowns, crashes, and other interruptions without the right computer to get your beats out there.
In turn, it can seriously cramp your creative flow.
Luckily, we're breaking down the absolute best computers for music production to help you churn out high-quality audio tracks like a pro.
What we'll be covering for each computer:
Key Features for music production tasks ✓
Power Processing ✓
Graphics and Display ✓
Portability ✓
Battery Life ✓
Extra Functionalities ✓
Price vs. Performance ✓
Each computer offers unique features and capabilities that can seriously enhance your music production process.
From lightning-fast processors and ample storage space to stunning displays and high-fidelity audio systems, you're bound to find the best computer for music production (in your eyes).
And, unlike other blogs, we're not just including a sentence or two; we're including every pertinent detail you need to know.
So, let's dive in…
What To Look For When Choosing a Computer For Your Music 
Choosing the right computer for music production is not just about the shiny ads or what your favorite producer is using.
It's about understanding what will give your tracks that crisp, professional sound and seamless workflow.
So, let's break down some key features you'll need to consider when choosing the perfect computer.
#1. Speed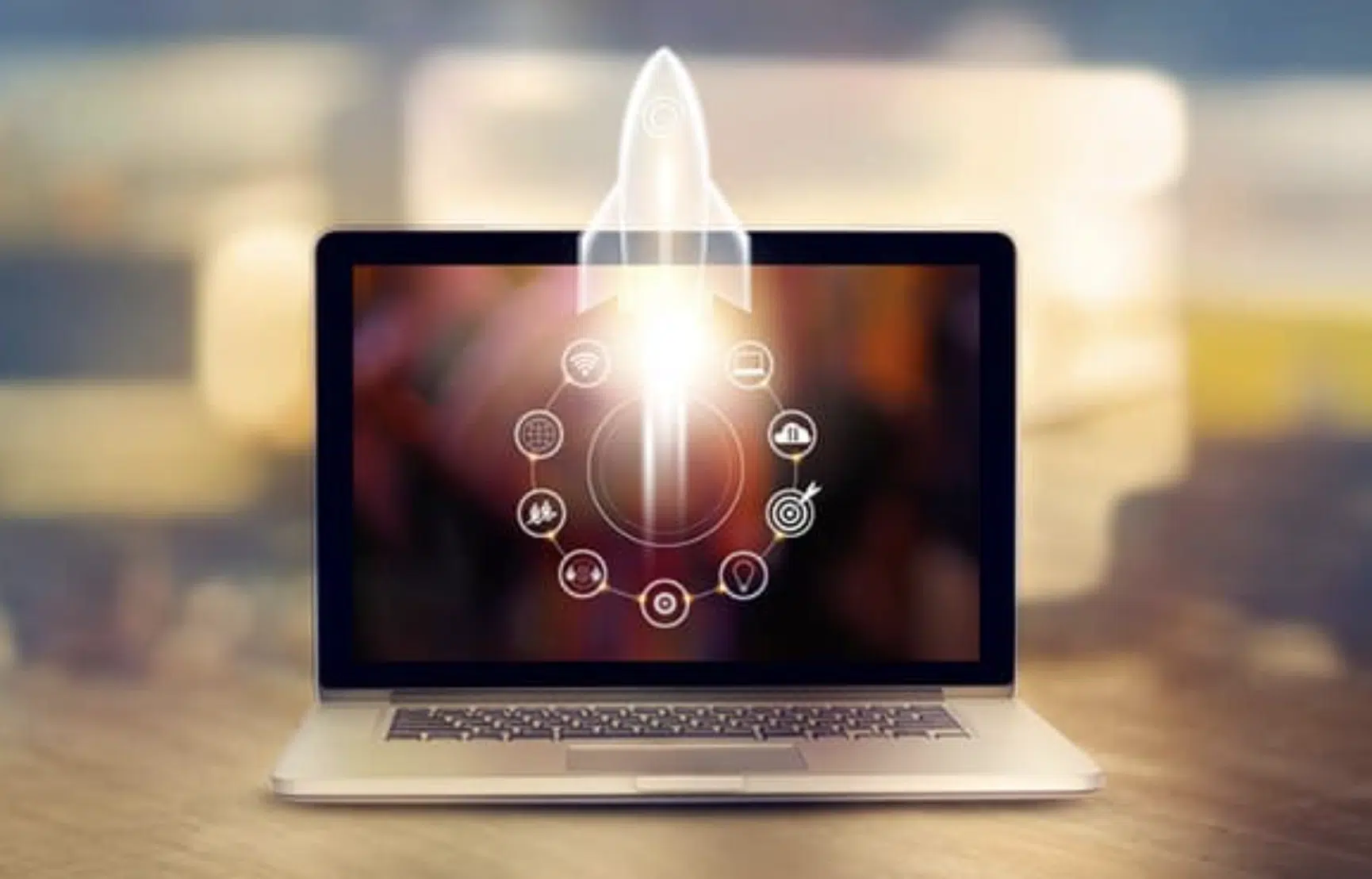 Speed is to music production what a good beat is to hip-hop 一 essential.
When I talk about speed, I mean the CPU's clock speed.
Clock speed measures how many cycles a CPU will execute per second in gigahertz (GHz).
In simpler terms, a higher clock speed allows your computer to run faster.
This ensures quicker response times when running multiple programs or dealing with demanding music production tasks.
Look for something with a clock speed above 3.0 GHz to keep those beats flowing smoothly.
#2. Processing Power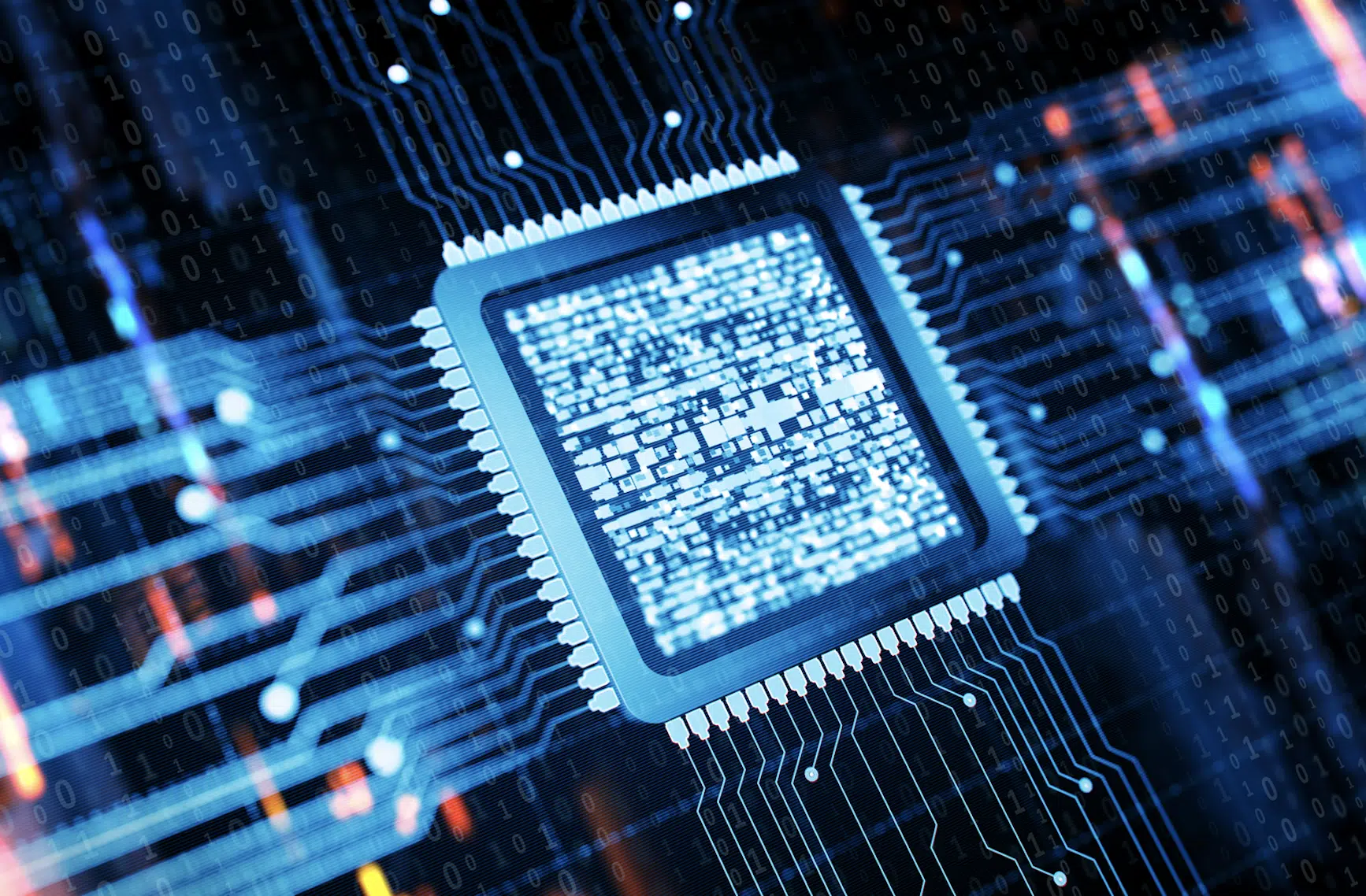 Your CPU's processing power supply is essentially the engine that drives your virtual recording studio.
Whether you're mixing audio tracks or adding complex audio effects, a powerful CPU ensures everything runs smoothly.
The Intel Core i7 or i9 processors are killer options for desktop PCs.
If you're in the Apple camp, the M2 chips are revolutionizing music production tasks.
#3. Functionality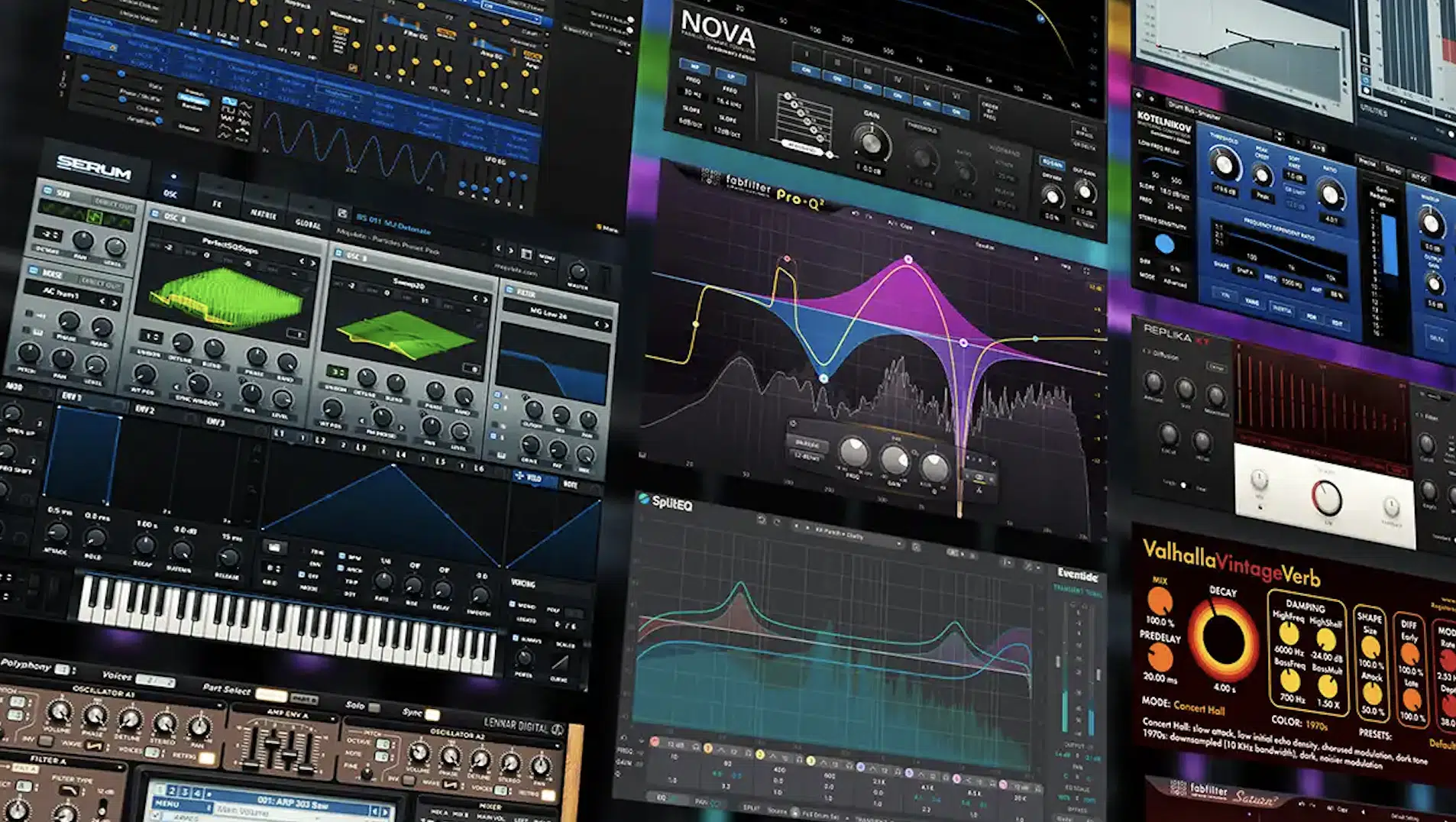 Your computer must be a Swiss Army knife, versatile, and compatible with all sorts of audio software and plugins.
Different DAW software has different system requirements, and the last thing you want is to find out your machine can't run your favorite plugins.
Both Apple Macs and Windows PCs have a wide range of music production software available, so check compatibility before diving in.
#4. Memory (RAM)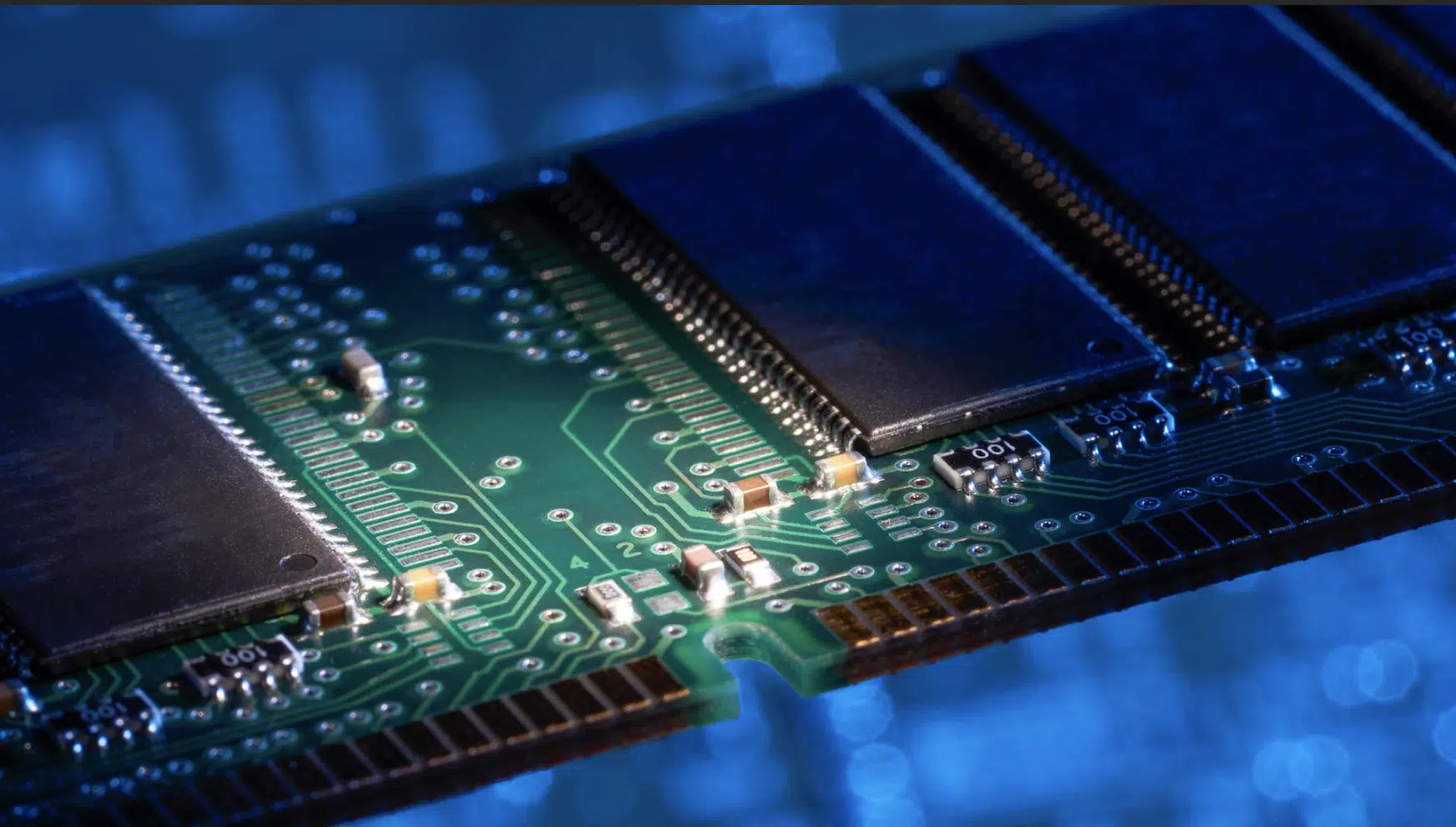 Think of RAM as your computer's workspace: the more you have, the more tasks you can perform simultaneously.
A sufficient amount of RAM is crucial for:
Aim for at least 16GB for a desktop PC or MacBook, but if you can stretch to 32GB, your future self will thank you.
#5. Flexibility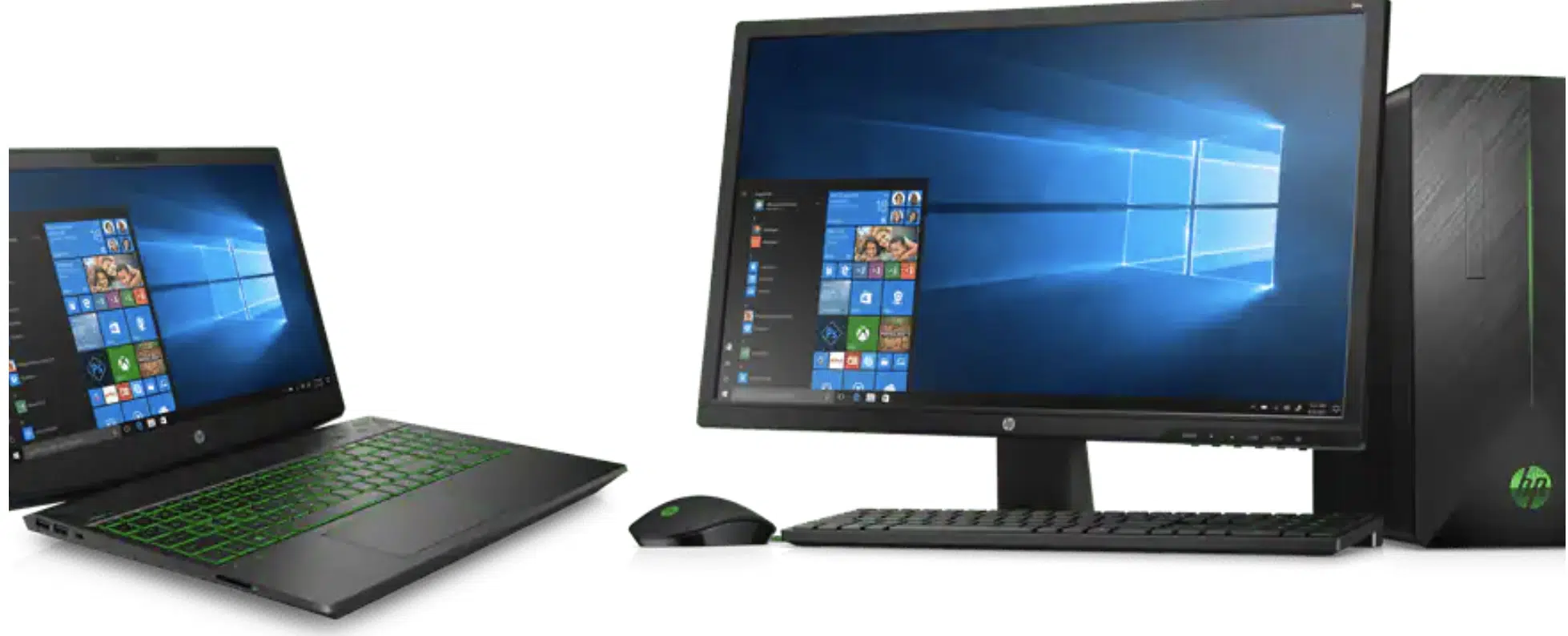 Are you the kind of music producer who's always on the move, or do you have a dedicated space for your music-making magic?
Laptops 一 Offer portability but often compromise on upgradability and power.
Desktop computers 一 Give you more flexibility in upgrading components like RAM and storage space.
So, always consider your personal needs before choosing either option.
#6. Storage Space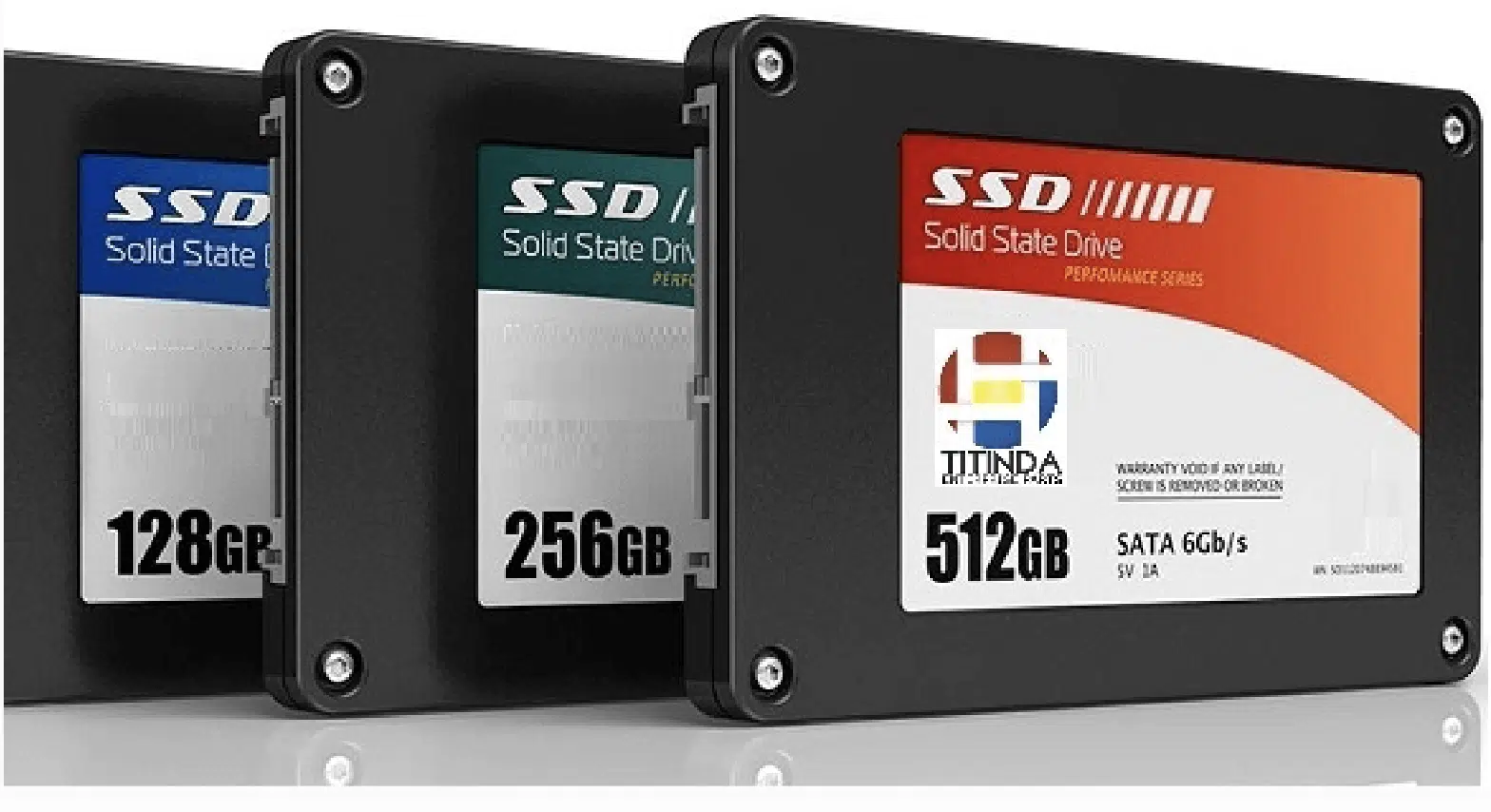 Your computer's storage is very important as a music producer.
It's where all your pertinent tools live, like:
SSDs (Solid State Drives) offer faster data access times than HDDs (Hard Disk Drives) 一 making them a better choice for most music production tasks.
Aim for at least 1TB of storage space, especially if you're dealing with large audio files.
#7. Audio Interface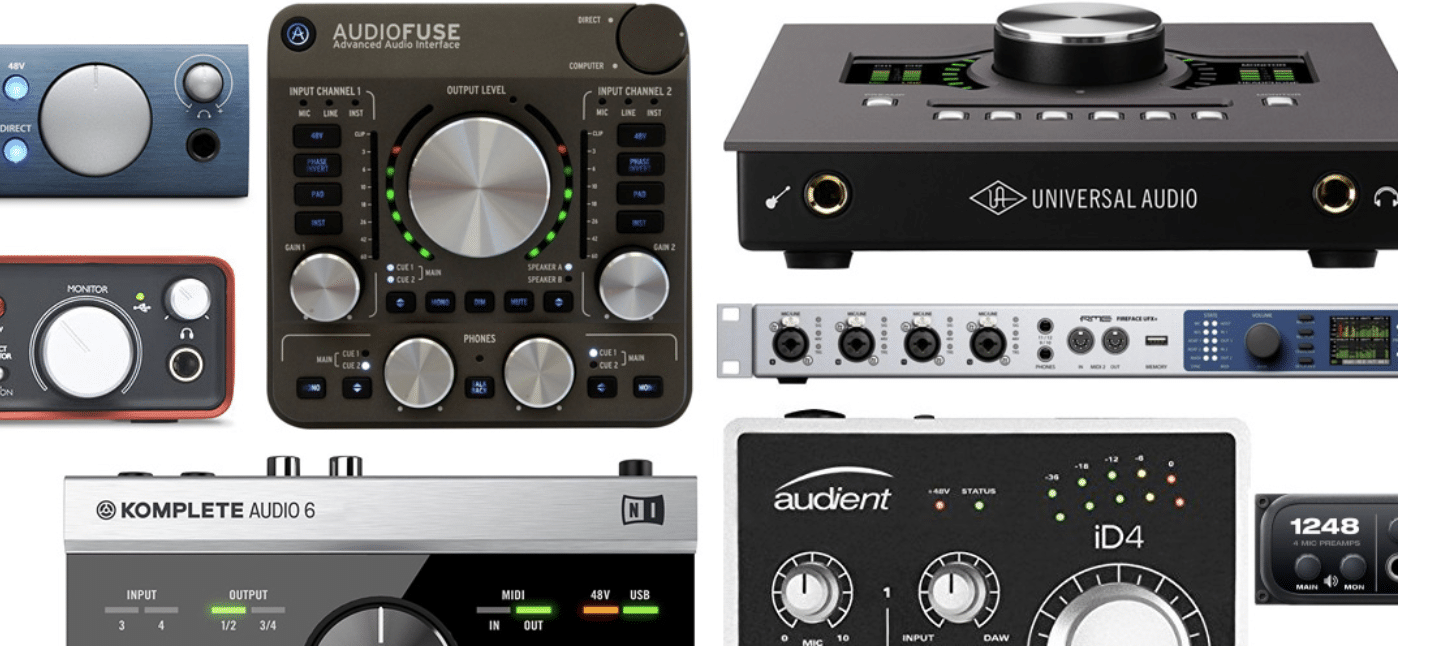 An audio interface mediates between your computer and the external hardware.
It translates audio signals into digital data your computer can understand and vice versa.
Ensure your computer choice has compatible ports (like USB-C or Thunderbolt) for your audio interfaces to ensure seamless connectivity.
If you're looking for the absolute best audio interfaces, we've got you covered.
#8. Operating System (OS)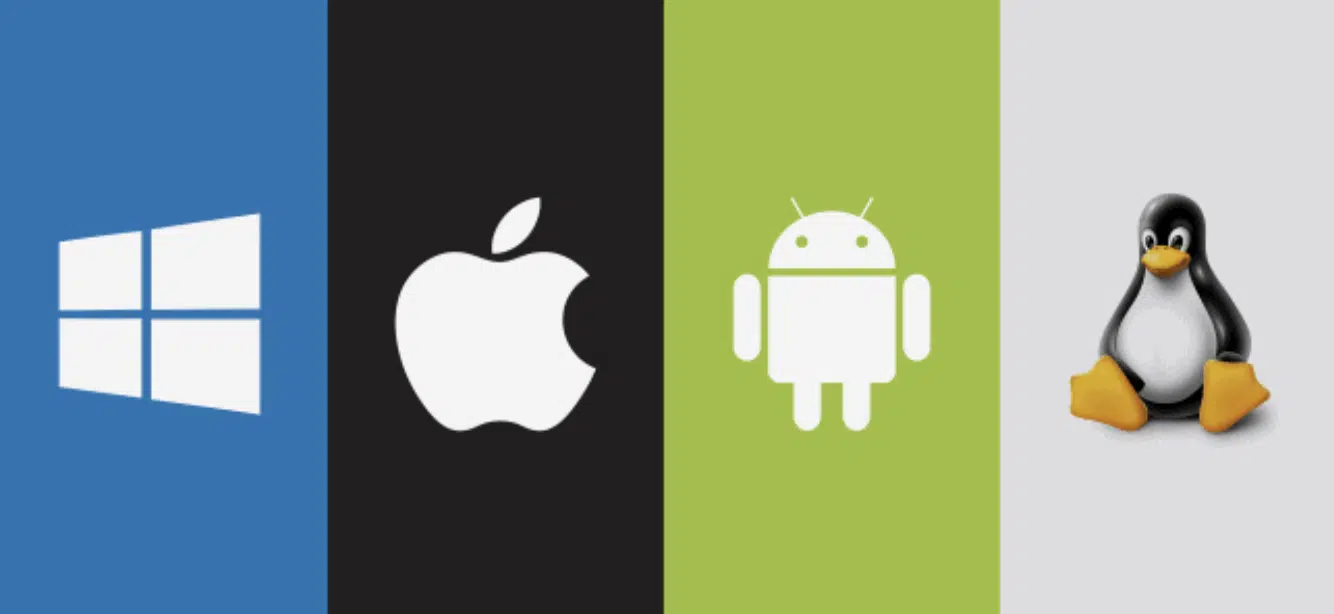 Your Operating System (OS) dictates which music software you can run.
For instance, Logic Pro is a Mac-only application, while FL Studio is more Windows-centric.
Remember that certain music production software might run more efficiently on one OS over the other, so choose wisely.
#9. Connectivity Options

Connectivity options like USB, Thunderbolt, and HDMI ports might not seem important initially, but trust me… they are.
If you're planning a dual-screen setup, you'll need multiple ports to connect your:
Audio interfaces
External storage
Even an external monitor
And there you have it 一 the key things to look for when hunting for the best computer for music production.
Next, we'll dive into the best computers for music production, starting with laptops and moving on to desktops afterward.
The 5 Best Laptops for Music Production
So now that we've sorted out the key factors you need to consider while shopping for a music production computer, let's move on to the good stuff: the 5 best laptops for music production.
In today's fast-evolving tech landscape, options abound.
But don't sweat it 一 we've narrowed it down to the top 5 laptops making waves in the music production industry in 2023.
After the best laptops for music production, we'll also discuss the 4 best music production PCs around.
#1. The 16" MacBook Pro (M2 Max)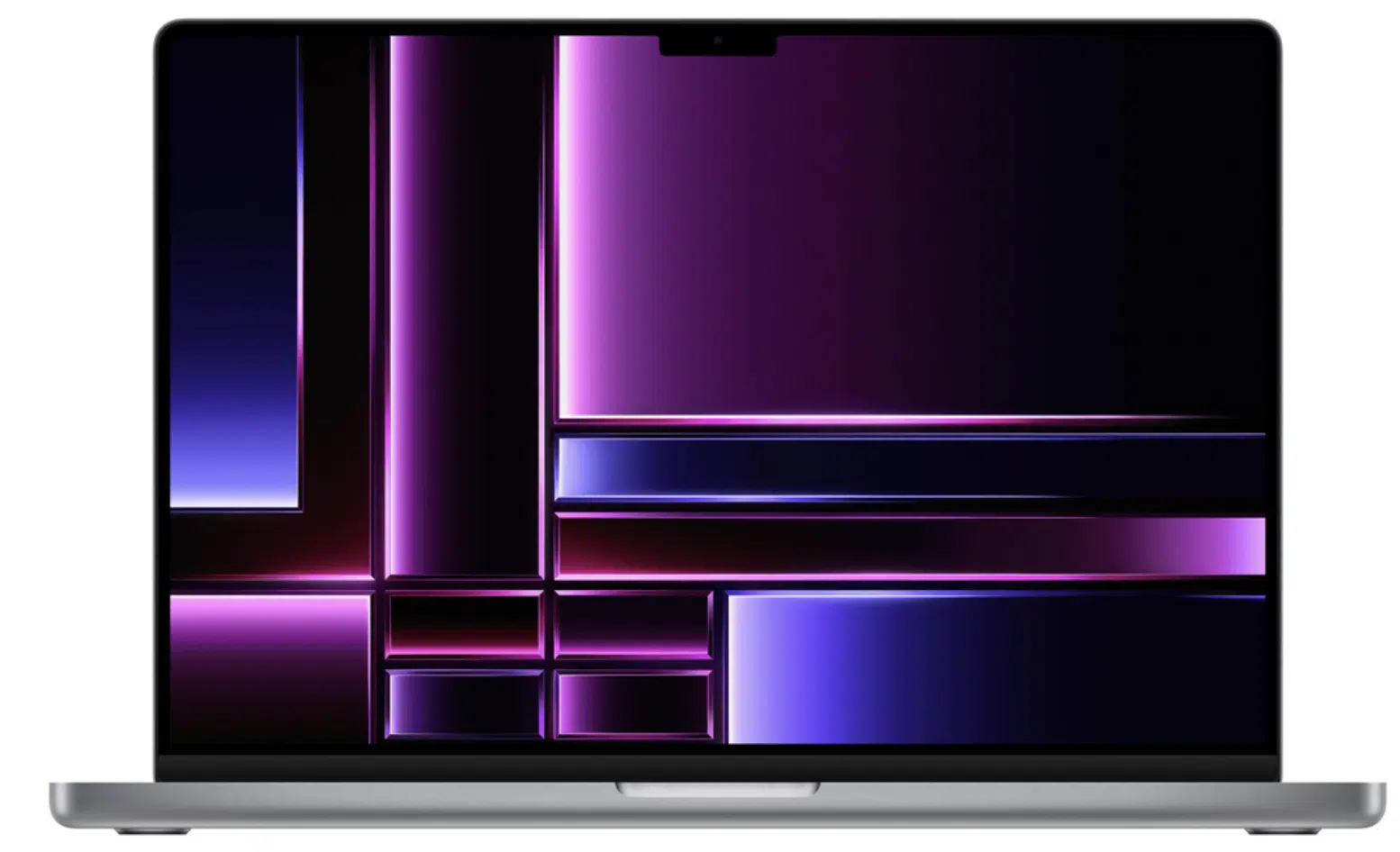 The 16-inch MacBook Pro with the M2 Max chip sets a high bar for anyone engaged in creative endeavors, including music production.
With its next-generation 12-core CPU and Neural Engine, this beast of a machine is designed for heavy computational loads.
This is invaluable when you're running demanding DAWs like Logic Pro X or handling resource-intensive plugins.
Its architecture also boasts a memory bandwidth of 200GB/s, a feature crucial for audio processing tasks, as it enables quicker data retrieval and smoother workflows.
Regarding graphical prowess, this laptop is no slouch, either.
Featuring a 19-core GPU, the MacBook Pro can readily handle tasks beyond audio processing.
Whether you're editing music videos or creating complex visuals to accompany your audio tracks, the GPU provides enough horsepower to make these tasks as effortless as possible.
It also supports up to 23 streams of 4K ProRes video playback 一 making it a dedicated computer for anyone dealing with high-resolution video and audio editing.
In terms of memory and storage, this MacBook Pro offers up to 32GB of unified memory and configurations up to a staggering 8TB of all-flash storage.
The high-speed memory ensures efficient multitasking and quick access to large sample libraries, essential for music production.
Meaning, it's ideal for professionals who need to store:
Extensive sample libraries
High-definition audio tracks
The 16.2-inch Liquid Retina XDR display with mini-LED backlighting is another highlight.
Boasting a brightness of up to 1,600 nits, this display offers an unparalleled visual experience.
This is critical when working on intricate audio-visual projects, where accurate color reproduction and sharpness can make a world of difference.
The device's physical design is just as impressive and will be a welcomed edition to your home studio/music studio.
The Apple MacBook Pro is encased in a flat aluminum slab with rounded corners with dimensions measuring 14.01 inches wide, 9.77 inches deep, and 0.66 inches thick.
Not only does this make it incredibly sturdy, but its premium look and feel make it a desirable item for creators who care about aesthetics.
Additionally, it's engineered to be highly efficient with its thermal systems 一 ensuring that the fans remain silent under most workloads.
This is a significant advantage for music producers who require a quiet environment.
With a battery life claimed to be the longest ever in a Mac, this device ensures that you are not tethered to a power outlet.
The machine remains equally fast whether it's running on battery or plugged in, thanks to the efficiency of the Apple silicon.
This means that you can work on your music projects from wherever inspiration strikes.
Honestly, this is one of the best computers for music production, hands down.
Key Features of This Computer for Music Production:

12-core CPU with Neural Engine.
19-core GPU.
Up to 32GB Unified Memory and 8TB Storage.
Liquid Retina XDR Display.
Advanced Thermal System.
Longest Battery Life in a Mac.
The best computer for music production.
#2. Apple MacBook Air M2 (13″ and 15″)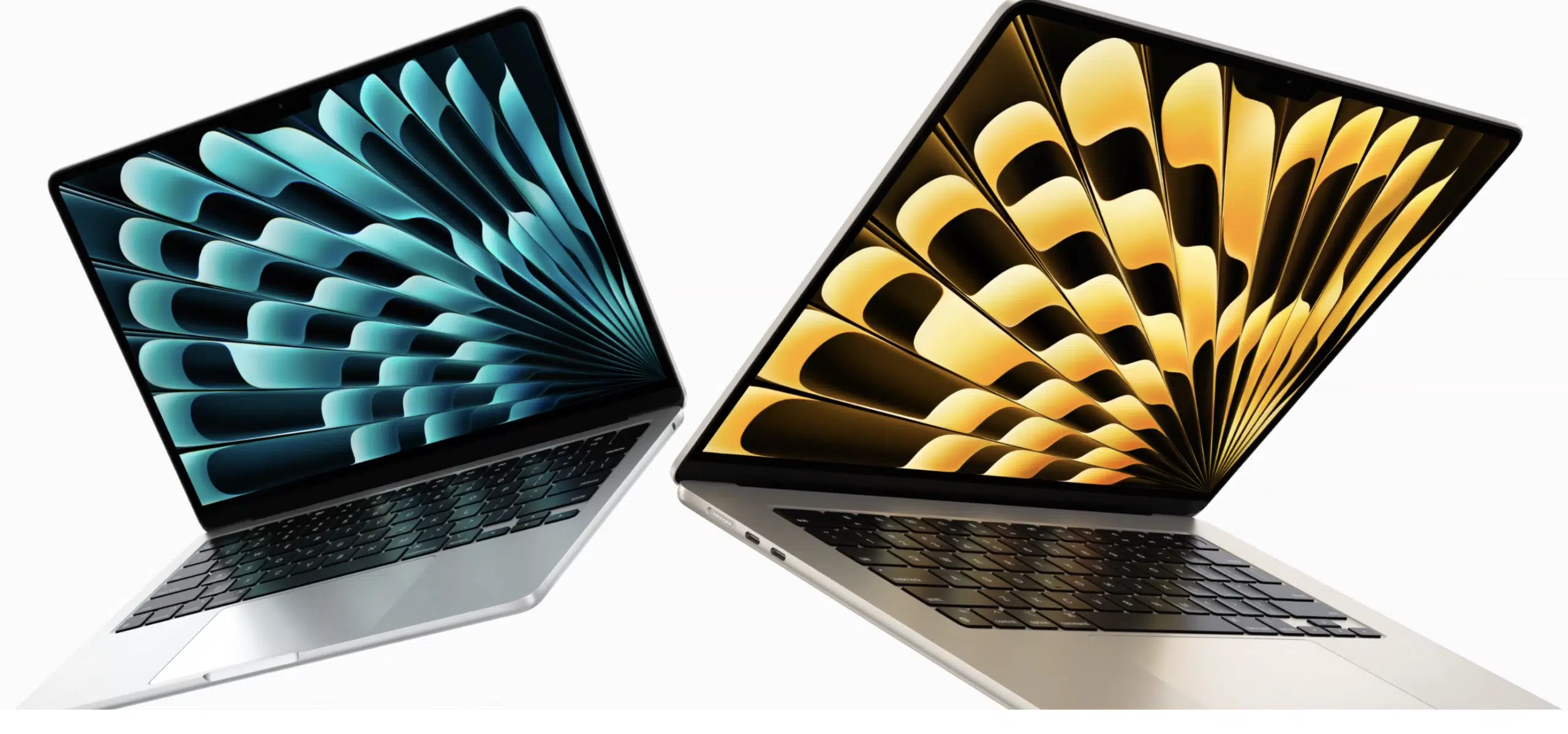 The MacBook Air with the M2 chip exemplifies the perfect balance between portability and performance, particularly for musicians and music producers on the go.
Available in both 13 and 15-inch models, this laptop is designed to be ultra-lightweight and slim.
It measures just under half an inch in thickness.
Despite its small footprint, it comes with an 18-hour battery life 一 allowing for extended work sessions without needing a power outlet.
Under the hood, the M2 chip ensures you get up to twice the performance compared to laptops running on an Intel Core i7 processor.
This is particularly useful for music production tasks such as:
The Liquid Retina display further complements these capabilities by offering support for 1 billion colors and up to twice the resolution of comparable PC laptops.
This ensures that any visuals associated with your music are rendered with utmost clarity.
Regarding audio output, the MacBook Air has speakers that support Spatial Audio and Dolby Atmos.
This feature lets you preview your mix in a three-dimensional soundstage, which can be crucial for tasks like sound design or ensuring your mix translates well over different types of audio systems.
The backlit Magic Keyboard with full-height function keys ensures a comfortable typing experience, which is beneficial during long editing sessions.
One unique feature is the fanless design, which means the laptop operates silently despite heavy workloads.
This is a significant advantage when recording acoustic instruments or vocals, as you won't have to worry about fan noise contaminating your recordings.
On the connectivity front, the machine comes with two Thunderbolt ports.
It allow you to connect high-speed accessories like audio interfaces or external SSDs.
Plus, the MagSafe charging cable ensures that your laptop remains securely connected to power.
Security is another strong suit of this device, with Touch ID enabling fast and secure authentication.
This is particularly useful for professionals with sensitive project files that require an extra layer of security.
The 100% recycled aluminum enclosure also adds to its sustainability credentials, making it an eco-friendly choice.
And perfect for audio production, of course.
Key Features of This Computer for Music Production:

M2 Chip.
18-Hour Battery Life.
Fanless Design.
Spatial Audio and Dolby Atmos Support.
Liquid Retina Display.
Touch ID.
The #2 best computer for music production.
#3. Razer Blade 18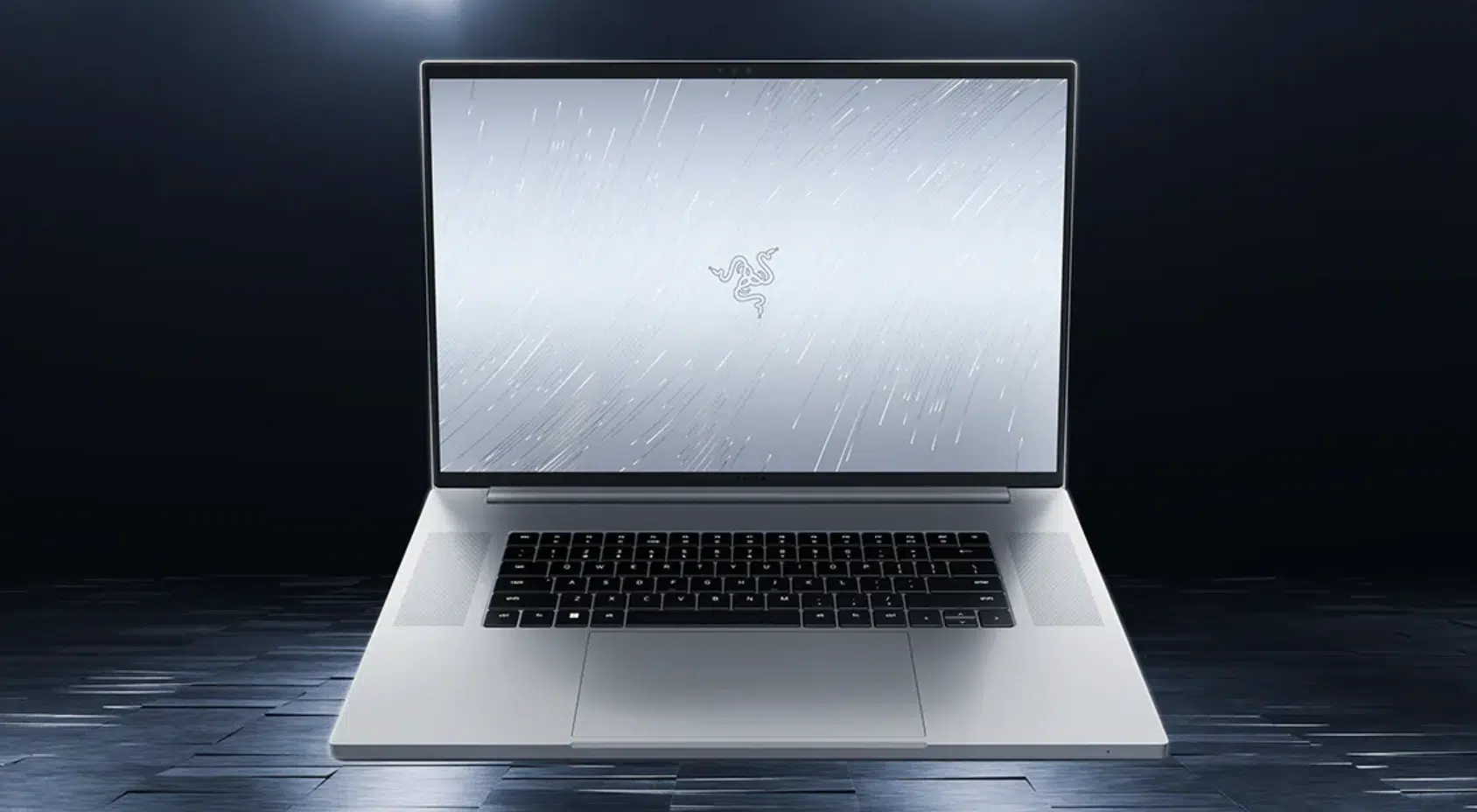 The Razer Blade 18 is often described as the ultimate desktop replacement, and for good reason.
Aimed at high-end gamers and creators (including musicians and music producers), this laptop is a technical marvel equipped with the latest Intel 13th Gen Core i9 HX processors and NVIDIA GeForce RTX 4090 graphics.
These specifications make it one of the most powerful laptops on the market.
It can run even the most demanding music production software and plug-ins with relative ease.
Whether you're working on intricate orchestral arrangements in software like Ableton Live and FL Studio, or running multiple virtual instruments and effects, the Razer Blade 18 can handle it.
The display is another standout feature 一 boasting a stunning QHD+ 18-inch screen.
This large, high-resolution display provides ample real estate for your:
DAW's interface
All the software tools you'll need
The excellent color accuracy and sharpness also make it ideal for video editing or graphic design tasks accompanying your music projects.
Audio quality hasn't been overlooked either…
The laptop comes with six THX Spatial Audio certified speakers, providing a three-dimensional sound experience.
This feature allows for an immersive experience when mixing or just listening back to tracks.
Whether aiming for high-quality production or simply seeking a realistic representation of your work, it's top-notch.
Thermal management is also well-executed, thanks to the largest vapor chamber ever created by Razer, paired with a specially tuned 3-fan system.
High temperatures can lead to reduced performance and even potential damage to the hardware over time.
Therefore, efficient cooling is crucial, especially when the laptop is under very heavy workload for extended periods.
Beyond its performance, the Razer Blade 18 has been designed for durability and aesthetic appeal.
It's CNC-milled from a single aluminum block.
It provides an optimal strength-to-weight ratio and anodized with a matte black finish for a smooth, scratch-resistant surface.
Last but not least, the laptop comes with Razer Synapse 3, a software tool that allows you to customize various settings, including lighting, fan speeds, and even power boosting.
This is particularly useful for music production, where specific workflows may benefit from customized hardware settings.
Key Features of This Computer for Music Production: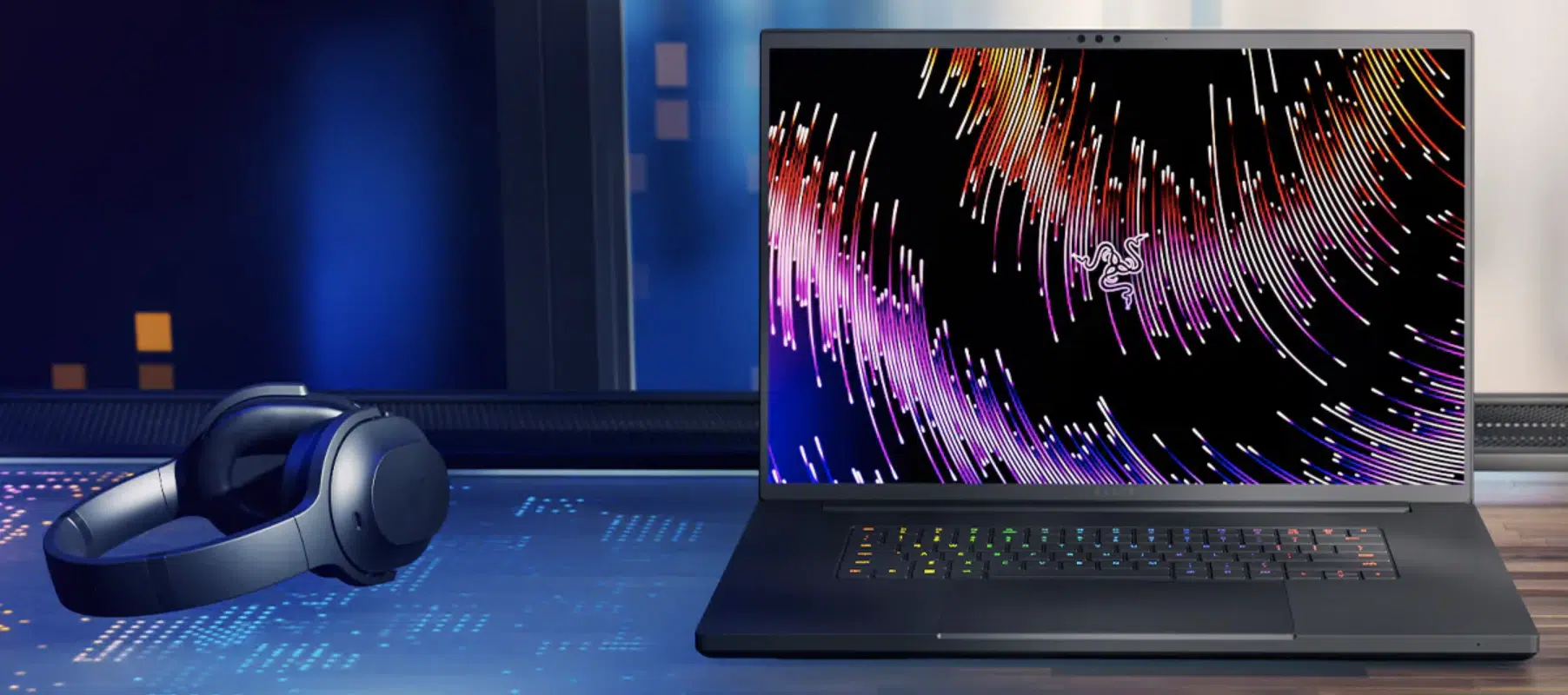 Intel 13th Gen Core i9 HX Processors.
NVIDIA GeForce RTX 4090 Graphics.
QHD+ 18-Inch High-Quality Display.
Six THX Spatial Audio-Certified Speakers.
Advanced Vapor Chamber Cooling System.
Razer Synapse 3 Customization.
The #3 Best Computer for Music Production.
#4. Dell XPS 13 OLED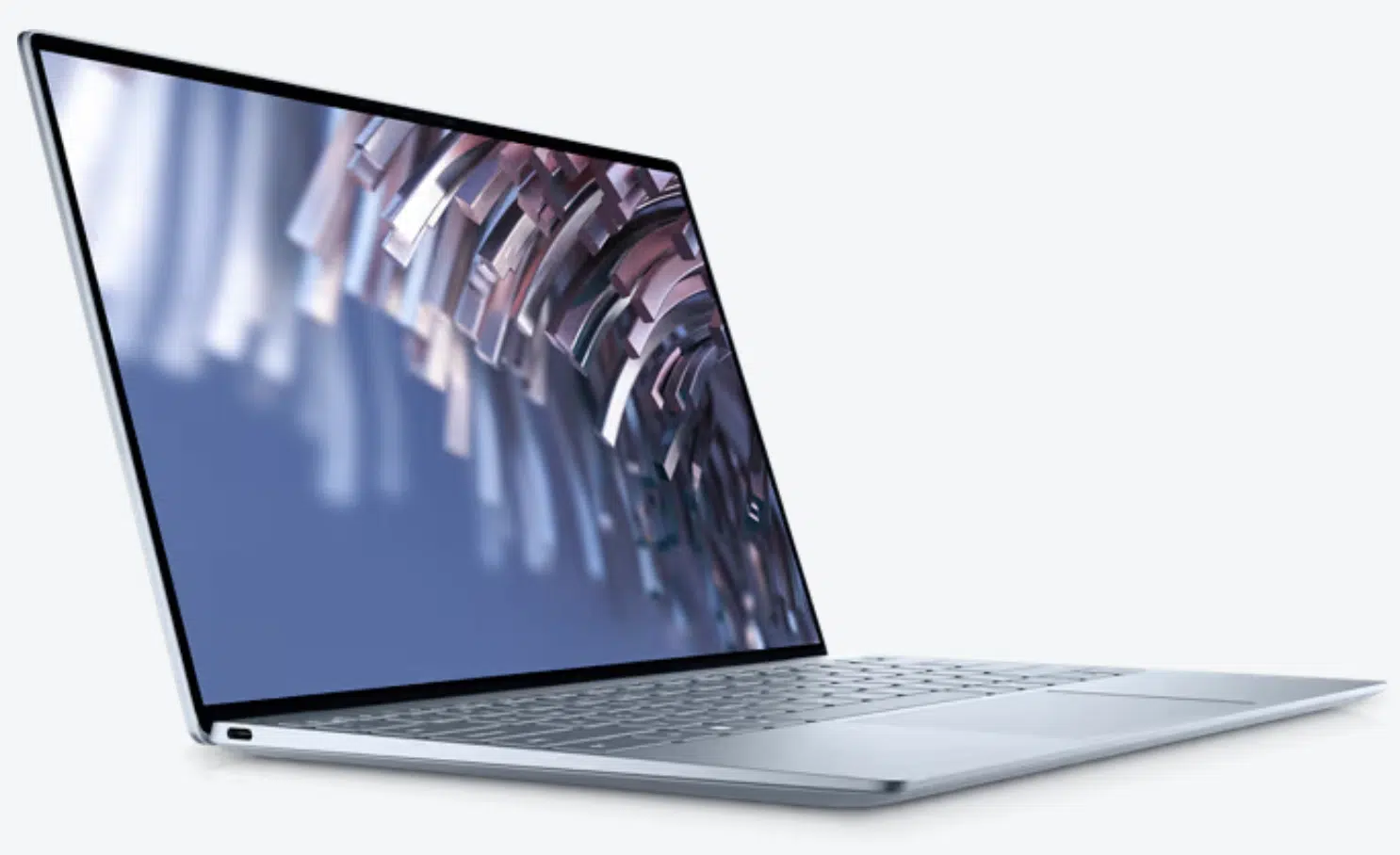 In the world of Windows laptops, the Dell XPS 13 OLED is often hailed as a masterpiece of design and functionality.
Built for those who live a mobile lifestyle, this laptop doesn't skimp on performance, which makes it an excellent choice for music producers who are always on the go.
One of the standout features is its 12th Gen Intel processors, which provide 1.5x higher performance than its predecessor.
This processing power allows music producers to run multiple plugins and DAWs (Digital Audio Workstations) simultaneously without lag or glitches.
The Dell Performance application on this machine gives users the option to customize performance modes, including:
Quiet
Ultra-performance
Cool
Optimized
In the world of music production, where CPU-intensive tasks are the norm, balancing performance and thermals could be a lifesaver.
For instance, you might opt for "ultra-performance" when you're mixing and mastering a complex project but switch to "cool" or "quiet" during recording sessions to minimize fan noise.
Dell doesn't just focus on performance; the XPS 13 OLED is also designed with sustainability in mind.
If you collaborate online, the dual-sensor camera that separates infrared from RGB can help improve video quality during virtual meetings.
The camera pairs with Windows Hello and ExpressSign-in to offer a quick and secure login experience.
NOTE: This is a nice bonus for when you're pulling long, extensive sessions and want to jump straight into your work.
Additionally, the laptop comes with Thunderbolt 4 (USB Type-C) with DisplayPort and Power Delivery x2.
Meaning, you can easily connect your high-speed musical peripherals, like an audio interface or MIDI controller, without worrying about latency.
It also includes USB-C to USB-A 3.0 and USB-C to 3.5mm headset adapters right in the box, ensuring you have all the connectivity options you need for a versatile music production setup.
Key Features of this Computer for Music Production: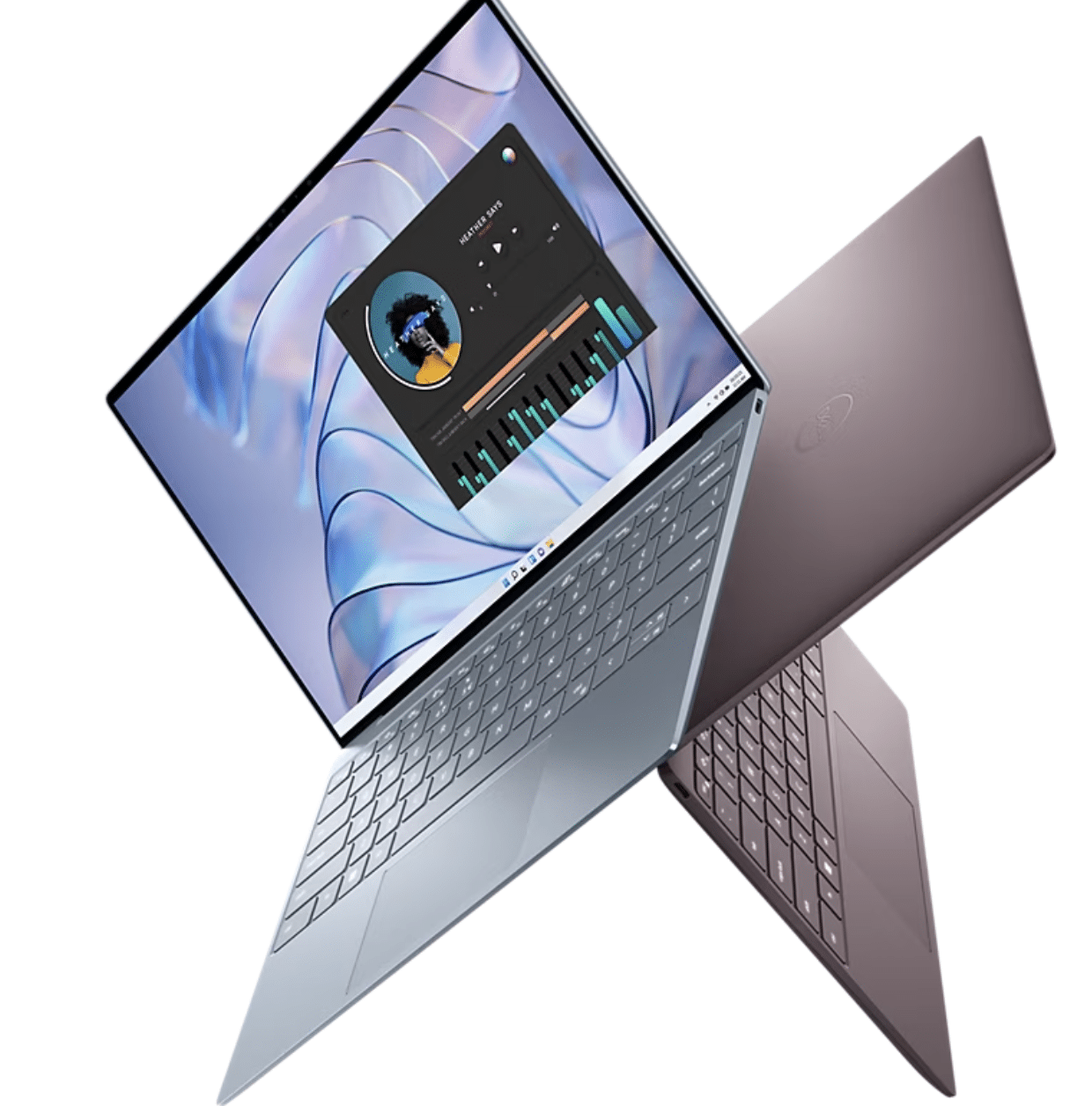 12th Gen Intel processors for high-speed performance.
Customizable performance modes through Dell Performance application.
Eco-friendly design with low-carbon aluminum chassis.
Dual-sensor camera for improved video quality.
Thunderbolt 4 ports for low-latency connections to musical peripherals.
The #4 best computer for music production.
#5. Microsoft Surface Pro 9
The Microsoft Surface Pro 9 brings the versatility of a 2-in-1 laptop, combining tablet portability with laptop performance.
This duality can be particularly useful for music producers needing a versatile machine for production and live performances.
The Surface Pro 9 offers a range of processor choices, from 12th Gen Intel Core i5 or i7 to Microsoft SQ 3 processor built in partnership with Qualcomm.
One of the most outstanding features is its virtually edge-to-edge 13″ PixelSense touchscreen.
This display becomes an incredible asset when using DAWs or other music production software that benefits from touch input.
The Surface Slim Pen 2 (which charges wirelessly in the keyboard) provides a natural feel for note-taking or even using musical notation software.
When it comes to connectivity, the Surface Pro 9 excels with two USB-C ports supporting USB 4.0/Thunderbolt 4.
These high-speed ports are a boon for music production, allowing the connection of:
Audio interfaces
MIDI controllers
Up to two external monitors for an extended workspace
If you opt for the 5G model, these ports are USB-C 3.2 but still offer robust connectivity options.
Battery life is another strong suit of this laptop…
With up to 19 hours of battery life, you're covered for long recording sessions or even live performances.
No need to worry about finding an outlet in the middle of a creative burst.
And speaking of going wireless, the optional high-speed 5G connectivity can be crucial for cloud-based collaborations or even live streaming your music.
The Surface Pro 9 runs on Windows 11 and supports Microsoft 365, giving you access to professional software.
Whether it's for music production, video editing for your music videos, or handling administrative tasks like emails and document editing, this laptop has you covered.
Key Features of this Computer for Music Production: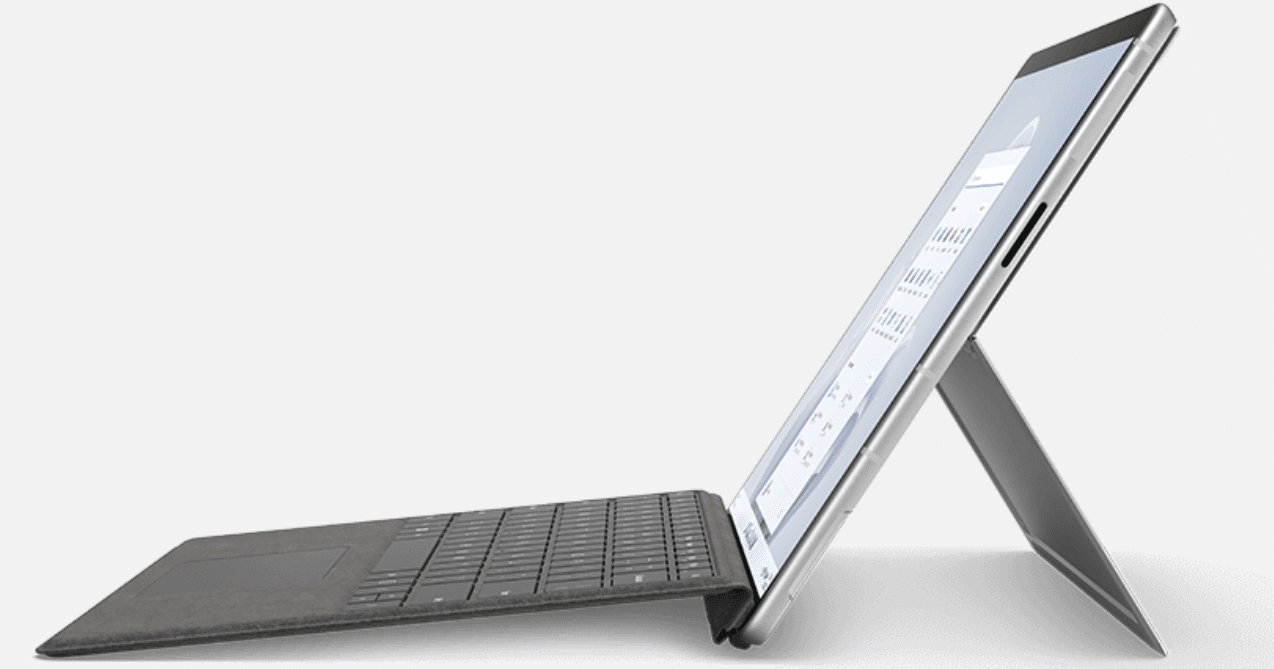 2-in-1 design for both production and live performances.
Multiple processor options, including the Microsoft SQ 3 with Neural Processing Unit.
13″ PixelSense touchscreen & Surface Slim Pen 2 for touch-based tasks.
Up to 19 hours of battery life for long production sessions.
High-speed USB-C ports with Thunderbolt 4 support for low-latency music production gear.
The #5 Best Computer for Music Production.
The 4 Best Desktop Computers for Music Production
When it comes to music production, a reliable and powerful desktop computer can be your best friend.
The higher processing power, extensive RAM options, and advanced connectivity features offered by desktops make them ideal for handling intensive audio processing tasks.
From Apple's cutting-edge M2 silicon to robust Intel processors, let's dive into the world of powerful desktop computers that will amp up your music production game.
#1. Mac Studio (M2 Max)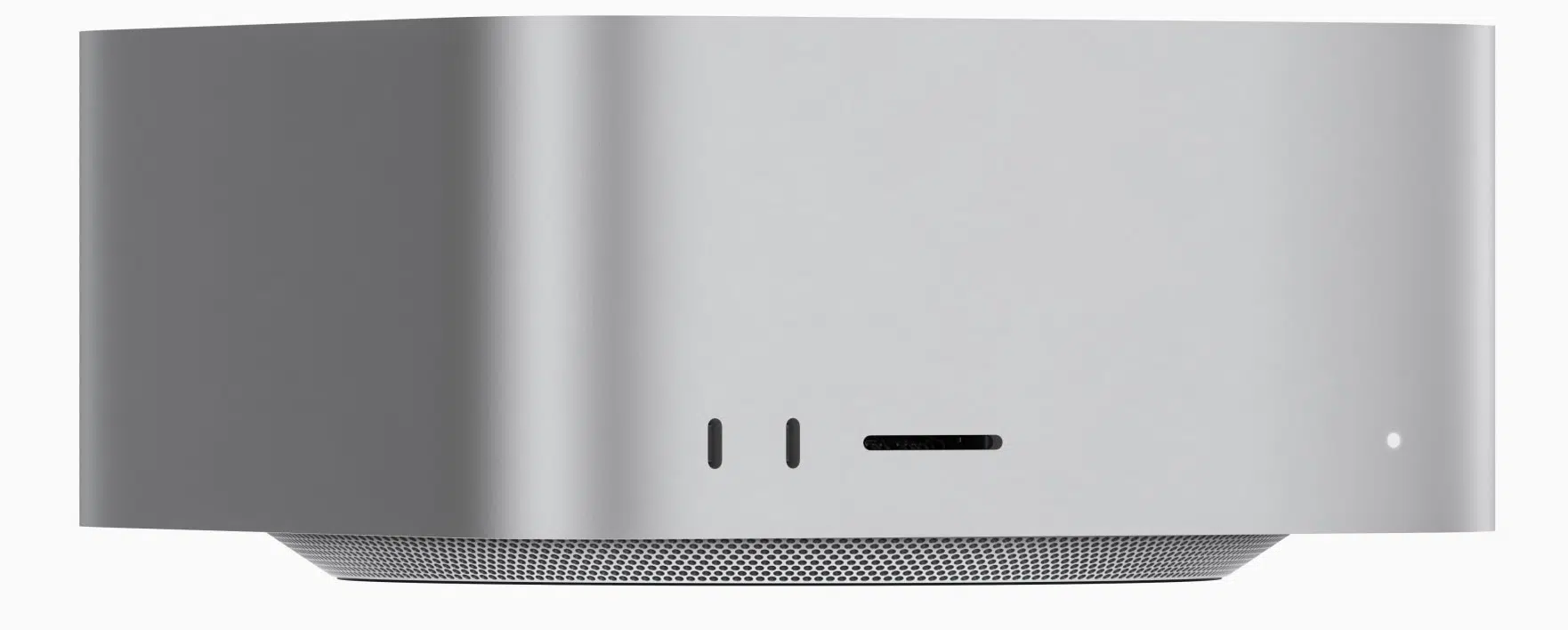 The Mac Studio with the M2 Max chip is nothing short of a revolution for music producers.
The Mac Studio is designed for those who need to go beyond the usual limitations.
It offers performance levels that can easily handle multiple streams of high-resolution audio, numerous plugins, and complex DAWs like Logic Pro & Ableton Live.
The M2 Max chip is built with an astonishing 67 billion transistors, capable of up to 15.8 trillion operations per second.
These numbers aren't just for show; they translate into real-world performance 一 enabling you to mix, master, and manipulate your music like never before.
The compact form factor of the Mac Studio makes it a versatile choice for any studio setup.
Despite its diminutive size, this desktop includes a groundbreaking thermal system that keeps it cool even during the most CPU-intensive tasks.
That means your creative process won't be interrupted by distracting fan noise or system slowdowns.
This is crucial for producers (like myself) who require a seamless workflow.
For a modern music production environment, connectivity is key.
With Mac Studio, you get a plethora of high-performance ports (12 in total).
These range from Thunderbolt 4 for ultra-fast data transfer to a 10Gb Ethernet port for seamless networking.
The front panel 一 Includes USB-C and SDXC options.
The back panel 一 Boasts additional Thunderbolt 4 ports, USB-A ports, an HDMI slot & even a 3.5mm headphone jack.
The variety and placement of these ports make it easier for you to connect your audio interfaces, MIDI controllers, and other essential gear.
The Mac Studio, like the Apple Mac Pro, is not just about power and performance; it's also designed with sustainability in mind.
The chassis is made from low-carbon aluminum, reducing the machine's carbon footprint.
Whether you're an eco-conscious producer or just someone who appreciates sustainable tech, this feature is appealing.
The Mac Studio supports up to 5 displays, which is a massive advantage for producers who need multiple screens for:
Intricate audio editing
Sound design
Video work
Whether tweaking a virtual instrument on one screen, arranging tracks on another, or mixing on a third, the ability to manage multiple tasks effortlessly is invaluable.
Running on macOS, Mac Studio ensures optimal performance for all your essential apps, from Microsoft 365 to Adobe Creative Cloud, and especially DAWs optimized for Apple's ecosystem.
This ensures you can seamlessly integrate Mac Studio into your existing setup or build a new one around it.
Key Features of This Computer for Music Production: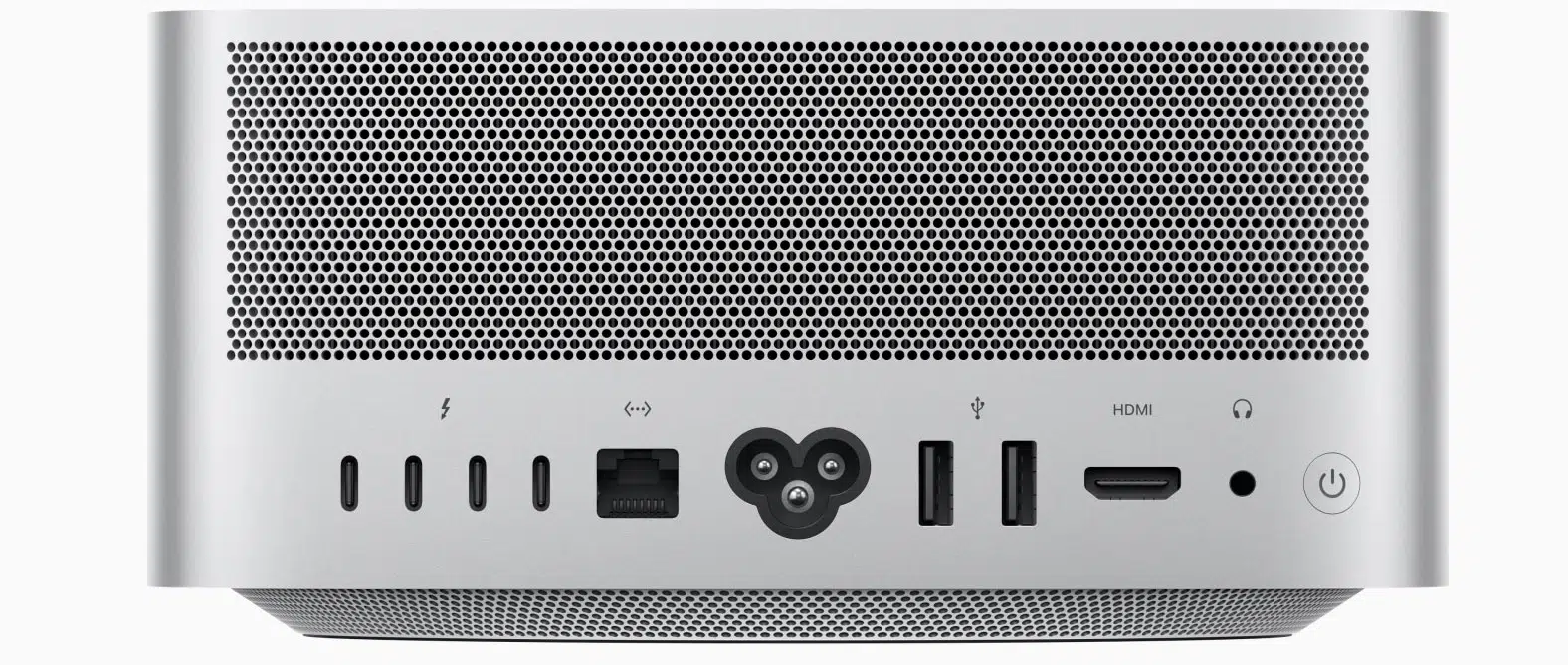 Lightning-fast M2 Max chip with 67 billion transistors for unparalleled performance.
Compact design with advanced thermal system for quiet operation.
Extensive array of 12 high-performance ports.
Support for up to 5 displays for multi-screen workflows.
Environmentally friendly design with low-carbon aluminum chassis.
Runs on macOS for optimal software compatibility.
The #6 best computer for music production.
#2. Apple Mac Mini (M2 Max)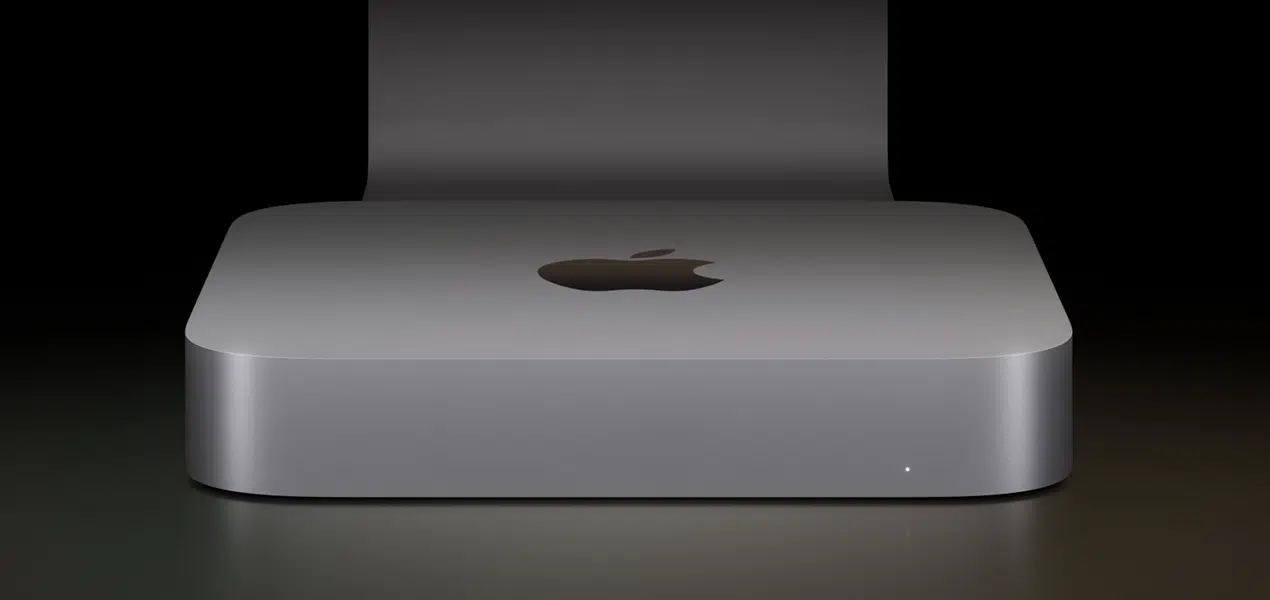 Don't let the size of the Mac Mini fool you; this desktop is a serious contender in the music production world.
The M2 Max chip adds an unprecedented, professional-grade capability to this iconic small-form desktop.
This chip makes it possible to run multiple plug-ins and layers of high-resolution audio tracks in DAWs like Logic Pro and Final Cut Pro.
This provides a performance typically seen in larger, more expensive systems.
The Apple Mac Mini allows for a versatile array of ports that suits just about any setup.
With two or four Thunderbolt 4 ports, two USB-A ports, and HDMI, among others, you can easily connect:
Audio interfaces
MIDI devices
Even external displays for a more comprehensive setup
If you need faster networking, you can upgrade the Mac Mini to support 10Gb Ethernet, exponentially boosting your data throughput.
Unified memory on the Apple Mac Mini enables smoother and more efficient operation.
It allows the Apple silicon to move data more proficiently, making everything from audio processing to multitasking more fluid.
You can configure your Mac Mini with up to 24GB of memory with M2, and up to 32GB on M2 Pro.
In terms of storage, the device supports up to an impressive 8TB SSD.
Yes, more than enough to store large sample libraries, project files, and more.
For those looking to expand their visual workspace, the Apple Mac Mini also pairs beautifully with Apple's new Studio Display, which boasts a:
27-inch 5K Retina display
12MP camera with Center Stage
High-fidelity six-speaker sound system
This makes it a perfect hub for music production, video editing, and content creation.
Like the Mac Studio, the Apple Mac Mini runs on macOS, ensuring your favorite apps and DAWs run smoothly.
The system is also optimized for M2 and M2 Pro, which ensures that the desktop will deliver top-notch performance for music production tasks.
The Apple Mac Mini comes in an iconic 7.7-inch-square frame, making it one of the most space-efficient desktops available.
The compact size of this desktop computer allows for easy placement in any studio setup, whether you're working in a professional environment or a home studio.
Bottom line, the Apple Mac Mini is supreme.
Key Features of This Computer for Music Production:

Compact form factor with high-performance M2 Max chip.
Extensive connectivity options including Thunderbolt 4 and an upgradeable 10Gb Ethernet.
Up to 32GB unified memory and 8TB SSD storage.
Compatible with Apple's Studio Display for an enhanced visual experience.
Runs on macOS for seamless software integration.
Environmentally conscious design with a small footprint.
#7 best computer for music production.
#3. Apple iMac (M1)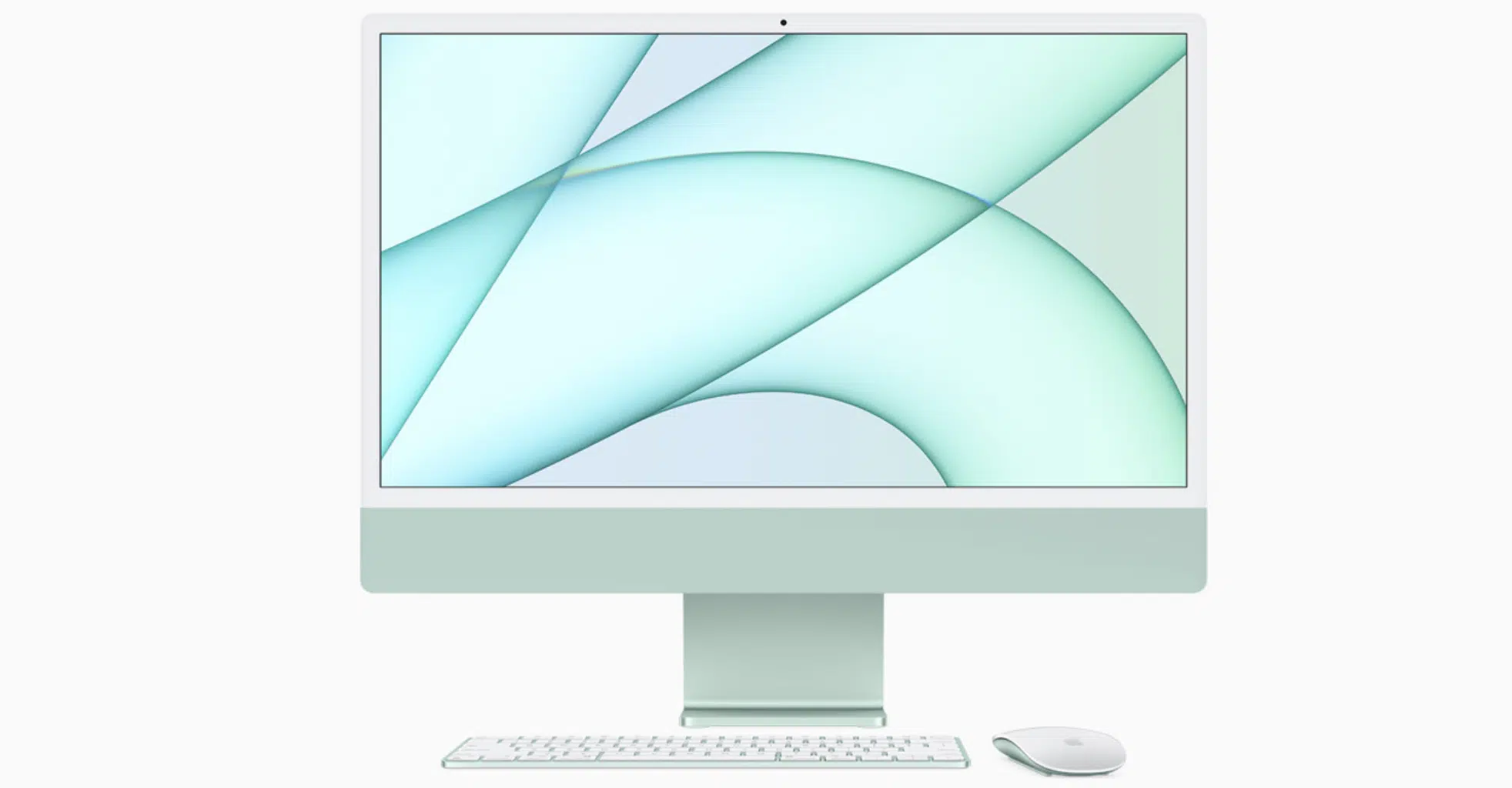 The Apple iMac with M1 chip leaps forward in design and performance, perfectly suitable for any music producer seeking a high-performance, aesthetically pleasing workhorse.
The first striking aspect is its minimalistic design; the iMac fits almost anywhere at only 11.5 mm thick.
This thin profile is possible thanks to Apple's M1 SoC (System on a Chip) that integrates processor, graphics, memory, and more into a single chip.
Visuals are where this iMac shines…
The 24-inch 4.5K Retina display offers a P3 wide color gamut 一 bringing your work to life in over a billion colors.
With a brightness of 500 nits and an industry-leading anti-reflective coating, every detail is visible.
This makes it a great choice for editing intricate music videos or scrutinizing sound waveforms.
For those concerned about audio quality (key for music production), this desktop computers top-notch.
The system features a studio-quality three-mic array designed to minimize feedback and beamforming technology to eliminate background noise.
Your audio will be captured in the purest form possible, like:
Podcasts
Voiceovers
Vocal tracks
The internal speakers offer a balanced sound profile thanks to two pairs of force-canceling woofers and high-performance tweeters.
The result is an expansive soundstage ideal for listening to compositions or monitoring tracks, ideal when you produce music.
The system even supports spatial audio with Dolby Atmos, providing an immersive audio experience.
Adding to its powerhouse performance metrics is the synergy between the M1 chip and macOS Ventura.
Expect snappy performance, nearly instantaneous wake from sleep, and blazingly fast application launches.
For music production tasks that require heavy computational power like real-time sound editing or complex track layering, this desktop computer performs up to 85% faster than its predecessors in CPU performance.
For those worried about security and convenience, the iMac M1 introduces Touch ID.
This feature allows for secure, simple authentication for tasks such as unlocking your computer, making online purchases via Apple Pay, and downloading apps.
Bottom line, this is one of the best music production computers of 2023.
Key Features of This Computer for Music Production: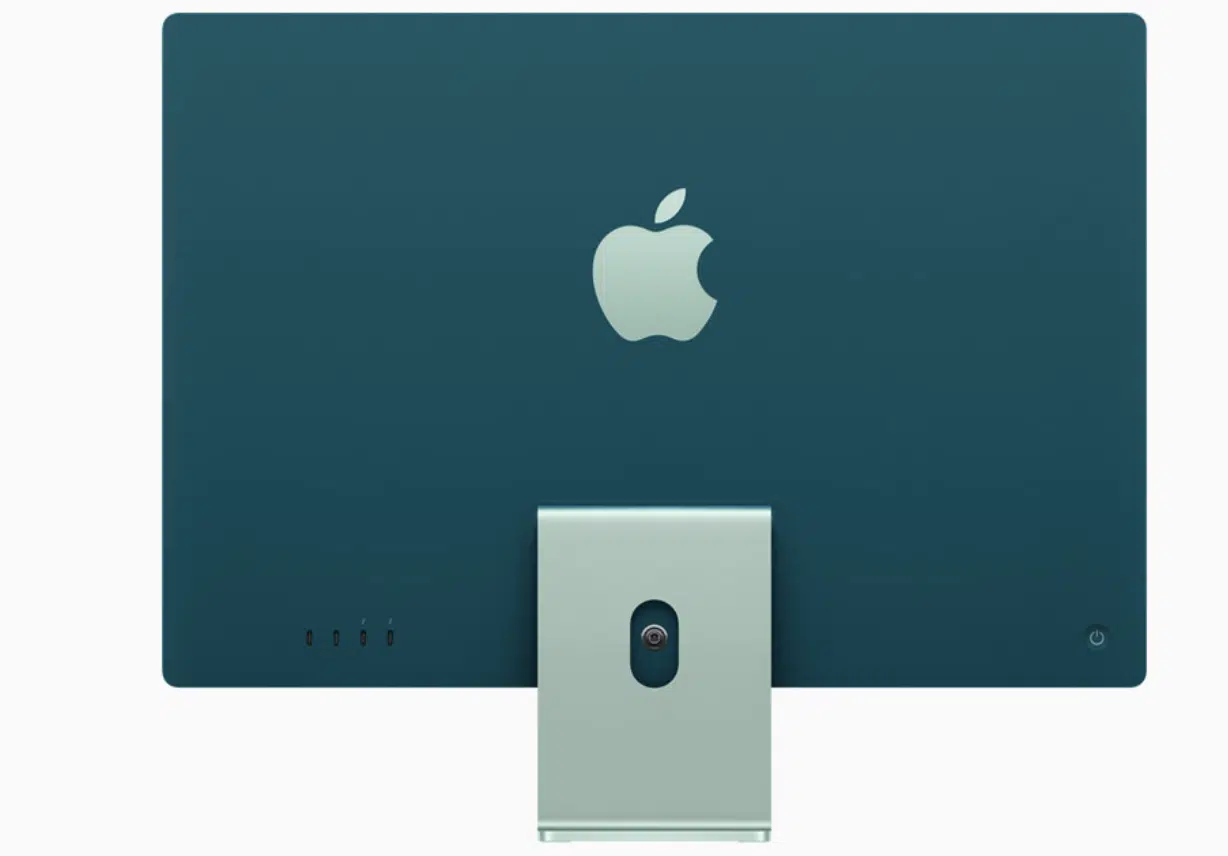 M1 Chip.
24-inch 4.5K Retina Display.
Studio-Quality Three-Mic Array.
High-Quality Internal Speakers.
macOS Ventura.
Touch ID.
Compact Design.
#8 best computer for music production.
#4. Microsoft Surface Studio 2+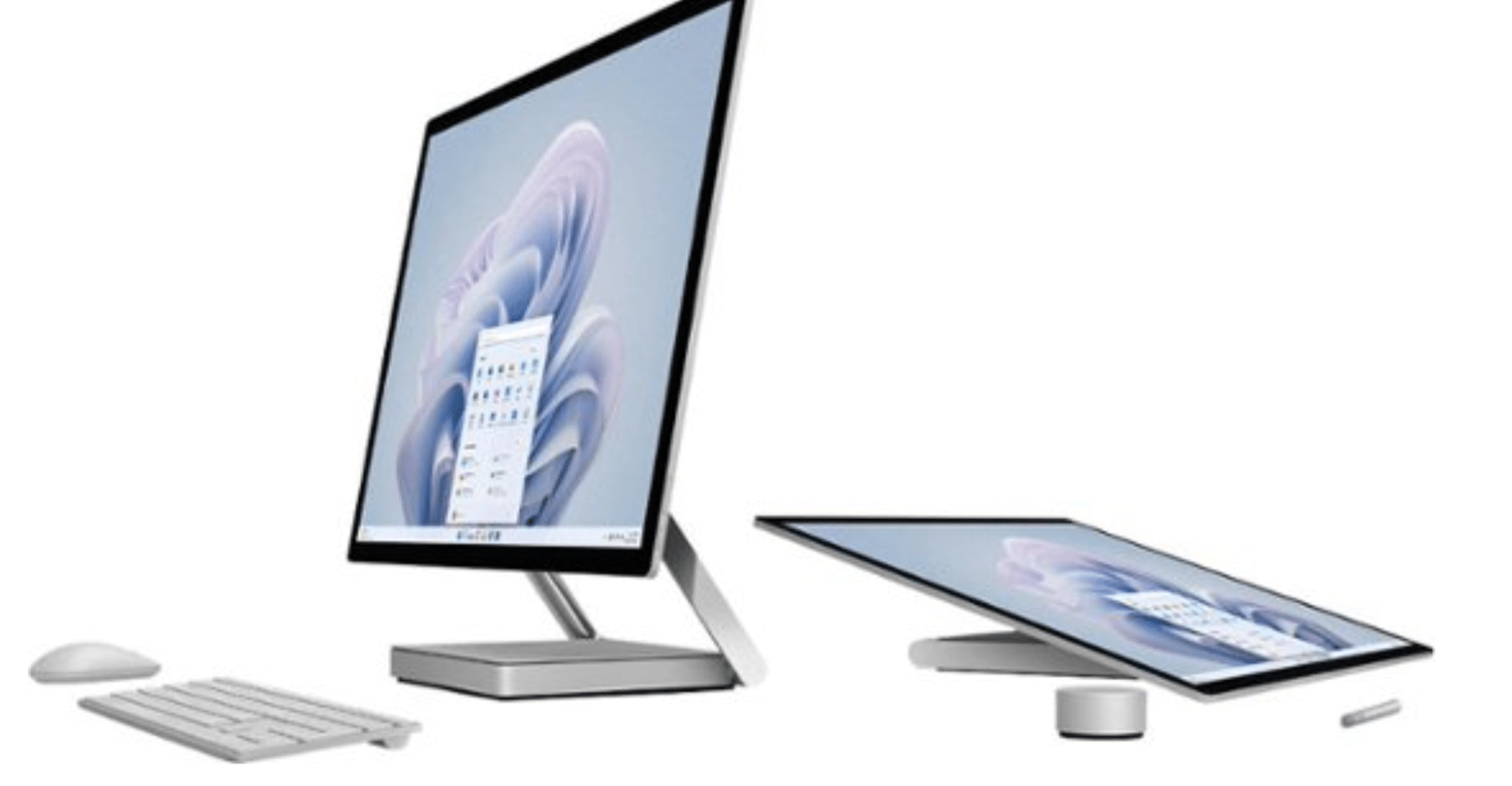 For those who prefer a Windows-based system for their music production, the Microsoft Surface Studio 2+ offers an all-in-one solution that doesn't compromise features or performance.
Its striking 28-inch PixelSense touchscreen is a visual and functional treat 一 allowing music producers to interact with their projects tactilely.
An 11th Gen Intel H-35 processor powers the device and features the best GPU on any Surface model.
Coupled with Windows 11, the system offers a buttery-smooth user experience, highly suitable for multitasking across various music production software.
The Surface Studio 2+ offers Dolby Atmos support, creating a more immersive audio editing, analyzing, and listening experience.
With Dolby Atmos, sound moves in a three-dimensional space, making pinpointing individual elements in a complex audio mix easier.
You'll be able to hear your 808s bang, your pianos dance, your drums knock, and your hi-hats hiss.
This desktop computer is extremely useful for music production.
Creativity flows effortlessly on the Surface Studio 2+ thanks to the Surface Pen.
Whether sketching ideas, jotting down notes, or tweaking settings in your DAW, the Surface Pen offers a degree of control and precision that a mouse can't match.
The device also features various ports, including a USB-C with Thunderbolt 4, perfect for connecting external hard drives for additional storage or quick file transfers.
This is a crucial feature for music producers who often work with large project files and sample libraries.
Windows 11 enhances the device's productivity features, with Snap Layouts allowing for easier multitasking and seamless work transfer to OneDrive for secure storage.
This integration between hardware and software creates a smooth, uninterrupted work environment 一 crucial for those long hours in the studio.
Bottom line, this is a seriously great music production PC (desktop PC, that is).
Key Features of This Computer for Music Production: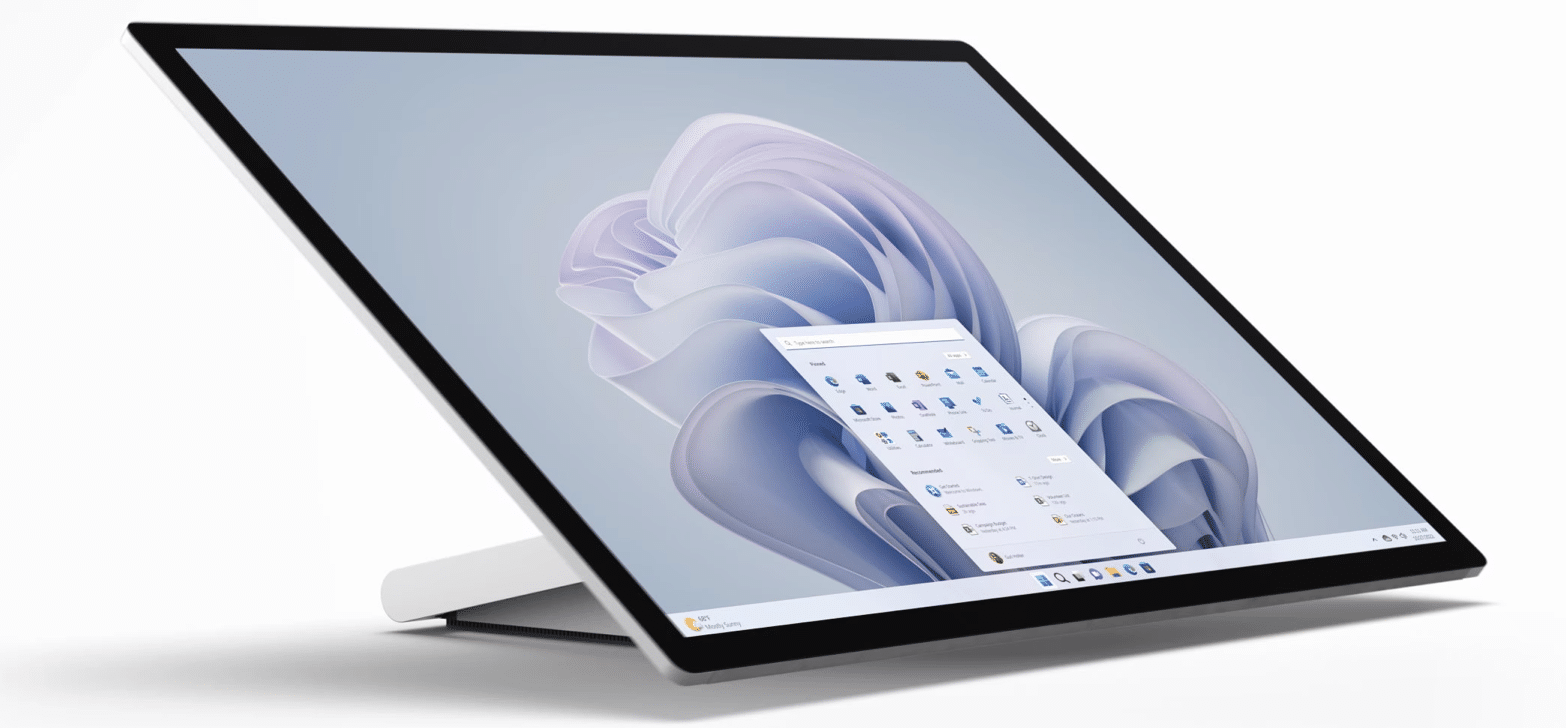 28-inch PixelSense Touchscreen
11th Gen Intel H-35 Processor
Dolby Atmos Support
Surface Pen
Thunderbolt 4 and Variety of Ports
Windows 11 with Snap Layouts
1 Billion Colors
The #9 best computer for music production.
Best Computer for Music Production: Final Thoughts
As we've explored in this comprehensive guide, selecting the best computer for music production isn't just a matter of checking off specs.
It's about finding the perfect symbiosis between your personal style and unique workflow.
Whether you're a beatmaker who thrives with a responsive touchpad or a multitasker who juggles various software applications 一 the right computer can elevate your music production experience to uncharted territories.
To further fine-tune your journey in music production, we highly recommend thes professional, proven-to-work free Famous Beatmaker Template Essentials.
This invaluable toolkit is compatible with Ableton, FL Studio, and Logic Pro and is designed to fast-track your creativity.
While each template within the pack emulates the structures of hit tracks, they are flexible frameworks that invite you to infuse your unique touch.
You can swap in your chosen sounds, tweak dynamics, and truly customize each template to align with your artistic vision.
When paired with the right computer for your needs, these templates can serve as a catalyst for your musical innovations.
Ultimately, investing in the best computer for music production is an investment in yourself as a music producer.
It's about unlocking new levels of potential, facilitating workflow efficiency, and, most importantly, providing the digital canvas where your musical masterpieces come to life.
So go ahead, make the informed choice today and pave the way for a seamless and rewarding music production journey.
Until next time…