With countless drum VST plugins, picking the right ones can feel like finding a needle in a haystack.
This is especially true when it comes to free drum VST plugins that aren't basic or lacking.
In other words, quality can be super hard to find… but don't worry, we've done the hard work for you!
We've sifted through dozens of free Drum VSTs, tested their capabilities, and chosen the best of the best.
In today's article, we'll help you pick the right ones for your unique needs with clarity and confidence.
Here's a glimpse of what we'll be discussing:
The top 10 free drum VST plugins of 2023 ✓
A complete breakdown of their functions & standout features ✓
The notable disadvantages of each plugin to give you a well-rounded perspective ✓
This rundown will not only equip you with knowledge about these epic free Drum VSTs but also spark your creativity.
So, let's dive right into the top 10 free drum VST plugins of 2023…
#1. Steve Slate SSD 5.5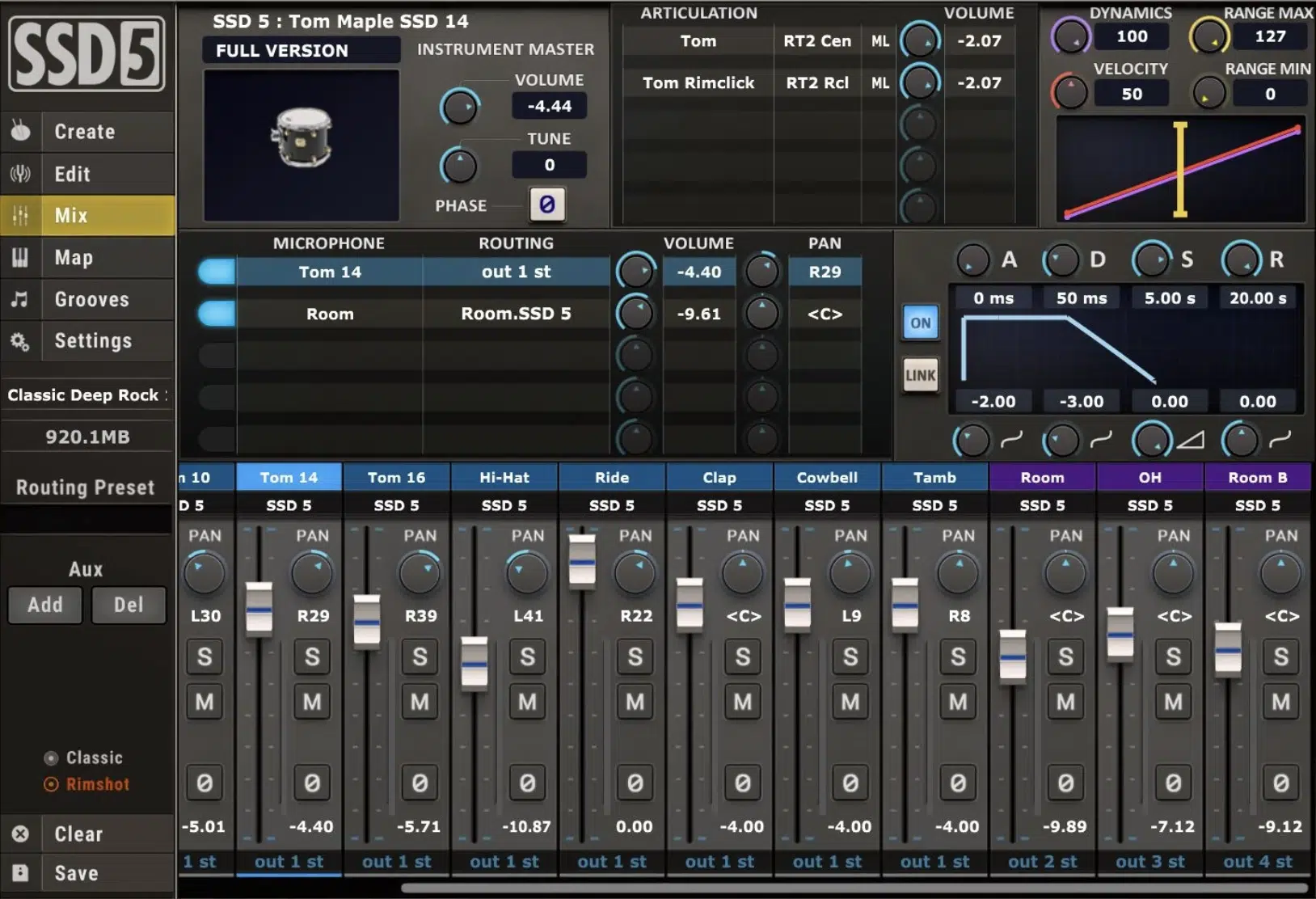 Let's kick things off with one of the best free drum VST plugins out there, the Steve Slate SSD 5.5.
This free drum VST is a powerhouse, offering an astonishing range of sounds and features that may truly shock you.
With an ultra-sleek new resizable GUI, it's as visually appealing as it is sonically.
SSD 5.5 is a drum plugin that houses a dope variety of drum sounds, designed to cater to various music genres, including Rock, Metal, Jazz, Funk, Indie, and Reggae.
Its versatility is one of its strongest points 一 with 148 famous artists and legendary modeled drum kit presets you've got a whole world of rhythm at your fingertips.
The quality of the drum sounds in this free drum VST is outstanding.
With 135 snares, 112 kicks, 58 toms, 11 hi-hats, and more, SSD 5.5 offers a comprehensive drum sample library.
It even includes Steven's previously unreleased OG one-shot snare drum samples, giving your tracks a unique edge.
But what really sets SSD 5.5 apart is its smart-velocity triggering algorithm.
This innovative feature ensures that any one-shot sample blends perfectly with the rest of your kit, for seamless, realistic drum tracks.
All of its mind-blowing inclusions make SSD 5.5 hold the title of the best drum VST plugin of today.
Standout Features:

148 legendary modeled drum kit presets.
Over 2,400 MIDI grooves and over 400 instruments.
New smart-velocity triggering algorithm for one-shots.
Analog processed and raw samples were recorded on 2-inch tape.
Import & use 3rd party samples and grooves.
Lightning-fast MIDI mapping & learning.
Best free drum VST.
#2. MT Power Drum Kit 2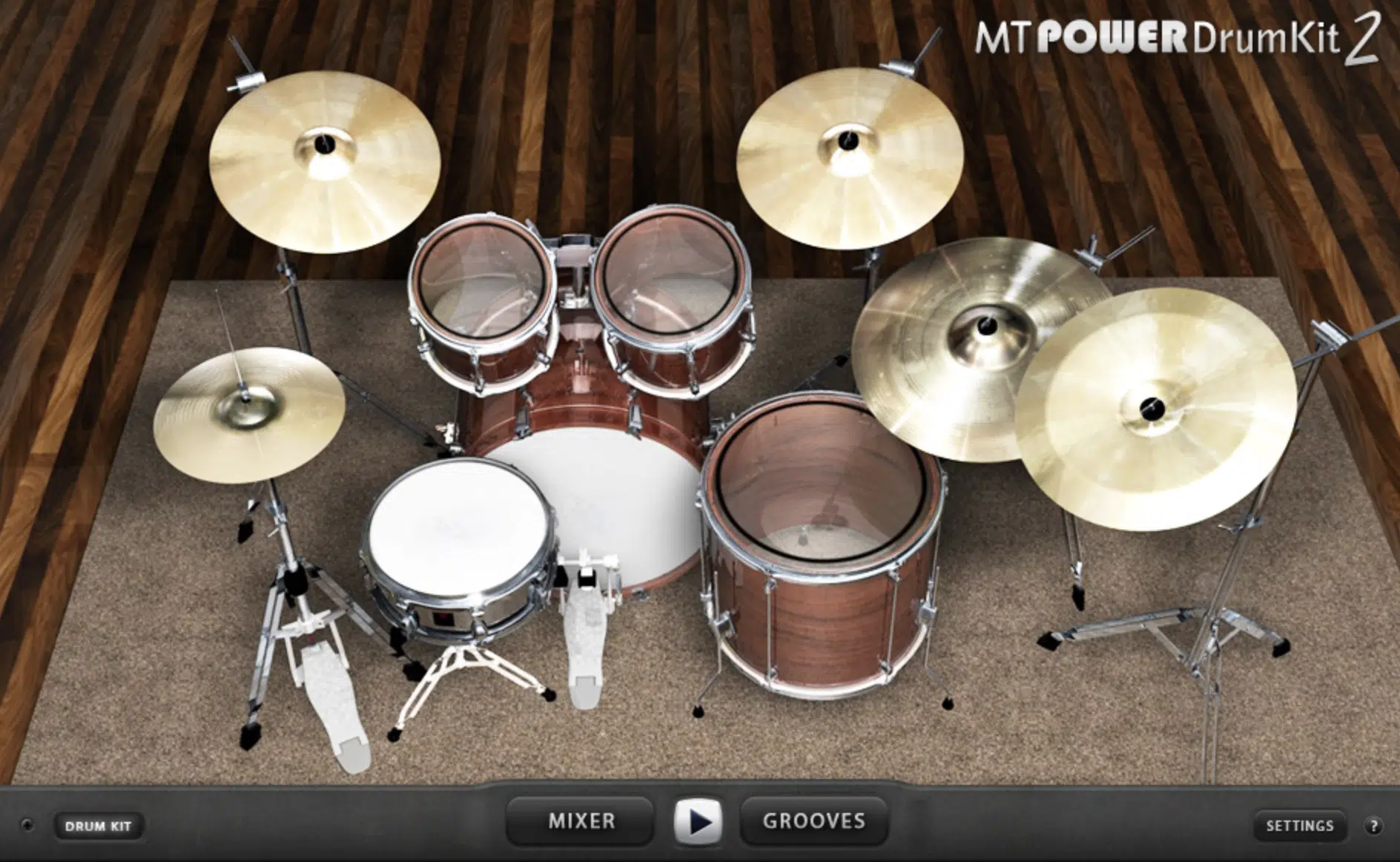 Next up is the MT Power Drum Kit 2: a free drum sampler that delivers the powerful, high-quality sounds of an acoustic, realistic drum kit.
This free drum VST plugin is perfect for pop, rock, and metal productions, with samples specially recorded and processed to fit any mix like a glove.
One of the significant advantages of the MT Power Drum Kit 2 is that it doesn't just deliver great solo sounds; it shines in a complete mix.
Many drum samplers fail when it comes to blending into a full mix, but this is where MT Power Drum Kit 2 excels.
Its kick and snare drums cut through the mix, sounding natural and not overly compressed, even in a full-on rock or pop production.
The built-in compressors offer even more control over the sound, allowing you to fine-tune the level of compression to your liking.
Plus, with its comprehensive Groove Library, you've got 1,000s of assorted rhythms to choose from.
And if that's not enough, you can even compose your own drum accompaniment.
The attention to detail in the MT Power Drum Kit 2 is remarkable.
The high-quality cymbals and microphones used in the recording process ensure that the crash, ride, and hi-hat cymbals sound especially refined and pleasant at various velocities.
It's these little details that make this one of the best drum VST plugins out there.
Standout Features: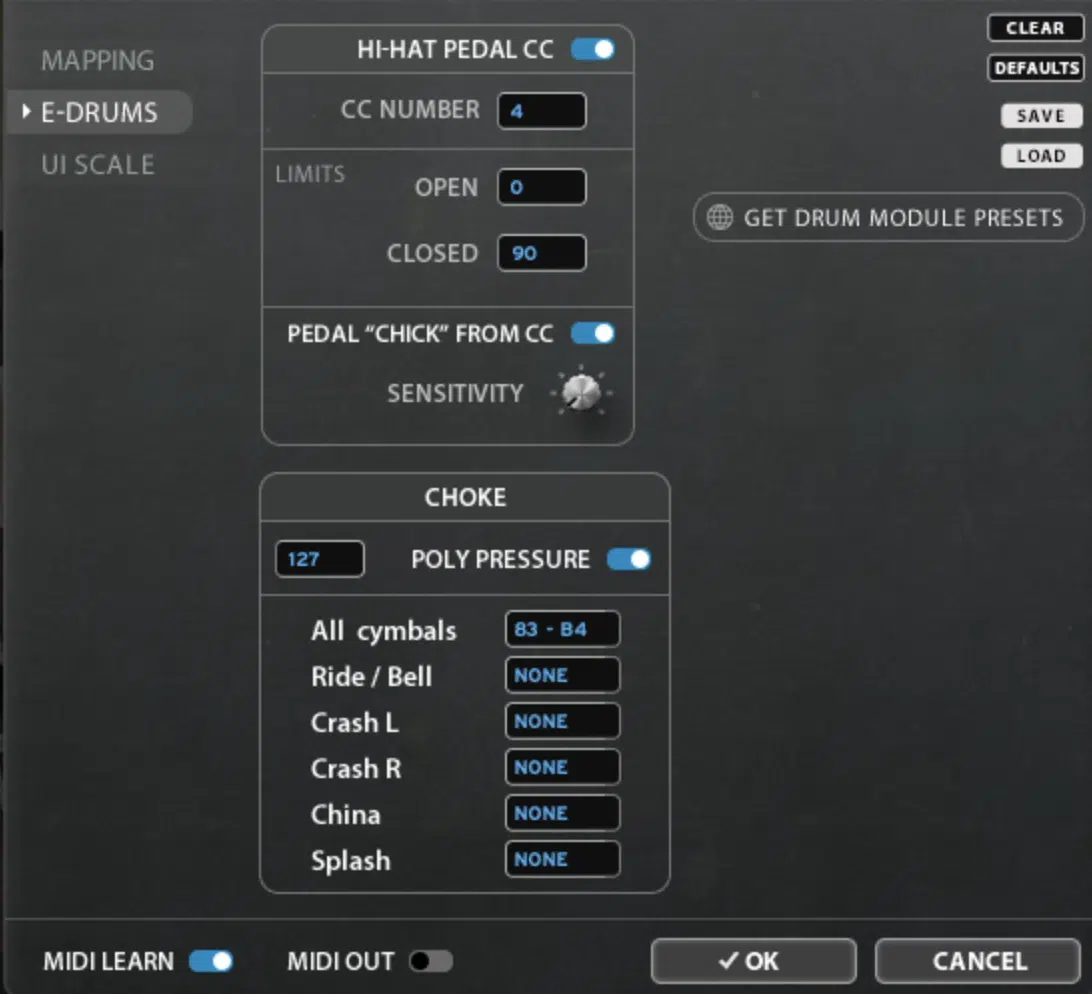 High-quality sounds of an acoustic, realistic drum kit.
Pre-processed sounds with built-in compressors and EQs.
Comprehensive Groove Library with thousands of assorted rhythms.
High-quality cymbals and microphones for refined and pleasant sounds.
Excellent performance in a full mix.
#3. MODO Drum CS 1.5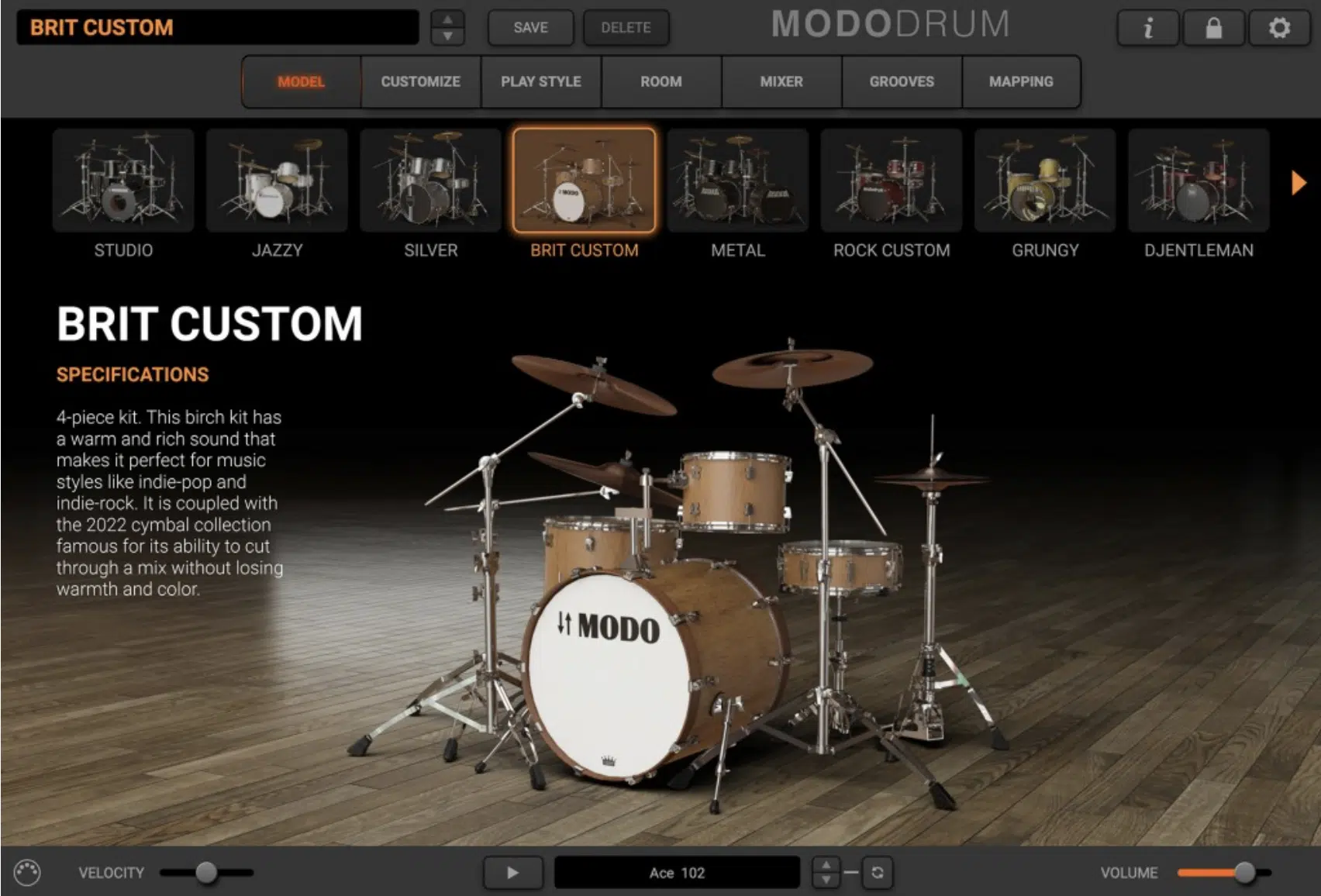 The MODO Drum CS 1.5 by IK Multimedia is an innovative physical modeling drum virtual instrument.
The newly expanded version 1.5 sets the bar high in the plugin world.
It provides unmatched flexibility for drum customization and delivers realistic sound quality comparable to top sample-based programs 一 all without a huge memory footprint.
Being the companion to IK's award-winning MODO BASS, MODO DRUM 1.5 now offers 13 deeply customizable virtual drum kits.
Speaking of drum kits, if you'd like to check out the best free drum kits of 2023, we've got you covered there too.
Additionally, it provides free entry into the world of MODO DRUM, making it accessible for anyone looking to experiment & enhance their music production.
MODO Drum CS 1.5 marks a significant shift in the digital drumming sphere.
Leaving traditional sample-based plugins behind, it utilizes raw computer power to emulate physical instruments from scratch.

This is a premiere in the plugin world and the results are truly exceptional.
The sound quality is indistinguishable from a real recorded instrument.
It offers a level of flexibility and playability that is unmatched by any other drum or bass plugin, except Bass Dragon, of course.
You can manipulate everything from drum skin material, shell depth, and thickness, to other drum and performance-specific parameters (such as the area where the drum heads are hit).
Playing with MODO DRUM is virtually identical to playing real drums with a real drummer.
Its cutting-edge cymbal sample engine and options allow you to adjust both the diameter and height of every drum.
As well as change the shell profile on the fly or tuning the control to fit perfectly in the mix gives you a level of customization that's unparalleled in the VST world.
Standout Features: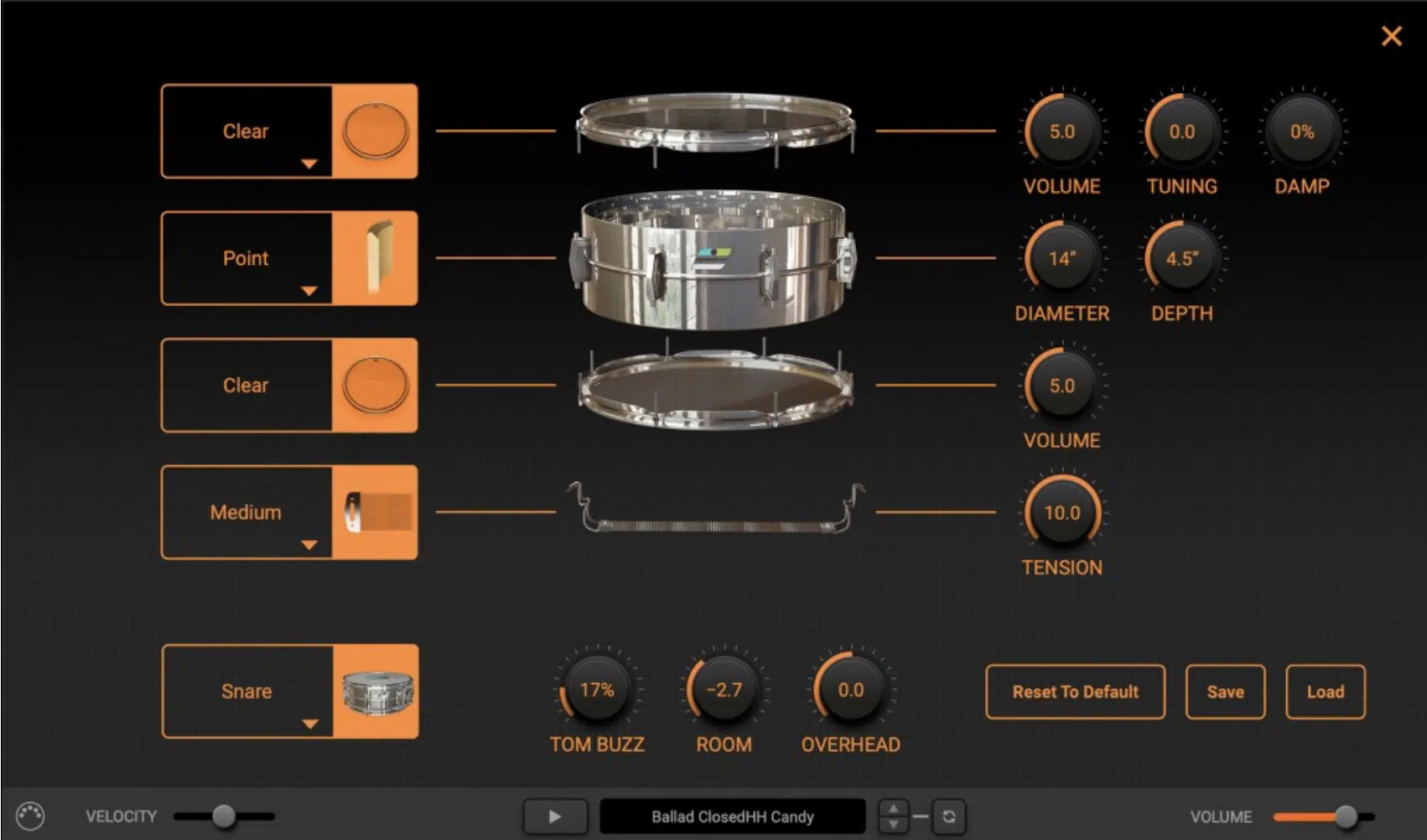 Breakthrough physical modeling drum synthesis.
Loads faster and takes up less hard drive space than comparable plugins.
Damp control.
Change kick technique (heel up/heel down) & control sympathetic snare and tom resonance.
Selectable hitting position and the ability to swap stick and head types.
Infinite velocity layers for a more human feel and infinite round robins.
Up to 13 fully customizable drum kits & 1400+ MIDI patterns.
8 unique convolution-based room reverbs, a massive suite of 19 studio processors & effects.
#4. MiniSpillage by AudioSpillage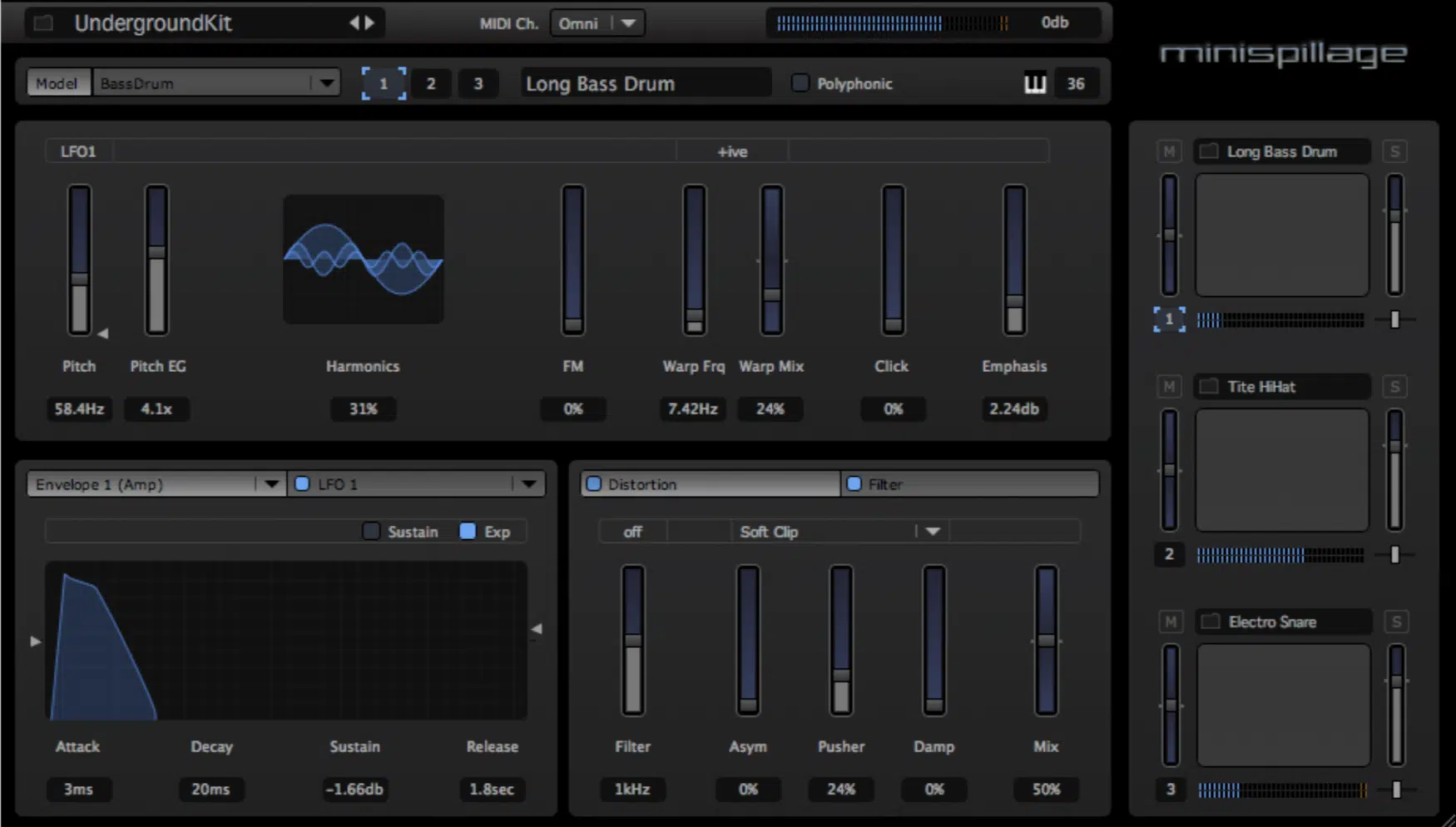 MiniSpillage is a compact yet powerful drum synthesizer VST that dares to innovate the sphere of electronic percussion sounds.
Designed and developed by AudioSpillage, this free professional-grade drum synthesizer plugin is a marvel of digital sound engineering and sound design.
MiniSpillage showcases three fully editable drum pads, each offering a broad range of sonic possibilities.
The Bass Drum Algorithm 一 Utilizes a single oscillator bass synthesizer with pitch sweep, internal FM, and harmonic controls, offering a broad palette of bass drum sounds.

The Hi-Hat Algorithm 一 Is a six-oscillator closed and open hi-hat generator powered by a noise source and dual resonant filters. This algorithm ensures the creation of realistic, adaptable hi-hat sounds.

The Wood Drum Algorithm 一 Adds another dimension to MiniSpillage's sonic palette. It synthesizes both natural and synthetic timbres, replicating everything from the resonant tones of wooden drum logs to the sharp attack of toms.

Each of these drum pads is powered by three exclusive drum synthesis algorithms developed by AudioSpillage – the BassDrum, WoodDrum, and ElectroHiHat.
The unique sonic characteristics of these algorithms contribute to the distinctive, customizable soundscape of MiniSpillage.
MiniSpillage isn't a simple recreation of classic drum machines, but rather a dope twist, aimed at providing you with a unique (electronic) percussion instrument.
It delivers high-resolution sounds and boasts an intuitive interface, making it both a powerful and accessible tool for music production.
Speaking of music production, if you're learning how to become a music producer and want to find the best music production courses, we've got you covered.
Standout Features:

3 fully editable drum pads, offering a broad range of sonic possibilities.
Three exclusive drum synthesis algorithms for diverse and unique sound creation.
Bass Drum algorithm with single oscillator bass drum synth, pitch sweep, internal FM, and harmonic controls.
Hi-hat algorithm with six oscillators, noise source, and dual resonant filters.
Wood Drum algorithm capable of synthesizing both natural and synthetic timbres.
#5. Beats Collection from Native Instruments (Komplete Start)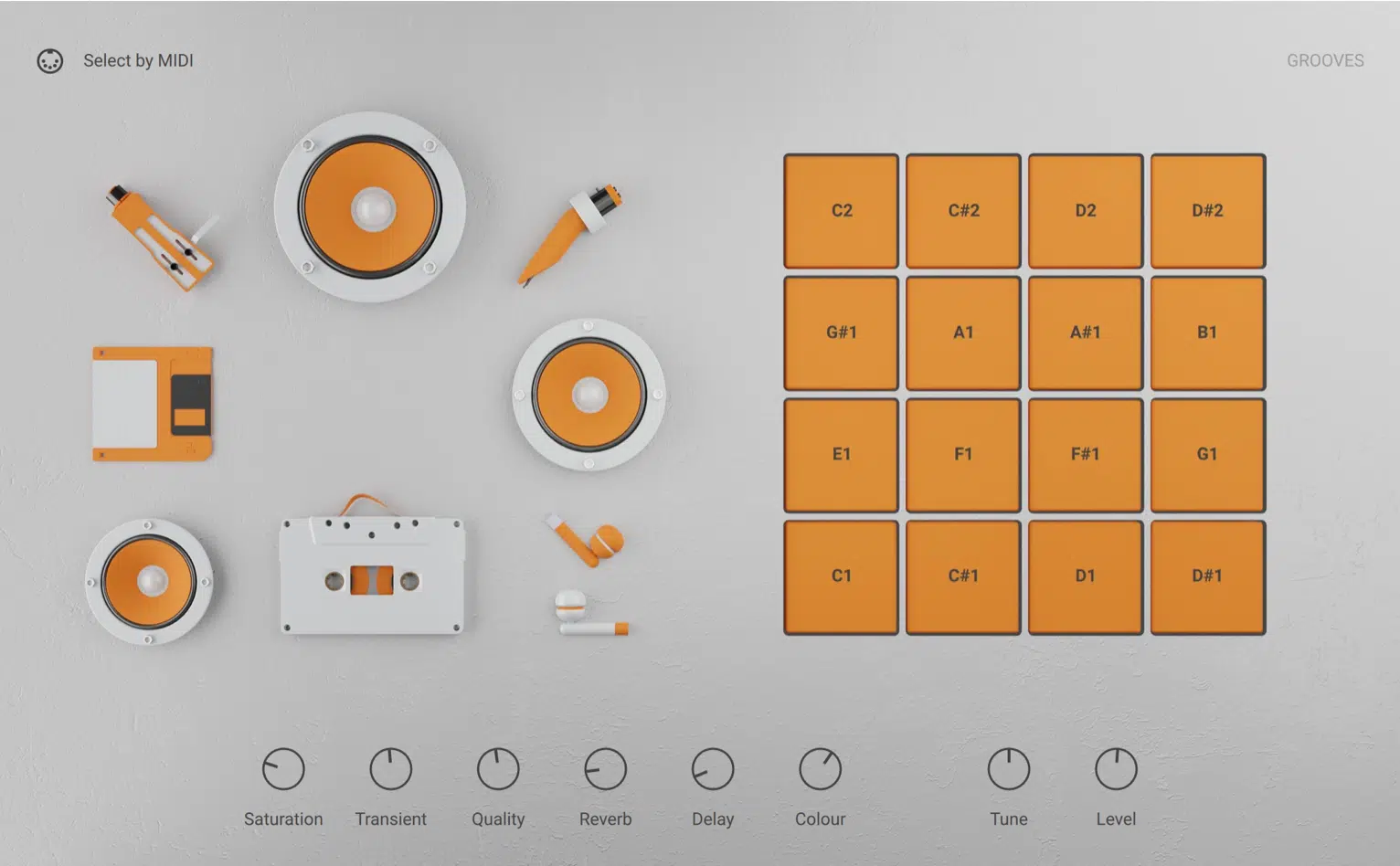 The Beats Collection from Native Instruments, a part of the Komplete Start package, is an all-encompassing drum VST plugin.
With its intuitive and interactive interface, you can swiftly lay down rhythmic patterns and cultivate your creative flow.
This free drum VST is a treasure trove of rhythmic inspiration, featuring 288 pre-made grooves across 90 kits that cater to a wide array of musical genres, and hip-hop subgenres.
The Beats Collection brings the convenience of MIDI drag and drop, allowing for easy export of groove patterns into your DAW for editing.
This feature allows you to create your rhythms within the plugin and then further customize them in your DAW, creating a seamless workflow.
Furthermore, the integrated range of studio-grade effects, including:
Chorus
Flanger
Delay

All of which provide a sonic palette for shaping and coloring your drum sound.
Instruments within the Beats Collection feature a dedicated set of parameters that enable you to fine-tune the built-in effects and the groove pattern playback.
With controls ranging from basic volume and tuning adjustments to advanced sound-shaping tools, this free plugin offers unparalleled depth & flexibility.
The Grooves page within the plugin provides access to a variety of rhythmic patterns and options to fine-tune pattern playback.
Ranging from selecting rhythmic presets for the chosen pattern, key latching, pattern retriggering, and more.
It also enables different tempo divisions relative to the host tempo, giving you control over the pace and feel of your rhythms.
Standout Features:

A wide array of pre-made grooves (288) across numerous kits (90).
MIDI drag and drop functionality for easy groove pattern export into your DAW.
Integrated range of studio-grade effects (chorus, flanger, reverb, delay) for sound shaping.
Dedicated set of parameters for each instrument.
The Grooves page provides access to various rhythmic patterns & fine-tuning options.
Selectable tempo divisions relative to the host tempo.
Intuitive interface and design for an efficient workflow.
#6. StudioLinked Drum Pro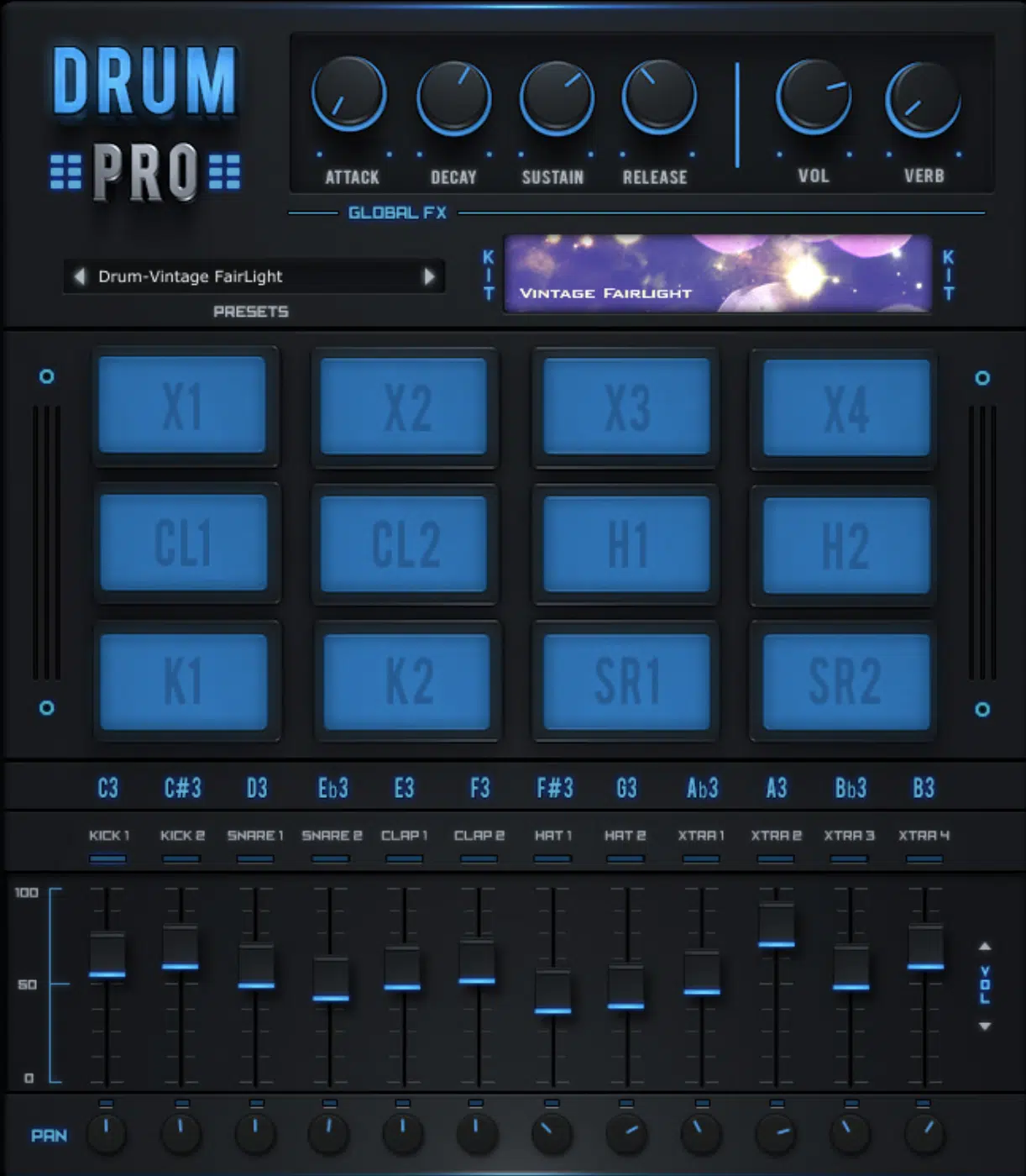 StudioLinked's Drum Pro is a free, professional-grade drum VST that brings the essence of classic rhythm boxes into the modern era.
This free drum VST comes loaded with 20 drum kits and captures the sounds of 9 vintage rhythm boxes (including the iconic TR-808 and TR-909).
Each element of these kits can be mapped to a virtual pad and controlled externally from your MIDI keyboard or drum pad, offering an interactive and engaging drumming experience.
Drum Pro's user-friendly interface features 16 drum pads, each with separate volume and pan settings.
Also, this free plugin offers global ADSR envelope controls for the volume, which gives you the ability to shape the dynamic contour of your beats with precision.

The integrated reverb and global volume controls further allow you to create a sense of space and adjust the overall loudness of your drum tracks.
NOTE: Unlikes other drum plugins, Drum Pro doesn't come with multi-out support, which means you won't be able to process different drum sounds individually.
Despite this, Drum Pro is still designed for simplicity and a fast workflow.
The plugin's factory collection boasts 20 free drum kits that can be expanded further by purchasing additional sound packs from StudioLinked.
These kits cover modern urban music genres, including hip-hop and trap, delivering a punchy, contemporary sound right out of the box.
In addition, the factory sound set also features a neat collection of classic drum machine sounds, such as the renowned Roland TR-808 and BOSS DR-55.
Standout Features: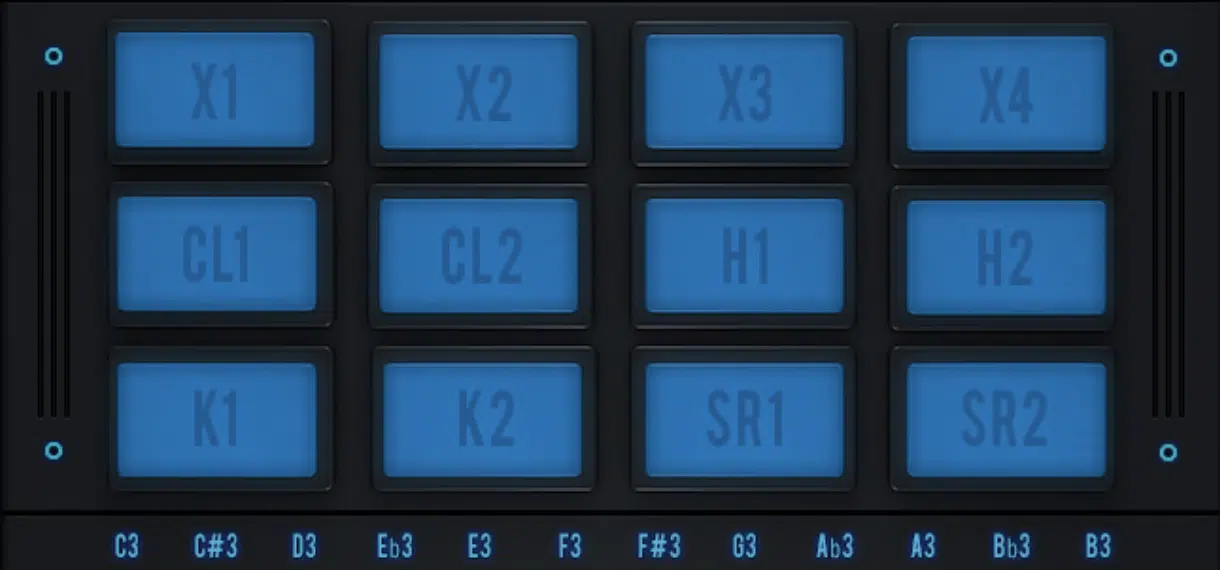 Includes 20 drum kits & the sounds of 9 vintage drum machines.
16 drum pads, each with individual volume and pan settings.
Integrated reverb & global volume controls to create a sense of space & adjust overall loudness.
User-friendly interface designed for a fast workflow.
Expandable sound library with additional sound packs available for purchase.
#7. Spitfire LABS Drums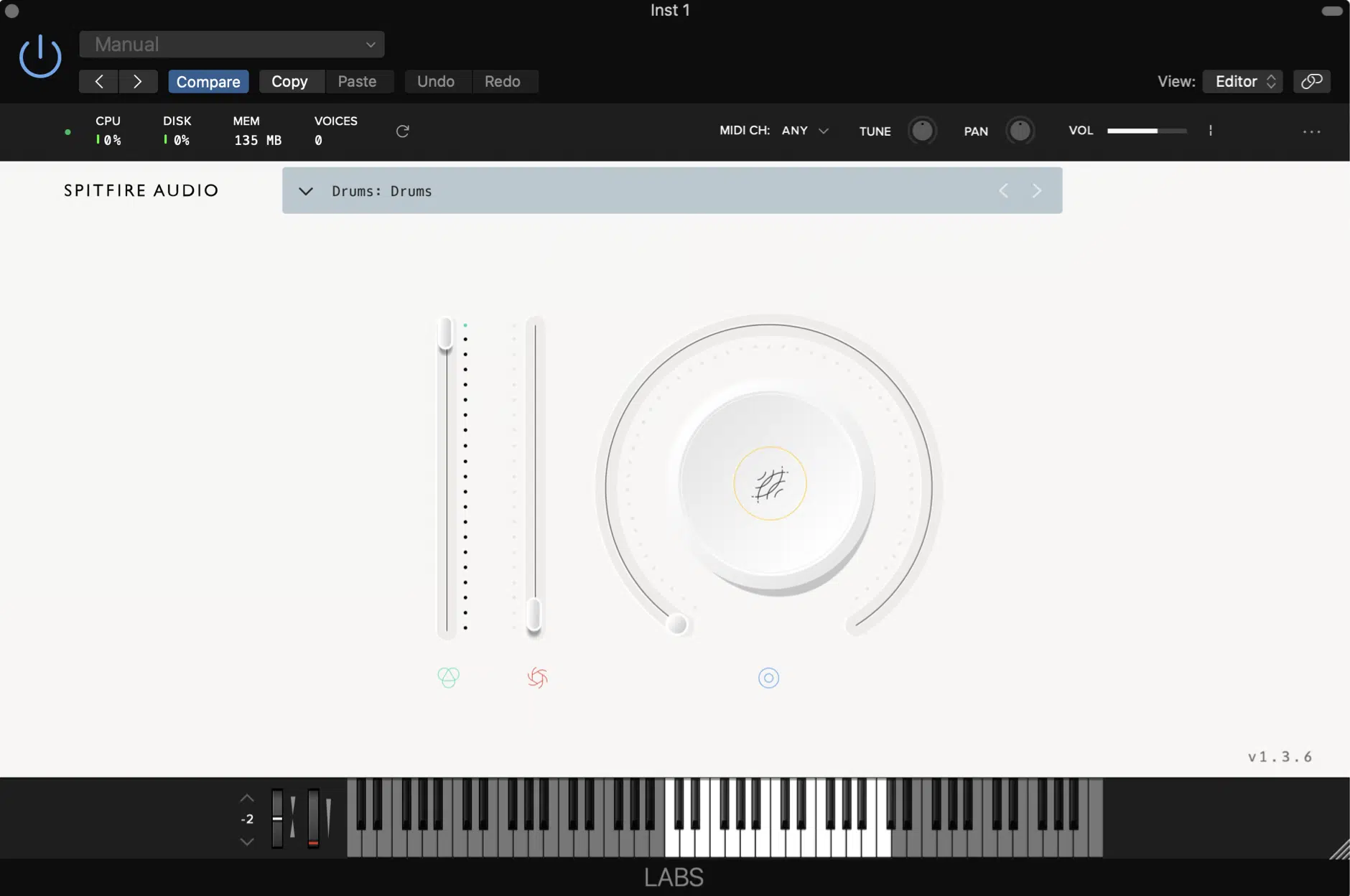 Spitfire Audio has been renowned for its dedication to high-quality sound, and the LABS Drums is no exception.
LABS Drums free acoustic drum kit expansion pack for the acclaimed LABS virtual instrument.
It offers a beautifully recorded set of drum samples that excel in delivering an authentic & dynamic sound.
With samples dating back to 2012, the origins of this library can be traced to the samples featured in the old Ollie Waton Drums sample library for Native Instruments Kontakt.
The LABS Drums library is designed with simplicity in mind.
It doesn't allow for intricate tweaking of individual drum elements, such as a kick drum, snare, or tom.
However, its streamlined user interface has a charm of its own.
It features just a couple of sliders and a knob for adjusting the tone and the amount of reverb applied to the signal.
These controls make it easy for you to quickly achieve a desirable sound without getting bogged down in endless tweaking (which is priceless).
With its high-quality samples, this free drum plugin is capable of delivering a great-sounding set of virtual drums.
They cater to a variety of modern music genres, with a particular emphasis on rock and pop-style drums.
The samples were recorded by Stanley Gabriel and Oliver Waton using top-notch microphones and recording equipment.
The resulting mix is well-balanced, providing a solid foundation for any rhythm section.
The key advantage of LABS Drums is the LABS platform itself.
It offers an excellent starting point for anyone looking to enhance their productions with high-quality drum sounds.
Standout Features:

High-quality acoustic drum kit samples recorded by Stanley Gabriel & Oliver Waton.
Simple, user-friendly interface with a pair of sliders and a knob for adjusting the tone and reverb.
Provides a professional-grade drum kit sample library at no cost.
#8. 606 KONCEPT by SampleScience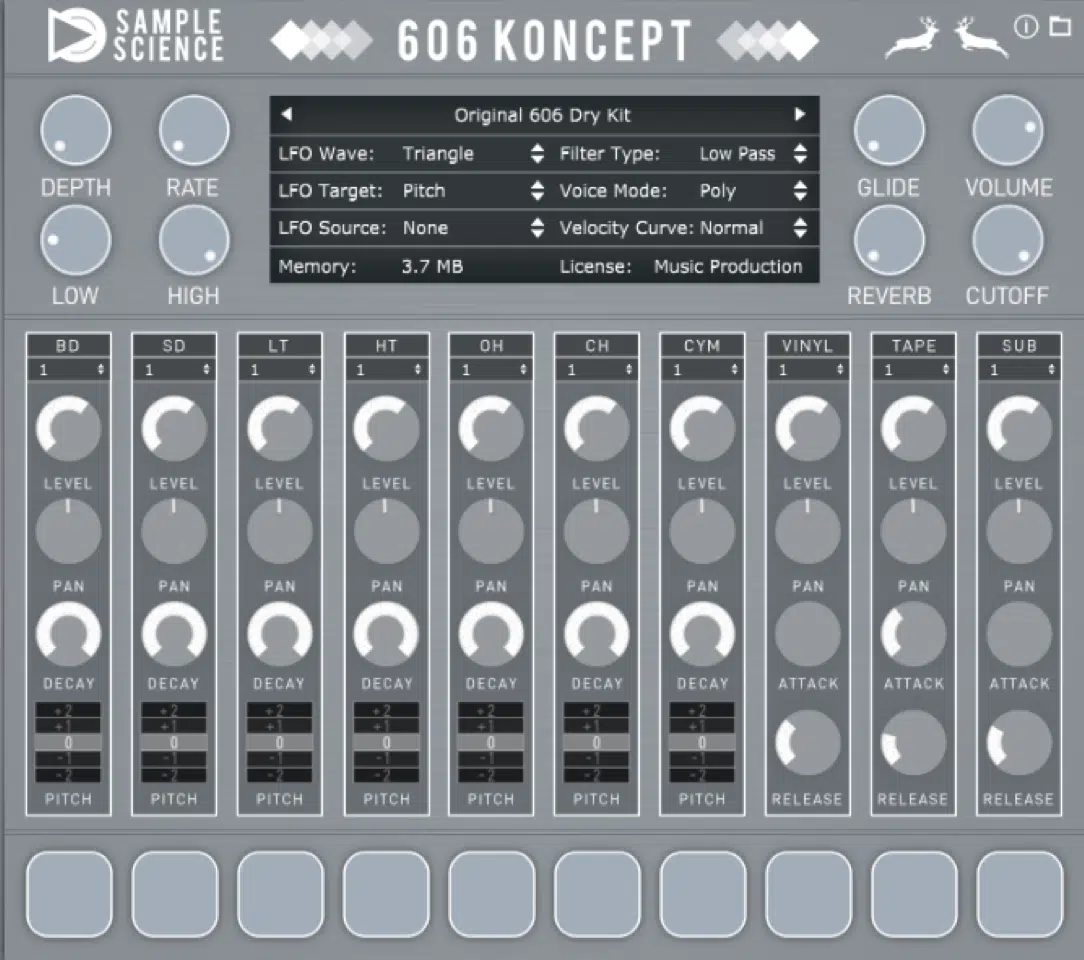 606 Koncept is a unique plugin inspired by a legendary vintage analog drum module from the 1980s.
It provides meticulously sampled sounds mapped according to the General MIDI convention, offering an authentic recreation of the original drum sound.
What sets this virtual drum machine apart is its ability to layer vinyl, tape, and sub-sounds on top of the core drum sounds, adding texture and depth to your drum sequences.
Each drum sound in 606 Koncept can be pitched up/down using a unique summing pitch mixer, allowing for further customization of your drum sound.
Speaking of pitching up/down, if you're looking for the best pitch shifter plugins around, look no further.
This free drum VST includes a variety of controls such as:
As a multi-LFO, room reverb
Amplitude range controls
3 voice modes (polyphonic, monophonic, and legato)

This extensive array of features makes it a versatile tool for creating unique drum patterns.
While the original 606 drum machine had a built-in step sequencer, the 606 Koncept plugin does not.
Instead, it features seven drum channels (bass drum, snare, low tom, high tom, open hi-hat, closed hi-hat, cymbal) and three FX layer channels (vinyl, tape, sub).
These channels offer volume, pan, and decay control knobs, which gives you a great deal of control over the final sound.
The ability to set the pitch from -2 to +2 semitones on the drum channels allows for more creative freedom and the chance to craft unique and personalized drum sequences.
The top panel of 606 Koncept is where more of the magic happens.
Here, you'll find a multi-mode LFO, filter cutoff (high-pass and low-pass), output volume, glide, and reverb controls.
Additional fine-tuning can be achieved by adjusting the velocity curve and setting the polyphony mode (polyphonic, monophonic, or legato).
Standout Features: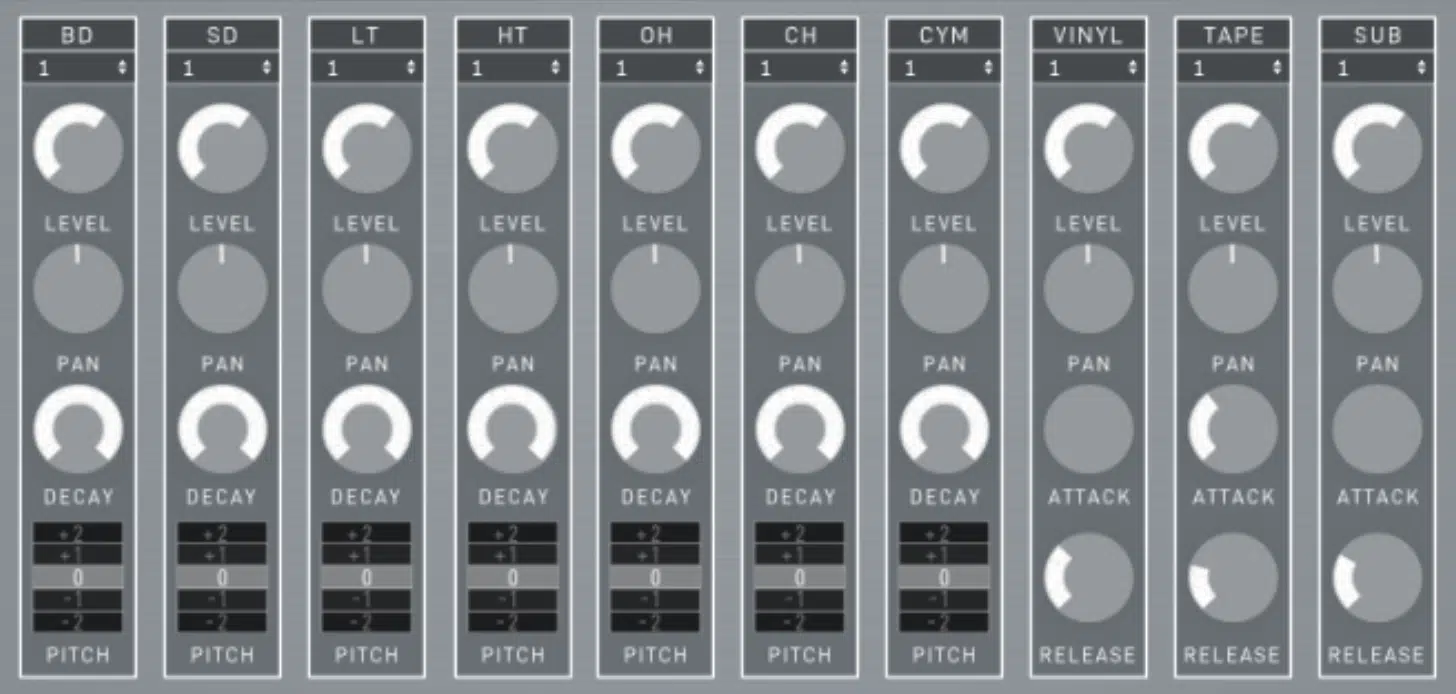 Sample-based emulation of the iconic TR-606 drum machines with added modern features.
Ability to layer vinyl, tape, and sub-sounds over the core drums for added texture and depth.
Comprehensive control parameters.
Seven drum channels and three FX layer channels for extensive sound shaping.
Unique summing pitch mixer for each drum sound.
#9. DUBturbo DrumTROOP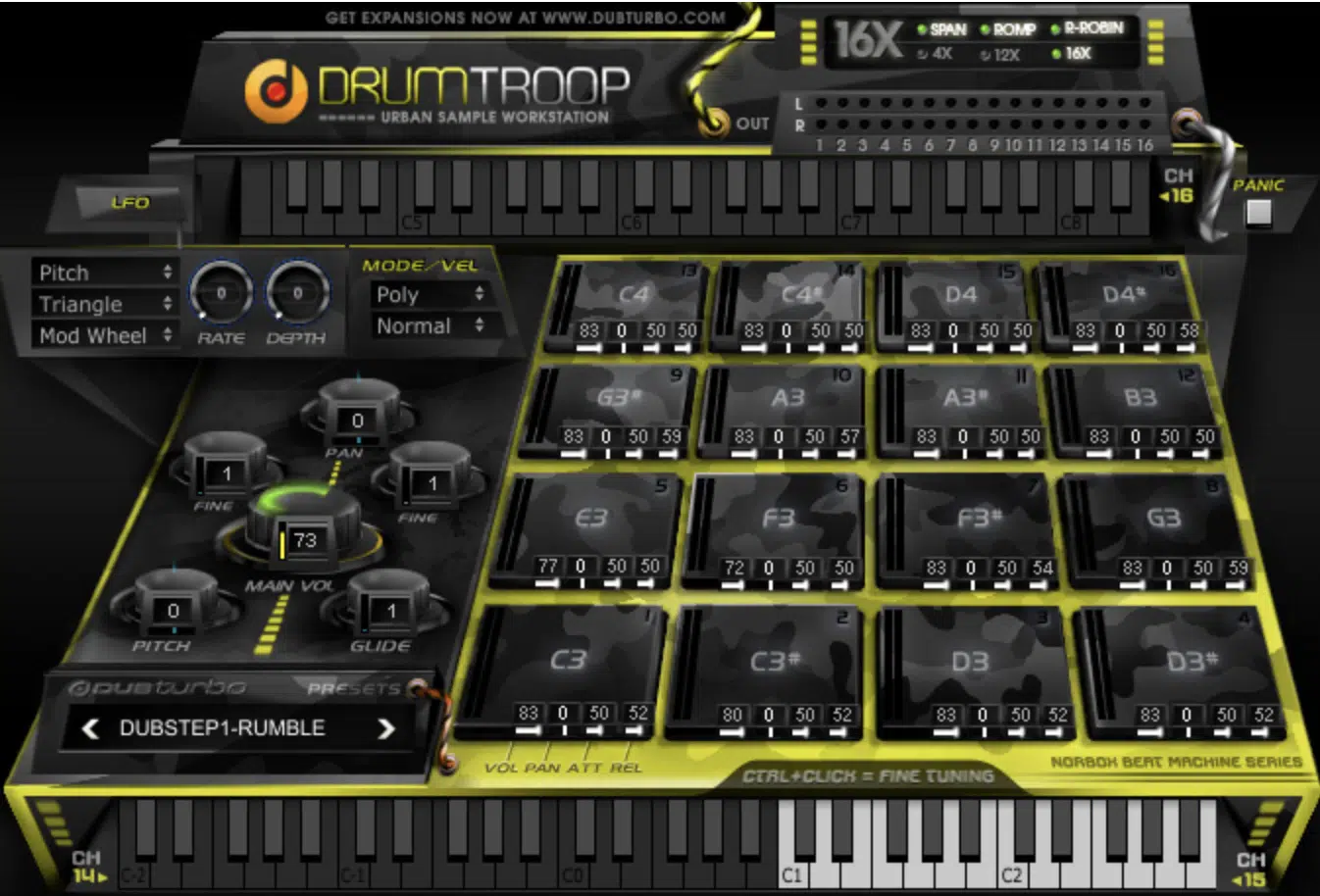 DUBturbo DrumTROOP is a sample-based drum machine that runs on the Maize Sampler platform.
This powerful virtual instrument is offered as a freebie, with a selection of commercial drum packs available for purchase to expand its capabilities.
Side note: speaking of virtual instruments, if you're interested in the top free VST instruments of 2023, we break it all down.
The free version of DrumTROOP comes with 21 pre-loaded kits 一 each containing sixteen unique samples.
These kits offer a diverse range of sounds to suit different genres, including classic hip-hop, trap, dubstep, and more.
The variety and quality of these kits make DrumTROOP a versatile instrument for any music producer.
DrumTROOP stands out among other Maize Sampler-based drum romplers (and free drum VST plugins in general) due to its extensive feature set.
It boasts 16 drum pads with individual audio outputs per pad, and controls for volume, pan, attack, and release for each pad.
NOTE: This drum plugins GUI can be somewhat confusing, especially for first-time users. Despite this, DrumTROOP's strengths far outweigh its drawbacks.
Its vast collection of kits and its ability to be expanded with commercial packs make it an adaptable instrument that can cater to any musical style.
Plus, the ability to adjust the volume, pan, attack, and release on each pad allows for fine-tuning and customization, giving you complete control over your drum sounds.
Standout Features: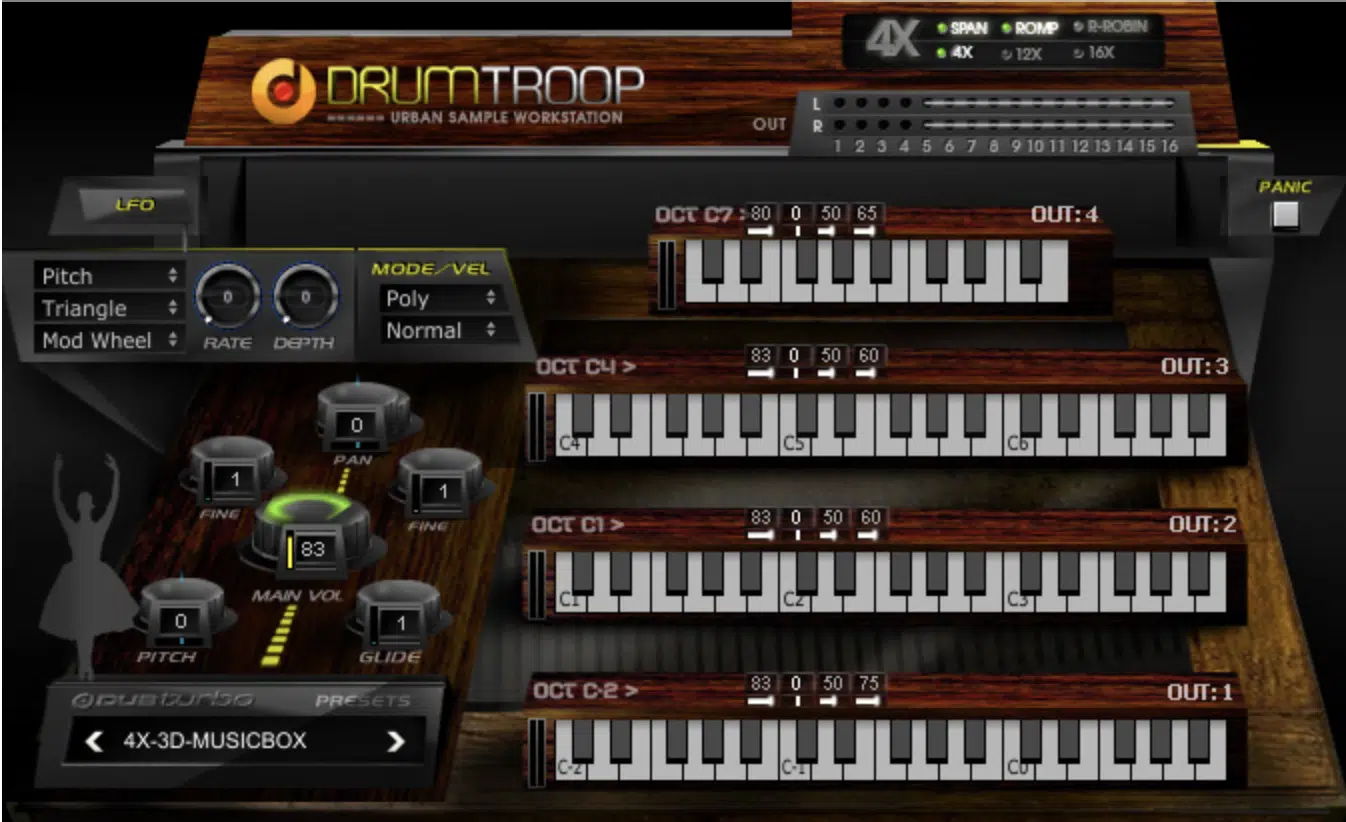 Based on the robust Maize drum rompler plugin.
Comes with 21 diverse kits that include 16 unique samples each.
Expandable with commercial drum packs for even more versatility.
Sixteen drum pads with individual audio outputs and control over volume, pan, attack, and release.
Universal drum placement on the first 8 pads.
#10 Jamstix 4 Free by Rayzoon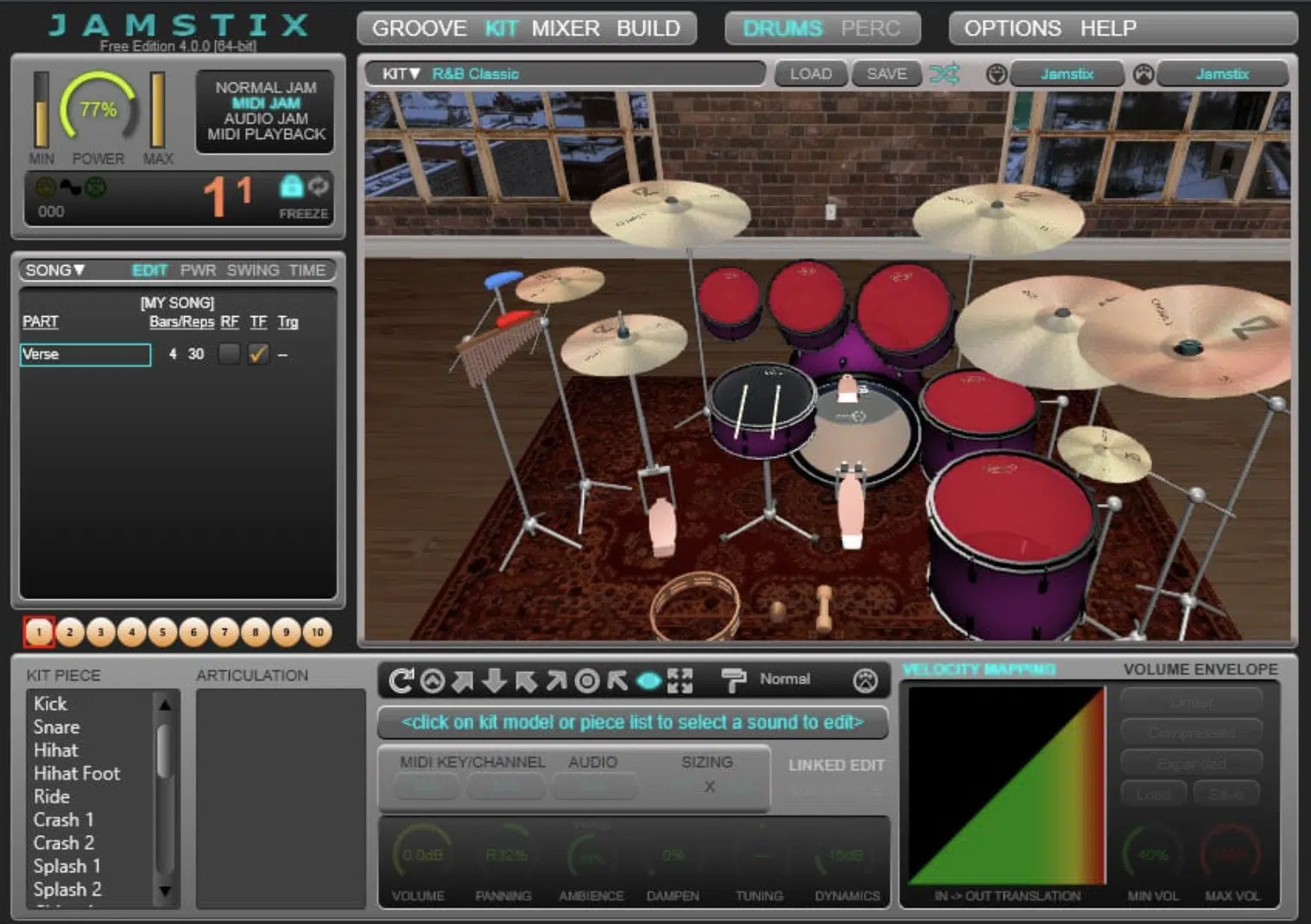 Jamstix 4 Free by Rayzoon is a feature-limited version of their acclaimed Jamstix 4 virtual drummer software.
Despite the limitations, it remains a valuable tool for tracks that require virtual drumming.
This free version offers a scaled-back version of the original kit, with fewer velocity layers, styles, and virtual drummers.
Although MIDI export and drag & drop functions, along with some save functions, are disabled, Jamstix 4 Free still brings a lot to the table.
One of the main selling points of this free plugin is its Humanizing features, which are included in both the free and full versions.
The software includes an in-depth drummer limb simulation, modeling hand movements, to avoid artificial-sounding performances.
The software also models the performance's feel, including pocket delays, power, and timing variations, all typical of a live human drummer.
Jamstix 4 Free also features an integrated arranger and mixer, along with a visually appealing live 3D drum kit for editing and visualizing performances.
Despite the disabled features, the free version remains an engaging and playable instrument (especially when paired with a MIDI controller).
Standout Features:

A feature-limited version of the acclaimed Jamstix 4 virtual drummer software.
Includes humanizing features for realistic drumming.
In-depth drummer limb simulation models natural hand movements.
Integrated arranger and mixer for easy composition and mixing.
Visual 3D drum kit allows for easy editing and visualizing of performances.
Free Drum VST Plugins: Final Thoughts
And there you have it, the absolute best free drum VST plugins in the game today.
You've discovered the unique features, advantages (and even the downsides) of each, arming you with the knowledge to choose the right tools for your personal needs.
Now, it's time to put this knowledge into action.
Remember, a great drum VST is just the beginning – the magic happens when you breathe life into it with the right rhythms & grooves.
That's where this legendary MIDI Drum Kits pack comes in.
This pack is bursting with professionally-crafted MIDI drum patterns, giving you instant access to mind-blowing drum sequences in seconds.
The beauty is, you can pair these versatile MIDI lines with any of the drum VST plugins we've discussed.
So, whether you're using the versatile Minispillage, the expansive Beats Collection, or the dynamic Spitfire LABS Drums, this MIDI Drum Kits pack can be your secret weapon.
These MIDI sequences will not just make your drum tracks come alive, but they will also inspire new musical ideas and push your creativity to new heights, so go ahead and try it out!
Until next time…