MIDI (Musical Instrument Digital Interface) is a revolutionary protocol that has transformed how we interact with musical instruments and software. 
It allows us to control multiple aspects of sound (like pitch, volume, and timbre) all through a digital interface. 
By bridging the gap between traditional instrumentation and digital sound processing, MIDI opens up vast possibilities for musical expression, arrangement, and production. 
Knowing the best MIDI controllers to add to your setup can significantly enhance your creative workflow 一 making it easier to translate your ideas into masterpieces.
They can completely change your interaction with your DAW, virtual instruments, and even hardware synthesizers.
In today's article, we'll be covering:
What MIDI controllers are & what to look for ✓

MIDI controllers vs MIDI keyboards: key differences ✓

The 5 best MIDI controllers of 2023 ✓

Key features, functions, and unique capabilities of each pick ✓

How to optimize your setup with the right MIDI controller ✓

Much more ✓
By the end of this guide, you'll have a well-rounded understanding of what makes a MIDI controller a worthy addition to your musical arsenal.
Along with our top 5 recommendations to consider.
NOTE: We've already released an article about the best MIDI keyboards for 2023 (which we'll link below), so we're strictly discussing MIDI controllers today.
For those who may not know the difference between a MIDI controller and a MIDI keyboard, we'll dive into the distinctions to clarify any confusion.
So, let's dive in…
What is a MIDI Controller? Features, Functions & Facts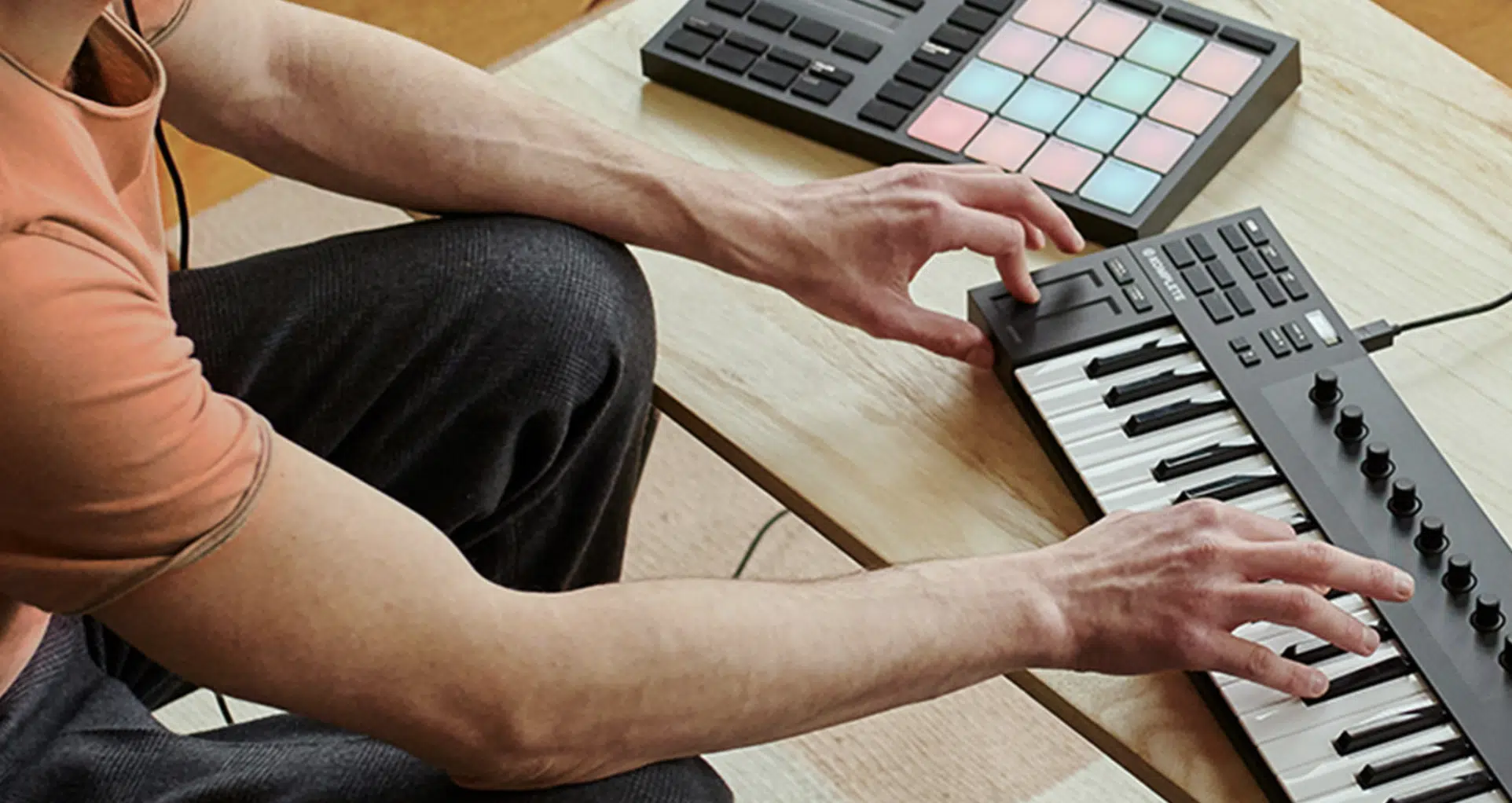 A MIDI controller is a physical interface that allows you to control various parameters in your Digital Audio Workstation (DAW). 
It sends MIDI data to your computer or sound module 一 translating your creative impulses into dope beats or mesmerizing melodies.
MIDI controllers typically come in various shapes and sizes, including: 
MIDI keyboards

Pad controllers

Grid controllers
Each type has its distinct layout and features, but they all share one common goal: to make your music production process as seamless as possible. 
A good MIDI controller can be your best friend in the studio, whether it's to trigger notes or manipulate virtual instruments.
The best MIDI controllers are MIDI compatible (obviously), offering an array of knobs, faders, and pads for maximum control. 
Some even feature touch strips and sequencers to enhance your workflow further. 
The sky's the limit when it comes to functionality. 
NOTE: Speaking of the sky, have you ever used a wind controller?… They're MIDI controllers that mimic traditional instruments like saxophones.
Wind controllers allow you to translate breath and finger movements into MIDI data. Interesting, indeed.
A MIDI controller, short for Musical Instrument Digital Interface, is a central hub for your electronic music production. 
It receives your physical actions, converts them to MIDI messages, and sends those MIDI signals to your DAW. 
Essentially, it's your hands-on approach to making music in the digital realm.
The Difference Between a MIDI Controller & MIDI Keyboard
Now that we've covered what a MIDI controller is, let's clarify some common confusion. 
What's the difference between a MIDI controller and a MIDI keyboard (often called a keyboard controller).
Well, the line can be blurry, but it's essential to know the nuances to choose the best tool for your music production needs.
First, all MIDI keyboards are MIDI controllers, but not all are MIDI keyboards.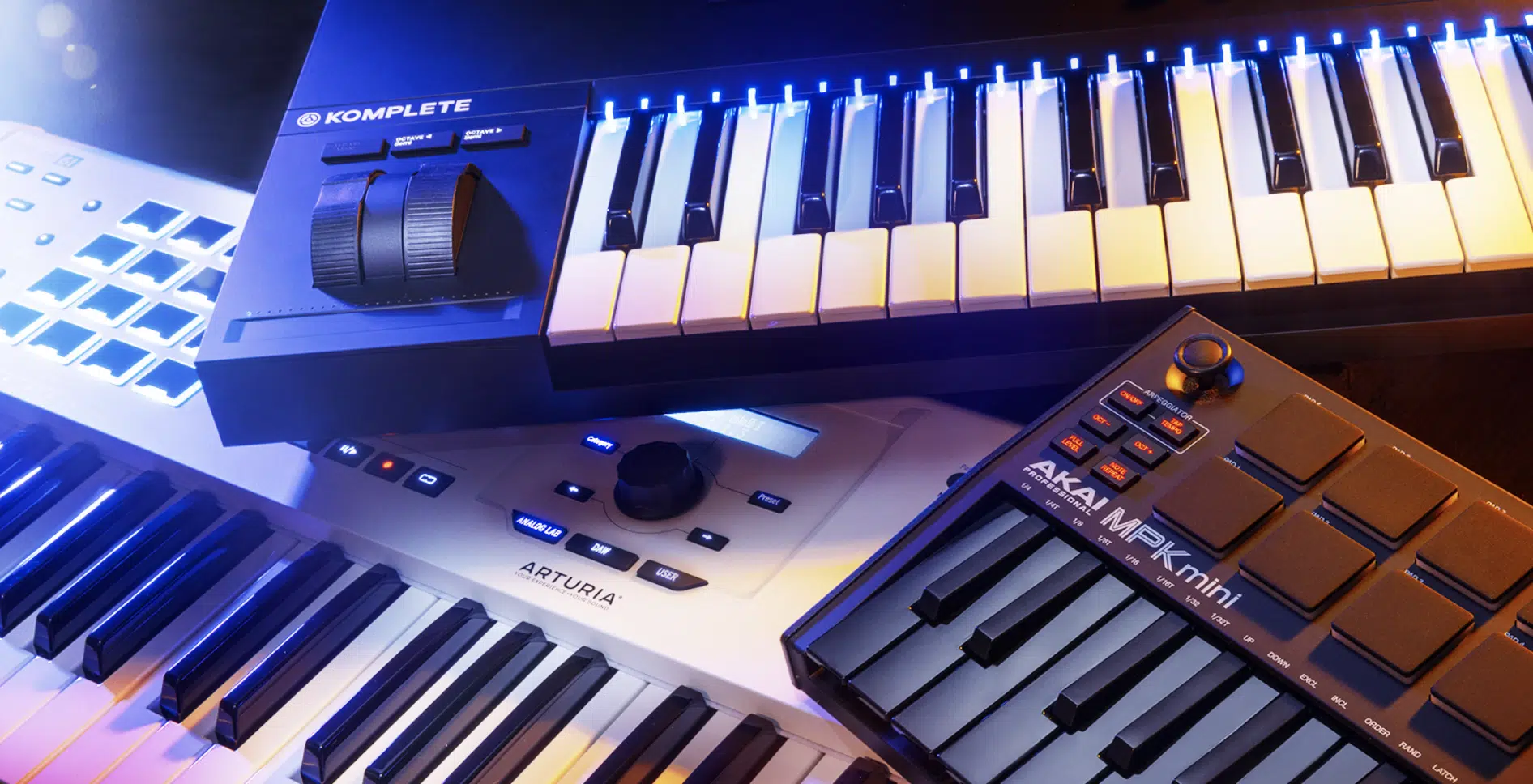 A MIDI keyboard typically has keys that look similar to a traditional piano. 
These keyboard controllers are excellent for playing melodies and chords ; even simulating the feel of a real piano. 
They are MIDI compatible devices that usually come with various controls like: 
Knobs

Faders

Sometimes even pads
So, they're essentially a subset of MIDI controllers.
If you'd like to know all about the intricacies of MIDI keyboards, plus the top MIDI keyboards for 2023, we've got you covered.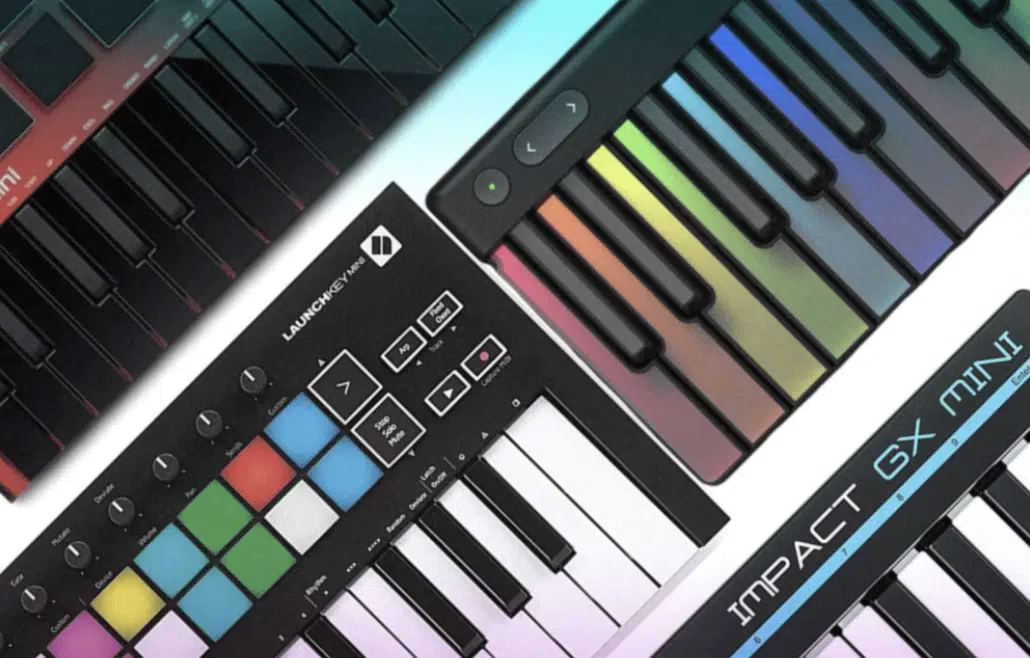 MIDI controllers, on the other hand, can be so much more than just keyboards. 
Pad controllers, grid controllers, and even wind controllers are designed for different music production and live performance aspects. 
These controllers often focus on: 
Triggering loops

Controlling various parameters in your software
For example, a pad controller is designed primarily for beat-making and sample triggering. 
The pads offer a different kind of tactile feedback than the keys on a MIDI keyboard 一 making them ideal for genres like hip-hop.
The Top 5 MIDI Controllers of 2023
So, now that we've clarified the vital differences between MIDI controllers and MIDI keyboards let's discuss the top 5 MIDI controllers of 2023.
#1. Akai Fire Pad Controller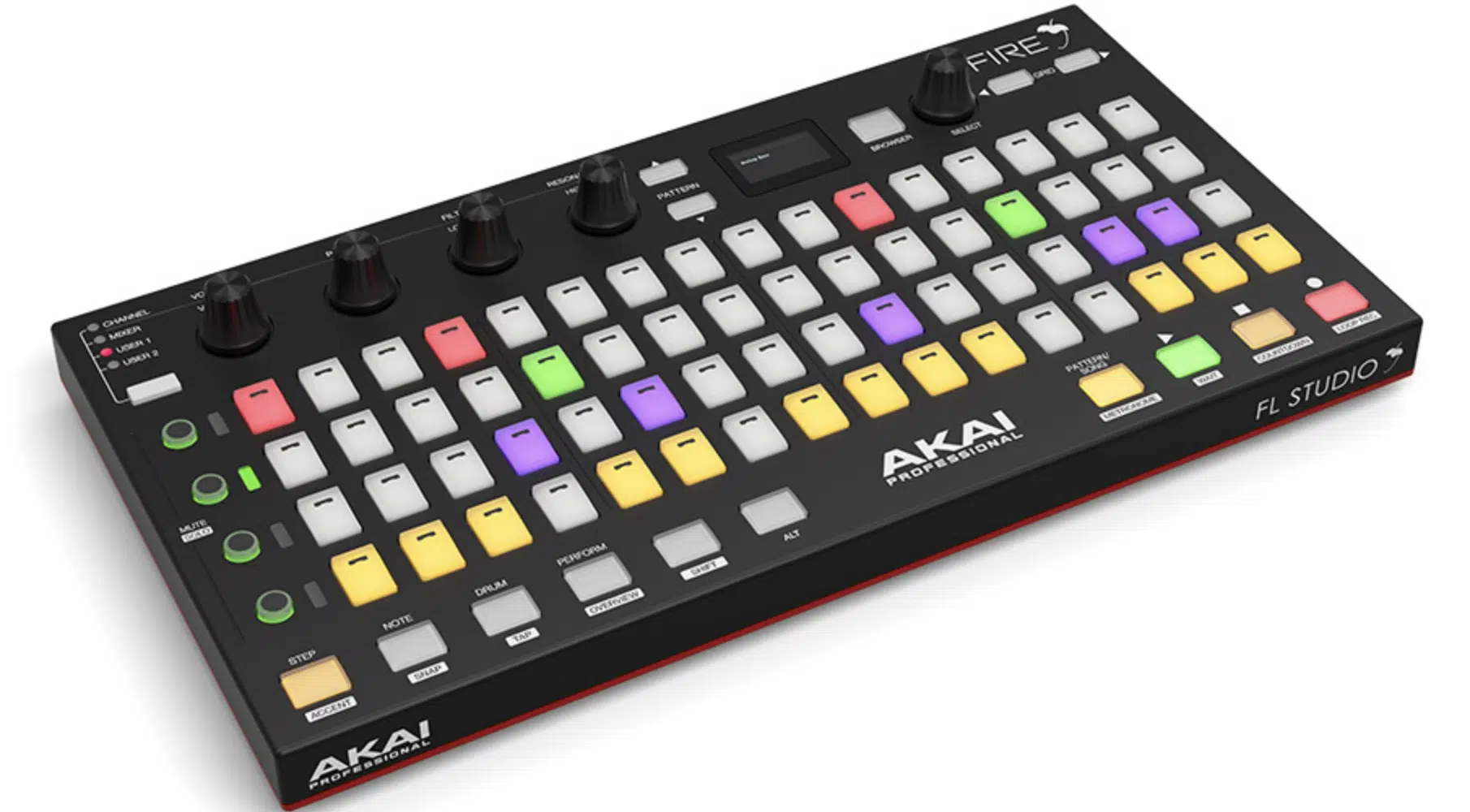 The Akai Fire Pad Controller is not your run-of-the-mill MIDI controller; it's a FL Studio powerhouse built in close collaboration with Image-Line.
Tailored to meet the exact needs of FL Studio producers, the Akai Fire goes beyond just MIDI messages, offering a rich tapestry of controls that make it a must-have tool for FL Studio aficionados.
Ease-of-use starts at the browser function. 
Thanks to its dedicated browser feature, Akai Fire allows you to: 
Intuitively navigate

Audition

Load samples or project files 
All with the twist of a Select rotary encoder. The onboard OLED display is a window into your project, streamlining browsing and parameter adjustments.
And that's just the tip of the iceberg.
Get hands-on with your beat-making and sequencing through Fire's 4 x 16 velocity-sensitive RGB pad matrix 一 which is an integration designed to make the most out of FL Studio's iconic piano roll. 
#1. Note Mode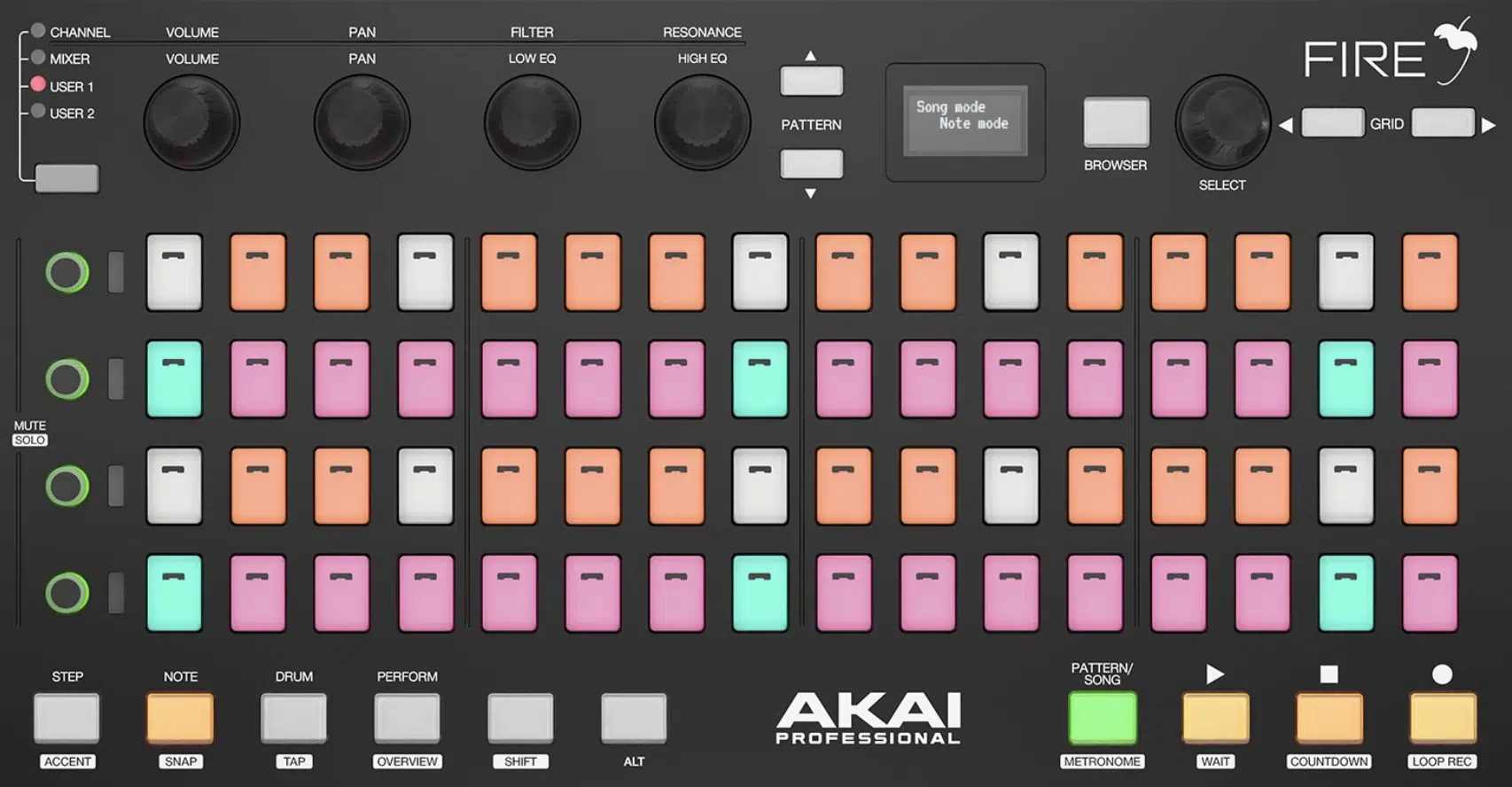 Want to add some sizzle to your synth leads or rich harmonies to your production? 
Switch over to Note Mode and play your heart out on three octaves' worth of pads that double up as a MIDI keyboard. 
#2. Drum Mode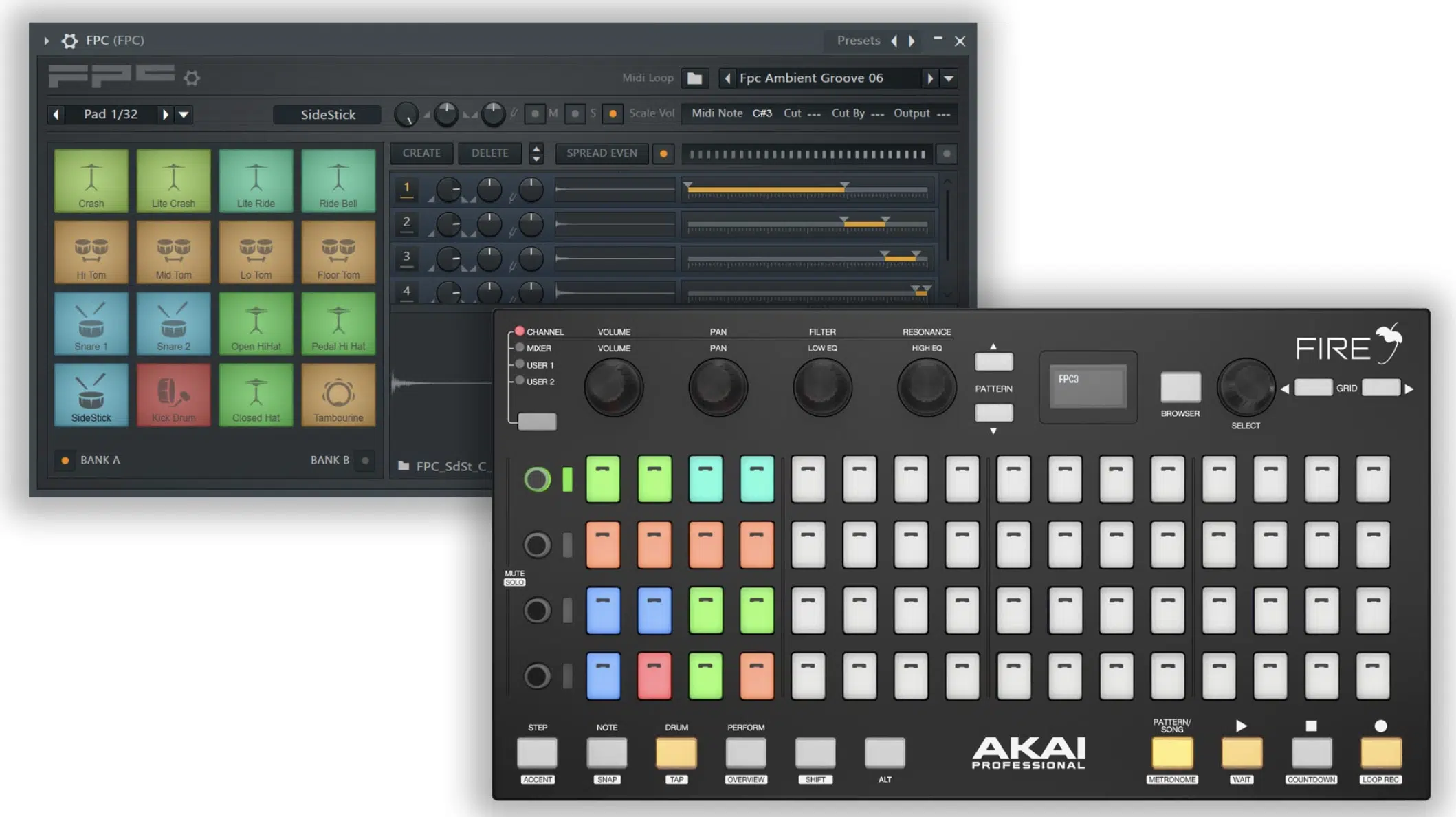 If you're an old soul who prefers the tactile feeling of an MPC-style layout, the Drum Mode will make your day.
It's perfectly meshing with FL Studio's FPC and SliceX. 
#3. Performance Mode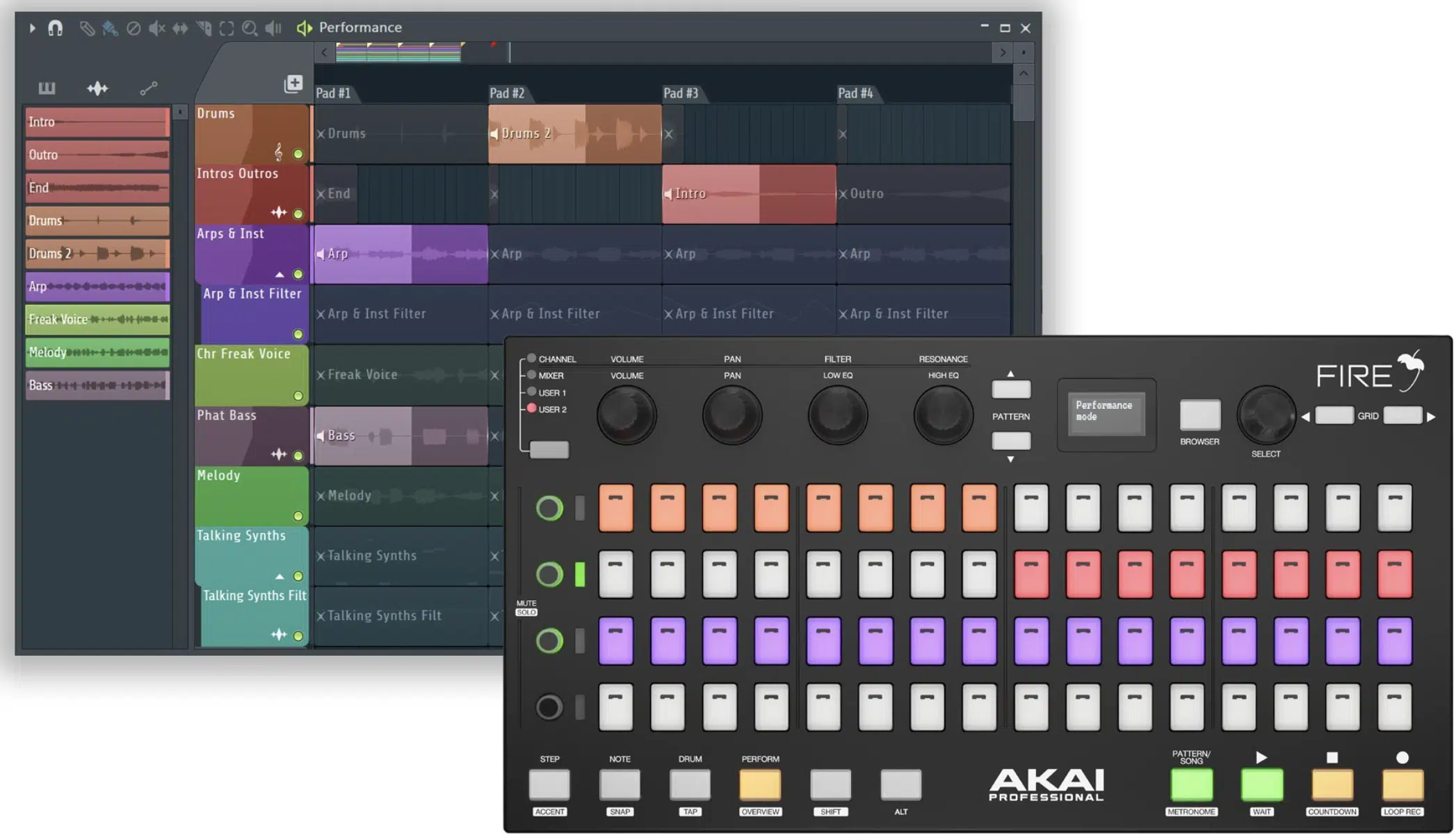 And for the live performers out there, the Performance Mode will turn your set into an electrifying experience.
It allows you to launch MIDI clips and audio effortlessly.
If you're thinking that's an overwhelming array of features, you're absolutely correct. 
But what sets Akai Fire apart is its seamless integration, muscle under the hood, and mouse-free mixing capabilities. 
With a touch-sensitive knob for every occasion, you'll be tweaking volume, panning, and filtering like a maestro. 
#4. Multi-Device Mode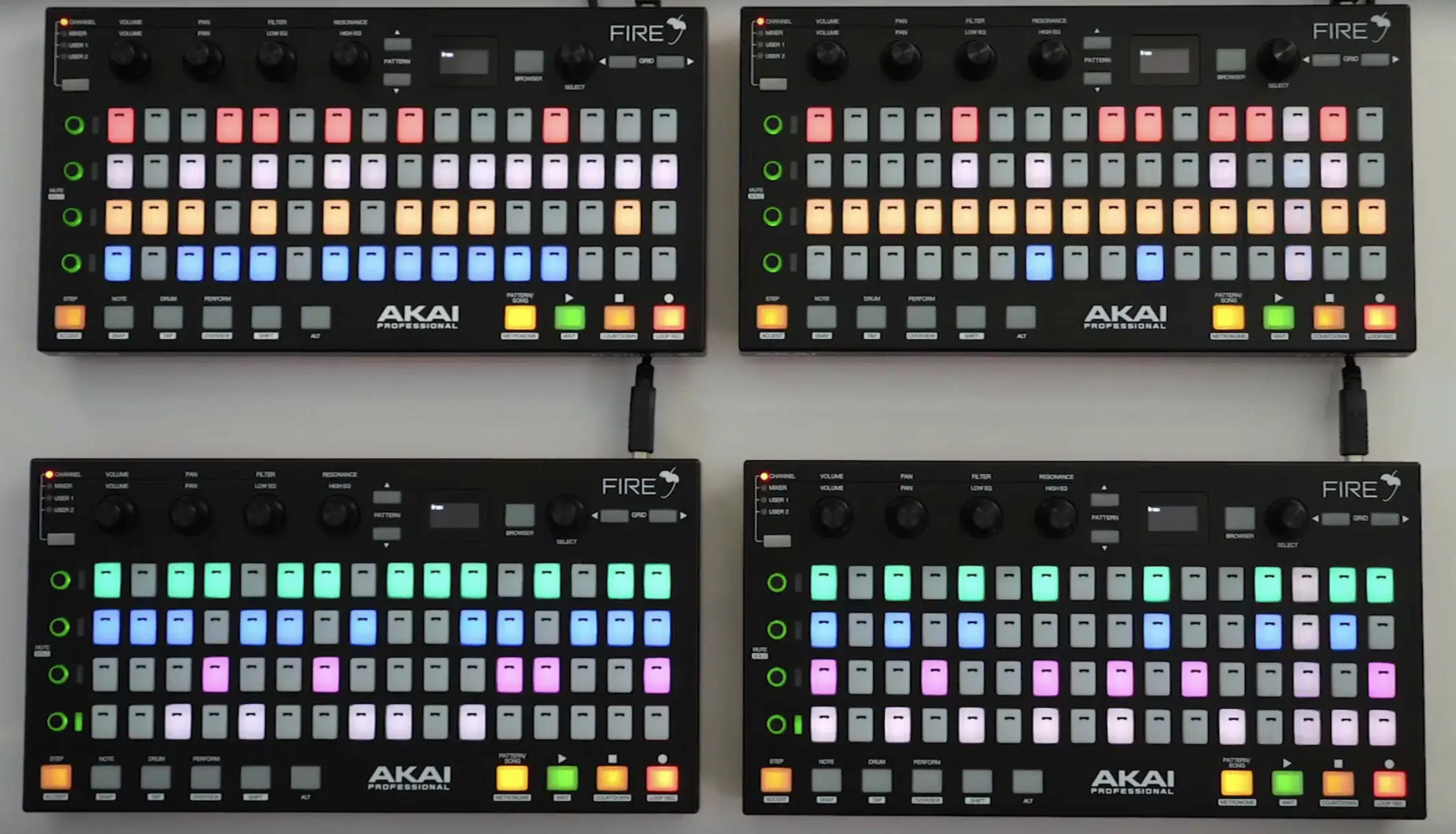 If you're a power user like myself, brace yourself for Multi-Device Mode. 
Link up to four Fire units to transform your setup into an 8 x 32 grid, catapulting your workflow to another dimension.
Overall, the Akai Fire Pad Controller is the best MIDI controller of 2023.
If you're an FL Studio user looking for the best FL Studio plugins, look no further.
Key Features of this MIDI Controller: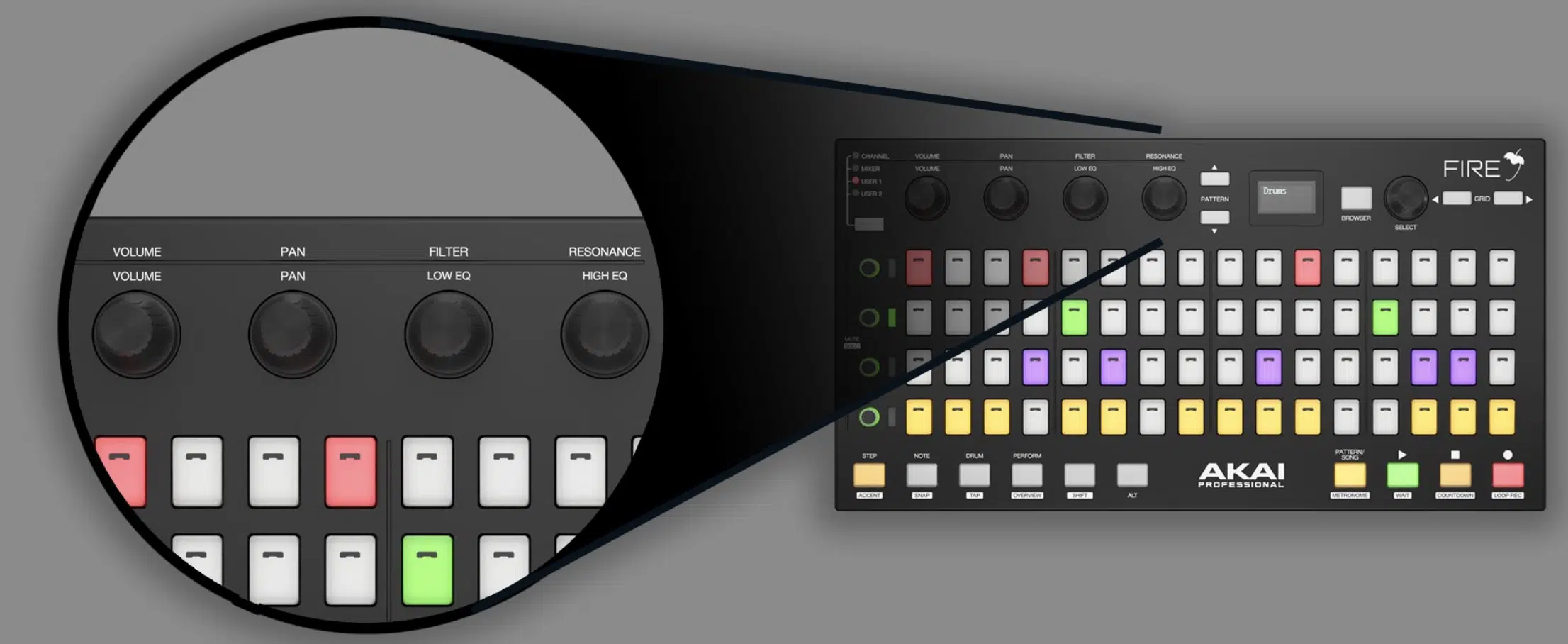 Dedicated Browser Function; some of the best features available.

4 x 16 RGB Pad Matrix.

Note Mode & Drum Mode.

Performance Mode.

Transport Controls.

Touch-Capacitive Knobs.

Multi-Device Mode.

The best MIDI controller of 2023.

FL Studio Fruity Fire Edition.
#2. Novation Launchpad X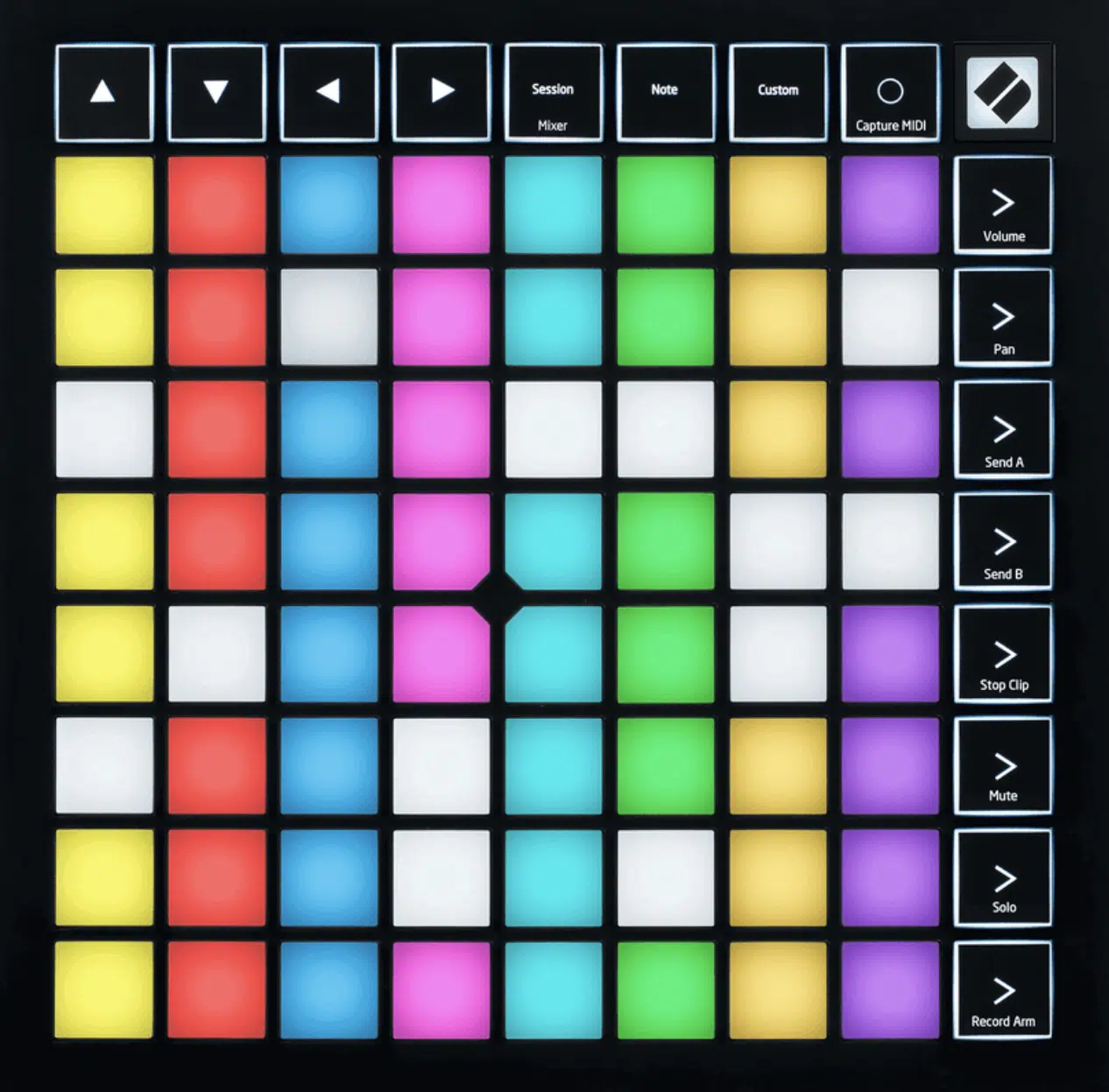 Novation's Launchpad X emerges as an essential tool in this domain, specially designed for the Ableton Live and Logic Pro digital audio workstation (DAW) platforms. 
The Launchpad X provides a comprehensive, hands-on experience that elevates your music production and live performances. 
This 64-pad MIDI grid controller is not merely a flashy add-on but an integral part of your creative process, giving you quick and intuitive control over your DAW.
Elevate your Ableton Live sessions with Launchpad X's 64 velocity-sensitive RGB pads. 
These pads not only offer visual feedback but are also designed for expressive instrumental play. 
On the fly, you can:
Launch clips and scenes

Trigger live loops in Logic Pro

Even sketch out arrangement ideas
The pad layout is optimized for a dynamic interaction with Ableton Live's Session View 一 making clip launching and scene management a breeze.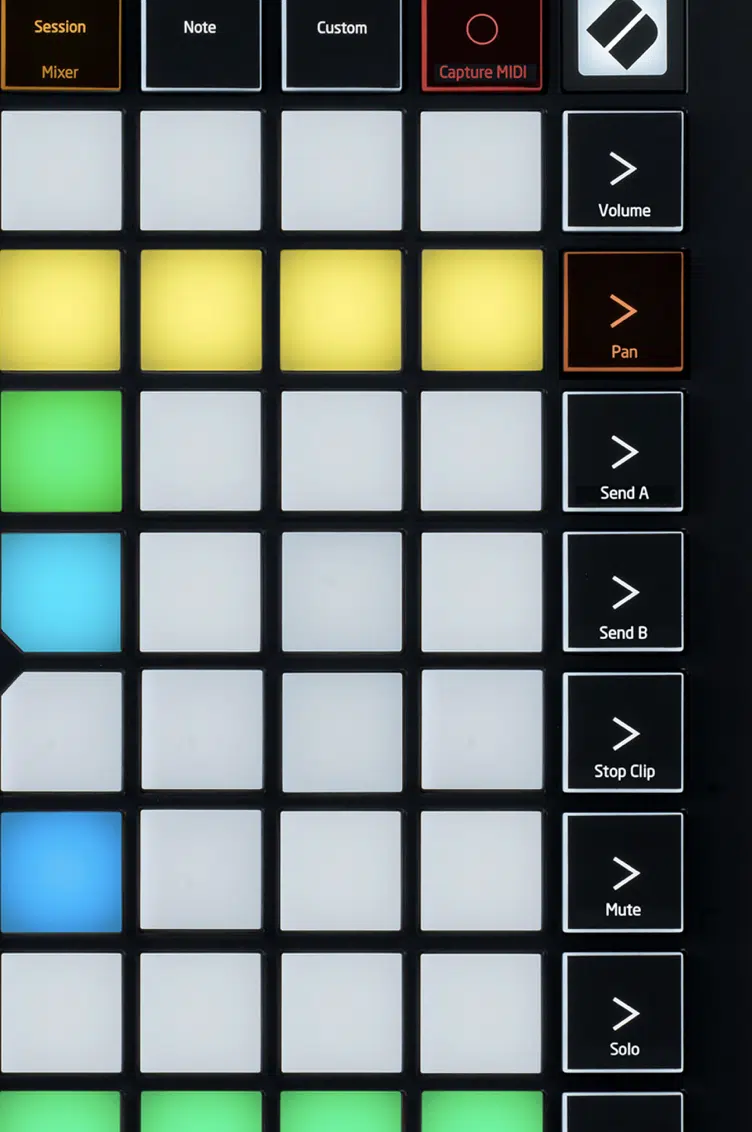 Additionally, the one-press Capture MIDI control ensures you never lose an idea, capturing your performances and musical thoughts instantly in Ableton Live.
What sets the Launchpad X apart is its adaptability. 
With four Custom Modes, you can utilize Novation Components to tailor your MIDI mappings and control virtually any parameter within your DAW.
Dynamic Note and Scale modes ensure you stay in key 一 providing a framework for producing perfect basslines, melodies, chords, and leads. 
The pads' polyphonic aftertouch adds another layer of expressiveness, allowing you to perform your virtual instruments in a deeply engaging manner.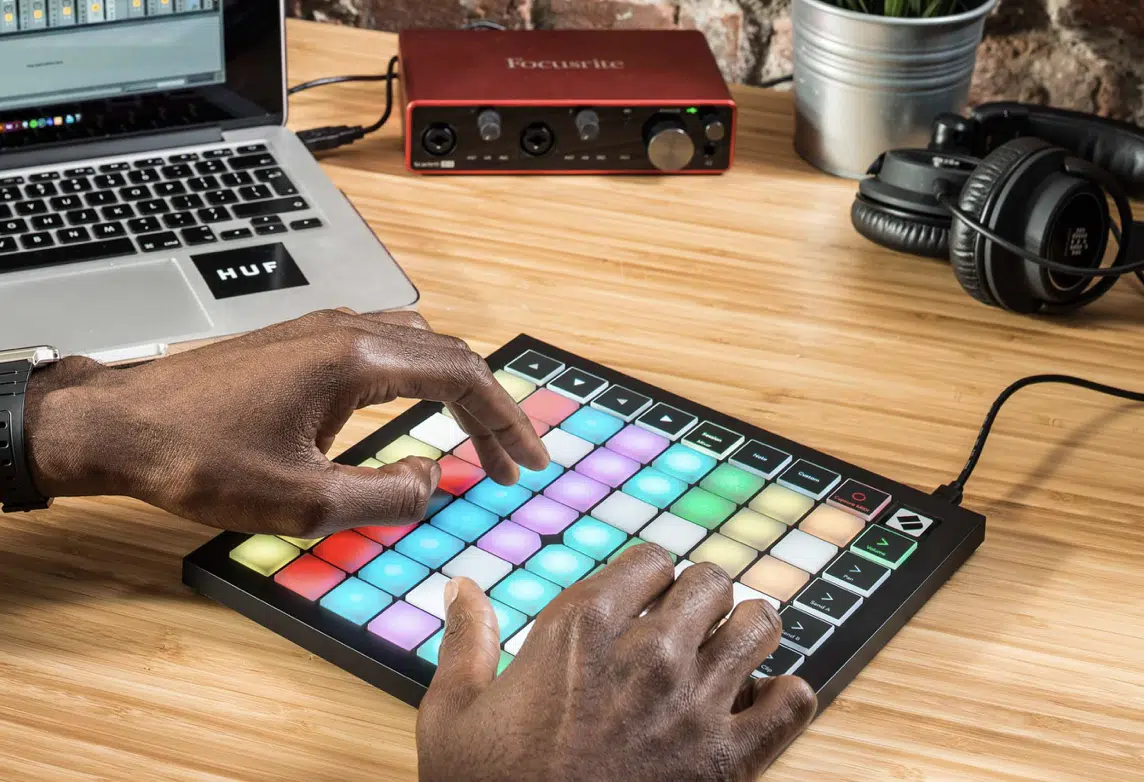 Essential DAW controls such as stop, solo, mute, and record arm are just a button press away.
This allows you to manage your tracks without the need to switch back and forth from your software to hardware (which I love).
This MIDI controller is not just about features;it's about streamlining your workflow, allowing you to bring your musical ideas to life quicker and more naturally. 
Whether you're new to Ableton Live and Logic Pro or a seasoned producer, the Launchpad X integrates seamlessly into your setup. 
No drivers to install, no complicated setup; it's truly a plug-and-perform device.
Key Features of this MIDI Controller: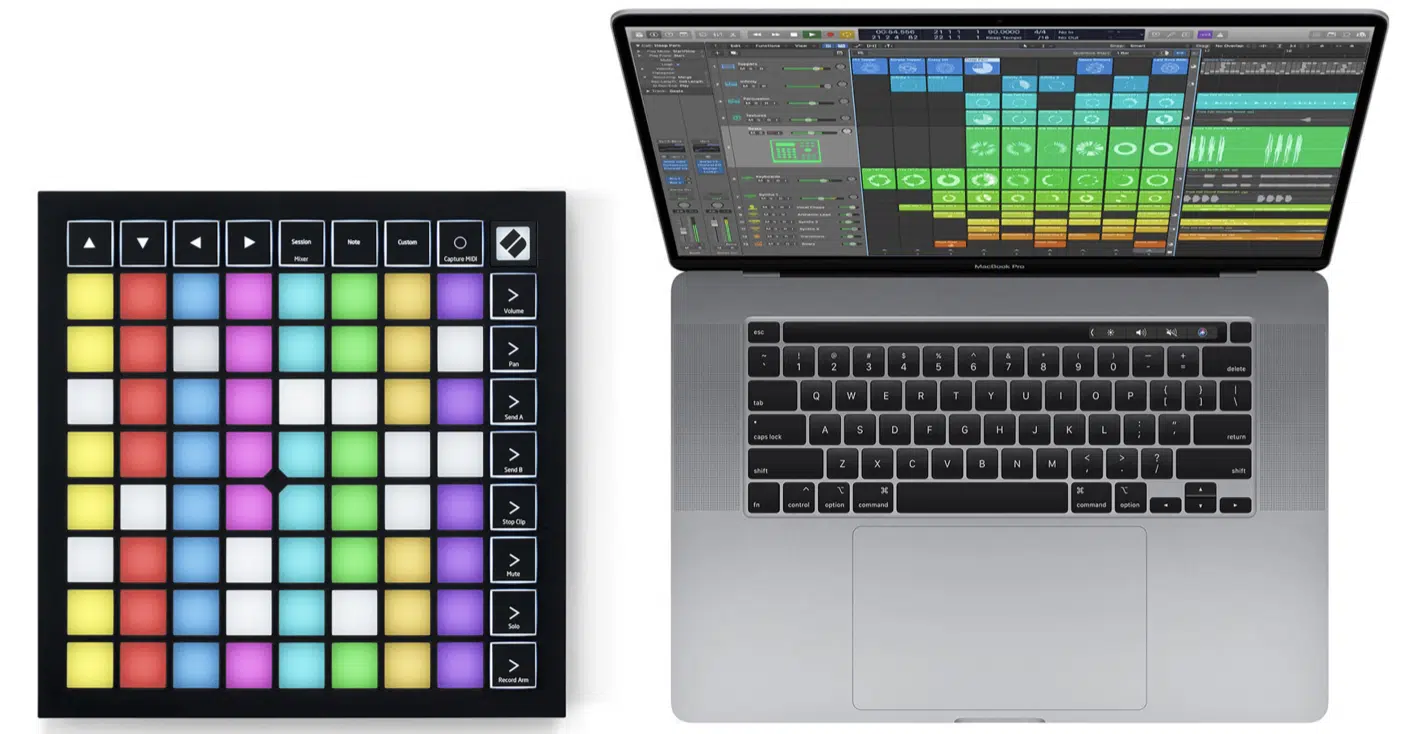 64 Velocity-Sensitive RGB Pads.

One-Press Capture MIDI Control.

Four Custom Modes.

Dynamic Note and Scale Modes.

Essential DAW Controls; great features.

Plug and Perform.

Included Ableton Live Lite.

One of the best MIDI controllers of 2023.
#3. Arturia BeatStep Pro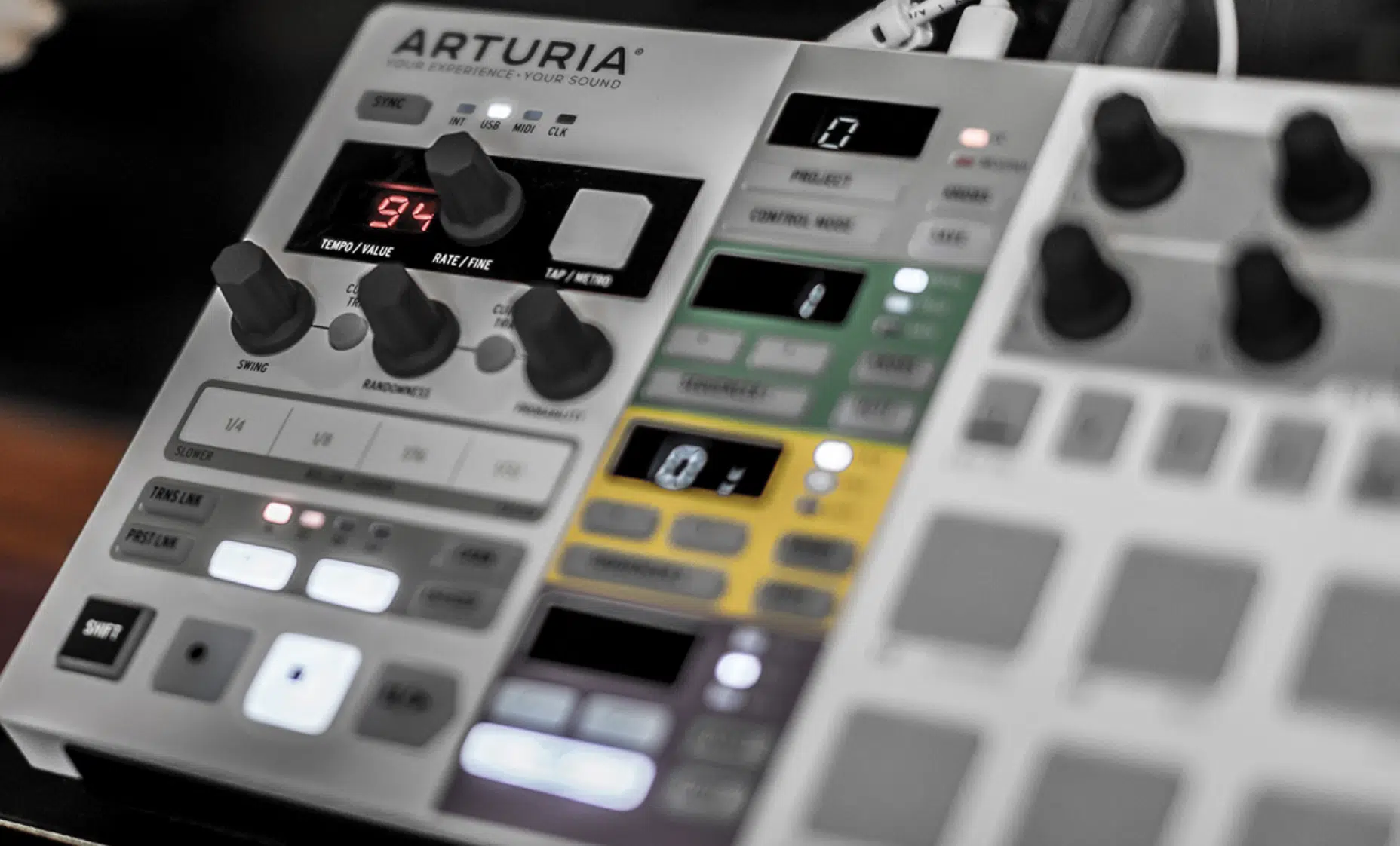 The Arturia BeatStep Pro is a true game-changer in the ever-expanding universe of MIDI controllers. 
Unlike standard controllers, the BeatStep Pro serves as a three-in-one powerhouse: 
A world-class controller

An innovative performance sequencer

A versatile composing tool
This highly connectible device lets you control various virtual, analog, and digital instruments, drum machines, and even iPad apps.
Whether you are looking to compose intricate sequences or to elevate your live performances, the BeatStep Pro has you covered.
Regarding sequencing capabilities, BeatStep Pro takes it up several notches with its dual independent melodic sequencers and a separate drum sequencer. 
Each melodic sequencer allows up to 64 steps, supporting individual note articulations for pitch, velocity, and gate time.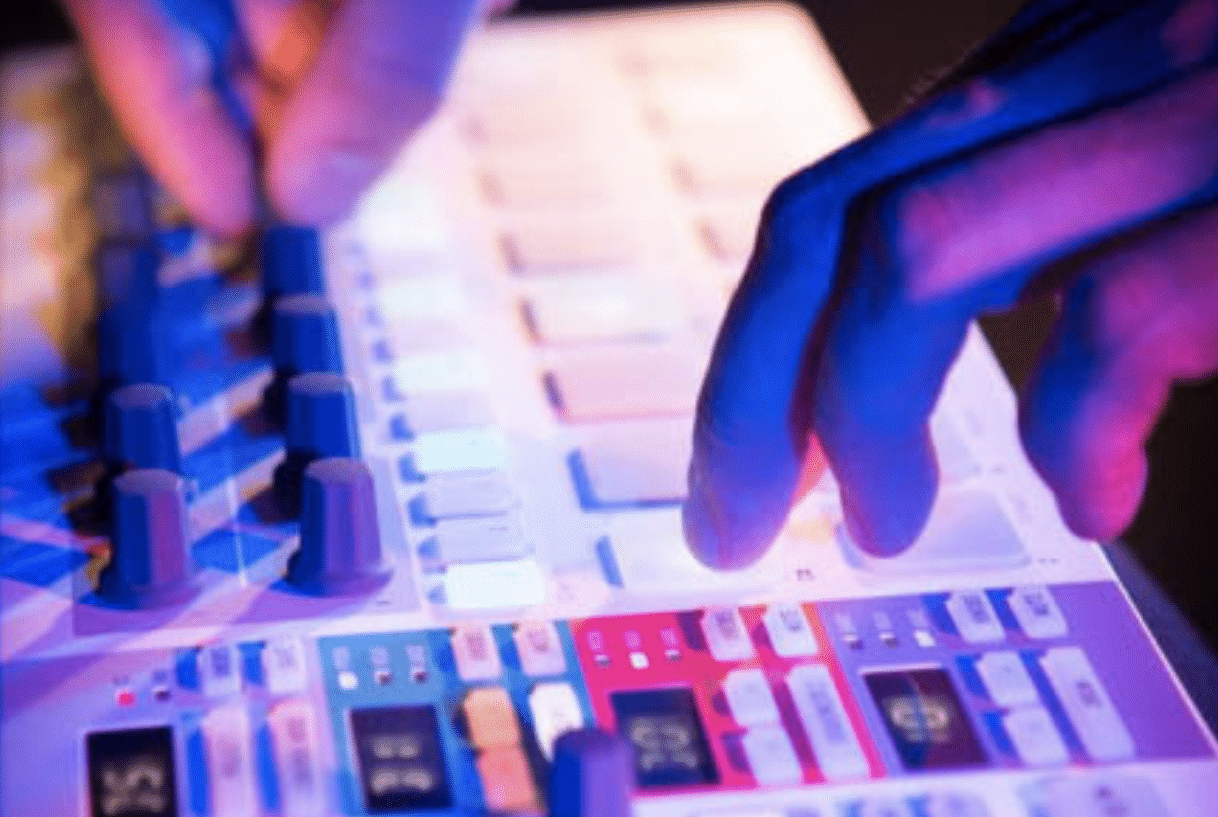 Plus, each project can have 16 sequences per melodic sequencer and 16 patterns for the drum sequencer.
It allows for over 4,000 possible combinations per project. 
The drum sequencer is a masterpiece, offering 16 separate tracks per sequence and supporting real-time and step-based recording methods. 
Its flexibility is unmatched, simultaneously offering the classic drum machine workflow and modern real-time interaction.
Arturia's BeatStep Pro is the undefeated champion in the realm of performance effects.
It incorporates a diverse range of unique and in-demand effects, such as:
A Real-time looper with a touch strip

A Sophisticated randomizer

Individual swing settings

A vast array of hands-on controls
In the control mode, you can trigger clips in your favorite DAW, interface with external devices, or manipulate your chosen plugins. 
What sets the BeatStep Pro apart is its unparalleled connectivity options.
From USB and MIDI to CV/Gate and Clock sync, you are hooked to virtually any musical hardware or software piece.
For those who thrive in the nexus of innovation and classic design, the BeatStep Pro is an enduring commitment. 
It ships with industry-standard creative software 一 getting you up and running as soon as you unbox the device. 
Not only does it offer complete customization through its free MIDI Control Center software, but it also ensures that your creative endeavor remains unbounded and fluid.
Key Features of this MIDI Controller: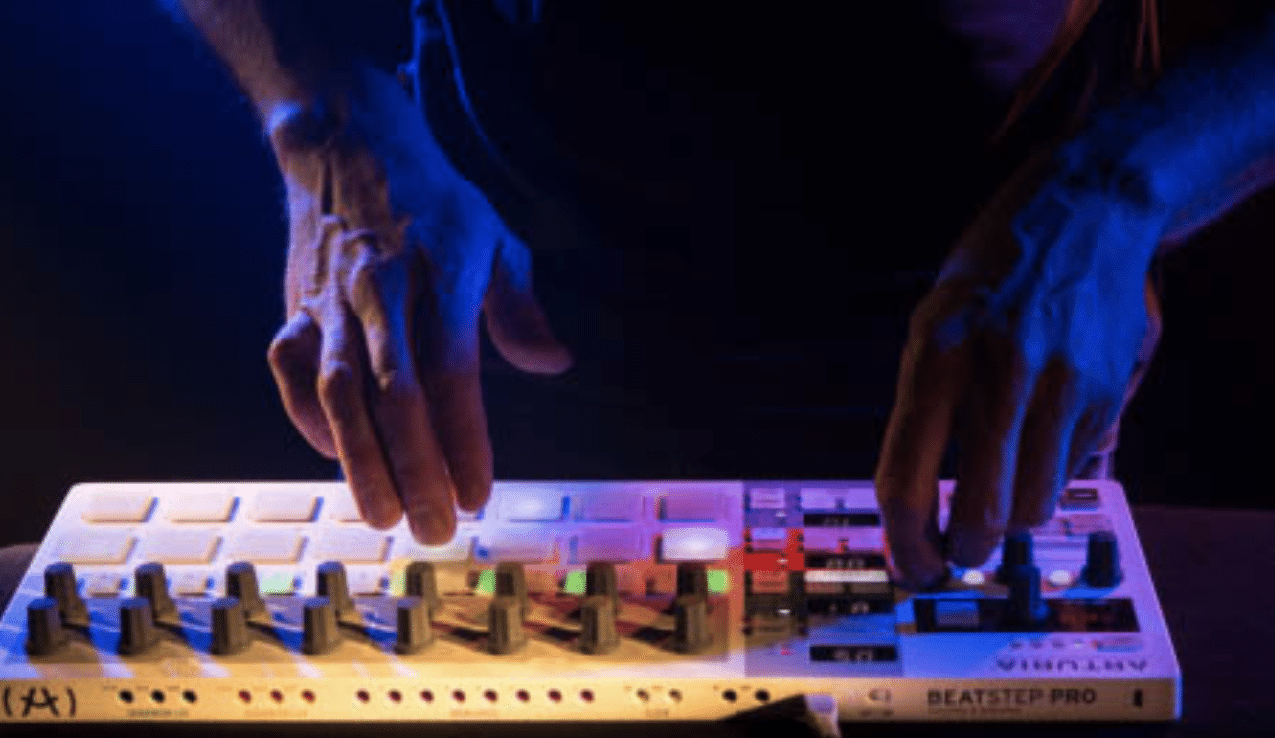 Dual Independent Melodic Sequencers.

16-Track Drum Sequencer to trigger notes.

Highly Connectible.

Performance Effects.

Control Mode.

16 Projects.

Customizable Interface.

Touch-Sensitive Knobs and Tap Tempo.

Comprehensive Software Bundle (amazing sounds).

One of the best MIDI controllers of 2023.
#4. QuNexus by Keith McMillen

In the realm of MIDI keyboard controllers, Keith McMillen's QuNexus is in a league of its own. 
This innovative device is a potent MPE keyboard controller, a three-track arpeggiator, and a step sequencer. 
QuNexus offers a level of control and musical expression that free other devices can match, as it boasts 25 highly sensitive keys that can detect: 
Pitch

Velocity

Polyphonic aftertouch

Even per-key tilt
Blue and white LEDs illuminate the keys, providing real-time feedback during arpeggiations, step sequences, and playback.
This makes it an ideal choice for both studio and stage applications.
QuNexus does not merely offer keys 一 it integrates three arpeggiator/sequencer tracks that can each be programmed with up to 32 quantized steps and 10 selectable arpeggiator patterns. 
Each track can be independently assigned to various output types (USB, MIDI, and Eurorack), offering unparalleled flexibility over your sounds.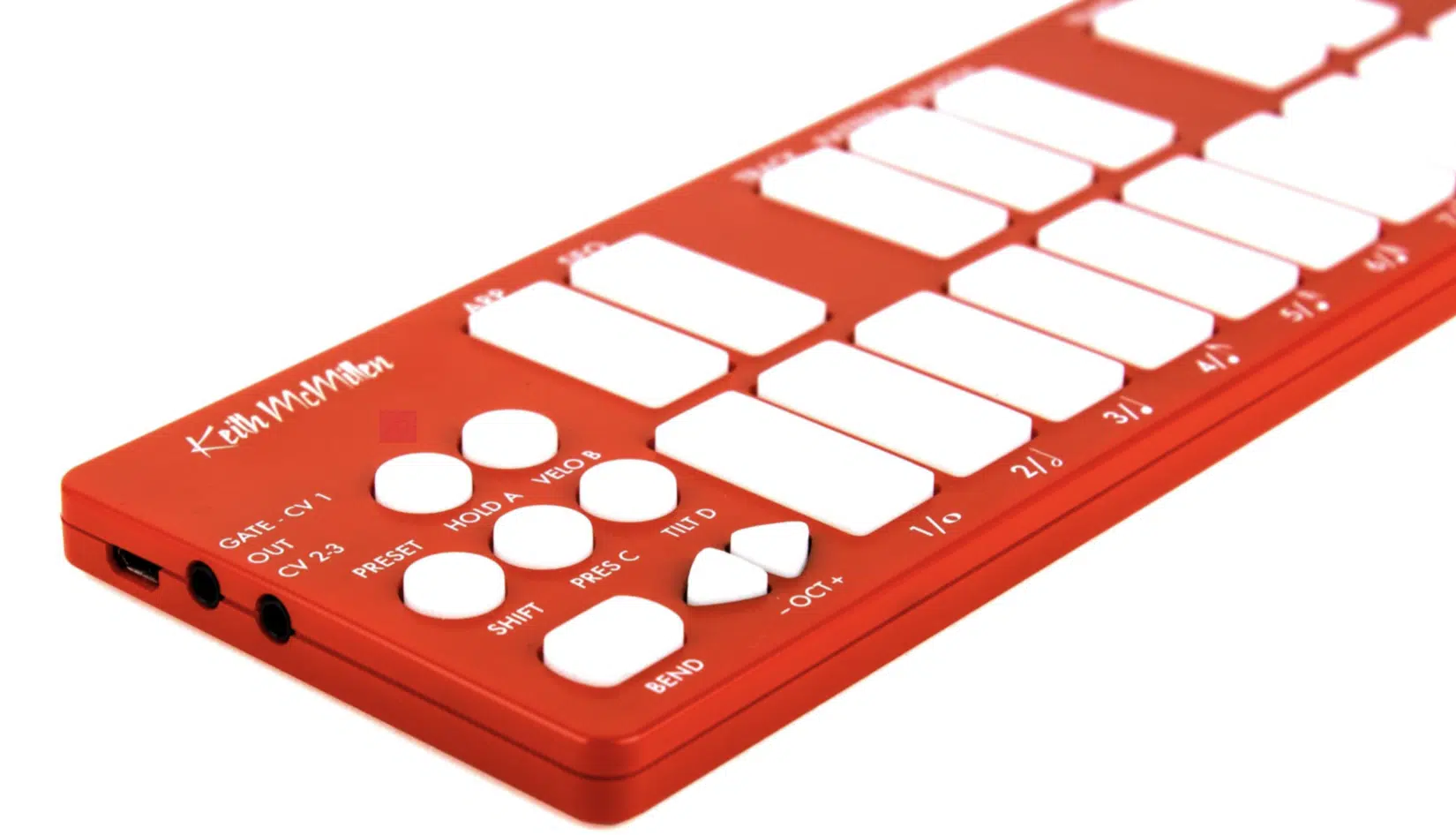 The device shines in its ability to connect to a diverse range of musical equipment, including: 
To make your setup even more tailored, the QuNexus editor, compatible with Windows and MacOS, allows you to assign and configure these parameters effortlessly.
Regarding connectivity, QuNexus is exceptionally versatile; whether you prefer USB MIDI, MIDI DIN, or a Eurorack setup, QuNexus has you covered. 
It even includes a separate control layer that allows you to map each key to its unique notes and/or Control Change messages (CCs). 
With this advanced level of customization, QuNexus serves as a formidable tool for both producers and live performers.
This MIDI controller further amplifies its user-friendly design by supporting standalone editing and saving some of the most common parameters.
Therefore, removing the need for constant computer interaction.
Designed to foster creativity and open up new realms of musical exploration, QuNexus is your go-to for sophisticated control, sequencing, and tactile musical expression. 
Key Features of this MIDI Controller: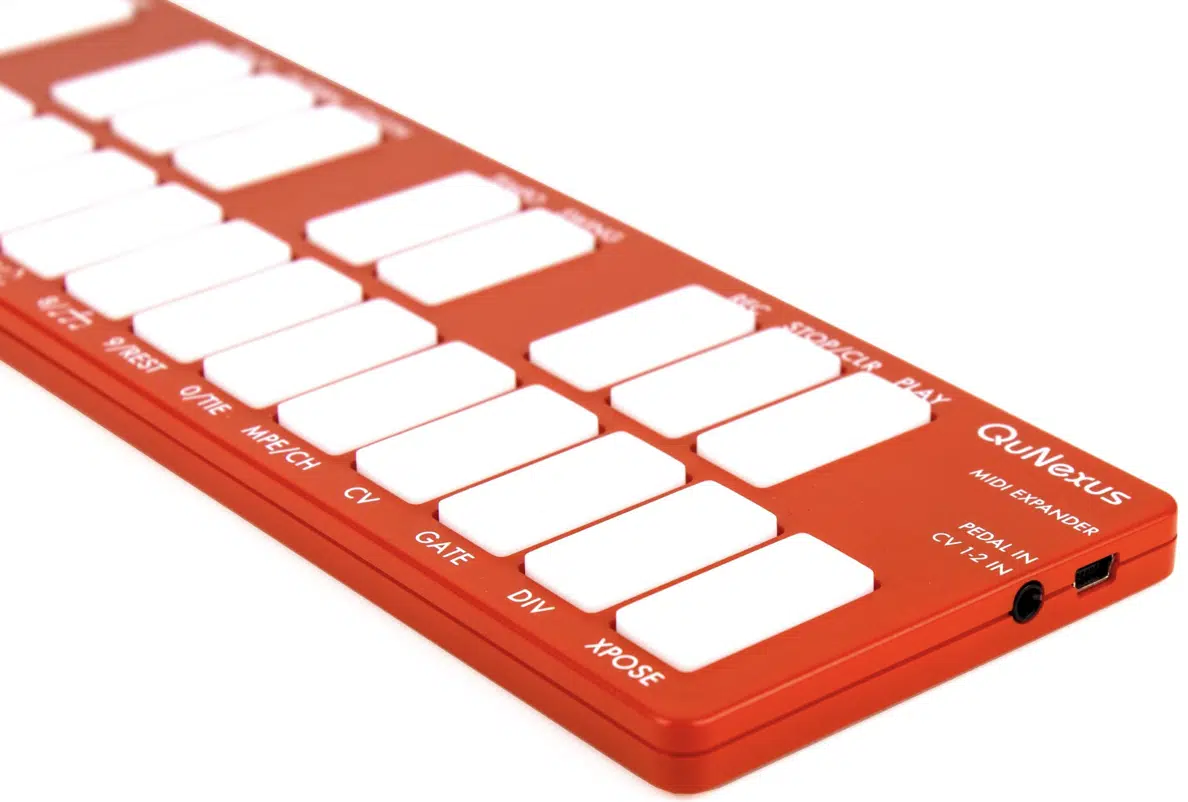 25 Touch-Sensitive Keys.

Three-Track Arpeggiator/Sequencer.

Multi-Output Assignment.

Exceptional Connectivity.

Customizable Control Layer.

Advanced Configuration.

MPE Playback Support.

One of the best MIDI controllers of 2023.
#5. Akai MPD232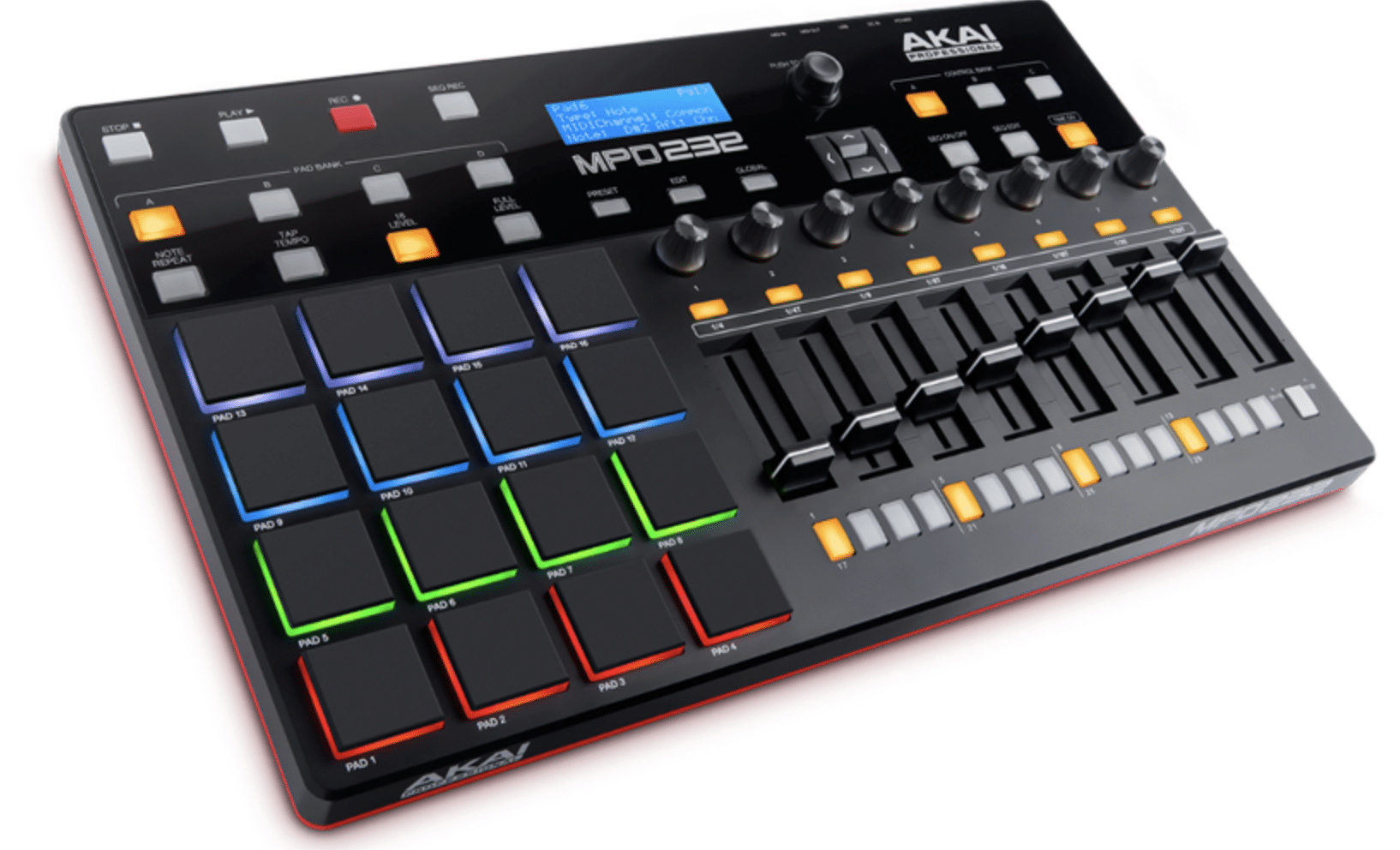 Akai's MPD232 is a veritable powerhouse for producers, musicians, programmers, and DJs alike, designed to make the process of beatmaking and music production seamless and intuitive. 
It melds the classic feel of Akai's iconic MPC controllers with state-of-the-art technologies and USB connectivity.
Meaning, it brings the tactile richness of traditional beatmaking into the digital realm. 
One of its standout features is the set of ultra-sensitive Thick Fat MPC pads, designed to capture every nuance of your performance. 
These pads have a remarkable responsiveness, making them ideal for: 
Finger drumming

Triggering samples

Executing complex rhythmic patterns
The MPD232's arsenal of control options is impressive, boasting 72 assignable controls across eight knobs, nine faders, and eight buttons.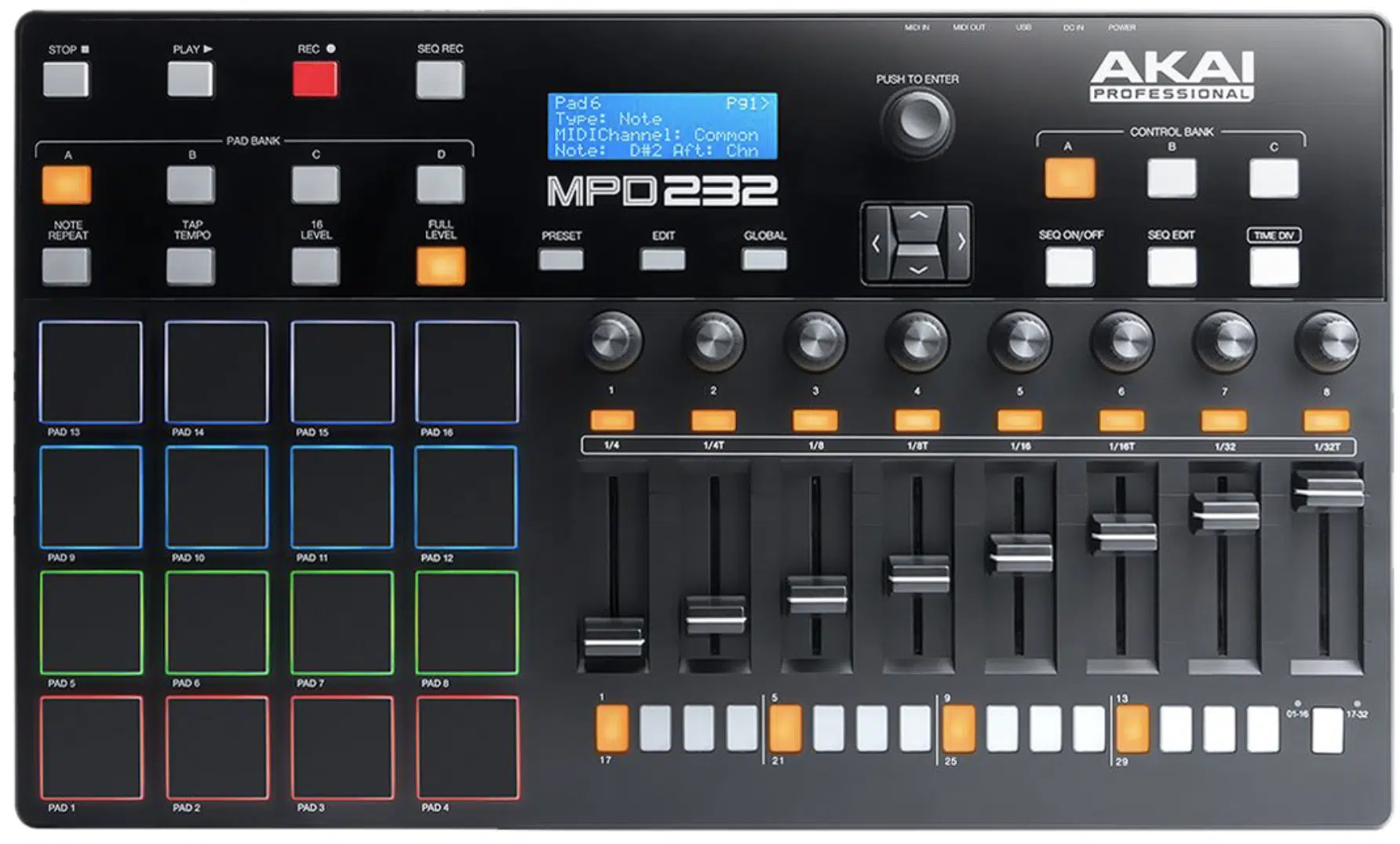 These controls are arranged in three banks, providing unparalleled command over other instruments and audio effects. 
What sets this controller apart from its predecessor (the MPD32) is its newly introduced 64-channel, 32-step performance sequencer. 
This addition allows you to build intricate musical patterns, right from the device itself. 
MIDI information/MIDI data is effortlessly sent over its plug-and-play USB interface to your Mac or PC, obviating the need for additional drivers. 
NOTE: Plus, its iOS compatibility opens up a world of mobile music production possibilities.
Alongside its exceptional hardware capabilities, the MPD232 is loaded with a wealth of software (valued at over $400).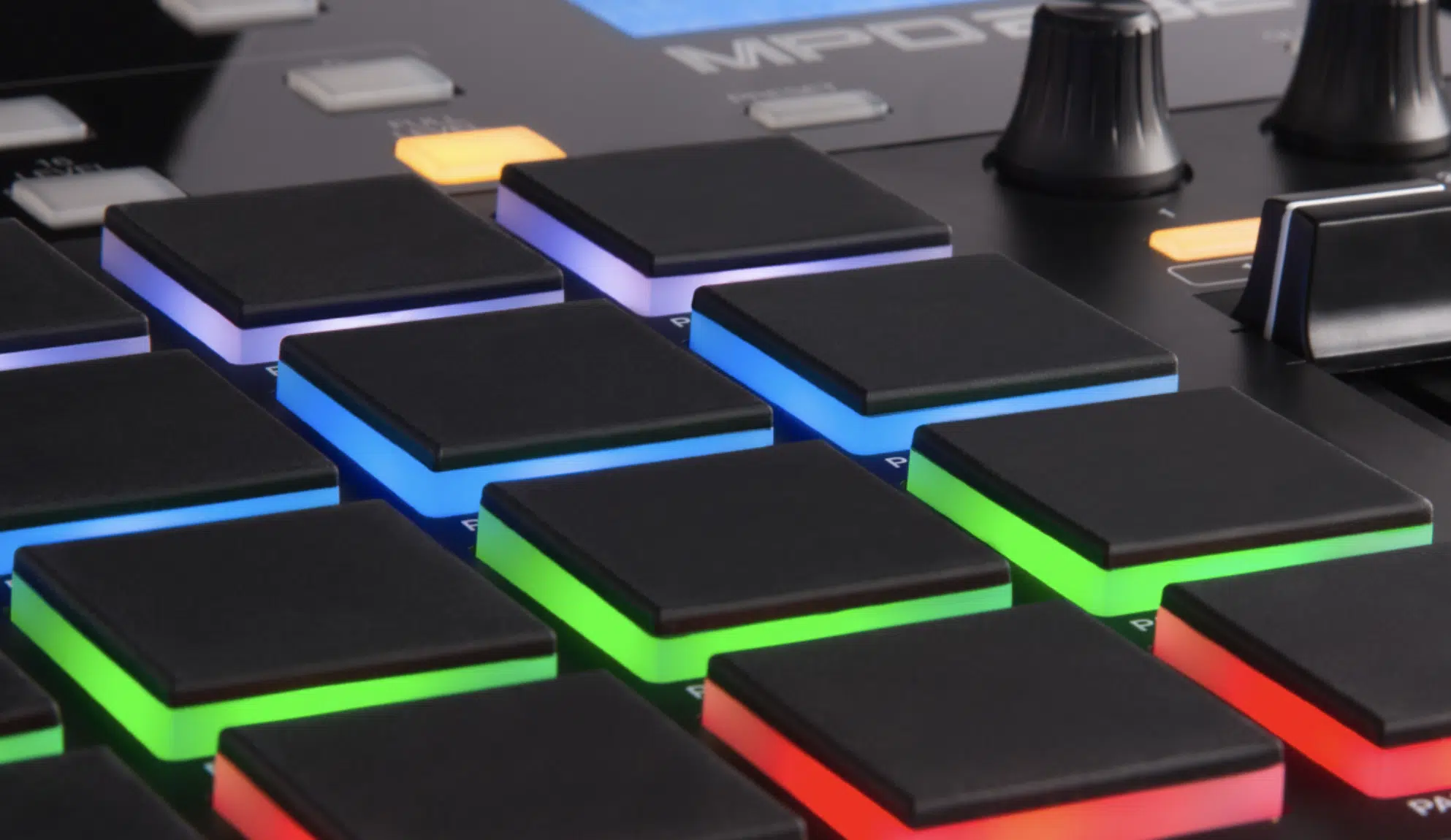 This includes: 
The MPC Beats

Big Bang Drums and Big Bang Cinema from Sonivox

As well as Ableton Live Lite
The Software Preset Editor further enhances the MPD232's versatility by tailoring your controls directly from the device's front panel. 
Optional upgrades are also available, including the MPC Software 2.0, a full-fledged production suite that significantly broadens the controller's functionalities.
This physical interface is more than just a pad controller.
It's a sophisticated command center for your computer-based studio 一 offering a perfect blend of traditional touch and modern utility. 
From its incredibly responsive Thick Fat pads to its extensive software bundle, this MIDI controller is an essential tool for anyone serious about electronic music production, amateur or professional.
Key Features of this MIDI Controller:

64-Channel, 32-Step Performance Sequencer.

16 Thick Fat RGB-Illuminated Pads.

72 Assignable Controls.

Plug-and-Play USB Connectivity.

Extensive Software Bundle.

Classic MPC Features.

MIDI In/Out.

Transport Controls.

Optional MPC 2.0 Software Upgrade (latest version)

One of the best MIDI controllers of 2023.
MIDI Controller: Final Thoughts
MIDI technology has come a long way since its inception, now being a critical tool for musicians, producers, and DJs alike.
Its innovative capabilities have effectively bridged the gap between acoustic and electronic music, offering an unparalleled level of control and flexibility.
It has forever changed how we understand music creation 一 bringing boundless opportunities to customize, experiment, and refine our sonic vision.
Having delved into the key features and unique advantages of our top 5 MIDI controllers, you're now equipped to make an informed decision that aligns with your creative musical aspirations.
Each controller is a world of possibility and offers specialized functions, from powerful sequencers to expressive touch-sensitive pads.
Whether you are a beginner looking for a streamlined way to interact with your DAW or an experienced producer eager to maximize control over every nuance of your project, there is a MIDI controller for you.
To effortlessly elevate your music to a professional standard, you should incorporate these free Essential Famous MIDI Chord Progressions into your workflow.
This incredible resource offers 24 unique MIDI chord progressions from iconic songs by legendary artists like Led Zeppelin, Ariana Grande, Travis Scott, Billie Eilish, and more.
These aren't just ordinary chord progressions but the backbone of chart-topping hits.
You can easily integrate these into a project you're already working on to give it that radio-ready polish or use them as a foundational palette for creating new, captivating tracks.
In the realm of MIDI, the possibilities are as endless as your imagination.
Armed with the right controller and quality resources like the free Essential Famous MIDI Chord Progressions, you're not just making music 一 you're crafting the future of sound.
Until next time…