In the vast realm of digital music production, free plugins are a dime a dozen.
However, the trick lies in finding ones that marry quality, functionality, and professionalism in one package.
It's a daunting task, especially for those who are new to the game.
Quality free plugins can serve as indispensable tools, enhancing your production value without eating into your budget.
So, how do you sift through all the options and find the best synth VST plugins?…
Luckily, that's where we come in.
In this comprehensive guide, we do the legwork for you 一 bringing to light 11 high-quality, free synth VST plugins that reign supreme.
Each of these plugins has been selected for its unique characteristics, impressive functionality, and overall value.
And unlike other articles that provide just a snapshot of each plugin, we dig deeper.
Here's a glimpse of what you can expect from each plugin:
An extensive overview ✓
Included functions & abilities ✓
Standout features ✓
Detailed insights ✓
Unique inclusions and offers ✓
Buckle up and prepare for a deep dive into the world of free synth VST plugins.
By the end of this guide, you'll be equipped with the knowledge to enrich your sound arsenal with the best free plugins out there.
So, let's dive in…
What Does a Free VST Synth Offer?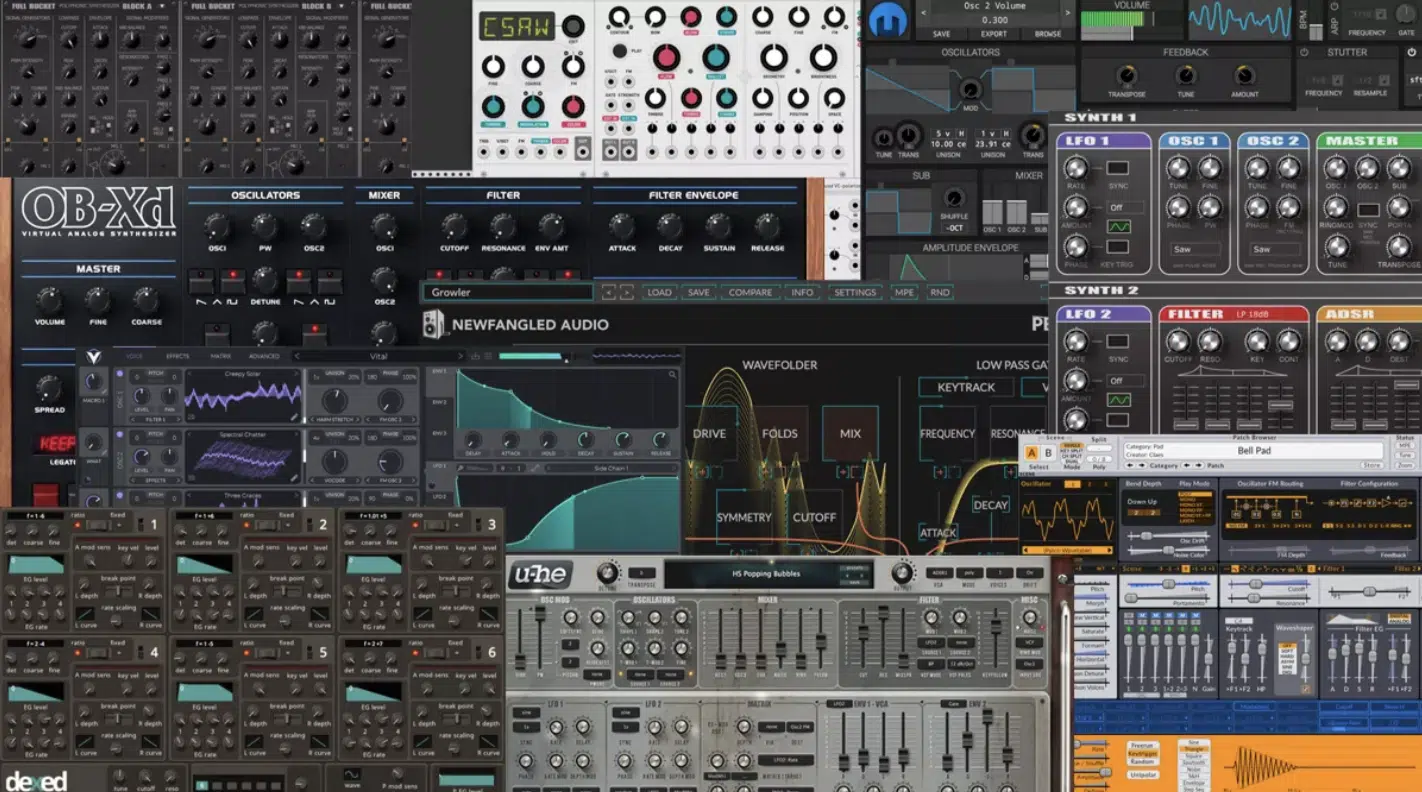 The concept of a Virtual Studio Technology (VST) synth is truly a game-changer in the world of music production.
The beauty of a free VST synth lies in its ability to emulate the sounds and functionalities of a hardware synth without requiring you to spend a single dime.
A free VST synth can help you create those catchy hooks and drop those legendary beats right from the comfort of your digital audio workstation.
A free VST synth doesn't compromise on quality…
From the warmth of analog sounds to the precision of FM synths, free VST synths can deliver a range of tones to suit your creative needs.
Whether you're crafting your next hit or just exploring sound design, these plugins offer an accessible entry point.
Freeware synths, in particular, have come a long way 一 with many offering features that rival premium options.
Most importantly, a free synth VST plugin allows you to experiment and grow as a music producer.
You can create all types of soundscapes with its:
Adjustable pitch wheel control
Mono and poly mode
Onboard effects
Much more
Even as a seasoned producer, the allure of a new free synth never fades.
It's about the thrill of discovering fresh sounds and the potential they could bring to your future projects.
Remember, free doesn't mean inferior; the best free VST synth is the one that inspires you to make great music.
The Different Types of Synthesis
In the exciting world of synthesizers, there are various types of synthesis techniques that these magical machines employ.
Let's break down a few key types:
#1. Subtractive Synthesis 一 This is the most common and probably the easiest type of synthesis to understand. It starts with a complex waveform and subtracts frequencies using a filter to create new sounds.
#2. Additive Synthesis 一 Quite the opposite of subtractive synthesis, additive synthesis involves creating complex sounds by adding together simpler ones.
#3. Wavetable Synthesis 一 This type of synthesis involves the creation and manipulation of wavetables, giving a huge potential for a variety of tones and timbres.
#4. Modular Synthesis 一 In this system, various modules produce and shape sounds. It's like a sonic Lego set where each block can be rearranged in countless ways.
#5. Frequency Modulation (FM) Synthesis 一 FM synthesis involves the modulation of one waveform to change the frequency of another, creating complex tones. It's responsible for some of the most iconic synth sounds of the 80s and continues to be popular today.
#6. Granular Synthesis 一 This method involves taking small snippets of sound, or 'grains', and playing them back in different ways to create completely new sounds. It's a powerful tool for sound design.
#7. Physical Modelling Synthesis 一 This replicates the sound of real-world instruments by simulating their physical properties.
Each of these types of synthesis offers unique sonic capabilities.
When you understand how they work, you can select the right free synth VST plugins to help you achieve the exact sound you're chasing.
The 11 Best Synth VST Plugins of 2023
Now, let's dive into the fun stuff… the 11 best synth VST plugins of 2023.
The following free VST synths will seriously enhance your music, speed up your workflow, and help you discover unlimited sonic possibilities.
#1. Surge XT by Vember Audio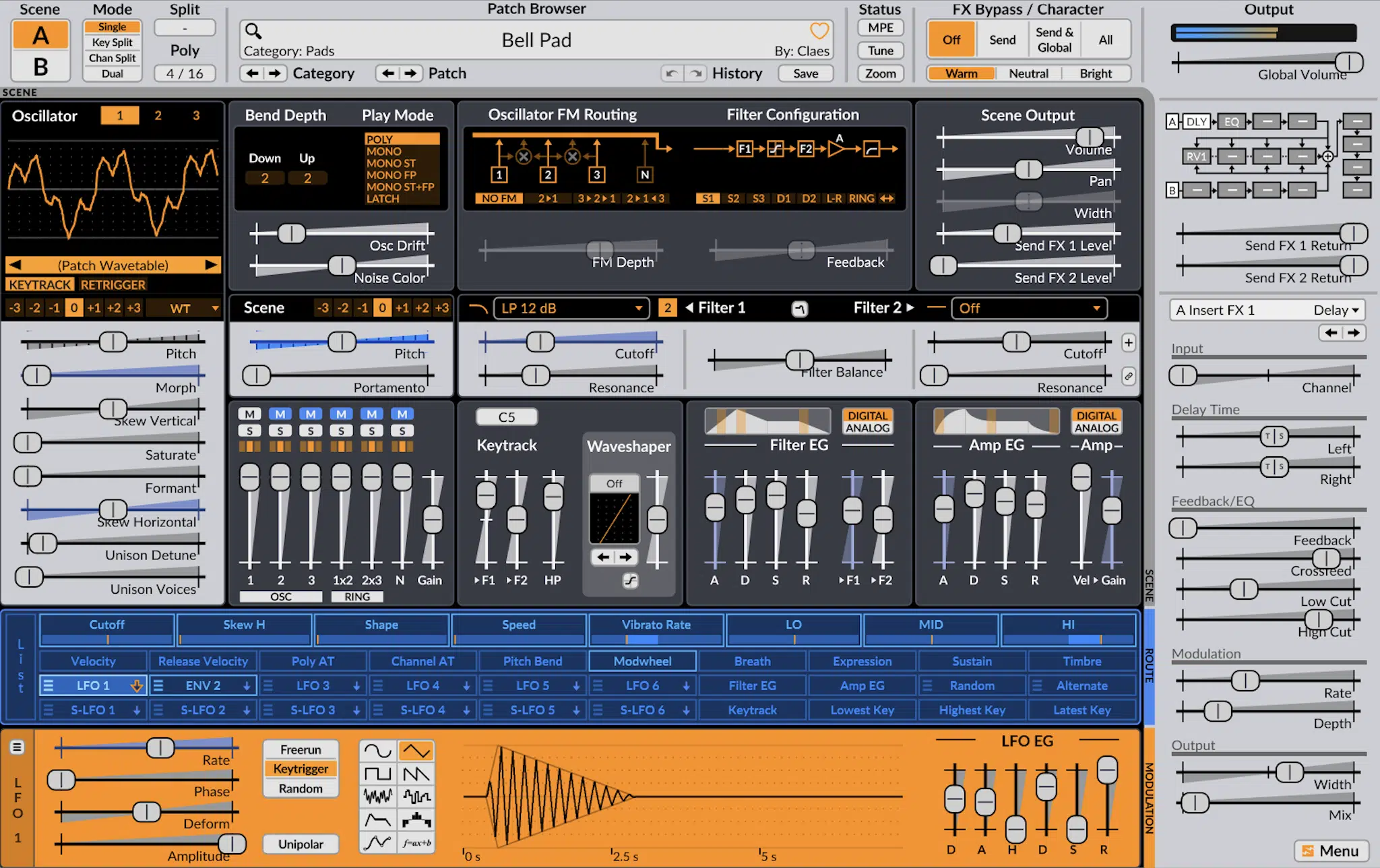 Surge XT is an impressive free and open-source hybrid synthesizer by Vember Audio.
With its massive library of 2,800 patches and over 700 wavetables, it serves as an extensive tool for music producers and sound designers alike.
The defining feature of Surge XT is its dual scene setup 一 with each patch containing two separate instances of the entire synthesis engine, barring the effects.
This enables you to craft layered or split patches with ease and versatility.
The user experience is enhanced with a quick category-based patch browser that supports textual search and favorites.
Therefore, navigation through the extensive patch library is a breeze.
Surge XT operates smoothly across a range of operating systems, plugin formats, and architectures; making it a highly versatile tool for any digital workspace/home studio.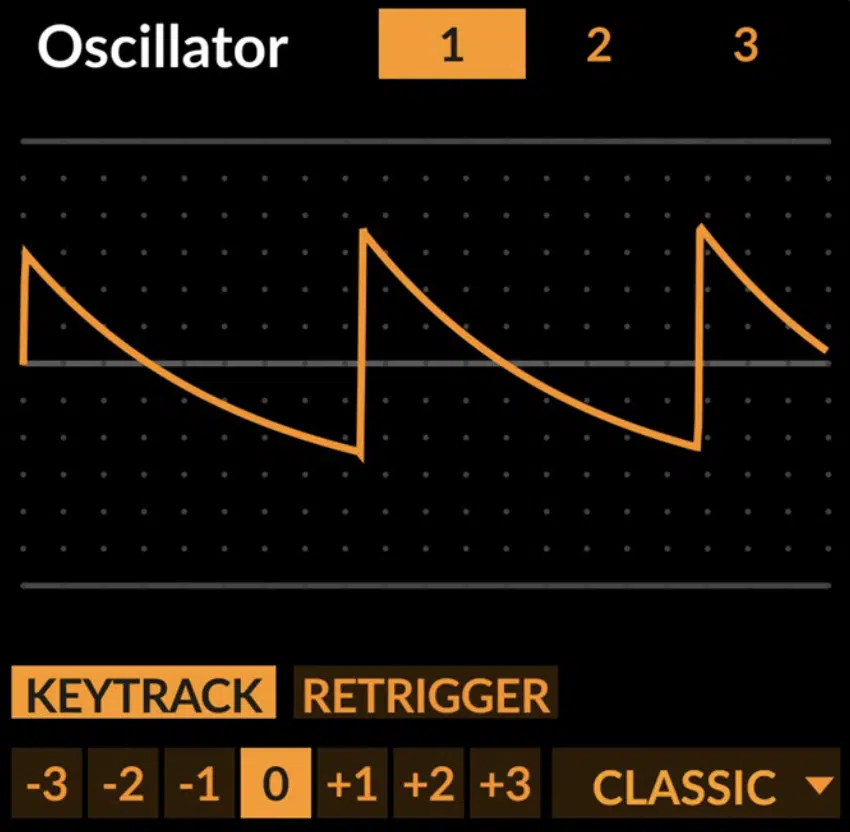 Its synth engine features three oscillators per scene, each with 12 different algorithms, including:
Classic
Modern
Wavetable
Window
Sine
FM2
FM3
String
Twist
 Alias
 S&H Noise
 Audio Input
Each oscillator comes with its unique properties and capabilities, allowing you to sculpt a vast array of sounds 一 from the classic warmth of analog sound to the precise tones of FM synths.
It boasts an extremely fast and flexible modulation routing with 12 LFO units available, 6 per voice, and up to six voices global for the entire scene.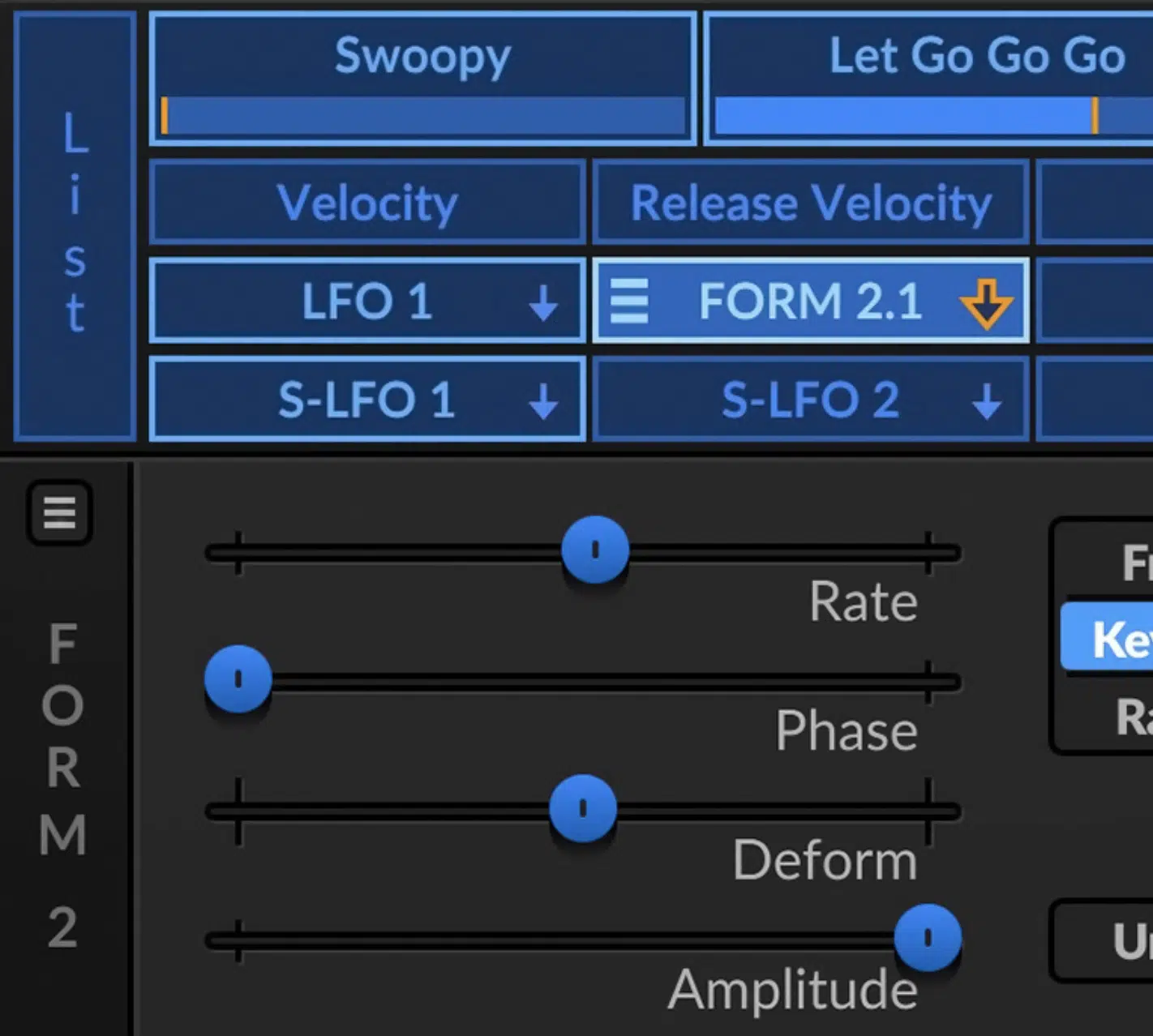 Surge XT also includes:
A noise generator with a variable spectrum
Two filter units in eight configurations
A waveshaper with 43 different shapes
Its effects section is diverse and powerful, with 16 effect units arranged in various combinations and 27 different effect algorithms.
Standout Features: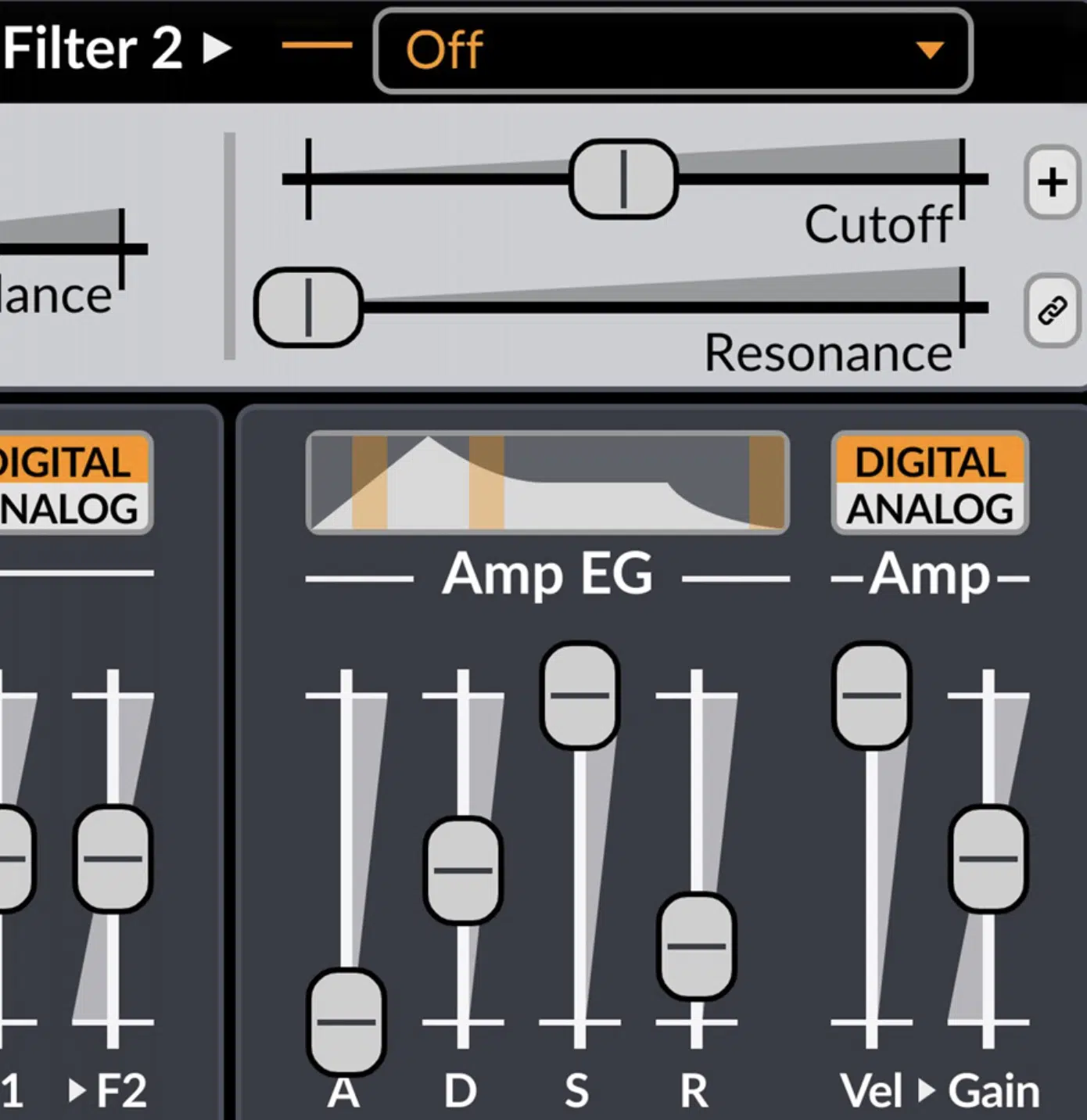 Two scenes per patch for layered or split patches
Quick category-based patch browser with textual search and favorites
Over 2,800 patches and over 700 wavetables
3 oscillators per scene with 12 versatile oscillator algorithms
Noise generator with a variable spectrum
Two filter units in 8 different configurations
Waveshaper with 43 shapes
12 LFO units (6 per voice and 6 global for the whole scene)
16 effect units with 27 different effect algorithms
One of the best free synth VSTs of 2023, other freeware synths can't compare
#2. Zebralette by U-he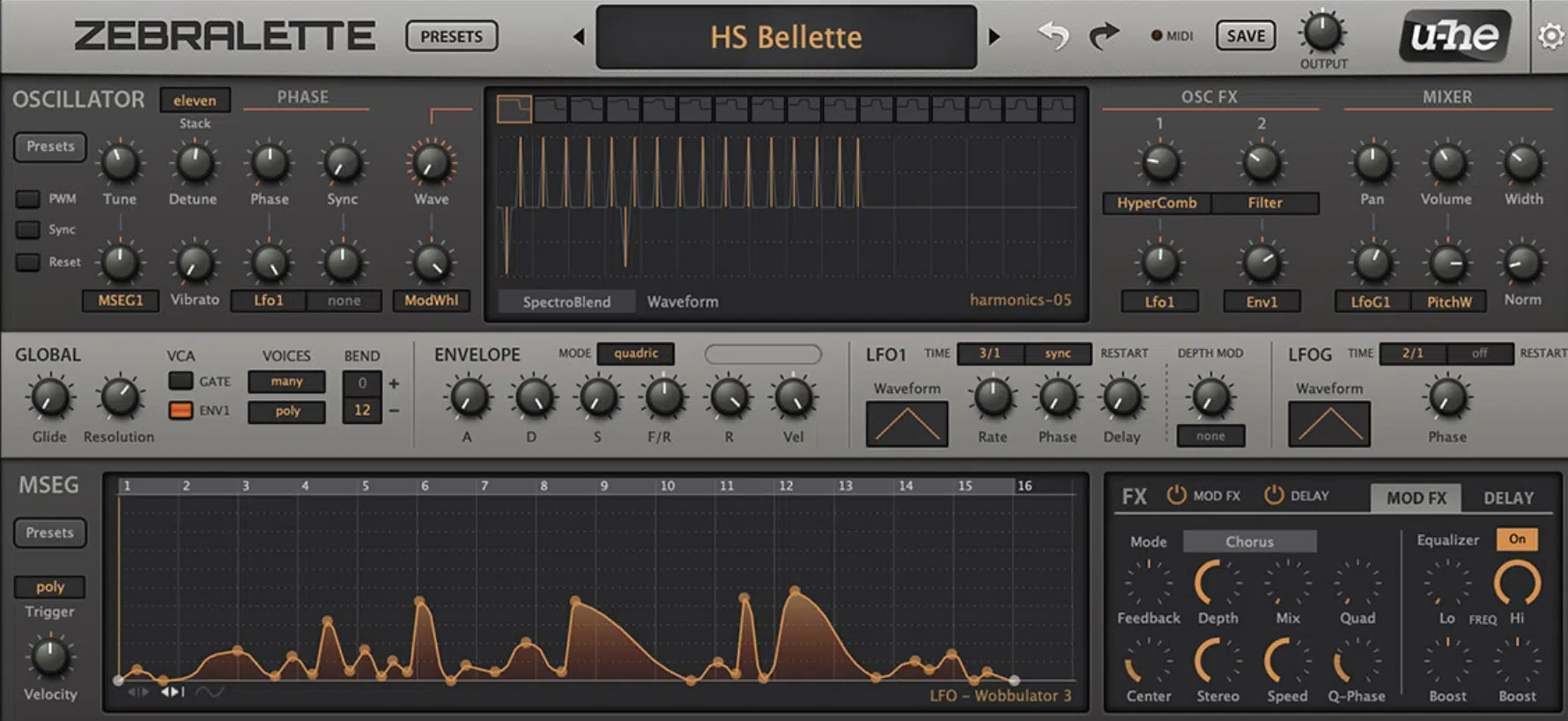 Zebralette is a free synthesizer by U-he designed as a friendly introduction to the powerful oscillators of Zebra2.
Despite being a simplified version of Zebra2, Zebralette is far from basic.
It has a single but mighty Zebra2 oscillator with a 16-slot waveset 一 providing a wide range of sound design possibilities.
With Zebralette, you can manipulate and create unique waveforms through various editing modes including:
Geomorph
Spectromorph
Geoblend
Spectroblend

Surrounding Zebra's spectral oscillator with a few core modulation options and effects, Zebralette is capable of creating complex and dynamic sounds.
Zebralette comes with 16 voice polyphony and two different envelopes.
They can be manipulated to craft everything from a vast, evolving soundscape to sharp, piercing leads.
The possibilities are truly endless.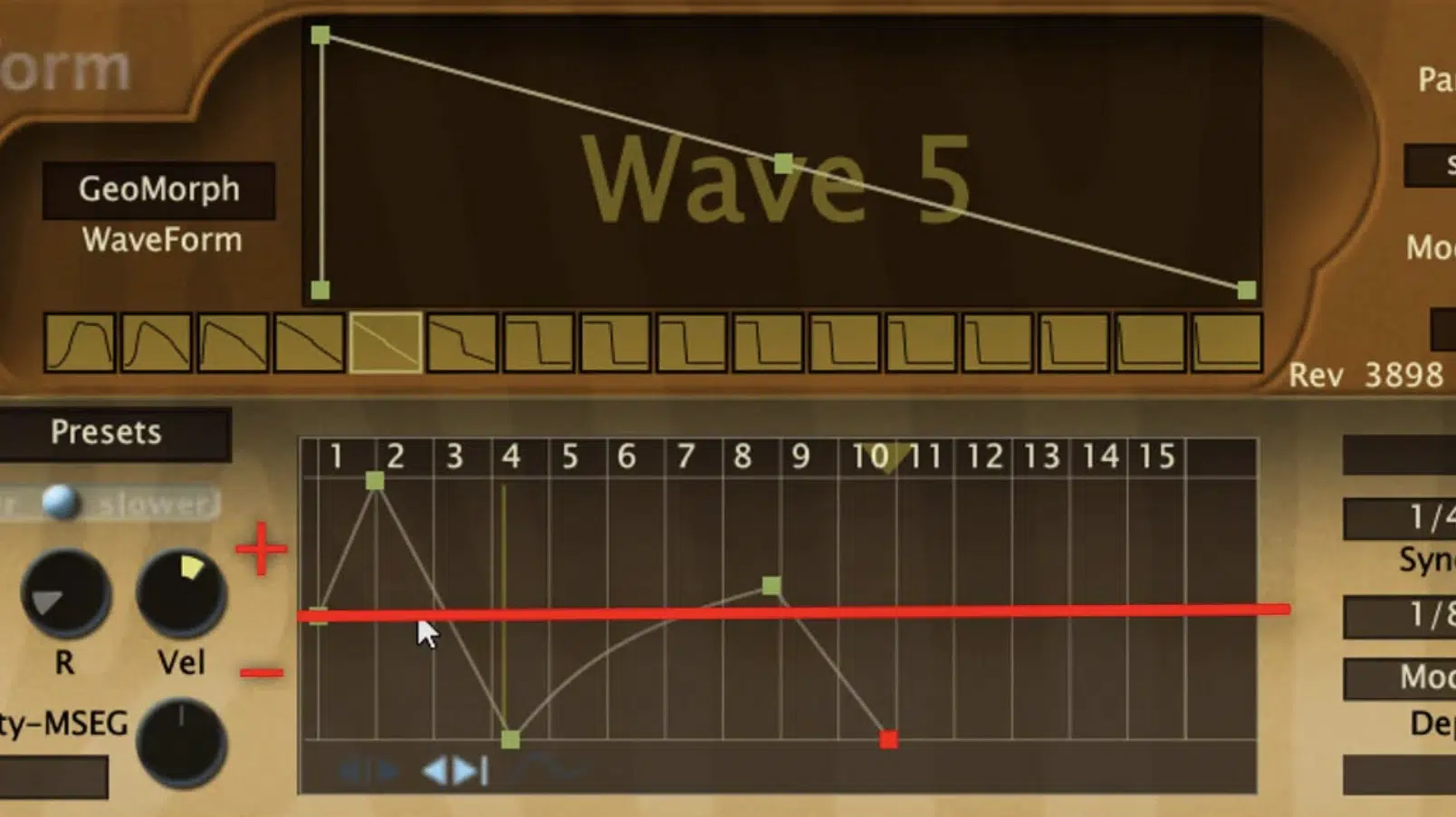 Its modulation options are also abundant, including:
Mod wheel
Velocity
Pressure
Breath
Key follow
Gate
Plus more
Also, it is equipped with 2 LFOs (one global and one per voice), a 32-stage MSEG, and three built-in effects: chorus/phaser, EQ, and delay.
Overall, this free VST synth is incredibly versatile, especially given that it's completely free.
Standout Features:

Single Zebra2 oscillator with a 16-slot waveset
Oscillator waveform editing with geomorph, spectromorph, geoblend, and spectroblend modes
24 spectral effects
Polyphonic (up to 16 voices), monophonic and legato modes
Stereo VCA with pan and volume modulation
ADSR envelope with fall/rise (sustain slope) and velocity controls
2 LFOs: one global, one per voice
32-stage MSEG (multi-stage envelope generator)
3 built-in effects: chorus/phaser, EQ, and delay
One of the best free synth VSTs of 2023
#3. Pendulate by Newfangled Audio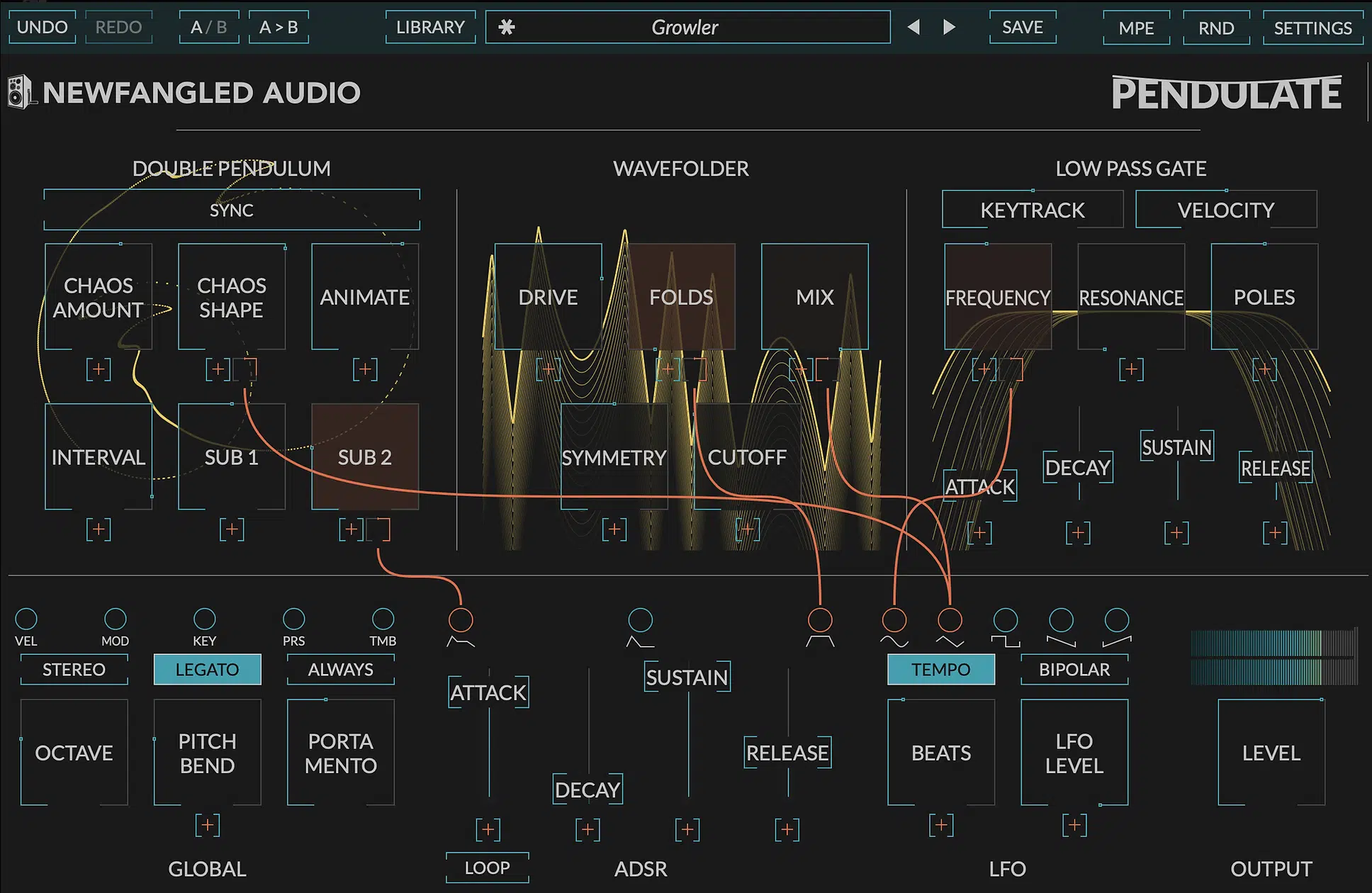 Pendulate by Newfangled Audio is an innovative and intriguing free synthesizer that breaks the mold with its unique sound generation capabilities.
Pendulate features a chaotic mono synth that utilizes a brand-new double-pendulum oscillator to conjure sounds that are distinctively different.
It's designed to create a wide array of sonic textures 一 from biting basses and searing leads to gritty textures.
What makes Pendulate stand out is its ability to fade from a smooth sine wave to absolute chaos (with an entire spectrum of exploratory territory in between).
The innovative chaotic oscillator in Pendulate is based on the principles of a double pendulum's physics.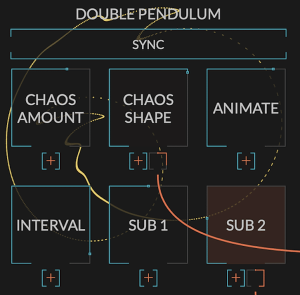 Although it may appear random at first, there are:
Underlying patterns
Interconnected feedback loops
Repetition
Self-similarity
Fractals
Self-organization hidden within the chaos
When developing Pendulate's oscillator, Newfangled Audio went to great lengths to uncover these underlying patterns and create an instrument that is both chaotic and musical.
Pendulate pairs its unique oscillator with a wavefolder and low pass gate (above).
Both are inspired by the visionary work of renowned synthesizer designer Don Buchla.
These three modules 一 the oscillator, wavefolder, and gate 一 when combined, are capable of generating everything from warm, rich basses to sizzling leads.
Additionally, every parameter in Pendulate's modules can be modulated by its Looping Envelope Generator, Modulatable LFO, or even by MIDI and MPE sources.
Standout Features:

Novel chaotic oscillator based on the double precision audio processing
Wavefolder inspired by Buchla 259 Complex Waveform Generator, with added Mix and Cutoff functionalities
Low Pass Gate inspired by Buchla 292, with added Poles & resonance controls
An innovative modulation UI
MPE support for innovative control from new-generation controllers
Looping Envelope and LFO with multiple outputs
Extensive modulation capabilities with up to 325 modulation points in an intuitive single pane
Animated visual feedback for the Double Pendulum, Wavefolder, and Low Pass Gate modules
A rich library of 136 presets including artist presets from Matt Lange and Matthew Wang
One of the best free synth VSTs of 2023
#4. OB-Xd by discoDSP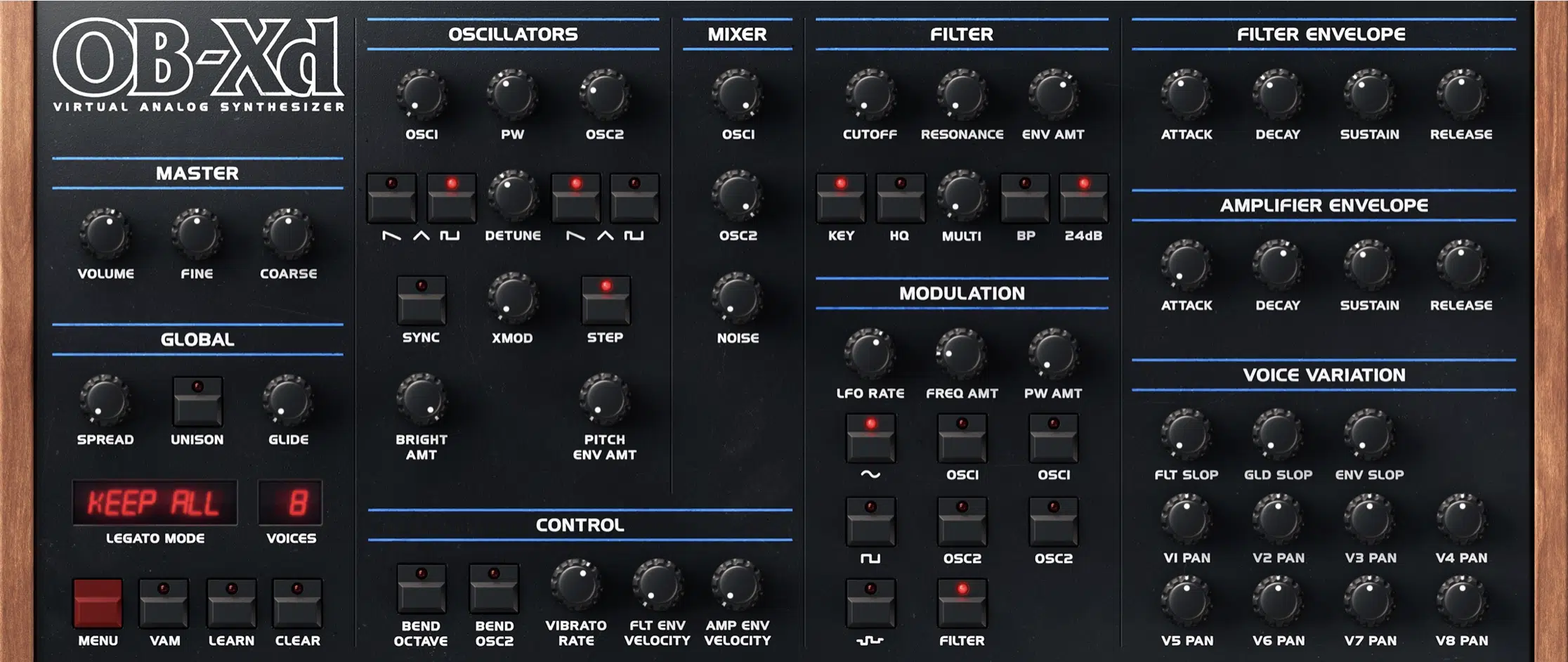 discoDSP's OB-Xd is a synthesizer VST plugin that draws its inspiration from the iconic Oberheim OB-X.
Released in the late 1970s & early 1980s, the OB-X was a revolutionary synthesizer that was used by some of the most influential artists of the time, including Madonna, Queen, and Prince.
It even featured in the legendary intro of Van Halen's hit song, "Jump".
discoDSP's OB-Xd manages to emulate the distinctive and powerful sound of the original OB-X while adding a few modern twists.
The architecture of the OB-Xd follows the general principles of most subtractive synthesizers:
An oscillator (OSC) 一 Generates the primary sound.
A low-pass filter (LPF) 一 Shapes the timbre.
An envelope generator (ENV) 一 Controls the volume over time.
However, what sets the OB-Xd apart are the robust and characterful oscillators, which are paired with an interesting set of control parameters.
The OB-Xd provides two primary oscillators, the interplay between which forms the backbone of the OB-X's sound.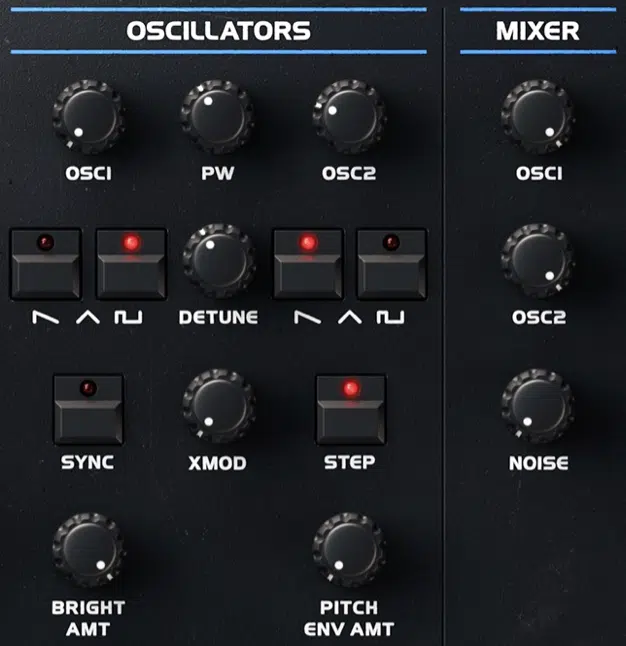 You can manipulate each oscillator's individual fine-tuning across four octaves, allowing for a broad spectrum of sounds; from chorus-like effects to dissonant soundscapes.
The synthesizer also features four oscillator shapes 一 triangle, sawtooth, pulse (with adjustable pulse width), and ramped pulse-wave.
Among the other significant features of the OB-Xd are a noise oscillator, a mixer section for volume control, and a sophisticated filter section.
The filter section includes a 12dB/octave low-pass filter with the typical cutoff and resonance controls
It also has:
An envelope amount
Keyboard tracking
High-quality frequency interpolation
The ability to morph between different filter shapes
The envelope section of the OB-Xd uses a standard ADSR (Attack, Decay, Sustain, Release) envelope for both the filter and amplitude.
The envelopes' behavior can be further influenced by parameters such as note velocity and pitch bend, adding even more versatility to the sound-shaping process.
One of the unique features of OB-Xd is its voice variation section, which allows you to individually set the pan settings for voices 1 through 8.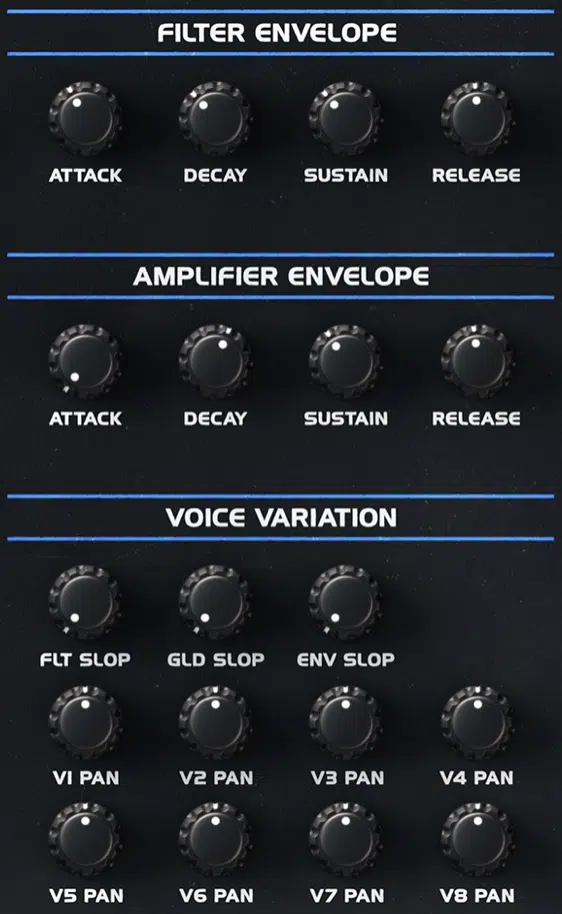 This offers you a wide, immersive stereo image.
There's also a modulation section, where you can assign LFO modulation to the oscillators, filter, and pulse width.
The software version of the OB-Xd also includes features that the original OB-X didn't have, like velocity sensitivity and support for MIDI controllers and MIDI keyboards.
These additions make the OB-Xd a powerful and flexible instrument.
It's capable of producing both the nostalgic sounds of the past and the innovative sounds of the present.
NOTE: This free synth VST is not a standalone synth.
Standout Features (Additional):
Global tuning variation spread, unison mode, glide time, and number of voices/polyphony
Voice Allocation Mode (VAM) and Legato Mode, both offering unique behaviors when the number of notes played exceeds the number of voices
Master section for controlling output volume and pitch adjustment
A wide range of comprehensive and versatile presets that showcase its sonic capabilities very well.
#5. Dexed by Digital Suburban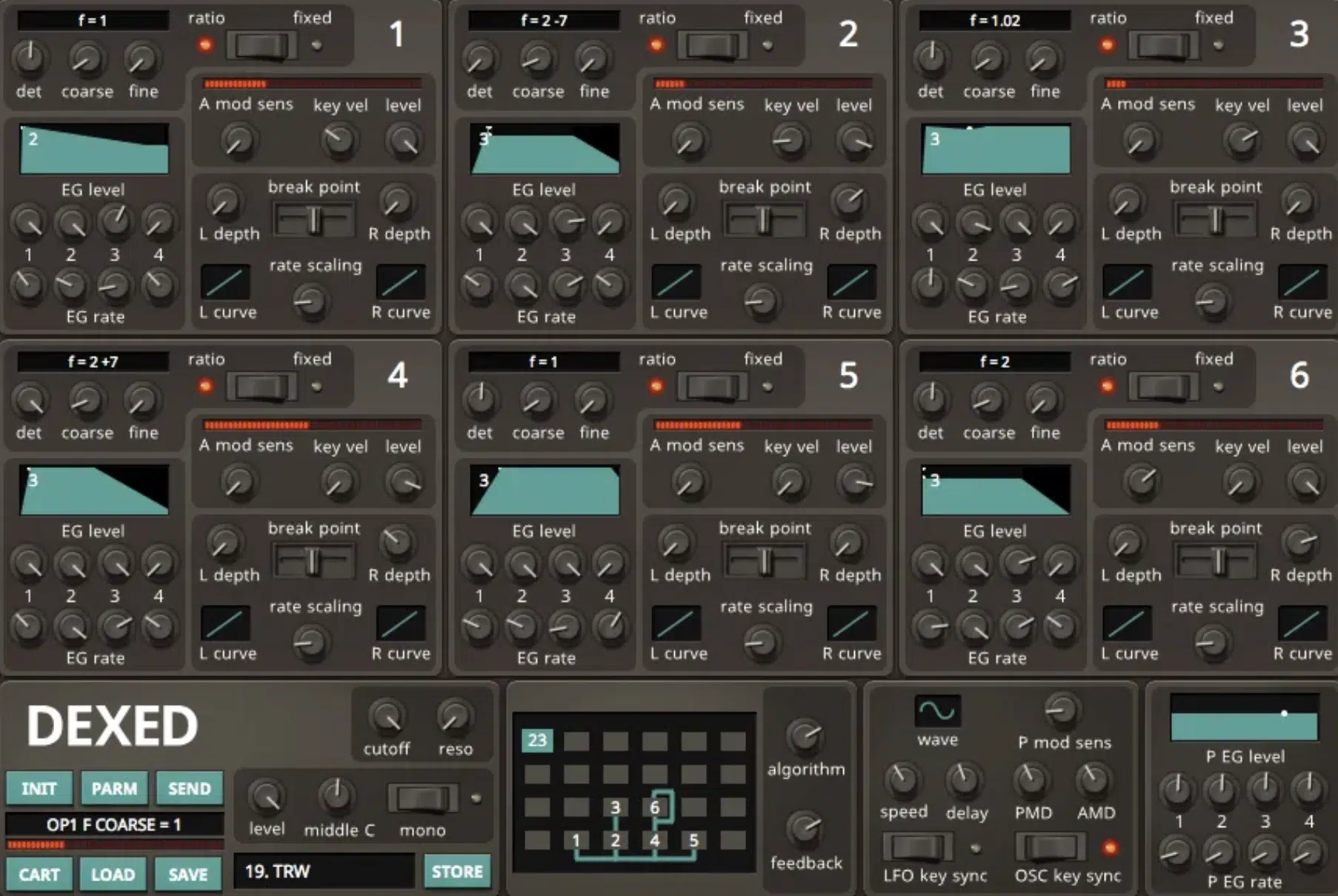 Dexed by Digital Suburban truly encapsulates the magic of the classic Yamaha DX7, bringing it right to your digital audio workstations.
This free VST plugin utilizes the same architectural principles of operators used in the original DX7.
These operators, comprised of a sine-wave oscillator, an envelope, and various keyboard parameters, are capable of creating a wide spectrum of sonic textures.
There's a total of six operators in Dexed 一 all identical and working in the same way.
It allows you to master the complex interface with relative ease once you understand the operation of just one.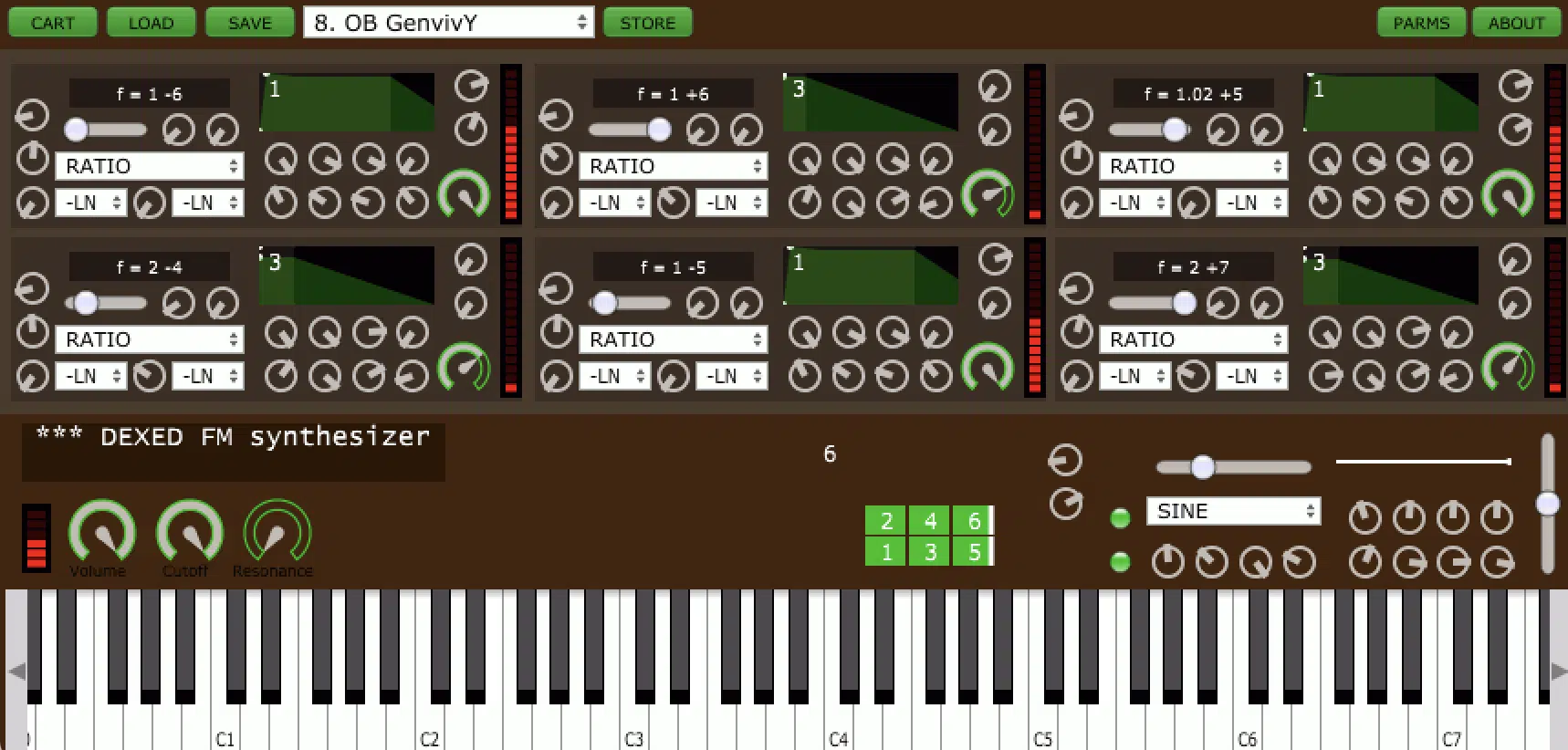 The use of algorithms in Dexed opens up a whole new world of usable sounds and possibilities.
This free synth VST comes with 32 different operator configurations, each lending its own distinctive tonal color to the sound.
The signal flow in the synthesizer is represented in a top-down fashion in the Algorithm section, effectively showing the functionality of:
Carriers (audible sources of sound).
Modulators (tone-controlling, non-audible oscillators).
Adding to the flexibility and diversity of this plugin, the Parameter Menu (PARM) allows for a multitude of global parameter settings.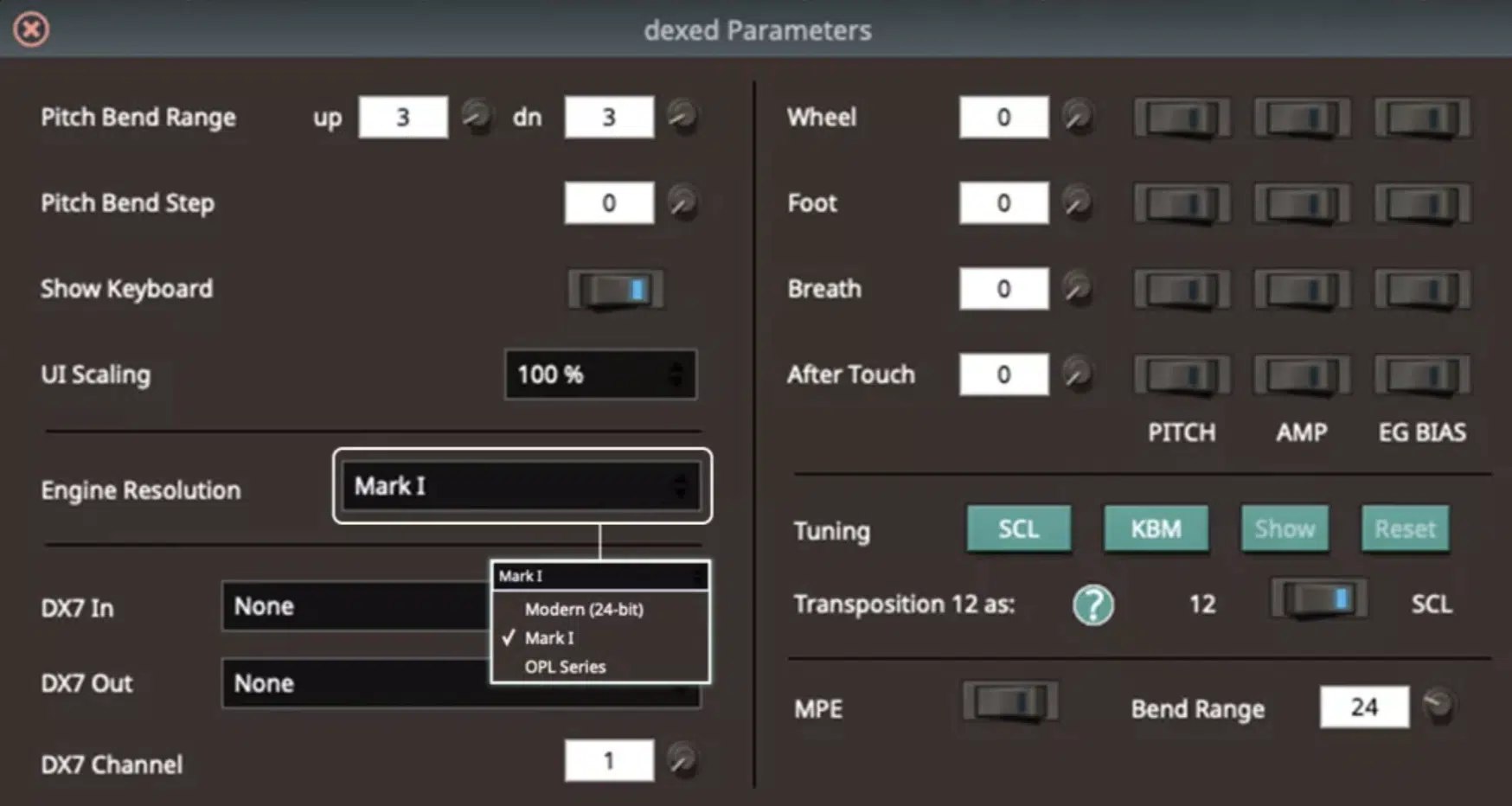 Some of these are more straightforward, while others offer unique capabilities, such as:
Stepping pitch bend
UI scaling
Engine resolution for subtly different characteristics in the overall tone creation
Dexed also allows for MIDI control assignments and custom tuning scales, which lends additional control.
It even includes MPE & Bend Range features 一 offering enhanced behavioral response and realism when used with instruments like the Roli Seaboard.
Standout Features:

Multi-platform (OS X, Windows, Linux) and multi-format (VST, AU)
144 DAW automatable DX7 parameters
Each operator has a real-time VU meter
Ability to load/save any DX7/TX7 sysex programs
Comes with a compilation of 1024 programs
One of the best free synth VSTs of 2023, better than most modern synthesizers
#6. Odin 2 by TheWaveWarden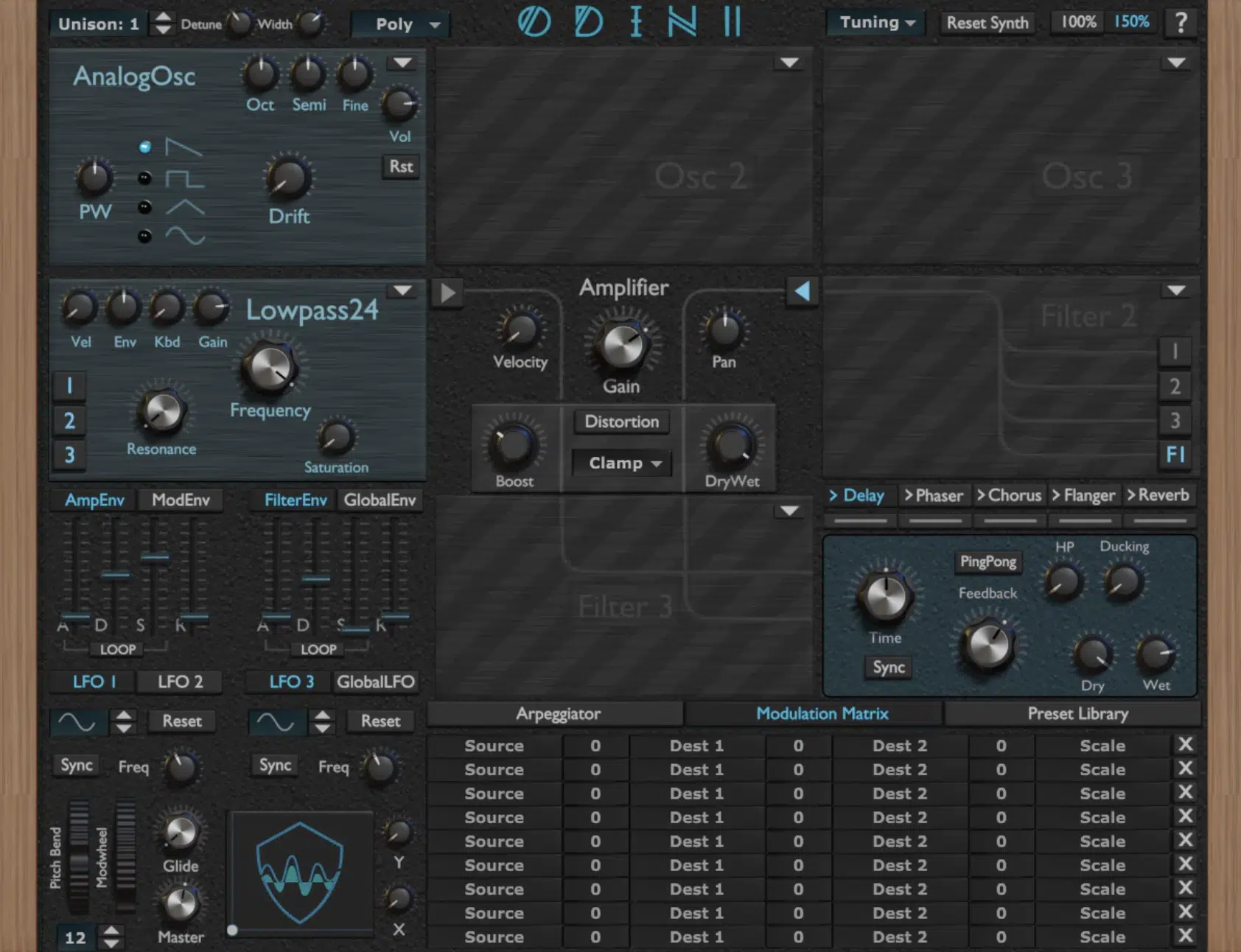 Venture into the realms of Norse mythology with Odin 2, a powerful 24-voice polyphonic synth that is sure to transport you straight to the heavenly halls of Valhalla.
Designed to deliver everything from earth-shattering basses to exquisite leads or otherworldly effects, Odin 2 boasts an array of features.
Ones that will cater to a wide array of sound design needs.
Odin 2 offers:
Three Osc slots
Eleven different modules to choose from
The ability to draw your oscillator waves or spectra
Three filter slots further refine your signal, with high-quality analog filter emulations like the Moog-ladder or Korg-35 available.
With four ADSRs, four LFOs, an XY-Pad, and a big modulation matrix, the creative possibilities with Odin 2 are truly vast.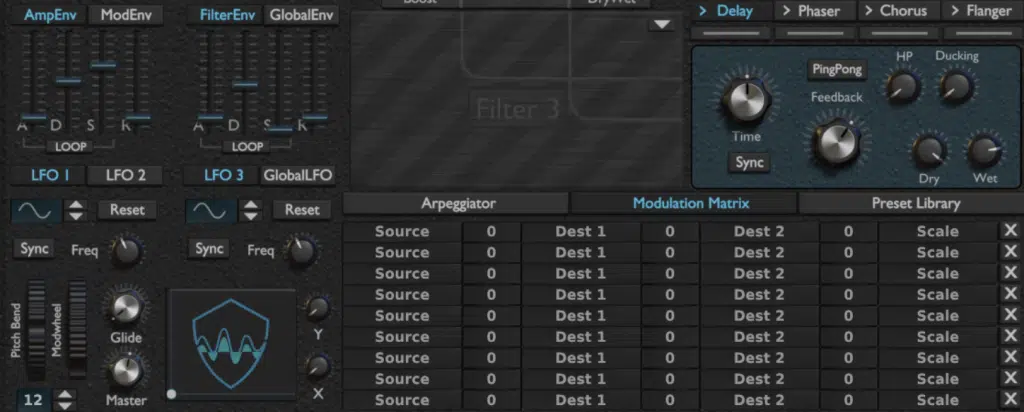 The inclusion of an arpeggiator and a preset library adds to its overall functionality.
Plus, the ability to use micro-tuning (.kbm & .scl files) can open up new and unique sonic territories across the board.
Bottom line, this free synth plugin is absolutely incredible.
Standout Features: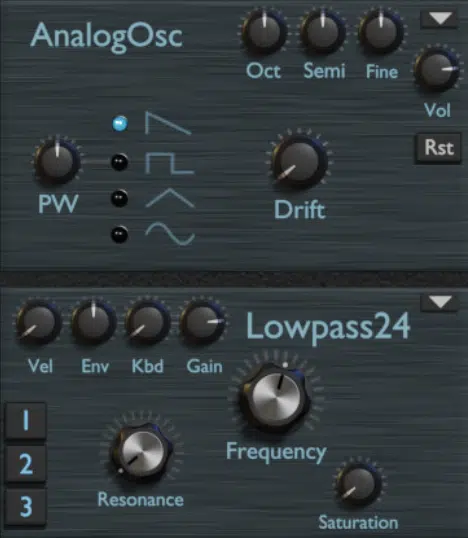 Three Osc Slots with eleven different modules
High-quality analog filter emulations
Four ADSRs, four LFOs, an XY-Pad
Big Modulation Matrix
Onboard FX: Delay, Phaser, Flanger, Chorus Distortion and Reverb
One of the best free synth VSTs of 2023
#7. VK-1 Viking Synthesizer by Blamsoft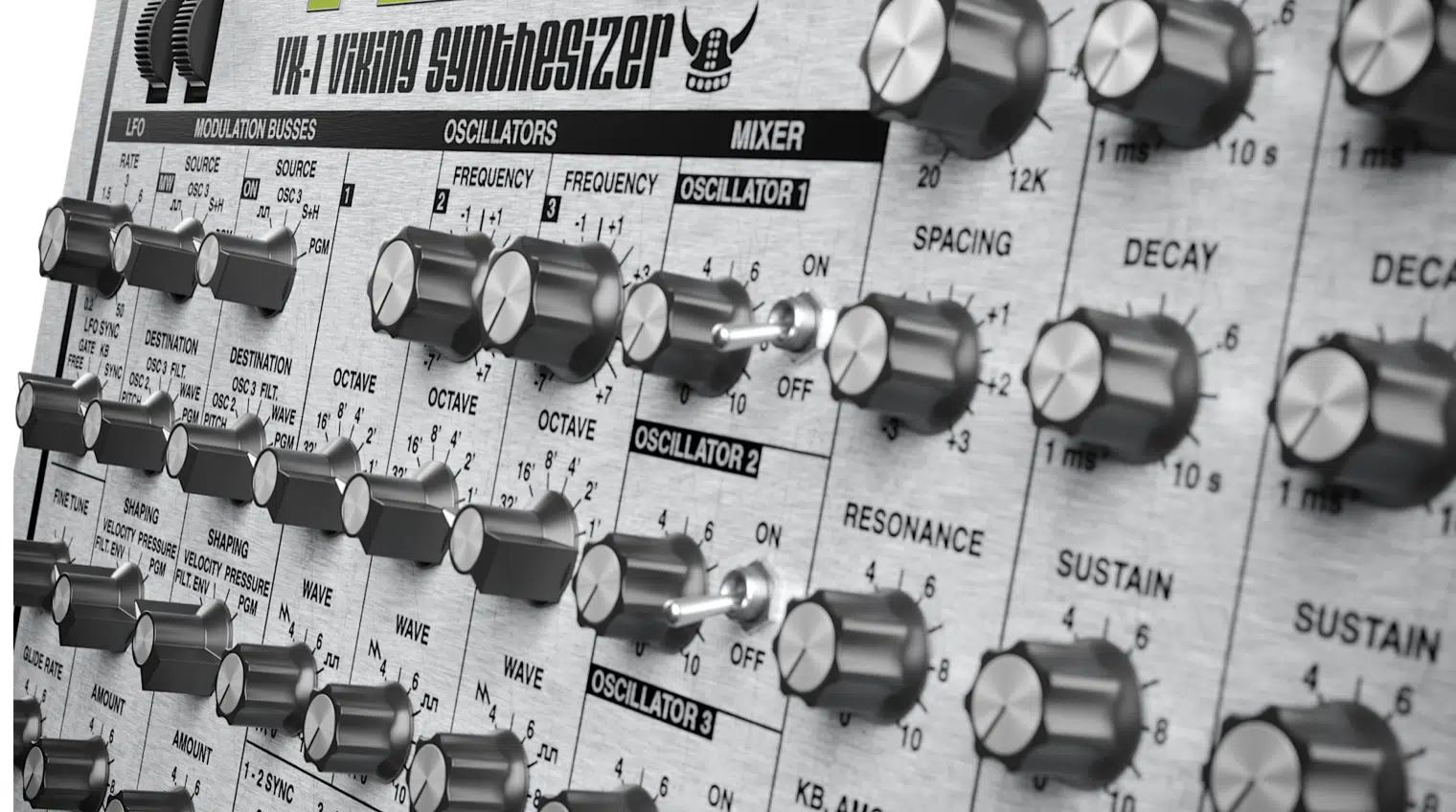 Enter the realm of powerful analog synthesis with the VK-1 Viking Synthesizer by Blamsoft.
This free VST plugin provides an authentic emulation of a classic monophonic analog synthesizer 一 bringing its characteristic sounds right to your digital audio workstation.
The VK-1 is a treasure trove of sonic possibilities, thanks to its:
Three continuously variable wave oscillators
Two ladder filters with a Dual Lowpass or Highpass/Lowpass configuration
A multi-wave LFO
Two modulation buses
The oscillators in VK-1 are what really set it apart…
The adjustable waveform knob allows you to create unique sounds that can't be achieved with the fixed waveforms found in most synths.
A noise oscillator also provides three types of noise, further diversifying the sound palette.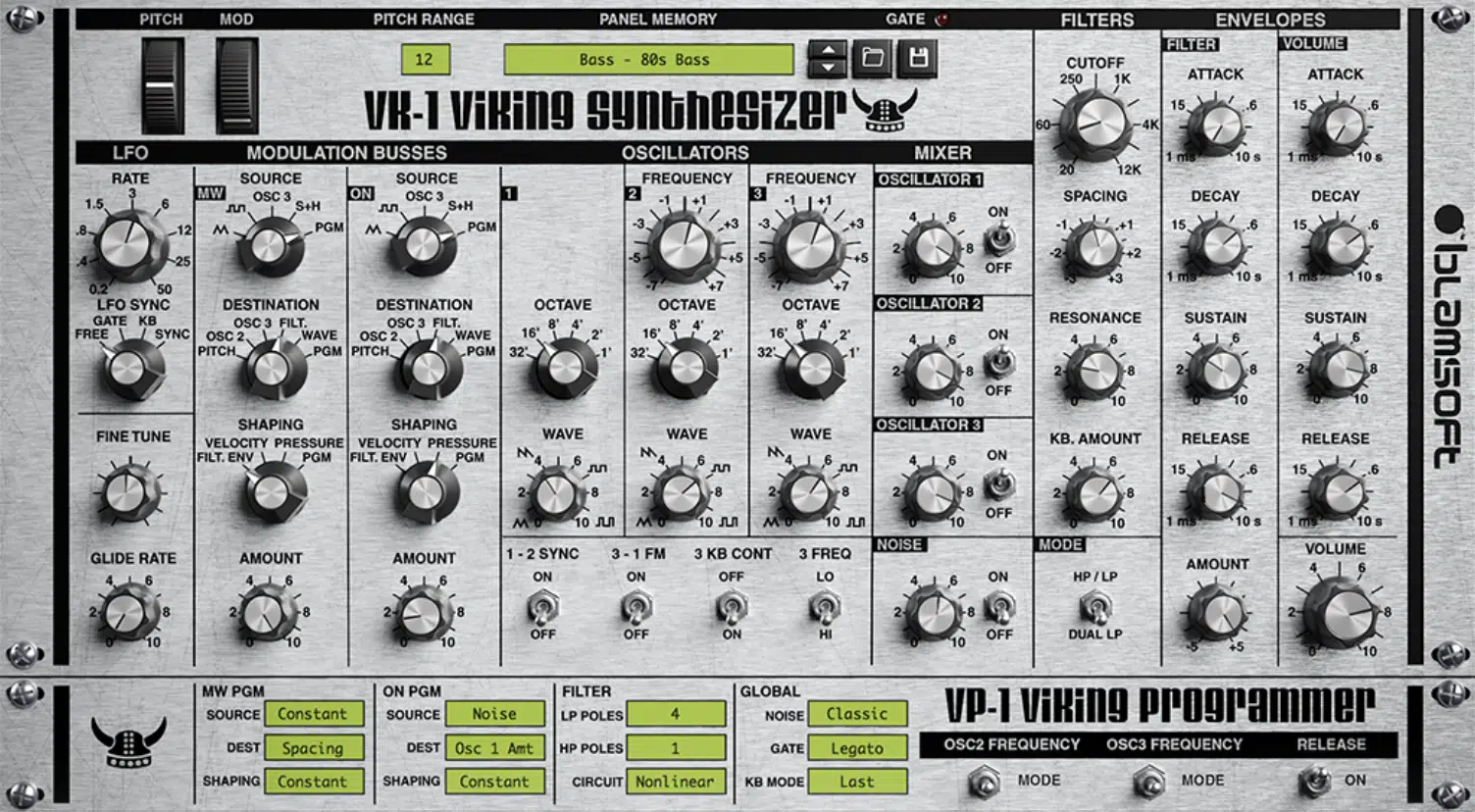 VK-1's filters are classic transistor ladder filters, painstakingly modeled for accuracy.
Different drive modes also add extra grit and grime.
Plus, the number of poles can be adjusted for a broader range of filter sounds.
Two modulation buses and an LFO provide additional flexible modulation capabilities.
Therefore, you're able to get really creative with your sounds.
All in all, this free synth VST can help you create legendary songs so you can get your music out there quickly.
Standout Features: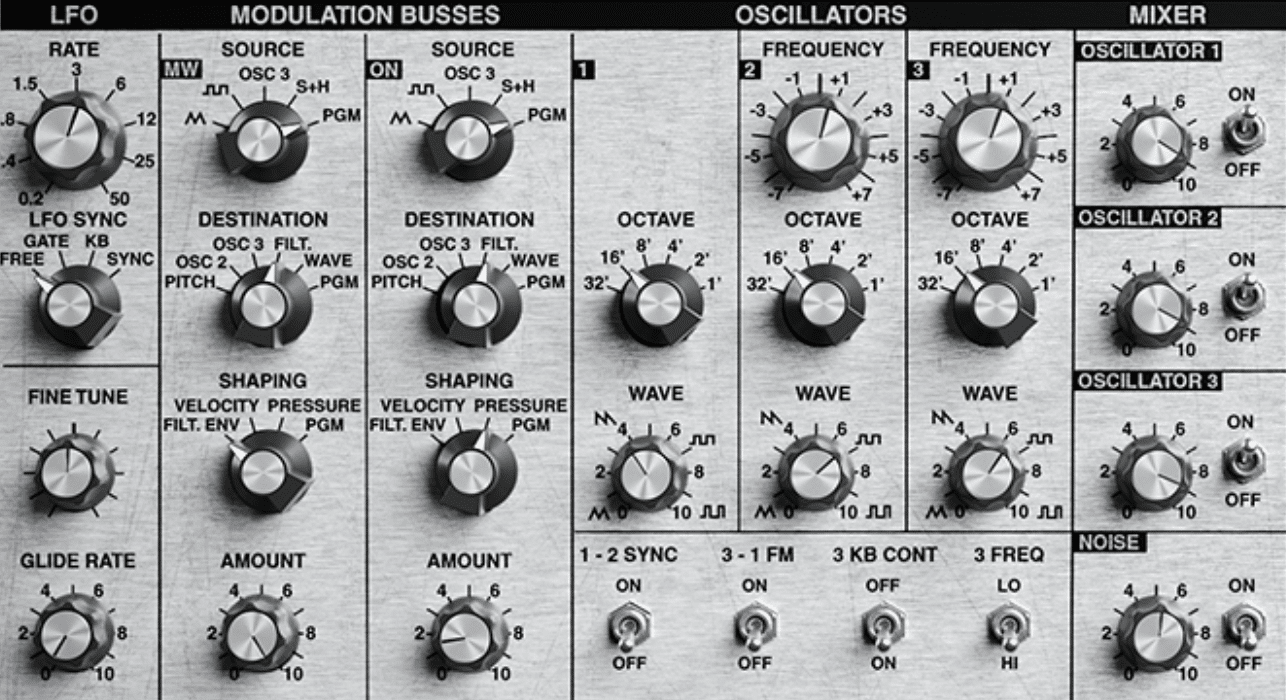 Three continuously variable wave oscillators
Two ladder filters with a Dual Lowpass or Highpass/Lowpass configuration
A noise oscillator providing three types of noise
Two modulation busses and an LFO for flexible modulation
High-quality DSP technology accurately emulates the hardware
One of the best free VST plugins of 2023
#8. TyrellN6 by U-he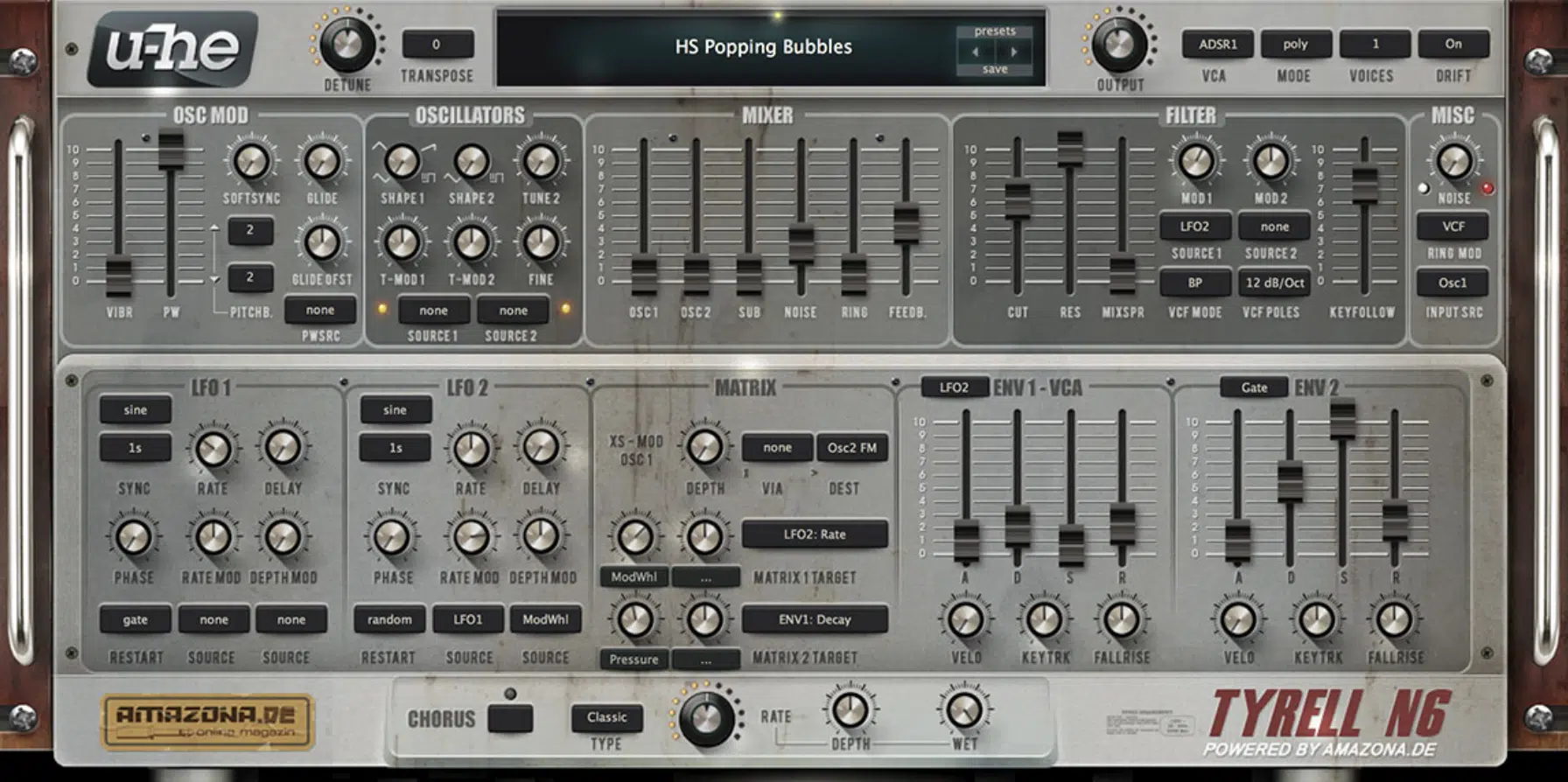 Developed by the acclaimed U-he software, TyrellN6 is a compact yet robust free synth VST plugin.
It efficiently simulates the charm and functionality of a hardware synthesizer within the digital realm.
This free plugin is based on concepts and designs intended for a budget-friendly, analog hardware synth and classic sounds.
It gives you an experience that merges the best of both the analog and digital worlds.
The TyrellN6 offers a virtual analog structure that is a nod to classic synthesizers while being replete with extra features for modern sound design.
At the heart of the synth, you will find:
Two oscillators
Noise
A ring modulator
A pair of LFOs with eight waveforms each
These are all capable of delivering a rich sound palette that can cater to a wide range of musical needs.

The user interface is intuitively designed and draws inspiration from the legendary Roland JUNO 60 synthesizer.
However, the TyrellN6 goes above and beyond other free synths by offering:
Elaborate modulation options
Preset saving capabilities
An impressive chorus effect that adds depth and warmth to the sound
In addition, this synth plugin is fully compatible with MIDI learn/unlearn functions.
Meaning, it facilitates seamless integration with your hardware setup.
Standout Features: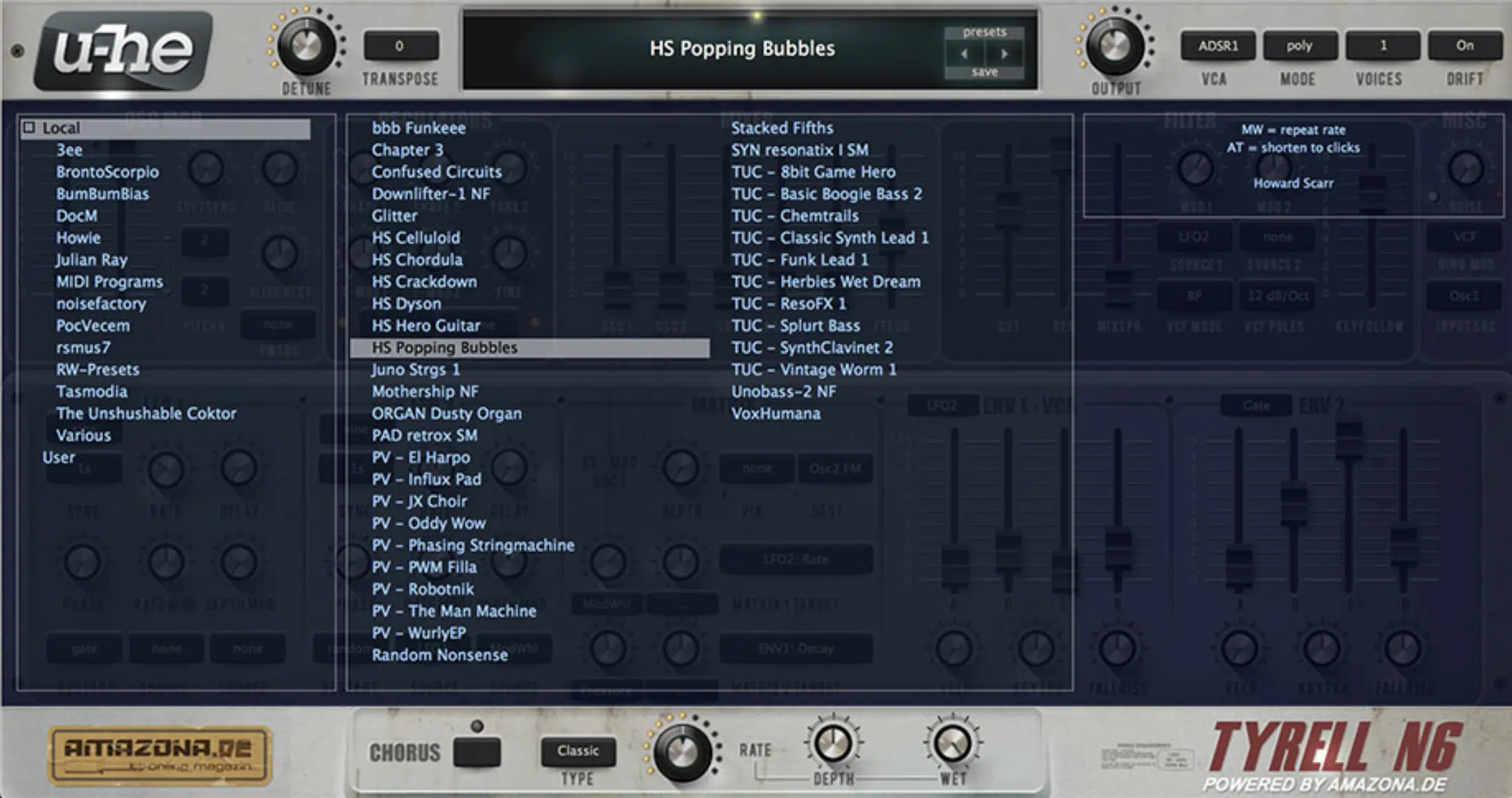 Two oscillators with noise and ring modulation
A pair of LFOs with eight distinct waveforms
A chorus effect with three modes and a Unison mode with up to 8 voices
An audio source mixer with overdrive and filter feedback
Over 580 factory presets for a diverse range of sounds
One of the best free synth VSTs of 2023
#9. TAL-NoiseMaker by TAL Software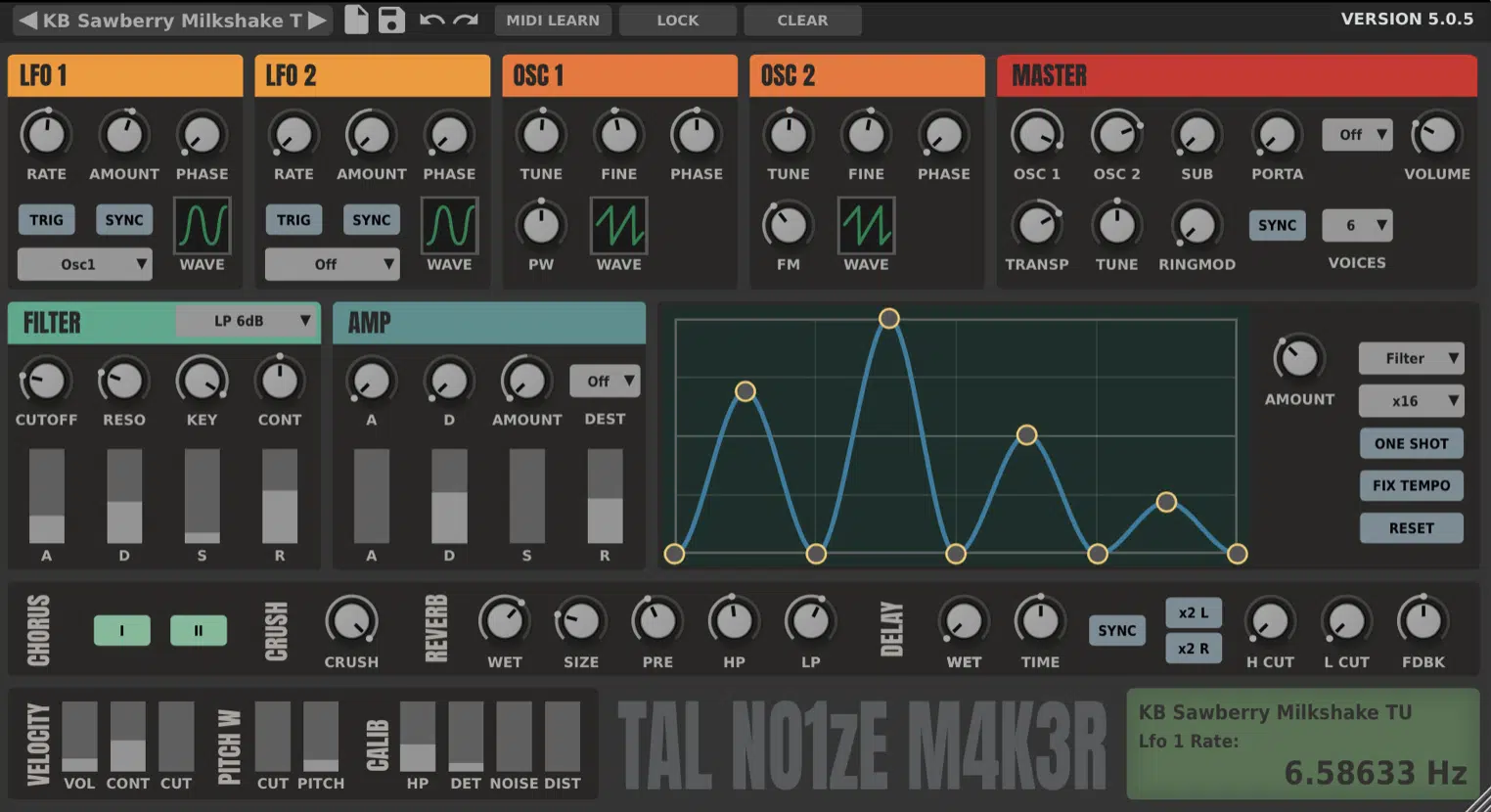 TAL-NoiseMaker, from the stables of TAL Software, is a highly-regarded free virtual analog synthesizer.
It's well-known for its outstanding sound output and efficient CPU usage.
This robust VST plugin offers a wealth of features that make it a versatile tool for any music producer.
The synthesizer comes packed with three Oscillators, each offering:
24 semitones
Fine-tuning capabilities
Phase control
Additionally, the inclusion of a Sub Oscillator, Ring Mod, and noise oscillator further enhances your creative options.

TAL-NoiseMaker also provides an impressive range of self-resonating 4x oversampled filters, featuring several types of Low Pass, High Pass, Band Pass, and Notch filters.
This free synth VST plugin stands out in its modulation capabilities 一 with two modulation buses, and two LFOs offering a variety of running modes.
Moreover, the inclusion of built-in reverb and delay, along with a bitcrusher effect, allows for extra sound shaping capabilities.
Lastly, its MIDI learn feature allows for seamless integration with any hardware setup.
Standout Features:

Three Oscillators with fine-tune and phase control, plus a Sub Oscillator
A wide range of self-resonating 4x oversampled filters
Two modulation busses and two LFO's with varied running modes
Built-in reverb and delay effects, and a Bitcrusher effect
MIDI learn feature for ease of hardware control and sampled instruments
One of the best free synth plugins of 2023
#10. COBALT by Leslie Sanford
Inspired by the digital synthesizers of the 1980s, COBALT, by Leslie Sanford, is a free synth VST plugin that brings the charm and versatility of hybrid synthesizers to your DAW.
Its architecture is reminiscent of the classic hybrid synths that married the warmth of analog technology with the precision and flexibility of digital technology.
Epic, right?
COBALT features an impressive selection of 26 waveforms 一 many of which were resynthesized from the actual hybrid synthesizers of the 80s.

Additionally, it offers a PWM feature that can be applied to any waveform which enables the creation of more complex and nuanced tones.
The synth also comes with:
Flexible modulation routes
A polyphonic portamento
Key-tracked envelopes
All of which makes it a powerful tool for sound design projects and experimentation.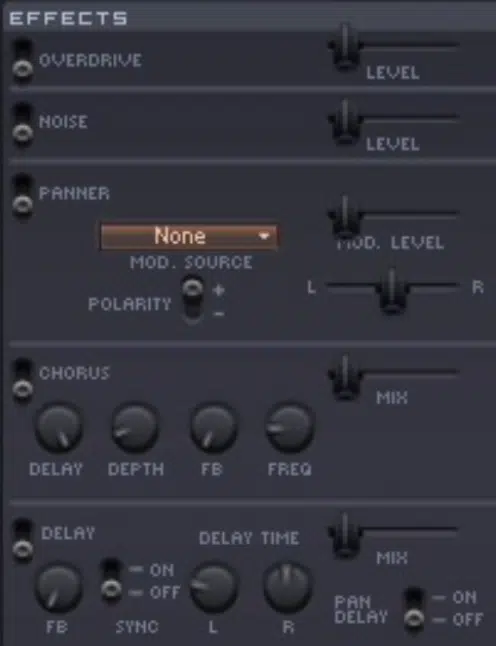 Another impressive feature is its array of effects…
It includes a unique overdrive effect based on a custom algorithm and a stereo delay effect that can be synced to MIDI.
Despite its wealth of features, COBALT maintains a simple and user-friendly interface, making it a versatile tool for both beginners and seasoned professionals alike.
Standout Features:

A selection of 26 waveforms, many of which were resynthesized from 80s hybrid synths
A PWM feature that can be applied to any waveform
A custom algorithm-based overdrive effect and a MIDI-syncable stereo delay effect
Polyphonic Portamento and flexible modulation routes
An easy-to-use design and user-friendly interface
One of the best free VST synth plugins of 2023
#11. Crystal by Green Oak Software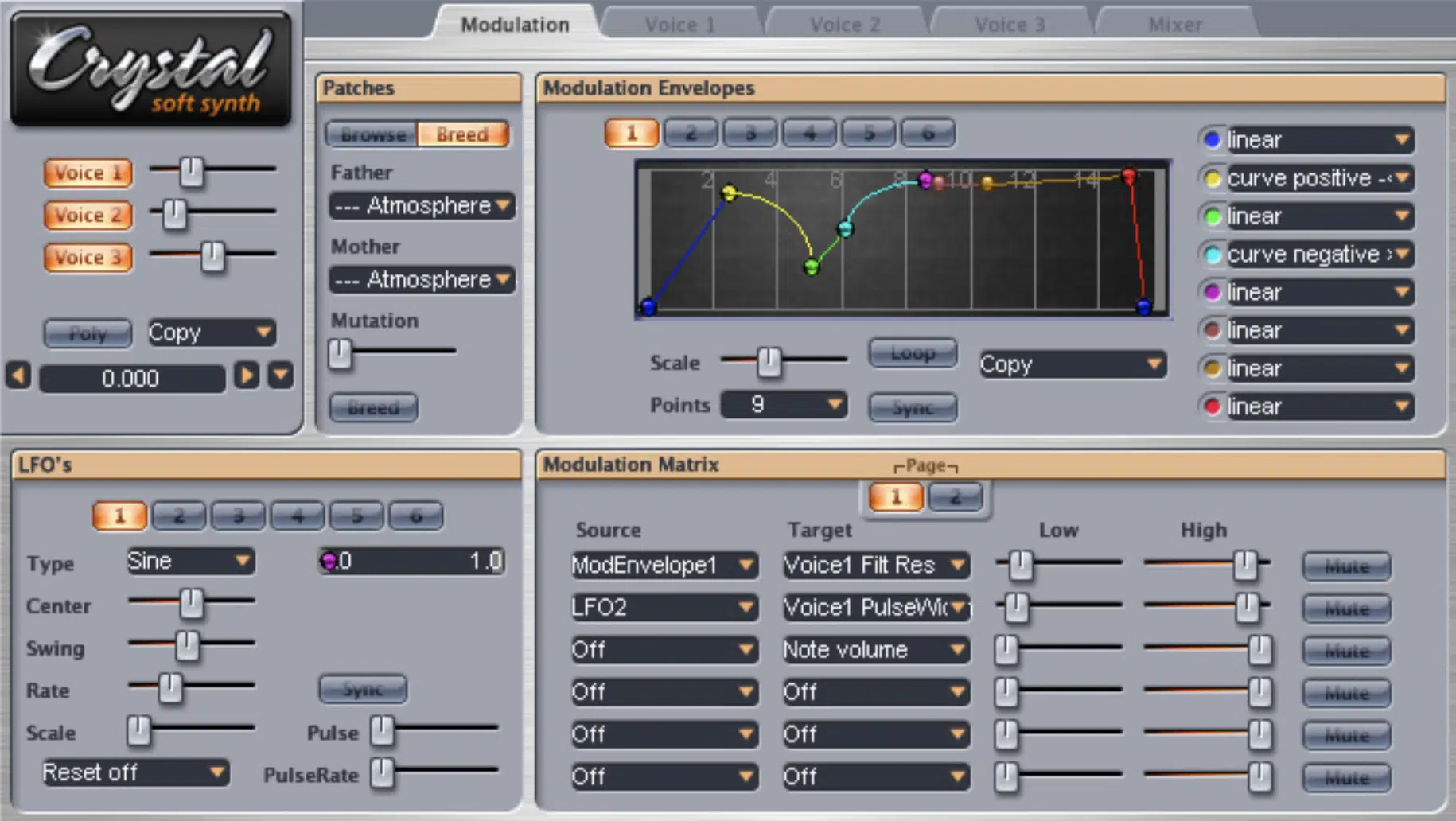 Crystal, a product of Green Oak Software, is a highly flexible, semi-modular software synthesizer.
It utilizes both subtractive synthesis and frequency modulation (FM) synthesis techniques.
Crystal opens up a multitude of soundscaping possibilities with its:
90 modulatable parameters
Multi-stage envelope editors with graphical interfaces
Rich palette of in-built effects
It offers wave sequencing, granular synthesis, program morphing, MIDI learn, and even the ability to import sound fonts, like an electric piano.
This ensures that its musical applications are practically infinite.
Crystal is structured with three Voice Pages 一 each housing 1 to 3 oscillators that serve as the fundamental source of sound.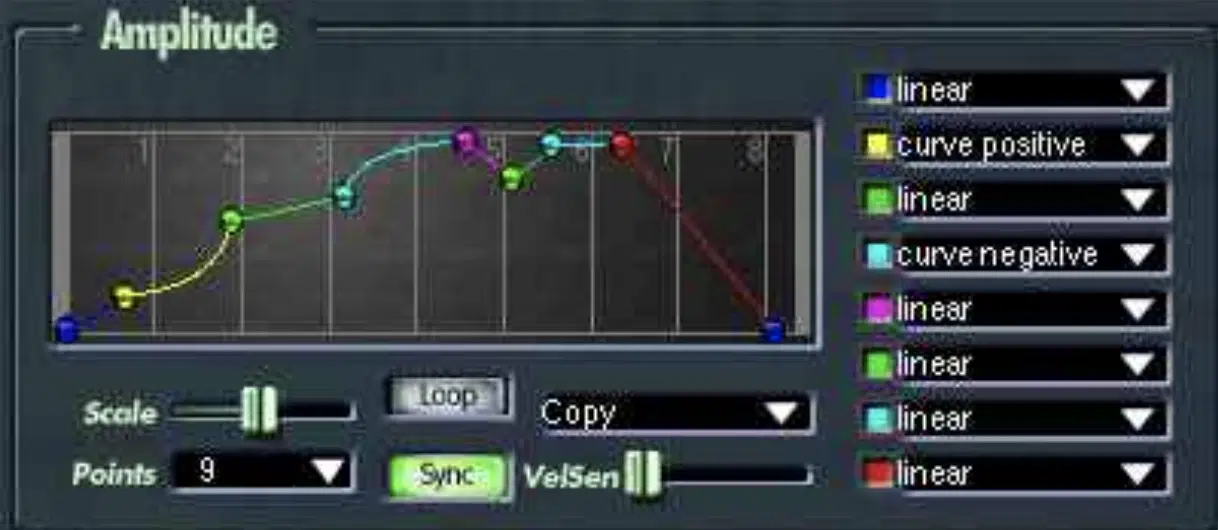 Each unique voice is also equipped with an amplitude envelope and a filter for shaping the sonic character.
The output level of the voice is controlled by the pre-mixer levels, and you have the option to enable or disable each voice.
Crystal operates in both polyphonic and monophonic modes (controlled via the Poly/Mono button), which allows you to either play multiple or single notes at a time.
The "Poly" button allows you to switch between two levels of polyphony, with a maximum of either 12 or 24 voices.
Crystal's modulation page, featuring a modulation matrix, is where the magic happens.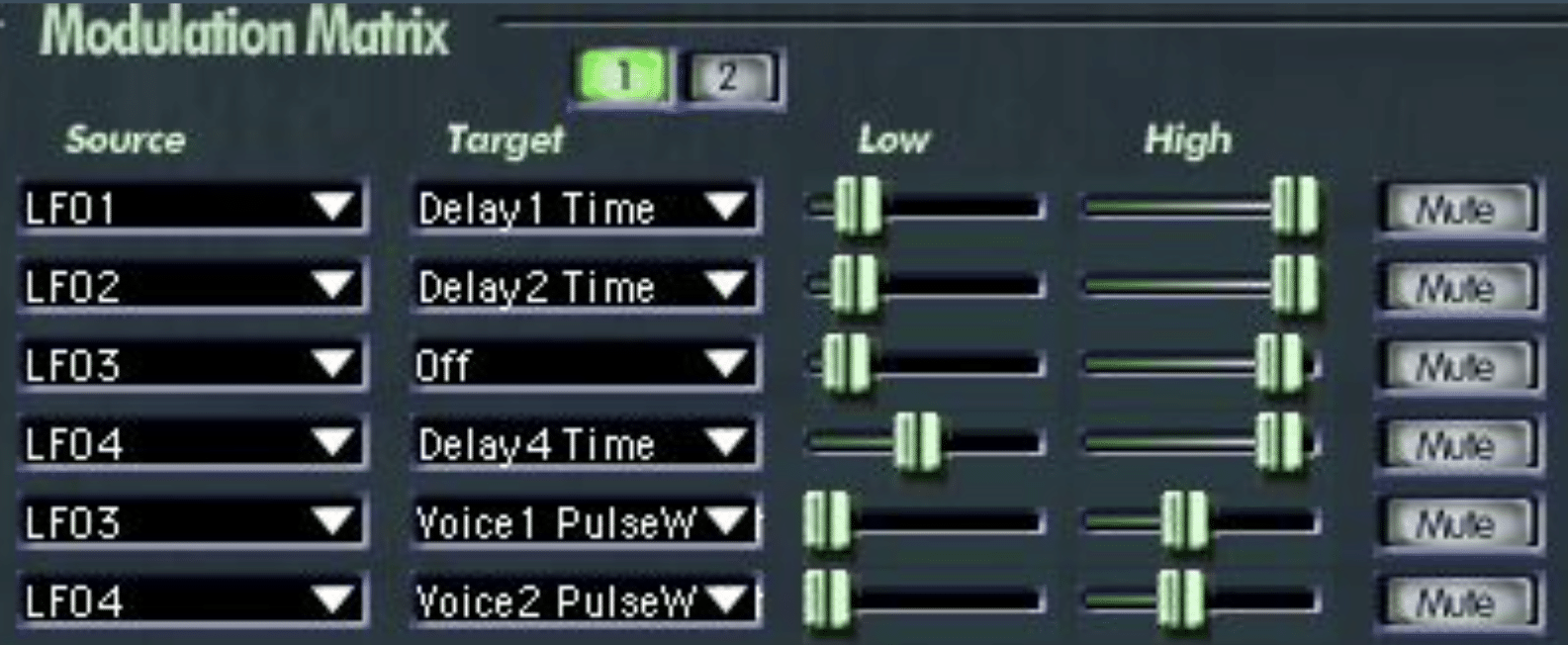 This is where you assign modulation sources (either a MIDI controller or a virtual performer) to modulation targets (usually controls from the voice or mixer pages).
This dynamic modulation setup enables users to create complex sound structures and timbres 一 creating a more engaging sonic environment.
A key element of this free synth plugin is the Mixer Page, where the voices are combined and effects are added.
The in-built effects include a frequency band splitter and four delay effects, which most free synths certainly don't offer.
The band splitter divides the input signal into four frequency bands, each of which can be processed individually.
The delays can be used for a variety of effects; from echoes to comb filters, flangers, phasers, reverb, or chorus.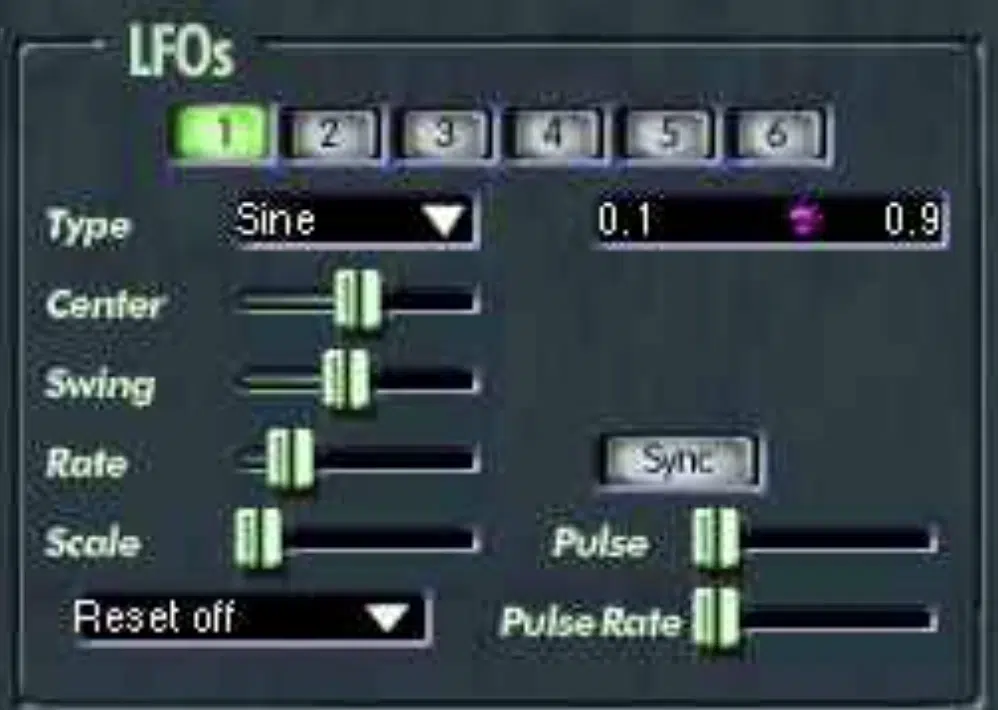 Crystal also comes with envelope editors, LFO sections, and a Utility menu.
This allows you to:
Copy programs
Revert to previous states
Reset the synth
Randomize programs
These features provide an immense amount of control and customization, making Crystal an extremely versatile synth for creating both simple and complex sounds.
Standout Features: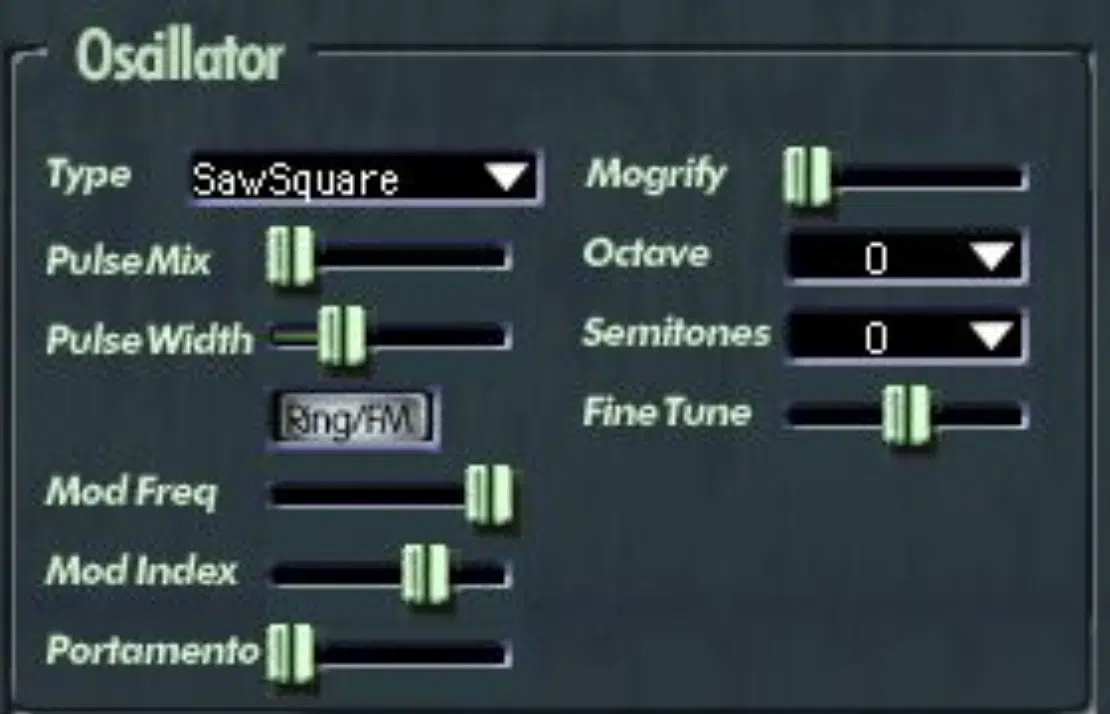 Semi-modular synthesis architecture with subtractive and FM synthesizer capabilities
Over 90 modulatable parameters and a modulation matrix for extensive sound design
Three voices with up to three oscillators each, along with amplitude envelopes and filters
Mixer page with frequency band splitter and four delay effects
Envelope editors and LFO sections for detailed control over modulation
Utility menu with features like program copy, revert, reset, and randomize
Supports both polyphonic and monophonic modes
MIDI learn capability for easy hardware control
Ability to import soundfonts, expanding the range of available synth sounds.
One of the best free VST synth plugins of 2023 (free download)
Free Synth VST Plugins: Final Thoughts
As we draw this exploration of the top free synth VST plugins to a close, it's clear that there's a vast universe of digital audio tools out there waiting to be used.
The quest to create unique and compelling sounds can be a thrilling journey, and it's impressive how much you can achieve without having to invest a cent.
We've introduced you to a remarkable lineup of plugins 一 each containing unique and distinctive features & capabilities.
As you experiment with these tools, your sound design palette will inevitably broaden and deepen.
More importantly, you'll get a feel for what resonates with your creative instinct and furthers your musical vision.
But, if you haven't had your fill of free, revolutionary plugins, then you've got to check out Zen Master.
It breaks new ground in the realm of free plugins, offering an innovative and intuitive approach to sound design.
Zen Master's unique sound manipulation capabilities are simply unparalleled, as it provides a versatility that effortlessly harmonizes with your creative impulses.
Plus, it's more than just another addition to your plugin arsenal; it's a sonic game-changer that redefines the boundaries of music production.
So, if you're ready to take your sound design experience beyond the limits of the ordinary, Zen Master is a worthy download.
In this journey of music creation, remember that understanding and harnessing the potential of your tools is more valuable than merely amassing a collection.
May these free plugins lead you to sonic landscapes you've yet to imagine.
Until next time…