Orchestras are the epitome of musical grandeur, weaving together layers of intricate melodies and harmonies to create aural tapestries that evoke a wide range of emotions. 
As a music producer, orchestral plugins can help you recreate that symphonic richness in your digital compositions.
They offer an arsenal of strings, brass, woodwinds, and percussion at your fingertips. 
However, finding the perfect orchestral plugin can be a daunting task. 
With so many options on the market, if you don't know the absolute best orchestral plugins, you'll never unlock the full potential of your musical creations. 
Luckily, we're here to help.
We're breaking down the 11 best free orchestral VST plugins of 2023 一 and the best part is, they're completely free!
What we'll be covering about each unique free orchestral VST plugin:
Included instruments ✓

Overall quality ✓

Standout features ✓

Unique functions ✓

All capabilities ✓

Much more ✓
After this article, you'll be well-equipped to incorporate cinematic orchestral sounds into your tracks easily.
. 
Unlike other articles that might give you just a sentence or two about each plugin, we include everything you need to know to make an informed decision.
With the help of these free orchestral VSTs, your tracks will absolutely shine.
So, let's dive in…
What's So Special About Orchestral VST Plugins?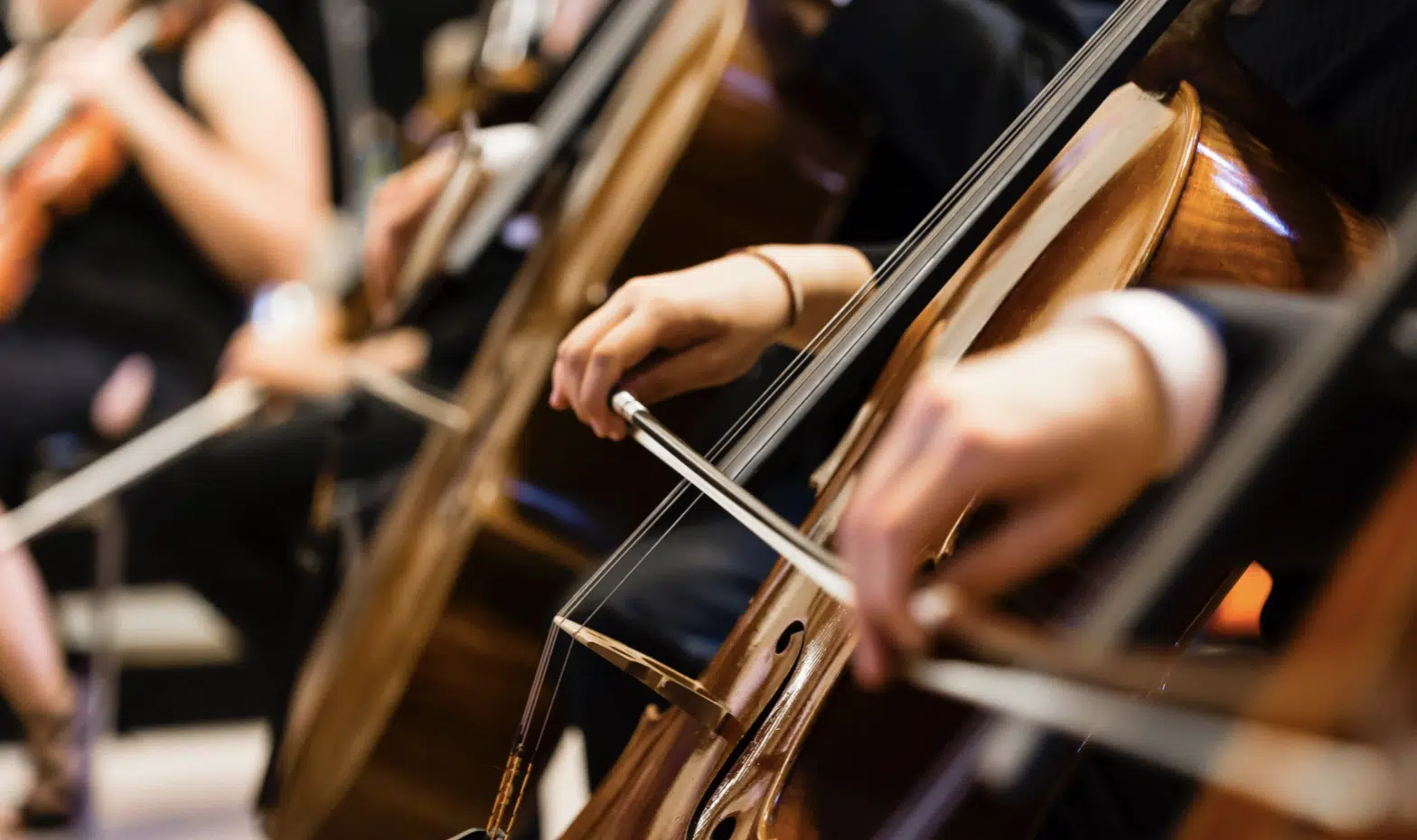 You've likely spent hours honing your craft with drum machines, synthesizers, and sample libraries. 
However, one overlooked resource in the hip-hop genre is the orchestral plugin. 
An orchestral plugin is a software module designed to emulate an orchestra's rich and varied sounds. 
This means you can successfully have the:
Textures of grand piano

Depth of brass instruments

Finesse of string sounds
All at your fingertips and right inside your digital audio workstation.
These orchestral VST plugins are treasure troves of meticulously sampled or synthesized orchestral instruments. 
You'll typically find sections dedicated to each major family of the orchestra, such as brass, strings, woodwinds, and percussion. 
Many also offer the bonus of ensemble settings and articulations like staccatos, legatos, and keyswitch options 一 further broadening your creative landscape. 
MIDI automation lets you easily control the dynamics, pitch, and timbre to suit your track's unique requirements.
Incorporating orchestral elements into your hip-hop tracks can bring a unique sonic palette that makes your music stand out.
It adds cinematic complexity, making your tracks more engaging and emotionally compelling. 
For instance, layering a subtle violin melody over a gritty hip-hop beat can evoke a different mood than using a synthesizer.
The key is integrating these professional orchestral instruments to complement your existing mix rather than overwhelming it. 
The 11 Best Free Orchestral VSTs of 2023
Now that we've covered the essentials let's dive into the 11 best free orchestral VST plugins of 2023.
We've carefully chosen each free version based on ability, included orchestral sounds, quality, and other vital factors.
#1. BBC Symphony Orchestra Discover
If you're eyeing the broad sonic palette that orchestral sounds can offer, BBC Symphony Orchestra Discover is an essential addition to your DAW. 
This free orchestral VST plugin provides a broad selection of 34 instruments, which ensures that you can represent virtually every segment of an orchestra. 
Designed to be an inclusive tool, this free plugin makes orchestral scoring accessible, whether you're a beginner or a seasoned composer.
The best part is that BBC Symphony Orchestra Discover isn't just a lite version of something bigger.
It comes with a dedicated plugin featuring 47 techniques for utmost versatility. 
BBC Symphony Orchestra Discover features the same meticulous recording process as its Core and Professional editions.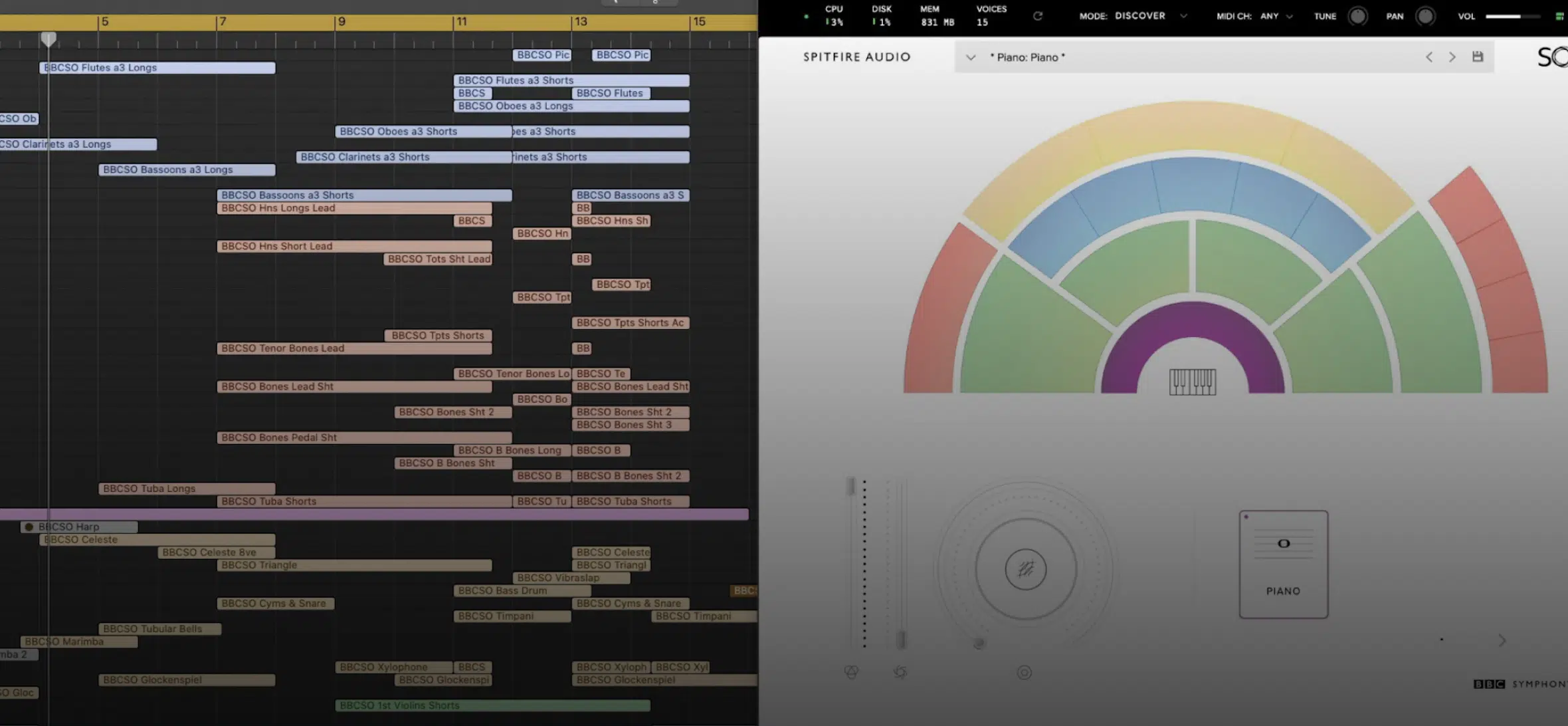 It captures every nuance and timbre from the original performances at the iconic Maida Vale Studios. 
What sets BBC Symphony Orchestra Discover apart is its minimal footprint (only 240MB), allowing you to dive into orchestral production without taxing your computer's resources. 
NOTE: This is particularly useful for those working on laptops or older systems. 
This free orchestral plugin also includes NKS compatibility 一 enabling seamless integration with Native Instruments' hardware and software ecosystem.
BBC Symphony Orchestra Discover now includes a grand piano, expanding its sonic capabilities.
So, whether you're creating an emotionally driven hip-hop track or a booming cinematic score, incorporating piano adds another layer of depth to your compositions.
Key Features of this Free Orchestral VST:

34 professionally sampled orchestral instruments.

Includes a high-quality grand piano.

47 techniques for nuanced performance.

NKS compatibility for smooth integration with Native Instruments hardware.

Lightweight, only requiring 240MB of storage space.

One of the best free orchestral VST plugins of 2023.
#2. Orchestral Tools: Layers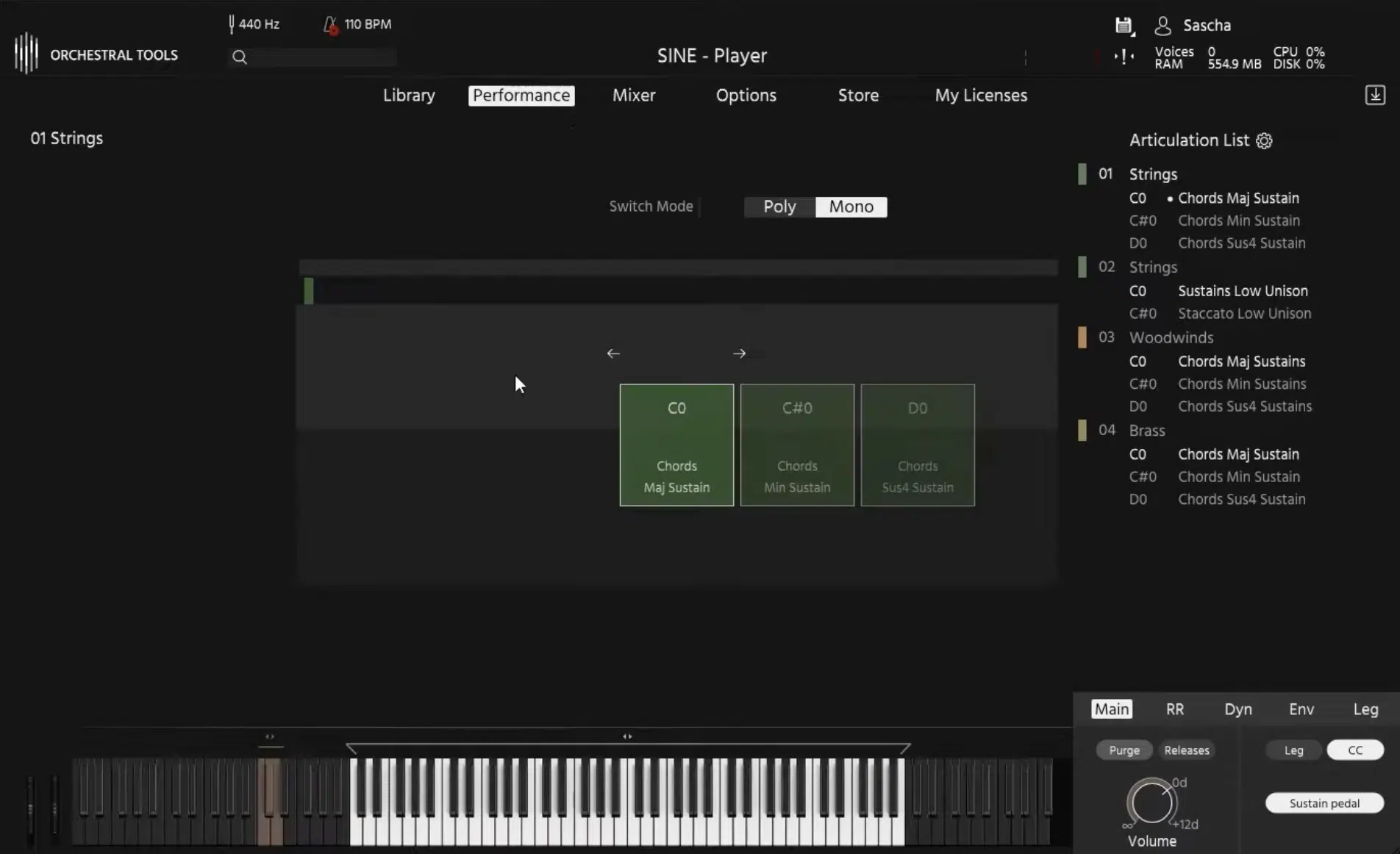 Orchestral Tools: Layers is another powerful asset for any music producer seeking high-quality orchestral sounds. 
This free orchestral VST plugin doesn't just serve you a full patch of an orchestra; it lets you dive deep into individual sections.
These sections include:
The quality of these high-quality orchestral samples (compared to other free orchestral VSTs) is truly outstanding, all recorded on the famed Teldex Scoring Stage in Berlin.
What sets Layers apart is its one-touch simplicity…
This feature allows you to easily generate full chords, a remarkable tool for quickly sketching out ideas or adding rich harmonies to your tracks. 
Layers is also geared towards modern music production.
It provides seamless ways to incorporate orchestral textures into EDM, pop, or hip-hop music.
The versatility of Layers extends to its multiple, mixable mic positions and configurations.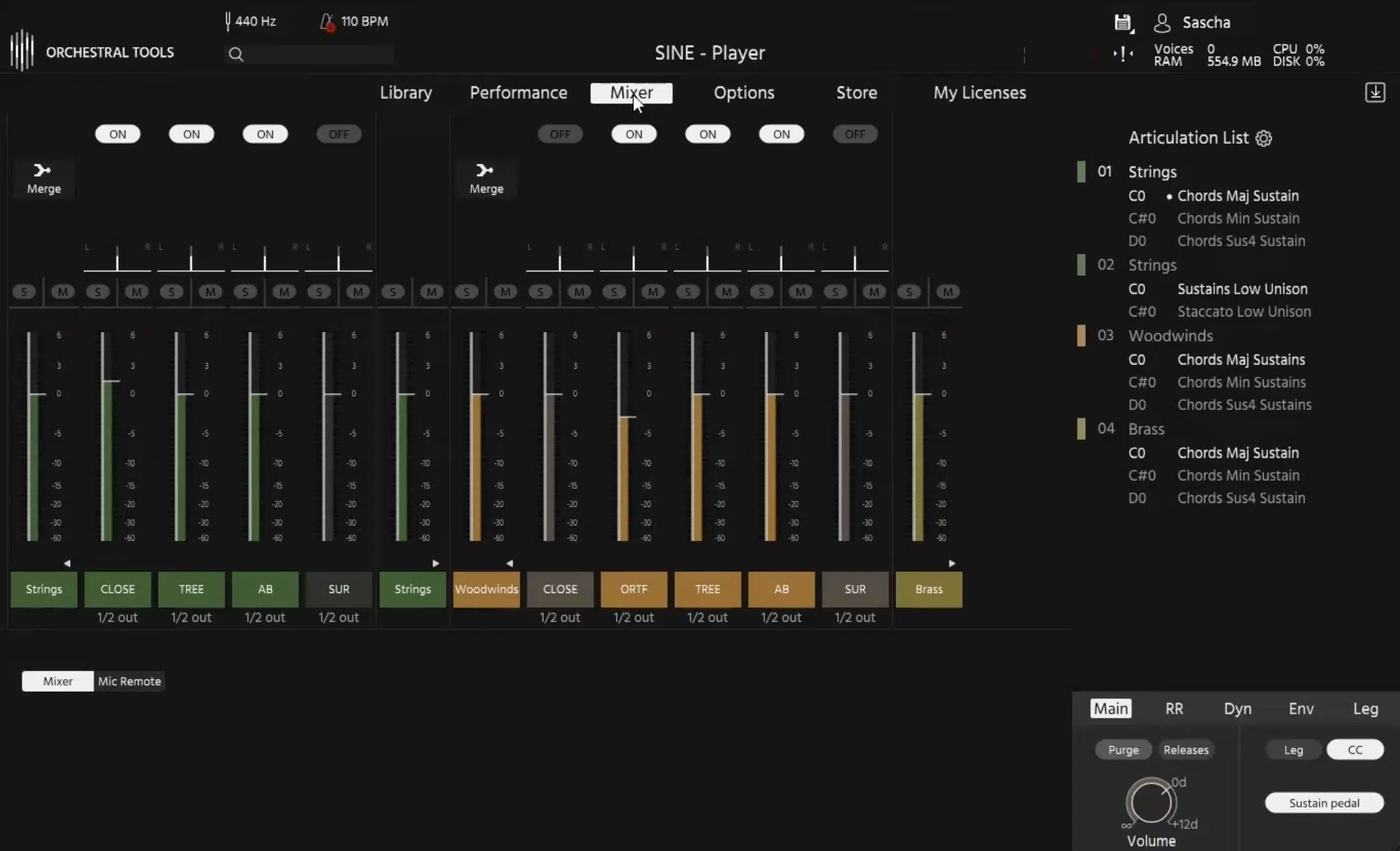 This offers you extraordinary control over the sound, from the most intimate to the most grandiose sonic landscapes. 
Like the higher-end collections from Orchestral Tools, it features hand-picked musicians from Berlin's contemporary orchestras.
Beyond its quality and flexibility, what makes Layers truly special is its unique layering capability. 
This feature allows you to blend different orchestra sections effortlessly using your MIDI controller 一 giving you more dynamic control over your orchestral productions. 
Compared to other free orchestra VSTs, Layers is extremely versatile and flexible (from scores to hip-hop beats and everything in between).
Key Features of this Free Orchestral VST: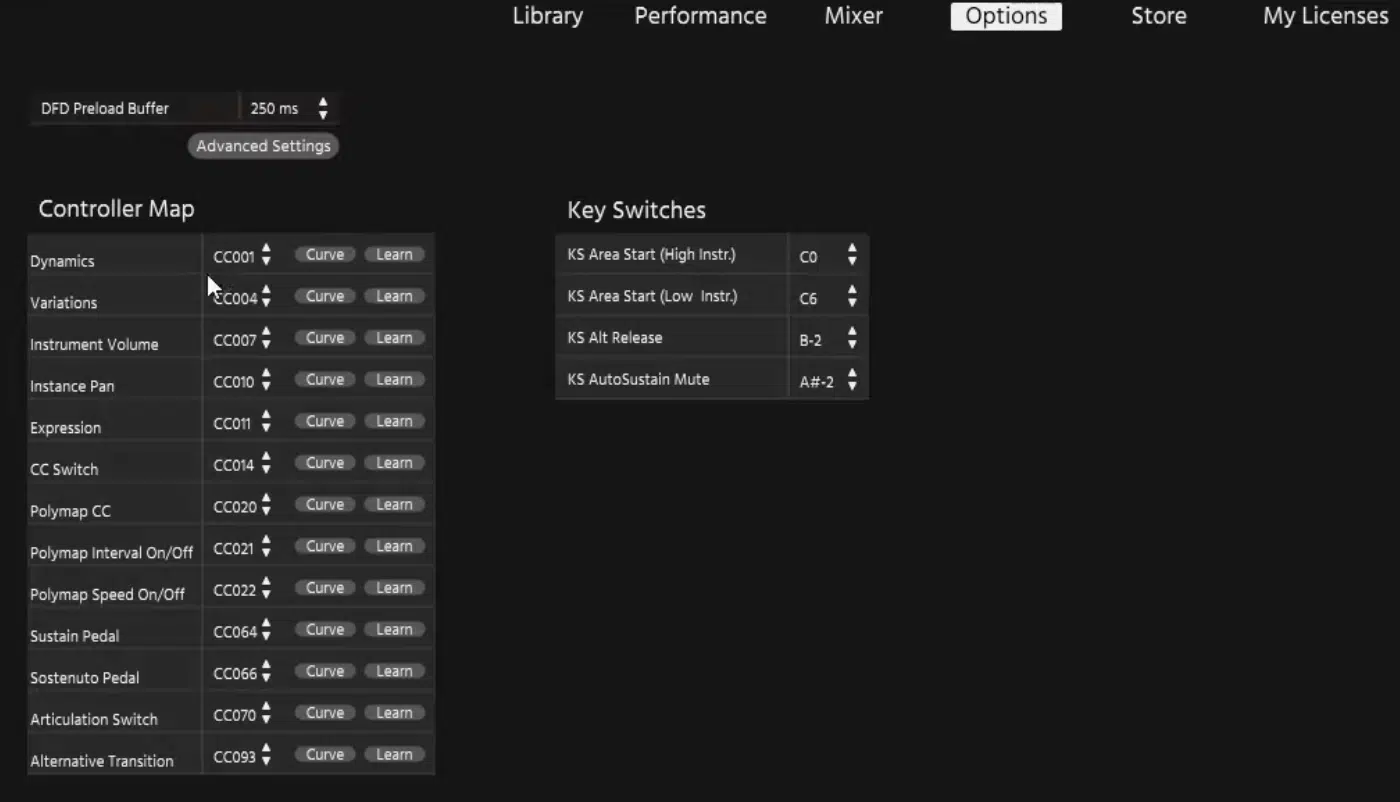 Individual string, woodwind, and brass sections with multiple articulations.

One-touch access to major, minor, and suspended chords.

Multiple mic positions and mixable configurations.

Unique layering capability for dynamic control.

Recorded at the renowned Teldex Scoring Stage in Berlin.

One of the best free orchestral VST plugins of 2023.
#3. Spitfire Audio LABS: Tape Orchestra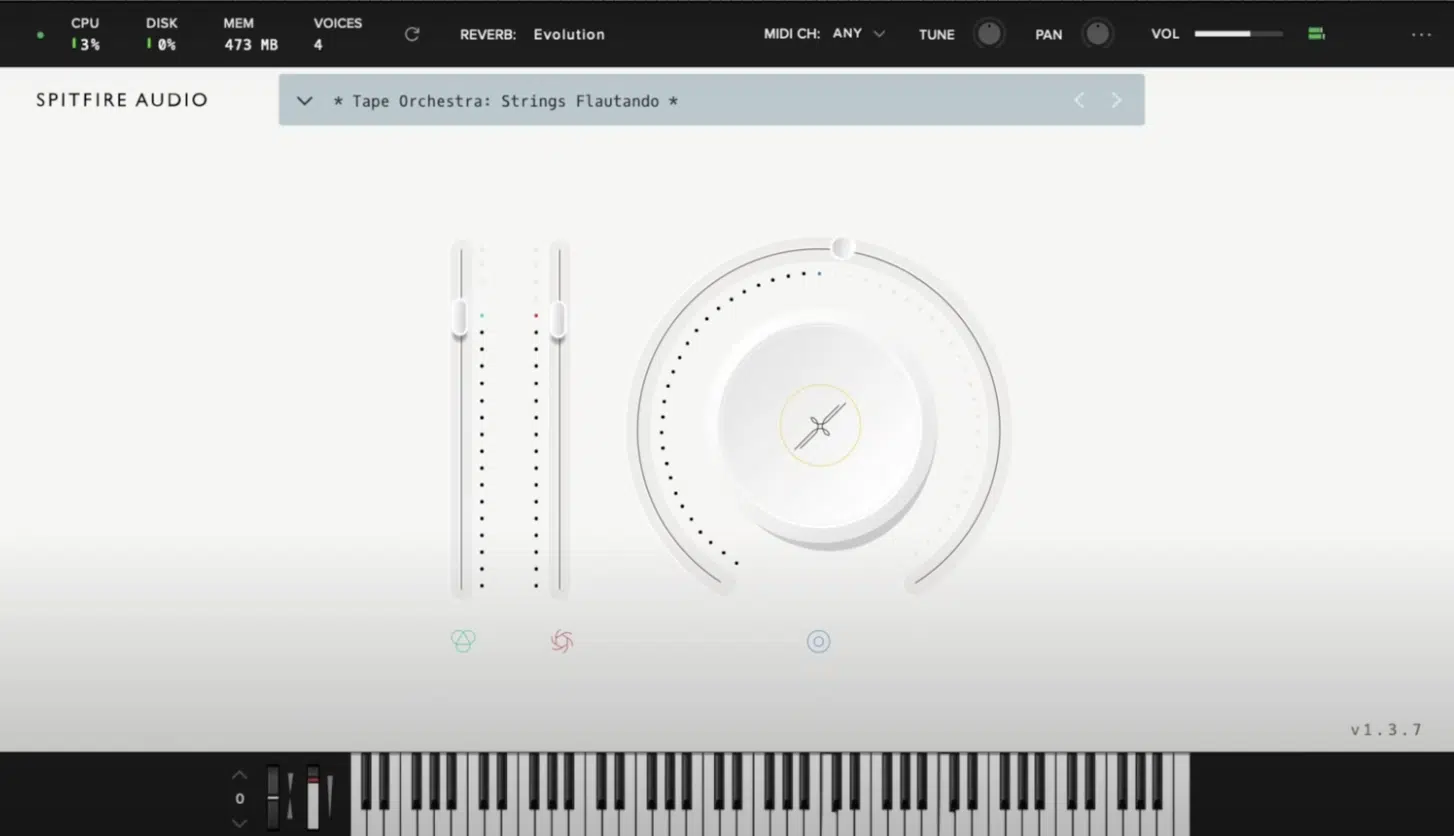 Spitfire Audio LABS takes a unique approach with Tape Orchestra, giving you not just pristine orchestral sounds but also the timeworn warmth of analog tape. 
This innovation is a byproduct of meticulous sound design…
Orchestral and synth recordings were run through pre-distressed cassettes and tape loops via a Tascam Portastudio. 
The result is a rich palette of distorted textures that invoke a unique blend of nostalgia and fragility.
This is not your everyday orchestral plugin 一 it is something of an experimental playground. 
This free orchestral VST plugin comes with simplified controls, featuring: 
Sliders for expression and dynamics.

A "big knob" that can be easily customized.
While Tape Orchestra is clutter-free and focused, it offers you a diverse array of textural possibilities that make it ideal for soundtrack work, ambient music, and experimental compositions.
Tape Orchestra operates through a dedicated LABS plugin. 
Plus, despite its high quality and unique features, this orchestral VST is entirely free (which is awesome).
If you want to add an extra layer of vintage aesthetic to your orchestral compositions, Spitfire Audio LABS' Tape Orchestra can be the perfect tool to infuse your arrangements with that grainy, analog warmth.
With this VST plugin, you're not just incorporating orchestral sounds 一 you're adding a sense of history and complexity that is rare in modern plugins. 
The cassettes and tape loops bring a degree of imperfection that can make your music relatable and human.
It invokes emotions that pristine digital recordings might not capture as effectively.
Key Features of this Free Orchestral VST: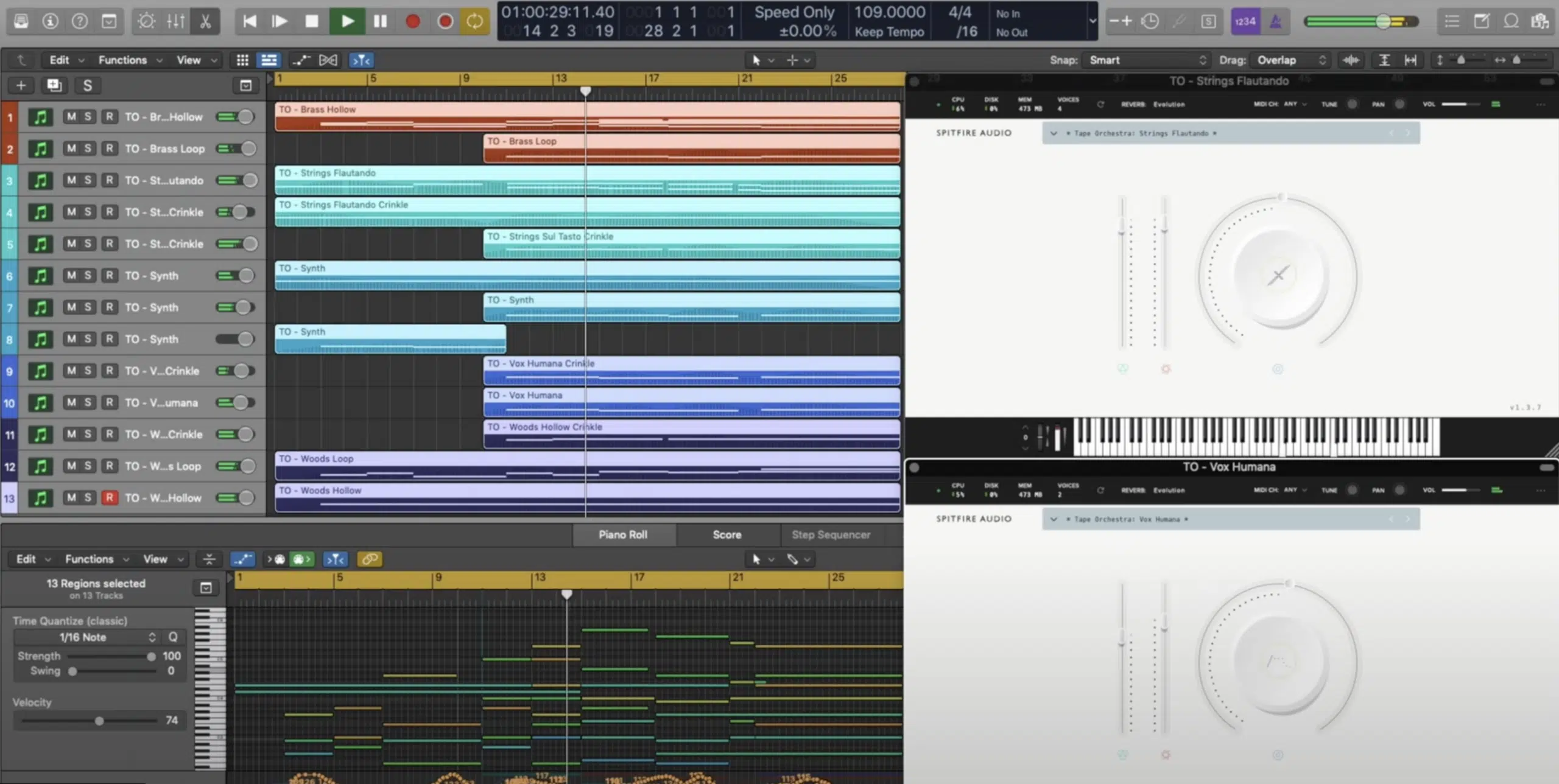 Orchestral and synth recordings run through analog tape.

Simplified controls for easy customization.

Textural diversity, ideal for soundtrack and ambient work.

Operates through a dedicated, clutter-free LABS plugin.

Unique blend of nostalgia and fragility through distorted textures.

One of the best free orchestral VST plugins of 2023.
#4. Synful Orchestra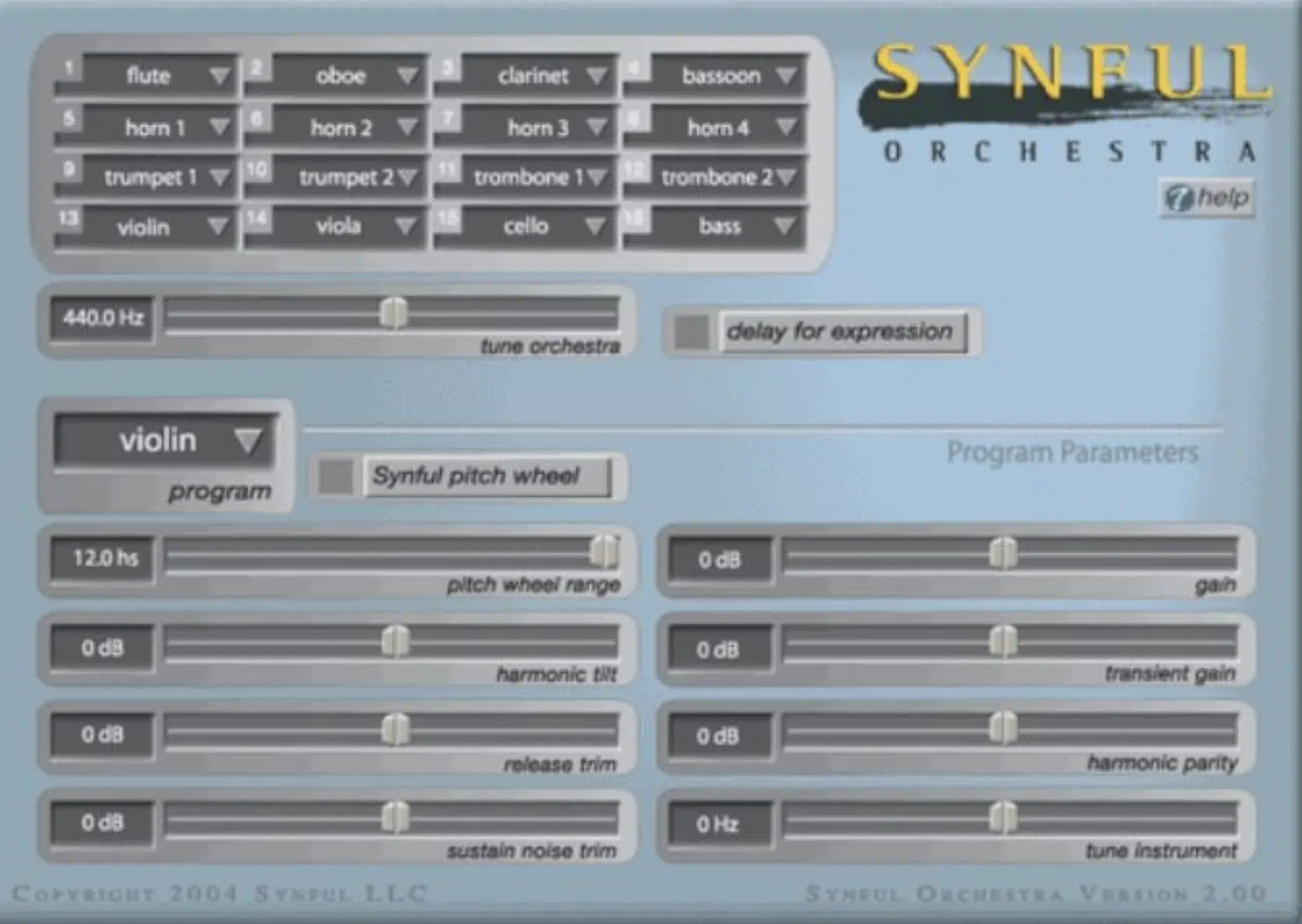 Synful Orchestra isn't just another orchestral VST; it's an institution in the digital music world. 
Despite being around since 2006, this free VST plugin has received numerous updates, remaining a useful tool that brings a full symphony orchestra to your digital workspace. 
Created by Eric Lindemann, Synful Orchestra is designed to achieve the most natural-sounding orchestration, down to the tonality of each section.
One of Synful Orchestra's strongest suits is its ability to simulate real-life performances, complete with dynamic positioning depending on how many simulated players are on stage. 
The VST also boasts natural divisi 一 which adjusts automatically for chords and complex harmonic passages. 
What makes Synful Orchestra truly extraordinary is that it's less a traditional sample-based library and more a deep physical modeling suite. 
This means you can tweak the transient of each sound while tuning the harmonic tilt, offering unparalleled control over the orchestral elements.

Synful Orchestra doesn't just offer realistic instruments; it extends far beyond that. 
Features (like the following) are generated from standard MIDI:
Automatic slurs

Tonguing

Bowing
These eliminate the need for special key switches and phrasing tools, which makes it exceptionally user-friendly and efficient for quick and realistic orchestration.
Whether you want to bring your compositions to life with ultra-realistic orchestral elements or aim to create completely otherworldly sounds, Synful Orchestra has you covered. 
NOTE: Its patented Reconstructive Phrase Modeling technology splices fragments from a database of recorded phrases, resynthesizing them using additive synthesis. 
It fits the entire orchestra into a mere 120MB of memory 一 making it powerful and resource-efficient.
Key Features of this Free Orchestral VST: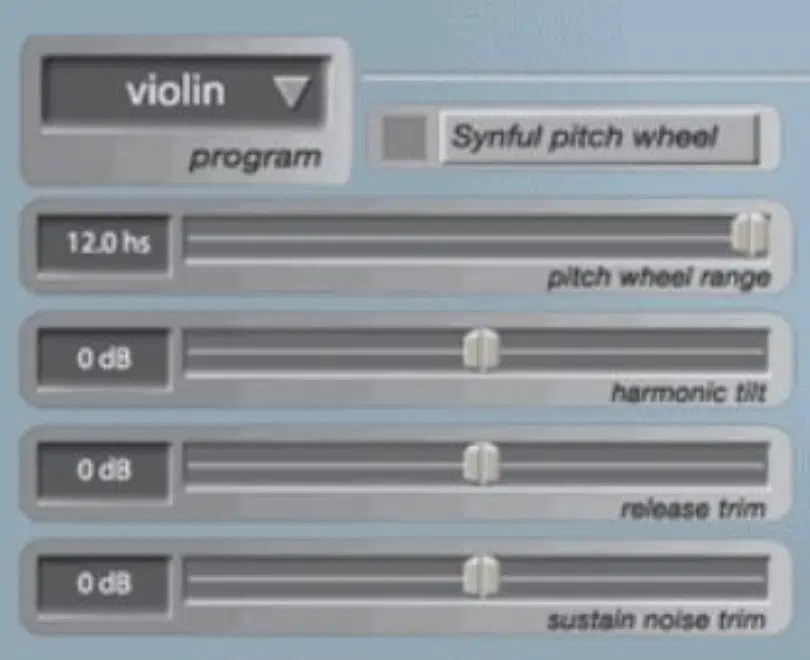 Ultra-realistic instruments with several articulations.

Dynamic positioning & natural divisi for enhanced realism.

Physical modeling suite.

Patented Reconstructive Phrase Modeling technology.

Requires only 120MB of memory and offering 80-140 real-time voices.

One of the best free orchestral VST plugins of 2023.
#5. Big Bang Orchestra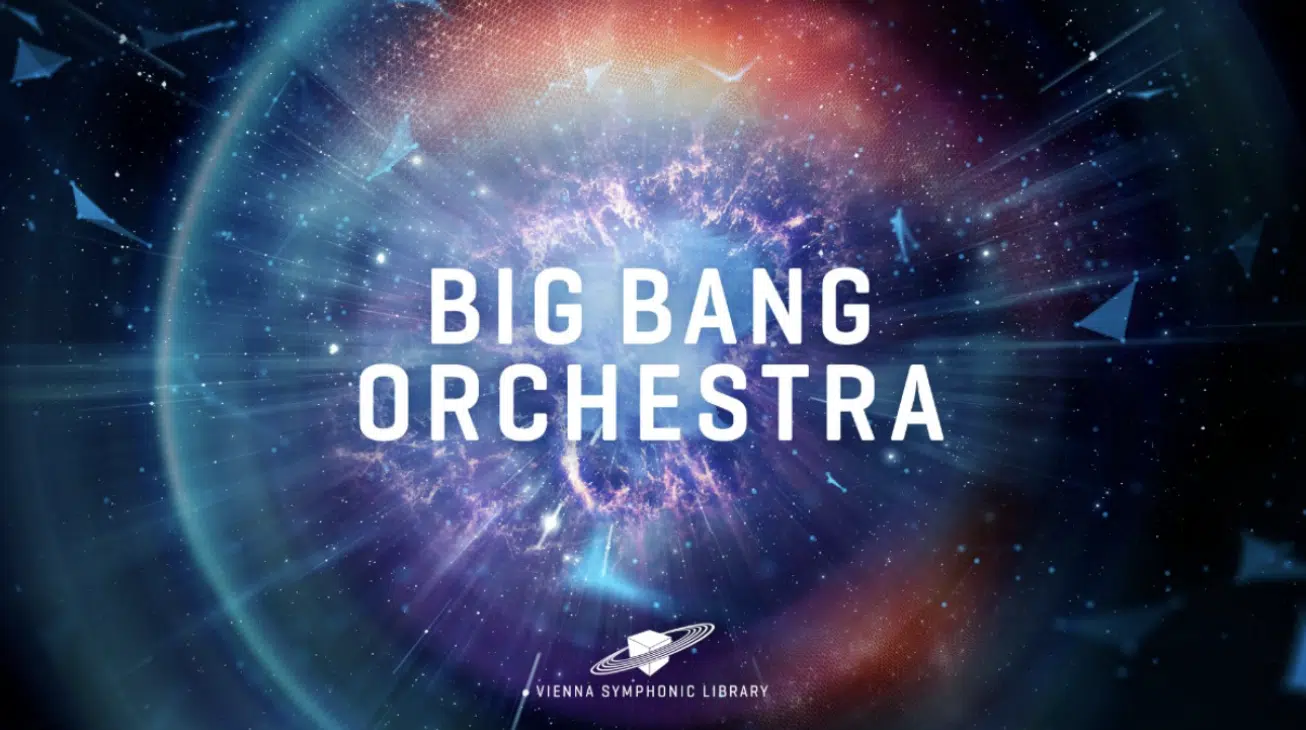 When the term "epic" gets thrown around in orchestral VSTs, Big Bang Orchestra doesn't just meet the definition: it redefines it. 
Designed by the Vienna Symphonic Library, this powerhouse plugin provides an all-encompassing "tutti" orchestra.
Everything was recorded at the revered Synchron Stage Vienna's Stage A. 
Imagine the staggering impact of an entire orchestra playing in unison, captured with multiple microphones to deliver an experience that is both monumental and intricately detailed…
Well, that's what you'll get with this free orchestral VST plugin.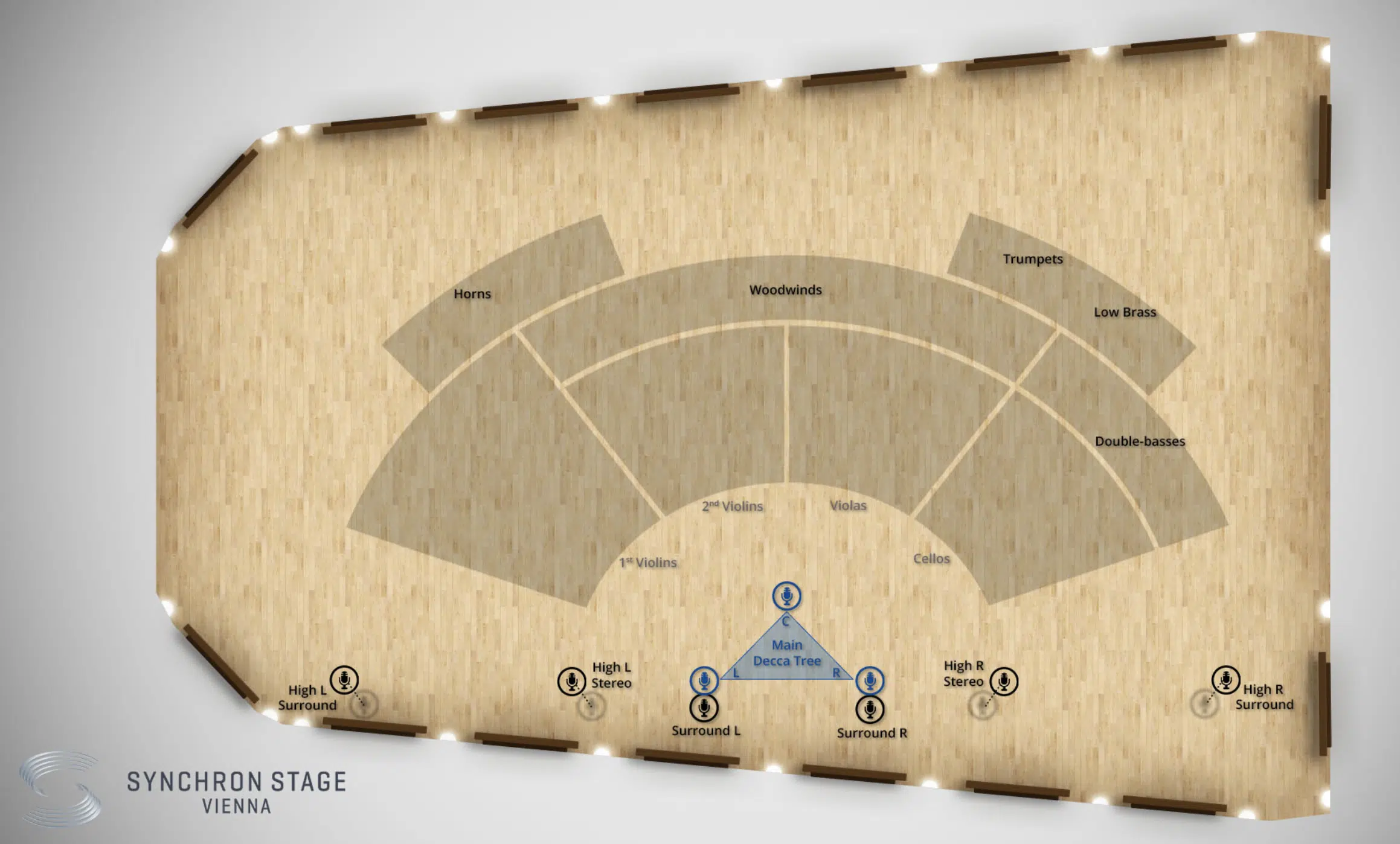 Big Bang Orchestra is engineered to serve as a high-velocity tool for large, captivating orchestrations.
Meaning, you can impart your existing tracks with layers of titanic symphonic might. 
This free orchestral VST plugin has the artillery you need to compose cinematic music, whether it's:
Sharp staccatos

Long sustains

Pulsating marcato

Swelling dynamics

Enthralling runs
The phrase "instant inspiration" would be an understatement; merely pressing a few notes can unleash a torrent of musical ideas, thanks to its colossal sound.
The included Synchron Player's mixer allows you a vast scope of control over the ambience and balance of the orchestra.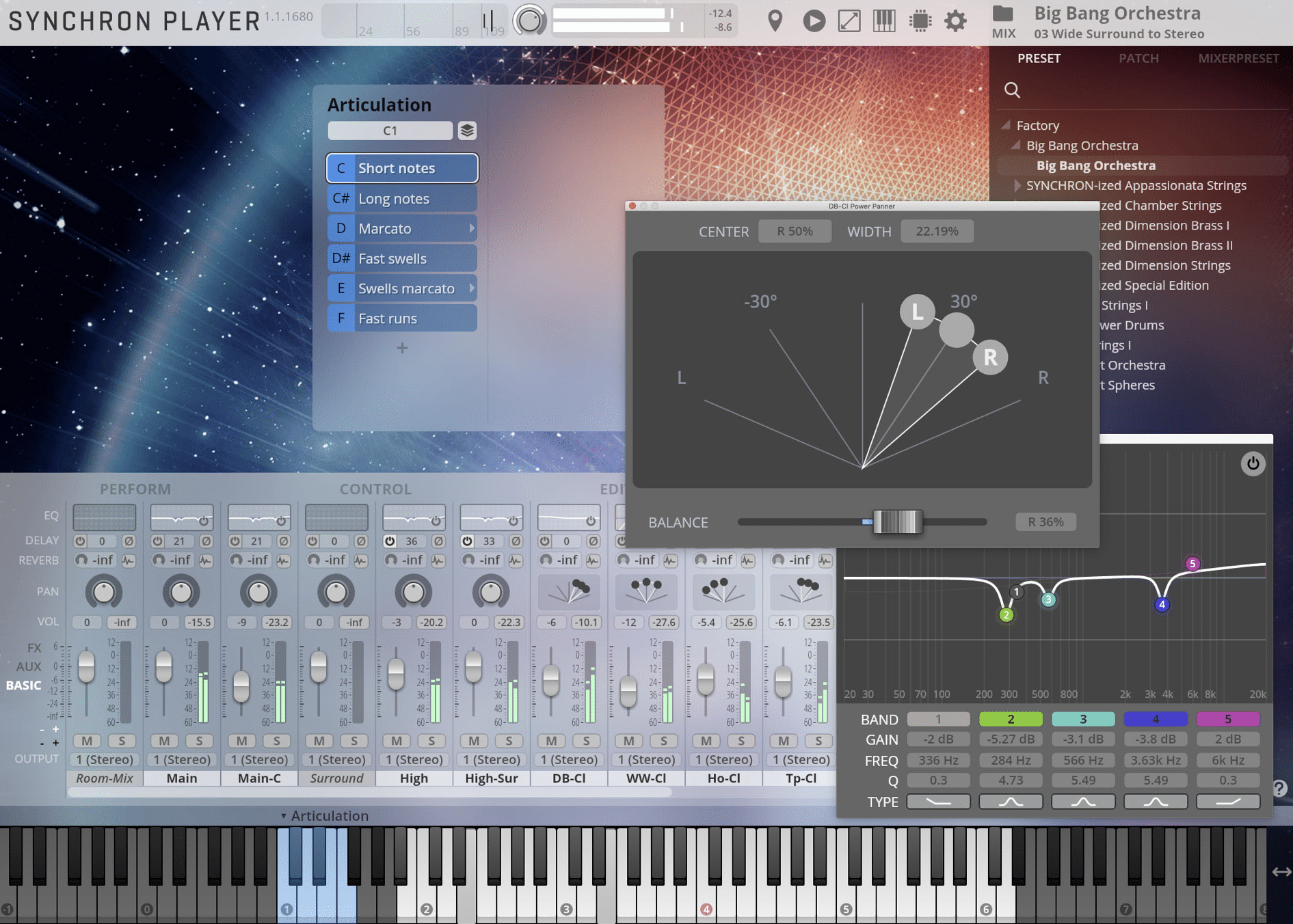 With a robust selection of microphone setups and mixer presets, tailoring the sound from an intimate chamber ensemble to a thunderous orchestral army is almost effortless. 
Offering settings from "close" to "distant," as well as "Processed" presets for a modern, fat orchestral sound 一 achieving perfect results is a breeze.
NOTE: Unlike most other free orchestral VSTs, Big Bang Orchestra is also highly accessible and compatible with Native Instruments' NKS format.
It works seamlessly with Komplete Kontrol keyboards & Maschine. 
The Light Guide feature enables quick identification of key switches and play ranges, while control knobs are pre-configured for immediate use. 
With all these features combined, Big Bang Orchestra is more than just a free plugin; it's an expansive sonic universe waiting to be explored.
Key Features of this Free Orchestral VST Plugin: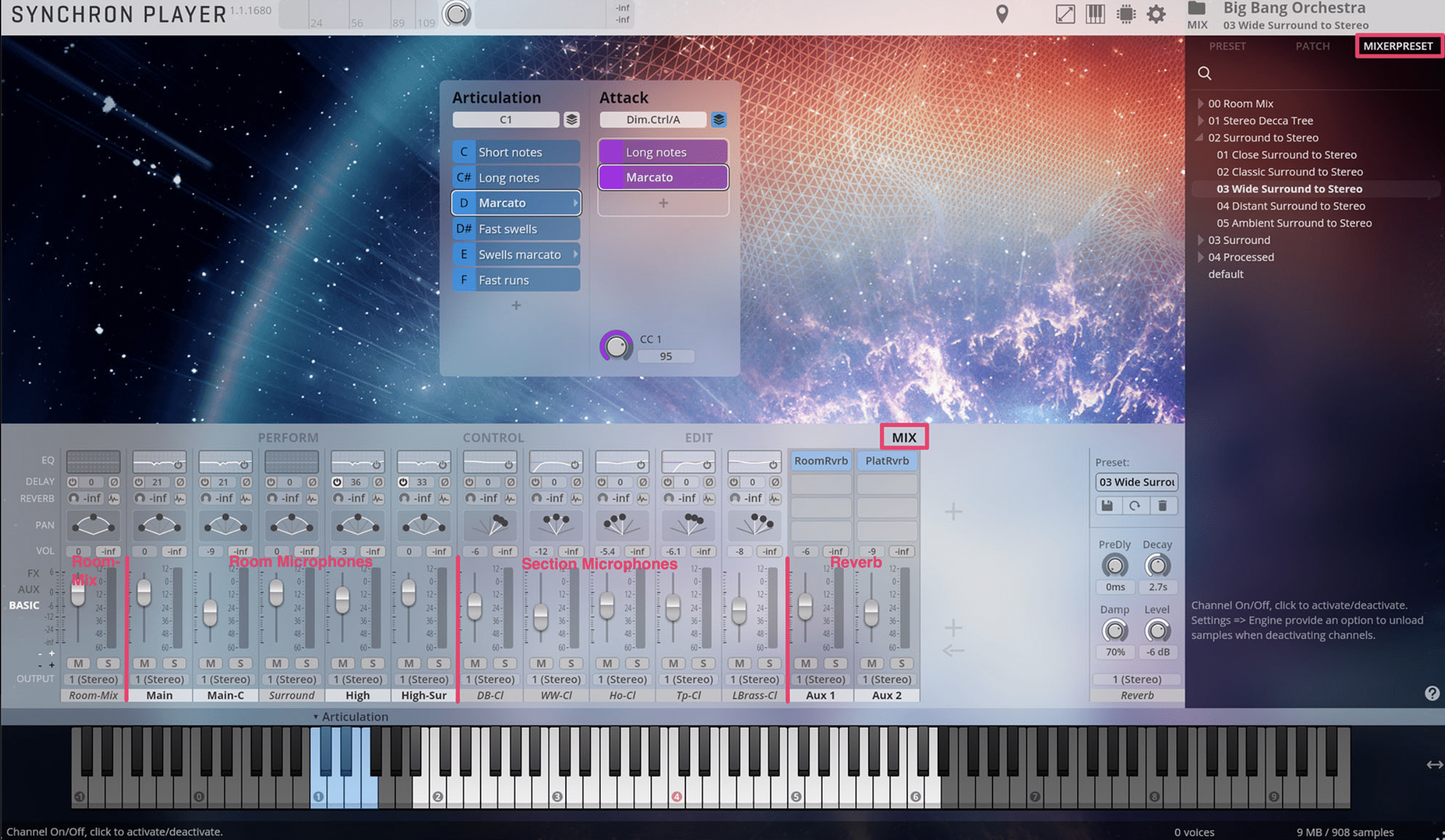 Comprehensive "tutti" orchestra recorded at Synchron Stage Vienna.

Articulations include staccatos, sustains, marcatos, swells, and runs.

Multiple microphone positions.

Compatible with Native Instruments' NKS format.

Synchron Player's full-blown mixer allows nuanced control over sound and ambience.

One of the best free orchestral VSTs of 2023.
#6. DSK ChoirZ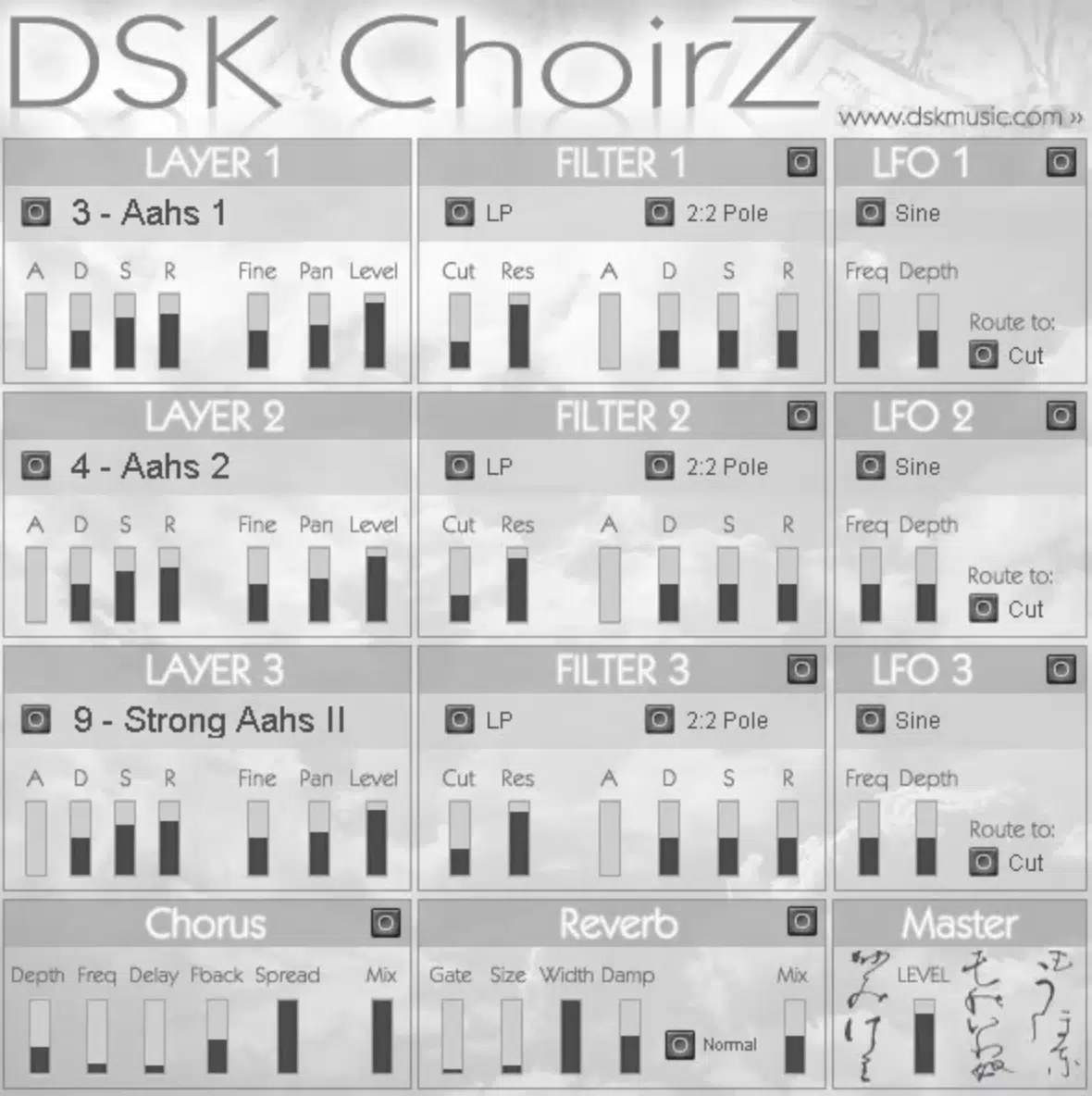 DSK ChoirZ offers something unique: a VST focusing solely on the ethereal and haunting qualities of choral music and pads. 
Don't let its simplicity fool you…
This free VST plugin packs a punch and features three layers with 32 choir and pad sounds. 
Whether you're looking to complement an orchestral arrangement or develop a celestial soundscape, DSK ChoirZ offers a world of sonic potential that's expansive and intimate.
ChoirZ provides an array of controls to shape your sound to perfection. 
You can sculpt the tonal characteristics and stereo image to fit your needs with:
ADSR

Fine-tuning

Pan Control
In addition, it comes equipped with 3 advanced filters for refining your sound further.
DSK ChoirZ isn't just a static sound module 一 it allows a degree of dynamism and movement within its soundscape. 

Three LFO routings to Cut, Pan, Level, and Pitch, along with built-in chorus and reverb effects, offer an added dimension and richness to your compositions. 
The velocity response and MIDI automation features make it an ideal choice for composers.
Espeically those that require greater control over expressiveness and dynamic changes.
DSK ChoirZ is an invaluable tool for those looking to bring an angelic or ominous choral presence into their music (over most other free orchestral VSTs).
It offers a great selection of quality choir and pad sounds wrapped up in a user-friendly interface.
It is an ideal pick for those working on film scores, game soundtracks, or any musical project requiring a layer of heavenly vocals or haunting harmonies.
Key Features of this Free Orchestral VST Plugin: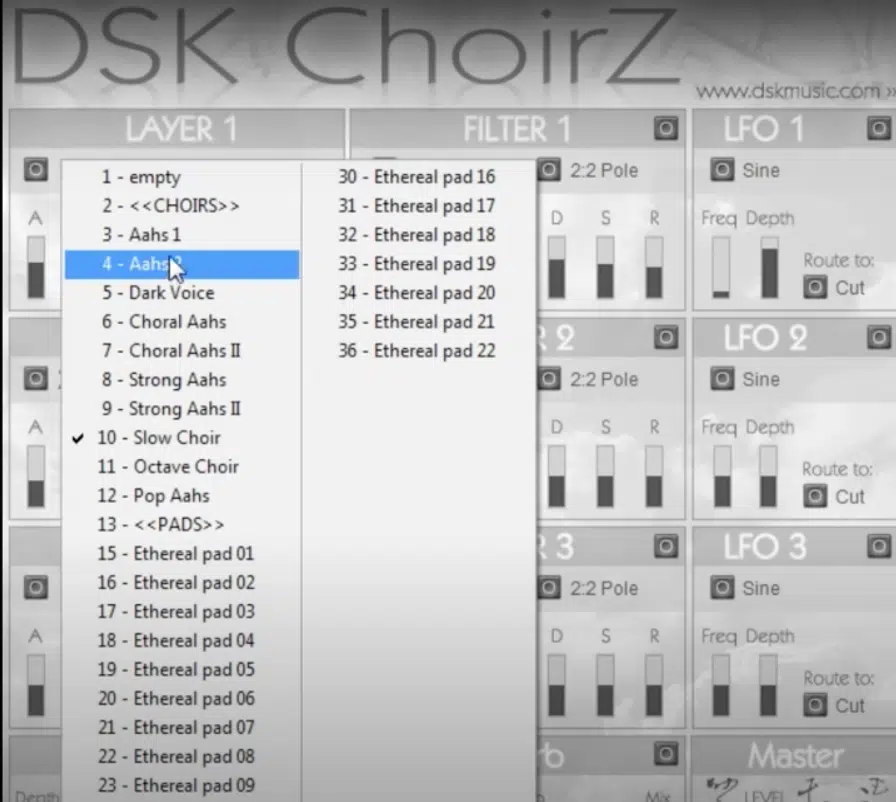 Specializes in choral & pad sounds with 32 different presets.

Three layers offer depth and complexity to your choir arrangements.

Advanced control features.

Dynamic effects like Chorus and Reverb, and LFO routing to multiple parameters.

MIDI automation and velocity response.

One of the best free orchestral VSTs of 2023.
#7. VSCO 2 Community Edition Library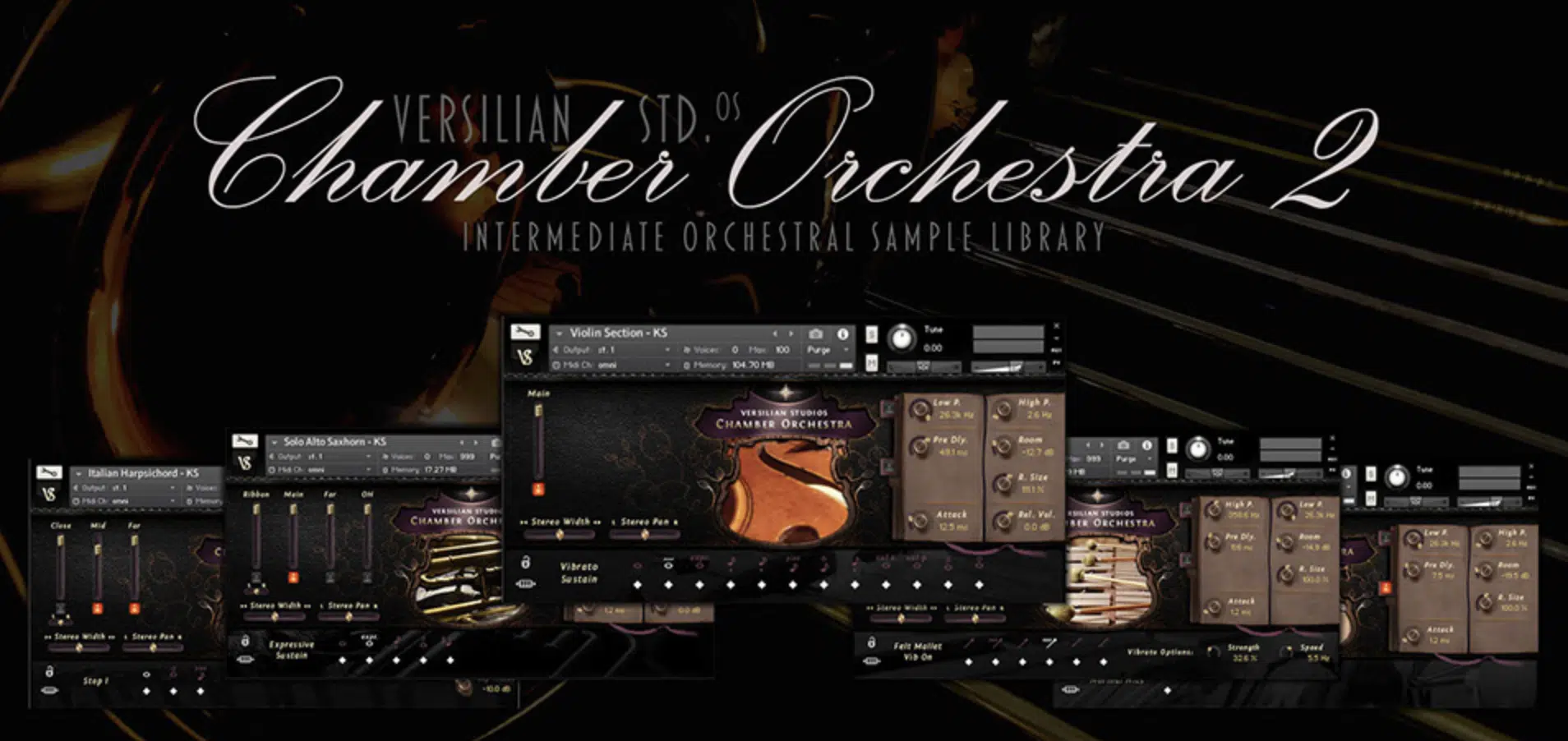 In an industry swamped by grandiose claims of "Hollywood-grade" free orchestral VSTs, Versilian Studios Chamber Orchestra 2 (VSCO 2) Community Edition Library challenges the status quo. 
It offers a refreshing approach to orchestral sampling by focusing on the richness and diversity of musical instruments and the artists who play them. 
This free orchestral VST plugin is a treasure trove of character.
It provides unique textures and timbres rarely heard in typical orchestral libraries.
More than just another orchestral plugin, VSCO 2 celebrates the beauty of musical diversity. 
The sample library offers an eclectic range of instruments 一 from chamber orchestral strings to the bass recorder and the ophicleide to a circular alto horn.
Each is carefully recorded to maintain as much natural character as possible.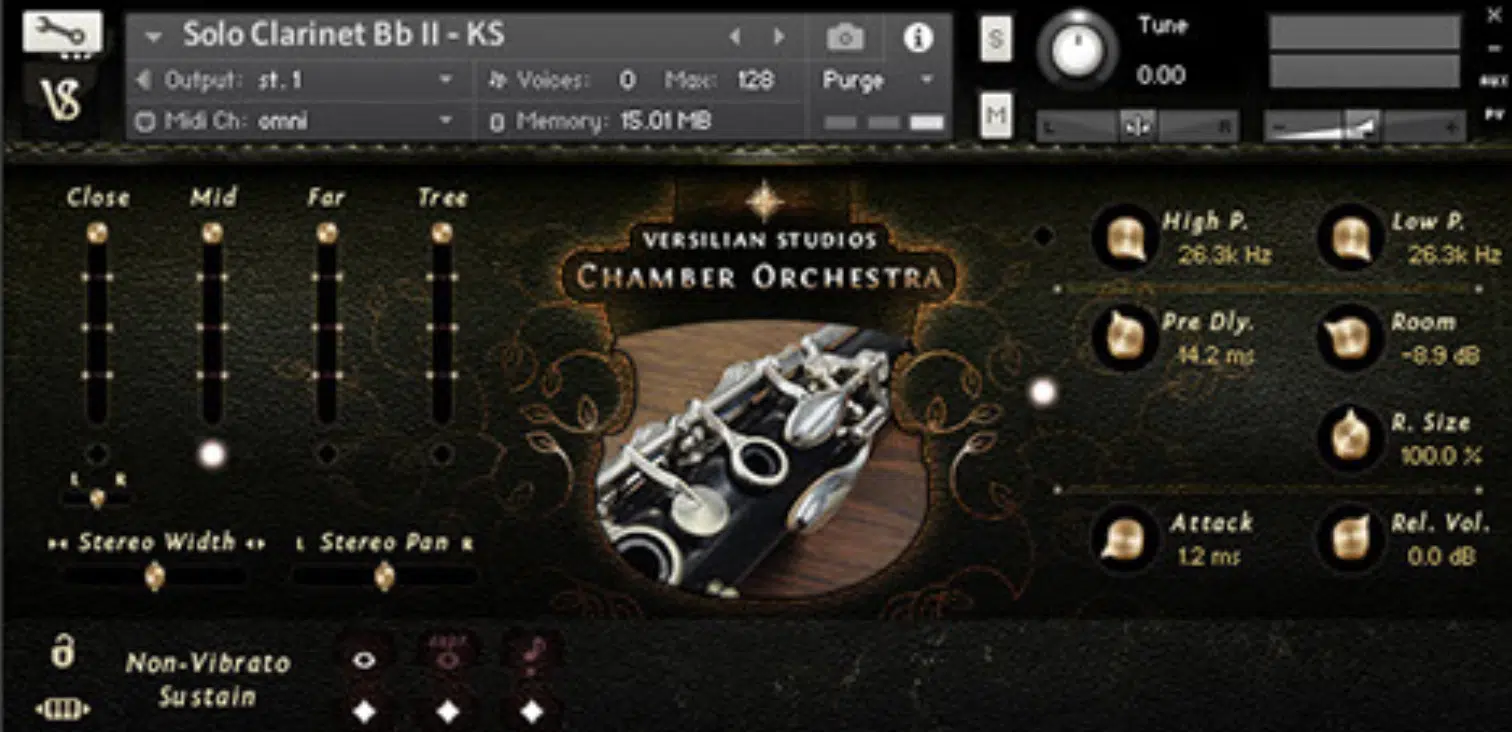 This extensive list allows you to experiment with unusual instruments that you may have never even heard of before (but once heard, they are hard to forget).
This exceptional plugin offers a comprehensive string section and includes rare gems like a diatonic folk harp recorded with meticulous detail.
Not only does the VSCO 2 Community Edition offer a plethora of unique sounds, it does so under a Creative Commons 0 license. 
Meaning that you can freely use, distribute, and even contribute to the library without worrying about licensing issues. 
With 3GB of orchestral samples and contributions from over 40 musicians, 20 testers, and half a dozen developers, this is a super impressive free option.
Key Features of this Free Orchestral VST Plugin: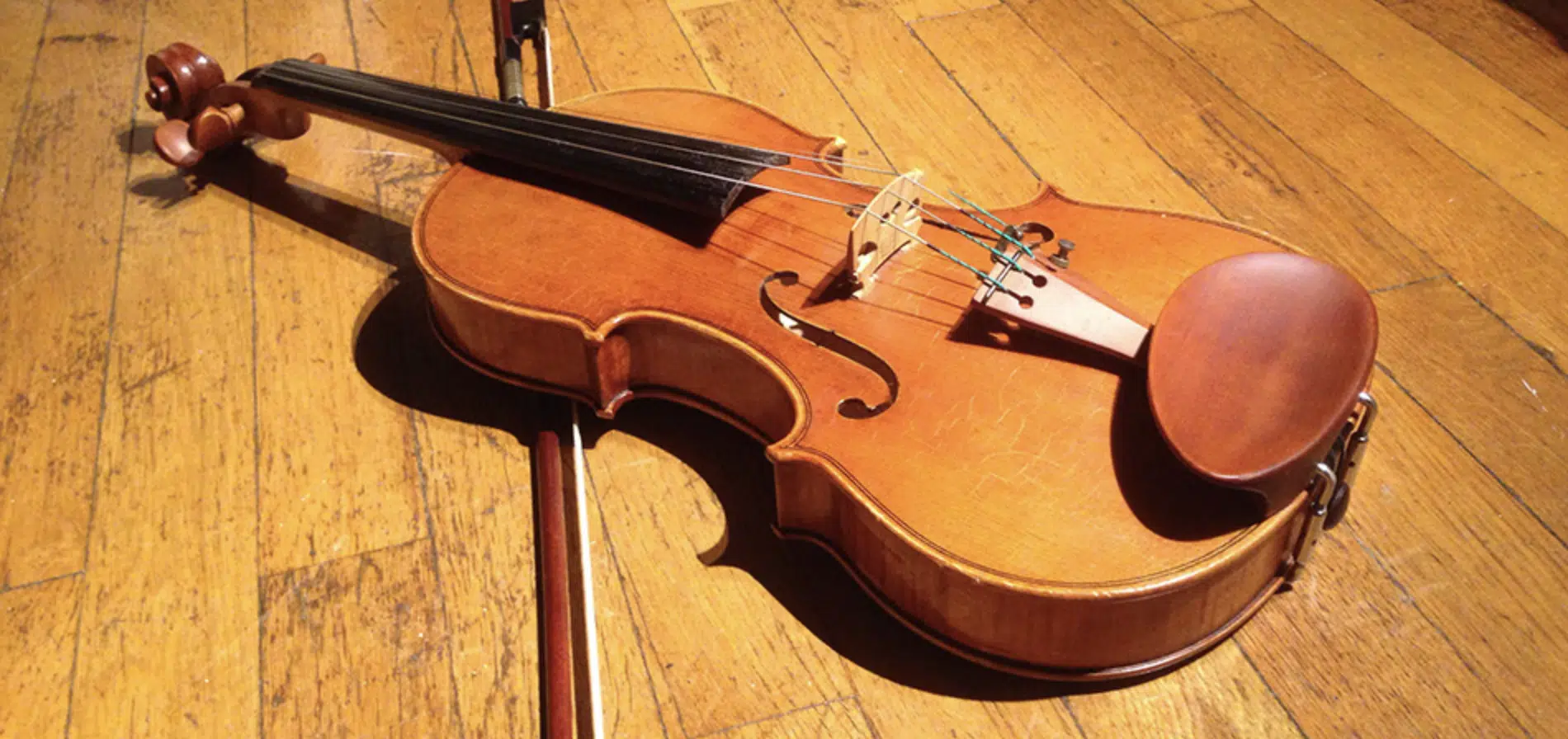 Extensive range of unique instruments & articulations.

Open-source & under a CC 0 license (unlike other free orchestral VSTs).

Over 1,952 samples and multiple mic and stereo positioning controls.

Designed with a focus on musical diversity and character.

One of the best free orchestral VST plugins of 2023 (better than many paid orchestral plugins).
#8. DSK Overture by DSK Music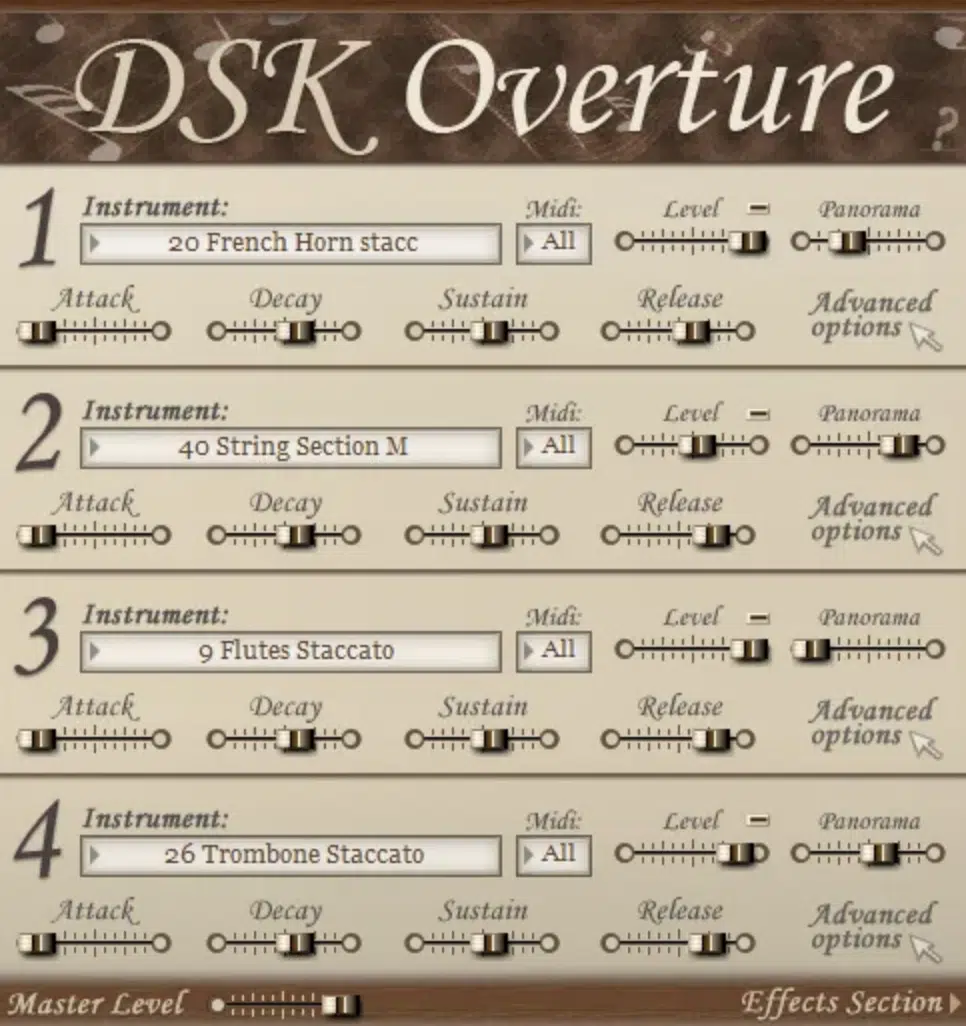 DSK Overture emerges as a robust and versatile free orchestra VST plugin that packs a wealth of features into its free package. 
With a 4-layer architecture, this free plugin offers: 
40 different instruments

10 internal combos
It covers the entire gamut of the orchestra, from Acoustic Piano Sound to ContraBass. 
Overture's included free orchestral sample library is meticulously sampled to provide a well-rounded, authentic orchestral experience.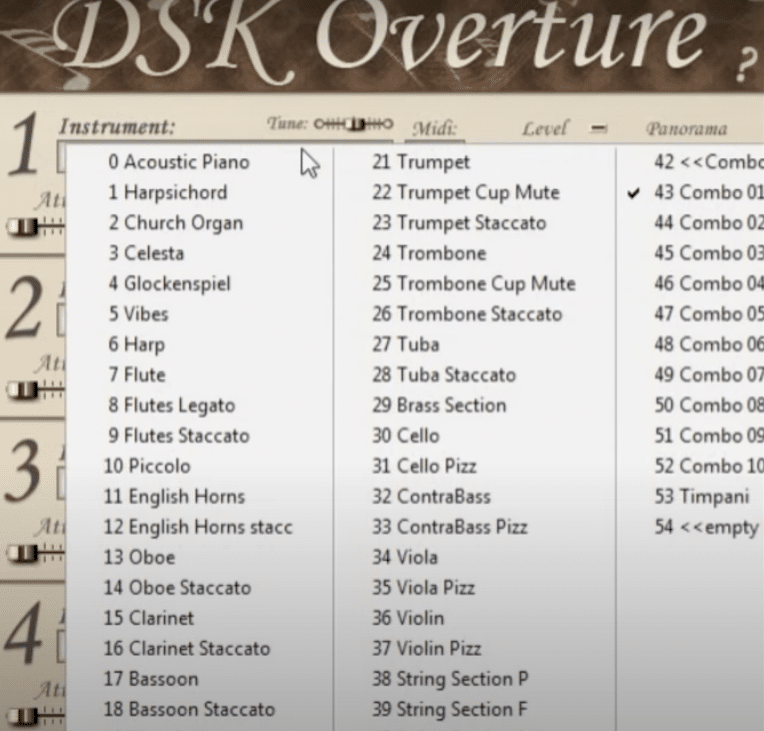 One of the standout features of DSK Overture is its versatility. 
NOTE: You can either utilize all 4 layers for a rich composite sound or assign different instruments to each layer using the MIDI channel selector. 
This allows you to create complex orchestrations or to play multiple instruments in real-time 一 widening your scope for musical expression.
DSK Overture, unlike other free orchestral VSTs, doesn't skimp on control features either, as it hosts:
An advanced multimode filter, amp envelope, level, gain & mute control.

Built-in effects like reverb, delay, and chorus (shown above).
Therefore, offering comprehensive control to shape your sound precisely as you envision it, which is very beneficial.
Also, DSK Overture offers MIDI automation and velocity response.
This helps make it easier than ever to translate your musical ideas into reality compared to other free orchestral plugins.
Key Features of this Free Orchestral VST Plugin:

4-layer architecture with 40 instruments, a drum kit, and 10 internal combos.

Advanced control features including a multimode filter and amp envelope.

Built-in effects like reverb, delay, and chorus.

MIDI channel selector for playing different instruments in the same instance.

MIDI automation & velocity response for dynamic performance.

One of the best free orchestral VST plugins of 2023.
#9. Free Orchestra by ProjectSAM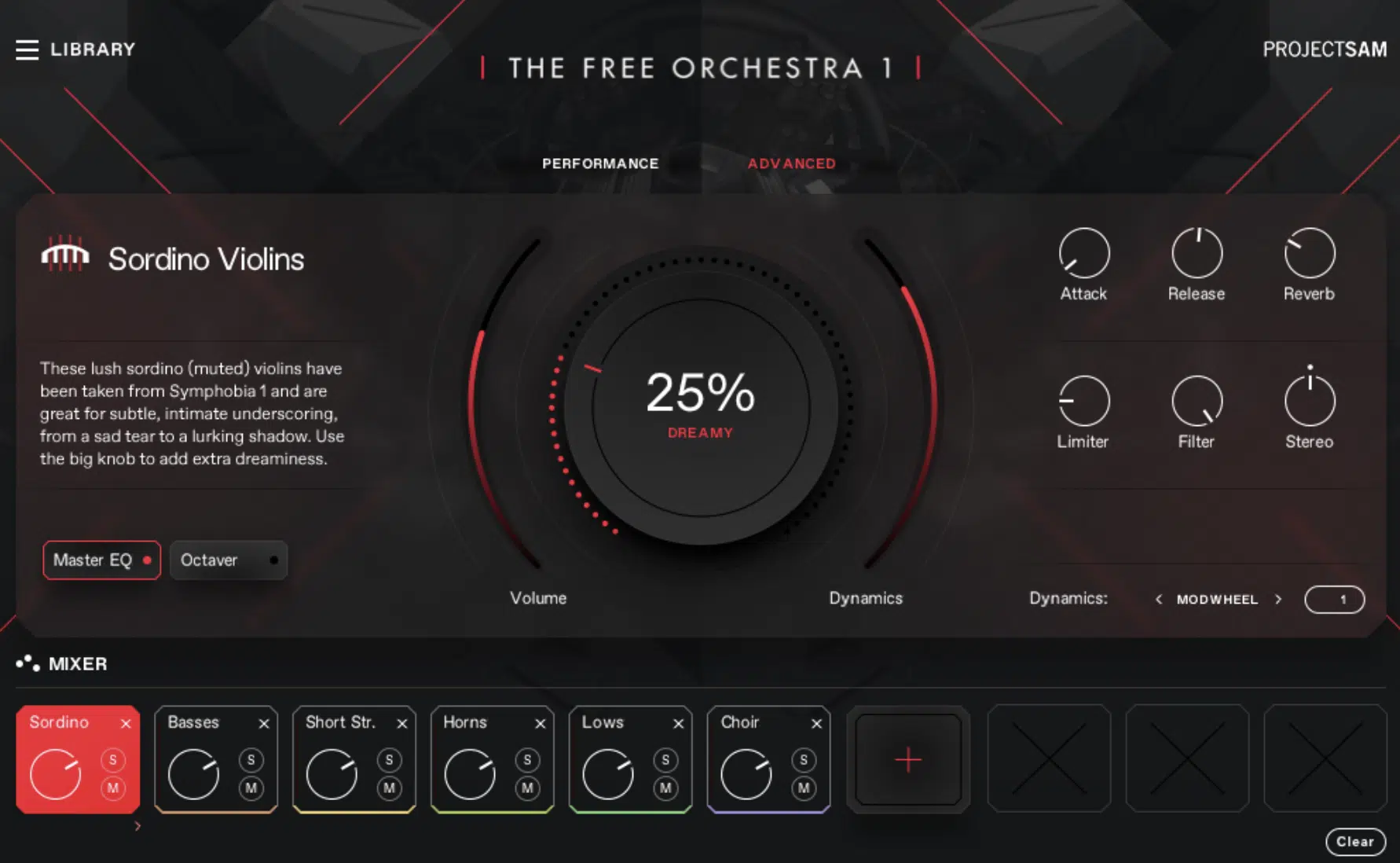 If you're looking for a free orchestra plugin that offers a comprehensive cinematic experience without the hefty price tag, Free Orchestra by ProjectSAM deserves your attention. 
Featuring a diverse palette of 16 cinematic instruments, it's a testament to versatility and quality. 
It offers everything from lush string staccatos and heroic horns to ethereal choirs and haunting drones.
Recorded in an acoustically pristine concert hall, each sample is designed to inject richness and emotion into your compositions.
One of the most noteworthy aspects of Free Orchestra is its robust new interface that comes with a suite of instrument control options.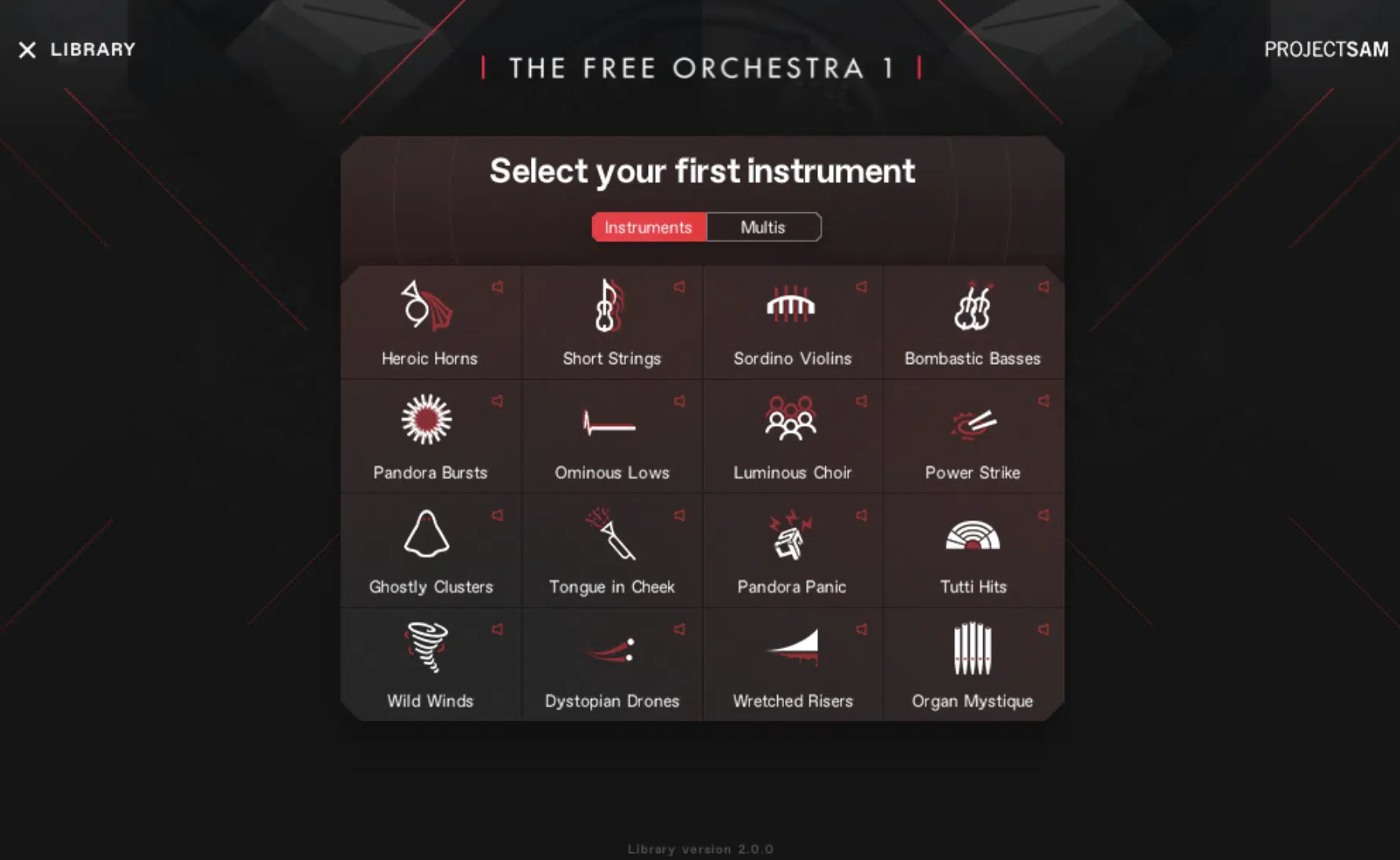 It's not just a free orchestral VST plugin 一 it's an intuitive instrument that allows you to sculpt your sounds to fit the emotional context of your project. 
From soft, delicate orchestral strings to thunderous drums, the control is in your hands. 
Including sounds from ProjectSAM's highly acclaimed Symphobia series adds another layer of professional sheen to this impressive package.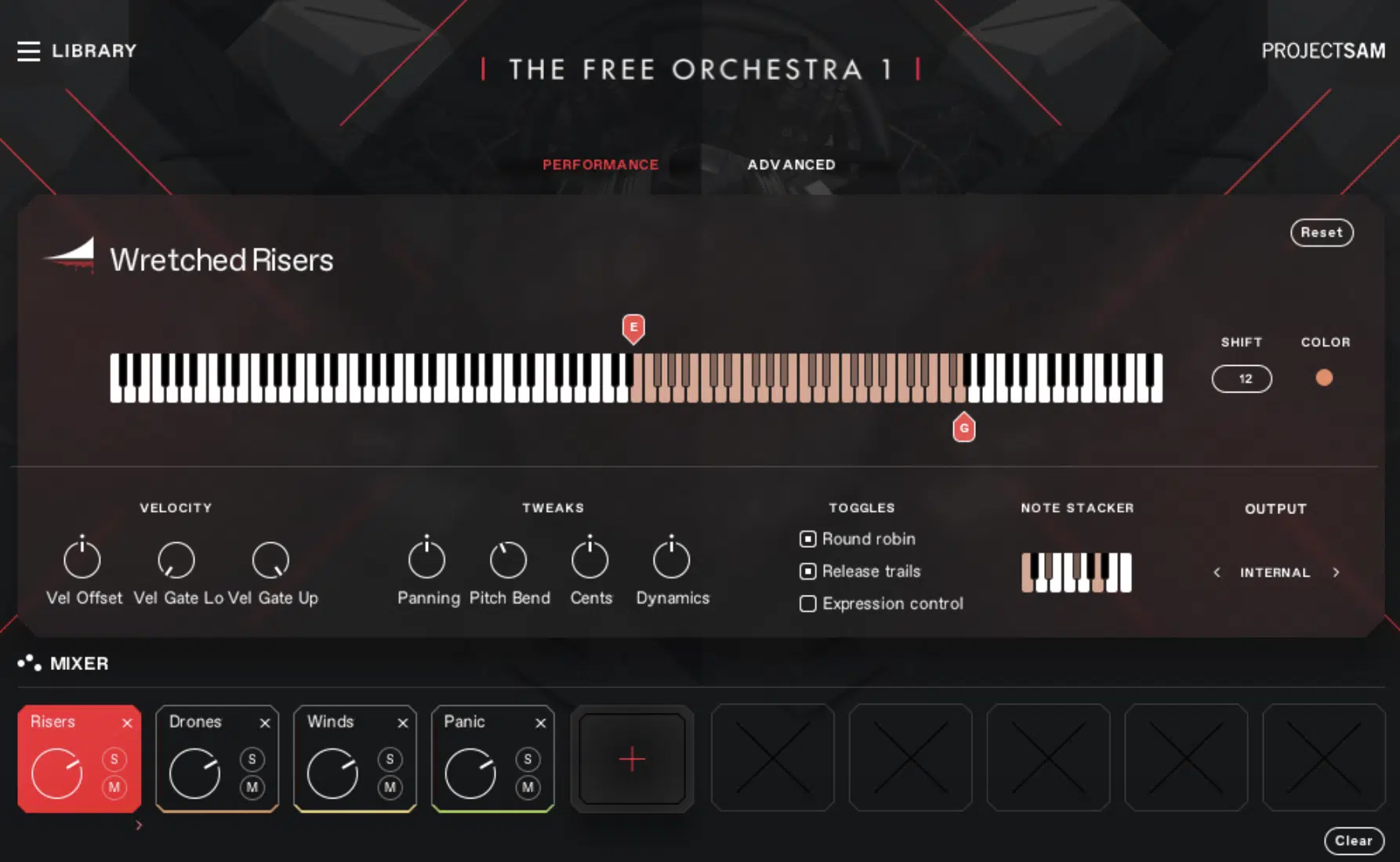 And if you're worried about compatibility, fret not…
Free Orchestra operates seamlessly with the free Kontakt Player, making it accessible to many musicians and composers. 
Unlike other free orchestral VSTs, it also offers a variety of "Multis," which arepresets that layer multiple instruments in musically inspiring ways.
This allows for a rich, complex sound that's surprisingly easy to achieve.
Key Features of this Free Orchestral VST Plugin: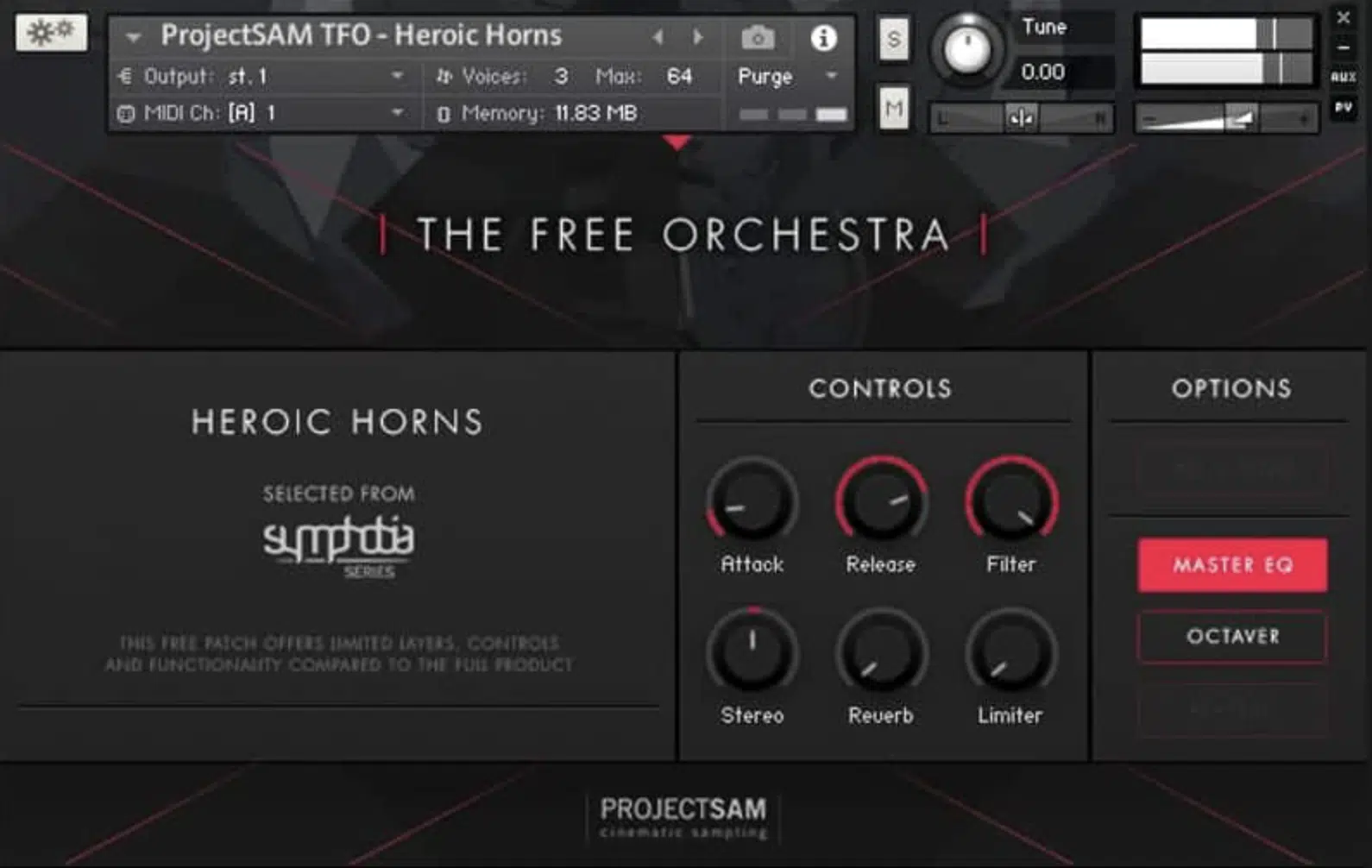 16 diverse cinematic instruments.

Includes free orchestral sounds from the acclaimed Symphobia series.

New interface with extensive instrument control options.

Works with the free Kontakt Player.

1.5 GB sample pool, recorded in a high-quality concert hall.

One of the best free orchestral VSTs of 2023, better than some paid orchestral plugins.
#10. One Track Orchestra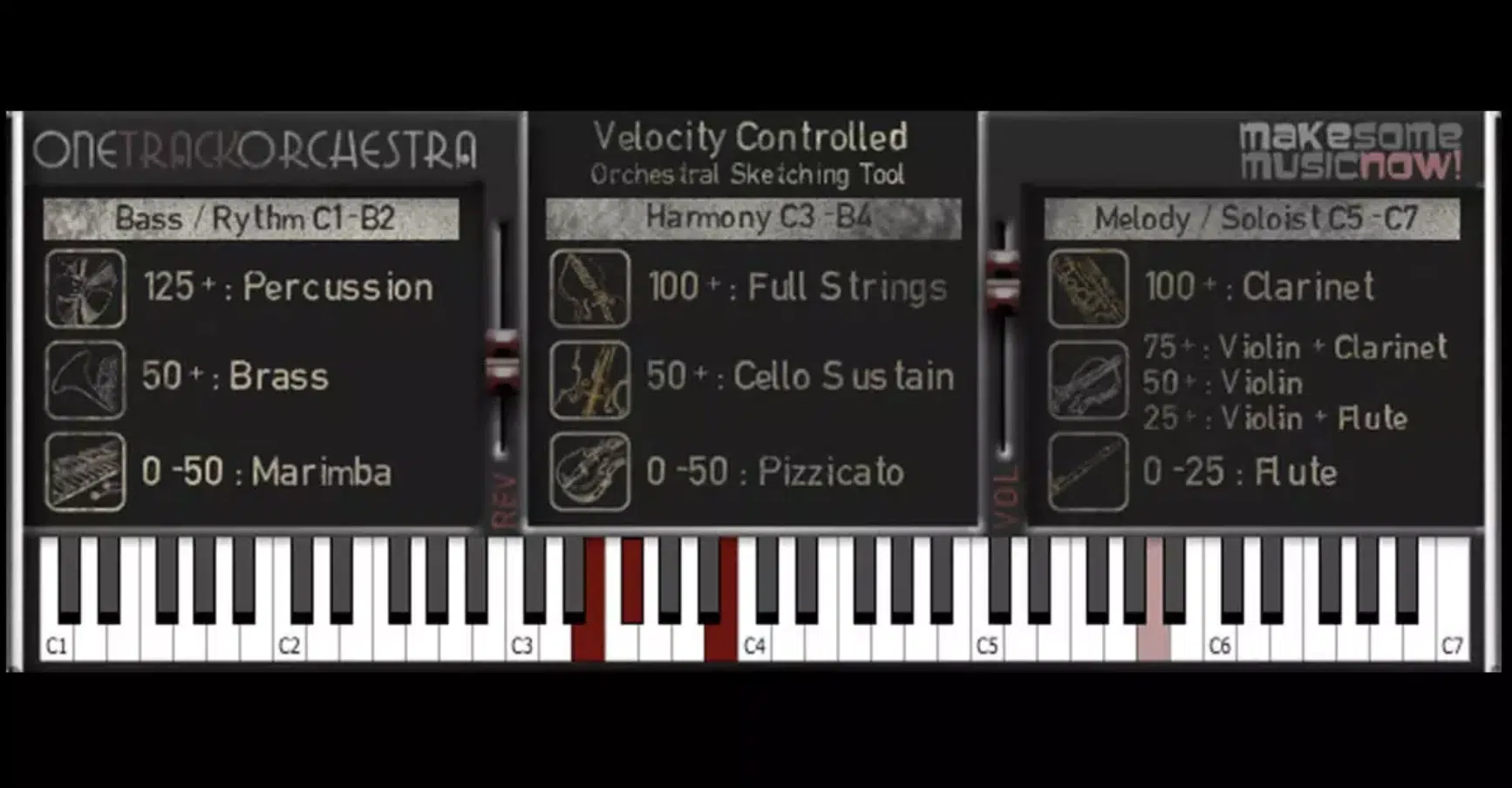 For composers and musicians who often need to sketch out ideas quickly, One Track Orchestra could be a game-changer.
This plugin is not designed to replace your full-fledged, high-end orchestral libraries.
One Track Orchestra is aimed at helping you draft and prototype your orchestral arrangements in the most efficient manner possible. 
It places an entire orchestra at your fingertips 一 all on a single track of your DAW.
Built by Luis Valoyes and based on the free collection of symphonic orchestral samples from the VSCO Community Edition, One Track Orchestra is user-friendly. 
The straightforward GUI presents you with just reverb and volume faders, which makes it perfect for those who don't want to get bogged down by endless settings and options.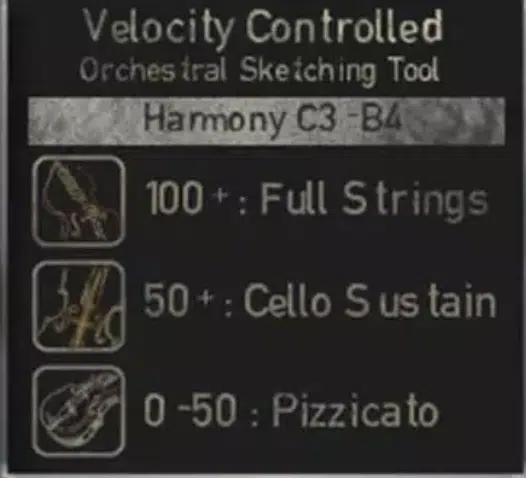 One Track Orchestra's sounds are mapped across different sections of your keyboard and are velocity-dependent.
This gives you a surprising amount of expression for a free tool designed for quick sketches compared to other free orchestral VSTs.
NOTE: The downside is platform compatibility: as of the last update, it's only available for Windows-based DAWs.
This is somewhat surprising given One Track Orchestra was created with Maize Sampler, which supports both PC and Mac. 
Despite this limitation, its simplicity and efficiency make it useful for rapidly sketching musical ideas.
Key Features of this Free Orchestral VST Plugin: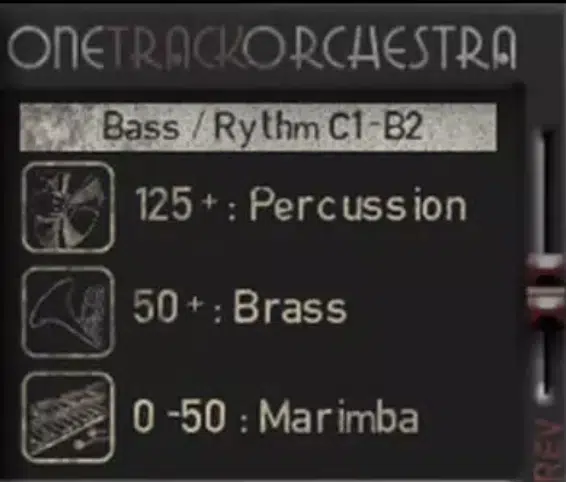 Designed for quick sketching and prototyping with a virtual playing orchestra.

Entire orchestra accessible on a single track in your DAW.

Simple user interface with only reverb and volume controls.

Velocity-dependent samples for some expressive freedom.

Windows-only compatibility.

One of the best free orchestral VSTs of 2023.
#11. Sonatina Symphonic Orchestra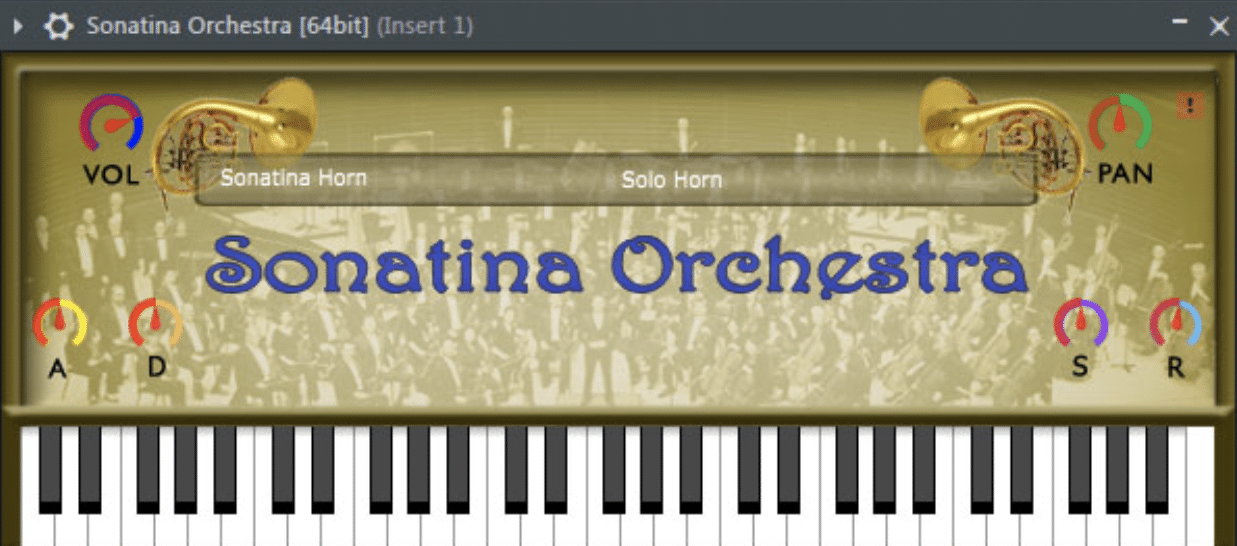 Sonatina Symphonic Orchestra (SSO) stands out as a compelling option when it comes to orchestral plugins that are both beginner-friendly and portable. 
While it might not match the complexity of some commercial offerings, it certainly offers a thorough foundational palette for authentic virtual orchestrations. 
Whether you're an amateur venturing into orchestral music or a seasoned composer needing a lightweight, quick-access orchestral tool, SSO has you covered.
The full orchestral sample library is a comprehensive affair that benefits all music producers.
It spans the gamut of orchestral instruments from strings and brass to woodwinds and percussion. 
Every patch seems meticulously sampled, capturing the essence of each instrument with a clarity that belies its "free" status.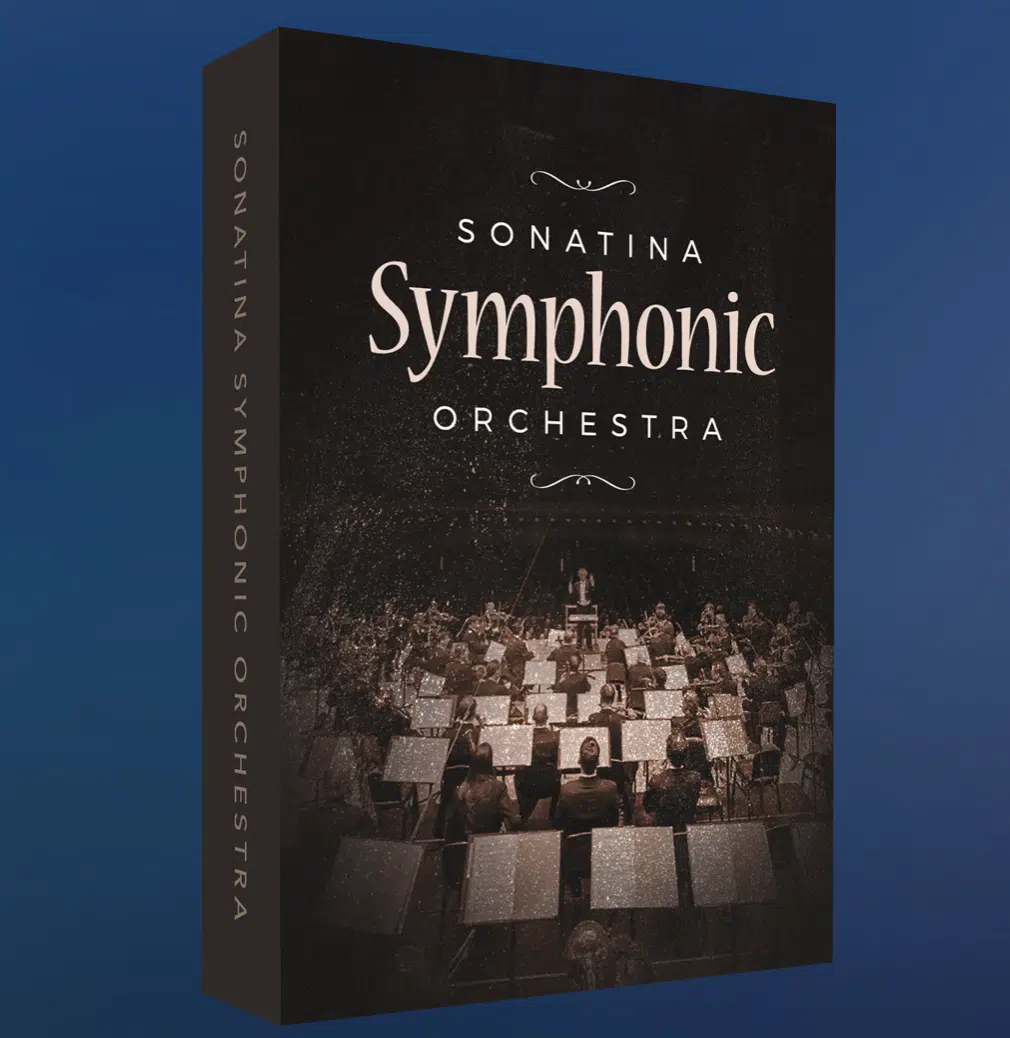 The stereo samples are recorded at 16-bit, 44kHz quality and offer decent spatial characteristics. 
Melodic instruments & chromatic percussion 一

Sampled in minor 3rds

The staccato & pizzicato patches 一

Feature 2x round-robin sampling. 
One noteworthy feature is the inclusion of variable amounts of stage ambience in the samples, tailored to each instrument's front-to-back placement in the virtual orchestral setting.
What sets Sonatina Symphonic Orchestra apart is its user-friendly design. 
It comes wrapped in its own simple VST plugin, requiring no additional software for operation. 
This makes it ideal for those who want to dive straight into composition without wrestling with complicated software setups. 
NOTE: The only major drawback is its availability only as a VST plugin, with no support for AU or AAX formats. 
However, for those working within a VST-compatible environment, Sonatina provides an ample range of orchestral tones and textures to explore.
Key Features of this Free Orchestral VST Plugin:

Comprehensive range of orchestral instruments.

Recorded in 16-bit, 44kHz stereo quality.

Virtual instruments and chromatic percussion instruments sampled in minor 3rds.

Staccato and pizzicato patches feature 2x round-robin sampling.

Comes with its own VST player; no additional software required.

Available only as a VST plugin (no AU or AAX support).

One of the best orchestral VSTs of 2023.
Free Orchestral VSTs: Final Thoughts
Orchestral sounds can elevate your music to a cinematic level, adding depth, richness, and emotional nuance that other instruments can't provide.
Whether you're a seasoned composer or a beginner looking to enrich your sonic palette, the impact of a well-placed string section or a heroic horn can be game-changing.
And now, with our comprehensive breakdown of the 11 best free orchestral VSTs of 2023, you have every tool you need to bring that grandiose, ethereal quality into your tracks.
All without breaking the bank.
But that's not all… To make your journey into orchestral music even more seamless, you need the Cinematic & Orchestral MIDI Chord Collection pack.
With this invaluable resource, you can eliminate years of music theory learning with ready-to-use chords and progressions and lay down an instant, perfect-sounding foundation to start/finish your tracks quickly.
With 1,800+ drag-and-drop MIDI files, you can instantly create pro-level cinematic and orchestral chords and progressions.
Your music will not only sound better, but you'll also find your workflow streamlined and your creative process unbounded.
So dive into this goldmine of free orchestral VST plugins and complement them with the Unison MIDI pack.
The world of cinematic, emotive music is now at your fingertips.
Until next time…