Music production is the process by which music is created, captured, manipulated, and executed so that it can be distributed and enjoyed.
And it has never been more accessible thanks to technological advancements.
While you can most certainly teach yourself 一 knowing the best music production schools can make a significant difference in your educational journey.
Plus, open doors to career opportunities that you might not even know exist.
That's why we're breaking down everything you need to know about the top music production schools (and alternative options).
This will include:
Music Production vs. Audio Engineering ✓
Online vs. Traditional Music Production Programs ✓
Networking in the Music Industry ✓
Essential Music Production Skills Needed ✓
Top Music Production Schools of 2023 ✓
Additional Resources in Music Production  ✓
By the end of this article, you will have a well-rounded understanding of what it takes to become a proficient music producer.
As well as be well-equipped with information about the best educational platforms, software, and networking communities.
This will ultimately help you rise to the top in the world of music production.
So, let's dive in to the best music production schools around…
Understanding Music Production Education
If you're serious about a career in music production, you'll need a combination of training, skills, and industry knowledge.
Let's first demystify some key aspects of music production education to set you on the right path.
Music Production vs. Audio Engineering

It's easy to conflate music production with audio engineering, but they serve different roles in the musical creation process.
Music production is about the overall creative direction and workflow.
Audio engineering, on the other hand, focuses on the technical aspects like recording, mixing, and mastering.
For instance, a music producer might work on structuring the song 一 deciding the instrumentation, and giving it an overall vibe.
An audio engineer, in contrast, could be in charge of:
Setting up microphones
Tweaking EQ settings
Ensuring the recorded tracks are crystal clear
Nowadays, many music production courses include aspects of audio engineering.
This blended approach enables students to be more versatile.
For example, a producer who understands audio engineering can communicate more efficiently with engineers, saving time and avoiding misunderstandings.
Having skills in both areas opens up diverse career paths.
You might start as a music producer and later find opportunities in sound design for films, simply because you understand audio engineering principles.
When choosing a music production school or course, look for a curriculum that offers a balanced education in both.
The best music production schools like Berklee College of Music and Full Sail University (which we'll talk about later) offer programs that touch on both these aspects.
Online Courses vs. Traditional Programs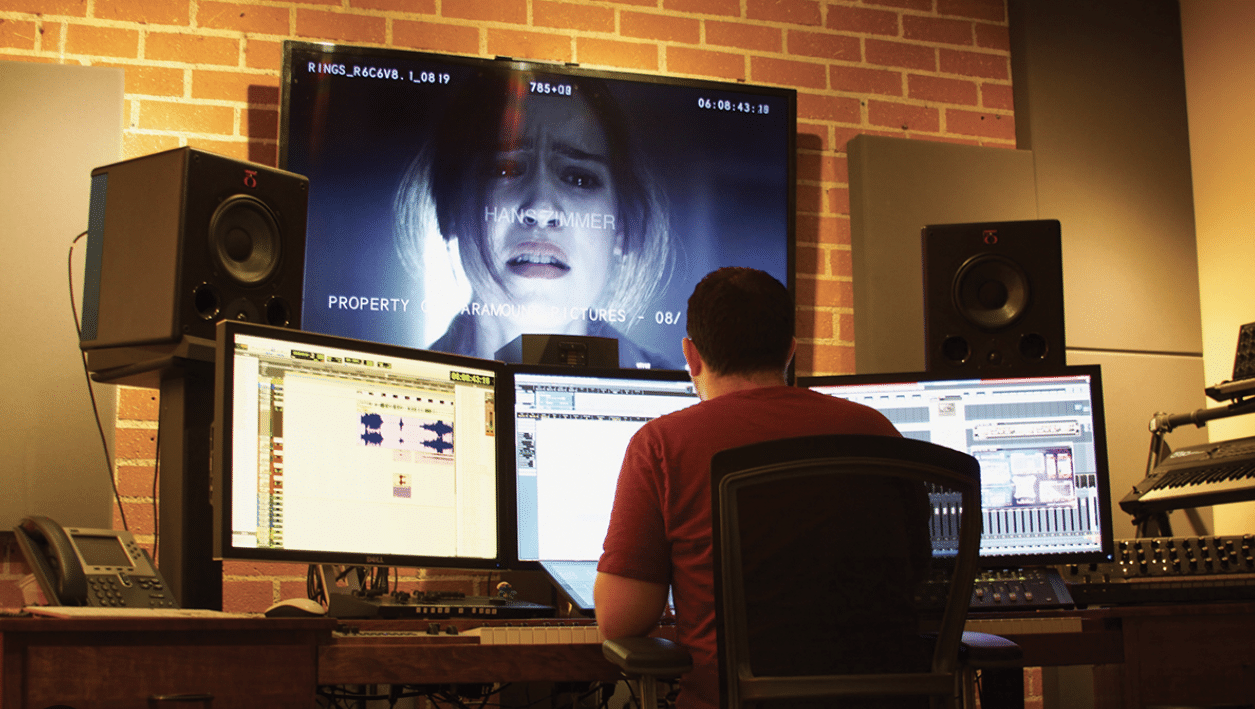 Online courses offer flexibility, are usually less expensive, and fantastic if you're a self-starter.
Websites like MasterClass and Skillshare offer courses from renowned producers like Timbaland and Deadmau5.
However, you may lack the hands-on experience that traditional settings tend to offer.
These often provide more structured learning and hands-on experience.
Schools like NYU Steinhardt offer access to state-of-the-art studios and often include internship opportunities.
Traditional programs usually allow better networking opportunities.
Meeting professors and peers in person can create more substantial relationships than online interactions.
Some of the best music production schools offer hybrid programs.
For instance, SAE Institute provides a mixture of online Music Theory lessons and practical studio sessions 一 giving music students the best of both worlds.
If you're balancing a job while pursuing education, online might be better.
But if you're looking for a deep, immersive experience, consider traditional programs.
Importance of Networking in the Music Industry
The old saying "It's not what you know, it's who you know" holds a significant amount of truth in the music industry.
Networking can often make or break your career in music production.
Music production schools with good music industry connections can be an invaluable resource.
The Frost School of Music, for instance, often has masterclasses by industry professionals 一 providing opportunities for students to network.
The best music production schools with a large and successful alumni network can also provide networking opportunities.
For instance, ICON Collective has a strong alumni network that includes notables in the electronic music industry.
NOTE: Networking isn't just about face-to-face interactions.
Maintaining a strong online presence through platforms like LinkedIn and Instagram can also attract opportunities.
Many music production schools also participate in or host events like music festivals, tech expos, or industry talks.
These events offer excellent platforms for networking.
Skills Every Digital Music Producer Needs
Understanding what educational paths to take is one thing, but what about the skills you'll need to cultivate?
Here's a closer look at what you should focus on…
Digital Audio Workstation Proficiency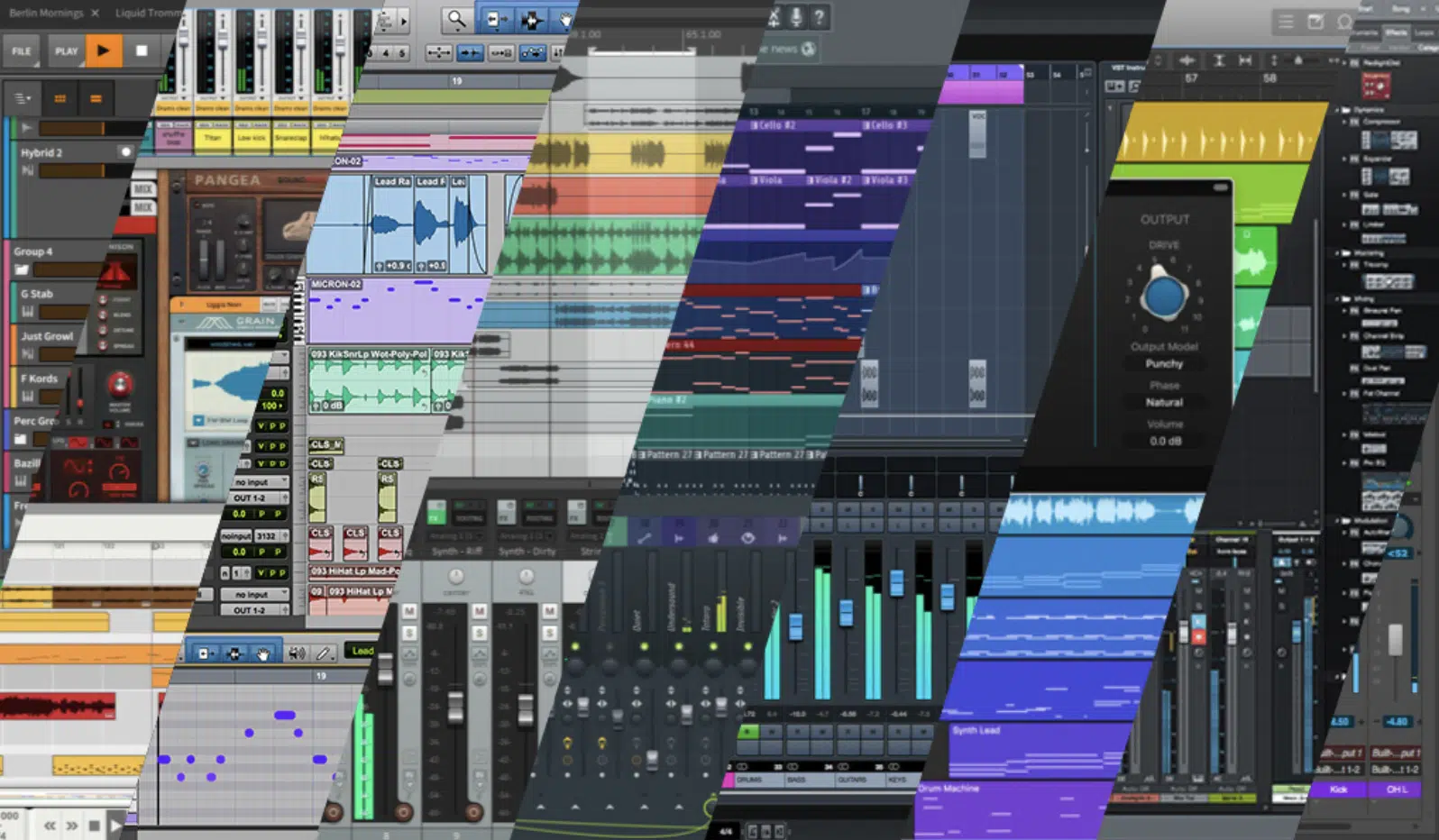 The Digital Audio Workstation (DAW) is the canvas for any digital music producer.
Knowing your way around your DAW is crucial for effectively translating your musical ideas into a final product, whether it's Ableton Live, FL Studio, Reaper, or Logic Pro X.
Start by mastering the basic functionalities like:
Sequencing
MIDI programming
Basic mixing
As you progress, delve into advanced features like automation, side-chaining, and mastering.
The best music production schools like Berklee offer courses specifically focused on mastering various DAWs.
Berklee's Electronic Production program, for example, has in-depth courses in Ableton Live.
Knowing your DAW inside out isn't just for making music…
It's also invaluable for live performances.
DJs and electronic musicians like Madeon and Porter Robinson use Ableton Live not just for production but also to perform live shows.
Beyond the DAW itself, understanding how to use plugins effectively can significantly broaden your sound palette.
For example, Serum is a powerful plugin for sound design 一 used widely in electronic music production.
Music Theory and Composition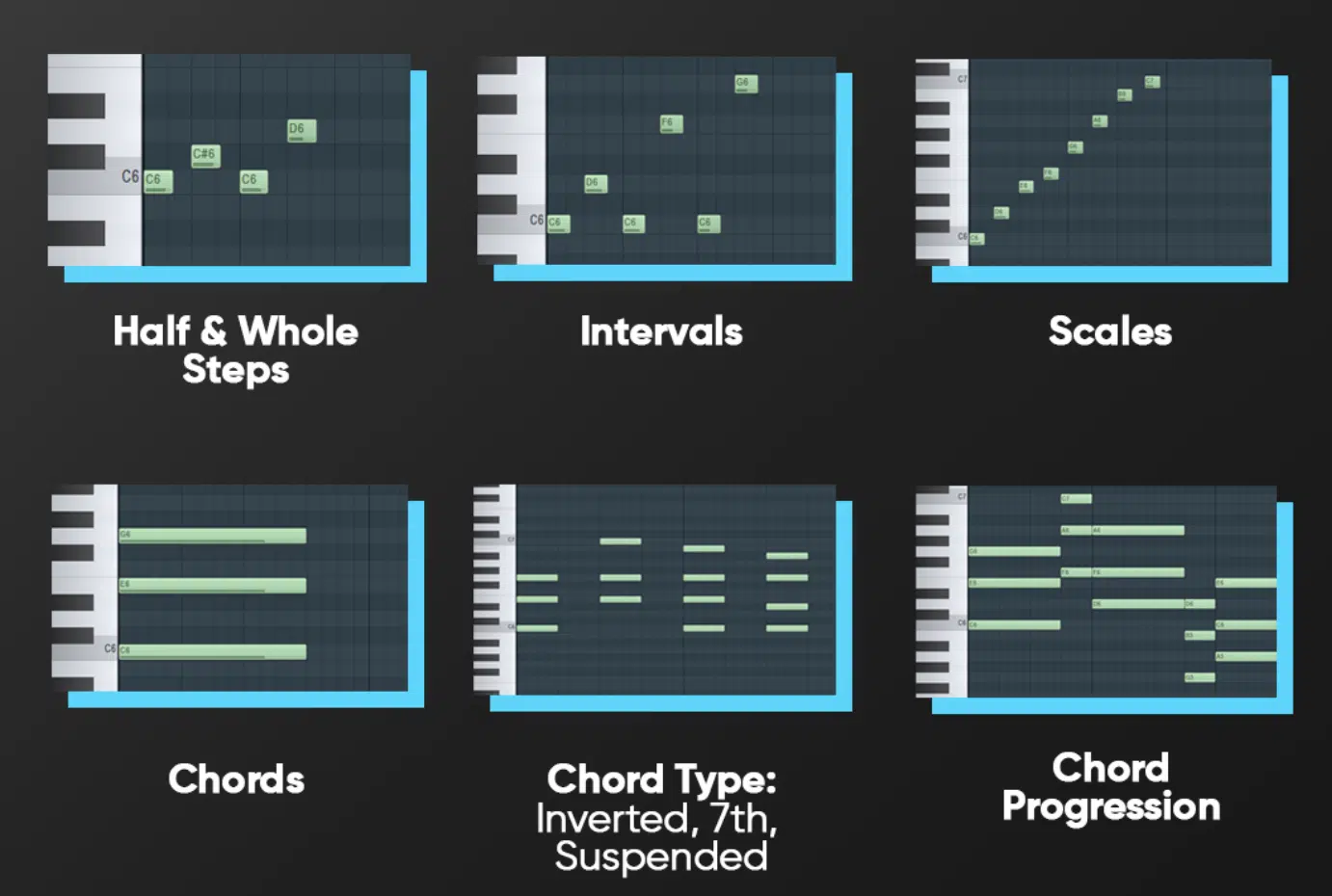 Music Theory provides the building blocks for your musical creations.
From composing melodies and harmonies to understanding song structures, a solid grasp of music theory is key to being a competent producer.
The best music production schools like Frost and Berklee offer robust music theory courses.
Frost's Bruce Hornsby Creative American Music Program is a great example.
Successful producers like Max Martin and Dr. Dre have a solid foundation in music theory.
Martin's understanding of pop music structures has made him one of the most successful producers in history.
Dr. Dre's grasp of rhythm and melody, on the other hand, has shaped decades of hip-hop music.
Softwares like Hooktheory can help you understand music theory by showing the chord progressions behind thousands of hit songs.
Understanding music theory can make you versatile across genres.
For instance, Skrillex's background in post-hardcore music informs his electronic compositions 一 lending a unique style that's instantly recognizable.
Sound Engineering and Audio Technology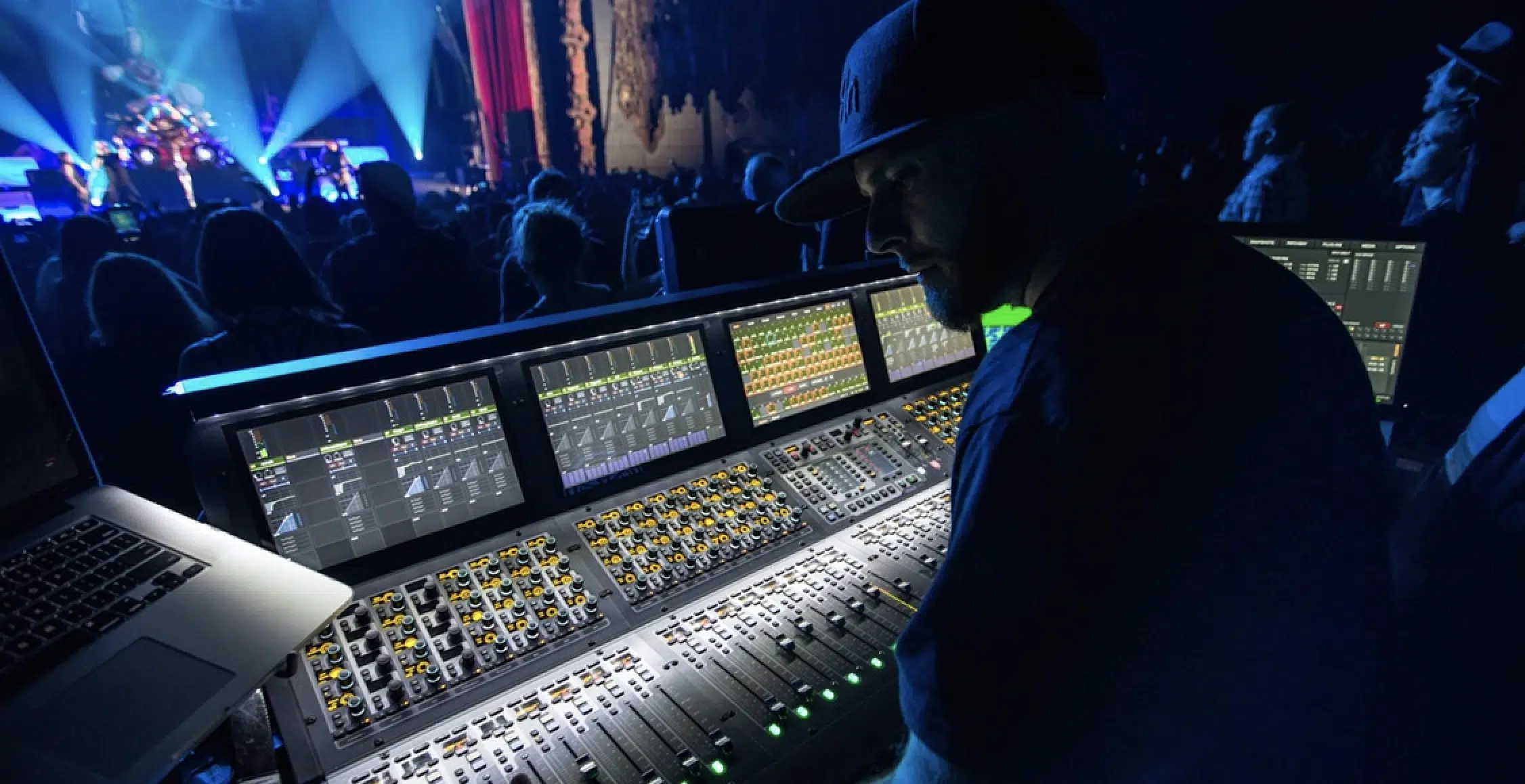 Sound engineering skills enable you to capture and manipulate sounds to create a polished final product.
It's especially important for producers who record live instruments.
This includes understanding:
For example, knowing when to use a dynamic vs a condenser microphone can have a significant impact on the recording quality of different instruments.
Programs like Drexel University's Music Industry program include sound engineering as part of their curriculum.
They offer hands-on training in their professional recording studios.
Tools like iZotope's Ozone can help with mastering 一 while Waves offers a comprehensive suite of mixing plugins.
Sound engineering is not just applicable to music production.
These skills are highly transferable and can be used in various settings like broadcasting, live sound, and even video game audio design.
For instance, Drexel's Music Industry program equips students to work in various audio-related fields beyond just music production.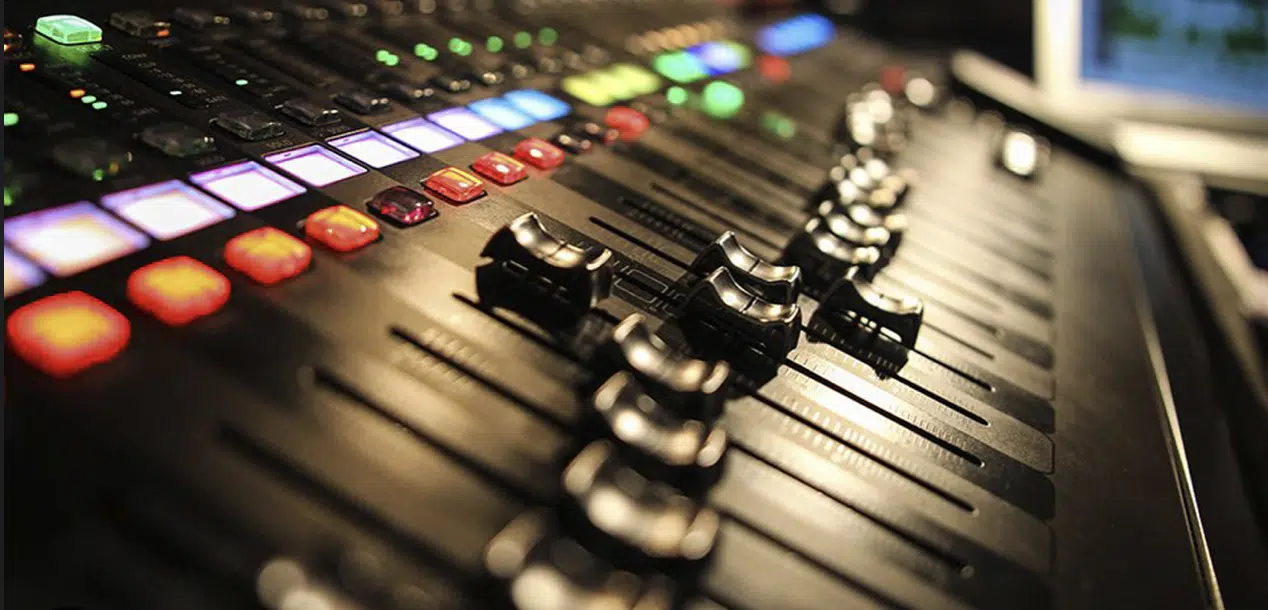 Sound design involves creating new sounds from scratch or manipulating existing ones.
It's an essential skill for music producers, especially in genres like electronic music, film scoring, and game audio.
Two primary techniques in sound design are synthesis and sampling.
Synthesis 一 Involves creating sounds using synthesizers.
Sampling 一 Involves using pre-recorded sounds as a starting point.
Berklee's Electronic Production program covers sound design extensively, with classes on both synthesis and sampling techniques.
Popular software for sound design includes Native Instruments' Kontakt for sampling and Xfer Records' Serum for synthesis.
A sound designer can work in a variety of industries.
For example, Brian Eno, renowned for his ambient music, has also done sound design for airports and other public spaces.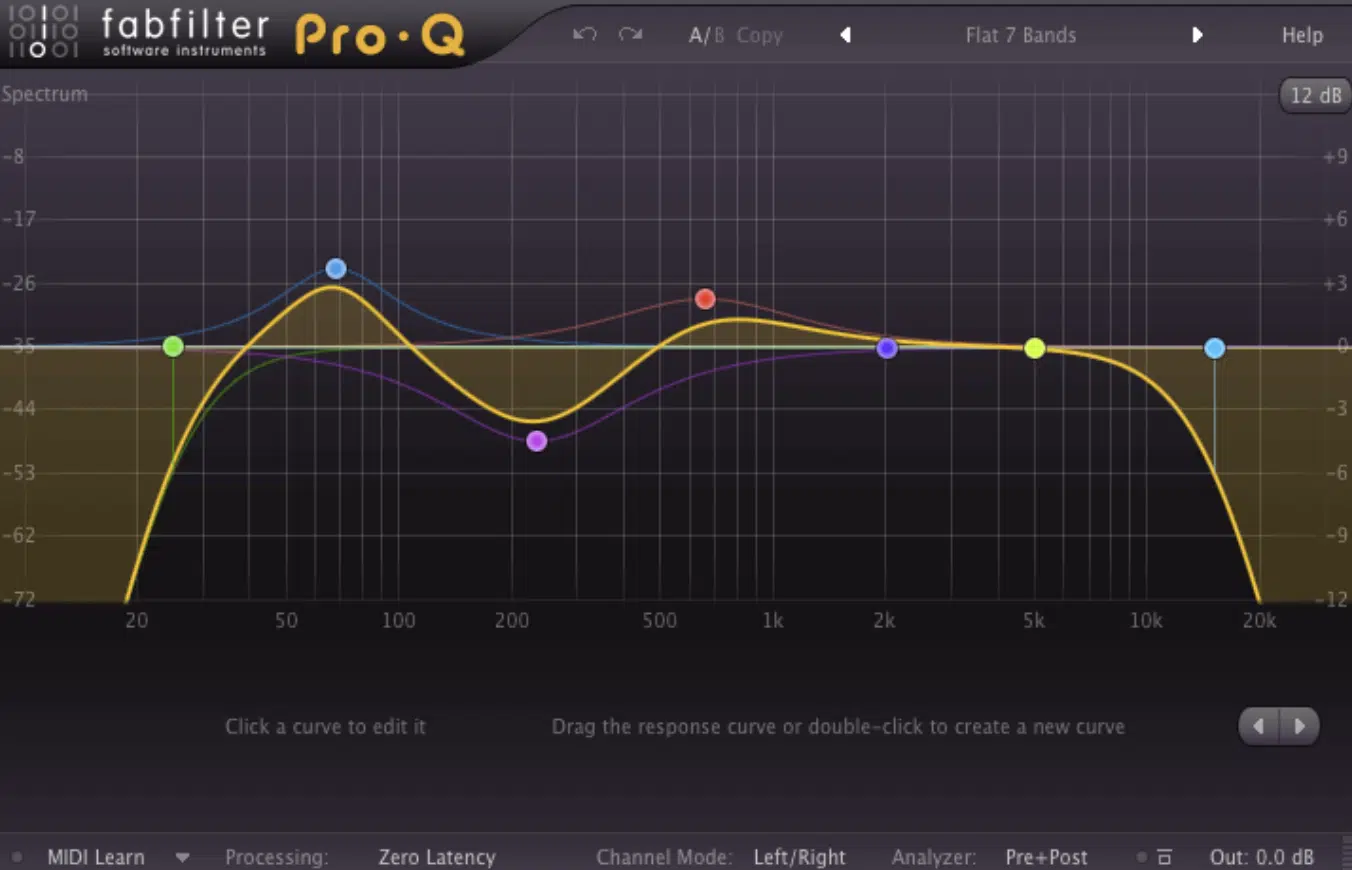 Understanding audio effects is crucial for adding depth and character to your music.
This includes effects like:
From simple ones like EQ and compression to more complex ones like granular synthesis and multiband distortion, knowing when and how to use these effects is key.
The best music production schools like NYU Steinhardt offer specialized courses in audio effects as part of their music technology program.
Companies like Waves, FabFilter, and Soundtoys offer a range of effects plugins widely used in the industry.
Understanding audio effects is not just for studio work…
Many music producers use these effects creatively in live settings.
For example, music artists like Daft Punk and Justice have made live manipulation of audio effects a cornerstone of every music performance.
The 10 Best Music Production Schools of 2023
Now that we've discussed the skills you'll need, let's look at where you can acquire them.
Here are the 10 best music production schools of 2023 that offer a mix of traditional and modern educational approaches.
This way, you can acquire a music production degree with confidence.
#1. Berklee College of Music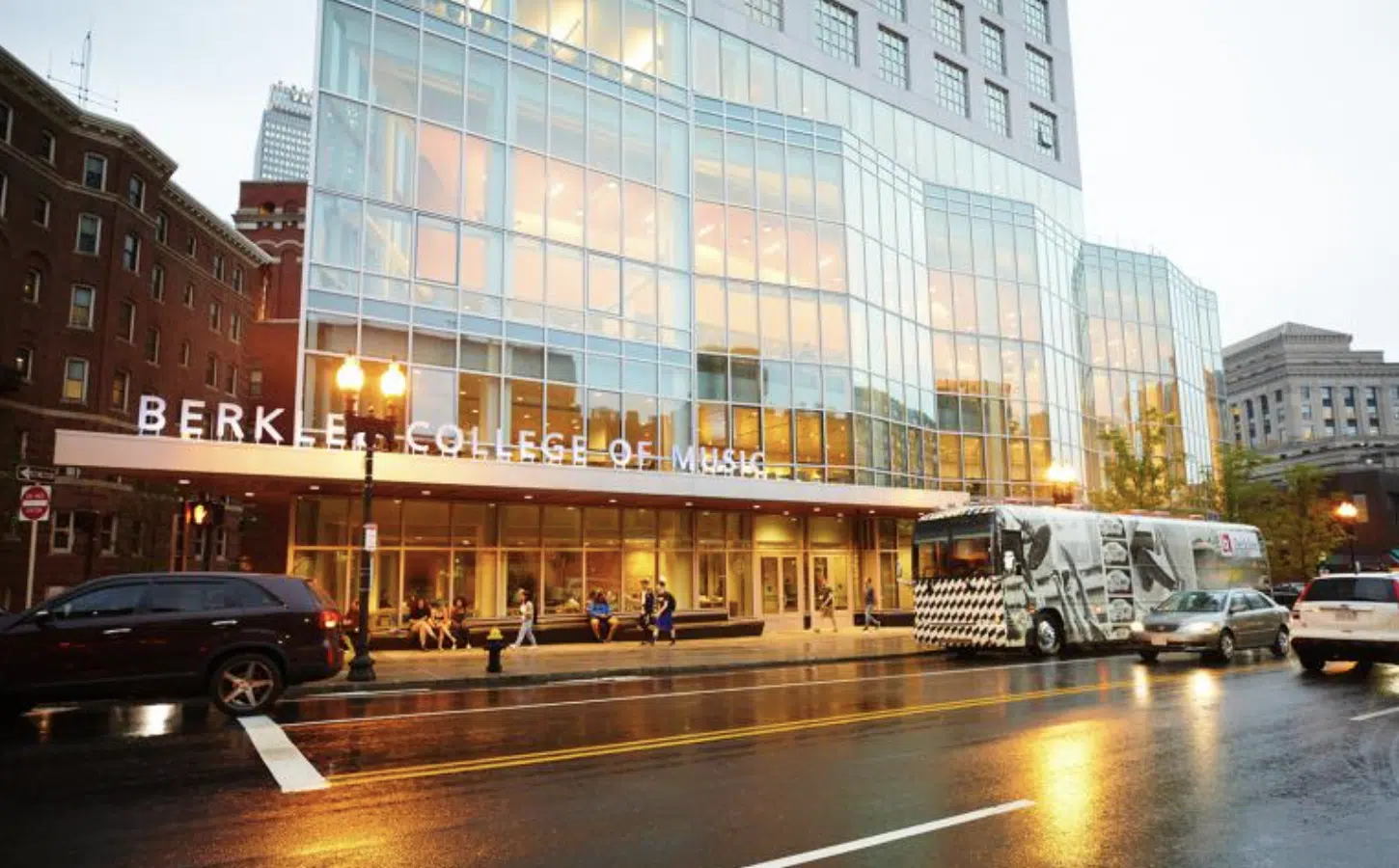 Berklee College of Music is a world-renowned institution located in Boston.
It's hands down on of the best music production schools in the country, especially for music producers.
Known for producing alumni (like John Mayer and Quincy Jones), it offers one of the most comprehensive music production programs.
The program covers everything from music theory and DAW proficiency to advanced audio engineering and sound design.
NOTE: Berklee also has partnerships with companies like Ableton to provide students with the latest software and technology.
Berklee offers an environment that fosters creativity and innovation, with state-of-the-art:
Professional recording studios
Digital labs
Musical instruments
Berklee College of Music offers various opportunities for networking 一 including industry events, masterclasses, and its massive alumni network.
Admission is highly competitive, requiring auditions and interviews, alongside standard educational transcripts.
So, if you're looking to enroll, you'll need to build a super professional portfolio.
#2. Frost School of Music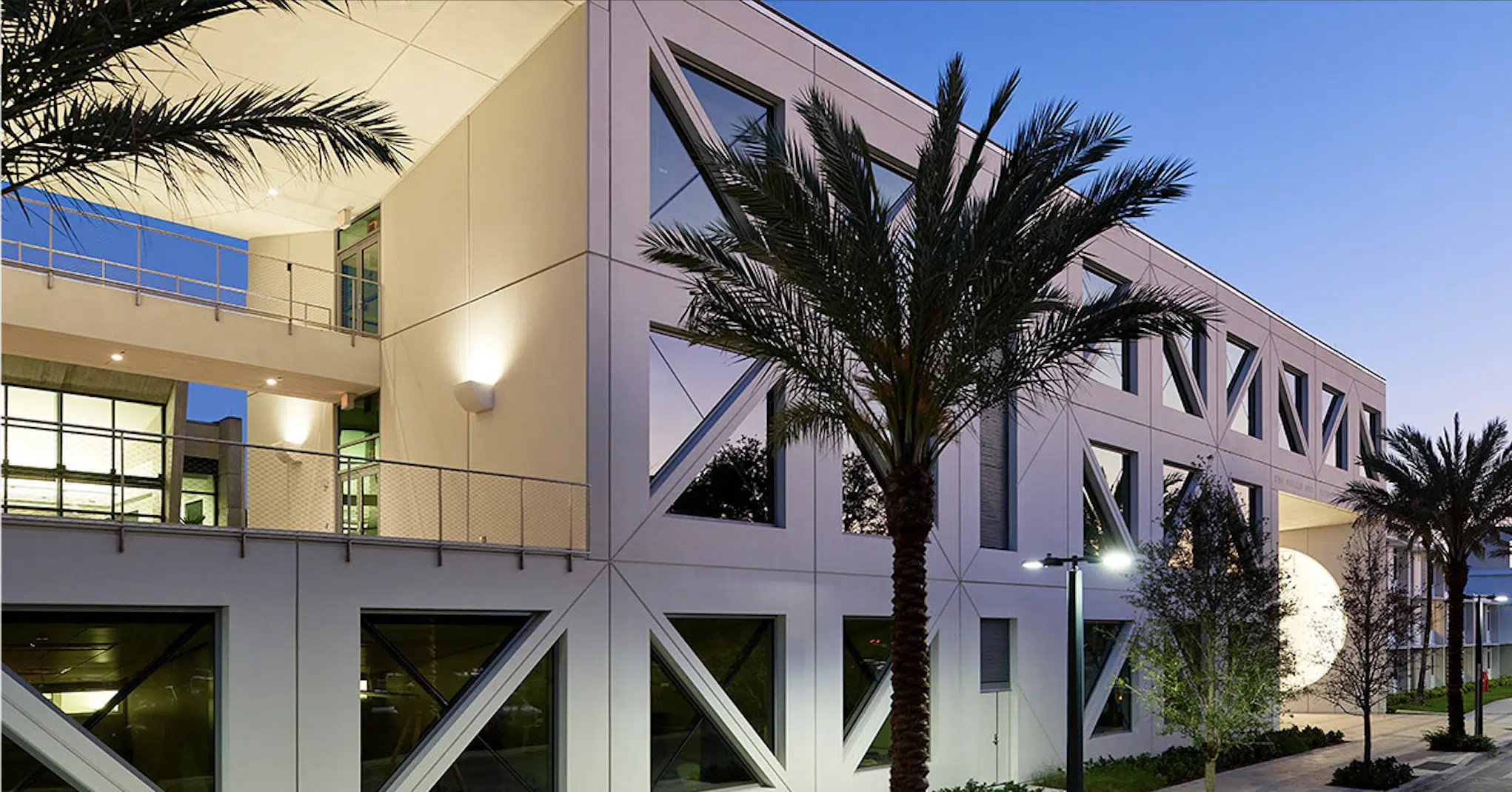 Located at the University of Miami, the Frost School of Music is known for its Bruce Hornsby Creative American Music Program.
This program offers an interdisciplinary approach to all things music production.
The Frost School of Music provides a balanced education, covering:
Traditional music theory
Advanced audio production
Courses include everything from songwriting to advanced DAW training.
The Music Frost School also boasts professional-grade recording studios, practice rooms, and cutting-edge digital audio workstations.
Regular masterclasses and industry events provide students with opportunities to interact with professionals and alumni in the music industry.
Besides educational qualifications, Frost also requires auditions for most of its music programs, which most music producers are equipped for.
#3. Full Sail University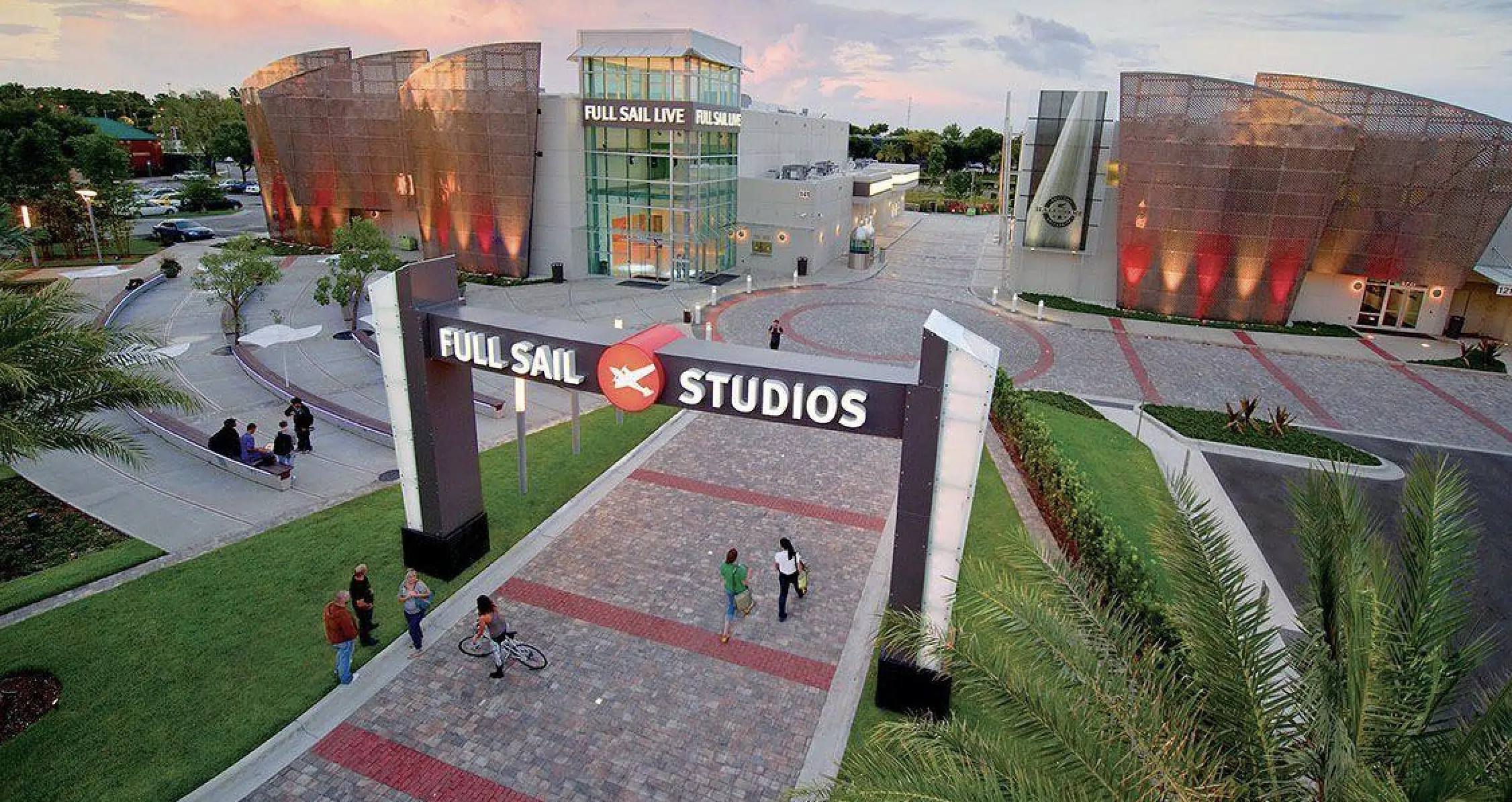 Located in Winter Park, Florida, Full Sail University is known for its real-world approach to creative education.
This is particularly true in fields like:
Producing music
The film industry
Digital art
Electrical and computer engineering
Game audio production
Full Sail's Music Production Bachelor's Degree specifically focuses on the production side of music 一 including mixing, mastering, and recording.
The campus houses professional-grade recording studios, fully equipped with industry-standard software and hardware.
This music production program frequently hosts workshops, seminars, and guest lectures by industry professionals.
This provides an excellent networking opportunities for students.
The admission process is relatively straightforward, involving an interview and a tour, making it accessible for music students at different levels of expertise.
Whether you're into contemporary music or trap music, Full Sail University is one of the best music production schools of 2023.
NOTE: All of the best music production schools always require dedication, so make sure to bring your A-game.
#4. SAE Institute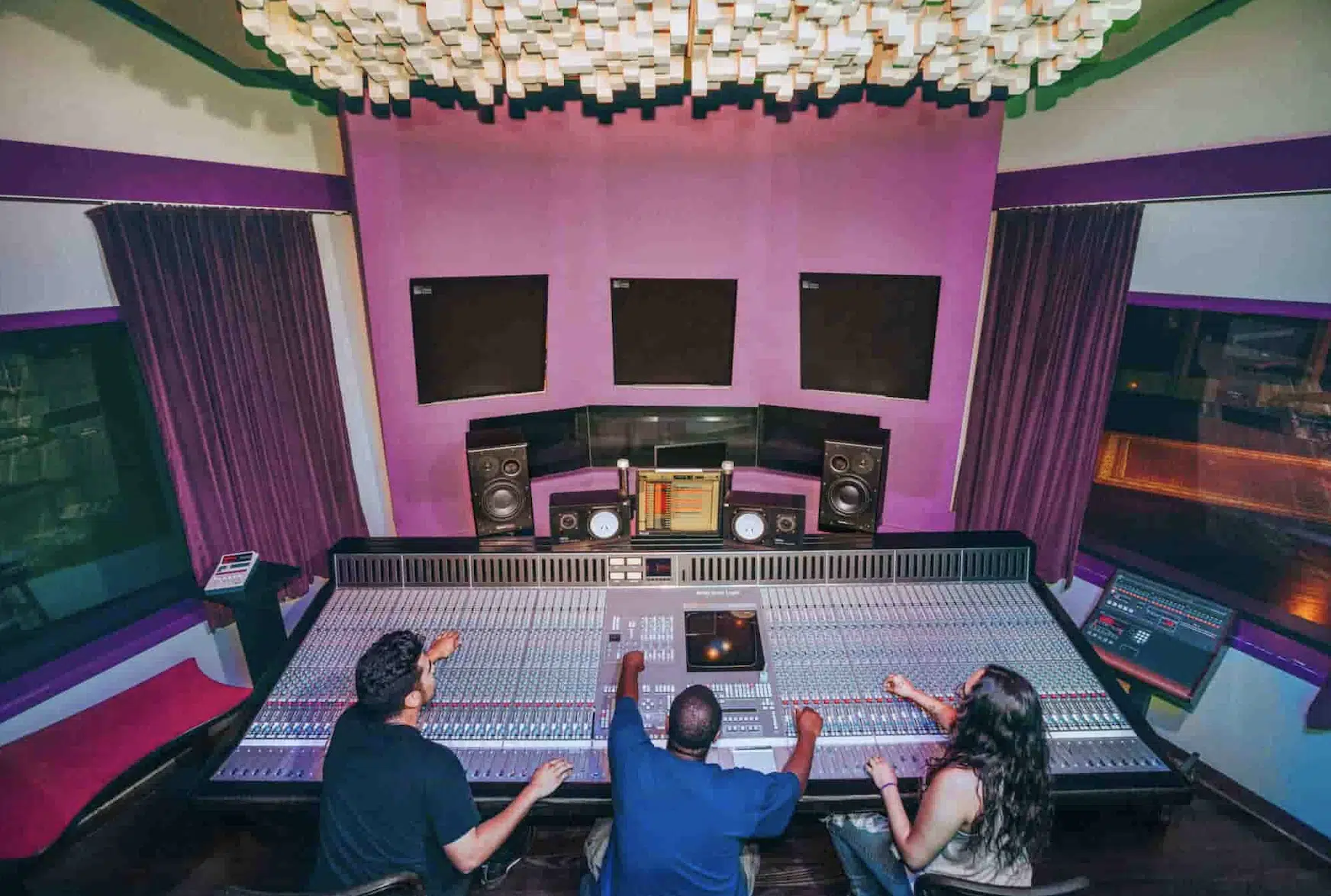 With campuses worldwide, SAE Institute (one of the best music production schools of 2023) offers specialized 2-year programs in music production.
The curriculum covers a wide range of topics such as:
Audio Engineering
Digital Audio Workstations
Live sound
Even the business side of music production
SAE Institute boasts state-of-the-art facilities including top-of-the-line recording studios and digital labs.
It's great for electronic music production, hip-hop production, and everything in between.
Given its global presence, students have the opportunity to network with an international community of musicians, producers, and experts in the music business, music technology, and music composition.
Generally, SAE looks for a strong foundational knowledge in music and an interview may be required.
So, before applying just make sure to brush up on everything and learn as much as possible.
#5. NYU Steinhardt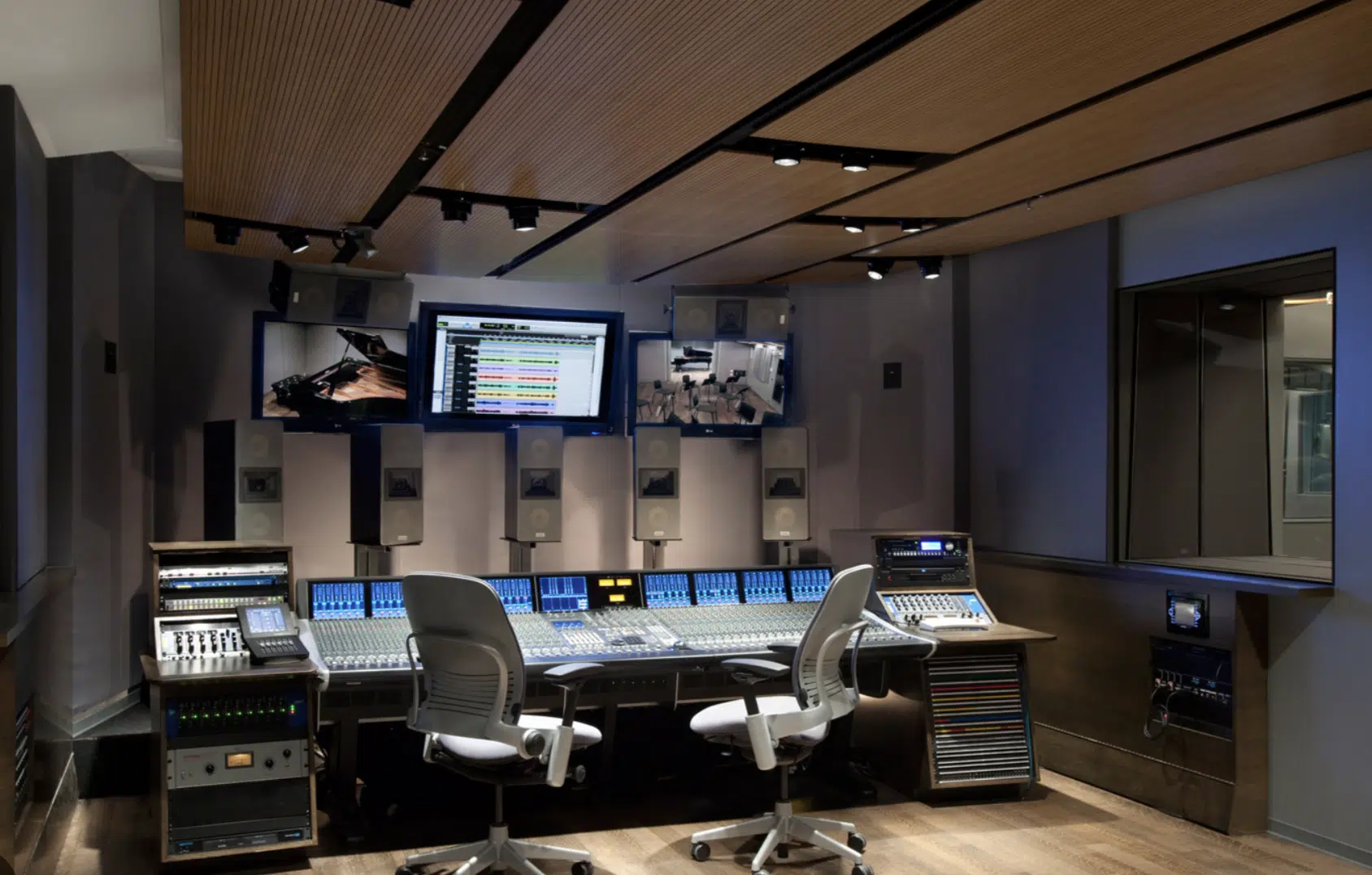 Situated in the heart of New York City, NYU Steinhardt offers Music Technology programs, which are deeply integrated with the city's music scene.
Alongside technical skills, this music production school places strong emphasis on:
Music theory
Music history
The cultural context of music production
The program provides access to high-end recording studios and advanced software, allowing for an immersive educational experience.
Proximity to the thriving NYC music industry provides unrivaled opportunities for internships and networking.
The application is fairly rigorous 一 often requiring a portfolio and an audition, along with academic transcripts.
Make sure to have all your ducks in a row before applying.
#6. Musicians Institute
Located in Hollywood, California, the Musicians Institute offers a plethora of music-centric programs, including its acclaimed Music Production Program.
It's situated in the entertainment capital 一 providing students/music producers with real-world exposure right at their doorstep.
The curriculum is intensive, with hands-on courses in:
Audio engineering
Digital Audio Workstations
Even the business aspects of music production
This music production school also offers unique classes like "The Art of Beat Making."
Which, as the name suggest, breaks down how to create, editing, and manipulate beats in all genres.
The campus includes multiple recording studios featuring SSL consoles, post-production labs, and a 1500-square-foot live recording room.
This gives students a real-world studio experience (very beneficial).
Given its Hollywood location, students have unparalleled opportunities for internships and jobs, including live events and studio sessions.
Auditions are an essential part of the admission process, with focus on both technical skills and creative aptitude.
#7. Drexel University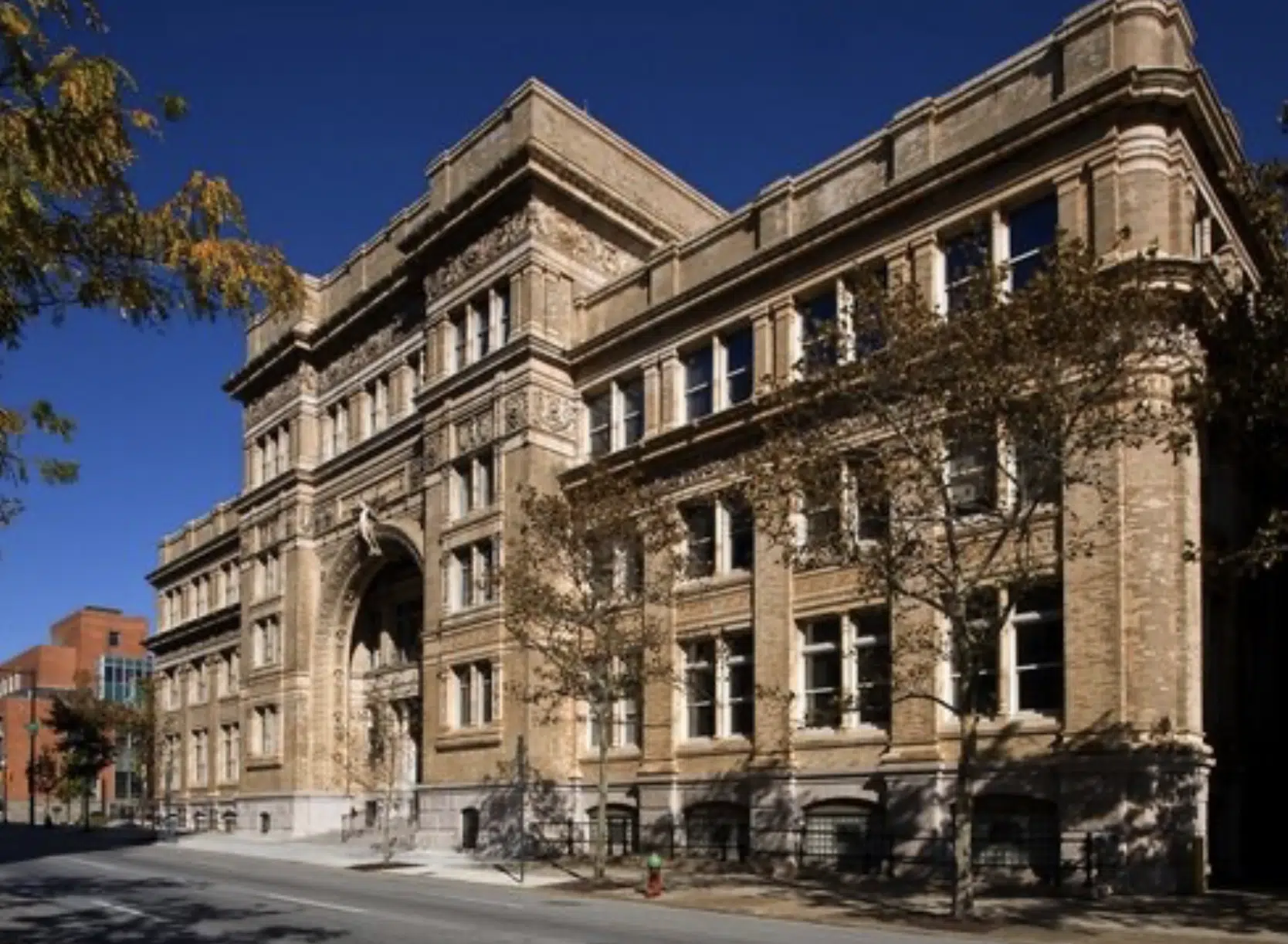 Situated in Philadelphia, Drexel University offers both a Bachelor's and a Master's degree.
It has gained recognition amongst music producers for balancing traditional education with practical application.
The program goes beyond music production to include:
Event management
Music law, music technology, and music composition
Entrepreneurship
Numerous modern recording environments
Drexel offers a variety of recording studios, live rooms, and post-production suites 一 each outfitted with industry-standard hardware and software.
This music school also has a co-op program, where students gain six months of full-time employment experience, often in music studios or event companies.
Along with the standard academic requirements, prospective students must submit a portfolio demonstrating their abilities in computer music.
It's very similar to what is required of the other music production schools mentioned.
#8. American University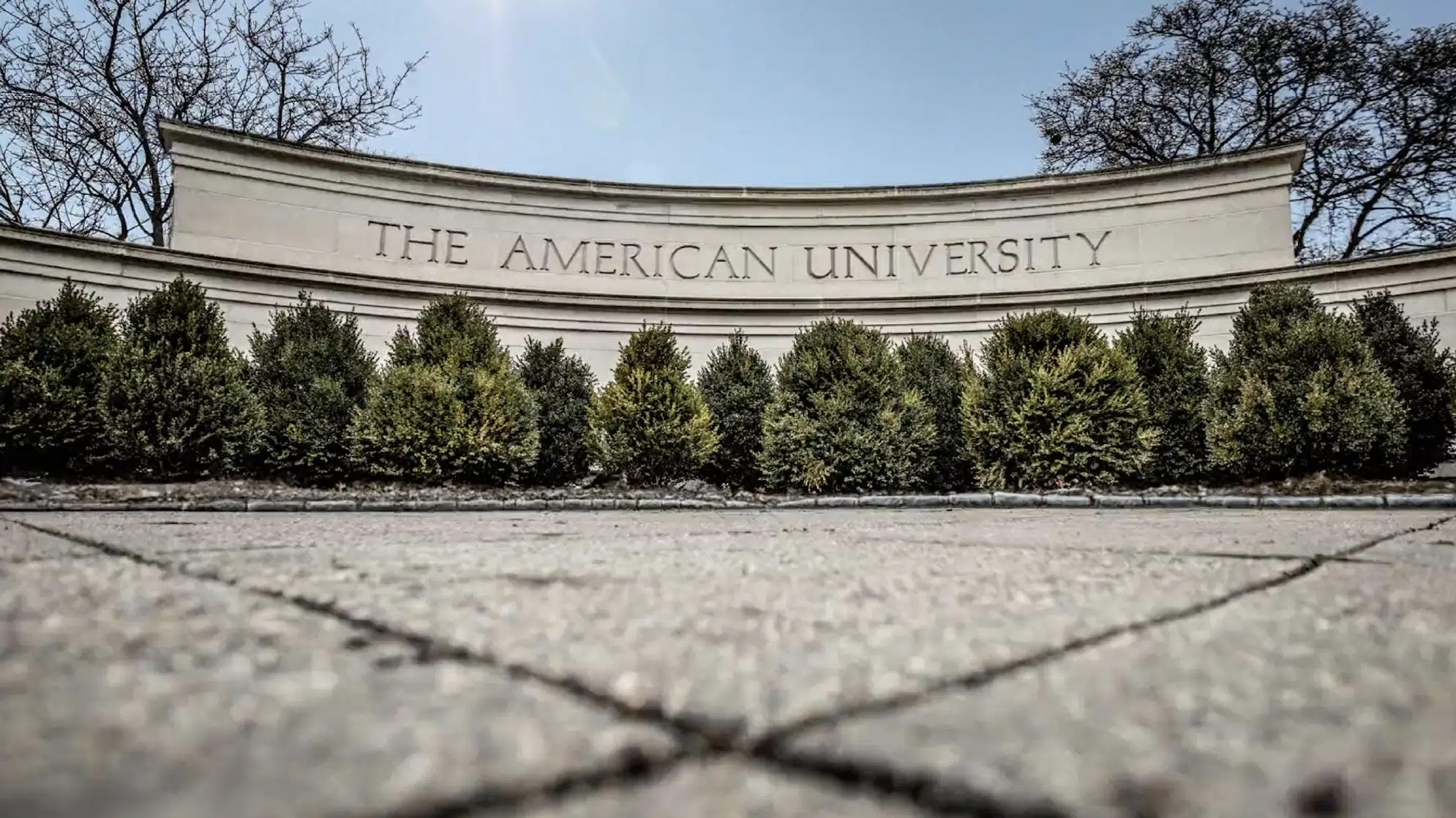 Located in Washington D.C., American University's Audio Technology program is known for its rigorous academic approach in audio production.
With a particularly strong grounding in the sciences related to sound, this music school is a gem.
This music production program covers courses in:
Acoustics
Psychoacoustics
Electrical circuits
Standard music production courses
Computer music systems
The American University has multiple on-campus studios and labs.
As well as state-of-the-art hardware and software.
American University often hosts panel discussions and workshops featuring leading professionals in the music and audio industry.
Admission is based on academic history, and a portfolio or audition is highly recommended.
Most of the best music production schools often require a portfolio or audition of some sort, so make sure to have an extensive rundown ready.
#9. UMass Lowell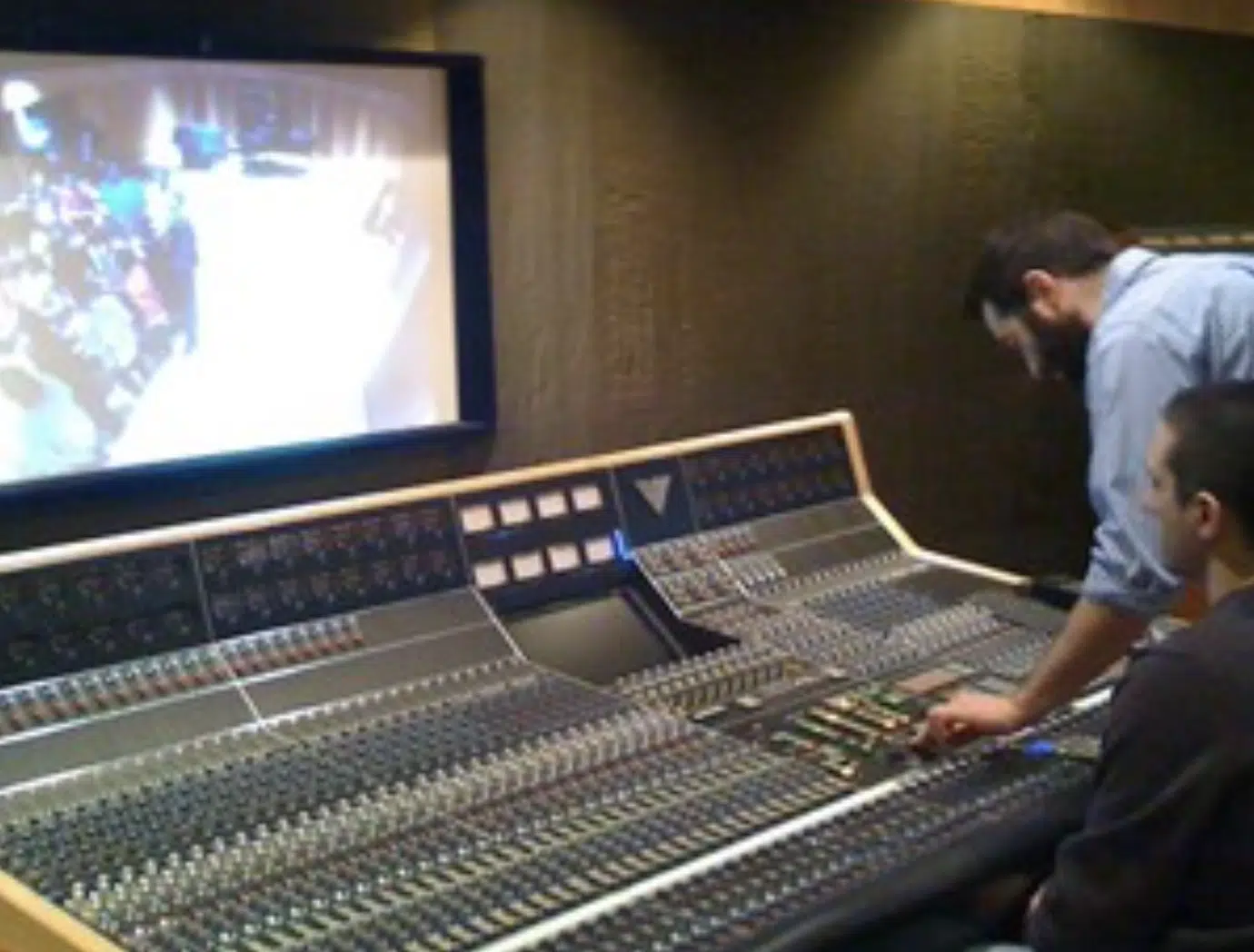 Based in Massachusetts, UMass Lowell's Sound Recording Technology (SRT) program is one of the oldest and most respected in the country.
The SRT music production program is a blend of electrical engineering and music courses.
It offers students a well-rounded education in audio and music production.
Their studios, unlike some other of the best music production schools, feature classic analog consoles and the latest digital audio workstations.
Students also have access to the university's electroacoustic lab.
Being in the vicinity of Boston provides various opportunities for internships and jobs in the vibrant local music scene.
Along with academic qualifications, a music audition is required for admission.
If you're planning on studying music production or acquiring your music and technology bachelor, this is a great music production school to consider.
It's an excellent music production school all around, honestly, and has spawned a great many successful music producer(s).
#10. ICON Collective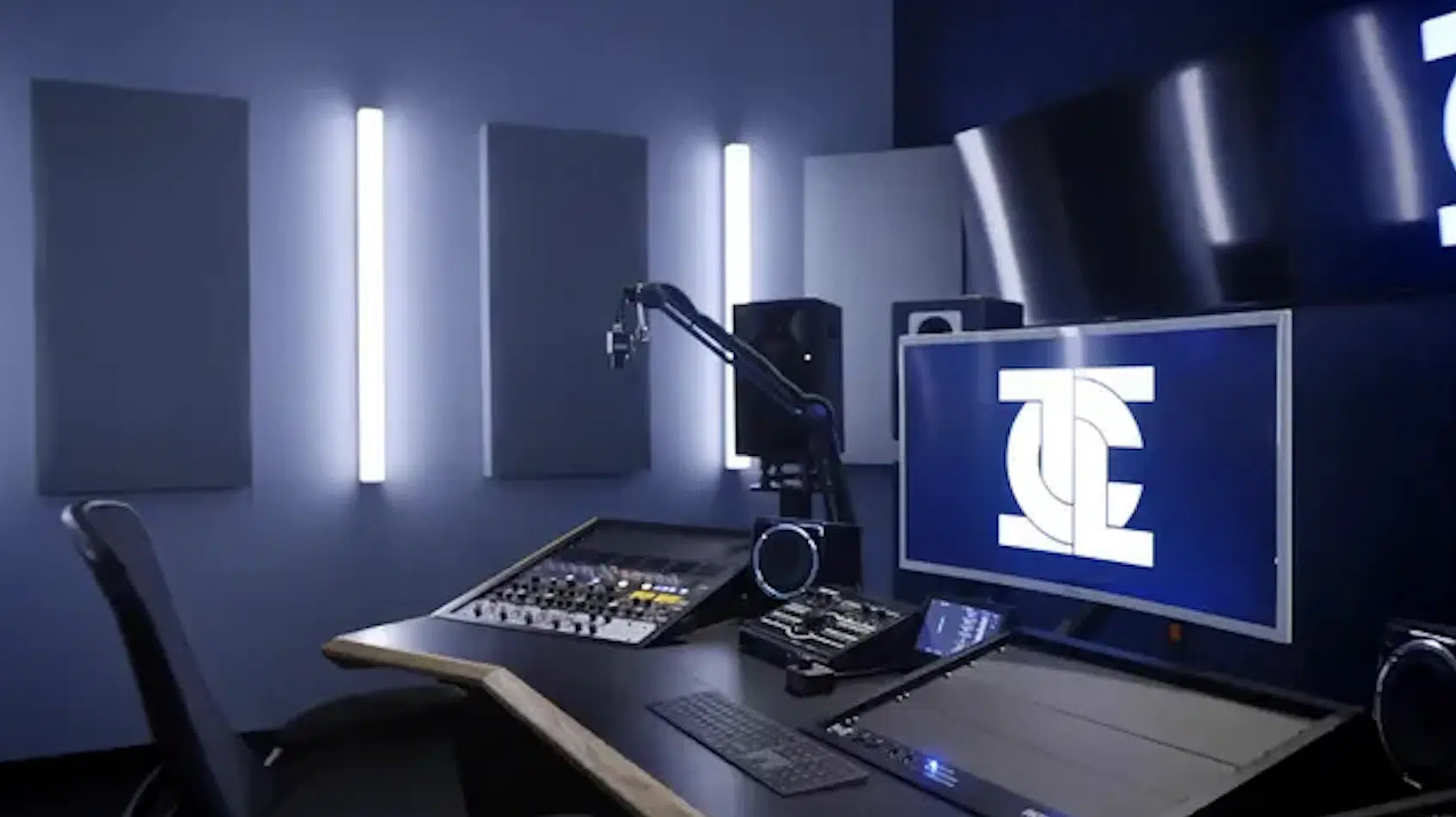 Based in Los Angeles, ICON Collective is a modern music production school that offers a comprehensive 12-month program.
This makes it one of the fastest ways to break into the music business.
The curriculum is heavily focused on digital music production, covering topics like:
Sound design
Business
The visual elements of branding
Film production
ICON offers state-of-the-art recording studios, as well as professional video and photography studios for branding exercises.
This music production school has a strong industry network and often hosts guest lectures and music composition workshops with renowned musicians and producers.
NOTE: While a musical background is recommended, it is not strictly necessary.
Prospective music students generally need to submit a portfolio of their work to get into this music production school.
Whether you're into contemporary music or EDM, make sure to have your best work available.
Additional Resources
Even after you've settled on a formal educational path and sifted through all the music schools you find appealing, the learning doesn't have to stop there.
The digital age offers a plethora of resources for self-paced learning, networking, and skill refinement that can complement your formal studies.
Online Music Production Courses
Let's first begin by discussing the best online music production courses around:
#1. Coursera and edX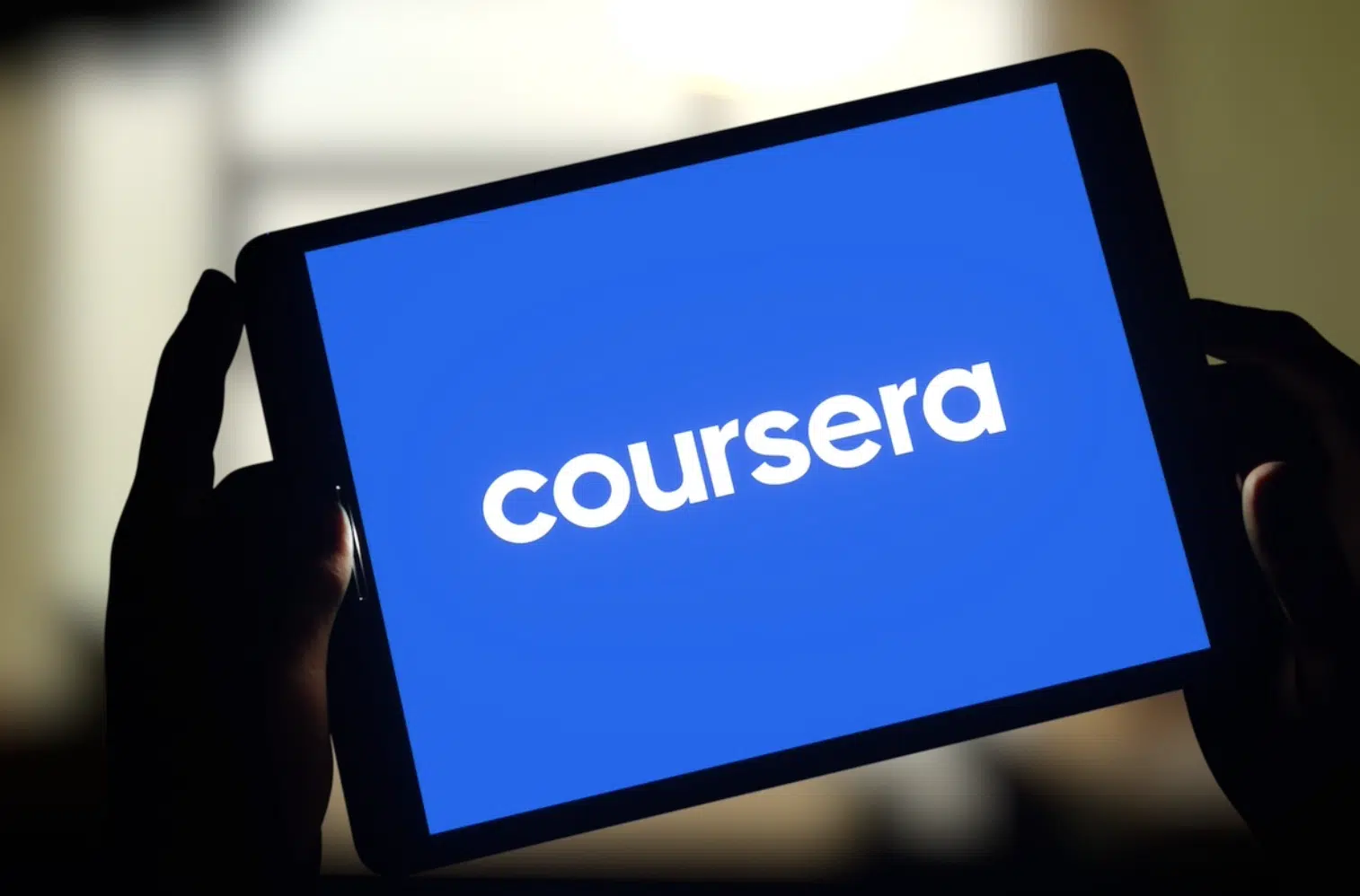 Coursera and edX both offer university-backed courses in music production, often taught by faculty from prestigious institutions like Berklee College of Music or Stanford.
They're great options if you're studying music production/audio production and need a little guidance.
The courses provide a structured curriculum, complete with:
Assignments
Quizzes
Peer-reviewed projects
It closely mimics a real music school experience.
Most importantly, you can earn a certification that adds value to your professional profile and mimics those of renowned music schools.
#2. Skillshare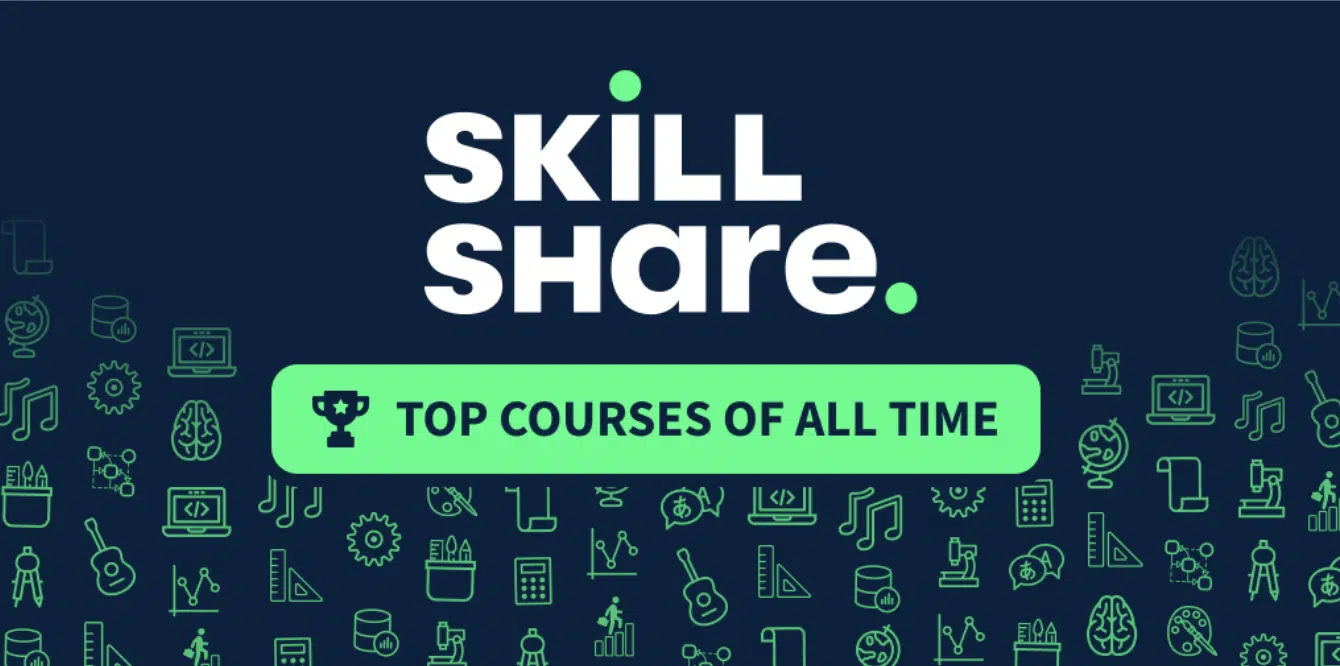 Skillshare specializes in short, practical courses for music creators; covering topics from mixing and mastering to sound design.
These courses typically range from beginner to advanced levels.
The platform encourages a hands-on approach with project-based lessons and a community where you can share your work for feedback.
The subscription model gives you access to a wide range of subjects 一 allowing you to explore different aspects of music production comprehensively.
#3. Point Blank Music School Online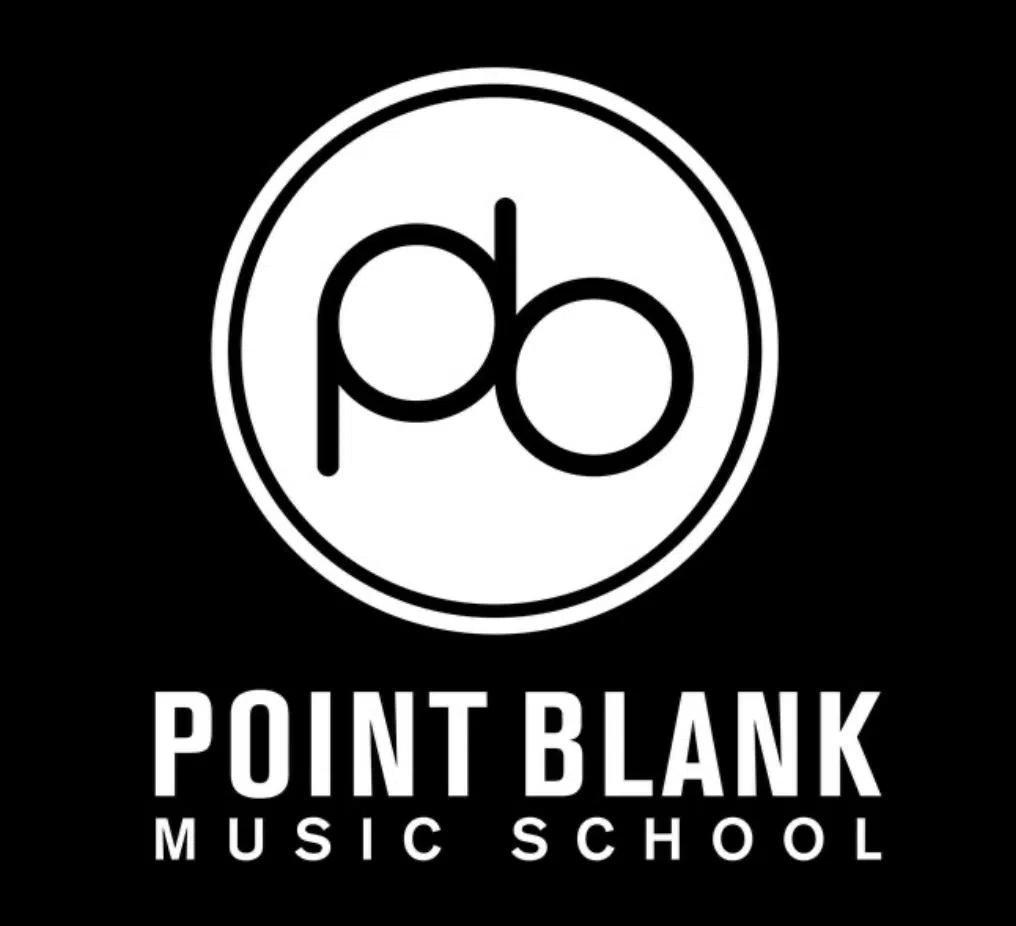 Point Blank Music School Online offers full-fledged diploma courses in music production and sound engineering.
Each course usually lasts for several weeks or months 一 providing a more traditional academic experience.
Point Blank also provides instructor-led classes and real-time feedback, which is super beneficial.
It closes the gap between online and traditional learning environments.
#4. MasterClass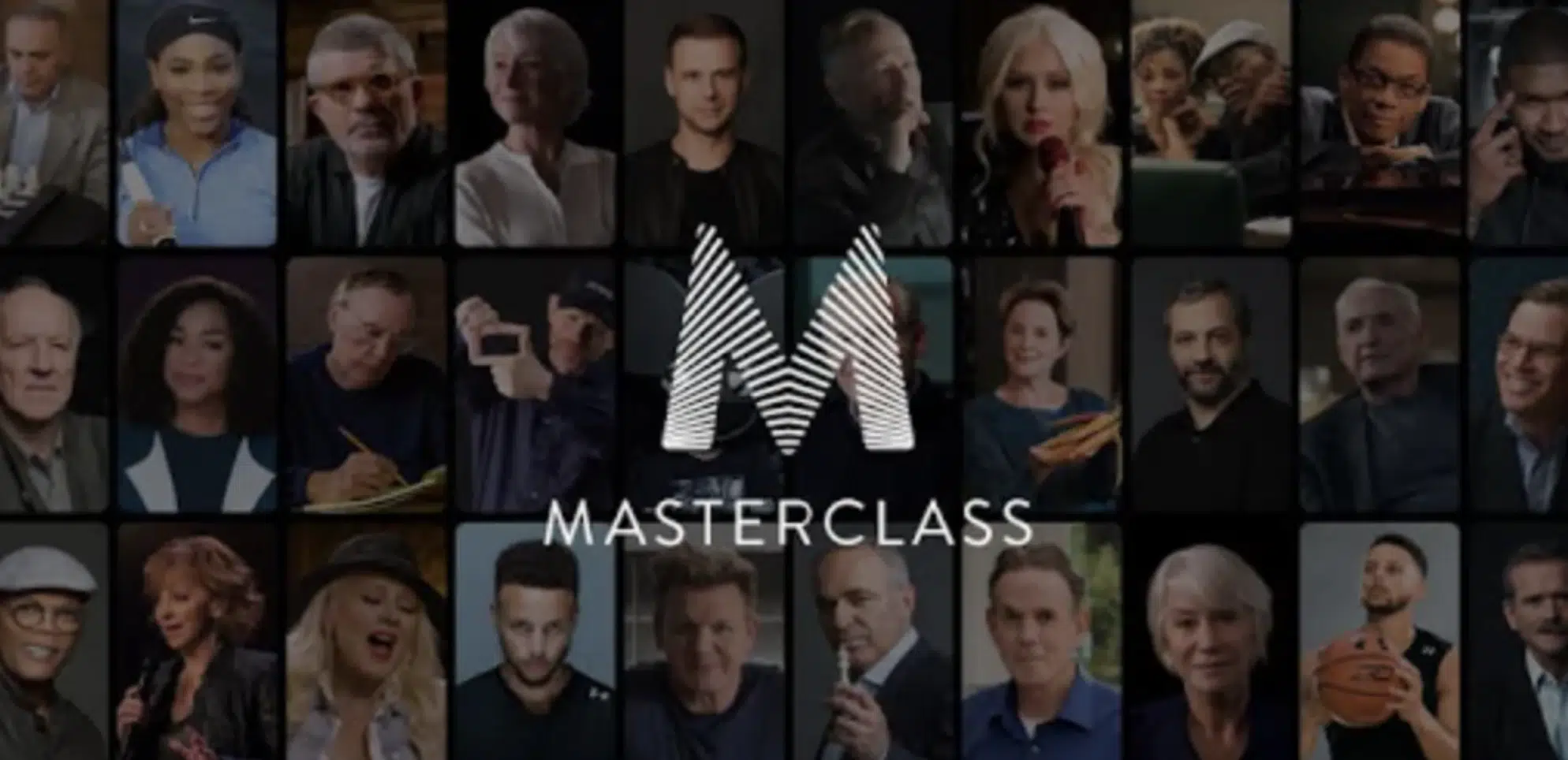 Hosted by renowned professionals in the music industry like Timbaland or Hans Zimmer, MasterClass courses offer insights into the technical and creative processes of industry veterans.
Though not a substitute for a comprehensive education, MasterClass provides a unique perspective that can be invaluable to aspiring music producers.
NOTE: While not a formal educational platform, YouTube is a treasure trove of tutorials and masterclasses.
However, it requires a disciplined approach to navigate the abundance of information and filter out the most educational and relevant content.
Music Production Community & Networking
To top off these additional resources, let's talk about the music production community and networking.
#1. SoundCloud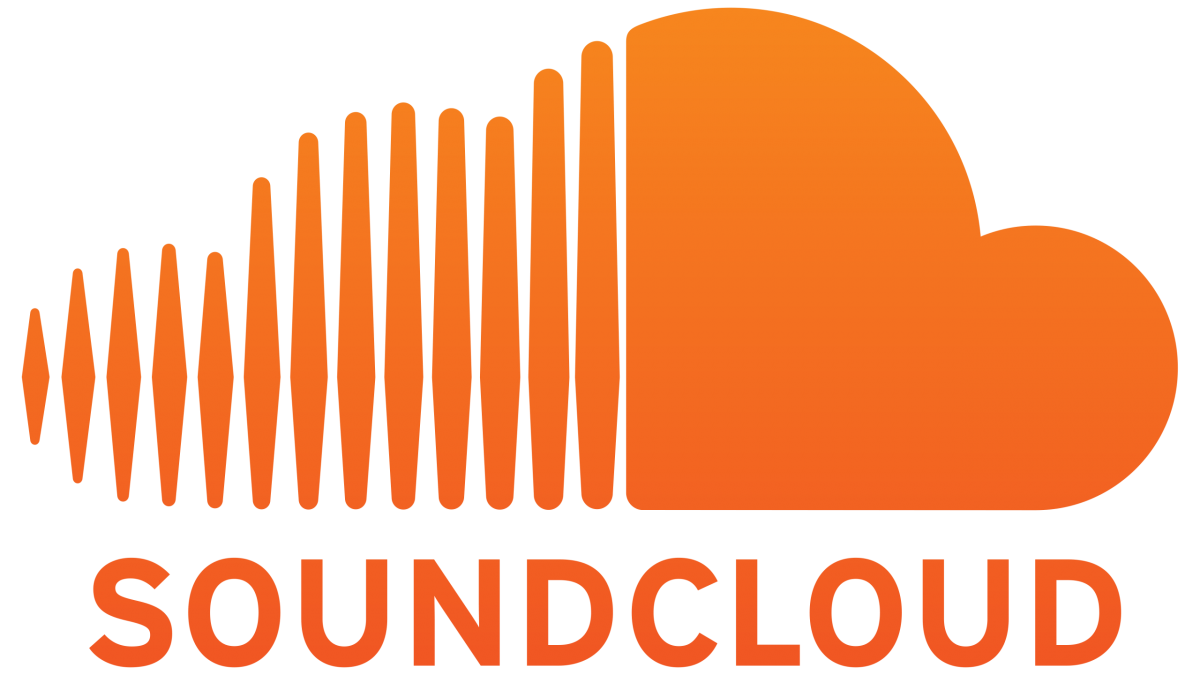 Beyond its role as a platform for music sharing, SoundCloud is a dynamic community where producers can network with other:
Producers
Labels
Even fans
With features like comments, private track sharing, and integrated messaging, SoundCloud offers various avenues for feedback and collaboration.
If you produce music, just know SoundCloud isn't dead quite yet and your music performance matters.
#2. Reddit's r/WeAreTheMusicMakers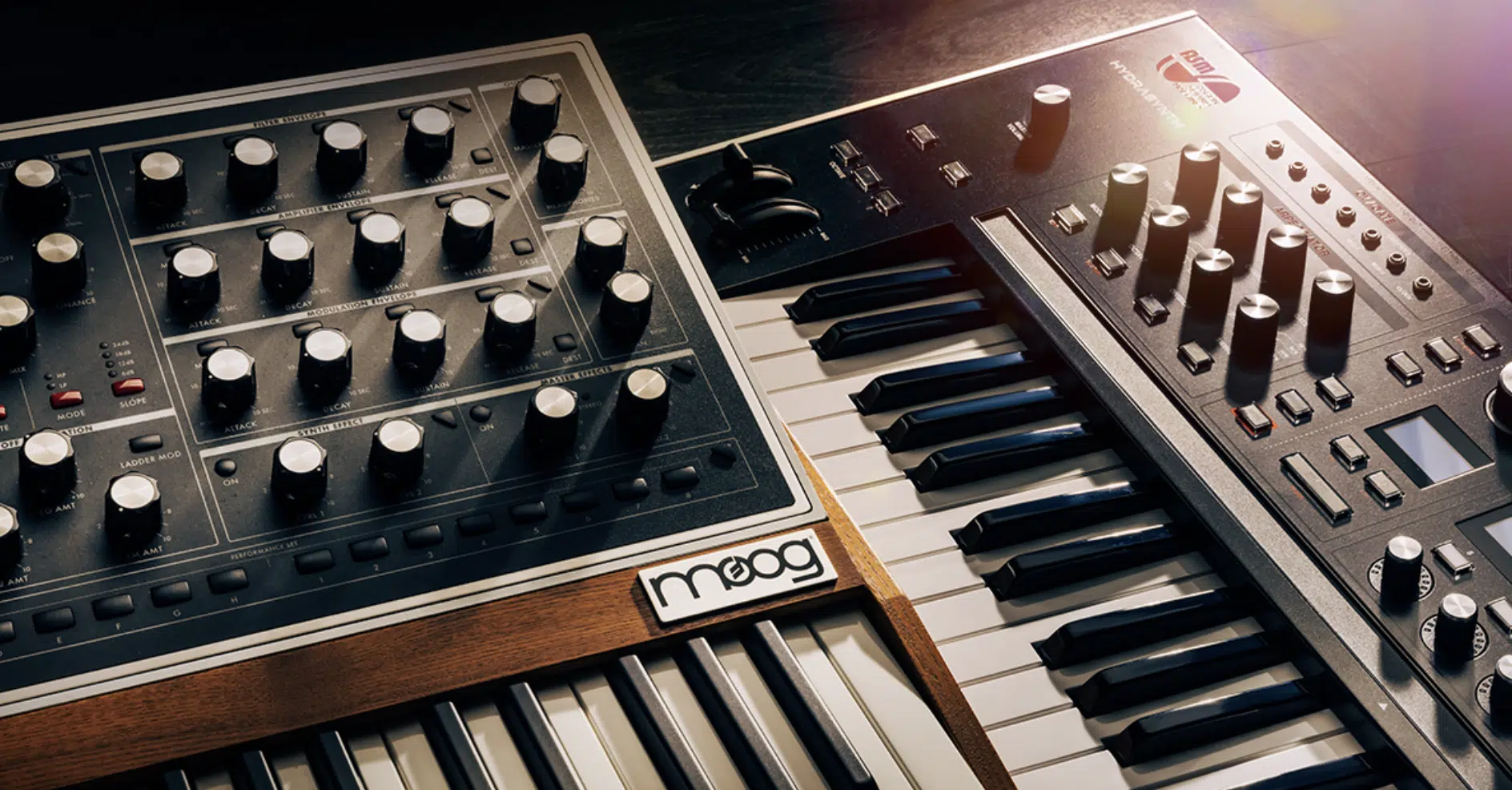 Reddit's r/WeAreTheMusicMakers acts as a knowledge repository where music business professionals and amateurs alike can:
Share resources
Produce music together
Even troubleshoot problems
Weekly threads on various topics help maintain an active and up-to-date dialog on emerging trends and technologies.
It's a great community if you're a dedicated, passionate music producer and enjoy producing music in creative and unique ways.
#3. Meetup Groups
Local meetup groups offer real-world networking opportunities that can often lead to collaboration or job opportunities.
These groups typically organize:
Workshops
Jam sessions
Even small gigs
This provides hands-on experience and a platform for showcasing your skills.
#4. Conferences and Trade Shows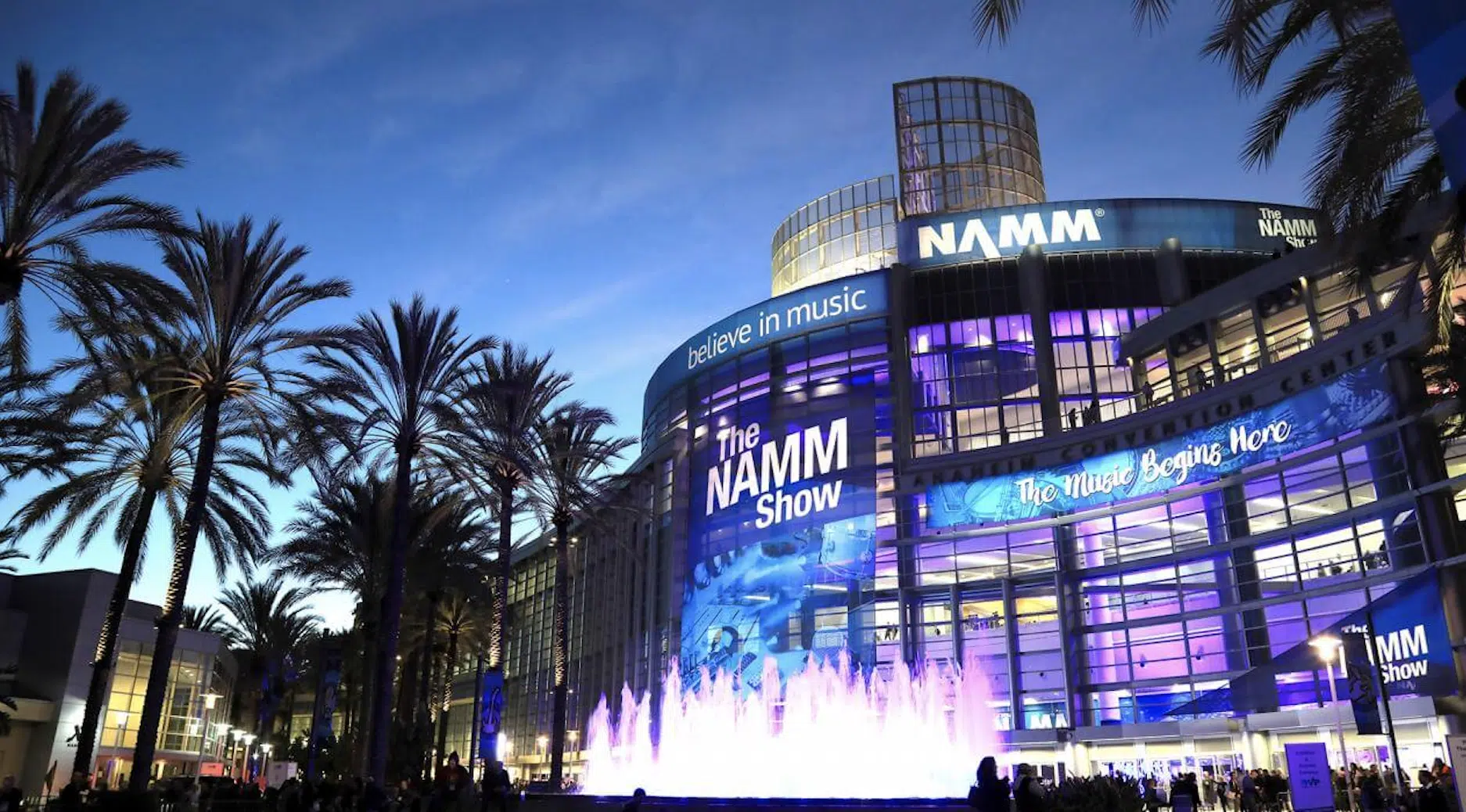 Annual events like NAMM or the AES Convention bring together manufacturers, professionals, and enthusiasts.
They offer not just networking opportunities but also:
Workshops
Product demos
Lectures
This provides a deep insights into the latest trends and music technologies.
#5. Internships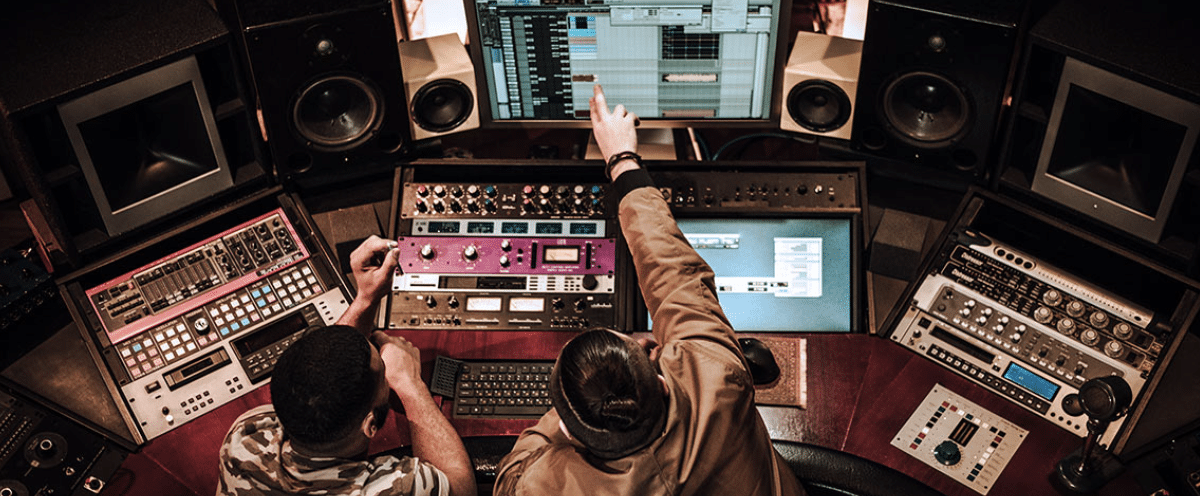 Engaging in an internship at a renowned music studio or radio station offers real-world experience that no online course can provide.
Internships also allow you to establish relationships within the industry.
This can be crucial for career advancement.
Music Production Schools: Final Thoughts
We've covered a lot of ground in this article 一 exploring the nuances of music production education, key skills for success, and the best schools to consider for 2023.
Remember, a quality education can give you a substantial edge in this competitive music production field.
It can offer structured learning, mentorship, and invaluable networking opportunities.
For those eager to get started immediately, check out the Beatmaker Blueprint (Free Teaser Pack).
With 449 samples, loops, and MIDIs modeled after hit songs in beat-making genres, this pack is a great way to jumpstart your skills right from your home studio.
This will give you an edge in creating music that resonates with audiences.
It's a fantastic way to get a head start on understanding the nuances of the music production process while awaiting your educational journey's next steps.
Yes, regardless if you're interested in the best music production schools around.
Whether you're just starting out or looking to advance your skills, this guide can equip you with the knowledge and resources to excel in music production.
So, go ahead and keep making innovative, impactful music.
Until next time…