Bass is more than just the backbone of a track; it's the sonic force that drives rhythm, adds depth, and brings your music to life.
A well-executed bassline can make or break your track, whether you're producing electronic dance music or laying down a sultry R&B track.
However, with an overwhelming variety of bass VST plugins available on the market, finding the ones that truly stand out can be daunting.
But don't worry, that's where we come in.
Unlike other blogs that skim the surface with a few sentences per plugin, we're diving deep to break down the best bass VST plugins of 2023.
For each unique bass VST plugin, we'll be including:
A detailed description ✓
Impressive capabilities ✓
Unique abilities ✓ 
Standout features ✓
Everything you need to know ✓
After reading this comprehensive guide, you'll walk away with a definitive understanding of the hottest bass VST plugins of 2023, hands down.
Whether you're a seasoned producer or a beginner looking for inspiration, we've got you covered.
And because we believe in the value of quality at any budget, we've included two bonus free options for those who want top-notch bass sounds without breaking the bank.
These aren't just any freebies.
They are meticulously chosen free bass VST plugins that can genuinely compete with their paid counterparts.
So, let's dive in…
What are Bass VST Plugins?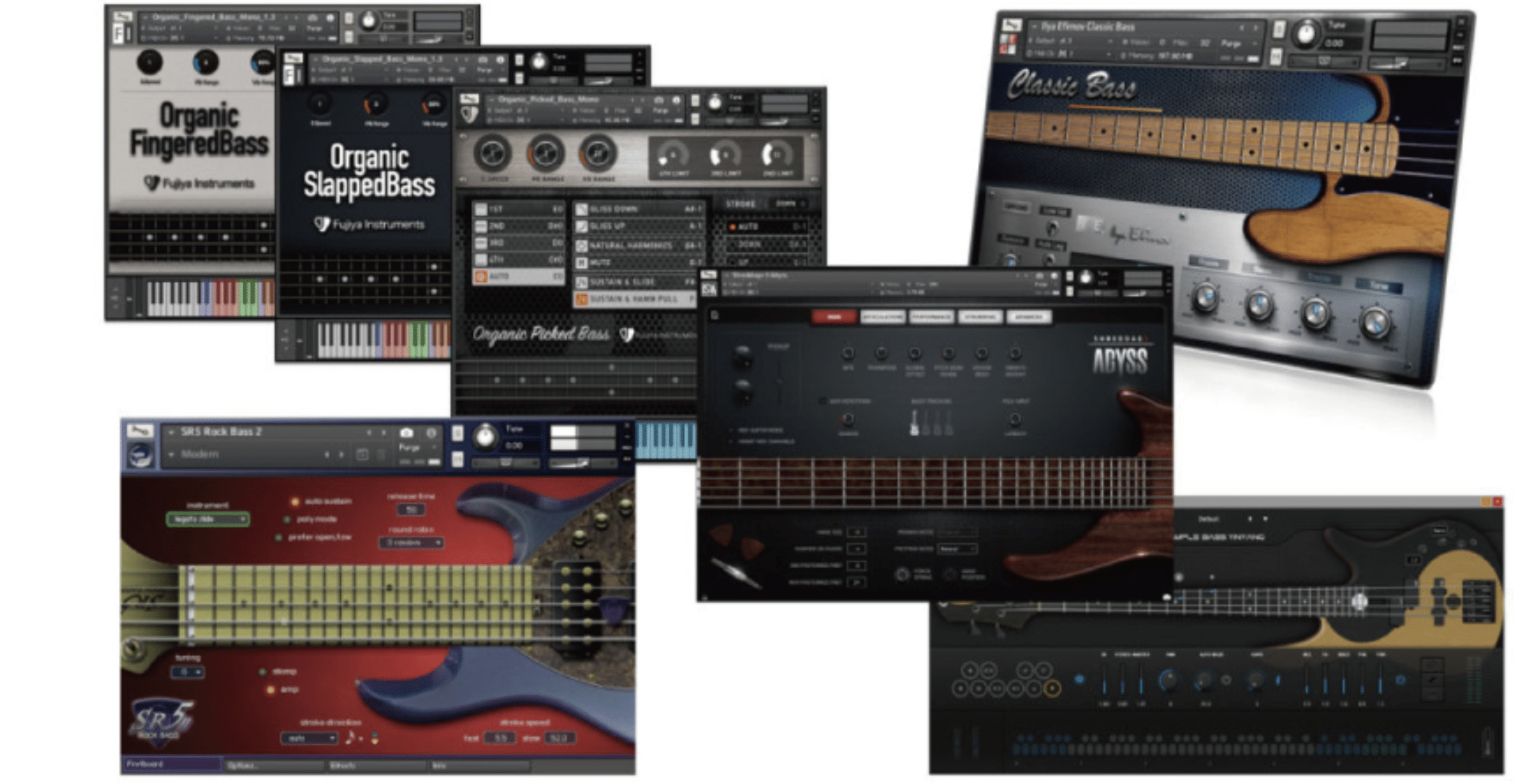 If you're new to the game, VST stands for Virtual Studio Technology.
Essentially, a bass VST is software that mimics the sound of a bass guitar or synthesizes bass tones.
They allow you to add that all-important bass sound to your tracks without needing a physical bass guitar.
This means you can produce a track with authentic sound quality.
It's a game-changer, especially for hip-hop producers looking to lay down some sick beats.
Bass VST plugins come in all shapes and sizes 一 offering you a variety of bass sounds, from electric bass to upright bass and even synth basses.
Whether you're looking to replicate the sound of a real bass guitar or aiming for more experimental bass sounds, these bass VSTs have got you covered.
A good bass VST plugin will not only provide you with authentic sound but will also come with various features like:
Step sequencers
Sample sounds
Basically, it's not just a simple bass track but a whole instrument that can be tweaked and fine-tuned to your liking.
It's what gives your music depth, character, and that irresistible groove.
A great bass VST can help you achieve that sound quality/feel you're chasing and offer you many bass tones and options to play with.
What do Bass VST Plugins Typically Include?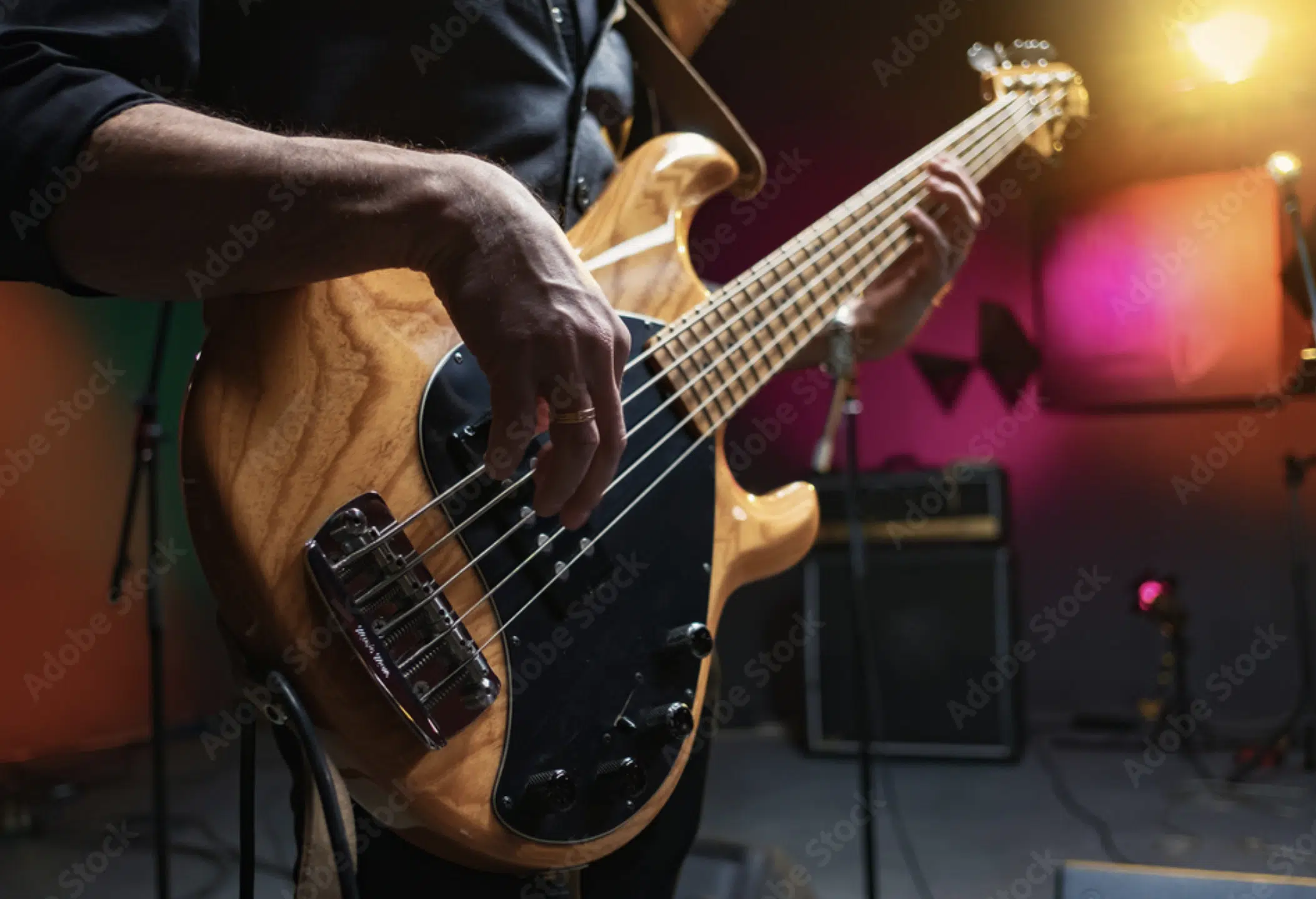 Regarding unique features, the best bass VST plugins are a true treasure trove.
You're looking at a range of options, like:
Multiple velocity layers for dynamic playability
Various onboard effects to tweak your bass sound
Rhythmic pedal menus for that extra flair
Some bass VSTs even have pulse groove menus to give your tracks a unique edge.
And let's not forget about the different sounds you can explore.
We're talking electric bass, upright bass, slap bass, and even synth basses for those futuristic vibes.
A versatile bass VST will offer you a variety of bass sounds that can be a real game-changer in your hip-hop productions.
How about sound quality, you ask?…
Trust me, you don't want to compromise on this.
Look for a bass VST with excellent sound quality that offers warm analog sound and crystal-clear digital tones.
This ensures that your bass lines will fit perfectly into your mix 一 giving your tracks that full, rich sound they deserve.
From traditional bass guitar sounds to futuristic synth bass tones, the right bass plugin can elevate your hip-hop tracks to new heights.
It's all about choosing the right tools for the job, and this list will certainly help you make that choice.
The 8 Best Bass VST Plugins of 2023
Regarding premium options, these six bass VST plugins are the undisputed champions of deep, rich, and versatile sound.
Let's dive into what makes each one exceptional, starting with our top pick.
#1. IK Multimedia MODO Bass 2

IK Multimedia's MODO Bass 2 is not your run-of-the-mill bass VST; it stands out as a pioneer in physically modeled bass virtual instruments.
Leveraging advanced modal synthesis technology, MODO Bass 2 captures the intricacies of an actual bass guitar.
From the neck and strings to the electronics and everything in between.
The technology behind this bass VST plugin models the entire act of playing a bass guitar, making it unique in the VST market.
MODO Bass 2 brings an expansive library to the table, featuring 22 different bass models 一 including new double basses and fretless options.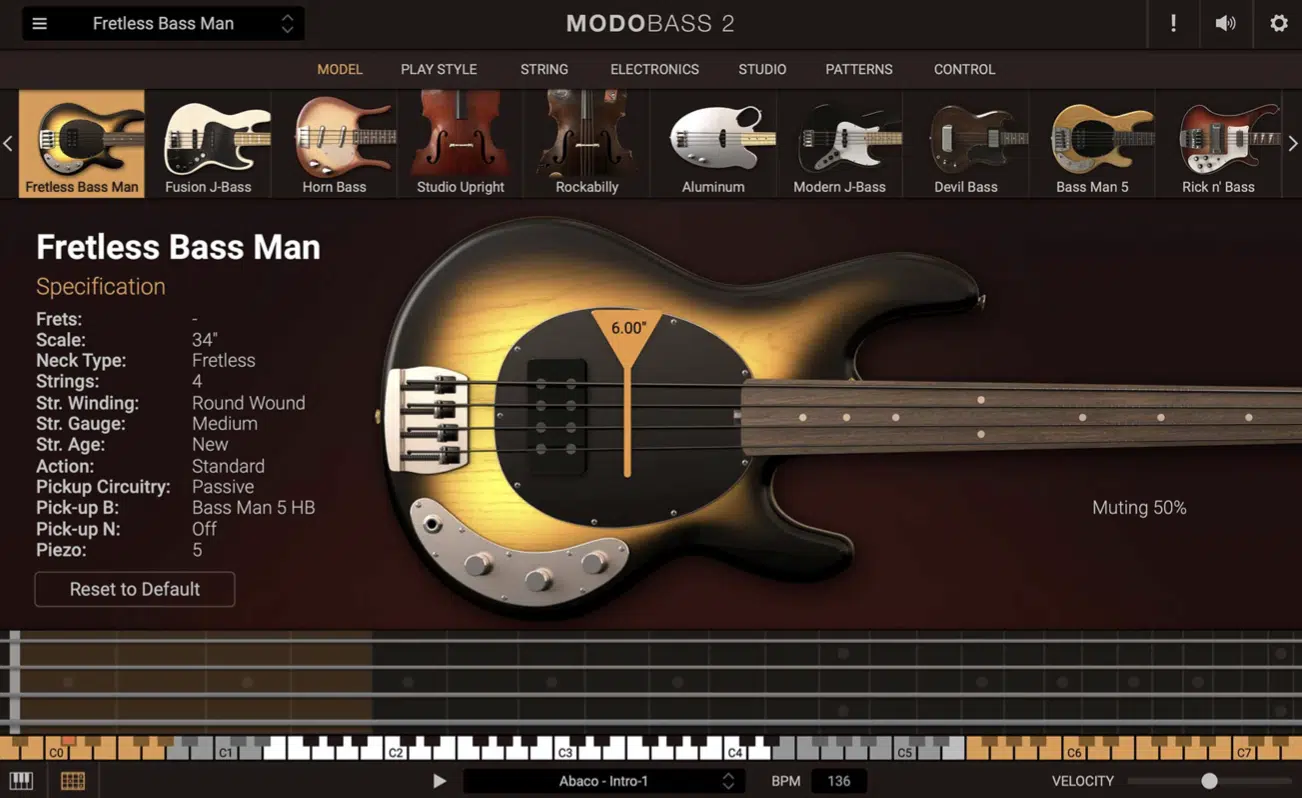 You're not limited to pre-defined sounds either, as this bass plugin lets you customize every element of your chosen bass, from strings and electronics down to the body and neck.
Want to go fretless? MODO Bass 2 lets you do just that with any standard bass model.
With advanced performance algorithms, this VST plugin boasts a realism that is super hard to match.
It allows for a level of dynamic interaction between the "player" and the virtual instrument.
As well as mimics the relationship of a real string with the bass's fretboard, body, and pickups.

The Play Style options further enhance this realism, offering four different playing techniques to suit any musical genre, which are:
Finger
Slap
Pick
Mute
MODO Bass 2 offers a new patterns section loaded with grooves that feel like the real deal.
These patterns cover various genres, song sections, lengths, and time signatures.
The smart filters make it a breeze to find the right groove for your track, whether you're working on the main part of the song or a transitional solo.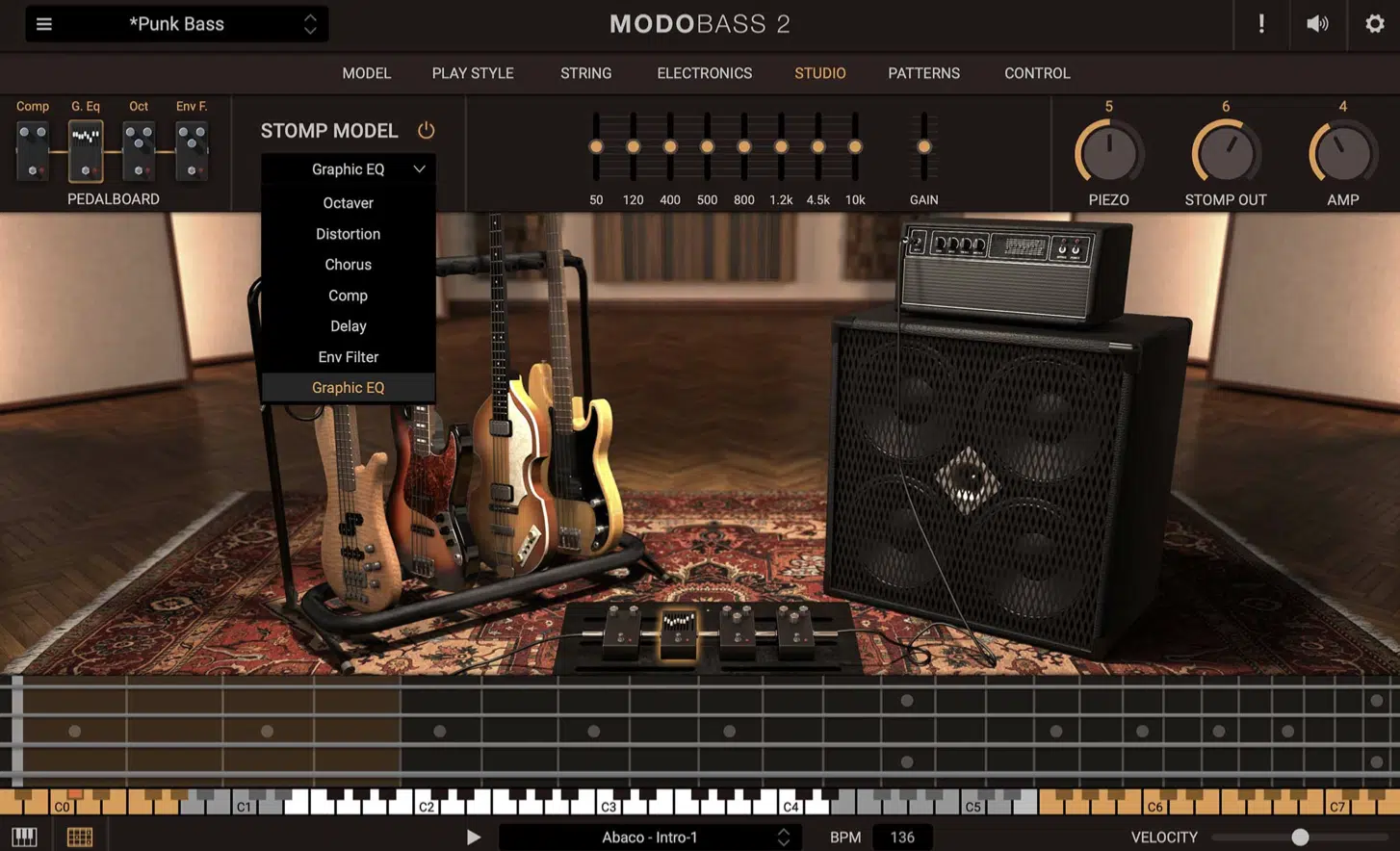 Not just about sound, MODO Bass 2 also offers space-saving advantages…
Your computer's hard drive remains uncluttered because it doesn't use traditional samples.
Also, its compatibility with IK's AmpliTube allows you to extend your tonal possibilities, turning it into a holistic tool for bass music production.
Standout Features of This Bass VST Plugin:
Real-time modal synthesis technology
22 bass models
Advanced performance algorithms for hyper-realistic sound
Highly customizable features
New PATTERNS section with smart filters for quick & easy groove selection
One of the best bass guitar VST plugins of 2023
#2. Heavyocity Scoring Bass

Heavyocity's Scoring Bass is designed primarily to beef up film scores with its deep, rumbling, and gritty sounds.
It goes beyond just offering playable basses by including:
Atmospheric pads
Rhythmic pedals
A range of other useful bass-rich content
This bass VST plugin is created for composers who need a versatile tool for creating emotive and dynamic scores.
Constructed from nearly 6GB of samples, Scoring Bass features three multi-sampled, playable bass guitars (a Warwick, Ken Smith, and Sire).
The Scoring Guitars Gravity front-end UI is user-friendly 一 offering plenty of effects processing possibilities.
This makes these already impressive-sounding basses even more versatile.
The Pulse Grooves and Rhythmic Pedals are two sections that make this bass guitar plugin particularly unique.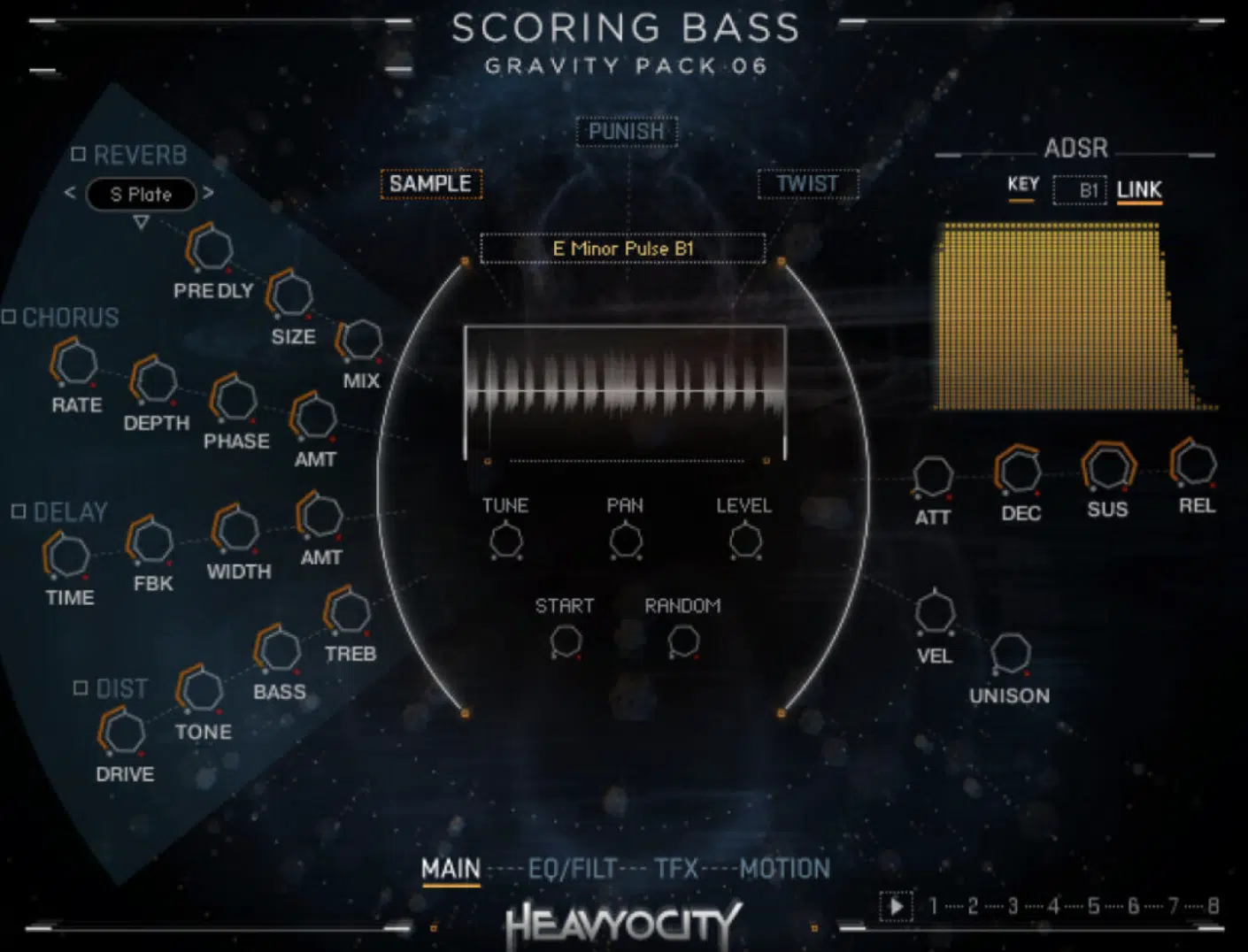 The Pulse Grooves are essentially a large collection of rhythmic bass riffs that automatically tempo-match with your DAW.
Meanwhile, the Rhythmic Pedals can fuel quick underscore sequences, with the option to combine note pedals and pad sounds for a more complex sonic landscape.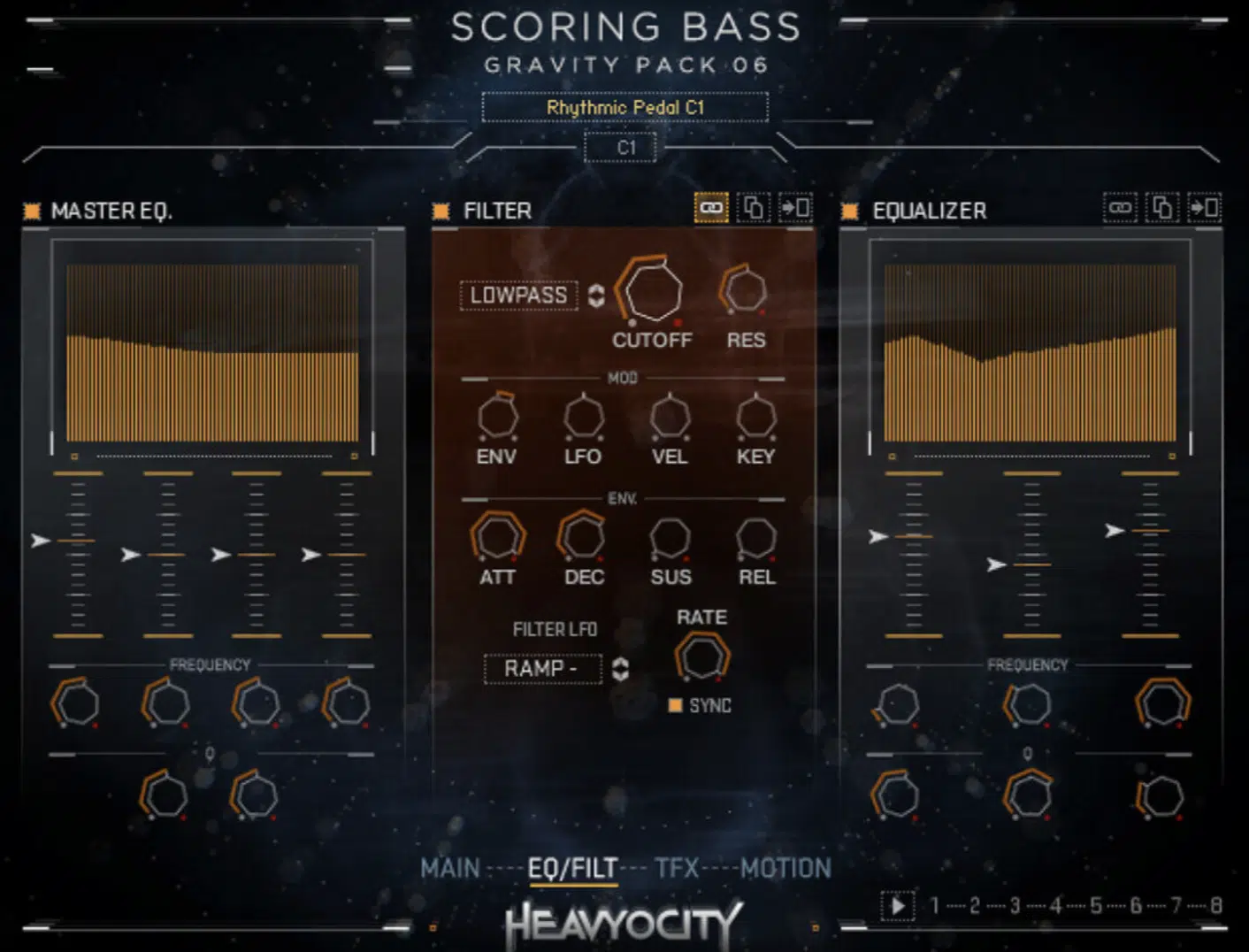 The Pads section of Scoring Bass is a real gem and offers a variety of atmospheric pads derived from bass sound sources.
The sound design work here is also top-notch.
It allows you to add unique textures to your tracks that you wouldn't usually associate with a bass-based library.
Given its competitive pricing and extensive feature set, Scoring Bass represents excellent value for aspiring and seasoned media composers.
Plus, this bass VST plugin can easily be used in conjunction with other Gravity Packs to create a comprehensive scoring toolkit.
Standout Features of This Bass VST Plugin: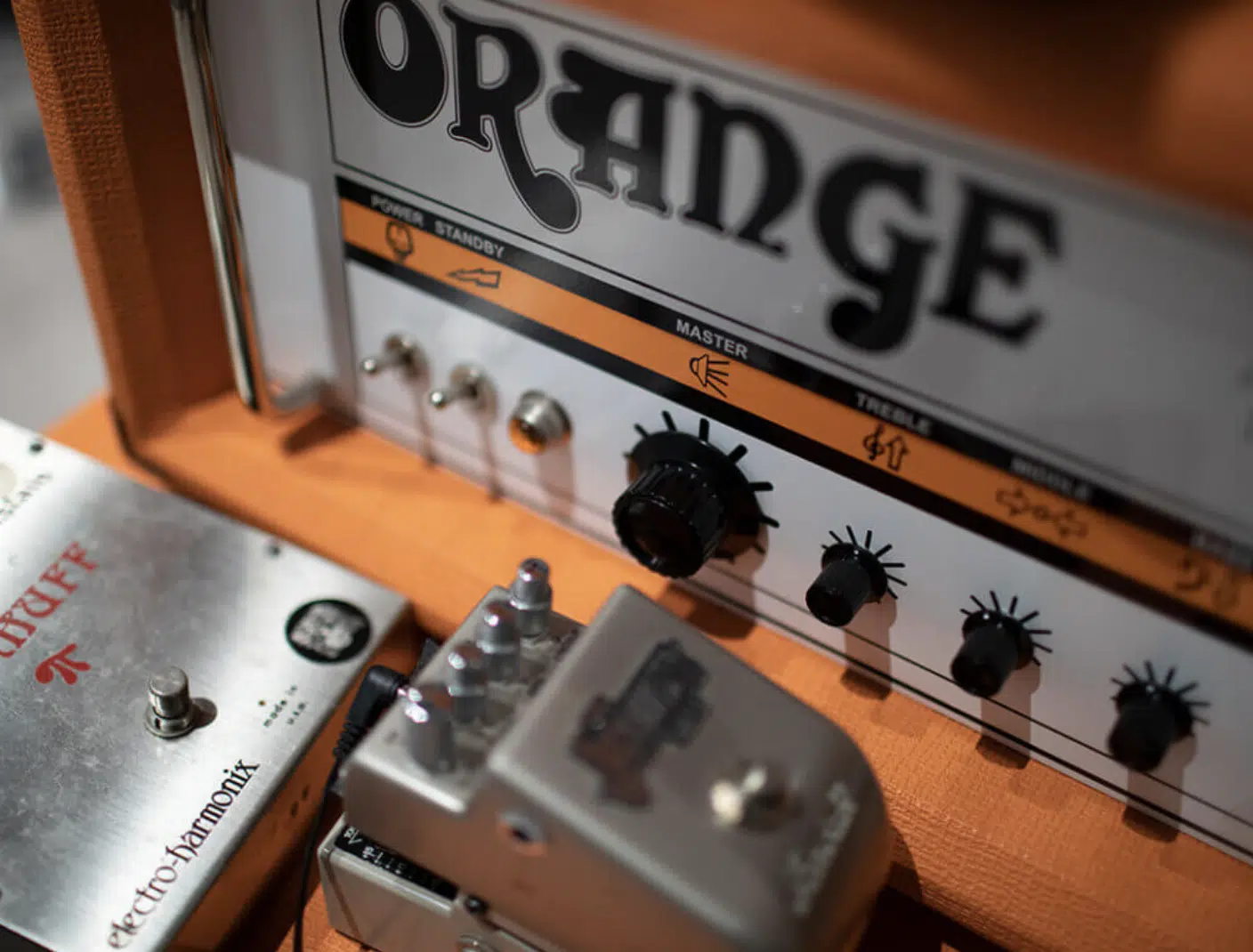 Designed explicitly for film scoring
Nearly 6GB of samples with plenty of effects processing options
Unique Pulse Grooves & eight rhythmic pedal menus
Atmospheric Pads section
Excellent value for money
One of the best bass VST plugins of 2023
#3. Spectrasonics Trilian Total Bass Module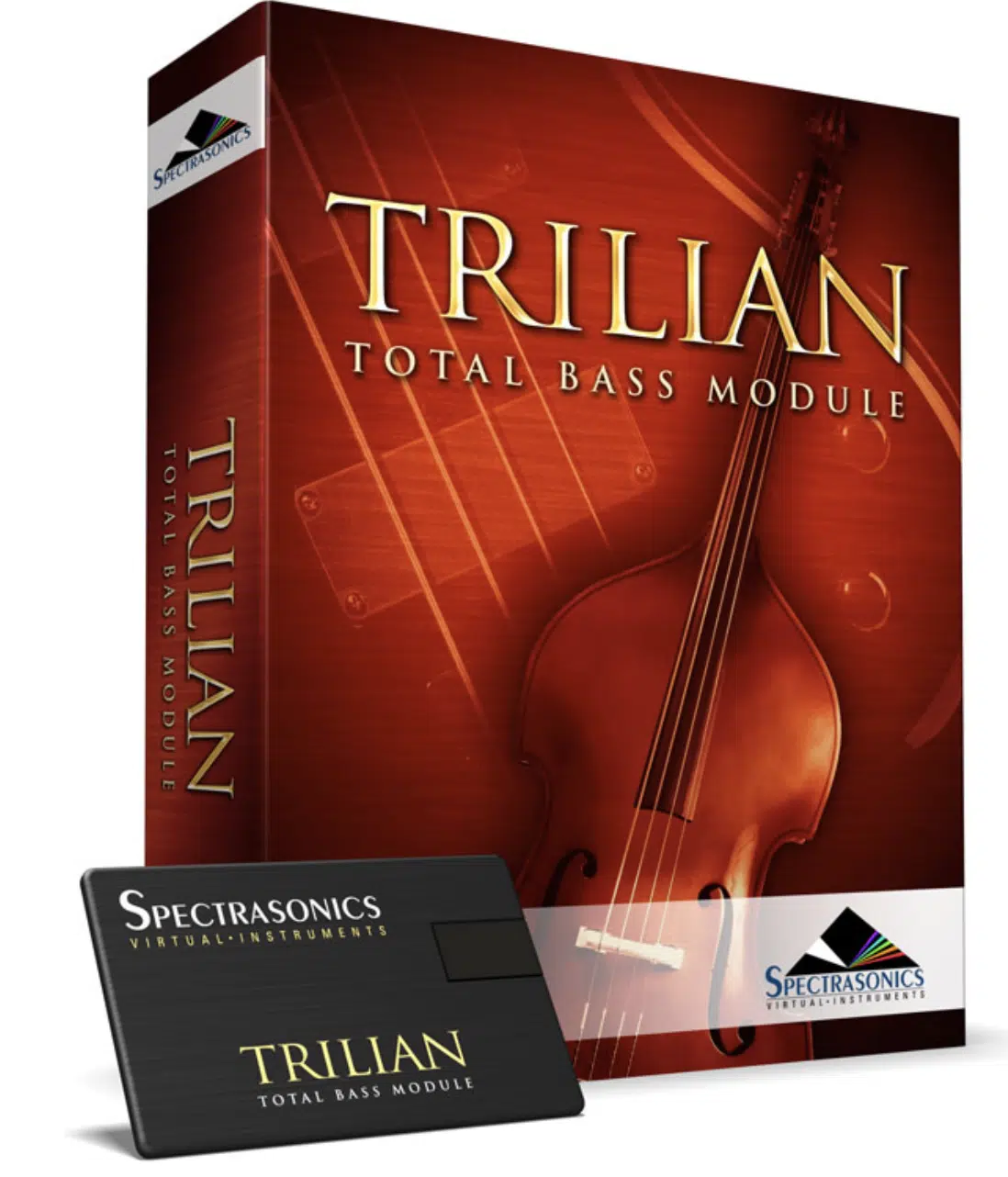 If you're looking for a one-stop shop for all your bass needs, look no further than the Spectrasonics Trilian Total Bass Module.
This powerhouse of a bass guitar plugin is a successor to the award-winning Trilogy bass instrument.
However, it offers an extensive library that is ten times its predecessor's size.
With over 34GB of samples, Trilian provides a diverse range of acoustic, electric, and synth basses.
This effectively makes it a universal bass module for every genre of music.
Trilian's extensive library doesn't stop at offering variety… It dives deep into the nuances of each bass type.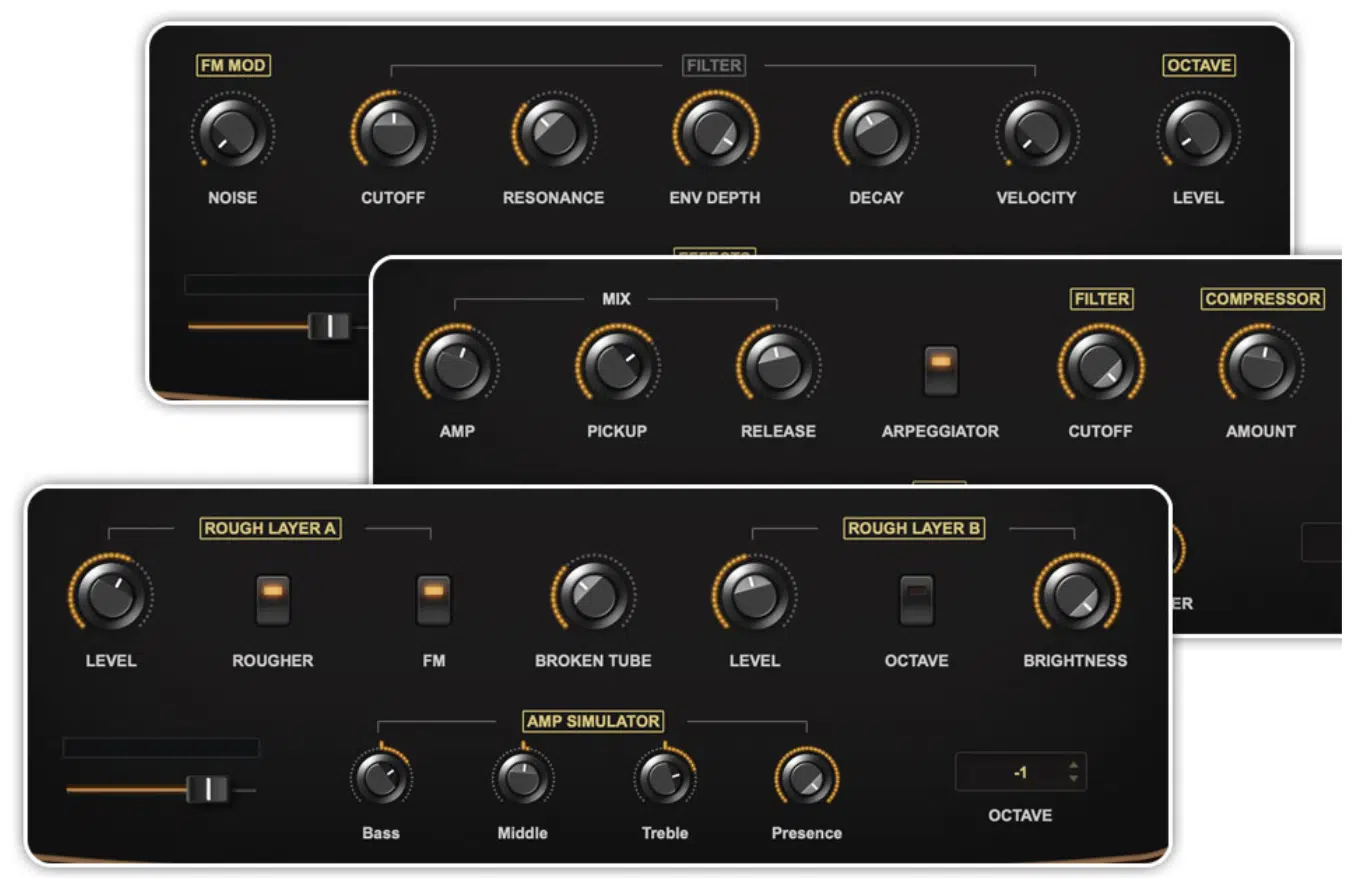 Over sixty different electric basses with various string counts are available, and each comes with multiple playing techniques like:
Fingered
Picked
Fretless
Slapped
Tapped
Muted
This meticulous level of detail is matched by version 1.5's integration of Omnisphere's powerful synthesis functions, further elevating its versatility.
The user interface of Trilian is as intuitive as it is powerful.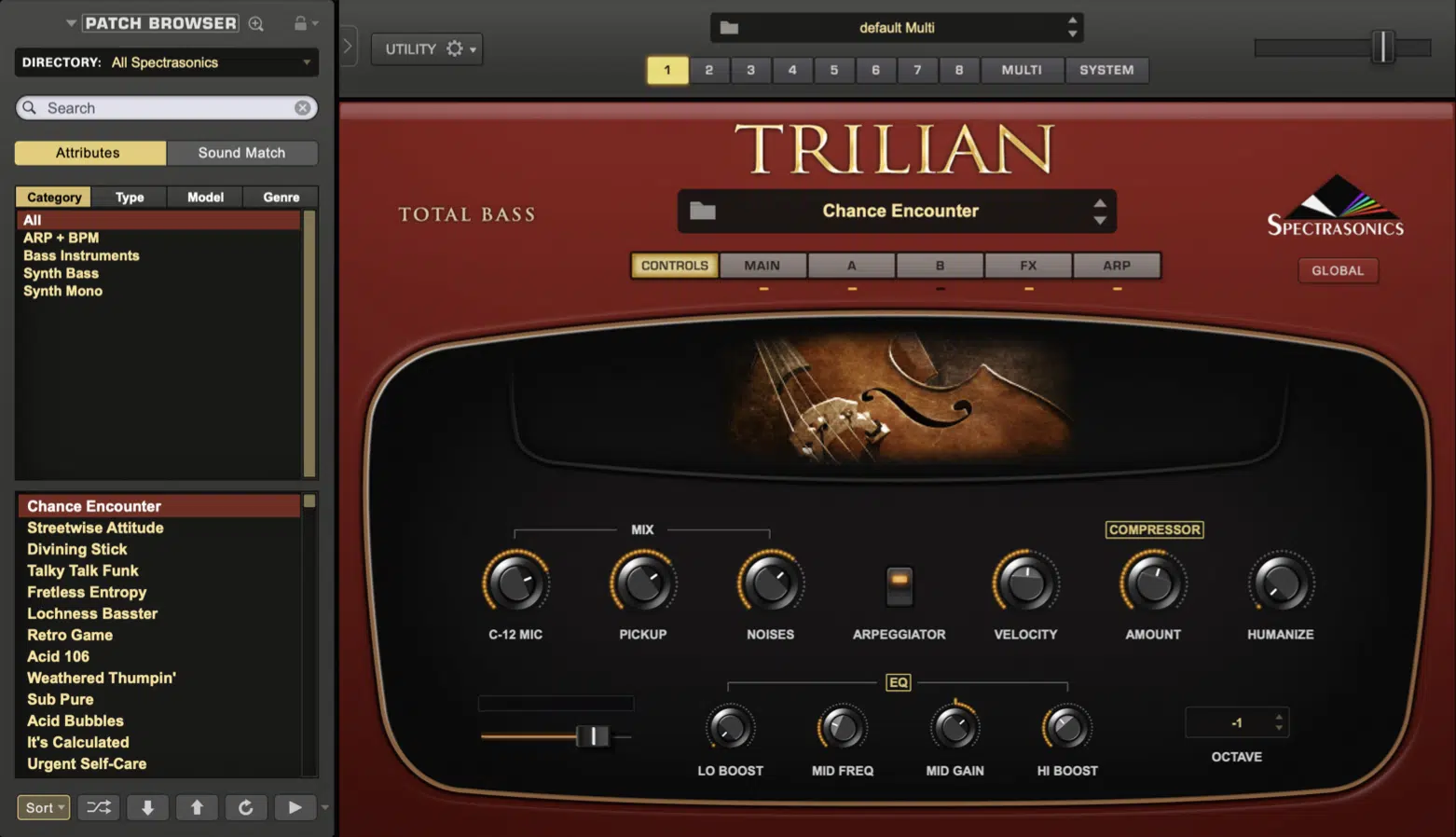 Custom Controls for each patch take you far beyond the original sound, allowing for extensive manipulation and creativity.
Additionally, Trilian includes a suite of high-quality effects designed for each specific patch, which lets you shape your sound with even more precision.
Another standout feature is Trilian's Acoustic Bass, which is one of the most extensively sampled instruments in Spectrasonics' portfolio.
With over 21,000 samples forming this singular acoustic bass instrument, the depth and realism are unparalleled.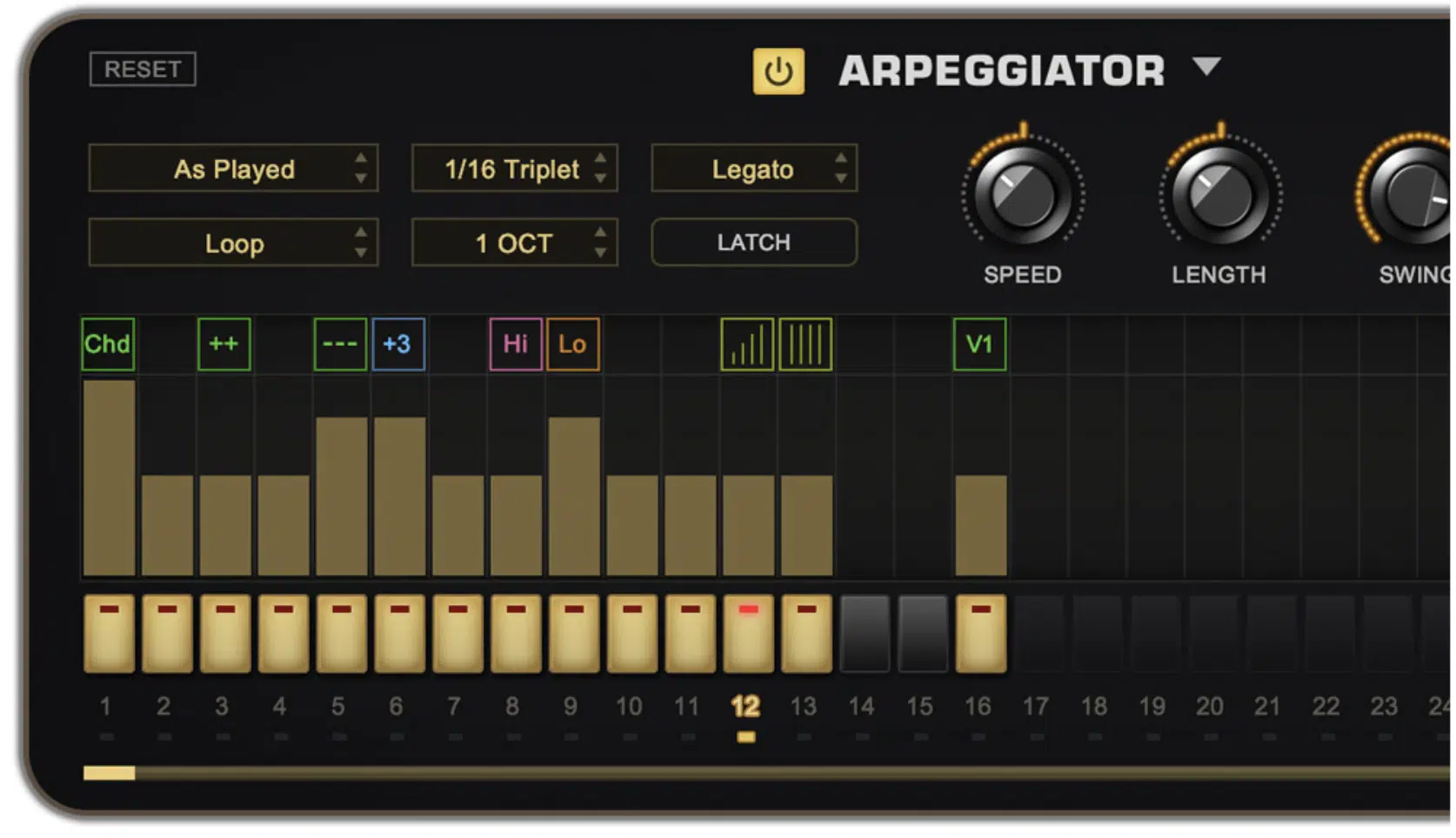 You'll also find unique subtleties deep-sampled, including:
Legato & glide articulations
Mechanical noises
Release overtones
Which, of course, makes the authenticity even more apparent.
NOTE: For Omnisphere users, Trilian is a perfect companion, integrating fully as a satellite instrument within the Omnisphere interface.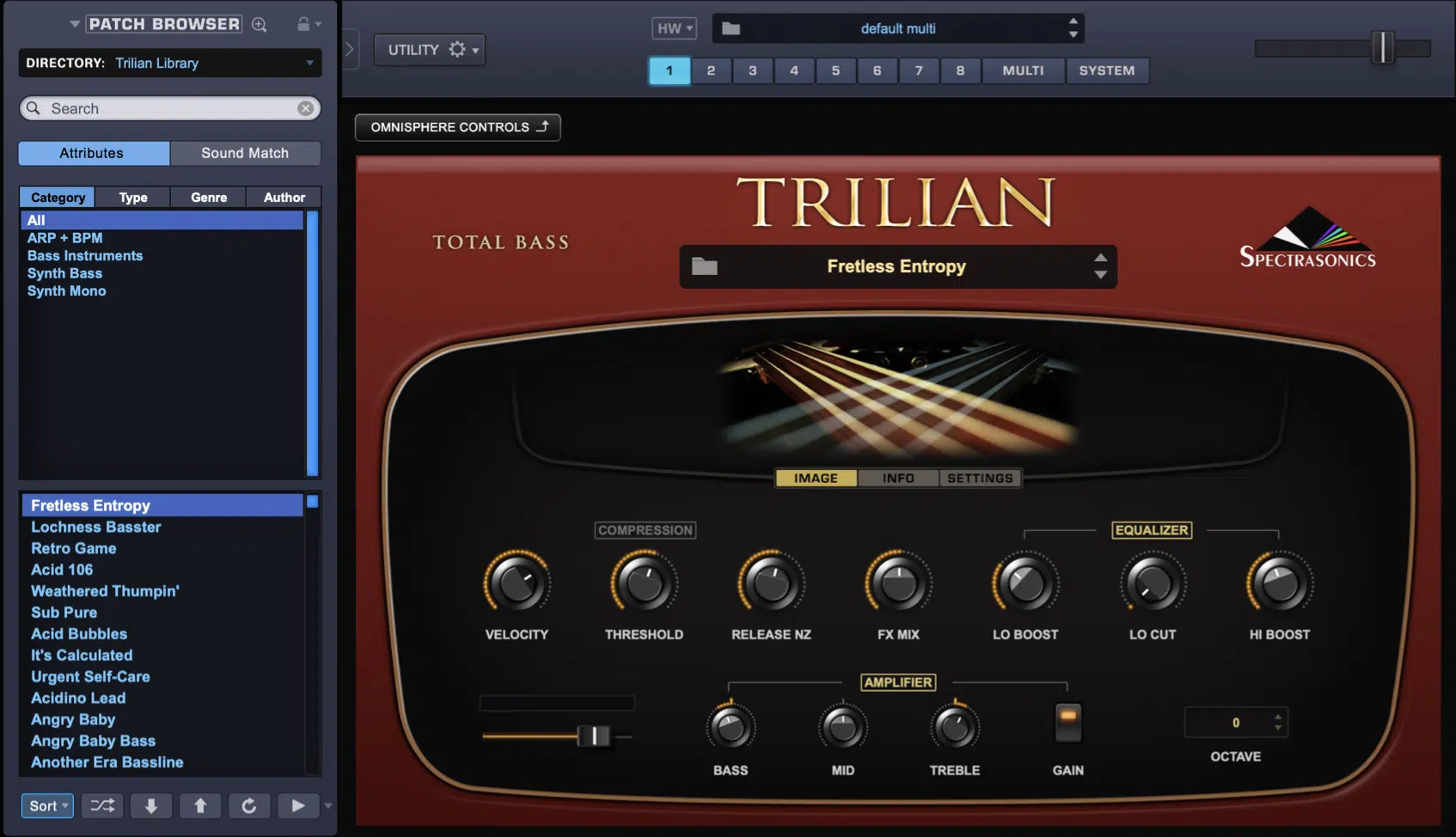 This opens up an entire universe of new bass synth possibilities.
Especially with Trilian's library of over 200 unique patches designed for Omnisphere 2 users.
Standout Features of This Bass Guitar VST Plugin: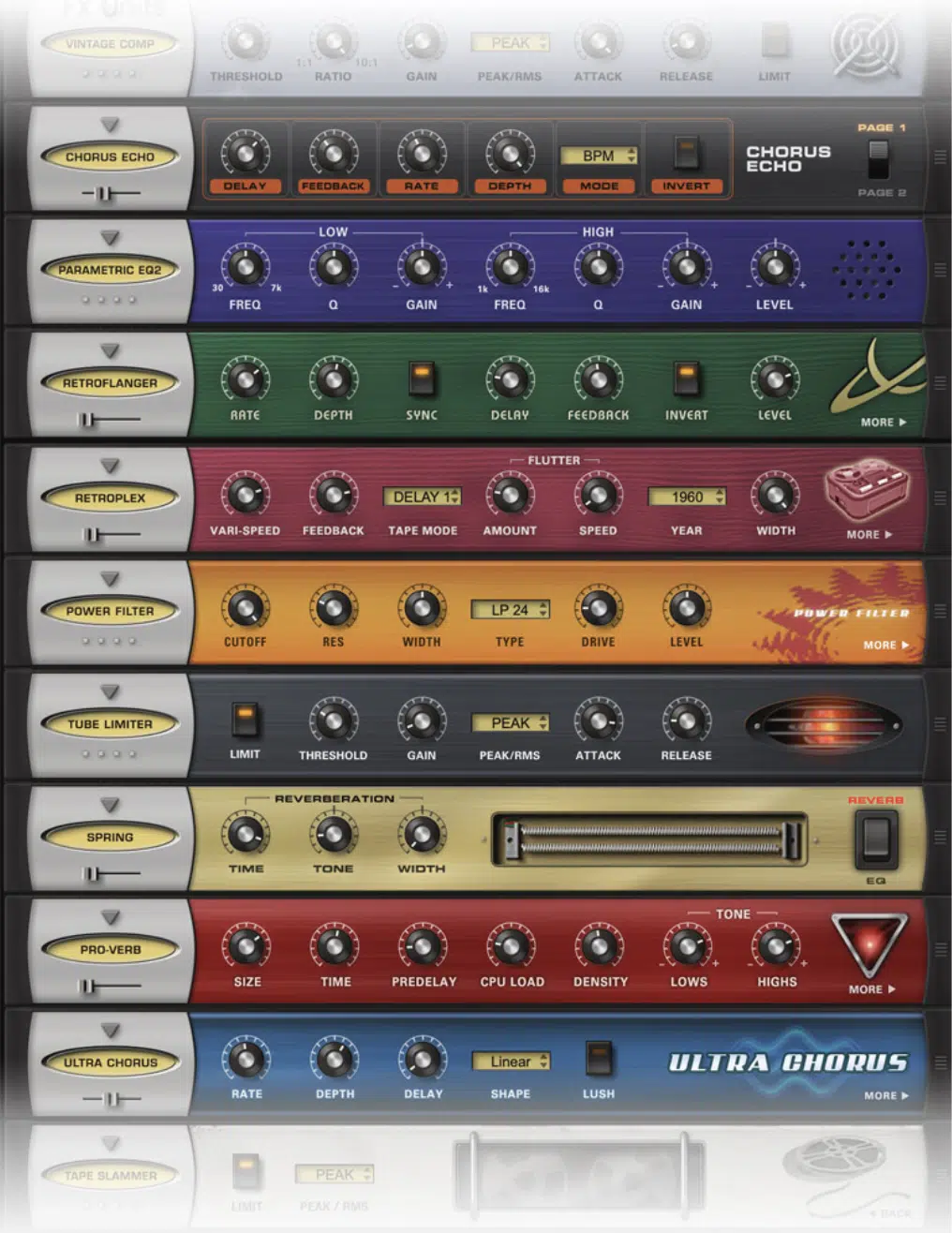 Over 34GB of diverse acoustic, electric, and bass synth samples
Custom Controls for each patch
Deeply sampled bass guitars with over 21,000 samples
Fully integrates with Omnisphere
Includes 33 FX
One of the best bass guitar VST plugins of 2023
#4. Native Instruments SCARBEE Rickenbacker Bass
SCARBEE Rickenbacker Bass is a meticulously sampled virtual instrument capturing the iconic sound of a Rickenbacker 4003 bass guitar.
Developed in collaboration with Rickenbacker, this is the first software instrument to get the official nod from the legendary company.
This bass VST plugin offers a meaty low-end and crisp, defined midrange 一 delivering the characteristic tone that has shaped the history of rock and pop music.
The instrument was painstakingly sampled by Thomas Skarbye, capturing its ideal characteristics for distortion.
It's the first SCARBEE bass to be played with a pick, giving it a distinct rock-oriented feel.
The bass was recorded directly into Pro Tools using premium Mogami cables and a Metric Halo LIO-8 preamp to ensure the highest quality.
This bass guitar plugin offers many articulation options (both open-picked & palm-muted) to cater to various playing styles.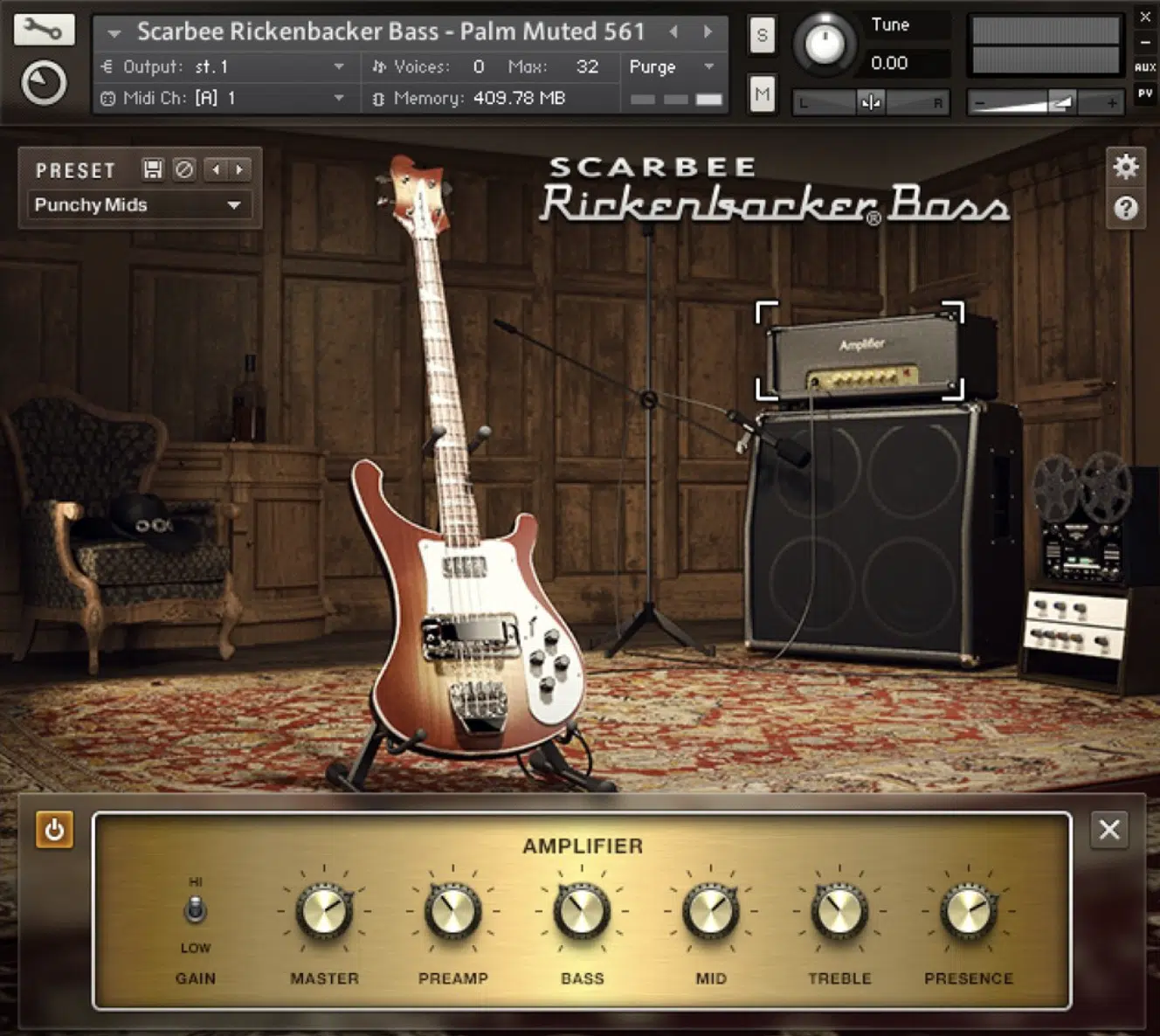 These were captured using Rickenbacker's unique Rick-O-Sound stereo output to provide that classic Rickenbacker tonal color.
Moreover, this bass VST plugin runs in both KONTAKT and the free KONTAKT player.
SCARBEE Rickenbacker Bass is based on the Rickenbacker 4003 model, which was introduced in 1980 as a successor to the 4001 model.
This newer version improved upon its predecessor by offering a balanced tonal response 一 especially in the bass response of the neck pickup.
This bass VST plugin successfully translates these improvements and delivers a sound that sits perfectly in a mix.
A unique KONTAKT effects chain adds a layer of flexibility.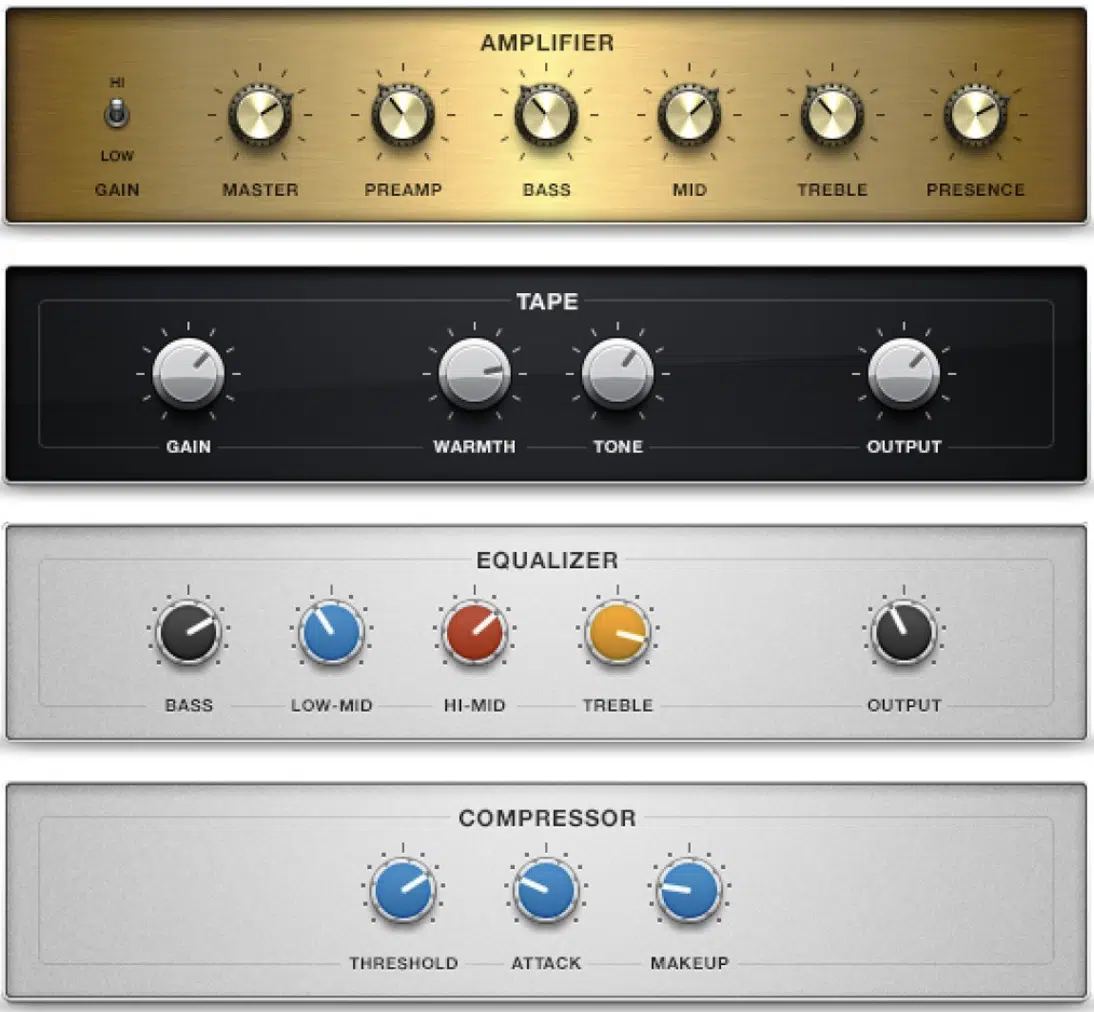 It incorporates a Jump Amp from Guitar Rig for extreme tweakability and other components from the Solid Mix Series like:
These effects give you the creative freedom to mold the iconic Rickenbacker sound into something uniquely your own.
Overall, this bass guitar plugin is exceptional.
Standout Features of This Bass Guitar VST Plugin: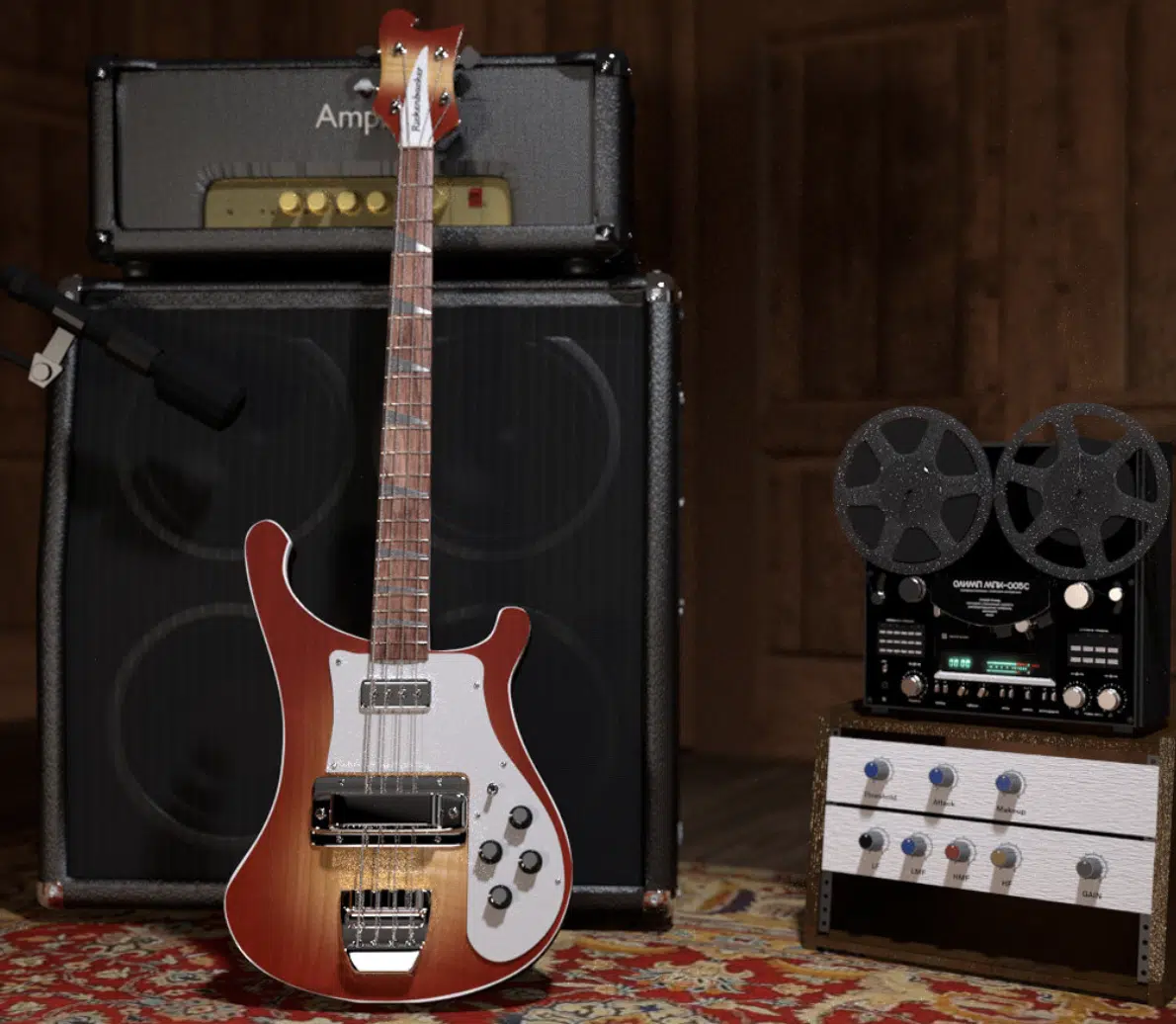 Officially approved and meticulously sampled Rickenbacker 4003 bass
Offers both open-picked & palm-muted articulations
Unique KONTAKT effects chain
Runs in both KONTAKT & the free KONTAKT player
Recorded with premium cables and preamps
One of the best bass guitar VST plugins of 2023
#5. Waves Bass Slapper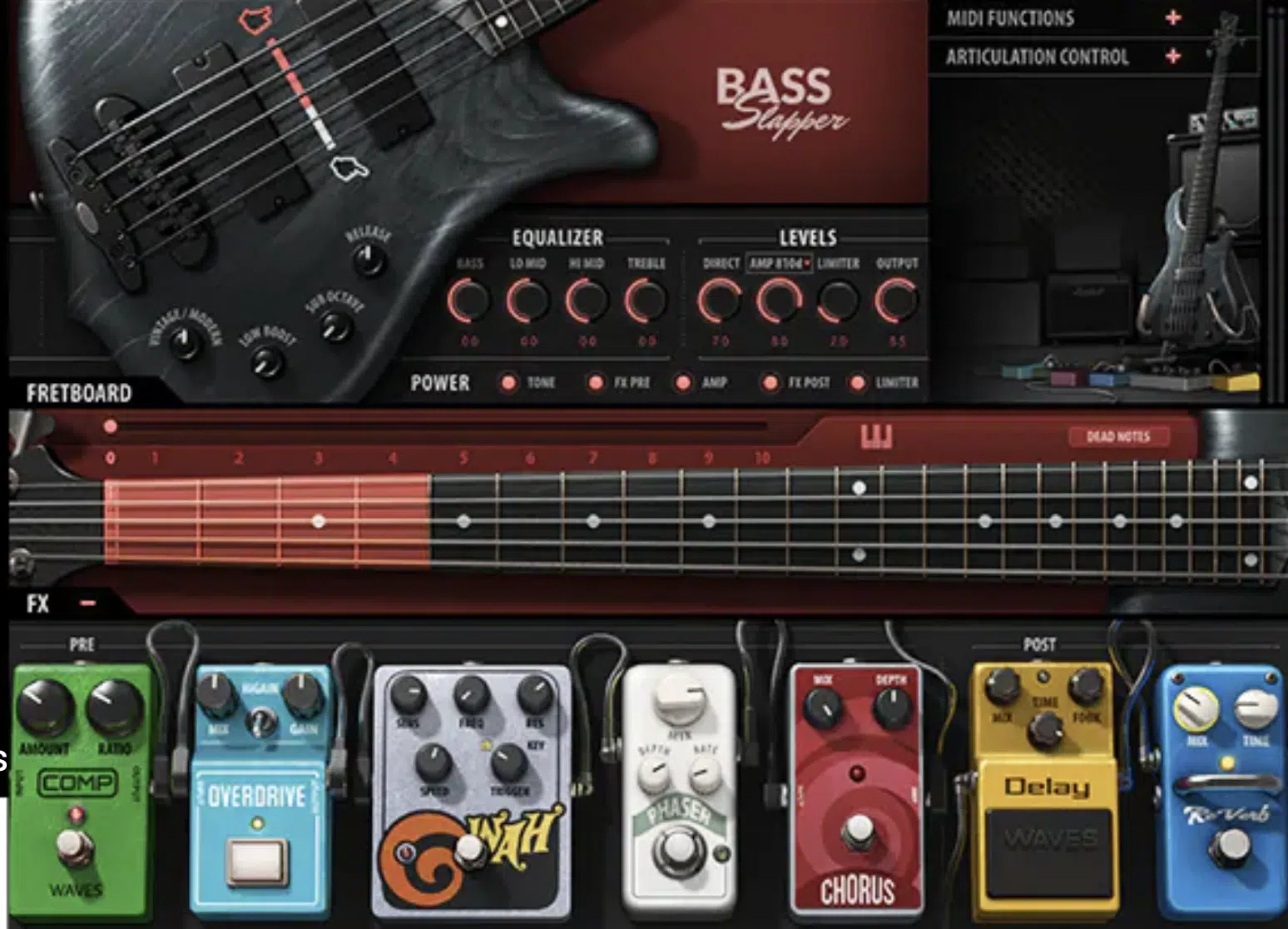 Waves Bass Slapper aims to recreate the unmistakable sound of slap bass, capturing the technique that brought funk and disco to life in the '70s.
This bass guitar plugin achieves incredible realism, with over 3,700 multi-samples offering round-robin note assignments and articulations.
Whether you're channeling Larry Graham's or Bootsy Collins's iconic sounds, this bass plugin is a ticket to authentic slap bass tones.
The instrument is optimized for various playing positions and articulations, including:
Thumbing
Popping
Mutes
More
This results in a slap bass sound that's remarkably close to the real thing.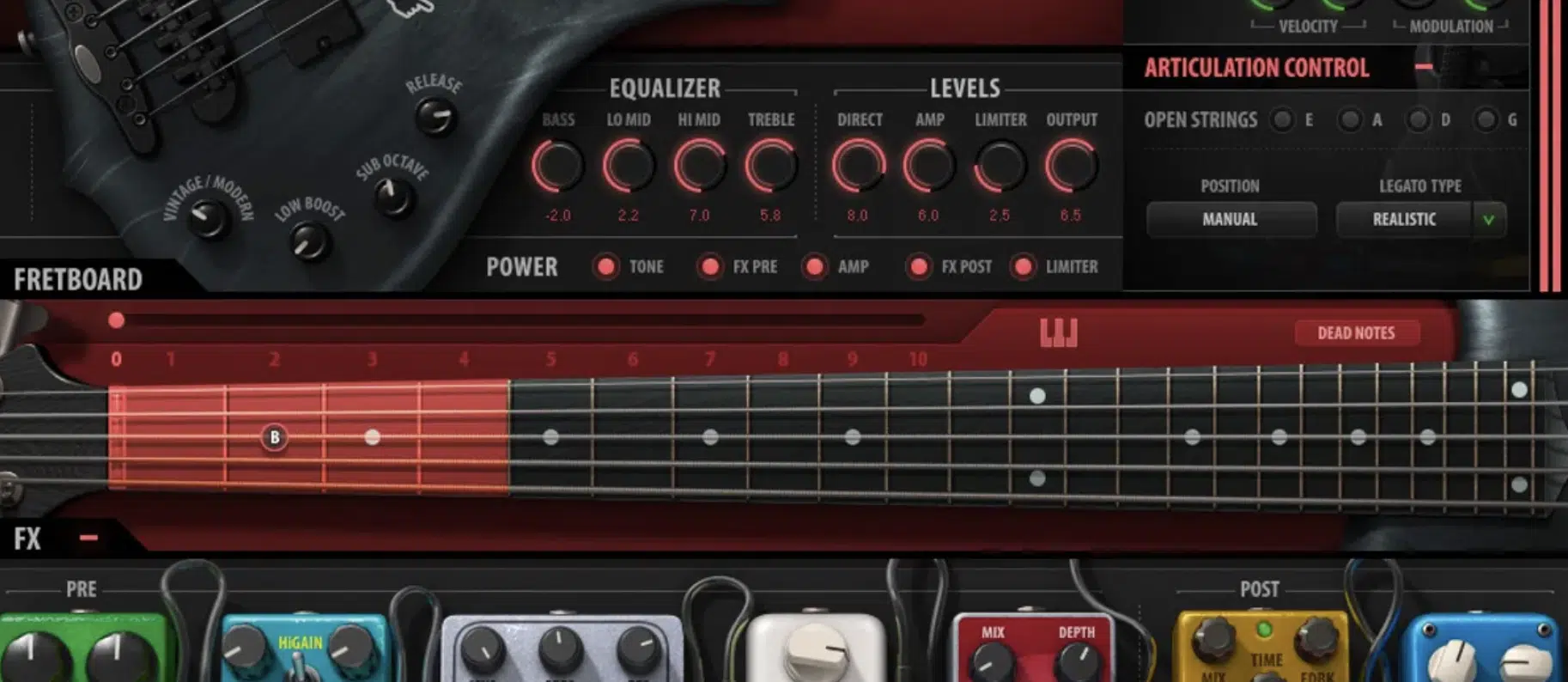 It even allows you to choose the neck position where the notes play.
NOTE: This emphasizes how the same note can sound different depending on where it's played on the fretboard.
One of the impressive aspects of Bass Slapper is its built-in amp sim and cabinet options.
These are designed to shape your tone in multiple ways 一 from warm and purring to downright growling.
Additional pre-amp and post-amp effects like compressor, phaser, EQ, overdrive, triggered wah, chorus, delay, and reverb provide extra tonal sculpting options.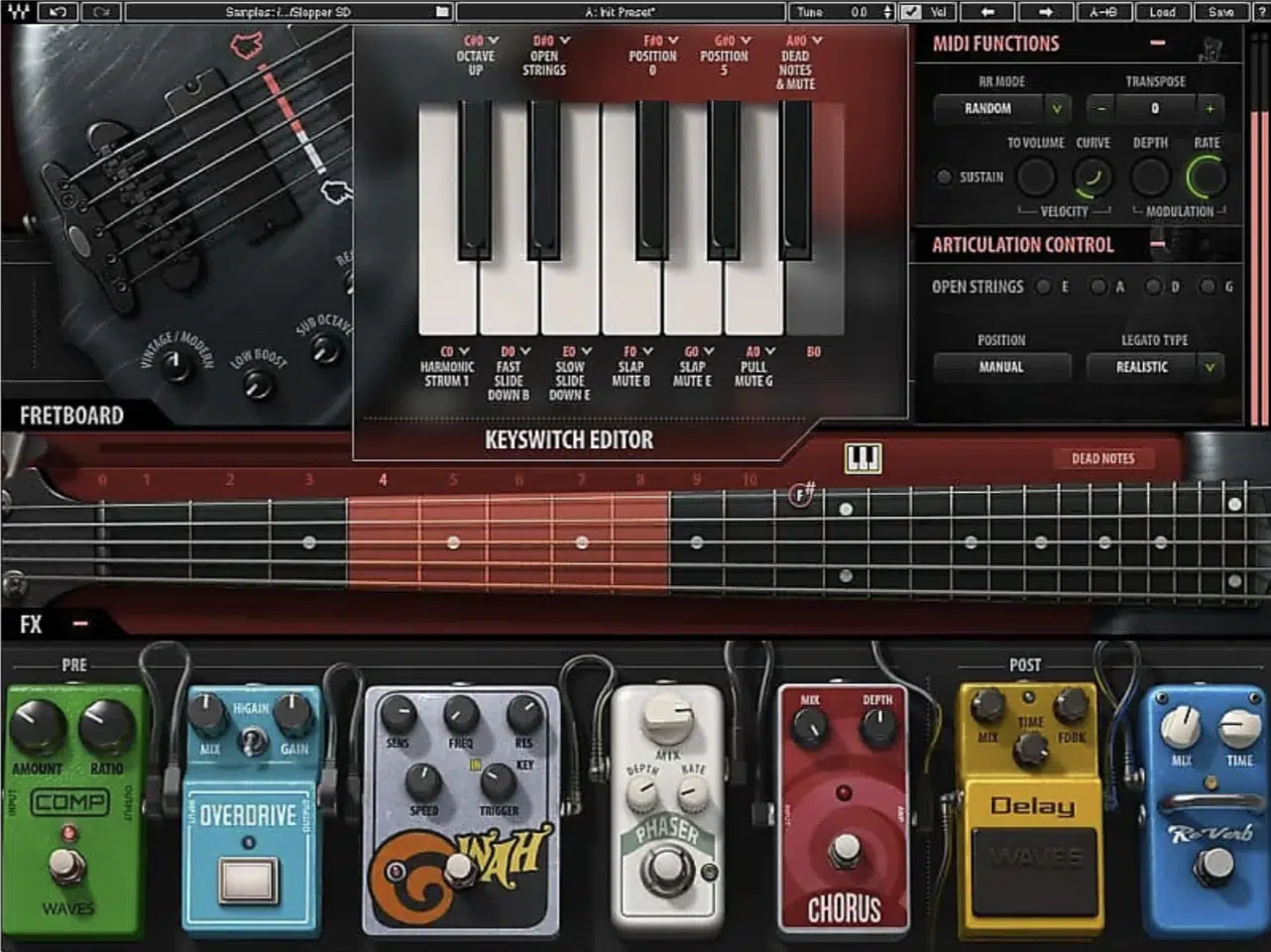 The plugin offers full 5-string articulation and control over various MIDI parameters like velocity curve and depth.
With options to adjust sustain, transpose, and even note release sound artifacts, this bass VST plugin offers high control over your bass performance.
Plus, it's NKS-ready, making it compatible with Native Instruments' Maschine and Komplete Kontrol hardware.
The engine behind Bass Slapper is the proprietary Waves Sampler Engine (WSE).
This powers this bass VST plugin either through a high-definition library for maximum fidelity or a standard-definition one for lower CPU usage.
This makes it a versatile tool 一 whether you're producing on a high-end studio setup or a more modest home studio.
Standout Features of This Bass Guitar VST Plugin: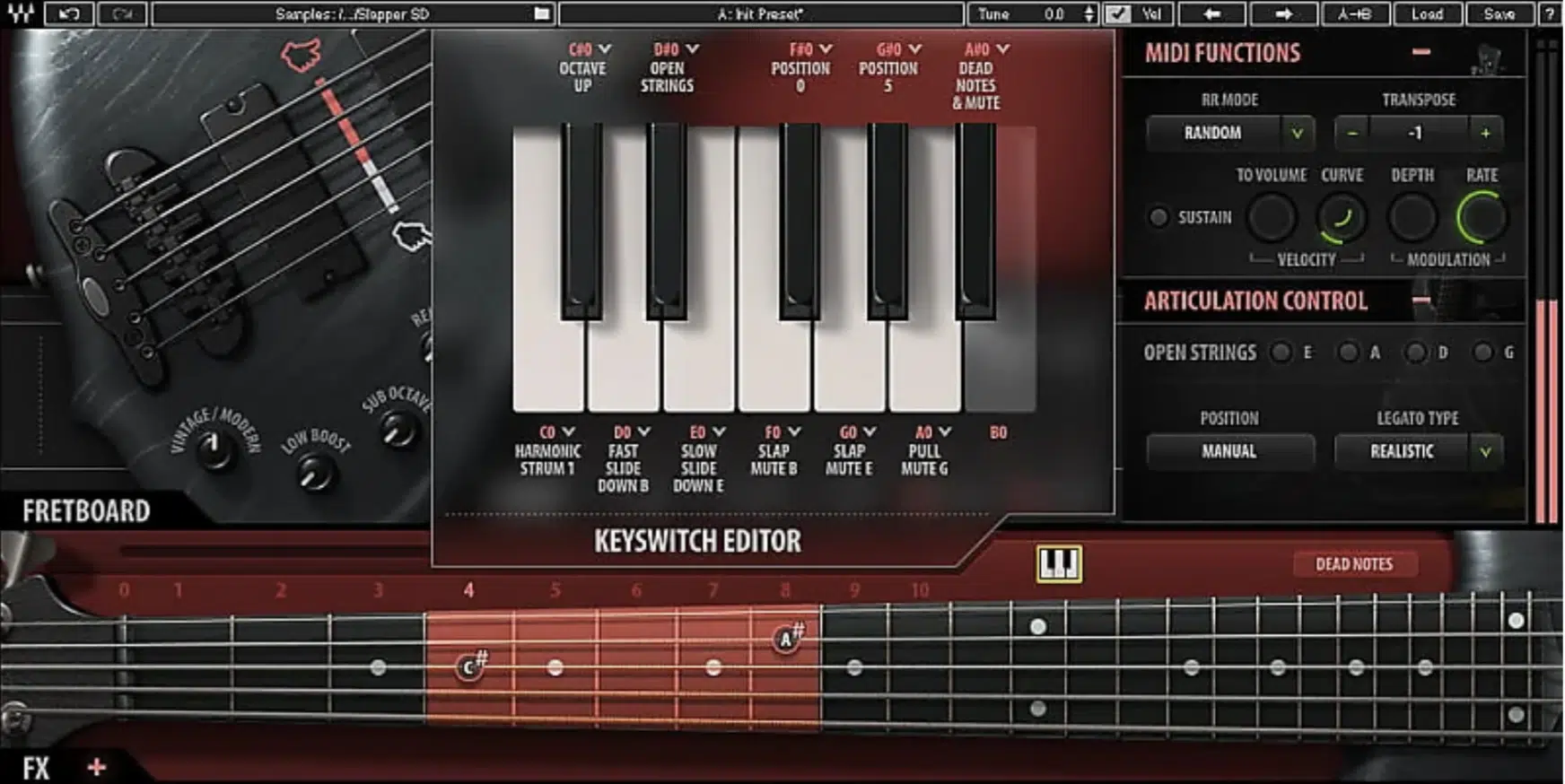 Over 3,700 multi-samples with round-robin & multiple articulations
Built-in amp sim and cabinet options
Pre-amp and Post-amp effects like compressor, overdrive, and reverb
Full control over MIDI parameters and 5-string articulation
Available in both high-definition and standard-definition sample libraries
One of the best bass guitar VSTs of 2023
#6. EZbass by Toontrack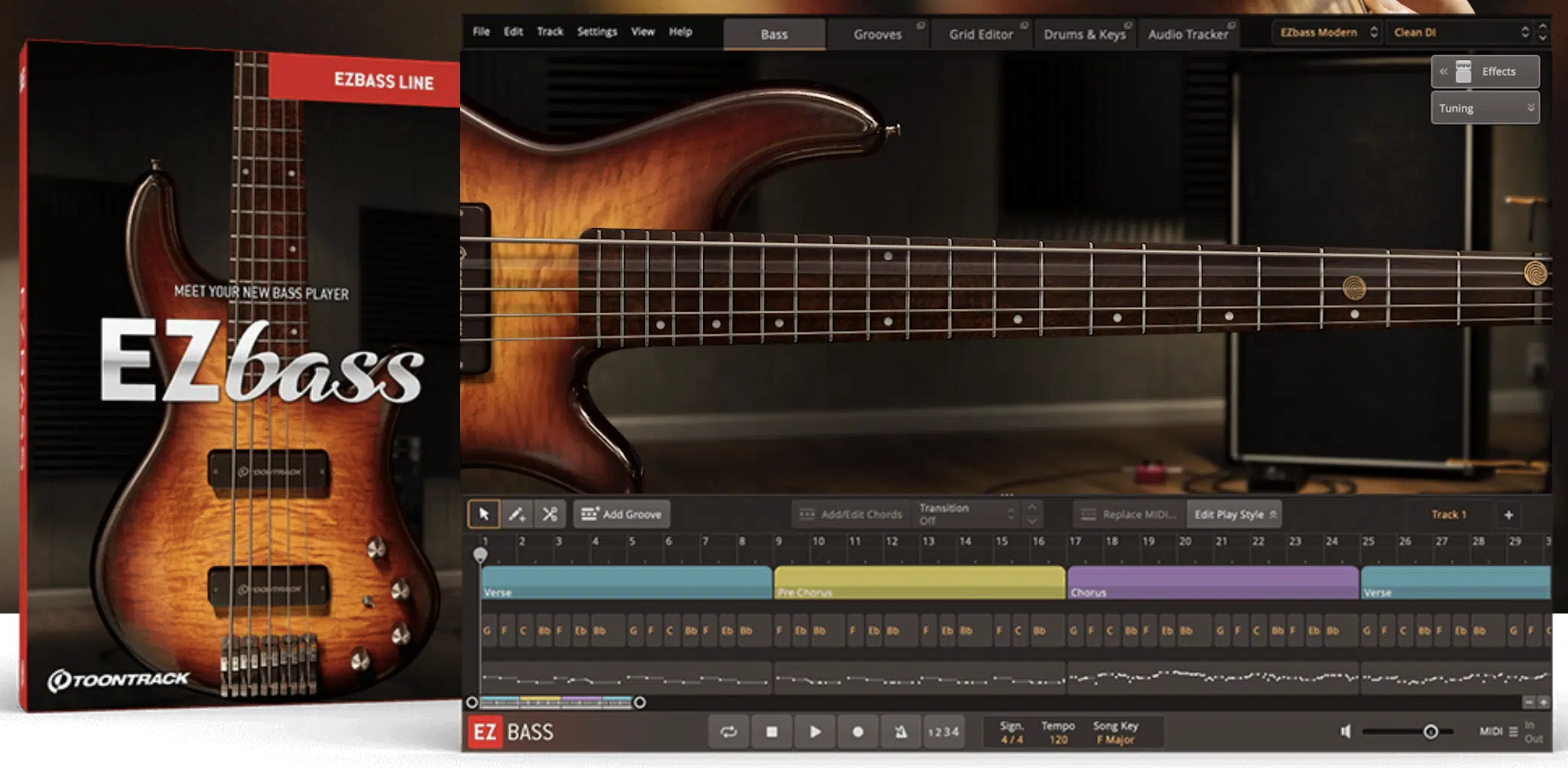 EZbass by Toontrack is a comprehensive solution for anyone looking to incorporate a realistic bass performance into their music production setup.
It boasts two meticulously sampled bass libraries (one vintage and one modern) that offer a broad sonic palette.
Whether you're trying to compose intricate bass lines from scratch or need a quick and effective way to add low-end to a song, EZbass delivers.
If you're not a seasoned bass player, don't worry…
EZbass comes loaded with various mix-ready presets and a host of built-in bass grooves across multiple styles.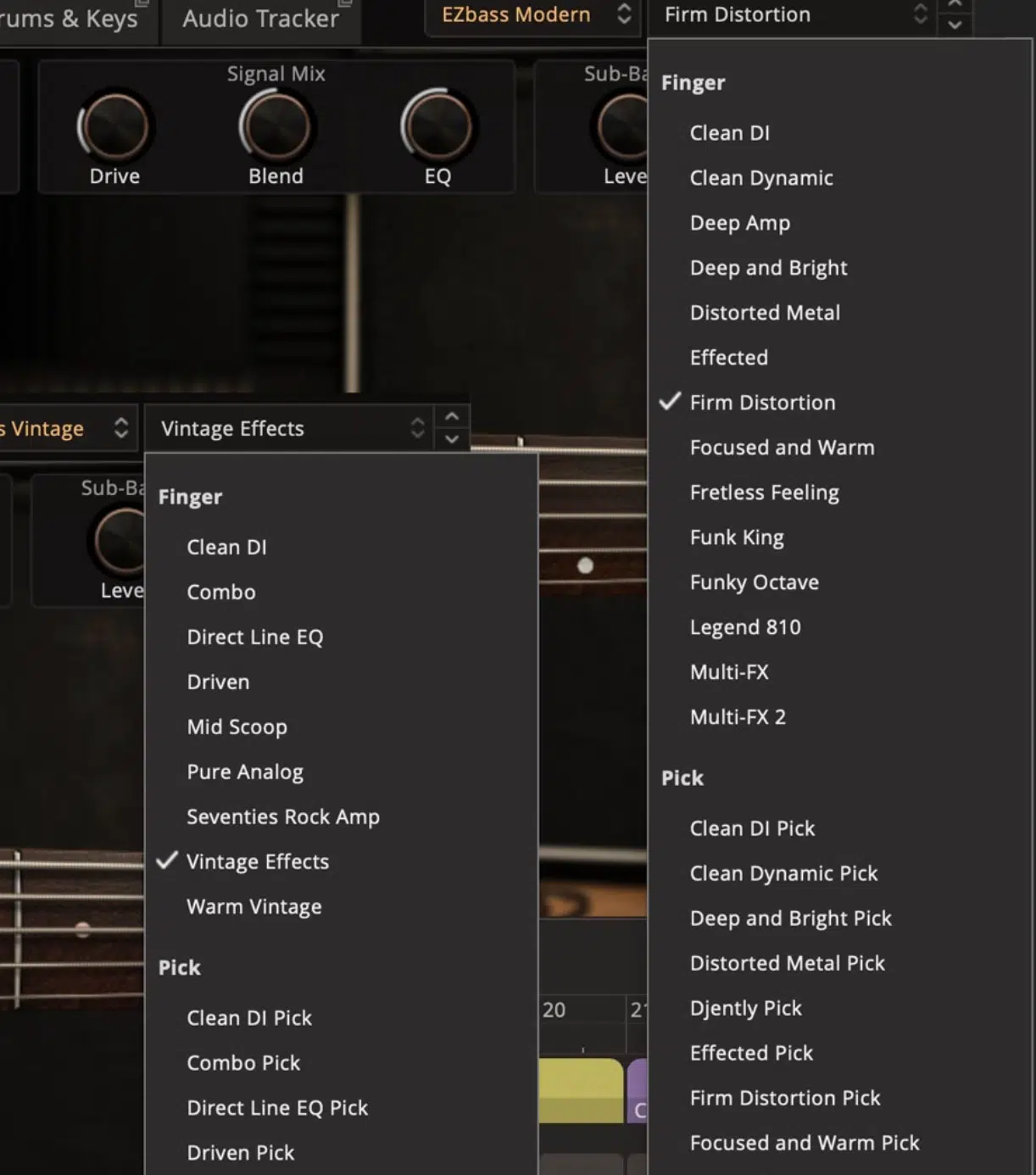 The software can automatically generate matching basslines when you feed it drum or keyboard MIDI.
If you want to dig deeper into your MIDI data, you can use the built-in 'Grid Editor' to alter the nuances of your performance, from timing to articulations and velocity.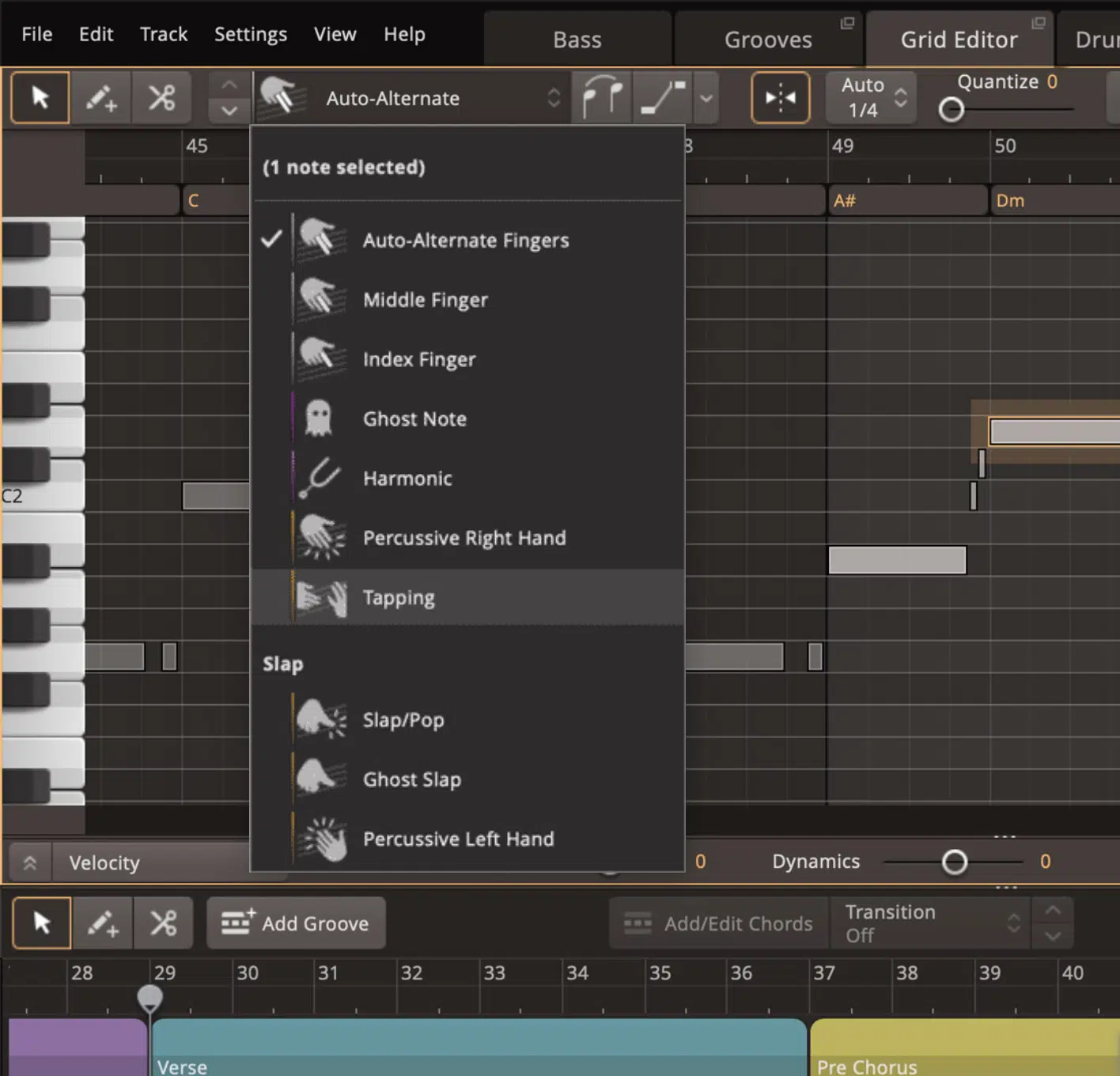 One of the standout features of EZbass is its Audio to MIDI conversion technology, inherited from Superior Drummer 3.
This lets you convert any audio performance into a MIDI sequence 一 giving you the freedom to manipulate it as you please.
Whether you want to use a previously recorded bass line or convert a rhythm guitar part into a complementary bass groove, this feature significantly expands your creative options.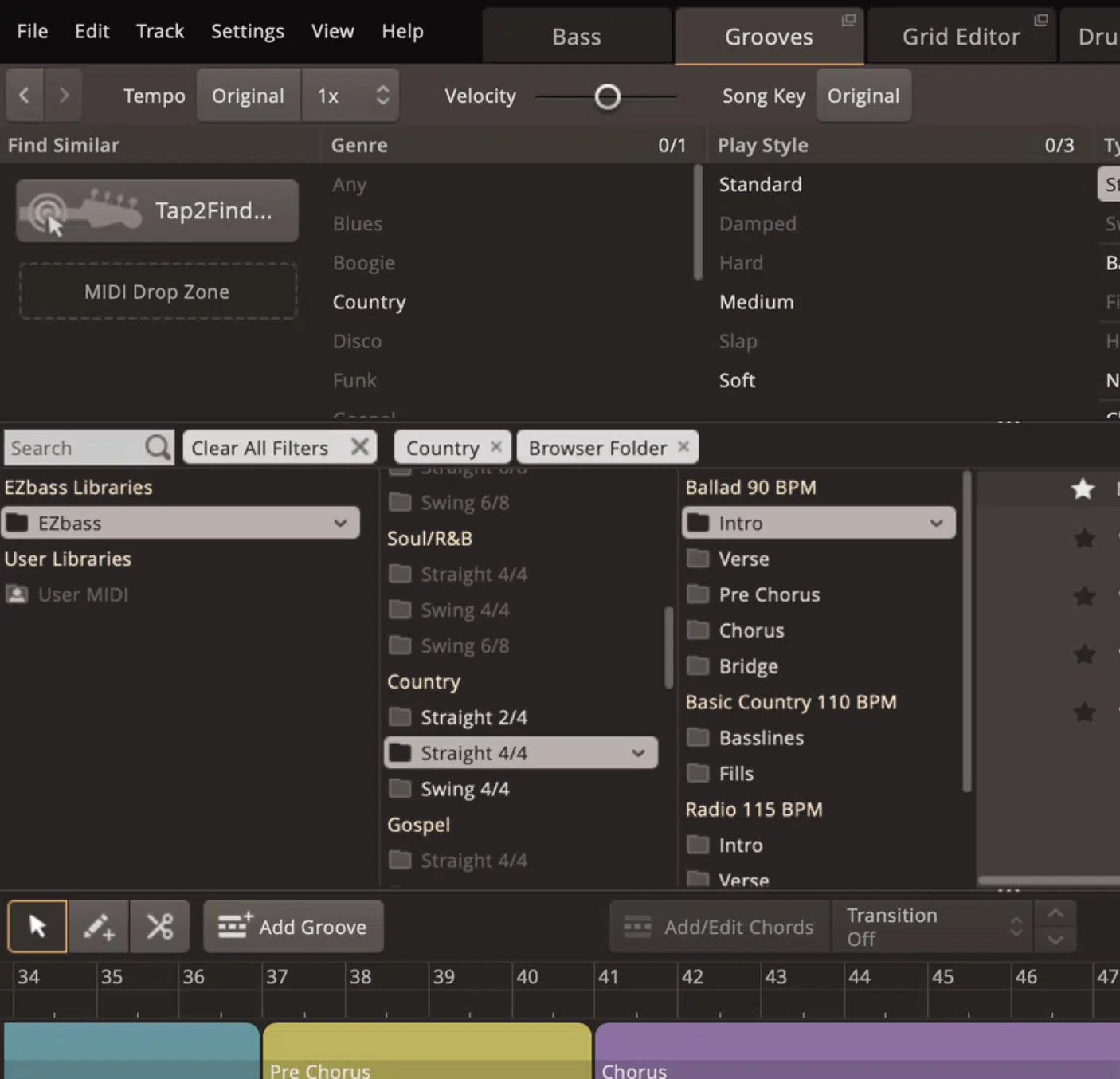 Visualizing your work in EZbass is also a breeze.
When you launch the program, you'll find yourself in the 'Bass' view, showing your selected instrument and the notes that are being played in real time.
The 'Song Track' is your hub for organizing the layout of your song or performance, giving you easy access to several fundamental features for:
Given its capabilities' breadth and sound libraries' depth, EZbass is not just a bass plugin but a comprehensive bass studio.
Standout Features of This Bass Guitar VST Plugin: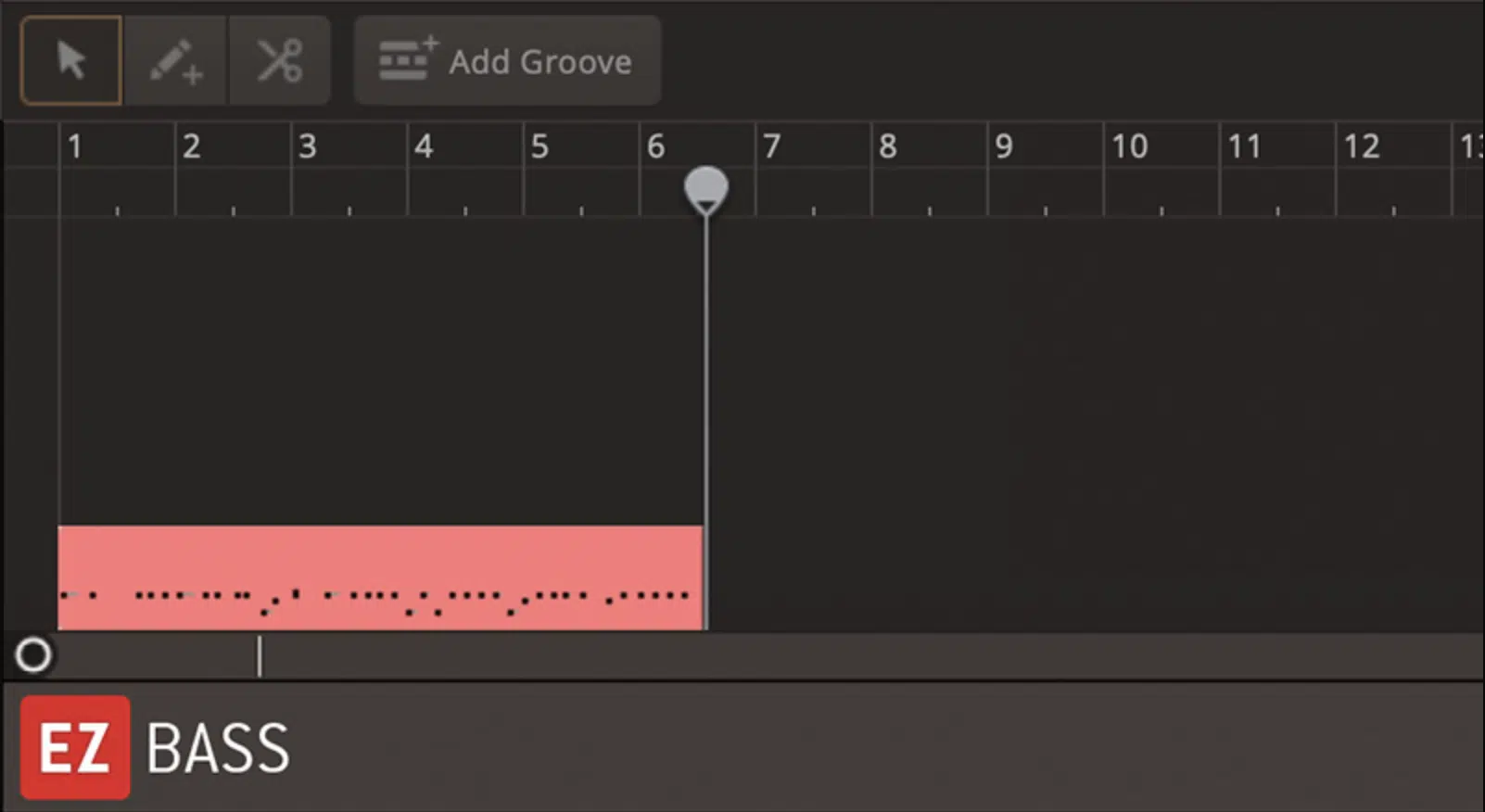 Two bass libraries (vintage and modern)
Audio to MIDI conversion
Built-in 'Grid Editor' for detailed MIDI tweaking
Automatic bassline creation from drum or keyboard MIDI
Mix-ready presets across multiple styles
One of the best bass guitar VSTs
Sounds incredibly authentic (bass guitars)
#7. Ample Bass P Lite II (Free)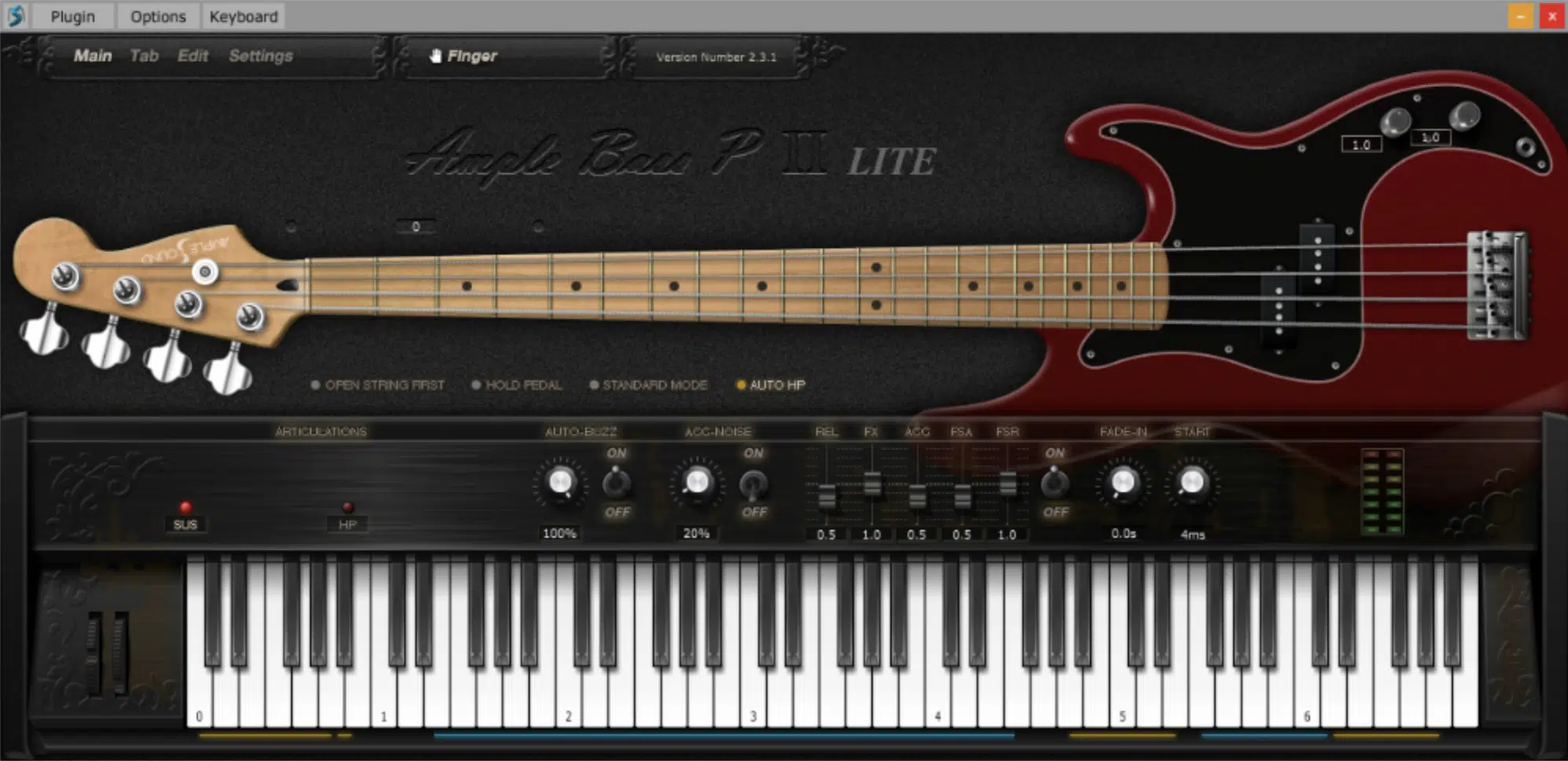 In the world of free bass guitar VST plugins, Ample Bass P Lite II by Ample Sound reigns supreme.
Aimed to bring the classic sound of a Fender Precision Bass into your digital studio, this free plugin offers a lite but highly effective toolset.
It brings an incredible amount of realism to the table for a free plugin, offering:
443 samples
Rich fingering noises
A range of articulations
Ample Bass P Lite II is more than just a collection of bass samples.
It features a unique Direct from Disk (DFD) system and an in-built Tab Player that can load, display, and playback guitar and bass tablature from various file formats.
NOTE: This is particularly useful for musicians who are not proficient in programming MIDI but can read tablature.
The Tab Player has supported articulations like Hammer On/Pull Off, Trill, Bend, and more.
It also features an Auto Buzz system and a Capo Logic function 一 enhancing its ability to mimic real-world bass playing.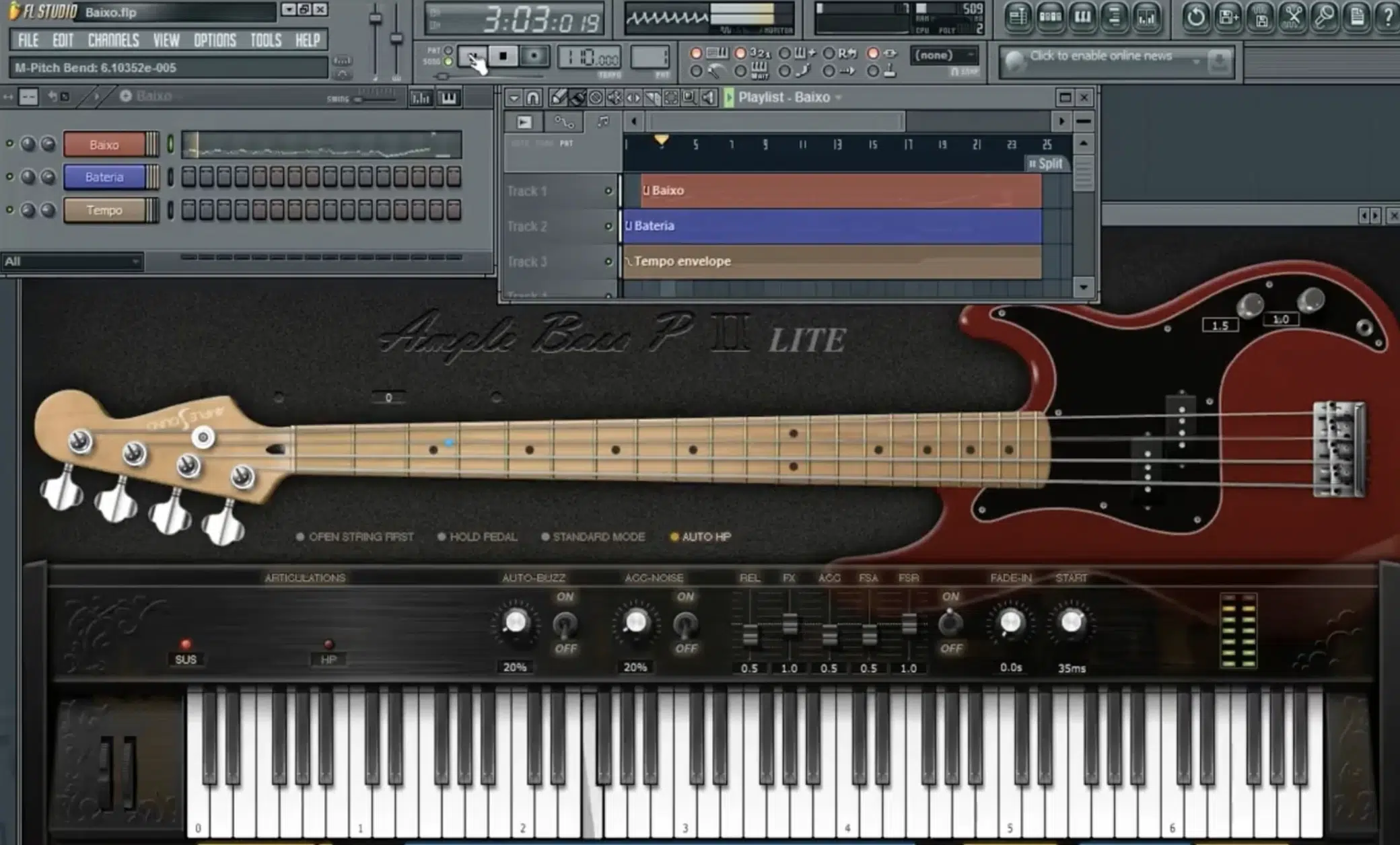 This built-in function works with Ample Sound's sophisticated instrument engine to add nuanced articulations where needed.
In turn, it makes your basslines sound even more convincing.
Whether you're working on LoFi beats, Cubeatz sample packs, or any other style of music, Ample Bass P Lite II offers supreme versatility.
It's fully compatible with Mac and PC, and integrates seamlessly into all DAW software.
From sustain and hammer-ons to pull-offs and accents, this free bass guitar VST plugin gives you ample control over how your bass sounds.
Given its extensive feature set and the zero-dollar price tag, Ample Bass P Lite II is a must-have for any music producer looking for authentic bass sounds on a budget.
Standout Features of This Bass Guitar VST Plugin:

443 sampled sounds & rich fingering noise
Built-in Tab Player with support for multiple articulations
Compatible with Mac & PC and all major DAWs
Advanced features like Auto Buzz system and Capo Logic
Better than most other free plugins
Great for serious producers who love bass guitars
One of the best bass guitar VSTs of 2023
#8. Audiolatry FunkBass (Free)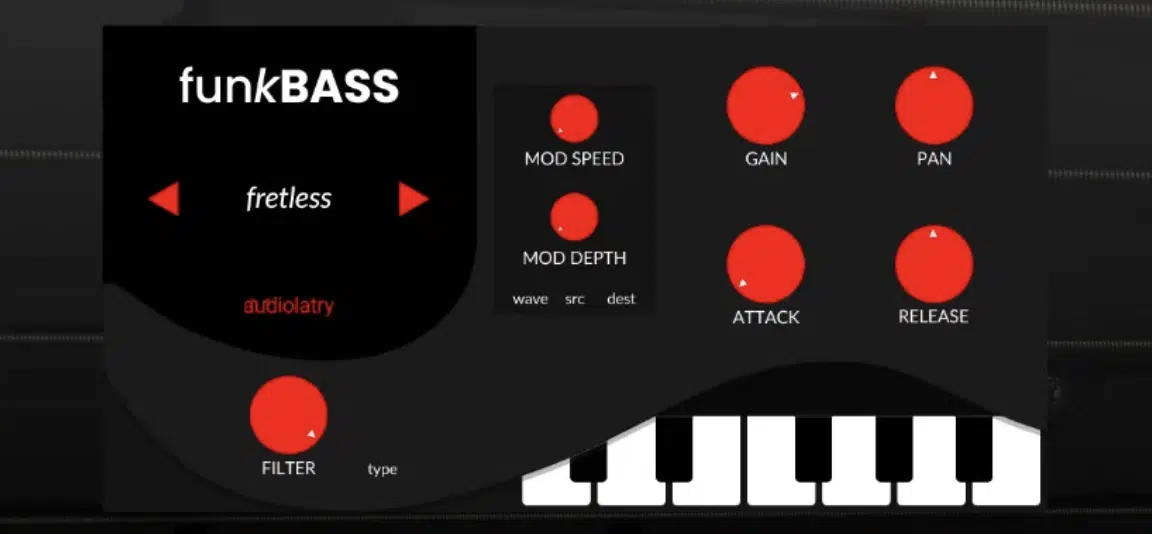 Audiolatry FunkBass caters to musicians looking for a streamlined, sample-based virtual instrument that offers a fresh, funky flavor for various genres.
Free to download and compatible with Windows and macOS, it's an easily accessible asset for creators on a budget.
Designed for genres (such as Funk, Pop, Soul, RnB, EDM, and more), FunkBass delivers simplicity without compromising quality.
It's great for those who want straightforward options for laying down basslines.
Built to be light and fast, FunkBass takes a minimalistic approach to virtual bass instrumentation.
While it may not be laden with many techniques and articulations, it aims for a more direct, simplified user experience.
This is ideal for producers or artists who want to add bass without getting bogged down in endless customization options.
FunkBass is for those who prefer a lean, easy-to-use interface over the granular details provided by pricier, more intricate bass plugins.
The 3.0 update for FunkBass expands its utility further 一 adding a collection of synth basses sampled from analog gear.
This elevates this free bass guitar VST plugin from being merely an electric bass emulator to a versatile tool capable of a broad range of bass sounds.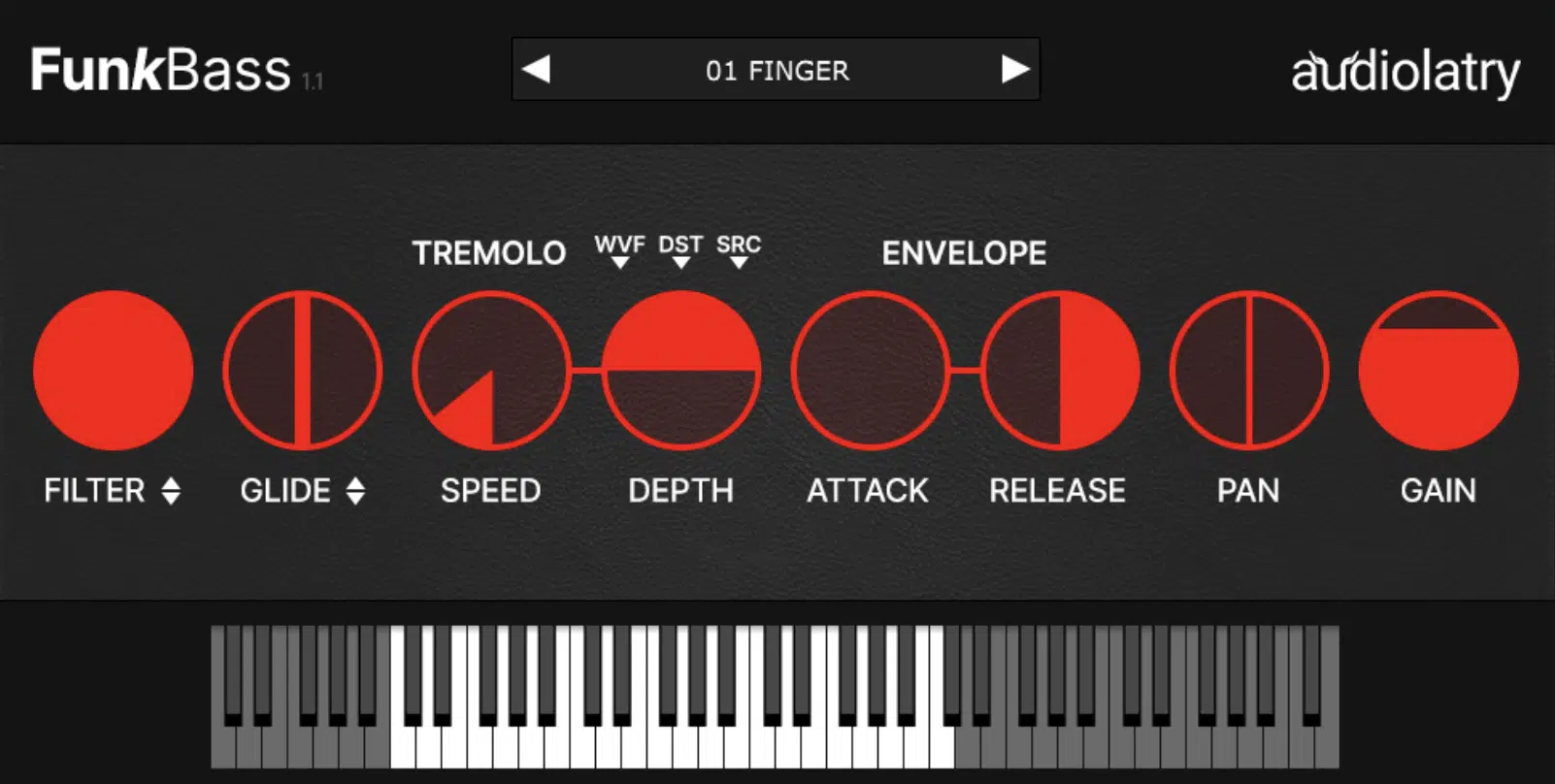 Plus, the new Graphical User Interface (GUI) is easy to navigate and makes tweaking sounds a breeze.
FunkBass excels in offering a straightforward yet dynamic range of tonal possibilities.
With 21 presets of electric and synth basses, it provides a foundation strong enough to build various tracks upon.
It may not replicate the nuanced sound of a physical bass, but it does offer a diverse palette of tones that are royalty-free and ready to use.
What sets FunkBass apart is its modular approach to sound shaping.
It includes dedicated modules for distortion, complete with:
Cabinet emulation
LFO modulation
These features, coupled with its voice mode and glide options (as well as filter cutoff controls), offer a tailored experience that still maintains the plugin's overall philosophy of simplicity and accessibility.
Standout Features of This Free Bass VST Plugin:

21 electric and synth bass multi-sampled presets
Global module with gain and pan
Distortion section with cabinet emulation
Modulation section
Voice Mode & Glide
Filter Cutoff
One of the best bass guitar plugins of 2023
Final Thoughts
Armed with the knowledge of these top-of-the-line bass VST plugins, you're now poised to create some of the most compelling basslines in your tracks.
Whether you're crafting soulful R&B grooves or electrifying EDM drops, the right plugin can make all the difference.
Yet, even the most amazing plugin is only as good as the creativity it inspires.
That's why we want to give you one more final (and mind-blowing) tool to fuel your bass-making brilliance.
To seamlessly integrate the power of these exceptional bass VST plugins into your workflow, you need these free Essential Free MIDI Basslines.
This complimentary pack offers 12 fire, free MIDI basslines that you can instantly plug & play into your own music, setting you up to create beats that absolutely destroy the dancefloor.
Think of it as the perfect pairing: top-quality bass VSTs coupled with meticulously crafted MIDI basslines, offering a match made in musical heaven.
So go ahead, put your newfound knowledge to the test and make some bass-heavy magic.
After all, the perfect bassline is just a plugin (and a killer MIDI pack) away.
Until next time…