Bitcrushing is a digital audio effect used to recreate the 'grit' of analog sound or to degrade audio quality for creative purposes. 
From adding a lo-fi aesthetic to your dreamy synth lines to bringing out the crunch in your drum loops, bitcrushing offers endless ways to elevate your music production.
However, if you're unfamiliar with the best bitcrusher plugins available, you'll miss out on unlocking this audio effect's full creative potential. 
Luckily, in this comprehensive guide, we'll be breaking down the 10 best bitcrusher plugins of 2023 in detail.
For each included bitcrusher plugin, we'll be including:
A Detailed Description ✓

Key Features ✓

Unique Functions ✓

Versatility & Flexibility ✓

Ease-of-Use ✓

Audio Quality ✓
By the end of this article, you'll have a comprehensive understanding of the 10 best paid and free bitcrusher options available in 2023. 
With this knowledge, you'll be well-equipped to take your audio production projects to the next level.
Whether you're looking for subtle enhancements or dramatic sonic transformations, we've got you covered.
So, let's dive in…
What is Bitcrushing?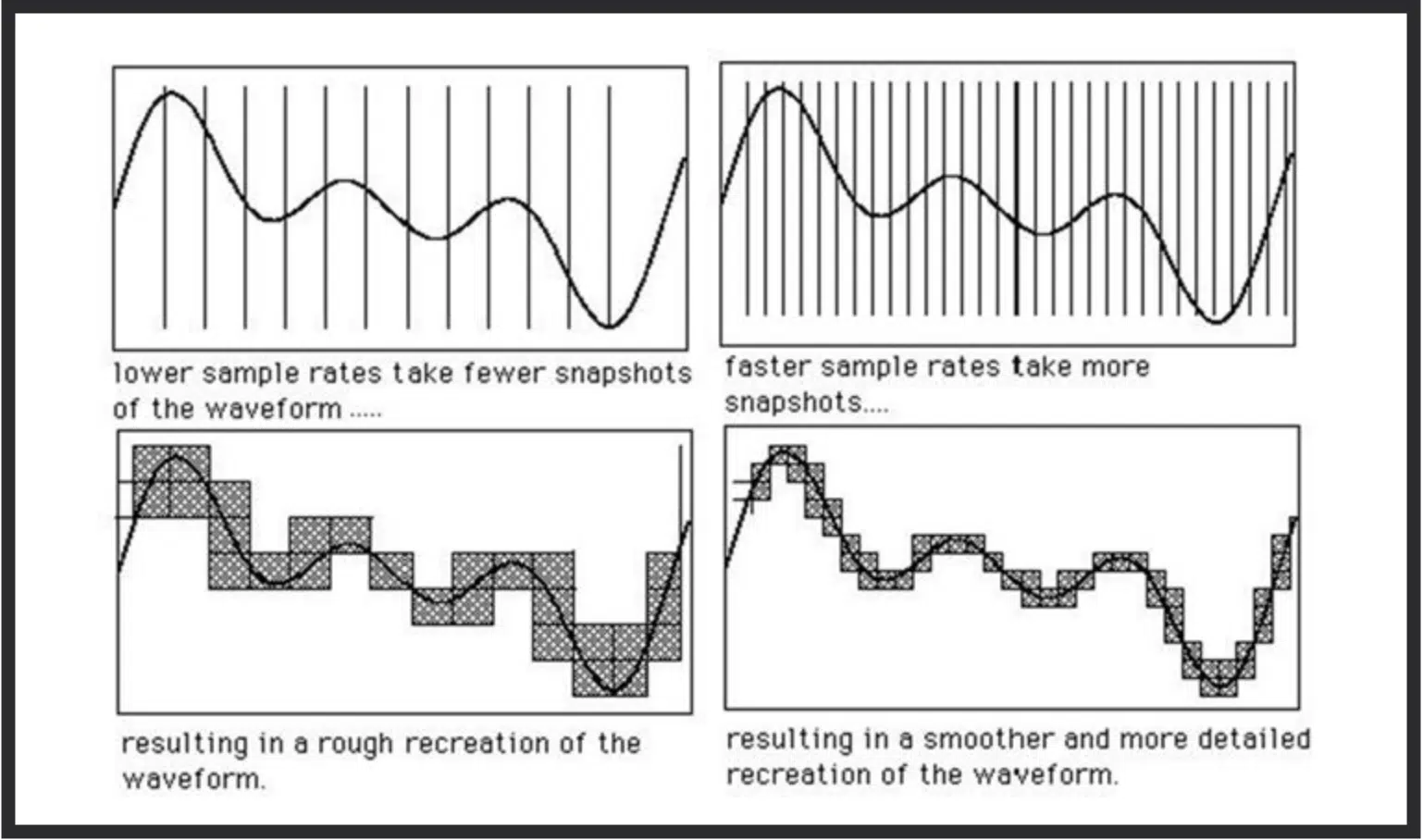 Before we break down the 10 best bitcrusher plugins of 2023, let's explore what bitcrushing is. 
Bitcrushing is a form of digital sound manipulation that reduces the bit depth and sample rate of an audio signal.
This process generates harmonic distortion and introduces artifacts into the sound, often resulting in a lo-fi, "gritty" aesthetic. 
But why would you intentionally degrade the quality of an audio signal? 
This technique can add a unique character or "dirt" to beats and samples, making them stand out in hip-hop production.
It mimics the grit from vintage samplers or old-school recording techniques (like bit reduction and sample rate reduction).
When we talk about bitcrushing, two key terms come up frequently: 
If you're going to master the following bitcrusher plugins (and bit-crushing in general) these are two elements you'll need to be extremely familiar with.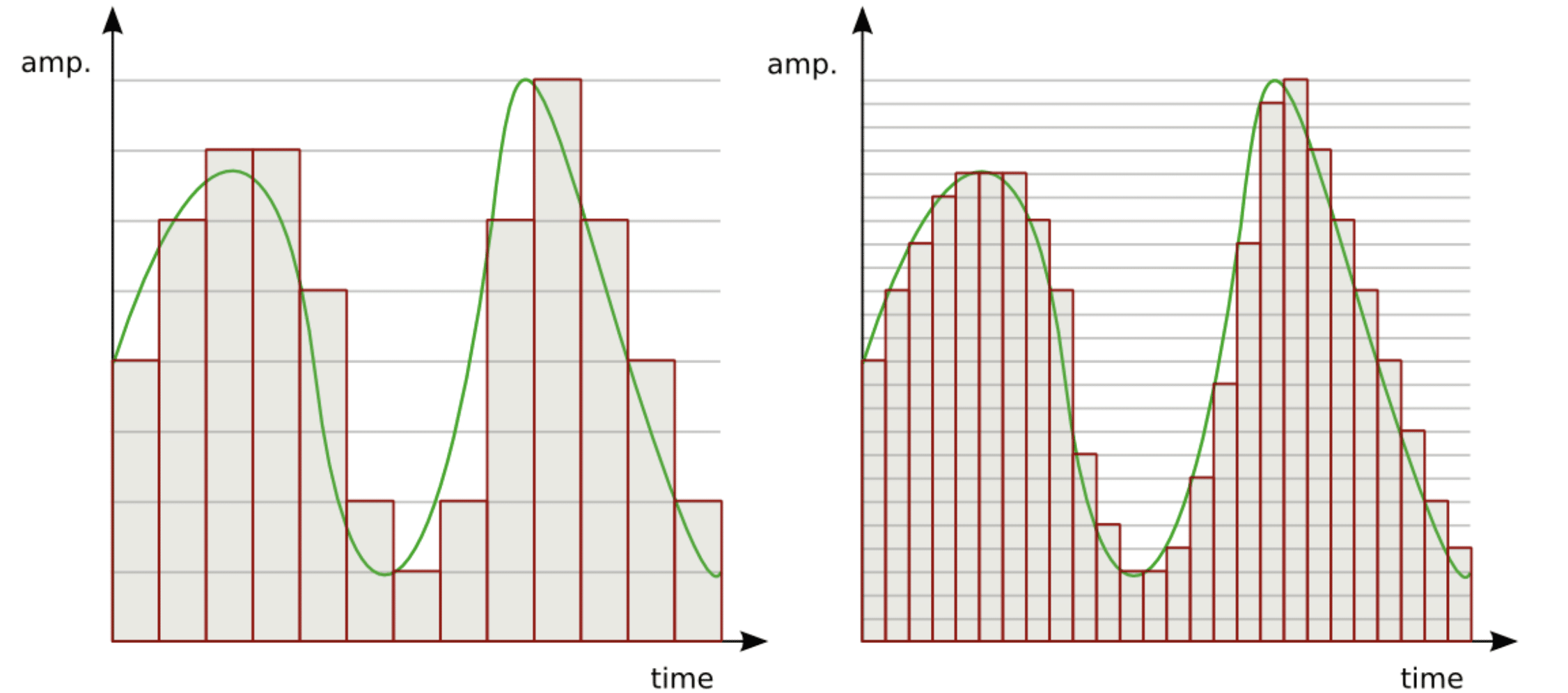 Bit depth refers to the number of bits of information in each sample, and it directly corresponds to the resolution of each sample. 
Higher bit depths yield a higher dynamic range, while lower bit depths result in more quantization noise, giving us the "grittiness" we often desire.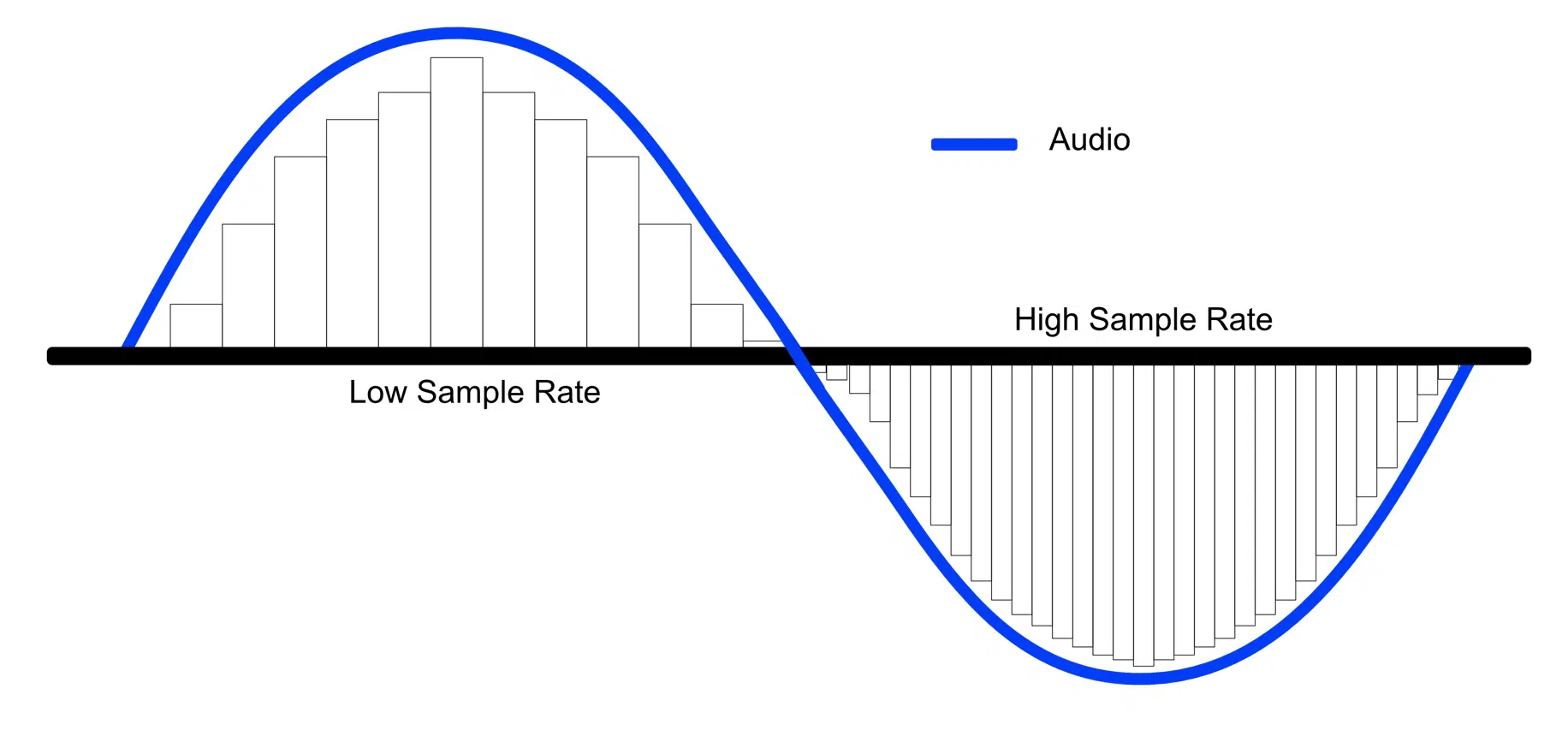 On the other hand, sample rate pertains to how many audio signal samples are taken per second. 
A higher sample rate captures more detail in the audio file, while reducing the sample rate takes away that detail.
This leaves you with a sound that can vary from slightly degraded to extremely distorted, depending on how far you push it.
The 10 Best Bitcrusher Plugins Ever
Now that you understand what bitcrushing is and how it works let's dive into the fun stuff: the 10 most unique bitcrusher plugins ever.
We include both free bitcrusher plugins and paid bitcrusher plugins.
So, whether you want to go big, or get big results without paying a dime, we've got you covered.
#1. Mangler by Unison Audio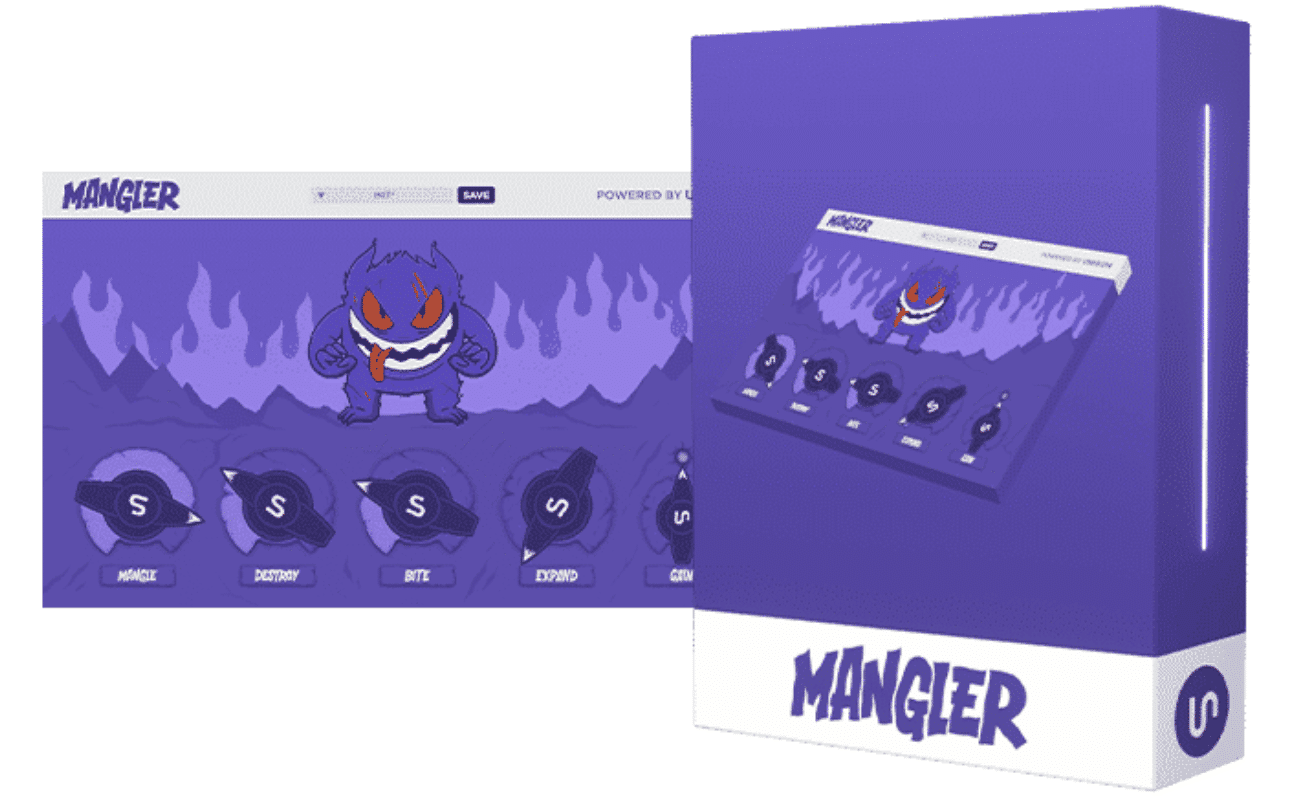 Mangler by Unison Audio is a unique entry in the world of bitcrusher plugins, offering a distinctive hybrid of analog/digital distortion and compression. 
Marketed as the "world's first and only" hybrid distortion plugin, Mangler promises to elevate your music to new sonic heights. 
It's designed to add immense power to various audio elements like bass, 808s, drums, melodies, and guitars. 
This bitcrusher plugin is perfect for musicians and producers tired of weak-sounding mixes and looking to make their tracks stand out.
Ease-of-use is one of Mangler's selling points, as it operates with just four knobs; each serving a unique function. 
#1. The Mangle Knob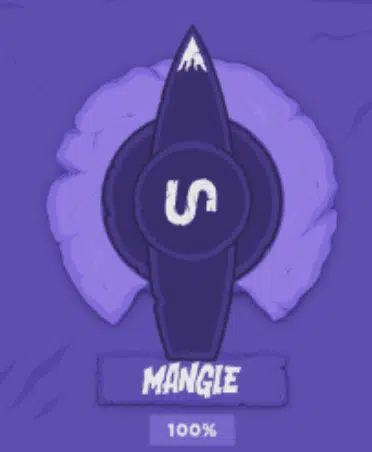 The Mangle knob applies the one-of-a-kind, hybrid distortion and compression effect that took us months of testing to dial in.
#2. The Destroy Knob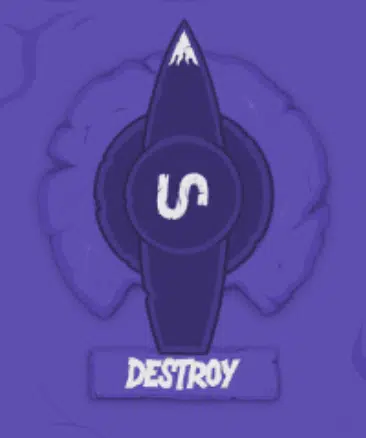 The Destroy knob, a favorite amongst expert music producers, applies aggressive analog distortion to make your sounds melt your listeners' faces.
#3. The Bite Knob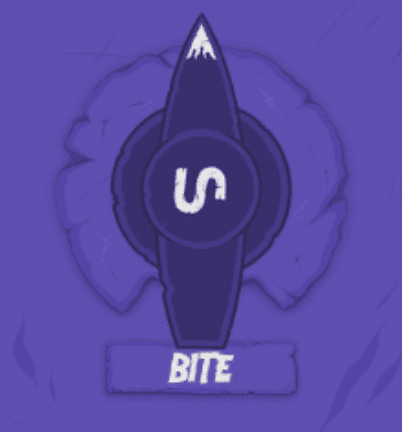 The Bite knob applies spicy bitcrushing to give your tracks that unique sound and edge.
#4. The Expand Knob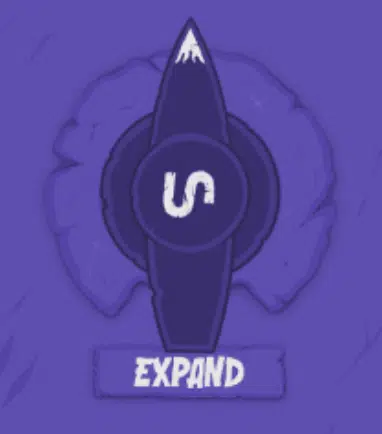 The Expand knob applies pristine-quality stereo width, to get that ultra-wide sound that shines through your mix.
With this straightforward control scheme, even beginners can tap into Mangler's robust features to transform their music.
One of the standout features of Mangler is its universal applicability.
Mangler delivers outstanding results whether you're into hip-hop, pop, lo-fi, R&B, future bass, or any electronic music genre.
It's compatible with all major DAWs 一 ensuring you can make Mangler a seamless part of your production workflow regardless of your setup.
Mangler comes packed with bonuses to enhance your creative process. 
These include a variety of loop packs for:
Bass

Drums

Melodies

Guitars
Mangler is not just another bitcrusher or distortion plugin; it's an invitation to push the sonic boundaries of your music. 
The combination of analog and the dirtiest digital effects (along with a hint of compression) offers a unique texture that could be the missing link in your production.
Plus, it comes with 5 exciting bonuses exclusive to Mangler users!
This Bitcrusher Plugin Includes:

Hybrid Analog/Digital Distortion and Compression

Four main knobs: Mangle, Destroy, Bite, Expand

Compatibility with all major DAWs

Bonus loop packs for bass, drums, melodies, and guitars

Advanced Implementation Video Training

One of the best bitcrusher plugins of 2023
#2. Crush Pack by Native Instruments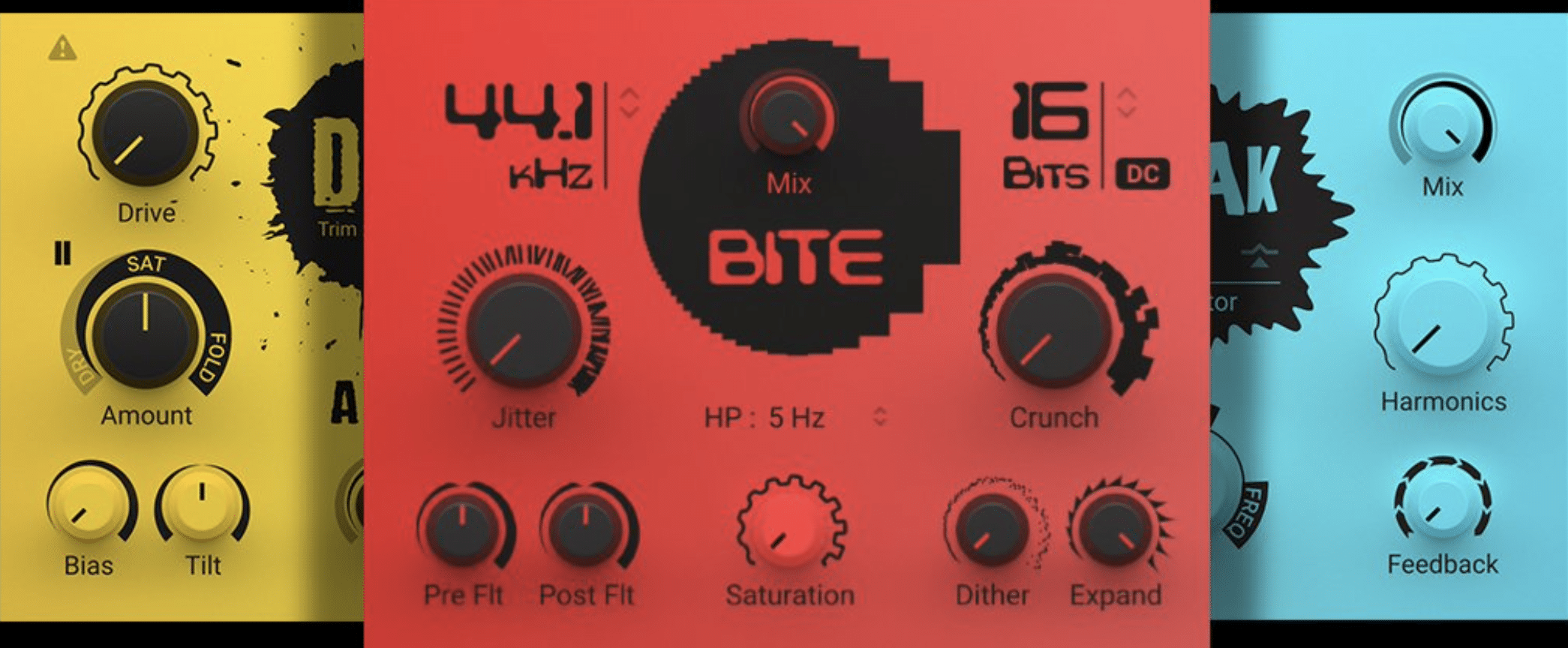 The Crush Pack by Native Instruments is a comprehensive bitcrusher and effects suite that consists of three individual plugins:
Each of these bitcrusher plugins offer a distinctive effect 一 ranging from bit-crushing and distortion to frequency-shifting. 
With this trio, you can breathe creative life into your audio tracks by adding iconic sounds reimagined in modern contexts.
BITE: The Bitcrusher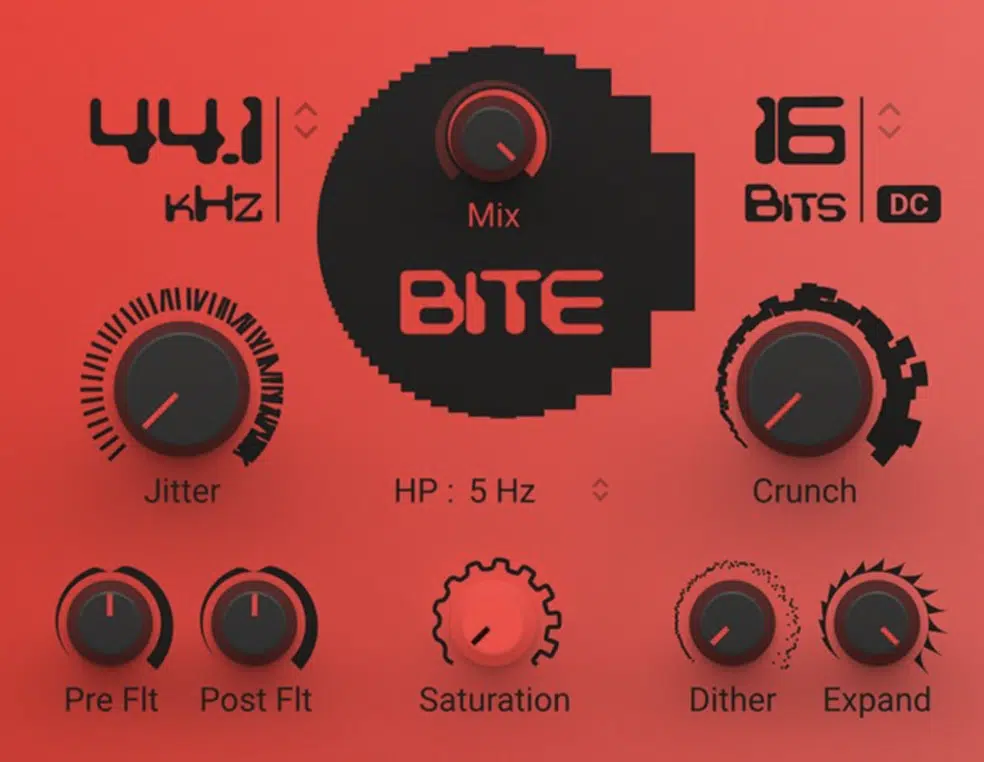 BITE aims to replicate the crunchy sound of early digital audio, a sonic characteristic revered in genres like hip-hop and dance.
Besides basic bitcrushing, it features a "Crunch" parameter that can be combined with DC offset to create a unique crackling sustain effect.
This will add more character to your sound.
DIRT: The Distortion Unit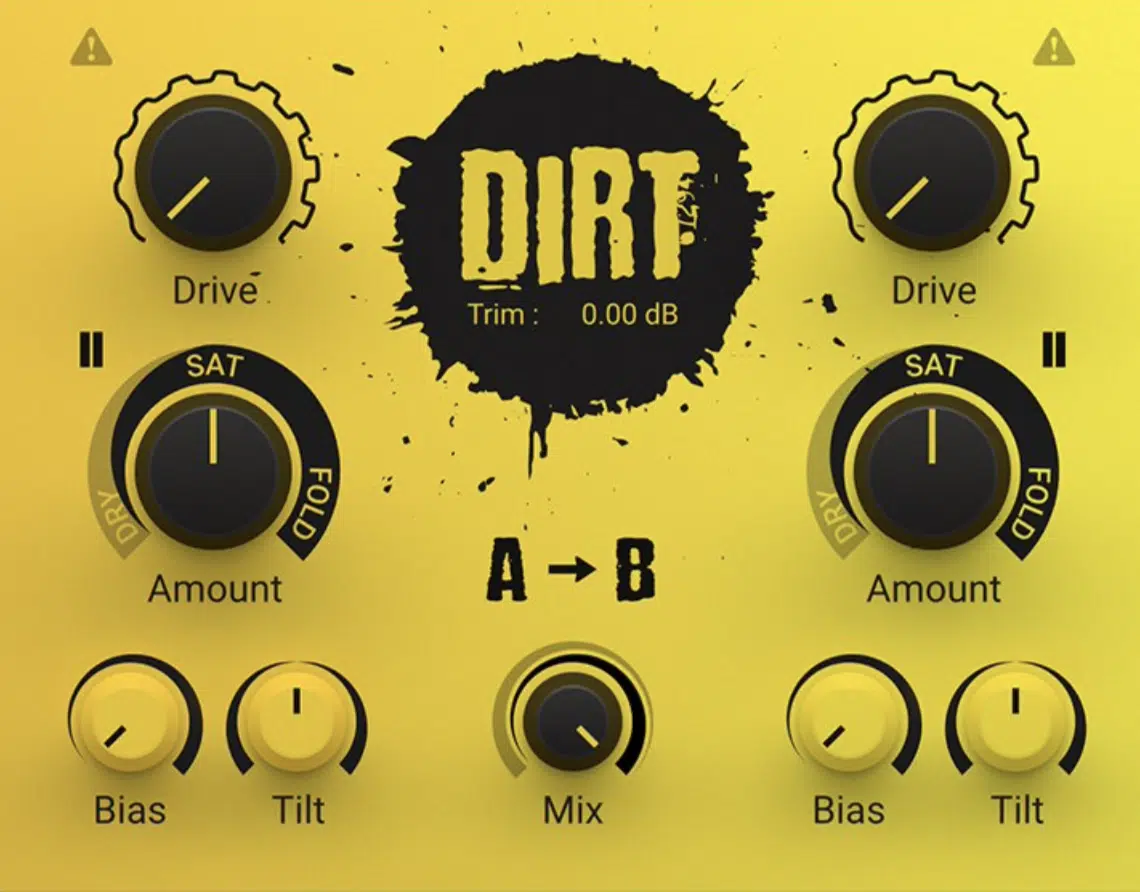 DIRT offers a more organic-sounding distortion, backed by analog modeling.
With highly refined controls and flexible routing options, this bitcrusher plugin can distort anything from a dry signal/wet signal to wavefold distortions.
It's a versatile tool that can add presence to synths, beef up drum busses, and radically alter guitars, among other uses.
FREAK: The Signal Manipulator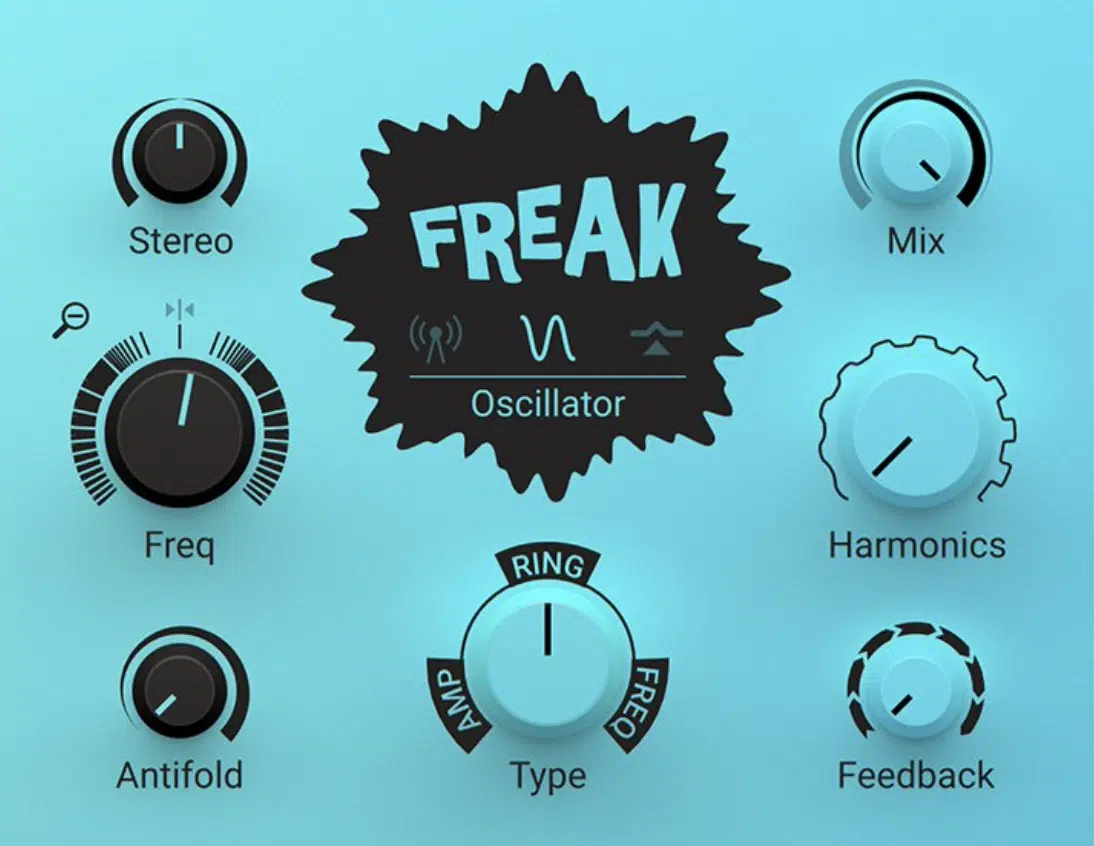 FREAK is perhaps the most eclectic of the three.
It combines: 
Frequency-shifting

Ring modulation

Radio modulation techniques
FREAK also offers a variety of sound-bending features 一 including a Radio mode that uses amplitude modulation techniques to emulate the sound of vintage radio broadcasts.
The Crush Pack is designed for instant usability, thanks to its compatibility with Native Kontrol Standard (NKS). 
Meaning, if you're using KOMPLETE KONTROL or MASCHINE hardware, you can start tweaking parameters immediately after loading the plugin.
The Crush Pack goes beyond traditional bitcrushing by offering various audio effects that enhance and transform any audio signal. 
Whether you're looking for that warm crunch (that will emulate vintage samplers) or the dynamic texture of a modern stompbox, Crush Pack offers super interesting bitcrushing effects.
This Bitcrusher Plugin Includes:

Three individual plugins: BITE, DIRT, and FREAK

Range of effects from bit-crushing to frequency-shifting

Character-enhancing presets

Compatibility with Native Kontrol Standard (NKS)

Advanced controls for tailored sound manipulation

One of the most versatile bitcrusher plugins of 2023
#3. Decimort 2 by D16 Group

When it comes to high-quality bit-crushing with an emphasis on vintage sampler emulation, few come close to Decimort 2 by D16 Group. 
This sophisticated bitcrusher plugin is designed to emulate the unique color and warmth characteristics of classic sampling hardware. 
It is not just a bit crusher; Decimort 2 also boasts features like: 
Anti-alias filters

Jitter and dithering adjustments

Multiple quantization algorithms for an in-depth sound-shaping experience
A hallmark feature of Decimort 2 is its approximative anti-alias filter, specifically designed to prevent undesirable aliasing artifacts.
This meticulous attention to detail ensures that only the modeled aliasing (which mimics the idiosyncrasies of classic samplers) is present in the signal path.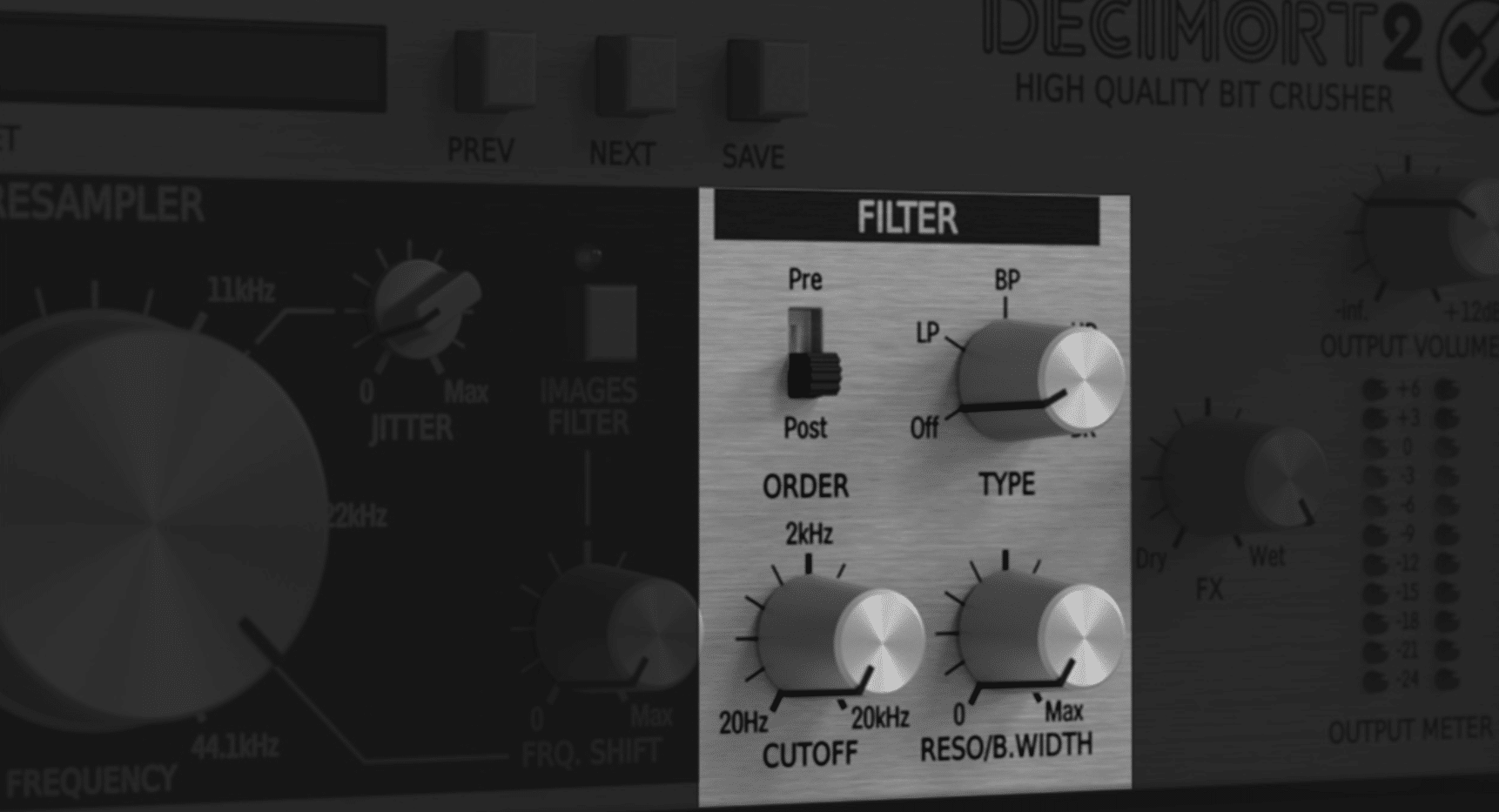 Coupled with its image filter and multimode functionality, which can work in both pre or post, you can deeply sculpt your sound whether it's a loop, a bassline, or even an entire track.
One of the most intriguing aspects of Decimort 2 is its commitment to super-authentic circuit emulation.
This bitcrusher plugin captures the nuanced "grit" and "color" that old samplers used to add.
These characteristics can be attributed to the low:
Sample rates

Bit depths

Conversion circuits
This adds a touch of vintage magic that can make any modern production feel nostalgic and analog-inspired.
Advanced features like adjustable jitter and dithering extend your creative possibilities. 
Jitter: introduces periodic, random fluctuations to the resampling frequency, adding another layer of harmonic complexity to your sound. 
Dithering: Minimizes quantization errors and offers a range of sonic textures, from subtle coloration to pronounced distortion. 
Side note, we've got you covered if you want to know everything about dithering.
With multiple UI sizes and HiDPI support, Decimort 2 aims to provide a seamless workflow, irrespective of your setup.
Not to forget the MIDI Learn functionality, Decimort 2 accommodates easy hardware integration. 
Whether aiming for subtle bit reductions for a lo-fi vibe or extreme settings for more dramatic results, this bit crusher provides total control over your sound.
This Bitcrusher Plugin Includes:
Approximative anti-alias and image filters

Adjustable jitter and dithering

Two alternative quantization algorithms (mid-raiser and mid-tread)

Multimode feature for pre or post processing

Resampler module for further sound sculpting

Zero internal aliasing and ADC emulation

Multiple UI sizes and HiDPI support

MIDI Learn for hardware integration

One of the best bitcrusher plugins of 2023
#4. Bite Harder by denise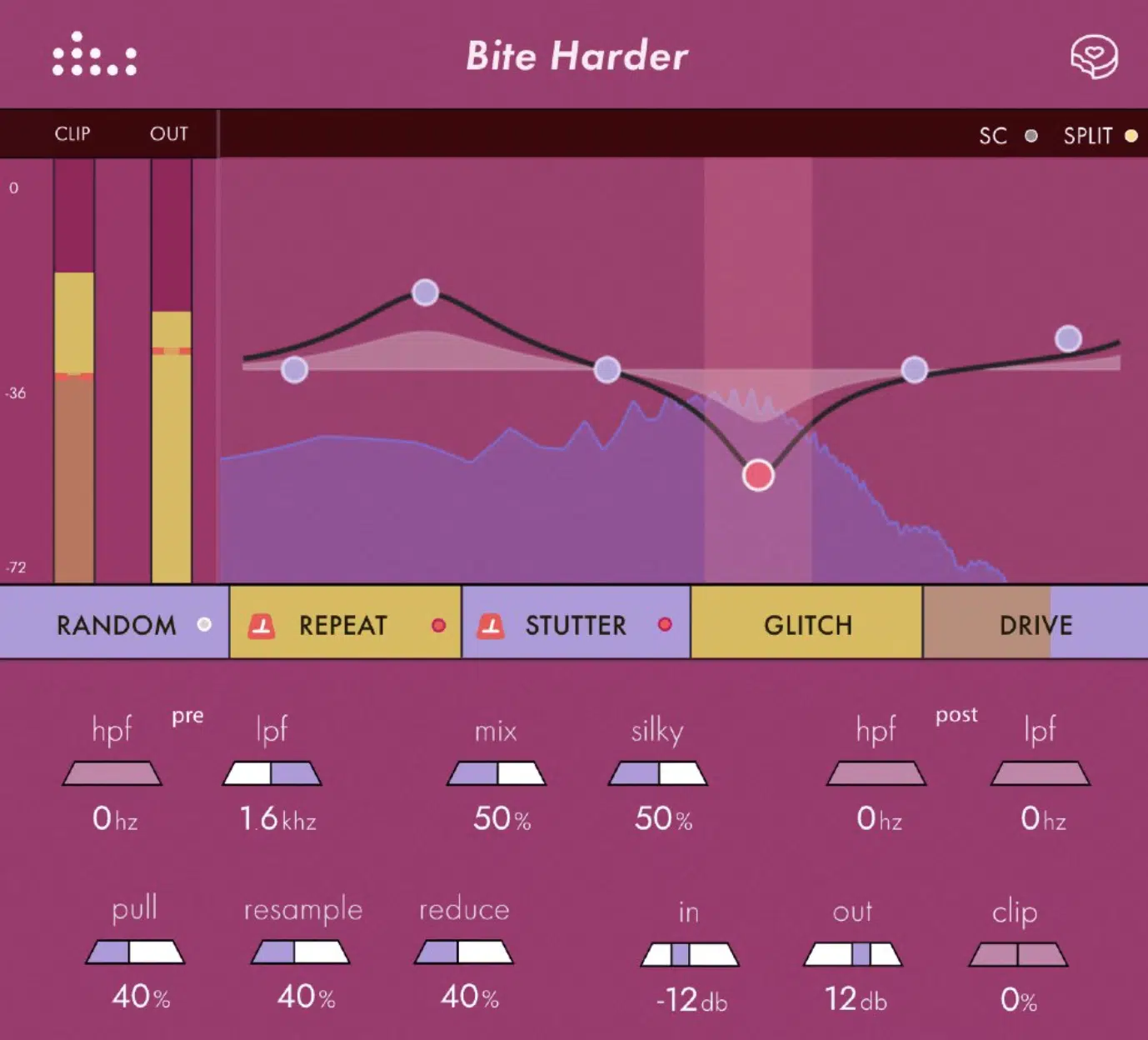 Bite Harder by denise offers next-level bit-crushing functionalities, focusing not only on bit and sample reduction but also on precise frequency targeting. 
This bitcrusher plugin features a revolutionary "push-pull graph" 一 allowing you complete control over which frequency bands get crushed. 
This unprecedented control opens up endless sonic possibilities, from delicate distortions to intense, scream-like resonances.
Unique to Bite Harder is its set of Refined Crush Controls. 
Beyond the standard bit-crushing features, this bitcrusher plugin adds special controls to refine or aggressively mangle your sound. 
For instance, the "Silky" dial allows you to smooth out individual bit and sample effects, complemented by a layer of FX and a drive control for an additional layer of sonic complexity.
Bite Harder also includes a collection of presets from Berlin-based electronic music producer Florian Meindl, on top of the presets from denise themselves. 
These presets range from subtle sonic nuances to wild soundscapes, giving you a jumpstart for your own productions. 
What sets this bitcrusher plugin apart is the addition of crazy effects for extra fun and destruction.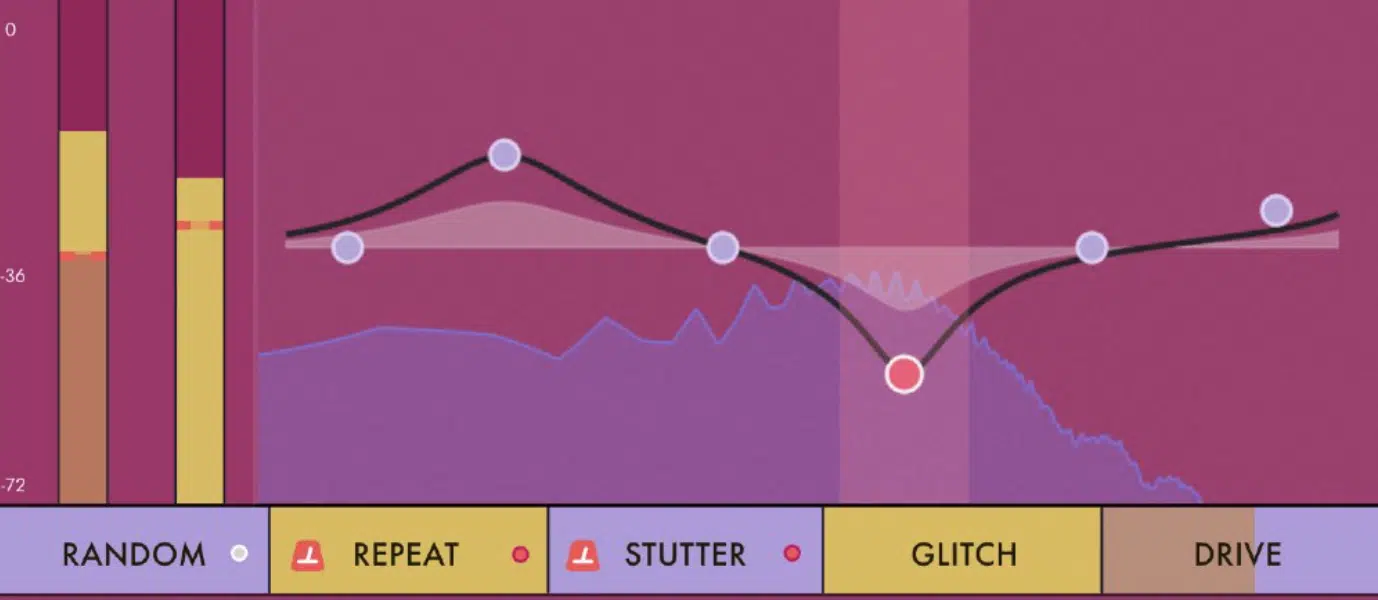 Among others, these include:
Repeat & Stutter

Glitch

Drive among 
This allows for truly warped (and epic) audio experiences.
Perhaps one of the most exciting features is the Side-Chain control 一 which lets you crush sounds using an external input source. 
This makes Bite Harder incredibly versatile and capable of creative effects that many other bit crushers can't achieve. 
Whether you're looking to add warmth, destroy your sound, or create complex rhythmic textures, Bite Harder provides unparalleled control.
If you're looking to give your music a distinct personality, the myriad of features and extensive control that Bite Harder offers makes it a powerhouse in the realm of bit-crushing.
This Bitcrusher Plugin Includes:

Push-Pull Graph for targeted frequency crushing

Refined Crush Controls

Custom presets from Florian Meindl

Extra layer of effects

Side-Chain Control for external input source

Continuous Reduce & Re-sample Control

Transparent Clipper for added dirt and saturation

Looper & Stutter for creative arrangements and glitches

Advanced "Glitch" ring modulator for specialized needs

Analog modeled resonant filters & delta modulation

One of the best bitcrusher plugins of 2023
#5. CrushShaper by Cableguys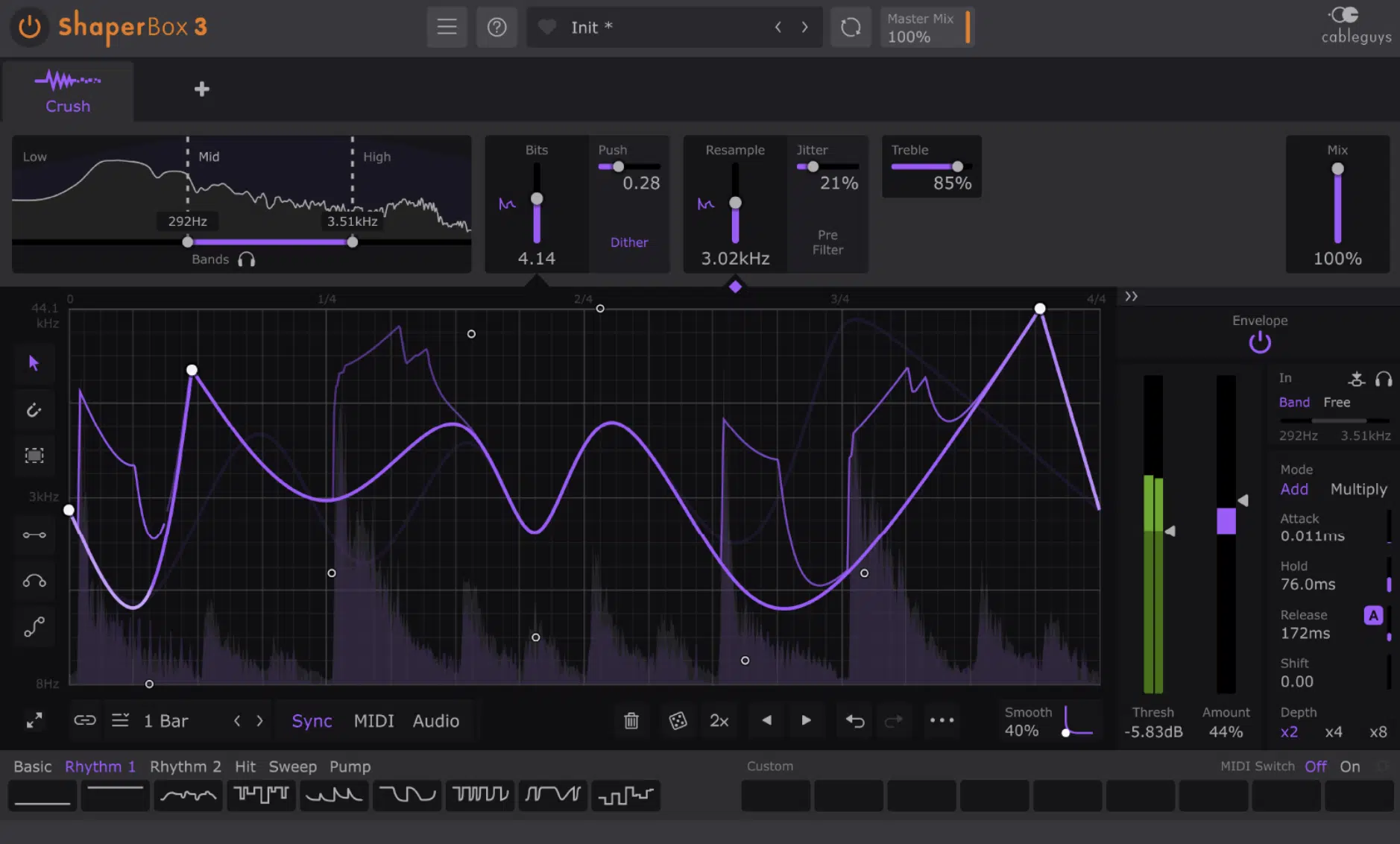 If rhythmic bitcrushing, vintage lo-fi, and multiband enhancement are what you seek, look no further than CrushShaper by Cableguys. 
This bitcrusher plugin is designed to give you creative inspiration beyond the capabilities of standard bitcrushers.
It is powered by easily drawable LFOs and flexible envelope followers.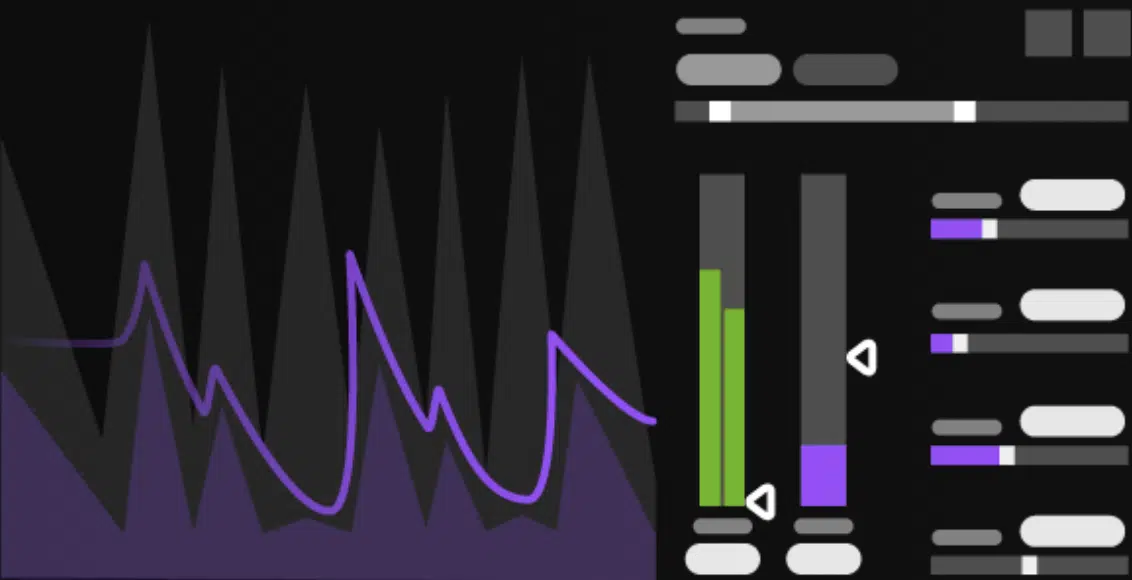 CrushShaper's intuitive interface allows you to draw waveform patterns.  
This gives you immaculate custom control over bit and sample rate modulation depth.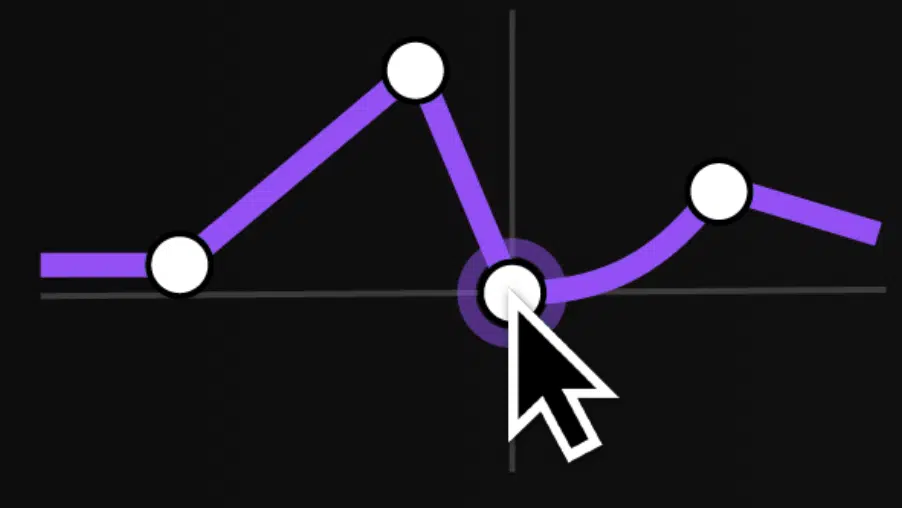 CrushShaper excels in dynamic bitcrushing, thanks to its innovative Envelope Followers. 
Whether you want to increase bit depth as synths get louder or reduce the resample rate as the volume decays, the options are endless. 
This feature employs an analog-like Adaptive Release, adding another versatility layer to your production toolkit. 
CrushShaper also includes unique audio-triggering capabilities that precisely track the rhythm of: 
Drums

Loops

Even full mixes
What makes CrushShaper truly stand out is its seamless integration with ShaperBox 3, Cableguys' acclaimed effects plugin. 
You can use CrushShaper in isolation or combine it with up to eight other Shapers for multilayered effects that make your beats distinctively unique. 
This bitcrusher plugins "lock to the beat" functionality ensures your waveforms stay in sync with your project; from 1/4-note patterns to 8-bar risers.
The dual lo-fi controls (Bits and Resample) are worth exploring for producers keen on crafting their unique sonic imprint. 
You can venture into vintage digital territories or create ultra-modern textures by tweaking these. 
With zero-latency anti-aliasing, the audio quality remains close to vintage digital hardware.
This Bitcrusher Plugin Includes: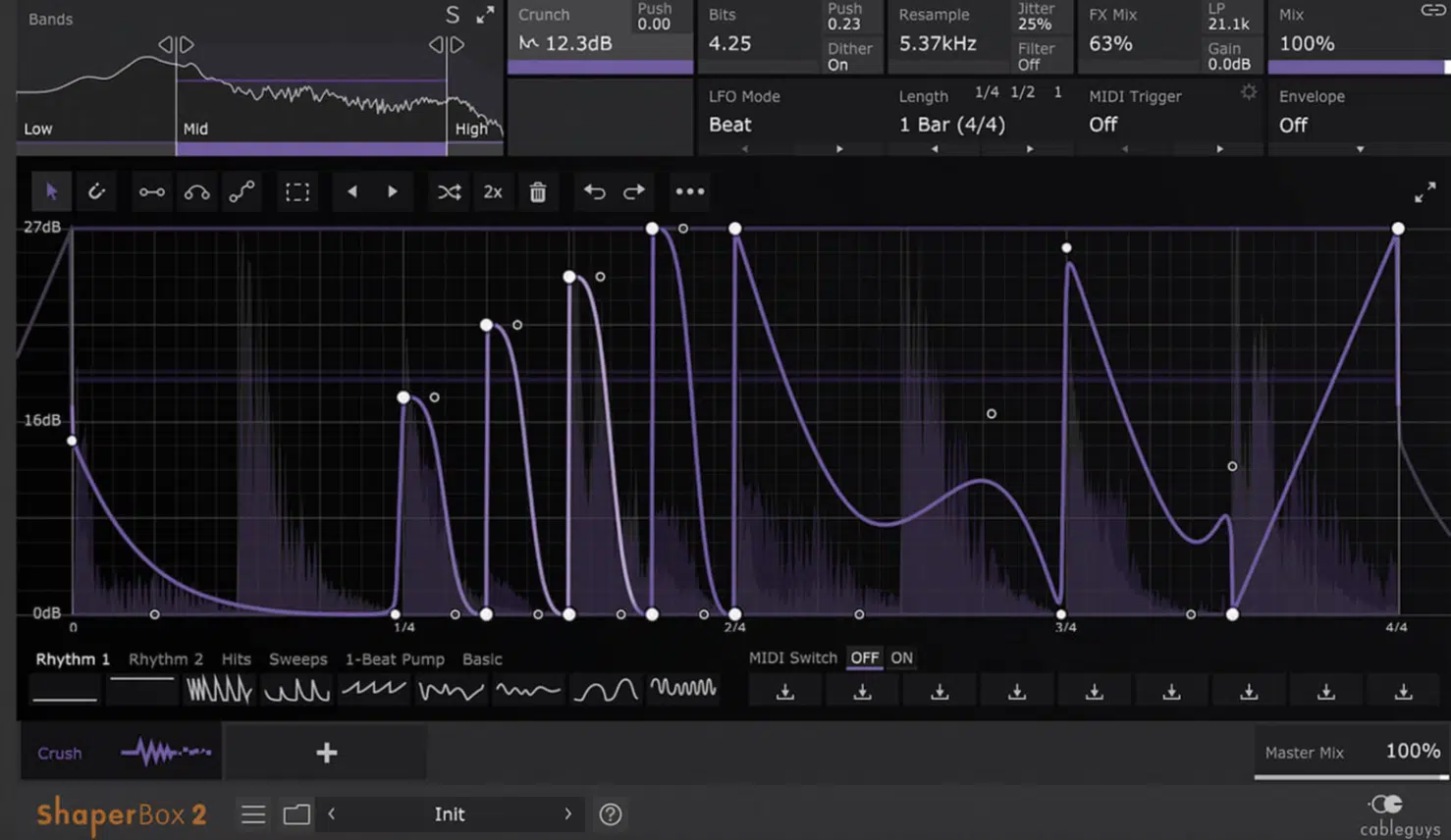 Dual lo-fi controls: Bits and Resample

Customizable, drawable LFOs and envelope followers

Dynamic bitcrushing with Adaptive Release

Integration with ShaperBox 3 for layered effects

Beat-syncing capabilities to achieve your desired sound

MIDI and audio-triggering options

Zero-latency anti-aliasing for high-quality audio and digital audio resolution

One of the best bitcrusher plugins of 2023
#6. Degrader by Klevgrand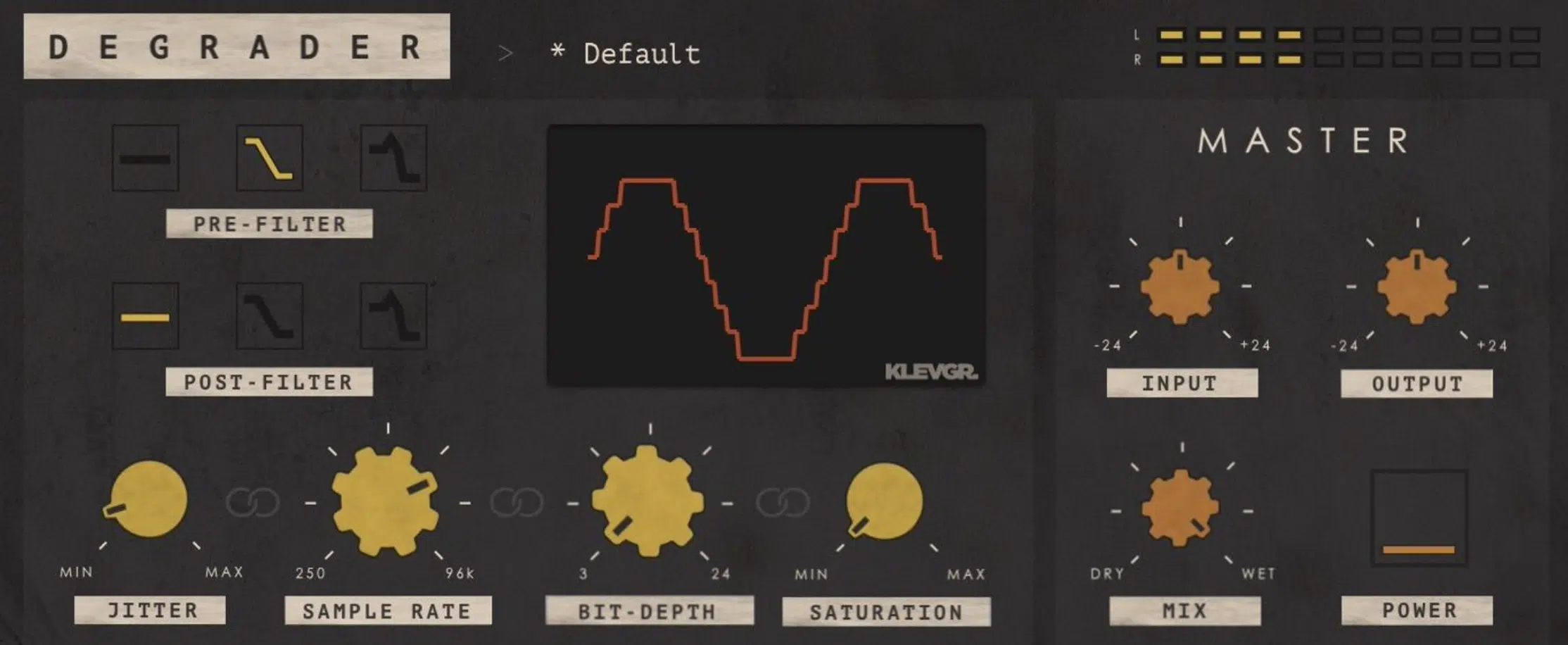 Degrader by Klevgrand is not just a bitcrusher; it's a resampler and a distortion unit rolled into one. 
This multifaceted bitcrusher plugin can: 
Emulate the sound of vintage digital gear

Create lo-fi effects

Add uniquely textured distortions to your mix
With its fully automatable parameters, Degrader becomes an exceptionally versatile tool for crafting drops, sweeps, and other transitional elements in your productions.
One of the standout features is its resampling capabilities, ranging from as low as 250 Hz to as high as 96 kHz. 
Paired with a low-pass filter that can be applied both pre and post-resampling, Degrader provides a wide array of sonic possibilities.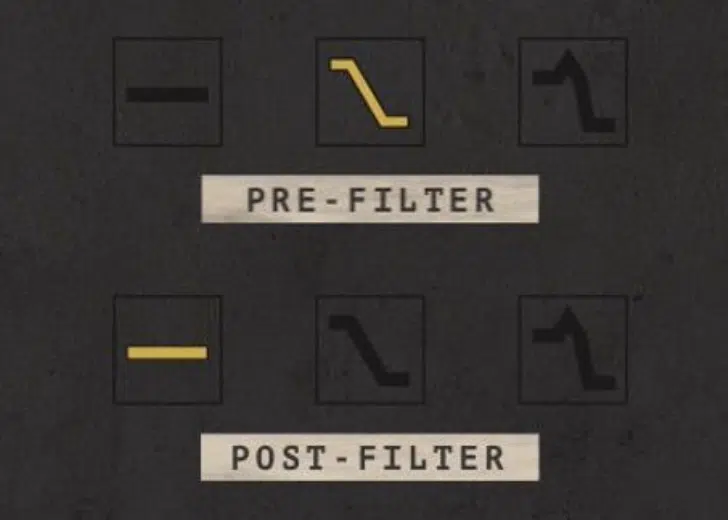 The bit depth is also adjustable, ranging from a super-lo-fi 3 bits to a cleaner 24 bits, allowing you to dial in the exact level of crunch or clarity you desire.
Degrader's additional distortion algorithm and parameter linking are like cherries on top 一 giving you even more control over your sound. 
You can control several parameters with a single knob.
This bitcrusher plugin also features: 
Input and output gain controls

A dry/wet mix

A selection of factory presets that emulate various vintage gears
These effectively act as a quick-start guide to what this unique plugin can do.
When controlling your audio signal, Degrader's 'Filter bubble' lets you select the low-pass filter's character before and after resampling. 

This, combined with the option to control the amount of jitter in the resampling, makes it a powerful tool for audio manipulation. 
And if you still crave for more, you can saturate the signal until it becomes virtually unrecognizable.
Therefore proving that Degrader is not just a utility but an instrument of creativity (unlike the other best free bitcrusher plugins).
This Bitcrusher Plugin Includes: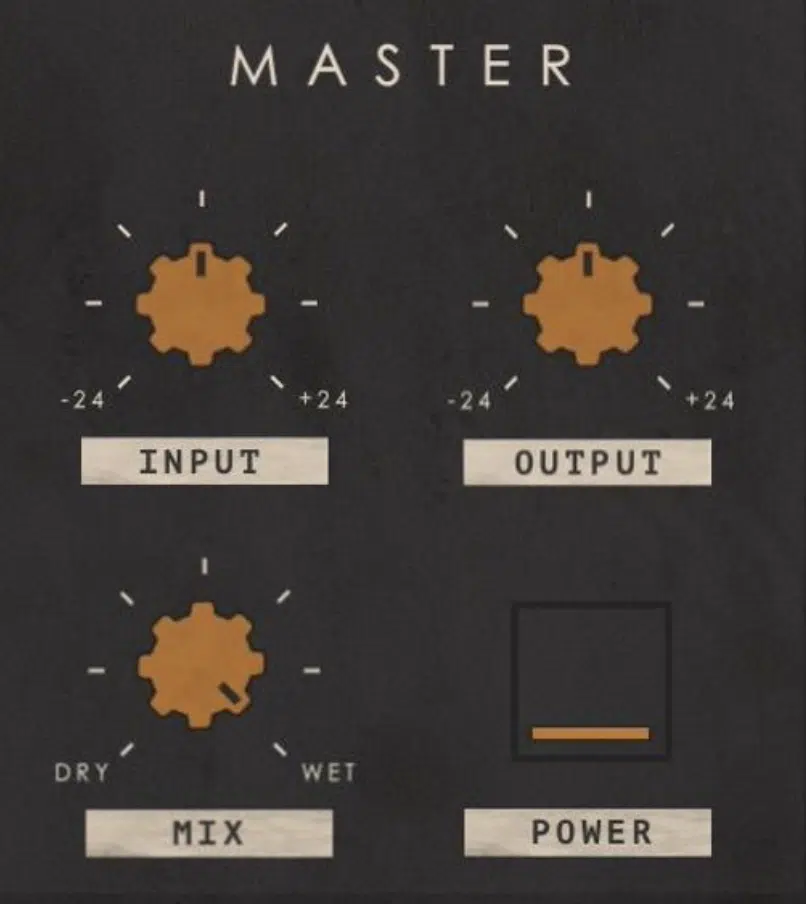 Combined resampling & bitcrushing features

Adjustable resampling rates between 250 Hz and 96 kHz

Variable bit depth between 3 and 24 bits

Fully adjustable parameters

Fire factory presets

Filter Bubble 

The option to control the amount of jitter

One of the best bitcrusher plugins of 2023
#7. Multimod Rack by Waves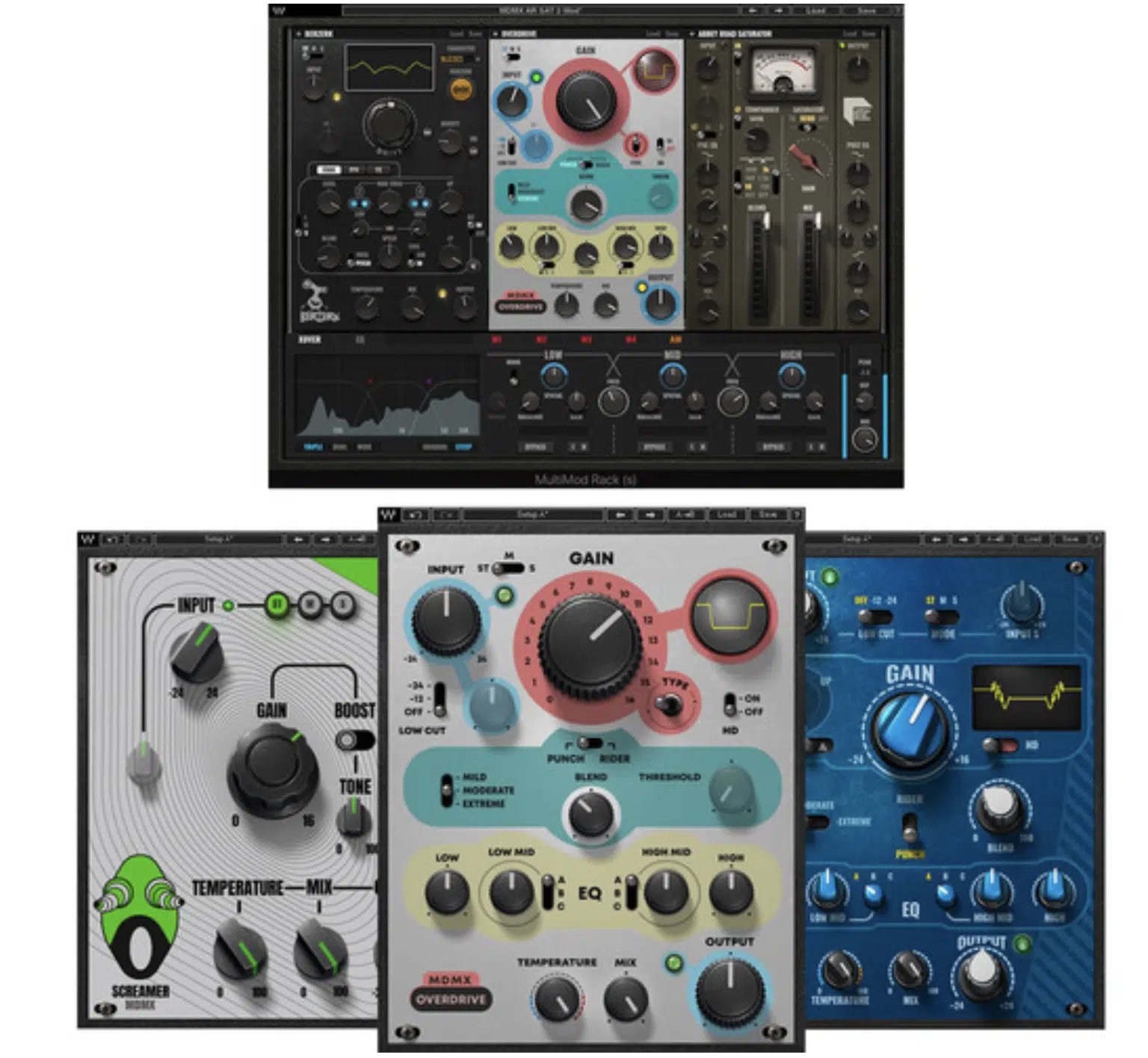 When it comes to distortion and bit-crushing effects, the Multimod Rack by Waves sets the bar at a whole new level. 
The Multimod Rack offers unparalleled flexibility and creative control.
It does so by bringing together 3 of Waves' most iconic distortion plugins:
Abbey Road Saturator

Berzerk

MDMX 
The real game-changer here is the rack itself.
It allows you to host up to three instances of these plugins, or substitute them with a wide array of other effects like autopan, chorus, compressor, delay, and reverb. 
This essentially makes Multimod a distortion plugin and a modular system for intricate sound shaping.

One of the standout features is its 3-band frequency splitting functionality. 
Coupled with EQ and modulation settings, you can process up to three different frequency bands, each with its unique distortion or effect. 
This gives you unprecedented control 一 allowing you to dial in just the right amount of grit or glossiness to your sound. 
You can even go from a subtle touch of multiband saturation to an all-out auditory assault, thanks to its high degree of customization.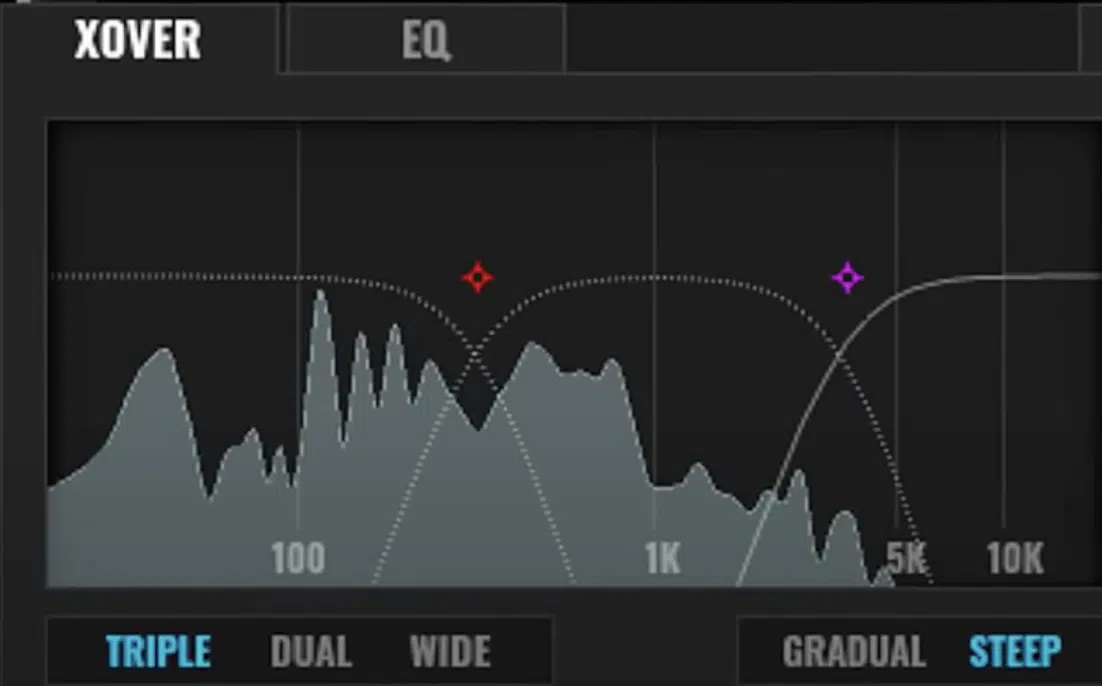 Adding even more dynamism to the Multimod are its 4 modulation sources. 
These are switchable between LFO and step sequencer, further enhancing the plugin's versatility. 
Plus, with 4 fully parametric EQ stages (each offering 5 response curves), you're in control when sculpting your tone. 
This bitcrusher plugin also features innovative panning options such as stereo rotation and width to give your sounds a unique stereo image.
What sets Multimod Rack apart is its massive preset library. 
Boasting 170 wild presets crafted by award-winning artists and an additional 221 factory presets, you're certain to find the perfect starting point for your sonic adventures.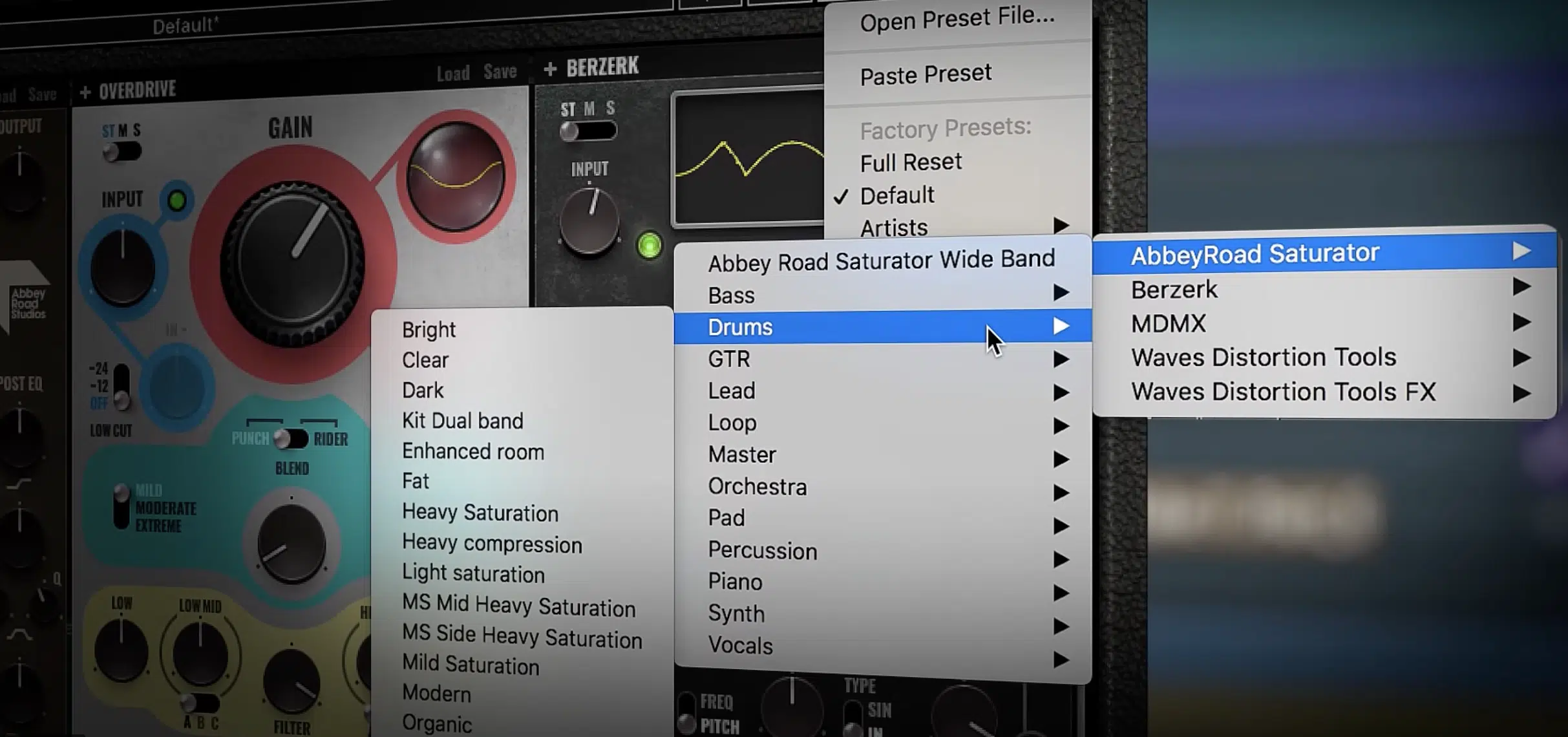 NOTE: Also noteworthy is the real-time FFT display that allows for precise adjustment of crossover and EQ settings, offering a visual guide to your sound sculpting process.
With most parameters being modulatable and MIDI-learn enabled, you have even more automation and real-time control options. 
Whether you're a sound designer looking for the next big thing or a musician craving a certain edge to your tones, Multimod Rack by Waves is a comprehensive tool that can adapt to various musical contexts.
This Bitcrusher Plugin Includes: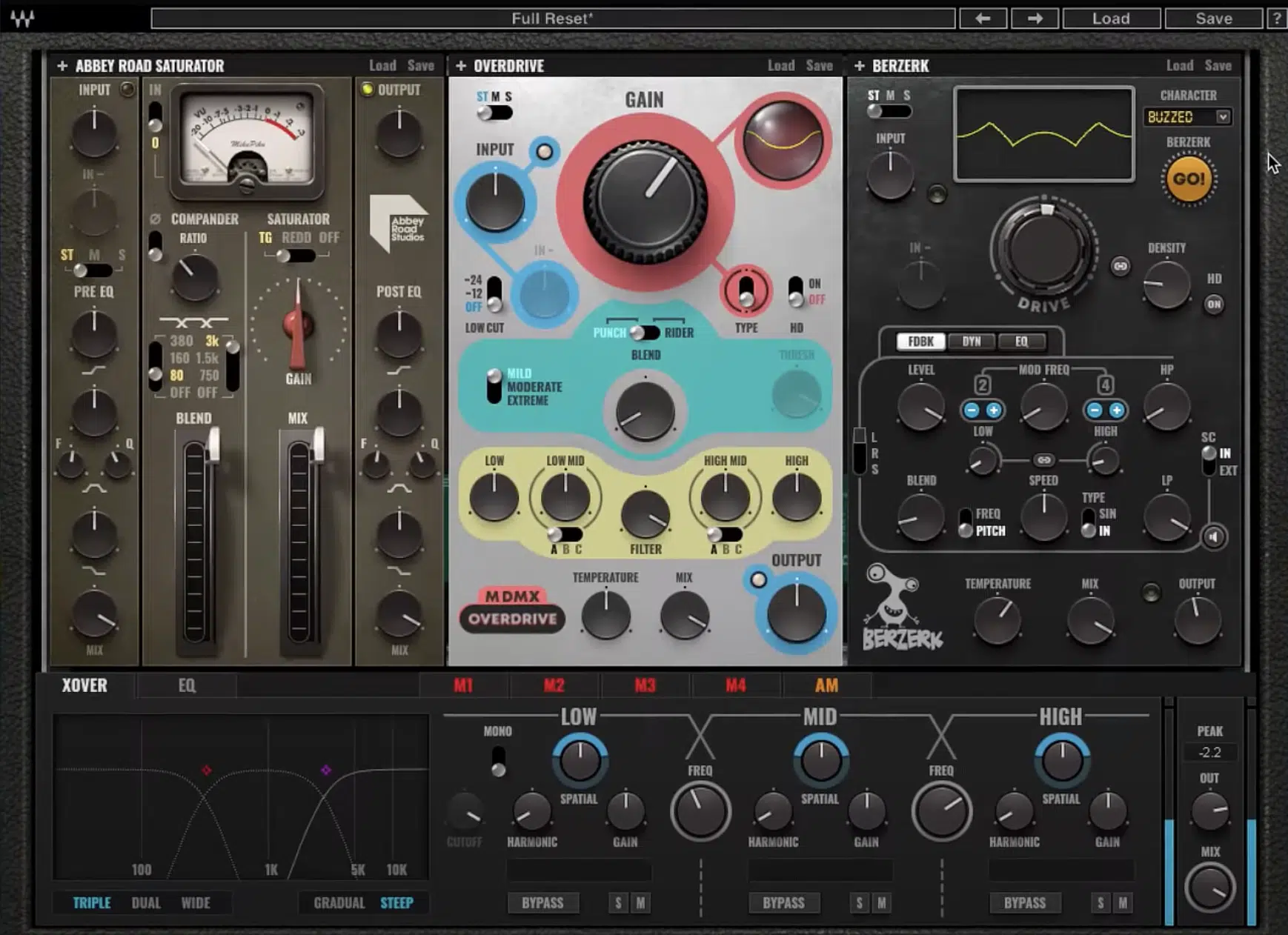 Three of Waves' most popular distortion plugins: Abbey Road Saturator, Berzerk, and MDMX.

3-band frequency splitting with EQ and modulation.

4 modulation sources, switchable between LFO and step sequencer.

4 fully parametric EQ stages with 5 response curves per stage.

MIDI Learn on most parameters for real-time control.

A massive library of 170 presets & 221 factory presets

One of the best bitcrusher plugins of 2023
#8. OTO Biscuit by Softube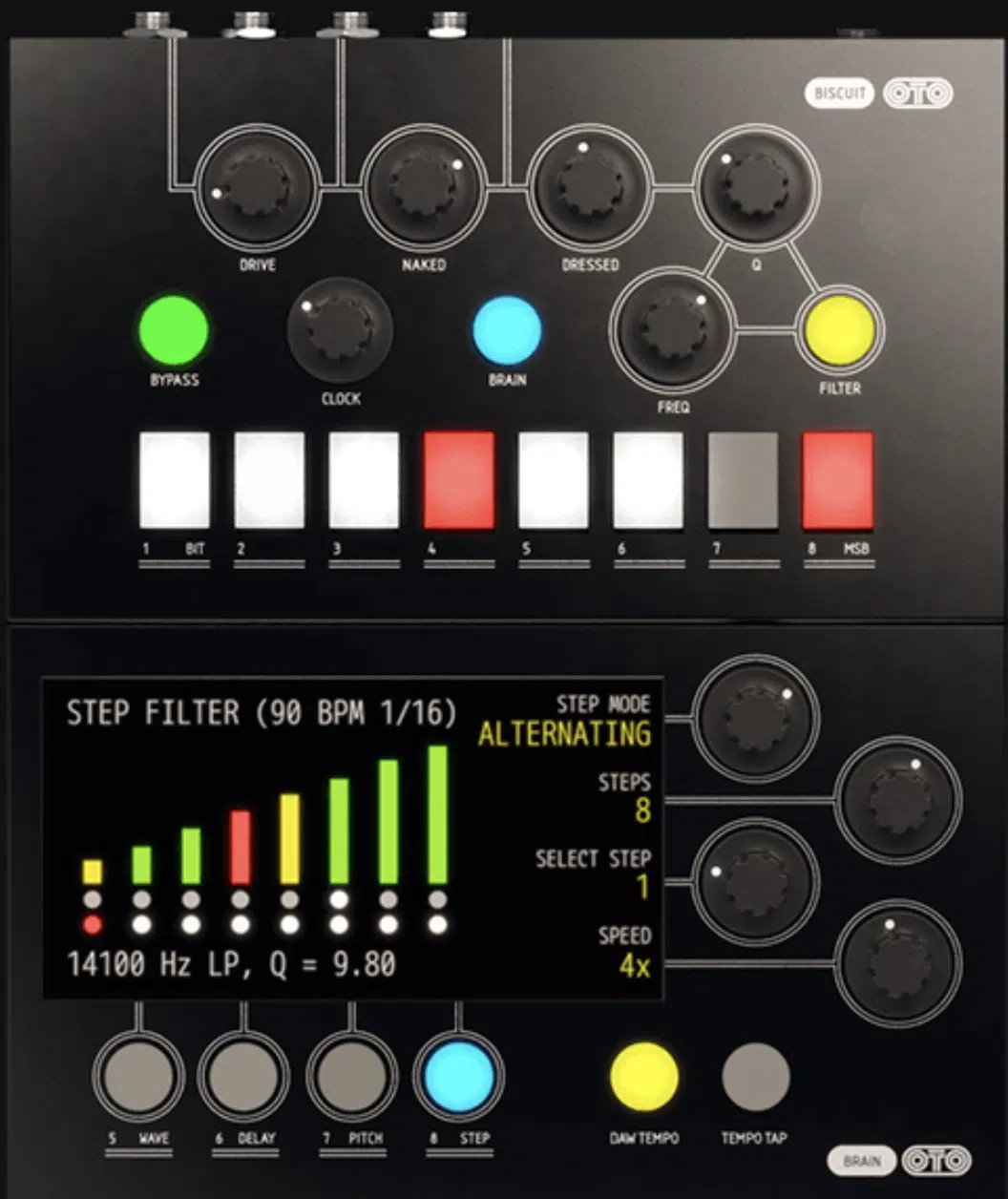 The OTO Biscuit by Softube is far more than a typical bitcrusher; it is a treasure trove of sound manipulation possibilities. 
Hailing originally from France as a hardware unit, it quickly became a staple in studios and DJ booths, gaining a reputation for: 
Its powerful grit

Versatile multi-effects

Silken analog filter
Now transposed into software form, it brings its legendary lo-fi, 8-bit magic straight into the DAW.
This makes it easier than ever for music producers and performers to get their hands on those crunchy, dirty, and edgy textures that have made the Biscuit a cult classic.
For music producers seeking to add chiptune vibes, glitchy beats, or simply grunge-up their existing audio tracks, the OTO Biscuit is a one-stop-shop.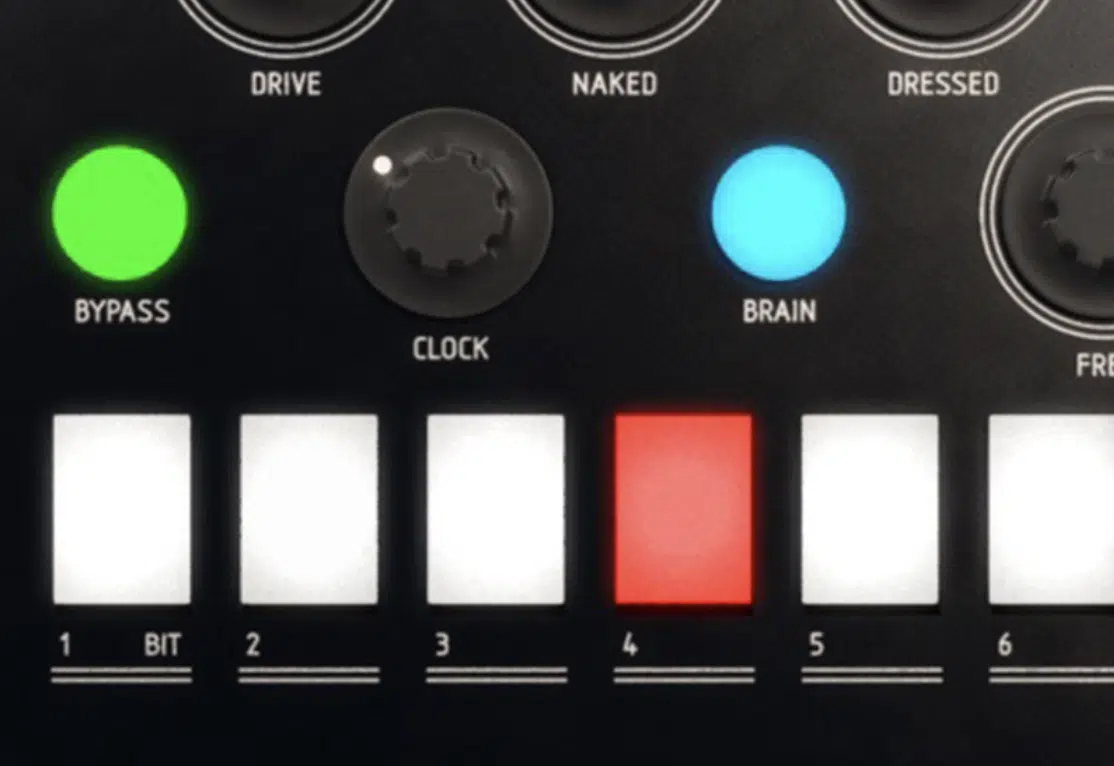 Feed it any sound (guitars, vocals, drums, etc.) and out comes a textured layer of grit or a radically transformed aural landscape.
It all depends on how extreme you dial in the settings. 
Beyond its bit-crushing capabilities, the Biscuit offers a wide array of digital effects including: 
This offers endless opportunities for sound design.
The most unique feature of OTO Biscuit is its meticulously modeled analog filter. 
This filter is remarkably smooth and warm, capable of taming even the most abrasive digital artifacts into something musically organic.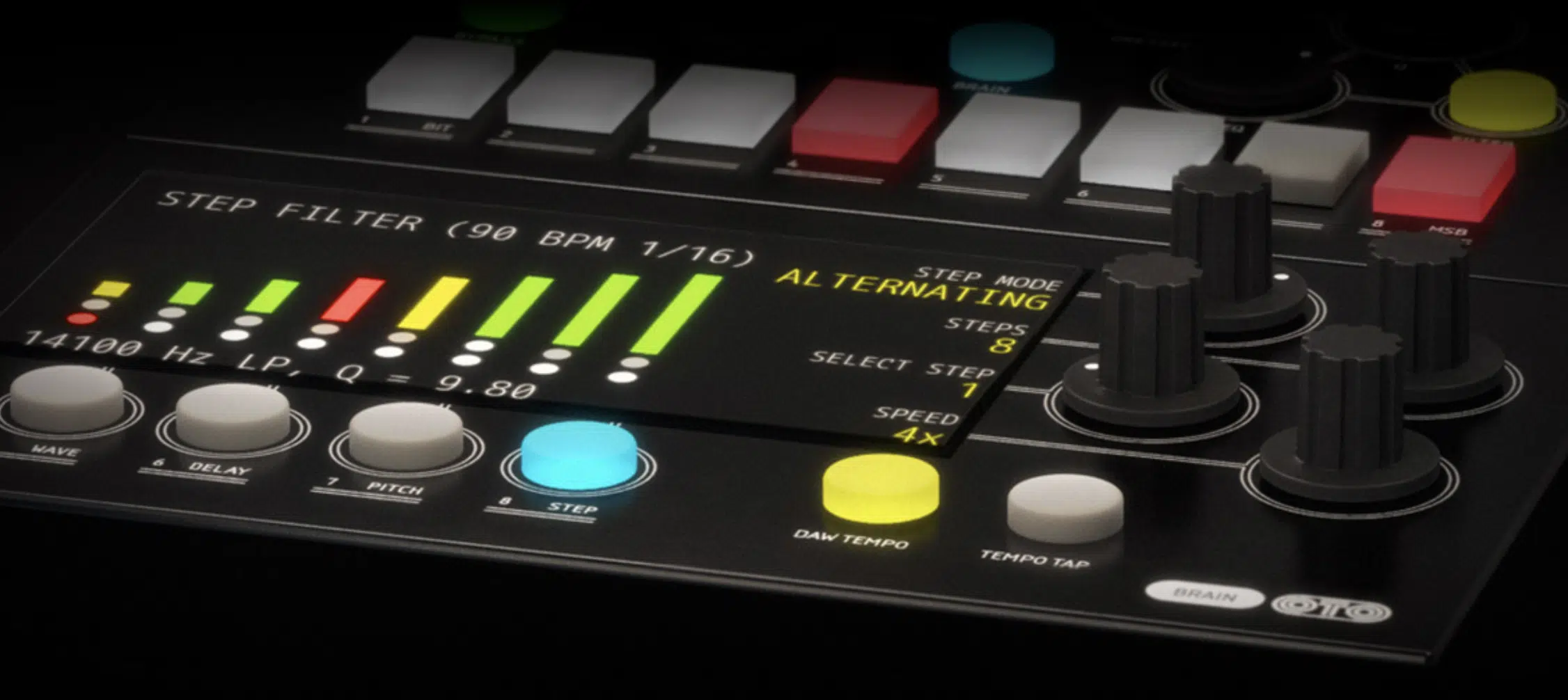 You can control it manually or via an 8-step sequencer, thereby breathing life into your harsh or sterile sounds, making them evolve in timbre and intensity over time.
With its bit-level control and digital effects, OTO Biscuit is not just another tool but a true instrument in its own right. 
While this bitcrusher plugin can seem deceptively simple or novel at first glance, diving deeper reveals its true power.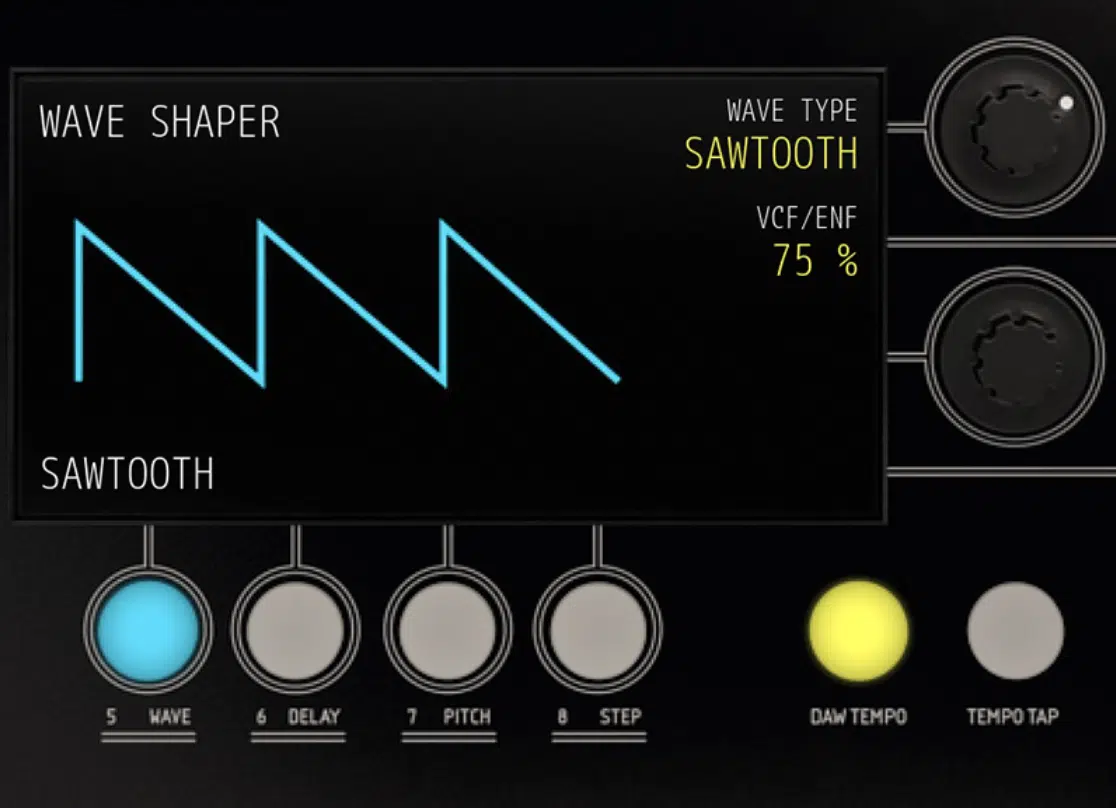 NOTE: Visual representations of wave shapes and other parameters make sculpting your sound easier and more intuitive. 
Whether you want to create subtle tonal variations or complete sonic mayhem, Biscuit provides an intuitive, easy-to-use interface to make your experiments fruitful and fun (all without hardware limitations!).
This Bitcrusher Plugin Includes: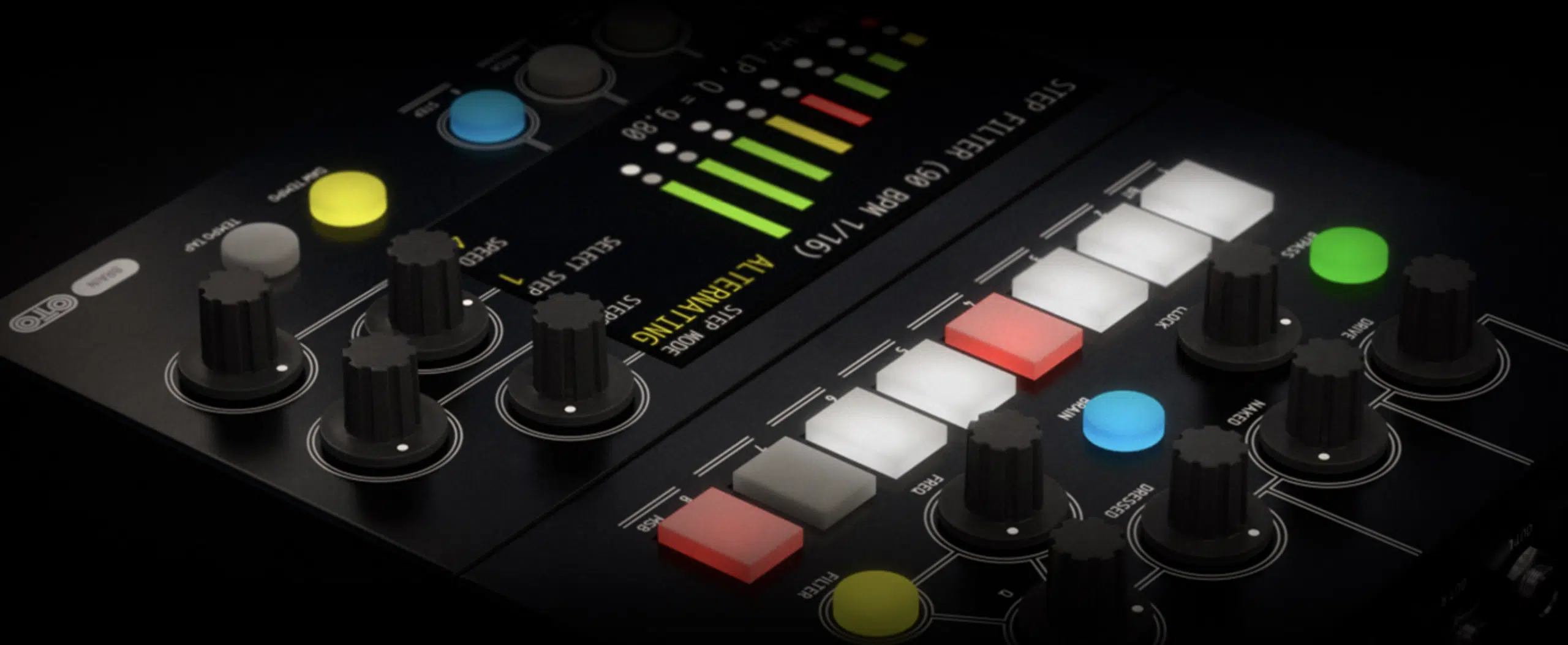 Lo-fi 8-bit magic in a fun and easy-to-use package

Bit-by-bit level control for ultra-precise sound manipulation

Built-in digital effects including waveshaping, delay, and pitch-shifting

Smooth, warm analog filter that can be manually controlled or sequenced

An 8-step sequencer to drive the filter for evolving textures

Extensive visualizations for an intuitive workflow

One of the best bitcrusher VST plugins of 2023
#9. Zen Master by Unison Audio (Free)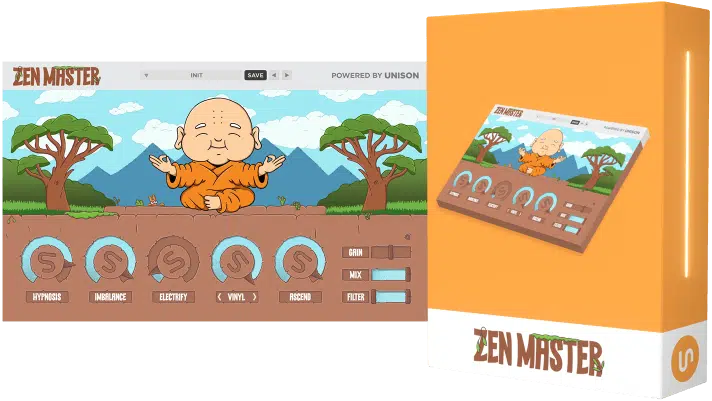 In the realm of bitcrushing, and the best free bitcrusher plugins, Zen Master by Unison Audio introduces a notable spin by focusing on extreme ease-of-use while delivering pro-quality results. 
This free bitcrusher plugin isn't limited to just bitcrushing…
It offers an eclectic mix of lo-fi effects that can turn any mundane track into a captivating experience. 
At its heart is the "Electrify" knob, carefully designed to apply bitcrushing in a classic lo-fi style that sounds astonishingly good on anything from vocals to instruments.
Zen Master is designed for musicians at all skill levels, from beginners to pros. 
Its 5-knob control layout can take you from a clean sound to a lo-fi masterpiece in seconds. 
Beyond bitcrushing, you can apply one-of-a-kind detune effects, pitch wobbling modeled after tape, and signature noises, including vinyl crackle and white noise. 
Rounding out the features is a majestic reverb that adds spaciousness and warmth.
The beauty of Zen Master lies in its simplicity — Load it up, tweak the knobs, and you're ready. 
With every turn of the "Electrify" knob, you open up a landscape of sonic possibilities, making your soundscapes textured and compelling. 
While other free bitcrusher VST plugins might overwhelm with endless sliders and options, Zen Master condenses all of its power into just 5 easy-to-use knobs: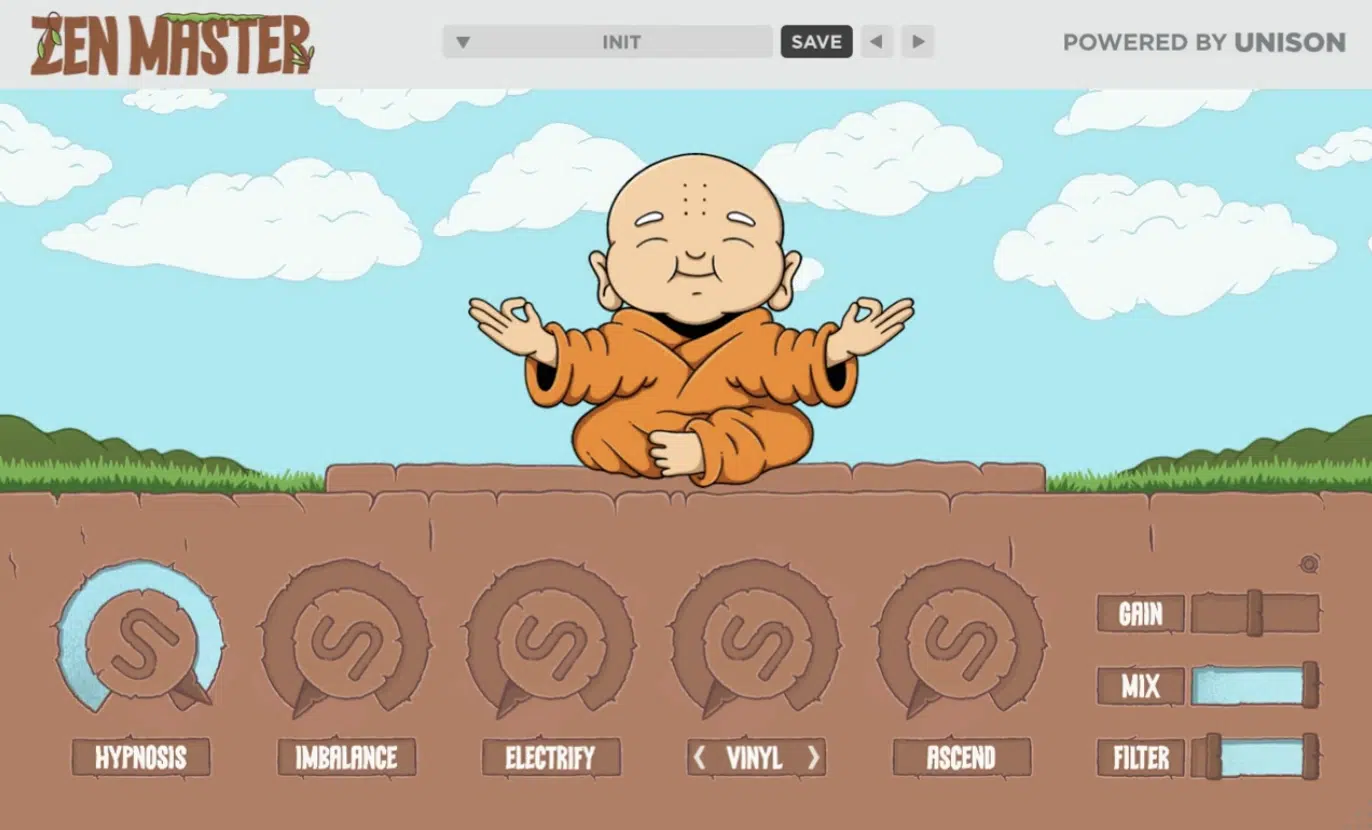 The Hypnosis knob applies the one-of-a-kind detune and width effect that took months of testing to dial in.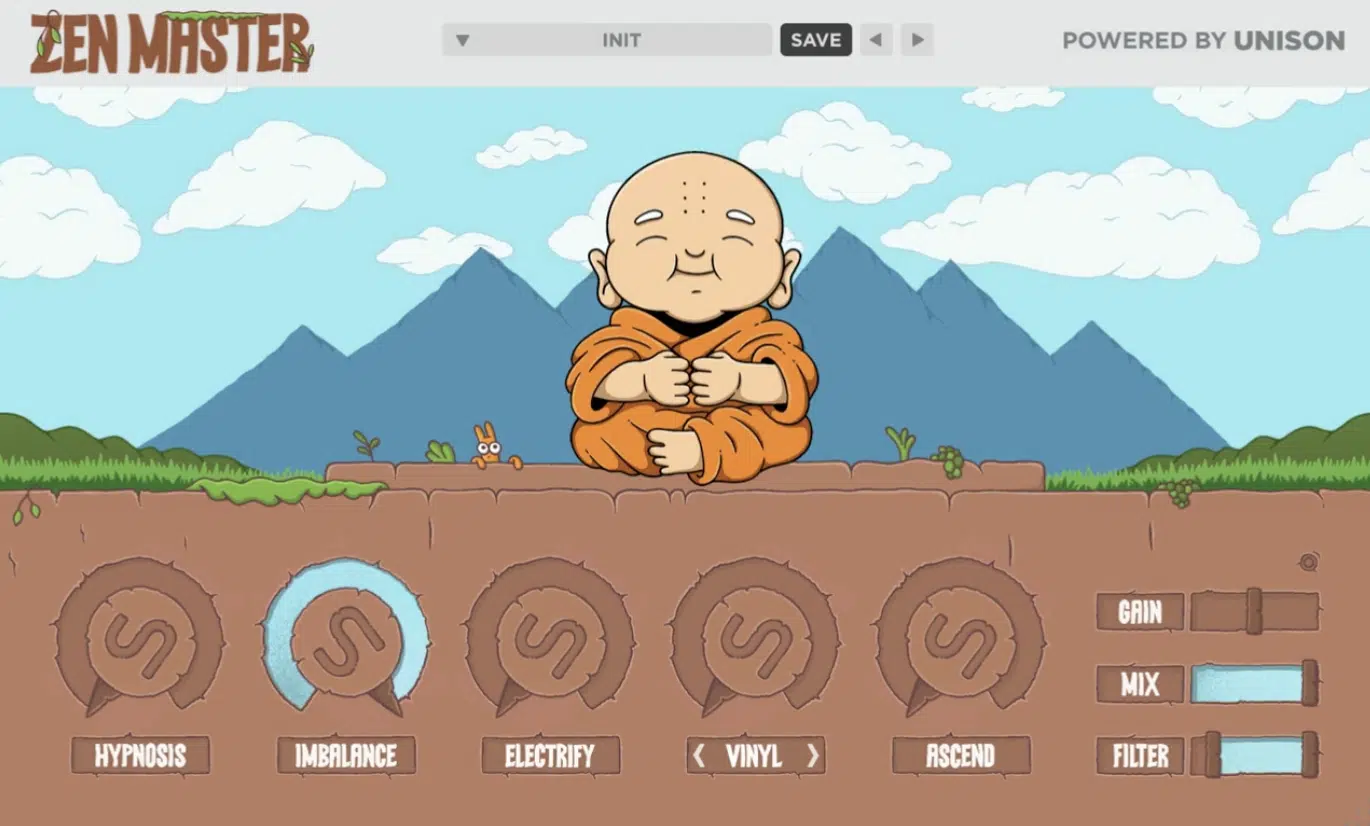 The Imbalance knob applies tape-modelled pitch wobbling, bringing a retro human feel to your sounds.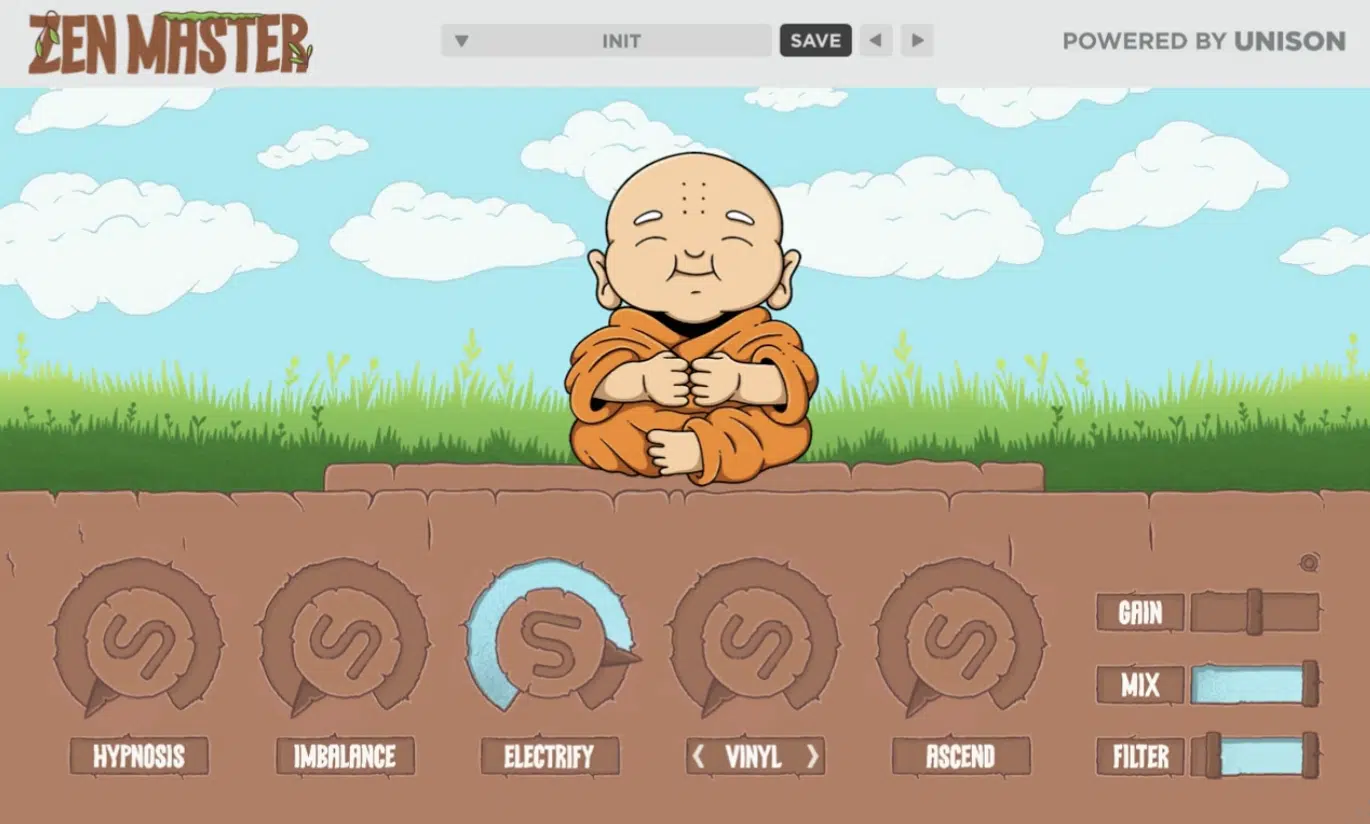 The Electrify knob applies carefully calculated bitcrushing to degrade your sounds in the classic lo-fi style.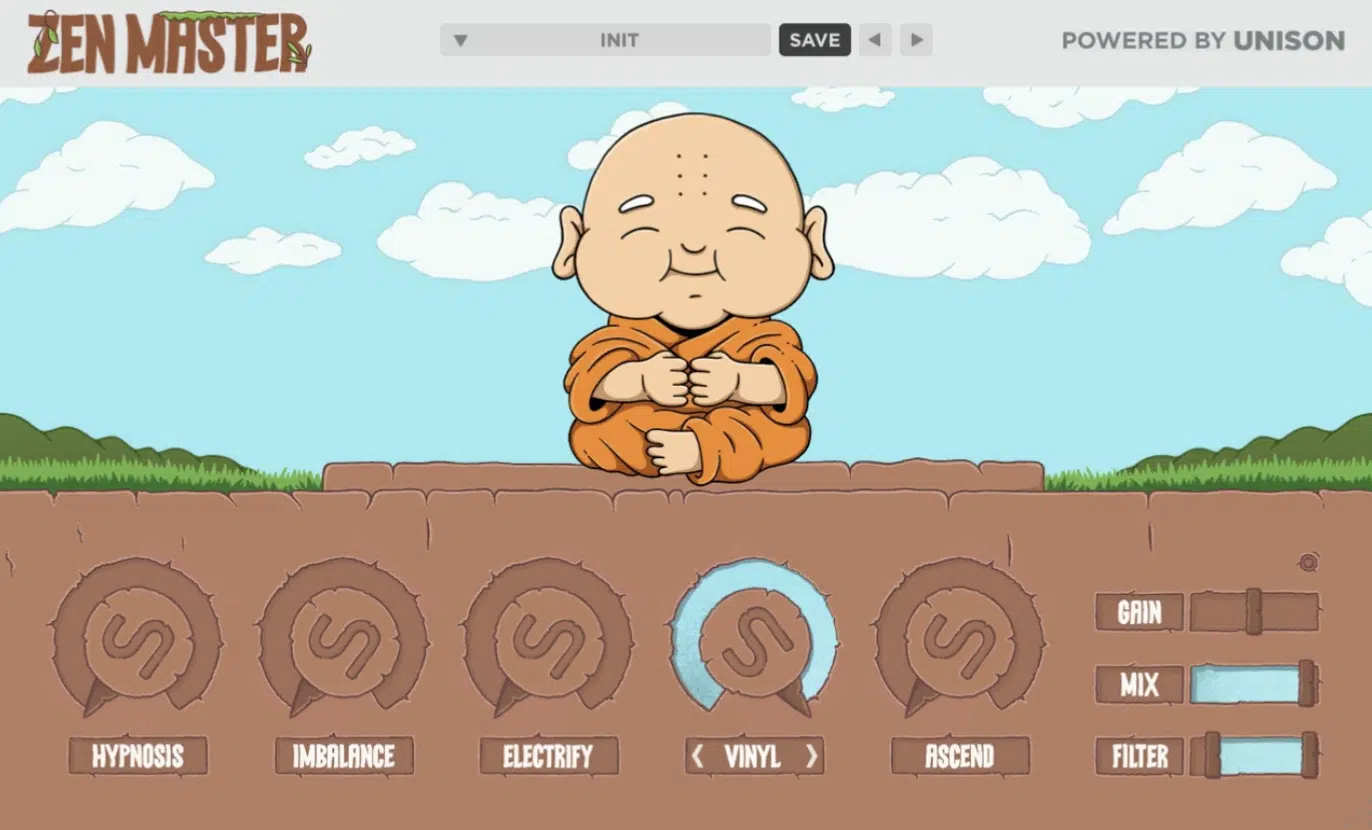 The Noise knob applies three signature noises (vinyl, crackle, or white), adding new vintage vibes to your sounds.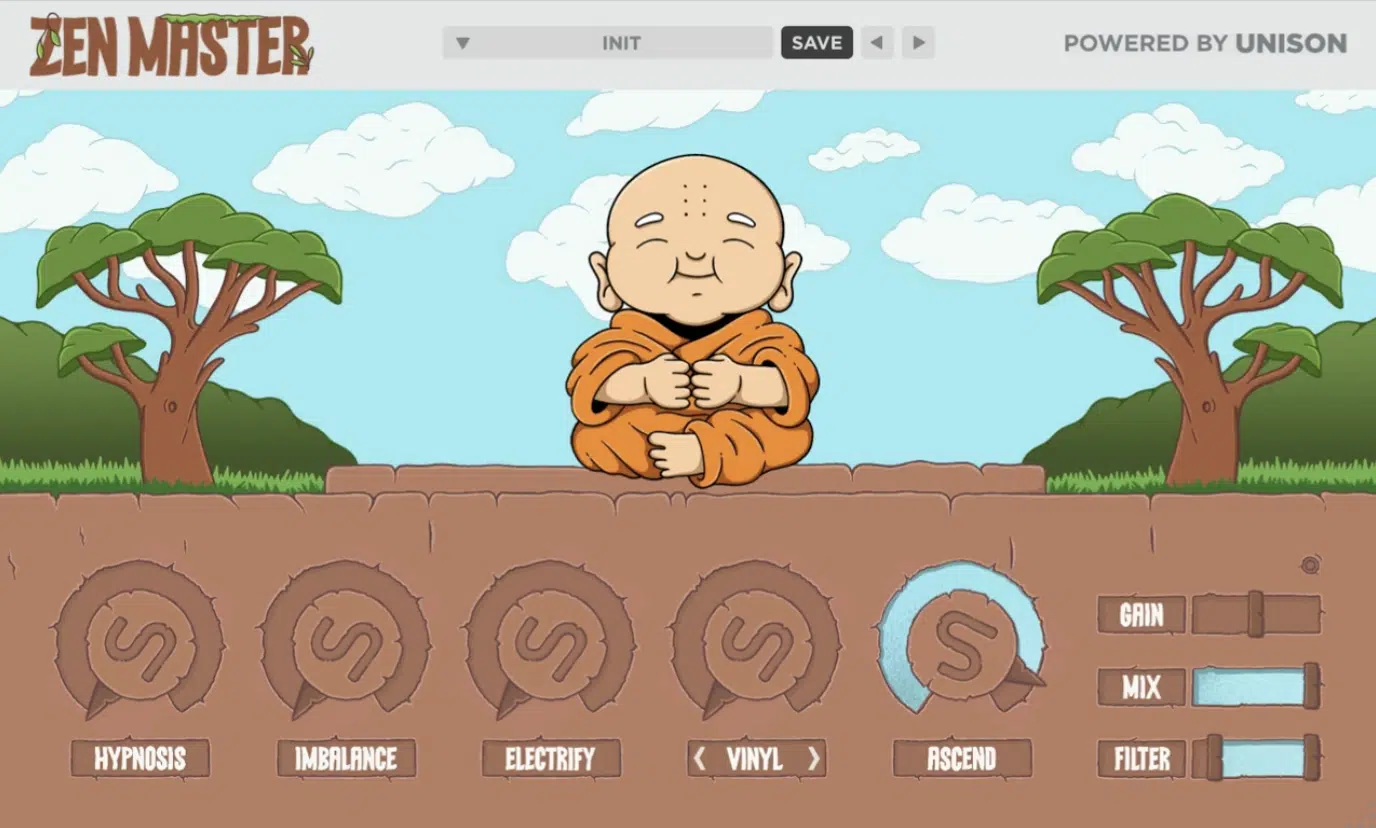 The Ascend knob applies majestic reverb, the perfect combination of spacious, warm and clean-sounding. 
It's not just the simplicity that will have you reaching for Zen Master repeatedly — it's also the quality of the lo-fi effects it offers over other free plugins.
Whether you're looking to add a dash of nostalgia or to transform a sound entirely, this free bitcrusher VST plugin does it without any of the complexities often associated with sound manipulation software.
When it comes to the best free bitcrusher VST plugins, there is no competition.
This Free Bitcrusher Plugin Includes: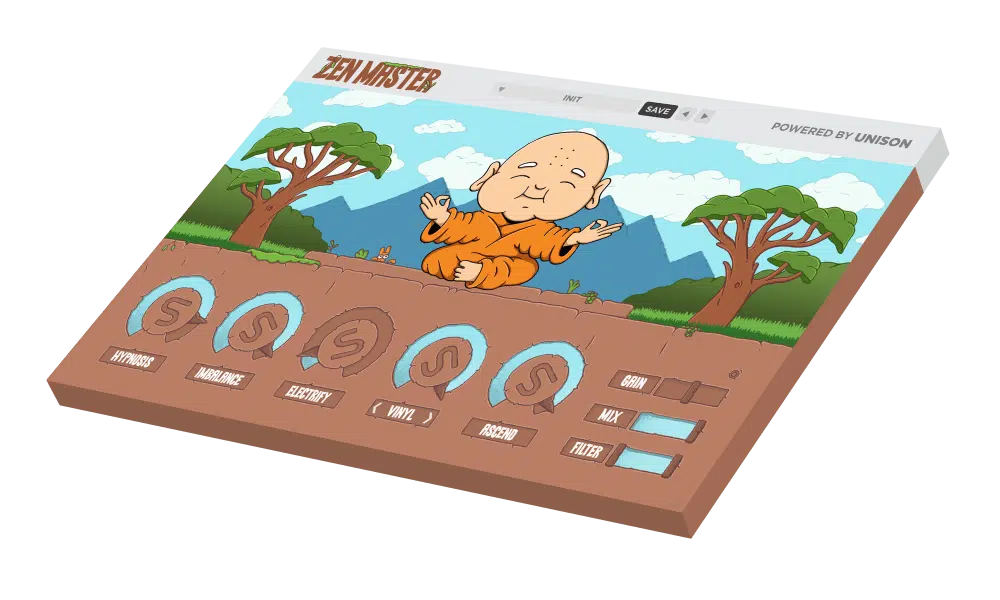 Simple 5-knob interface for instant results

Unique "Electrify" knob for classic lo-fi bitcrushing

Additional knobs for detuning, tape-modeled pitch wobbling, noise, and reverb

Suitable for users at all skill levels

Professional sound quality, delivered simply

One of the best free bitcrusher VST plugins
#10. TAL-Bitcrusher (Free)

TAL-Bitcrusher comes across as a straightforward free bitcrusher VST, but its simplicity hides various sound-molding options.
If you want to create unique tracks at zero cost, this free bitcrusher VST plugin can certainly help.
This free bitcrusher plugin offers more than just bit reduction; it comes packed with:
A low-shelf EQ

A high-shelf EQ

A noise cross-modulator

This makes it versatile enough to fine-tune drums, especially hi-hats, or add grit to leads.
One of TAL-Bitcrusher's standout features is its adjustable bit depth 一 ranging from 0 to 32 bits, and an adjustable sample rate divisor that goes up to 512. 
This level of fine control makes this free plugin a reliable choice for those wanting to experiment with bitcrushing but retain a level of finesse.
What sets TAL-Bitcrusher apart from other free bitcrusher VST plugins is its focus on providing enough control to achieve desired results without overwhelming the user.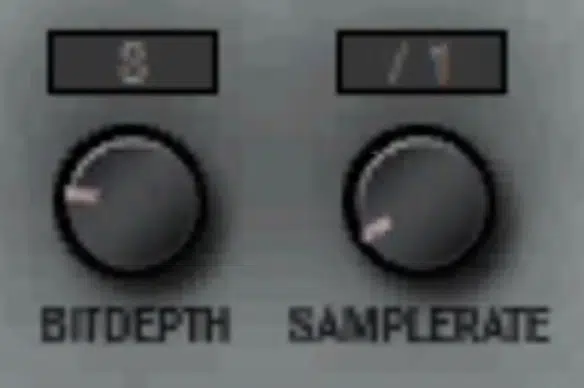 Its 10 built-in presets can give you quick, polished sounds without deep dives into settings.
Plus, it's available in both VST and AU formats.
Its low CPU usage makes it an excellent choice for those running on less powerful systems who want to add that lo-fi touch to their productions.
Compared to the other best free bitcrusher VST plugins, TAL-Bitcrusher is truly outstanding.
This Free Bitcrusher Plugin Includes:

Adjustable bit depth (bit depth reduction) and sample rate divisor

Low- and high-shelf EQ for fine-tuning

Noise cross modulator for added texture and to add character

10 built-in presets for quick sound design

Available in both VST and AU formats

One of the best free bitcrusher VST plugins of 2023
Bitcrusher Plugin: Final Thoughts
And there you have it: the 12 best bitcrusher plugins of 2023, each with its own unique set of features and capabilities to elevate your music production game.
Whether you're a seasoned producer or just getting started, you now have a detailed breakdown of some of the most powerful, versatile, and high-quality bitcrushing tools available today.
The choices in our list offer something for everyone 一 from top-of-the-line premium options to high-quality free bitcrusher plugins.
These aren't just random selections
They're tried and tested plugins that have received the stamp of approval from producers and audio engineers across the board.
From transforming drum loops into crunchy rhythms to giving vocals an otherworldly quality, these plugins can help you with an endless spectrum of sound manipulation possibilities.
And let's not forget the free options, like Zen Master, which deliver excellent value without costing a penny.
You've got the best paid and free options at your fingertips, so go add that signature grit and character to your tracks like never before.
Here's to 'crushing' it in your music production journey.
Until next time…